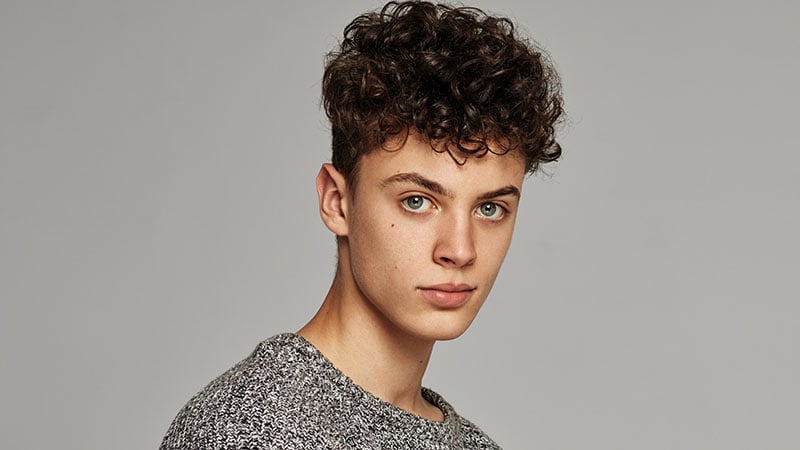 Curly hair feels so full and voluminous. It offers more hold if you want to try an adventurous style, and even the simplest men's hairstyles can look more interesting. The downside to your locks is how challenging they can be to care for, often requiring time to detangle and extra products for moisturizing. A brilliant way to cut back on both of these things is to embrace a shorter style. The appeal of chopping your strands is it makes styling effortless and removes the bulk and weight from the hair. But does this mean you have limited options for how you wear your curls? Nope! Let these short curly hairstyles for men inspire your next trip to the barber!
Short Curly Hairstyles for Men
1. Short Loose Curls
If you are looking for a sexy curly hairstyle, short loose curls are right up there with the best. The appeal of this look is how effortless it is to style, taking minimal effort (thus making it the perfect option for a busy man on the go). At the same time, opting for this more natural styling option creates a fantastic finish.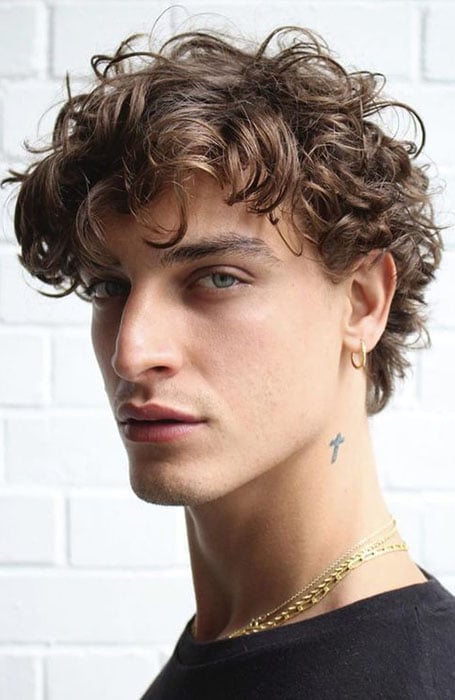 2. Short Messy Curly Hair
One of the most appealing about short curly hair is that it is much easier to maintain and requires far less effort to detangle and style. If you are a man who prefers a laidback aesthetic, then messy hair is a fantastic option and will give you that undeniably cool hairstyle you've been searching for.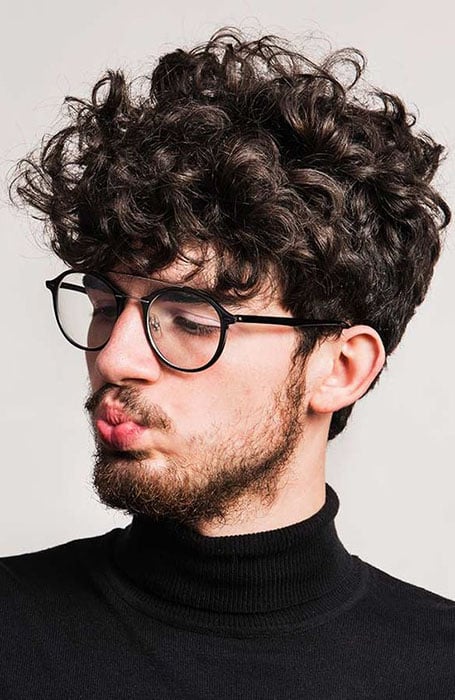 3. Brushed Back Short Curly Hair
Have you got curly hair and want to keep it short? The great news is there are multiple ways to style your locks to keep them looking fresh and modern, including the brushed-back hairstyle. Simple to achieve, you need only brush the hair upward, away from the hairline. The great thing about this is the voluminous effect it creates.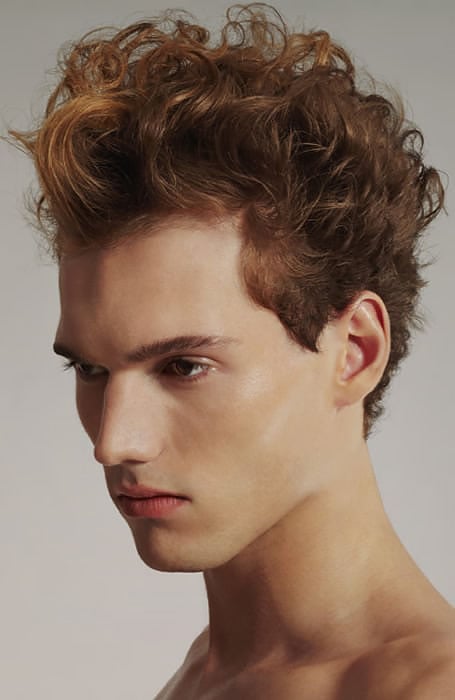 4. Caesar Haircut With Short Curly Hair
There are good reasons for the Caesar haircut withstanding the test of time; we are here to name a few of them. For starters, it looks great for men with short curly hair and will add a modern twist to the classic style. The strands are kept short on the back and sides and paired with a short fringe; this is where the freedom of the hairstyle comes in, letting you experiment slightly with the finish you want.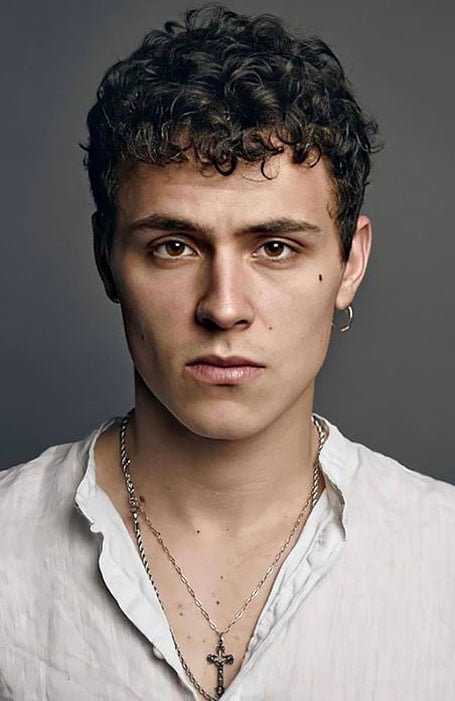 5. Classic Short Curly Hairstyle
There are edgy and fashion-forward hairstyles for men that are great for the daring and adventurous among us, but there is something to be said about the classic haircuts too. Styling your curly hair in a simple haircut, which is relatively the same length throughout (perhaps with a slight contrast between the top and the back and sides), gives you an excellent, versatile look.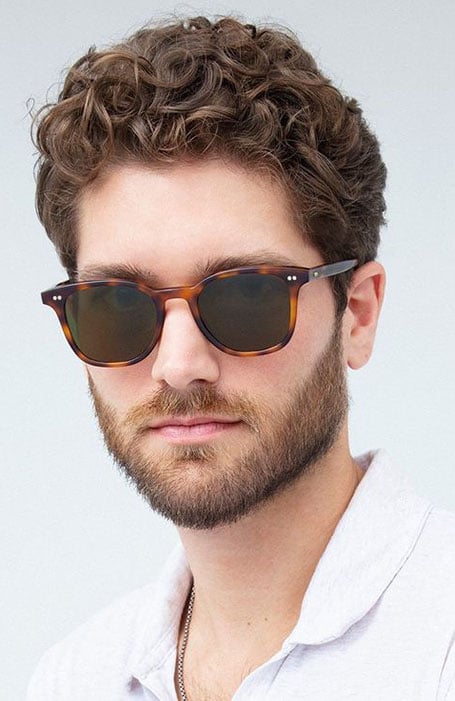 6. Curly Perm
Remember when the perm hairstyle was about achieving big hair, but it felt stiff and rigid? Well, gone are the days of the 80s perm, and in its place is the modern alternative. This is a great way to achieve curly locks if your strands are not initially this texture. It's also a brilliant way to enhance your natural curl pattern and give you sexy, defined strands.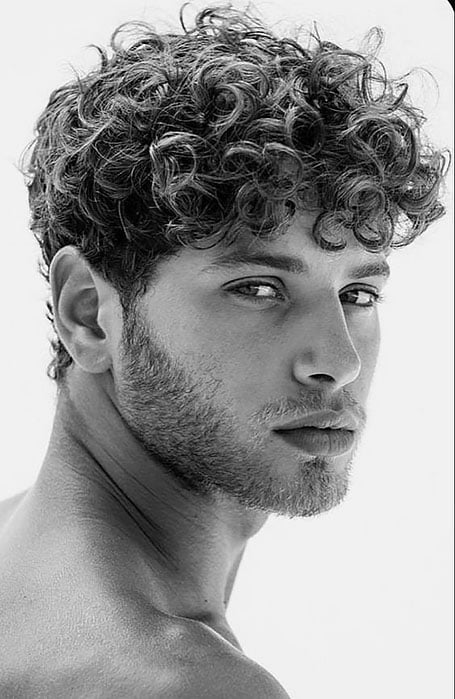 7. Eboy Curly Hair
With our reliance on technology and obsession with social media, it's unsurprising that the e-boy subculture exists. It refers to someone who uses the internet to express themselves and has inspired multiple hair, beauty, and fashion trends. Let us introduce you to the e-boy haircut for curly locks. It is a fun and youthful look designed to enhance your curls. Wear it with a long fringe or curtains for the perfect finish.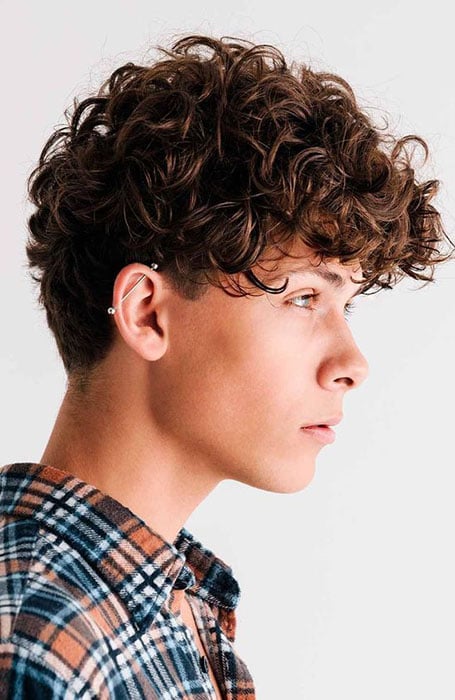 8. High And Tight Short Curly Hair
Inspired by military haircuts, the high and tight haircut is defined by the non-nonsense appearance. It features short strands on the side and is slightly longer on the top and back. But what does this hairstyle look like with short curly hair? The answer is: fantastic! Your locks will help you create more volume.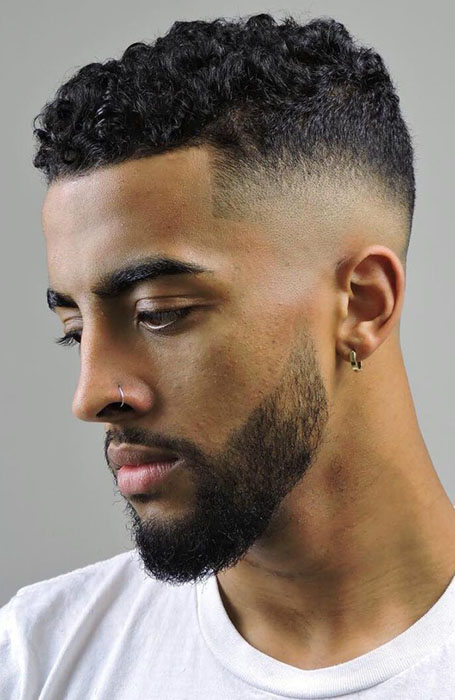 9. Short Curly Bowl Cut
The bowl cut looks super sexy with curly hair because the proportions feel more balanced and soft. Your strands will be cut the same length around the head, often paired with bangs (great for achieving a more youthful finish). This makes it an excellent choice for someone who wants a simple but fun hairstyle and is a great way to get your locks noticed.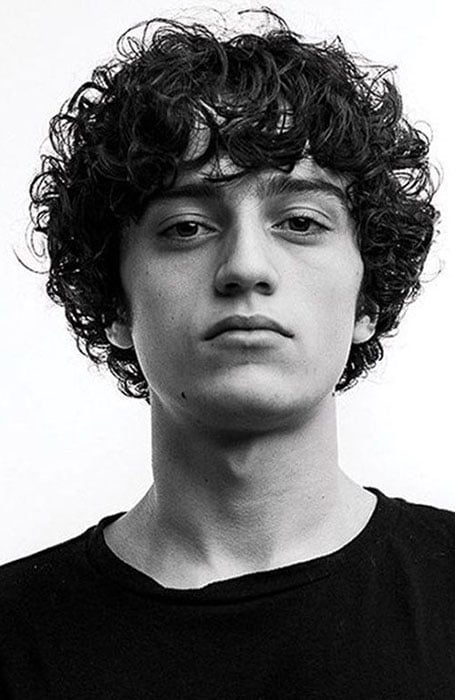 10. Short Curly Crew Cut
For men with short curly hair who are looking for a simple and traditionally masculine way to style their locks, let us introduce you to the crew cut. At first glance, there may seem to be nothing remarkable about this short haircut for men, but the appeal is how practical it is. Say goodbye to tangles and hair products!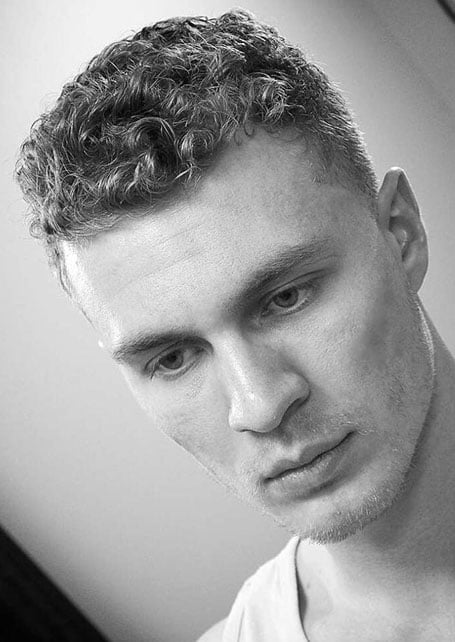 11. Short Curly Faux Hawk
You love the edgy vibe that the mohawk creates but feel it's a little too restrictive (and let's be honest, not many workplaces will welcome this cut). The good news is there's a more wearable alternative, the faux hawk. Defined by more length in the middle of the hair and shorter sides, this gives you the cool cut you want. With curly hair, it feels softer and less precise.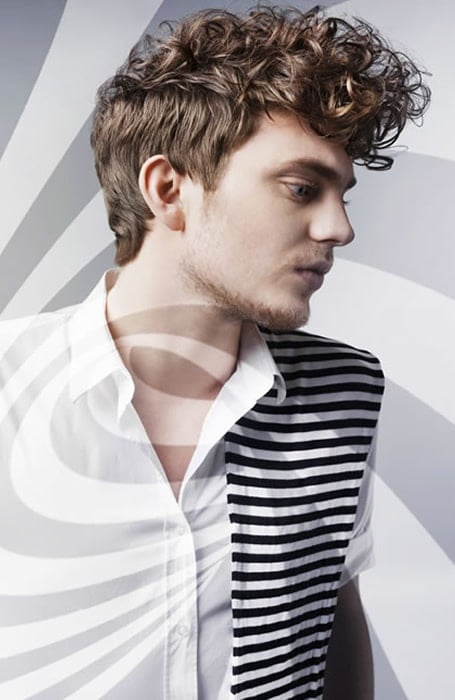 12. Short Curly French Crop
You will be drawn to the French crop if you love men's hairstyles with fringes. The French crop is a classic hairstyle, cut the same length on the top, back, and sides. This makes it an incredibly low maintenance haircut and unbelievably easy to style. But what makes it exciting is the fringe. With curly hair, it will be even more noticeable as the soft locks fall against your face, creating an eye-catching finish.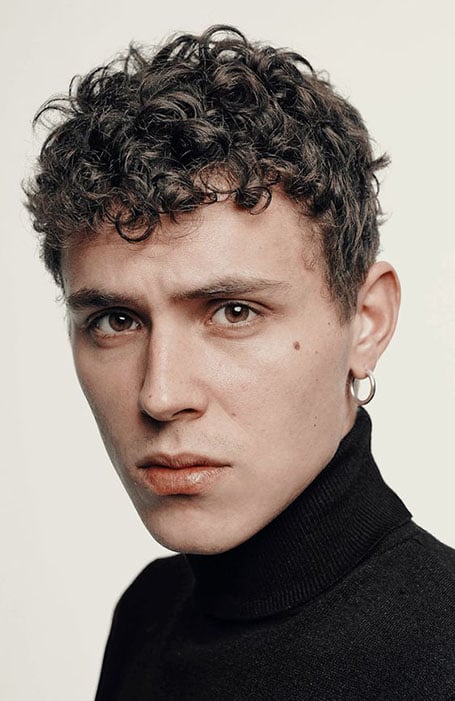 13. Short Curly Hair with Piecey Bangs
Short curly hair can be styled in many ways, which is what we love about it. But for those looking for a fresh and youthful option, try styling it with piecey bangs. This barely-there fringed effect is incredibly sexy and a great way to highlight your eyes. Because this option is created with individual strands, it can be easier to style and looks amazing with curls.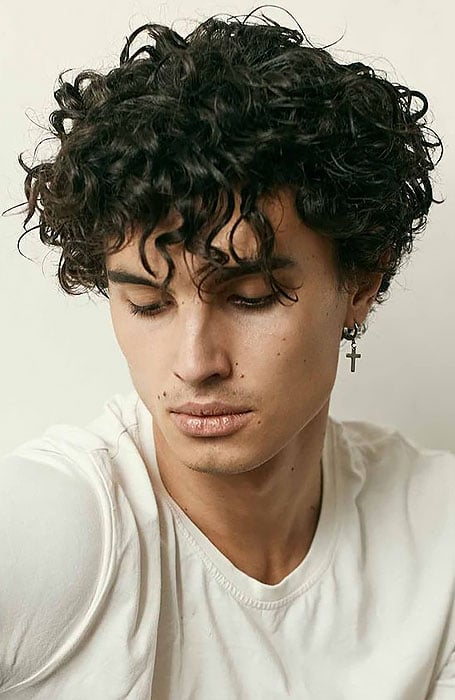 14. Short Curly Hair With Skin Fade
Try giving your curly hair some structure by pairing it with a skin fade. The appeal of fades and locks is that it creates a distinct contrast between the hair on top and the backs and sides. It also removes some bulk and weight from your curls and gives you an edgier finish. But why choose the skin fade? This is because it's more noticeable, gradually shortening all the way to the skin level.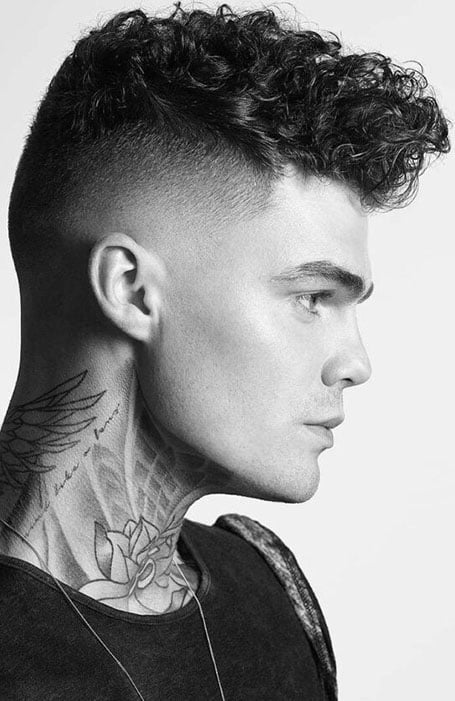 15. Short Curly Professional Hairstyle
Cutting your curly hair short is a great way to ensure a professional hairstyle for men. You still benefit from fullness but without the hassle of styling or grooming. For this look, the simpler approach is the best. Keep the hair the same length throughout, or pair it with a taper fade for a gradual transition in length and to create structure.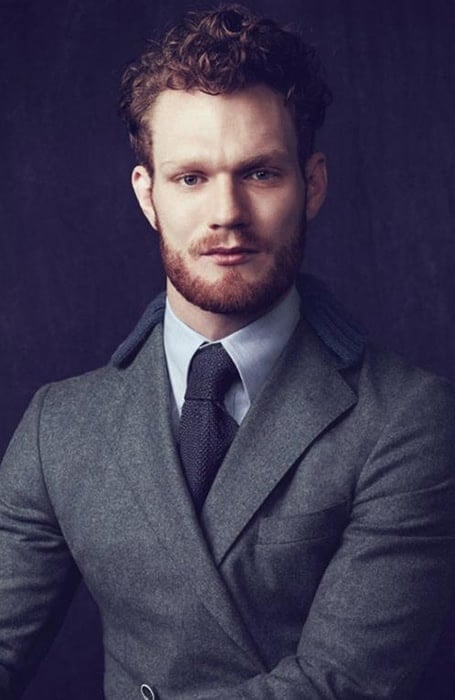 16. Short Curly Ginger Hair with Fringe
Ginger hair is a blend of red and orange tones, and because of the boldness of this hue, it is unmissable. That means it looks great with short curly hair, and your locks will be instantly noticeable. This makes it an excellent choice for someone who wants to highlight their curls, and what better way to do this than with a fringe?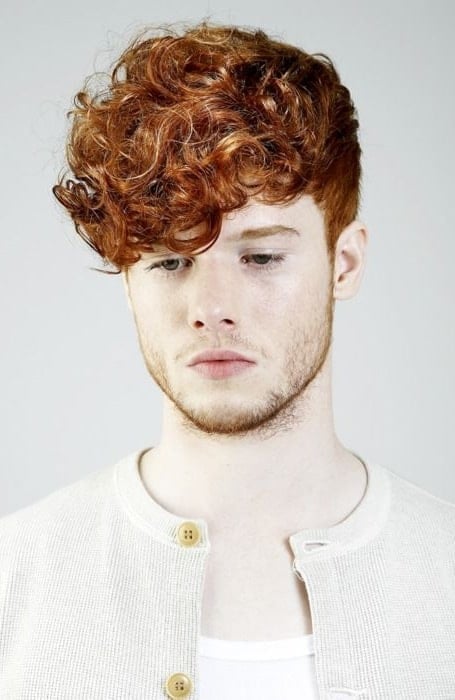 17. Short Curly Gender Neutral Haircut
Hairstyles do not have to be specifically for men or women. So why not consider a gender neutral haircut? It won't have elements that are considered masculine or feminine, and the incredible thing about this look is everyone can wear it. Find a look that will complement your short curly hair, for example, a long fringe or curtain bangs.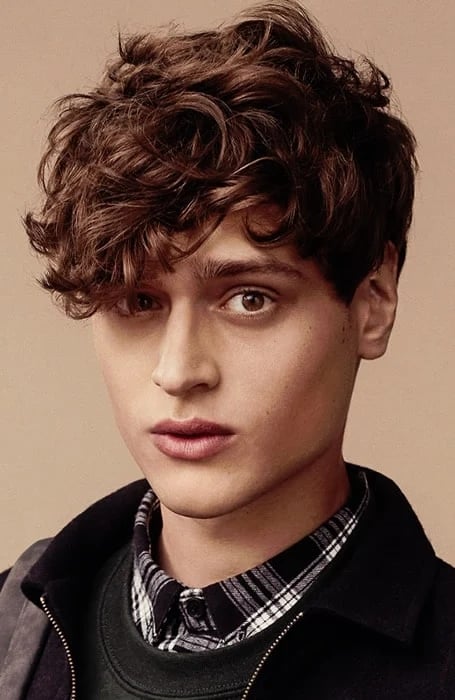 18. Short Curly Fringe with Shaved Sides Men
There are a few combinations as sexy as a curly fringe with shaved sides. This is because of the difference in proportions that the hairstyle creates: the fringe is long and voluminous, whereas the shaved sides create contrast and put the focus solely on the front of the hair. At the same time, it removes some of the bulk from your locks, making them easier to style.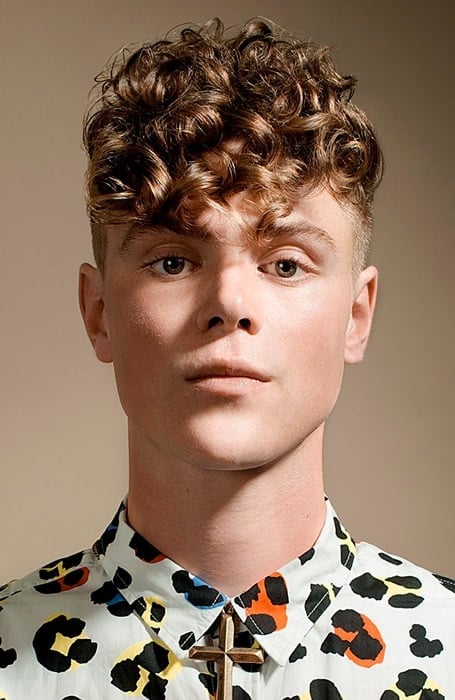 19. Short Curly Hair For Receding Hairline
If you are self-conscious about your hair loss and receding hairline and are looking for a way to detract from it, this short curly hairstyle could be just what you've been looking for. Styling the hair to appear full and thick on the top and slightly shorter on the back and sides draws the eye upward to the crown. This will shift the focus from the hairline.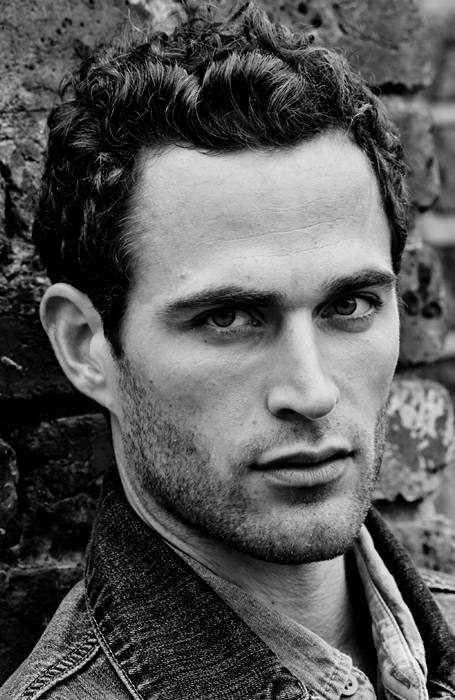 20. Short Curly Fringe With Low Fade
There are many ways to style short curly hair, making each option appealing depending on how simple or daring you want your hairstyle to be. We can say that the low fade is an incredibly sexy option, as it gives the hair structure and creates a slight contrast. This is done by gradually shortening the strands on the back and sides, starting from just above the ears. Wear it with a curly fringe for maximum cool points.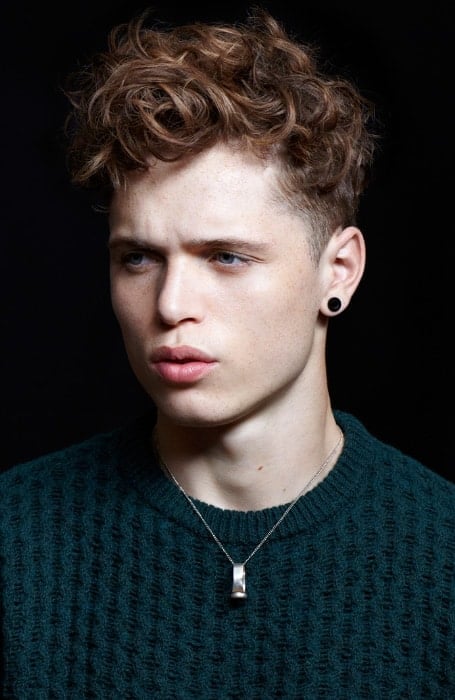 21. Short Curly Hair with Hard Part
You won't have to try hard to make a statement and enhance your short curly locks if you style them with a hard part. The hard part features a distinct parting in the hair, which is a great way to create more balance. You can have your curls all one length at the top, so the hard part gives your hair sharpness and structure. Or, for those who are daring, sweep the hair to one side for a voluminous finish.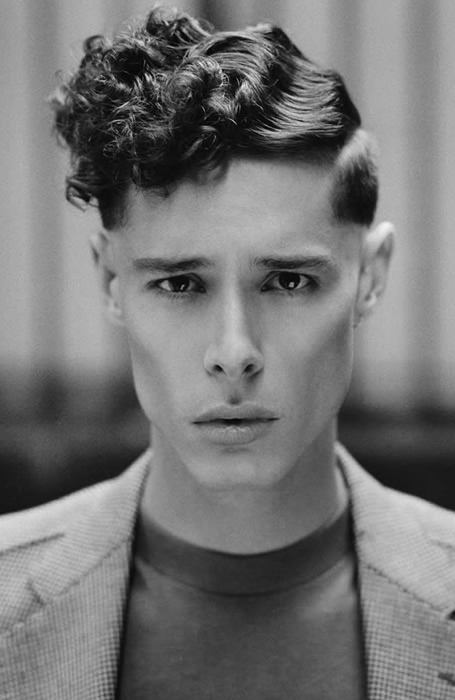 22. Short Curly Mullet
We can't help but love the mullet when it's styled with short curly hair. The great thing about your curls is they make the look feel more blended and softer, and there is a less clear distinction in length between the top, back, and sides. This, in turn, makes the mullet easier to wear. This is even more true when it is kept shorter, which makes it less dramatic.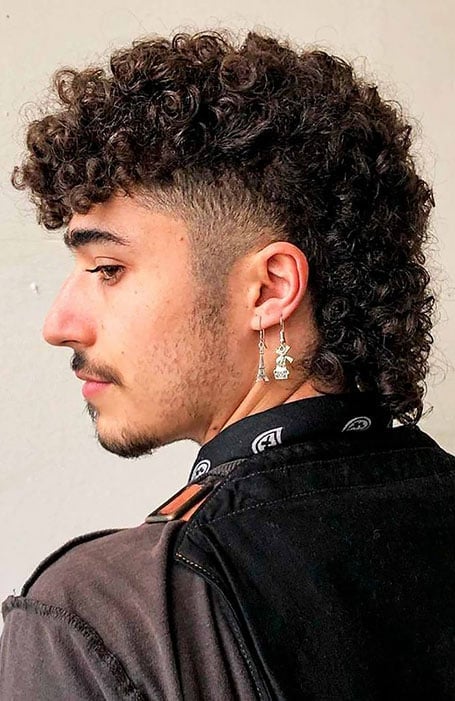 23. Short Curly Pompadour
Do you love classic hairstyles and want something old-timey? Then why not try a pompadour? The appeal of this look is the volume it creates at the front of the hair, which really makes for an eye-catching finish. Short curls will complement the fullness that the style demands and also offer more hold than straight textures.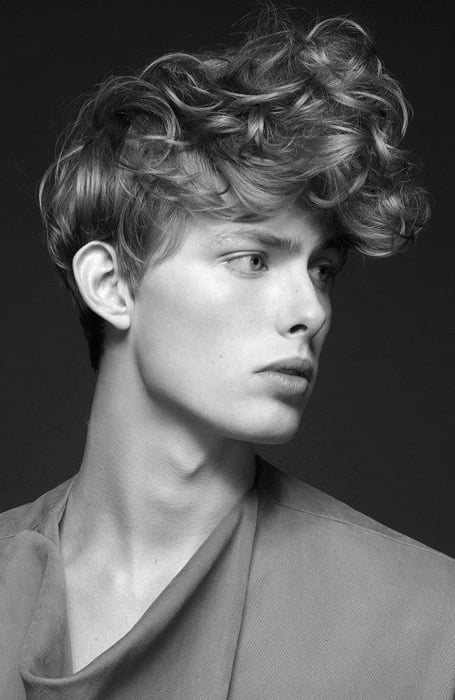 24. Short Curly Disheveled Hair
There is something sexy about curly hair that is styled to be deliberately messy and disheveled. This gives it a very laidback appearance and is also more forgiving when styling (the hair does not need to be perfectly in place and instead has a more windswept finish). While this approach works on long or short locks, it takes less effort with shorter strands.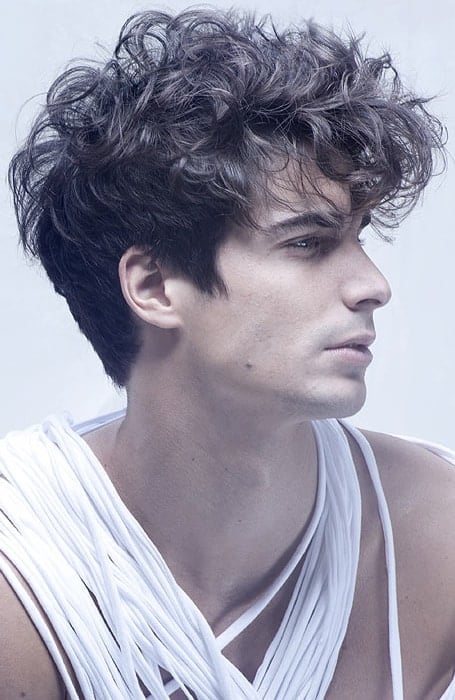 25. Short Curly Mop
The mop haircut is typically reserved for longer hair, but it can also look excellent with your short curly strands. This youthful hairstyle has been popular since the 60s because of how simple it is to style and cut. Wear it with a long fringe to enjoy the attention it brings you.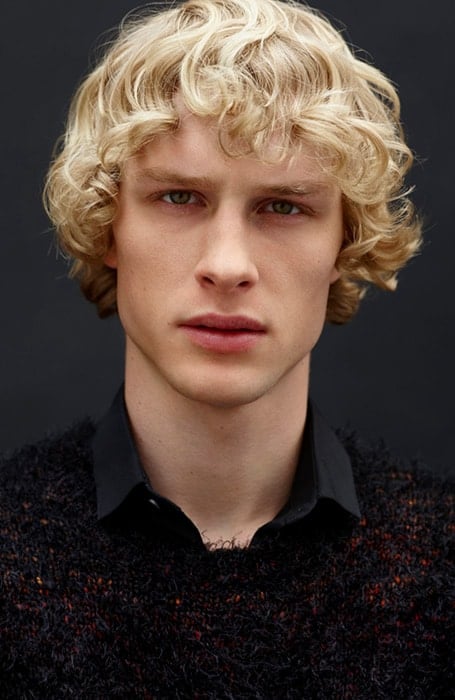 26. Ringlets
Ringlets are a type of curl (type 3 C curly hair) that is defined by their corkscrew appearance. The brilliant thing about them is that they are voluminous they are, but they can also be challenging to style and prone to dryness. For this reason, keeping them short is a great way to ensure they're in better health.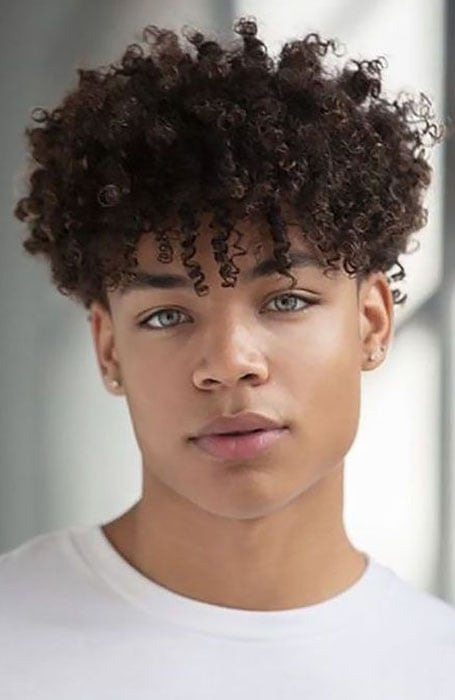 27. Short Curly Surfer Hairstyle
The surfer hairstyle is loved because of its laid-back appearance. It is a style that is meant to appeal to those who prefer minimal styling and want a natural look. The appeal is how unstructured it is (which works well with more textured strands, like curly hair). To finish it off with that sun-kissed effect, add some highlights to the tips.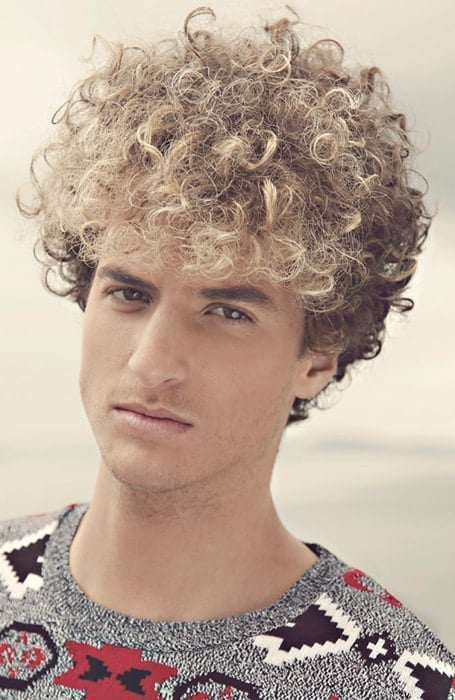 28. Short Afro with Frosted Tips and High Fade
We have said it before and will say it again, but short curly hair can be incredibly versatile. You may think that wearing it shorter will limit your styling options, but this couldn't be further from the truth, take this short afro with frosted tips and a high fade as an example. The afro and fade combination are superb, but the frosted tips draw the eye to the top of the hair and add to the volume.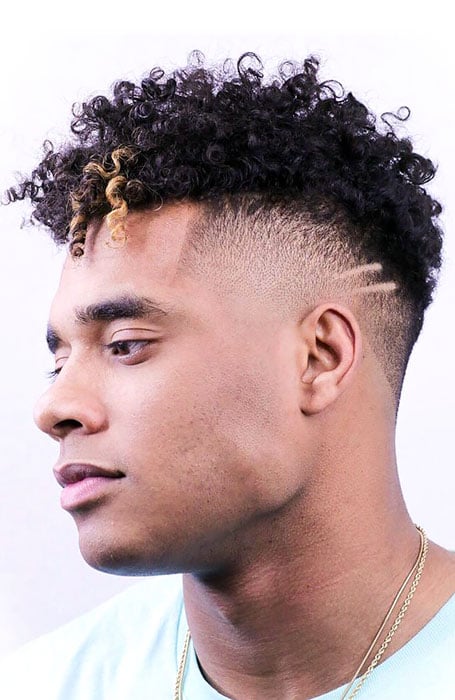 29. Short Curly Undercut
There are few hairstyles as edgy and cool as the undercut. This look is created by shaving the hair on the back and sides. It's much more daring than a fade and gives a distinct contrast between the hair on the bottom of the head and the strands on top. It is brilliant for removing some of the bulk of your curls and lets you create a more modern and youthful finish.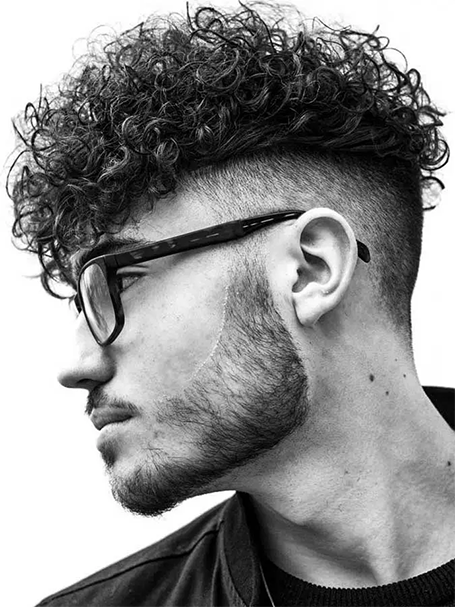 30. Short Curly Side Swept Fringe
The side-swept fringe looks great when created with short curly hair, and it's a brilliant way to draw attention to your face. How the hair is worn to one side also creates balance and can be an excellent way to soften the features. Will it take some effort to style? Yes, but you will likely find your time will be worth it.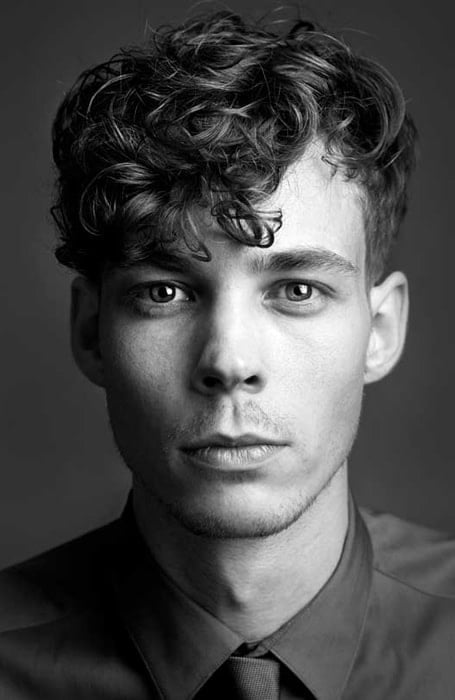 How to Style Short Curly Hair Men
Naturally, curly hair is a sought-after texture because it is full and healthy. It can be styled in many ways but is not always the easiest texture to tame and can be prone to dryness and tangles. If you have made the decision to cut your locks so that they are shorter and feel at a loss for how to style them, then this YouTube video could help.
Wet the hair first before styling. You want to towel dry it so that the hair is damp.
Find the right products, including a texturizing putty or a hair mousse. This will help you achieve the desired texture and help with styling. It will also help make your more
You can scrunch the hair, shake it, or however, you want to style it.
And then let it dry. Depending on how you want it to be finished, you can add more products after.
Short Curly Hair Men FAQs
Does short curly hair look good on men?
Short curly hair looks good on men and has several textures (from loose curls to tight curls). They all have pros and cons, including styling challenges, prone to dryness, tangles, and shrinkage. But the obvious pro of curls is how voluminous and full they look. They are also versatile, can be paired with fades or undercuts to remove bulk and weight, and clipped short to make them easier to style.
Can short hair be curled?
If you do not have naturally curly hair, you can create the texture with a chemical treatment like a perm or heat styling tool. This can be done with short hair (obviously not if it is clipped close to the head), but the shorter the strands, the more challenging it will be to achieve.
SUBSCRIBE TO OUR NEWSLETTER
Subscribe to our mailing list and get interesting stuff and updates to your email inbox.