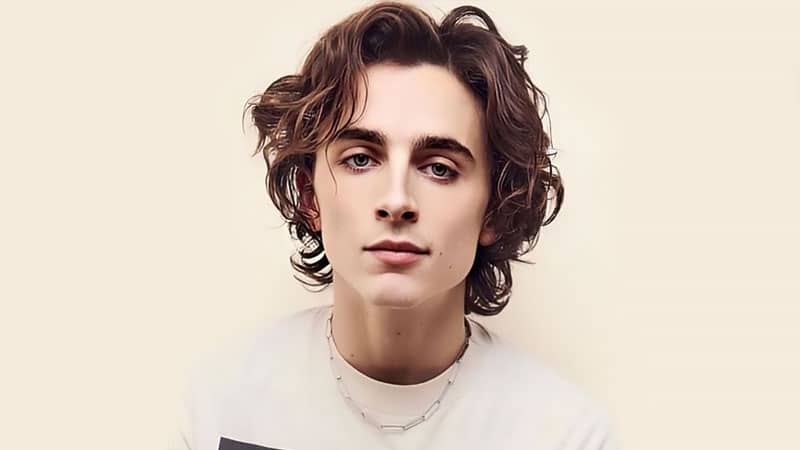 TikTok has been a platform to start many trends, and it is also where most of us have discovered e-girls and e-boys. The aesthetic is interesting and expressive, mixing several styles to create something new and fun. The typical e-boy can be defined as someone concerned with their social media presence and how they use the internet to express themselves. They may wear dark clothes and have a grunge appearance, with painted nails and interesting hair. The curtain haircut is one of the most popular looks to emerge from the eBoy style, but it is not the only one. You can have fun with length, partings, and color to make your look unique and reflect your style preference.
RELATED: 10 Best E-Boy Outfits to Rock with Style
What is an Eboy?
The term eBoy is derived from 'electronic boy' and can describe an individual who uses the internet frequently or has a large social media presence. But it is so much more than that. The e-boy aesthetic originated on TikTok, and young men have adopted alternative fashion choices that allow them to experiment and rebel against the mainstream. They have a very distinct appearance, inspired by the 90s grunge. It is not just about the clothing but the whole package; think of the coolest men's hairstyles, as well as black nail polish.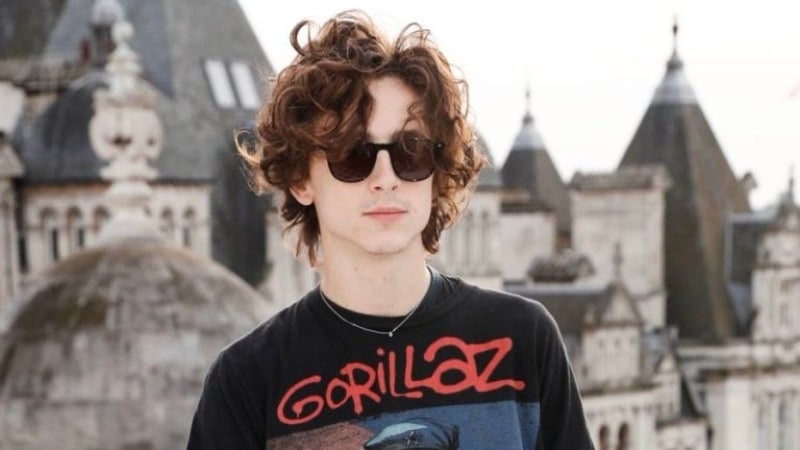 How to Dress Like an Eboy
If you are a fashion enthusiast looking for a cool new style, look no further than the eBoy aesthetic. It is a mixture of a grunge and skate-type style that we saw in the 90s but has a modern twist. There are many different options to try out, with a big focus on layering. Wear a long sleeve and T-shirt combination, or swap it out with an oversized jumper. Other popular choices include jeans or cuffed trousers paired with visible socks. It is easy to replicate, fun and gives you room to experiment. Dressing like an eBoy is an alternative style that appeals to a younger audience and is every bit as cool as you expect.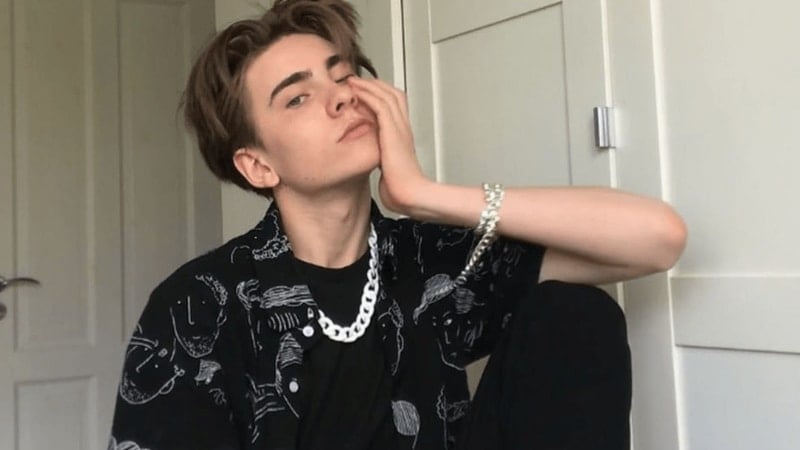 Eboy Hairstyles
1. Curtains with Colored Hair
If you're interested in creating the eBoy aesthetic, one of the easiest ways to achieve this is with curtains and colored hair. Curtain haircuts for men were a massive trend in the 90s but made a comeback because it frames the face in a highly flattering way. It can also be worn with various hair lengths and textures and adapted to suit your style preference. Brightly colored hair makes a statement and is bound to get you noticed, plus it is fun and expressive. There are so many colors to choose from that you can pick the one that appeals to you most; this is also where the Gothic influence comes into the style.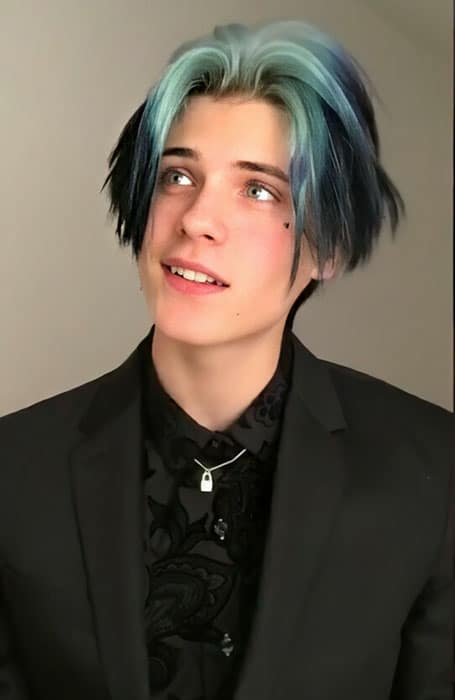 2. Broflow
If you have wavy hair and are looking for an easy yet trendy way to style it, you need to try a broflow. It is one of the most carefree looks, as the hair takes on its natural shape. It has been worn by male celebrities like Bradley Cooper and Dev Patel and is effortless. You need medium to long hair to pull off this look. Many men choose to brush it backward to keep their hair out of their eyes or keep it natural without too much styling. Broflow works best with wavy hair; you only need to wet your hair and let it dry naturally to achieve this ultra-cool appearance.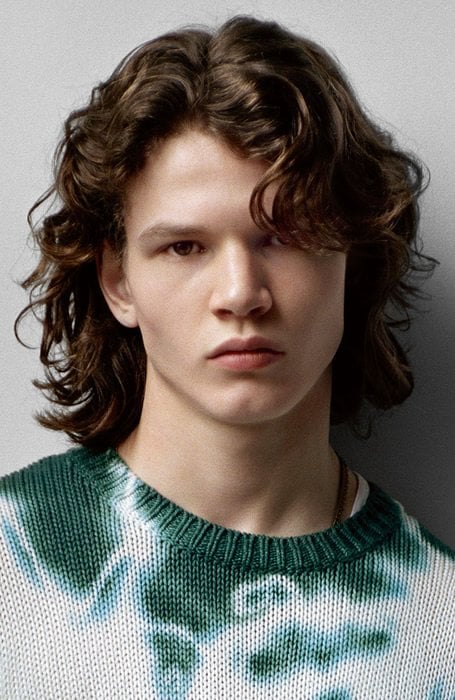 3. Curtains with Curly Hair
The curtain haircut is the go-to look if you're trying to replicate the eBoy style, and the great thing about it is that it works with so many different hair types. The messy appearance lends itself well to curly hair, allowing you to enhance your natural texture and draw attention to your curls. You need to have some length to pull off the curtained hair, but you can decide how you want to wear it, for example, with a middle parting, side parting, or paired with a fade. Regardless of what you choose, this is one look that will get you a lot of attention, so wear it with confidence.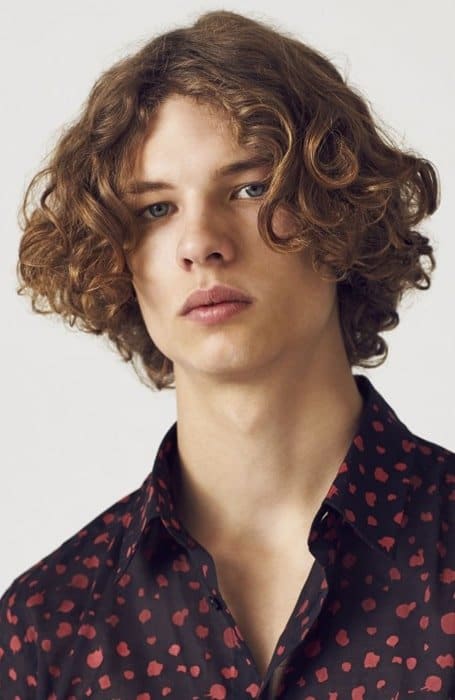 4. Curtains with Long Hair
The curtain hairstyle has made a comeback, but it is not a new look and has been revived several times over the last few decades, including in the 60s and 90s. It has a grunge feel, and pulling off curtains with long hair can have a rebellious appearance. The cut works well with medium and long hair; this is an excellent choice for men who want a little extra length. Longer hair challenges gender norms, and it's versatile. Plus, you need less maintenance because you don't need as many trips to the salon, which can appeal to your laid-back approach to life.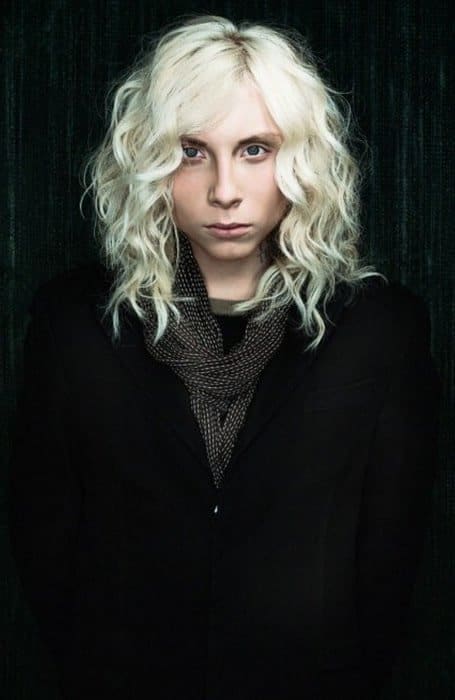 5. Middle Part with Wavy Hair
If you want a look that can frame your face while complementing your features, then a middle part with wavy hair is for you. The fantastic thing about wavy hair is that it is a texture that lends itself well to most styles and often creates a messy and cool appearance. At the same time, the middle part is a popular style with eBoys, and for a good reason. Deciding to wear your hair in this way highlights your face and can also elongate it. It is the ultimate style for someone who wants a super flattering yet easy-to-wear look. Finish it with a styling cream or hair clay, and comb your hair to create the appearance of a middle parting.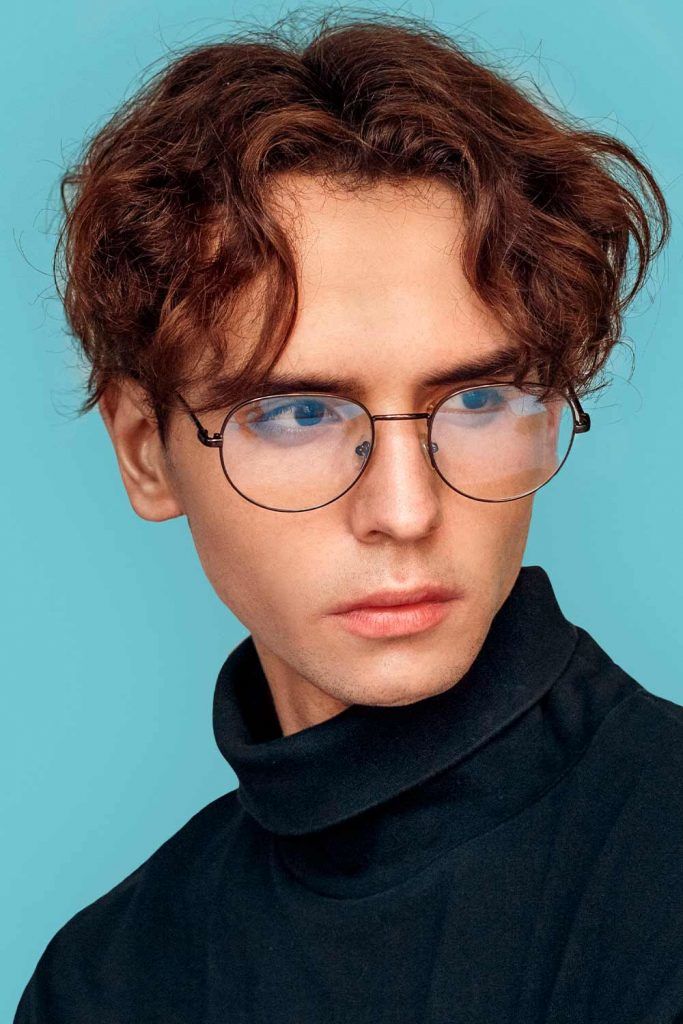 6. Short Fringe with Bleached Hair
If you're ready for a change and want to highlight your features, you need to try out a short fringe with bleached hair. Bleached hair makes a statement because of how dramatic it can look, especially if you are naturally dark. It has a very 90s feel to it, but pairing it with a short fringe gives it a modern update and works well with the eBoy aesthetic. Among the many benefits of a short fringe is that it is often easier to style and can work well with various hair textures and types, from straight to wavy. Fringes can make even the most basic haircut interesting and also help to balance your face's proportions. Nothing should stop you from trying out this cool and edgy look.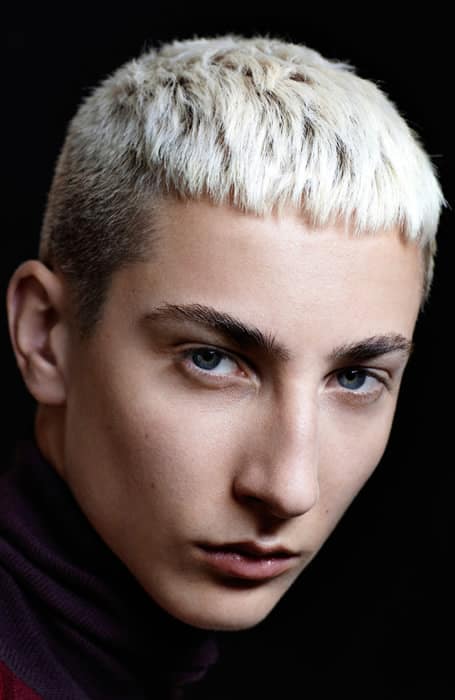 7. Undercut with Short Textured Hair
Undercuts are versatile and can be worn by men with short, medium, or long hair. They can also work well with different face shapes and can complement angular features or balance jawlines of oval and square faces. When deciding on the right look for you, consider an undercut with short textured hair. This is one of the easiest options to pull off, and the short hair on the top of your head, paired with the shaved sides, creates an interesting contrast but is not so dramatic. This masculine option is easier to wear and lends itself well to various settings, including more formal ones because it is far more subtle. In terms of styling, it is a low-maintenance choice, but you will need to get the sides touched up around every two weeks.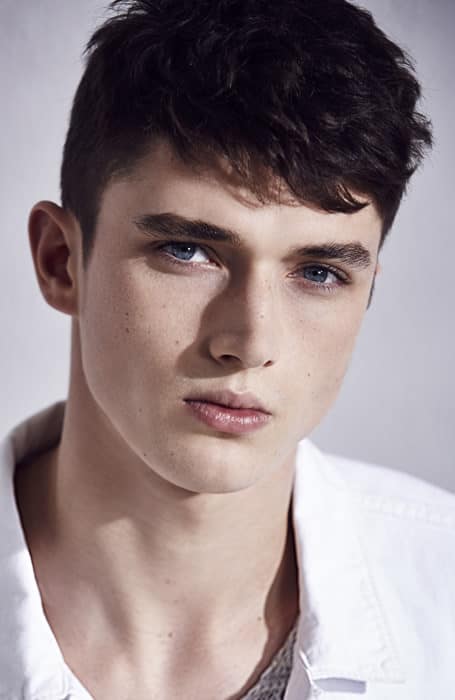 8. Swooping Fringe with Colored Hair
It is no secret that eBoys have a very distinct appearance, and if you are searching for inspiration, then the swooping fringe haircut with colored hair is bound to make a statement and create an edgy look. The high volume of this fringe grabs attention, drawing the eye to your face and highlighting your features. It can also help balance angular face shapes and will hide your forehead or help disguise problematic skin. To create an even more dramatic look, use products that add to the volume and produce a more textured finish. When it comes to choosing your hair color, this can be anything that appeals to you, but preferably a shade that will work well with your skin tone. You could also paint your nail color the same as your hair for maximum effect.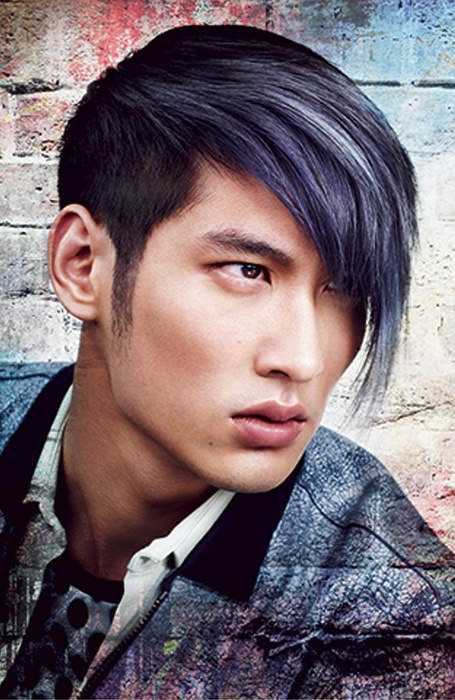 9. Fringe with Straight Hair
Fringes are a great idea for any man because they can transform your face, highlight your features, and create balance and symmetry. They can also work with all different hair textures, including straight hair. A fringe with straight hair can have a more emo appearance if you choose to keep it long and swooping, or you can opt for a shorter look that is easy to style and masculine. If you want to add texture to your hair, you can do so with wax and pull the hair upwards. A slightly messy appearance can create softness and is very sexy. For a more fun look, you can play around with hair color or bleach.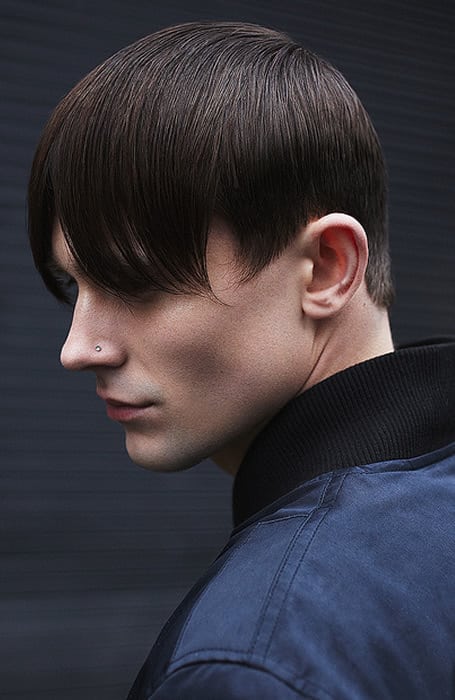 10. Fringe with Textured Hair
Fringe haircuts for men are so versatile and can instantly update your look. No matter what hair type you have, you can rock a fringe, but textured hair helps to create a natural and effortless appearance. It is far less dramatic than curly or straight fringes and often has some layering to them. The way your hair will fall over your forehead is sexy. It can help disguise thinning hair and can be created with various lengths, depending on your preference. You can enhance the texture of your hair by adding a matte pomade or hair clay and make it look more full on the top of the head by opting for a fade.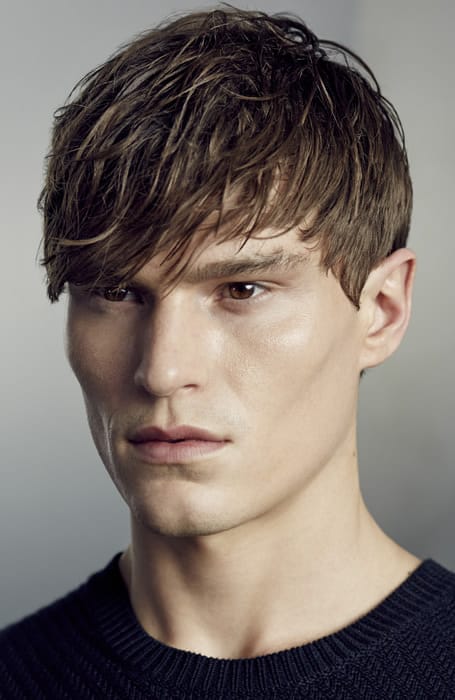 11. Curtains with Short Hair
The curtain hairstyle is one of the most popular styles for an eBoy and is surprisingly versatile. If you have short hair, you can still rock this look; it has a very 90s feel. Keep the back and sides shorter and the top a little longer so that the hair can fall around your ear. You can opt for a wet look by adding gel and combing it through or leaving it to dry naturally to create more texture. For a more dramatic appearance, you can go for bleached or brightly colored hair, making your cut look even more edgy and cool.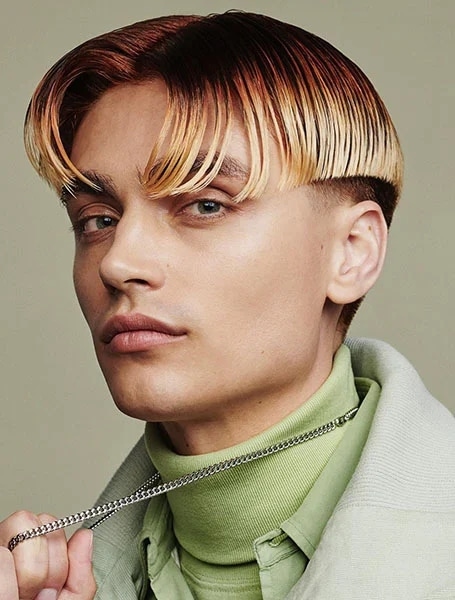 12. Side Swept Fringe with Wavy Hair
It doesn't get much sexier than a side-swept fringe with wavy hair. Wavy hair is one of the most sought-after textures because it creates a messy but attractive appearance. The side-swept fringe is perfect for men who want to keep their hair longer and don't want to commit to full-on bangs. They are incredibly versatile and can be styled, structured, or left loose. Plus, it can be paired with an undercut for a more manageable and masculine appearance. Another pro of this fringe is that it can help disguise a large forehead. The only slight downside is that you will have to get regular trims to maintain the length.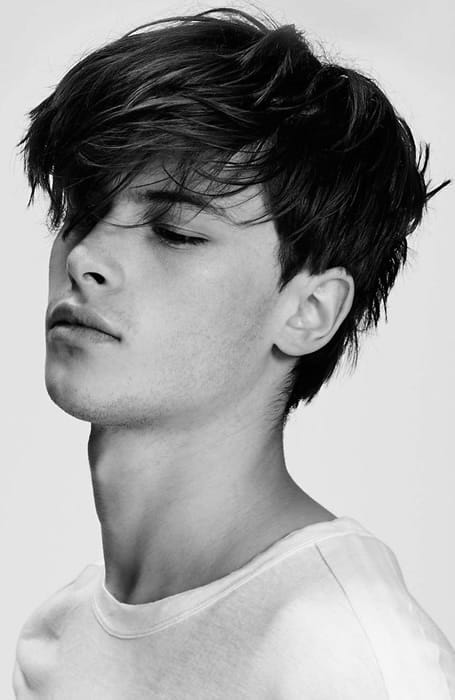 13. Caesar Haircut
The Caesar haircut is a fantastic short hairstyle because it is stylish yet low-maintenance. It is also incredibly versatile and can be paired with many different looks to create something that appeals to your personality. A great option for an eBoy style would be to wear a Caesar haircut and a fringe; this is a modern update on a classic cut and works especially well with those who have thick or textured hair. That said, this look can be created with short or long hair and various types and textures. What is stopping you from trying out this cut today?!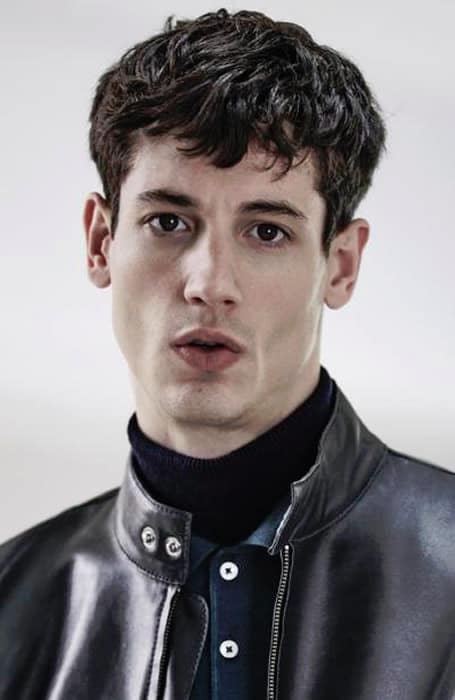 13. Side Swept Curly Hair
If you have naturally curly hair, there are many ways to style it, but if you want to enhance the texture of your hair, you can opt for a side-swept style. Instead of keeping your curls short, this gives you an option to have them longer but still manageable. Curly fringes add volume and movement while highlighting the top of your head. That said, they also lend themselves well to other styles. For contrast, you can pair it with a fade or keep the sides shaved short and neat. To enhance your texture, apply mousse or øsea salt spray.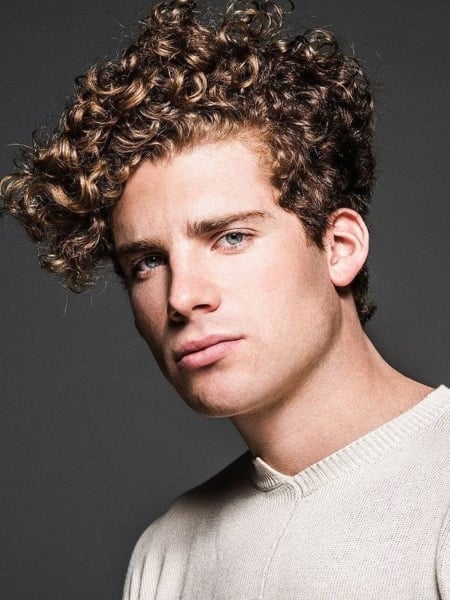 14. Asymmetrical Fringe
One of the most statement hairstyles you can get is an asymmetrical fringe. The fringe is uneven so that the hair falls in such a way that it can balance the features; it can be incredibly flattering. The exaggerated angles of the look can help to distract from the asymmetrical parts of the face, plus it can create a fun appearance. Lack of structure also adds volume and movement. Although this may not be the best look for a corporate environment, it is excellent for someone who works in a creative field or for a younger man. If you want to go all out, try a bold color and enjoy the attention your hair will receive.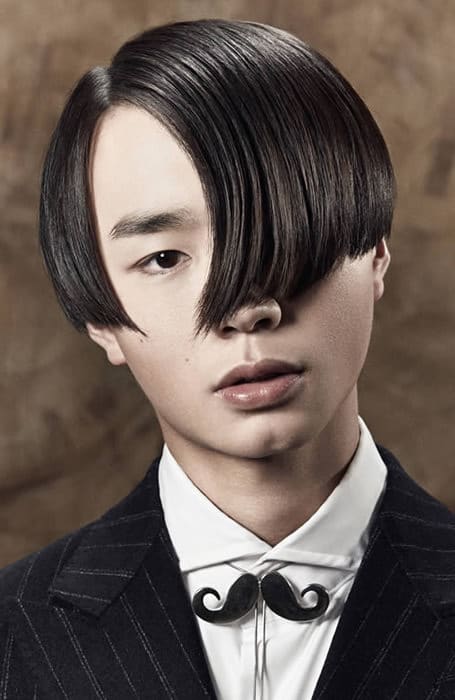 15. Surfer Hairstyle
A tousled, windswept appearance can define the classic surfer hairstyle. It was first popularized by surfers in the 50s, hence the name, and still has appeal today because of its effortlessly cool appearance. This disheveled style can be worn by men who want to give off a careless and free vibe. This is regardless of whether you have wavy, curly, or straight hair. If you do not have naturally textured hair, you can create the appearance with sea salt sprays, wax, and pomade products. For a sun-kissed look, you can add highlights or bleach the tips. This is a fantastic option for your next look regardless of what you choose.
Eboy Haircuts FAQs
What is the EBOY haircut called?
The haircut popularized by eBoys is the curtain hairstyle. It is not a new look and is reminiscent of 90s grunge, except this time it has a modern update. It usually falls around the ear, but there are so many different ways to wear it, from short to long, and the cut suits multiple hair textures and types. You can also play around with different partings, including the middle or side. Opt for a bright and bold option of colored or bleached hair, which is expressive and makes a statement, or keep it subtle and cool.
How do I make my hair look like an EBOY?
If you are a fan of the eBoy aesthetic, there are many ways to achieve this look, but one of the most common is with a curtain haircut. The style is versatile and suits various hair lengths and textures. You can also experiment with fringe hairstyles and play around with partings, including middle parts or side partings. The best thing about the eBoy hair is that it is expressive and can be tailored to suit your style preference, whether with bleached or bright colored hair or with a cut that enhances the natural texture of your locks. You can use gel or hair mousse to create a wet look or use a round brush to style it the way you want. When dry, it will make a more messy and sexy appearance.
How do you get wavy EBOY hair?
If you are not born with naturally wavy hair, you can achieve this by using hair products that create texture, such as sea salt spray. You can also apply texturizing spray onto damp hair and create volume and waves by brushing out your hair. The use of a curling iron can also help to achieve a wavy appearance.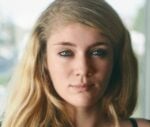 Cailyn Cox holds a degree in journalism and has been working with The Trend Spotter as a writer for over ten years. She has worked with some of the most prestigious women's and men's lifestyle publications. For her, writing is not just a job; it's a passion, which is why each article she writes is approached with such enthusiasm and dedication. She has extensive knowledge of hairstyles, tattoos, and beauty and has made a career out of creating informative articles that appeal to women and men of all ages.
SUBSCRIBE TO OUR NEWSLETTER
Subscribe to our mailing list and get interesting stuff and updates to your email inbox.