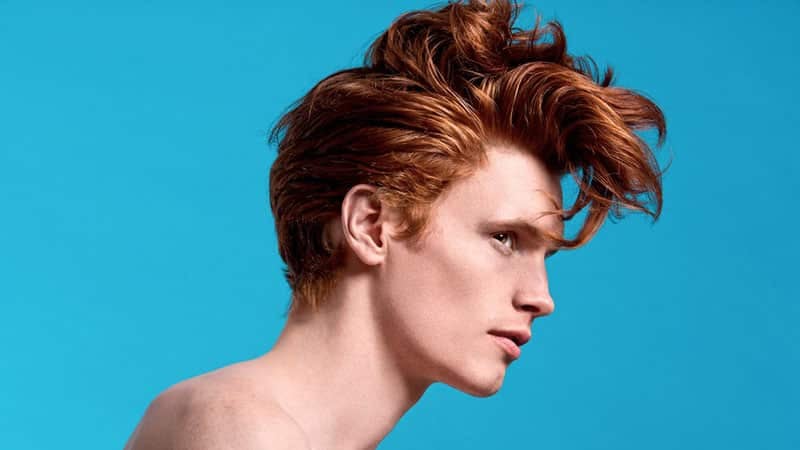 Natural redheads comprise just two percent of the world's population. With this in mind, it is unsurprising that a bold shade of red, or in this case, a ginger hue (a brilliant blend of orange and red), would make a striking choice for your hair. It is an excellent way to make a statement while also brightening your complexion. Not only this, but whatever hairstyle you choose will be more noticeable thanks to the vibrancy of ginger, so it's a great time to experiment with different looks. And even the simplest styles will be given new life. Gone are the days when ginger hair was unpopular, and we are here to show you why with these best red hair hairstyles for men.
1. Textured Fringe
The beauty of red hair is that even the simplest haircuts for men look fresh and cool. Opting for a short hairstyle that is paired with a textured fringe is a great way to give your hair direction and make it appear full of life and volume. This is also an excellent look for drawing attention to your eyes; the color contrast can really make them pop.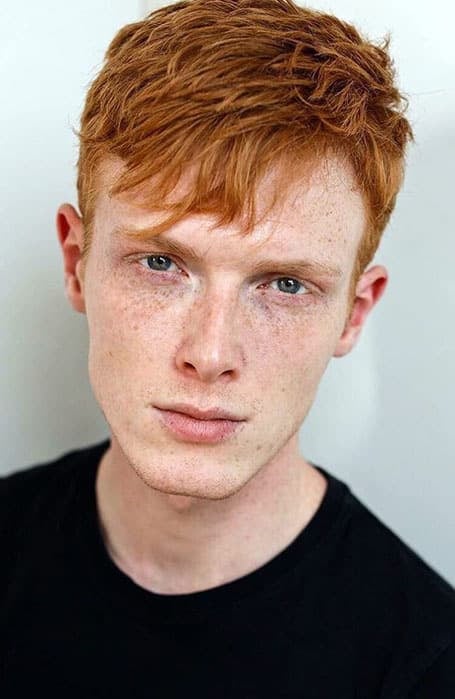 2. Swooping Fringe
The great thing about a long fringe is how it swoops across the face, highlighting your red hair features. The longer the fringe, the more opportunity you have to experiment and create movement, which is incredibly flattering. Wear the rest of the hair short and neat to create a contrast, or opt for something longer and less structured for a laidback finish.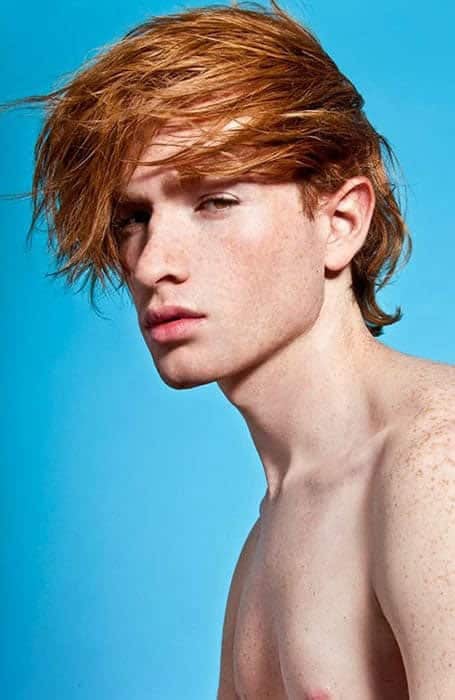 3. Slick Back
Red Hair is generally best suited to people with light eyes and pale skin, so you're lucky if this is your complexion! How you style your hair is entirely up to you, but the slick back is one effortlessly cool look we recommend. There is something timeless and masculine about this hairstyle, and it can be easily achieved by brushing the hair backward and securing it with a stronghold product.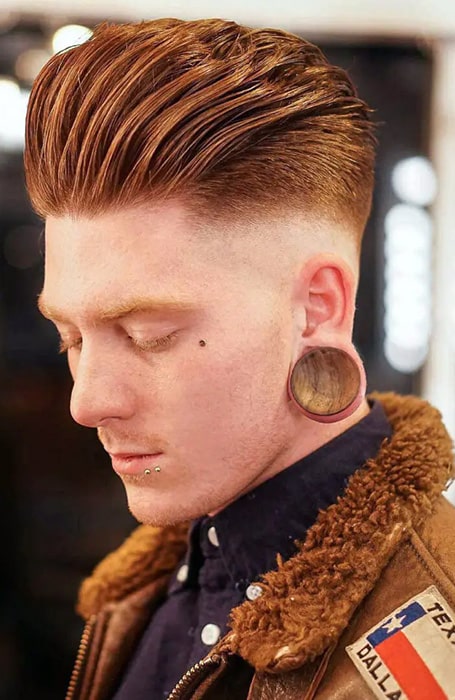 4. Short Tight Curls
The right shade of ginger will look great against your pale complexion and complement all textures. This includes curly hair, one of the most sought-after options because it is full of movement and volume. Wearing your locks short is a great way to style them and will reduce the maintenance of caring for longer curls. At the same time, you'll benefit from the fullness that they produce.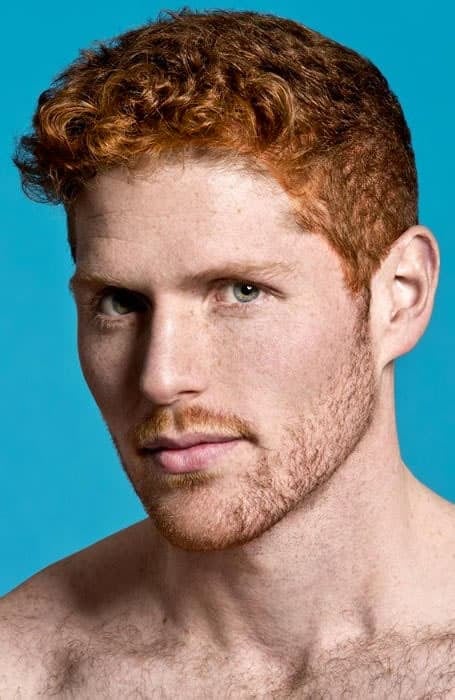 5. Short Hair Taper Fade
What is not to love about the taper fade? This faded hairstyle is defined by the gradual shortening on the back and sides (starting from around the middle of the head) and can be added to a red hairstyle of your choice. Some men like to go bold by pairing it with hair that is visibly longer on the top of the head, thus creating a brilliant contrast. Others keep it simple and polished with a short, cropped hairstyle.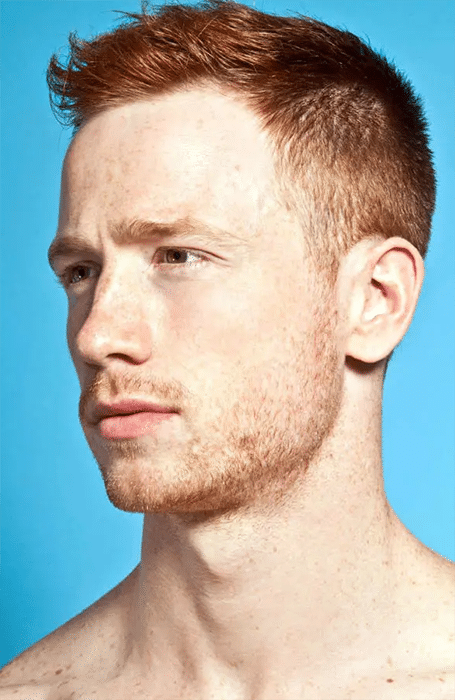 6. Short Back and Sides
As the name suggests, a short back and sides hairstyle is defined by the shortening length on the back and sides. This means there will be more length on the top, creating a subtle contrast with your red hair and making it appear fuller while adding structure and a polished finish. There is much to like about this undeniably cool look, especially suited to younger men.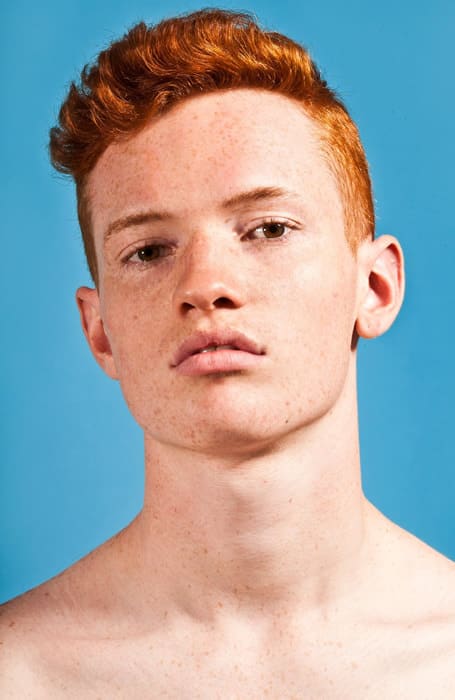 7. Scissor Cut
If classic hairstyles are what you are after, look no further than the scissor cut. The name of this look comes from how it is cut, using a pair of scissors instead of more modern tools like the electric razor or clipper. This gives you a more natural yet still textured finish and can be great for those who want a low-maintenance hairstyle that complements your red hair.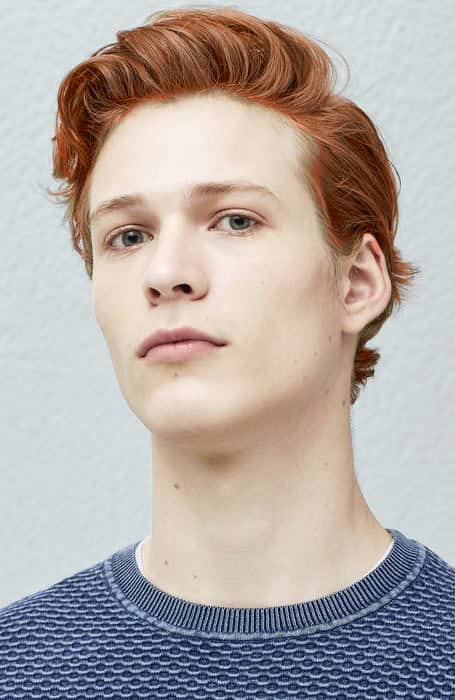 8. Pompadour
What better way to ensure your red hair is front and center, demanding all the attention, than with a pompadour. This haircut looks smart and can be worn everywhere, but it also gives your locks extra height and volume. This is achieved by brushing the front up and back. You can secure the look with hairspray or a similar product.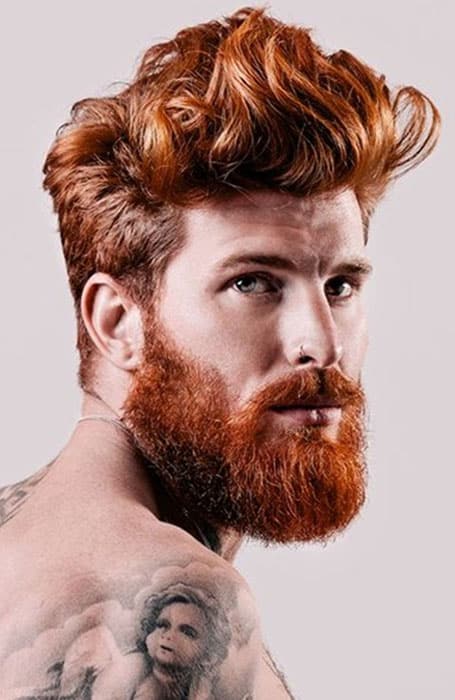 9. Mid Fade With Fringe
Some hairstyles are made to stand out, and a mid fade with ginger hair is one of them. This faded haircut ends between the temple and the ears (hence the name mid, for middle). The incredible thing about this style is that it can be adapted to suit all men's haircuts, allowing you to wear your strands precisely as you want. Do you want to try out a fringe? Why not! Pair it with a hair design or parting? That's also great. Experiment and have fun!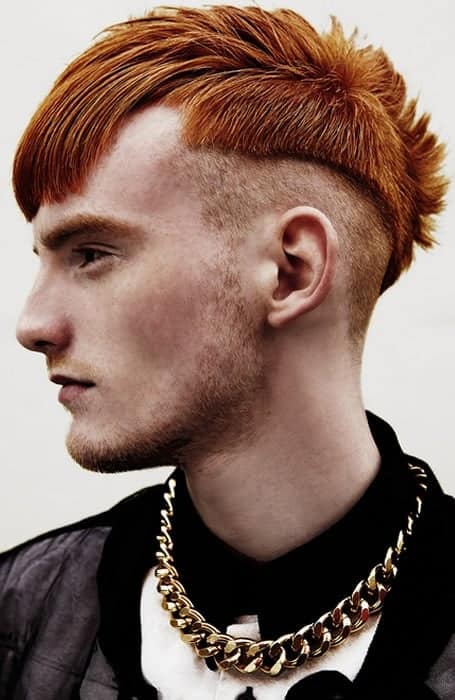 10. Medium Length Side Swept Hair
Let your ginger hair fall gently around your face by opting for a medium-length, side-swept hairstyle. The appeal of this length is that it is easy to maintain but also gives you versatility, letting you style in different ways, including sweeping it across the face, creating balance, and highlighting your face. It will also achieve a softness, complementing sharp and hard features.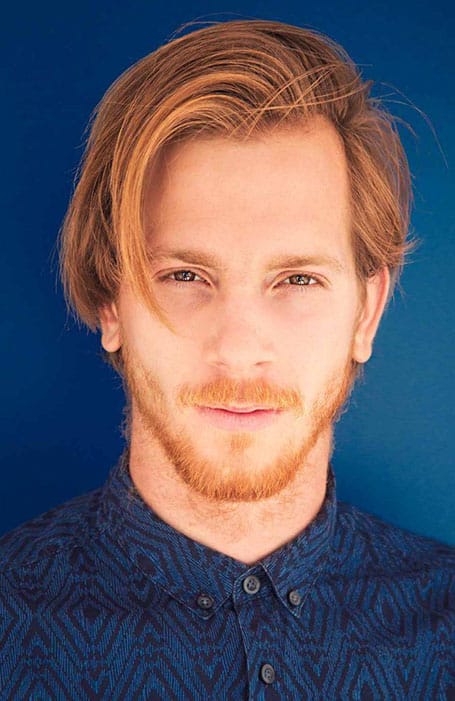 11. Caesar Cu
Red hair is an eye-catching hue and is excellent for those who want to stand out because of its rarity. It will complement even the most basic haircut like the Caesar cut. This look is defined by the hair being cut relatively the same length all over, but it is paired with a horizontal fringe, which is the defining feature (and an excellent way to create a youthful finish while highlighting your eyes).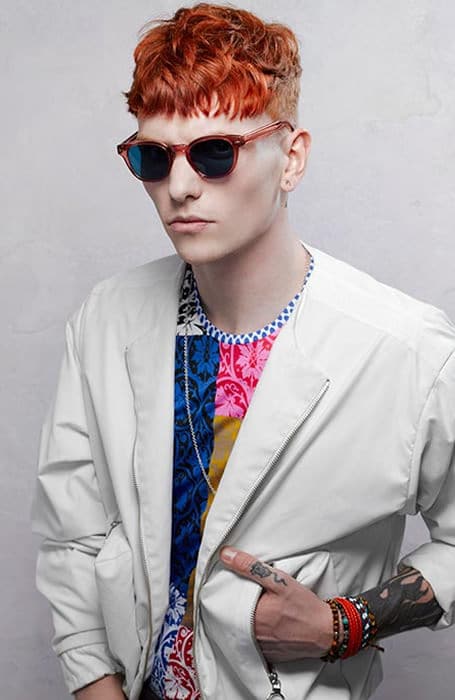 12. Long Wavy Hair
Nothing makes a statement in quite the same way as a full head of red long hair. There was a time when the only appropriate way for men to wear their hair was to cut it short, but times are changing, and for many, the longer, the better. This gives you endless styling options and the chance to flick your mane whenever you want! Pair it with beard style for extra cool points.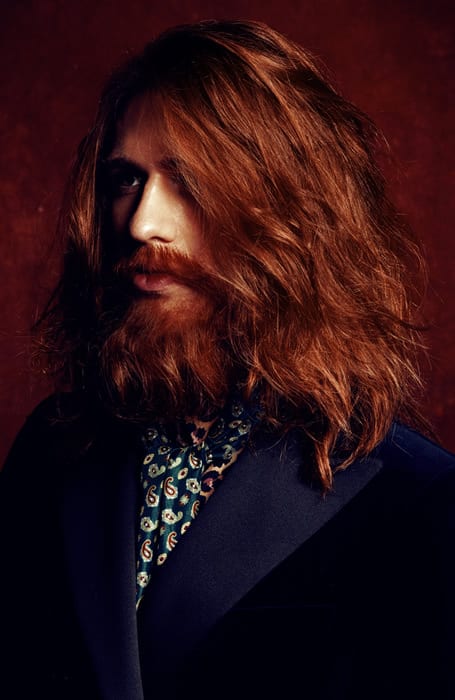 13. Long Straight Hair
Straight hair can be one of the easiest textures to care for and is often easier to maintain while still giving your strands a glow. This is a brilliant way to show off your red hair color, making it even more noticeable. Wear it long and feel the breeze in your hair when finding the best men's hairstyles of your dreams.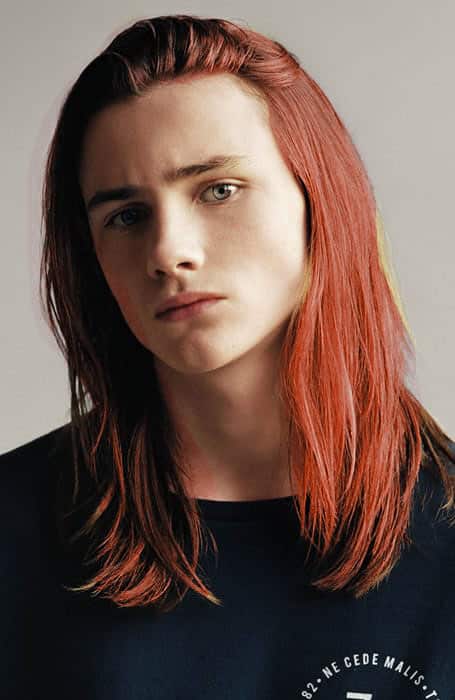 14. Long Curly Red Hair
Ah, curly hair. What better texture to give your red hair strands volume? For your locks to be even more noticeable, it is a great idea to wear them longer, which will add to the fullness of the finish but also soften your features. Although brushing and detangling can be painful and annoying, the result of having big hair is totally worth it.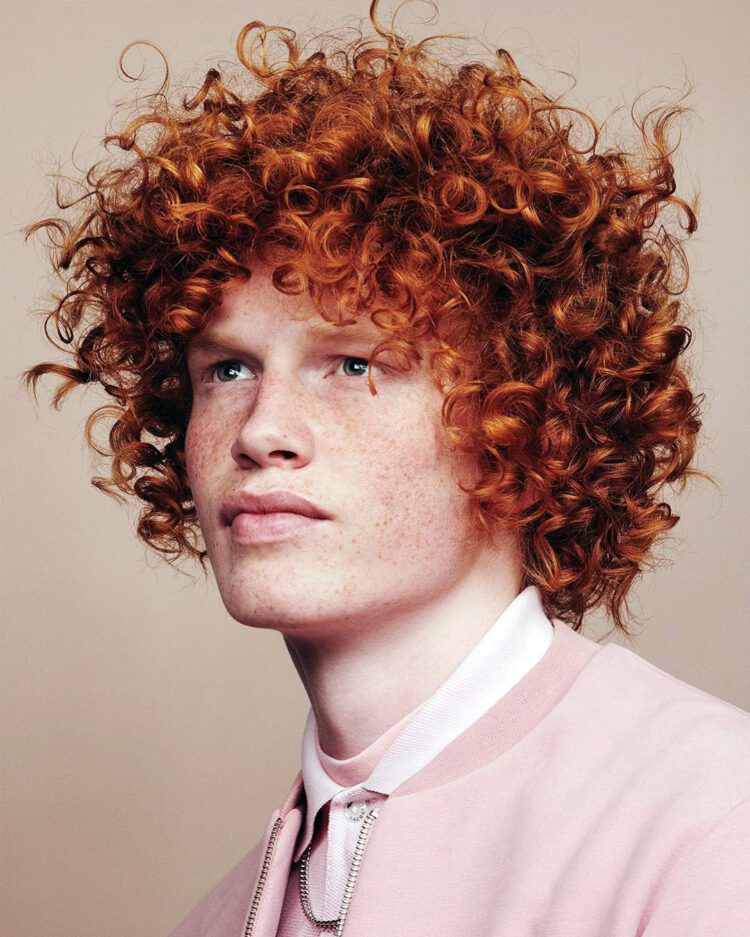 15. High And Tight
Not everyone wants to rock a full head of red hair, and for those looking for something effortless to style and super low-maintenance, the high and tight is for you. It is a masculine cut inspired by the military and ideal for achieving a professional and neat finish. Your strands will be clipped close to the head but significantly shorter on the back and sides. Play with proportions, including a clean shave or skin fade.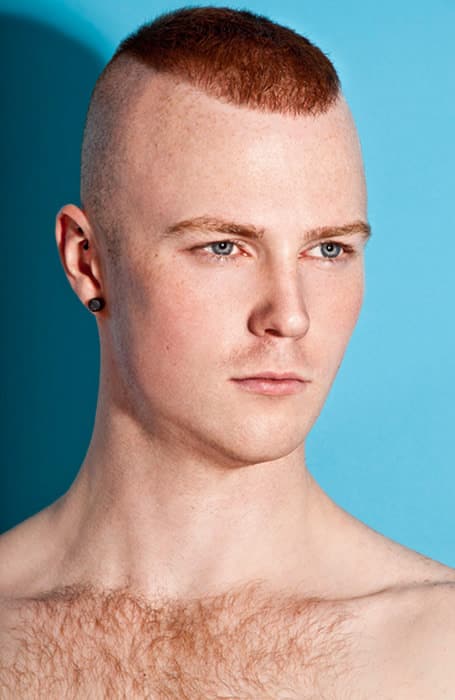 16. Hard Part
A simple way to give your hairstyle all the charm it needs can be achieved with a hard part. This is created by shaving a clean line down one side of the head, creating a more balanced finish and adding sharpness and sophistication to even the simplest haircut. It will complement all colors and textures, making it the perfect, versatile finish.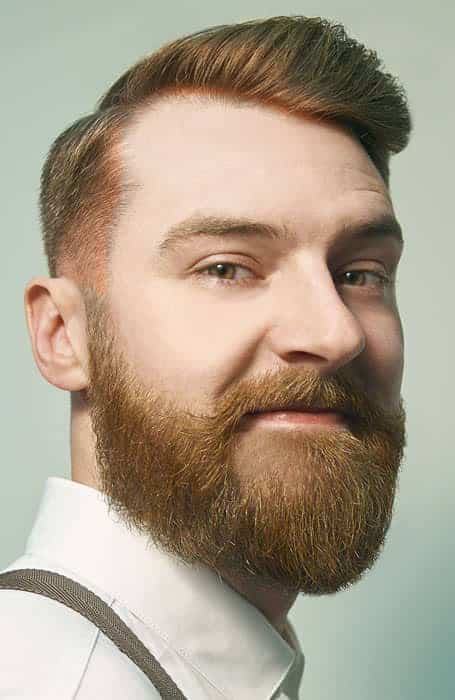 17. French Crop
The French crop is a top choice for men who prefer a classic approach to their hairstyles. It is a popular short haircut for men because it's easy to style and looks good with all textures. The hair is clipped short, but the defining feature is the fringe, often worn textured and below the browline. This gives it a youthful finish, ideal for younger men.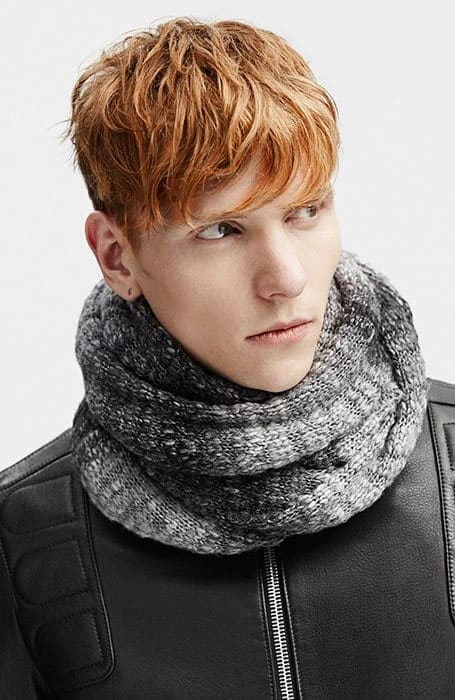 18. Flat Top
Edgy and a little retro, the flat top hairstyle may not be for everyone, but it does demand attention. This is because of the height it achieves, and the look is created by keeping the backs and sides shorter, and the hair on top styled upright and cut to be flat and boxy. Is it for everyone? Absolutely not, but there's much to like about this cut if you have red hair.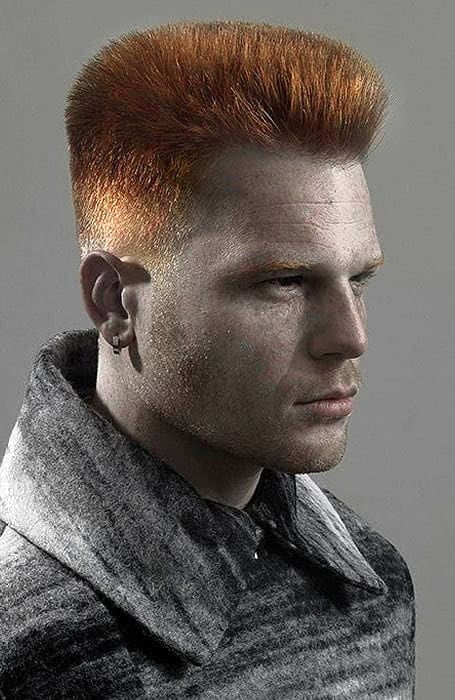 19. Faux Hawk
The contrast in length of the mohawk makes it a rebellious and undeniably cool haircut, but it can be challenging to maintain and restrictive (you can't wear it everywhere). An alternative is a faux hawk, the more laidback cousin of the traditional mohawk but with less oomph. There is less distinction in length between the sides and the hair on top of the head, making it easy to style.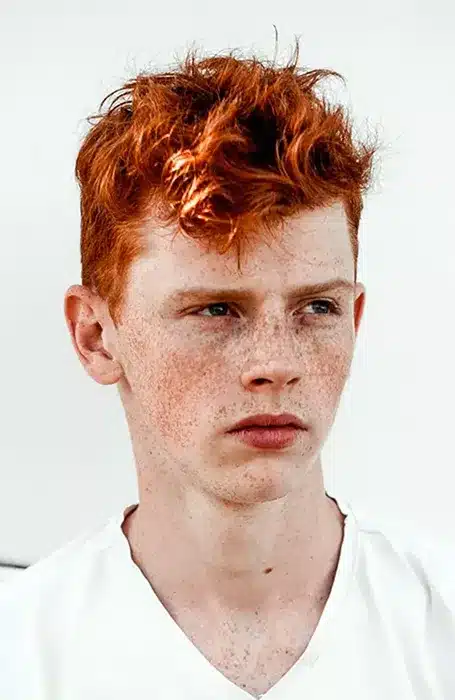 20. Crew Cut
Ginger is a warm shade that can give your complexion a glow. Depending on your preferred length and texture, there are many ways to try it out, but the simplest approach is sometimes the best. Say hello to the crew cut, a classic short hairstyle for men that is typically not worn over a quarter-inch. There is little difference in length between the strands on top and the hair on the back and sides, making it super easy to style.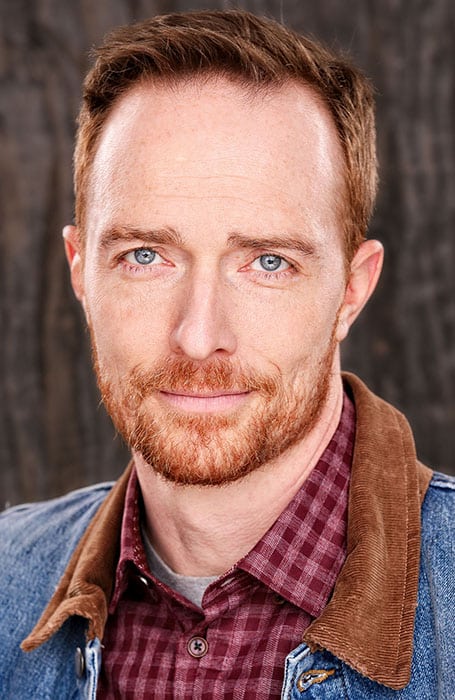 21. Man Bun
We have said it before and will repeat it: ginger hair is nothing if not versatile and an excellent way to make you stand out from the crowd. Whether this is your natural hue or you're opting to dye your strands this color, there are many ways to style it, depending on your preference. For an effortlessly cool and practical finish, try a man bun.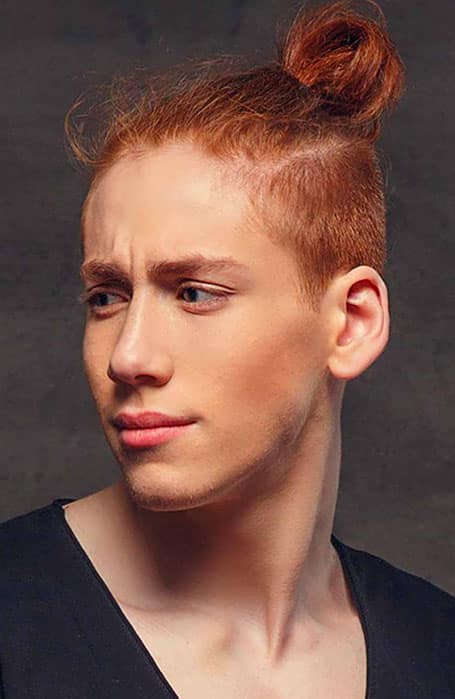 22. Blow Out
The volume and height of a blow out make it an attractive style because it gives your strands movement and plays with proportion. To achieve this look, you want to style the hair upward and secure it with hairspray or a similar product while keeping the back and sides shorter to achieve a contrast. The modern approach opts for a softer, less structured finish which appears more natural and is easier to wear.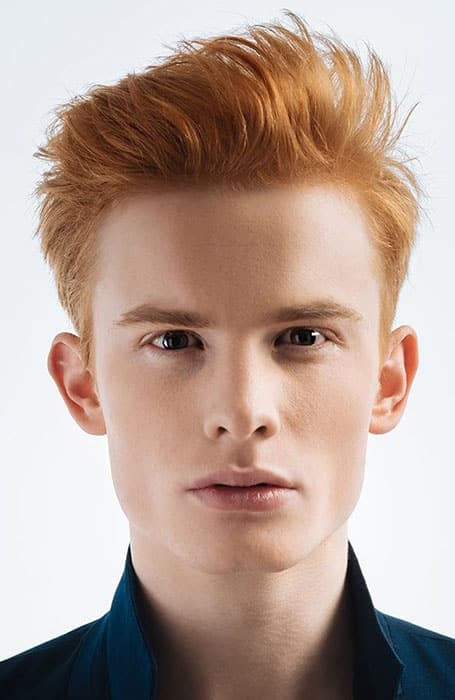 23. Ivy League
The Ivy League (named for its popularity among students at Ivy League schools) is a classic short hairstyle for men. With the sides and back slightly shorter than the top, there is nothing remarkable about the hairstyle, but it is versatile and can be worn by men of all ages. It also looks neat and will lend itself well to various settings.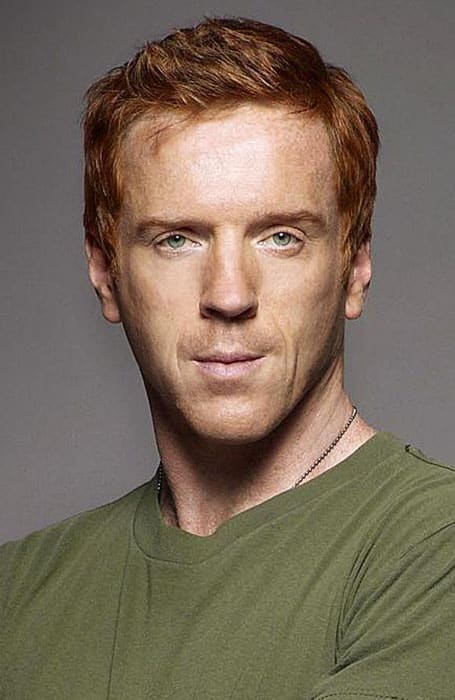 24. Line Up Red Hair Men
Ginger is a shade of red hair that blends orange and red. Naturally, it is found on people with pale complexions, but that does not mean you cannot try it out (your stylist will help you find the perfect hue). What better way to complement a vibrant color than with a bold haircut like the line up. The appeal of this look is its unusual shape at the hairline, which can be created with sharp lines and angles to give you a look that oozes personality.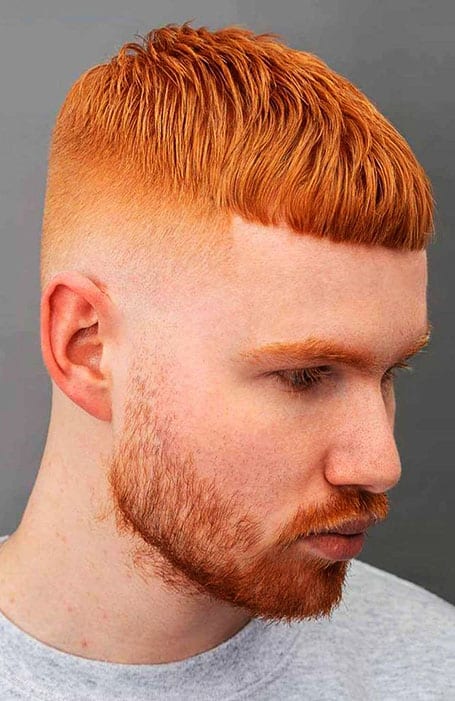 25. Long Curly Fringe
There was a time when ginger hair had a bad reputation, but thankfully the attitude toward this brilliant color is changing. And for a good reason, it is one of the coolest shades to try and will look great on all textures and lengths. To bring out your eyes, try wearing it with a fringe. And for those with curls, this is even better, as your locks will create volume.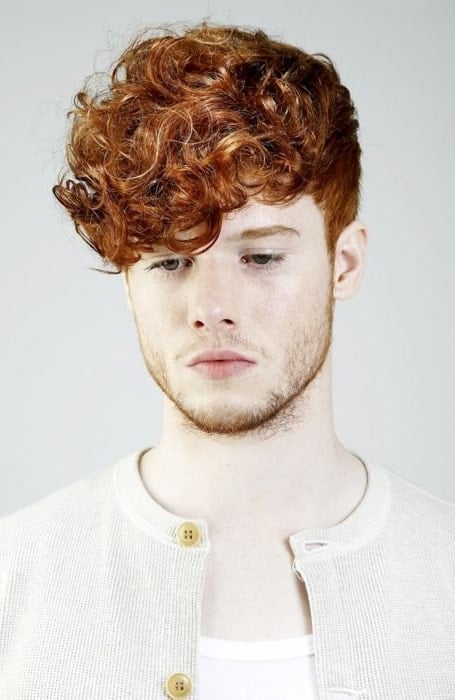 Red Hair Men's Hairstyles FAQs
Is ginger hair attractive on men?
Ginger hair is definitely attractive on men, and because of the rarity of this color, it makes it instantly noticeable. This is a great shade if you want to stand out from the crowd or highlight your hair texture.
What colors look best on ginger men?
Some colors look better on ginger men than others, and you want to find shades that complement your hair and pale complexion. The best options are navy, cobalt, and varying other shades of blue. You can also stick to classic, neutral hues like white, beige, and black.
What is red hair a sign of?
Red hair is associated with many things and can be a sign of power and strength (it is believed that individuals with red hair can withstand greater pain levels). It is also associated with sensuality, passion, and good luck, making this an excellent choice for a man who values these qualities or wants an eye-catching hue.
What are guys with red hair called?
Men with red hair can be called redheads or gingers. The terms used will vary depending on your shade of red hair, but these are the most common descriptions.
What ethnicity has red hair?
Red hair is typically found in people with pale complexions and is most commonly associated with Caucasians, specifically Celtic people. However, this is not entirely accurate, as many other ethnicities can have red hair. This includes South America, Africa, and Asia (although far less common).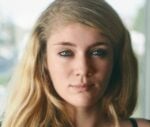 Cailyn Cox holds a degree in journalism and has been working with The Trend Spotter as a writer for over ten years. She has worked with some of the most prestigious women's and men's lifestyle publications. For her, writing is not just a job; it's a passion, which is why each article she writes is approached with such enthusiasm and dedication. She has extensive knowledge of hairstyles, tattoos, and beauty and has made a career out of creating informative articles that appeal to women and men of all ages.
SUBSCRIBE TO OUR NEWSLETTER
Subscribe to our mailing list and get interesting stuff and updates to your email inbox.