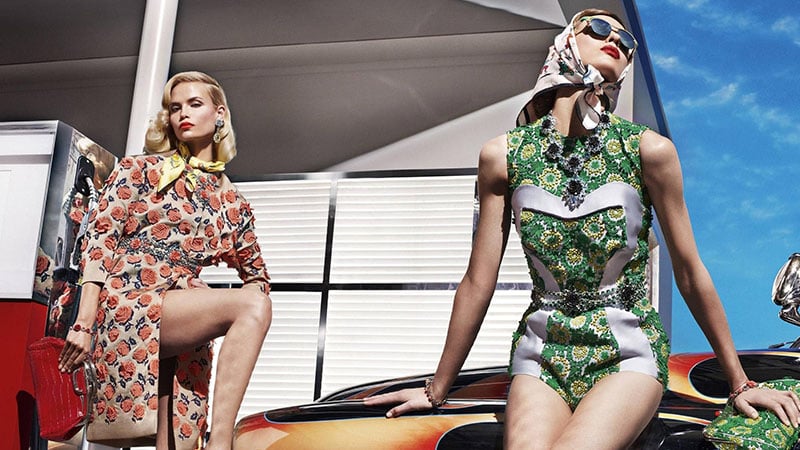 If you're looking for fresh outfit inspiration, turning to the past is always a good option. After all, there are so many exciting styles and timeless looks that are just waiting to be re-worn. In particular, the '50s makes a great era to reference. Today, many key 1950's pieces have found themselves once again in the fashion zeitgeist, making now the perfect time to give your contemporary style a retro twist. So, if you're ready to infuse your wardrobe with a cool rockabilly touch or a sexy pin-up style, keep reading. Here's our guide to '50s fashion and style for women.
RELATED: 60s Fashion for Women
50s Fashion
Fashion in the 1950s was exciting and diverse. There were new colors, fresh silhouettes, and different style options for different personalities. Today, the iconic decade is still heavily referenced in the fashion world. It is especially beloved for its chic retro style and playful looks, including those of the pin-up and rockabilly subcultures. Key designs for the decade included dresses with cinched waists, pencil skirts, poodle skirts, gingham and polka dot garments, cropped sweaters and cardigans, and much more. The key shape for the decade was a feminine, exaggerated hourglass silhouette. Additionally, as this decade saw the birth of the teenage culture, a distinction between youth fashion and more mature styles also developed.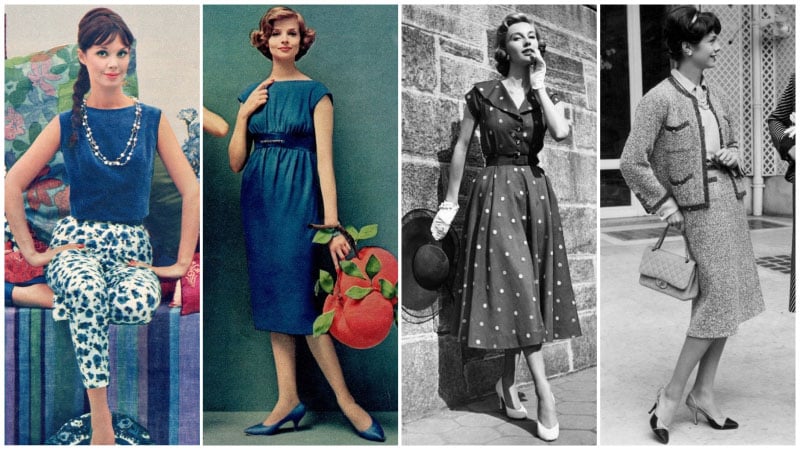 50s Rockabilly Fashion
The rockabilly subculture of the 1950s was based around the music genre of the same name. The style, which combined elements of rock and roll with country music, was highly popular during the time, especially with teenagers. Due to this popularity, rockabilly and its followers soon developed a signature aesthetic. The fashion for the females of the subculture consisted of a mixture of pin-up styles and swing looks. As such, many rockabilly girls wore swing dresses, fitted pencil skirts, poodle skirts, bullet bras, and the like.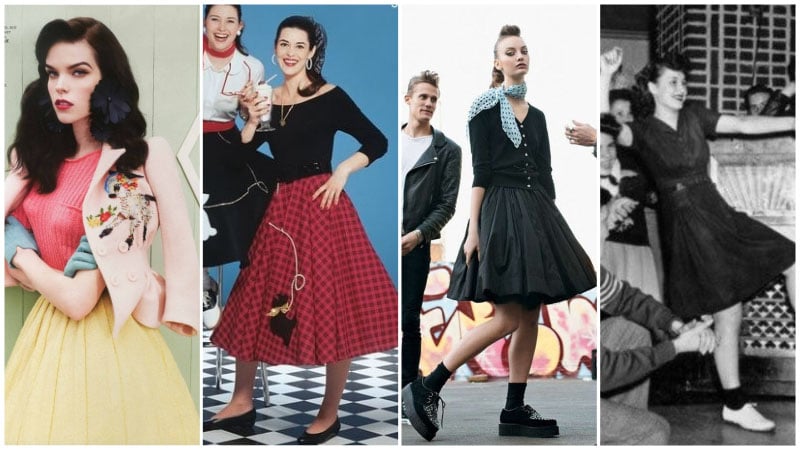 50s Pin Up Fashion
Inspired by the seductive poster girls of the day, '50s pin-up style was all about feminine sex appeal. So, the clothing involved in the look was often quite revealing. Key pieces included tight-fitting pencil skirts, hot pants, halter neck dresses, bustier tops, and swimwear, including bikinis.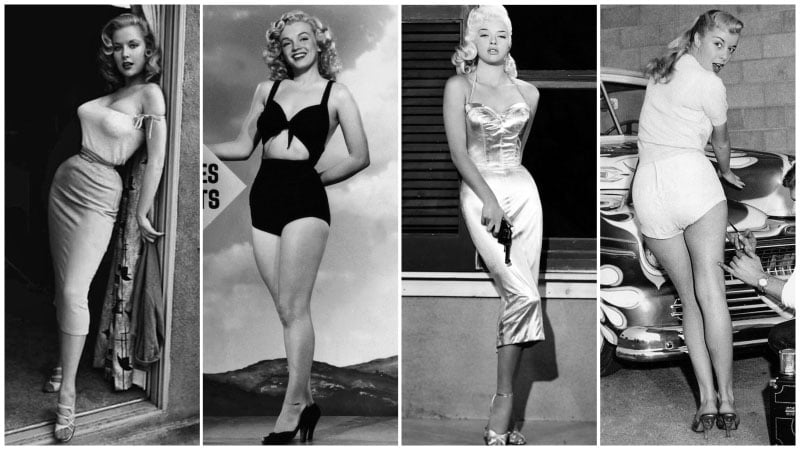 50s Greaser Fashion
Although you may picture motorcycle-riding, leather-clad gents when you think of the greaser subculture, many women also embraced the iconic style during the time. A key look of the 1950s, the greaser style originated in the United States with teens and young working-class men. For women, the look involved a blend of rockabilly and pin-up styles finished off with a dose of edgy attitude.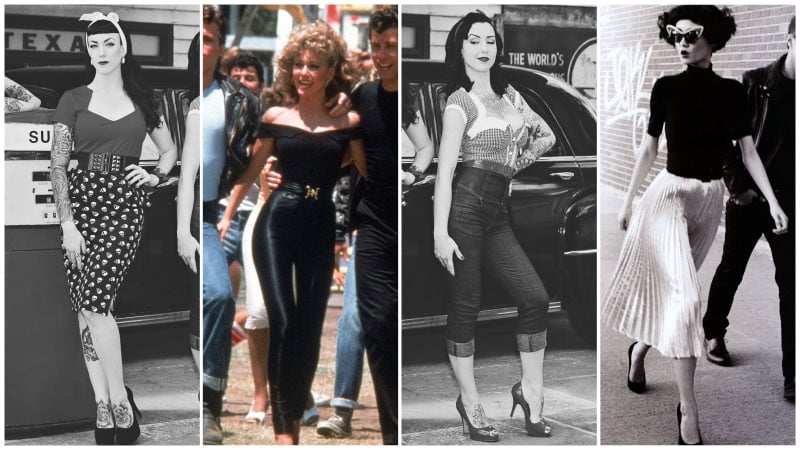 50s Fashion Icons
The 1950s saw many celebrities turn into bona fide fashion icons. In particular, the most famous of the bunch was the era's unforgettable actresses. Stars, such as Audrey Hepburn, Elizabeth Taylor, Marilyn Monroe, and Grace Kelly all captivated the world with their acting skills and stylish wardrobes.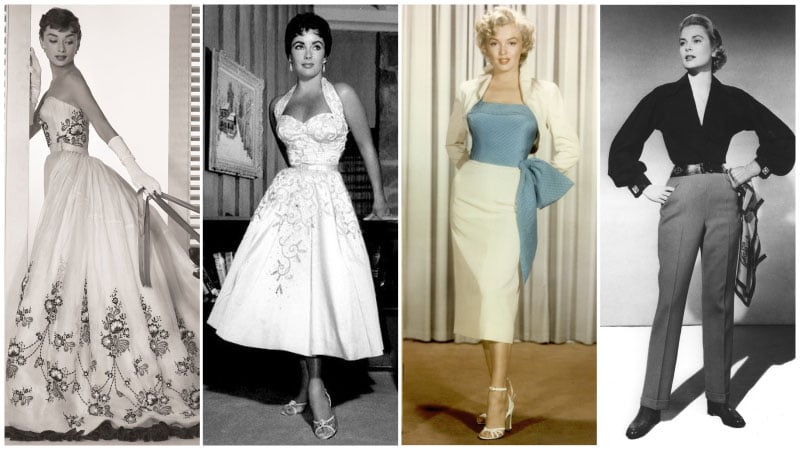 50s Hair and Makeup
Just like the fashion of the decade, the hair of the time was also diverse. There were feminine updos, poodle looks, rockabilly styles, glamorous pin curls, barrel curls, bandana-wrapped styles, and plenty more. Makeup-wise, the decade was full of glamour. Advances in makeup and cosmetics lead the way for fantastic new beauty looks. In general, the makeup of the time consisted of a creamy foundation, pastel pink blush, soft eyeshadow, red or pink lips, and mascara on the upper lashes. During the time, eyebrows were tapered and feminine. Also, winged eyeliner became popular during the decade.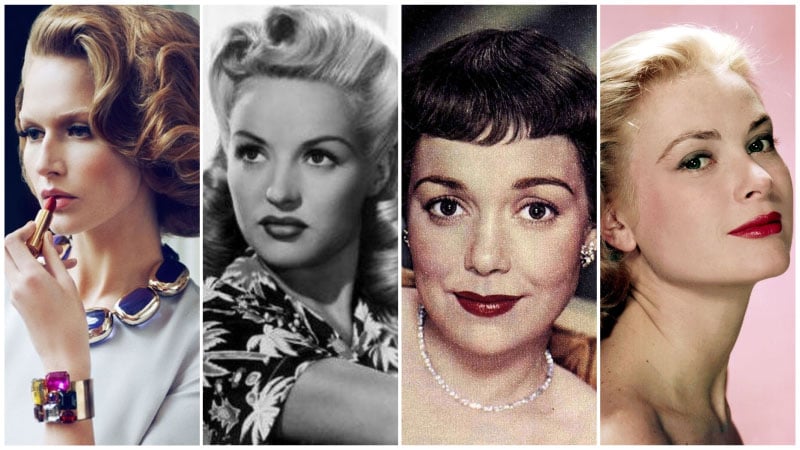 50s Clothing and Style
50s Dresses
The '50s silhouette was all about the hourglass. So, naturally, fit-and-flare dresses were highly popular during the time. However, shirt dresses and fitted pencil dresses were also a favorite choice for stylish women. Of course, no matter the style, '50s dresses were all generally knee-length with many also featuring a playful color or print. Additionally, square-neck and halterneck designs were trending at the time.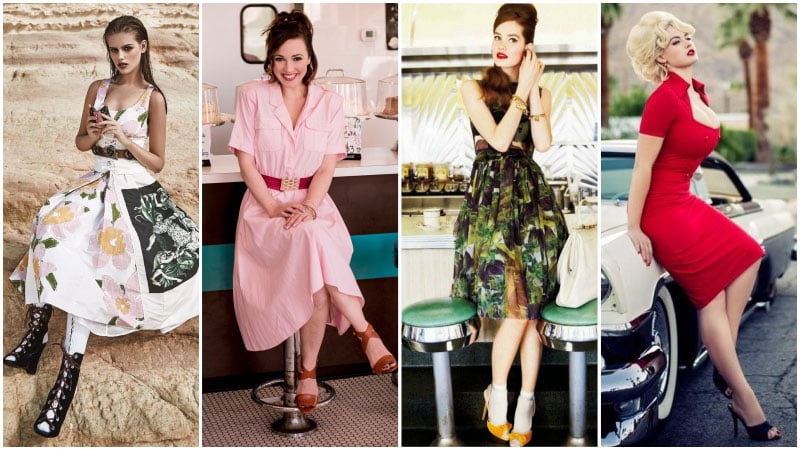 SHOP THE LOOK
50s Poodle Skirts
Midi-length skirts have been a fashionable look for several years now. So, it comes as no surprise that the '50s poodle skirt is fitting right in at the moment. Perfect for special occasions, poodle skirts are designed to flare out at the knees, creating a gorgeous and feminine appearance. While the style originally featured poodle appliques and other designs, we recommend forgetting this feature when rocking the look today. Instead, focus on the silhouette and select a flared or pleated design in a chic, solid color.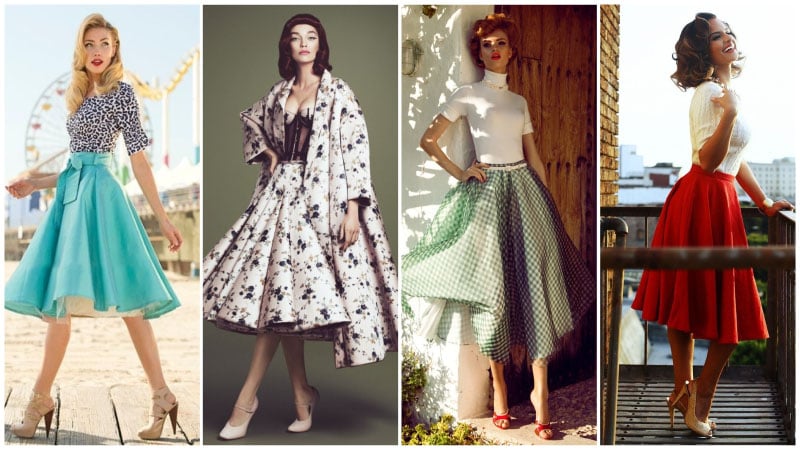 SHOP THE LOOK
50s Pencil Skirts
Tight pencil skirts were also popular during the '50s. These skirts were typically worn high on the waist and ended between the mid-calf and knees. As fabrics had little to no stretch back then, women were required to walk with a wiggle to move in them. As such, they are often also called wiggle skirts. Most came in solid colors or plaid prints and featured a short, matching jacket. To try this look today, consider adding a fitted pencil skirt to your work wardrobe. You can even partner it with a blouse and cardigan for an extra '50s touch.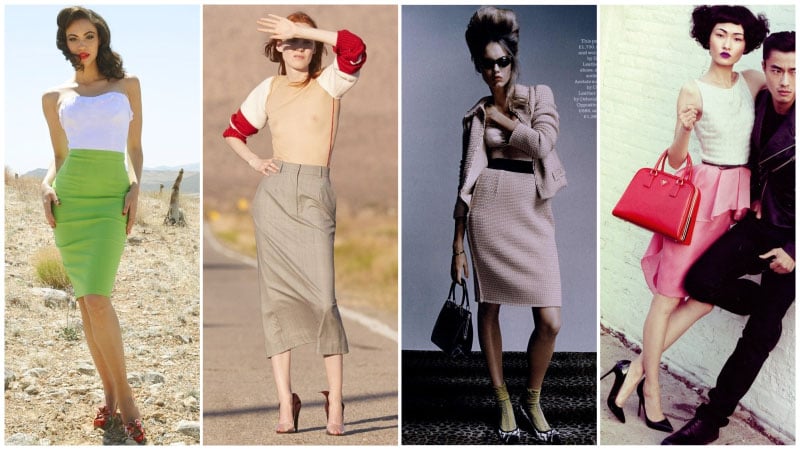 SHOP THE LOOK
50s Sweaters/Cardigans
Add a dash of fifties preppy style to your wardrobe with the addition of cardigans and sweaters. Perfect for autumn and winter, these classic staples will keep you feeling warm and looking chic. To wear them like a real '50s lady, just remember to opt for fitted and cropped designs. You can also consider choosing a brightly coloured style and slinging it over your shoulders for a lovely throw-back look.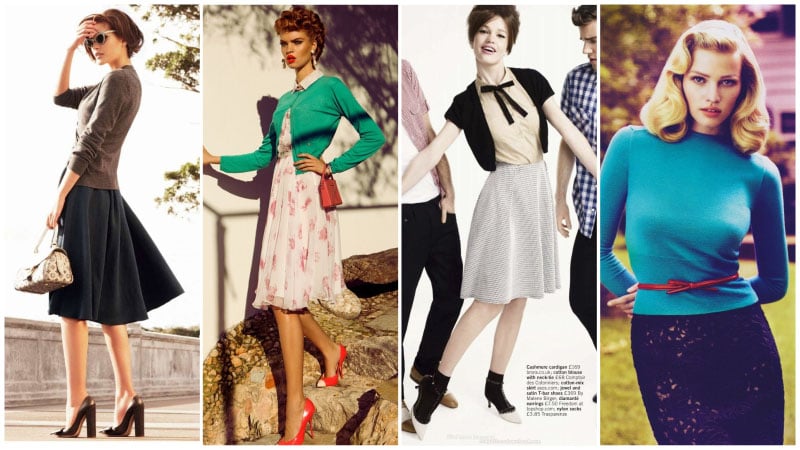 SHOP THE LOOK
50s Shoes
Women's shoes during the 1950s were diverse. There were saddle shoes, kitten heels, Mary Janes, ballet flats, sandals, wedges, and even sneakers. While you could add all of these to your wardrobe, you should consider sticking to those that matched the feminine style of the decade. After all, nothing looks better than a kitten-heeled, peep-toe pump with a retro circle dress.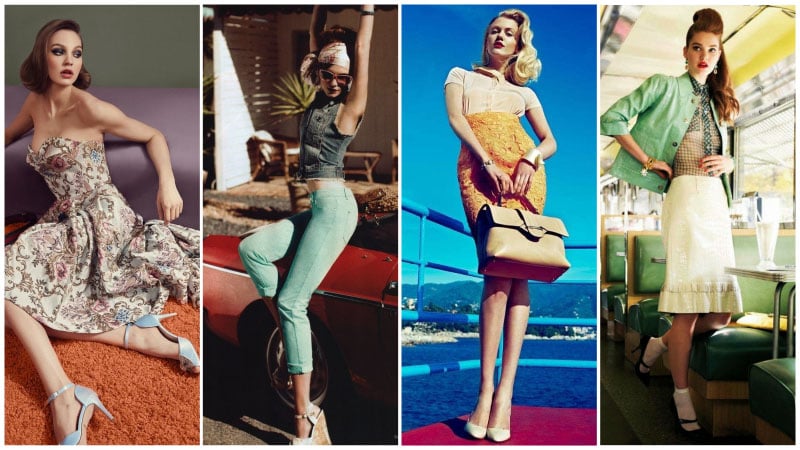 SHOP THE LOOK
50s Accessories
Ladylike accessories are the key to nailing a lovely, '50s style. So, start shopping for gloves, vintage-style handbags, and pearl jewelry. Also, don't forget to invest in a silk or chiffon scarf. Women of the decade wore them in several ways, including delicately tied around their necks and wrapped around their barrel curls. Today, you can follow their inspiration or make your own rules with a silk scarf tied around a ponytail or looped onto your handbag strap.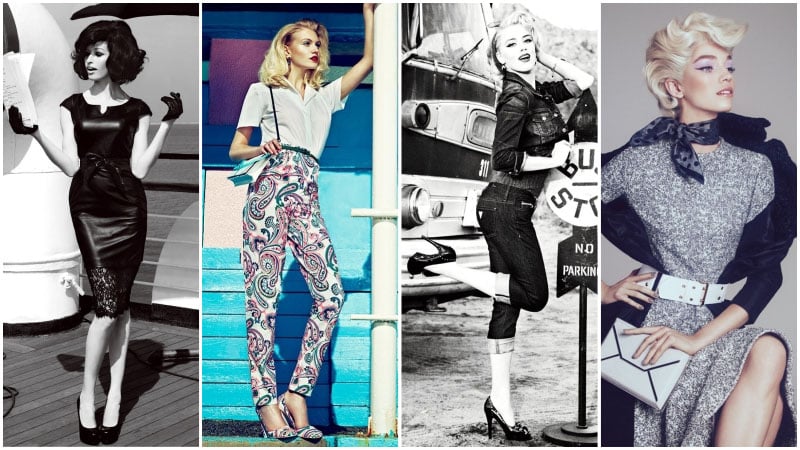 SHOP THE LOOK
How To Wear 50s Fashion
Find your fifties style, be it rockabilly, pin-up, greaser, swing or something else.
Aim for an hourglass silhouette with fit-and-flare dresses and poodle skirts.
Throw on a cropped cardigan or sweater for an instant hit of '50s prep.
Add chic accessories like gloves, silk scarves, and pearl jewelry.
Keep your '50s look modern by blending key pieces and styles from the decade into your contemporary wardrobe.
FAQs
What was fashion like in the 50s?
The 50s was an interesting time for fashion and focused on garments that celebrated the female form. It was an exciting time, with new patterns and silhouettes, and many styles are still popular in fashion today. When you think of clothes from this decade, think of cinched waists, pencil skirts, cropped sweaters, and cardigans, as well as cute and wearable prints like gingham and polka dots.
How did fashion impact the 1950s?
The fashion choices in the 50s focused on elegance and formality, and it was a chance to celebrate a woman's figure and draw attention to her curves. The hourglass shape was one of the most desirable at this time, and garments that focused on the waist with fuller skirts were great options. Some of the popular items at the time include poodle skirts, pencil skirts, and swing dresses. There were also several styles to be inspired by, including Rockabilly Fashion, Pin-Up, and Greaser looks.
What were some trends in the 1950s?
Some of the most memorable looks from the 1950s included poodle skirts, pencil skirts, fit-and-flare dresses, and anything that gave an hourglass silhouette. Accessories were usually simple and elegant, like neck scarves, gloves, pearl jewelry, and vintage-style handbags.
SUBSCRIBE TO OUR NEWSLETTER
Subscribe to our mailing list and get interesting stuff and updates to your email inbox.