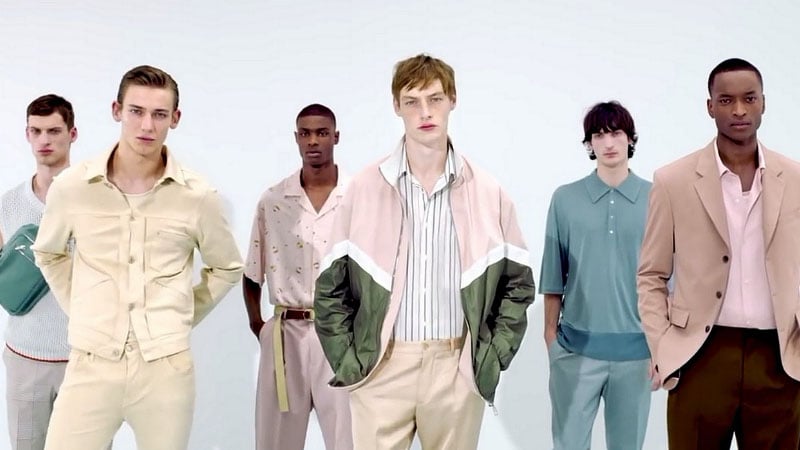 Finding the right haircut can be challenging, there are several different factors to consider, including your face shape, your hair's texture or curl pattern, the amount of time you have to style it, and how long you want it to be. To help you decide on the right look for you, check out our list of the coolest haircuts for teenage guys.
Teen Boy Haircuts
1. Undercut
Unlike the subtle gradient effect of a fade, the undercut is all about sharp contrast. Your barber will shave the sides of your head super short – or completely clean – without blending, leaving the top section of your hair longer. Because of the drastically shorter sides, an undercut always attracts attention. Adding an undercut is a great way to change up your hairstyle quickly. You could try a Peaky Blinders-style undercut with a crop, or leave the top longer to for an even more dramatic result.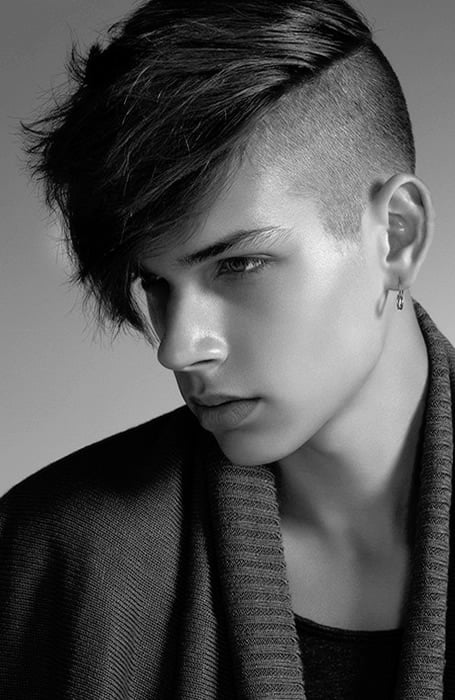 2. Long Wavy Hair
Stars like Kit Harington have made long wavy hair one of the most popular hairstyles for guys – which is good news if your hair grows that way naturally. To get the look of deliberately 'unstyled' wavy hair with a rugged and masculine feel, let your hair grow out and don't use too much product. All you need to do is sweep your hair back from your face and tuck it behind your ears.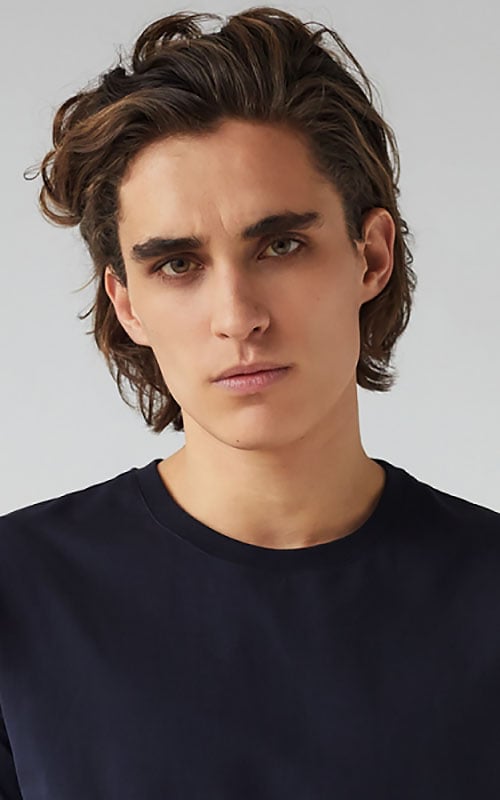 3. Crew Cut
For guys who want a simple, masculine hairstyle, the crew cut is ideal. It's named after the college rowing teams who first made it famous decades ago. Today, it's still one of the preferred cuts for athletes because it's so low-maintenance. When you get a crew cut, your hair is cut short all over, to the point where it stands up and can't be combed over. The sides are tapered, while your barber will leave the top section slightly longer, so your hair looks thicker.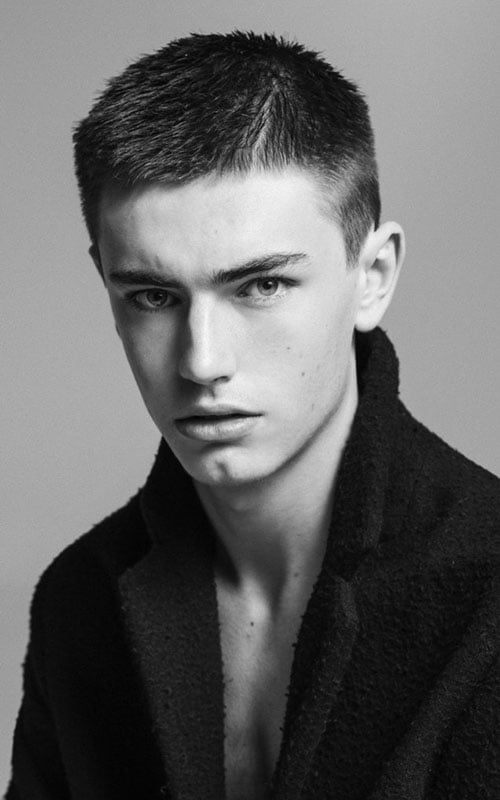 4. Spiky Hair
Want to be the center of attention? Spiky hair is for you. Like the mohawk and faux hawk, it's a hairstyle with a punk spirit and lots of attitude. Because it's such an eye-catching style, spiky hair has become a favorite of celebrities and footballers. To add to the edgy feel of spiky hair – and avoid the 'kid with too much gel' look – pair it with a skin fade.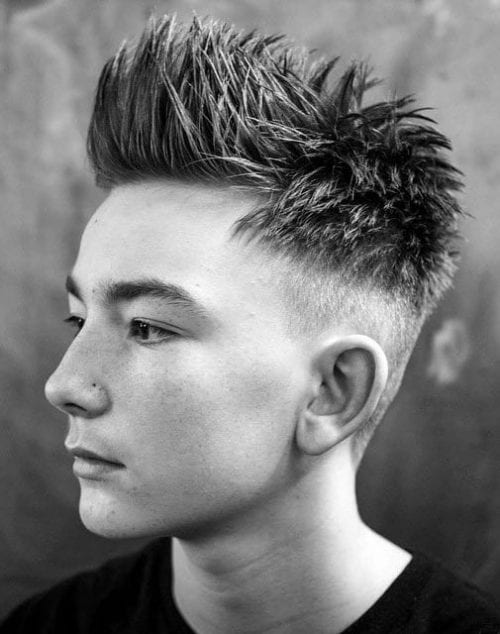 5. Messy Fringe
One of the simplest ways to change up your hair is with a fringe. And, with messy texture being one of the biggest trends for guys' haircuts, a messy fringe could be a good option. Messy hair makes you look more laidback and relaxed than blunt or smooth bangs, meaning its perfect for all situations, from school or uni to a night out. Use a matte clay to get the messy look without adding any shine or weight to your fringe.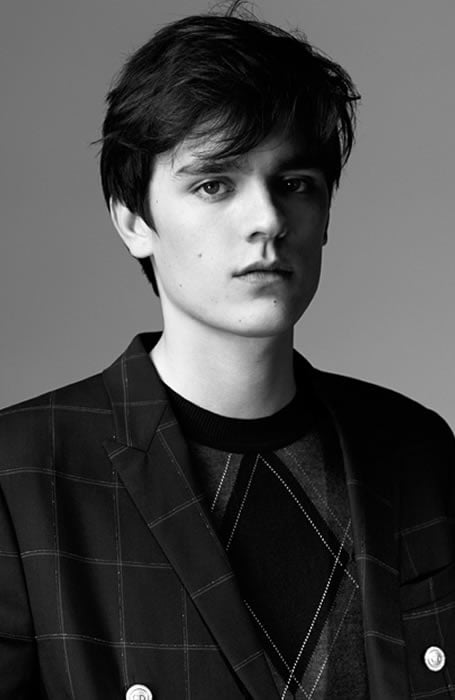 6. Afro
Make the most of your natural curls and coils with an afro hairstyle. It's perfect for guys who love to stand out, as an afro always gets attention. Before you grow out your afro, consider how big you want it to be. While a full afro has a relaxed retro vibe, a smaller afro is easier to maintain. Make sure you wash, moisturize and detangle your hair regularly, and have your barber shape the afro, so it grows evenly.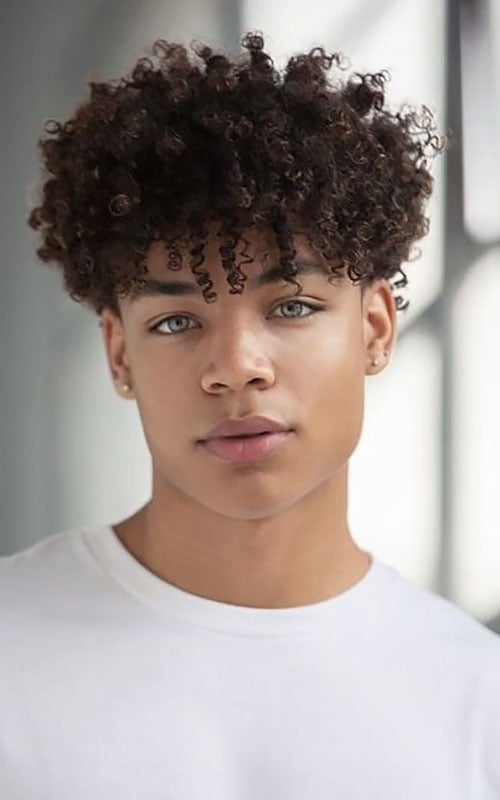 7. Faux Hawk
For guys who want the edgy, punk vibe of a mohawk without the commitment – or even a school dress code violation – the faux hawk is an excellent option. There are lots of different ways to create a faux hawk. The simplest is to ask your barber for a high fade, leaving the central section of your hair extra long – particularly at the front. Then you can use gel and strong hold hairspray to create a subtle version of the mohawk.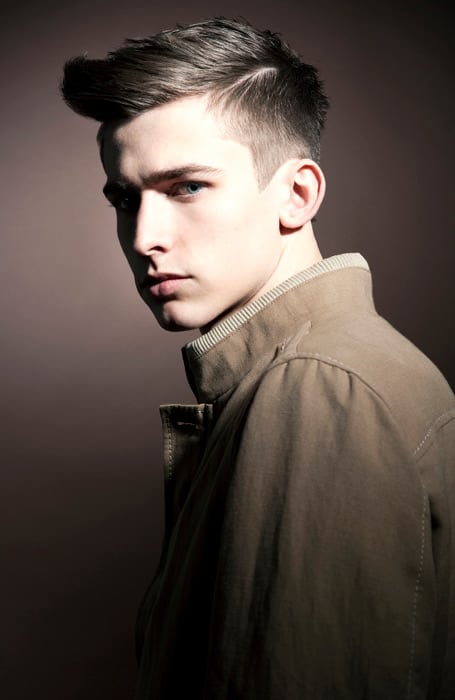 8. Side Part
One of the most classic hairstyles for men, side-parted hair flatters all face shapes and also works with different textures. In its traditional form – straight hair in an Ivy League cut – the side part looks polished and clean-cut. However, it can be adapted to suit your style. Pair it with a quiff, a shaved parting, or high fade for a more edgy look.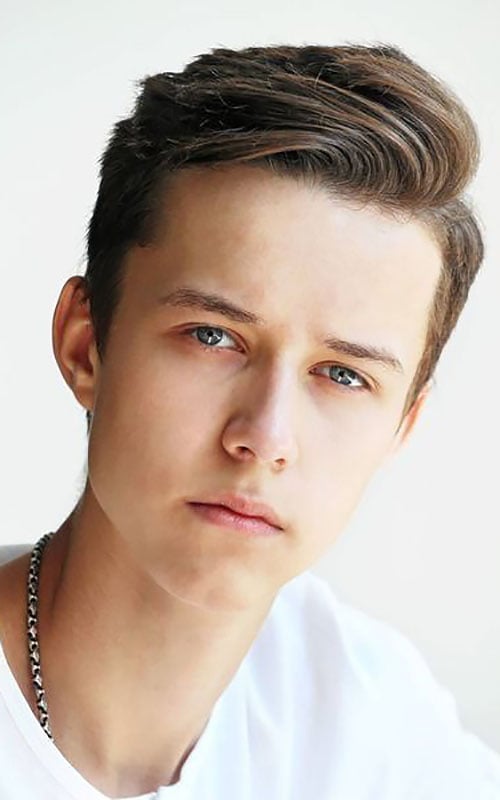 9. Bowl Cut
The bowl cut got a bad name based on the unfortunate 'mushroom' look of the past. However, today the style has had an upgrade, with many guys pairing it with an edgy undercut or adding asymmetric cuts to the fringe. Another option is to add some texture to the hair to 'break up' its traditional uniform look. A bowl cut also minimizes a prominent forehead and balances out your features.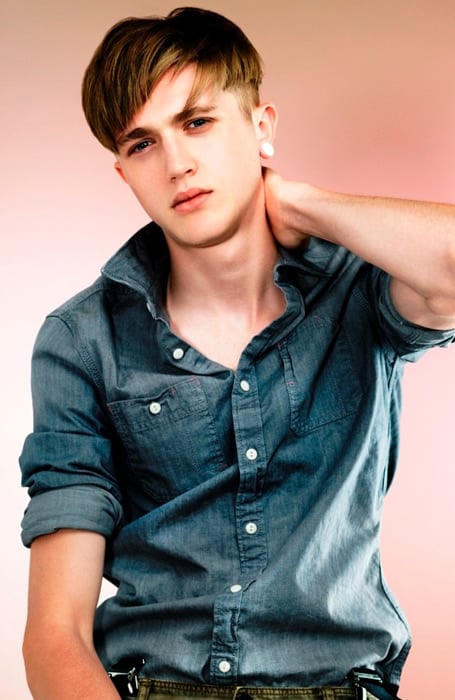 10. Quiff
One of the most enduringly popular guys' hairstyles is the quiff. More subtle than a pompadour, it gives a similar lifted effect that flatters every face shape. It also looks great with any hair length, though it's usually seen on short to medium hair. You can put your twist on the style with a side-parted quiff, which has a more casual feel than a classic quiff.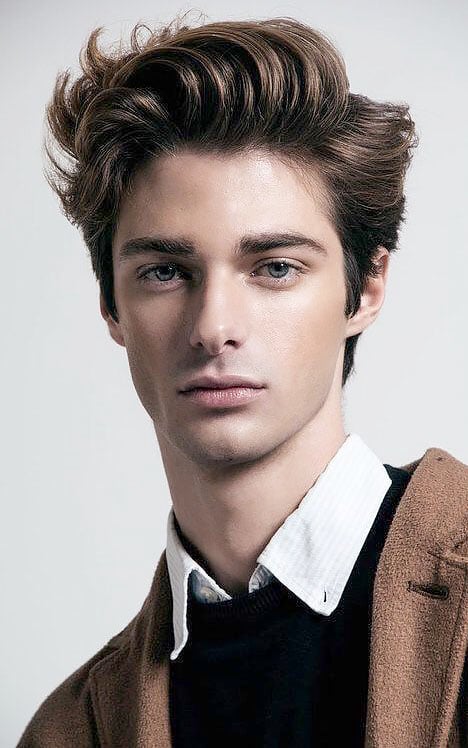 11. Natural Wavy Hair
Wavy hair looks good at any length, from short to shoulder-length. As with curly hair, your barber should cut your hair to complement your wave pattern. Doing so ensures your haircut looks natural and frames your face correctly. When cut properly, naturally wavy hair has a relaxed and effortless look. It's also essential to keep your waves defined and moisturized to avoid the frizzy birds' nest look. Use pomade or styling cream to add a slightly wet finish to your hair and stop it from drying out.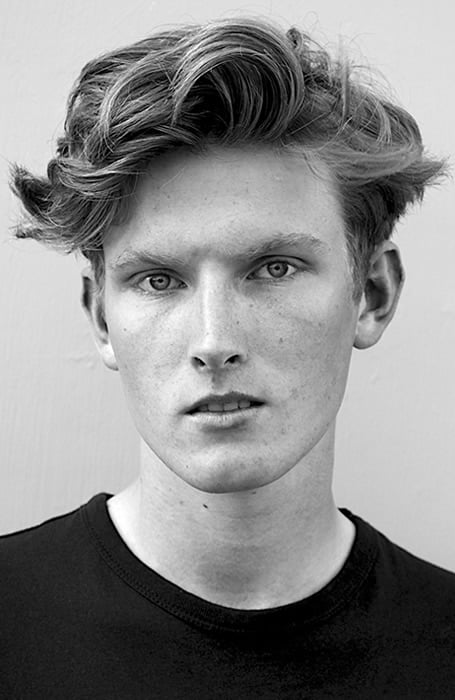 12. Caesar Haircut
If you want to keep your hair short but still show your personality, try a Caesar haircut. The Caesar – named after Roman emperor Julius Caesar – has been seen on stars like Gerard Butler and Tom Hardy. It involves pushing the top section of your hair forward to create a small fringe, adding texture with a hair paste or texturizing spray. It's a reliable option if you have fine hair, a big forehead, or an uneven hairline.

13. Line Up Haircut
When you ask for a line-up – also known as an edge up or shape up – your barber will use clippers to shave straight lines or sharp angles into your hair. It's often paired with a fade, undercut or a buzzcut, and can also be used to create an edgy 'disconnected' look. The line-up adds a unique touch to your hair, especially if it's short.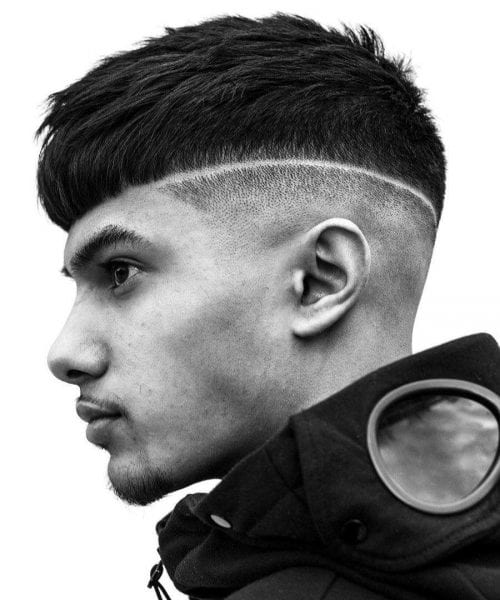 14. Blowback
The blowback is an iconic hairstyle for guys. Old school stars like Elvis and James Dean made it famous in the '50s, and it still looks as cool and effortless today as it did back then. As with other volumized hairstyles like the quiff and pompadour, the blowback suits almost every face shape. Pair it with a taper fade for a fresh twist on the classic style.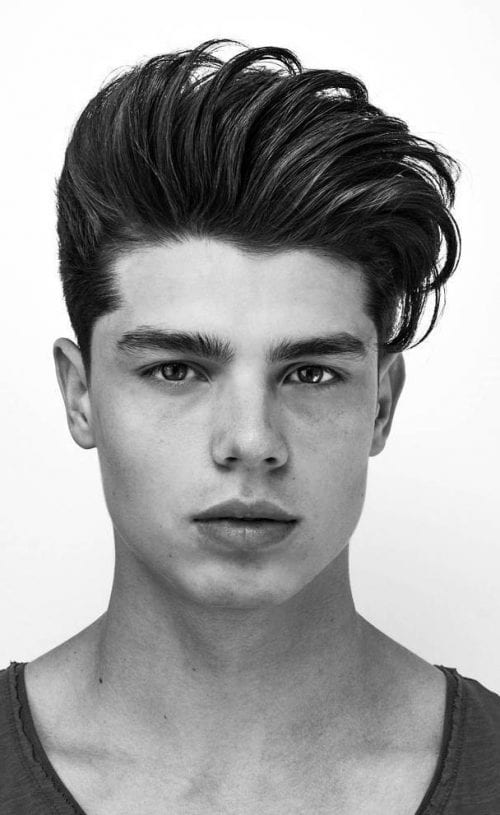 15. Mid Fade with Fringe
An edgier take on the fringe haircut is to pair it with a mid fade. The contrast between the longer fringe pieces and the short sides make this haircut stand out. As a result, it's an eye-catching look that will draw attention to you. It's also a good option if you want to disguise a larger forehead while still keeping your fade. Plus, you can use products to style your fringe into a faux hawk or quiff, making it a versatile haircut.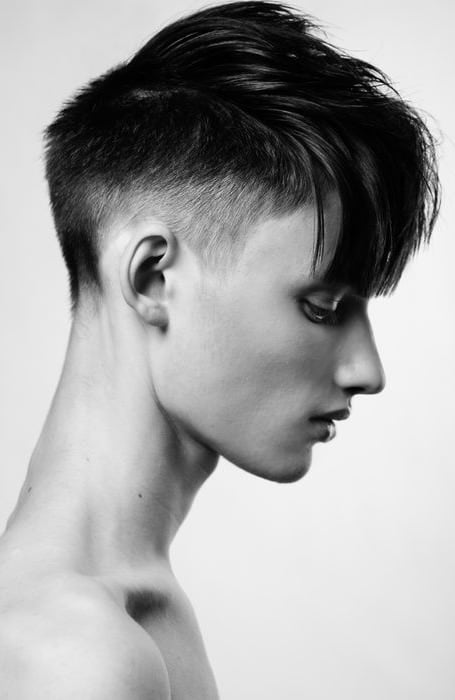 16. Natural Curls
Curly hair can be more high-maintenance than straight hair, but working with your natural texture is easier and quicker than straightening your hair every day! Ask your barber for a cut that works with your curl pattern, and make sure you keep your hair moisturized to avoid frizziness. Use shampoos without sulfates, and a deep conditioner every two weeks, detangle your hair with a wide-tooth comb while it's wet, rather than dry-brushing it.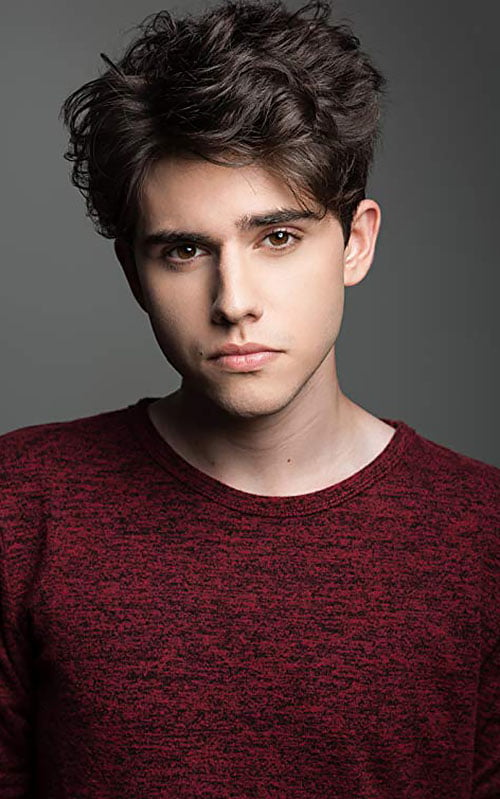 17. Pompadour
Guys who want to stand out should consider the pompadour. An exaggerated version of the quiff, it involves styling the front and crown sections of the hair up and off the forehead, while the sides are kept short – either buzzed or scissor cut. To create a classic pompadour, you will need long, thick, straight hair. However, there are cool variations for wavy and curly hair too.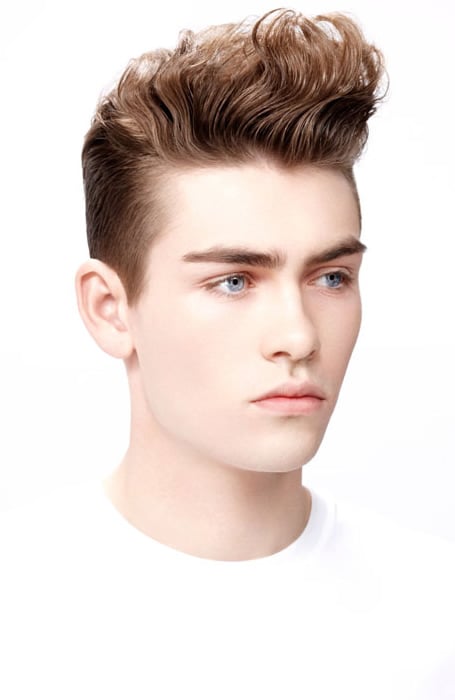 18. Short Curls
Guys looking for a more clean-cut and low-maintenance curly hairstyle should consider short curls. It combines a taper fade with a scissor-cut curly top. Because you'll only need to apply curl-defining products to one section of your hair, you'll save time styling your hair. If you have naturally straight hair, have your barber leave the top a little longer and use heated curling tools – like rollers – to get the curly effect.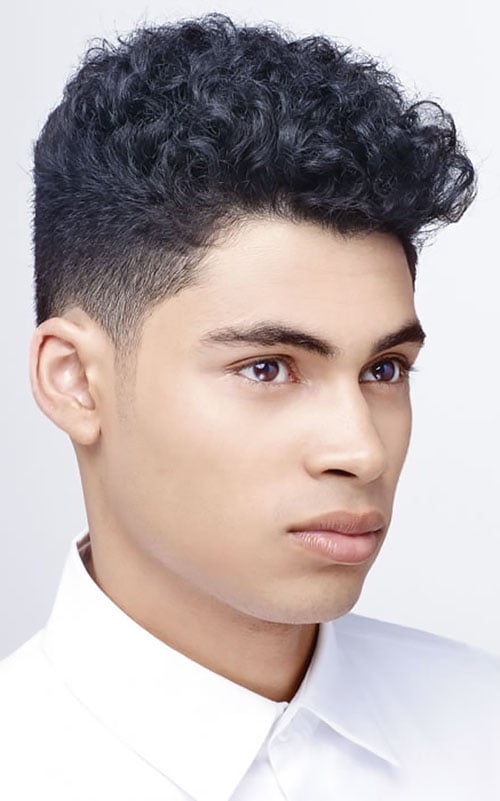 19. Swooping Fringe
A swooping fringe – an ultra-long, angular side fringe – was first made popular by the emo scene of the mid-2000s. While today's version of the swooping fringe retains the dramatic and mysterious effect, it has a more casual feel. A modern swooping fringe is less about stick-straight hair and sharp angles, and more about messy texture. It's a great way to disguise a larger forehead, and it flatters a triangle face shape.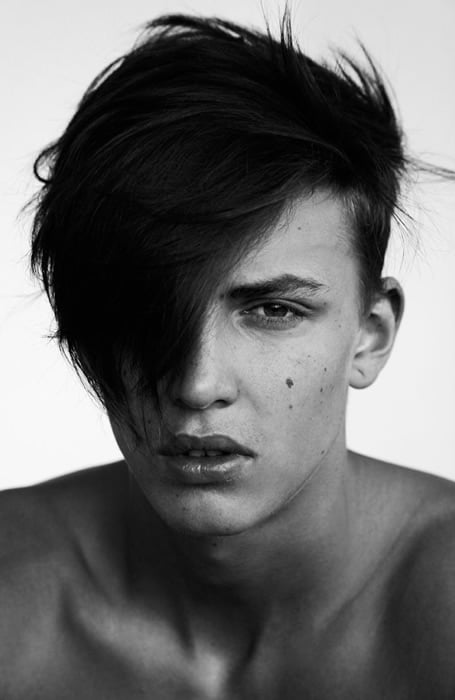 20. Dreadlocks
Dreads are one of the best hairstyles for Afro-textured hair. Far from being a one-note hairstyle, dreads are versatile and can be adapted to suit your personality. Try mid-length asymmetric dreads for a '90s look, or create high-top dreads by having your barber give you a high fade before you get your dreadlocks.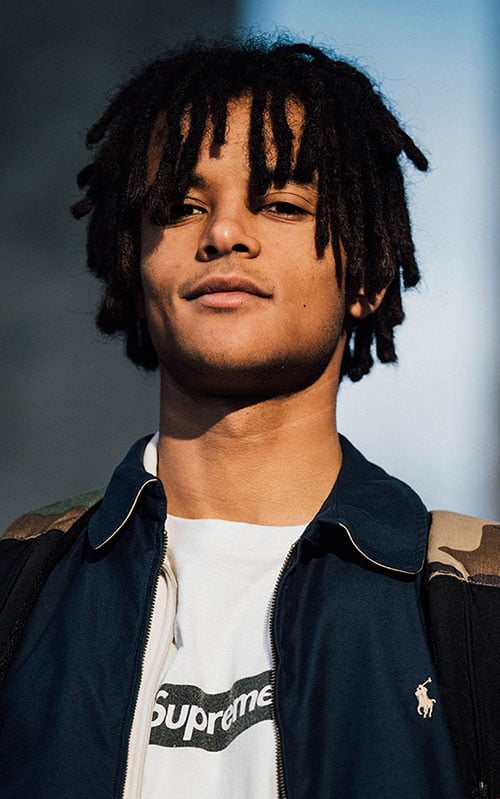 FAQs
What hairstyles do teenage guys like?
Teenage boys' hairstyle preferences will depend on each individual person, as well as their face shape and hair type. However, some of the most popular cuts for teenage guys are the undercut, crew cut, fade, and popadour. With the right product, most haircuts with extra length on top can also be styled into popular looks such as quiffs, spikes, and faux hawks.
How do I cut my teenage son's hair with scissors?
Gather sharp scissors, crocodile clips (or something to section with), and a water spray bottle. It's also good to have reference images as a guide. If your son has short hair, start at the front working back. Pick up small sections across the head, and holding it between your fingers, trim the desired amount off. Use part of the first section as a guide for the next one. You can either cut straight across or point cut by using the tips of the scissors only, directed at the head. If your son has long hair that needs a trim, the process is similar; however, you'll section the hair to start underneath.
How can I cut my teenage son's hair at home?
First, you'll need to decide what style you want, have reference pictures on hand, and gather the right tools. You'll need a clipper set, sharp scissors, and a comb. A mirror is optional but can be helpful. For a basic fade, start with clean hair, and section the top away. Use the clippers on a number four to create a fade as high as you want, pulling the clippers away towards the top for a smoother finish. Then, use a three, two, and one setting, repeating the process, ending each fade lower than the previous section. Clean up the neck and ear line with no attachment on the clippers. Lastly, for the top, start at the front working back, pick up small sections across the head, and holding it between your fingers, trim the desired amount off. Use part of the first section as a guide for the next one.
SUBSCRIBE TO OUR NEWSLETTER
Subscribe to our mailing list and get interesting stuff and updates to your email inbox.