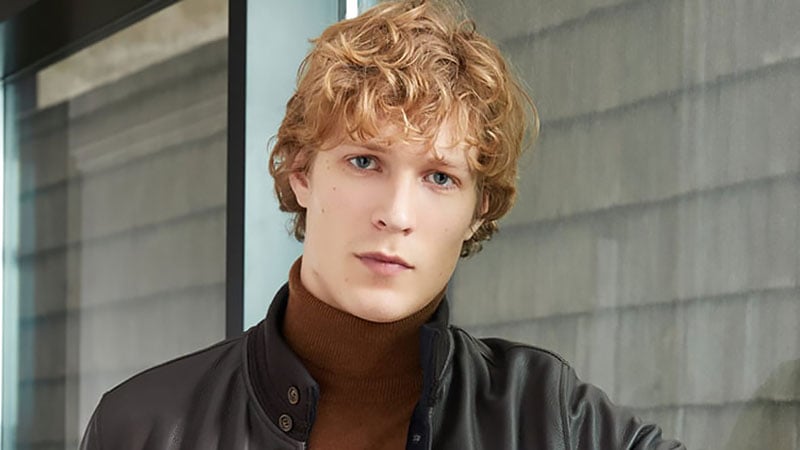 When choosing a hairstyle, it's important to consider your face shape. The right cut will make your features look more proportionate, and emphasize your best qualities – while minimizing those you'd rather hide. When it comes to men's hairstyles, there's a wide variety of creative ways to balance out a top-heavy face. Keep reading to discover the best hairstyles to flatter a big forehead.
1. The Caesar
This short, lightly textured style is characterized by a baby fringe that's swept forward. Inspired by the ancient Roman emperor Julius Caesar – who's said to have used it to disguise his receding hairline – the Caesar haircut is also handy to minimize a big forehead. It brings the hairline down in a natural-looking way, and best of all, it's low-maintenance and will work with many different face shapes.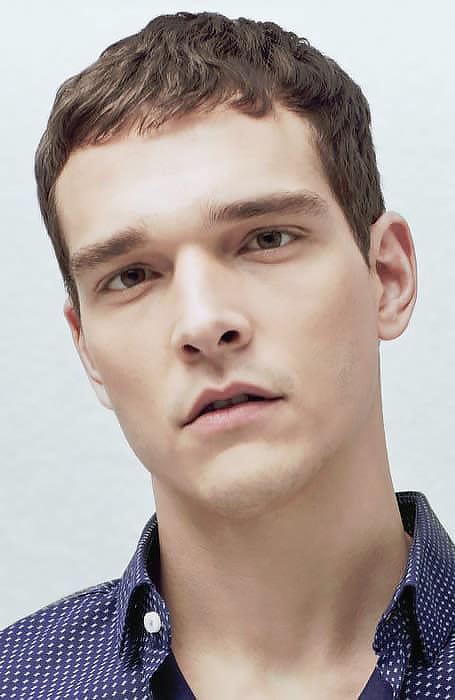 2. Buzz Cut
The name 'buzz cut' comes from the electric clippers used to achieve this short, sharp hairstyle, where the hair is cut to the same length all over the head. A number one or number two buzz cut is ideal to minimise a bigger forehead, as it blends out the hairline, so there's a less defined border where the hair begins. The buzz cut doesn't work for all face shapes and works best for men with an oval face. Military and masculine, this cut is easy to maintain as you don't need to use any extra styling products.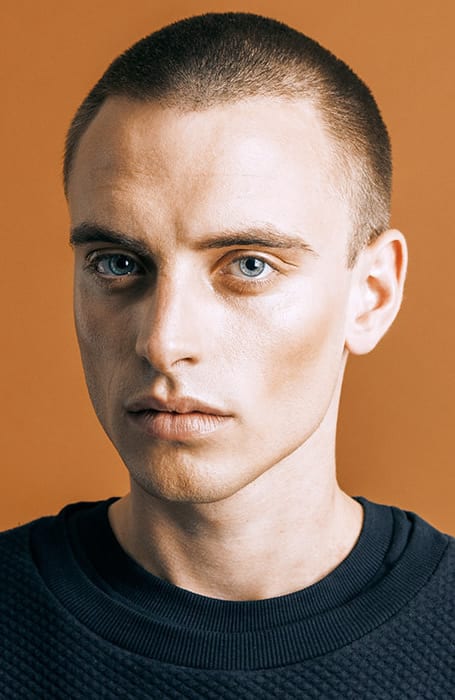 3. French Crop
The French Crop is a popular style today, as it's versatile; you can adapt it for every face shape and personality. The hair is kept shorter at the back and sides and the fringe is brushed forward. Keeping the hair longer and falling forward hides your hairline, making this a strong choice for men with bigger foreheads.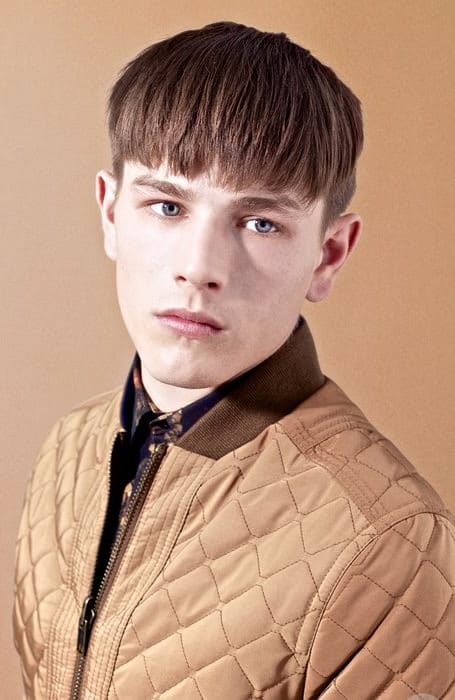 4. Crew Cut
Neat, minimalist, and timeless, the crew cut is a classic for a reason. It suits most face shapes and also flatters a widow's peak, which longer styles tend to accentuate. Electric clippers are used to keep the hair tidy and tapered on the sides, leaving slightly more length on top and in the front. You can brush up this hair or add a little styling product to create some extra texture, but it's not usually necessary; the crew cut puts the focus on your face and takes it away from where your hairline falls.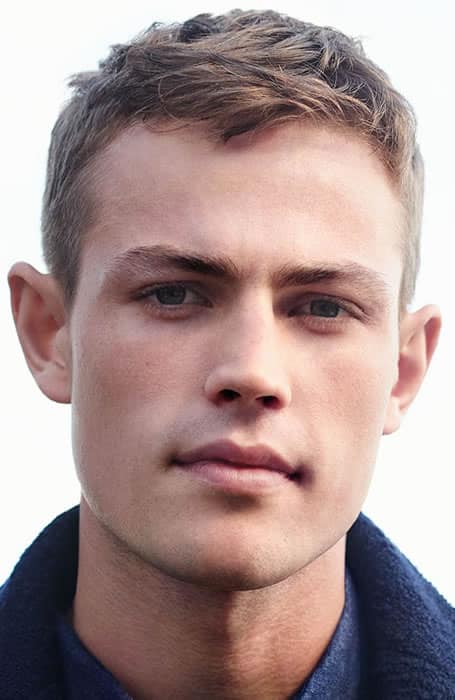 5. Clean Shave
This style works for a big forehead because it removes the hairline altogether. Visually, there's no way to tell where your forehead ends, and your hair begins. The clean shave is a great look for men with a mustache or full beard, as these draw the eye down, once again taking attention away from the forehead and balancing on the face. It's also a great look for men who wear glasses.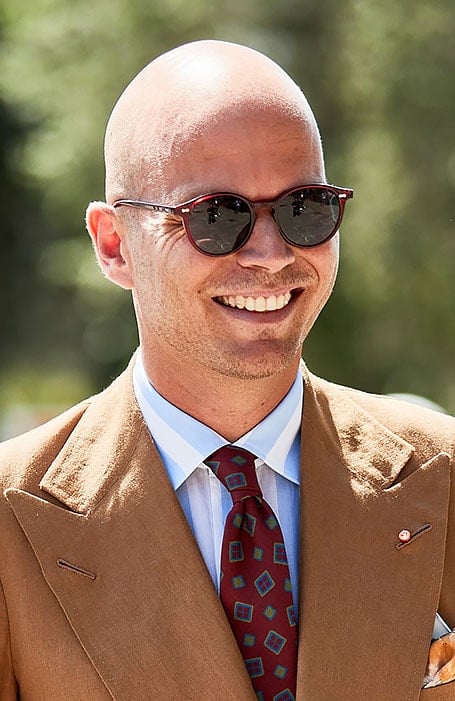 6. Fringe
A longe fringe – one that falls at or below the eyebrows – is a great style for men with big foreheads, as it completely hides the top third of the face. Layers help add dimension to this cut, making the fringe itself the focus and building volume at the top and front of the head. Ideal for those with more angular features, this type of fringe also balances out a pointed chin.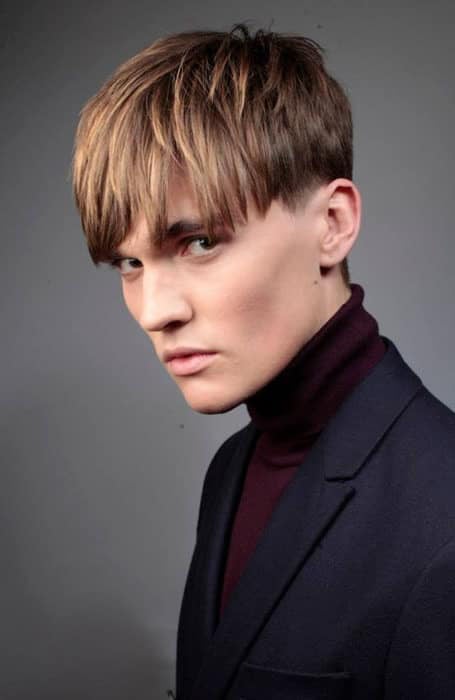 7. Military Cut
Blending the classic military haircut with a mid fade, this is a polished look with vintage appeal. It works for all hair types – particularly straight hair. The sides are buzzed short with electric clippers, while the top is left longer and cut with scissors. The hair is then gradually blended to create a seamless gradient between the sides and top. Traditionally, this haircut is styled with gel to create a retro side part; that's ideal for men with bigger foreheads, as it draws the eye across the head, instead of down the face.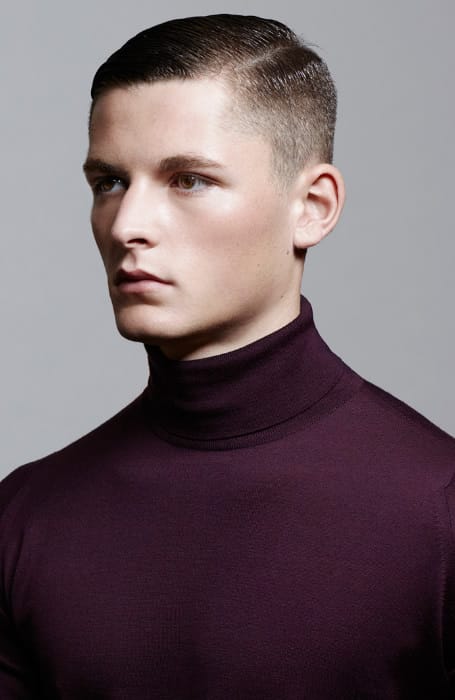 8. Long and Layered
Layers are essential to this relaxed, '90s-inspired look. Having shorter layers in the front will frame your face, keeping the focus on your features – not your forehead. Meanwhile, the longer layers can make a short face seem longer and less top-heavy. This is a grungy look, so make sure your hair has a bit of texture and isn't too sleek.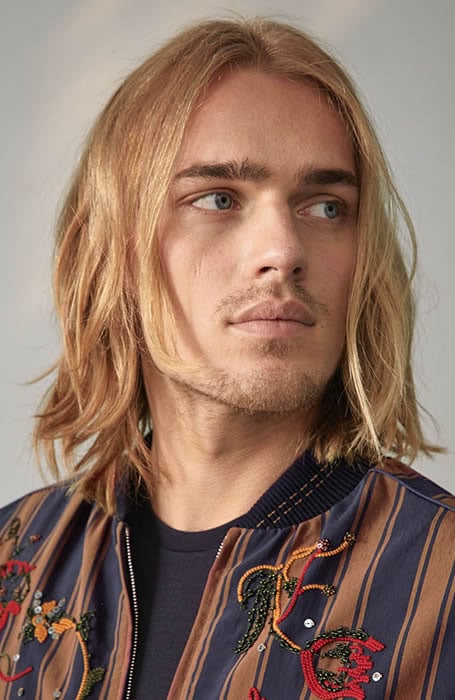 9. Medium Length Hair + Fringe
When it comes to balancing out a big forehead, a little extra length goes a long way. While a mid-length fringe halves the size of your forehead, having longer hair makes your head seem wider. These elements both balance the proportions of your face so that your forehead won't be as noticeable. This style works particularly well if your hair has a naturally wavy texture. Waves give the cut more movement and help to soften long or angular face.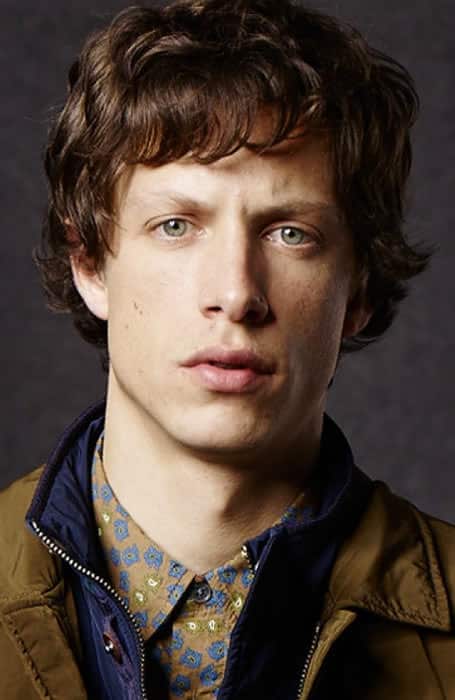 10. Side-Swept Fringe
Like the straight fringe, the side-swept fringe is a styling trick that makes your forehead look much smaller by keeping it covered. A side-swept fringe uses asymmetry to visually 'cut' your forehead in a diagonal line, drawing the eye down to where the fringe ends, rather than up to the hairline. The side-swept fringe can be styled sleek for a more theatrical look, or textured to draw even more attention to the fringe itself, rather than to the forehead. The angles of this look distract from and minimize a big forehead.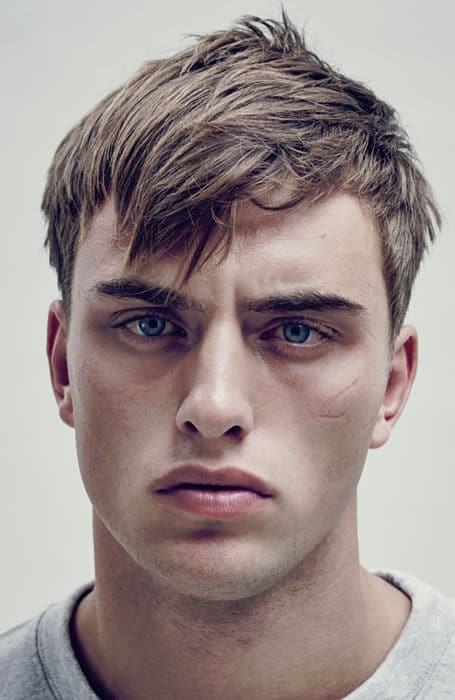 11. Side Part
Nothing looks sharper than a side part. Whether subtle and retro or a modern hard part – where the parting gets shaved into the head – this is clean-cut and considered to be a style that means business. For men with a big forehead, a side part is a great choice because the eye looks to the parting first, then travels across the head following the direction of the hair.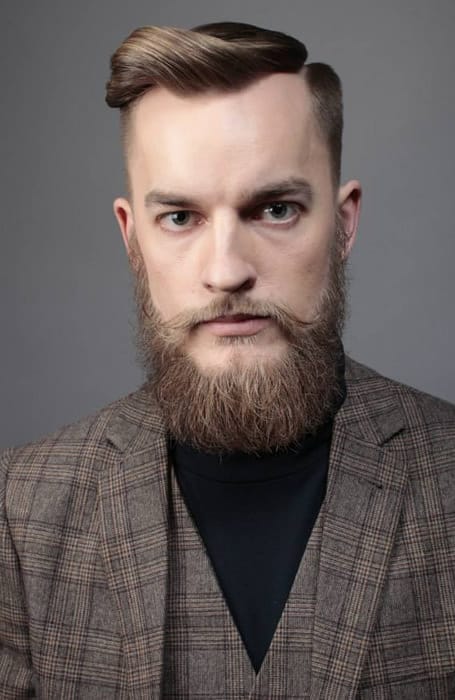 12. Short and Messy
The texture is key to a short and messy hairstyle. It's all about using the movement and direction of the hair to minimize and distract from the size of your forehead, without needing a fringe to hide it. All the attention will be on your hair instead!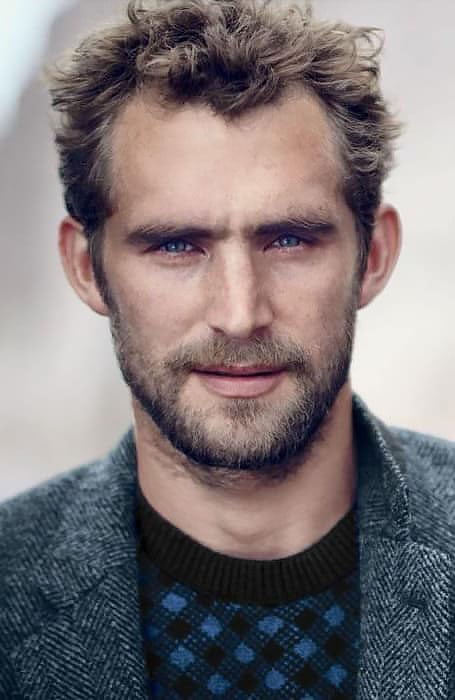 13. Medium Length + Texture
This dynamic style relies on volume and movement to lift the gaze up and away from the face – and the forehead. Keeping a medium length on top ensures you have plenty of hair to work with when you style it. Focus on creating natural-looking waves with plenty of texture and height; this look should seem effortless and laidback.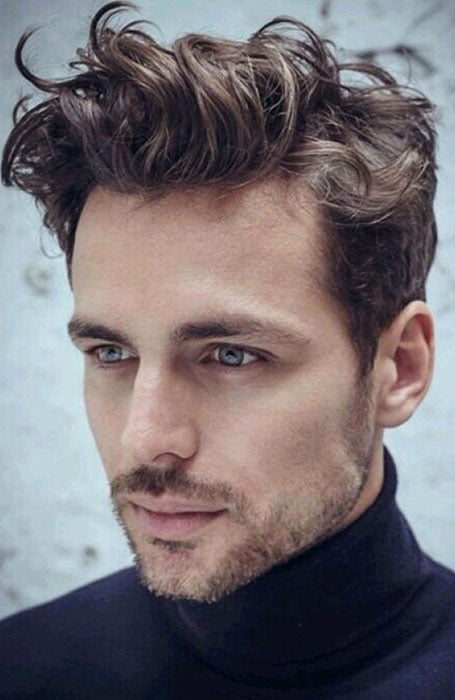 14. Bowl Cut
Like other fringes, the bowl cut slices the forehead in half – usually at the mid-point between the hairline and the eyebrows – to make it seem smaller. A bowl cut fringe is blunt, uniform, sleek and full, and extends back around the head. When paired with an undercut, it looks modern, fresh, and fashion-forward.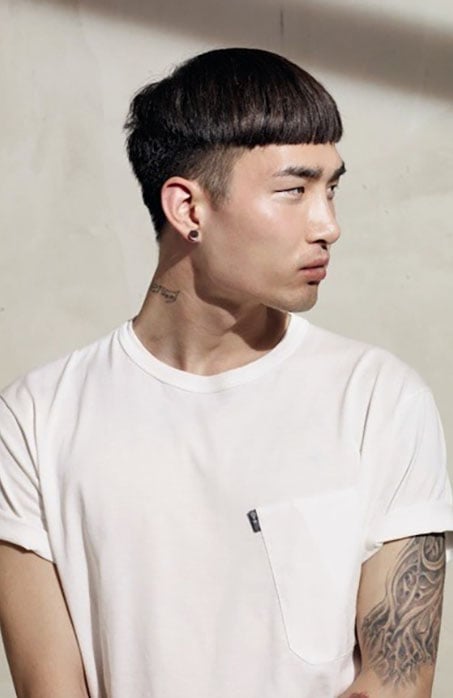 FAQs
How should men with big forehead style their hair?
The hairstyling goal for guys with a large forehead is to hide it, disguise it, or draw the attention elsewhere. You can do this by working with a fringe, which will cover your forehead. Alternatively, a buzz cut or clean shave will make identifying the hairline more difficult. Lastly, side parts, crew cuts, long layers, and texture will draw the eye across the face rather than down.
What hairstyle suits a big forehead?
The best hairstyles for a prominent forehead include fringes, a Caesar, buzz cut, crew cut, French chop, long and layered, and side parts.
Is a big forehead attractive?
Big foreheads may feel like a lot for guys with them, but they're not unattractive. You just have to have the confidence to work with what you've got. Plus, as proof, there are plenty of attractive celebrities who have large foreheads, such as Ryan Reynolds, Alexander Skarsgard, and Adam Levine.
How long is a big forehead?
An average-sized forehead is about four fingers width between the brows and hairline. More than this is considered a large forehead.
SUBSCRIBE TO OUR NEWSLETTER
Subscribe to our mailing list and get interesting stuff and updates to your email inbox.