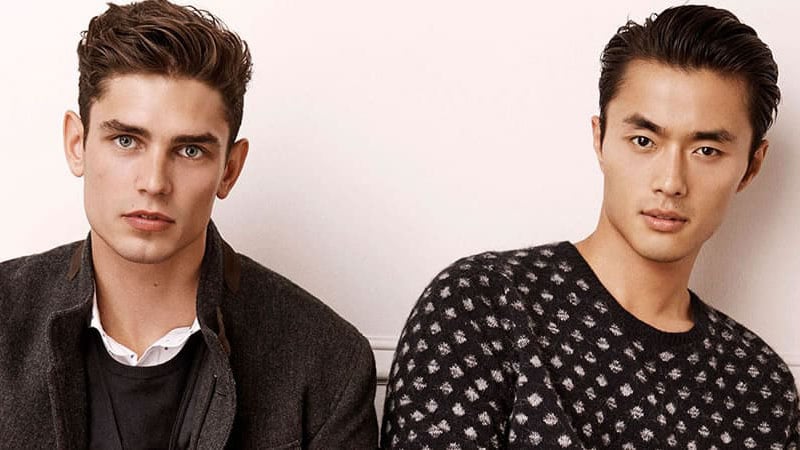 Your hairstyle can say a lot about who you are and the right look will complement your face shape, highlight your features, and let you show off your hair texture. A few decades ago men's hairstyles were pretty standard, and, dare we say, boring, but they have evolved giving you versatility with how you style your hair and letting you easily adapt your look to complement your face shape and suit your preference. There is a wide range of cuts including classic and polished styles and those that are fun and expressive. Haircuts that can make you look wiser than your years or appeal to those who want a youthful finish. If you are looking to update your appearance, these are the best haircuts for young men!
1. Crew Cut
The crew cut is a short look that is traditionally cut to around a quarter inch with more length on top and shaved at the back and sides. It is easy to maintain and requires minimal styling. The hairstyle is ideal for every day and it can be worn in all settings, including a professional environment. While there is some room to experiment with the cut, including adding a fade or trying out longer or shorter lengths, its beauty is the in its simplicity.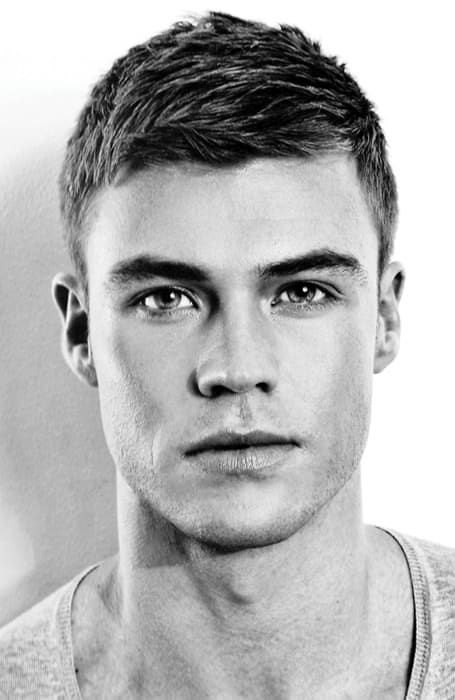 2. Quiff
The quiff haircut features hair that is brushed up and back at the front of the head. This is an excellent option for creating volume and shape and can be incredibly flattering and youthful. There are different ways to style your quiff, depending on your preference and hair texture, this includes wearing it sleek or creating a deliberately messy finish to give the hair movement.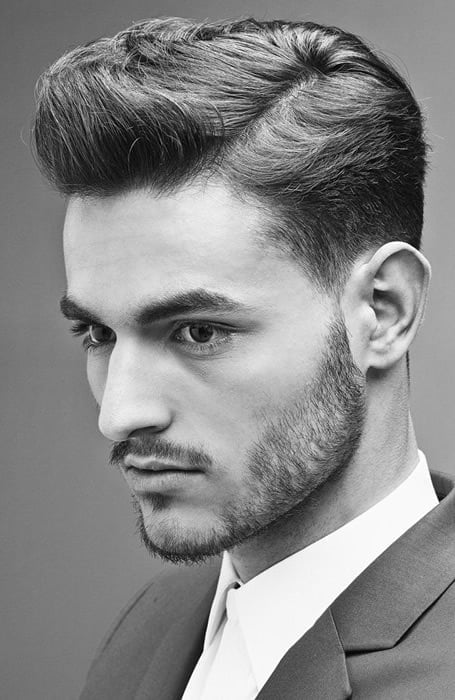 3. Buzz Cut
For those who want a hairstyle that is low maintenance and traditionally masculine, look no further than the buzz cut. This is a very short haircut that is clipped close to the head with a razor. Keeping the hair short reduces style time but can also highlight your features. There are several ways to adapt the cut to suit your preference, including keeping more length on the top.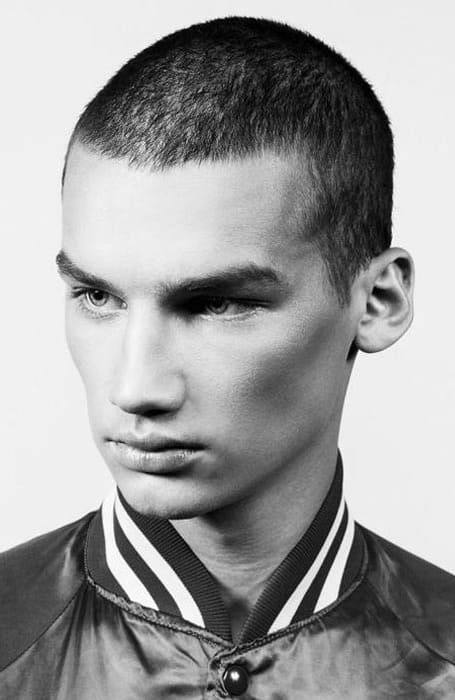 4. Undercut
The undercut is a short hairstyle for men that is popular because of its versatility. It can be added to a range of haircuts and is great for giving the hair structure and creating contrast with the hair on the top, which is kept longer, and the back and sides. The undercut can also make a classic hairstyle feel more modern and youthful.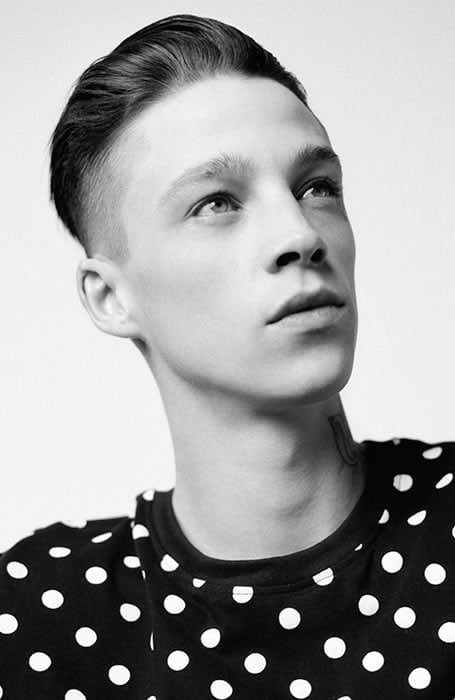 5. Military Haircut
Short haircuts for men are appealing because they are effortless and cool. They require minimal styling and complement all hair textures. The military haircut was inspired by the military and will give you a neat and polished appearance. The hair is short on the back and sides with length on the top. You can also add fades for a more personalized finish.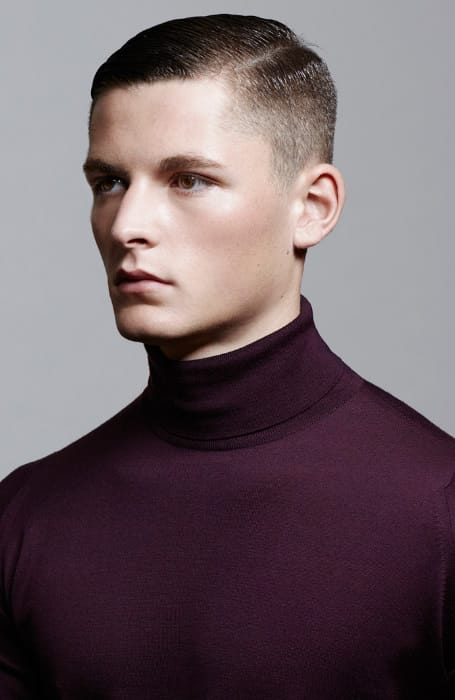 6. Ivy League
The Ivy League haircut gets its name because of its popularity among men in Ivy League schools. It is a classic short haircut with the top slightly longer than the back and sides. This difference in length creates a slight contrast and gives the hair structure. This is the ideal look for a young man who favors low-maintenance cuts with minimal styling.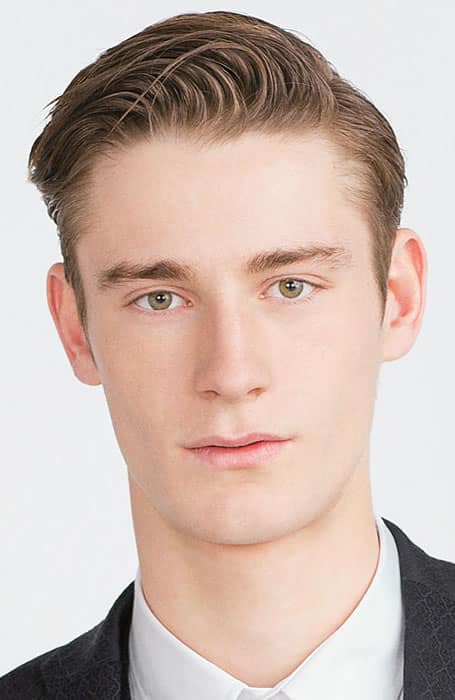 7. Caesar Haircut
If you love timeless hairstyles then look no further than the Caesar cut. This is a cut that is relatively the same length on the top of the head and the back and sides. It also features a slight fringe which is the defining feature and an excellent way to highlight your features. You can experiment with the length of your fringe to best suit your preference and complement your face shape.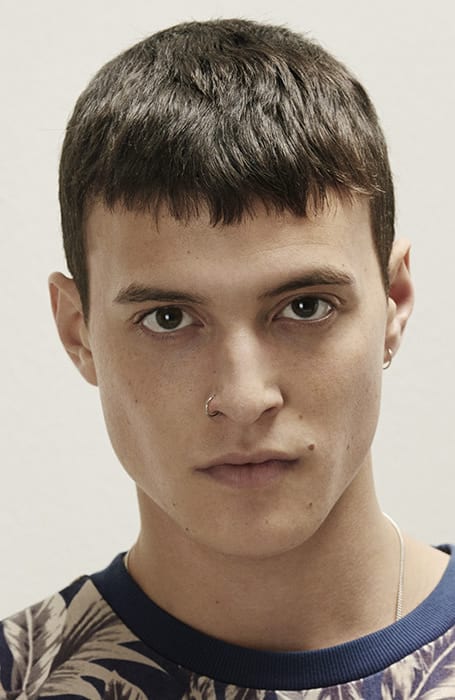 8. Pompadour
The pompadour is a classic look that first gained popularity in the 50s. It is all about embracing volume and making the hair look fuller and thicker on the top. This is done by brushing the hair up and backward at the front. You want to keep more length on top and create contrast by cutting the hair at the back and sides shorter.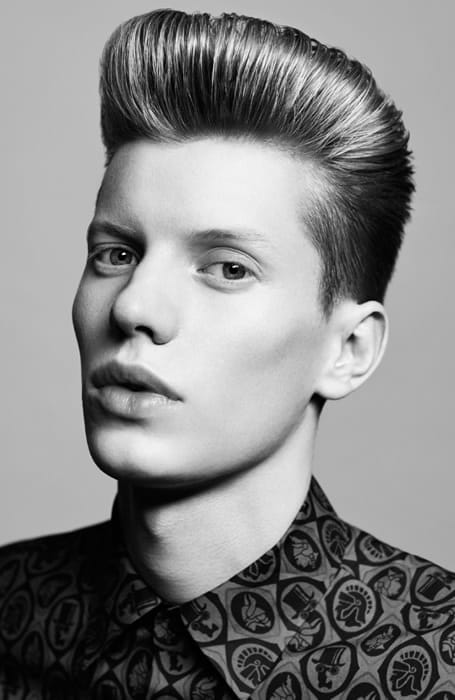 9. Faux Hawk
The faux hawk is the more wearable version of the mohawk, with longer hair on the top and short hair at the back and sides. The difference in length creates contrast but has a more blended appearance than the mohawk. It can be worn with different fades or an undercut. It is a rebellious look that is also great when dyed in a bright and bold color, allowing you to express yourself.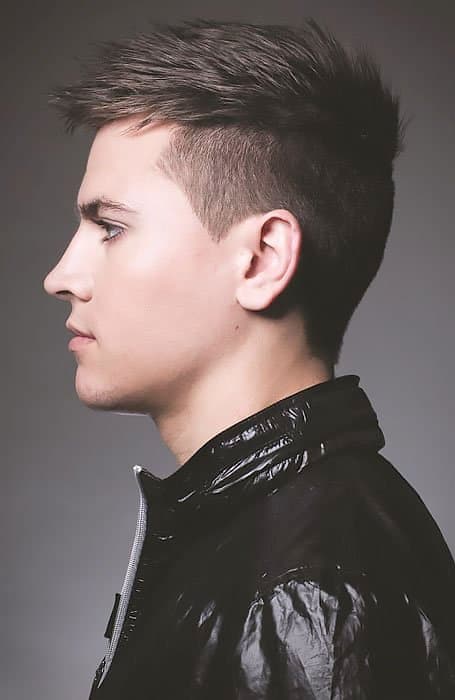 10. Side Part
The side part is one of the most versatile partings and can balance the features. This makes it an incredibly flattering addition to any haircut and can be worn with hair of various textures and lengths. On long hair, it can have a more dramatic effect while on short hair the side part can create structure. The way the hair falls can also soften the features.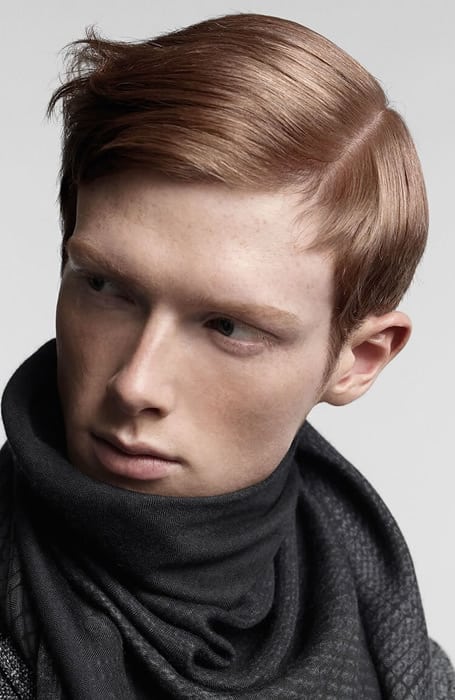 11. Comb Over
The comb over is created by brushing the hair at the top of the head over to one side. This will create more volume and fullness but is also a great way to keep the hair in place and can look neat and polished. This is a classic look and is traditionally masculine, but you can adapt it to suit your preference with the fade or taper that you choose.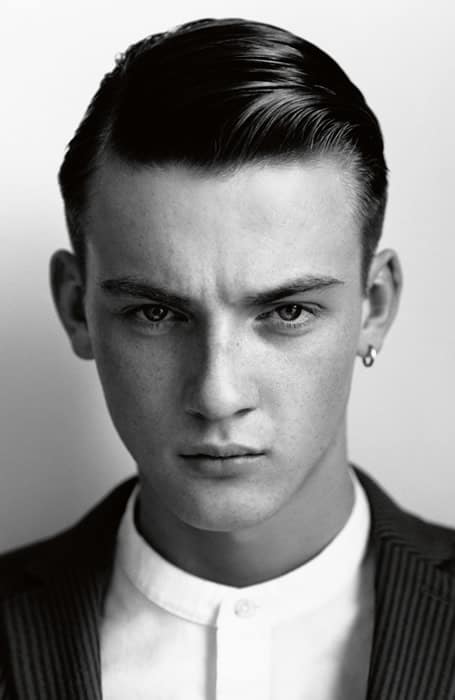 12. Hard Part
The hard part is a clean line shaved down to the scalp. This is done with a trimmer or a razor and is an excellent addition to your haircut if you want to create contrast and sharpness. This gives you a neat and polished appearance, but it can also be edgy and cool. Work with your barber to find the perfect placement for the hard part, which is usually where the hair naturally parts.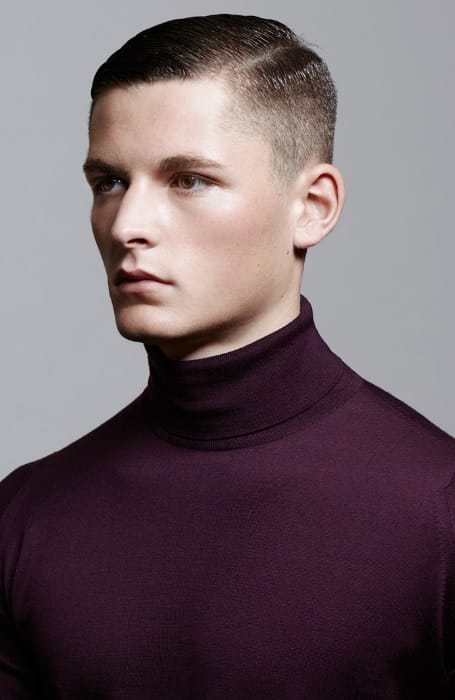 13. Fringe
A fringe refers to hair that is cut to lie over the forehead. Fringes can be cut on all hair textures and can vary in length. There are many different fringe haircuts, from youthful curtain bangs to a long, swooping fringe, this makes it easy to find the look that is best suited to your preference but will also complement your face shape.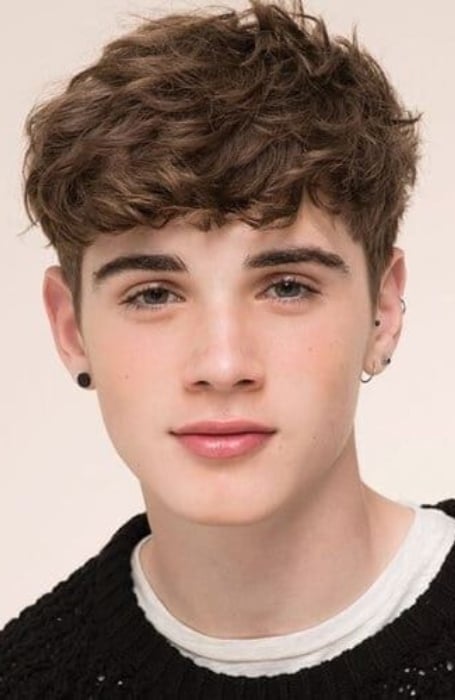 14. Slick Back
Masculine and stylish, the slick back is a simple but effective hairstyle. It is defined by the hair being brushed backward, away from the hairline, and kept in place with a gel. It is ideal for those wanting a polished and sophisticated appearance, lending itself well to corporate environments and formal settings. For a modern finish, pair the slick back with a fade to create contrast.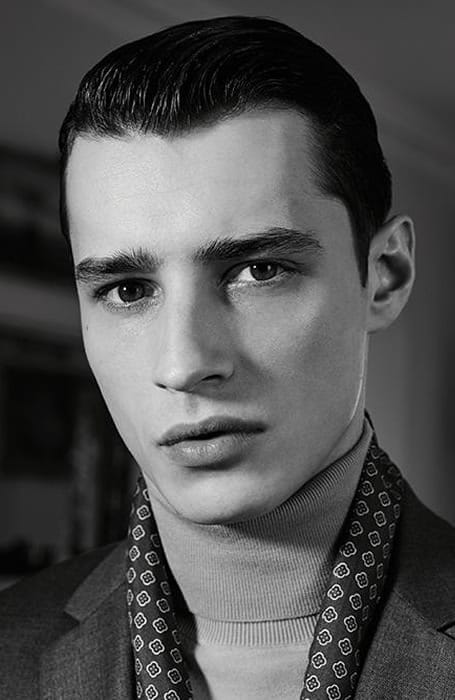 15. Bald Fade
Some faded styles are created to stand out, and the bald fade is one of them. This is one of the most noticeable fades because it reduces to skin level, creating a brilliant contrast with the hair on the top of the head and giving your hair structure. It is modern, edgy, and effortlessly cool and can be added to most haircuts.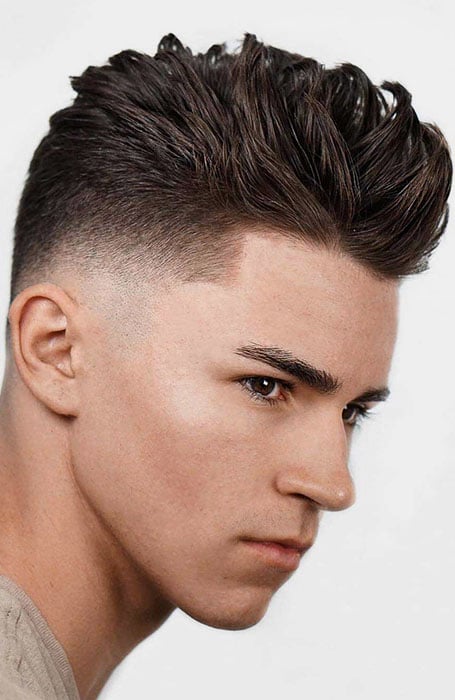 16. Taper Fade
The taper fade gradually shortens the hair on the back and sides from the top of the head. How short you fade is up to you, but it can go all the way to skin level. Keeping the length on the top can create subtle contrast and make your hair look fuller and thicker. The taper fade is a simple yet stylish way to give your hair structure.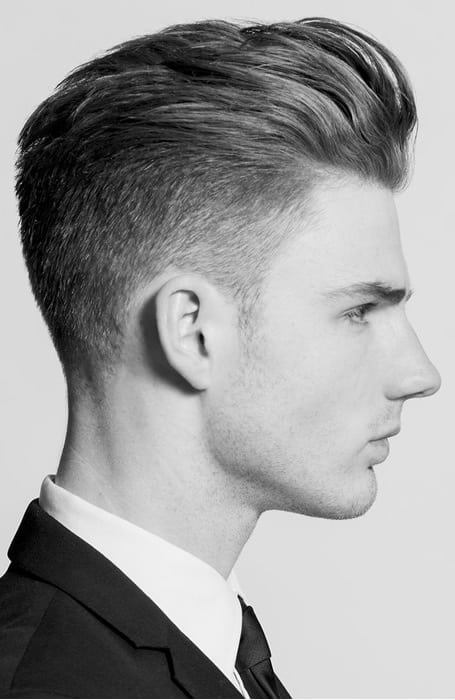 17. Androgynous Haircut
An androgynous haircut is a look that has both masculine and feminine elements and can be worn by everyone. There are many options depending on your desired hair length and your chosen cut can be easily adapted to suit your hair texture. The great thing about an androgynous haircut is that it is not restrictive because it rejects gender norms.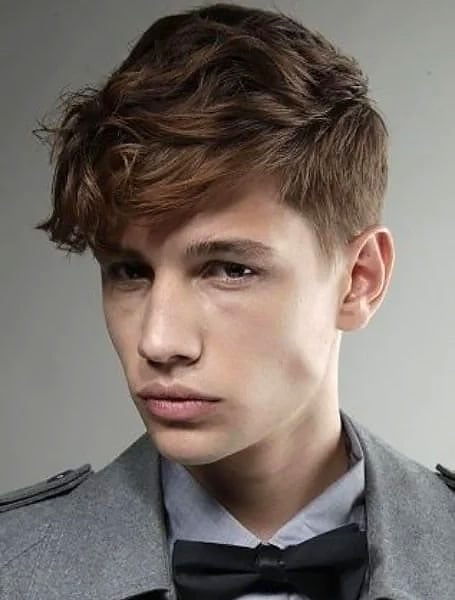 18. Temple Fade
The temple fade is an excellent option for enhancing the hairline and features a fade around the temples. The slight contrast between the fade and the rest of the hair will give your look a modern finish and create structure. It can be adapted to suit all hair textures and looks great on young men who want a cut that is stylish and youthful.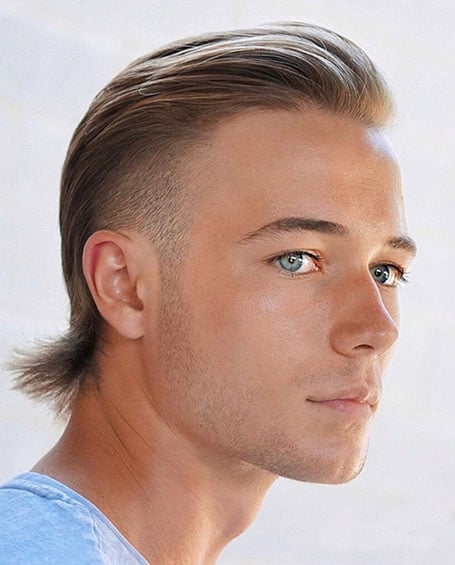 19. Low Fade
Fades can be added to most haircuts and are a way to personalize your look. They create contrast with the hair on top, which can give the illusion of fuller, thicker hair. There are several faded styles to choose from, but the low fade is an excellent choice for those who want a subtle but stylish finish. This fade tapers within an inch or two of the hairline, making it less dramatic than other fades.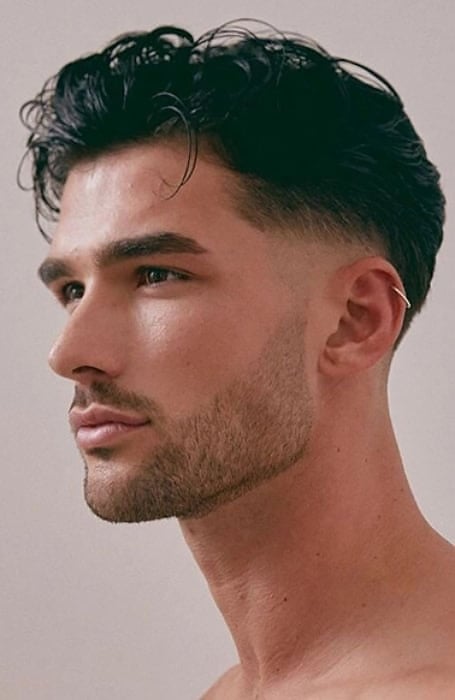 20. Mid Fade
As the name suggests, a mid fade haircut fades in the middle of the head, around the temple, and your ears. It is a more noticeable fade than the low fade and will create contrast with the hair on the top of the head. This is an ideal look for young men who want an edgy and cool haircut.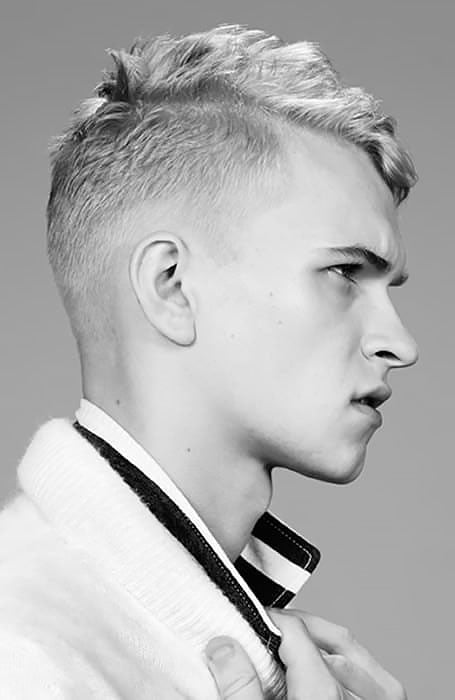 21. High Fade
The high fade has shaved sides and back that fade high. This means it starts higher on the head, midway between the temples and the top of the ears. It is an excellent option for creating contrast with the hair on top. It will also give your look sharpness and create a neat and polished finish. For young men who want to create a fresh and modern finish, this is the ideal way to do it.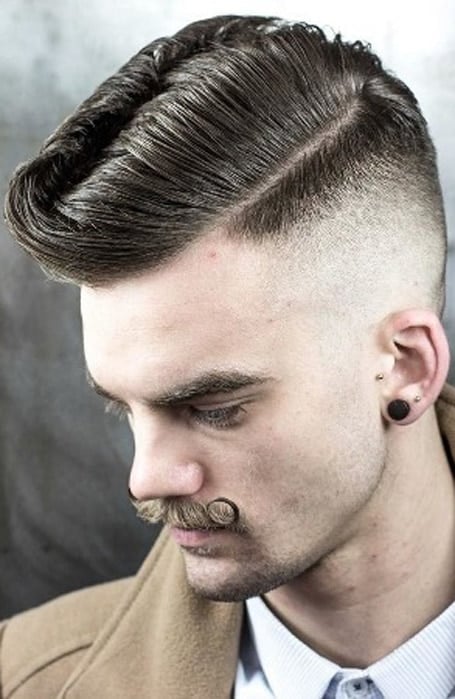 22. Drop Fade
For an expressive and cool look, the drop fade haircut is the ideal choice. It is also one of the more noticeable faded cuts because of its arc-shaped appearance which drops low behind the ear. The fade is excellent for creating contrast with the hair on the sides and back of the head, and the longer hair on top. This can make your hair appear fuller and thicker.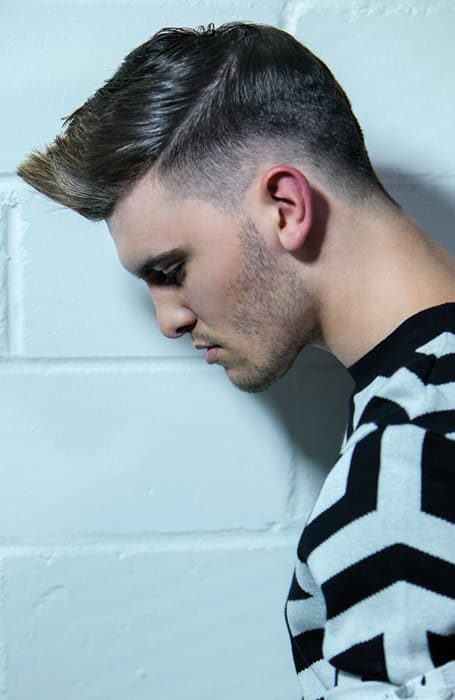 23. Half Up Half Down
The half up half down hairstyle gives you more versatility with styling than traditional updos because you need less length to pull it off. It is a style that will pull the hair away from your face and open up your features, but also show off your texture. The look is great for young men because it has a youthful finish.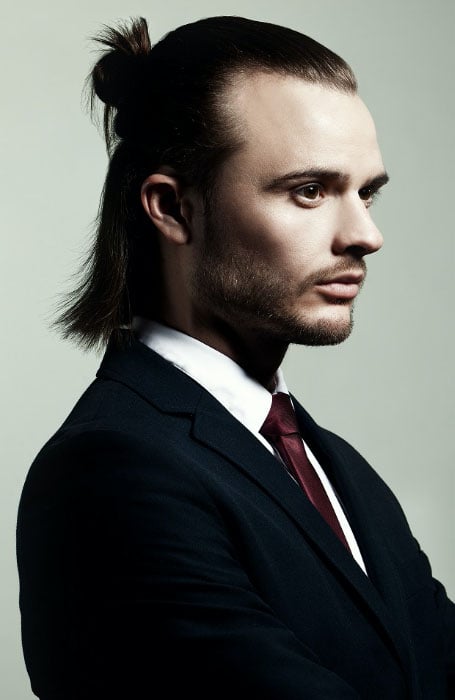 24. Spiky Hair
To create a textured finish, spiky hair is the perfect option. It can be adapted to suit hair of all textures and various lengths but is easier to style on short or medium hair as you will not need as much hold. The 90s approach featured stiff, rigid spikes, but for a modern finish, you want a more natural look with fluffy spikes to create a bedhead appearance rather than punk-inspired.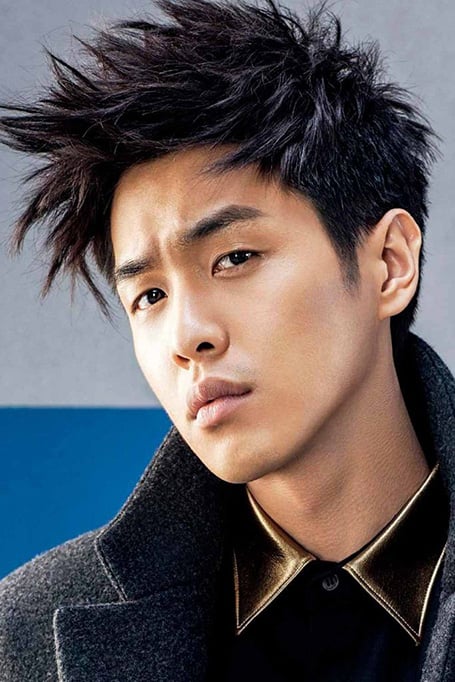 25. Mop
The mop hairstyle was first popularized in the 60s but remains relevant because it is effortless to style and ideal and can be adapted to suit all hair textures; however, it is best suited to those who have a natural wave or curly texture. The mop has a laidback and deliberately messy appearance, which can be incredibly flattering as the way the hair falls around the face can soften the features.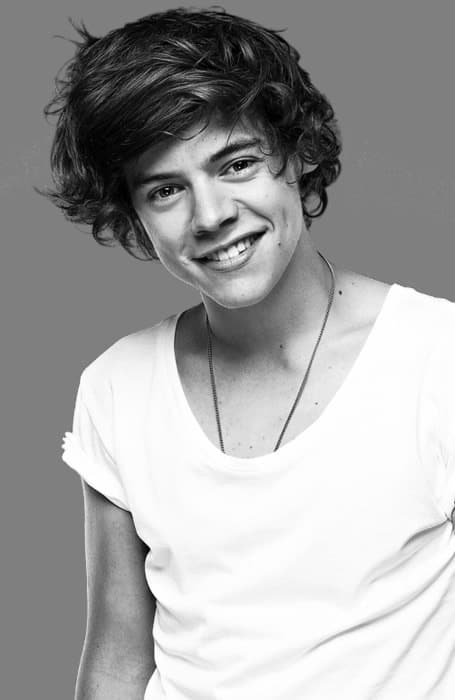 26. Curtains
The curtain haircut is a 90s favorite that has been trending on social media in recent years. The look is defined by a fringed hairstyle that has a parting in the middle which helps to frame the face. It is an excellent look for drawing attention to the features and can be adapted to suit hair of various textures and lengths. The appeal of the curtain hairstyle is that it is youthful and incredibly flattering.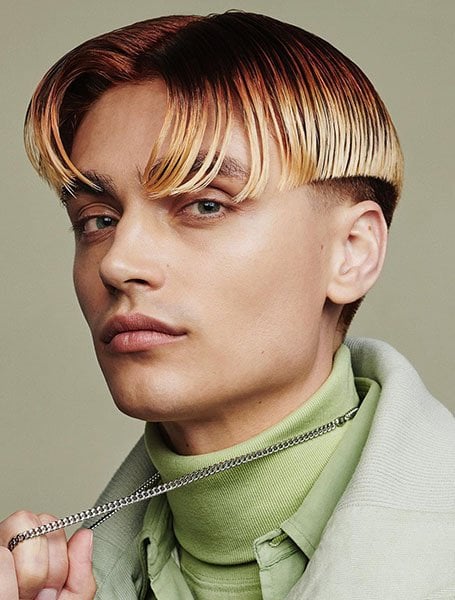 27. Man Bun
The man bun hairstyle is a trendy way to wear medium or long hair. It is an effortlessly cool look that is also practical, keeping the hair off the neck and away from the face. The style is incredibly versatile, working with all hair textures, and can be styled in various ways, including a sleek and neat finish or a deliberately undone and messy look.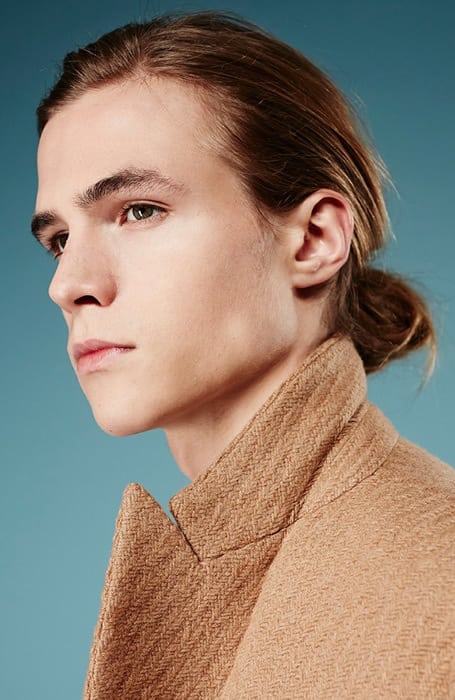 28. Shag
The shag haircut is defined by choppy layers and has a deliberately messy and unstructured appearance. It is an excellent style for giving your hair movement and shape and can be adapted to suit all hair textures. While the shag is not a corporate-approved haircut, it is flattering on most face shapes and can have a very youthful finish.

29. French Crop
Simple yet stylish, the French crop is a versatile haircut that is defined by the hair being relatively the same length all over and a fringe. The fringed look is great for drawing attention to the face and lets you adapt the look, letting you experiment with length and styling. For example, a blunt fringe or a choppy one.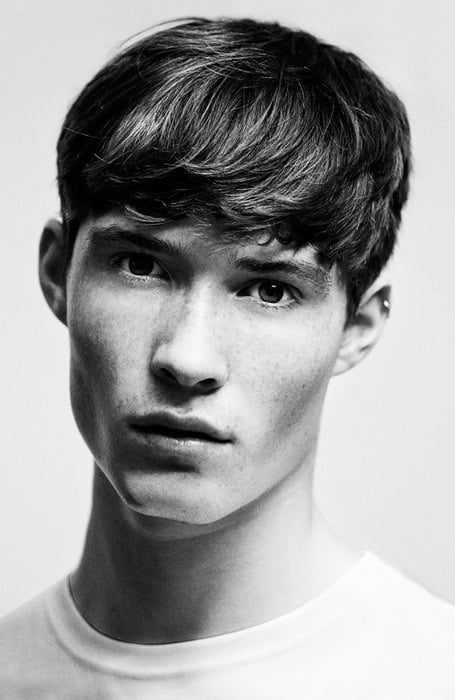 30. Two Block Haircut
The Two Block haircut has been taking trending on social media and has become one of the most sought-after styles with young men. The style first gained popularity in Korea and is defined by having two distinct block shapes, one on the top of the head which is longer, and a second, on the back and sides. This is a cut that is fashionable and expressive, and also looks great with bright colors.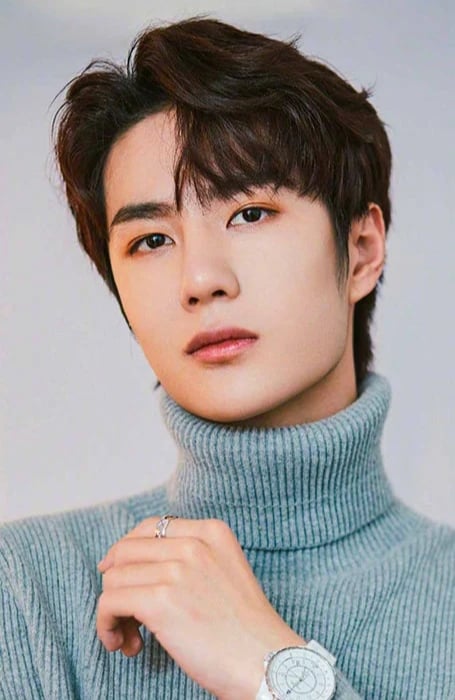 31. Rockabilly Haircut
The rockabilly haircut has a retro feel and is an excellent option for young men who want a sexy, voluminous look. The cut is kept longer on the top and sides, while the back is shorter. The forelock can be slicked back or styled as a pompadour or quiff and is a great way to draw attention to your face.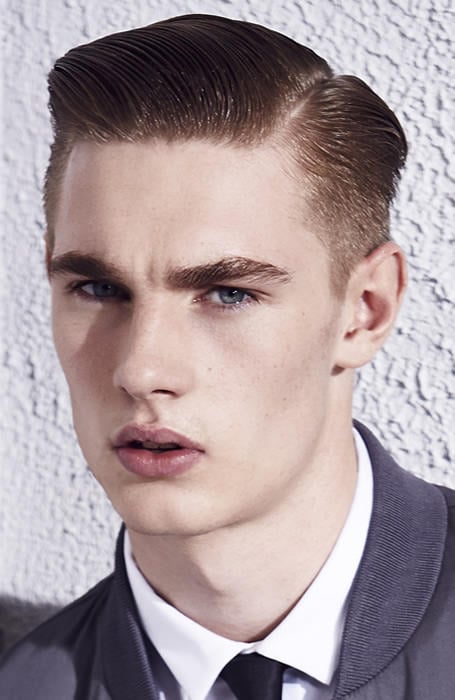 32. Bro Flow
For those who want a laidback hairstyle that looks as though you have just gotten out of bed or spent the day at the beach, the bro flow is for you! It has an undeniable cool factor and is ideal for men with medium or long hair, working especially well with wavy or curly textures. Styling is simple, you only need to brush the hair back and leave it to fall in its natural shape.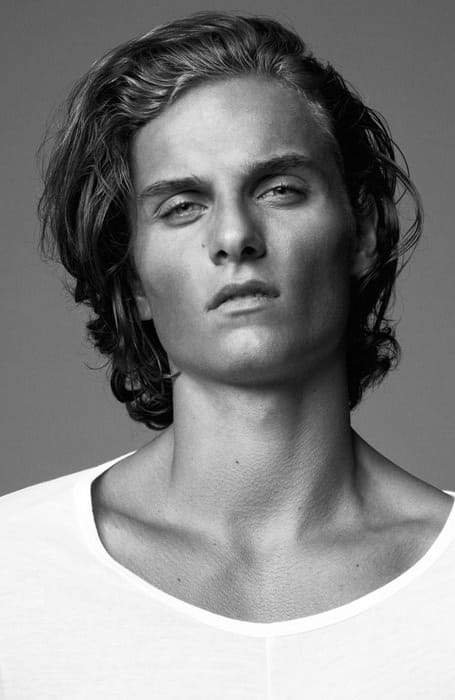 33. Line Up
The line up haircut is a great addition to your haircut because it will let you express yourself and create a personalized finish. The look is marked by a distinct shape on the natural hairline, which can be simple like straight lines or could be sharp angles. This is done to enhance the hairline but can also create structure and contrast.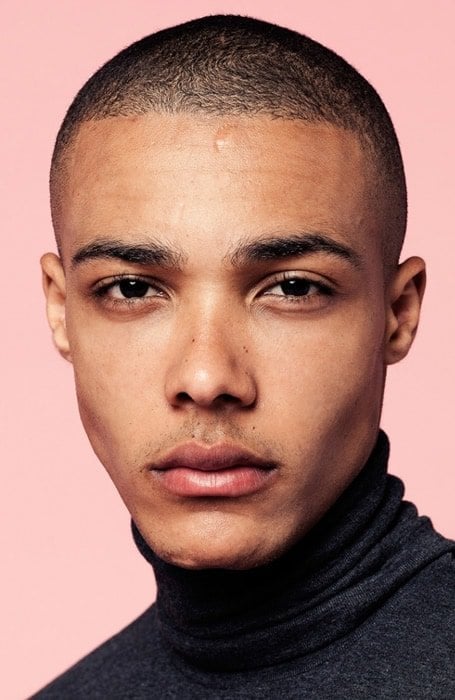 34. Ponytail
The ponytail hairstyle is simple and practical, but it can also be incredibly stylish. You can wear it tight and sleek for formal occasions, or leave it messy for more casual settings. The most popular way for young men with medium to long hair is to style it in a low ponytail for an effortlessly cool and laidback aesthetic. The ponytail is an upstyle that can be worn with all hair textures.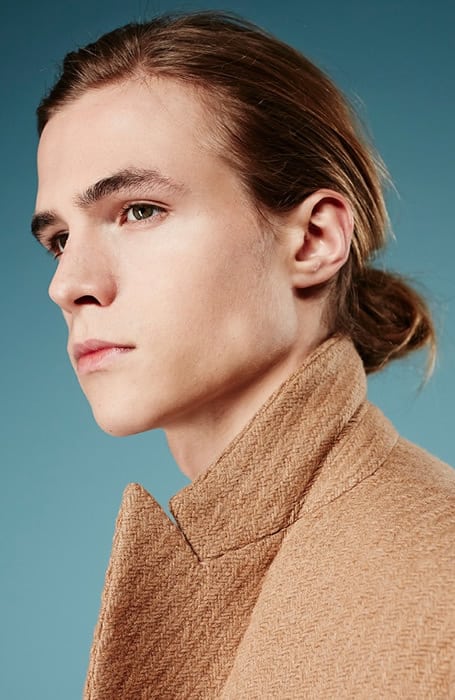 35. Edgar Haircut
The Edgar haircut is a modern and effortlessly cool version of the classic Caesar cut. The hair is the same length around the head, but this look also features a high skin fade. The fade gives the hair structure but also creates contrast and it is a great way to create an expressive and bold finish. This is the perfect look for younger men and complements those with long, angular, and oval face shapes.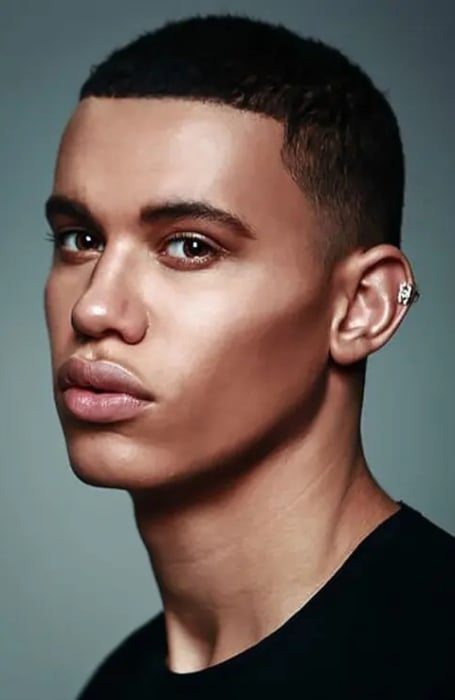 Young Men Haircuts FAQs
What haircuts are trending for young men?
Young men have versatility with their haircuts and there are many stylish looks to choose from depending on your preference; this includes classics like the Caesar cut to edgier styles like a choppy shag. Some of the looks that are trending on social media include curtain bangs and the two-block haircut. These looks can be easily adapted to suit your preference and are often expressive and fun, lending themselves well to bright colors.
What is an appropriate haircut for young men?
For a simple and classic look that will lend itself well to all settings, short or medium hairstyles are great. These include classic looks the crew cut, Ivy League, and military haircuts. These styles are easy to maintain and can be adapted to suit all hair textures.
SUBSCRIBE TO OUR NEWSLETTER
Subscribe to our mailing list and get interesting stuff and updates to your email inbox.