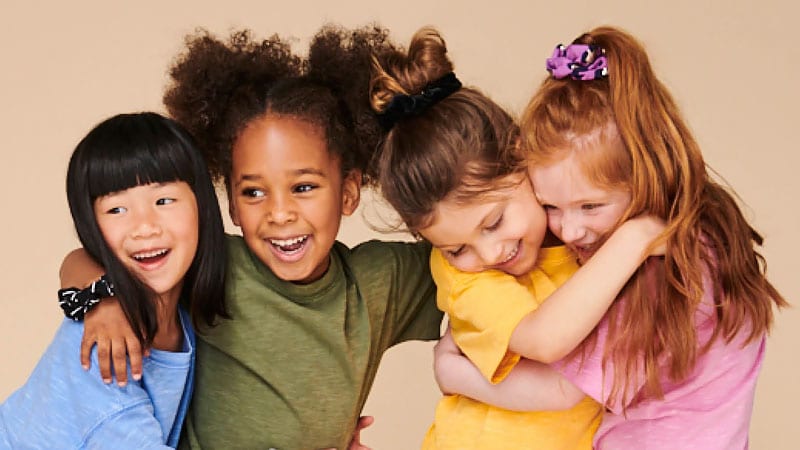 It is never too early to let your little ones express themselves; one of the easiest ways to do this is with their hair. There is a wide range of hairstyles for girls, allowing them to add their personality to their hair, show their playful side, and stand out from the crowd. These looks can be simple or complex. They work on hair of all textures and lengths and can be practical and stylish or edgy and creative. Perhaps she wants to add a pop of color to their hair? Or maybe she prefers a fuss-free alternative that is ideal for every day. Whether you are after a braided hairstyle that will prevent tangles and keep the hair out of the eyes or want a cool, up-to-date look, keep reading to find the best cute and easy hairstyles for girls.
1. Bangs with Side Ponytail
If you are looking for a super cute hairstyle for your little girl that is also practical, consider a side ponytail. This is a wonderful way to keep the hair away from the face, but it is also comfortable and will not cause tension on the scalp. You do not need long hair, making it an incredibly versatile updo. Bangs are also a sweet addition to any hairstyle because they can frame the face and make your little one even more adorable. Cut bangs that sit above the brow so that they will not get in the eyes; comfort is of the utmost importance when it comes to hairstyles for children.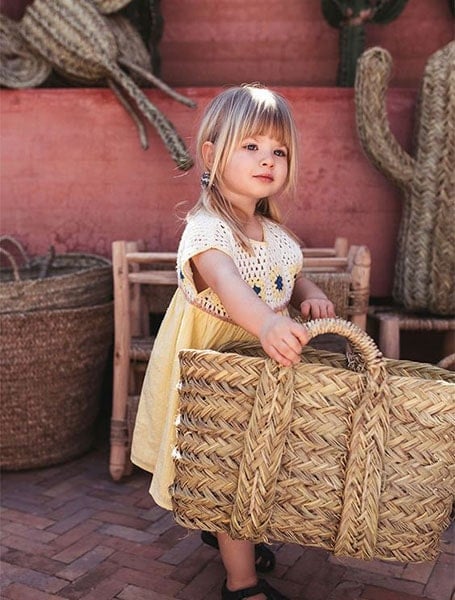 2. Boho Hairstyle
The boho hairstyle is ideal for those who want a relaxed aesthetic. It is sweet, easy to achieve, and can be worn on various hair textures and lengths. That said, this look is especially great on those with naturally textured hair, giving it a windswept and carefree appearance. You can choose from a range of stylish and cute hair accessories, letting your little one express themselves and have fun with their hairstyle. This includes headbands, clips, or adding a thin piece of fabric around the head; you can include beads for feathers and choose from a wide range of colors to tailor to your daughter's preference.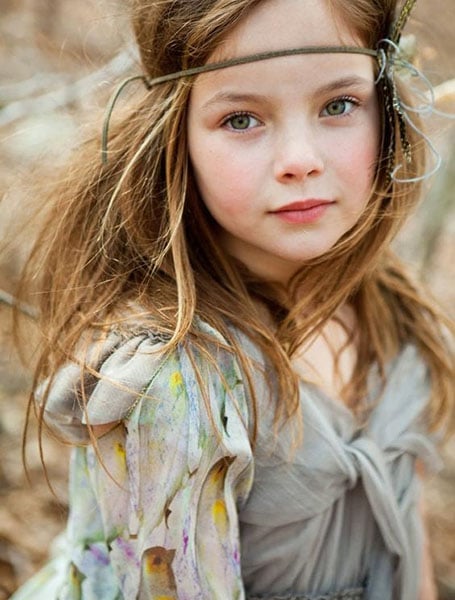 3. Box Braids
Box braids are a protective style that is stylish and versatile. They are made with hair sectioned into small squares, making a box-like appearance. The ideal thing about these braids is that they can be created in various ways, including lengths and thicknesses. You can style them up or down, depending on your preference. Another pro is that the hairstyle will reduce grooming and styling every day. Not only is this practical, but it will also give your little girl's hair a break and aid natural hair growth.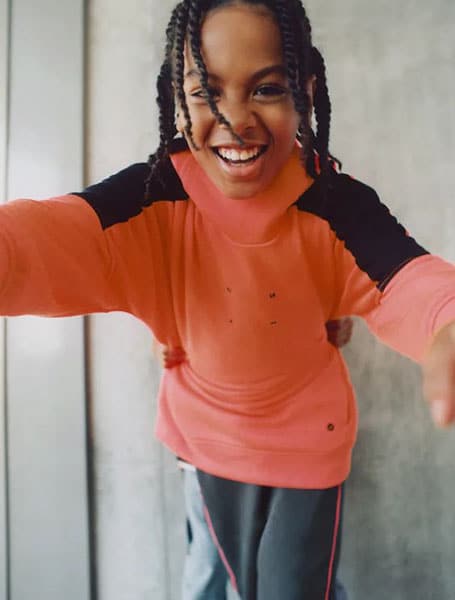 4. Braided Updo
If you are attending a more formal event or want a hairstyle for your little one that is romantic and feminine, consider a braided updo hairstyle. Updos can be sophisticated and perfect for special occasions or undone and deliberately messy for a more relaxed finish. Many options exist depending on the hair length and hair type and how complex you want the braided look to be. This includes a crown braid, side plaits that form a bun, or a half up half down look. You can also add baby's breath or other little flowers for a pretty touch. Braided updos are incredibly versatile, letting you find the perfect look for your child.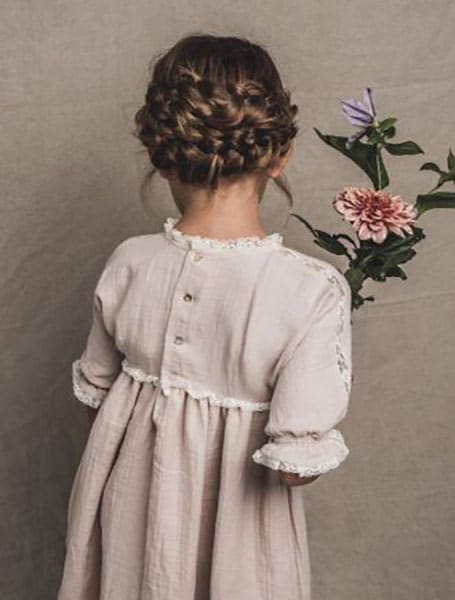 5. Bubble braids
An 80s favorite is the bubble braids, and it is a look from this decade that remains popular today. It is an effortless updo, achieved by adding hair elastics throughout the ponytail's length. It is also fun and lets your daughter express herself because she can choose the color of the elastics she adds to her hair. For this style to work, you need medium-length to long hair, but it can be done on all hair textures and hair types.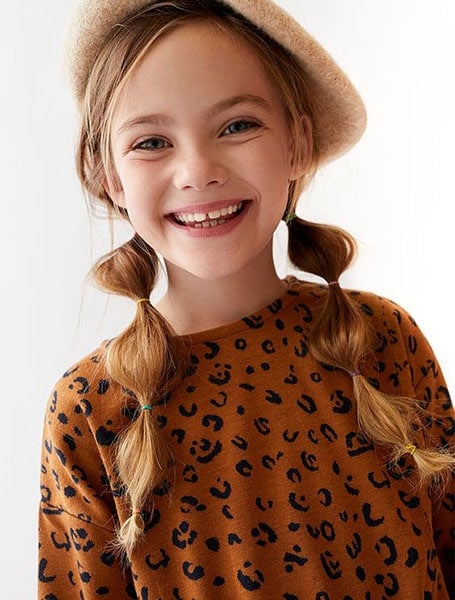 6. Choppy Bob with Bangs
The bob haircut is one of the most classic hairstyles and is excellent for women of all ages, including little girls. The cut is simple, falling around jaw level, but it offers a lot of versatility with how you style it, including adding choppy layers and bangs. Layering is ideal for thick hair, as it can remove some weight and make it feel less bulky. It also works for thin and fine hair, creating the illusion of thickness and volume. Bangs are great for girls because not only are they a cute, youthful addition to any haircut, but they can also draw attention to the face.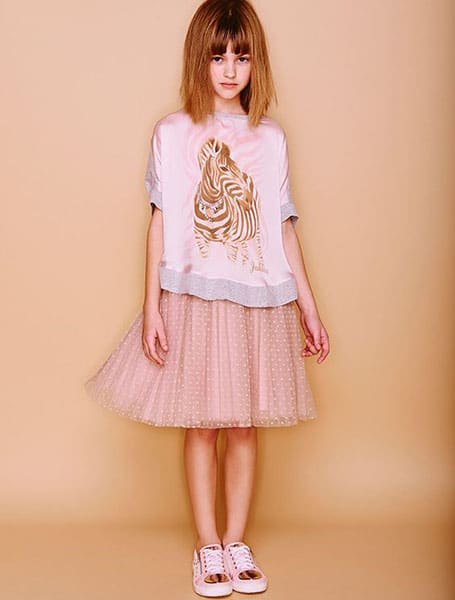 7. Colored Ponytail
Let your child have fun and experiment with their appearance with temporary hair dye. The great thing about hair color is its many choices, making it easy to create a look that lets them stand out from the crowd. If your daughter's favorite hue is orange, why not let her add streaks of orange to her hair? Or perhaps a softer approach with pastel shades. The appeal of colored hair is its versatility. You can leave the hair up or down when it comes to styling, but a ponytail is one of the simplest and most practical options. It can be done low or high and takes little to no skill to achieve. Pulling the hair away from the face will keep it out of the eyes and off the neck, making it a cool option for warmer climates for a little one who's on the go.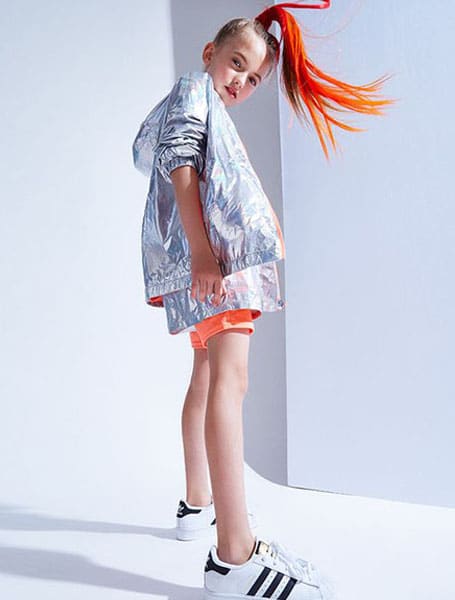 8. Cornrow Braids
Cornrow braids are one of the most popular braided hairstyles and are quick and easy to install; this is great for little ones who do not want to sit in a salon chair for hours. Cornrows are created close to the scalp using the underhand technique, resulting in raised braids. Depending on your preference, you can create a simple look or opt for a more intricate hairstyle, but the appeal of these braids is that they are a protective style. They can be made on the hair of varying lengths, including short hair, and are fantastic for preventing friction and breakage and aiding natural hair growth.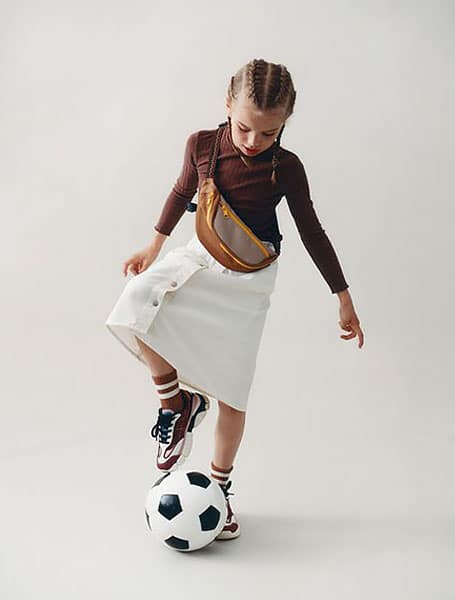 9. Creative Hairstyle for Girls
There are many hairstyles to choose from which let your child have fun and express themselves. You can also get creative, creating a unique look that compliments your hair texture, length, and personality. This could be anything, including a half up half down look, a side braids with loose hair in the middle, or a deliberately undone updo. Listen to what your child wants and let them guide you. The process could also be a fun bonding experience and allow them to find a look that makes them proud to show off their hair.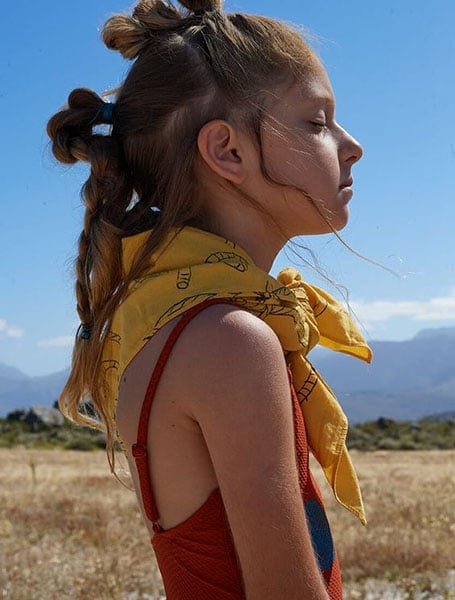 10. Crimped Hair with Headband
Crimped hair is an 80s style that has returned because of its textured, mermaid-esque appearance. The look is created using a heat tool and features wavy, zigzag patterns and can be added to the hair in varying ways; you can add mini crimps, crimp one section of the hair, or opt for a dramatic crimped look. The finish will highlight the hair color and texture because it is not natural-looking. This is ideal for those who want to express themselves with their hair. The downside to crimping is that it can cause damage to the hair if you do not take the right steps to protect it, including using a heat protectant spray.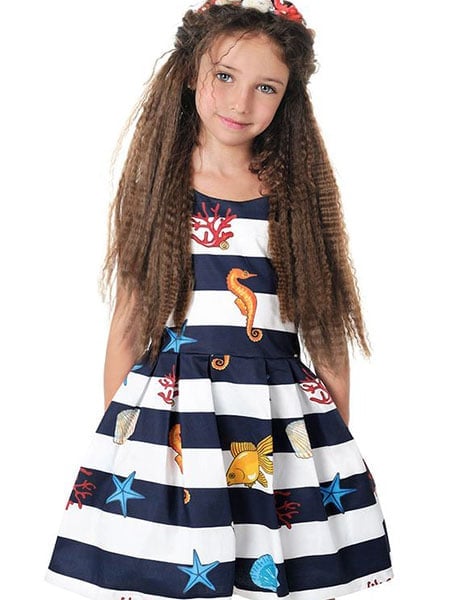 11. Crown Braid
The crown braid is charming for little girls and can be achieved on different hair types. It is a way to have some fun with the hair and draw attention to their face. The look is created by sectioning the hair, plaiting it, and then wrapping it around the head to form a 'crown.' These braids can be as simple or detailed as you want, and you can make them neat or opt for a more relaxed approach, depending on your preference. This is an ideal hairstyle for more formal occasions or every day. You can also add flowers or little butterfly clips to give it a fun and girly finish.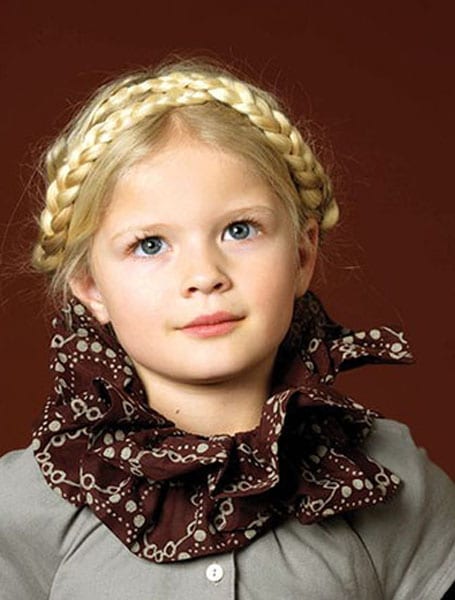 12. Curtain Bangs
Bangs are a wonderful, youthful addition to any hairstyle. By far, one of the easiest styles to wear is curtain bangs. These stylish bangs get their name because they fall on either side of the face, framing it like curtains on a window. They are great for drawing attention to the features and can be worn in various ways, including thick, full, or wispy. Curtain bangs also work on hair of all textures and can be long or short. Plus, this is the perfect way to let your daughter change her appearance without being dramatic about it.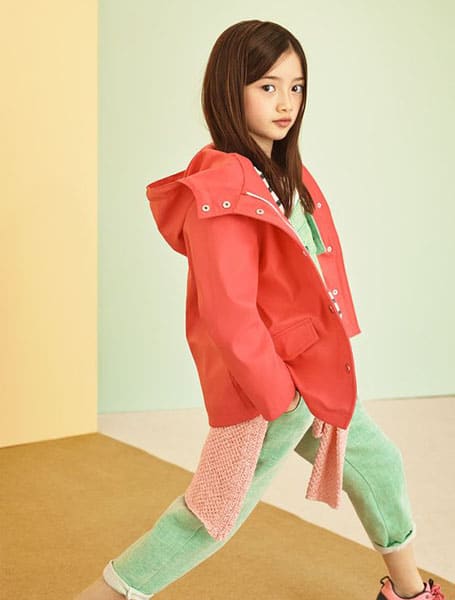 13. Floral Updo for Short Hair
Short hair can also be worked into an updo, although you are more restricted with the looks you can achieve. The more straightforward approach is often the best, and opting for a look that feels unstyled and slightly messy can be forgiving with shorter hair, which can be harder to keep in place. Style the hair into a low bun and add floral details and a headband. Or use pearl details for a feminine and romantic finish. This is a perfect look for special occasions like a birthday or attending a wedding and will make your little one feel like a princess.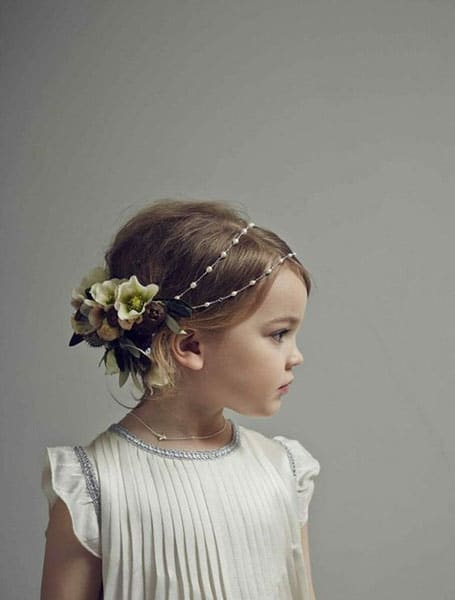 14. French Braids with Bows
French braids are a quick and simple look to achieve, lending themselves to personalization. You can combine several French braids or stick to just one, create them in varying thicknesses and lengths, and with all hair types. A French braided hairstyle with bows is a wonderful choice if you want a pretty and practical look for school or something fun for birthdays or events. Adding cute hair accessories to the hair allows your child to make the style their own; there is a wide range of colors, prints, and different-sized bows to choose from.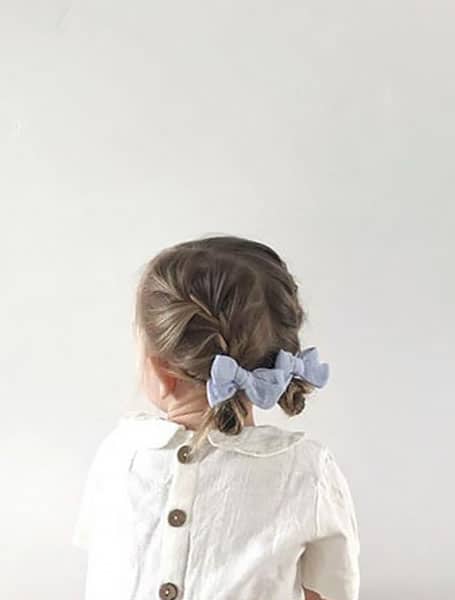 15. Hairstyle with Hair Clips
Hair clips have a very 90s feel, but they are practical and fun and can be added to many hairstyles. No matter your hair length, a look can be created using a combination of your favorite clips. These can be in varying colors or include butterflies and flowers. Add the clips to a simple braided updo, or use them to keep the hair away from the eyes when wearing it down. There are no rules for what you can and cannot do with this hairstyle, so it is more about expression and creativity.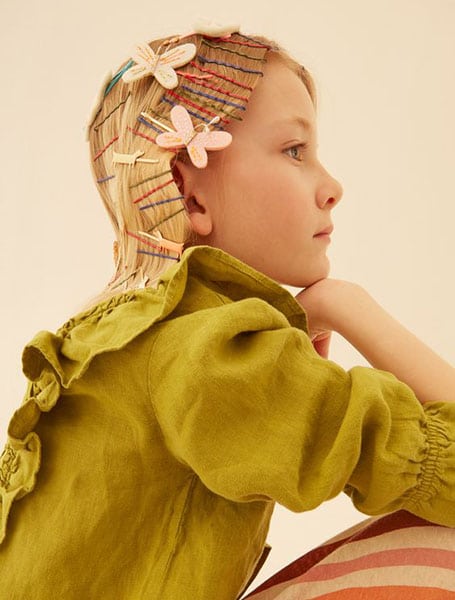 16. Half Up Half Down with Long Hair
The half up half down hairstyle is one of the most versatile ways to wear the hair; you are getting the best of both worlds, showing off your hair texture but also pulling the hair up and away from your eyes. This draws attention to your features. It can look sleek and sophisticated or messy and relaxed, depending on your preference.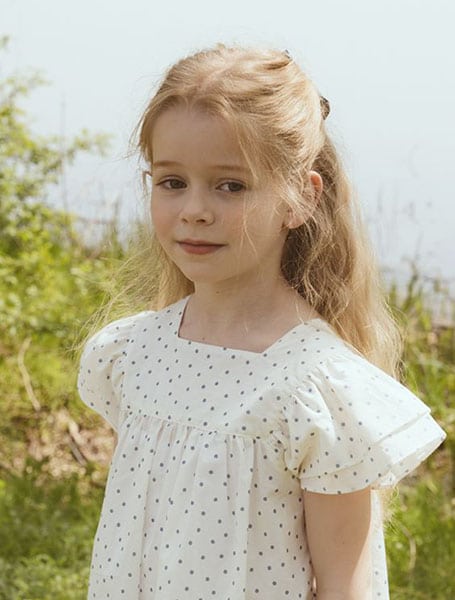 17. High Ponytail with Long Hair
The ponytail is versatile and easy to do. You can wear it low, or you can wear it high. A high ponytail looks especially good with long hair, creating a more dramatic appearance. This is a wonderful way to show off your hair texture, but the high ponytail tends to suit straight hair best, resulting in a sleek and sophisticated updo. Take care when giving your child a high ponytail to ensure it is not too tight, as this can cause traction and pull against the scalp, resulting in a headache. It is also not a hairstyle that should be worn daily, resulting in hair breakage.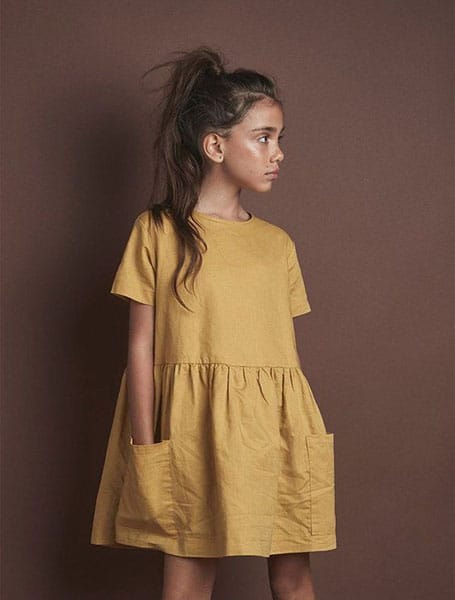 18. Lob with Bangs
The lob haircut is an incredibly versatile and easily adapted classic women's haircut. This is great, as it works with hair of all thicknesses and textures and can be cut slightly longer or shorter; traditionally, it falls below the jaw or the clavicle. The lob also looks fantastic with bangs, giving a cute, youthful appearance and drawing attention to the face. This is an excellent haircut for girls and is easy to maintain, requiring little styling. Use this hairstyle as a reference next time you visit the hairdresser with your daughter.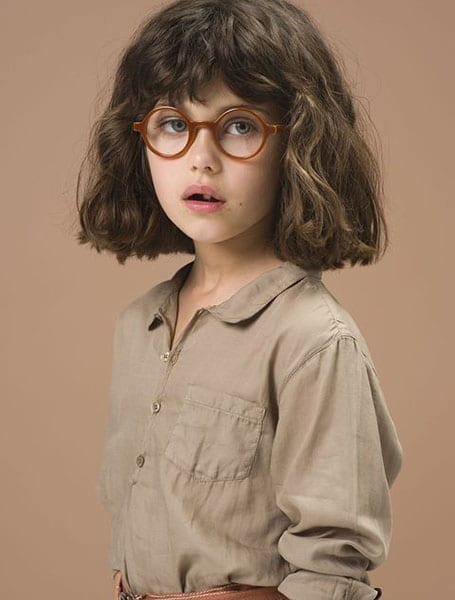 19. Lob with Beach Waves
Beach waves are gorgeous, creating a textured and romantic finish that looks like you have just stepped off the sandy shores. Beachy waves can be worn in several ways, but keeping them loose lets you show off your hair texture, and the lob haircut is ideal. The lob is typically cut below jaw level and until the clavicle, making it a manageable hairstyle that is fuss-free and low maintenance. In addition, the lob can be adapted to suit all face shapes and looks great when worn with bangs or a middle part.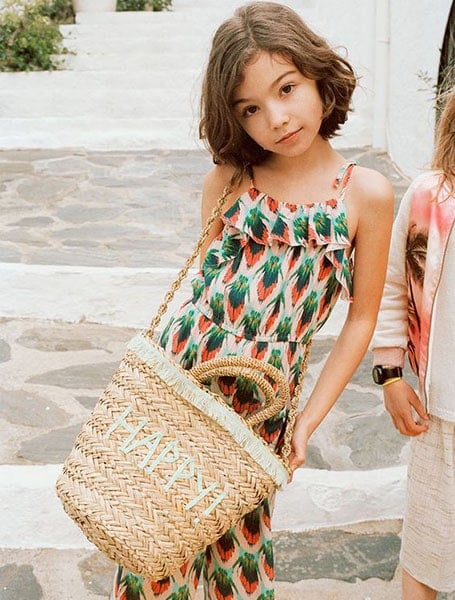 20. Long Straight Hair with Bangs
Straight hair looks glossy and healthy. This texture has a lot to love, including that it is less prone to tangling and dryness. This gives you a lot of versatility with how you style it, including growing it long and leaving it loose. Adding bangs to the cut is a great way to frame the face, draw attention to the features, and will look pretty and youthful. The choice of bangs should be adapted to suit the face shape, but straight hair is wonderful for bangs and can make the cut look more precise. Try out blunt bangs for a dramatic finish that highlights the eyes.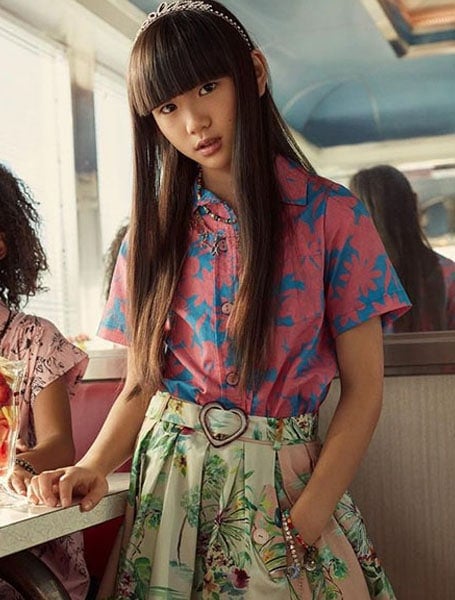 21. Long Straight Hair with Flower Pin
If you are looking for a low-maintenance way to style your daughter's hair but still let her express herself, you can do this by adding hair accessories. A pretty choice is a flower pin, which can pull back the hair, keeping it away from the eyes. You can add it to the side or try a simple half up half down look, which can be held in place with floral pins. While this accessory can be added to all hair textures, it is fantastic on straight hair. Straight hair is sleek and will make the pin more visible. It is also often easier to style and needs less hold. This gives you, even more, versatility with the clips you use.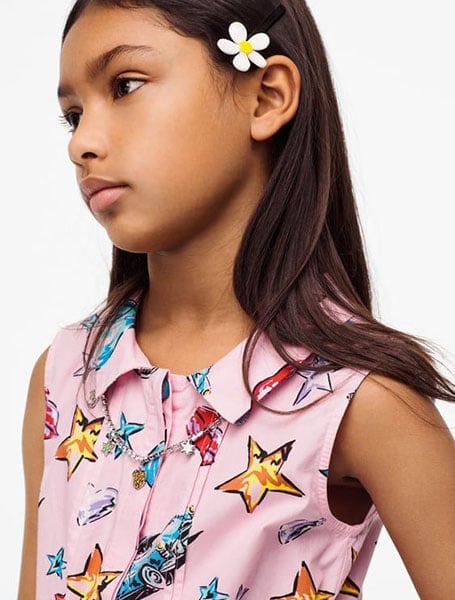 22. Loose Braids
Braids are an excellent hairstyle for girls because they are practical and cute. There are many different braided looks to choose from, depending on hair length, texture, and skill level. The simplest approach is often the best as they are quick and easy to achieve and can be easily touched up. Opting for a single braid at the back or a braid on either side of the head will look gorgeous. It is a way to prevent tangles and make the hair more manageable. For a more relaxed aesthetic, give the braids a deliberately undone appearance, creating them loose instead of tight. This will also be more comfortable and cause less tension on the scalp.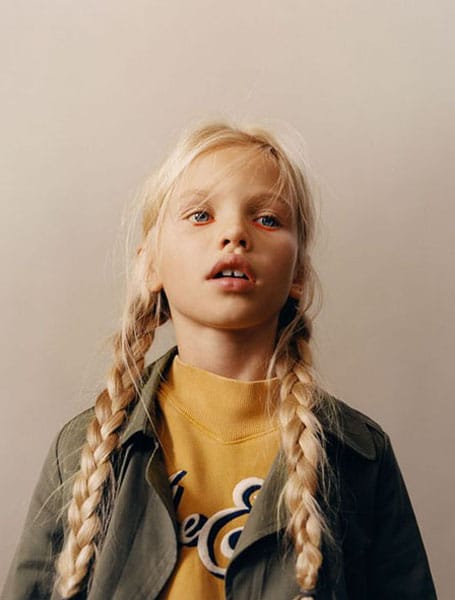 23. Loose Waves with Floral Crown
Wavy hair is one of the most sought-after textures because it looks feminine and romantic. There are many ways to wear wavy hair, including updos or leaving it loose, which will show off the texture. You can style your daughter's hair with a floral crown for a pretty, boho aesthetic. This is an excellent way to have fun with hair accessories, and there are several options to choose from, with varying colors and details. Adding flowers to the hair can also look great for more formal events such as school dances and birthday parties.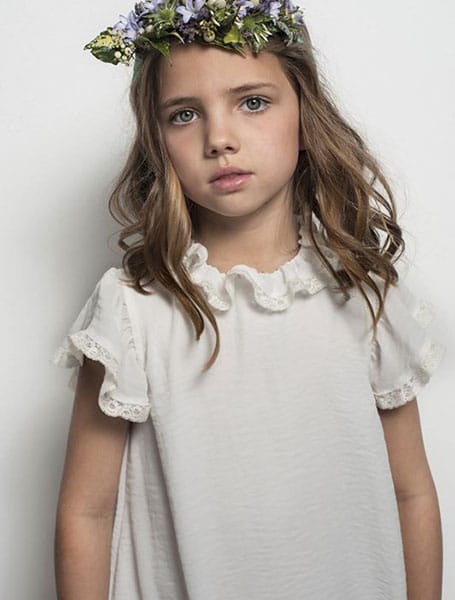 24. Low Buns on Natural Hair
Low buns are a simple and cute updo. The appeal of the bun hairstyle is that it works with every hair texture and can be created tight or loose, depending on your preference. It is a wonderful way of styling hair, keeping it away from the face and off the neck. Wearing buns lower is also more comfortable and creates a more relaxed aesthetic. Plus, it's versatile and can work with shorter hair, which may be too short to style higher. Leaving a few hair strands to fall around the face can also be incredibly flattering and show off the natural hair texture.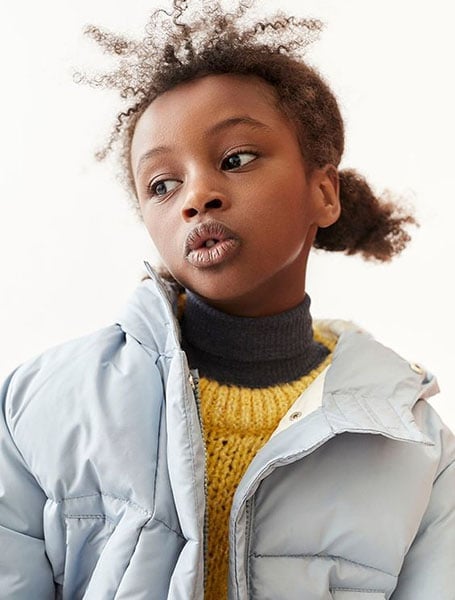 25. Messy Hair Twists
Fun, expressive, and practical messy hair twists are cute for young girls. It is also an excellent way to make the hair more manageable and will not have to be adjusted throughout the day. Plus, there will be no hassle about it falling in the eyes or being distracting. Twists can be created in varying thicknesses and on the hair of all textures and most lengths. They can also be pulled tight for a more sleek finish or kept loose for a messy, undone finish.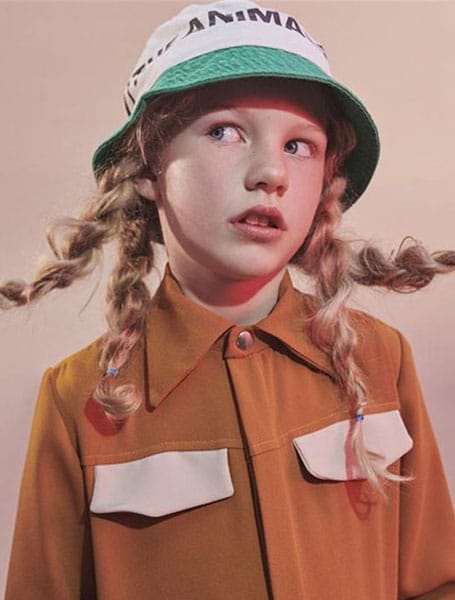 26. Messy Updo for Fine Hair
Fine hair looks great when worn in an updo as it can give the illusion of thickness and fullness. There are several updo choices that look gorgeous on girls, but creating a messy and relaxed style makes it perfect for every day. It is also more practical and easier to maintain throughout the day as you do not have to worry about keeping everything in place. Plus, fine hair can be hard to style in updos; thus, opting for a deliberately undone hairstyle is appealing.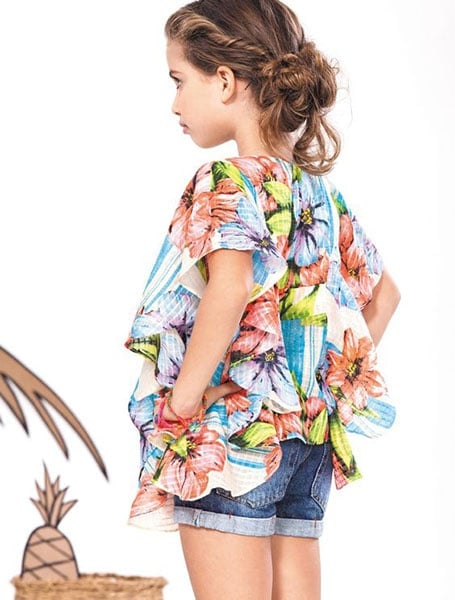 ​
27. Messy Updo
The messy updo is great for women of all ages but is perfect for younger girls as it has a youthful, relaxed aesthetic. It is also a practical option as the messy finish requires less precision and tightness; it will not pull on the scalp causing tension or headaches. There are several options for styling, depending on hair texture and length, but a good idea would be to leave a few pieces of hair to fall around the face. This creates a framing effect that can be incredibly flattering and draw attention to the eyes.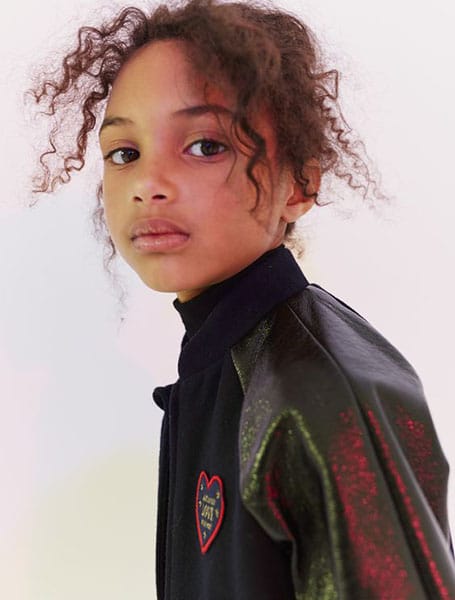 28. Natural Hair Buns
Buns are one of the most popular hairstyles because they are so simple to achieve. They also work on all hair textures and look good when created small or big. You also have the versatility of how you will style them, including keeping the bun low or high for a more noticeable finish. If you are looking for an alternative to natural hair and like the idea of buns, you may be drawn to Bantu knots; a protective style that is created by sectioning hair, twisting it, and working it into knots. They can be made on long or short hair and are a fantastic option for reducing style time.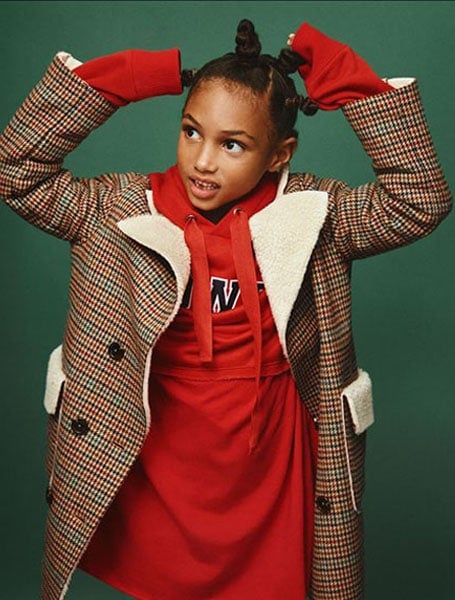 29. Natural Hair Lob with Side Bow
The lob haircut looks pretty when created on all hair textures, including natural hair. The cut can look very angled and precise with straight hair, but curly textures have a less structured appearance, adding a softness to the features. If you want a simple but pretty way to style your daughter's hair, add a side bow to the lob haircut. Hair accessories are an easy way to let your child express themselves, and they can pick from several colors, sizes, and prints. A little bow worn to the side is so cute and ideal for school photos, birthday parties, or even every day.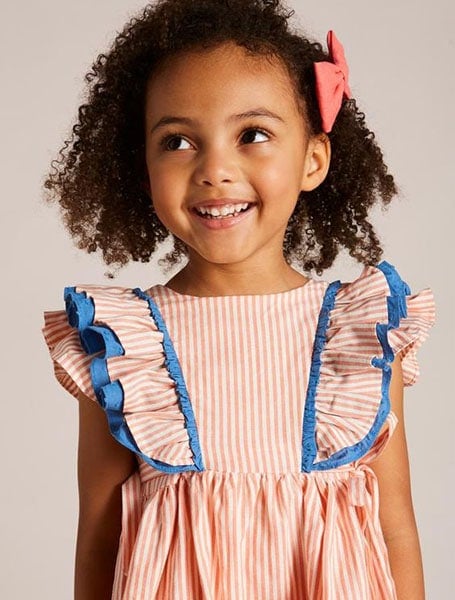 30. Braided Top Bun with Natural Hair
A top bun is a fun and expressive look for little girls, letting them show off their hair while keeping it out of their faces and eyes. There are multiple ways to style this look, including a half up half down hairstyle to show off the natural texture. Or opt for a braided top bun, created by wrapping braids around to form the shape of a bun. It can also be made on various lengths, and the longer and thicker the hair, the bigger the top bun will be. This comfortable and cute look is versatile and lends well to hair accessories like clips or beads.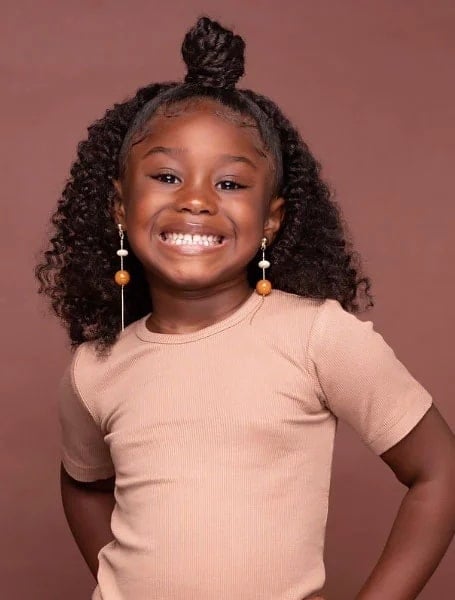 31. Pigtails with Scrunchies
Pigtails are cute and youthful, perfect for younger girls. The style features two braids on either side of the head, and it is simple and easy to create. This is also a great way to tame curly hair and avoid tangles and knots. Pigtails are a nice alternative to ponytails and buns and should not cause any tension on the scalp, making them comfortable and stylish. These versatile braids can be done loosely for a relaxed finish or tighter, giving them a sleek appearance that is perfect for formal occasions. Adding scrunchies to the hair is a fun way to add a pop of color. Let your child get involved with styling, choosing their favorite colors and prints.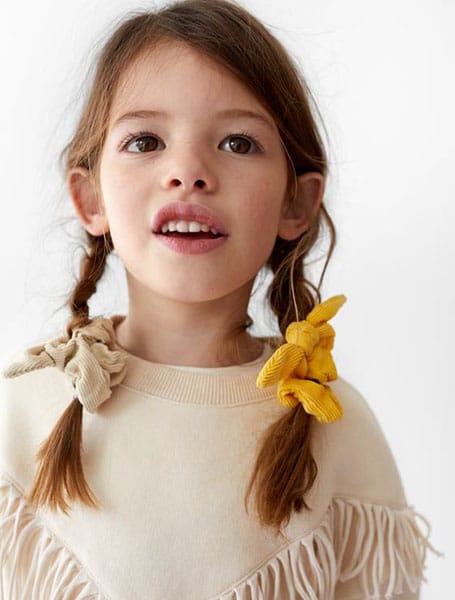 32. Pink Curly Hair
Curly hair gives you many options for styling, whether you want to show off the curls or tame them in an updo. However, no matter what texture your daughter's hair is, colored hair is excellent when you want to let her have fun and express herself. Giving your child bright hair can be daunting, and you should speak to a stylist first about the pros and cons of temporary color. That said, it is a wonderful way for them to make their hair their own and show off their playful side. Pink hair is a gorgeous color associated with love, happiness, and femininity. Plus, it suits all hair textures, lengths, and complexions. There are also different shades to choose from; muted hues like pastels are easier to wear, while bright pink will make a statement.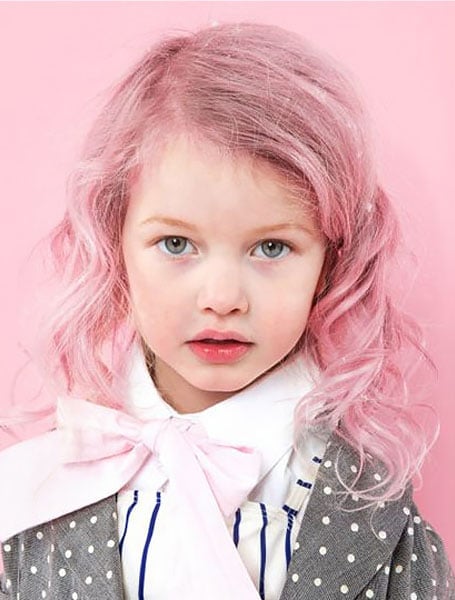 33. Natural Hair Updo with Headband
Natural hair looks gorgeous when styled in an updo hairstyle. Keeping the hair up makes it easier to manage throughout the day, and it will be less prone to tangles. There are several ways to style it, but opting for a slightly undone appearance, which shows off the hair texture, is a great choice. You can also add a headband or scarf to the hair, keeping the hair out of the face or drawing attention to the eyes and forehead. There is a range of colors and styles to choose from, letting your child find the option they love the most; this will also excite them about doing their hair. Headscarves also serve a more practical purpose, and a silk headscarf can prevent friction and frizz.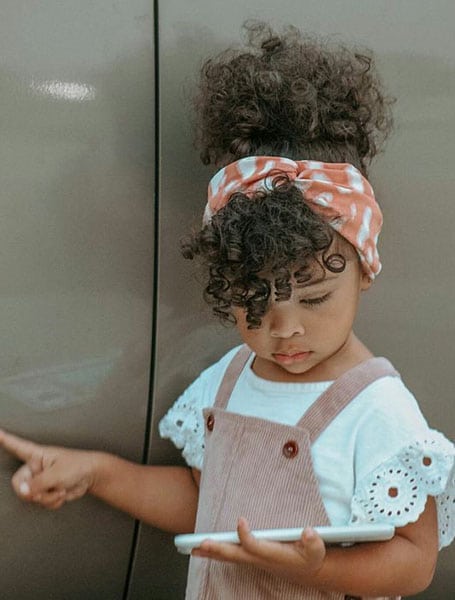 34. Retro Hairstyles for Girls
Vintage hairstyles can be timeless and classic, channeling the decades past. Heat stylings, such as blow-drying, often achieve this, which gives the hair volume. Or it can be done with an interesting, textured updo. There are no rules for what you can or cannot do. This gives you much freedom for styling, creating the hairstyle of your child's dreams. There are many options to choose from, allowing you to find something to suit all hair types, whether your kid wants big hair that makes a statement or something simple and glamorous, ideal for special occasions.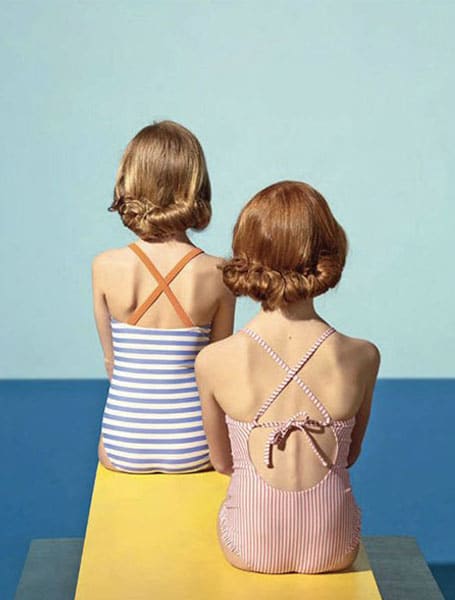 35. Short Hair with Headband
Short hair is very practical for little children because it reduces styling time and results in less maintenance. This may be a good alternative if your child's hair is prone to tangles. You can add bangs to your favorite short hairstyle to give the illusion of length and a youthful glow. That said, short hair can be harder to style because there is less versatility, limiting you in the updos you can try. An excellent way to add some personality to the cut is with a headband that looks pretty and girly. Let your little one choose her favorite headband to give her more control over her hair.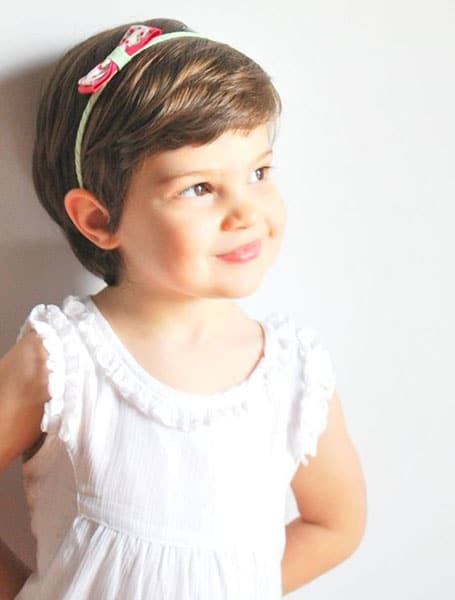 36. Short Natural Hair
Hair doesn't have to be long to look gorgeous; short hair for girls can be just as great. It is also a way to reduce styling time every day, as most short hairstyles need very little grooming time and can be finished with a simple hair accessory and a quick brush. Short hair complements all hair textures and can be styled in various ways, including protective styles like short twists, Bantu knots, and cornrows.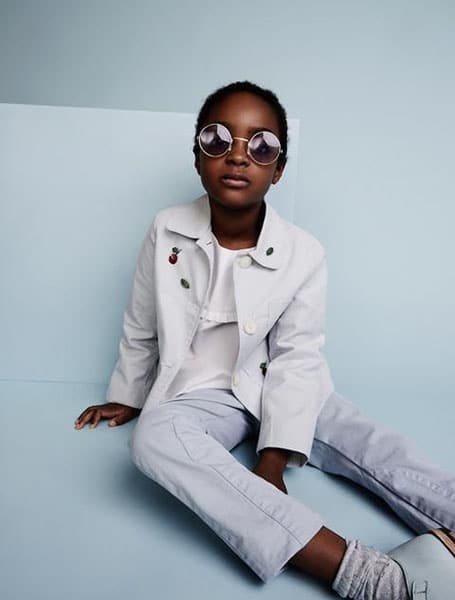 37. Short Wavy Bob with Bangs
Wavy hair is one of the most sought-after hair textures because it looks excellent when styled up or down. It can be worn short or long and gives you so much versatility with how to style it. For a relaxed and carefree aesthetic, it would be good to cut the hair shorter to around a bob length, which is manageable but still long enough to show the natural texture. Pairing the cut with bangs is a lovely way to draw attention to the face, creating a youthful and cute appearance. Bangs can be made in several ways, including thick and full bangs, curtain bangs, or wispy pieces; this should depend on your child's preference.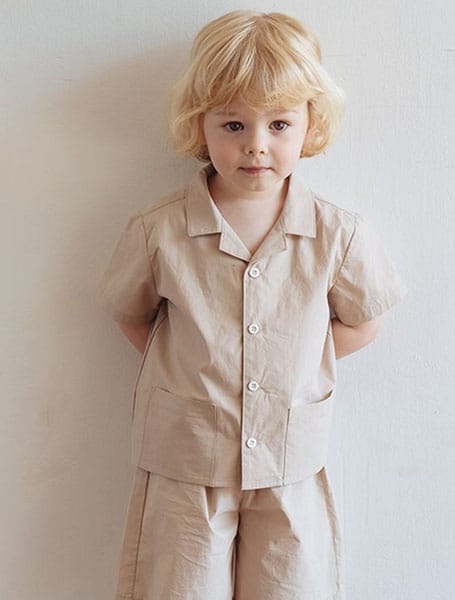 38. Side Hair Clip
It is incredible how the right hair accessories can transform a look, making even the simplest hairstyles look adorable and giving them some personality. Wearing a side clip is a wonderful way to draw attention to a specific side of the face. It is also practical and can pull the hair away from the face and eyes. There is much variety in choice, letting your little one have fun with floral clips, butterflies, colors of their choosing, and so much more. You can try a look that features a side braid or a simple plait clipped back with the accessory you choose. This is a cute look for school or special occasions and incredibly easy.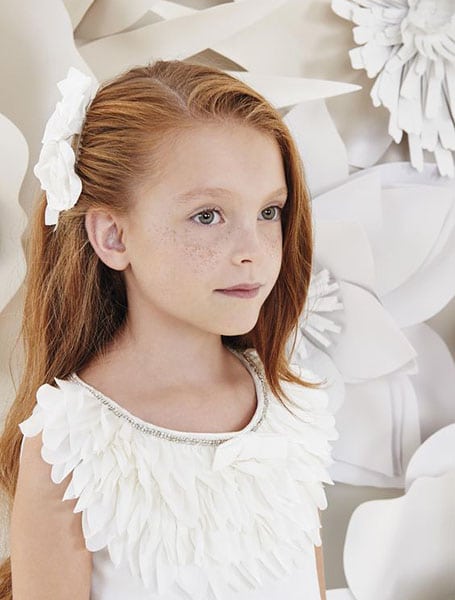 39. Side Braids with Floral Headband
For a boho-chic look, a floral headband is a way to go. This could be with artificial or real flowers and will give the hair a gorgeous, feminine feel. There are many styles to pair with headbands, including leaving the hair loose or working it into a simple updo or braid. Side braids are a great choice, creating a soft and romantic appearance. They are also practical, keeping the hair away from the face and eyes and helping to prevent tangles and knots; this happens so easily with little ones who are always on the go. Fasten each side braid with a simple hair elastic, or choose elastic bands with floral details to complement the headband and create a more balanced finish.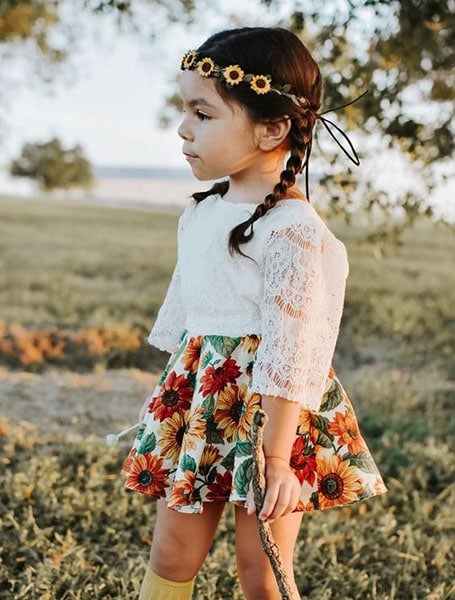 40. Side Ponytail
The side ponytail is an excellent alternative to the classic version. As the name suggests, it is simply a ponytail created to one side of the head instead of centered, which gives it an edgier appearance. It can be achieved on the hair of all textures and will look sleek with straight hair and unstructured with wavy or curly locks. You can also experiment with different heights, leaving it loose for a more relaxed aesthetic or pulling it high for a hairstyle that has more drama and will make a statement. If your daughter has a fringe, the ponytail can complement it but should be on the opposite side to the parting for a more balanced appearance.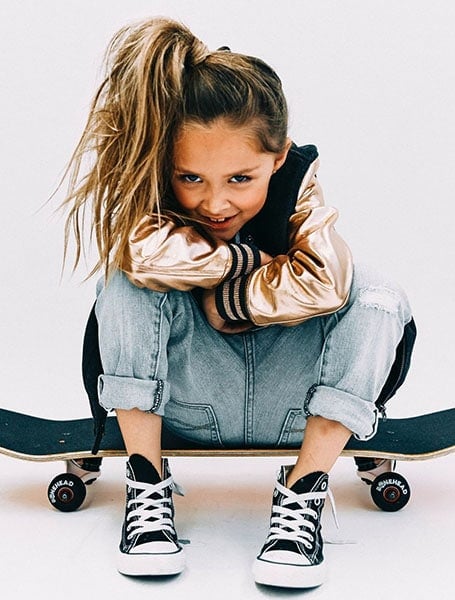 41. Side Swept Fringe with Loose Waves
Loose waves look pretty and dreamy and are wonderful for showing off your child's hair texture. Waves can be styled in many ways and benefit from fringes that draw attention to the face and give it a youthful glow. A fantastic option to complement the wavy appearance is side swept bangs, created when the hair is brushed to the side. One side of the fringe can also be slightly longer. This is a simple and versatile way to wear the hair, and will grow out easily, looking more natural when it does. Side bangs work best with hair that has some length, including a bob or lob haircut.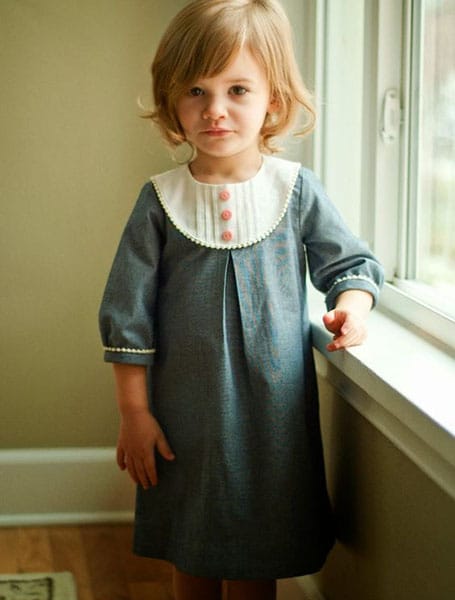 42. Space Buns
The 90s was a decade that brought us many cool hairstyles and beauty looks, but undoubtedly one of the best in space buns. The look is defined by two buns on the top of the head, which create a youthful appearance. There is also a surprising amount of versatility with this hairstyle; it can be created as an updo or a half up half down hairstyle, which can show the hair texture. Space buns can be made big or small and are a great way to tame the hair and prevent tangles and knots. In addition, the look benefits from bangs, either a style like curtain bangs or a wispy fringe which will give the hairstyle a more balanced appearance.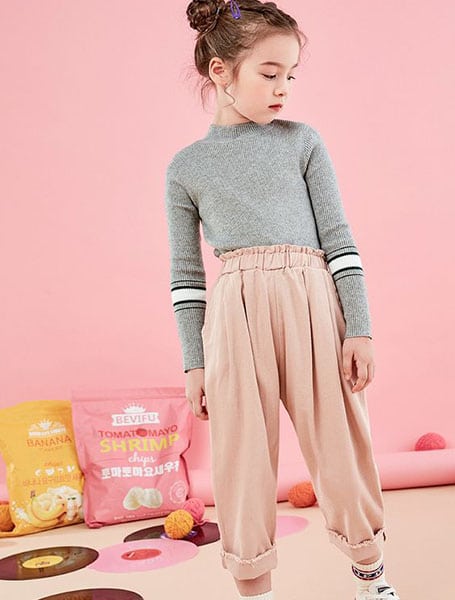 43. Straight Hair with Middle Part
Straight hair is incredibly versatile and can be styled in various ways. The texture also looks glossy and is often shiny. If you are looking for a practical yet stylish way for your little one to wear their hair, then consider a middle part. Unlike bangs, the central part is effortless to style and is more defined on straight hair. The parting compliments most hairstyles and hair textures and can be worn with long or short hair. The appeal of this parting is that it can draw attention to the face, specifically the eyes.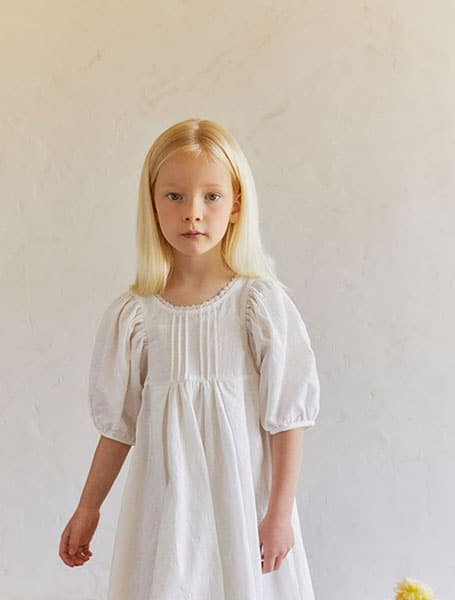 44. Top Bun
What is not to like about the top bun? It is one of the most effortless updos to achieve and looks gorgeous on all face shapes. The top bun can be created with hair of all textures and varying thicknesses and lengths; the longer and thicker the hair is, the bigger the top bun will be. Unlike the standard bun, this look is often worn slightly higher and works best with longer hair. This bun is also practical, keeping the hair off the neck and away from the eyes.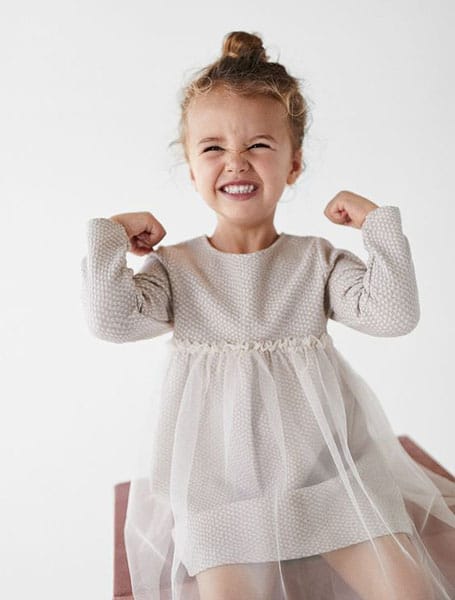 45. Top Hair Twist
Hair twists are a fun and fresh way to wear hair. The twists can be created tight or loose, and their textured appearance makes even the most basic hairstyle appear interesting. You can add multiple twists to the hair or focus on just one, styling it on the top of the head for a dramatic and standout appearance. The look can be achieved on all hair textures but needs length. It also looks excellent when paired with bangs or a side-swept fringe. If your child is wearing a top twist, let the hair fall on the opposite side to the parting or angle of the fringe, as this will give a more balanced finish.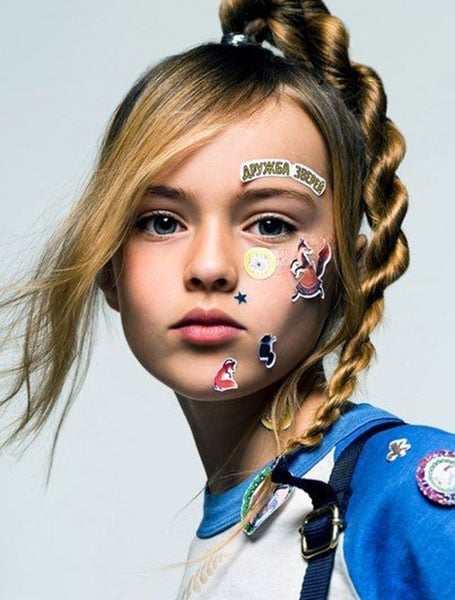 46. Top Ponytail with Bow and Headband
Wearing a high ponytail on the head can make for a trendy and cool appearance. This sleek look is also practical, pulling the hair away from the eyes and opening up the face. Unlike a regular ponytail, this option is a little more dramatic, but it is just as versatile and can be created on hair of all textures and different hair types. You can pair the look with a bow and headband to make the look unique and personal. This lets your daughter add a pop of color to her appearance, allowing her to choose what she wants her hair to look like and making the process more fun.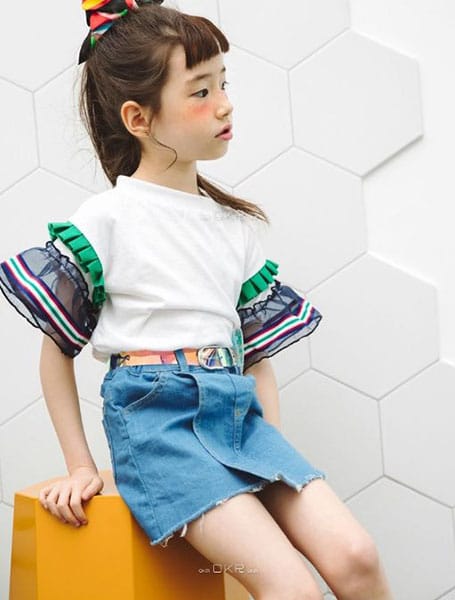 47. Top Ponytail with Scarf
Scarves are an excellent addition to most hairstyles and have a glamorous, retro appearance. They also let your child's personality and playful side shine, as scarves come in various sizes, colors, and prints. Wearing the hair in a high, top ponytail is fashionable, but wrapping a scarf around it makes it look even better. This simple and practical updo is perfect for various occasions, including birthday parties and special events. To give the look a softness, consider styling it with bangs or tendrils; this can frame the face and draw attention to the eyes.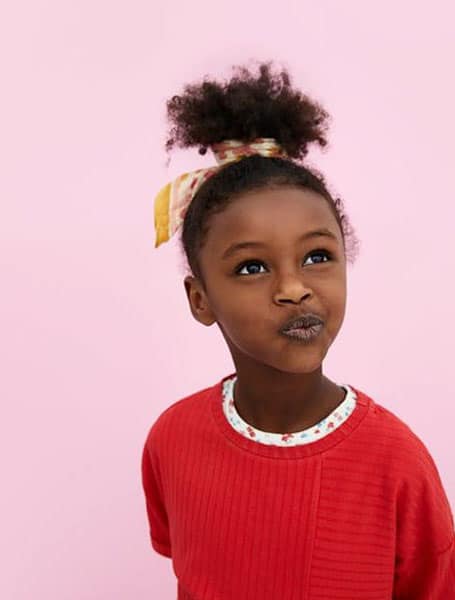 48. Two Fabric Hairbands
Hairbands made of fabric are often gentler on the hair than elastic bands and also offer more versatility. These bands come in many different colors and prints, letting your child choose her favorite. This lets her express herself through her hair in a simple and cute way. There are many options for adding this accessory to the hair, including a top knot, plait, or two-side braids. Find the look that best suits your child's preference and compliments their hair type and activities.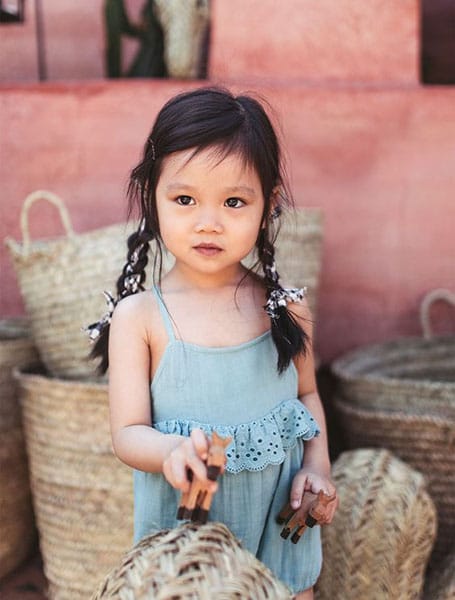 49. Wavy Long Hair
Wavy hair looks gorgeous when long because this highlights the texture. Leaving the hair loose will show off the natural wave pattern. How you style your child's hair will be effortless, creating a relaxed and carefree aesthetic. Work with their hairstylist to find a cut that complements the hair texture and consider adding bangs or styling the hair in a side parting. This parting will add a softness to the appearance. You can also add a floral headband to the hair for a more boho feel.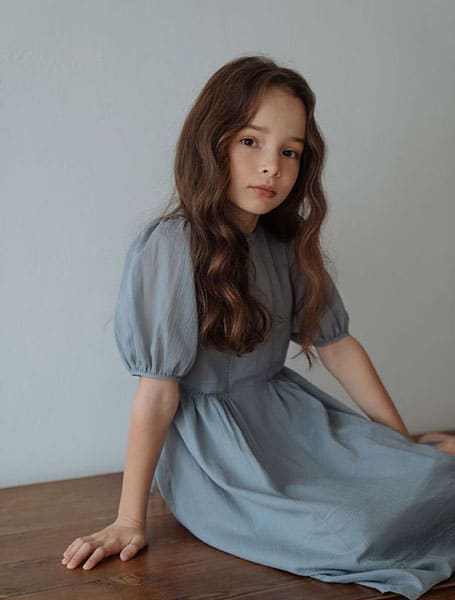 50. Wavy Red Hair
Red hair is one of the rarest and most striking hair colors. There are various shades, from fiery reds to more copper tones; all standout and look great. The brightness of red hair instantly grabs attention, highlighting the cut and texture. The cut should complement the hair texture but can be long or short, styled with bangs or a middle or side parting. Your child can wear her hair loose with waves or style it in an unstructured updo. There are countless options, so let her have fun.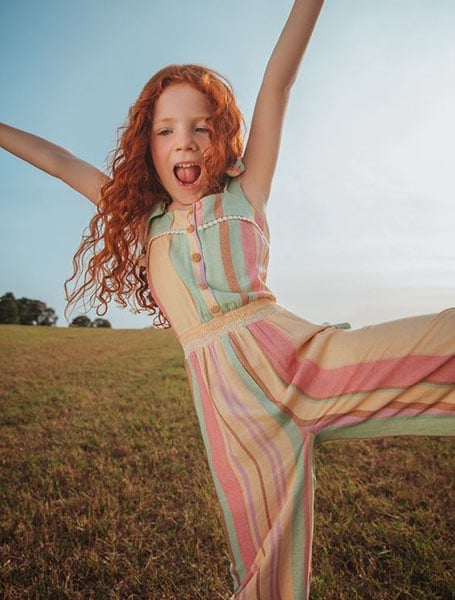 Hairstyles for Girls
What is the most popular girl hairstyles?
The best haircut for girls depends on their hair type, texture, and desired length. Popular cuts include the bob and lob haircut because of their versatility. Bangs are also a great addition to any look, drawing attention to the face and creating a cute and youthful appearance. If your daughter wants to express herself and opt for a more creative and unique look, consider letting her add color to her hair or experiment with braided styles. You can also style the hair up or leave it down, with popular choices including the half up half down hairstyle, ponytail, and buns.
What types of haircuts are there for little girls?
When it comes to girls' haircuts, there are many choices. The decision should be based on hair texture, thickness, and desired length and style. Some of the best haircuts include classics like the lob or bob, while others prefer a more edgy look like a modern shag or long pixie cut. Sometimes the simplest cuts are the best with children's hair as they offer more versatility with styling and are practical. Bangs are also a welcome addition to most haircuts and can draw attention to the face. Let your child personalize their look with color and hair accessories, or keep it simple and practical.
What is the best haircut for a teenage girl?
The teenage years are a time for finding your style and expressing yourself, including with your hair. Haircuts for teenage girls should reflect their personality while also complementing their face shape, hair texture, and desired length. Classics like the shag, bob haircut, and lob hairstyle remain popular and can be modernized with the addition of bangs or the angles at which they are cut. Curtain bangs are trendy because they are universally flattering and can be worn with most hairstyles. Protective hairstyles like goddess braids and box braids significantly reduce styling time, and braided hair lets you get creative. Bold and bright colors are also a fun way to let your playful side show and are ideal for someone who is not afraid to take risks.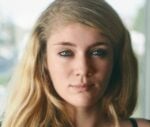 Cailyn Cox holds a degree in journalism and has been working with The Trend Spotter as a writer for over ten years. She has worked with some of the most prestigious women's and men's lifestyle publications. For her, writing is not just a job; it's a passion, which is why each article she writes is approached with such enthusiasm and dedication. She has extensive knowledge of hairstyles, tattoos, and beauty and has made a career out of creating informative articles that appeal to women and men of all ages.
SUBSCRIBE TO OUR NEWSLETTER
Subscribe to our mailing list and get interesting stuff and updates to your email inbox.