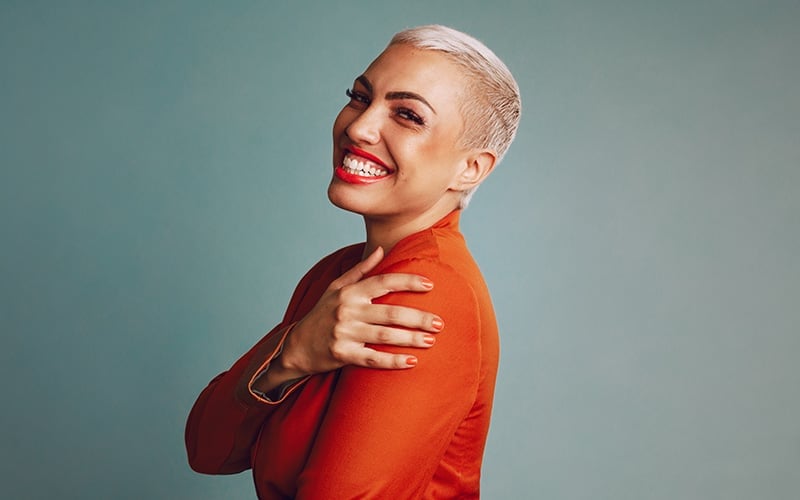 The short pixie cut is a popular and versatile short hairstyle for women. It will have all the benefits of the classic pixie but is cut shorter, making it lower maintenance. Your short pixie cut will be super flattering and look stunning on women of all ages. You can also change it to reflect your style by coloring it with exciting shades like red or green. Or, be adventurous and try choppy layers and get creative with your styling. Keep reading to find to discover your next short pixie haircut!
RELATED: 80 Best Pixie Cuts for Every Hair Length
1. Very Short Pixie
The cut can be adapted slightly to suit your preference, this includes cutting it slightly longer, or even shorter. For those who want an edgy and effortlessly cool appearance, a short pixie with very short bangs could be the hairstyle you have been looking for. This is also a stunning look for women who have thin and fine hair. Or for those who want something chic and carefree that requires very little styling time.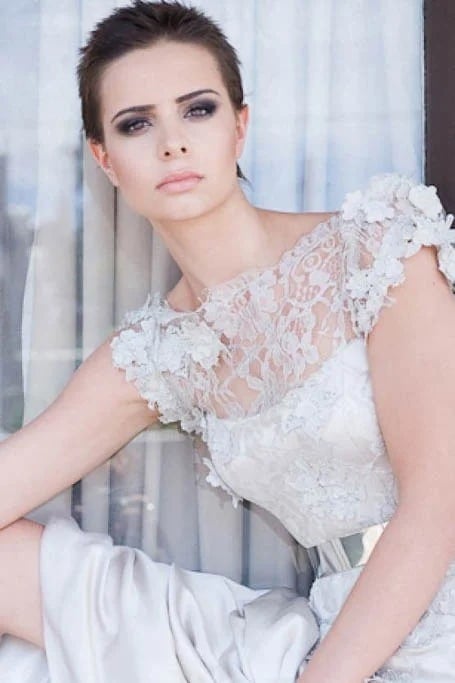 2. Short Curly Pixie
Curly hair is a stunning texture, but it can be challenging to care for. This short curly pixie cut will show off a little of your natural texture and is easy to style. The great thing about naturally textured locks is that they will appear full and voluminous. It will also soften the features and can be incredibly flattering.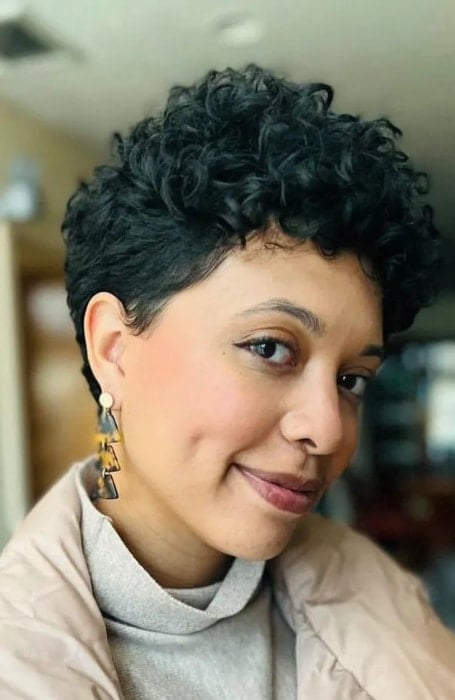 3. Edgy Super Short Pixie
Are you looking for a hairstyle that shows off your personality and makes you stand out? If so, look no further than an edgy super short pixie. The classic pixie cut is a chopped style defined by the strands on the back and sides being cut short and with more length on top. However, you can opt for a much shorter version to create a very low-maintenance finish. You can also adapt your pixie by adding a fade or bold color.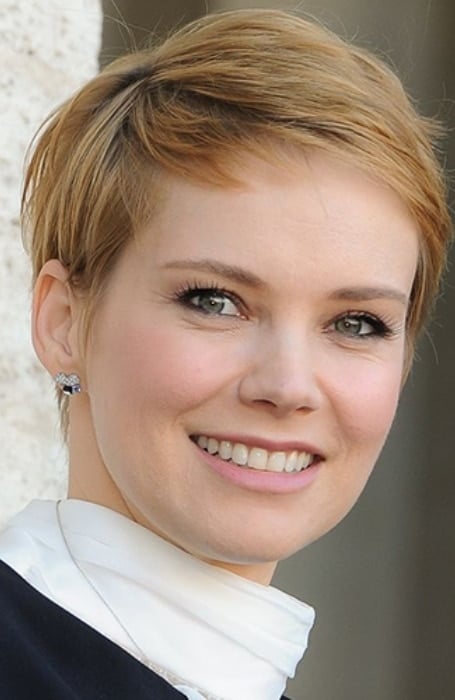 3. Classic Short Pixie
The pixie cut is one of the most popular short hairstyles for women because it is flattering on most face shapes and will complement a wide range of textures. The classic style will keep the hair on the back and sides short, leaving slightly more length on the top and styling it with short bangs. These bangs are great for framing the face and will give you a youthful appearance.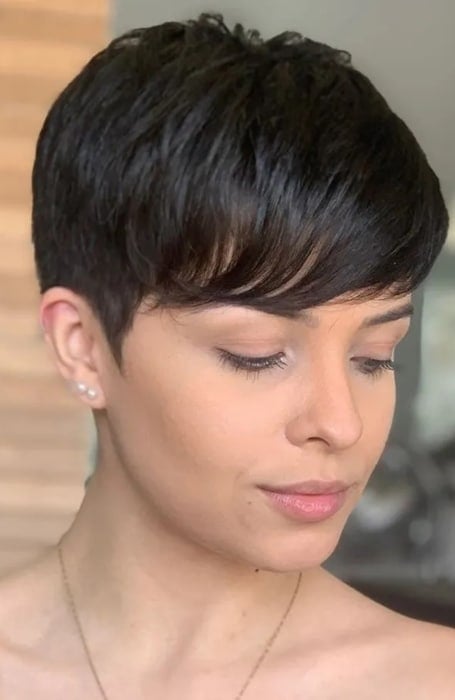 5. Short Pixie For Older Women
Older women look great with a pixie cut, and it will give you a youthful glow. The short bangs are ideal for framing the face and softening the features, but they can also be used to hide signs of aging like forehead wrinkles. It is also a practical decision to get cut because hair growth naturally slows with age, and the texture can become dry and brittle.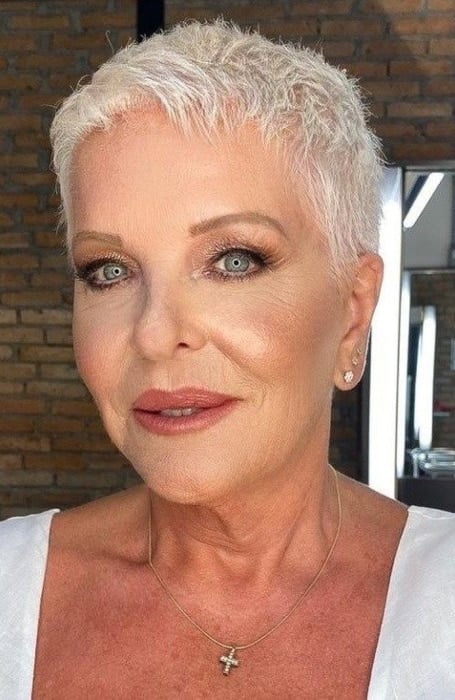 6. Short Pixie Bob
The pixie bob haircut combines two of the most flattering and easily adaptable hairstyles; the pixie cut and the bob. Often this style is longer than the classic pixie cut because your strands are graduated at the back but with longer pieces focused at the front, ideal for framing the face and giving the illusion of length without the hassle of grooming.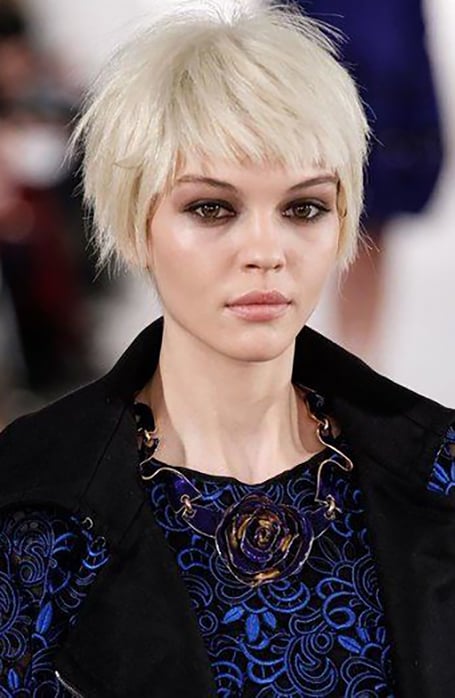 7. Short Purple Pixie
Have you wanted to experiment with your appearance and give yourself a fresh look? Well, there is no time like now, and purple hair is a bold and edgy choice that will let you express yourself. There are different shades of purple to choose from, depending on how vibrant you want the color to be, and this makes it easy to find a hue that will complement your complexion. Style it with a super short pixie and draw attention to your features.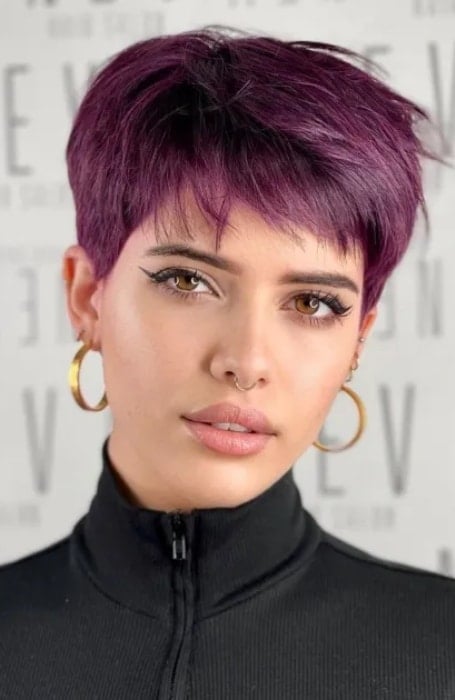 8. Short Black Pixie
Black hair is a stunning color, and if you have naturally lighter locks, dyeing it dark could be the transformation you have been wanting. Dark strands are less maintenance than lighter shades and do not have to be retouched as often. It is also great for disguising signs of damage and dryness, making this a flattering choice for your short pixie cut. Keep it short on the back and sides and cropped close to the head at the top for an edgy finish.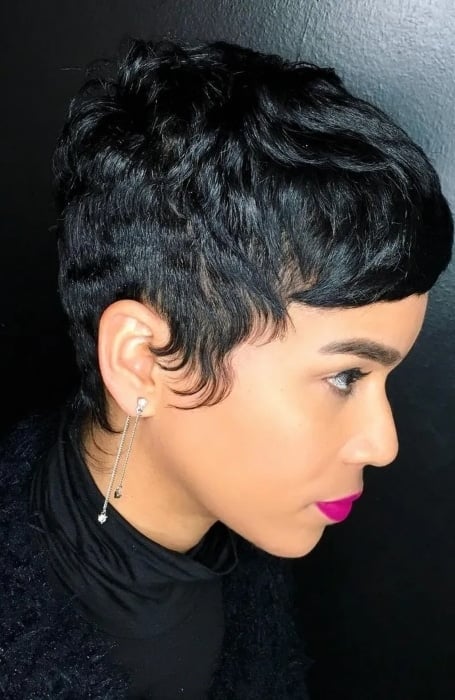 9. Stacked Pixie Bob
What is not to like about a pixie bob haircut? It combines two of our favorite styles, which gives you a stylish cut that will complement all face shapes and textures. But what does it mean when the hair is stacked? This term refers to graduated layers at the back, and there will be more length at the front to create a contrast and give the illusion of length.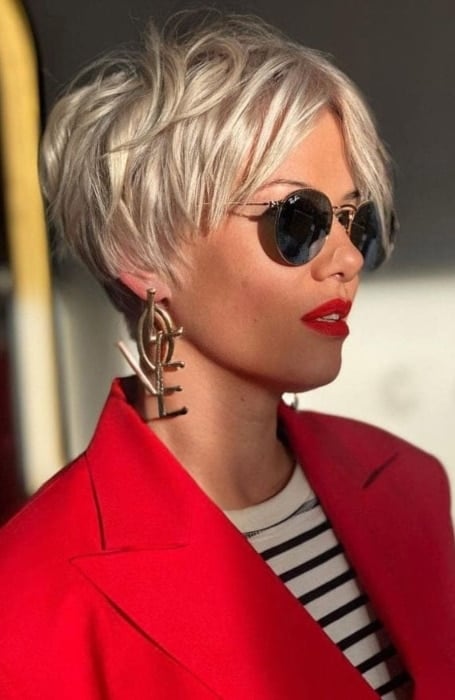 10. Cute Short Pixie
If you have been looking for a haircut that makes you look and feel beautiful, a short pixie cut could be it. The standard pixie cut is short, but your version can be chopped even closer to the head. This will give you super low maintenance and an undeniably cute finish. This cut will also draw attention to your face and highlight your features. In addition, it is effortless to style and great for those wanting to create a youthful appearance.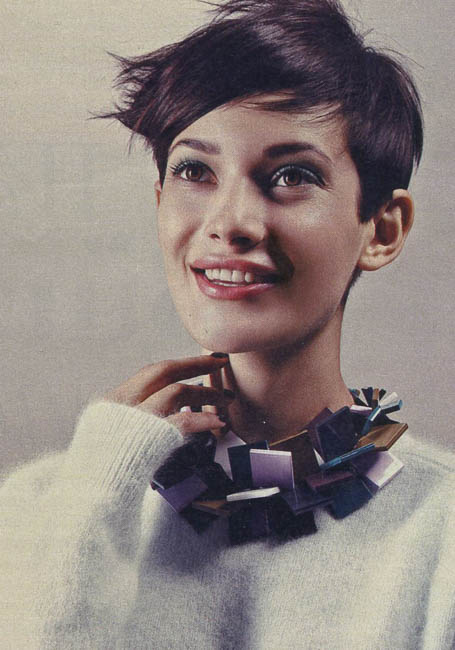 11. Short Pixie For Fine Hair
Fine hair can be challenging to style and often benefits from being cut shorter. This is because, on longer locks, the strands can appear even finer. If you want a great way to make the hair look fuller and thicker, try a short pixie cut and consider adding layers to the back to create added fullness. This cut is an incredible option and will complement your fine texture.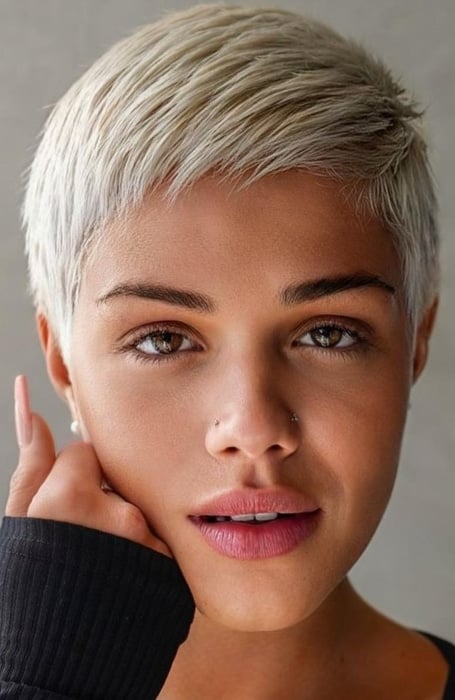 12. Short Layered Pixie
Layered hair can still be added to a short style and is a great way to give your locks movement and texture. They also create the illusion of a thicker, fuller mane if your strands are thin or fine or could remove some of the bulk and weight from being naturally thick or textured. There are multiple ways to add layers, and you can work with your hairstylist to find the look that works best for you and will complement your face shape.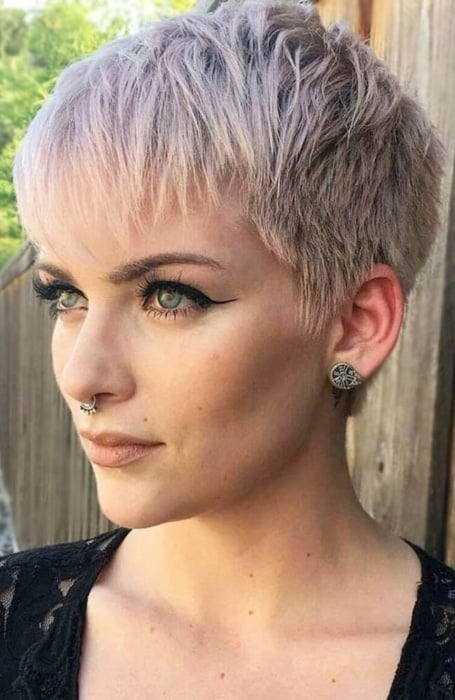 13. Short Pixie For Thick Hair
Many women with thick hair are hesitant to cut it short because they worry it could appear poofy. This is not the case, and the short style can be incredibly flattering while also being easier to maintain. When cutting your short pixie cut, consider adding layers to the locks to remove some of the weight and bulk. This will leave you with finer strands and create a flattering finish.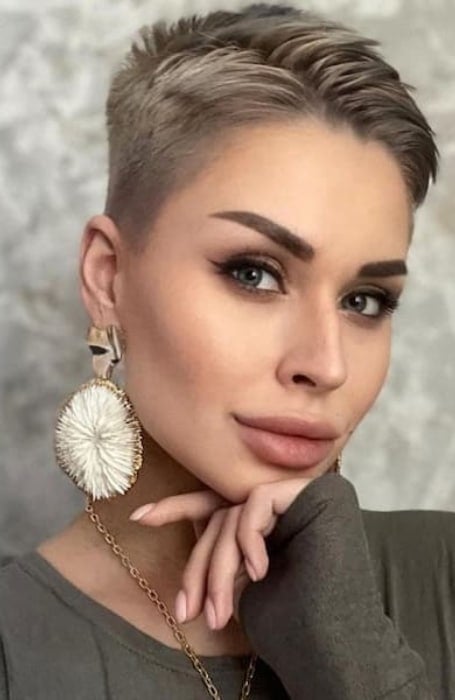 14. Short Pixie For Black Women
The beauty of the short pixie cut is it is incredibly easy to maintain and style. It will also work well with all textures and complement a range of face shapes. Black women have a wide range of hair types, but generally, it is considered curly and thick. The pixie cut will complement this texture, keeping the locks short and appearing voluminous. This is a cut that is cute on women of all ages.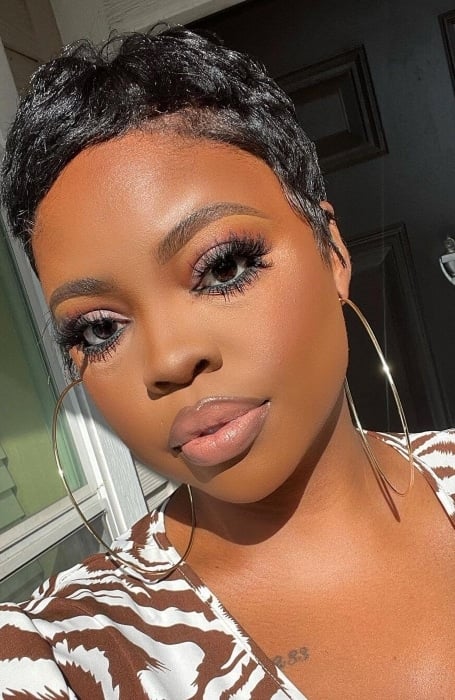 15. Short Undercut Pixie
The short pixie cut is an edgy hairstyle that is easy to maintain. For women looking to transform this classic approach to let it better reflect their style, then why not add an undercut? It is undeniably edgy and has an effortlessly cool feel, giving you a youthful appearance. To create this ultra-chic look, you will shave the sides and back, which will make the locks on top appear even fuller.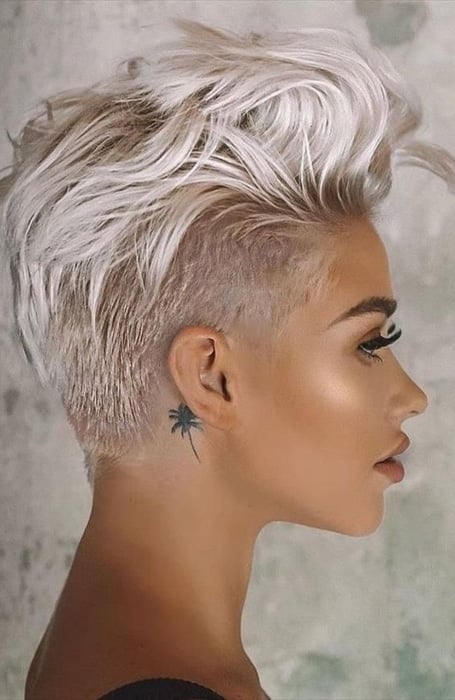 16. Back Short Front Pixie
The classic pixie cut features a short back and sides and keeps length on the top, which is also paired with a short fringe. For an interesting approach to the haircut and one that will stand out from the crowd, you can try a reverse version by keeping the hair on the back longer and shorter on the front. The contrast will give you an interesting look.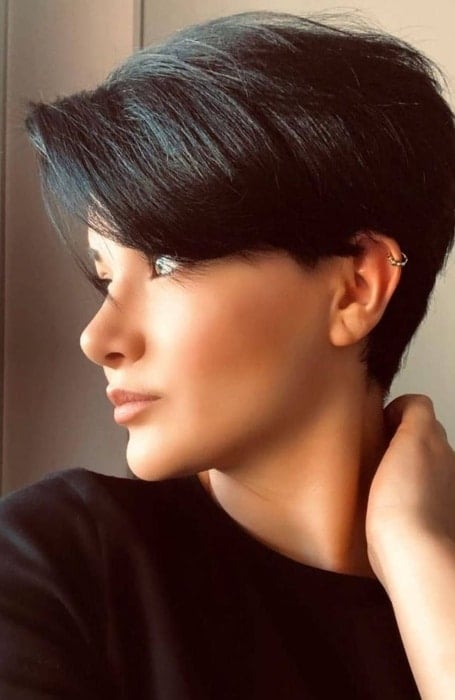 17. Short Asymmetrical Pixie
The asymmetrical hairstyle is styled so that one side appears longer than the other. This is a great way to create the illusion of length and is also edgy and cool. Apart from looking great, an asymmetrical cut can do wonders for framing the face, and the way the locks fall can soften sharp features. Try this option by keeping the hair on the front slightly longer than normal and cutting the sides and back short.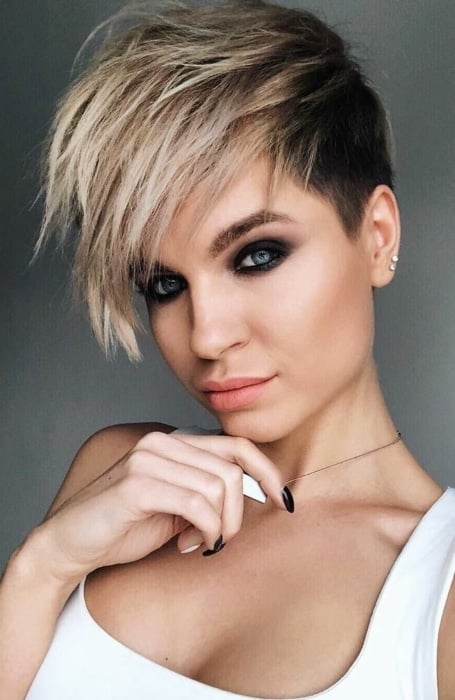 18. Short Blonde Pixie
Blonde hair is a brilliant way to get your short pixie cut noticed because the color brightens your complexion. It can require more upkeep than darker shade and is less forgiving because you can see signs of damage easier on lighter strands. There is a wide range of different shades to choose from to complement your skin tone best.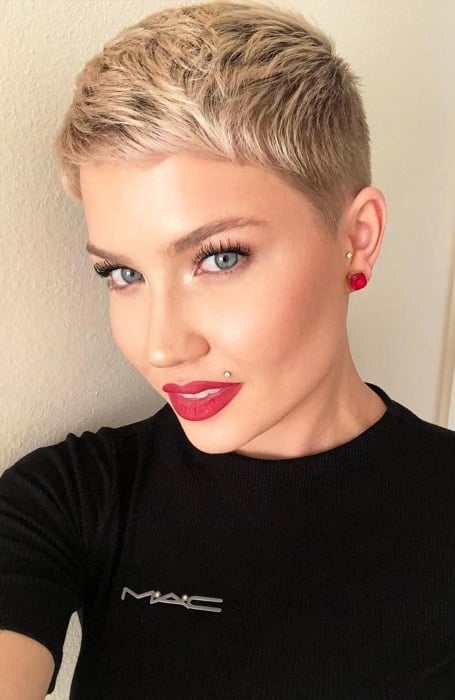 19. Short Messy Pixie
Styling the short pixie cut to have a messy and deliberately unstructured finish is a great way to create a laidback, effortlessly cool look. This messy hairstyle will be easier to create with naturally textured locks, and you may want to keep slightly more length on the top and front of the hair than the standard cut to show off the texture fully. You will also have more freedom with styling, making this an ideal choice for women who are on the go.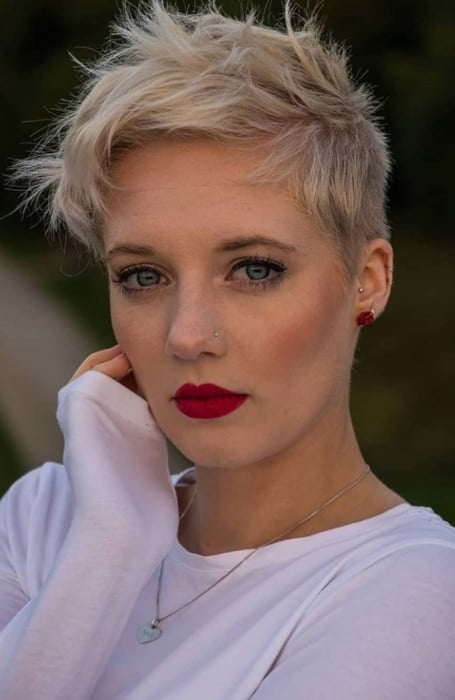 20. Short Shaggy Pixie
The shaggy pixie is a haircut that is cut with layers to create a shaggy appearance. The strands will appear fuller on top and more layered toward the ends, creating a contrast. This is a great style for someone who wants an unstructured look and is ideal for giving it texture and movement, although this will be less obvious on very short hair. Another pro is that it has a very youthful feel.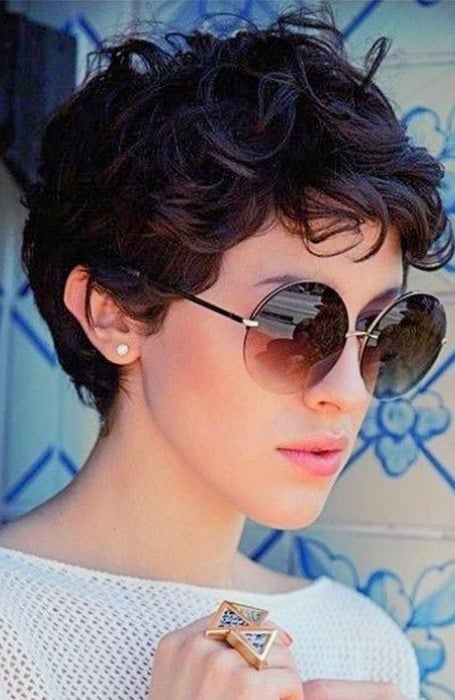 21. Short Burgundy Pixie
The right color can transform your appearance, enhance your cut, and make you look and feel great. Burgundy hair is one of the hottest colors, and the deep hue is a brilliant blend of brown and purple hues. Depending on your desired vibrancy, you can choose different shades, from dark to light. With a short pixie cut, this is a great way to get your hair noticed.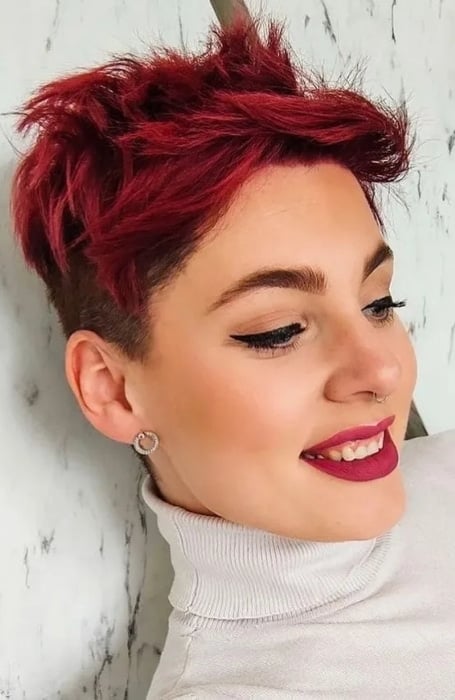 22. Short Green Pixie
Undoubtedly, green hair is not for the faint of heart. This bold and bright color will demand attention. But that is all part of the fun, and dyeing your mane your favorite shade of green will highlight your cut. It is also an excellent way to express yourself and show that you are someone who is not afraid to stand out from the crowd.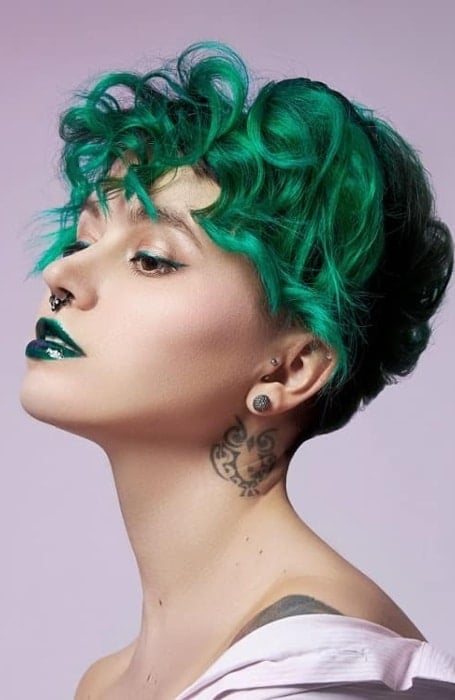 23. Short Spiky Pixie
Spiky hair feels edgy and youthful, and styling your short pixie cut with spikes can be a great way to achieve volume and texture on your strands that are cropped close to the head. It can make the top feel fuller, which will contrast nicely with the strands on the back and sides, which are cut shorter. Do not opt for rigid spikes, as this is a dated approach; instead, you want a soft, textured finish.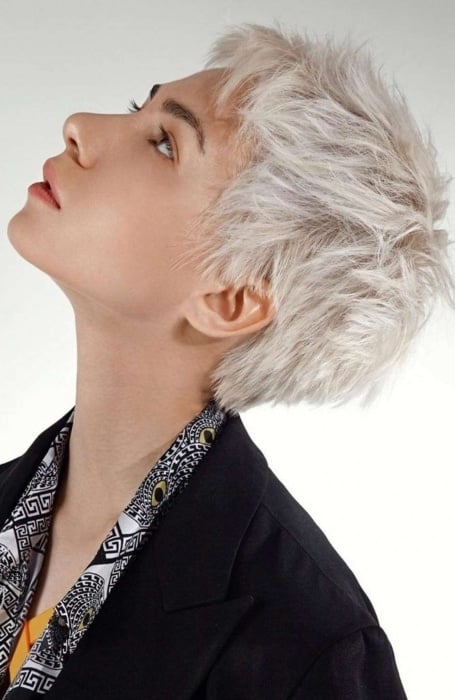 24. Short Pixie Shag
The shag haircut is a 70s favorite and is loved because of its heavy layers. This helps to create volume at the top of the head while the ends appear thinner. The combination gives greater movement and can be incredibly flattering on all textures. But what is a pixie shag? This combines the two classic cuts, giving you a modern and cool finish.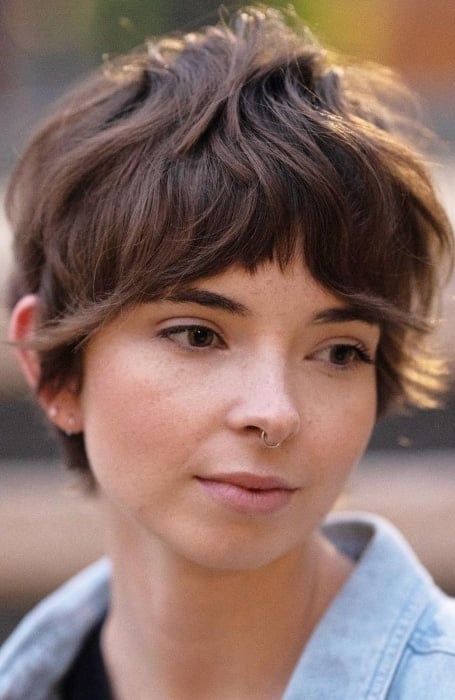 25. Short Red Pixie
Red hair is a naturally rare color, which makes it all the more noticeable. It is an excellent way to make your haircut more visible and to draw attention to your face, highlighting your features. There are multiple shades of red to choose from, some natural and others bold and bright for a daring finish. The short pixie is a low-maintenance haircut that can be worn by women of all ages and is easily adapted to complement your texture.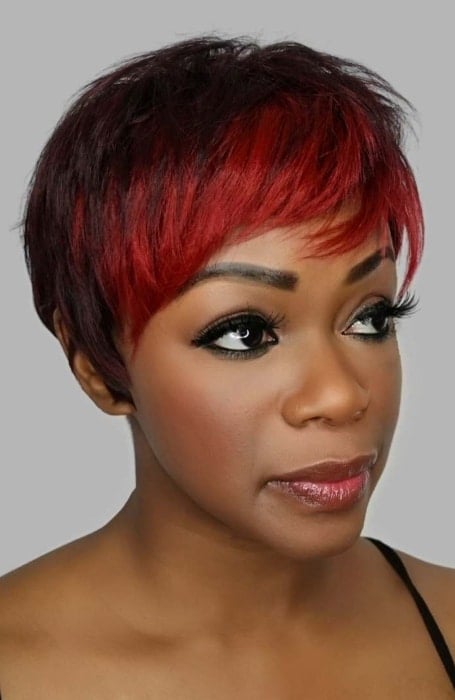 26. Short Textured Pixie
The short pixie is ideal no matter what your hair texture, face shape, or age. This is because it can be easily adapted to suit your preference and is incredibly low maintenance and flattering. You also have versatility with styling, and various options include opting for a textured look. This is a brilliant way to give your strands movement and direction.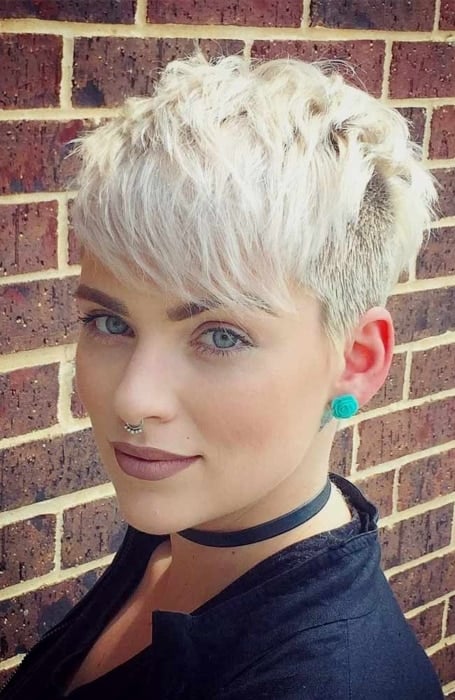 27. Short Brown Pixie
The pixie cut is a classic hairstyle with short sides, back, and longer strands on top. Brown hair is gorgeous with a short pixie cut. There are various shades to choose from, light to dark, making it easy to find a color to complement your complexion. You can also transform your naturally brown base color with different coloring techniques to lighten and brighten your look, including adding warm highlights.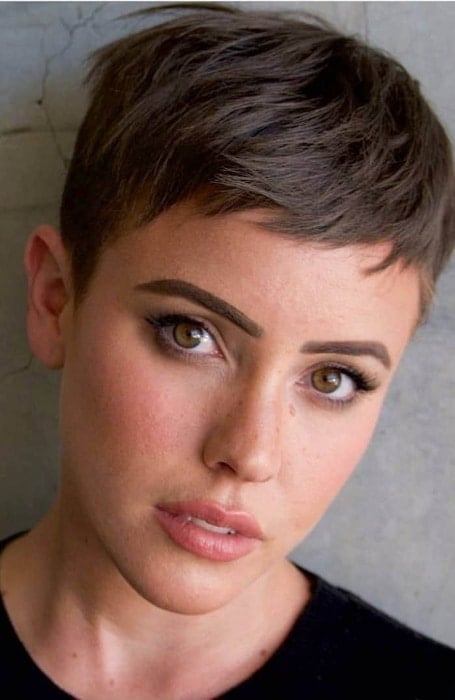 28. Short Pixie Mullet
The mullet hairstyle is not for everyone, and it has earned a bad reputation, often associated with undesirables. This is unfair and inaccurate because the mullet is an expressive and modern cut. For an effortlessly cool look that does not have as much contrast as the original mullet, you want to keep the back slightly longer than the hair on the sides and top.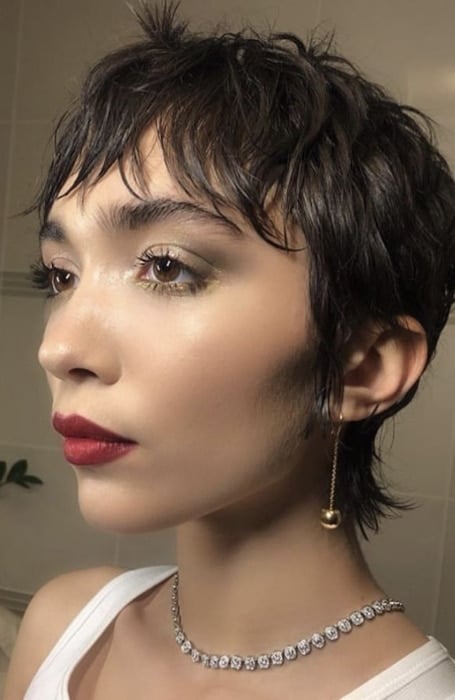 29. Short Pixie With Highlights
Highlights are a coloring technique that is used to lighten your strands and brighten the complexion. It is an excellent way to create a contrast and transform your hair without the commitment of a full-color change. You can add highlights with your short pixie cut to give depth and dimension. For a natural finish, you want to choose a color that is only one or two shades lighter than your base color.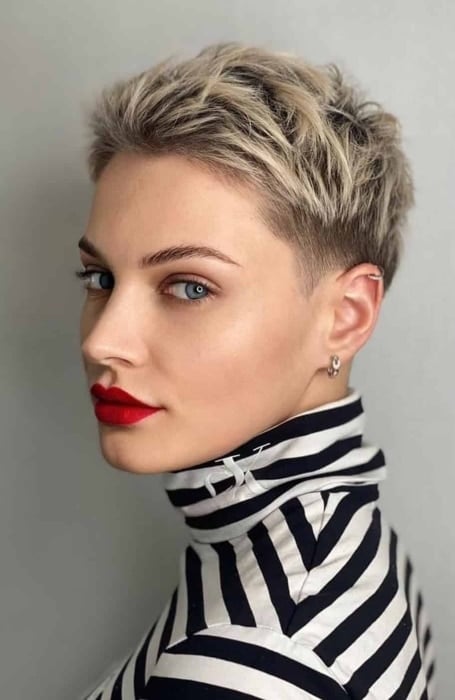 30. Short Platinum Pixie
Look no further than platinum blonde hair for those who want a color that will turn heads and draw attention to your face. This is an incredibly light shade of blonde, and while it is cool and gorgeous, it is also incredibly high maintenance and can be expensive to achieve. With shorter styles, like a short pixie cut, you will reduce some of the maintenance and cause less damage to your locks.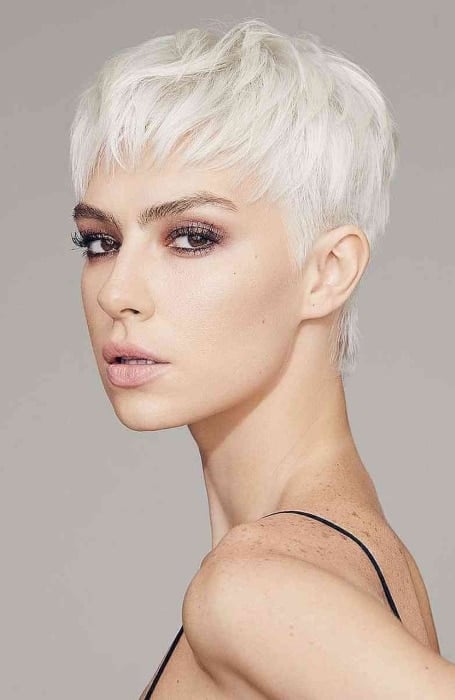 31. Short Pixie For Round Faces
The great thing about the pixie cut is that it can be worn by everyone. You may need to tweak the cut to complement your face shape, and this can be done in various ways, including opting for a longer fringe or an asymmetrical appearance. For round faces, layers that have a shaggy finish can be flattering. You can also try side bangs or messy hair for a chic look you love.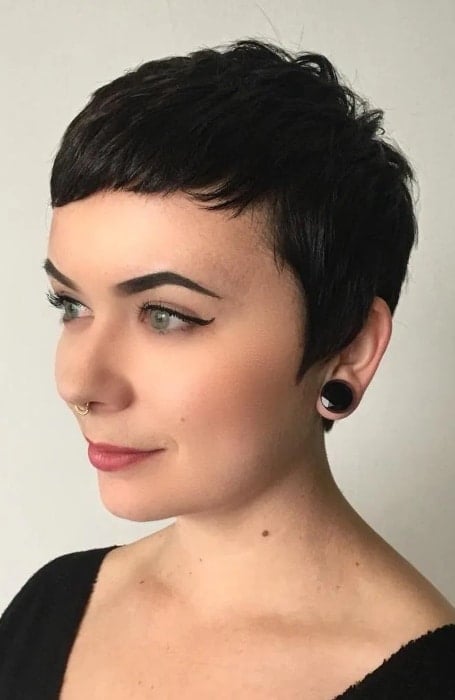 32. Short Pixie Wedge
The wedge haircut is a short, layered cut. It can be added to the pixie cut to create an interesting shape at the back, with longer layers at the front, which can be used to frame the face and soften your features. For this look, your hair will be slightly longer at the front than it would with a classic short pixie. As such, it will require more styling time and upkeep.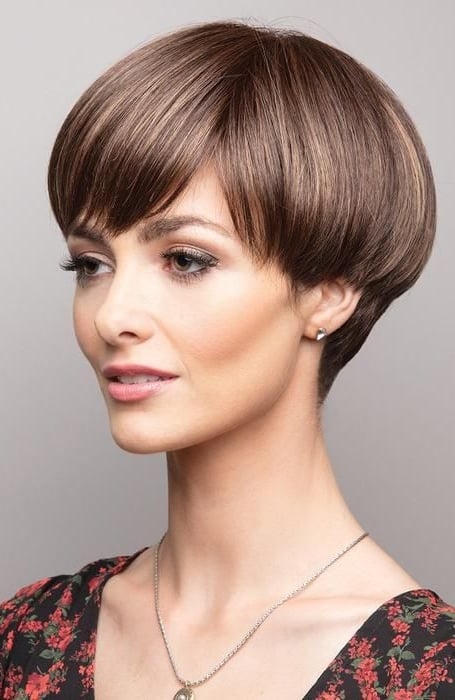 33. Short Two Tone Pixie
The two-tone hairstyle is the ultimate option for someone who wants to experiment with color. There are so many ways to add the colors of your choice to the hair, but for the best results, you want to dye the bottom one color and opt for a different hue on the top. These can be natural colors, or they can be artificial for a bolder, more daring finish.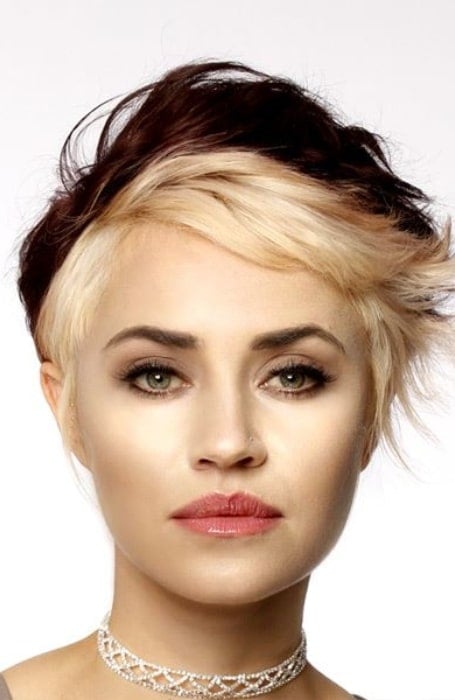 34. Short Grey Pixie
Grey hair is a bright shade and can make your pixie cut even more noticeable. Whether you have chosen to dye your strands or are embracing your natural grey strands, grey looks great on women of all ages and is a flattering color, complementing all complexions.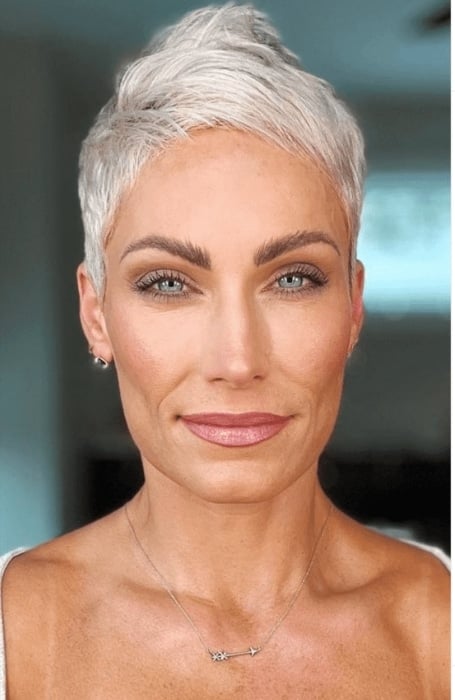 35. Short Blonde Pixie
Icy blonde is a very light and cool shade of blonde with blue and violet undertones. It is an excellent way to lighten the hair and is a color that will demand attention, enhancing your short pixie cut and drawing attention to your face. The color will brighten your appearance. However, it does require some maintenance; it is a stunning option for the summer months.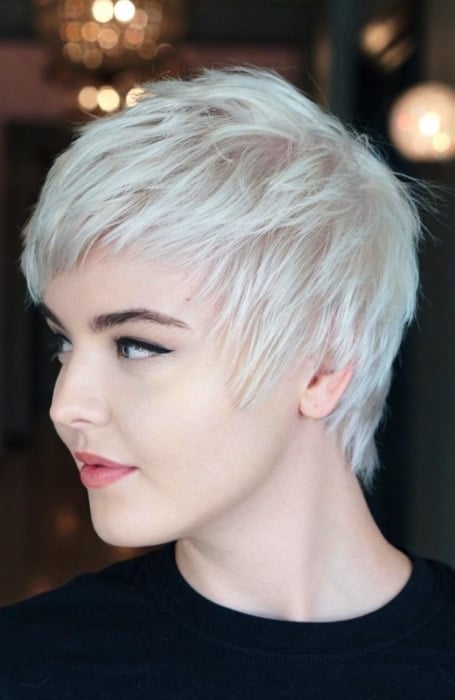 36. Short Balayage Pixie
Balayage is gorgeous on your short pixie cut. But what is it? Well, balayage is a coloring technique that will lighten and brighten your strands, but in a very natural and sun-kissed way. It is created by applying color directly to the different sections of the hair instead of using foils. This will create a sweeping effect that is great for those who want a subtle finish.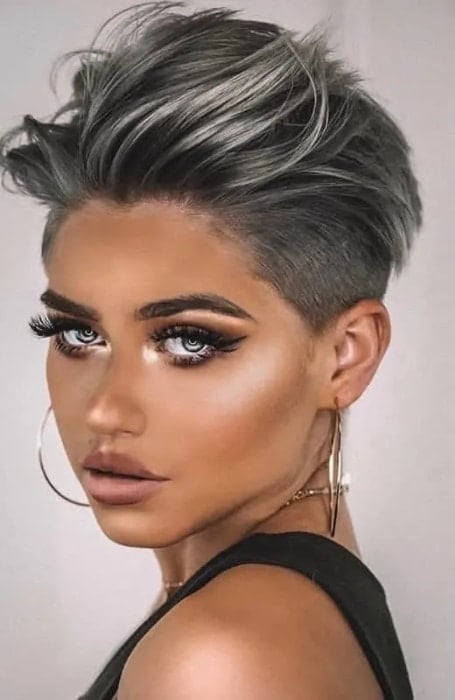 37. Short Natural Grey Pixie
There is a definite appeal to dyeing your locks your favorite shade of grey, whether that is light or dark, but natural grey hair is just as gorgeous. If you want to embrace your grey strands and are looking for a haircut to complement it, look no further than the short pixie cut. This is an excellent option because our growth rate slows as we age. In addition to the style and flair, short styles are a practical option and will help to remove any signs of dry and damaged hair.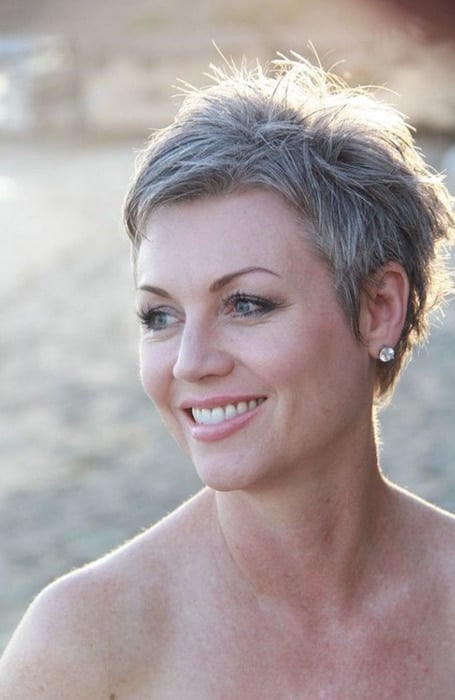 38. Short Blunt Pixie
A blunt cut is a haircut created without layers, giving it a horizontal finish. If you love the idea of a blunt cut and want a super low-maintenance haircut, then a short pixie is the ideal choice. The pixie will be more noticeable with straight textures, but that is not to say you cannot try it out with a different texture. Sleek and sophisticated, what is not to love about this hairstyle?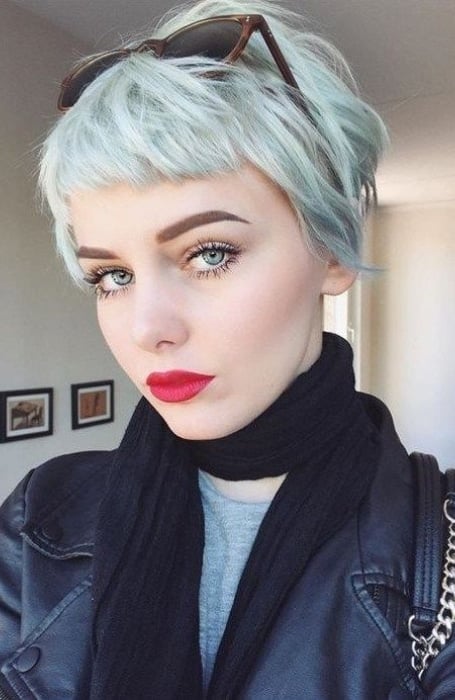 39. Short Fluffy Pixie
Do you want your locks to look full and healthy? Then fluffy hair is the ultimate way to style your short pixie cut. This is a gorgeous texture that is soft and unstructured, giving the movement and bounce of the strands. You can achieve this super cute fluffy finish by trying out a few simple styling tools, including blow drying upside down and trying the best volumizing products.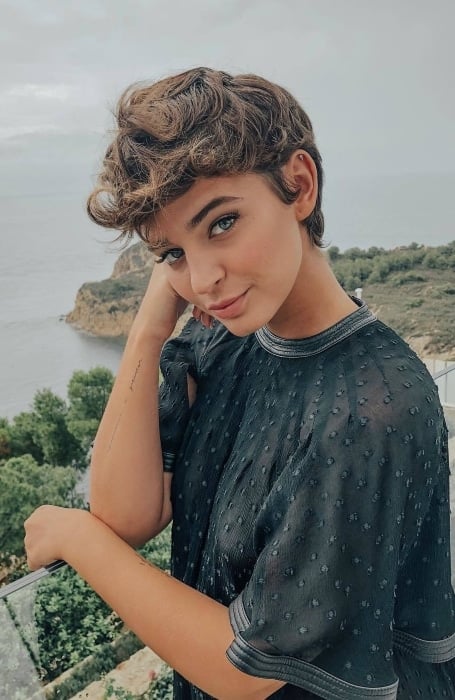 40. Short Bright White Pixie
Transform your appearance with a brilliant shade of white. This color can occur naturally, or you can dye the strands the lightest shade to brighten your complexion and create a look that will demand attention. This is an excellent way to highlight your cut and draw attention to your facial features. It takes maintenance to keep white hair fresh, including special shampoos to prevent dryness and give you the glossiest-looking mane.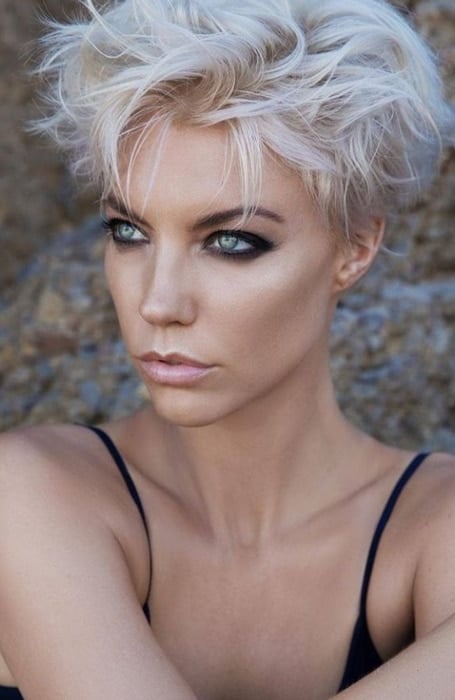 Short Pixie Cut FAQs
What is a pixie cut?
A pixie cut is a classic short hairstyle for women. It is defined by the hair on the back and sides being kept short with the hair on top slightly longer to create a contrast. It is also worn with a short fringe. The cut is incredibly versatile and can be easily adapted to suit your preference, including different lengths, layers, and colors.
Is a pixie cut good for older ladies?
The pixie cut is a stunning look for older women and can make you look more youthful. It is also modern and low maintenance. In addition, cutting the hair shorter as we age can be practical and flattering. This is because the growth rate of the hair naturally slows when we age and the care can be brittle and dry.
What face shape goes well with a pixie cut?
The pixie cut can be adapted to suit all face shapes, the key is how you style the hair. For example, on a round face, you will benefit from layers and a side fringe, whereas on an oval face, you have more versatility and can wear a wide range of different styles.
What is a classic pixie cut?
A classic pixie cut refers to the original version of the cut and has not been modified to your preference. It will have short hair on the back and sides with more length on top and very short bangs.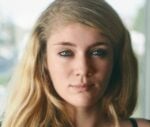 Cailyn Cox holds a degree in journalism and has been working with The Trend Spotter as a writer for over ten years. She has worked with some of the most prestigious women's and men's lifestyle publications. For her, writing is not just a job; it's a passion, which is why each article she writes is approached with such enthusiasm and dedication. She has extensive knowledge of hairstyles, tattoos, and beauty and has made a career out of creating informative articles that appeal to women and men of all ages.
SUBSCRIBE TO OUR NEWSLETTER
Subscribe to our mailing list and get interesting stuff and updates to your email inbox.