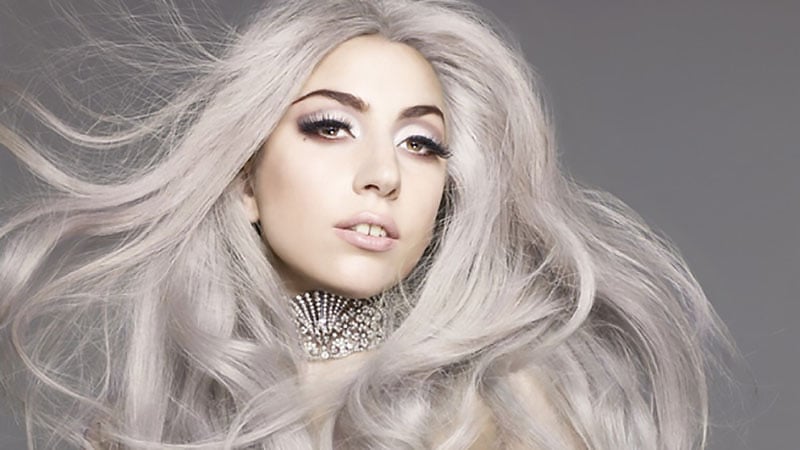 Silver hair is not just for the elderly. It is chic, sexy, edgy and definitely on trend. Not to mention, there are so many different colours that you can use to create the perfect look. If you're struggling to decide on what icy style to go for, we've created this list of the most incredible silver hair colour ideas and products to help you achieve your frosty hair goals.
Silver Hair Colour
Black and Silver Hair
If your hair is naturally black, then you're going to need to take a few trips to the salon to achieve this look. Going from black to silver is a process, but one that's worth doing to gain hair this fabulous. Most importantly, make sure that you find a hairdresser that specialises in doing this. They'll be able to decide whether your hair is capable of this extreme makeover. Also, keep in mind that your silver ends are going to have to be maintained with a toner. Generally, with this look, purple shampoo won't be strong enough. Underneath the silver, the hair will usually remain a golden colour, so a toner is required, especially if you aim to get super silver ends.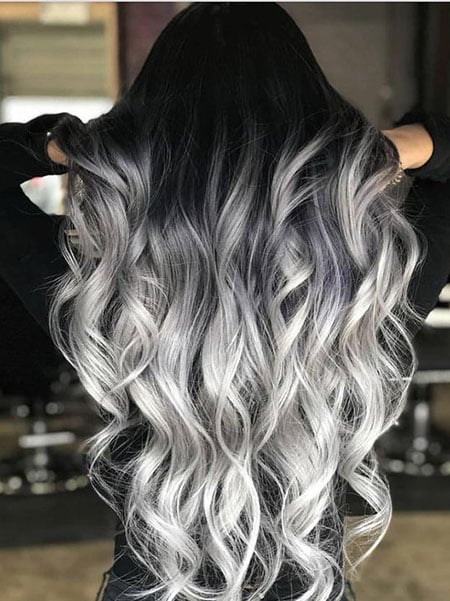 Silver Grey Hair
Silver grey hair can look super stylish. The first step to achieving this look is by dying your hair platinum blonde. After this, your hairdresser will add a toner, but maintenance is always required. For this look, the De Lorenzo Novafusion shampoo in silver will become your best friend. Otherwise, you could also add a few drops off Crazy Colour, Silver Ice Cool to your regular shampoo bottle. This will keep the grey tones through your hair intact.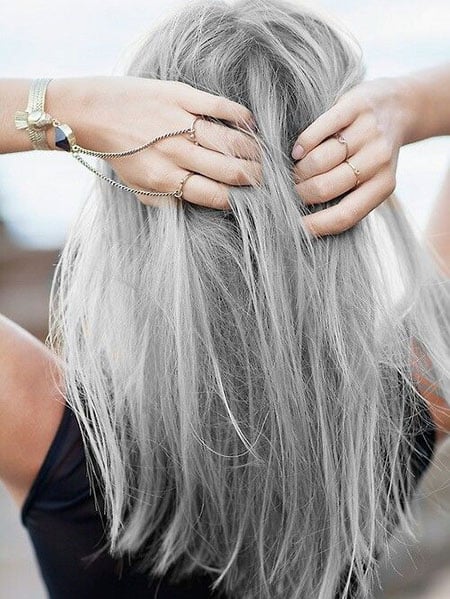 Silver Blonde Hair
Silver blonde hair looks super cute while remaining a little more natural than some of the other looks. The key with this is dying your hair the perfect shade of blonde. You don't want it to reach platinum, but you should leave the bleach on long enough to eradicate the golden tones. When you wash the bleach off, the hair should be a nice lemon colour. To achieve the perfect silver blonde, leave Fanola No Yellow Shampoo on the hair for 2-3 minutes before rinsing and voilà, there you have it, beautiful silver blonde locks.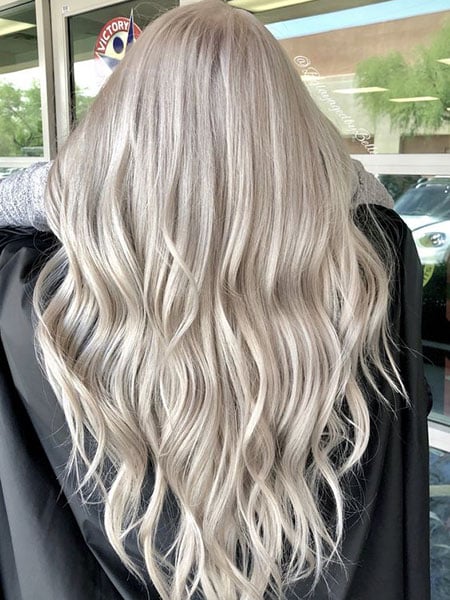 Silver Ombre Hair
When trying to achieve silver ombre hair make sure that you go to a professional that specialises in this hairstyle for the best possible outcome. If you do, you'll leave the salon looking more stylish than ever. Subtle silver ombre hair has become a very popular style, which continues to look so chic. However, after a week or two, the silver will begin to fade from both your roots and ends. You can simply use a purple shampoo to maintain the ends, but if you want to keep the silver through the roots, use a toner every fortnight. Yes, it takes quite a bit of effort to be a blonde, but it's worth it for a result like this.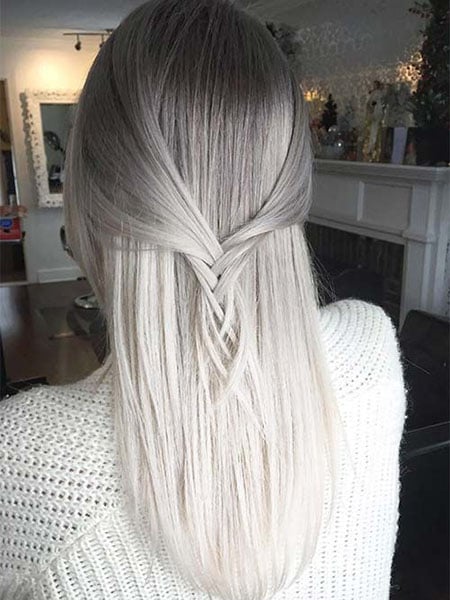 Silver Purple Hair
Silver purple hair is a little bit out there, but it sure looks cool. When trying to achieve this look, the best way to get the perfect colour is by using Colour Dynamics Semi-Permanent Purple Passion. The reason for this is because you'll have to constantly maintain the hair and this product is made with shea butter and argan oil, so it'll do the least damage to your hair. Naturally, this colour will make your hair a deep purple, so add the Colour Dynamics Pasteliser to lighten it. The more pasteliser you add, the lighter the colour will be to achieve your perfect purple.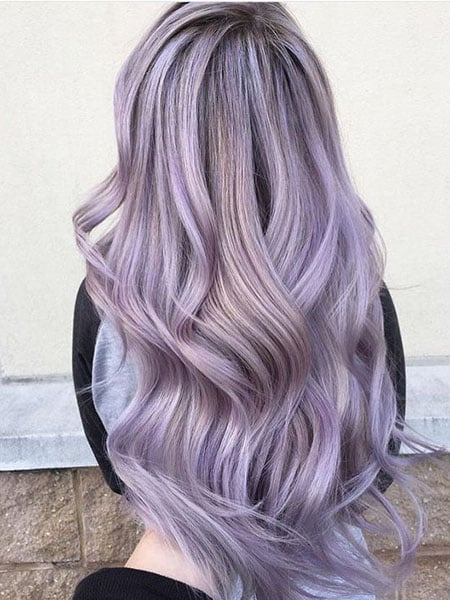 Silver Blue Hair
Silver blue hair is especially stylish during the winter months. This icy blue colour is a great addition to your usual blonde hair if you're getting sick of the same old and it suits both short and long hair. It can be achieved by using shampoo, conditioner or a toner. If you're in need of advice on which product to chose exactly, try Fanola's No Orange shampoo is great for creating that subtle blue tinge you've been longing for.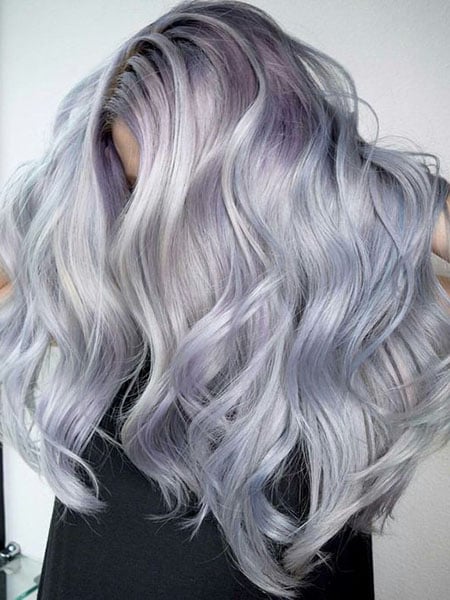 Silver Lilac Hair
Lilac hair is great if you want that purple tone but still, want it to be subtle. With this colour, it's possible to see your platinum locks under certain lighting, so it's not too extreme. The easiest way to achieve silver lilac hair is by using Lee Stafford's BLEAch Blondes shampoo. Simply, leave the shampoo on your hair for between 5-10 minutes. By the time you wash and dry it, you'll be so in love with your soft lilac hair.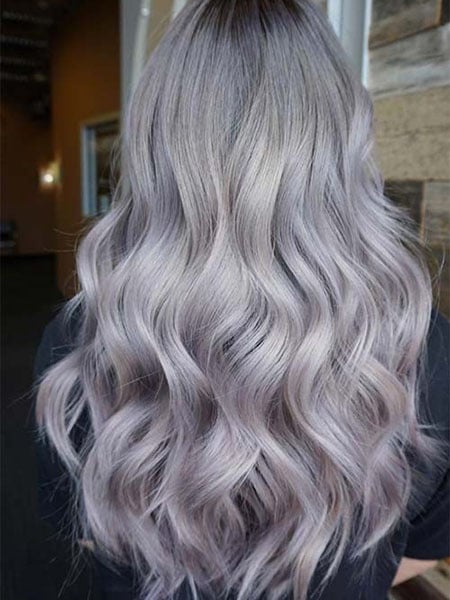 Platinum Silver Hair
Platinum silver hair is great in winter; you'll look like the Queen of an ice castle. To achieve platinum silver hair, the bleach must be left on until it reaches a level that is almost white. Before you wash it off, there shouldn't be any gold tones left. This colour requires little to no upkeep which makes this look super easy. If anything, all you'll need is a light purple shampoo that doesn't need to be kept on for more than a minute. Any longer and hair this blonde will start to turn purple, so make sure you're keeping track of time.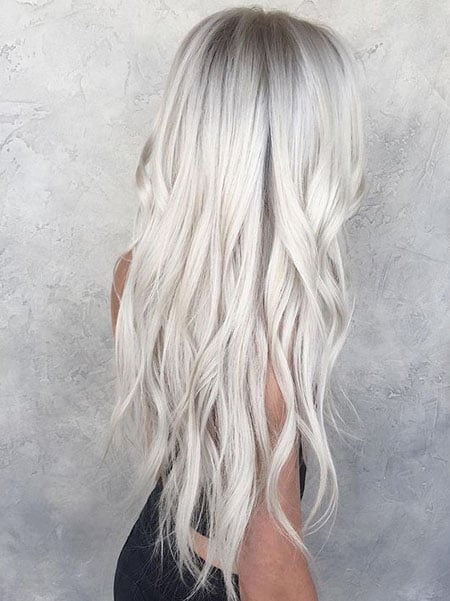 Dark Silver Hair
Dark silver hair is the perfect summer look if you usually have black or dark brown hair just to lighten it that little bit. To maintain this colour, Crazy Color by Renbow is the perfect product. Simply add a few drops of the colour, Precious Platinum to your shampoo bottle to keep that 'straight out of the salon' feel. This colour looks amazing when the sunlight reflects against it and brightens up your whole look.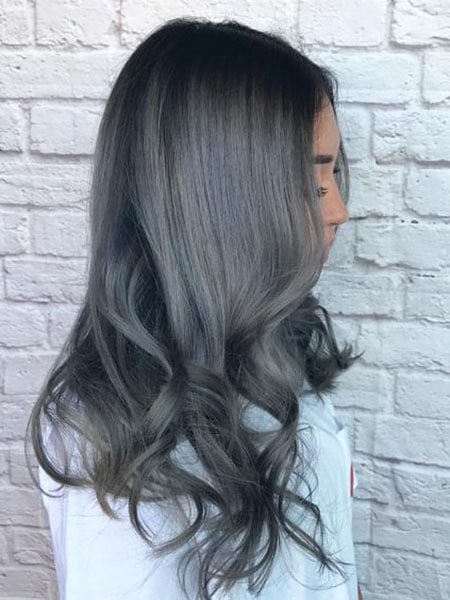 Silver Lavender Hair
Silver lavender hair is a nice icy purple colour. When trying to achieve this, keep in mind that the colour your hair turns with purple shampoo depends on how blonde it's dyed underneath. So to get silver lavender hair, you want to bleach it quite light. This is a great icy winter colour that will get you some compliments, so have fun with your hair and change it up this season.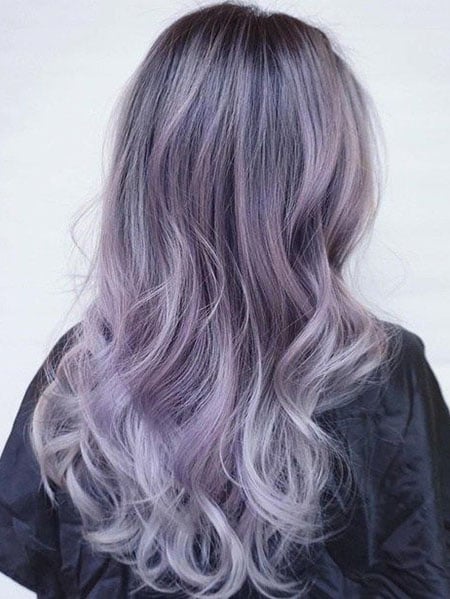 Silver Pink Hair
Silver pink hair is super cute; you'll never get enough of this soft pink tone. If you're looking for a subtle pink, your best option is De Lorenzo's, Novafusion Rosewood. Depending on how pink you want it, this shampoo should be left on for different lengths of time. Aim for between 5-15 minutes, depending on the level of intensity you wish to achieve.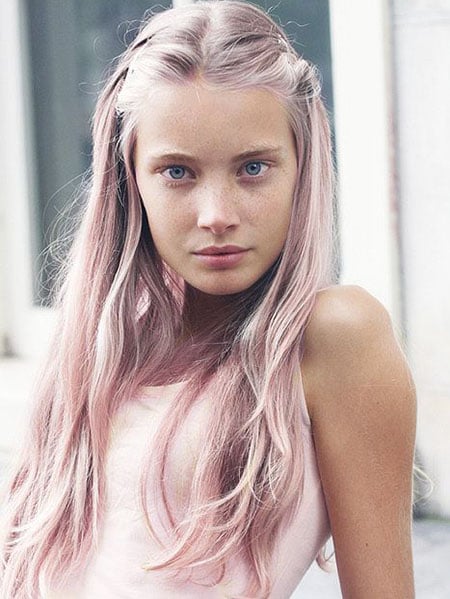 Pastel Silver Hair
Pastel silver hair is another icy colour that looks amazing. To create this look, Brilliant Silver White hair toner is a great option to chose. This toner removes all the brassiness from your hair while also adding shine and softening the hair. This pastel platinum colour is simple and stylish, it's the perfect cool tone to try out on your hair.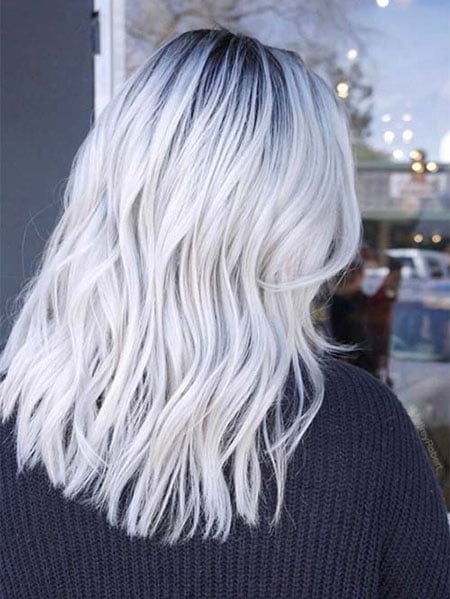 Silver Blue Ombre Hair
Silver blue ombre hair looks cool if you've got dark roots, the two tones are fabulous together. To make the ends of your ombre hair silver blue, use Crazy Color's, Metallic Finish Cool Slate. It'll give you the perfect blend of blue and silver, trying to figure out which colour it's closest to will stump you. You may need a decent trim after bleaching your hair to achieve this look, but it will be worth it for that result.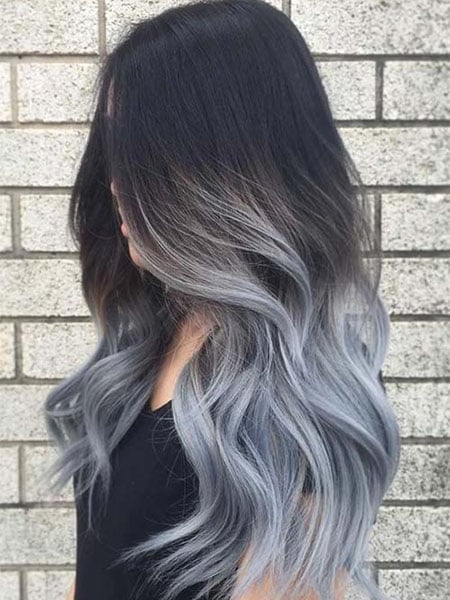 Red and Silver Hair
Red and silver hair is an out there style, you have to be rocking a killer personality to pull off this look. You also need to be committed to this style as it takes some serious upkeep. Red and silver hair is generally something that can't be maintained from home. The red will fade from your hair, as well as the silver and seeing as these are contradictory colours, you'll need a professional to separate your hair and expertly re-touch the colours. Yes, this one is a bit of a process, but those contrasting colours look so vibrant together, that if you're after this style, you have to try it.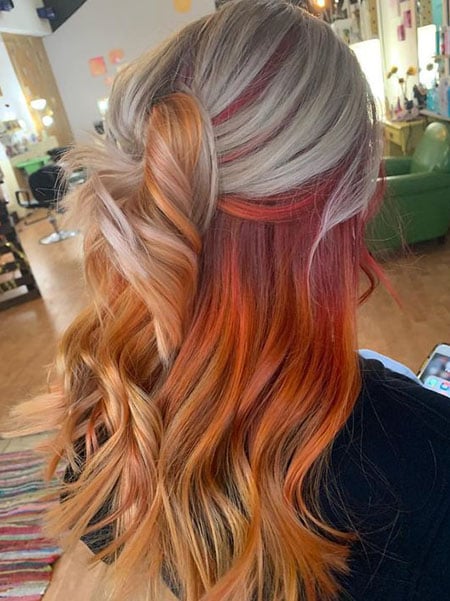 Silver Highlights on Brown Hair
Silver highlights on brown hair is a look you will see more often. They say that blondes do it best, so by adding just a little bit of lightness to your hair, it'll make your whole look that much more vibrant. If you're hoping to keep those silver tones, you'll need either a purple shampoo or a toner, depending on how dark the brown is. It's usually best to consult your hairdresser as they'll be able to advise you, as to which will work best for your hair colour.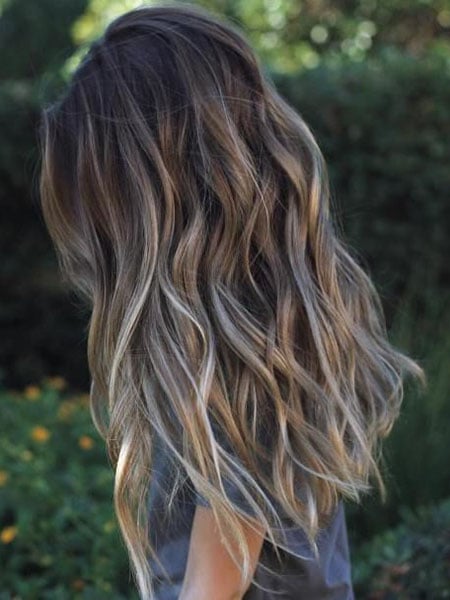 Silver Highlights on Dark Brown Hair
Dark brown hair can look a little dull during the summer, and silver highlights are the perfect way to brighten it up. The best way to maintain this silver colour is by using an ash toner and massaging it through, from your roots to the ends. You'll become so addicted to this new look that you'll never want to go back to just having your dark brown hair; the silver will be here to stay.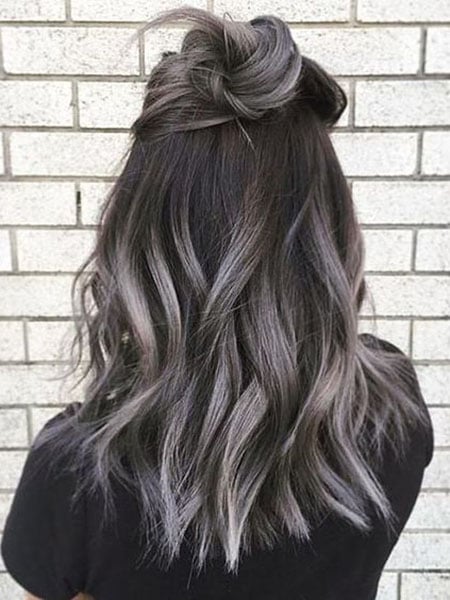 Black Hair with Silver Highlights
Silver highlights add a nice effect to black hair. It brightens up your entire look by a mile and makes even the darker tones appear lighter. Get a violet toner to maintain the silver highlights which will need to be used every few weeks to keep the colours looking fresh and vibrant. Darker hair always looks better with a tinge of purple or blue, rather than letting the golden blonde creep through, so be sure to re-touch when needed.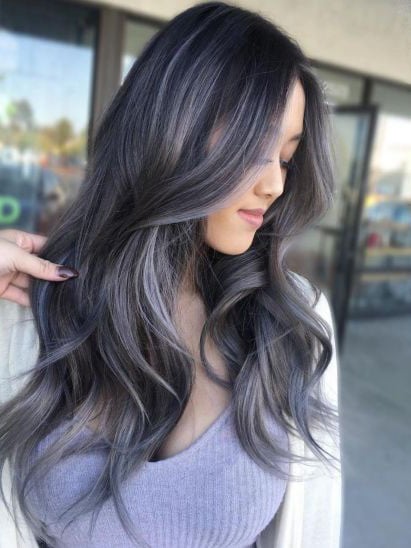 Silver Highlights on Blonde Hair
Silver highlights on blonde hair is a classic look. People have been dying their hair like this since forever, and it'll never go out of fashion. The two hair tones are soft and subtle, mixing a darker and lighter blonde. However, using purple shampoo allows you to keep the fresh look, preventing your hair from turning brassy or letting the golden tones take over. This look is super cute, and by only bleaching half of your hair, you'll maintain a bit more of its health.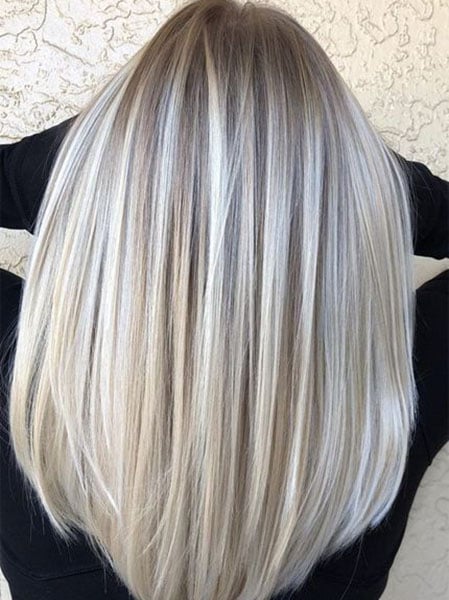 Silver Hair with Dark Roots
Silver hair with darker roots is such a hot look. People used to complain about 're-growth', but now it's a style that many opt for at the salon. It looks especially good if you naturally have quite dark hair, and by keeping a little bit of your natural hair, it can be less of a shock to the system when you dye it. Plus, if you've got dark hair and decide to go blonde, having that touch of dark still framing your face will make the colour suit you so much more.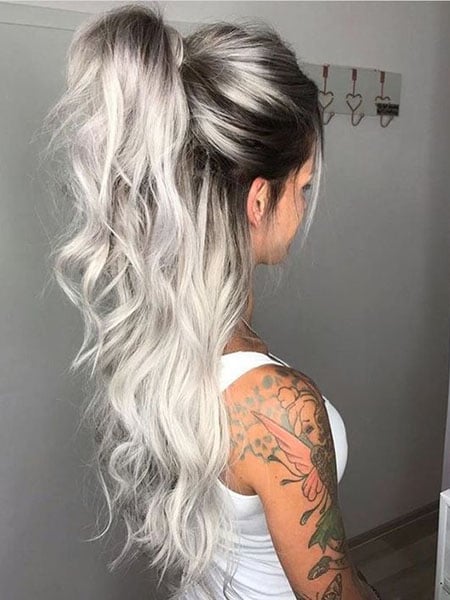 Silver Hair Extensions
If you order silver hair extensions online and they're brassier than they looked in the picture you saw when you purchased them, don't worry. Simply get a bowl and squirt some purple shampoo into it, then fill the bowl with water. The water should be a deep purple. After you've done this, add the extensions to the bowl and leave them to sit for around 20 minutes. Be sure to keep checking the colour by pulling the extensions out of the water slightly. When they reach the silver-tone you were hoping for, rinse the excess from the hair and condition them.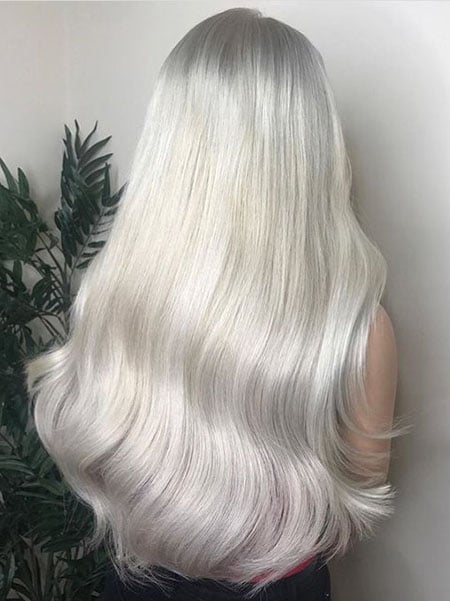 How to Get Silver Hair?
Silver hair is a hot style, but you have to be willing to commit to the maintenance. It will need to be re-touched every couple of weeks, or at least once a month, and you've got to be able to source the perfect product to suit the colour you're aiming for. It's usually best to consult with your hairdresser when getting it done, ask them what products they're using to create the silver tones so you can re-create the look at home.
Best Silver Hair Dye and Toners
There are so many different hair dyes and toners on the market and depending on your hair; there's one that's best suited to you. If you already have bleach blonde hair and you're just looking for a D.I.Y to add silver or purple tones to your hair, these are the best to use. Crazy Colour semi-permanent dye can simply be added to your shampoo bottle, while the Colour Dynamics dye, and Indola and Schwarzkopfopt toners, need to be mixed with a pasteurizer or peroxide and then spread evenly across the head. The colours that you'll be shopping for are Colour Dynamic's purple passion, Schwarzkopf's Live Colour silver toner, Indola's Blonde Expert in 1000.22 and Crazy Color in silver.
Top Buys
Best Shampoo for Silver Hair
There are so many shampoos that can be used to achieve silver hair, though the most common is definitely purple shampoo. This neutralises the golden tones from the hair and perfects that silver look. The strongest and most pigmented shampoos on the market are Lee Stafford's BLEAch Blondes, Fanola's No Yellow Shampoo and De Lorenzo's Novafusion shampoo in both silver and violet. These brands have seriously perfected the blonde shampoo formula and make your hair look amazing.
Top Buys
How Long to Leave Purple Shampoo on for?
How long you should leave the shampoo on for, depends on how deep or silver you want the colour to be. If you're aiming for a light silver, you should keep it on for between 2-3 minutes, but if you're aiming for a deep purple, try leaving it for 15 minutes. It's always best to experiment with the time you leave it on for, to find out what suits you.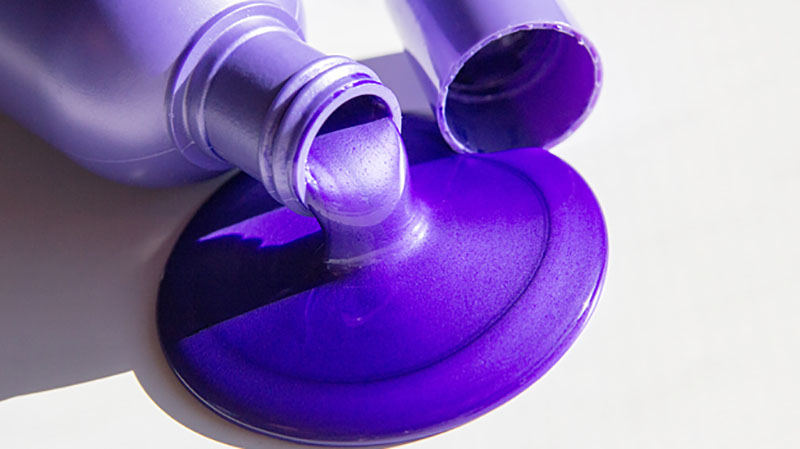 SUBSCRIBE TO OUR NEWSLETTER
Subscribe to our mailing list and get interesting stuff and updates to your email inbox.