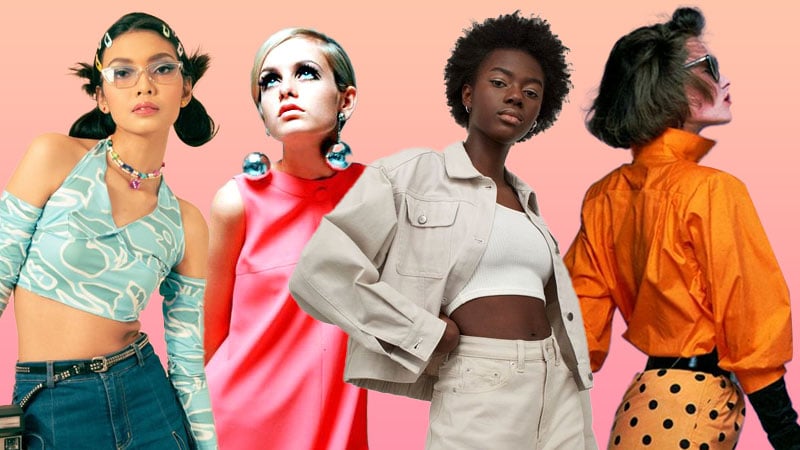 Clothing styles are a great way to showcase your personality and individuality. From iconic supermodels like Bella Hadid to influencers like Kylie Jenner, many fashion-forward individuals show off their unique character with their clothing choices. E-girl, Baddie, Soft Girls, Dark Academia, Femboys, and Y2K are just a few variations of popular aesthetics to choose from. Given the diverse array of fashion styles available, there is always something that will suit your vibe. So take inspiration from these clothing styles for women that will embody your sense of fashion and let you express yourself to the fullest.
How to Find Your Personal Fashion Styles?
Discovering your personal fashion styles takes time and effort. However, there are techniques you can use to gain insight into the type of clothing that suits you best.
Explore your wardrobe: Take a moment to look at the garments that bring you joy. Identify your favorite items and reflect on why they make you feel good. Take note of any common features among these pieces.
Seek fashion inspiration: Begin by observing the clothing styles of your friends and family. You can use social media and fashion blogs for celebrity fashion inspiration and women's style guides.
Create a fashion mood board: Embrace the concept of a mood board to help establish your personal style. Once you have gathered fashion inspiration, compile the images into a visual representation. Even if your sources of inspiration seem diverse, you may find that common themes emerge, such as denim jeans, maxi dresses, or tops with ruffles. These overarching vibes or moods will guide you in your fashion journey. Select two or three images that capture the aesthetic of your vision and keep them accessible on your phone for reference during shopping trips.
Curate a capsule wardrobe: A capsule wardrobe consists of versatile basics that can be mixed and matched to create effortless looks. These timeless pieces, typically in neutral colors, serve as the foundation for your outfits. Consider items like a little black dress, a denim jacket, simple T-shirts, or a leather tote. You may already possess some of these essentials in your current wardrobe, so retain the ones that make you feel confident and replace the rest with basics that truly reflect your style. Though seemingly simple, these items will showcase your unique fashion sense and provide a canvas for more exciting and expressive pieces.
Try out different style choices: After creating your capsule collection, it's time to incorporate distinct pieces into your wardrobe that reflect your personal style. This may require some experimentation, so don't worry if you change your mind. Personal style involves exploring fashion to find the clothes that make you feel confident. Begin with eye-catching accessories and splashes of color, then focus on combining prints and textures.
Different Clothing Styles for Women
1. 50s Style Clothing
1950s fashion was a thrilling and varied era. It introduced new colors, fresh silhouettes, and a multitude of style options to cater to individual personalities. Even today, the fashion world draws heavily from this iconic decade, particularly fond of its chic retro style and playful aesthetics, including influences from pin-up and rockabilly subcultures. Prominent clothing items of the time featured pencil skirts, poodle skirts, gingham, polka dot garments, cropped sweaters and cardigans, and dresses with cinched waists. The prevailing silhouette of the era was a feminine, exaggerated hourglass shape. Moreover, this decade witnessed the emergence of teenage culture, resulting in distinct fashion styles for the youth and more mature individuals.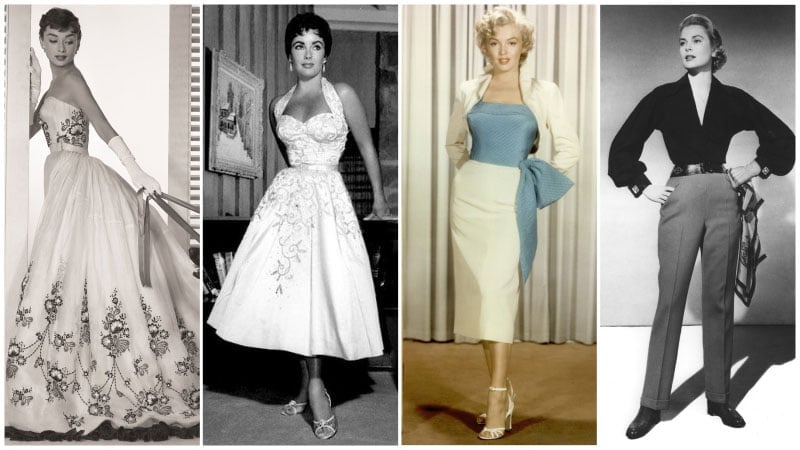 2. 60s Style Clothing
The 1960s were an era that defied traditions and embraced self-expression. Inspired by the youth, this decade offered abundant 60s fashion inspiration. It marked a departure from the conservative '50s and ushered in a revolutionary period in fashion. Iconic clothing styles for women of the time included mod, beatnik, and hippie looks, all capturing the artistic, vibrant, and liberating spirit of the era.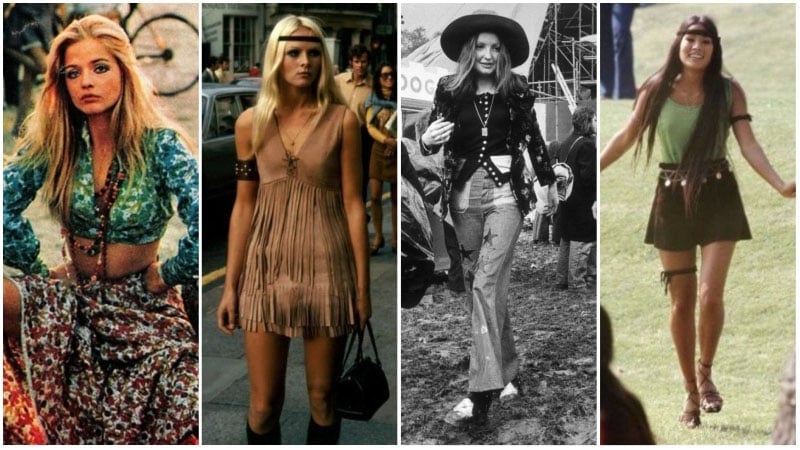 3. 70s Style Clothing
A multitude of genres and styles flourished in the '70s fashion scene. With a strong emphasis on creativity and self-expression, this era witnessed the emergence of various trends that still wield influence today. Alongside iconic disco and hippy fashion styles, there existed boho-chic, punk and glam rock, folk and ethnic, safari and military, and sporty-chic fashions. Moreover, 70s fashion was characterized by hallmark elements and details, including earthy tones, suede, bell-bottom pants, fringing, and high-waisted designs.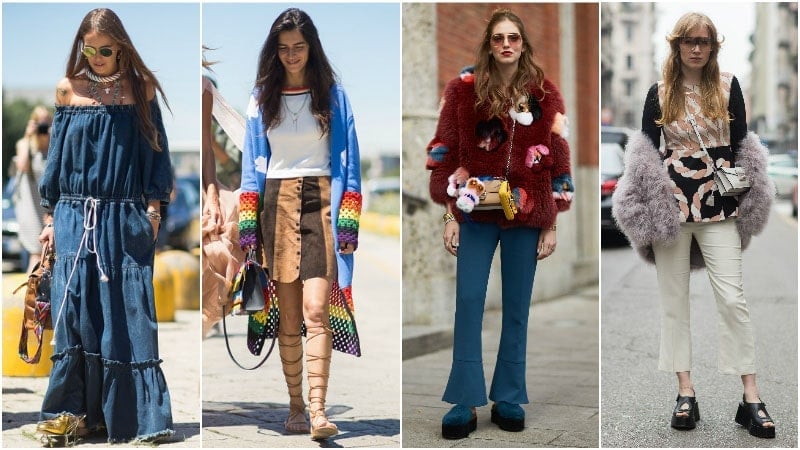 4. 80s Style Clothing
The 80s was a time of cultural and musical evolution, making it a hugely defining period in history. It's an era celebrated for its vibrant 80s fashion styles and lively appearance, characterized by acid-wash jeans, color-blocking turtlenecks, and an overall exuberant vibe. Notable figures from that era include Whitney Houston, Madonna, Cher, and present-day shows like Stranger Things. Consider incorporating denim overalls, a striking roll neck or sweater, and chunky white sneakers into your fashion ensemble for a modern take on the 80s fashion trend.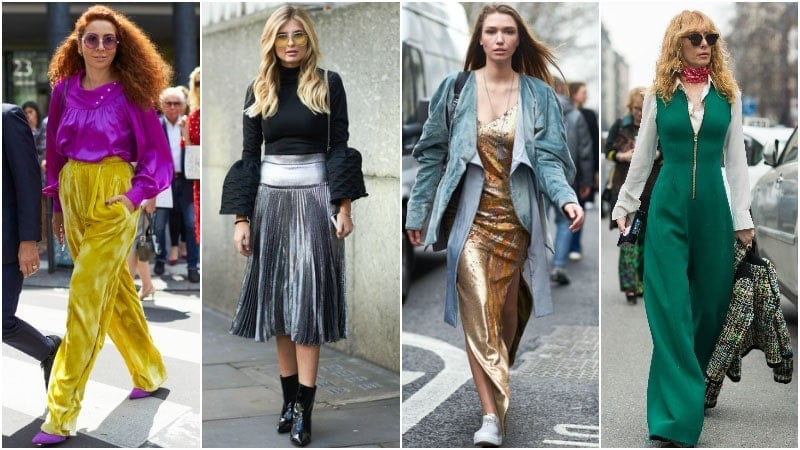 5. 90s Style Clothing
The 90s fashion style was an expansive one that has continued to influence fashion to this day. From Cher Horowitz's preppy plaid skirts to the grunge fashion of combat boots and flannel shirts, the 90s offered a diverse range of clothing styles for women and subcultures. Britney Spears and the Spice Girls represented the pop music influences of the decade with their colorful and playful fashion choices. Meanwhile, bands like Nirvana, Radiohead, and Pearl Jam ushered in the grunge movement, rejecting mainstream style in favor of darker colors and chunkier textures. Whether you're drawn to the minimalist appeal of Clueless or the rebellious edge of grunge, 90s fashion never goes out of style.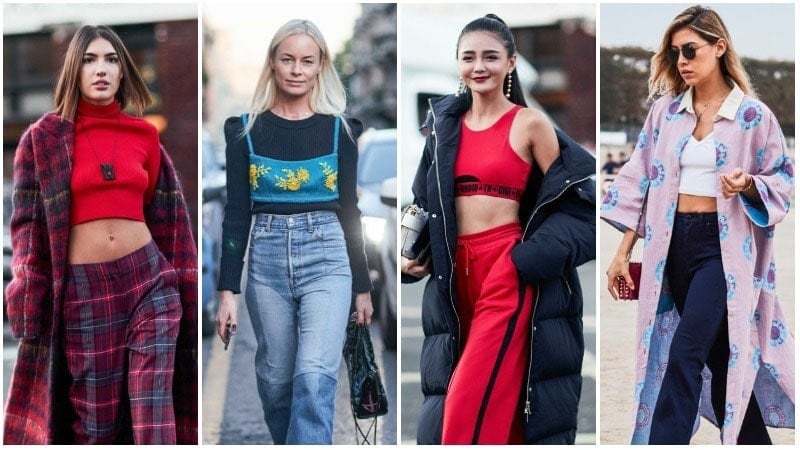 6. Y2K (2000) Style Clothing
Y2K fashion styles have become a prevalent trend on various platforms like Instagram, TikTok, and more. It draws inspiration from fashionable and cultural trends from the late 90s to the mid-2000s. This aesthetic is characterized by its unique features, including pastel-colored camisoles, high-rise flared jeans, colored sunglasses, and small accessories. Similar to its vintage counterpart, there are multiple subcultures within this category, such as McBling, Synthwave, Emo, and Barbiecore. However, the common themes of this style include crop tops, vintage luxury brands like Dior, Prada, and Versace, relaxed denim, and chunky sneakers. Pop culture references like Bratz Dolls, movies like Legally Blonde and Mean Girls, and celebrities like Paris Hilton, Lindsay Lohan, and Britney Spears contribute to its impact.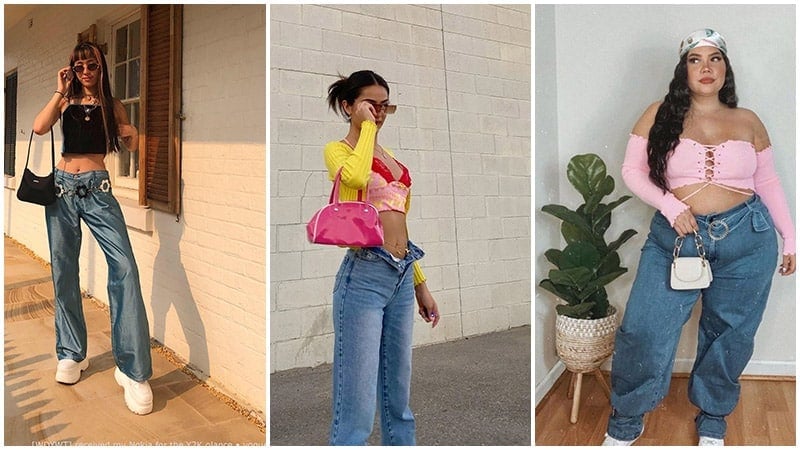 7. Grunge Style Clothing
Emerging in the 80s and gaining popularity in the 90s, grunge clothing styles for women embody a distinct fashion. Rooted in the underground music scene of the 80s, this genre is home to iconic bands such as Nirvana, The Smashing Pumpkins, and Hole. Diverging from societal norms, it serves as a form of protest against materialistic trends and preppy fashion that dominated the era. Featuring oversized jackets and hoodies, wide-leg jeans, platform sneakers or combat boots, and band t-shirts, the aesthetic is characteristically dark, with neutral, black, or gray shades dominating. Above all, this aesthetic encourages individual comfort while exuding a rebellious edge.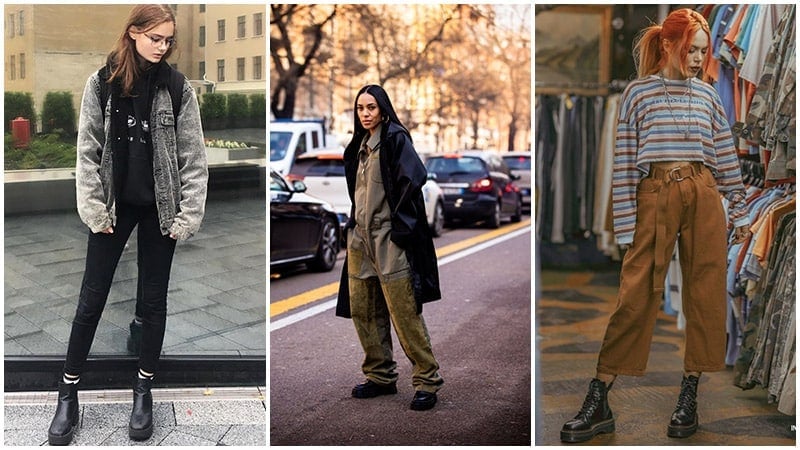 8. Indie Style Clothing
The evolution of the 'indie' label has been quite a journey. Although the essence of the term has remained constant, its interpretation has metamorphosed with each passing year. One of the most significant alterations has been in the world of fashion. Creating a true celebration of individuality and independence, indie clothing styles for women seem to draw inspiration from multiple eras. Blending elements of the skater culture of the 90s with the neon-bright stylings of the early 2000s, the result is a look that is cutting-edge and entirely original. High-waisted jeans with a slight flare, cropped graphic tees, chunky sneakers, and bucket hats reign supreme. It's a trend that has captivated a new generation of fashion enthusiasts, and you can even crank the look up a notch with over-saturated filters on your Insta posts.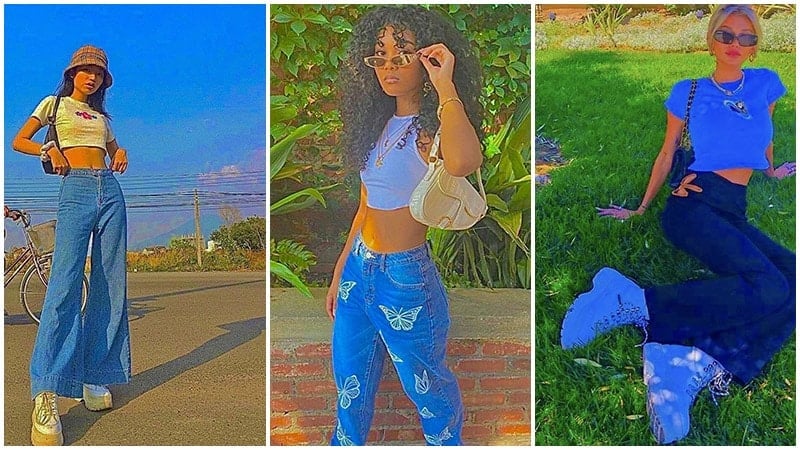 9. Boho Style Clothing
The boho (bohemian) clothing styles for women are deeply influenced by the fashion trends of the 70s. It embodies long, untamed hair and combines it with flowing fabrics and vibrant prints. However, the key is to modernize these elements for the boho fashion style. Another characteristic of this style is handcrafted jewelry and natural elements such as turquoise and stones. If you're interested in trying the boho look, I suggest embracing flowy maxi dresses with prints and leaving your hair down. The boho style is relaxed, free-spirited, and avoids being overly formal.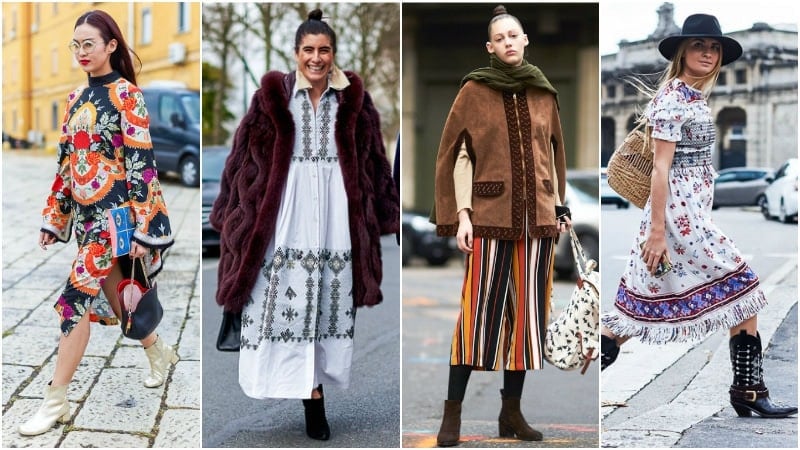 10. Soft Girl Fashion Style
Soft girl fashion styles have taken over social media platforms like TikTok and Instagram, and it's not hard to see why. With pastel shades like bubblegum, baby blue, sage, and lemon, this trend is undeniably cute and delicate, giving off an overtly feminine vibe. Soft girl fashion features wide-leg denim, lacey camisoles, and cropped cardigans that are both comfortable and stylish. Inspiration for the trend comes from Y2K, Kawaii aesthetic in Japan, preppy style, and VSCO and E-Girl styles. The look often includes warm tints and gentle images of clouds and fluffy animals alongside floral prints. Complete the look with chunky sneakers, a baguette bag, or a bucket hat, and you're ready to showcase your sophisticated and trendy style while also being approachable.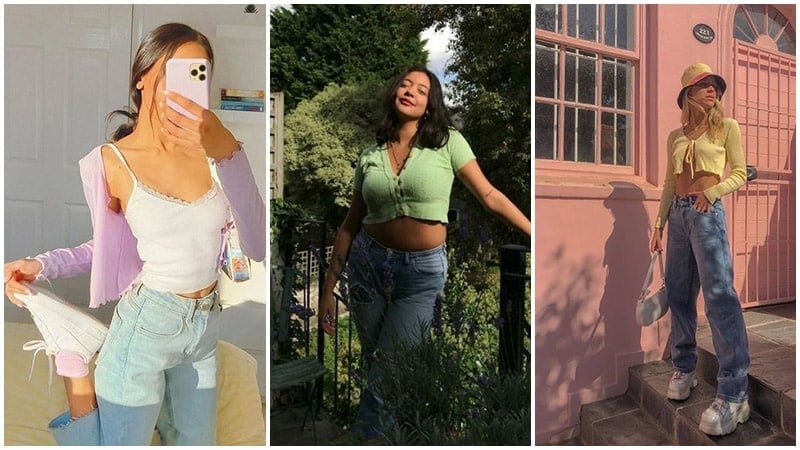 11. Vintage Style Clothing
Fashion is ever-evolving, but there is something about vintage clothing styles for women that always draws us in. Whether it's the groovy band tees from the 60s or the funky color palettes from the 80s, every decade has something unique to offer. The resurgence of vintage fashion is all about incorporating these elements into our modern wardrobe and creating something entirely new. From light-washed denim to circular sunglasses, there are endless options for expressing this aesthetic. What's even better is that online vintage and thrift stores have made vintage outfits more accessible and sustainable. Embracing this trend doesn't just look great, it also keeps the life cycle of fashion going strong.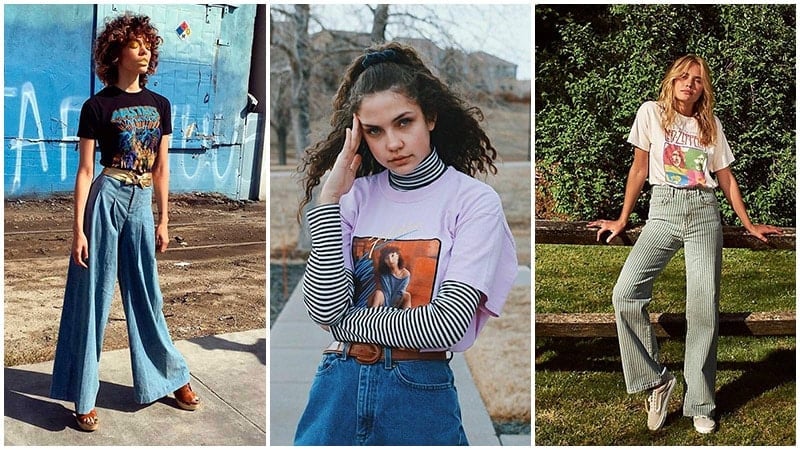 12. Baddie Style Clothing
The baddie clothing style is a phenomenon that has taken over social media, with its unique blend of African American trends and luxurious aesthetics. From Instagram to Tiktok, the baddie aesthetic dominates with its sub-aesthetics such as Y2K fashion, luxurious, and Insta baddies. Iconic elements of this trend include oversized streetwear, body-hugging mini dresses, and bodysuits with cutouts in the fabric. This style is not complete without long, straight hair and throwback accessories like large hoop earrings, gold chain jewelry, and du-rags. For the boujee and pampered style, the makeup is usually dewy, and the clothes are soft, high-end, and often expensive. Brands like Fashion Nova, Supreme, Prada, and I.Am.Gia is the preferred labels for the prominent baddie girls. Shades of burnt orange, black, fire red, and lots of pink complete the look.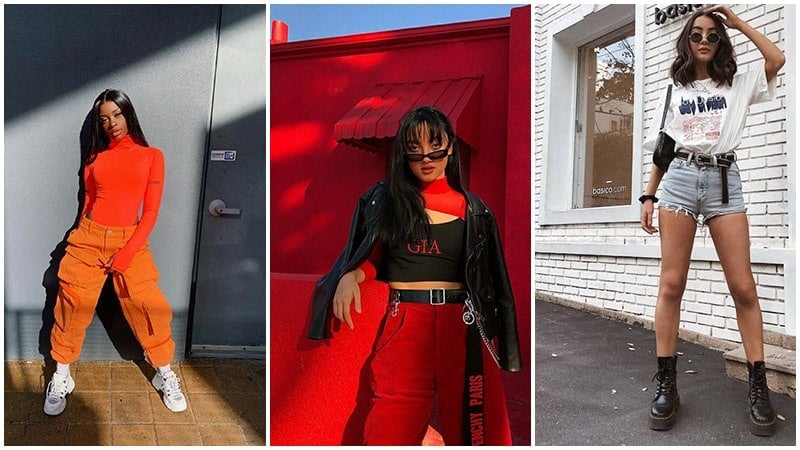 13. Pastel Fashion Style
The pastel fashion aesthetic is not associated with a specific pop culture reference, era, or subculture. It revolves around colors, specifically soft and delicate shades created by adding more white to the original hue. Many subcategories fall under this umbrella, such as Soft Girl, Kawaii, and cutesy style. To embrace this fashion, you can pair light fabrics and textures, like baby pink cardigans, beige pants and mini skirts, white sneakers, and sage or lavender accessories. It is a versatile clothing style that can easily blend with your favorite fashion trends, remaining timeless from the 60s to today, attracting everyone's admiration.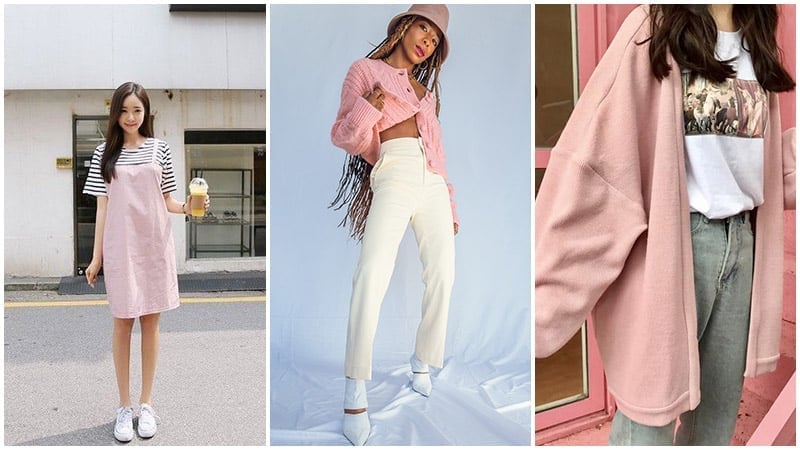 14. Skate Style Clothing
The skate style has a longer history than many people realize. While the current trend is heavily influenced by the 90s and early 2000s and its grunge counterpart, the clothing style actually dates back to the 40s. Throughout the decades, the consistent theme has been the use of dark colors and clothing that allows for freedom of movement. In recent years, the style has evolved to include elements from the 90s and 2000s, such as oversized shirts, layering, chunky sneakers, and baggy cargo pants or jeans. Popular brands include Vans, Converse, Huf, and even Supreme.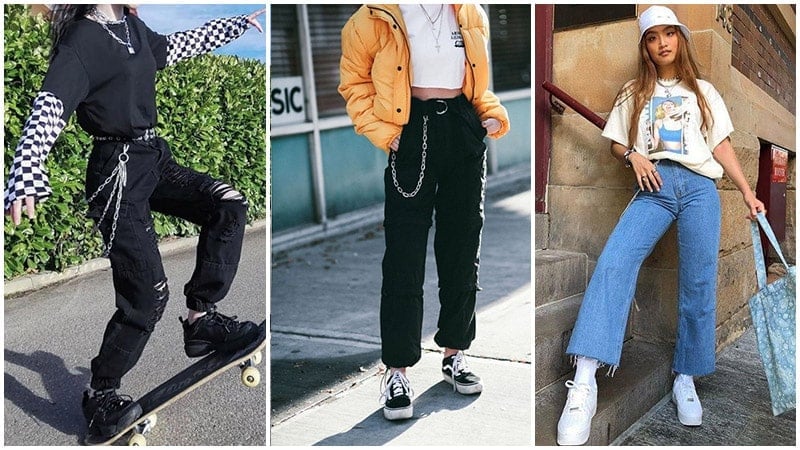 15. Dark Academia Clothing Style
Dark academia fashion has remained popular for several years. It is easily recognizable and blends well with current fashion styles. This aesthetic primarily centers around classical literature, including the works of the Brontë sisters, Oscar Wilde, and Jane Austen. It incorporates Romantic and Neo-Classic imagery and colors, with dominant shades including black, dark brown, charcoal, and forest green. The influences of Baroque and Renaissance art styles are evident in its decadence and attention to detail, while Gothic elements contribute to its scholarly roots and dark tones. To embody this aesthetic, one can opt for a black turtleneck, checked trousers, brogues, and various shades of brown. Layering coats with blazers, mixing monochromatic ensembles, and delving into a world of Byronic Heroes and literary excellence are also characteristic of this aesthetic.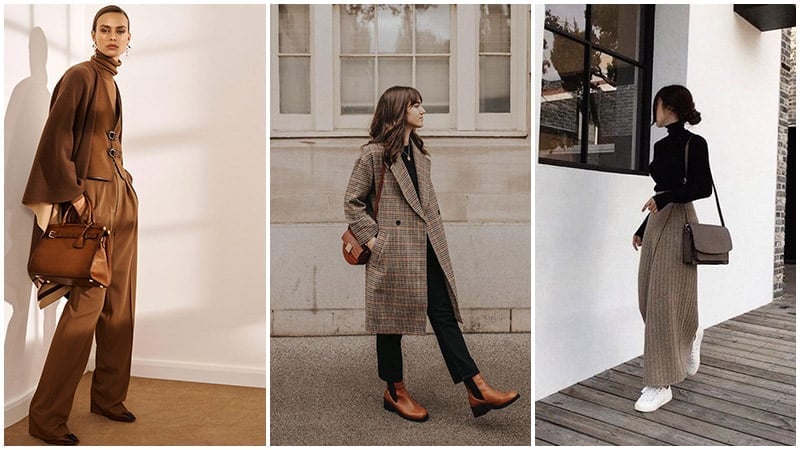 16. Femboy Fashion Style
The femboy fashion, a relatively recent phenomenon, is undeniably adorable. This clothing style features boys, regardless of their affiliation with the queer community, who embrace traditionally feminine clothing, including skirts and dresses. Non-binary and male individuals are challenging gender norms by incorporating elements such as nail polish, flower decals, tennis skirts, and slip dresses. Experimenting with butterfly hair clips, cropped pastel cardigans, and colorful mini skirts paired with oversized sweaters are encouraged. Spearheaded by Gen Z stars like Jaden Smith and influential figures on TikTok, this trend breaks down gender boundaries in fashion and redefines masculinity.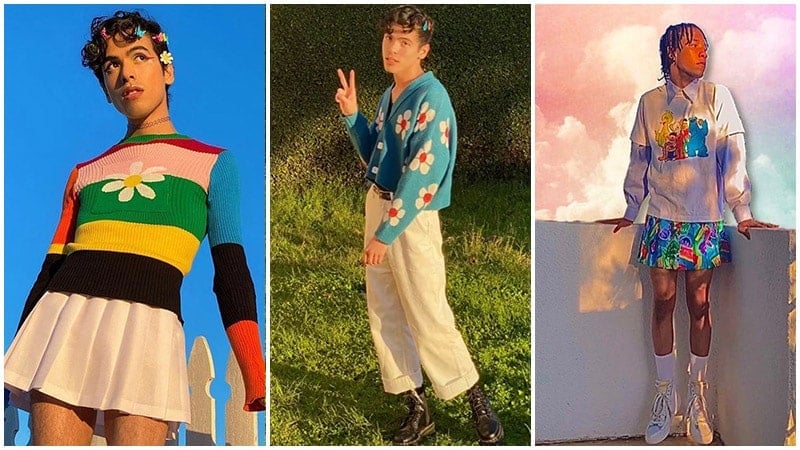 17. Pink Clothing Style
The pink clothing aesthetic has experienced significant transformations throughout the last century. Originally considered a traditional boy color, it rapidly transitioned into a hyper-feminine and girly palette, a characterization that has endured to this day. Despite the negative associations that have been attached to this shade, it has since been reclaimed and embraced by countless individuals worldwide. If you have an affinity for pastels, neons, Millennial Pink, or even a subtle hint of bubblegum, there are ways to incorporate it into your everyday wardrobe. Fashion enthusiasts particularly enjoy pairing pink with other hues such as blue, green, black, or white. Additionally, you can even experiment with the unconventional combination of pink and red – believe us, it's a statement worth making.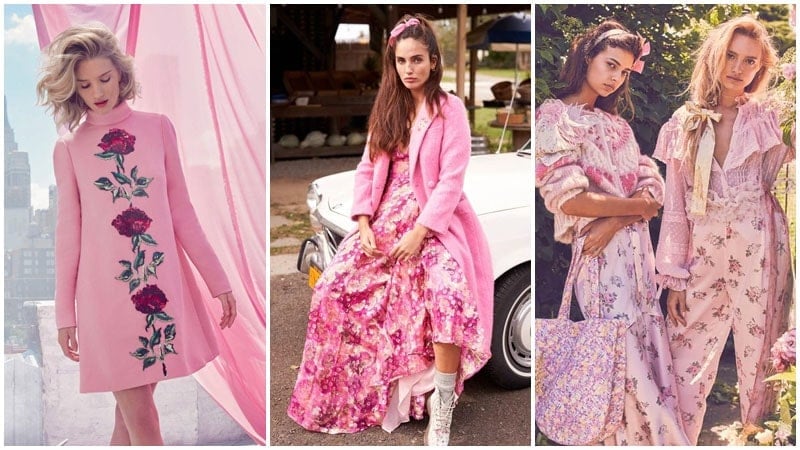 18. Emo Clothing Style
Emo clothing styles for women emerged as a distinct genre in the early 2000s, with its roots traced back to the late 70s. Early bands like Siouxsie and the Banshees and The Cure paved the way for traditional emo bands. Mainstream bands like Panic! at The Disco, Fallout Boy, Paramore, and My Chemical Romance gained popularity within this genre. Key elements of this trend include black attire, skinny jeans, fishnets, Converse shoes, striped tops, and layered clothing. Makeup and hair often feature heavy eyeliner, piercings, and choppy bangs in dark or vibrant shades. While the trend has evolved, it continues to retain many of its original characteristics.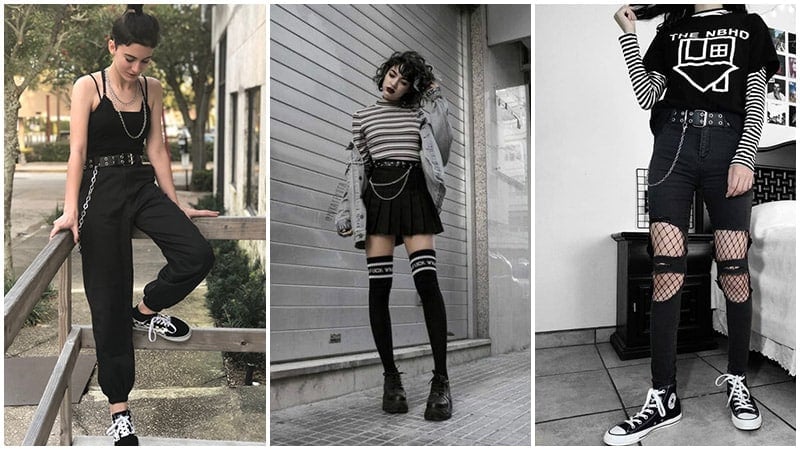 19. Kawaii Fashion Style
Kawaii style (かわいい) is a Japanese term that embodies a sense of childlike cuteness. While several subcultures fall under this label, there are a few fundamental elements that contribute to its overall aesthetic. These consist of gentle shades of pink, glitter, rainbows, and cuddly, fluffy animals. This genre typically includes mini tennis skirts with checks, knee-high socks or stockings in white or with stripes, and oversized sweaters. The looks are tied together with large, chunky sneakers, creating a cartoon-like impression. It is an incredibly adorable fashion style with numerous niches and subcultures, each showcasing its own individuality.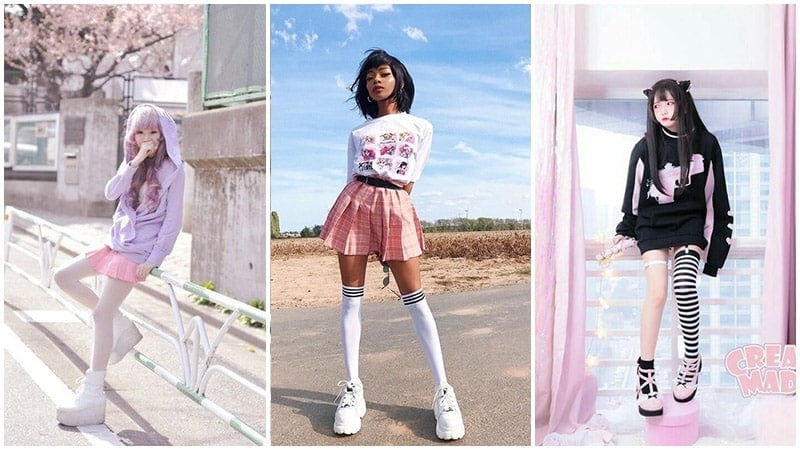 20. Kidcore Clothing Style
If you've ever wanted to go back in time and experience the vibrant 80s and 90s, now you can with the kidcore clothing styles for women. This nostalgic fashion draws inspiration from 90s kids' themes and features bold primary colors, playful graphics, and childhood toys in its clothing items. Popular icons from this era include Beanie Babies, Disney characters, Sesame Street, and Clifford the Big Red Dog. To embrace this style, opt for relaxed-fit denim, striped baseball t-shirts, and vibrant rainbow patterns. Stand out from the crowd with shades like red, blue, green, yellow, and orange.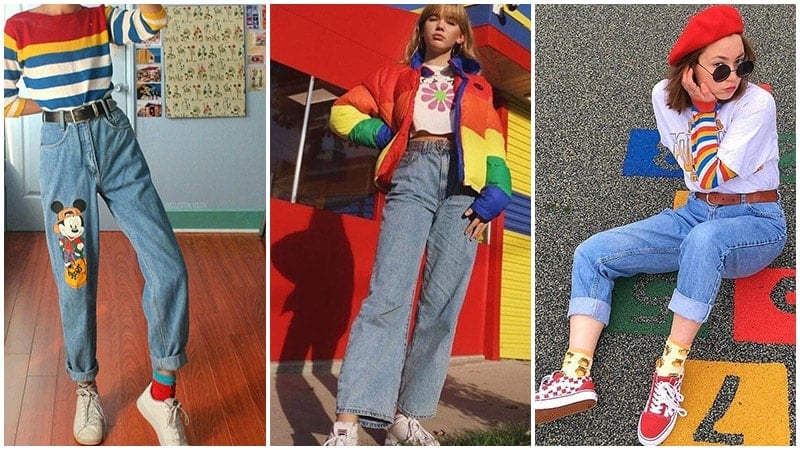 21. Goth Fashion Style
Goth fashion is an intricately diverse style, encompassing various subgenres that demand acknowledgment. It extends beyond mere fashion and transforms into a lifestyle with an individualistic perspective. Aesthetically, it is characterized by intense makeup, noir attire, and the infamous "death rock" appearance that has become synonymous with the gothic subculture. However, it delves deeper, emphasizing the significance of philosophical enlightenment and literary exploration. Gothic fashion styles initially emerged from a desire to challenge societal beauty standards, originating from music and evolving alongside punk culture. This subculture revered attributes such as ebony tresses, porcelain complexions, distressed fishnets, eccentric hairstyles like mohawks, and an abundance of ebony garments.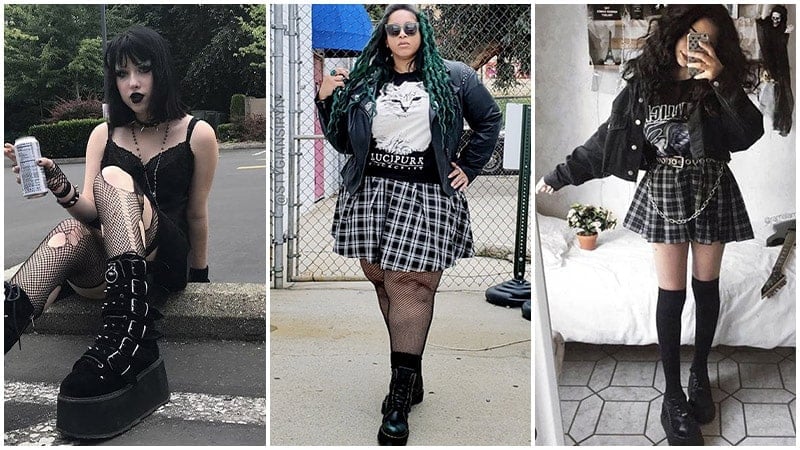 22. Soft Grunge Style
Soft grunge, a fashion trend that emerged on Tumblr during the late 2000s and early 2010s, draws inspiration from both grunge fashion and other 1990s fashion styles, creating an effortlessly chic and modern look. This trendy interpretation of the iconic grunge fashion incorporates elements from its roots, such as flared pants, crop tops, and chunky combat boots. This aesthetic stands out thanks to its distinctively darker palette accented with soft colors and adorable vibes.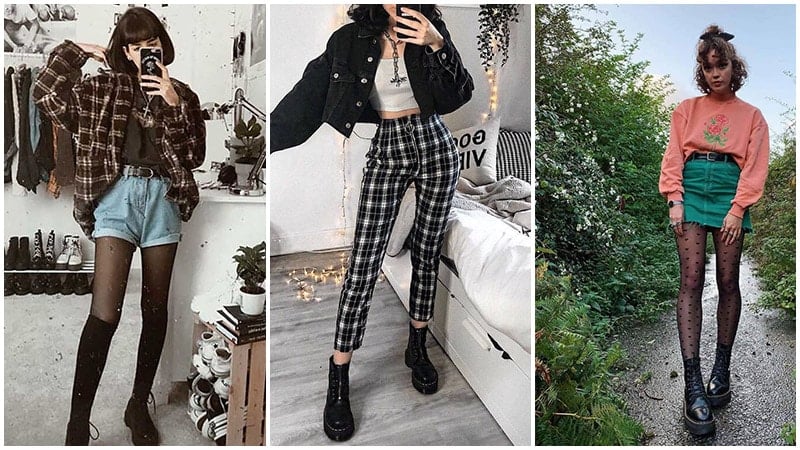 23. Artsy Fashion Style
The artsy clothing styles for women branch out into various fashions, encompassing a connection with nature, art, and beauty. Originating on Tumblr, the original aesthetic known as Arthoe is associated with LGBTQIA+ people of color, including Amandla Stenberg and Willow Smith. This aesthetic embraces love for iconic artists like Vincent Van Gogh, whose Sunflowers and Starry Night often appear on T-shirts and bags. Today, it showcases vibrant colors, stripes, loose trousers, and oversized tees. Commonly, you'll find check pants or jeans paired with tucked-in shirts and sweaters, along with chunky sneakers or flats. The color palette mostly revolves around browns, blues, and color blocking.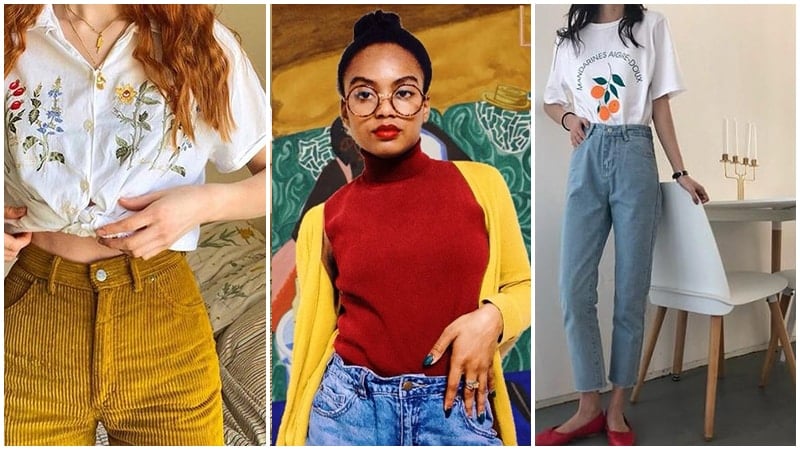 24. Hippie Style Clothing
Inspired by the 1960s and 1970s hippie movement, the hippie clothing styles for women aim to capture the carefree and liberated spirit of youth culture. Fashion during this era draws heavily from festivals and pop culture, such as Woodstock in 1969 and the psychedelic movement popularized by bands like Pink Floyd and the Beatles. The color palette, predominantly vibrant hues, is more characteristic of the 70s rather than the 60s. The trend is defined by flowing fabrics, bell-bottom jeans, shades of brown and orange, oversized sunglasses, bold floral patterns, and psychedelic artwork.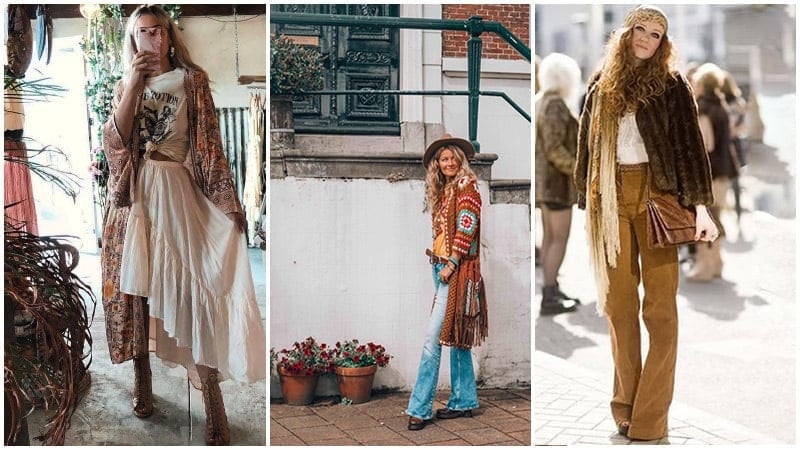 25. Cottagecore Clothing Style
Cottagecore has become a trendy clothing style adored by teens and young adults who celebrate an idyllic countryside existence. This aesthetic has its roots in the rustic European lifestyle and first gained recognition on Tumblr in 2018. It revolves around traditional rural attire, charming interior design, and artistic activities like drawing, baking, and pottery. Cottagecore is closely associated with aesthetic movements like grandmacore, farmcore, goblincore, and fairycore, creating a rich tapestry of delightful inspirations.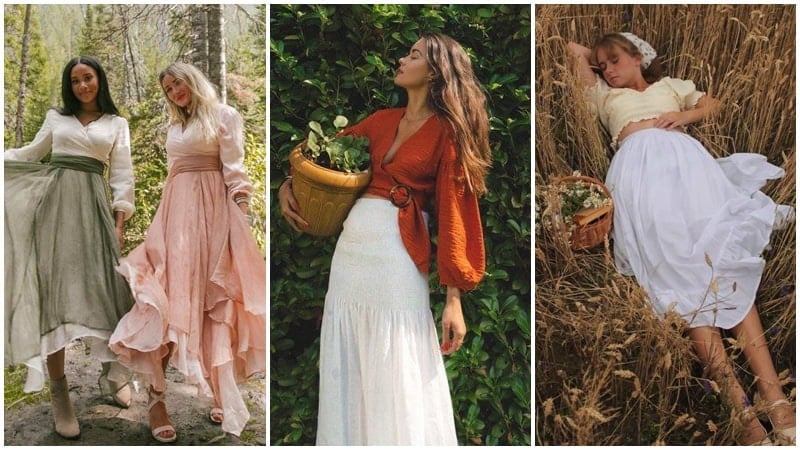 Fashion Styles for Women FAQ's
What is Personal style in fashion?
Your personal style goes beyond just the clothes you wear and extends to how you feel in them and how you shop. Embracing and expressing your unique personality and values through fashion not only boosts your confidence, but also renews your focus and energy.
How many types of fashion styles are there?
The realm of fashion encompasses a myriad of clothing styles and aesthetics. With the advent of the internet, subcultures from the past century, such as punk, grunge, and bohemian, have evolved into contemporary manifestations like emo and dark academia.
SUBSCRIBE TO OUR NEWSLETTER
Subscribe to our mailing list and get interesting stuff and updates to your email inbox.