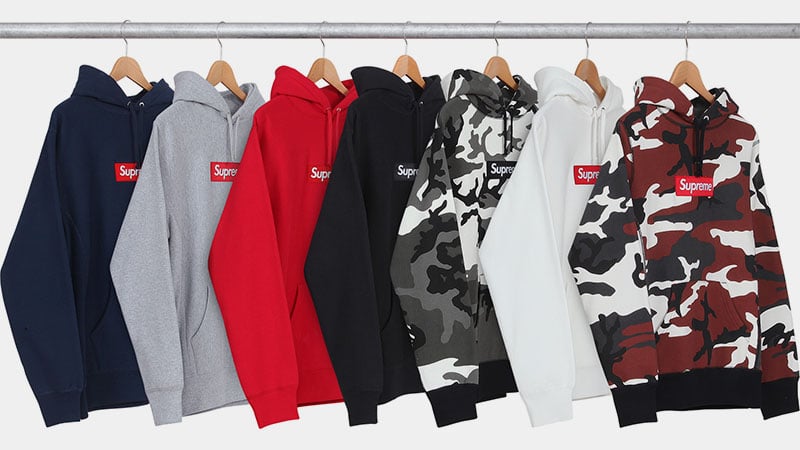 When it comes to streetwear, Supreme is undoubtedly one of the biggest names around, and rightfully so. After all, the label has created some of the most highly coveted clothes of all time. In particular, the brand is renowned for its box logo emblazoned garments, including its iconic hoodies. As comfortable as they are casually stylish, these hoodies are hyped by almost every streetwear enthusiast alive. So, naturally, they have appeared time and time again in different iterations. But, undoubtedly, some are cooler than others, which is why we've created this handy guide to the best Supreme box logo hoodies ever made.
RELATED: How to Spot a Fake Supreme Every Time
1. Supreme Grey with Red Box Logo Hoodie
Although there have been countless variations of the Supreme box logo hoodie over the years, the original is still the best. A true streetwear classic, the grey with red box logo hoodie was amongst the first items ever released by Supreme. Since that 1994 debut, the timeless colourway has seen many re-releases, but somehow fans always want more. Today, more than 20 years after its initial release, this iconic design is still highly coveted and quite expensive.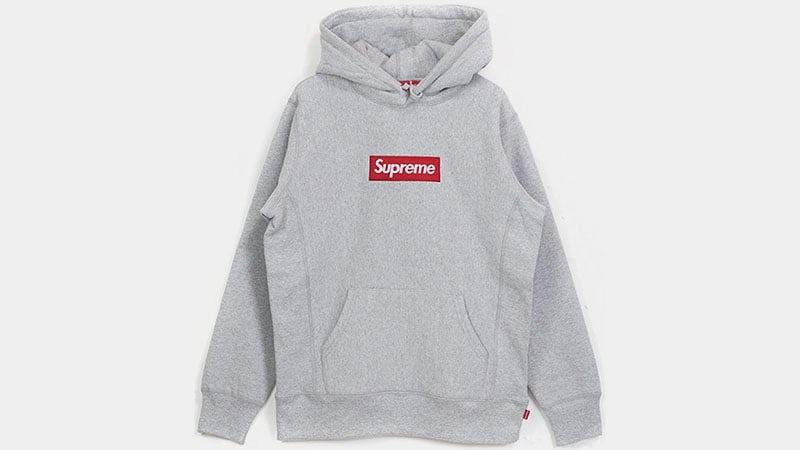 2. Supreme x Louis Vuitton Box Logo Hoodie
When Supreme teamed up with the luxury label, Louis Vuitton last year in an official collaboration, the worlds of streetwear and high fashion collided. The result? An epic collection of products that drove fans crazy. One unforgettable item from the range was a red Supreme box logo hoodie featuring the LV monogram print all over. Naturally, the unique style that mashed-up these two iconic labels was a massive hit and, despite being the most expensive logo hoodie ever released, it sold out instantly. Since then, the style's popularity has only grown, meaning they now re-sell for insane amounts.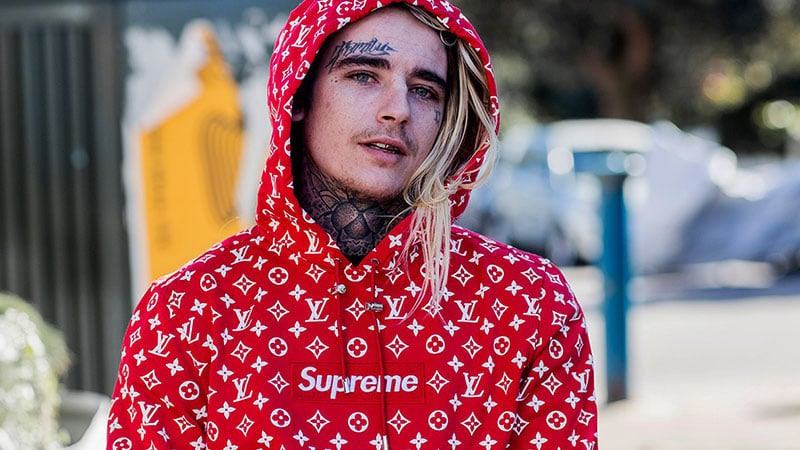 3. Supreme Black on Black Box Logo Hoodie
While there are plenty of bold box logo hoodies around, it's often the simplest styles that fans love the most. So, it's not surprising that the black on black colorway is one of the most popular around and has been re-released multiple times, much to the pleasure of fans. After all, who wouldn't love this easily wearable design? The timeless style is black with a black box logo and contrasting white text. So, everyone can see you're repping Supreme. In addition to being a total classic, the style is also one of the priciest colorways to buy. Oh, and did we mention multiple celebrities, including Kanye West, have rocked it?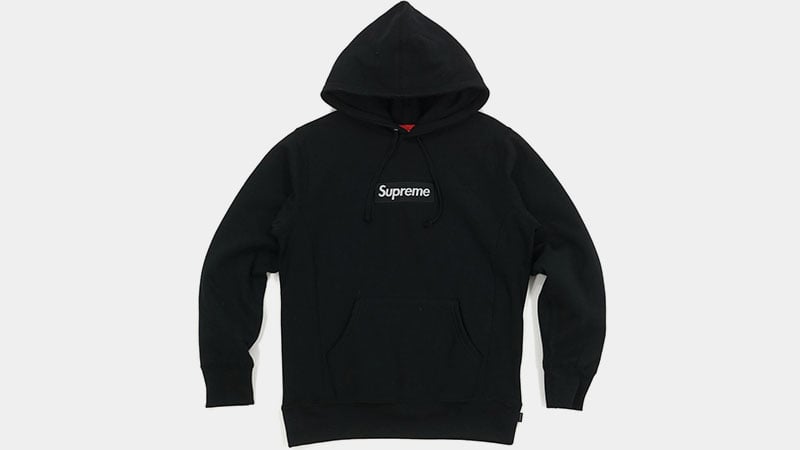 4. Supreme x Comme des Garçons Polka Dot Box Logo Hoodie
Back in 2012, Supreme teamed up with Comme des Garçons to create their first collaboration together. Featured in it was a heap of apparel and footwear, including T-shirts, Vans, and, of course, box logo hoodies. These hoodies instantly became iconic thanks to their polka dot print design and now-famous reversed box logo. Today, they can be tough to find in good condition, and, if you do track one down, you'll have to pay up to make it yours.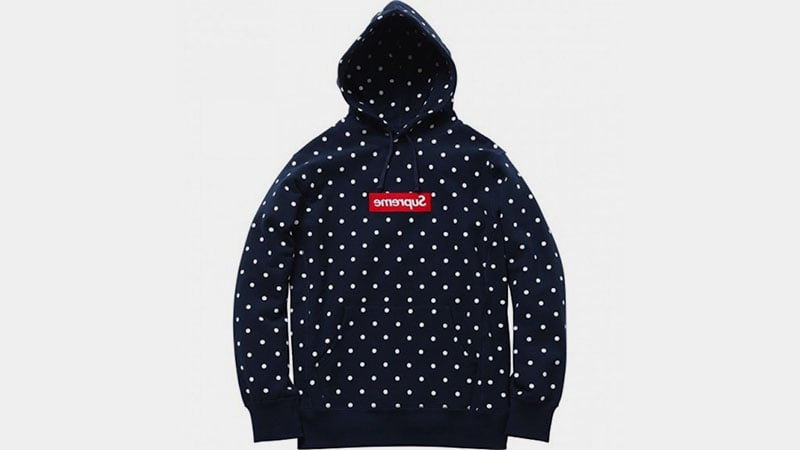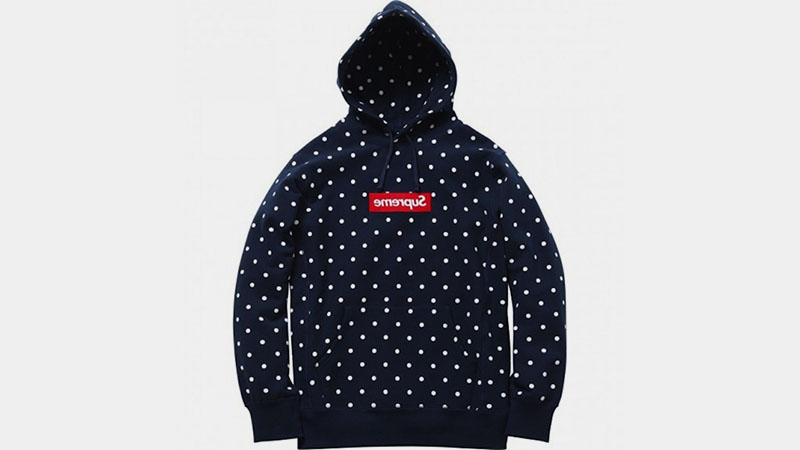 5. Supreme Peach Box Logo Hoodie
For the Fall/Winter 2016 season, Supreme capitalized on the hype around soft, pinkish tones and released a variety of products in peach and baby pink colorways. These products were quickly bought by the label's style-savvy fans who appreciated the on-trend hues. Included amongst the bunch was a seriously cool peach box logo hoodie, which was undoubtedly one of the most exciting pieces from the range. Additionally, it was only produced in limited numbers, making it a highly coveted and exclusive item.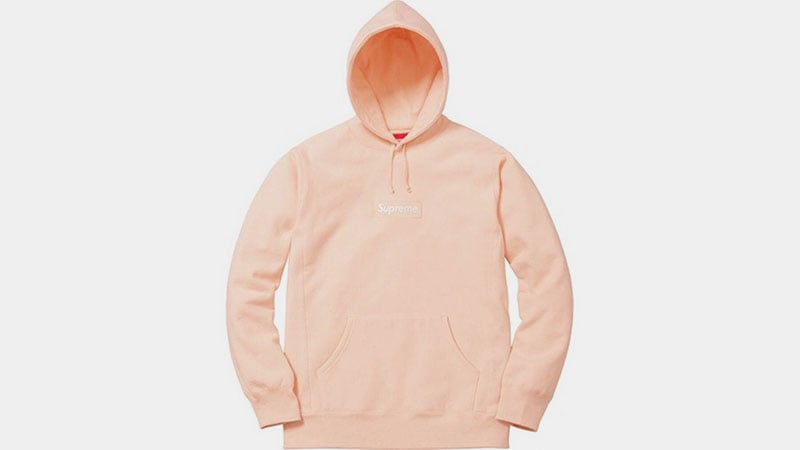 6. Supreme USA Box Logo Hoodie
Known as the "USA" or "Stars and Stripes" hoodie, this box logo design is a celebration of American patriotism. Released during the F/W '14 season, the style stood out boldly against the more subdued tonal designs that also debuted at the time. But, despite its popularity today, fans initially dislike the style, describing it as "a mess" and "too in your face". Fortunately, over the years, those negative views faded and gave way to some serious appreciation for the striking style. Today, the iconic hoodie typically sells for more than double the retail price.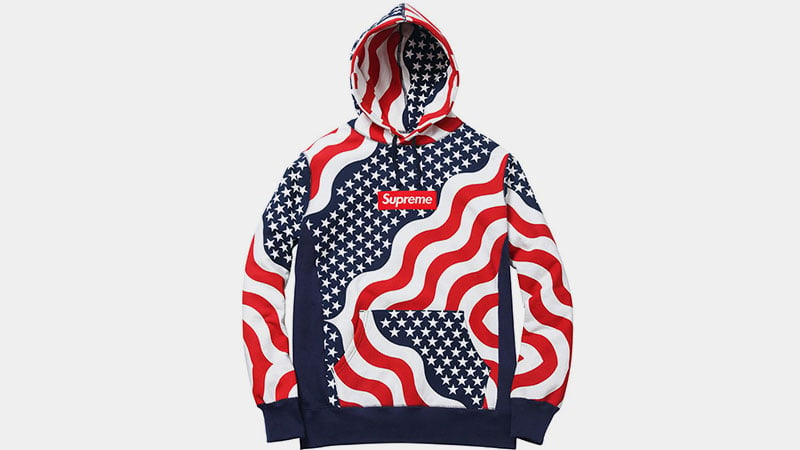 7. Supreme Teal Box Logo Hoodie
While there have been many famous box logo hoodies over the years, the teal colorway is one of the most iconic. An instant classic, the style debuted about a decade ago for F/W '09 and featured a teal design with a traditional red Supreme bogo (box logo). Today, the design is highly coveted and almost impossible to find. If you do get the chance to wear one, you can rest assured you're amongst good company. Tyler, the Creator famously wore one in his music video for the single She.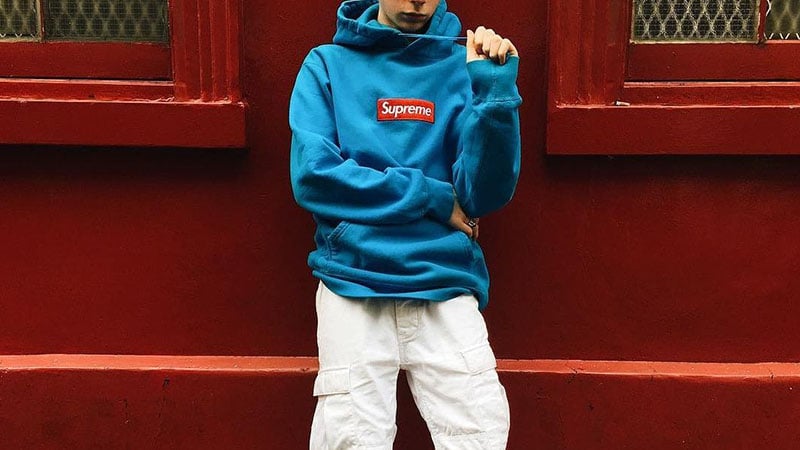 8. Supreme Camo Hoodie with Box Logo (Snow)
When it comes to streetwear, camouflage is always cool, especially when it's snow camo. So, it comes as no surprise that Supreme's box logo hoodie featuring the print was a big hit with fans. Debuted during the label's F/W '13 season, the snow camo design, along with the urban camo option from the same range, stood apart from the collection's variety of standard Supreme hoodies. And, thanks to its awesome print, became one of the most popular of all time. As such, the style can be notoriously hard to get your hands on, especially if you're after one in good condition.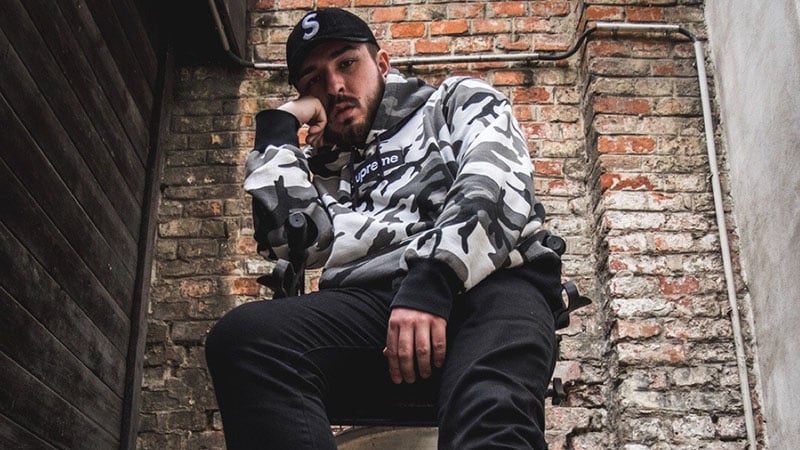 9. Supreme Tonal Black Box Logo Hoodie
For Fall/Winter 2014, Supreme shook things up with its iconic sweatshirt by launching a series of tonal styles. Of the bunch, the black option was undoubtedly the best. The design, which was black with an all-black box logo, bucked the trend of Supreme's traditionally contrasting designs. As a result, the dark hoodie was a sell-out with fans loving its simple, stylish, and easy-to-wear aesthetic.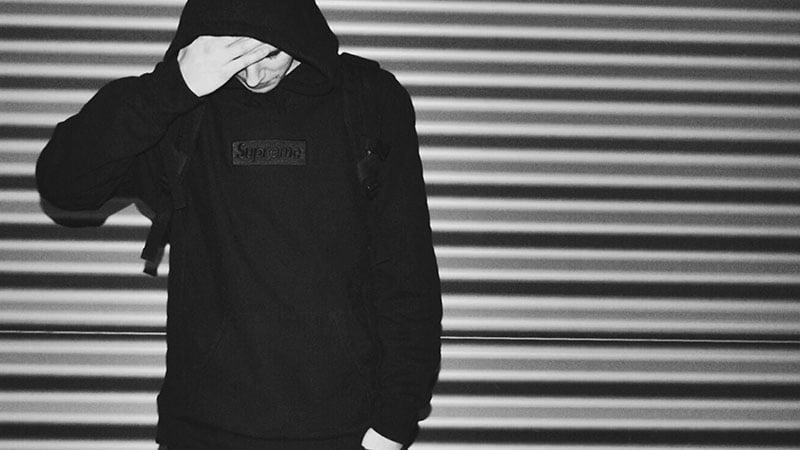 10. Supreme Acid Green Box Logo Hoodie
When it originally debuted, the acid green bogo hoodie received mixed reactions from fans. Some, who were unimpressed by the unique hue, even called it ugly and gave it a variety of negative nicknames, including the "vomit sweater". Today, however, most fans have come around on the colorway and now love its vivid hue. As such, the acid green hoodie generates a lot of hype and is one of the more desirable designs around. Several celebrities have even worn it, including Lil Yachty.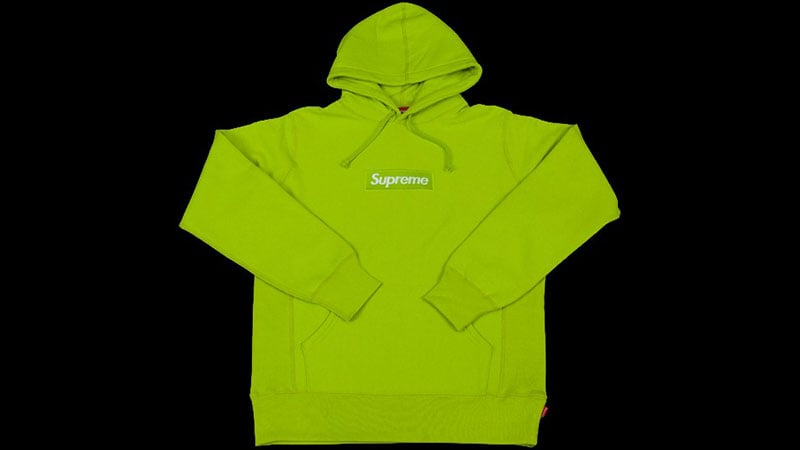 11. Supreme Brown Camo Box Logo Hoodie
For its Fall/Winter '16 collection, Supreme once again turned to camouflage print to give its box logo hoodie an edge. The brown camo design, which sold alongside the iconic peach style, was a hit with fans thanks to its multicolored appearance, which included a red box logo. In 2018, the style is still highly popular amongst fans. So, be ready to fork out some serious cash to buy one. Currently, there's some available on Stadium Goods for USD$1,700.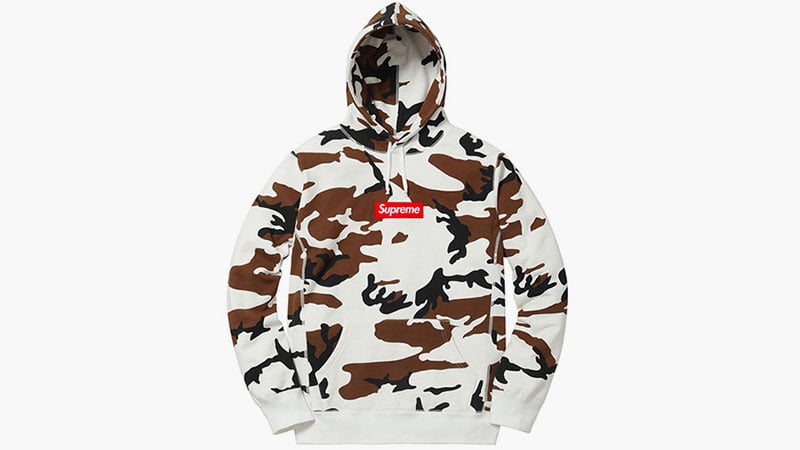 12. Pink Supreme Hoodie with Box Logo
If you're the kind of gent that finds a black Supreme hoodie boring, chances are you'll love the pink box logo design from Fall/Winter '17. As bright as it is awesome, this hoodie features a bold magenta design with a green box logo. Of course, the striking style isn't for every gent. But, for those who have the confidence to pull it off, this eye-catching jumper is well worth its four-figure price tag.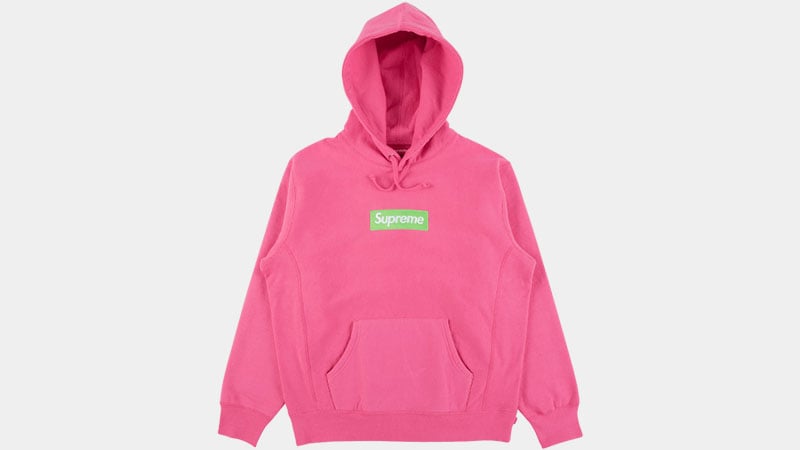 FAQs
How much is a red Supreme hoodie?
Supreme hoodies can fetch a high price tag, but the red Supreme design is among the more affordable. The Supreme Bandana Box Logo Hooded Sweatshirt was released in December 2019 and retailed for USD 168.
How can you tell if a Supreme hoodie is real?
The demand for Supreme products has led to many replicas, and it can be hard to tell which is real. Some important things to consider include the lettering and the quality of the garment, and the stitching. Price should also be a factor, and if it seems too cheap, it is probably fake. On the hoodies, you should also check that the word Supreme is straight. Also, analyze the 'made in' tags, which should come down to the 'E' of Supreme.
Is Supreme a luxury brand?
Supreme is a streetwear brand, but the demand for the clothing, paired with the company's limited supply, has made it a luxury option. It has a very high resale value, and the box logo has become one of the most recognizable brand icons in the fashion industry.
SUBSCRIBE TO OUR NEWSLETTER
Subscribe to our mailing list and get interesting stuff and updates to your email inbox.