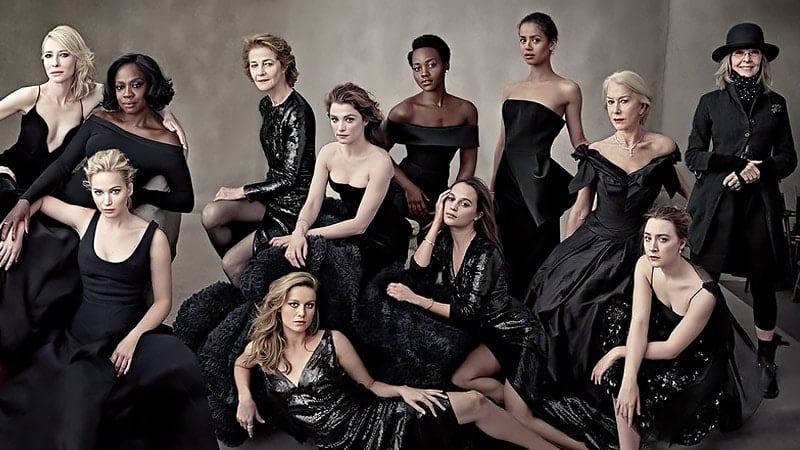 Black has long been fashion's favorite color, and it's easy to see why. Not only is the shade versatile enough to suit practically any event, but it's also timelessly chic. However, for all its benefits, black can quickly become boring when always styled the same way. So, to ensure your dark looks are kept on-trend and impressive, we've rounded up a selection of inspiring ideas courtesy of your favorite stars. From stylish casual looks to daring party ensembles, here are the best celebrity-approved all-black outfits you need to try.
1. Black Jeans/Pants Outfit
When it comes to rocking an all-black outfit, jeans or pants make an excellent starting point. While your favorite skinnies will always look good, opting for an on-trend pair of wide-leg trousers will provide you with a more fashion-forward appearance, especially if they have a daring split up the side. Then, just add a tailored blazer and heels to your ensemble for a chic style inspired by fashion star Olivia Palermo.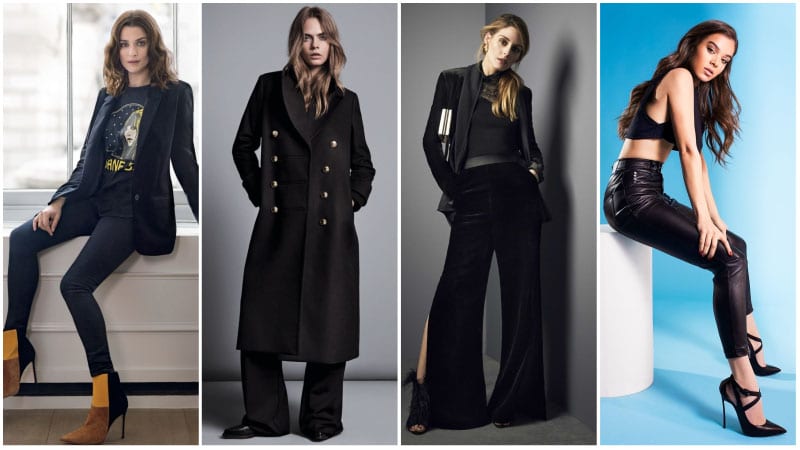 Get the Look
2. Black Boots Outfit
While black ankle boots are an essential item and ideal for everyday outfits, black over-the-knee boots are a statement style that can add an A-list touch to any ensemble. Just choose between matte leather, patent leather and suede styles to find the one that suits you. Then, partner your new black boots with a mini dress and glam jewels for an outfit that both Bella Hadid and Selena Gomez would approve of. The look is perfect for your next party or night out on the town.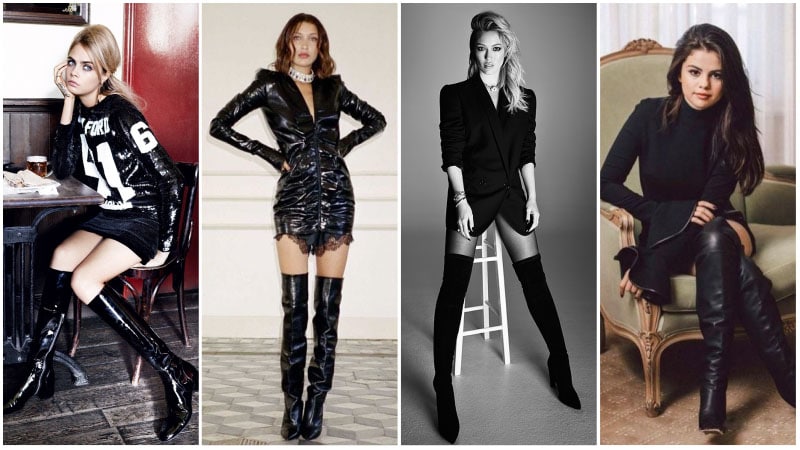 Get the Look
3. Black Leggings Outfit
If you want to rock a stylish all-black ensemble, leggings can make an excellent option. While sporty styles are perfect for creating a chic athleisure look, leather leggings are ideal for achieving an edgy appearance. By partnering a pair with a black crop top, high heels and a jacket, you'll instantly have a celebrity-approved outfit that's perfect for Saturday night drinks. Wear it with a structured jacket to take this look to the next level.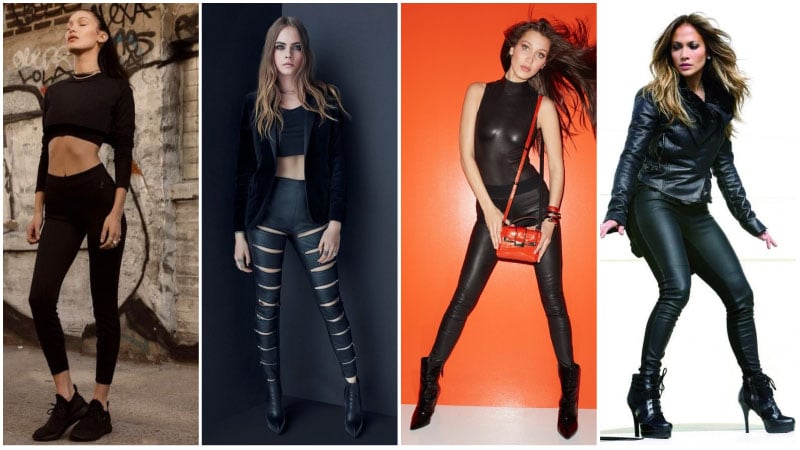 Get the Look
4. Black Skirt Outfit
Black can be an intense colour when worn head-to-toe. As such, showing off a little skin with a black skirt outfit can create a highly flattering look. While there are many styles of skirts from which you can choose, a fashion-forward pencil skirt makes a great option. Just look to stars like Bella Hadid and Zendaya for cues on how to wear it.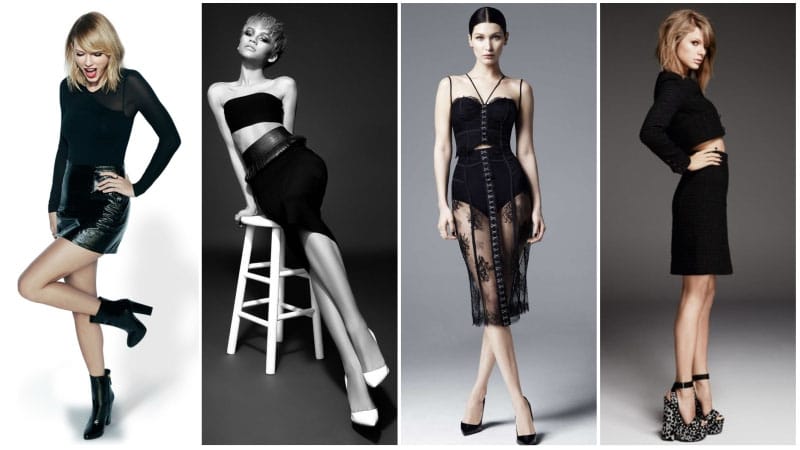 Get the Look
5. Black Shorts Outfit
Celebrities are an excellent source of style inspiration. So, if you want to rock a black shorts outfit in a seriously fashionable way, all you need to do is look to the likes of Selena Gomez and Miley Cyrus for ideas. Then, just tone down the ensemble to make it more wearable in a real-life setting.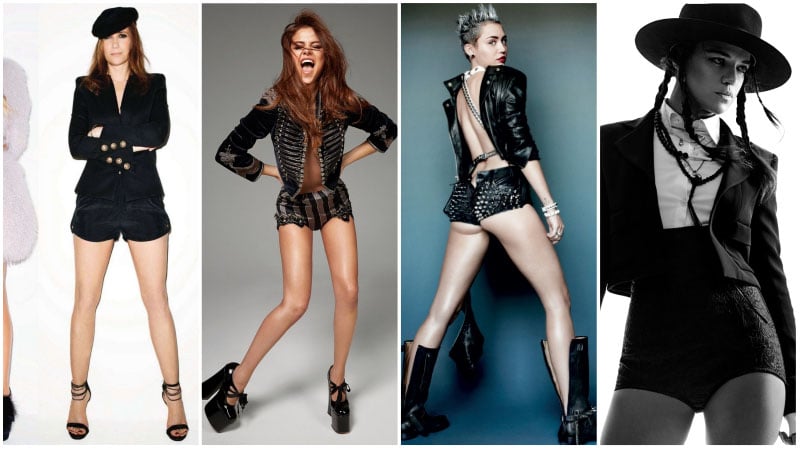 Get the Look
6. Black and Gold Outfits
For those who find an all-black look just a touch too dull, a black and gold outfit can make a fantastic alternative. By adding a metallic accent to your black ensemble, you'll instantly up its glam-factor. Perfect for your next formal evening event, these chic colours appear best in gorgeous gowns.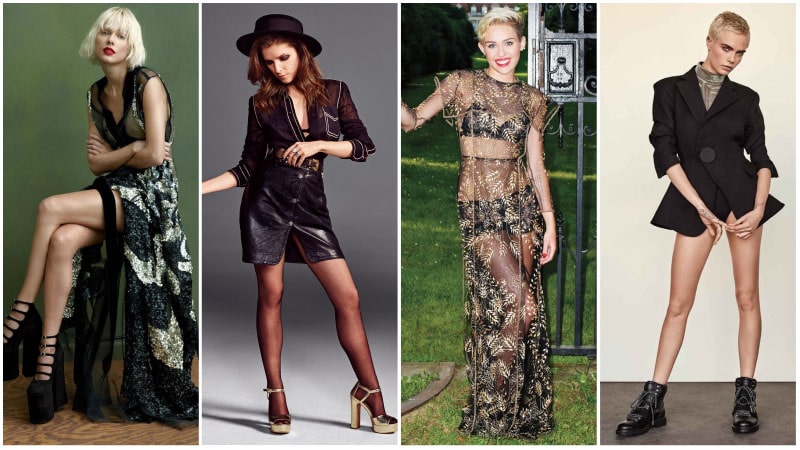 Get the Look
7. Black Shirt Outfit
Bored of your usual white button-up? Why not turn to the dark side with a black shirt outfit instead? If you're heading to work, just pick a simple collared style. Or, if you are off to meet up with friends, select a lightweight blouse with frills or ruffles, such as Olivia Palermo's.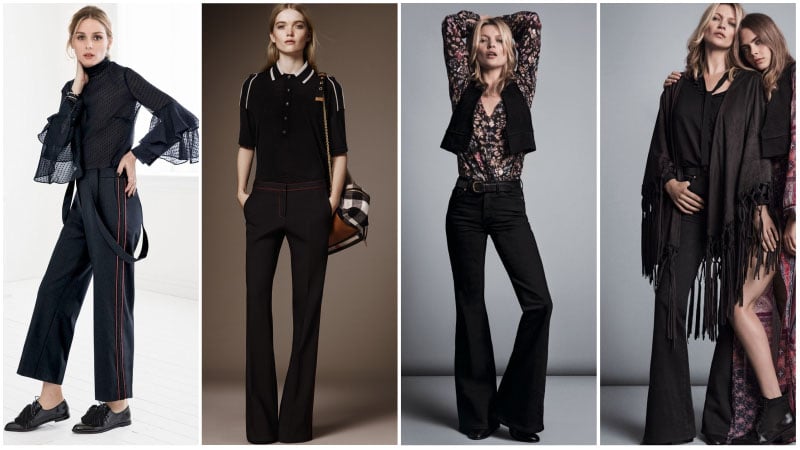 Get the Look
8. Black Cardigan/Sweater Outfit
Sweaters and cardigans can look incredibly cool when worn with an all-black outfit. To nail the look, simply select an oversized style. Then, pair it with a bodysuit, mini skirt, and flat boots. The result will be a comfortable and cute look that's A-list approved.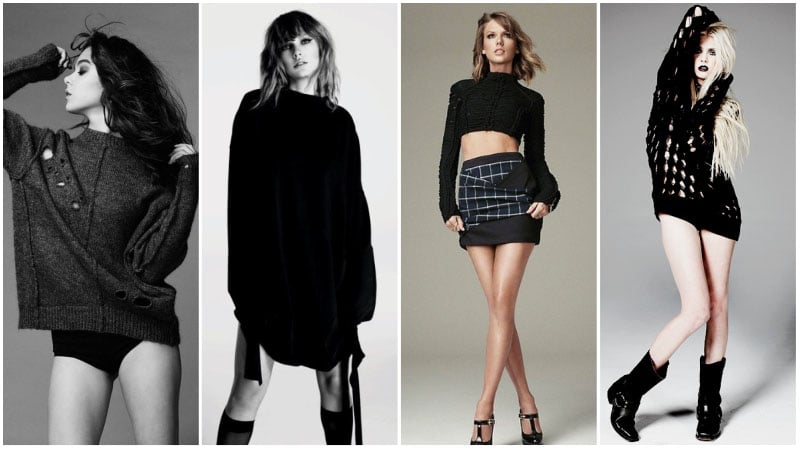 Get the Look
9. Black Romper/Bodysuit Outfit
Celebs like Mila Kunis and Scarlett Johansson have proven that black rompers and bodysuits can look seriously sexy. So, why not try the look for yourself? Just remember to keep things appropriate. While it may be ok for Beyonce or Amy Adams to rock a bodysuit with no pants, you may get some funny looks.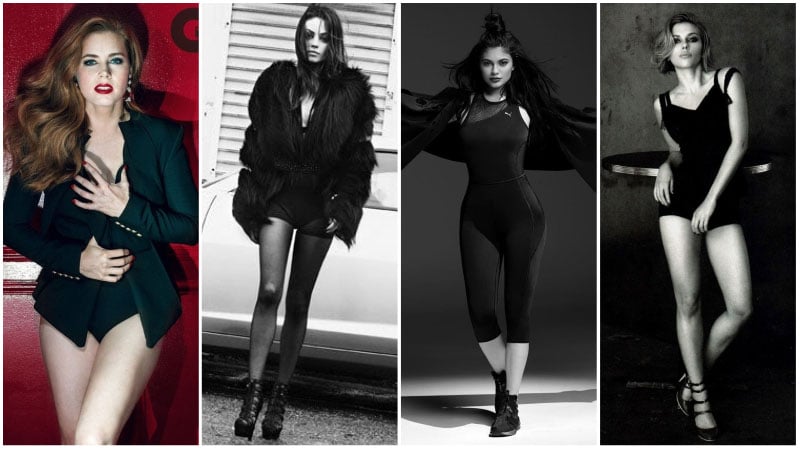 Get the Look
10. All Black Outfits for Party
Got a party on your calendar? Why not rock a stylish all-black outfit to the event? Just select either dress or a jumpsuit and partner it with heels for a gorgeous appearance. As the color will ensure you look appropriately sophisticated, you can feel free to have fun with textures, cuts, and embellishments.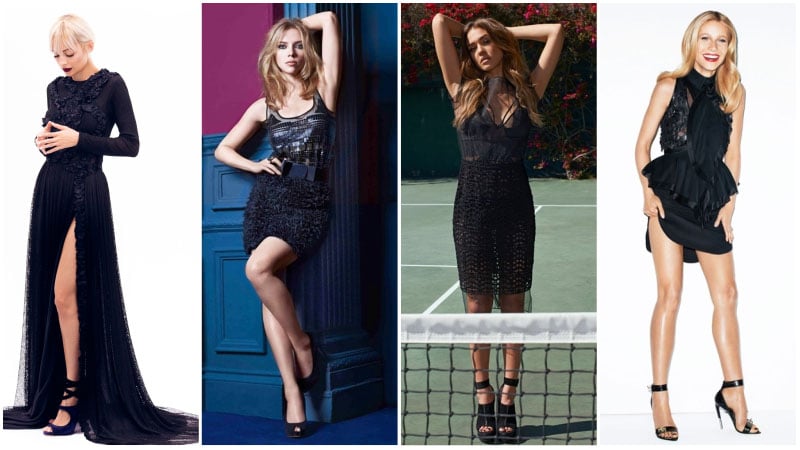 Get the Look
11. All Black Casual Outfits
When you're after a weekend look that will set you apart, an all-black casual outfit is an ideal option. All you need to do is keep your ensemble edgy and tough for the perfect off-duty model look. To do so, try partnering a pair of skinny jeans with a lace top, leather biker jacket, and boots.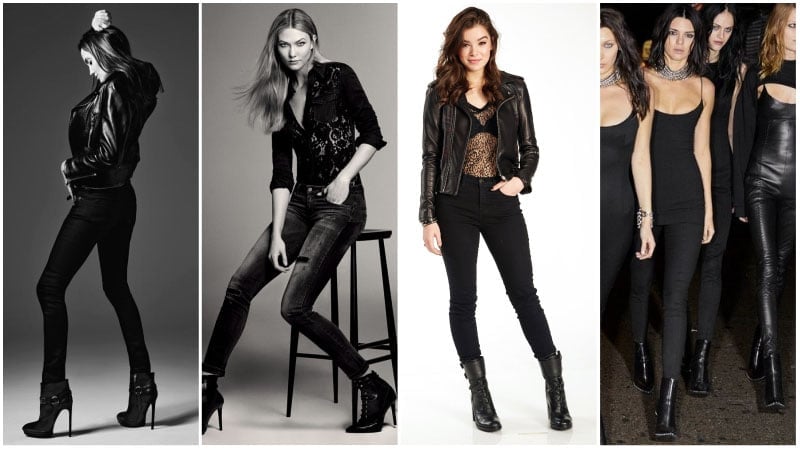 Get the Look
12. Black Outfits for Work
Black looks just as great after-hours and the weekend as it does at work. To wear an all-black look during business hours, just select either a suit, separates or a dress that appears smart and appropriate for a chic office style.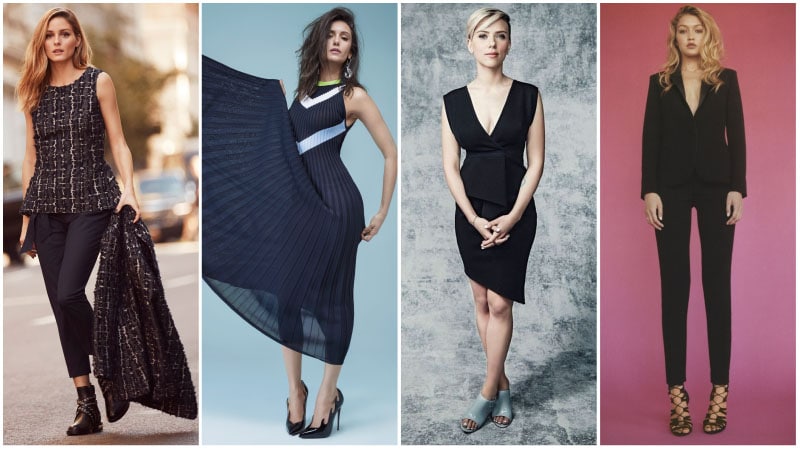 Get the Look
How to Wear Black Outfits
Look to your favorite celebrities for all-black outfit inspiration.
Wear an all-black outfit when you want a look that is both edgy and elegant.
Take your all-black look from basic to on-trend with fashion-forward garments like wide-leg pants, rompers, and leather leggings.
Add gold accessories or details to give your all-black look a more glamorous feel.
Tailor your all-black outfit to suit the occasion, be it a casual coffee date or a big party.
Make an all-black look work for the office by selecting smart, tailored pieces or an appropriate dress.
SUBSCRIBE TO OUR NEWSLETTER
Subscribe to our mailing list and get interesting stuff and updates to your email inbox.