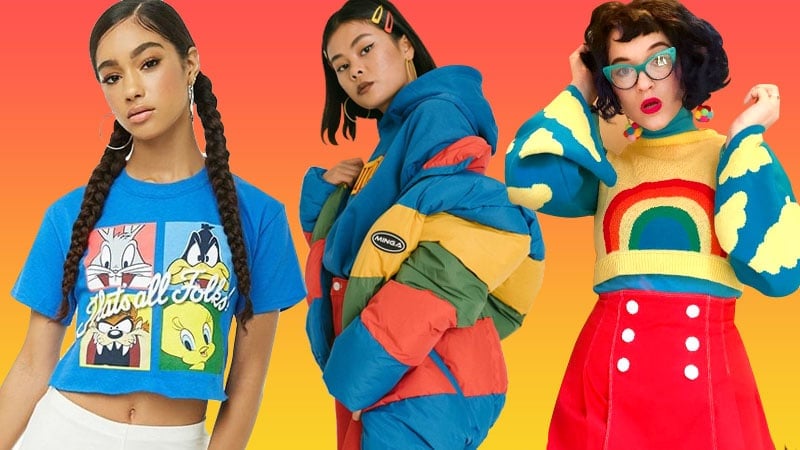 Bring back the good old days of after-school cartoons and bright colors with this bold aesthetic. Taking its inspiration from kids' pop culture and fashion in the '90s and '00s, this trend is all about carefree fun and comfort. While it began in the 2010s, this trend seeks out the best parts of childhood in the '80s, '90s, and '00s, such as the Magic School Bus, Arthur, Looney Tunes, and Sesame Street. Driven by comfort, color, and enjoyment, you can dress it up or down while looking as carefree as a child. Get out your crayons, enjoy snacks and take it back in time with the adorable Kidcore aesthetic that will inspire you.
RELATED: 21 Perfect Aesthetic Outfits To Showcase Your Style
What aesthetic is Kidcore?
This aesthetic is all about the romanticization of childhood pop culture and fashion. Mostly stemming from the '90s, it has modernized itself to include influences from an earlier decade and the '00s. This includes TV shows like Arthur, Sesame Street, Teletubbies, and Magic School Bus. There are many subcultures of Kidcore, such as Decora, Stickercore, and Loudcore, and each has its own focus and trends. Decora is the '90s Japanese aesthetic popularized by Tomoe Shinohara. Stickercore involves placing cute stickers of candy Hello Kitty and other motifs on parts of your face and body. The final subculture is Loudcore, revolving around the noisy toys that kids grew up in the '90s, such as kazoos, bells, and fireworks.
Who started Kidcore?
The term Kidcore was coined by Matt Star, a new media artist that created a collection of apparel 'inspired by baby clothes.' The designs began as a laidback and 'playful' aesthetic that other brands don't usually offer. The trend increased in popularity over 2020, thanks to viral TikTok and Instagram users rocking the aesthetic.
How do you dress like Kidcore?
To dress Kidcore, you have to make sure you add some color. Typically, this aesthetic highlights the primary colors – red, blue, and yellow- but can also celebrate the rainbow shades as well. Try a striped rainbow knit with a denim pinafore for an everyday look. Alternatively, opt for a pair of wide-leg jeans and a color block t-shirt and sneakers. Subcultures of the aesthetic, such as Decora, Loudcore, and Stickercore, include their own styles and trends but will stay true to the bright shades and layering of accessories. Ultimately, you want to emulate the fashion for kids in the '90s and '00s.
Kidcore Outfits
90s Kidcore Outfits
The majority of Kidcore's aesthetic stems from the nostalgia of the '90s. Some of the biggest influences of the era include TV shows and toys that many grew up with, including Beanie Babies, Mattel, Hasbro, Lisa Frank, and many more. While some TV shows such as Looney Tunes and Sesame Street began as early as the '30s, they still contribute and play a major role in the style. This is thanks to the commonly used primary colors (red, blue, and yellow), which you can incorporate into your daily ensemble. To rock this trend, opt for color-blocking the three shades with staple pieces like jeans or overalls. Stick to stripes, bold patterns, or anything that makes you think of your childhood, but keep it bright for maximum impact.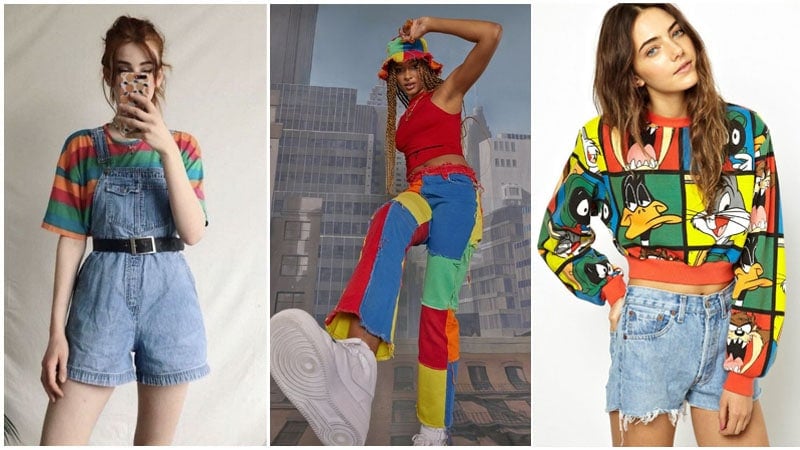 Get the Look
Pastel Kidcore Outfits
The '90s were a big time for many kids growing up. If Sesame Street and the primary colors aren't your thing, and you prefer Care Bears or My Little Pony, this sub-culture is perfect for you. Filled with pastel shades, the style is super cute and easy to replicate. Begin with soft and buttery colors, like pink, purple, or sky blue – this can be in baby tees, crop tops, oversized sweaters, or accessories. You will want to find pieces that showcase some of the nostalgic imagery on it, such as the Rugrats logo, Hello Kitty, Furbies, or whatever you enjoy most.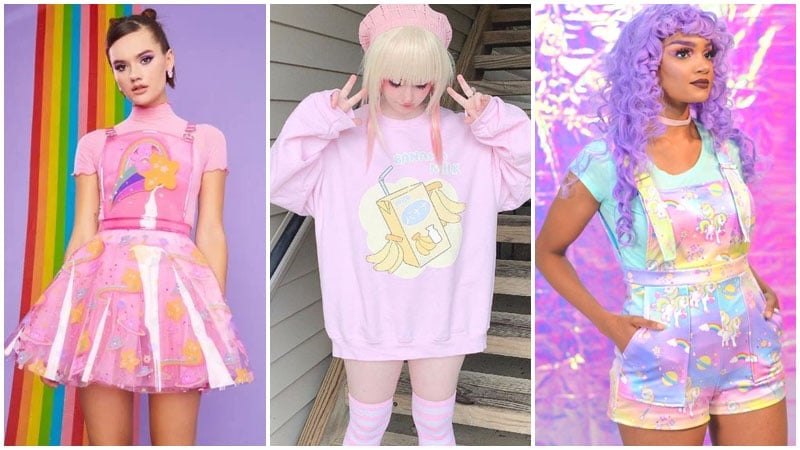 Get the Look
Vintage Kidcore Outfits
Take it back to the good old days by incorporating some Vintage Kidcore into your life. Whether you were born on this side of the century or before, there are plenty of ways you can add a retro flair to your outfit. Start by sourcing inspiration, such as The Magic School Bus – Ms. Frizzle is an excellent source, Play School, Sesame Street, or Mister Rogers' Neighborhood. Taking core colors from the era, including yellow, red and blue, start adding them into your wardrobe. Begin with bold patterns from the era you wish to emulate. For example, the 80s and 90s often feature many abstract shapes and designs, whereas the '00s feature more stripes and oversized icons. Finish the look with your favorite denim pinafore, skirt, or shorts – extra points if you find something in the same color scheme.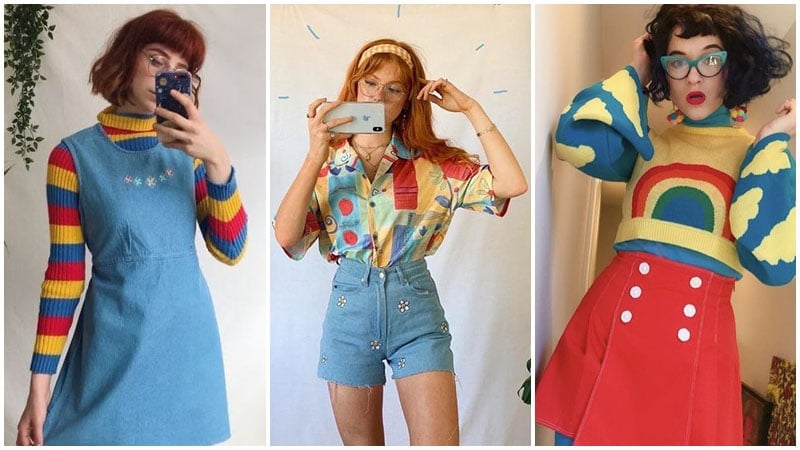 Get the Look
Cartoon Kidcore Outfits
Who didn't enjoy watching cartoons on an early Saturday morning? Bring back the feeling with a few cartoons scattered throughout your wardrobe. This trend really lets you go crazy with the prints, so if you're a major fan of The Simpsons, Mickey Mouse, Betty Boop, or even Kim Possible, you can showcase your love with pride. Mix and match the patterns over and over with a co-ordinate skirt and jacket in the '90s style. If you prefer a minimalist approach, stick to a core item of clothing, and wear neutral pieces with it.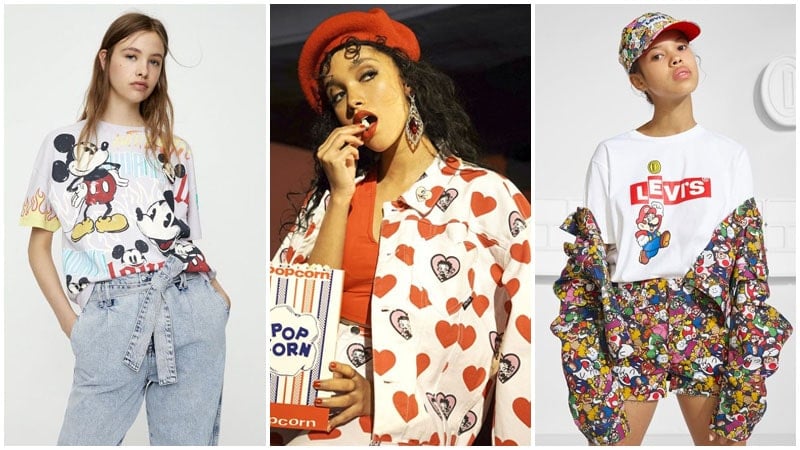 Get the Look
Japanese Kidcore Outfits
Better known as Decora, this aesthetic is a major trend in Japan, and we can see why. Its roots stem from the '90s, when Japanese singer, Tomoe Shinohara, popularized the style. Today, the aesthetic celebrates the maximalist style of decoration, with bright colors and loud patterns. There's no such thing as clashing patterns with this style – the more colors of the rainbow you can wear, the better. For an authentic nostalgiac experience, layer several pieces of clothing together, and complete the look with multiple cute cabochons, small resin, or acrylic beads resembling characters, animals, and flowers. There are no rules to this style; just keep it colorful and fun.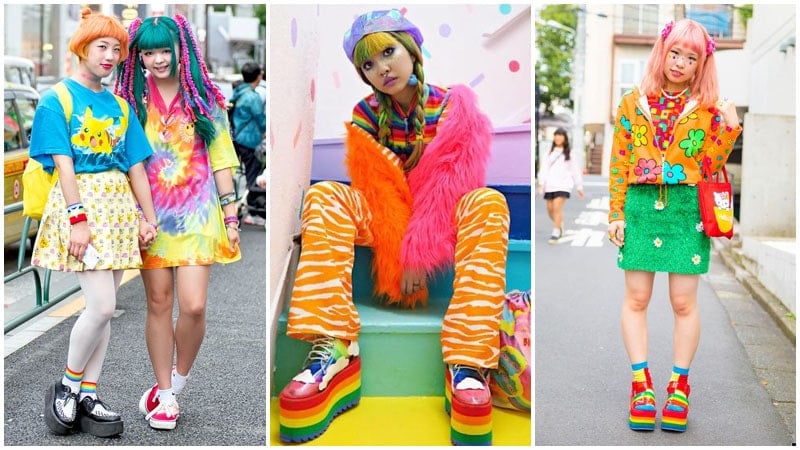 Get the Look
Floral Kidcore Outfits
Floral patterns aren't limited to just Cottagecore; it's also a great way to show off your Kidcore aesthetic. Put a casual-yet-cute spin on your favorite era by adding a few flowery motifs to your colorful ensemble. Opt for a rainbow skirt or shorts and a matching cardigan covered in petals for a fun spring day. Remember, this aesthetic is all about embracing bright shades but don't worry if you shy away from a lot of color. There are many ways to make this trend work in a casual setting – put a 90s spin on the outfit with a black tube mini skirt and some chunky black platforms. Whether it's a single daisy on your sweater or you look like a field of roses, this look is pretty as a picture.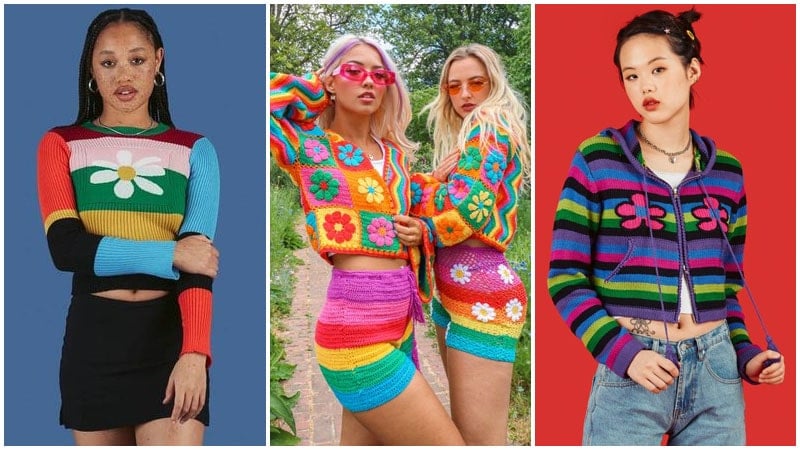 Get the Look
Rainbow Kidcore Outfits
Sometimes you've got to go big or go home. No truer words can be said about rainbow Kidcore. This trend is bright, loud, and definitely proud, making for the perfect ensemble at any event. A simple long-sleeved shirt and jeans work well for a day at the park, or you can snug up during the colder months with a color block puffer jacket. Add a white t-shirt underneath for maximum impact – adding white sneakers and accessories will keep the focus on the bold hues. You don't have a favorite color? Then this is ideal for you, as you can wear all of your preferred choices at once!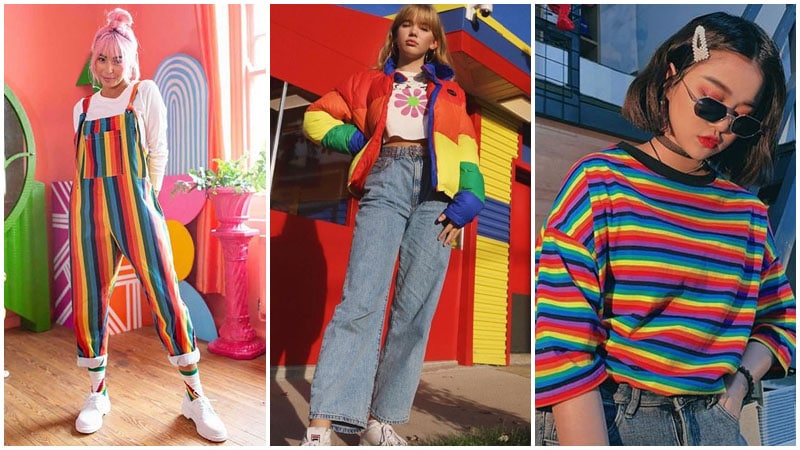 Get the Look
Kidcore Bags
Have you always wanted to carry around Sully from Monster's Inc., or imagine you were a student with Ms. Frizzle? Well, these Kidcore bags can spark your imagination and keep you feeling nostalgic, all while looking gorgeous. Designers like Moschino have celebrated the camp and kitschy items we grew up with, including bags shaped like McDonald's fries, school lunchboxes, and cartoons like Spongebob. Head to the thrift store and search for vintage backpacks and clutches that feature bright coors or your favorite characters growing up. Want a more subtle vibe? Try a simple tote with rainbow finishes – it's an easy way to showcase your Kidcore love without being too over-the-top.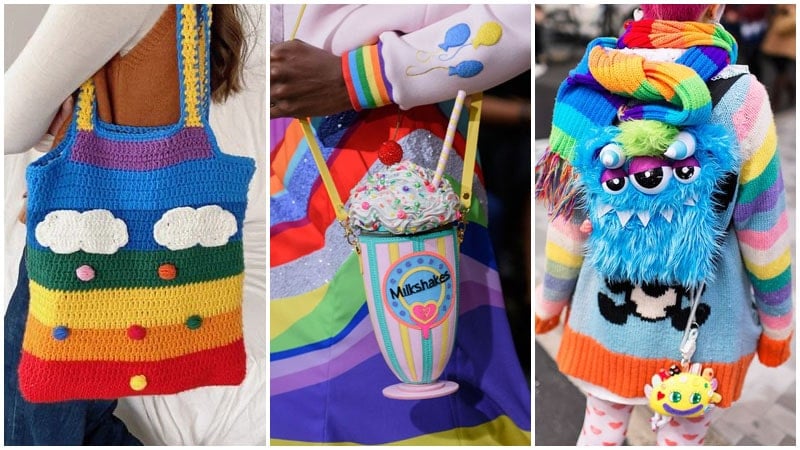 Get the Look
Kidcore Jewellery
It's time to bring back the jewelry your childhood self adored. This includes colorful earrings, layers of plastic necklaces, lots of bright colors, and 100% fun. The Kidcore aesthetic is all about nostalgia, so if you want to go all the way, why not add a few stickers, too? This aesthetic celebrates the artwork and toys around the '90s and early '00s, so mix and match different items for a multi-dimensional feel. With this trend, more is definitely more.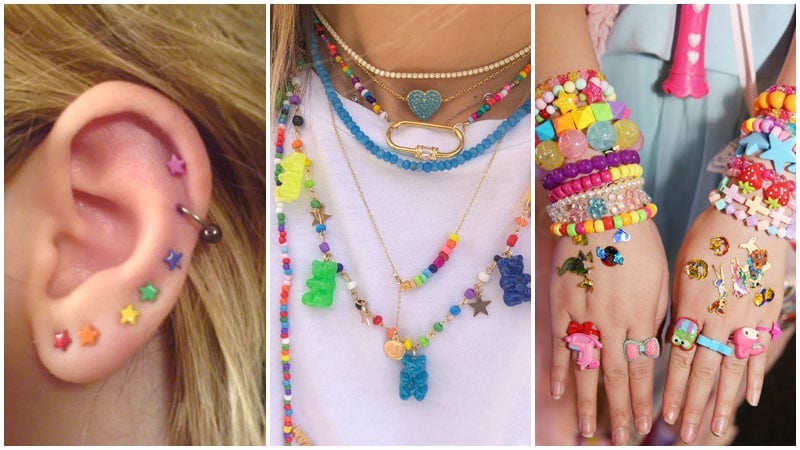 Get the Look
Kidcore Shoes
Bright, colorful, and deeply nostalgic, Kidcore romanticizes childhood in the '90s and '00s. Kids often wear loud and bold shoes to match their energetic personalities – the same goes with this trend. From Ferragamo-inspired rainbow platforms to a classic pair of Comverse high-tops, there are plenty of ways to add color to your outfit. Even at home, you can make a statement with your footwear. Try a pair of fluffy rainbow slippers- you'll keep your toes warm and your ensemble hot.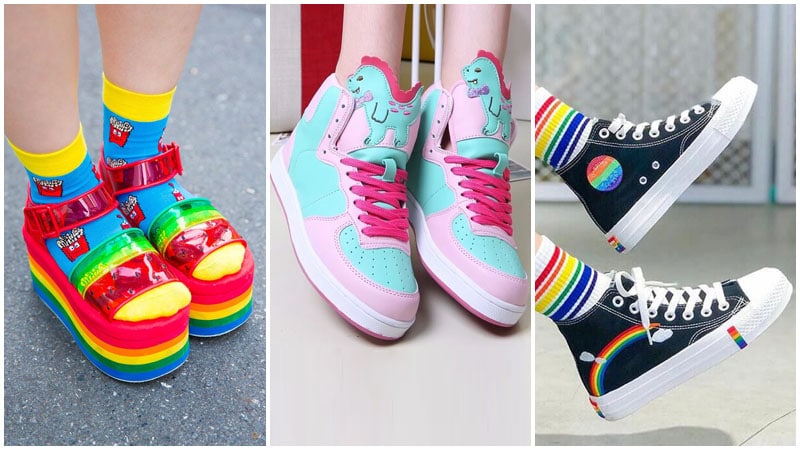 Get the Look
FAQs
Is Kidcore popular?
Kidcore is very popular right now, thanks to platforms like TikTok and Instagram. Searches like 'smiley face nails' and 'butterfly eye makeup' on Pinterest have increased nine-fold and six-fold, respectively. The trend has increased in popularity on TikTok and Instagram, and Google searches for 'Kidcore' have more than doubled in 12 months.
What is the rainbow aesthetic called?
The rainbow aesthetic is called Rainbowcore. While it is similar to Kidcore and nostalgia-inspired aesthetic, it is different in its inspiration. This style focuses on bright colors, mainly of the rainbow, but can also highlight a single shade.
What is Babycore aesthetic?
Babycore aesthetic is the romanticization of childlike innocence. This includes pastel colors, soft shades, and leans more towards the gentle side of childhood, as opposed to Kidcore. Many styles from this aesthetic include Japanese cartoons, light colors, and infant and toddler-related designs.
SUBSCRIBE TO OUR NEWSLETTER
Subscribe to our mailing list and get interesting stuff and updates to your email inbox.