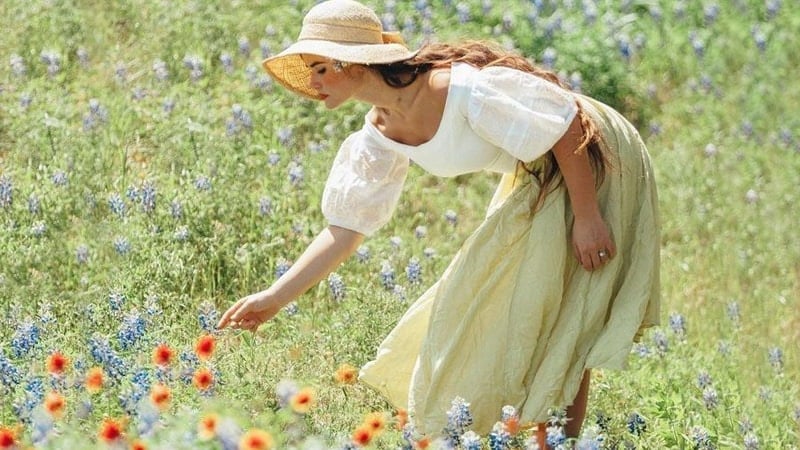 There's nothing better than enjoying a sunny day in the garden, reading a book, sewing, or baking bread. This TikTok trend is the modern interpretation of simple living in the European countryside. With its inspiration stemming back to the 18th century, this delicate and hyper-feminine style has become one of the most popular aesthetics of today. It features a naturalistic color palette, citing much of its fashion inspiration from the Regency and Edwardian periods, especially in its fabrics and silhouettes. However, it's not completely without its criticisms. Some reprove its rose-tinted view of farm life, eurocentric style, and romanticization of colonial times. Today it's embraced by the queer community and remains a popular choice for many young adults. Whether you love Miranda's style in Picnic at Hanging Rock or wish to recreate Alice's life in Wonderland, you can emulate the style easily. Here's our essential guide for embracing the cottagecore aesthetic for ladies who love nature.
What is Cottagecore?
Cottagecore fashion resembles a combination of 18th century, Victorian, and early 20th century elements. This includes soft muslin dresses from the late 18th century, leg of mutton sleeves from the Edwardian era, and art nouveau finishes. A crucial element of this aesthetic is its desired location, namely on a farm or in the English or French countryside. The yearning to be in an all-natural and self-sufficient surrounding inspires the clothes to be delicate, flowing, and simple. This goes for the color palette, too – you'll often find faded shades, soft gingham, or creams. Essentially, you want to look as is if you've stepped out of a John Constable painting.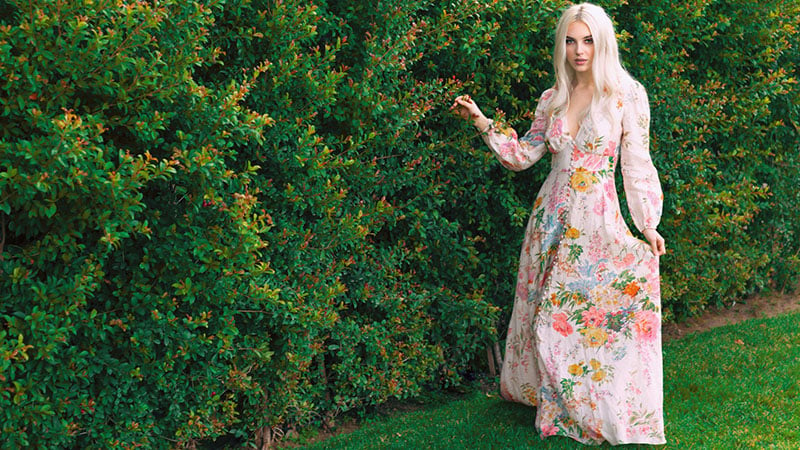 How do you dress Cottagecore?
This aesthetic embraces natural fibers, colors, and patterns, to give the impression that you live in the European countryside. Choose dresses, skirts, and blouses in light shades like eggshell, posy, or champagne, with either lace, muslin, or faded fabrics. Popular choices for the cooler months include gingham – you can try darker shades like khaki, umber, or steel, which look great with a puff sleeve blouse. Choose a straw hat when you're outside, and add a ribbon for an early 20th-century feel. Add some Mary Jane shoes or Victorian boots and keep your makeup fresh and natural for a final touch.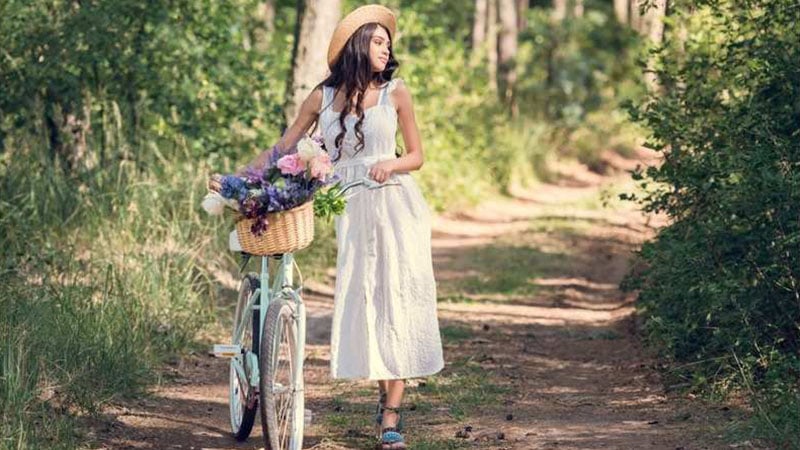 Cottagecore Outfits
1. Flowy Dresses
Longer and loose-fitting dresses are a staple of the cottagecore aesthetic. Soft and delicate, they are reminiscent of the romanticization of the Regency, Victorian, and Art Nouveau periods. This includes neutral shades, cinched-in waists, flowing silhouettes, and dainty patterns. Depending on your aesthetic, you may wish to emulate a faerie from the early 20th century – try a champagne or porcelain tulle gown with puff sleeves and a full skirt to encapsulate a forest feeling. If the 1975 film, Picnic at Hanging Rock, is more your style, opt for a simple white dress with a high neckline and mutton sleeves. Add a satin or leather belt to your waist and dark shoes for an authentic touch, or swap them out for a cute pair of mules. Whether you're reading a novel among sunflowers or baking up a storm, you will look the part.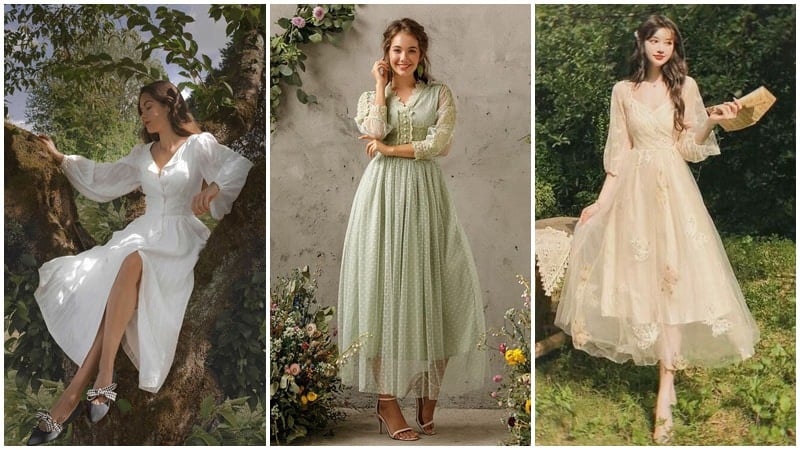 Get the Look
2. Maxi Skirts
A more casual alternative to the flowy dress is a maxi skirt. Its versatility allows you to swap different blouses for various events, seasons, and personal tastes. Cottagecore will typically feature white or cream skirts that hit below the knee to the ankle – in summer, you can add a neutral cropped blouse or wrap top to maintain the overall aesthetic. Of course, you can always step outside the box and choose a pastel or neutral color, such as rose or sage. They work well with a myriad of shades and can be worn almost anywhere. Finish the look with Mary Janes, Victorian lace-up boots, or a pair of delicate flats – it's the perfect finishing touch to a lovely ensemble.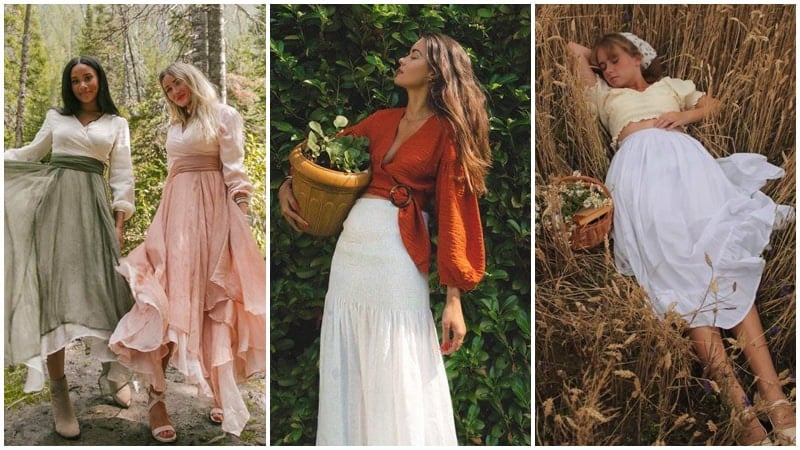 Get the Look
3. Natural Tones
To capture the aesthetic to its truest form, you should make sure you feature clothing that is faded or neutral in color. As this aesthetic centers around the romanticization of living on a farm or in the countryside, you'll want to appear as if you have spent hours in the sun, sewing and remaining self-sufficient, all while looking stunning, of course. Soft shades like butter yellow, sage green, powder blue, or rose-pink are the most common and often feature alongside white and eggshell. Mix and match hues together for a more authentic feel, and keep the fibers as natural as possible for a more sustainable and genuine impression.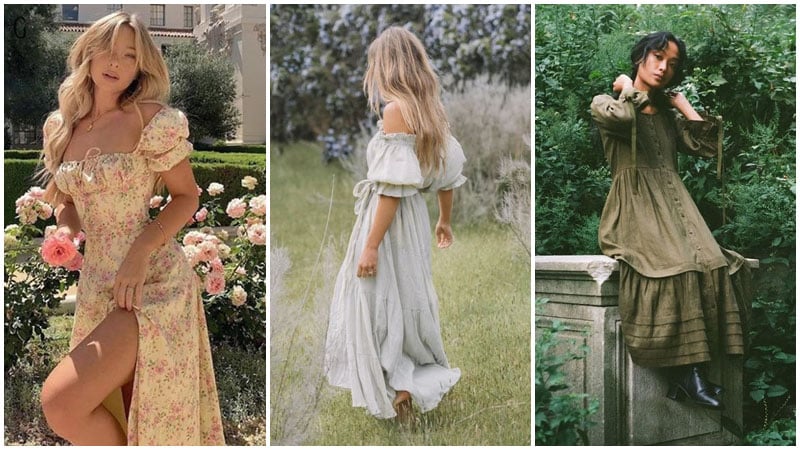 Get the Look
4. Floral Prints
It should come as no surprise that floral patterns are an essential part of this aesthetic. With many of its elements stemming from the outdoors, wearing flowing dresses, skirts, and blouses with a delicate and natural finish is sure to impress. From the 18th to 20th centuries, the size of these patterns was small and scattered somewhat evenly across the fabric, thus creating an overall impression of being sprinkled in petals. Today, you can find modern interpretations of the fabrics in pieces that will look perfect at brunch, at a picnic, or as you try a new recipe.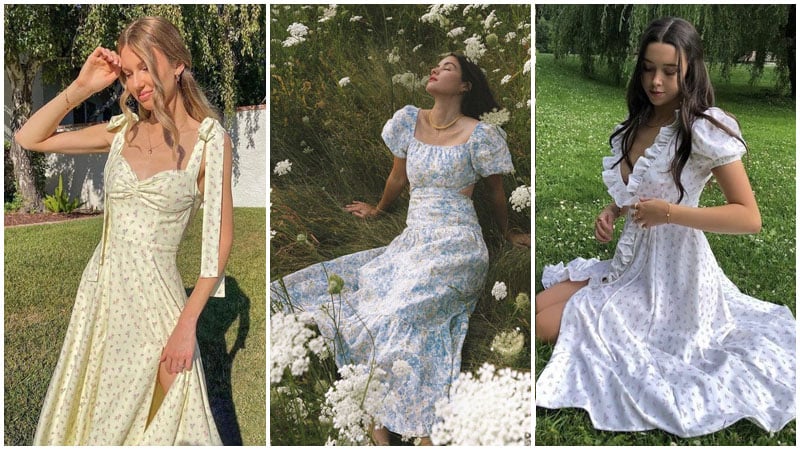 Get the Look
5. Lace Details
While lace has been present in the fashion world for over 500 years, it wasn't until the early 19th century that it became popular among the masses, thanks to the Leavers loom. This aesthetic takes the delicate fabric and puts a modern spin on it, adding long sleeves, high necklines, and hems of dresses to create a soft and feminine feel. Add a champagne layer of lace to a white or cream dress for extra dimension – butter yellow and powder blue also look phenomenal. Keep your accessories light – add a pair of earrings or a ring – so you don't distract from the beautiful details on the dress.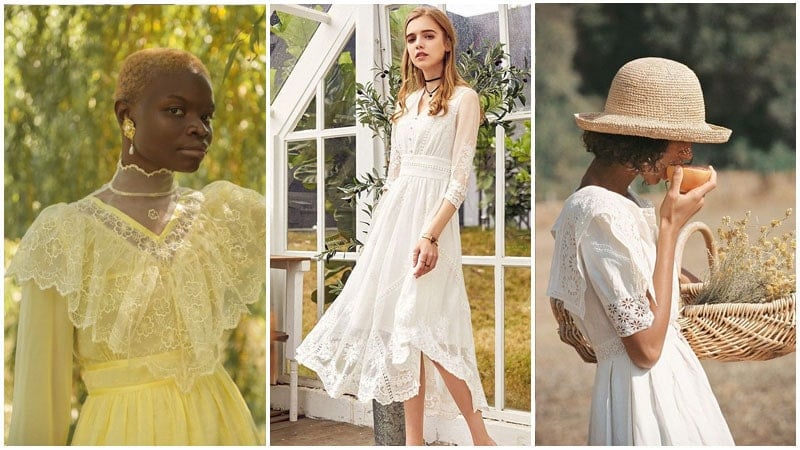 Get the Look
6. Gingham
One of the popular sides of this aesthetic is the idea of living off the land or owning a farm. With the natural and agricultural feel to Cottagecore, wearing fabric like gingham will complement the lifestyle well. It's versatile and flattering – it works well as a dress, skirt, or blouse. Tying somewhat into the Dark Academia aesthetic, tap into the early 20th-century uniform style with a checked pinafore, a cream blouse, and stockings. Alternatively, try a smock dress with oversized sleeves and a tie-waist for a floaty and laidback impression. Finish the look with ankle boots or Mary Janes, and keep your makeup very natural.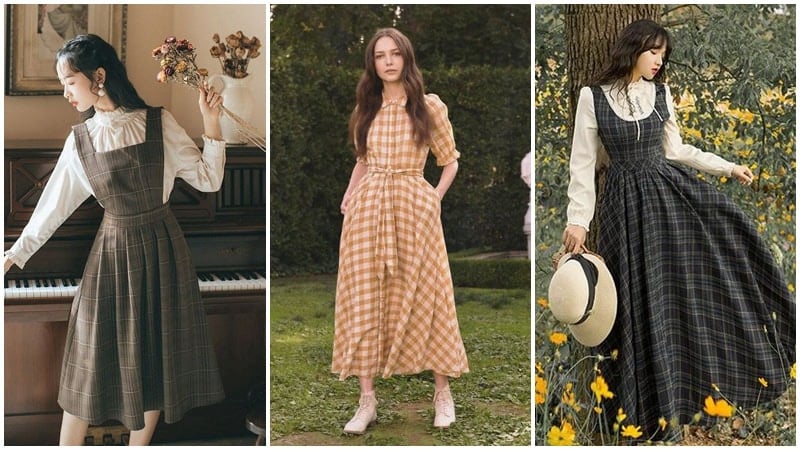 Get the Look
7. Puff Sleeve Blouses
Harking back to the early 19th century, the leg of mutton sleeve has transformed into a staple of the Cottagecore aesthetic. Also known as a gigot, its puff shape creates a soft and delicate silhouette and looks beautiful with a maxi skirt or a pinafore dress. Keep the colors light on the top, with eggshell, white, or gray shades. Linen or cotton shirts often keep their shape best and breathe easily in the sun.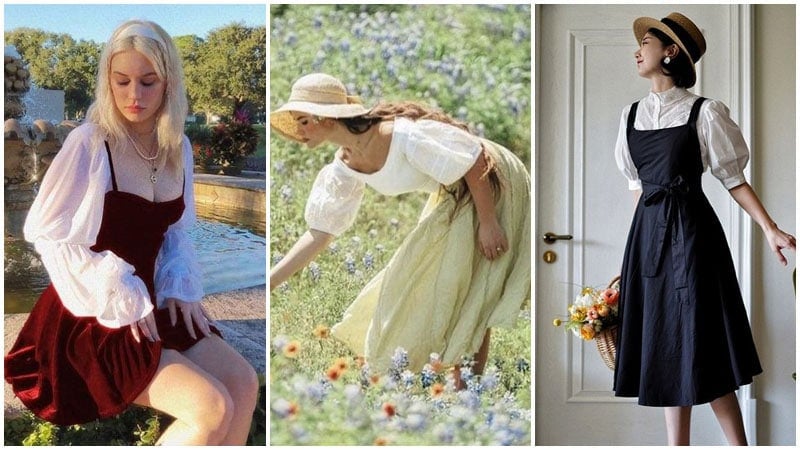 Get the Look
8. Overalls, Jumpsuits, and Playsuits
When moving around the garden, optimum flexibility is preferred. You can spend your time in the veggie patch or reading a book in a cute and comfortable jumpsuit. These dungarees cover the body and allow for a beautiful shirt to be worn underneath. Crocheted playsuit with a pinafore front, full-length trousers in linen or cotton all look wonderful with a light blouse. Add a straw hat when you're outside, or keep the finishings natural with a delicate scarf or flowers in your hair. This item of clothing is ideal for most seasons of the year, as you can dress it up or down depending on the temperature and event.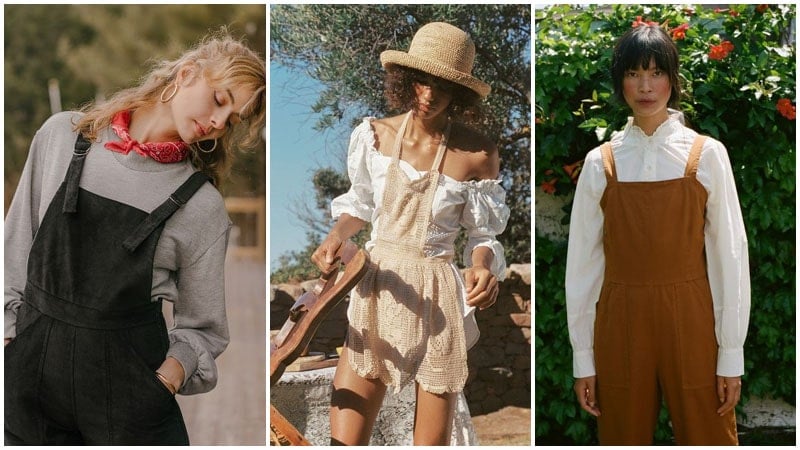 Get the Look
9. Straw Hats
Protect your precious skin from the harsh rays as you pick strawberries or gather wildflowers – a straw hat is a perfect companion. With its structured silhouettes and natural materials, you can style them with a white floral gown, muslin skirt, or linen playsuit and feel as fresh as a daisy. Add an oversized ribbon to tie it under your chin, and let the fabric flow in the wind. There are plenty of styles to choose from, so try them all to find the one that suits your face shape. The most common colors include white, brown, or tan, as they match almost everything.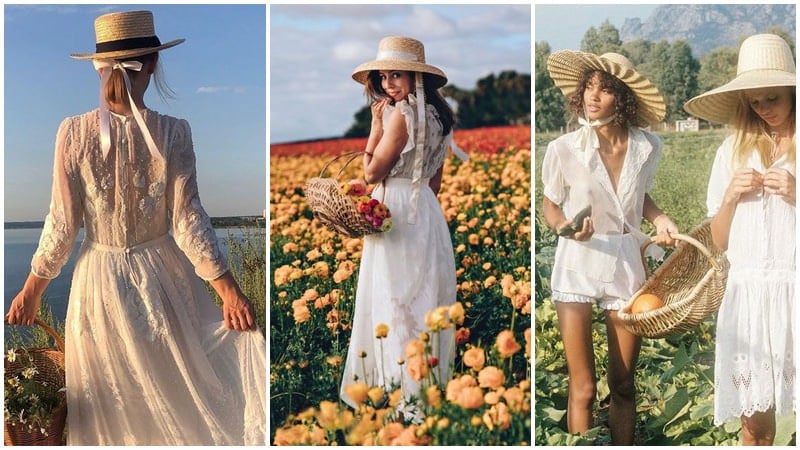 Get the Look
10. Handmade accessories
A crucial step to achieving this aesthetic is creating things by hand. Whether this is baking, creating a daisy crown, or making jewelry, you can shine a spotlight on handmade things in your style, too. Wear hand-crafted pins or brooches, earrings, or necklaces – you can visit markets and thrift stores for unique items. Use scraps of your favorite fabrics to make a kerchief or headscarf. The most popular colors and patterns are cream, faded brown, or blue, with hand embroidery, florals, or lace. The crafted pieces will elevate your look and give a more genuine feel.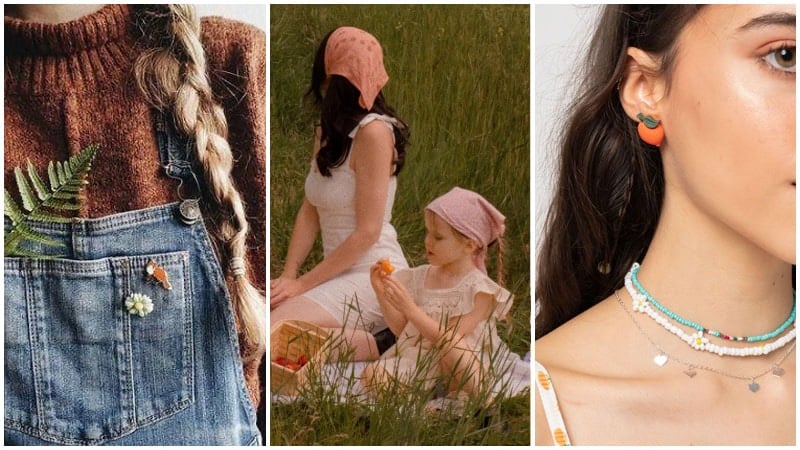 Get the Look
FAQs
Is Cottagecore still in style?
The cottagecore aesthetic is not a new style. Its inspirations go back to the 18th century and have cherry-picked a few pieces from each century since to flesh out the overall style. When TikTok began increasing in popularity in 2020, cottagecore turned into one of the most prominent aesthetics and remained one to this day. In the same year, Taylor Swift released a new album, Folklore, which highlight the aesthetic and cemented it to stay.
How do you look Cottagecore?
Start by identifying the key elements to the aesthetic. Cottagecore embraces a Jane Austen aesthetic, which includes empire waistlines, puff sleeves, and flowing dresses. It also pieces in pieces from the Edwardian era, the Art Nouveau movement of the early 20th century, and the idea of living in the countryside. When choosing clothes, opt for light fabrics in faded colors and patterns for a lived-in impression, and keep the embellishments to a minimum. Typically, someone who embraces the aesthetic will bake bread, read poetry under a tree, or tending to their garden.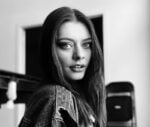 Alexandra Feiam is an experienced fashion writer who holds a degree in journalism. She has an impressive portfolio and expertise working as the Editor at Power Retail and Commercial Content Editor at Newscorp. Ally has been writing for The TrendSpotter since 2018, and her work has been featured in notable publications such as The Herald Sun, Arirang TV South Korea, Kidspot, The House of Wellness, and The Daily Telegraph.
SUBSCRIBE TO OUR NEWSLETTER
Subscribe to our mailing list and get interesting stuff and updates to your email inbox.