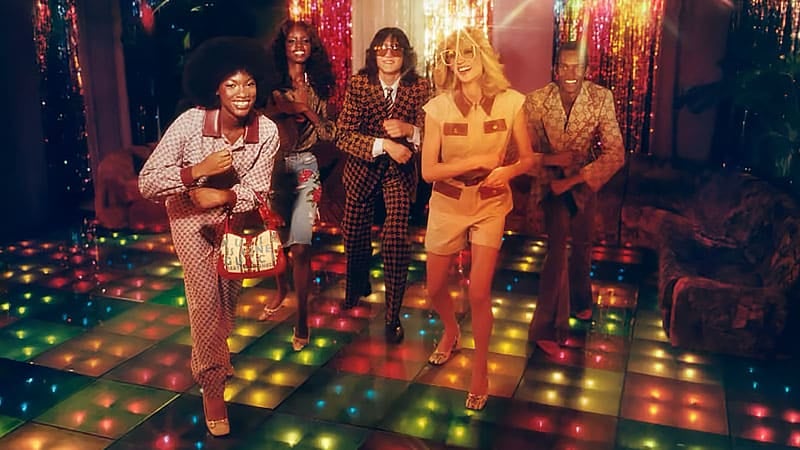 There was no other era that changed the world like the 70s. While you may think of disco as a specific genre, it was actually a melting pot of gender norms, styles, and genres. Places like Studio 54 were exclusive for cool people, but it also welcomed everyone that didn't quite fit in. From hippies to rockstars, celebrities, and fashion was the place to be to feel free and dance. If you are attending a party celebrating the 70s and have no idea where to start, you're in luck. In this guide, we show you what to wear to a 70s party so you feel like you belong in the era.
Female 70s Themed Party Outfits
Studio 54
If there's one theme that most think of with the 70s, it's quintessential disco. The fun, bright and loud genre is the ultimate concept for a costume – all you need is a few simple elements. Channel your inner Studio 54 with a silver jumpsuit, a pair of flared trousers, and a crop top. If a dress is more up your alley, opt for a wrap silhouette a la DVF or a long, flowing halter neck gown inspired by Halston. Add a set of platform heels and large hoop earrings, and you'll be ready to tear up the dance floor in no time.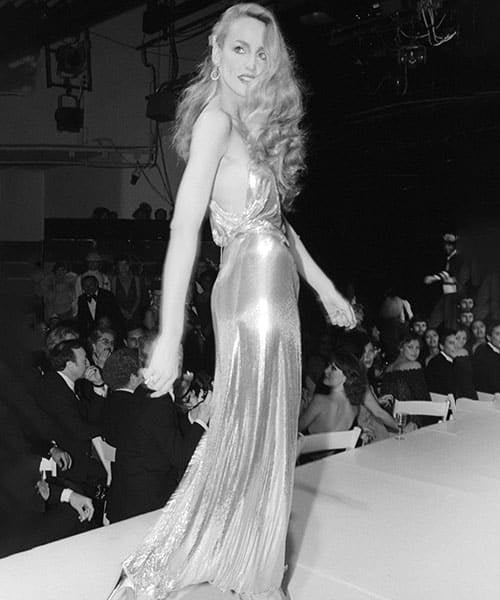 Get the Look
70s Flower Power
The tail end of the '60s saw the hippie movement's rise, which exploded in the '70s. With tie-dye fabric, long hair, flared trousers, and peace symbols, this is the perfect choice if you love dressing for comfort and color. To rock the look, stick to paisley patterns, bright hues, and layers of beaded jewelry. Orange, turquoise, yellow, and purple were the shades of choice, but feel free to play around with the entire rainbow – it's all about self-expression.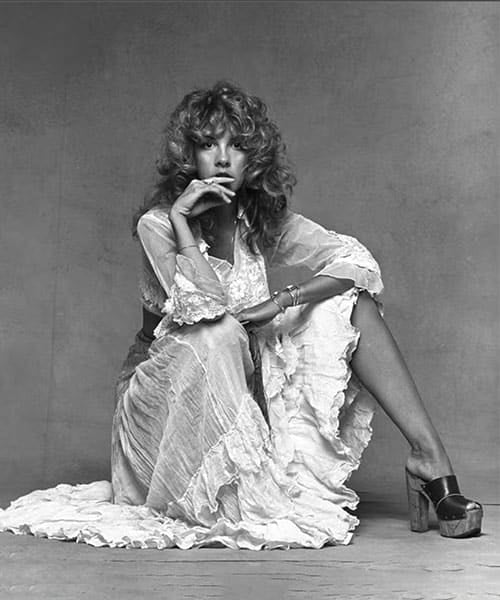 Get the Look
70s Rock Chick
Whether it's Siouxsie Sioux or Stevie Nicks, the '70s rockstar is the perfect way to emulate the decade. With a mixture of leather, suede, and plenty of flowing fabrics, this style is flattering and perfect for any occasion. Start with a leather jacket and a pair of high-waisted bell-bottom jeans to create the look. You can wear a printed t-shirt, or something ruffled if you want extra drama, or go completely bare underneath for something edgier. If you don't want to wear a leather jacket, swap it out for a long-sleeved coat with fur trim or a feather boa around your neck. No rockstar look would be complete without a microphone or a guitar, and add a slick set of oversized shades to complete the look.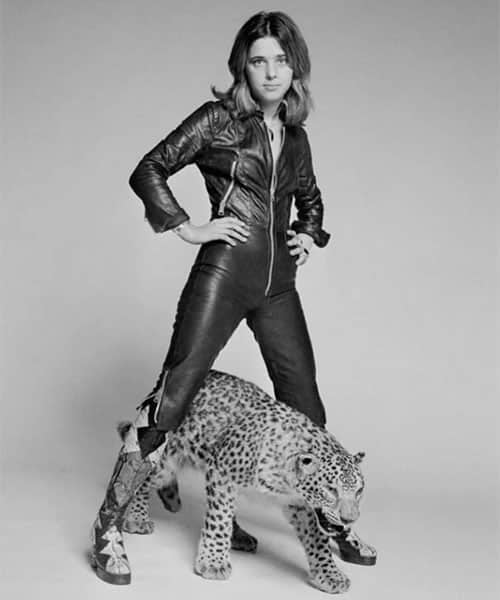 Get the Look
70s Skater Girl
Skateboards were huge in the '70s, and many stars like Farrah Fawcett-Majors championed the style that accompanied it. Typically, women wore tiny sports shorts and a t-shirt to go skating, but you can amp it up with a pair of flared trousers or denim cut-offs for something with more coverage. Add a pair of knee-high socks and knee pads to give the look a bit of authenticity, and wear your favorite white sneakers. The most popular shades in this era were red, white, and yellow, so try incorporating them into your look to capture the decade effortlessly.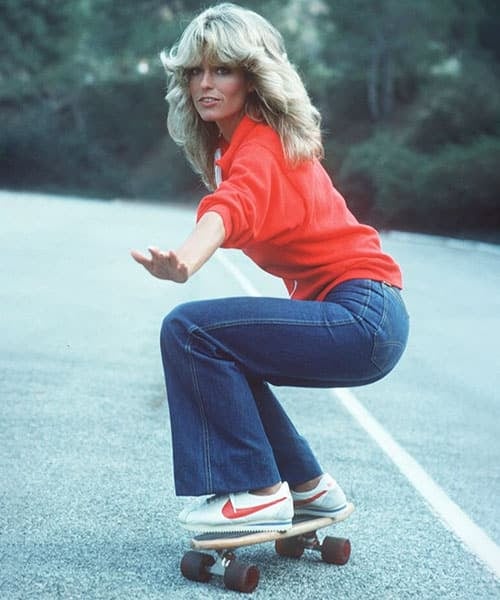 Get the Look
70s Fashion Superstar
No one delivered glamour quite like Bob Mackie in the '70s. From Cher to Diana Ross, the fashion superstar was the epitome of sophistication in the era, and it's easy to recreate today. It was all about glitter and fringe in this decade, with layers of long and flowing sparkles dangling off the body. Skin-hugging dresses in gold, silver, purple, and red were the rage – thrift stores will often have vintage garments that you can rework to fit your body. Keep your makeup natural, and wear sky-high heels to accentuate your gorgeous figure.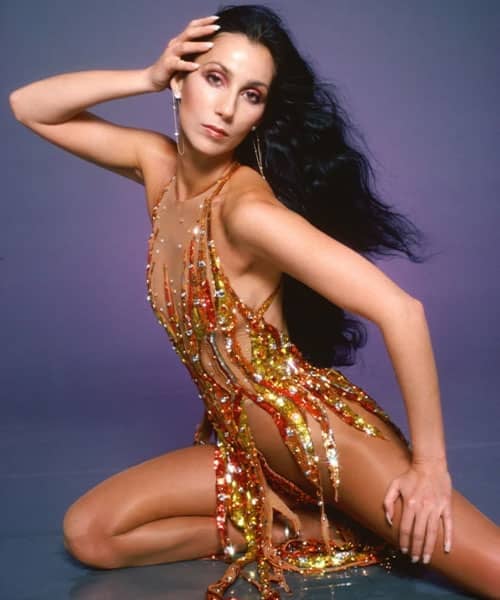 Get the Look
70s Power Suit
If you're an independent woman who wants to show the world what she's got, you can't go past the '70s power suit. With sharp and oversized lapels, this era-defining outfit highlights a tiny waist and accentuates curves perfectly. Forgo the dark shades like black and gray and head straight for something bold like blue or orange. A matching blazer and bell bottom is incomplete without a set of chunky platform shoes and a pussy-bow shirt underneath the jacket. Turn to the likes of Bianca Jagger for inspiration, and you'll be serving executive realness in a flash.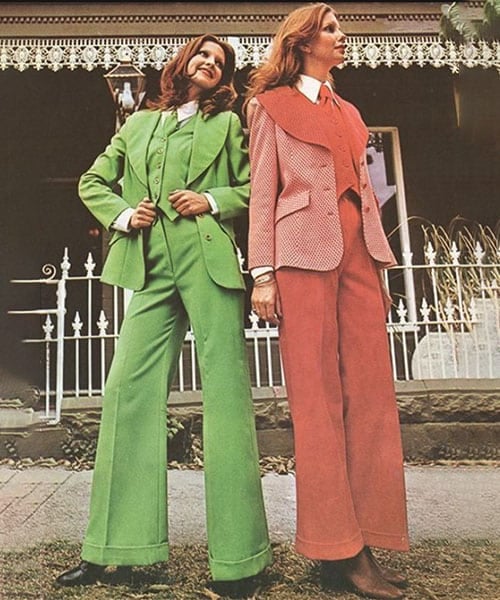 Get the Look
70s Crochet Cutie
Crochet was a huge trend in the '70s, and it's easy to see why. The knitted fabric is versatile and comfortable, plus it comes in so many styles that you can find something that suits you perfectly. While you'll likely find twin sets in the funky material today, back in the '70s, it was all about shift dresses, long sleeves, and matching accessories. Stick to shades like green, orange, and yellow for an authentic feeling, and don't be afraid to go all out with a matching hat and bag. Bonus points if you make something yourself from a vintage pattern book!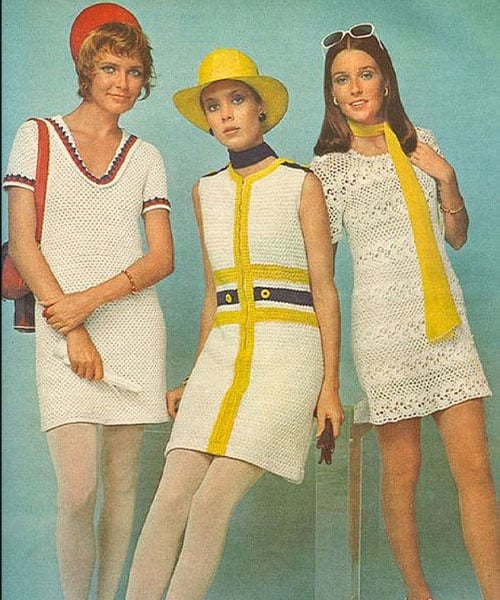 Get the Look
70s Movie Star
From Raquel Welch to Goldie Hawn and everyone in between, the '70s movie star was the ultimate representation of Hollywood glamour. This era was all about big and bouncy hair, showing off your assets and natural beauty. Find a low-cut house with balloon sleeves and a slim maxi skirt. Add a pair of platform heels or boots, and keep your makeup minimal. Large hoop earrings look fantastic with all hairstyles, whether you lean towards a feathered blowout or an Afro reminiscent of the Blaxploitation era. Whatever you choose, make sure you find your perfect angle and give everyone your autograph!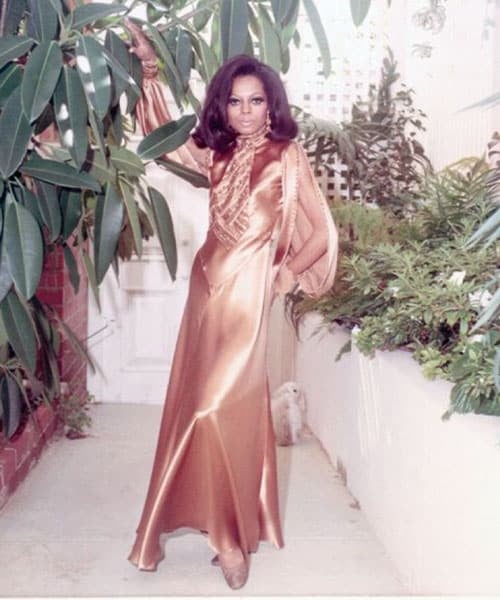 Get the Look
70s Jumpsuits
The '70s were famous for a lot of experimental fashion choices, one of which was the jumpsuit. An entire outfit in one simple garment, this bold and courageous ensemble is sexy and perfect for a party. The most popular styles were cut close to the body to show off your curves, usually with a plunging neckline and flared trouser legs. Popular colors were blue, orange, red, green, and white. Wear them with platforms or open-toed sandals for an authentic feel. Since the silhouette is so extravagant, you don't have to go all out with the accessories – let the outfit do the talking.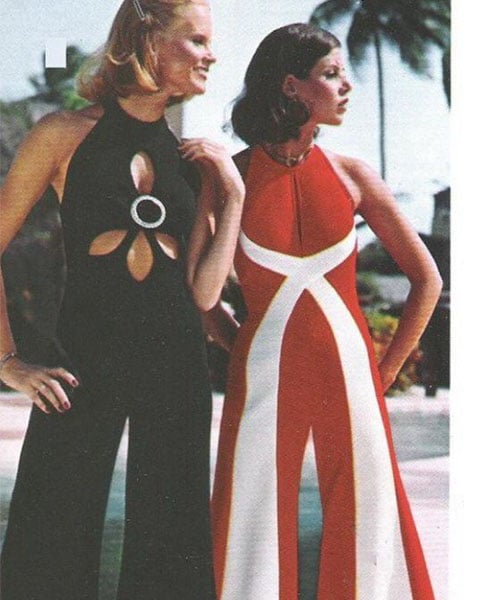 Get the Look
70s Color Blocking
The '70s love experimenting with color, and if you don't know which one to choose, why not throw them all together? Elements of the '60s were found in the early stages of the era, with shift dresses in bold patterns being one of the biggest trends. Pair the look with colorful tights and low heels, and throw in a bright belt to break up the shades. If pants are more your thing, you can't go past a palazzo silhouette with a roll neck or a button-down with platform heels and a vibrant necklace. Make sure the hem hits the ground so you can create the illusion of long legs and a flawless figure.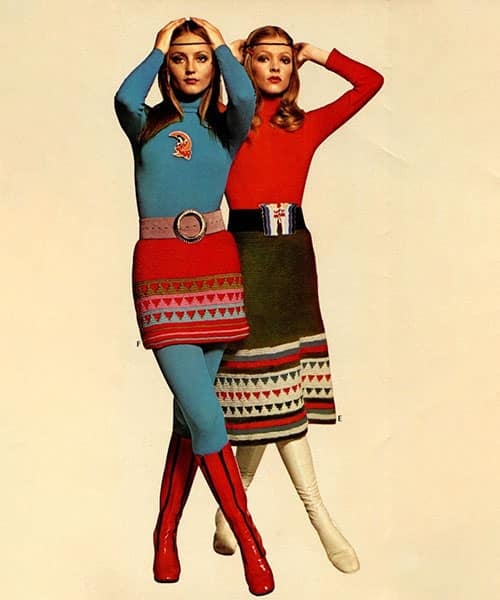 Get the Look
Male 70s Themed Party Outfits
70s Disco
John Travolta in Saturday Night Fever set a precedent for the disco era. Catapulted in the '70s, this trend is all about tight pants, loose and unbuttoned shirts, and platform shoes. Don't worry about showing off too much skin – that's what defined the decade. Patterned trousers, gold lame shirts, and satin fabrics were all the rage, as they captured the light under the disco ball and helped create better movement while dancing. Finish the look with a curly wig and a mustache, and you'll be the dancing king all evening.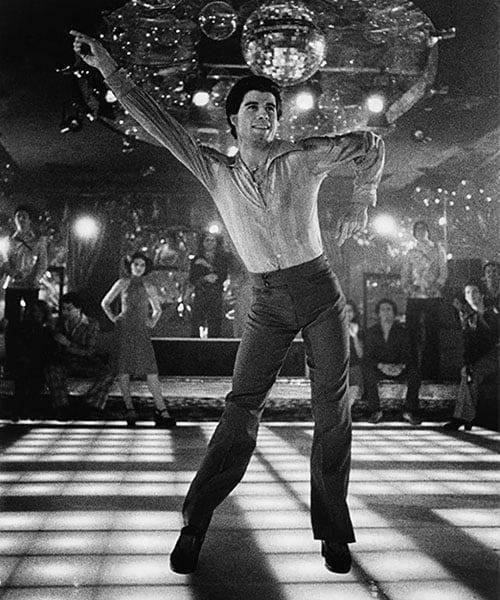 Get the Look
70s Rock Star
If you love to rock and roll all night, this is the perfect look to try. Rockstars in the '70s were all about showing skin, experimenting with gender, and redefining stereotypes. Sheer shirts with floral decorations, tight leather pants, fur jackets, and giant platform heels may not sound like typical rockstar attire, but in the '70s, it was part of the uniform. Head to the thrift store and find clothes that would typically be reserved for women, and give them a try. Mix up colors like purple, orange, blue, and pink, and if it's covered in rhinestones – even better! Your go-to inspirations for this era include Mick Jagger, Marc Bolan, David Bowie, Jimi Hendrix, and of course, KISS.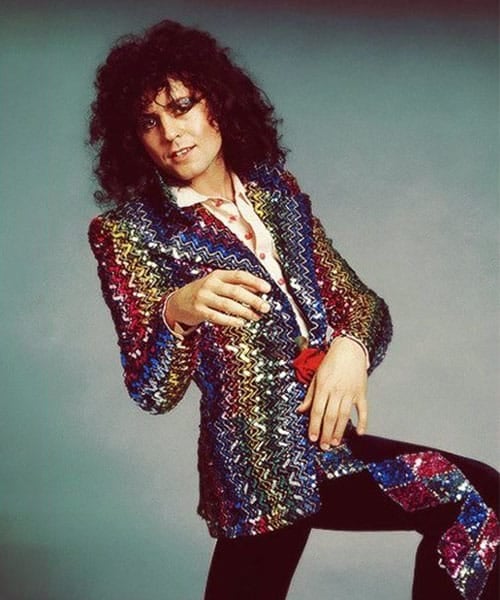 Get the Look
70s Hippie
Coming off the back of Woodstock in 1969, the '70s embraced the free love movement with hippies. All about long hair and flowing garments, the decade rediscovered the elements of freedom and fashion. Create the look with a pair of wide-leg jeans, a long-line shirt or button-down in a paisley fabric, and openly of beaded jewelry. You don't have to wear a lot of fancy shoes or accessories for this outfit. In fact, it's better if you forgo footwear completely. Brush out your hair or wear a long wig, and don't be afraid to add some scruffy facial hair. It's all about feeling the love and letting go of beauty standards, so get relaxed and feel empowered in your own skin.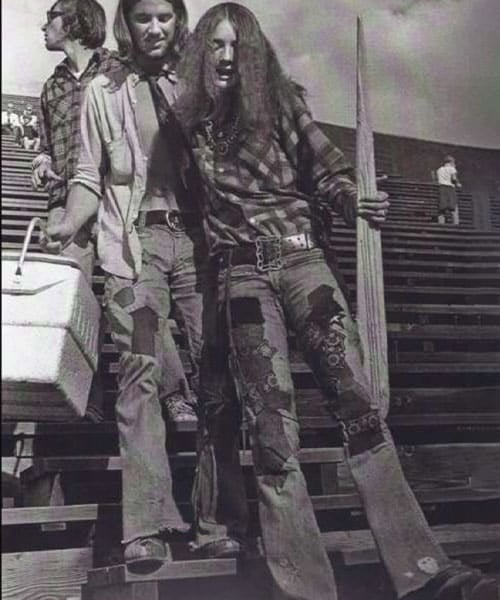 Get the Look
70s Bell Bottoms
The '70s completely redefined the idea of gender norms, and this was apparent with the love of bell bottoms for men. Tight at the top and extremely flared at the bottom, this fancy garment was the epitome of style in the decade. Worn with platform shoes, sneakers, or dress shoes, these pants helped accentuate the male physique and looked great with other casual or dressy garments. Try a pair in brown, red, or orange, and add it with a patterned button-down shirt or a sweater that sits tighter to the body. Of course, you can also try them in denim or corduroy, and if you're feeling really fancy, why not opt for a fun fabric like a pinstripe, paisley, or bold squares?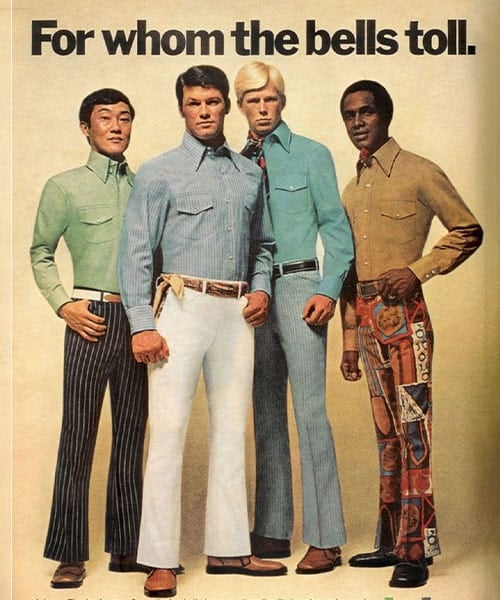 Get the Look
70s Slick Suits
Thanks to the ongoing reinterpretation of menswear in the '70s, even boring office attire was thrown out the window. It was all about playing with different blazer lengths, widening trousers, experimenting with color, and having a bit of fun. If you plan on wearing a slick suit for a '70s party, go for something with an exaggerated collar, a seam down the front of the pants, and a high-waisted cut. Add a turtleneck or pointed lapel shirt with a tripod tie and dress shoes, and you'll be ready for anything. While many think of Anchorman as the go-to for the style, you can also channel Jack Nicholson, John Travolta, and any other actor from the decade. After all, they were the blueprint.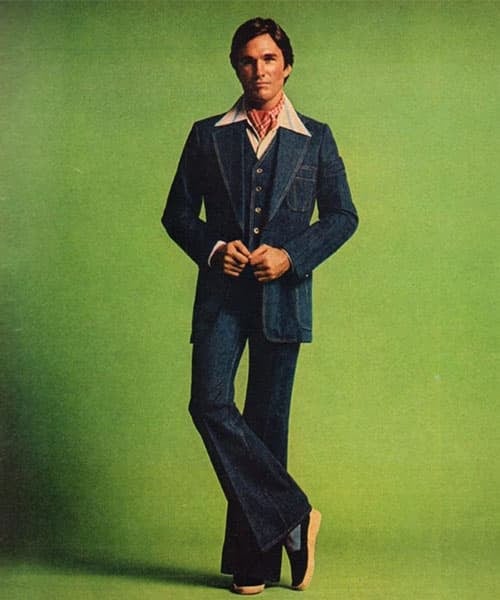 Get the Look
70s Bold Patterns
The '70s never did anything by halves, and the same can be said for their patterns. Bright, large, and in charge, the bigger the design, the better. Favored colors in this decade included brown, orange, yellow, and green, and could be interpreted through paisley, checks, swirls, and flowers. Turn to the likes of '70s interior design, such as wallpaper and textiles, and add them to your outfit. You can even find pieces from thrift stores that work perfectly with your outfit. It doesn't matter if they clash or appear out of the ordinary – that's the ultimate goal.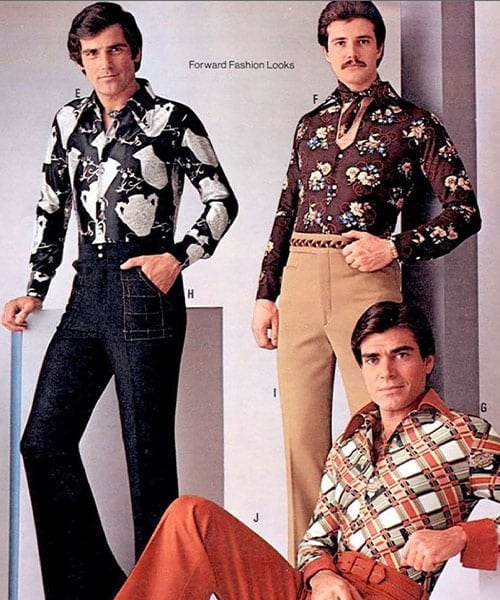 Get the Look
70s Detective
Each decade had its own detective series, but it was the '70s that helped define the genre entirely. With shows like Kojak, Hawaii Five-0, and Starsky & Hutch, there was no crime that these detectives couldn't solve. That makes them the perfect choice for a party, and the outfits are easy to recreate. The most popular outfit choices are suits, leather jackets, colorful ensembles, and plenty of patterns. Keep the shirts unbuttoned, add a wild mustache, and be sure to carry your FBI badge and a (fake) weapon of choice.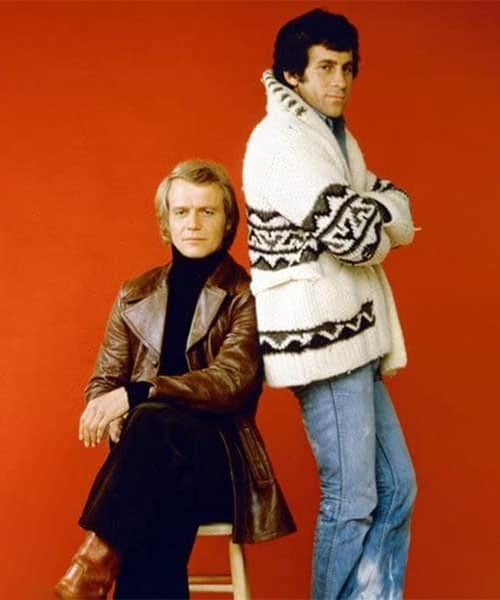 Get the Look
70s Surfer
Even though beach parties peaked in the '60s, the decade afterward was just as crazy about surfing. This era was all about loving the sand, surf, and sun, and their outfits reflected their passion. Long hair, small and colorful bathing suits, and giant surfboards were all the rage. Channel the look by sticking to the shades of the time – orange, brown, yellow, and blue. Say goodbye to long board shorts – this was all about tiny and tight designs with printed tanks. Show off your gnarliest hand sign and catch some wicked waves – you'll be the dopest dude in the room.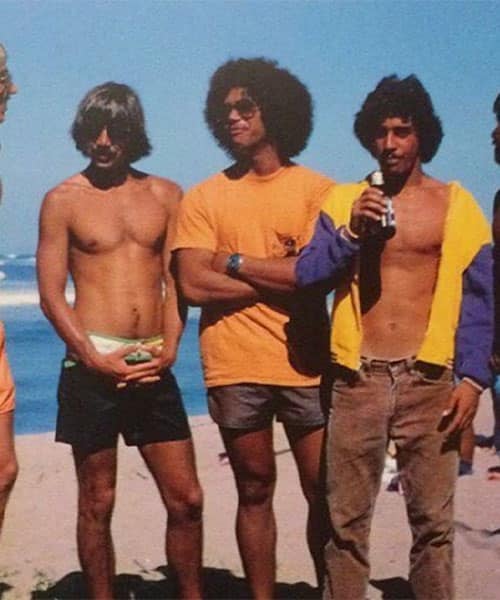 Get the Look
70s Vegas Star
Before Elvis' unfortunate death in 1977, his jumpsuits completely changed the world. The bejeweled and encrusted fabric has become the ever-lasting symbol of the decorated singer and actor, and it entirely took over the decade. His signature outfit featured a high collar, thick waist belt, and colorful crystals – although sometimes he swapped out the white fabric for something gold, black or blue. You can easily find these outfits in costume stores, but be sure that you also add a black wig with a bouffant and a pair of black Cuban heeled boots. Practice his dance moves in the mirror a few times, and you may confuse yourself for the King of Rock himself.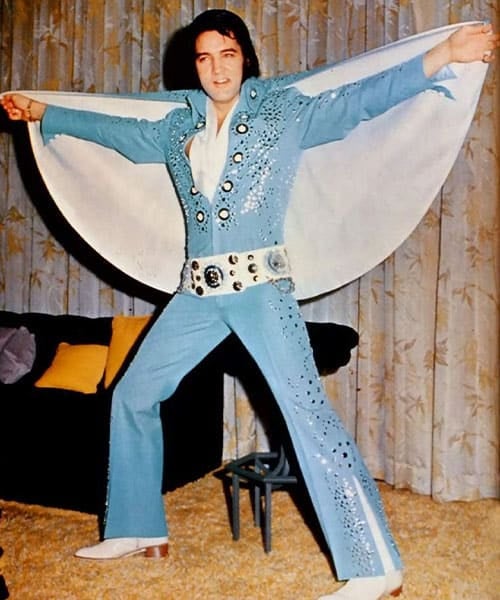 Get the Look
70s Coats and Jackets
The '70s was a mixture of hyper-masculine and gender-blended fashion. This decade loved coats, whether they were crafted from leather, fur, satin, or wool. Opt for a long silhouette that hits anywhere from the hip to the ankle, and rock it with a turtleneck underneath for an authentic feel. The best color choices are brown, red, blue, or green – they are versatile and work with a wide range of other garments that perfectly symbolize the era.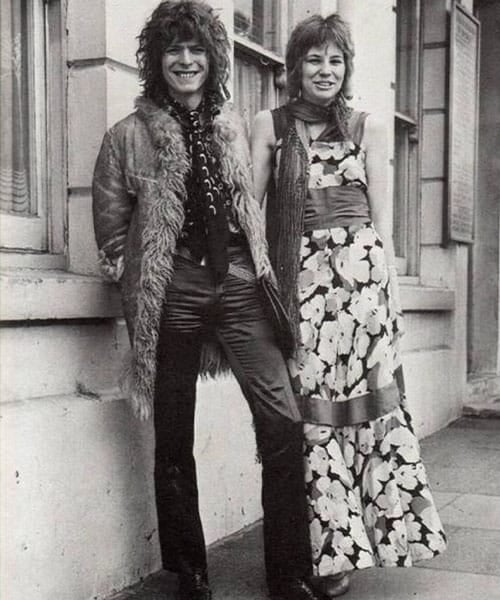 Get the Look
70s Hairstyles for Men
Hair in the '70s wasn't just a musical – it was a lifestyle. For guys, it was all about long and luscious locks – often worn as feathered layers, flicked-out ends, and plenty of volume. Guys with natural curls embraced their hair, growing it out to an Afro and feeling empowered in their own skin. Other popular choices were growing out past your shoulders and embracing the gender nonconformity nature of the decade. Of course, if you don't have this style naturally or can't wait to grow it out, throw on a curly wig or women's bob and mess it up with your fingers.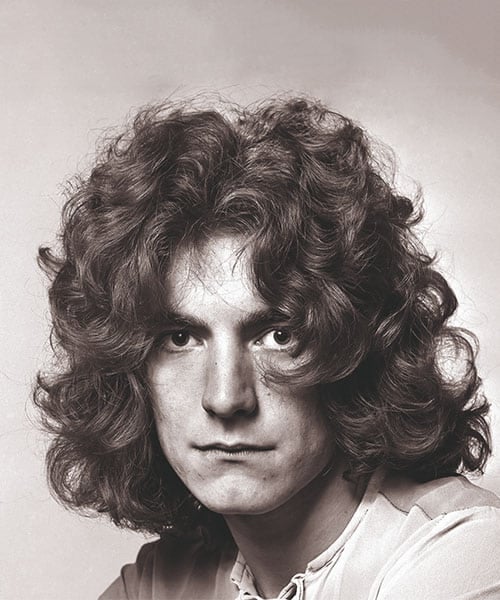 70s Hairstyles for Women
Just like men's fashion, 70s hairstyles for women were all about playing with layers and feathering. Style icons like Farrah Fawcett-Majors championed the layered technique and were the ultimate ideal for beauty. Other major players in the hair department was Cher, who wore her long poker-straight black hair effortlessly, and Beverly Johnson, who rocked voluminous waves. The Blaxploitation movement was all about embracing your natural hair, and beauties such as Diana Ross and Donna Summer fully encouraged others to rock what they were born with.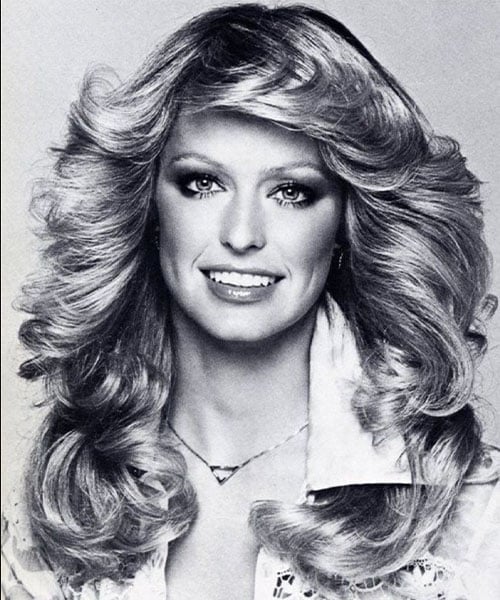 70s Jewellery and Sunglasses
Coming off the back of the mod and hippie movements of the '60s, jewelry in the '70s was all about playing with color and length. Chunky gold bangles and hoop earrings were the ultimate statement pieces for an everyday outfit, and long dangling chain necklaces were the best way to accentuate a plain ensemble. This decade saw the rise in turquoise, red, and gold colors, which warmed up the features and gave a natural edge to the vibrant decade. For eyewear, the most popular options were aviators and oversized frames. The bigger, the better. Brown lenses and tortoiseshell frames were all the rage, leaning back to the natural and free-loving spirit that the '60s championed.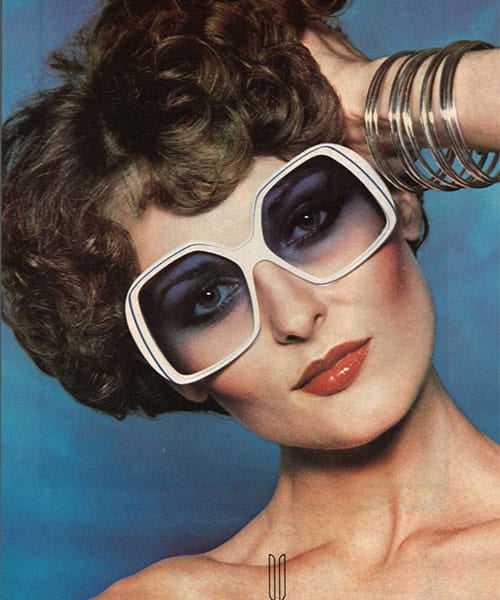 Best Places to Buy 70s Party Costumes
Finding the perfect outfit for your '70s party doesn't have to be a challenge. While you can buy replica outfits from costume stores, your local thrift store is the best place to start looking for an authentic-feeling ensemble. There you can find a wide range of vintage pieces that speak to your soul and are budget-friendly. However, if you want to find a specific outfit, look online at places like ASOS and Amazon. They will have fantastic replicas of famous outfits and celebrity looks that will guarantee a first-place trophy at your costume party.