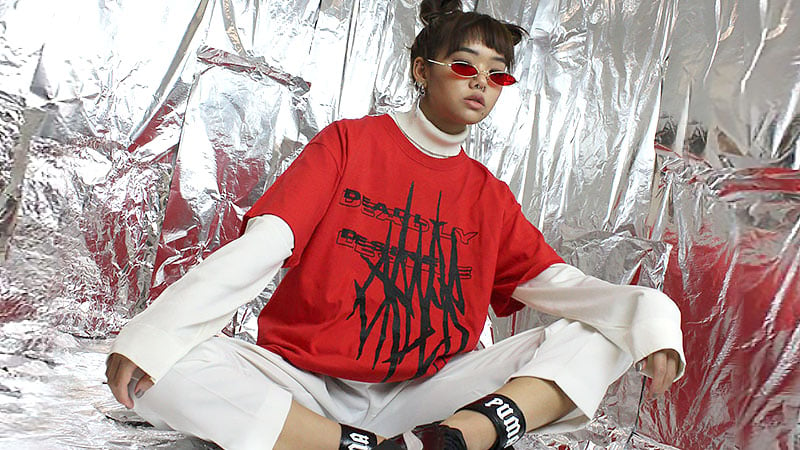 Social media has influenced many trends in the fashion world, and one of the biggest ones right now is the baddie. This aesthetic originated on Instagram and is all about attitude. These girls are laid back and chill, with a high fashion twist and a love for beauty. Whether you're heading to dinner with friends or you're doing an impromptu photoshoot for your newsfeed, you can easily replicate these outfits. When it comes to this style, it's all about how you present yourself – remember, confidence is key. Set the trends and blend high fashion and streetwear with these baddie outfits that all the cool girls are wearing right now.
What is the Baddie Aesthetic?
The Baddie aesthetic is one of the most popular trends right now. Originating from Instagram, it features soft pastel shades, oversized sweats, and chunky sneakers. The blend of strong makeup and a sporty twist gives off an effortless and sleek feel to every outfit. There are a mix and match of layers with this style, so you can showcase your legs and elongate your silhouette with an oversized tee and cycling shorts. You can dress this up and down from summer to winter and feel like the trendiest person on the 'Gram.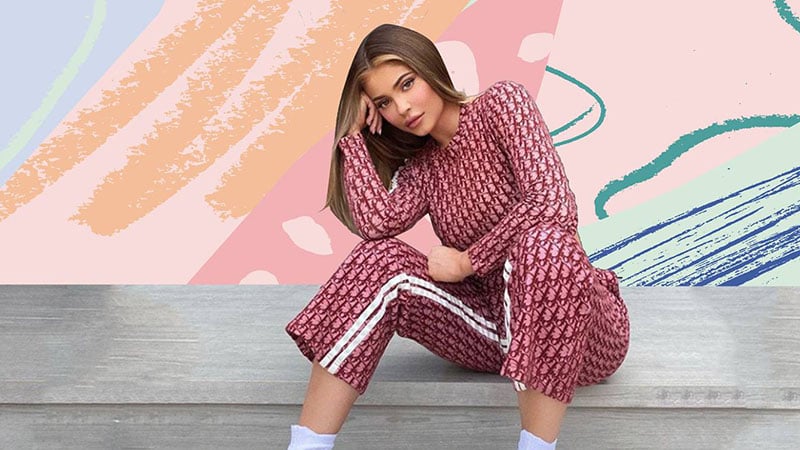 Baddie Outfits
1. Tracksuits
Slouchy and sleek, the humble tracksuit has been given a makeover. The oversized sweatshirt and pants combo can be in a monochrome color or pattern, which elongates your silhouette and creates unity with your overall outfit. Popular shades include baby pink, neon green, and bold designs like flames or calligraphy. Pair them with chunky sneakers, a beanie, and some layered necklaces, and you'll feel comfy and cool all day long.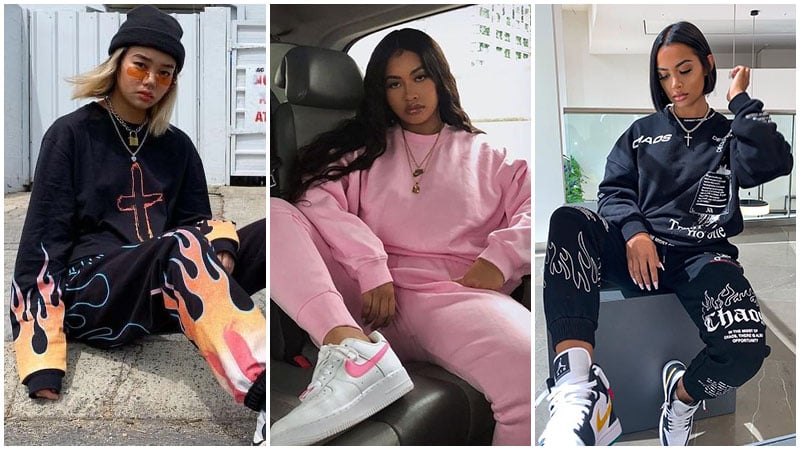 Get the Look
2. Bucket Hats
This polarizing trend is back in a big way – the bucket hat is here to stay. Style it with sweatpants and a crop top, or an oversized T-shirt and cycling shorts, and you'll have an enviable outfit. Choose a plain style in a bright shade or something with a bold print – a Burberry-style plaid or neon hue is sure to make a statement. Mixing and matching patterns and colors is a great way to spice up an everyday outfit, and you can wear the accessory all-year-round.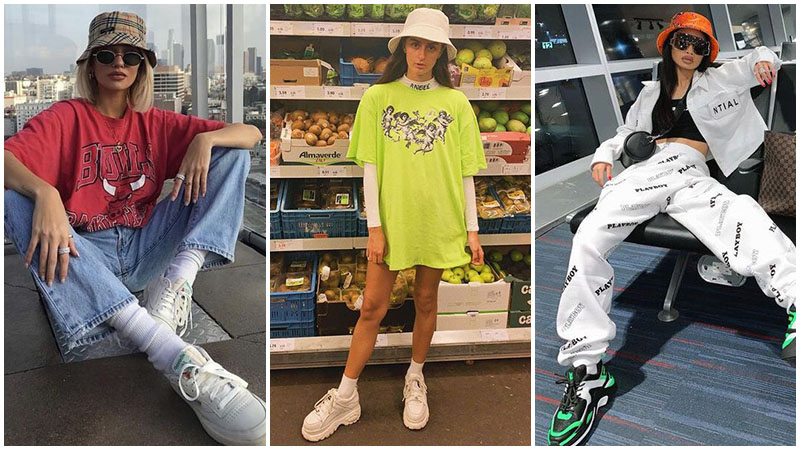 Get the Look
3. Short Leggings
One of the biggest trends on and off the runway is the cycling short – this has been a go-to for fashion lovers for years, and it's also a staple for the baddie aesthetic. To rock this trend, opt for short leggings, and pair them with an oversized T-shirt that hits at the top of the thigh. You can complete the outfit with chunky sneakers and pulled-up socks. For a night out with your friends or just a day by yourself, throw on a boyfriend blazer that's the same length as the top. You can dress this up or down so many ways, and give off a sporty vibe with a fashionable twist.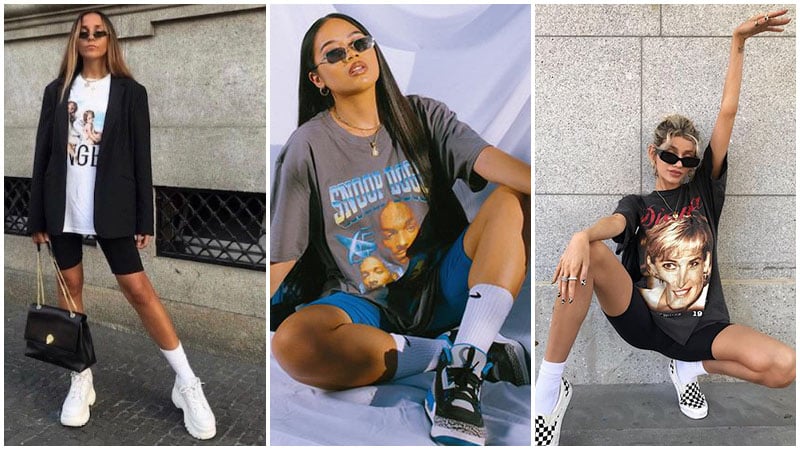 Get the Look
4. Barbie Pink
Unleash your inner doll by dripping in Barbie pink. This trend is the perfect way to blend feminine aesthetics with a sporty edge. To rock this look, opt for an all-pink tracksuit with a crop top or oversized sweater. Add cute accessories like a bucket hat or sunglasses in a similar hue to complement the monochrome effect – add in a darker shade to create dimension. You will resemble a Bratz doll as soon as you try this.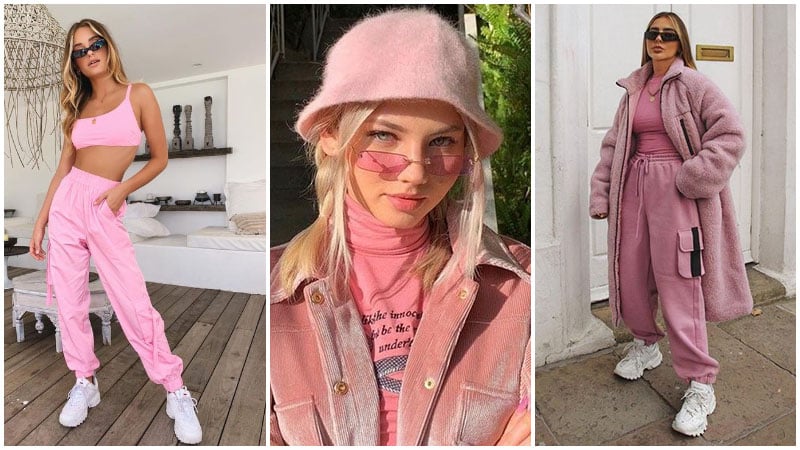 Get the Look
5. Chunky Sneakers
Add some height to your stature and create balance with your outfit in a pair of chunky sneakers. This trend is huge with the baddie aesthetic, and it's easy to see why. This footwear is easy to style with almost any outfit and instantly creates a fresh, sporty vibe. Add it with a mini skirt and a trench coat, or a pair of tracksuit pants and a crop top – the options are endless and suit many occasions. When choosing a shade, it's best to pick something neutral that compliments other outfits. White is one of the more popular choices with this style, and it helps make any ensemble you wear pop just a bit.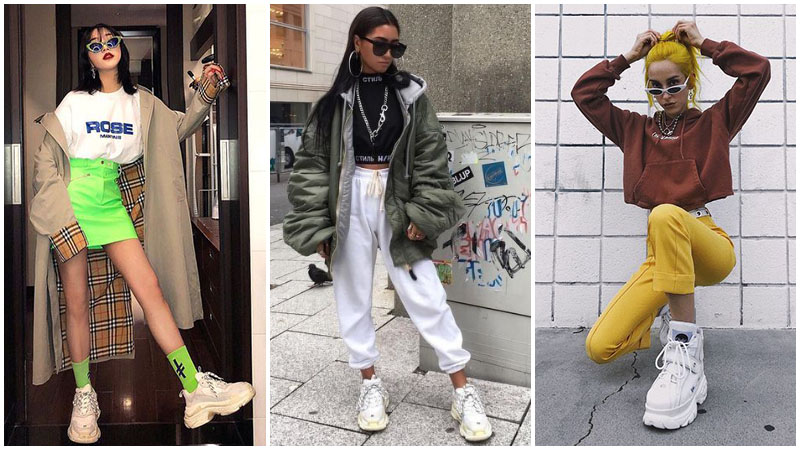 Get the Look
6. Oversized T-Shirts
Comfortable and super cute, every baddie needs to have this staple in their wardrobe. The oversized T-shirt is a simple piece of clothing that can instantly upgrade your ensemble. This is an opportunity to choose a color or print that speaks to you – bright shades like lilac, cherry red, and green are popular, but you can't go wrong with a black shirt. Dress it up or down with a pair of ripped jeans, cycling shorts, or a mini skirt – add a pair of chunky sneakers or combat boots, and you'll feel fresh and sleek.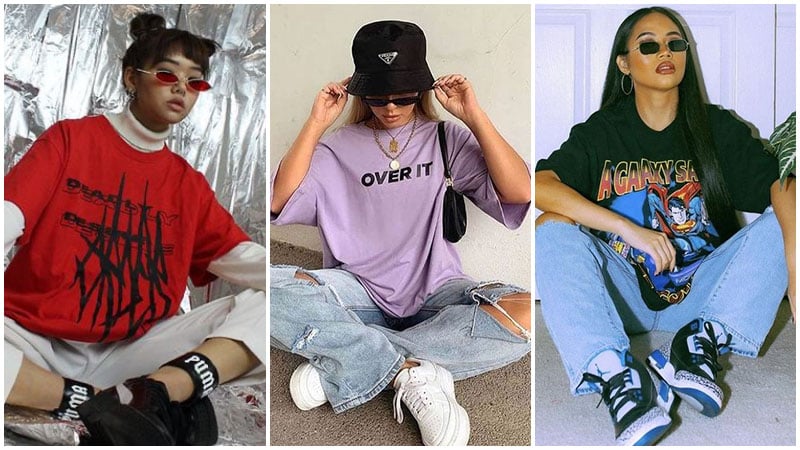 Get the Look
7. Crop Tops with Tracksuit Pants
Create an hourglass shape and stay supremely comfy by wearing tracksuit pants and a crop top. To recreate this look, opt for sweatpants that are a little oversized, and lift them to the smallest part of your waist. Depending on the temperature outside, you can rock it as it is or add an oversized jacket to keep your shoulders warm. For a fashion-forward feel, try the ensemble in monochromes, such as all white, baby pink, or a collection of greens. A printed T-shirt is a cute way to add some character and looks great with a pair of pants in a complementary hue. This outfit calls for a pair of chunky sneakers, as they elongate the kegs and add some height.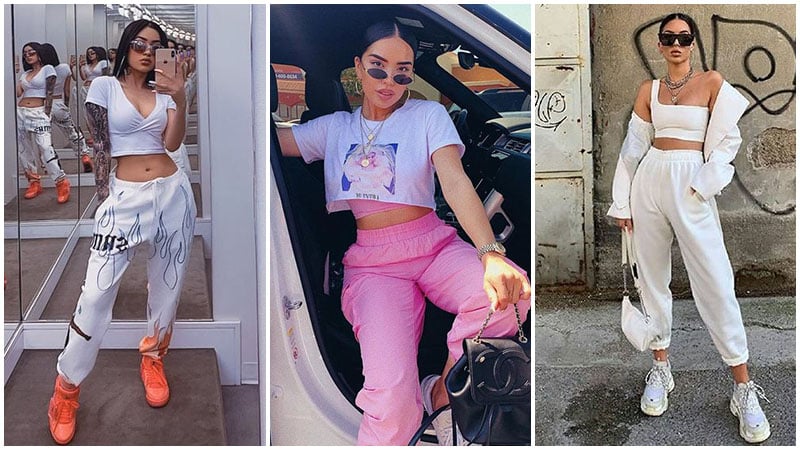 Get the Look
8. Bold Colourful Accessories
When it comes to the baddie aesthetic, you can't go past some incredibly cute accessories. This style is all about bright and beautiful pops of color, so even if you're dripping in black or a neutral shade, this will instantly add some zing to the outfit. Pastel hair clips and jewelry or yellow sunglasses are an excellent option for warmer months, and a funky bucket hat works well all year long. Add a belted bag around your waist or chest to elevate the sporty feel, and don't be scared to try zesty hues like lime or lemon. Even if your ensemble is simple in style, these little additions will help you turn the look.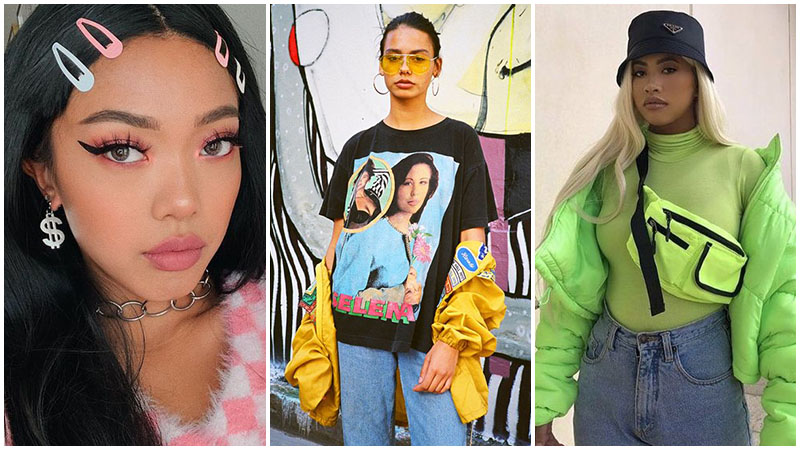 Get the Look
9. Ripped Jeans
No matter what your favorite style is, a humble pair of ripped jeans should make its way to your closet. This classic yet rebellious staple piece can be worked into any occasion and looks good with the baddie aesthetic. Wear the oversized denim with a crop top and puffer jacket or an oversized T-shirt for a laid-back feel. You can also highlight an hourglass silhouette by opting for a pair of mom jeans. Finish the look with your favorite chunky sneakers and some cute accessories such as a bucket hat or baguette bag.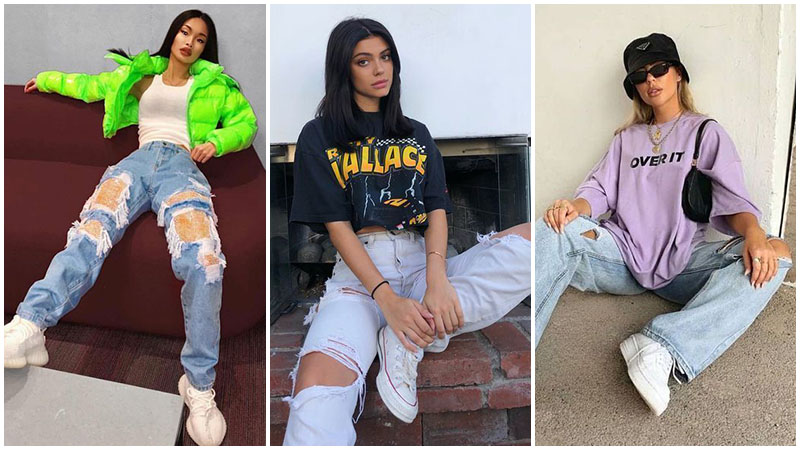 Get the Look
10. Neon With Checks
Bright and beautiful shades are the hottest look for a baddie. Whether you're posing for Insta or Tiktok or you're hanging out with friends, this neon ensemble is easy to recreate and looks great on everyone. Mix and match with fluro and checkered pieces, such as tops, pants, and skirts. Layer block colors like black and white with the bold prints for a laidback feel, and add some combat boots or chunky sneakers for a streetwear finish.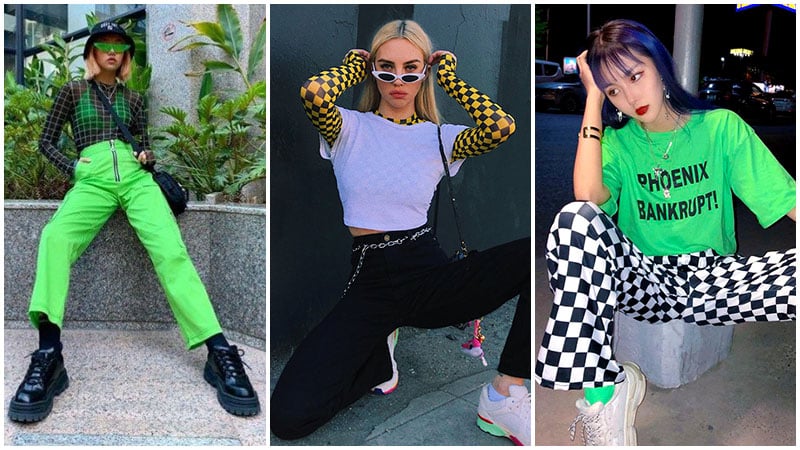 Get the Look
FAQs
What is a baddie?
A baddie is a style that originated on Instagram and is typically associated with females. It is a blend of Instagram-inspired makeup looks and sporty streetwear. Baddies have a laidback attitude and are considered cool and a trendsetter.
How to be a baddie?
Being a baddie is all about attitude. While there is a style that is associated with this aesthetic, it's all about how you carry yourself. Typically baddies will wear sports-inspired clothing, such as oversized T-shirts, sweatpants, and chunky sneakers. They also blend the latest fashion trends into the mix, including cycling shorts, oversized blazers, and bucket hats. However, if the wearer has confidence and carries themselves with a carefree attitude, they can be a baddie.
How to look like a baddie?
There are specific styles that are synonymous with the baddie aesthetic. Typically, baddies wear a blend of streetwear and the latest fashion trends. Popular baddie clothes include bike shorts, chunky white sneakers, and sweatshirts - mix and match bright neon colors, neutral tones, and pastel pink for maximum effect. Although the clothing is a big part of the aesthetic, the key to being a baddie is the attitude. Confidence is key to looking and acting like a baddie.
What are baddie outfits?
Baddie outfits consist mainly of streetwear and Bratz-inspired clothing. Cinch in your waist and elongate your legs with a pair of high waisted tracksuit pants and a crop top, with oversized chunky sneakers and a baguette bag. Makeup is sharp and doll-like, giving off the impression of a cool and laidback fashionable person. Mix and match with bright colors, and don't be afraid to throw in some cute hair accessories like clips or a bucket hat.
How do you dress like a baddie at school?
Dressing like a baddie at school depends on your dress code. For casual outfits, opt for an oversized T-shirt and sweatpants, with chunky sneakers and a bucket hat. If you have a uniform, you can swap out your jumper for an oversized sweater and try a pair of chunky white sneakers to give off the baddie aesthetic. Crop tops and cycling shorts are also popular baddie outfit choices, but be sure to double-check your uniform policy first.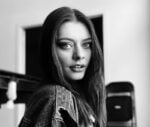 Alexandra Feiam is an experienced fashion writer who holds a degree in journalism. She has an impressive portfolio and expertise working as the Editor at Power Retail and Commercial Content Editor at Newscorp. Ally has been writing for The TrendSpotter since 2018, and her work has been featured in notable publications such as The Herald Sun, Arirang TV South Korea, Kidspot, The House of Wellness, and The Daily Telegraph.
SUBSCRIBE TO OUR NEWSLETTER
Subscribe to our mailing list and get interesting stuff and updates to your email inbox.