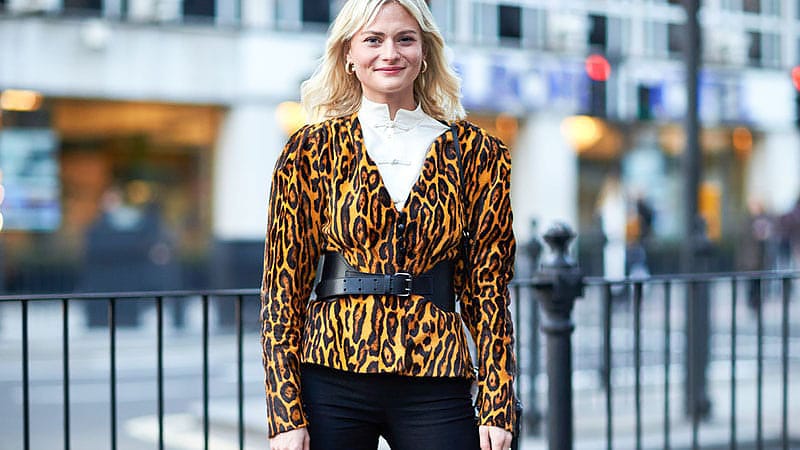 When it comes to fashion, minimalism has been the go-to look for some time now, but there's currently a change in the air. Perhaps feeling a little bored with all those simplistic styles, designers and style stars alike have brought forward a new wave of maximal fashion that appears straight from the '80s. Big shoulders, bright colors, and plenty of statement styles are making fashion fun once again. Perfect for creating exciting and eye-catching outfits, this '80s fashion trend promises to infuse your wardrobe with a new and glamorous sense of style.
RELATED: 80s Hairstyles for Women That Having a Moment Again
80s Fashion
80s Hip-Hop Fashion
Hip-hop music and culture were extremely prevalent in the '80s. As such, hip-hop fashion was also trending, especially in urban areas. Inspired by stars, such as the iconic Salt-N-Pepa trio and Queen Latifah, hip-hop fashion for women was similar to that for men. Baggy silhouettes and athletic details characterized the look along with bold and bright colors and bold patterns. When it came to accessories, sneakers and snapback caps reigned supreme.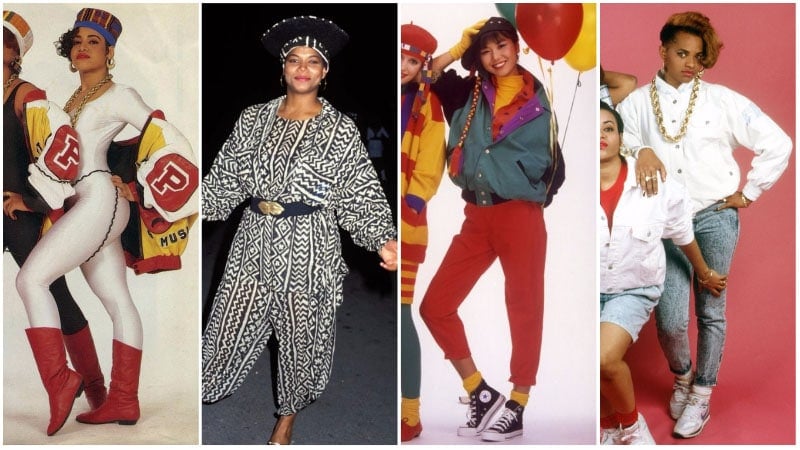 80s Punk Fashion
Before there was '90s grunge, there was '80s punk. This rebellious look developed in the later years of the 1980s and represented a dramatic departure from the decade's glamorous beginning. Featuring iconic pieces like studded leather jackets, ripped jeans, band t-shirts, and heavy-duty boots, the punk look was intense and edgy. Even the hair of this subculture was bold and in-your-face. Today, punk fashion is once again becoming popular. However, the look is slightly more toned-down and casual.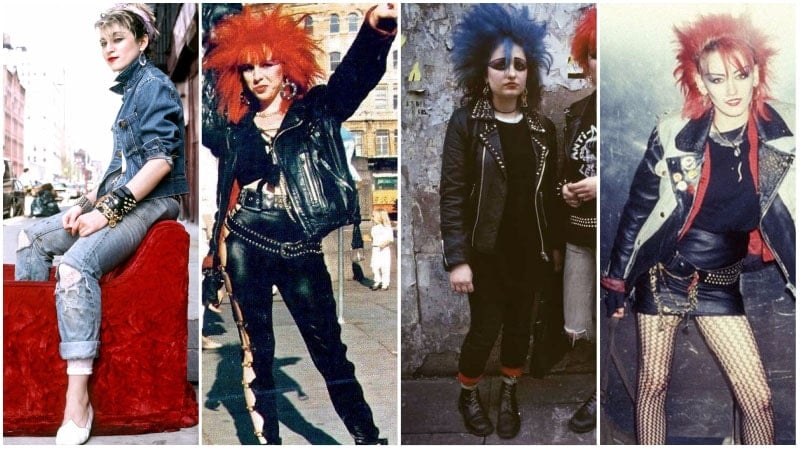 80s Workout Fashion
When you think of the '80s, an image of Jane Fonda in a leotard and leg-warmers undoubtedly enters your mind. After all, her aerobics videos were unbelievably popular during the decade and brought forth a wave of new workout fashion. Matching the decade's theme of excess, this workout style featured bold outfits for women. From high-rise bodysuits and headbands to neon-bright leggings and bike shorts, '80s workout fashion was loud and proud.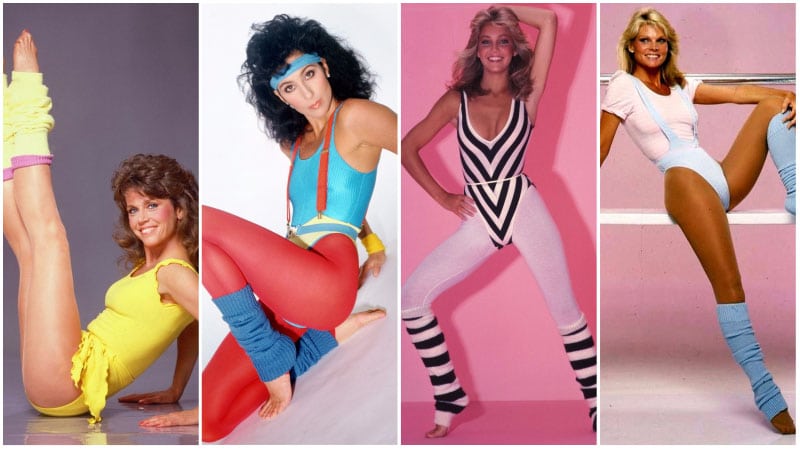 Black 80s Fashion
From Tina Turner and Janet Jackson to Naomi Campbell and Iman, the '80s had many black fashion icons. While they each had a unique look, they all rocked attitude-filled looks with confidence and class. For those channeling these stylish stars, over-the-knee boots, shoulder pads, body-con, and leather were all essential elements. Worn separately or together, these sorts of daring designs appeared striking and chic.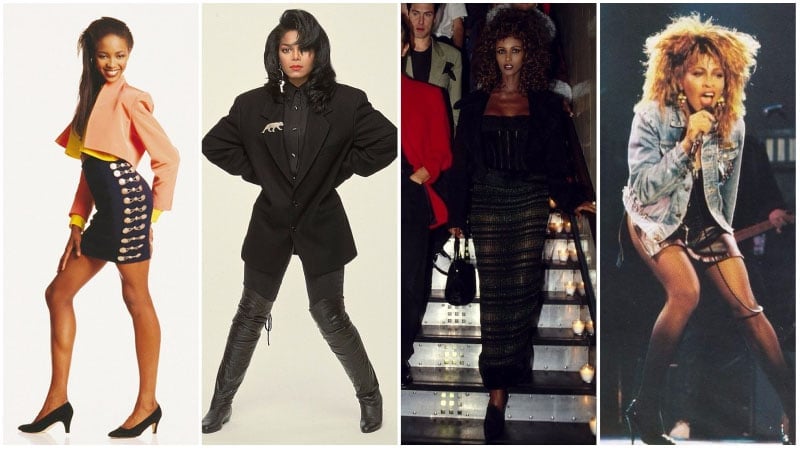 80s Fashion Icons
Fashion is always lead by icons, such as the most influential celebrities of the day. The '80s were no exception to this rule and had their own list of celebs inspiring the outfits of ladies all over the world. Singers, like Madonna and Cyndi Lauper, lead a movement of edgy looks that were not only bold and excessive but also punk. Whitney Houston, on the other hand, embodied a more glamorous style. Models, like Brooke Shields and Cindy Crawford, inspired a love for luxury labels and thanks to Jane Fonda and her workout videos, leotards, and leg warmers took over as the most stylish type of athletic wear.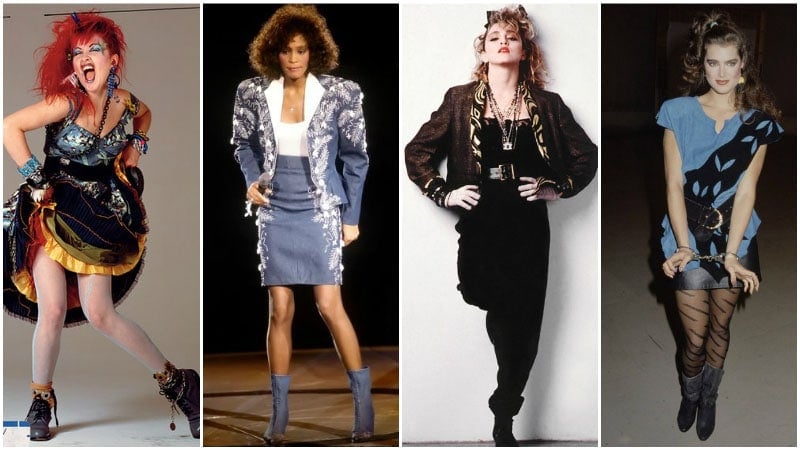 80s Clothing
Fashion from the '80s is popular once again, but that doesn't mean that you can just throw on an outfit from 30 years ago and look great. To wear this look, you need to know which elements from the '80s to bring back and how to balance their vintage appeal with more modern aesthetics.
Big Shoulders
When you think of the '80s, big shoulders always come to mind. Thanks to the power suiting trend for women, the '80s saw shoulders pumped up with extra padding to bold new heights and widths. Today, big shoulders are an excellent way to add a touch of that unapologetic '80s attitude into your wardrobe. Choose between jackets, blazers, and coats with imposing shoulder silhouettes to try this trend. Just remember to keep your waist defined with a belt or by buttoning up to avoid appearing swamped in the fabric.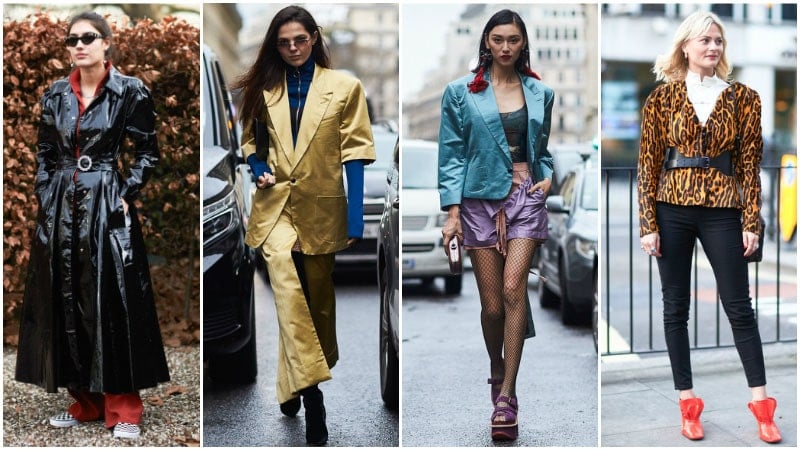 SHOP THE LOOK
Bold Colours
The '90s may have had minimalism, but the '80s had maximalism. Oversized shoulders, lashings of fabric, and decadent designs were all a regular part of dressing in the decade. As such, it's hardly surprising that the colours were also bold and bright. This season, using color can be a fun and simple way to infuse a modern outfit with an '80s vibe. To rock this trend today, invest in a few pieces in shades such as cobalt, fuchsia, magenta, and gold, and work them into your regular wardrobe.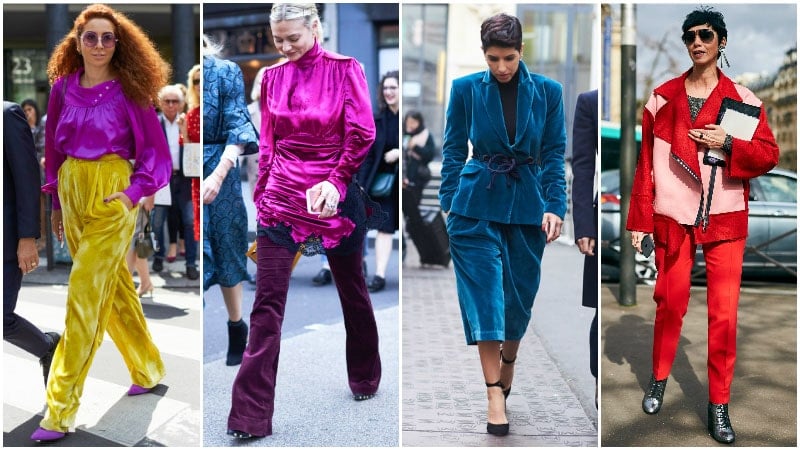 SHOP THE LOOK
Sequins
The glamour and decadence of the '80s have returned, but this time they're toned down and refreshed for a new take. While sequined dresses may have been worn for exciting evening looks back in the '80s, today that can also make a unique and eye-catching daytime look. To nail this style, all you need to do is mix your sequined dress with casual pieces like sneakers, a T-shirt, and a loose overcoat. Also, be sure to bypass the traditional '80s hair and makeup. All a sequined outfit needs to complete its chic style is a natural makeup look and simple waves.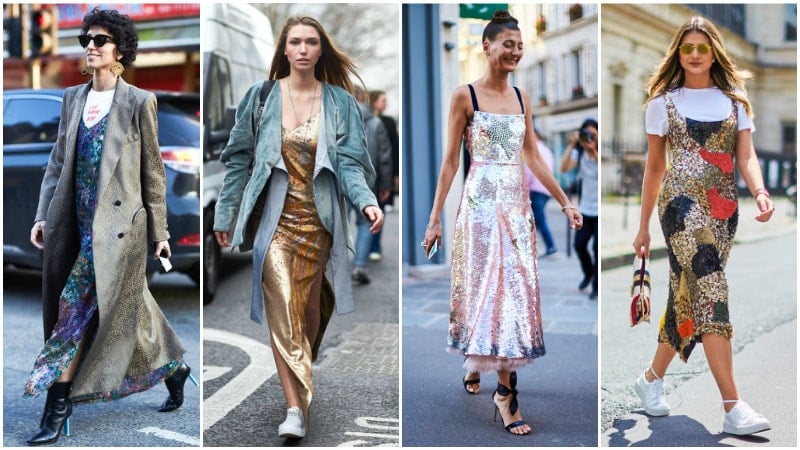 SHOP THE LOOK
Ruffles
It's no coincidence that ruffles have become incredibly popular once again. They are part of the resurgence of '80s trends and were a key look for the decade. Today, you can find ruffles on many items, including tops, jackets, pants, skirts, dresses, and even shoes and bags. Best of all, you can rock this '80s trend any way that you like. While sheer and floaty ruffles will create a vintage prom feel, more structured ruffles will reference glam evening looks.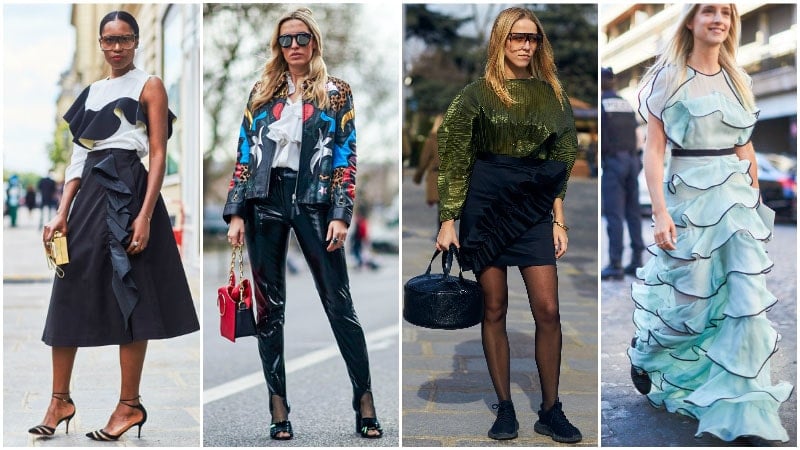 SHOP THE LOOK
Off-the-Shoulder Tops and Dresses
Off-the-shoulder-tops are another glamorous '80s look to return. Spotted on both tops and dresses, this unique style is starting to take over runways, magazine covers, and streets all over the world. Although you can easily wear this look during the daytime as an off-the-shoulder top paired with jeans, it's best to keep the single shoulder dresses for evening occasions. As this is a statement style, it'll undoubtedly create a standout look and turn a few heads.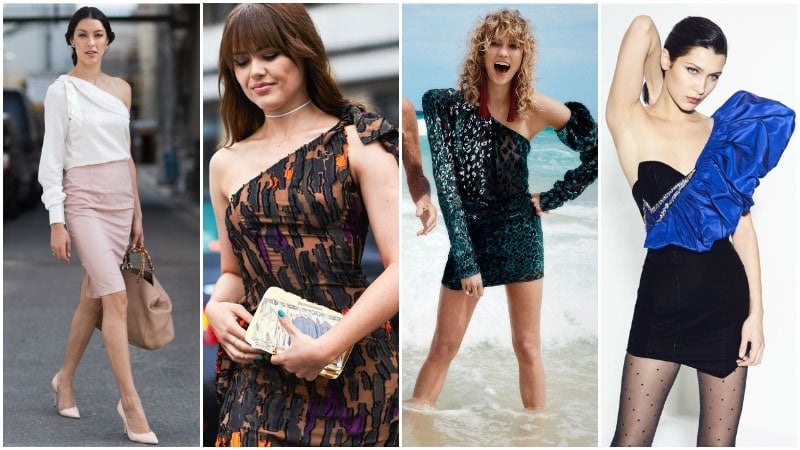 SHOP THE LOOK
Statement Earrings
If you want to try out the '80s trend but prefer a more simplistic style, you should consider wearing a pair of statement earrings. Statement earrings will provide a subtle '80s touch to any outfit, meaning that you can try this trend without rocking big shoulders, bold colors, ruffles or sequins. All you need to do is find the perfect pair for you. Of course, if you want to match your statement earring with other '80s pieces, you should feel free to do so. After all, the decade was all about taking fashion to the extreme.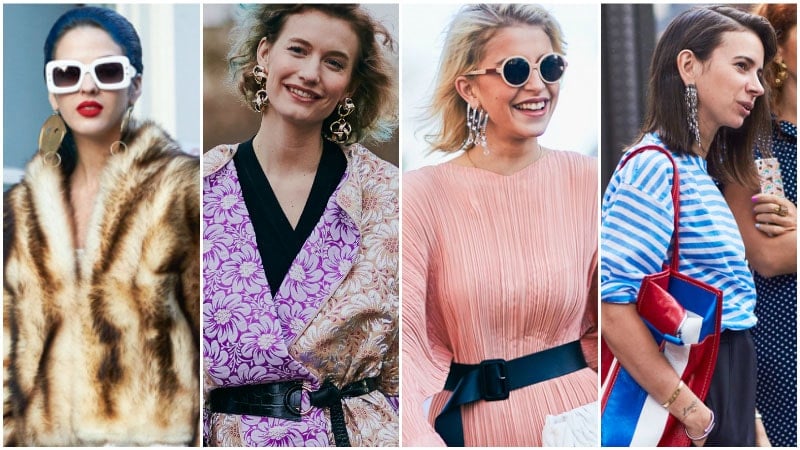 SHOP THE LOOK
Intense Eyeshadow
Like the style of the '80s, the eyeshadow of the time was also fierce. This is true not only for the color of the eyeshadow but also for its application. Often women would wear their eyeshadow right up to their brows. This year, bold eyeshadow is back, but not quite in the same dramatic way as it was in the '80s. To channel the look in a more modern way, choose your favorite colored eyeshadow and apply it on your lids, just above the crease, and along your lower lash line.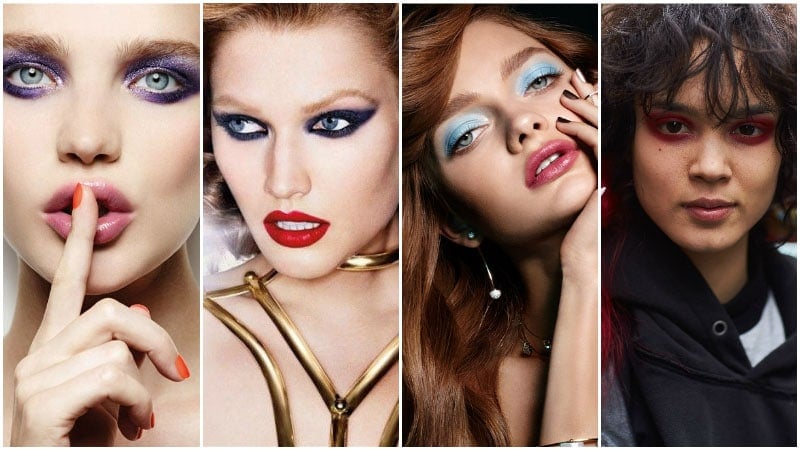 SHOP THE LOOK
80s Hair & Makeup
Matching the excessive fashion of the decade, the hair and makeup of the '80s were also intense. During the decade hair was predominantly big and wild. Full volume was the look that everyone wanted, and extreme curls or waves were a great way to get it. No matter whether women wore their hair up or down, it was big and undoubtedly full of hairspray. Likewise, the makeup of the decade was just as bold. In particular, eyeshadow in intense colors was an essential beauty look, but bright blush and bold lipsticks were also popular.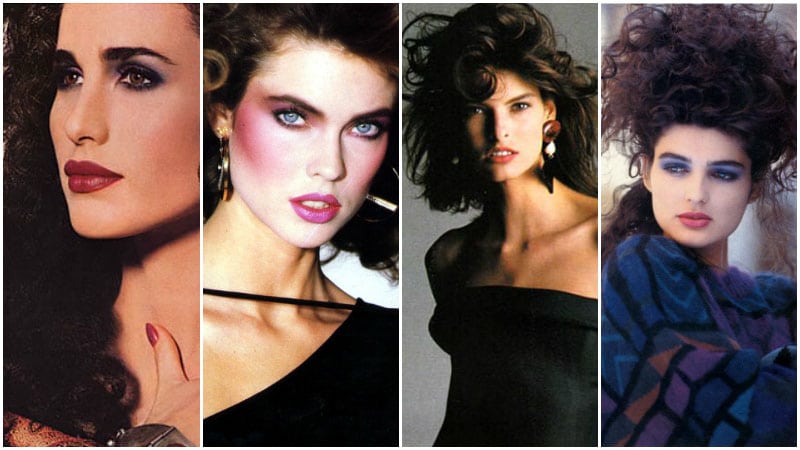 FAQs
What did women wear in the 80s?
Fashion in the 1980s was all about excess. Everything was big, bold, and utterly glamorous. During the day, ladies rocked power suits with big shoulder pads to prove that they were just as powerful as the gents. By night, they got glammed-up in sequin and one-shoulder styles. A love of brands and designer labels was also evident during the decade. Towards the second half of the '80s punk looks started trending thanks to the celebrities of the day.
How do I dress like the 80s?
1. Work essential '80s styles and looks into your modern wardrobe. 2. Wearing a blazer, jacket or coat with shoulder pads will instantly add an '80s touch to any outfit. 3. Wear sequined styles during the day for a fresh take on the trend and one-shoulder designs at night for a glamorous evening look. 4. Look to ruffles and bold colors to add a dose of '80s maximalism to outfits.
For a more subtle take on the '80s trend, try wearing a pair of statement earring with your contemporary clothes.
Consider rocking a boldly colored eyeshadow to introduce the '80s trend into your makeup.
SUBSCRIBE TO OUR NEWSLETTER
Subscribe to our mailing list and get interesting stuff and updates to your email inbox.