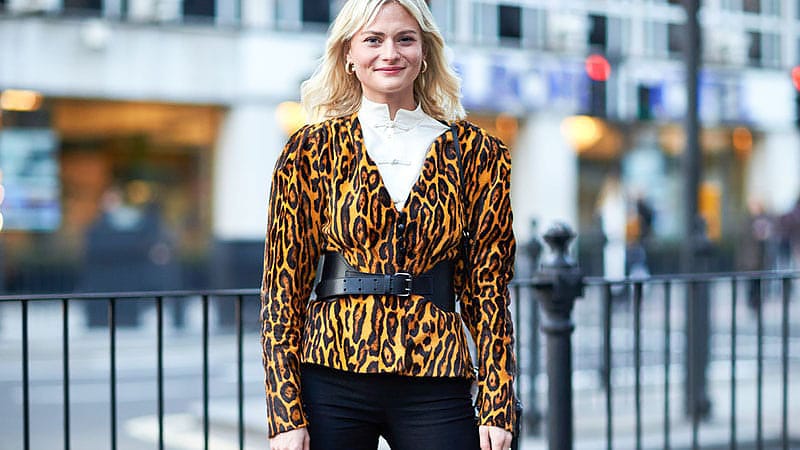 When it comes to fashion, minimalism has been the go-to look for some time now, but there's currently a change in the air. Designers and style icons have brought forward a new wave of maximal fashion that appears straight from the 1980s. Big shoulders, bright colors, and plenty of statement fashion are making this trend fun once again. If you are looking to create exciting and eye-catching 80s outfits, this guide to 80s fashion for women promises to infuse your wardrobe with a new and glamorous sense of style.
RELATED: 80s Hairstyles for Women
80s Fashion
If you're someone who grew up in the 1980s, then you know that 80s fashion was anything but subtle. It was all about being bold and colorful, with neon being the go-to choice for clothes. 80s outfits were oversized, with large tops and even larger-than-life hair. But it wasn't just about being big and bright; it was also about feeling good in your skin and expressing yourself through fashion. We must not forget to mention that celebrities like Madonna, Cyndi Lauper, Molly Ringwald, and Michael Jackson set the tone for 80s fashion and inspired millions of people to rock the 80s look. With music and movies being such a significant influence, it's no surprise that 80s fashion for women has become iconic, and the trends continue to have a significant impact on fashion today.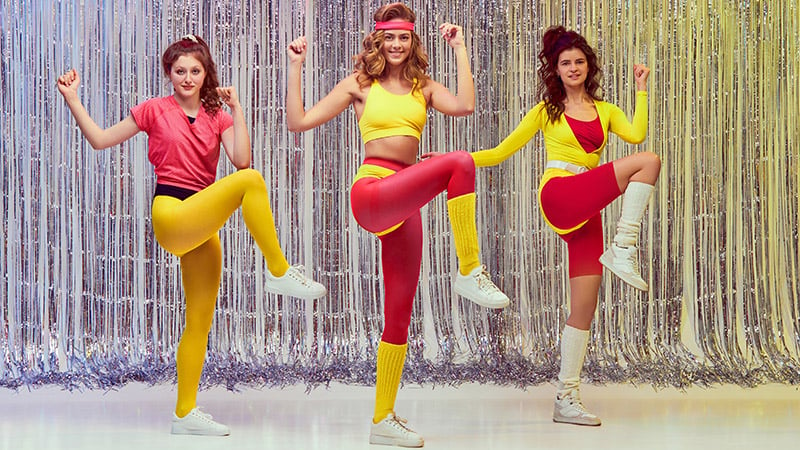 Why 80s Fashion Was Iconic
The 1980s was a time of fashion innovation and self-expression. It was almost a renaissance of fashion, with people daring to be different and pushing the limits of what was considered acceptable. Prior to the 1970s, fashion was quite conservative, but with the hippie movement and the sexual revolution came the opening up of fashion to become more provocative. The 80s took that to the next level with bold colors, more skin, and unique accessories. The fashion choices of the era reflected a cultural transformation where people were no longer afraid to be themselves, and that mentality shone through in their clothing choices. Many consider the 80s fashion for women to be the best of the 20th century, and it's easy to see why with all the creative and daring looks that came out of the era.
80s Outfits Women
80s Bold Colours
The 90s fashion for women may have had minimalism, but the 80s fashion for women had maximalism. Oversized shoulders, lashings of fabric, and decadent designs were all a regular part of dressing in the decade. As such, it's hardly surprising that the colors were also bold and bright. This season, using color can be a fun and simple way to infuse a modern outfit with an 80s vibe. To rock this trend today, invest in a few pieces in shades such as cobalt, fuchsia, magenta, and gold, and work them into your regular wardrobe.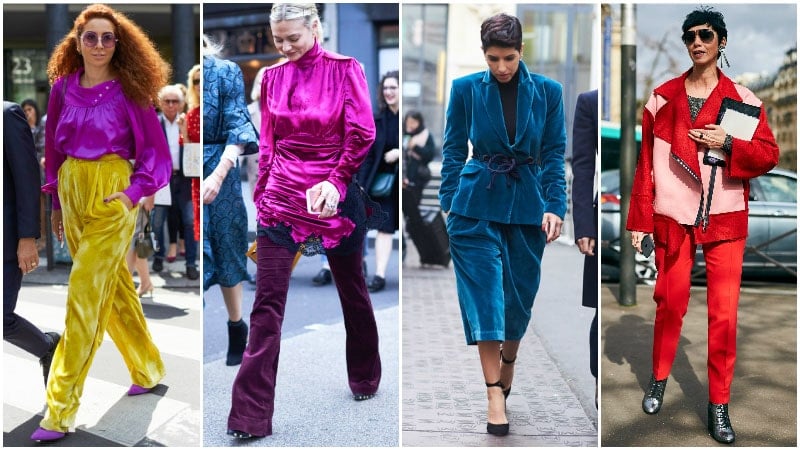 SHOP THE LOOK
80s Statement Earrings
If you want to try out the 80s fashion for women trend but prefer a more simplistic style, you should consider wearing a pair of statement earrings. Statement earrings will provide a subtle 1980s touch to any outfit, meaning that you can try this trend without rocking big shoulders, bold colors, ruffles or sequins. All you need to do is find the perfect pair for you. Of course, if you want to match your statement earring with other 80s pieces, you should feel free to do so. After all, the decade was all about taking fashion to the extreme.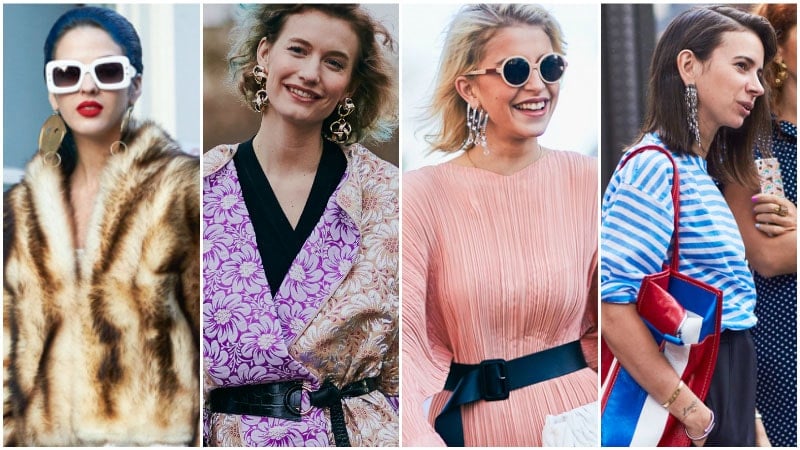 SHOP THE LOOK
80s Big Shoulders
When you think of 80s fashion for women, big shoulders always come to mind. Thanks to the power-suiting trend for women, the 1980s saw shoulders pumped up with extra padding to bold new heights and widths. Today, big shoulders are an excellent way to add a touch of that unapologetic 80s attitude into your wardrobe. Choose between jackets, blazers, and coats with imposing shoulder silhouettes to try this trend. Just remember to keep your waist defined with a belt or by buttoning up to avoid appearing swamped in the fabric.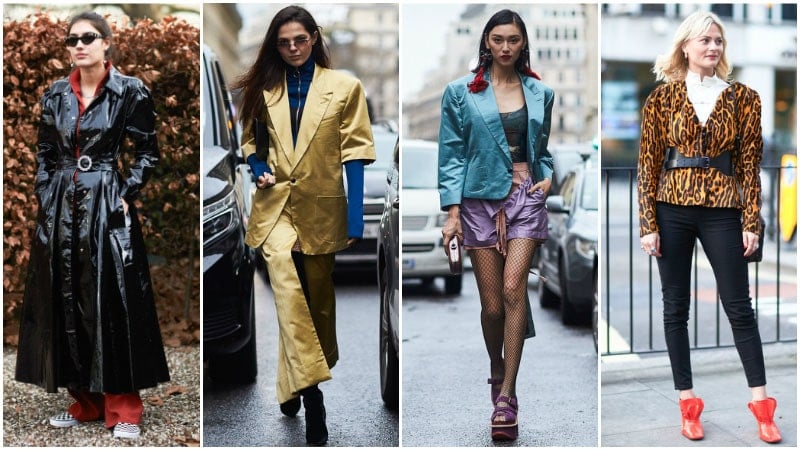 SHOP THE LOOK
80s Sequins
The glamour and decadence of the 1980s have returned, but this time they're toned down and refreshed for a new take. While sequined dresses may have been worn for exciting evening looks back in the 80s, today that can also make a unique and eye-catching daytime look. To nail this style, all you need to do is mix your sequined dress with casual pieces like sneakers, a T-shirt, and a loose overcoat. Also, be sure to bypass the traditional 80s hair and makeup. All a sequined outfit needs to complete its chic style is a natural makeup look and simple waves.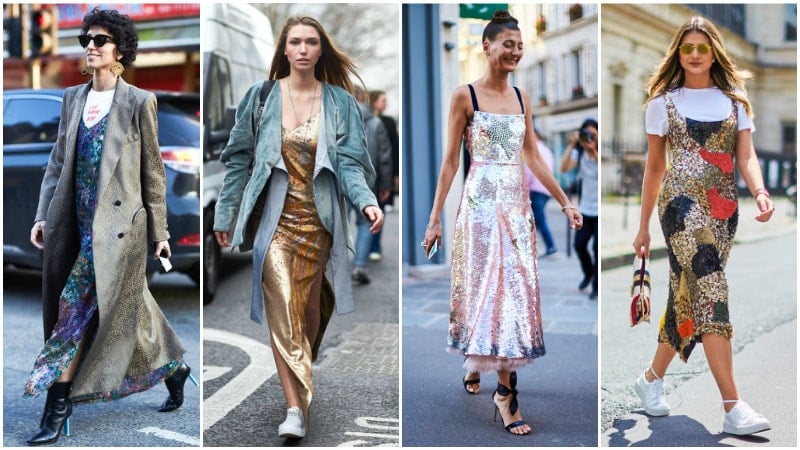 SHOP THE LOOK
80s Ruffles
It's no coincidence that ruffles have become an incredibly popular fashion trend again. They are part of the resurgence of 1980s fashion for women and were a key look for the decade. Today, you can find ruffles on many items, including tops, jackets, pants, skirts, dresses, and even shoes and bags. Best of all, you can rock these 80s outfits trends any way that you like. While sheer and floaty ruffles will create a vintage prom feel, more structured ruffles will reference glam evening looks.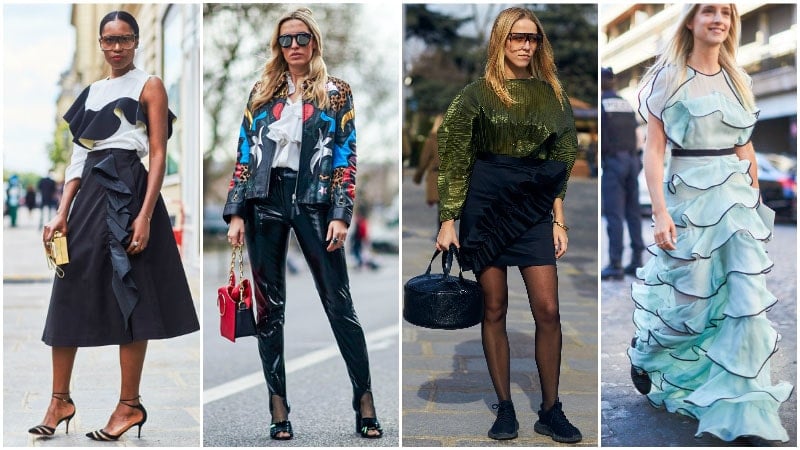 SHOP THE LOOK
80s Off-the-Shoulder Tops and Dresses
Off-the-shoulder-tops are another glamorous 1980s outfits look to return. Spotted on both tops and dresses, this unique style is starting to take over runways, magazine covers, and streets all over the world. Although you can easily wear this look during the daytime as an off-the-shoulder top paired with jeans, it's best to keep the single shoulder dresses for evening occasions. As this is a statement style, it'll undoubtedly create a standout look and turn a few heads.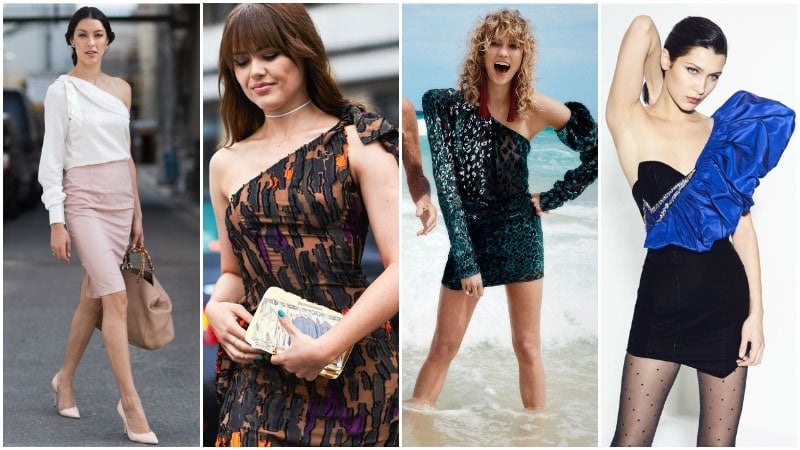 SHOP THE LOOK
80s Shoes
From the Reebok Hightop Aerobic to classic pumps, the 80s outfits were all about self-expression and the exploration of different styles. This decade heavily influenced the love for streetwear today, with the huge influx of basketball and skate shoes worn by movie stars, models, and everyone in between. Women often sported these sneakers with their attire to-and-from the office before swapping them out for more work-appropriate pumps. Other styles included Doc Martens, jellies, and ankle boots, which were a huge trend in the mid-80s, often worn with long skirts and chunky socks.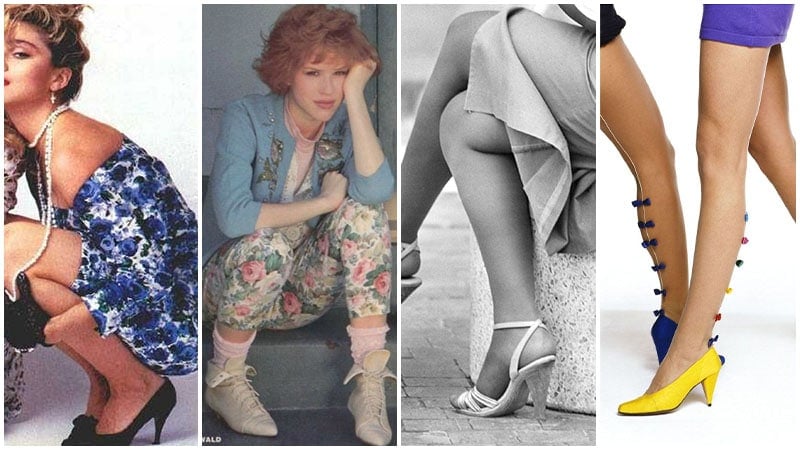 SHOP THE LOOK
80s Women's Fashion
80s Hip-Hop Fashion
Hip-hop music and culture were extremely prevalent in the 80s. As such, hip-hop 80s fashion for women was also trending, especially in urban areas. Inspired by stars, such as the iconic Salt-N-Pepa trio and Queen Latifah, hip-hop fashion for women was similar to that for men. Baggy silhouettes and athletic details characterized the look along with bold and bright colors and bold patterns. When it came to accessories, sneakers and snapback caps reigned supreme.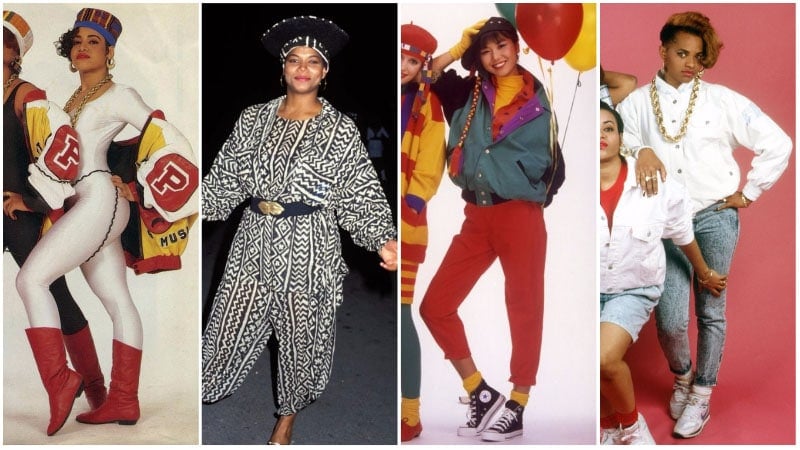 80s Punk Fashion
Before there was 90s grunge, there was 80s punk. This rebellious look developed in the later years of the 1980s and represented a dramatic departure from the decade's glamorous beginning. Featuring iconic pieces like studded leather jackets, ripped jeans, band t-shirts, and heavy-duty boots, the punk look was intense and edgy. Even the hair of this subculture was bold and in-your-face. Today, punk fashion is once again becoming popular. However, the look is slightly more toned-down and casual.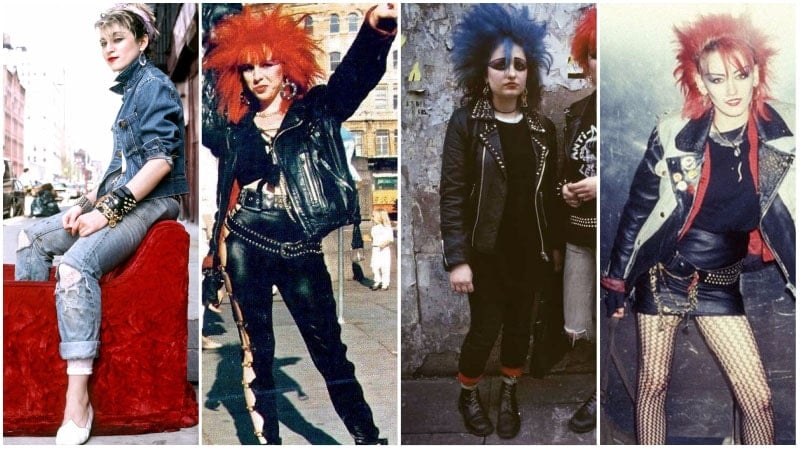 80s Workout Fashion
When you think of 80s fashion for women, an image of Jane Fonda in a leotard and leg-warmers undoubtedly enters your mind. After all, her aerobics videos were unbelievably popular during the decade and brought forth a wave of new workout fashion. Matching the decade's theme of excess, this workout style featured bold outfits for women. From high-rise bodysuits and headbands to neon-bright leggings and bike shorts, 80s workout fashion was loud and proud.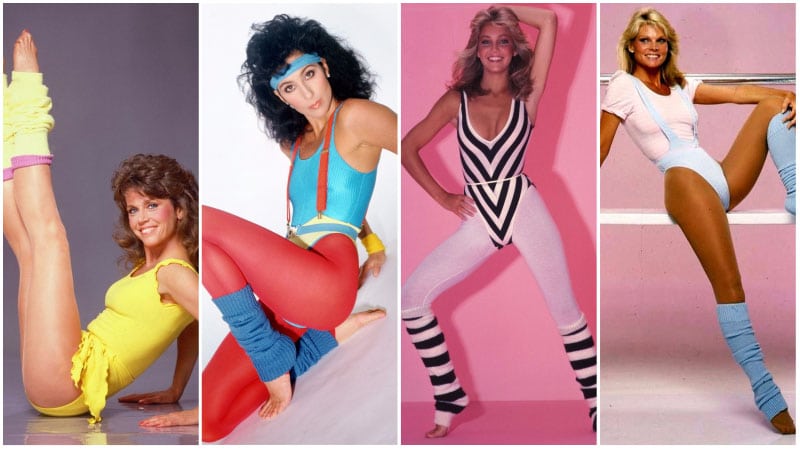 Black 80s Fashion
From Tina Turner and Janet Jackson to Naomi Campbell and Iman, 80s fashion had many black icons. While they each had a unique look, they all rocked attitude-filled looks with confidence and class. For those channeling these stylish stars, over-the-knee boots, shoulder pads, body-con, and leather were all essential elements. Worn separately or together, these sorts of daring designs appeared striking and chic.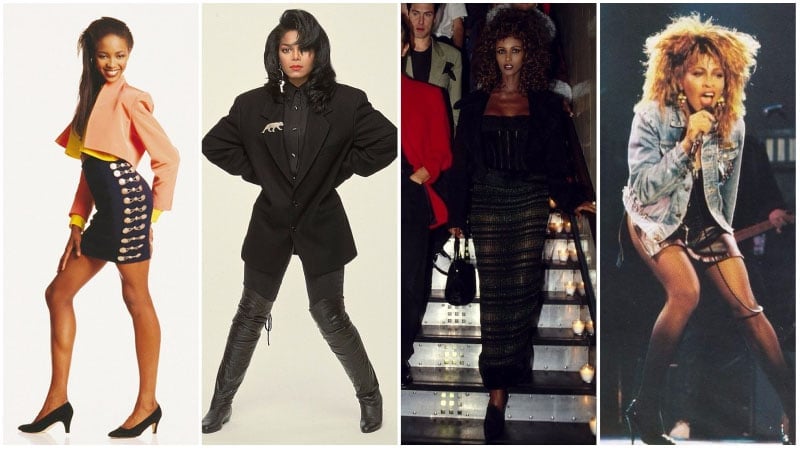 80s Fashion Icons
Fashion is always lead by icons, such as the most influential celebrities of the day. 80s fashion for women were no exception to this rule and had their own list of celebs inspiring the outfits of ladies all over the world. Singers, like Madonna and Cyndi Lauper, lead a movement of edgy looks that were not only bold and excessive but also punk. Whitney Houston, on the other hand, embodied a more glamorous style. Models, like Brooke Shields and Cindy Crawford, inspired a love for luxury labels and thanks to Jane Fonda and her workout videos, leotards, and leg warmers took over as the most stylish type of athletic wear.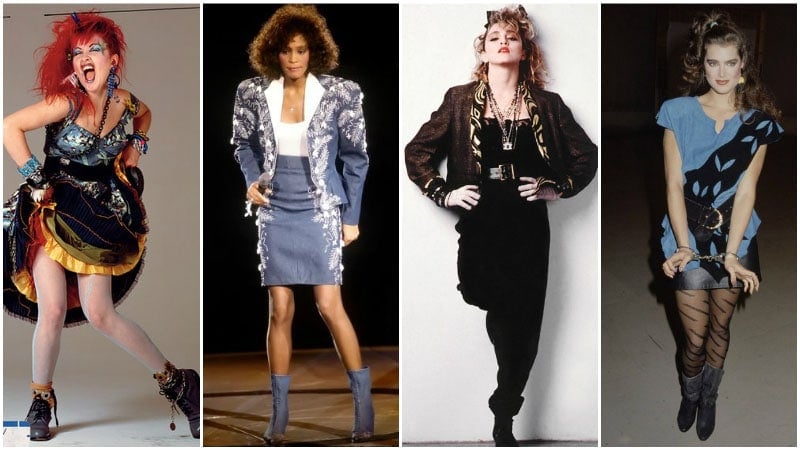 Madonna 80s Fashion
Madonna was the Queen of 80s fashion and music. As one of the era's most influential musicians, her style was just as iconic. While she has undergone a series of transformations during each decade, the 80s was a standout for many reasons. The superstar loved wearing leggings and Capri trousers in the early stages of her career, often paired with a loose-fitting t-shirt or sleeveless top. This decade favored low-heeled shoes, such as ankle boots and ballet flats, and Madonna made this a staple in her wardrobe. To get the perfected Queen of Pop aesthetic, opt for an overload of accessories, particularly necklaces with a cross, plenty of bangles, and hoop earrings.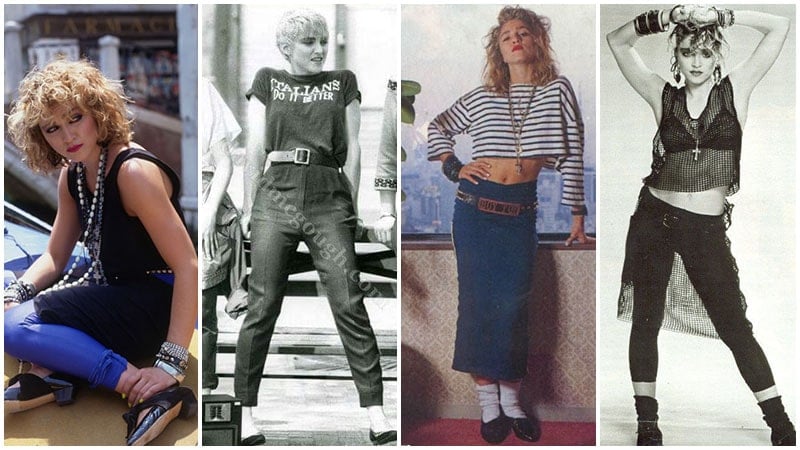 80s Teen Fashion
Some of the most famous 80s outfits happened in teen films, often providing great inspiration for fashion lovers. The everyday school stylings of Molly Ringwald in Pretty in Pink have become mainstays for the era, including her floral-filled vests, oversized blazers, lace trimmings, and delicate pearls and brooches. Movies such as Heathers inspired the Preppy aesthetic but channel Veronica's patchwork blazers and black tunics for a modern twist. Classic straight-leg jeans and tucked-in shorts were a favorite on TV shows such as Saved By the Bell – style them with ankle boots, sneakers, or flats for a 80s casual fashion feel.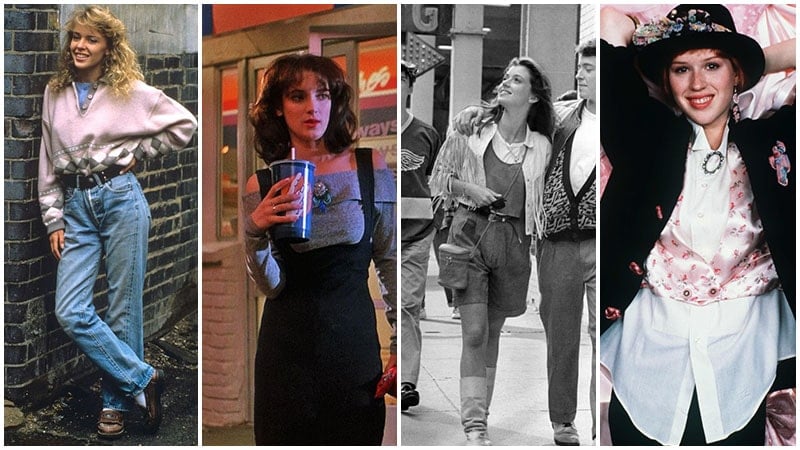 80s Kids Fashion
Fashion for kids in the 1980s was all about color, fun patterns, and plenty of fun. Similar to the sights you see in Stranger Things, this era favored loose-fitting denim, layers of bright shades, daring hats, and comfy shoes to assist in playful activities. To get this look, opt for a few key color combinations, such as yellow and pink, paired with denim or black to help the hue really stand out. Ruffled skirts with ankle-high socks and an off-the-shoulder shirt are a great way to dress up a vintage outfit.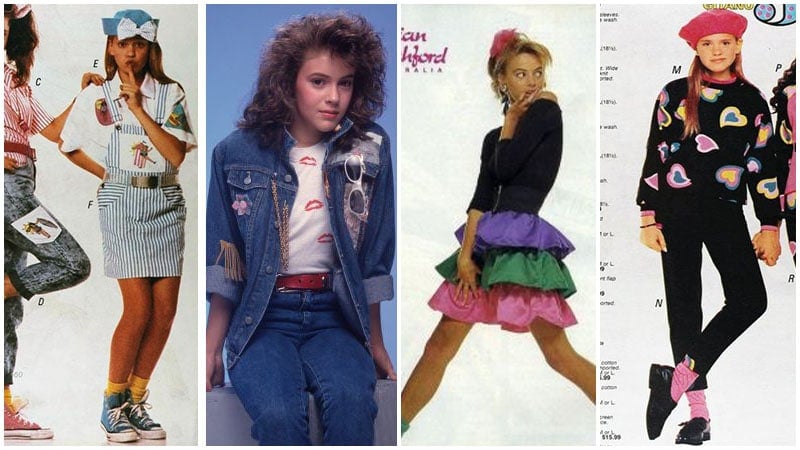 80s Neon Fashion
When someone thinks about a classic 80s go-to, they might lean towards the neon trend. While this only lasted for a short while in the decade, it has become a mainstay for the era. Often paired with black or white to make the color stand out more, bright shades like green and pink were all the rage. Add a yellow sweater or blazer with scaled-back trousers or a skirt to recreate this trend today. Just like the 1980s, the best way to get the most out of this look is by keeping the other tones minimal – let the loud shades do the talking.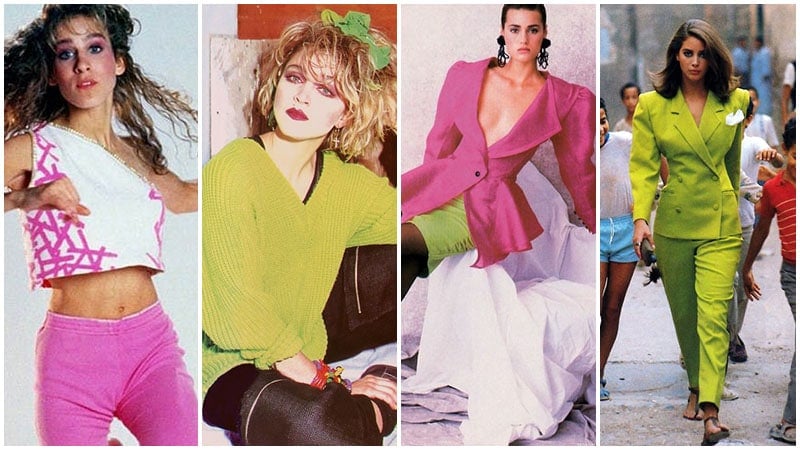 80s Goth Fashion
The 80s was the birth of the goth movement, stemming from the punk genre that emerged a decade earlier. Faces such as Siouxsie Sioux and Robert Smith have inspired the style and makeup – the bigger the hair, the better. While it's typical to see a wide range of subgenres of the goth aesthetic, in this era, it was about layering lots of black, leather, and a mixture of textures – better known today as Trad Goth. This decade also saw spillovers from one genre to another – remnants of punk clothing, such as plaid, piercings, and chunky boots were also a common sight.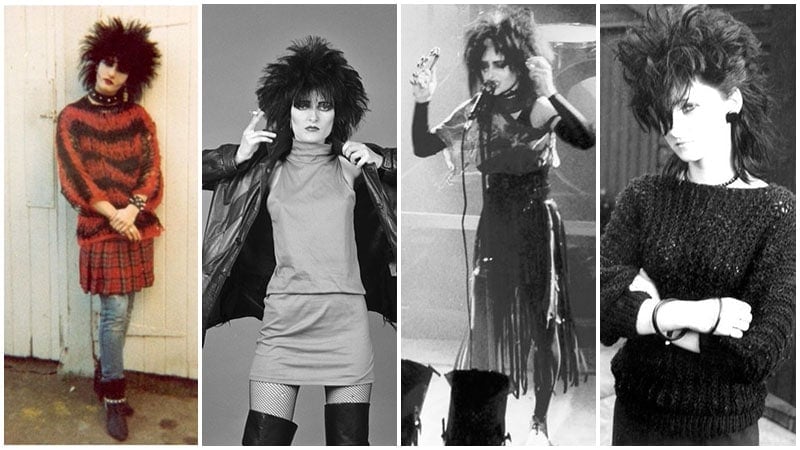 80s Preppy Fashion
Preppy style has been a major trend since the 80s and remains a popular choice today. While the clothing style has adapted to decade-specific 80s fashion trends it was all about creating a clean and neat appearance. Popular colors during the mid-80s were pastel and neutral shades, but you would also find darker hues such as burgundy, black, brown, and navy in the latter part of the decade. Layer a turtleneck with an open shirt and cardigan, either worn regularly or wrapped around your waist or shoulders, to recreate this look. Complete the outfit with a pair of light-colored slacks and boat shoes or sneakers.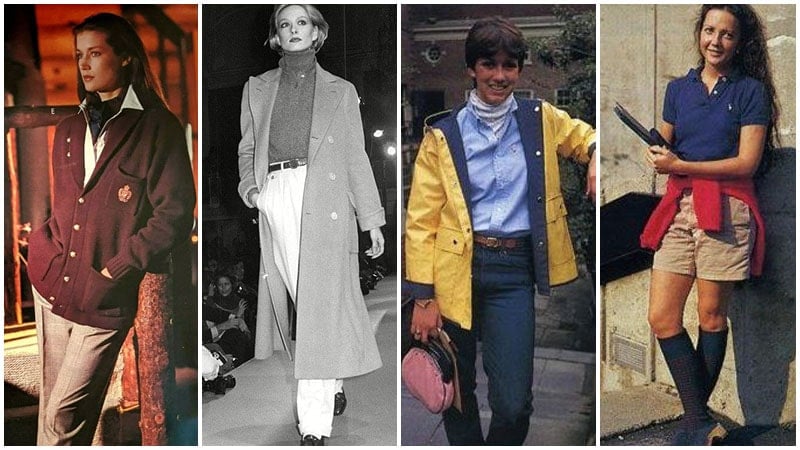 80s Beach Fashion
When you think about 80s swimwear, you likely think of the high-cut bikinis and vibrant colors. This era was all about experimenting with different styles and silhouettes to elongate the limbs and accentuate the hips. In the era of power dressing, heading to the beach was all about showing off what you've got. This included bandeau bikini tops and super-high-cut bottoms in bright patterns, cut-out one-piece, and plunging necklines. Like the decade's workout and aerobic trends, surf culture in California aided in the surge of beach-appropriate wear. The most popular colors were bright, scattered with animal prints, and barely-there coverage.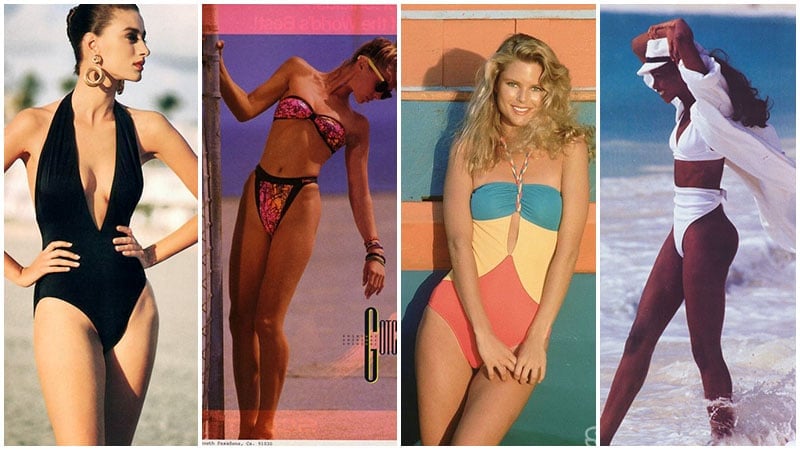 80s Skater Fashion
While the 80s wasn't a huge time for the skateboarding scene, the bookends of the decade saw a surge of popularity for the activity. 80s Fashion for women still had remnants of the late 70s, including cut-off denim shorts, striped shirts, and minimal white sneakers. By the time the 80s was reaching its end, the grunge subculture was poised to bloom – this meant that backward caps, denim vests, colored trousers, and skate sneakers were all the rage. Take inspiration from the all-girl skate club – The Hags – they were the biggest influence for 80s skater fashion.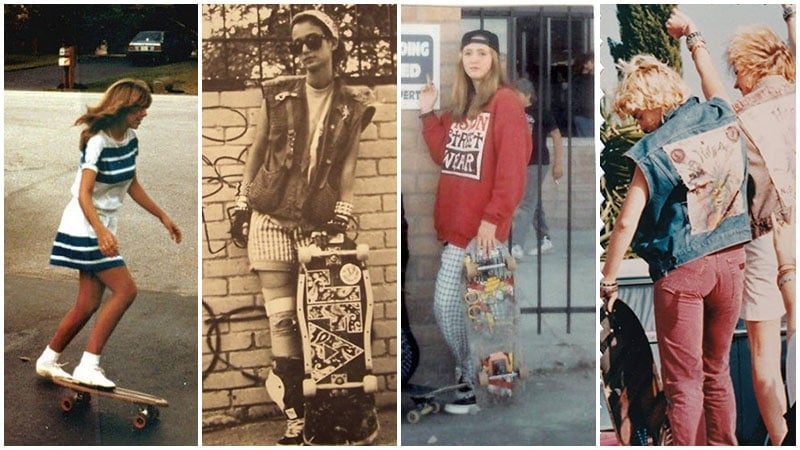 80s Mom Fashion
Moms in the 1980s have been one of the biggest influences for denim in the last two decades. Dressing for motherhood in this era was about infusing fashion with practicality – this meant layering sweaters, cardigans, shirts, and blazers for a complex and stylish aesthetic. To recreate this look, add an oversized blazer to a blouse, cinched in the waist with a belt and a pair of high-waisted slacks or pencil skirt – you can't go wrong with the classic 80s outfits. Add ankle boots or dress shoes for a sleek and authentic feel.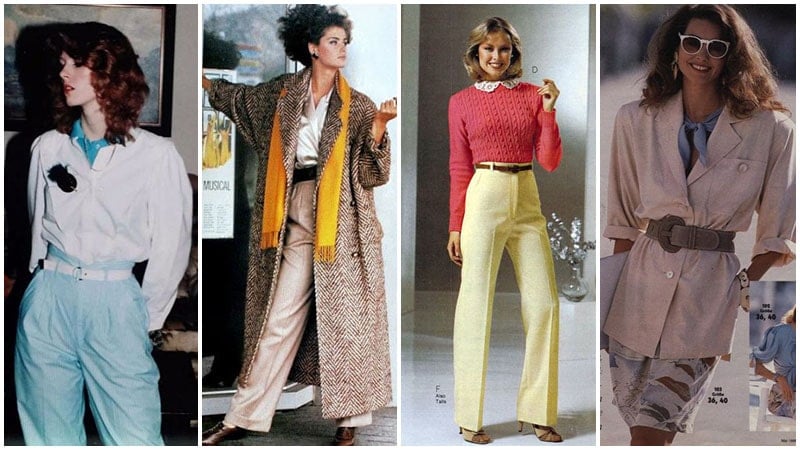 80s Sloane Ranger Fashion
Made famous by Diana, Princess of Wales, the Sloane Ranger style was the British answer to the preppy 1980s fashion for women. This aesthetic began in the 70s but took off the decade after, inspired by Britain's upper and middle class. Sloane Rangers relied on inspiration from the great outdoors with a high-class but 'unbothered' finish. This era included a mix of preppy trousers or a long skirt, dark cashmere cardigans and vests, and the classic Laura Ashley ruffled, floral or pussy bow blouse. The look was often finished with riding boots or ballet flats, paired with luxurious accessories, such as a string of pearls, a slim black belt, and a watch. With this trend, you could imagine an equestrian leaving the stables following an afternoon of riding, heading to Oxford Street for some retail therapy.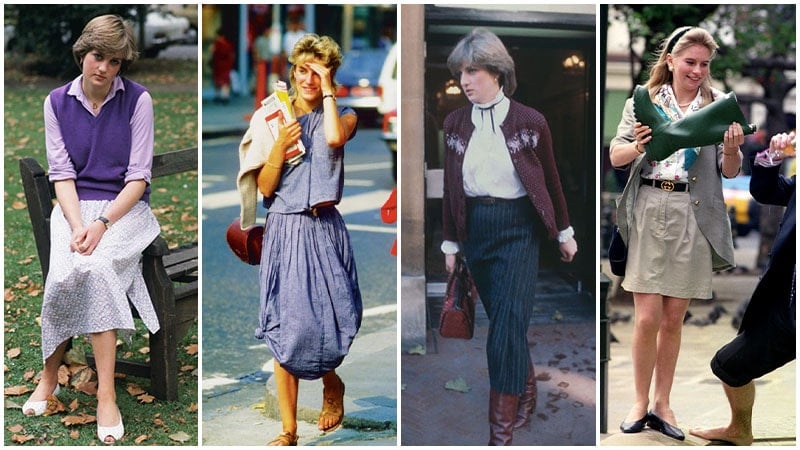 80s Business Fashion
Channel your inner Working Girl's Tess McGill or Mugler woman with a powerful professional outfit. The 80s was the epitome of power dressing, with bold and sharp suiting silhouettes that defined the decade. This era was famous for its shoulder pads – it's a great way to create an hourglass silhouette and create the illusion of a tiny waist. The surge of business casual for women during the decade paid homage to the suiting from the 40s, and such, a symbol of women's rights and feminism. Some of the biggest influences in this era included Thierry Mugler, who reclassified what a strong woman would look like in the office – exaggerated lapels, slim-cut pencil skirts, and touches of lace blended hyper-masculine and feminine aesthetics into an instantly iconic style.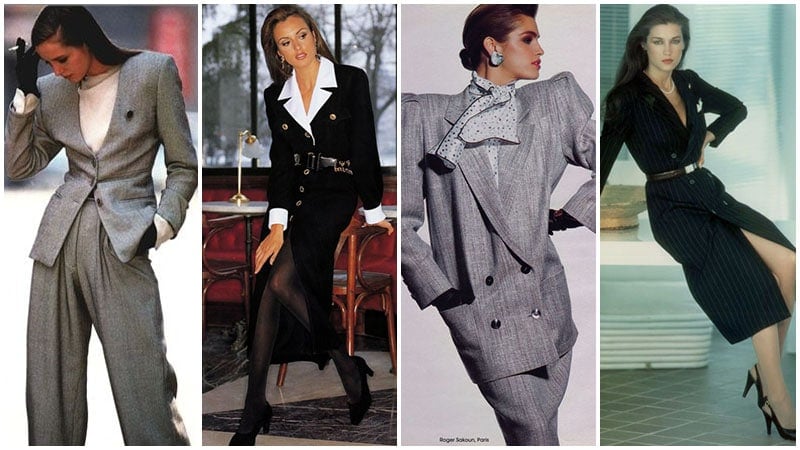 80s Hairstyles & Makeup
Matching the excessive fashion of the decade, the 80s hairstyles and makeup were also intense. During the decade, hair was predominantly big and wild. Full volume was the look that everyone wanted, and extreme curls or waves were a great way to get it. No matter whether women wore their hair up or down, it was big and undoubtedly full of hairspray. Likewise, the makeup of the decade was just as bold. In particular, eyeshadow in intense colors was an essential beauty look, but bright blush and bold lipsticks were also popular.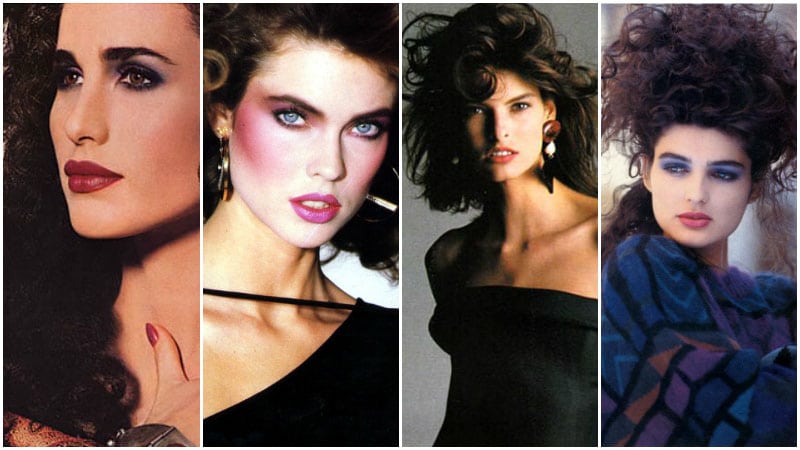 Intense Eyeshadow
Like the 1980s fashion, the eyeshadow of the time was also fierce. This is true not only for the color of the eyeshadow but also for its application. Often women would wear their eyeshadow right up to their brows. This year, bold eyeshadow is back, but not quite in the same dramatic way as it was in the '80s. To channel the look in a more modern way, choose your favorite colored eyeshadow and apply it on your lids, just above the crease, and along your lower lash line.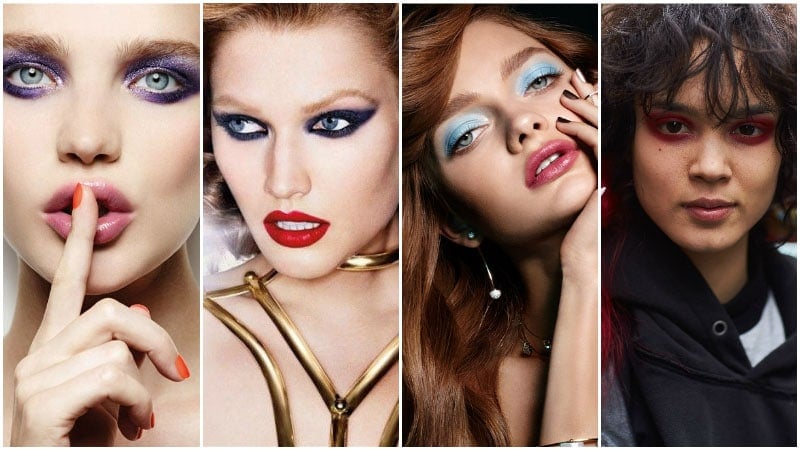 SHOP THE LOOK
80s Fashion for Women FAQs
What did women wear in the 80s?
Fashion in the 1980s was all about excess. Everything was big, bold, and utterly glamorous. During the day, ladies rocked power suits with big shoulder pads to prove that they were just as powerful as the gents. By night, they got glammed-up in sequin and one-shoulder styles. A love of brands and designer labels was also evident during the decade. Towards the second half of the '80s punk looks started trending thanks to the celebrities of the day.
How do I dress like the 80s?
Work essential '80s styles and looks into your modern wardrobe. Wearing a blazer, jacket, or coat with shoulder pads will instantly add an '80s touch to any outfit. Wear sequined styles during the day for a fresh take on the trend and one-shoulder designs at night for a glamorous evening look. Look to ruffles and bold colors to add a dose of '80s maximalism to outfits. For a more subtle take on the '80s trend, try wearing a pair of statement earrings with your contemporary clothes.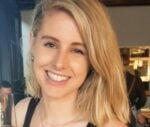 Taylah Brewer holds a bachelor's degree in fashion and business and is a skilled writer with several years of experience in the world of online content creation and copywriting. She is passionate about fashion, beauty, and all things lifestyle-related and has been writing for The Trend Spotter since 2016. She currently works as the Head of Digital & Ecommerce at White & Co.
SUBSCRIBE TO OUR NEWSLETTER
Subscribe to our mailing list and get interesting stuff and updates to your email inbox.