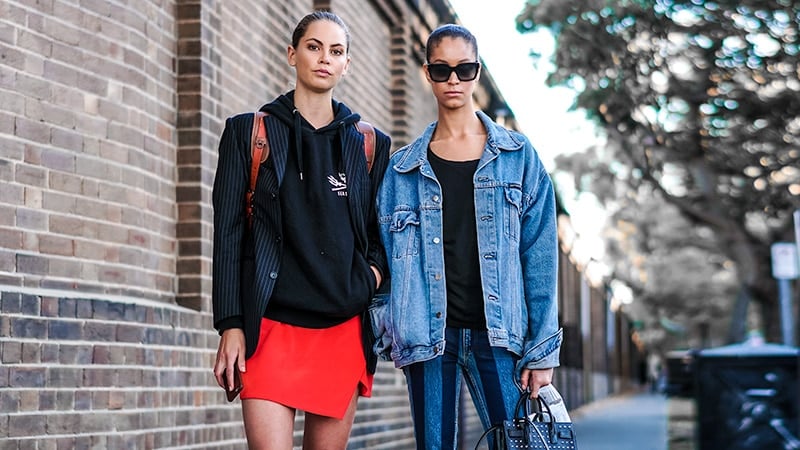 With the world's love for '90s fashion at an all-time high since the decade itself, it's no surprise that grunge has made a comeback. From plaid shirts to ripped jeans, this gritty style is back once more and dominating both the streets and the runways. The only question is; how do you rock this 20-year old trend in 2017? Well, to answer that question, we've rounded up effortlessly cool grunge outfit ideas to help you nail this reborn rebellious style.
What is the Grunge Aesthetic?
Grunge fashion emerged in the '80s and reached peak popularity in the '90s. The look and style were part of a broader subculture that was supported by the grunge music genre. As such, musicians, such as Kurt Cobain, were pioneers of the aesthetic, which featured a careless and rough-around-the-edges appearance. Although the style began as an anti-fashion statement, it quickly became mainstream and made its way onto the runway. As such, the trademarks of grunge, including heavy layering, flannel shirts, Dr Martens, ripped denim, oversized silhouettes, beanies, and slouchy sweaters were soon everywhere.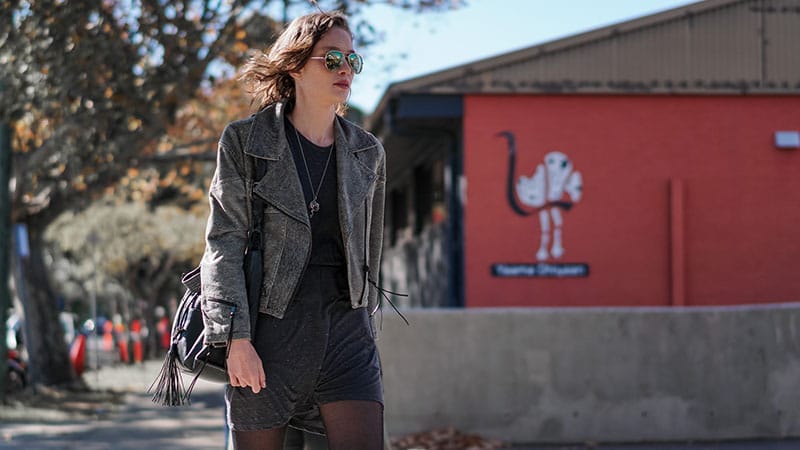 Grunge Aesthetic Outfits
1. Grunge Pink Aesthetic
Who said you couldn't be grunge and wear pink at the same time? Often noted as soft grunge, this look is delicate but packs a punch. One of the best color combinations, black and pink look great together and make for a great grunge outfit. Start with a base – pick either a pair of pants that are a little loose, or try your hand at a mini skirt. Play around with layers, such as a dropped t-shirt, sweater, or flannel. You don't have to make every garment a soft hue, but you can mix and match different shades to create depth and dimension, thanks to its versatility. Finish the look with a pair of chunky combat boots or platform sneakers for a laidback and effortless vibe.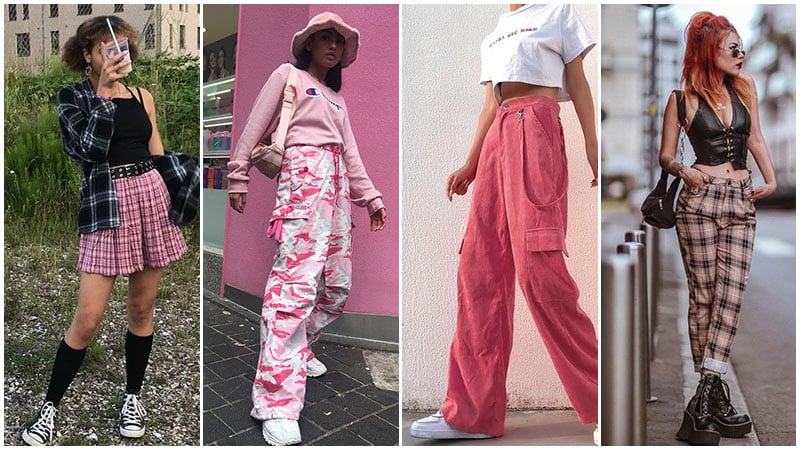 Get the Look
2. Grunge Purple Aesthetic
Purple is a shade that offers depth, versatility and has a subtle edge. This is an excellent shade to throw into the mix for those who want to emulate a grunge aesthetic. Try it with oversized trousers, plaid, or ripped jeans – add an oversized t-shirt and some chunky shoes for a finishing touch. Pay around with different shades, such as violet or plum, which complement darker hues like charcoal, gray, or black. The key to creating the perfect grunge look is rejecting the idea of polish or perfection. Instead, focus on creating something comfortable that makes you feel cool.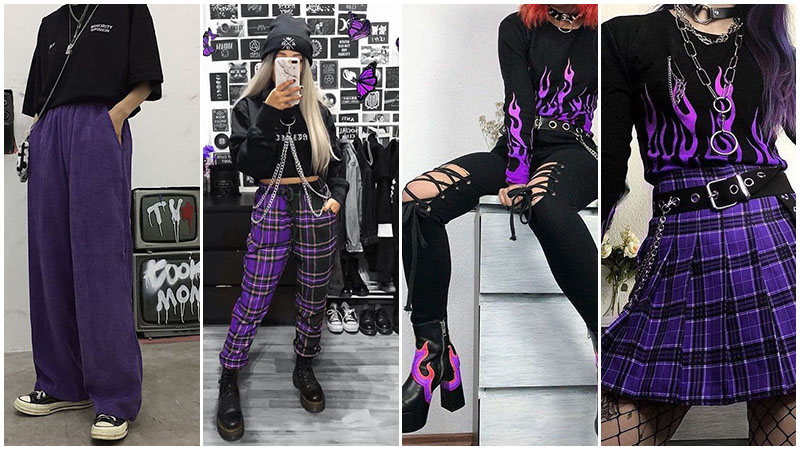 Get the Look
3. Dark Grunge Aesthetic
While the original concept of grunge was about the counterculture of the '90s, today, it can be interpreted in many different ways. One of the popular choices is the dark aesthetic, with many dark and moody shades but the same core principle of the style. This could often get mistaken for goth, but its influences have stemmed from South Korean streetwear influences and interpreted through a grunge lens. Ripped jeans, fishnets, baggy t-shirts, and combat boots make the list for the best outfit choices but stick to black and charcoal for a modern feel. Spice it up with splashes of varying shades, like gray, yellow, or red, to create a multi-dimensional outfit.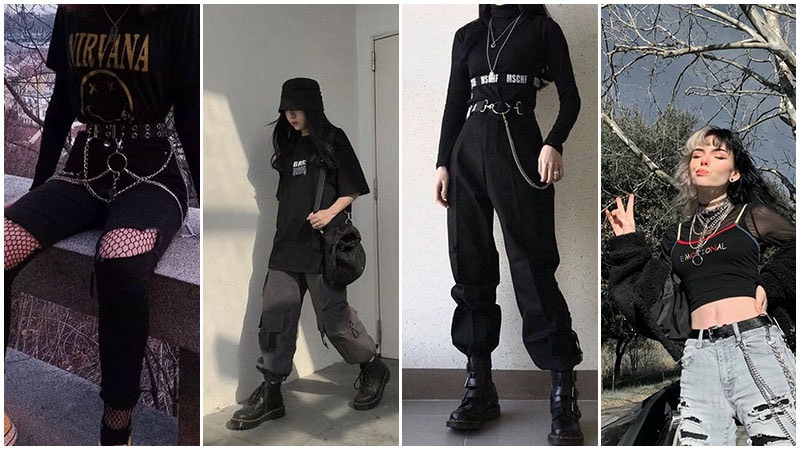 Get the Look
4. Grunge Dark Blue Aesthetic
A trend that began largely in 2014 on Tumblr, this aesthetic has made its way to the present and is as cool as ever. Whether you like double denim, a touch of navy, or oversized shirts, this trend lets you add a bit of color to a monochrome outfit without overdoing it. Play with varying shades, such as lighter and darker blue, to create an interesting and layered look. Keep your denim jackets oversized, paired with straight-leg jeans or a mini skirt and boots. If the temperature starts to drop, layer a turtleneck with a large t-shirt – the art of layering is a key element to nailing the grunge aesthetic.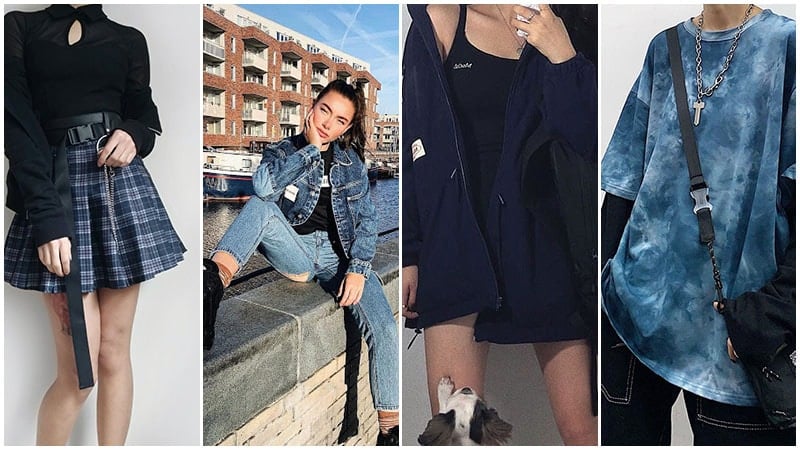 Get the Look
5. Grunge White Aesthetic
Not a very grunge outfit has to be dark and moody – a white ensemble can convey the same laid-back and effortless style. Paired with dark shades, it can create a multi-dimensional feel and add a bit of individualism to the overall aesthetic. Experiment with layers and silhouettes by pairing oversized sweatshirts and cardigans with short skirts or wide-leg jeans. If weather permits, swap out the long pants for a skirt or shorts, complete with chunky boots or white sneakers. While the grunge scene doesn't usually feature any jewelry, in particular, this is entirely dependent on the subculture you prefer. Add as many or as few accessories as you please – do whatever makes you comfortable.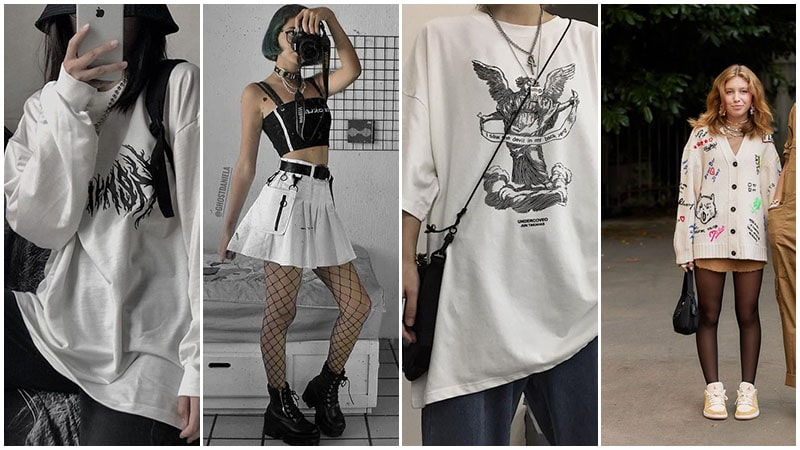 Get the Look
6. Grunge Yellow Aesthetic
While some may associate grunge with primarily dark and moody colors, you can easily encapsulate the style with bright shades like yellow. In fact, Nirvana's smiley logo features a bright yellow outline, making it a great starting point if you're new to the aesthetic. Try a combination of an oversized band t-shirt with a striped long-sleeved shirt underneath, either with a skirt or pants. Add hints of the color in your socks, flannel, or other accessories, and experiment with different patterns on your stockings for an extra twist.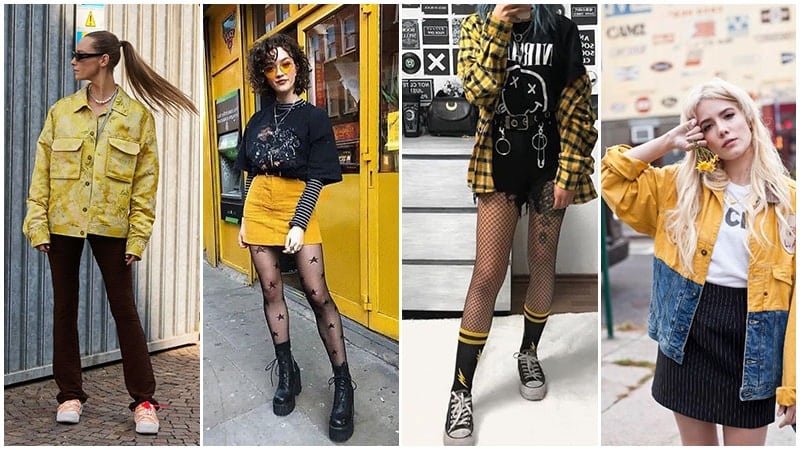 Get the Look
7. Black Grunge Aesthetic
Even though it's considered an essential part of every grunge lover's wardrobe, the original trend didn't start out that way. But today it's a staple, and adding the classic black ensemble is a fool-proof way to dress daily. Starting with the basics, try a pair of wide-leg jeans that hit at the ankle or below – roll up the cuffs if you need to, or wear combat boots and tuck in the excess for a laidback feel. Depending on the weather, you can try a black turtleneck, crop top, or oversized t-shirt – add a large jacket or coat if you require a bit of extra warmth. A core piece of the grunge wardrobe is a pair of chunky combat boots, thanks to their comfort and hard rock associations.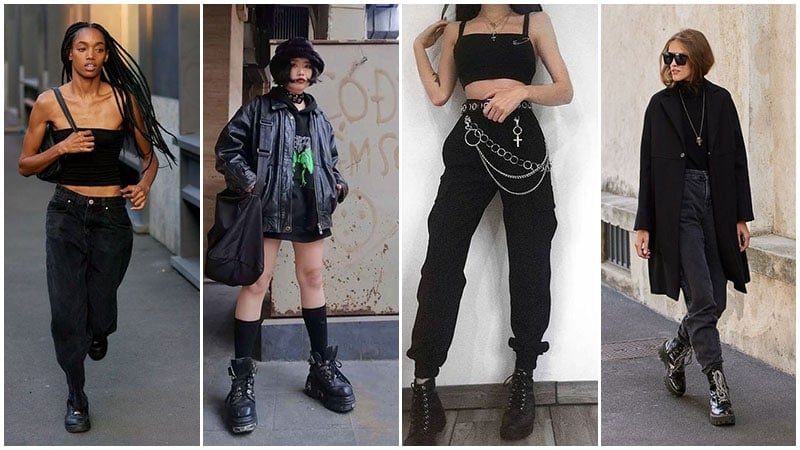 Get the Look
8. Grunge Halloween Aesthetic
If you want to dress as Spinelli from Recess or Kurt Cobain himself, there is no better time to explore your scary style this Halloween. Lovers of Jack Skellington or Jack'o'Lanterns rejoice as you can swap out your favorite band t-shirt for something a little bit more sinister. Whether you want to try a skull skirt or a lot of orange and black, there's a great way to incorporate the spooky season into your wardrobe. Stick to the core principles of the grunge aesthetic with oversized tees, loose-fitting pants, cardigans, and your favorite platform shoes.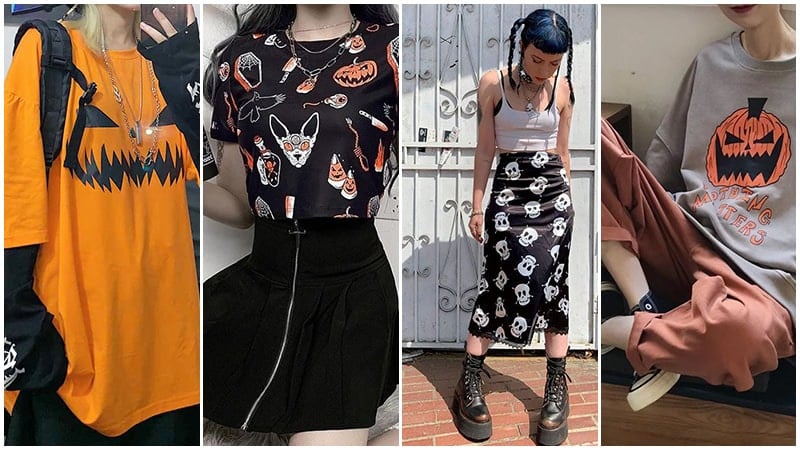 Get the Look
9. Grunge Green Aesthetic
Are you an avid lover of Kurt Cobain's iconic cardigan, or do you simply love the military shade? No grunge outfit would be complete with a touch of green and is one of the core colors in this aesthetic's palette. If you're staying true to the '90s style, try adding oversized olive knits or sweatshirts with roughed-up jeans and your favorite Dr. Martens or combat boots. This shade works well with black, white, blue, and gray, so add them into the combination for an outfit full of depth and textures.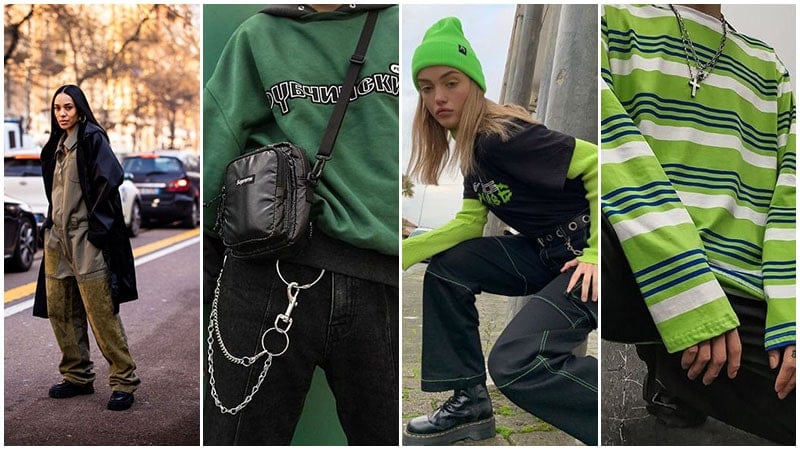 Get the Look
10. Red Grunge Aesthetic
Since its inception, the grunge aesthetic has taken many turns, but one color has remained closely aligned with it: red. A versatile shade that suits everyone, you can try it in any setting with a wide combination of other hues, but the most popular remains to be white, black, and gray. Combine a touch of punk into your outfit with tartan and plaid, in the form of a flannel, pants, or a skirt, in the bold color. Add a black top for balance – an oversized t-shirt and roll neck will keep you warm. Alternatively, you can try something that skims the body and stick to a looser silhouette from the waist down.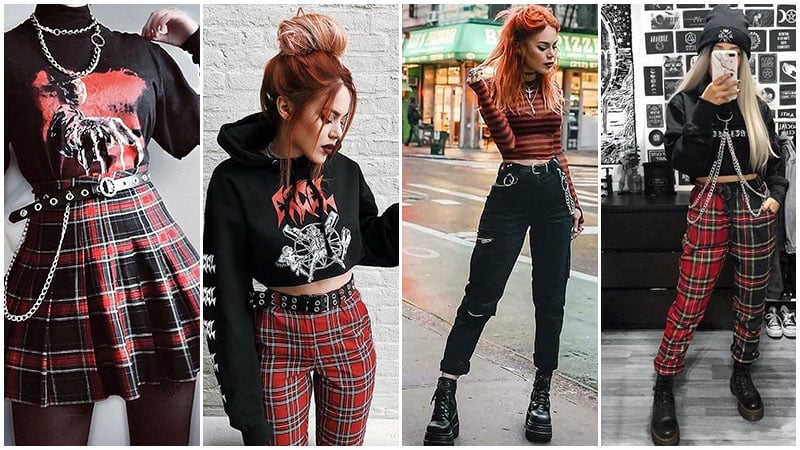 Get the Look
11. Grunge Goth Aesthetic
As with most aesthetics, more than one often blends to create a subculture. The same can be said for gothic grunge, which combines the underground group from the post-punk era with the anti-capitalist movement of the '90s. In terms of style, this aesthetic encapsulates bits of every style, including ripped fishnets, chain belts, lace, and leather. Mix and match plaid from the punk scene, combat and leather boots from goth culture, and an oversized band t-shirt to tie in the final piece of grunge.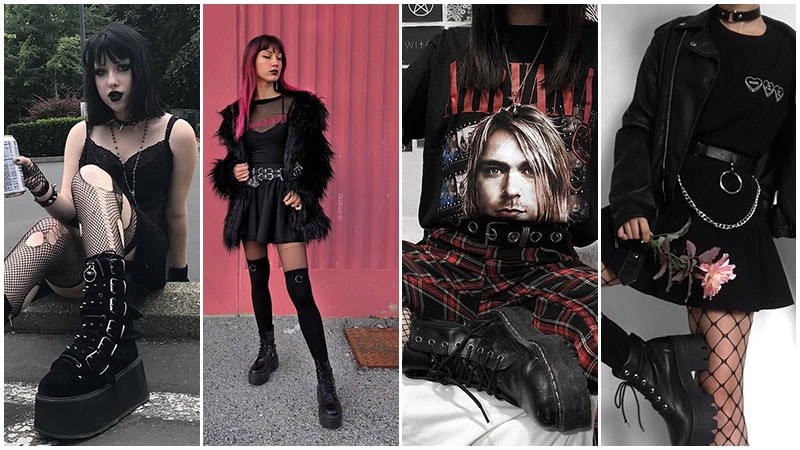 Get the Look
12. Grunge Skater Aesthetic
The grunge scene began in the late '80s in Seattle when the skate scene was in full swing. With the clothes often purchased at thrift stores, the style frequently features tatters, tears and is a rejection of the fashion at the time. Today, it's more about the aesthetic, but there are core principles to remember. When choosing something for skating, opt for something comfortable, loose-fitting, and easy to move in. This also includes the shoes you wear – it's best to try something with a flat sole so you can stand flat against the board when you move. Even if you have never set foot on a skateboard before, you will look like you're a part of the crowd with these outfits.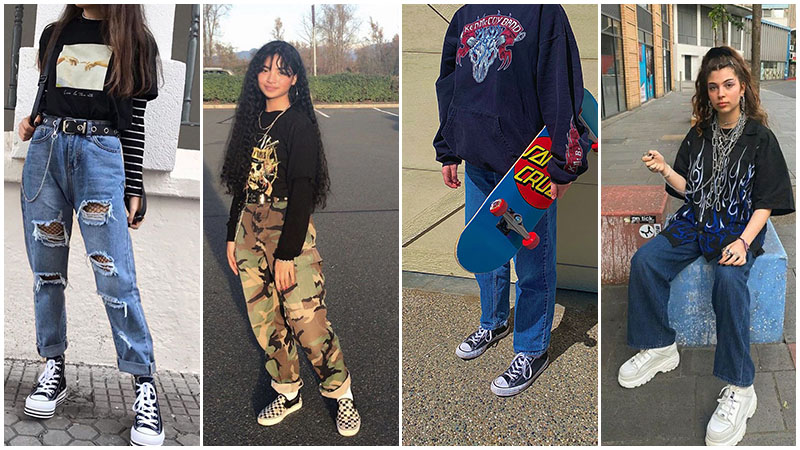 Get the Look
13. Grunge Punk Aesthetic
The grunge scene is much younger than the punk culture, but the two have roots beginning with an anti-capitalist philosophy, rejecting the societal norms in terms of fashion and music. This explains why the two genres work so well together. While the punk scene is considered anti-fashion, grunge leans further towards unfashion, meaning you can still create a great silhouette with the elements of each style. Start with an old printed t-shirt, add a tartan skirt or black mini dress – tie a plaid shirt around your waist for em[hasis on your hips, or mix and match layers of shirts for a more authentic feel. Add chunky platform boos to finish the look, and don't be afraid to clash with different textures for a multi-dimensional look.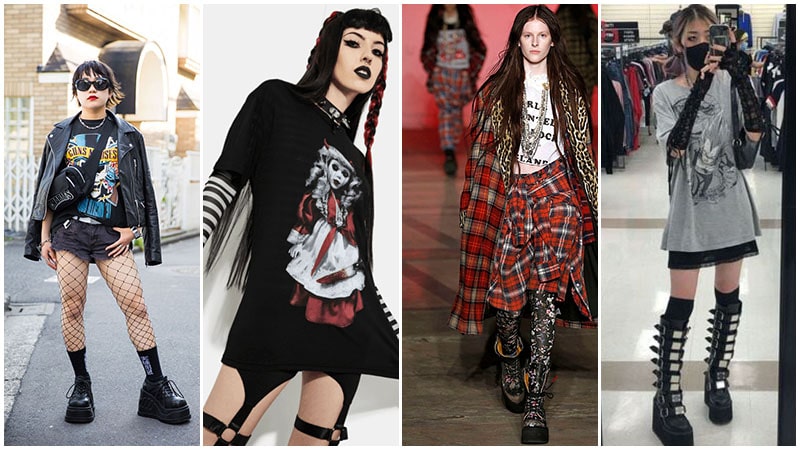 Get the Look
14. Grunge Neon Aesthetic
Billie Eilish may be the first person to consider when the term 'neon grunge' is mentioned. The singer has helped transform the aesthetic into something more vibrant, all with the same core philosophy. Start with a bright pair of green pants, either with a wide-leg silhouette, or cropped at the ankle – this color works well with black, but you can add any other color combination you prefer. Tartan, plaid, or any other texture work really well with this shade, thanks to its multi-dimensional feedback to lights. An oversized black t-shirt, sweatshirt, or hoodie also looks great and creates a loose contour of the body. Stick to minimal jewelry with this look, as the palette is already doing a lot of the work.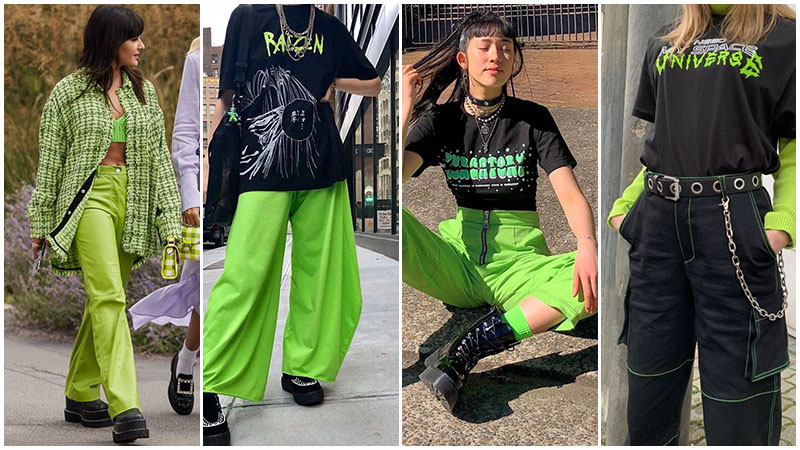 Get the Look
15. Grey Grunge Aesthetic
Although black was not one of the original cores in the grunge aesthetic, gray has certainly played a large role in the trend. The blend of white and black create a deep and multi-use shade, perfect for any type of outfit. Keep true to your roots in a monochrome pants suit with a bra underneath – the edge of wearing lingerie as outerwear is a modern interpretation of unfashion. Alternatively, you can try a pair of simple slacks and a black t-shirt or an oversized sweater for a looser silhouette. These earth tones help convey the philosophy of cultural rejection of the '90s and look great in today's context.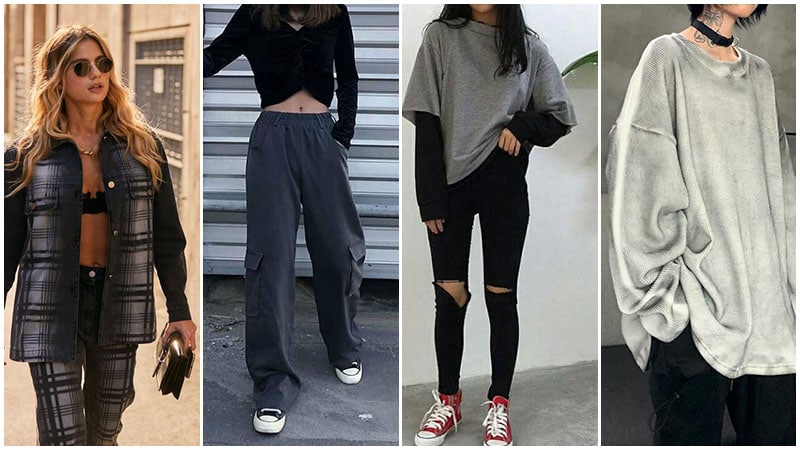 Get the Look
16. 90s Grunge
If you find that there's no substitute for the original, you'll want to look straight back to the '90s for grunge fashion inspiration. Thanks to the return of this trend to popularity, rocking an edgy look that references the decade is simple. All you need to do is channel your inner rebellious spirit and embrace the imperfect. Ripped jeans, metallic jackets, baggy shapes, and clashing designs are just the beginning of this attitude-heavy appearance.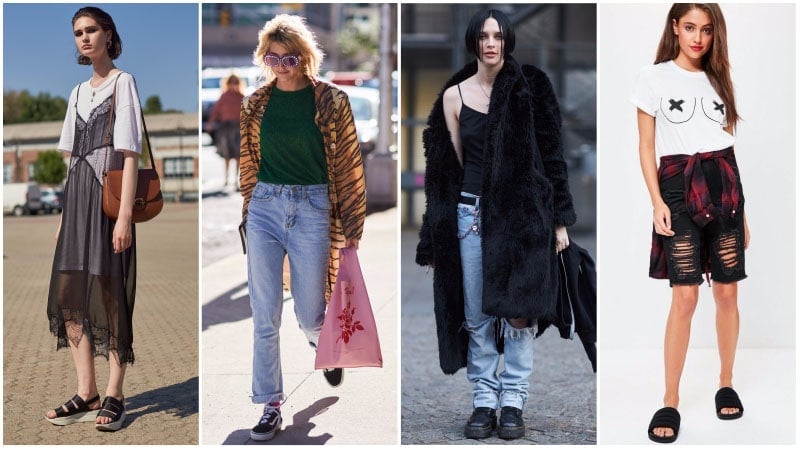 SHOP THE LOOK
17. 80s Grunge Aesthetic
While grunge may make you immediately think of the '90s, the style began in the '80s. Organically created in opposition to the materialistic excess and glamour of the decade, grunge offered an edgy alternative for both men and women. The style, which took notes from punk fashion, often included band T-shirts, acid-wash and mom jeans, crop tops, and leather biker jackets. Flannel was also a large part of this trend and provided it with a casual, nonchalant aesthetic.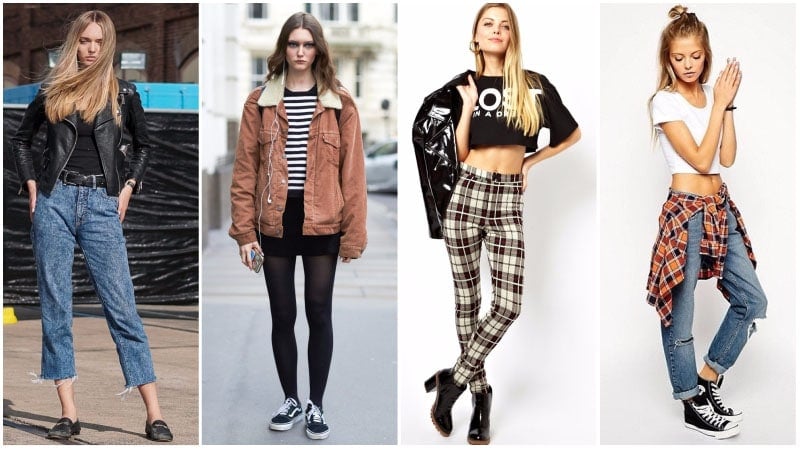 SHOP THE LOOK
18. Soft Grunge Aesthetic
The return of grunge fashion has seen the birth of soft grunge. This sub-genre references the grunge aesthetic but blends it with modern influences for a lighter appearance. As such, this look is perfect for anyone wanting to try this trend without changing their entire wardrobe. To achieve a fashionable soft grunge outfit, just blend essential items and details from the grunge aesthetic, such as plaid and ripped denim, with a contemporary appearance. The result will be a stylish outfit with a touch of classic rebellion.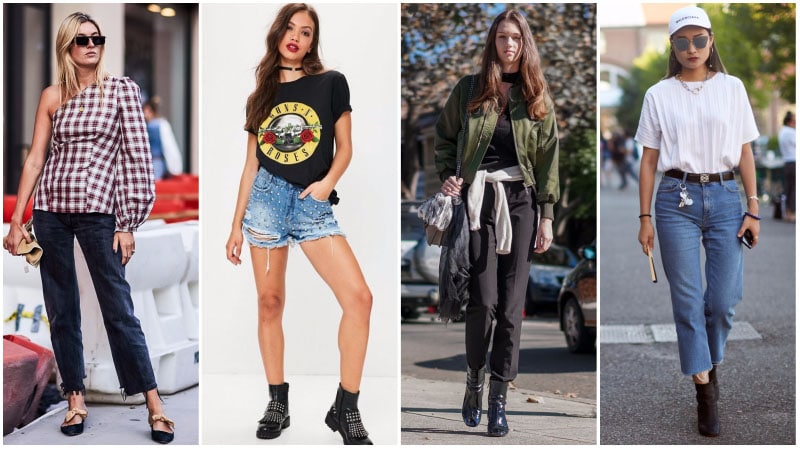 SHOP THE LOOK
19. Pastel Grunge Aesthetic
If your sense of style leans more toward the traditionally feminine, you may want to try a pastel grunge look. This unique look mixes edgy grunge designs with the soft appearance of pastel colours. With less black and more pink, blue, yellow and purple, this fashion style is lighter and less intense. To nail the aesthetic, just select '90s-style garments with grunge references in chic pastel shades. Alternatively, try colouring your hair a lovely pastel hue.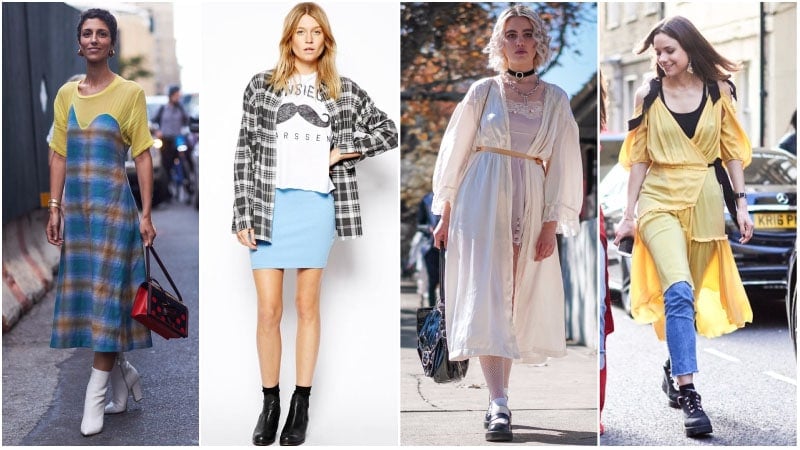 SHOP THE LOOK
20. Cute Grunge Aesthetic
While grunge may have once denoted a messy and rough appearance, today, the look can be quite charming. In fact, creating a grunge aesthetic that is cute is surprisingly easy with the right garments. To nail the sweet yet edgy style, you should consider opting for a dress. A skater dress in a dark print, plaid shirt dress or band t-shirt dress will work perfectly. Then, just pair it with a cropped leather jacket and a crossbody bag for a stunning weekend style.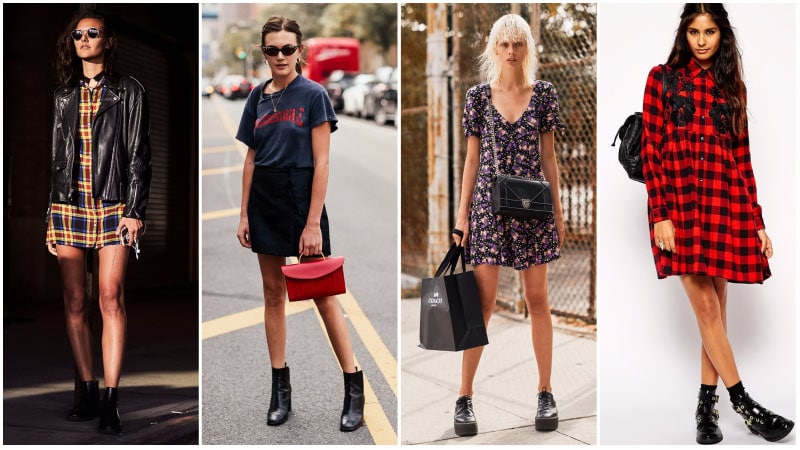 SHOP THE LOOK
21. Indie Grunge Aesthetic
If you're heading to a festival or concert, an indie grunge outfit can be an excellent choice. The unique look is a more contemporary and straightforward version of grunge. Although it still projects the same effortlessly cool aesthetic, this style also features vintage details and alternative music references. While you can easily make this look your own, consider cut-off shorts, oversized denim jackets, loose T-shirts, boots, and mini backpacks your go-to items for achieving a flawless indie grunge ensemble.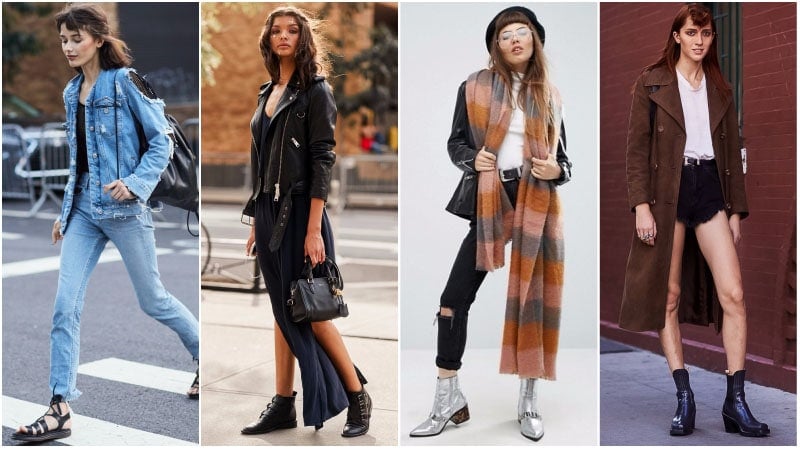 SHOP THE LOOK
22. Vintage Grunge Aesthetic
For a look that's as beautiful as it is edgy, you can't go past a vintage grunge outfit. The style blends these two fashion categories for an attitude-filled bohemian appearance. To create the look, start by adding slip dresses, floral prints, retro accessories, Dr Martens, and classic blazers to your closet. Then, layer vintage and grunge items together for a look that's charming yet daring.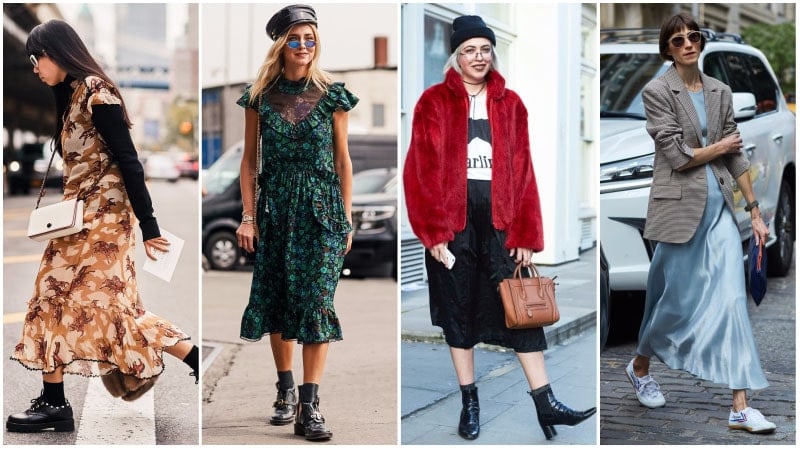 SHOP THE LOOK
Grunge Shoes
To create the perfect grunge outfit, you can't forget about your feet. Grunge shoes are big, bulky and flat. So, put away those high heels and embrace comfort with Dr Martens, canvas trainers, such as Converse or Vans, combat boots, gumboots, flatform sandals, and creepers.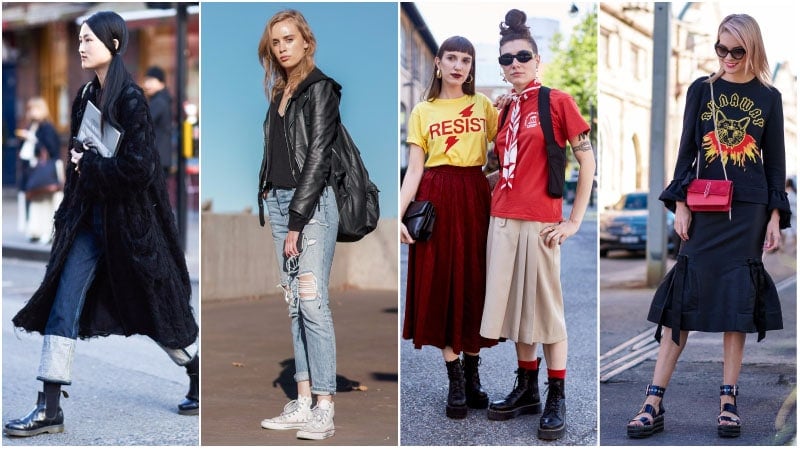 SHOP THE LOOK
Grunge Makeup
When it comes to grunge makeup, there are two approaches. You can either go makeup-free for a bold yet minimal appearance or apply it heavily for a strong statement style. If you choose to wear makeup, be sure to create a striking appearance with a berry, wine or chocolate lipstick. Then, complete your look with thick, smudged eyeliner and lashings of mascara.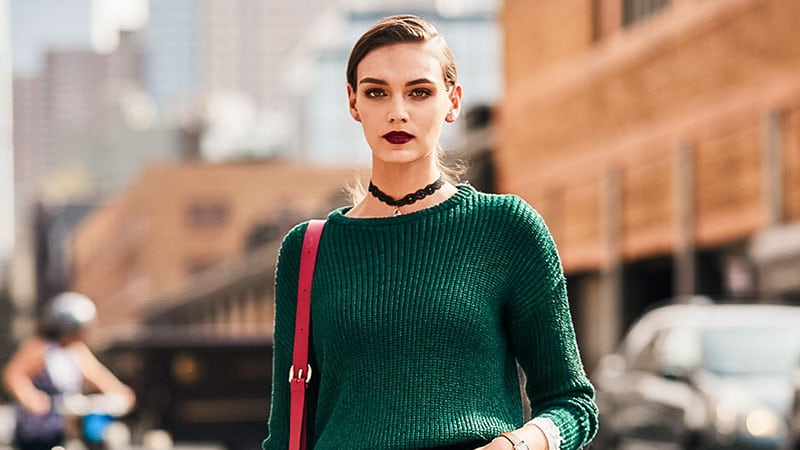 Grunge Hair
Opting for a grunge hairstyle is an excellent excuse to forget about your regular grooming routine and take things easy. As grunge hair looks best messy and a little greasy, there's no need to wash, dry and style your strands religiously. Instead, let your hair stay natural with a bedhead appearance. If scraggly waves aren't your thing, try messy double buns instead. If you still want more excitement, add a unique colour or have your stylist add baby bangs or an undercut.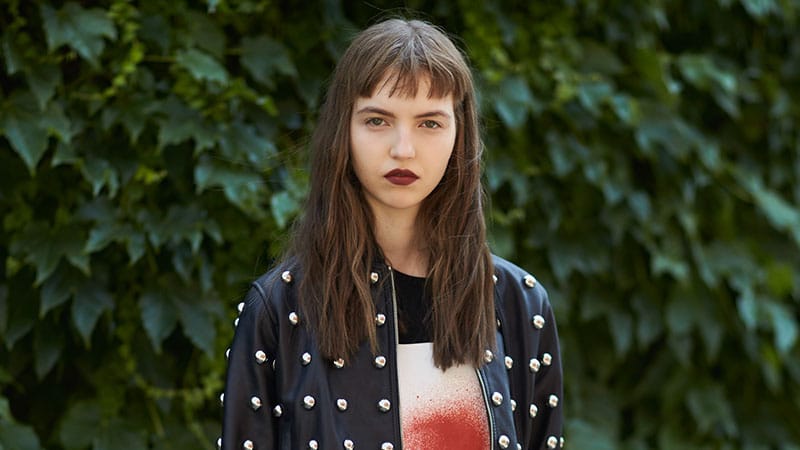 Grunge Bands
To complete your immersion into the grunge trend, don't forget to create the perfect playlist featuring the bands who first created and influenced the style. Listening to the tunes of Nirvana, Soundgarden, and Pearl Jam is sure to help you feel inspired to get gritty with your wardrobe.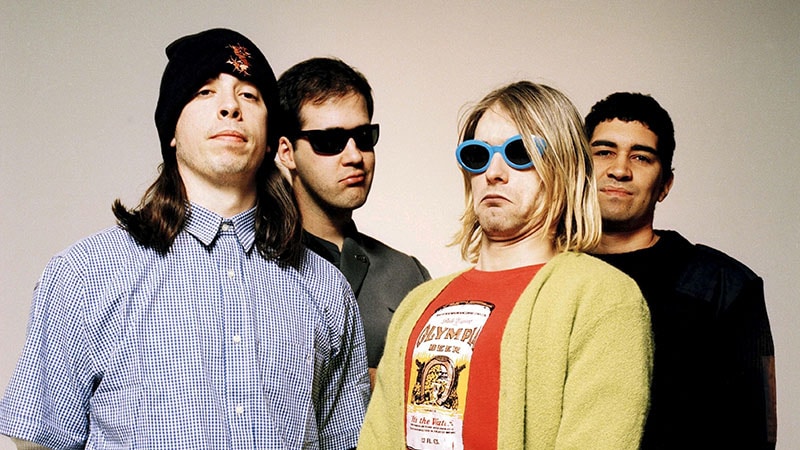 Grunge Aesthetic Style Tips
Incorporate classic grunge items and details into your wardrobe, such as plaid shirts, ripped jeans, and oversized silhouettes.
Embrace heavy layering and don't be afraid to let items clash.
Complete your look with grunge-approved shoes like combat boots, creepers, canvas sneakers, and platform sandals.
Create a statement grunge makeup look with a bold berry-hued lip and smokey eyes.
Nail the perfect grunge hairstyle by opting for a bedhead appearance or adding attitude with baby bangs, double buns or a unique colour.