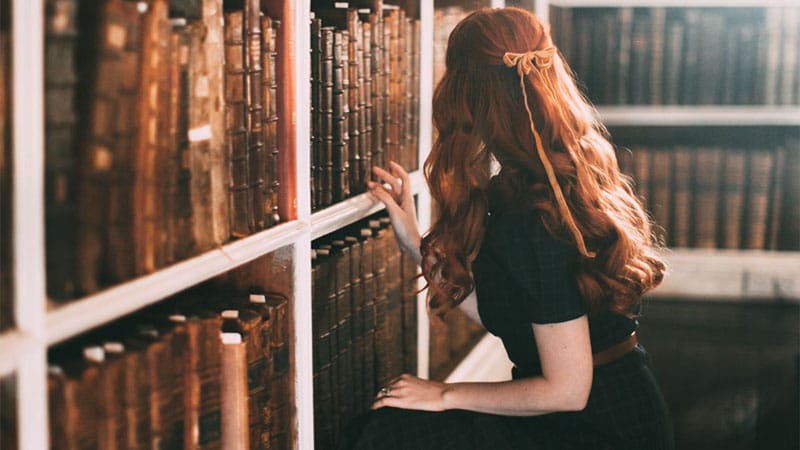 Have you ever imagined yourself traipsing down the halls of a university in the 1940s or meandering across the moors in the English countryside in 1847? Well, you can stop imagining it and start living it with this aesthetic. Motivated by the thirst and passion for knowledge, as well as the beauty of century-old architecture and the soft pattering of rain on the windows, there is much more to this trend than just clothes. However, if you're new to the aesthetic or you want to emulate it in your everyday wardrobe, look no further. Genderfluid, timeless, and immersed in nostalgia, we can see why dark academia outfits are a cool aesthetic.
What is Dark Academia Aesthetic?
The Dark Academia aesthetic is a subculture derived from the romanticization of knowledge, classical studies, and literature. Often these are found in the halls of Ivy League or Oxbridge universities, set anywhere from the mid-19th century to today. You will primarily find films set in the 1920s-1950s, centering on themes of murder, intrigue, or a journey to self-actualization. As the name suggests, it teeters on the darker side of these scholarly references – think rainy days in dark libraries and empty museums. The core of the aesthetic stems from the privileged and upper class during the pre-WWII era. Films often showcase the stories of Eurocentric characters, namely men, who are incredibly wealthy and walk the halls at night and drink in excess. In turn, this can promote unhealthy habits, like overconsumption of caffeine and sleep deprivation. As the aesthetic encompasses a thirst for knowledge, today, you can find many subcultures with more inclusive and modern references and influences. However, the staples of this aesthetic are consistent throughout, including plaid trousers, button-down shirts, and layers of neutrals. Today, this is an aesthetic embraced by BIPOC, the queer community, and anyone who enjoys the style.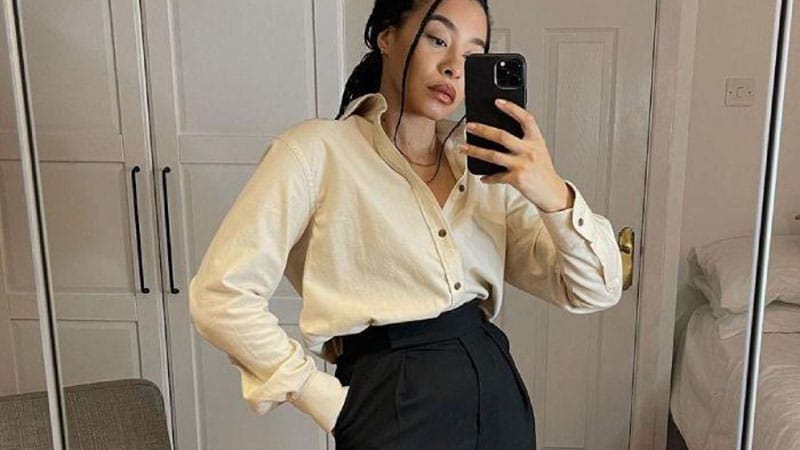 Dark Academia vs. Light Academia Aesthetic
Strictly speaking, the difference between these two aesthetics is the color palette. While both are similar, the lighter counterpart will avoid the moody hues often seen in Dark Academia. The two aesthetics both share a third for knowledge. However, light academia will focus more on the classical era, whereas dark academia leans further towards gothic literature and works. The lighter counterpart is often associated with optimism and friendship, but in contrast, the darker sides will embrace the brooding nature surrounding its influences. You can picture both of them as siblings; they're related, but one is spending a day in the garden reading books, and the other is waiting for the rain to start so they can study with a coffee.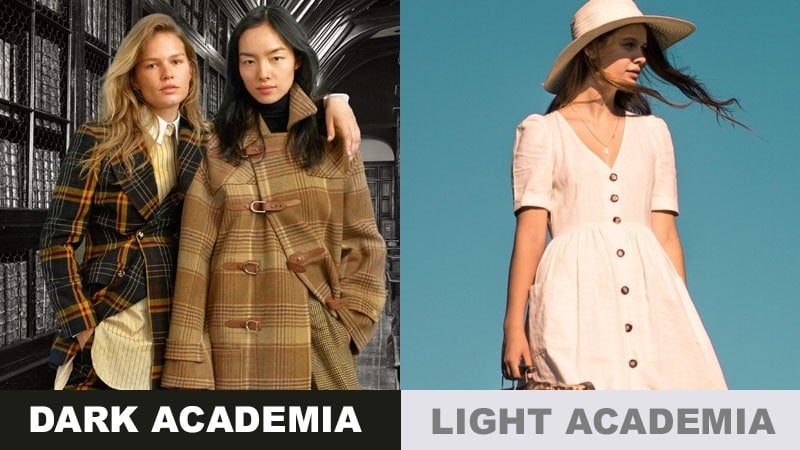 Dark Academia Aesthetic Outfits
Tweed Blazers
A staple feature of the Dark Academia aesthetic is the allusion to a uniform – this includes tweed blazers. They may be oversized, rolled at the cuff, or tailored to fit you perfectly, these pieces are versatile, meaning you can style them in myriad ways. Typically, you can find them alongside a button-down shirt, either with a cable-knit sweater or by itself. Alternatively, wear it with a turtleneck in a dark or neutral shade, a pair of checked trousers, or a mid-length skirt. For a more authentic feel, emulate the colors usually worn in school or university settings. A Harris or Houndstooth looks great in a monochrome look, but a herringbone or Prince of Wales can match many hues.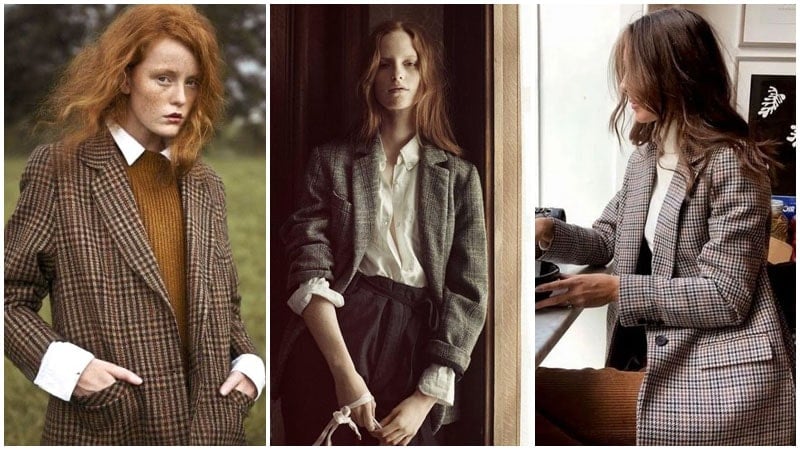 Get the Look
Dark Wool Coats
Across Dark Academia films and TV shows, you will find at least one scene set during the cold months. The concept of layering is nothing new, but in this aesthetic, it's almost a requirement. Use dark wool coats to complement the earthy shades you're styling and keep yourself feeling toasty. The length of the outerwear doesn't usually matter, but this depends on the sub-culture of the aesthetic you are emulating. For instance, if you wish to recreate something from The Dead Poets Society, set in 1959, opt for a coat that cuts at the shin. However, if you prefer the 60s scene from The Dreamers, you can get away with something a bit shorter.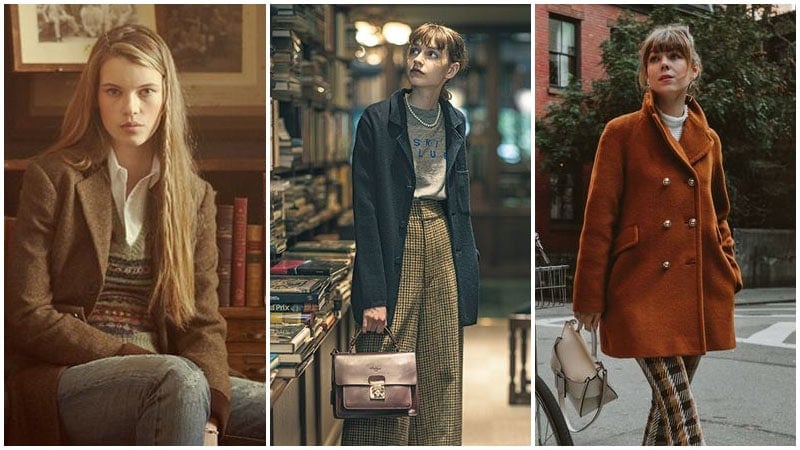 Get the Look
White Shirts
You may be in a library or running through the halls of a museum, the Dark Academia aesthetic calls for a reference to the literary world. This can be achieved through the use of white shirts. From frilly blouses to button-downs, this style is timeless and looks great with a blend of different styles. For a casual and modern take on the trend, pair it with a chunky sweater and plaid trousers – swap out the bottoms for a pinafore, and you've mastered an alternative yet chic look. Take your inspiration from everywhere, whether it's scrolling through TikTok or shots of Jean Shrimpton in the pages of a 1960s edition of Vogue.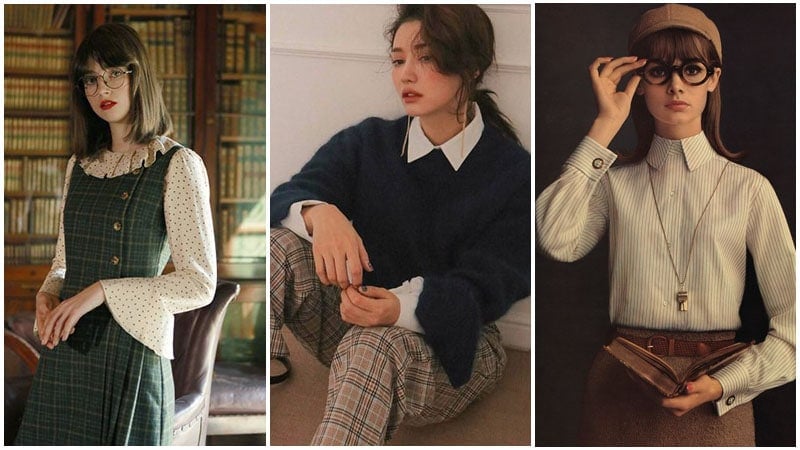 Get the Look
Turtlenecks with Long Skirts
While the overall aesthetic of Dark Academia leans towards a genderfluid route, there are plenty of ways to add a feminine twist to the trend. Case in point: a turtleneck with a long skirt. This style is classic, elegant and timeless, making it a great choice for dinner with friends or a family get-together. For those who enjoy staying true to the aesthetic, wear a dark roll neck with a plaid full-length skirt – add an oversized coat and Chelsea boots or loafers for a finishing touch. However, if you lean towards the Modern Dark Academia style, blend the past and present in a monochrome ensemble. The complementary shades will create a multi-dimensional and complex outfit that is sure to stand the test of time.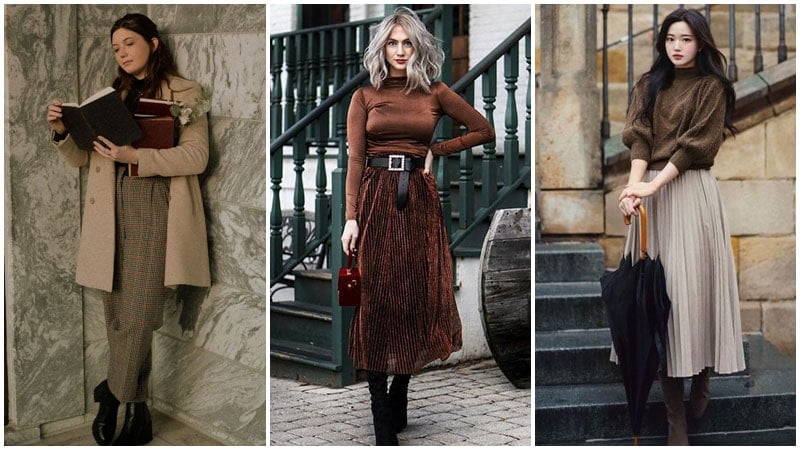 Get the Look
Tailored Pants
Much like the films, books, and TV shows that inspired the aesthetic, tailored trousers are a staple item for everyone's wardrobe. They're versatile and perfect for all body types, plus they're a wonderful option for people who are gender nonconformists. Style them with a white or blue button-down, a turtleneck, or a cardigan. The key to making this outfit resemble something scholarly is the layering and color palette you choose. Stick to darker shades for the bottom half of your body – this allows you to dress as dark or light as you wish with shirts, coats, and accessories. Finish the look with boots or loafers. They're the perfect item for cold, rainy days in a cafe or by the fire.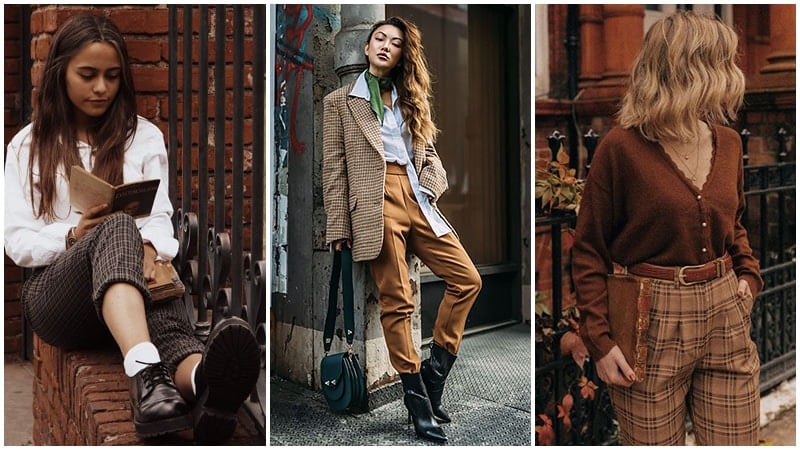 Get the Look
Plaid Skirts
Much like a school uniform, these plaid skirts have the ability to look good on everyone. Stylish and multifaceted, you can style them up or down and in any weather without sacrificing your aesthetic. In winter, add a pair of thick wool tights in dark or neutral shades, and a white shirt or a polo neck to keep yourself warm and stylish. When summer comes around, swap out the thick knits for a light cardigan or a linen shirt. You can try lighter shades like taupe or camel, but this depends on the subculture of the aesthetic you wish to emulate (like Light Academia).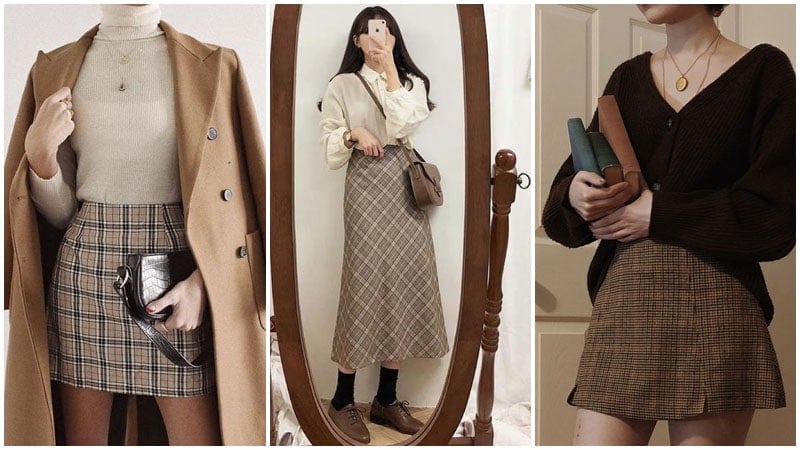 Get the Look
Brown or Black Boots or Oxfords
Often one of the most overlooked yet important parts of dressing for this aesthetic is the shoes you wear. Most commonly seen are brogues, oxfords, loafers, or ankle boots. They are familiar with the scholarly world, thanks to their practical designs, leaving you looking polished and well-groomed. The best color choices for this footwear include brown and black, as they match nearly every outfit and work well in all types of weather. If you plan to wear a skirt, stick to shoes that show your ankle – this will create the illusion of longer legs. You can wear pretty much anything with tailored trousers, but if you wish, you can show your new footwear off by rolling up the bottoms of your pants.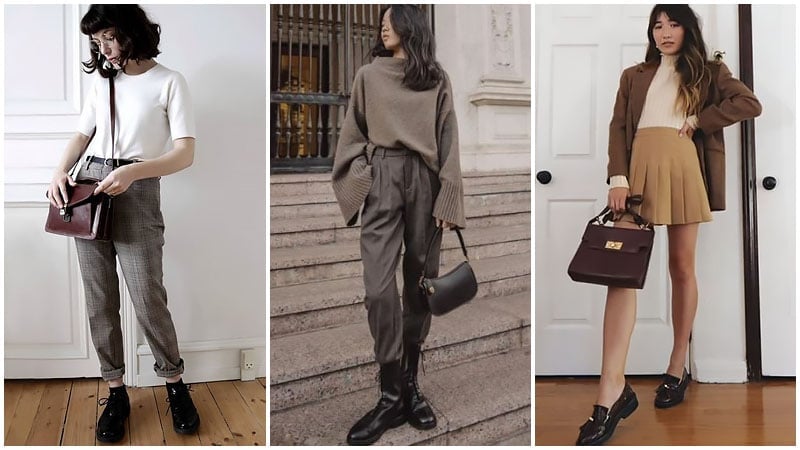 Get the Look
Tights
Much of Dark Academia pop culture revolves around scenes often in dark and brooding weather. With this in mind, the need to stay warm is sacrosanct. That's where tights come in – they're warm, toasty, and look elegant with the rest of your outfit. Choose something that is made from thick wool or opaque in color so that it can create a perfect silhouette with your ensemble. Pair them with a midi or above-knee skirt with a button-down or polo neck. Alternatively, you can try a plaid dress or pinafore, complete with a pair of oxfords or brogues. If you love playing with varying colors, try a pair in bottle green, navy blue, or burgundy – they make for a great monochrome or duo-chrome get-up.
Get the Look
Hair Bow
While often sourced as cozy, warm, and comforting, this aesthetic often calls for a hyper-feminine and dainty look. That's where hair accessories come into play. Style your hair in a half-up half-down style, low bun, ponytail, and complete the look with a delicate ribbon or bow. You can easily reuse fabric from a gift or packaging or try a clip-on style for a quick addition. Accessories like these accentuate your ensemble and will add a bit of spice to your Dark Academia aesthetic. The beauty behind them is their versatility. Whether you want to match it to your color palette or throw a new shade into the mix, it's a crowd favorite.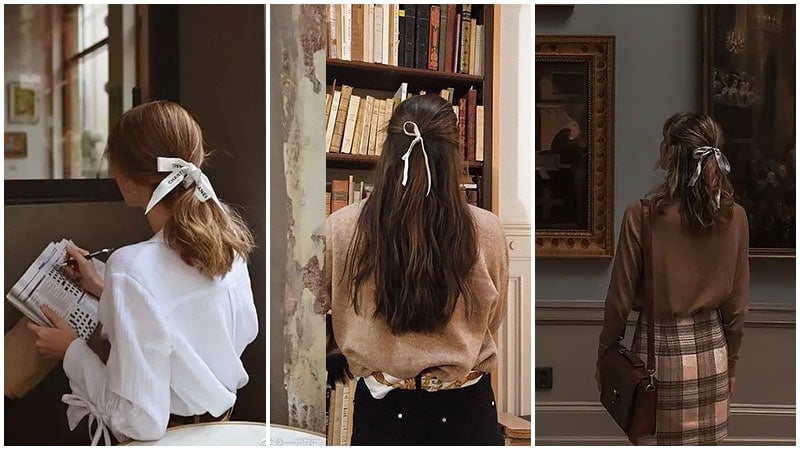 Get the Look
Dark Academia Media
Dark Academia Books
You can't enter the world of Dark Academia without having access to some of the most cherished books of the aesthetic. Venturing off into the genre of gothic and Byronic heroes and making its way to the troubled scenes of private school fraternities, there's a book for every era you may fancy. If you're new to the subgenre, there are a few must-reads you should check out: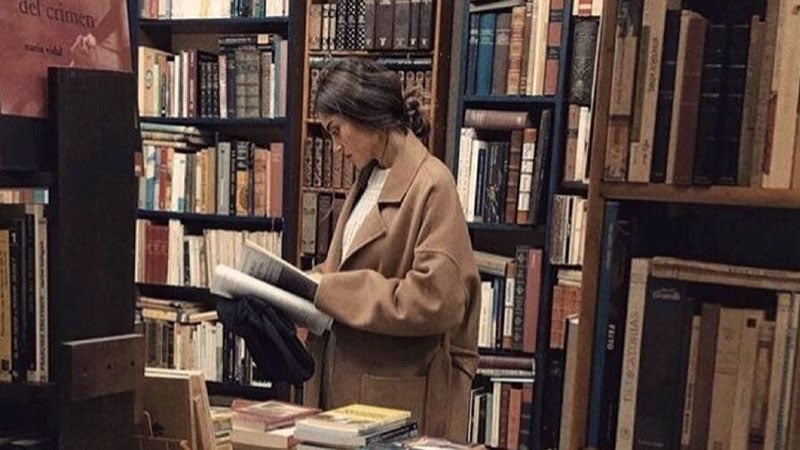 Dark Academia Movies
Of course, the aesthetic wouldn't be what it is today without a few iconic films. There are a few from the recent time period, but arguably the 'Golden Age' of these films are from the 80s and 90s. They have become synonymous with the overall style, color palette, and influences for Dark Academia and remain favorites with film buffs worldwide. Some include: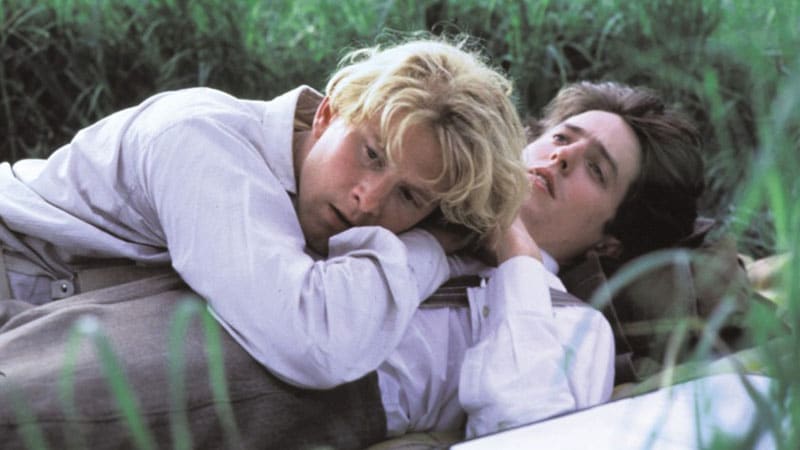 Dark Academia Music
When you don't have your head buried in a book, enjoy a cup of coffee with Dark Academia-inspired music. You'll often encounter classical music, as it was highly regarded and associated with scholarly people. However, there are many different variations of this era, such as Baroque (think Vivaldi) or Romantic (like Tchaikovsky). You can even find modern alternatives to this historical reference – musicians will often title their work based on the mood it evokes. As an example, if you type in 'running through the halls of an old university or simply 'Dark Academia' into Spotify, you can find a wide-ranging list of tunes that can help you relax or study.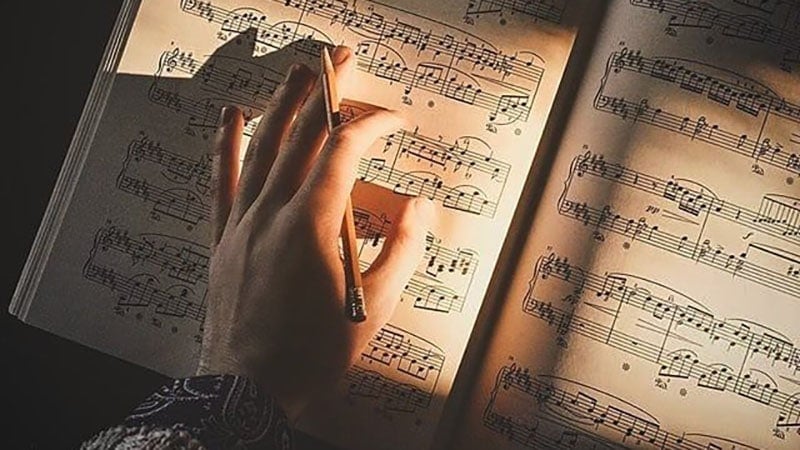 Dark Aademia Aesthetic FAQs
How do you get a dark academia aesthetic?
To get a Dark Academia aesthetic, begin with the essentials: a white button-down, check trousers, a tweed blazer, and an oversized coat. This aesthetic is all about muted colors, so stick to brown, black, or gray for an authentic feel. Keep your jewelry light, perhaps just a vintage gold watch or a delicate chain or earrings. When choosing an outfit, aim for a classic look that you might expect a character from The Dead Poets Society to wear.
Is dark academia toxic?
There are a lot of elements of this aesthetic that can be considered toxic by today's standards. The most commonly seen titular roles in the staple films and books are Eurocentric men from incredibly wealthy families. This is non-inclusive of everyone's sexual identity, gender, or race, but it won't stop the aesthetic from continuing. Today, you can find inspiration from the BIPOC and queer communities, as well as genderfluid and heteronormative people.
What is light academia aesthetic?
The light academia aesthetic mainly consists of tweed, corduroy, linen, and lace - much like Dark Academia. However, the colors are on the opposite end of the spectrum. As this trend centers around romanticism and classical art, you'll likely see brown trousers, linen shirts, and tweed blazers in cream, white or soft green.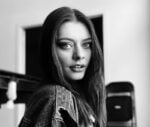 Alexandra Feiam is an experienced fashion writer who holds a degree in journalism. She has an impressive portfolio and expertise working as the Editor at Power Retail and Commercial Content Editor at Newscorp. Ally has been writing for The TrendSpotter since 2018, and her work has been featured in notable publications such as The Herald Sun, Arirang TV South Korea, Kidspot, The House of Wellness, and The Daily Telegraph.
SUBSCRIBE TO OUR NEWSLETTER
Subscribe to our mailing list and get interesting stuff and updates to your email inbox.