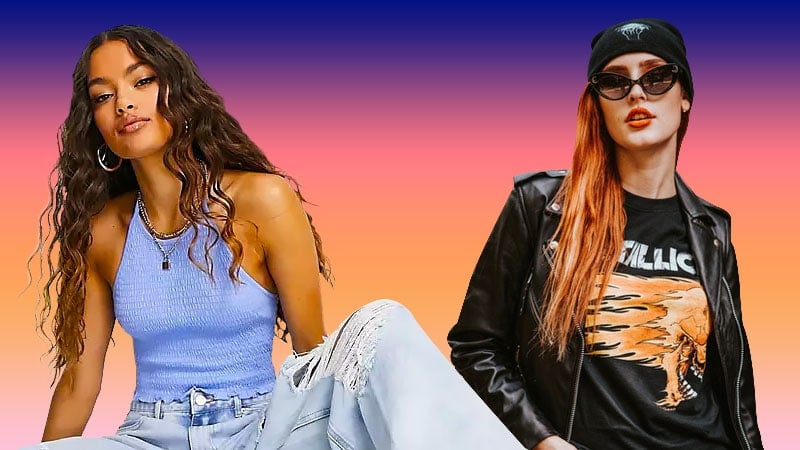 There are two types of indie aesthetic fans – the ones who love the alt-rock indie scene and the those who are all about the TikTok-infused indie kid. These aesthetics may share the same name, but they are wholly different in both style and feel. While one is formed from the underground anti-establishment rock scene from the 70s, the other is about expressing yourself with bright colors and quirky accessories. Which one suits you best? If you want to find out about the aesthetics, then look no further! Here is a guide to the two distinctive styles and how you can incorporate them into your everyday wardrobe.
Indie Aesthetic History
While the term 'indie' may be thrown around loosely today, the aesthetic itself has a history that goes back to the late 70s and early 80s in the UK and the US. As an anti-establishment and subgenre of music, it's associated heavily with the new wave, punk, and rock scenes in Manchester, Birmingham, and London. The original bands that have inspired this aesthetic include The Smiths, The Jesus and Mary Chain, and Buzzcocks. It branched from there, producing the much-loved grunge and alt-rock scene of Seattle. This included the rise of bands like Nirvana, and more recently, The Strokes and The White Stripes. Heavily inspired by the scene, the style is laidback and effortless, featuring dark colors, flannel, and leather.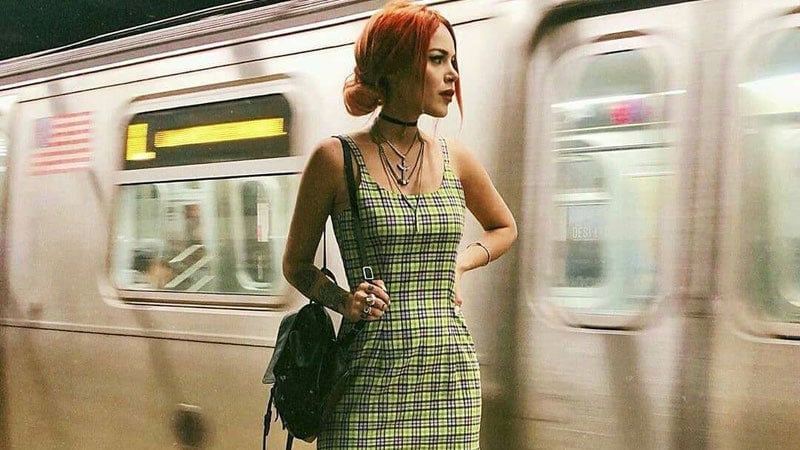 Indie Aesthetic Outfits
Band T-shirts
A band t-shirt is a classic go-to for the indie aesthetic, thanks to its rock roots. Whether you can name every LP by Blur or you've never heard a single Metallica song in your life, have no fear. These shirts are a great way to add an edge to an outfit, and they are so comfortable that you can wear them every season. Pair it with your favorite wide-leg jeans and combat boots for a grunge-inspired feel, or you could swap out blue denim for acid wash or bleached black pants. If you want to cinch in your waist, tuck the fabric into your pants, or let it hang loose for a modern interpretation. Depending on the weather, you can mix and match the style with an oversized coat, denim jacket, or even a fur vest.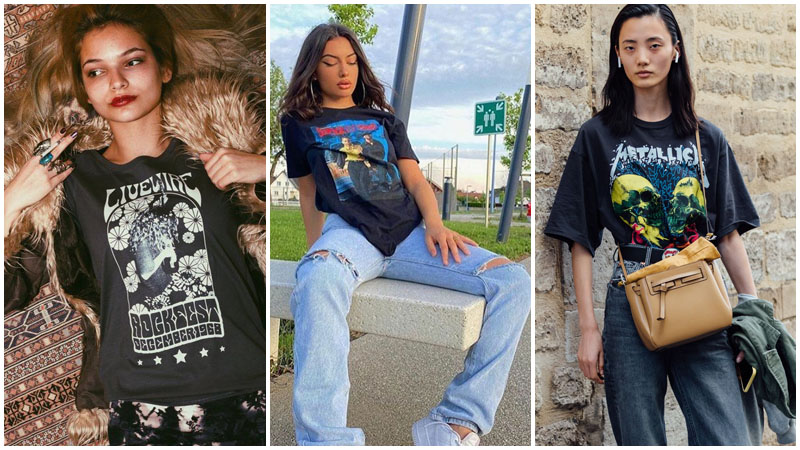 Get the Look
Jeans
While the indie-rock aesthetic spurred from the 80s and 90s grunge scene, a huge influence on this style is the punk scene from London in the 70s. This means high-waisted denim with bell bottoms or flare, which elongates the frame and is a perfect combo for a button-front shirt or band tee. The traditional side of this aesthetic is effortless, so find a pair that aren't too tight or form-fitting. Style them with little or no jewelry, flannel and high-top Converse sneakers, combat boots, or skate shoes.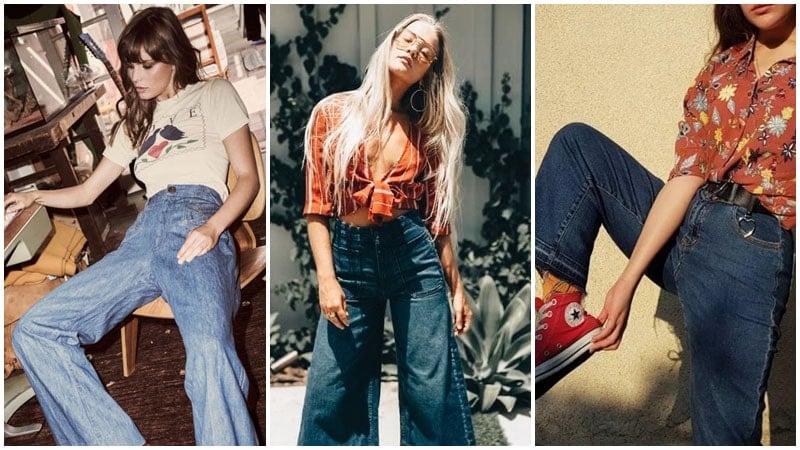 Get the Look
Leather Jackets
No 90s-inspired aesthetic would be complete without a leather jacket. This staple item belongs in everyone's wardrobe purely for its versatility. No matter the outfit you're wearing, this outerwear will instantly elevate it and give you a cool vibe. For a classic grunge feel, opt for a biker jacket with buckles – you can style it with a band tee, singlet, or your favorite shirt. However, if you want to create a more modern interpretation of this aesthetic, stand out in a leather bomber. Oversized with puffy sleeves and a sleek collar, it's got everything you want without feeling overdressed. You can find some pretty amazing vintage jackets in thrift stores or at markets, but there are also many superb vegan options to give you an authentic feel.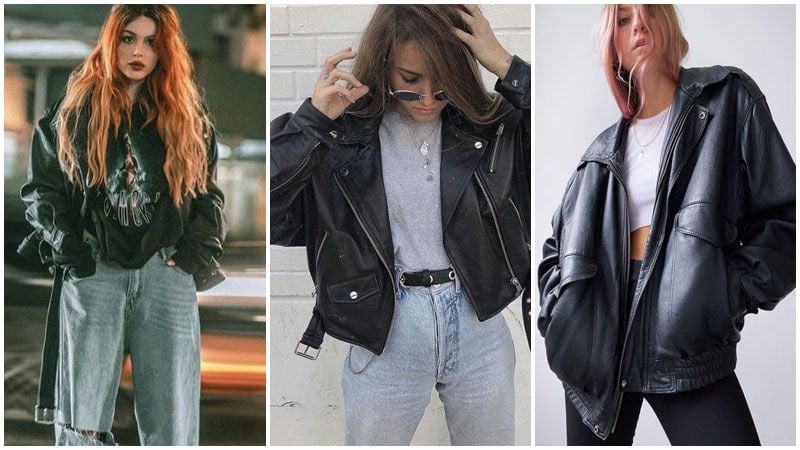 Get the Look
Flannel
It wouldn't be an indie closet without some flannel. Synonymous with the skater scene, this fabric style is timeless and perfect for a casual outfit. The indie scene in its original form is all about looking as if you've stepped out of a rock concert or you're a member of the band. A flannel or check fabric is warm, versatile, and looks great when layered. Try it with a leather jacket, mom jeans, and chunky combat boots; however, you can wear it alone if the temperature rises. For a more fashion-forward feel, why not give plaid pants a try? Pair it with a burnt orange sweater, denim or leather jacket, and some grunge-worthy chains. The beauty of this ensemble is its eternal appeal – you'll look trendy while feeling as if you stepped off the streets in London in 1978.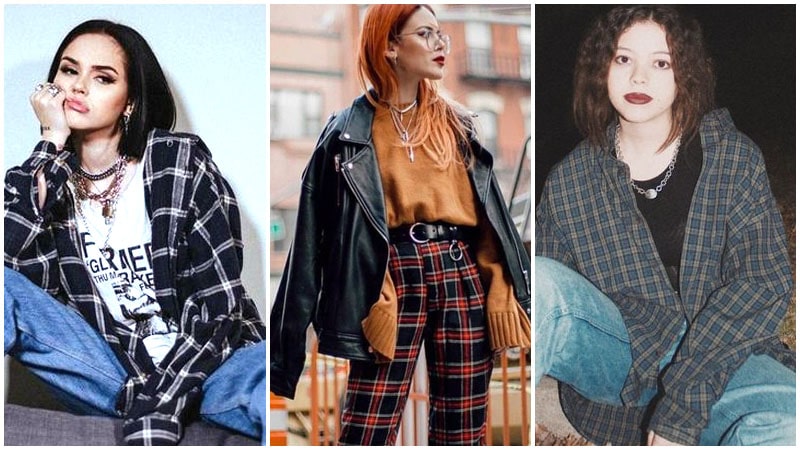 Get the Look
Beanies
Keep your head warm, hide bed hair and look effortlessly cool in a beanie. This go-to accessory is the perfect way to polish off an indie outfit, plus they look great on everyone. Get a color that flatters almost any outfit, such as charcoal, blue or classic black – you can style it with an oversized sweater, flannel, or a leather jacket, or all three if it's chilly. Sport them with your hair out, pushed back to the crown of your skull, or with your locks in a low bun. It's a great way to hide unwashed hair and is a staple for grunge or rock-inspired ensembles.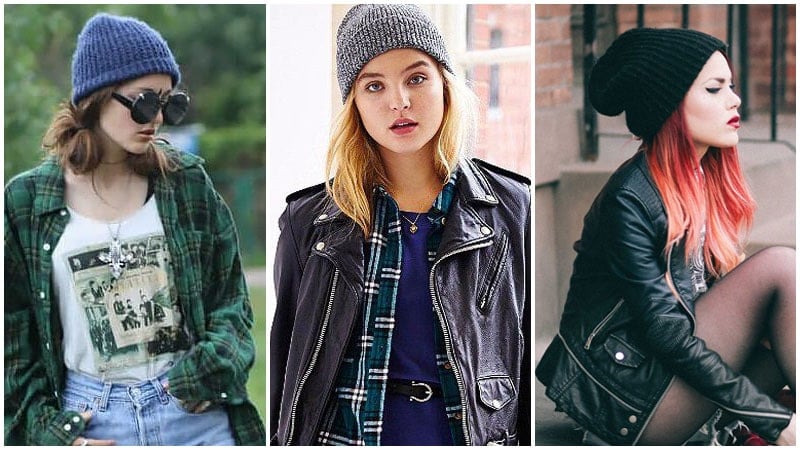 Get the Look
Indie Kid Aesthetic
The Indie Kid style is taken straight out of the 2000s. This includes low-rise jeans, tight crop tops, and shoulder bags. You can also find many influences from the mid-90s preppy style, like plaid sweaters, tennis skirts, printed t-shirts, and white sneakers. Of course, a major trend we're also seeing is monochrome ensembles or matching accessories with core colors in your outfit. This style is all about self-expression but with a super cute and laidback twist.
Oversized Jeans
Comfortable, flattering, and versatile, baggy jeans are a huge trend in many aesthetics right now, and the Indie Kid is no different. Whether they're low-rise or sit at your waist, you can accentuate an hourglass silhouette and instantly create an illusion of long legs. Rock them with an oversized t-shirt in a pastel color, a cute baby tee with a Y2K-inspired print. Better yet, you can layer a few for the cooler months. Finish the outfit with chunky sneakers in a matching color to your accessories, but classic black or white also works well.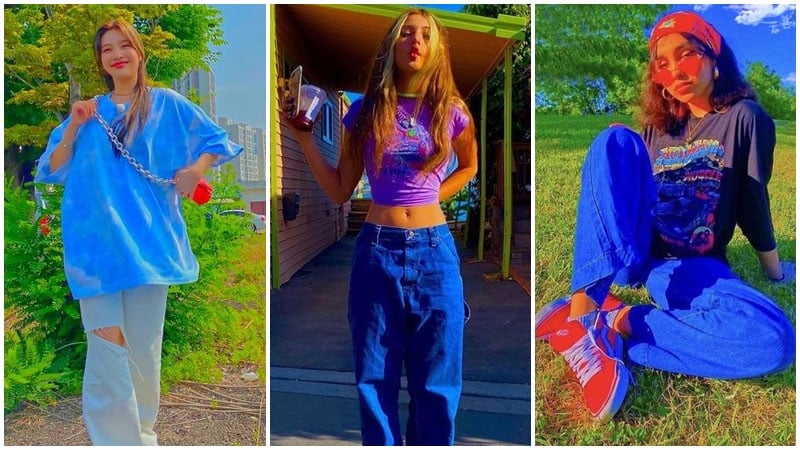 Get the Look
Hoodies
This aesthetic is all about hanging out with friends and being true to yourself, which calls for true comfort. Nothing says 'comfy' quite like an oversized hoodie or sweatshirt. These pieces are easy to style, look flattering on every figure, and are a staple of the Indie Kid aesthetic. Layer them with a cute button-down shirt underneath and mom jeans, or ear it alone for a casual feel. Add a pair of your favorite sneakers and a jersey headband for a final 90s touch.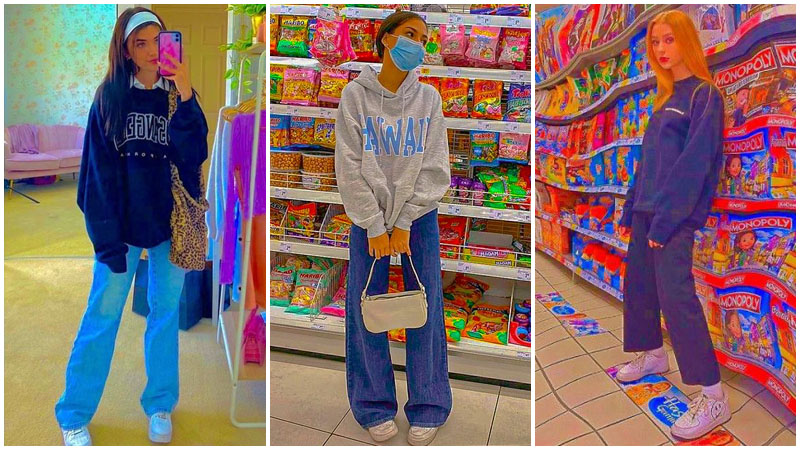 Get the Look
Crop Tops
Show off your waist with a cute crop top. Paired with low-rise jeans or high-waisted cargo pants, this trend is set to stay. You can find baby tees with the classic Fiorucci logo, butterflies, or no pattern at all – they all look incredible and stay true to the aesthetic. For an authentic Indie Kid feel, find a top that hits above the belly button. You can complete the look with a matching bucket hat, micro shoulder bag, and platform sneakers. Get ready to take some cute pics in convenience stores because this outfit is fire.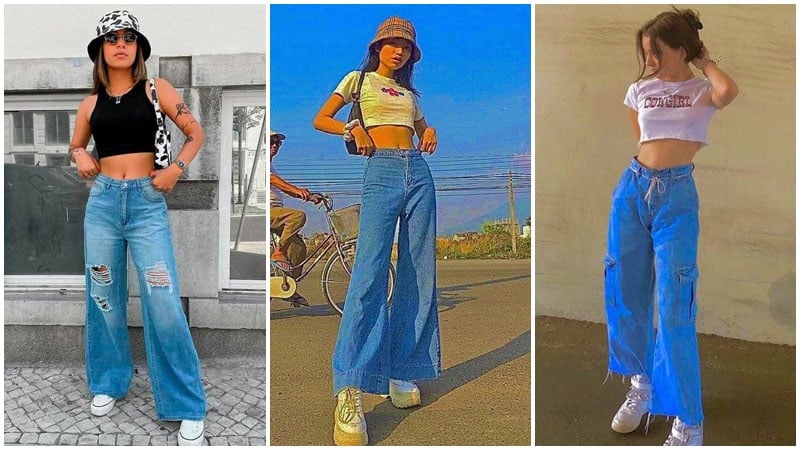 Get the Look
Shoes
As mentioned earlier, comfort plays a huge role in this aesthetic. So when it comes to Indie Kid shoes, find a pair that is versatile, that adds a bit of height. The most popular choices include skater or basketball sneakers from brands like Vans or Converse. Match the footwear to your favorite pieces in colors like purple, blue, or red. However, you'll be best suited to wear something in white or black so you can match them with a wide variety of outfits all year long. For a cute touch, accessorize them with little beads in bright colors within the laces.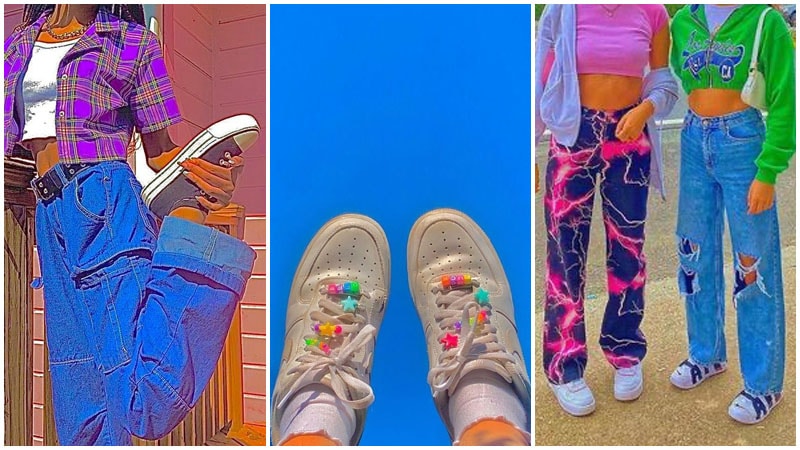 Get the Look
Indie Kid Accessories
As an aesthetic that relies heavily on ultra-bright colors, it's important that you get the accessories right. This trend calls for saturated hues, cute beads, and a bunch of mixed styles all rolled into one. Try out a crochet bucket hat with cute daisies, a bright and fun bandana, or layered jewelry – they all look great with this style. A huge trend we're seeing right now is a combination of butterflies, dice, plastic beads, and plenty of colors, so you can experiment a bit and see which you like more.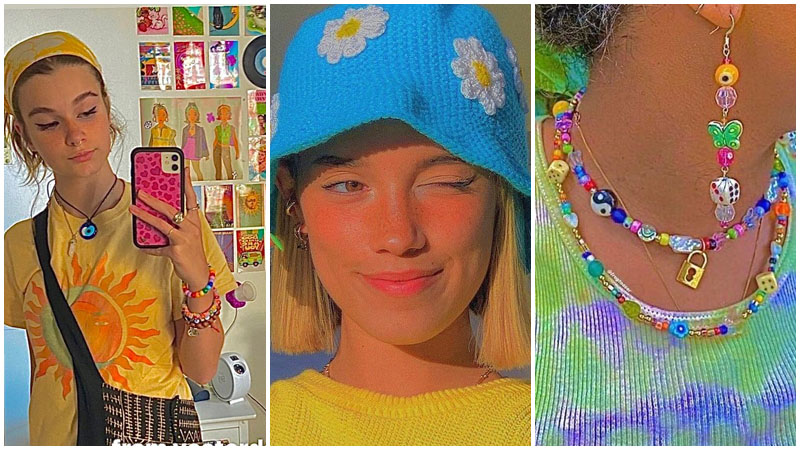 Get the Look
FAQs
What is the indie aesthetic?
There are two versions of the Indie aesthetic that are making the rounds. The first is the classic Indie style, which seeks its inspiration from the independent rock scene in the UK and the US in the 70s and 80s. This trend features a lot of muted colors, flannel, leather, and oversized jeans. The other aesthetic has arrived on the scene recently - the Indie Kid. Unlike its counterpart, this trend is all about bright colors, grainy photos, and oversized clothes. You can typically find wide-leg jeans, chunky sneakers, crop tees, and bucket hats associated with this style.
What is an indie kid aesthetic?
Originally made popular on TikTok, the Indie Kid aesthetic is all about hanging out with friends and enjoying independence. Bright colors, oversized jeans, chunky sneakers, and the Y2K trends are some of the characteristics of the aesthetic. A typical Indie Kid outfit consists of low-rise denim, a crop top with a 2000s-inspired print, cute jewelry, a bucket hat or bandana, and colorful sneakers.
What is an indie girl?
An indie girl is a lot of things - they're independent, kind, and a lot of fun to hang out with. Typically, they will listen to relatively unknown music or independent rock bands (think Jesus and Mary Chain, The Smiths, and more recently The 1975). Regarding their style, they will usually rock a pair of wide-leg jeans, an oversized sweater, and chunky sneakers or combat boots. An indie girl doesn't care much for the latest trends; it's all about expressing themselves to their truest ability.
How do you dress an indie aesthetic?
To get the indie aesthetic, think about the type you wish to emulate. If you love the 80s influence, stick to dark colors, plenty of flannel, and leather. This aesthetic doesn't rely on many accessories, but a classic beanie will always look great. However, if you want to unleash your TikTok style, wear low-rise jeans, a crop top, or an oversized hoodie. Finish the look with colorful plastic jewelry, chunky sneakers, and a shoulder bag for a Y2K feel.
Why is everyone obsessed with aesthetics?
In this day and age, the need to stand out and express yourself is more important than ever. For those with a strong social presence, it can be hard to find a style that suits your personality - that's where aesthetics come in. Typically, we will find things that we find pleasing to the eye, which is where the interest in aesthetics comes from. No matter what you prefer, from Y2K to Dark Academia, it's easy to mix and match the different styles and find a style that suits you best.
SUBSCRIBE TO OUR NEWSLETTER
Subscribe to our mailing list and get interesting stuff and updates to your email inbox.