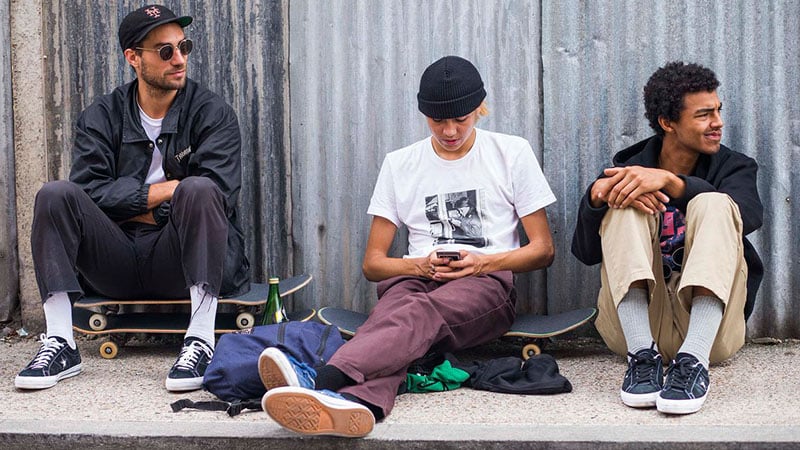 Yes, '90s fashion is well and truly back, and with it has come the incredible return of skate style. From oversized graphic tees to classic Vans sneakers, the apparel donned by skaters in the 1990s is on-trend once more. But, this time around, you don't need to know what a kickflip is to be able to rock these fashionable threads. All you need is a rebellious attitude and a little expert style advice from us. So, if you're after a casual and cool new look, you've come to the right place. In this article, we'll show you how to update your appearance by injecting it with an impressive skater style.
RELATED: 25 Best Streetwear Brands You Need to Know
What is Skater Style?
Skateboarding first boomed in the '60s and '70s and with it, the skater style began to develop. However, it wasn't until the '90s that skating transformed from a niche sport into a global phenomenon. It was then that wide-spread adoption of the skate culture and fashion took place. Practical and comfortable, the skater style was all about loose and functional clothing that was appropriate for the sport and provided some protection. Its aesthetic was casual and carefree with an anti-establishment touch. Today, the look is on-trend once again with major designers, brands, and influencers all-embracing the skater style.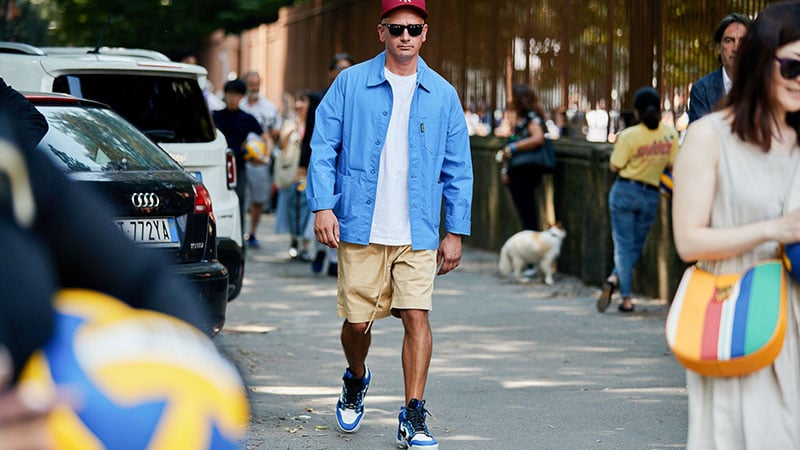 Skater Outfits
Skate Shoes
If you're looking to nail the skater style, getting your shoes right is essential. Although there are plenty of new brands around offering great skate shoes, you can't go wrong sticking to the classic. So, if you're after an authentic skate style, be sure to look to brands like Vans and Converse for footwear. To keep things casual, opt for low-top sneakers, such as a pair of Vans Old Skools. Or, if you prefer a retro style, choose high-top sneakers like Converse All Stars or Vans Sk8-Hi's. As for color, black with white always works well or you can mix things up with a bold hue, such as red.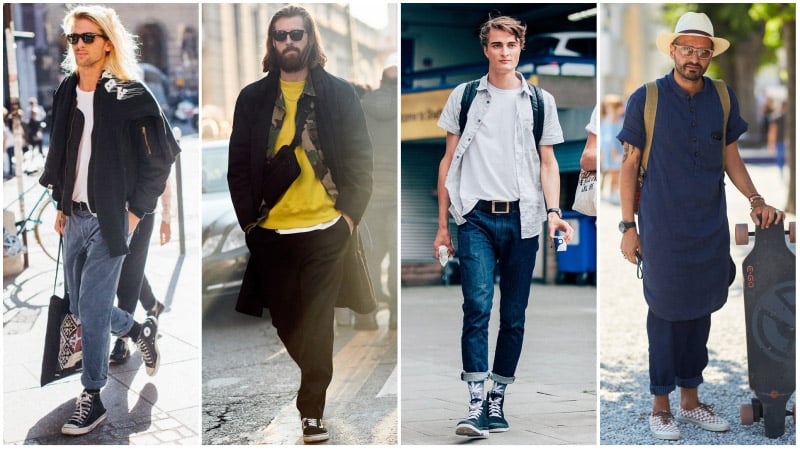 Skate Shorts
A pair of skate shorts will help you stay cool while looking stylish this summer. Thanks to their unrestrictive design, shorts are a favorite item for skaters. To channel the look for yourself, pick a pair that finishes at your knees and features a loose fit. For a casual look, try cargo shorts with large pockets. Just team them with an oversized t-shirt and skate shoes for a cool skater style. Alternatively, for something a little smarter and more modern, swap the cargo shorts for a pair of chino shorts. But remember to make sure they're cut long and wide to maintain a skater aesthetic.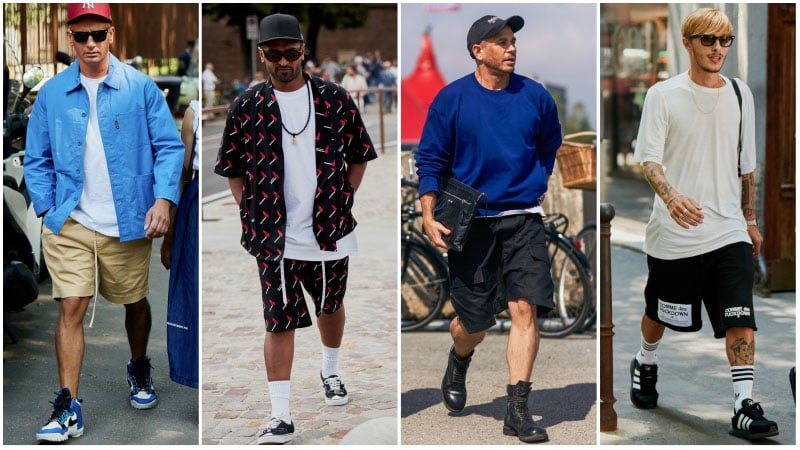 Graphic T-Shirts
Graphic T-shirts are an essential element of skater style and a great way to rock the look. When shopping, select loose, oversized designs emblazoned with a brand name, image, slogan, or logo to nail the aesthetic. Also, make sure to choose crew-neck cuts to maintain an authentic skate style, and don't be afraid to layer your graphic tee for a cool throwback look. To do so, just pair your T-shirt with an open overshirt, preferably in a check pattern.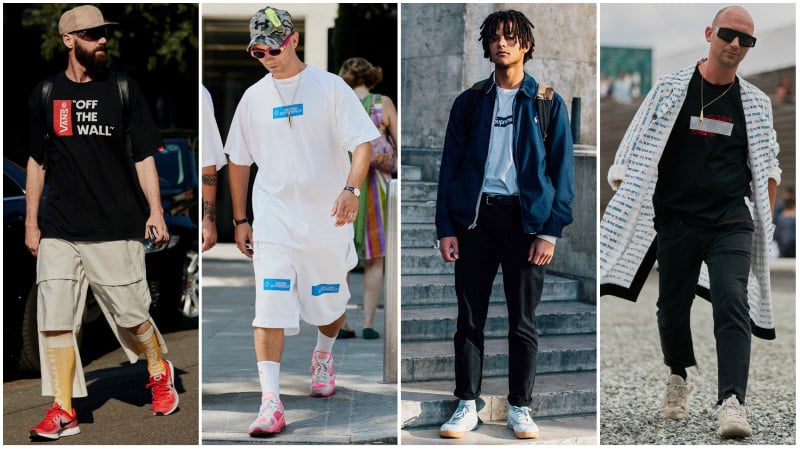 Skate Pants
Skate pants are all about styles that are easy to move in and comfortable to wear. So, while skinny jeans can be too tight and sweatpants too baggy, cargo pants are just right. Cargo pants and work pants, such as those from Dickies, have long been a go-to for skaters thanks to their durability. Today, these pants can still make an excellent option for those looking to rock the skater look. Likewise, chinos can offer a similar aesthetic while adding a modern touch to outfits. To wear a pair like a skater, all you need to do is choose a cropped, wide-leg design or cuff a straight-leg style to a couple of inches above your ankles.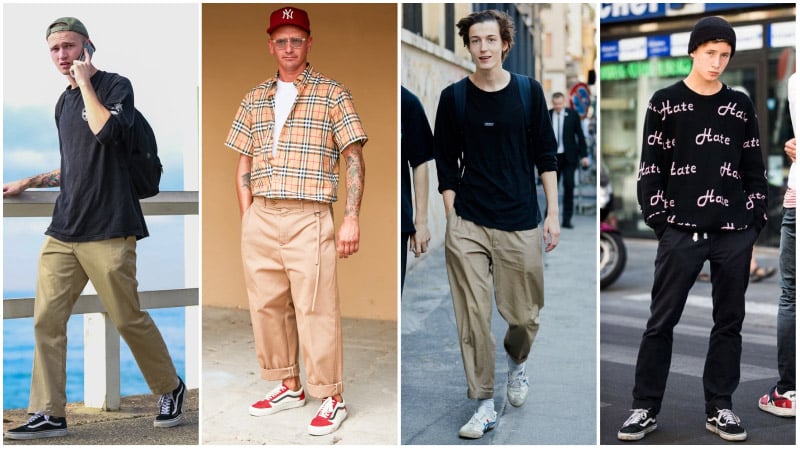 Hoodies
Hoodies are a skate staple and an excellent option for those who want to try out the skater style without going over-the-top. They can be paired with a variety of pants, including jeans, chinos, cargo pants, and cropped trousers, and even added beneath a coat in winter. They're also practical and comfortable, making them great to wear for casual occasions. All you need to do is select a style that's loose and thick to nail the look. For an extra skate touch, consider one with a logo or graphic print on the front.
RELATED: How to Wear a Hoodie with Style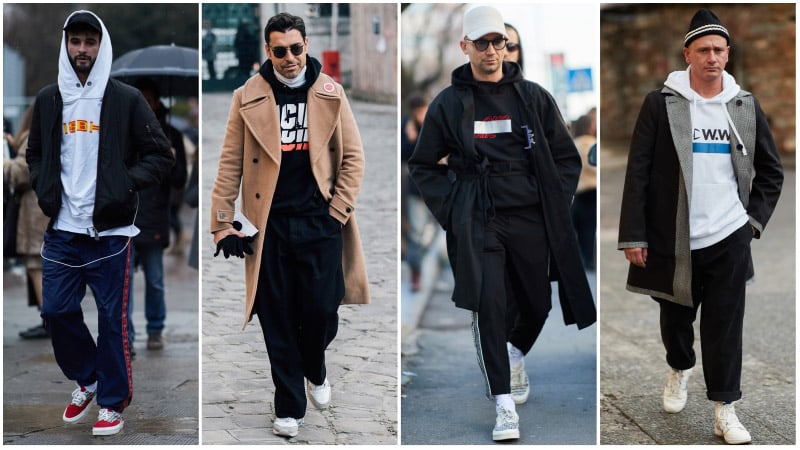 Accessories
Skate style may be more about function than fashion, but that doesn't mean you can't rock a few great accessories. For an iconic skate look, be sure to pick up a classic wallet chain. These chains were designed to keep wallets secure during ollies and 360s but also worked to reinforce a rebellious style. Today, they've seen a small resurgence but certainly take confidence to pull off. For something easier to wear, try picking up a pair of tube socks along with a backpack and logo cap. Or, really embrace the '90s with a bucket hat and bum bag worn casually across your chest.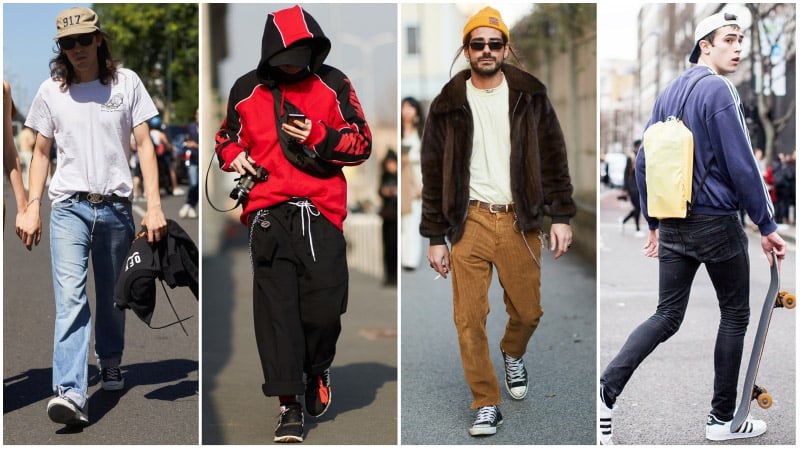 Best Streetwear Brands
Today, there is no shortage of great skate brands around. So, you'll have plenty of choices when shopping for skate clothes. Of course, nothing beats the classics. Vans was launched in 1966 and has stood the test of time, continuing today as one of the world's most popular skate brands. Other labels, such as Stüssy, which was created in 1980, and Supreme, which have been around since the '90s, are also iconic industry names. It may be a little newer, but HUF, which was created by Keith Hufnagel, is another favorite amongst skaters. So too is Thrasher, which is a skateboarding magazine that also sells apparel and other products.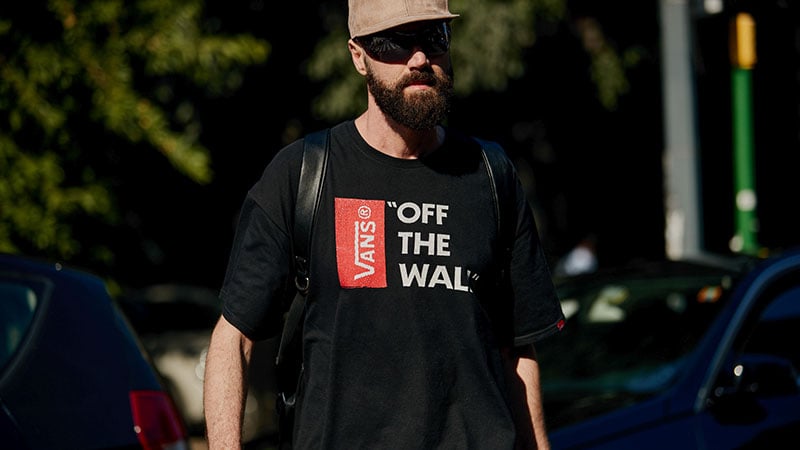 How to Get the Skater Style
Choose loose styles that are comfortable and practical.
Rock graphic T-shirts and hoodies on top.
Down the bottom, wear cargo or chino pants or shorts.
Keep your footwear classic with traditional skate shoes like Vans or Converse.
Add accessories like tube socks, a logo cap, and a backpack.
FAQs
What is the skater aesthetic called?
Skater style, or skatecore, became a phenomenon in the '90s. The clothing is practical, loose, and comfortable, does not restrict skateboarders, and offers some protection. The aesthetic can be described as casual and carefree, but there is also an anti-establishment element.
How do you dress like a skater?
Dressing like a skater is quite simple; the right shoe is essential, and you need something classic yet casual. Brands like Vans and Converse have great footwear options for the high-top and low-top sneakers. You will also need a pair of cargo pants or skate shorts with an unrestricted design that should be cut long and wide. Complete the look with a hoodie or an oversized graphic T-shirt with either a brand name, image, or logo.
Can non-skaters wear skate clothes?
You can wear skatewear and the brands commonly associated with it even if you are not a skater. On one side of the argument, the support of the style gives it recognition and helps the brands stay in business, but some people will refer to non-skaters embracing the style as 'posers.'
Why do skaters wear baggy clothes?
Wearing baggy clothes is for comfort and practicality. Skaters choose to do so to avoid restricting their movement, but also, when they fall, they are offered some form of protection.
SUBSCRIBE TO OUR NEWSLETTER
Subscribe to our mailing list and get interesting stuff and updates to your email inbox.