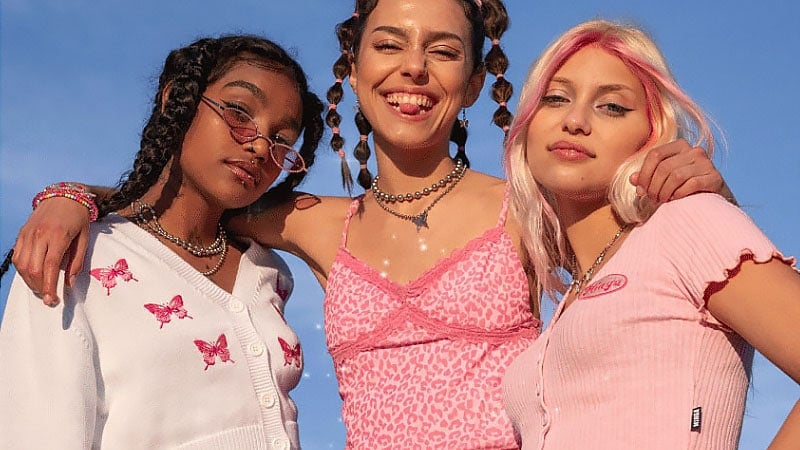 Pastel colors, fluttering butterflies, and warm fluffy clouds – this trend is one of the biggest on TikTok, and it's here to stay. It takes its inspiration from the early 2000s and traditionally feminine ensembles, like lip gloss, tennis skirts, and cutesy crop tops. With love for pastels, flowers, and butterflies, this trend highlights some of the cutest parts of the nostalgic era and puts a modern twist on it. If you want to update your aesthetic or want to find out how to dress in this style, keep reading. We've collected the cutest soft girl outfits you are going to love!
RELATED: 20 Perfect Aesthetic Outfits To Showcase Your Style
What is a Soft Girl Aesthetic?
This trend is more than just a stylistic choice – it's a lifestyle and reclamation of a hyper-feminine style. The super cute subculture began forming nostalgic elements of the Y2K and 90s styles, including tennis skirts, hair clips, and shoulder bags. Think Bratz dolls, soft and fluffy clouds, and plenty of pinks. From soft and buttery blue and lilac t-shirts with a lettuce hem to a pair of mom jeans with butterfly embroidery, there are many ways you can wear this trend every day. The soft girl aesthetic is more than just a trend, though. It is also a proud statement that showcases the beauty of typically 'feminine' styles and embracing the softer things in life.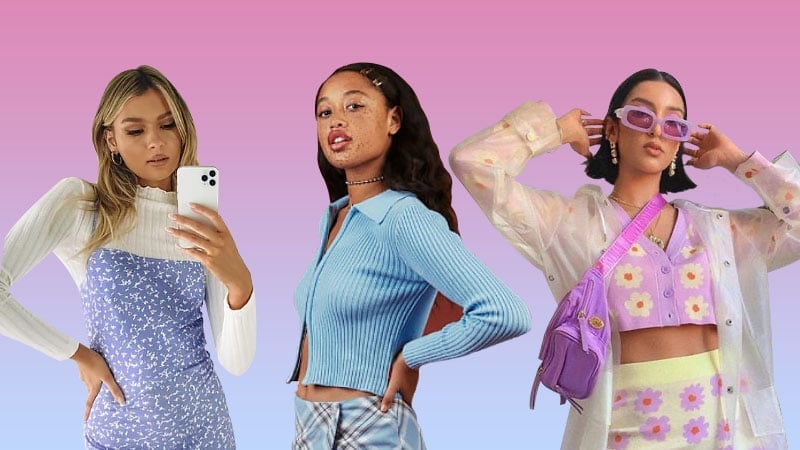 Soft Girl Outfits
Dresses
Delicate and hyper-feminine, these soft girl dresses are cute and floaty. This style is the perfect option for a warm spring day with pastel colors and sweet prints (think strawberries, flowers, or gingham). You can style it with a cardigan of the same shade, a 90s-inspired bucket hat, or on its own. Finish the look with a pair of chunky white sneakers for a neutral and casual feel – this is a staple of a soft girl's closet! Finally, add a string of pearls and a baguette bag for the complete aesthetic.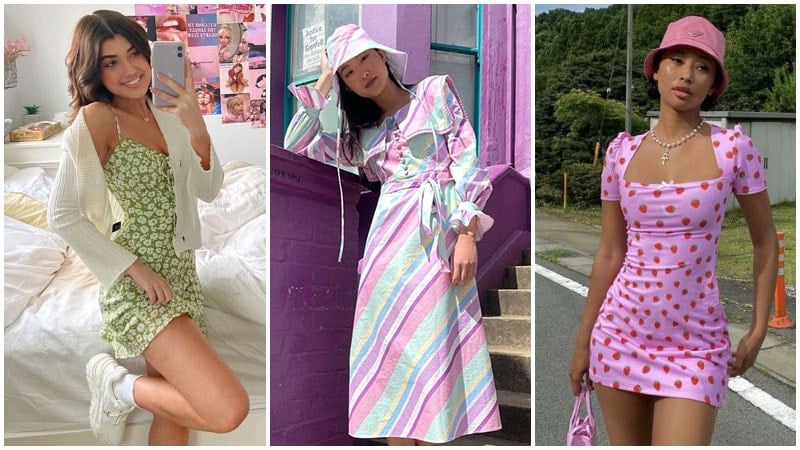 Get the Look
Trousers
Every trend takes something from the past, and the same can be said for soft girl trousers. Wide-leg cords and mom jeans are some of the most prominent options for this aesthetic, as it cinches in the waist and creates a floaty silhouette. High-waisted denim or slacks will have you feeling casual and cute all at once. Keep the look fluffy and like marshmallows by choosing pastel colors like baby pink or lilac. Pair them with a crop top in the same shade – you can take it to the next level by matching all of your accessories to the hue for a totally monochromatic look.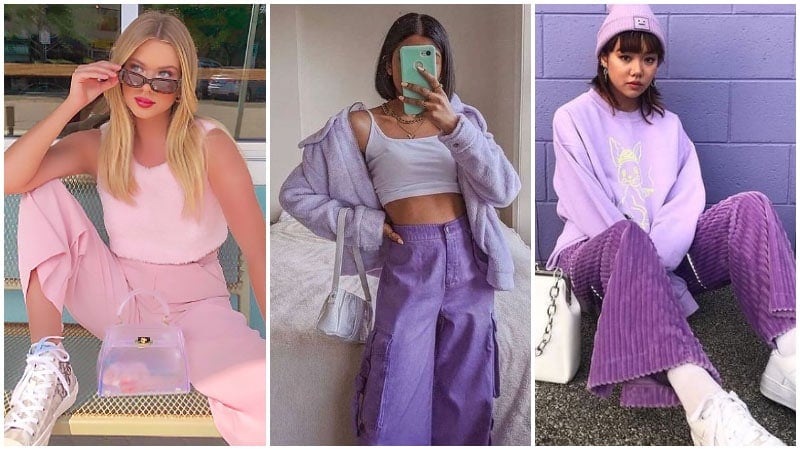 Get the Look
Skirts
The soft girl aesthetic has many influences, but a core figure in the style department is Cher Horowitz from Clueless. The 90s-inspired tennis skirts are major in this sub-genre, either in a pastel plaid, with a dainty pattern, or in classic white. You can style this item with almost anything and feel cuter than pie. A staple in this aesthetic's wardrobe is a cropped cardi – choose one in a complementary light shade, like lemon or sage. You can match it with a bralette – try finding one in the same color as your skirt for a cute twist. Finally, add your favorite pairs of sneakers and a barrette to your hair, and voila. Trust us when we say you'll be a total Betty in one of these outfits.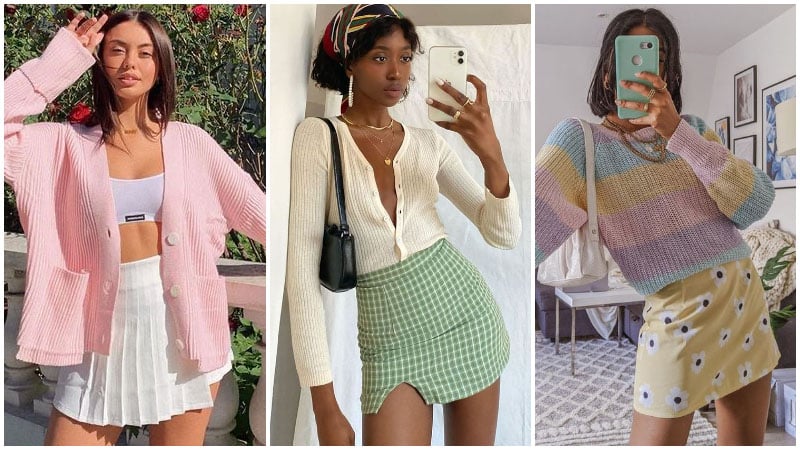 Get the Look
Tops
One of the biggest trends from this TikTok aesthetic is the rise of the pastel crop top. Whether it's a polo shirt, long-sleeved cardigan, or turtleneck, you can find a way to style one of these outfits every month of the year. Experiment by layering a polo shirt with a cropped vest in periwinkle or lilac – this is a slight cross-over with light academia by channeling a uniform ensemble. When the temperature drops, swap out a cropped singlet for a baby pink rollneck – add a cardi over the top for some multi-dimensional layering and extra warmth. Whether you wear it with a pair of mom jeans, a tennis skirt, or high-waisted slacks, you'll look the part instantly.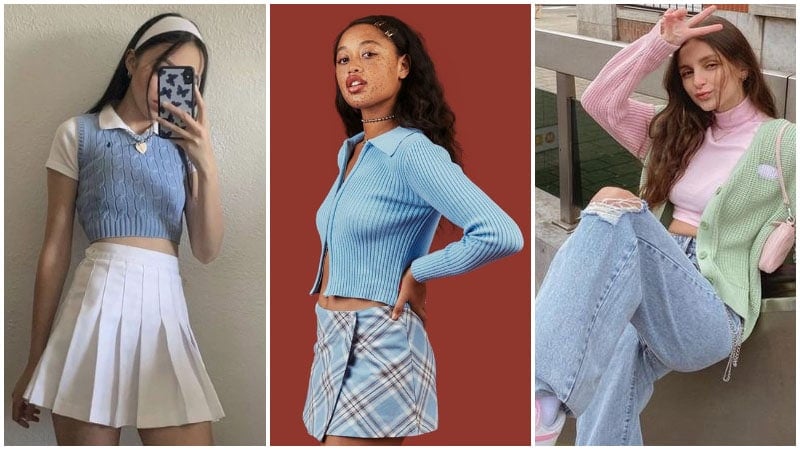 Get the Look
Cardigans
The humble cardigan has become a true statement piece in the soft girl style. Worn alone or with a crop top underneath, this piece of clothing is a versatile option that belongs in everyone's wardrobe. This trend sticks primarily to pastel shades, and there are many ways you can mix and match clashing colors and still look incredible. Find the knit with a funky pattern or as block colors – don't be afraid to combine varying designs, as it's all a part of the aesthetic. Alternatively, you can use the outerwear as a way to complement a monochrome outfit – it adds the perfect finishing touch.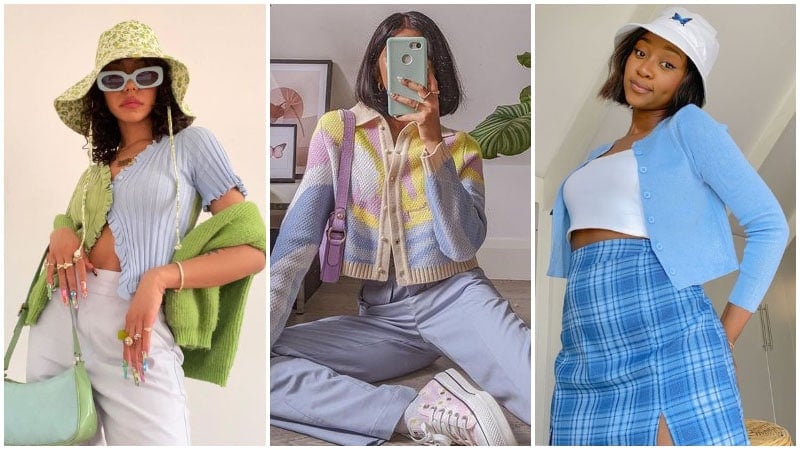 Get the Look
Soft Girl Hats
Much like the outfits worn by the soft girl aesthetic, hats are an important accessory to showcase your style. Light pastel colors are the key element – you can find them in baby pink, lemon, or lavender. Choose from the classic bucket hat or berets – these are the most popular choices and look super cute with almost any outfit. You can find them with a fuzzy texture or classic fabric in various shades and styles. Of course, it doesn't hurt to add a couple of cute patterns like hearts or cherries. It's a great way to elevate your summer or winter wardrobe with a fun and girly twist.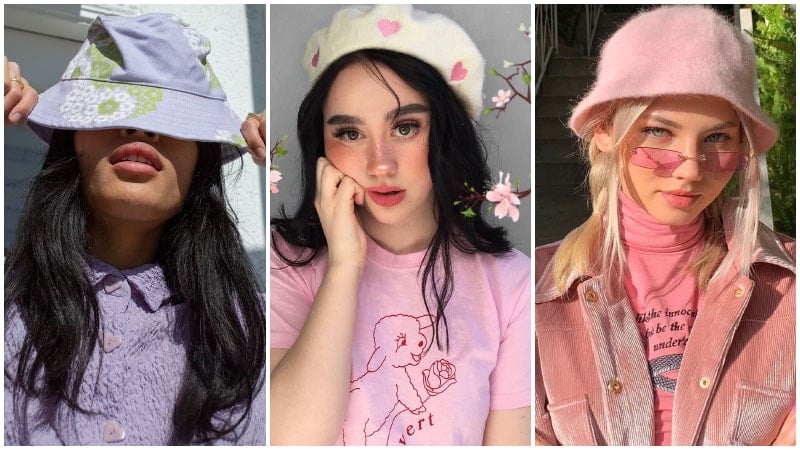 Get the Look
Soft Girl Bags
As with much of the soft girl aesthetic, the accessories are a key element of the 90s and Y2K style. Fendi, Louis Vuitton, and Prada championed this trend 20 years ago, but the mini handbags have made their way back. Shoulder bags in pastel colors will have you channeling your inner Bratz dolls, and you can style them with any outfit. Match the bag to the entire ensemble or mix and match with contrasting hues like watermelon pink and mint green. It's an item that belongs in everyone's wardrobe, thanks to its versatility and timeless design.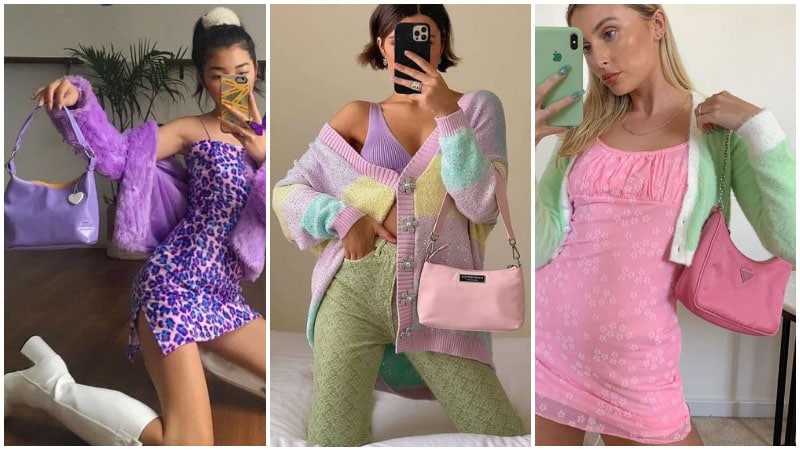 Get the Look
Soft Girl Shoes
A few staple pieces are in every soft girl's closet, and the right pair of shoes is one of them. White sneakers and pastel slides are the most popular choices, and it's easy to see why. They match almost anything, making them the ideal footwear for year-round aesthetics. Add some tall socks to your shoes, alongside a tennis skirt or mom jeans, for a cute and casual look. Alternatively, you can wear the sandals by themselves, paired with shorts and a tie-dye crop. Finally, be sure to get a snap for your Insta grid because they're too cute to miss!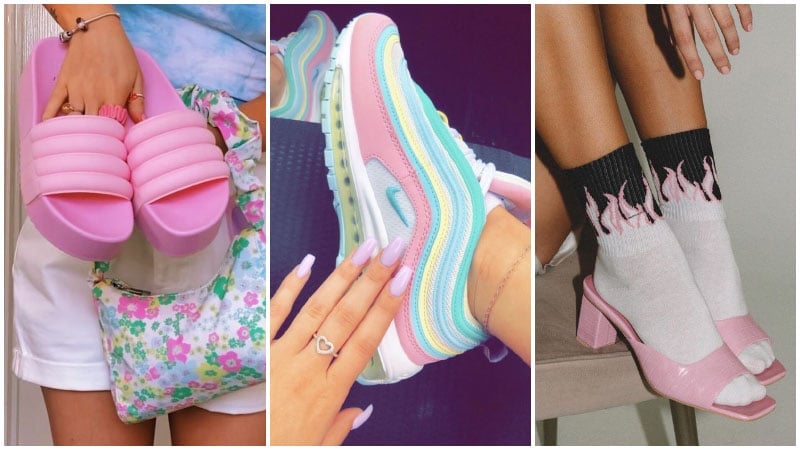 Get the Look
Soft Girl Jewellery
A major element of the overall soft girl aesthetic is the jewelry. Unlike the trend's clothes, you can experiment with brighter colors here, like candy apple red or bright yellow. While most of the style is centered around pastel shades, a huge part is also the hyper-feminine and nostalgic items you loved as a kid. This can include cherry necklaces, smiley faces, plastic rings, and gorgeous clay earrings. Once you layer them to your taste, you'll look like a dream come to life.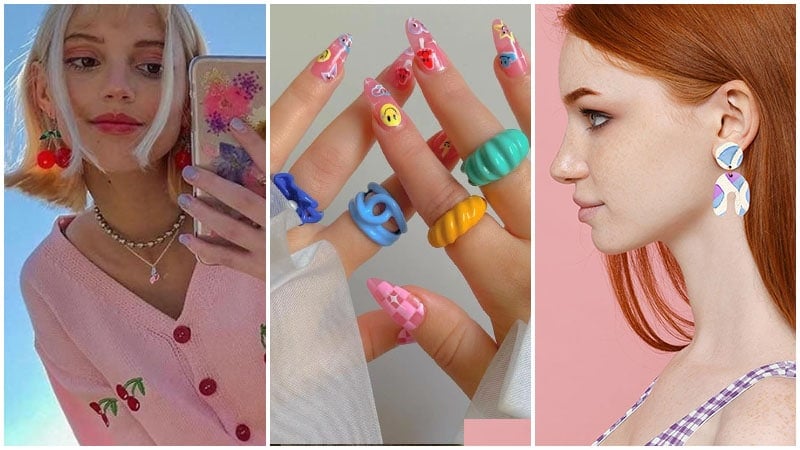 Get the Look
Hair Clips
Another major nostalgic accessory has made its way to the soft girl aesthetic – hair clips. The classic butterfly style is a popular choice for an all-over cute feel, but you can also experiment with a series of monochromatic shades for a multi-dimensional style. Style them by placing two or three at the temple, which will pull the hair off your face and frame your features perfectly. For a more dramatic look, sprinkle the clips all over your hair – this will add extra volume to your locks and perfectly complement your overall ensemble.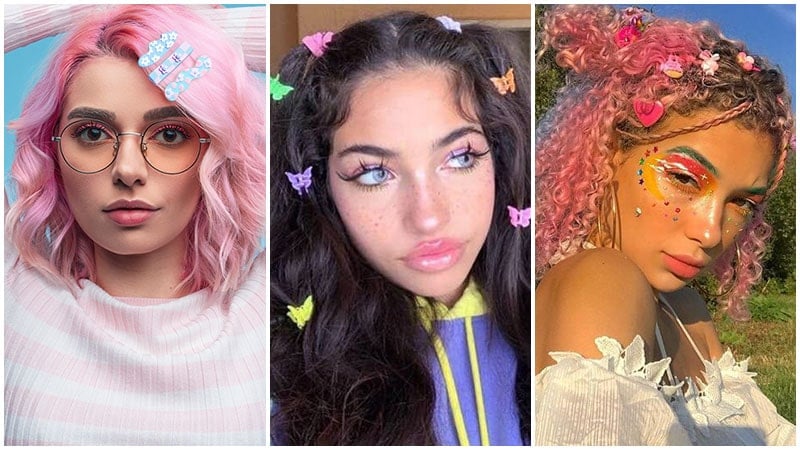 Get the Look
Soft Girl Makeup
As the name suggests, this aesthetic relies on fluffy, girly, and delicate colors and patterns, and its makeup is no exception. To get the total soft girl look, start by keeping your foundation to a minimum – the style is all about enhancing your beauty. Next, add cream blush (preferably in pink or peach) to the apples of your cheeks. Apply it with your fingers for a natural finish. Soft eyeshadows in bubblegum colors will instantly brighten your features, but you can always add some highlight for an extra pop. Finish the look with a swipe of your fave lip gloss and add some cute fake freckles for a sun-kissed look. You'll look as if you've just run through a paddock of daisies in the sunshine for an afternoon.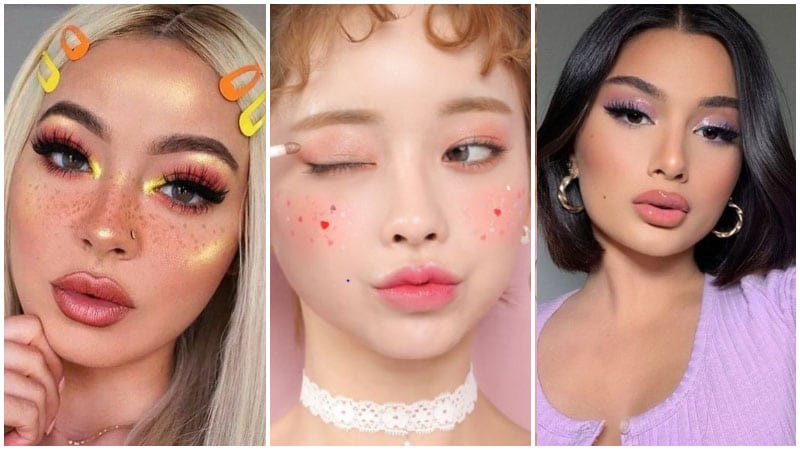 Get the Look
FAQs
What does soft girl mean?
The soft girl aesthetic is a subculture that found popularity through TikTok. The trend consists mainly of pastel color, Y2K, and 90s-inspired clothes, like crop tops, mom jeans, chunky sneakers, and tennis skirts. Cute nostalgic prints and brands like Bratz dolls, Fiorucci are some of the favorites.
What should a soft girl wear?
The soft girl aesthetic is girly, fluffy, and dreamy, and its clothes certainly match. To get the look, wear cute crop tees, mini plaid skirts, mom jeans, or cords, all in the signature pastel shades. You can layer cardigans and nostalgic accessories if you're feeling a bit extra. Of course, you can always go a little edgier by adding some bright yellow or cherry red in your jewelry and makeup or a pair of chunky boots for a final touch.
How do you put a soft girl's outfit together?
Start with the staple pieces - you'll need a white tennis skirt, blue mom jeans, crop top t-shirts, and some cardigans. These outfits are generally pulled together with lighter shades in mind - think periwinkle, lilac, baby pink, and lemon. This trend is about not being afraid of clashing patterns, so mix and match plaid with cute prints like hearts, cherries, or flowers. This style is all about embracing your feminine side, with the added feeling of a Y2K blend and love for all things soft.
How do you become a cute softie?
To become a cute soft girl, you should start by wearing your favorite staple aesthetic clothes. This includes pastel colors, maximalist accessories, and soft makeup. Some of the key elements of the style include tennis skirts in white, lilac, blue, or baby pink, crop tops, and cardigans with chunky sneakers. Then, you can add a lot of bright and colorful jewelry and delicate makeup to finish the look. But there's something important to remember about this trend. It's not just about the clothing you wear; ultimately, it's about the vibe you're giving. This trend is all about embracing the typically feminine styles and colors without hesitation or regret.
SUBSCRIBE TO OUR NEWSLETTER
Subscribe to our mailing list and get interesting stuff and updates to your email inbox.