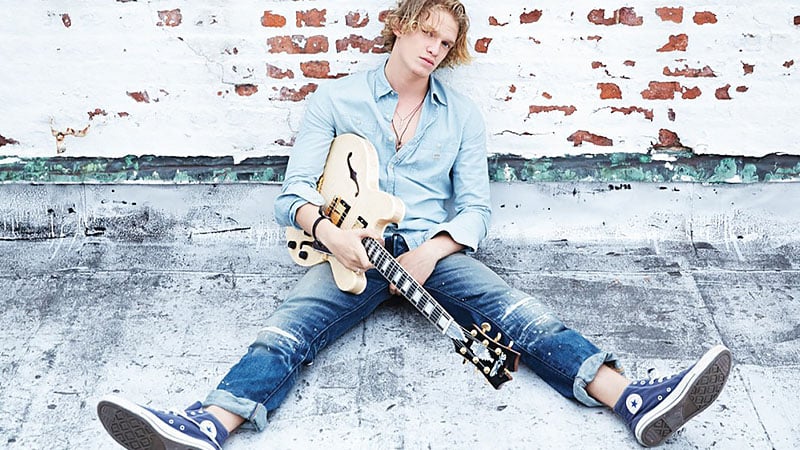 While the sneaker wars rage on between brands such as Nike, Adidas, and Yeezy, one label stands above the fray: Converse. The famous, American brand has been creating its iconic sneakers for over 100 years now and is still going strong. Providing customers with a classic style that never stops being cool, Converse has become immune to the tumultuous tides of fashion trends. Today, the brand offers an extensive range of distinctive shoes in varying styles and colors. From classic, black high tops and simple, white low tops, to bold, colored designs and everything in between, Converse offers a sneaker to suit every gent's style. Pick your favorite and we'll show you how to wear those old-school sneakers in a modern-day way.
Black and White Converse
Classic, black and white, lace-up sneakers are easily identifiable as Converse. The style is not the only one that everyone knows, but it's also one that every man should own. The relaxed and cool shoe is one that partners well with a number of outfits but looks best with your off-duty wardrobe. Providing a slight edge to your style, these sneakers look great with casual, rough-around-the-edges outfits. To style black and white Converse, start with your favorite pair of relaxed or distressed jeans. Then, tackle your top half without over-thinking it. Layer together loose styles, such as a T-shirt, chambray shirt, and bomber jacket, for an ideal, simple style.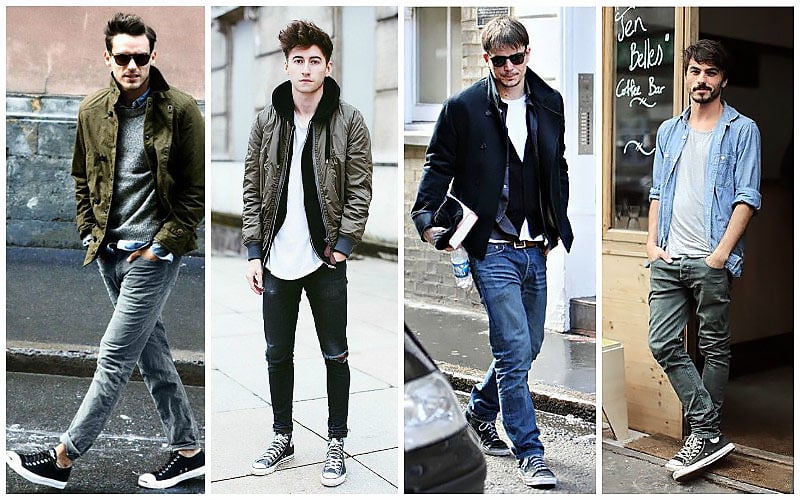 SHOP THE LOOK
High Top All Black Converse
Black, high top Converse have a great edgy feel. Play up that rock and roll theme by dressing the part and wearing the right outfit. Black, cuffed skinny jeans make the ideal trouser partner to these dark sneakers. As for your top, keep it cool and classic with a plain white tee or go bold and a little bohemian with a patterned, short-sleeve shirt. The choice is yours, but be sure to finish off your look with a pair of dark shades. Some classic black wayfarers make for the ultimate rock star accessory.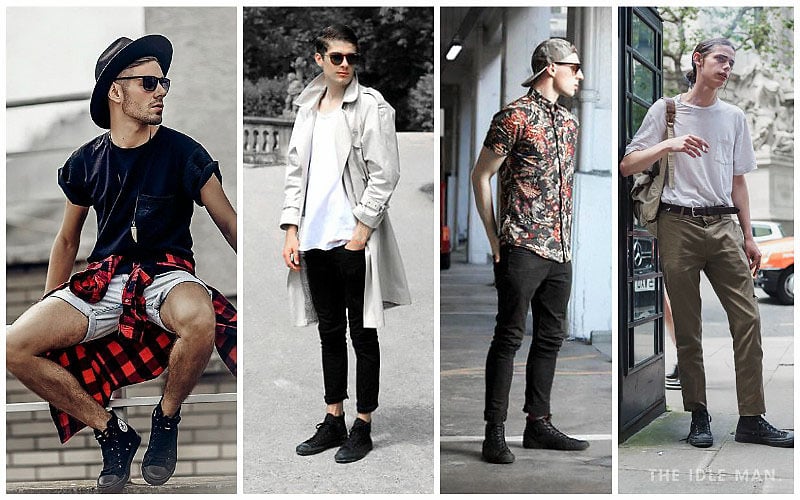 SHOP THE LOOK
Red High Top Converse
Red, high top Converse make a bold alternative to classic black and white styles. The vibrant hue is eye-catching and sure to draw attention to your feet. Balance your outfit by keeping your clothes colored and light. Avoid monochromatic and black outfits, and opt for richer colors instead. Blue and navy pair well with red while green is its complementary color. Just remember to keep the tones subdued to avoid clashes of bright hues. As for neutrals, a soft brown color makes an ideal base tone for your outfit.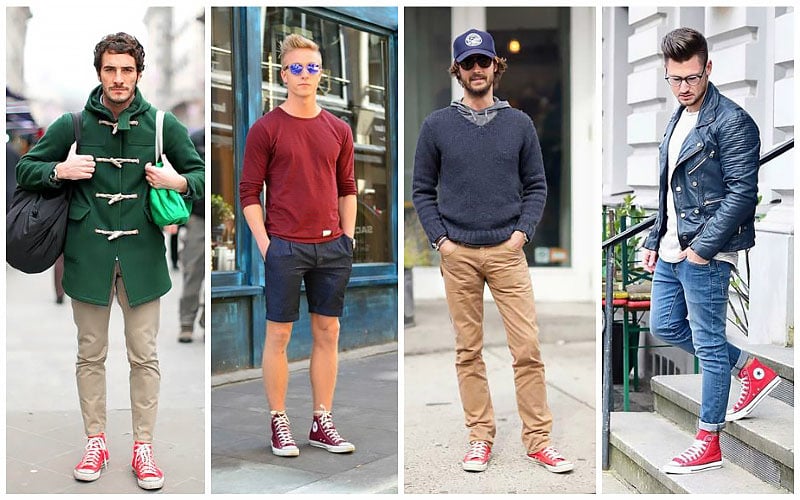 SHOP THE LOOK
White High Top Converse
White, high top Converse offer gents a great classic aesthetic. The sharp style partners best with casual denim or simple chinos for a contemporary weekend look. As high tops finish higher on the ankle, the style can look awkward with cuffed pants. Instead, leave your pants long and uncuffed for a relaxed and balanced look. Be sure to choose slim-cut trousers, though, as their lean shape will better suit the slender design of the sneakers. Complete the look with a simple, white shirt and a dark jacket. Also, remember that the cleaner your white Converse are, the sharper you will look. If you're after a stylishly disheveled look, however, feel free to leave your sneakers a little muddied and scuffed.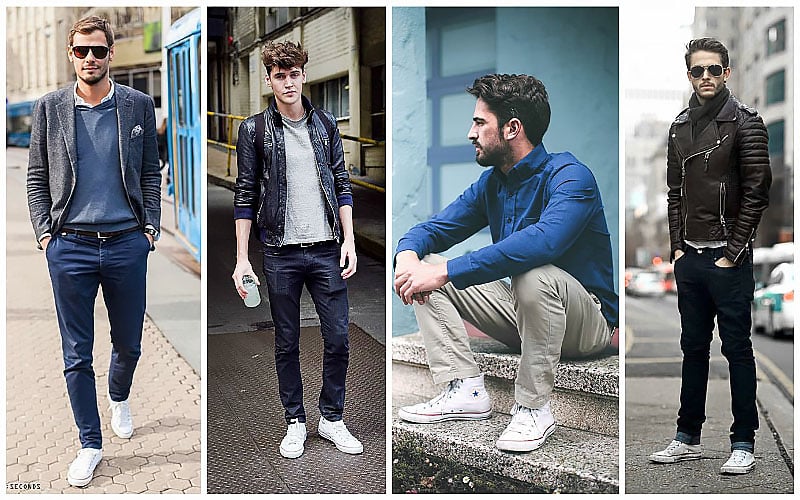 SHOP THE LOOK
White Low Top Converse
White low top Converse are the perfect, casual, summer sneaker. Their bright color and simple style make for an easy and light look. To make the most of these stylish shoes, pair them with light colored pants, such as white or light-wash jeans and sand-hued chinos. You can get away with darker colored jeans, but be aware that the contrast will be quite striking, so be sure to balance the look. Keep your overall style smart casual by finishing your outfit with a crisp, Oxford shirt, preferably in white, and an open, single-breasted blazer.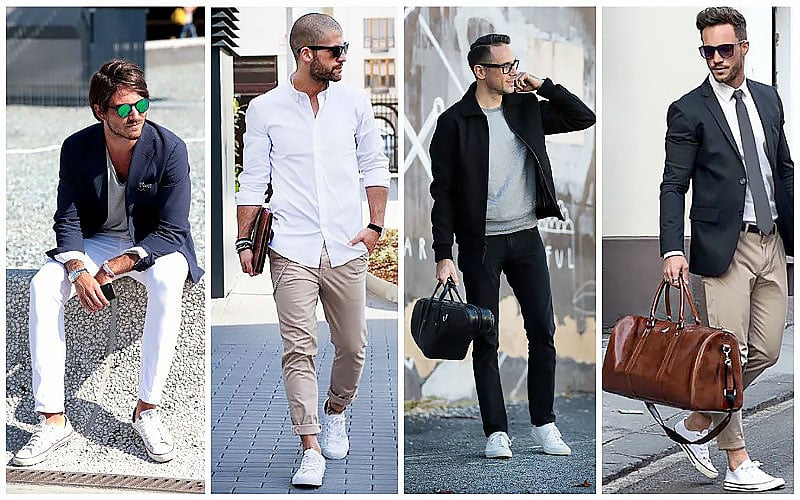 SHOP THE LOOK
Black Low Top Converse
While white low top sneakers make a great summer look, black low top sneakers are perfect for a casual winter outfit. The dark shoes appear most stylish when paired with cold-weather styles in neutral tones and dark hues. Be sure to avoid dressing in total black, however, by adding some color variance to keep the look fresh and modern. Also, remember that these sneakers look best with casual styles, so avoid formal outfits and opt for relaxed dressing instead. Some simple skinny jeans or slim chinos will do the trick for pants. As for your top half, a parka or jumper will complete your look and keep you warm. Then, just add a beanie or scarf and you're ready to hit the streets.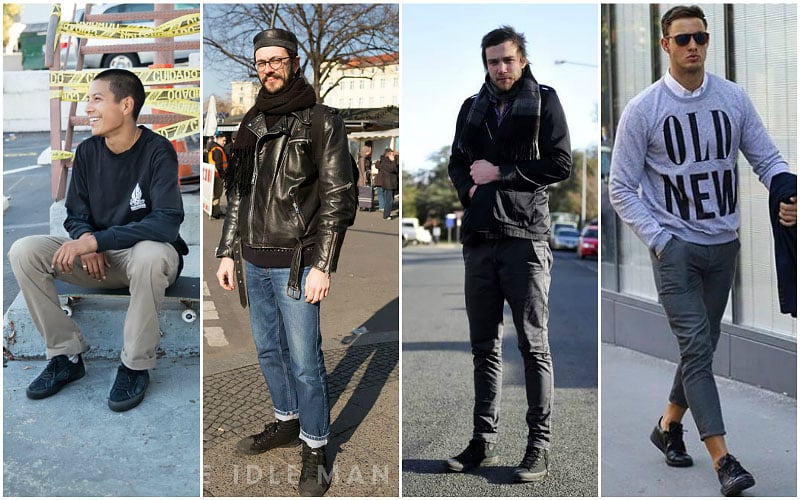 SHOP THE LOOK
Converse with Shorts
The key to making Converse sneakers work with shorts is to keep the look totally casual. Choose between denim and chino shorts in simple styles and block colors to get your look started. If you're wearing high top sneakers, be sure that your shorts sit above your knee to keep the look balanced. Low-top sneakers, on the other hand, match well with traditional knee-length styles. Likewise, low top sneakers best suit simple and classic tops, whereas high top varieties, which are more alternative, look great with more creative and exciting styles. To finish off your casual converse and shorts style, just add a hat and sunglasses. The accessories will draw attention back up from your footwear and give your outfit a stylish summer vibe.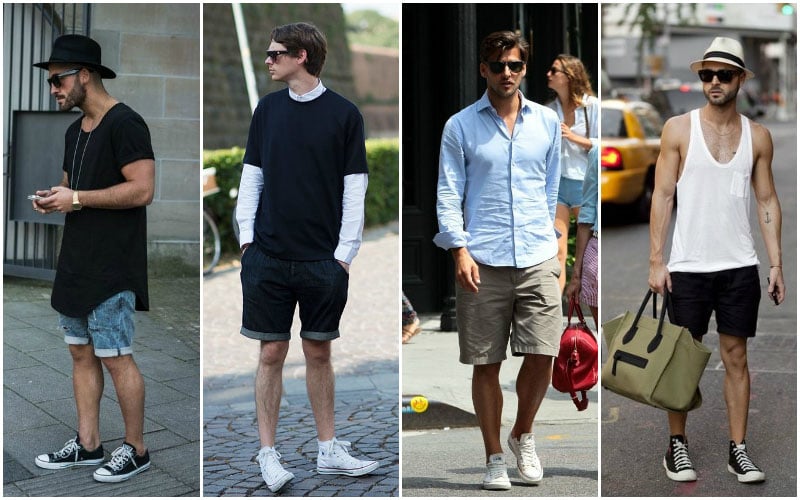 SHOP THE LOOK
FAQs
How do you wear Converse shoes?
1. Keep your look smart casual by pairing your Converse with stylish, weekend looks. 2. Balance the slim style of Converse sneakers with slim-cut or skinny pants. 3. Opt for white Converse in summer and black Converse in winter. 4. Wear your Converse with shorts for a cool and casual look. 5. Regularly clean your Converse to keep them looking sharp.
How to Clean Converse?
1. Mix a scoop of laundry detergent into a bowl of warm water. 2. Use the soapy water with a bristled, scrubbing brush and remove as much dirt for the sneakers as possible.
3. Wipe over sneakers with a clean cloth to remove excess soap. 4. If your sneakers are white, use a toothbrush and toothpaste to remove any stubborn stains. 5. Wipe over with a clean cloth and water. 6. Leave shoes to air dry.
Are you supposed to wear socks with Converse?
Wearing socks with your converse sneakers will protect you from getting blisters. Socks also absorb moisture and will help prevent rubbing of shoes on your bare foot. Socks can also provide cushioning to pad the feet and help keep them warm.
SUBSCRIBE TO OUR NEWSLETTER
Subscribe to our mailing list and get interesting stuff and updates to your email inbox.