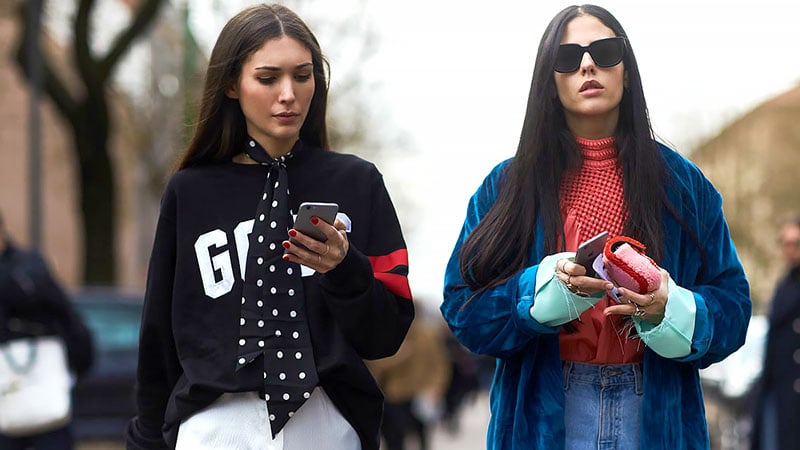 The saying "what goes around comes around" may be intended to describe karma but it also works perfectly to explain the cycle of fashion. Trends and styles that were once considered modern and daring become old and ugly, only to be reborn and re-worn decades later. And that cycle seems to be turning quicker than ever. Less than 20 years later, fashion that was considered cool in the '90s is cool once again. Whether it's on the catwalk, on the street or in the stores, '90s trends are appearing everywhere. So, embrace those crop tops, chokers, and Doc Martens, and we'll show you the modern way to rock them. Here is our guide to '90s fashion and how to wear it today.
RELATED: What to Wear to a 90s Party
RELATED: The Best 1990 Hairstyles for Women
Fashion in the 1990s
Fashion in the 1990s brought forth a youth movement and offered carefree styles that dabbled in rebellion. Grunge and minimalism were the main trends of the decade with hip-hop and "sexy schoolgirl" styles also trending. Designers such as Marc Jacobs and Alexander McQueen pioneered grunge and took inspiration from the gritty streets. Supermodels were traded in for a new breed of waif models with Kate Moss, and her "heroin chic" look, leading the pack. Everyone wanted to emulate Moss's "too cool to care" style, and fashion featured this attitude. Music and fashion also went together as fans copied the unique styles of their musical idols.
90s Outfits
Flared Jeans
Long before skinny jeans were everyone's go-to denim style, flared and wide-leg designs reigned supreme. Thanks to a preference for oversized and loose silhouettes, these pants were highly favored during the '90s. Their casual aesthetic made them perfect for daywear, but these must-have pants were also on show at night with crop tops. To rock flared jeans today, consider selecting a cropped style to give this look a modern update.What are some 90s trends?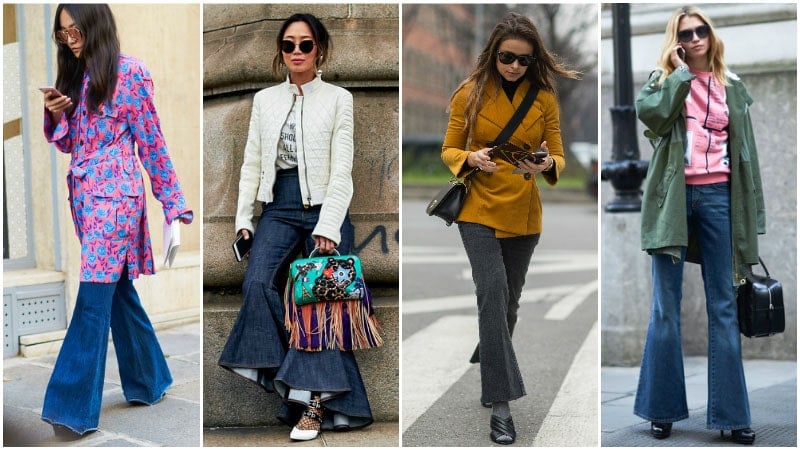 SHOP THE LOOK
Chokers
When it came to accessories in the '90s, chokers were "it". These collar-like necklaces sat tightly around the neck and added an edgy element to outfits. While many were made of stretchy plastic and designed to resemble a tattoo, others boasted a fabric construction and featured charms and jewels. In 2020, chokers are well and truly back in fashion and can provide a range of outfits with a chic '90s touch.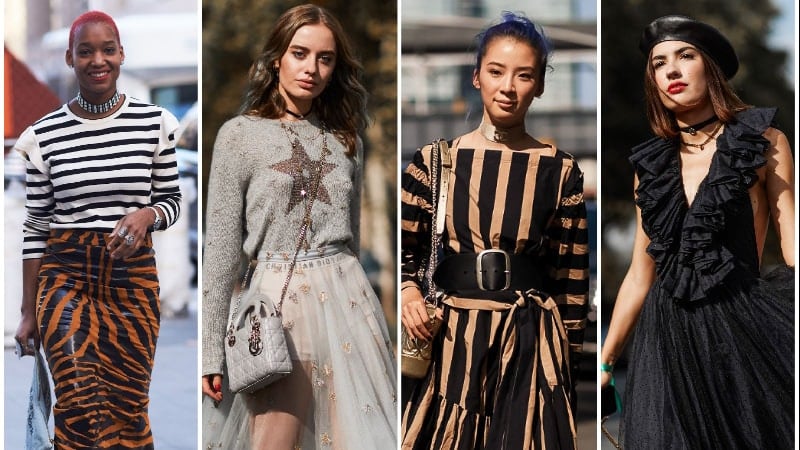 SHOP THE LOOK
Hoop Earrings
Chokers weren't the only item of jewelry to reach peak popularity in the '90s. Hoop earrings also had a major moment during the decade. Worn by women everywhere, these ring-shaped earrings added attitude to plenty of outfits. The only rule while wearing this sassy jewelry item was to make them as big as possible. After all, what's the point in wearing jewelry, if it doesn't make a statement?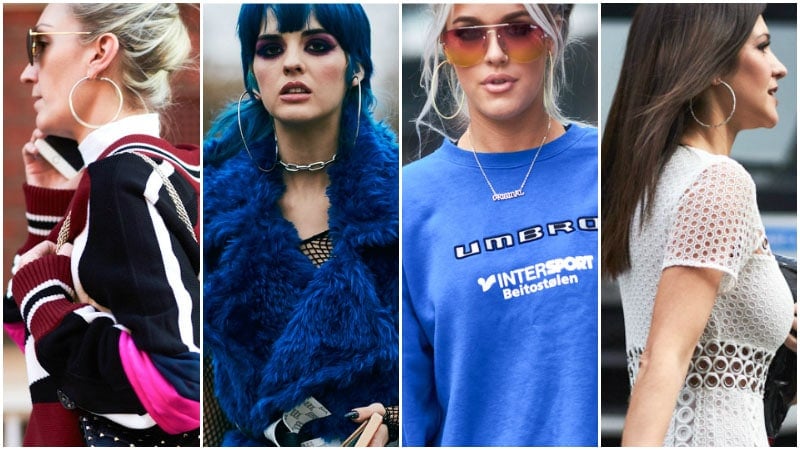 SHOP THE LOOK
Crop Tops
To wear the '90s look in 2020, a crop top is a must-have. These midriff-baring tops were an essential fashion item for ladies living in the '90s and are on-trend once again. Today, you can relive the best fashion from the decade by pairing a crop top with a pair of mom jeans. This chic combination is a favorite of celebrities and street style stars alike. To make the look modern, just swap cropped camisoles for short t-shirts, sweaters and tank tops.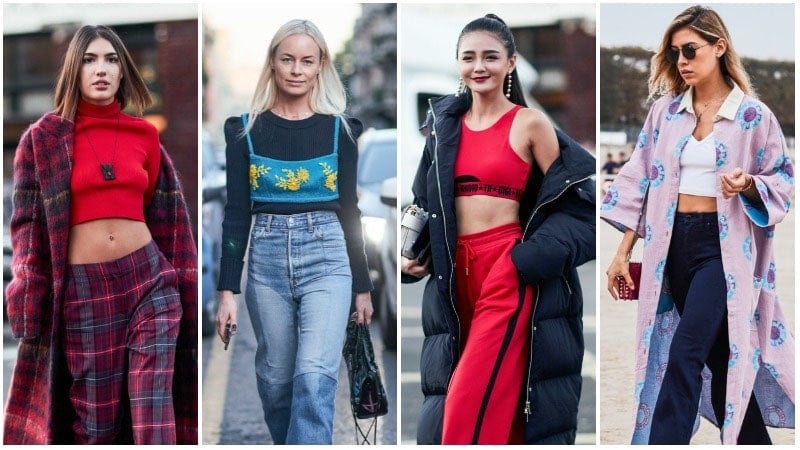 SHOP THE LOOK
Overalls
If you lived through the '90s, the chances are that you wore overalls. These sleeveless denim jumpsuits were an essential fashion item for the decade and worn by both ladies and gents everywhere. No longer just for farmers, the '90s made overalls a casual and comfortable wardrobe staple. To rock this look in pure '90s style, try partnering a pair of classic blue overalls with a crop top and sneakers.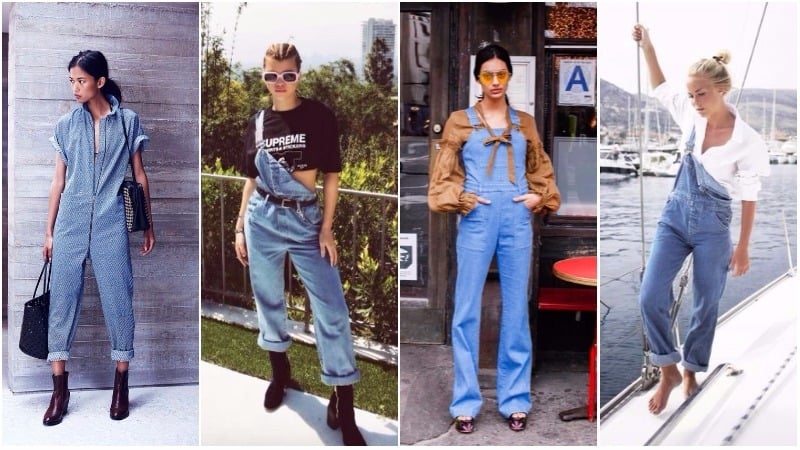 SHOP THE LOOK
Scrunchies
If you were getting dressed in the '90s, your outfit didn't end with your clothes. It ended with your hair. Far from boring, '90s hair featured accessories and, of course, scrunchies. Scrunchies were a favorite fashion item of the decade and completed many outfits. From simple satin styles to glamorous velvet designs, scrunchies were available in a range of options and could be worn with a ponytail, bun or pigtails.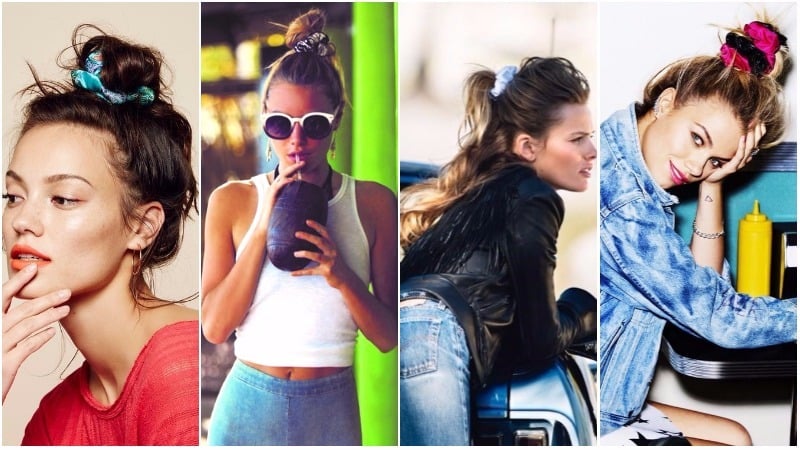 SHOP THE LOOK
90s Shoes
Like the clothing, the shoes of the '90s fell into the same trend categories. The grunge movement created an army of men and women alike wearing heavy-duty, combat boots. They were tough, gritty and paired with everything from slip dresses and florals to flannel shirts and frayed jeans. The minimalist trend also had its staple shoe in the way of Birkenstocks. Simplistic and comfortable, Birkenstocks came in a variety of styles and colors but still had that uniform feel. Platforms were popularised by the pop music scene, in particular, the Spice Girls. Converse's Chuck Taylors, Manolo Blahnik's Mary Jane style shoes, and classic pool slides were also on high rotation.

SHOP THE LOOK
90s Hip Hop Fashion
If you weren't rocking a grunge or minimalistic style in the '90s, you were probably sporting a hip-hop outfit. Popular in urban areas, hip-hop fashion was represented by overside, loose silhouettes, casual fabrics, and sports details. Like grunge, the style corresponded with the music genre of the same name. As such, hip-hop stars were icons of this style and provided the best outfit inspiration.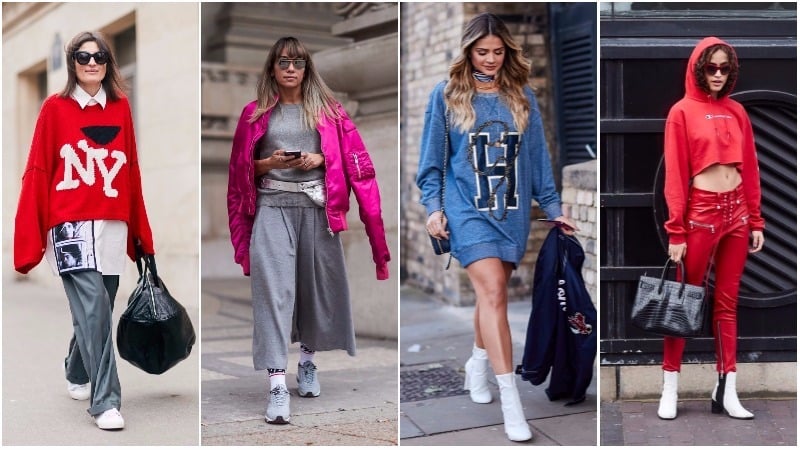 SHOP THE LOOK
90s Grunge Fashion
The '90s anti-fashion attitude culminated in grunge style. One of the most favored looks of the decade, grunge gave fashion an edgy and attitude-filled makeover. In recent seasons, the return of grunge style to popularity has been evident on the streets and the runway. From ripped denim and baggy tees to plaid shirts and layered slip dresses, essential grunge items are on-trend once again.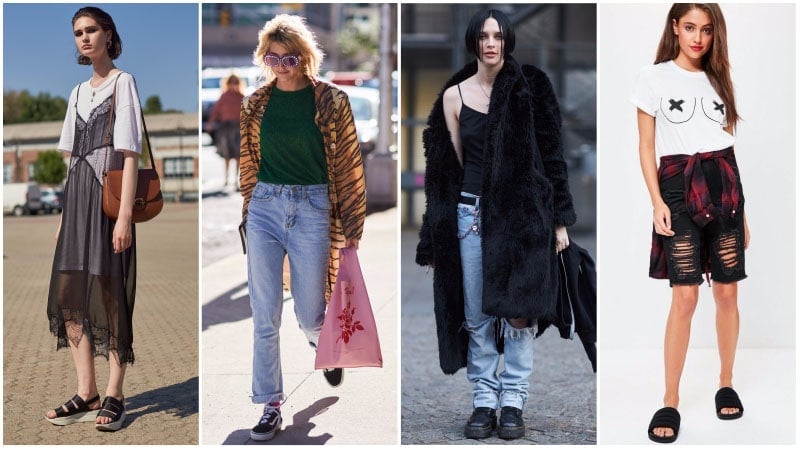 SHOP THE LOOK
90s Celebrity Fashion
Celebrities were the style icons of the '90s. Musicians, actors and the odd model inspired the sartorial choices of a generation. Outfits were copied and styles recreated, all while never failing to celebrate individuality. Everyone wanted to look like their favorite musician, be it Britney Spears, Madonna, Gwen Stefani or one of the Spice Girls. Britney offered the schoolgirl look while Gwen Stefani promoted grunge, and Madonna had her unforgettable Jean Paul Gaultier cone bra. The Spice Girls celebrated originality with each boasting a different persona. And every '90s girl knew which Spice Girl she was, whether it was Posh, Baby, Scary, Sporty or Ginger. Kate Moss was the ultimate style queen while Drew Barrymore and Winona Ryder were just as stylish off the screen as they were on.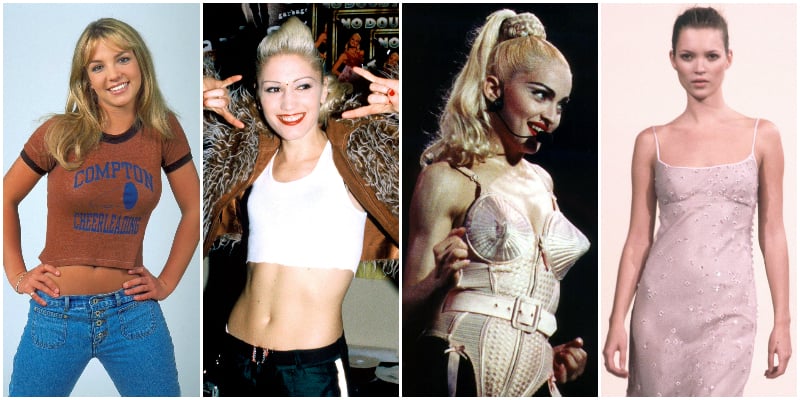 90s Hairstyles
'90s hairstyles were anything but boring. Youthful and playful, hair in the '90s gave birth to several iconic styles. "The Rachel" was the most popular haircut of the decade with women everywhere taking photos of Jennifer Aniston's Friends character to their salons. Choppy layered and framing the face, "The Rachel" epitomizes '90s hair. For those who didn't do the chop in the '90s, up-dos were standard. The half-up-half-down look was modern and simplistic while the schoolgirl look gave us pigtails which morphed into two mini buns. Adding more fun to '90s hairstyles were an array of hair accessories. Scrunchies, butterfly clips, bandanas, and colored hair streaks were all worn with pride. And how could we ever forget about crimping?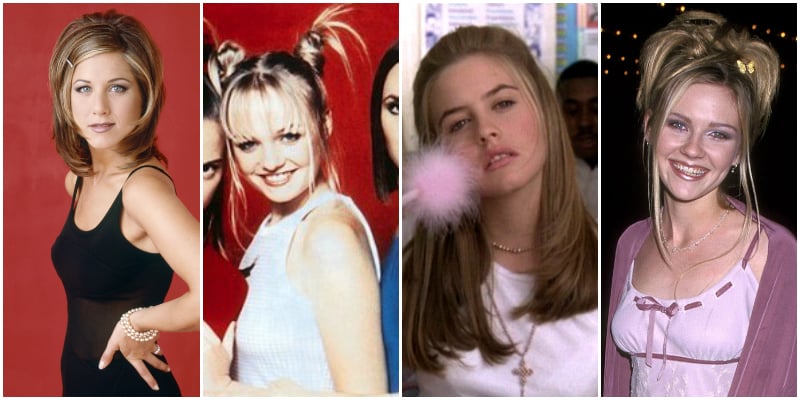 90s Fashion Trend
To wear the '90s fashion trend today you need to rework styles so that they are relevant in today's culture. Instead of copying looks exactly as they were in the '90s, recreate them in a modern and updated way. The trick is to capture that "too cool to care" attitude of the '90s while looking fresh and on-trend. To do so, blend classic '90s pieces like crop tops or chokers into your everyday wardrobe with skinny jeans and heeled boots. Alternatively, pair your favorite new dress with a '90s half-up hairstyle or add layers by wearing a t-shirt underneath. Either way, have fun with your style and embrace the carefree, youthful feel of the '90s.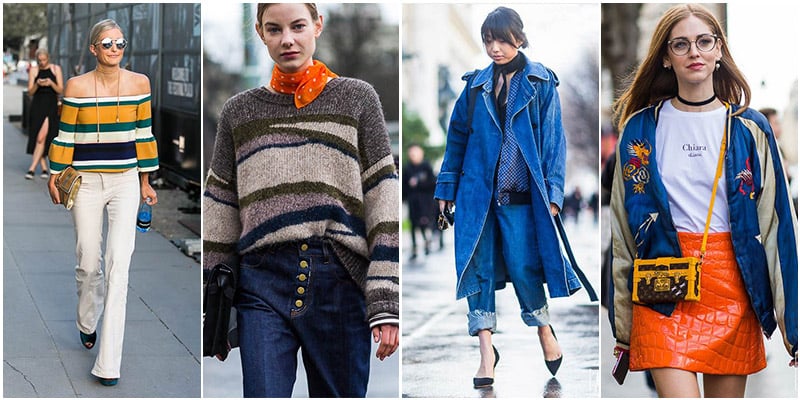 90's Fashion
FAQs
What are some 90s trends?
Some of the 90's trends that have made a comeback are scrunchies, overalls, crop tops, chockers, and flared jeans.
What did moms wear in the 90s?
In the 90s, moms would be decked out with visors on their heads, high waisted jeans, flannels, and fanny packs around their waists.
SUBSCRIBE TO OUR NEWSLETTER
Subscribe to our mailing list and get interesting stuff and updates to your email inbox.