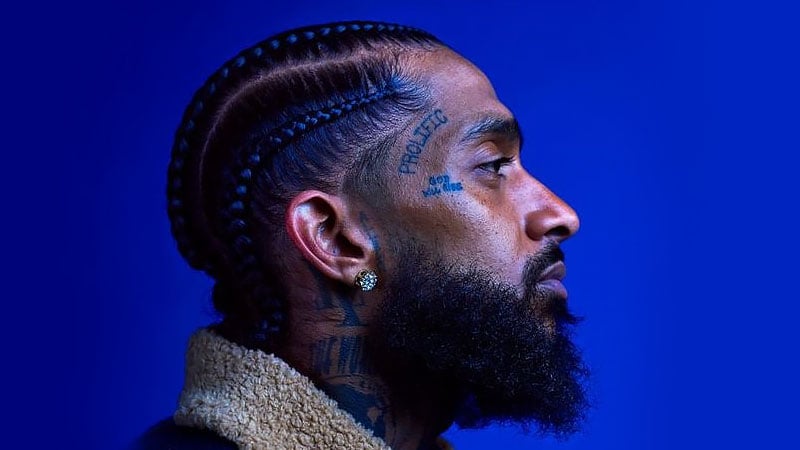 Cornrows are one of the most iconic braid styles. With their '90s vibes, endless versatility, and eye-catching style, they are the ideal hairstyle for guys who are comfortable in the spotlight – yet still, mean business. While traditional cornrows are designed for Afro-textured hair, guys with Caucasian hair can wear cornrow-inspired braids – that is, braids that are plaited with the same underhand technique. Sleek and cool, cornrows hairstyles always make a statement.
1. Cornrow Waves
Wave pattern cornrows are an ideal choice if you like to put your own twist on a traditional style. Taking its cues from the classic front-to-back cornrow pattern, cornrow waves add a subtle curve that creates a sleek, wavy look. Combining personality with style cornrow waves is a great option if you want to shake up your usual cornrow look without needing to cut or fade your hair.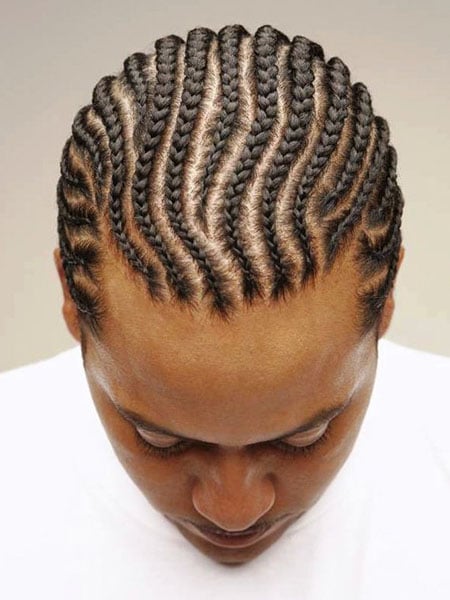 2. Cornrows + Fade + Top Knot
The top knot has become one of the staple men's hairstyles, and perhaps the coolest way to wear it is by combining it with cornrows and a fade. An ideal hairstyle for the summer, it mixes the clean, masculine look of a bald fade with the unique and eye-catching look of a braided top knot. Plus, as most of your hair is faded rather than braided, you won't need to spend hours in the barber's chair.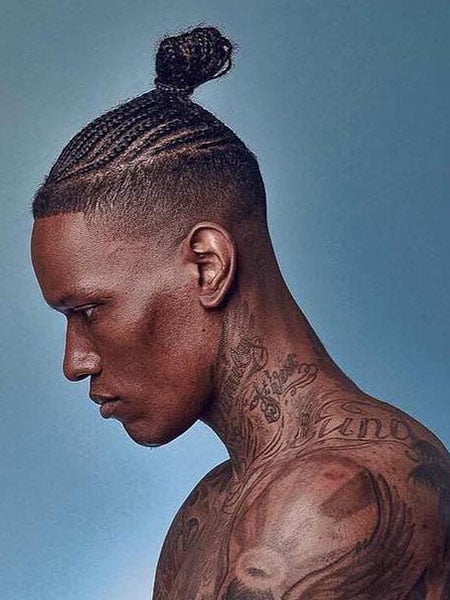 3. Viking Cornrow Braids
The Vikings were known for their intricate long, braided hairstyles, and today many guys follow in the legendary warriors' footsteps when it comes to their hair. The TV show Vikings has also inspired many men's hairstyles. The Viking version of cornrows is side braids tightly plaited using the underhand technique. Because the braids are tight, they can usually stay in place without the need for elastics. To get the Viking braid look, add more braids of varying thickness and make sure the crown section is raised for a faux undercut look.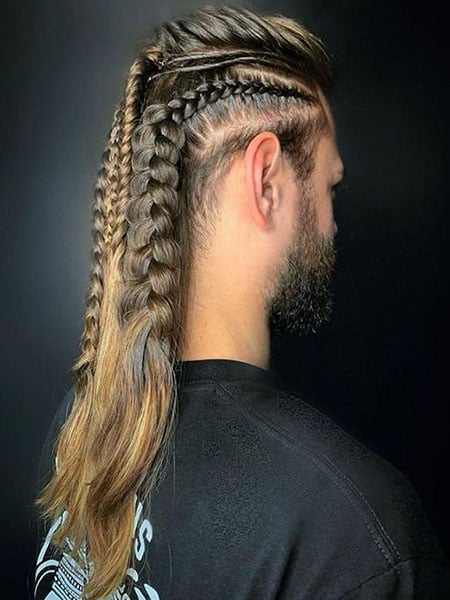 4. Zigzag Cornrow Braids
Similar to cornrow waves, zigzag cornrows elevate the classic front-to-back cornrow braid pattern to the next level. This style is all about sharp, clean angles with smooth, neat braids, so choose a skilled barber or braider to give you your zigzag cornrows. There are several different ways to embrace the zigzag pattern, so look to the likes of NBA stars Allen Iverson and Kawhi Leonard for inspiration.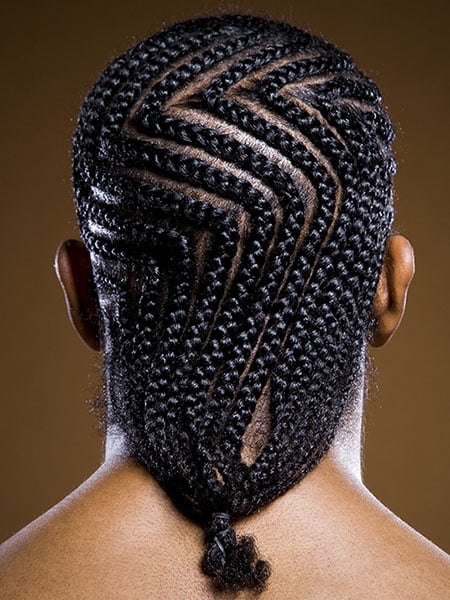 5. Cornrow Design + Shaved Sides
Guys who want a truly unique and individual braided look that is still masculine should consider a cornrow design with shaved sides. You could try spider braid cornrows, wave cornrows, zigzags, or even vortex cornrows. While it may look simple from the front, the style's full impact can be seen when viewed from above. Simultaneously, the shaved sides give the style a cool undercut effect and keep it low-maintenance, as you won't need to style your hair at all in-between braiding sessions.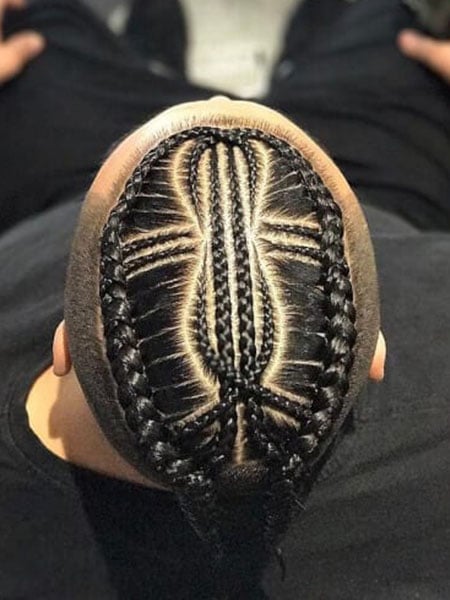 6. Two Blond Cornrows
Bleached braids have been on-trend for guys recently, so why not try icy blonde cornrows? Changing your hair color is a quick and easy way to shake up your usual style, and going light blond always attracts attention. Plus, the contrast with brown or black roots helps the braids stand out. Double cornrows – or cornrow-style underhand braids for straight hair types – take less time to braid in than regular cornrows and look great with faded or fully shaved sides.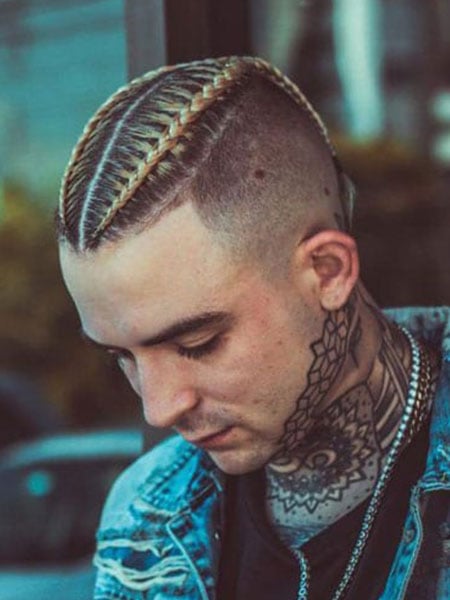 7. Three Cornrow Braids + Man Bun
The man bun is known for being a versatile hairstyle for guys, and it pairs well with different types of cornrows and shaved sides. Bold, masculine, and unique, it's one of the fastest types of cornrow hairstyles as only half your hair is braided, and the rest is shaved clean. To make the rows work with the bun, have your barber plait the two outer braids with a subtle curve that follows your skull shape.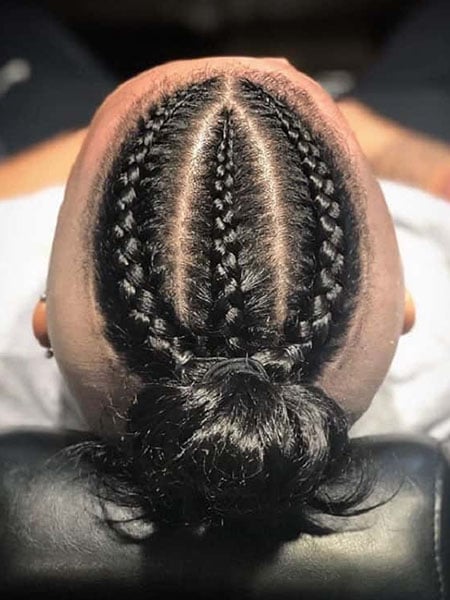 8. Four Cornrows
If you're planning to pair your cornrows with a temp fade, four rows is an ideal number. Balanced and clean, the four-cornrows style is versatile. While understated, it still shows off your style and is appropriate for school or work, as well as playing sports or a night out. Clean, sleek, and flattering, it's a classic and popular cornrow hairstyle for a reason.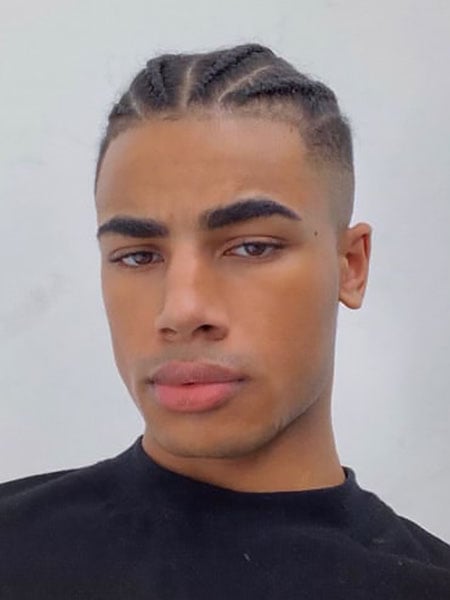 9. Samurai Bun + Cornrow Braids
The Samurai bun is a small, high topknot designed to keep the hair from your face. Masculine and stylish, this warrior bun has a proud history. Today, it's often paired with an undercut or fade cut to give it an edgy and modern vibe. Make it even more unique by pairing it with cornrow-style braids.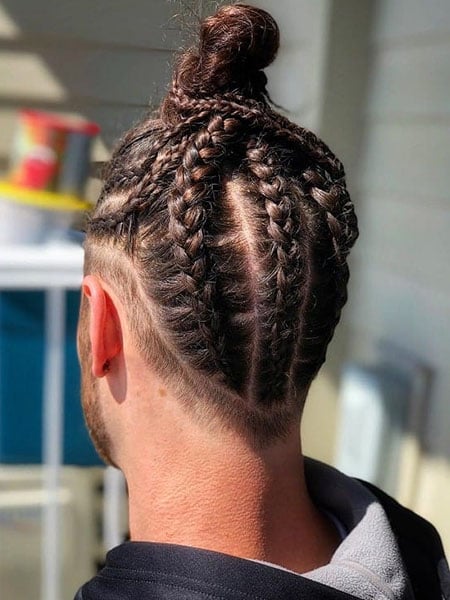 10. Side Cornrow Braids + Natural Hair
Natural hair looks great when paired with relaxed, informal side cornrows. Closer to traditional tribal hairstyles than modern cornrows, the look is all about showing off your hair's natural texture. Because the side cornrows don't need to be perfectly neat or straight, this is a hairstyle you can do on your own – no barber or braider required.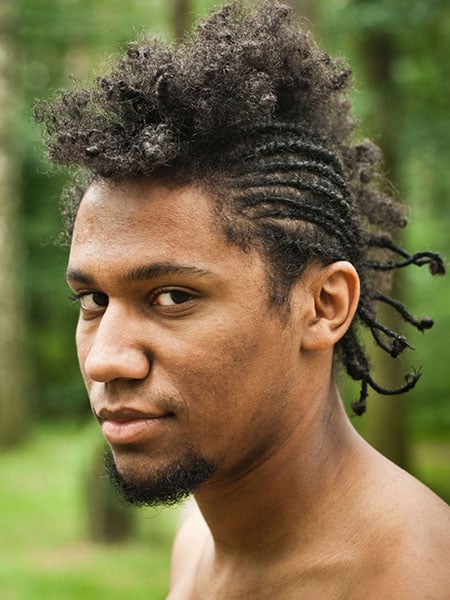 11. Cornrow Braids + Extensions + Skin Fade
Mixing braids with a fade is a classic hairstyle, so why not take it to the next level? Dial-up the cool contrast with long braids and a high skin fade. Skin fades graduate from longer hair at the top to a clean shave on the sides and adds a sharp, polished edge to your look. If your hair is on the thinner side, the combination of cornrow extensions and the skin fade gives the illusion of longer, thicker hair.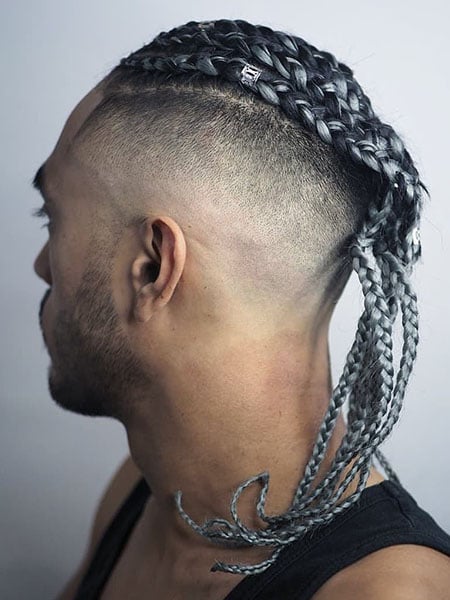 12. Cornrow Braids + Triangle Box Braids
Triangle box braids, with their unusual look and '90s vibes, are back in style. Combining them with cornrows keeps the look neat with no loose braids. It's the perfect combination for guys who want the eye-catching design of box braids with the clean, masculine look of cornrows. Ensure the rest of your cut is short, so the focus stays on the top braided section.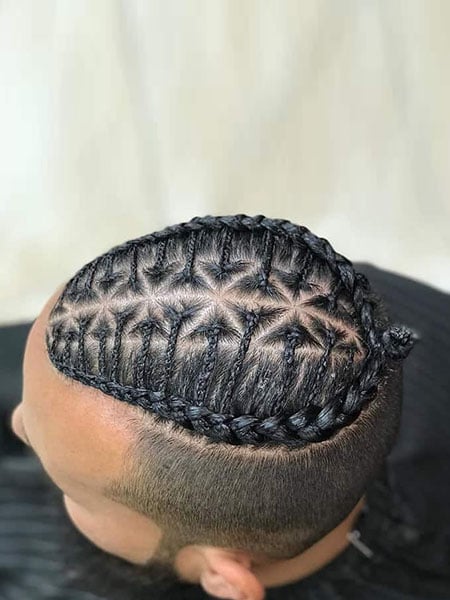 13. Blond Cornrow Braid + Updo
Blond is a big color trend for men right now, and it works particularly well when paired with braids. That is because blond is usually a multi-tonal shade, with different hues combined to give it depth. In a braided hairstyle, this creates contrast, which makes it more eye-catching and unique. Make yourself stand out even more – and keep your hair under control – by twisting your braided hair into a topknot or man bun.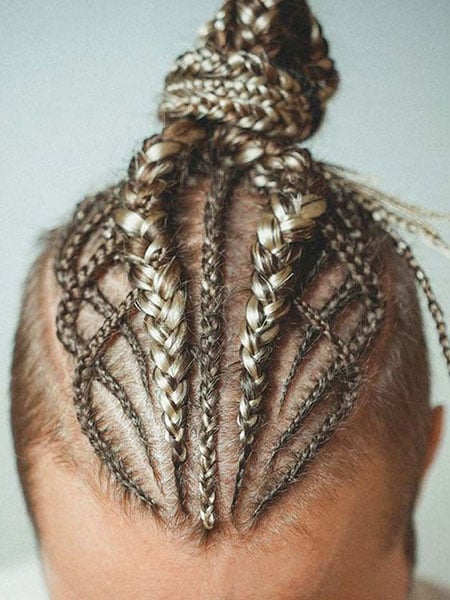 14. Cornrow Braids + Beads
Adding beads to your cornrow braids not only makes your hairstyle more unique but also adds a traditional element. For that reason, many consider it a great way to express and connect with their cultural roots. Add to the tribal feel of your cornrows by mixing up the braid sizes and adding different patterns, such as crossovers.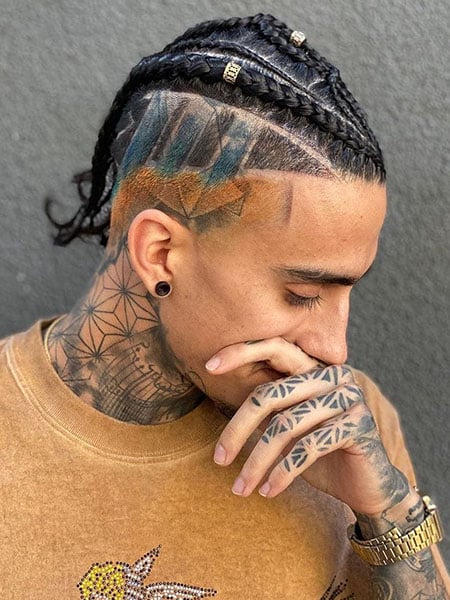 15. Cornrows + Drop Fade
If you want a look that's as sharp and stylish as it is cool, try pairing cornrows with a drop fade. As a precision tapered cut, the drop fade curves with your head's shape to create a smooth gradient. Because the hairstyle is supposed to be very clean and professional, ensure your cornrows are perfectly aligned and your hairline and beard expertly shaped.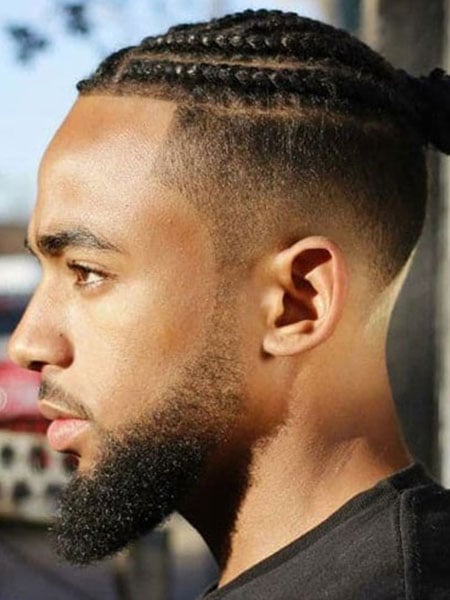 16. Cornrow Braid + Hair Design
Cornrows are versatile, meaning you don't need to limit yourself to the classic straight lines. A skilled braider can create almost any pattern you want. For guys who aren't afraid to stand out from the crowd, zig-zag braids, snake braids, or spider braids are some of the most eye-catching and unique hair designs. Mix it up and get ready to have all eyes on you!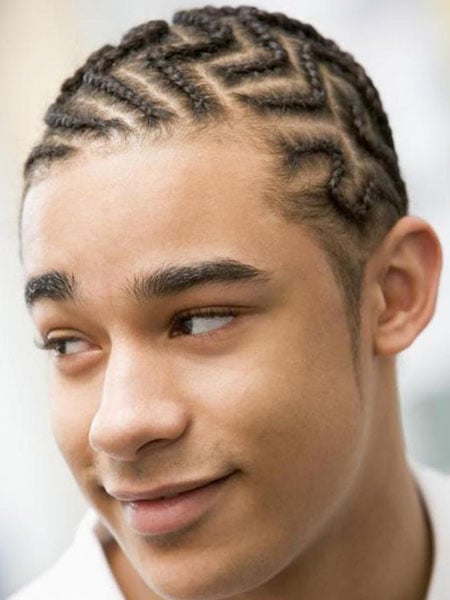 17. Side Cornrows
While traditional cornrows run from the front of your hairline to your neck, side cornrows add a fresh twist to the classic. Starting at your center part, the braider will cornrow down instead of backward. Not only does this create an original hairstyle that will help you stand out, but it's also more flattering if you have a large forehead, receding hairline, or wide face.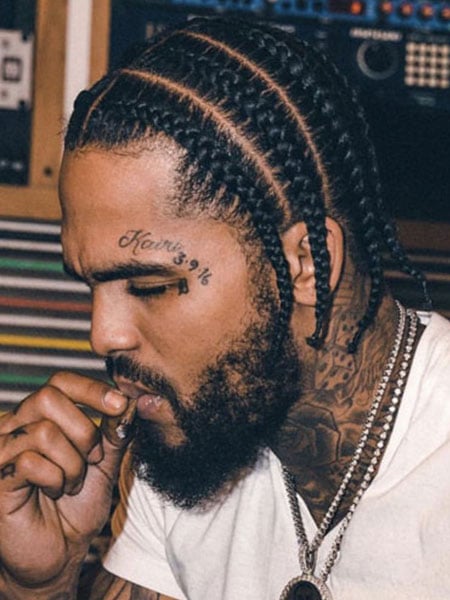 18. Cross Cornrow Braids + Bun
Cross cornrow braids – also called a crossover, or crossed, cornrows – are a great way to add personality and style to a simple and classic cornrow hairstyle. The curved pattern contrasts with the traditional cornrows' straight lines while still maintaining a clean finish. Add to the sleek look of the braids by twisting them into a man bun.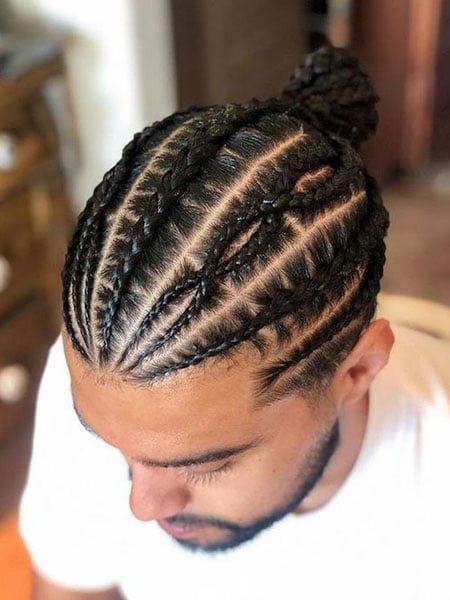 19. Cool Cornrow Braids
The coolest cornrow braids are the ones that reflect your own personal style. Adding curved micro braids is one way to customize your cornrows and create an incredible pattern that is practically guaranteed to earn you compliments. Almost like an optical illusion, this cool style will have all eyes on you. However, it's an advanced style, so a skilled braider is required to make it work.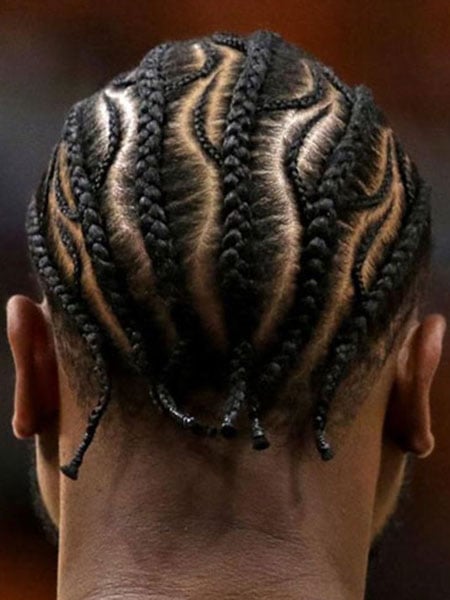 20. Small Cornrows Design
Small cornrows can have as much of an impact as large ones. If you have short or thinning hair, small cornrows could be a great option. And because they are smaller, your braider will have more space to create intricate designs that reflect your unique style. Curved, straight, or crossover cornrows are just some of the possibilities.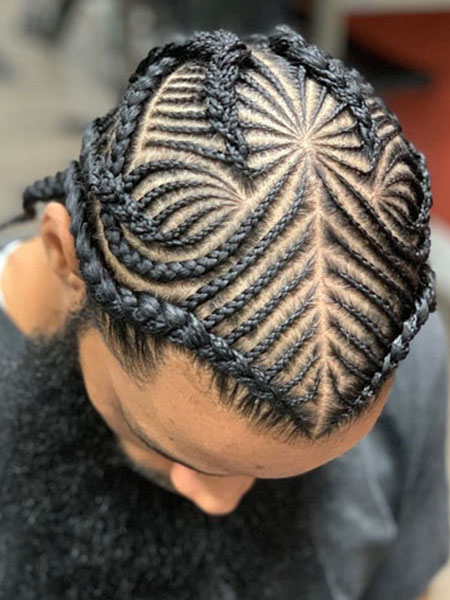 FAQs
What are cornrows?
Cornrows – also known as cane rows – are three-strand braids created using the underhand technique. This gives them a raised appearance. Plaited close to the scalp, these raised braids leave 'rows' of skin visible. Traditionally, cornrow braids are plaited in straight lines. However, today many barbers and stylists braid creative and unique patterns with cornrows.
Do cornrows ruin your hairline?
As cornrows are a tighter braid style, they can put more tension on your scalp, leading to breakage and hairline thinning. This condition is known as 'traction alopecia.' You can avoid this problem by requesting your barber or stylist not braid too tightly and never leaving your cornrows in for more than six weeks. You could also take a few months' breaks in between braiding sessions to give your hairline a chance to recover.
Are cornrows still in style?
While they were first popular in the '90s, cornrows are very much back in style. The endless variety of cornrow patterns makes the hairstyle a favorite for men all over the world.
Can cornrows help hair grow?
Considered a 'protective style,' cornrows – like other braids – prevent your natural hair from being damaged by heat, chemicals, environmental pollution, and natural breakage. This can keep it healthy. However, there is no type of braid that can help your hair grow. 
How long does your hair have to be for cornrows?
The minimum length of hair for cornrows is around two inches. 
Can you wear a hat with cornrows?
As cornrows are braided close to the scalp, you will usually fit them under a hat. However, the friction from the hat could cause frizz and ruin the look of your braids. Try wearing a protective cap underneath the hat, and opt for a hat that is a size bigger than your usual one.
How do you get cornrows to stay?
Once braided, cornrows will remain intact until you take them out – if properly maintained. Regularly moisturizing your scalp and conditioning your braids are essential steps when it comes to keeping your cornrows looking fresh. Also, protect your braids while you sleep by wearing a du-rag or satin cap. 
Can you shower with cornrows?
Getting cornrows wet causes them to frizz up, so it's important to wear a cap when showering. While you will undoubtedly need to shampoo your hair while you have your cornrows in, keep this to a minimum and use a mesh washing cap with a very gentle shampoo.
How much do cornrows cost?
The price for any braiding varies widely depending on the area, the stylist or barber's experience, the thickness and length of your hair, the complexity of the style, and whether it requires extensions/braiding hair. On average, standard cornrows on medium-length hair cost around $50.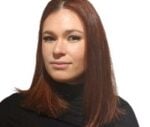 Arabella Roden is a skilled writer and sub-editor with over ten years of experience across print, digital, and B2B. She holds a Bachelor's Degree in Journalism and specializes in beauty, hairstyles, fashion, tattoos, and lifestyle topics. Arabella is currently the Chief Sub Editor at Mecca Brands and has been writing for The Trend Spotter since 2019.
SUBSCRIBE TO OUR NEWSLETTER
Subscribe to our mailing list and get interesting stuff and updates to your email inbox.