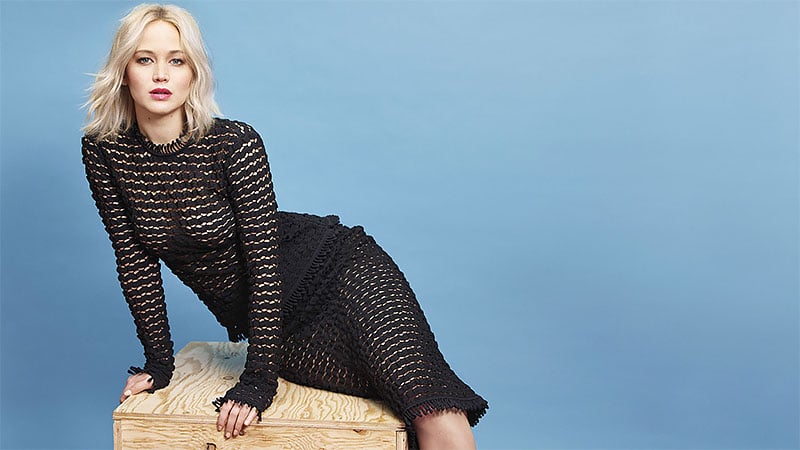 Jennifer Lawrence is a woman to be truly admired, not only for her acting prowess, determined work ethic and down-to-earth attitude but also for her style. The 25-year-old 'Hunger Games' star has a unique ability to look just as comfortable and in place wearing a pair of ripped jeans and a T-shirt as she does in a floor-length evening gown. Whether she's walking the red carpet or roaming the streets, J-Law has a knack for effortlessly cool style that balances feminine polish with laidback touches. Here's how to achieve her level of cool in your wardrobe.
Jennifer Lawrence Red Carpet Style
Although Jennifer Lawrence has had a couple of unfortunate trips at red carpet events, when it comes to red carpet style, the actress never stumbles. Whether she's headed to the Golden Globes, Oscars, a film premiere, or some other glamorous occasion, Jennifer is always on point. Try her five favourite red carpet looks for style that will steer you right at every wedding, ball and cocktail party.
Black Lace
One of Jennifer Lawrence's signature red carpet looks is black lace, and it's easy to see why! The actress smoulders in this sultry style with the dark hue creating a striking contrast against her platinum blonde locks. Channel Jen's sexy style at your next black tie event with your own black lace gown. The intricate fabric is so striking that no one will be able to tear their eyes away!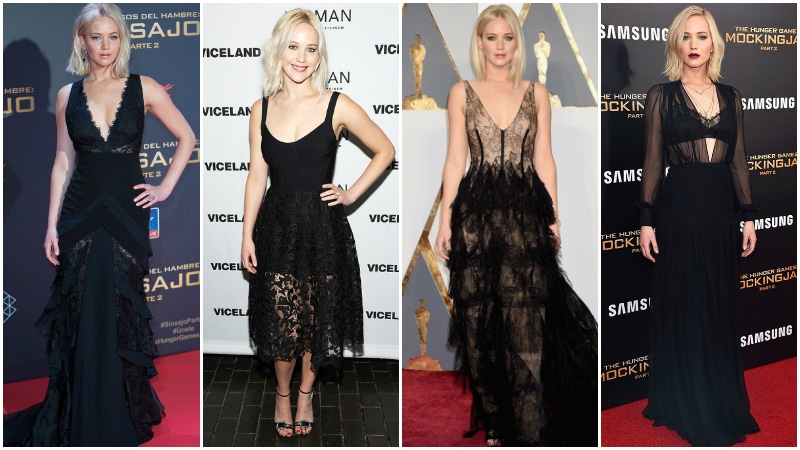 TOP PICKS
Strapless Gowns
Jennifer's gorgeous hourglass frame works perfectly with strapless gown styles. By leaving her shoulders bare and defining her waist, Jen puts her enviable figure on full display. The strapless style looks divine in column and fishtail gowns. When trying this look for yourself, remember that it's all about that flash of bare skin on your chest. Simple earrings, a delicate choker-style necklace and a feminine up-do are all you need to complete the look.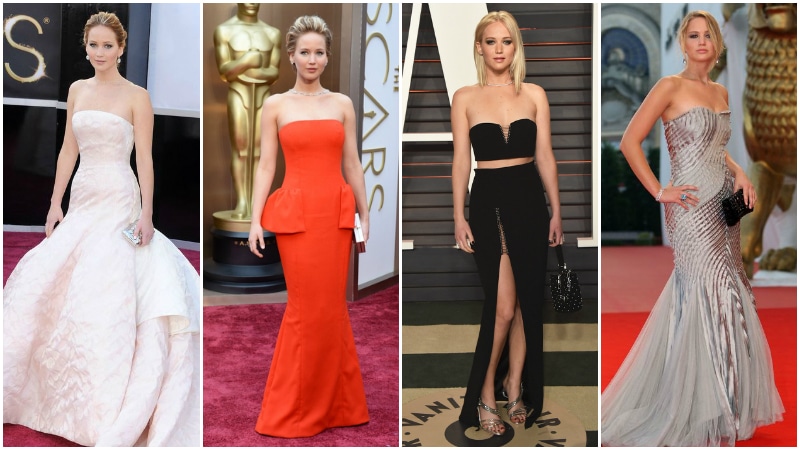 TOP PICKS
Head-to-Toe White
While Jennifer looks sultry and smouldering in all black, she also looks stunning and almost angelic in head-to-toe white. Jennifer's classically beautiful features teamed with an all-white ensemble make her appear like an old Hollywood screen siren. The colour conveys a look that is poised, pure and incredibly elegant. Just add a striking red lip to turn up the drama on this clean look.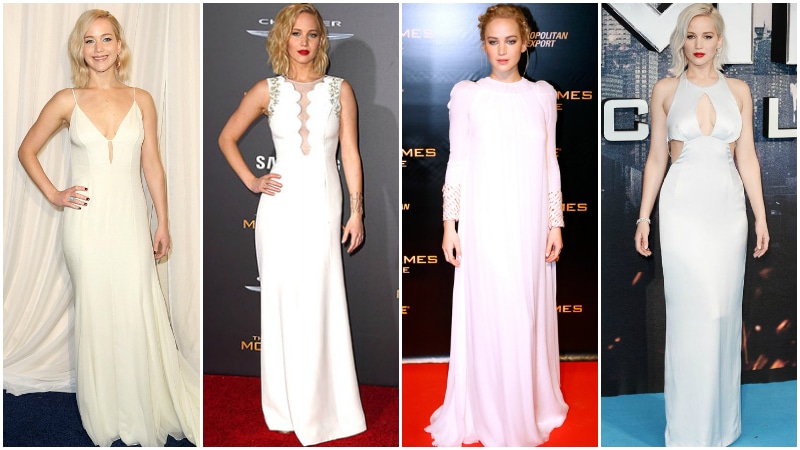 TOP PICKS
Plunging Necklines
A plunging neckline can often be a tricky look to pull off. With the wrong fabric, cut or styling, the look can go from glamorous to trashy in an instant. Jennifer gets her deep-V right every time by balancing the look with extra fabric elsewhere (such as with sleeves or a flared hem) and design details that draw eyes away from her chest (such as with embellishments or an intriguing collar). Look for dresses with plunging necklines in high-quality material, make and fit to ensure that the design sits and stays where it's meant to.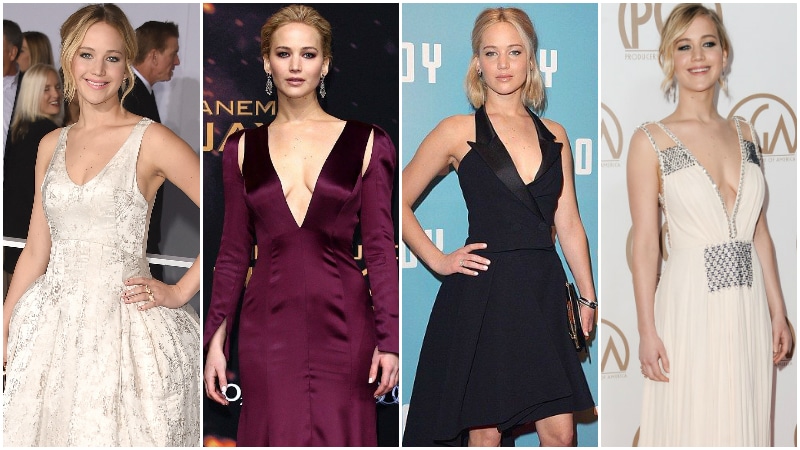 TOP PICKS
Beach-Wave Bob
Jennifer Lawrence was one of the first celebs to embrace the short hair trend. Since chopping off her long locks, the actress has grown her pixie cut into what is now her signature blonde bob. For red carpet occasions, Jennifer styles her bob with a simple and natural beach wave. The style perfectly suits her relaxed personality and can be easily recreated at home using products such as sea salt spray.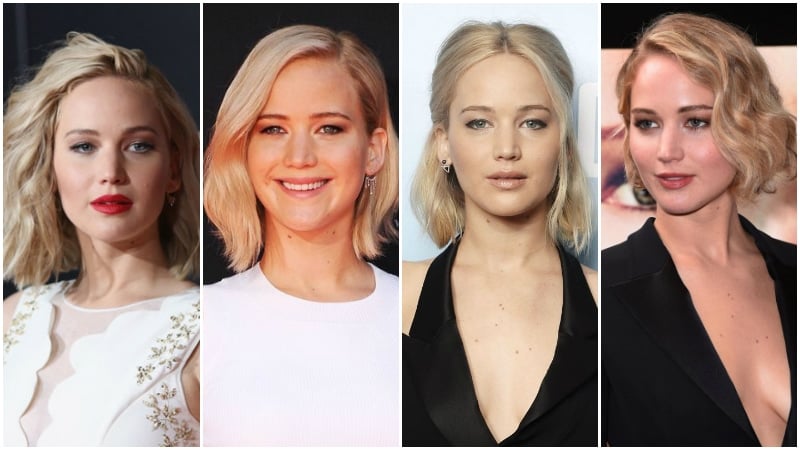 TOP PICKS
Jennifer Lawrence Street Style
Jennifer's casual street style perfectly intermixes chic, feminine design with relaxed and comfortable pieces. Her down-to-earth attitude is easily reflected in her style choices, which are trend-worthy yet practical. J-Law has her days of dresses and high heels but, just like the rest of us non-celebrities, she also comfortably roams the streets in sneakers and boyfriend jeans. Find inspiration in her well-balanced style for your weekend wardrobe.
Crop Tops
Jennifer Lawrence has worked hard to get her body into killer shape, so why shouldn't she show it off! Like many of today's celebs, Jennifer has embraced the return of the '90s crop top and isn't afraid to bare her midriff. To achieve Jennifer's crop top style for yourself, mix plain, embellished, crochet and knitted versions into your everyday wardrobe. Pair them with mid-to-high waisted pants to ensure that you aren't flashing too much skin.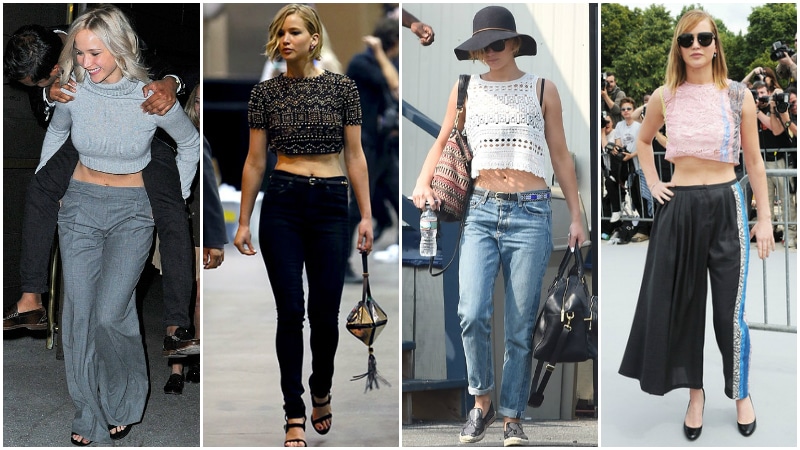 TOP PICKS
Black Cage Heels
A pair of classic, black stilettos are a wardrobe essential for every woman, but now and then even the essentials need to be reworked. This year's update is the black cage heel, and Jennifer Lawrence is certainly a fan. Jen wears these on-trend heels on a regular basis. Their bold straps and the graphic shapes that they create offer an additional outfit focus point that turns Jennifer's style up a notch.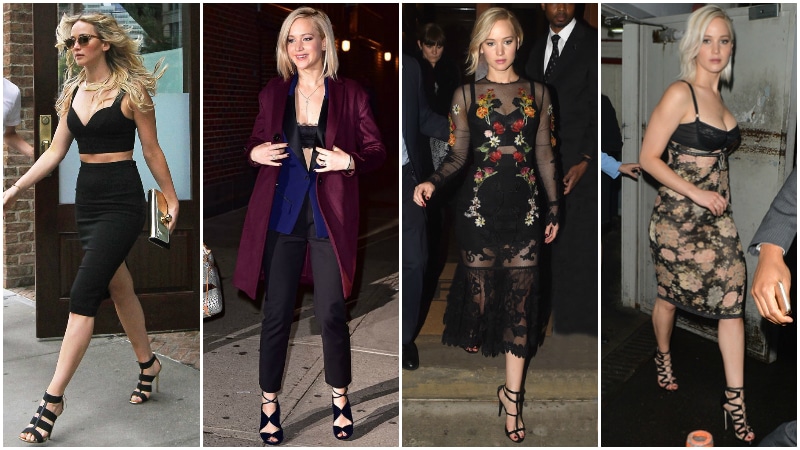 TOP PICKS
Oversized Winter Coats
Jennifer knows the benefit of feeling comfortable in what you wear. Part of that comfort means staying warm when it's freezing out. To protect herself from the cold while still looking chic, Jennifer chooses fashionable, oversized winter coats. Her oversized coats are making a statement, and are the focus of her outfit.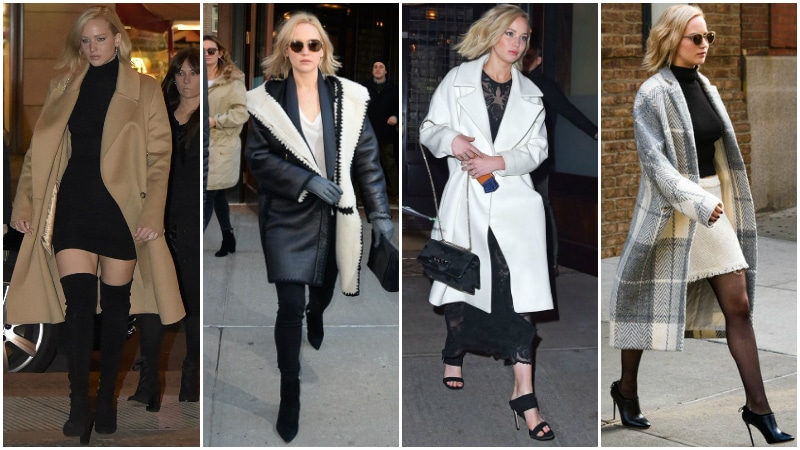 TOP PICKS
Boyfriend Blazer
You wouldn't be able to achieve Jennifer Lawrence's unique style without a subtle masculine touch. One of the easiest (and one of Jen's favourite) ways to do this is by throwing a boyfriend blazer over the top of any outfit. The oversized yet tailored look creates some serious style with sharp shoulders and lapels. Work it into your own wardrobe with any outfit from jeans and trousers to dresses and skirts.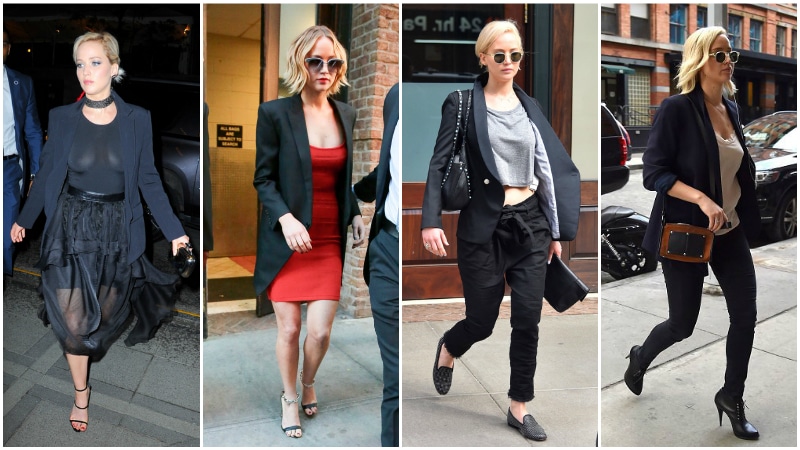 TOP PICKS
Casual Cuffed Denim
Every woman has her signature denim, be it skinnies, boyfriend jeans, or wide leg styles. Jennifer is no exception to this rule, proving time and time again that casual denim styled with an ankle strap sandals is her favourite jeans look. Simply roll up the hems an inch or two above each ankle and add sandals or sneakers before walking out the door.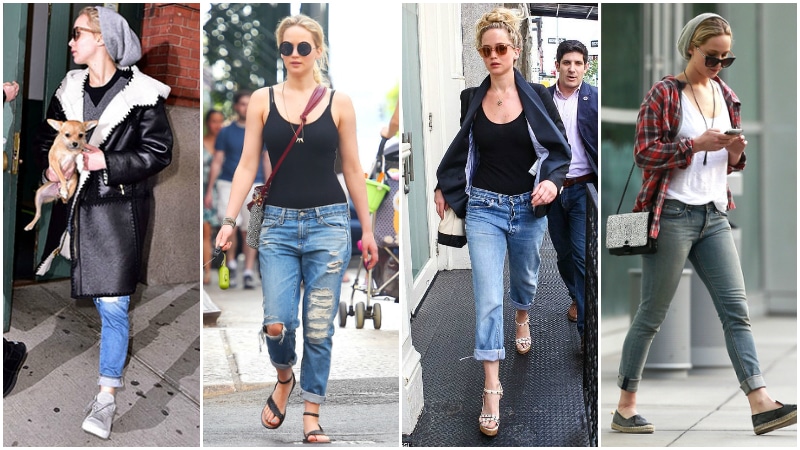 TOP PICKS
SUBSCRIBE TO OUR NEWSLETTER
Subscribe to our mailing list and get interesting stuff and updates to your email inbox.