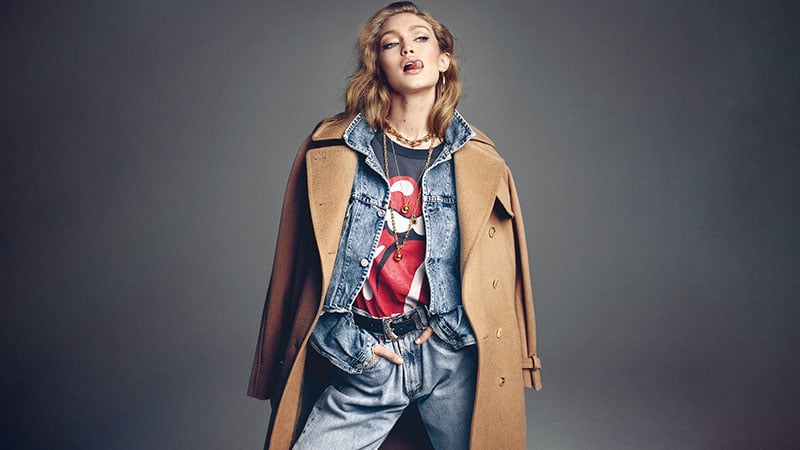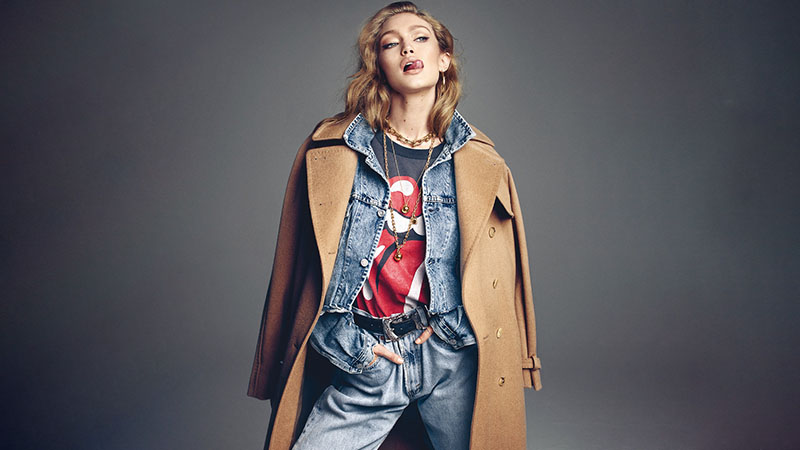 There's no denying that Gigi Hadid has dominated the world of fashion. Along with countless runway appearances, magazine covers, and campaigns, the star can also count on becoming a style icon on her list of achievements. Looking amazing every time she steps out, Gigi has a kind of Californian-cool style that boasts the perfect blend of easygoing attitude and sexy elegance. Although her relaxed-meets-chic look can be challenging to replicate, we can make it easy. So, if you're looking to channel Gigi Hadid's signature style, you've come to the right place. We have all the inspiration and advice you need to dress just like the fashion star.
Gigi Hadid Outfits
Athleisure
Gigi Hadid's easygoing style lends itself perfectly to athleisure outfits. So, it's no surprise that the star is often spotted wearing outfits with an athletic twist. Some of her favorite sports pieces include leggings, sweatpants, sneakers, and cropped tees. To nail her signature athleisure style for yourself, try mixing items for your workout wardrobe with those from your casual closet. For instance, team a pair of tracksuit pants and an athletic crop top with platform sneakers and an oversized bomber jacket. Then, cap it all off with some Gigi-approved sleek, cat-eye sunglasses.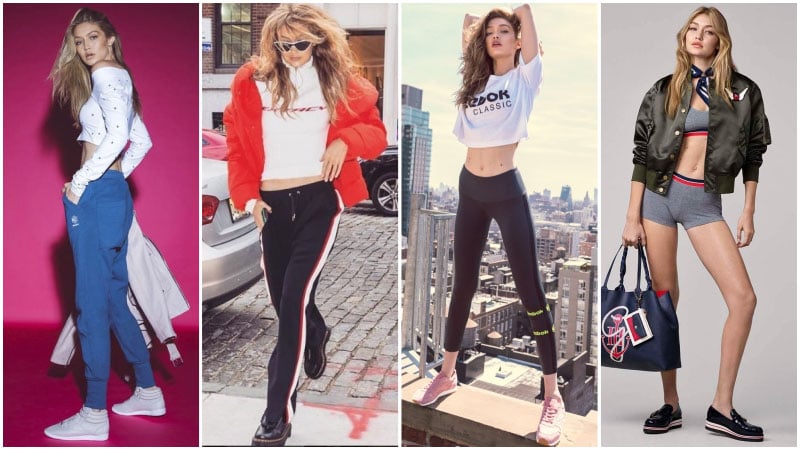 Ripped Denim
Ripped denim is a major part of Gigi's signature style. Whether dressing for events, photoshoots, or a day out, Gigi often throws on a pair of stylishly disheveled ripped jeans or denim shorts. Of course, as the star loves experimenting with her fashion choices, she doesn't just stick to one denim style. As such, she rocks everything from black skinnies to light blue boyfriends. To wear ripped denim like Gigi, team a pair of classic blue jeans with a black bodysuit and heeled black boots. Alternatively, if the weather is warm, partner ripped denim cut-offs with a breezy crop top.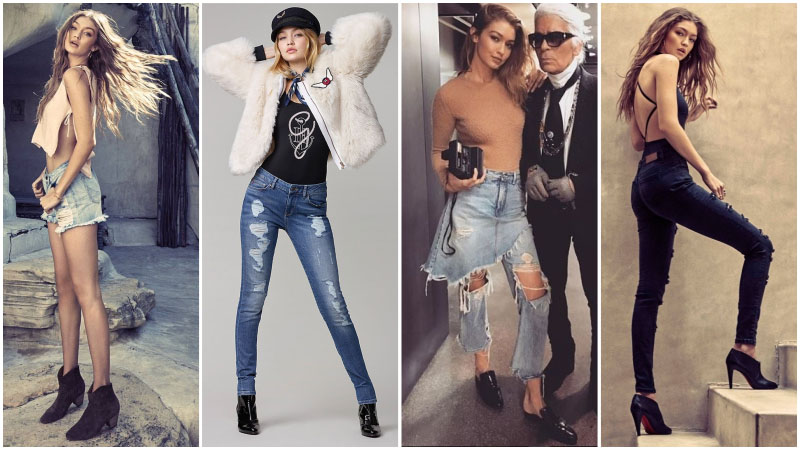 Over-the-Knee Boots
Gigi isn't afraid to make a statement with what she wears. When it comes to her feet, the model regularly chooses to rock a bold pair of over-the-knee boots. These on-trend shoes instantly draw attention to the model's long and lean legs, creating a highly flattering appearance. To wear a pair of over-the-knee boots like Gigi, remember to show a little thigh. To do so, try either pairing your boots with a mini dress or a dress with a thigh-high split. The flash of skin above your shoes will immediately break up the look and make your legs appear longer. Likewise, choosing a heeled pair of over-the-knee boots will also elongate your pins.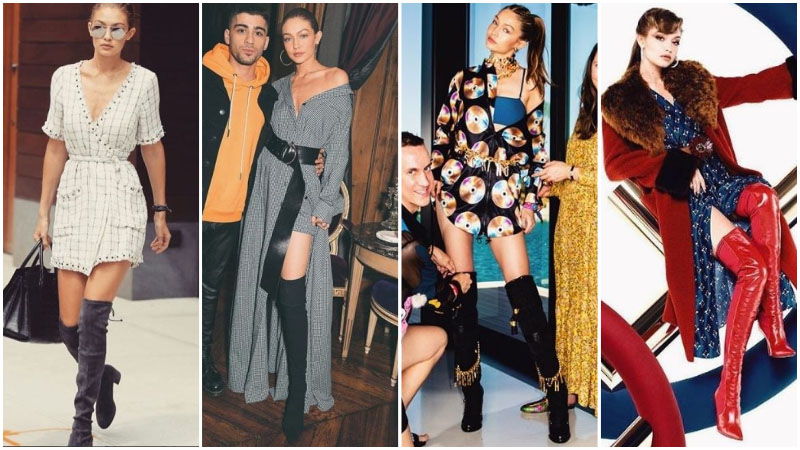 Crop Tops
When you have a body like Gigi's, it makes sense to show it off. So, that's exactly what the supermodel does. When she's not on the red carpet wearing body-hugging dresses, the celebrity flaunts her figure by showcasing her toned stomach with crop tops. In particular, Gigi loves to wear simple, cropped, crew-neck T-shirts that are comfy and cute. Of course, the fashion icon knows that flashing some skin is all about balance. So, to keep things stylish and chic, she typically teams her crop tops with a pair of pants. Her favorite options are cropped jeans, sweatpants, and leggings.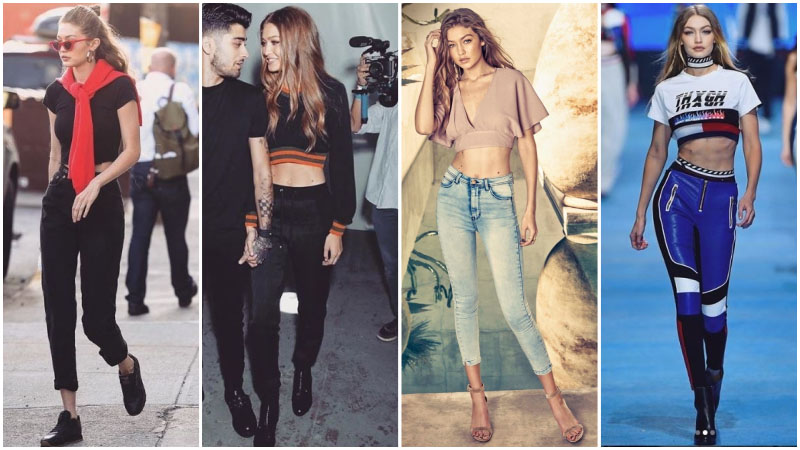 Oversized Coats
Winters in New York can get cold, which is why Gigi, who owns an apartment in the city, chooses to rug up for warmth throughout the season. To do so, the star relies on oversized and supersized coats of all kinds. From sleeping-bag-style pink puffer coats to chic, longline wool coats, Gigi rocks a variety of designs that not only look fabulous but also keep her feeling toasty. So, next time you're feeling chilly, why not channel Gigi and grab an oversized coat? Just remember to add heels or choose a style that finishes at or above the knees if you don't quite reach Gigi's 179cm height.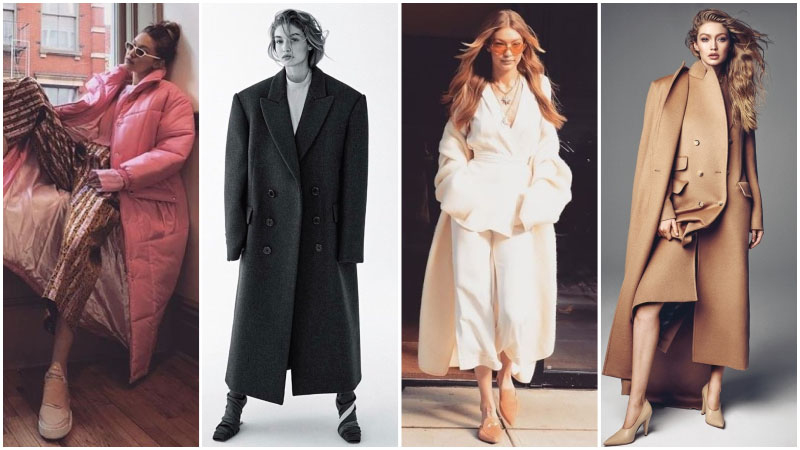 Split Dresses
For formal functions, red-carpet appearances, evening events, and more, a full-length dress is often required. Of course, when Gigi does eveningwear, she makes it her own. Not one to shy away from showing off her figure, Hadid often chooses to wear a split dress. Typically fitted through the body to display her hourglass silhouette, these dresses feature a major, thigh-high split at the front on one side. As such, they sensually and dramatically reveal one of her long legs. If you're feeling adventurous at your next formal function, be sure to try the look for yourself. You can even make like Gigi and slip your leg out of the slit when it comes time to pose for photos.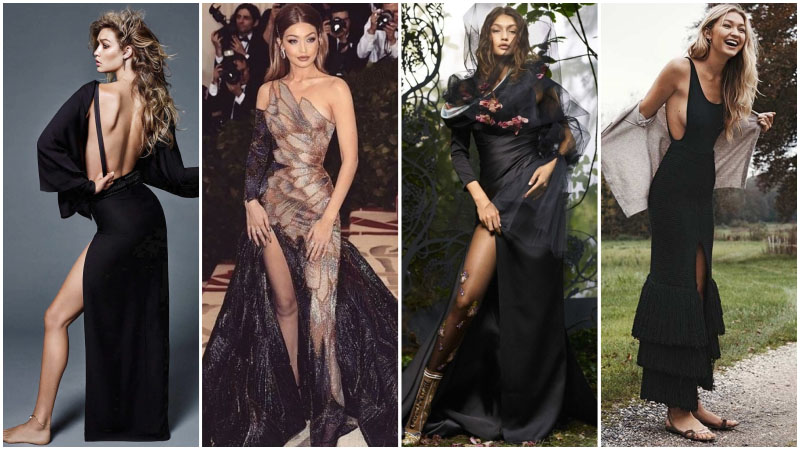 Suits
When Gigi's ready to take care of business, she chooses to rock a suit, and she certainly looks good doing so. The model is often spotted wearing suits for meetings, photoshoots, and more. Of course, these aren't you're standard business suits. As a true fashion icon, Gigi never has a dull outfit moment. So, instead of boring black suits, she opts for bold colors, such as red and pink, along with chic patterns. Likewise, Gigi also selects exciting silhouettes, including retro-flared designs and oversized, masculine styles.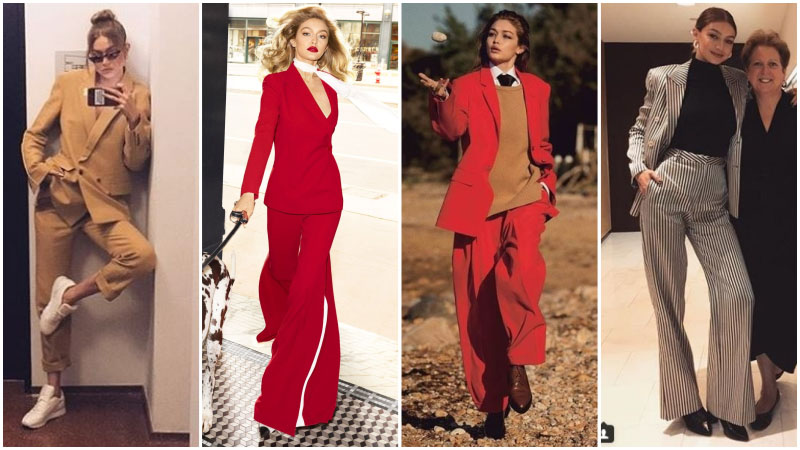 Platform Shoes
She may not need the extra height, but Gigi certainly enjoys rocking a pair of platform shoes. From thick-soled creepers and loafers to chunky Dr Martens and heeled sandals, the style star loves to wear platform footwear. Perfect for adding a New York edge to her Californian style, platform shoes toughen up Gigi's signature look, and they can do the same for you. All you need to do is pick your favorite platform footwear style and purchase a pair. Then, team them with Gigi-approved items, such as ripped denim and chic suits, to complete your look.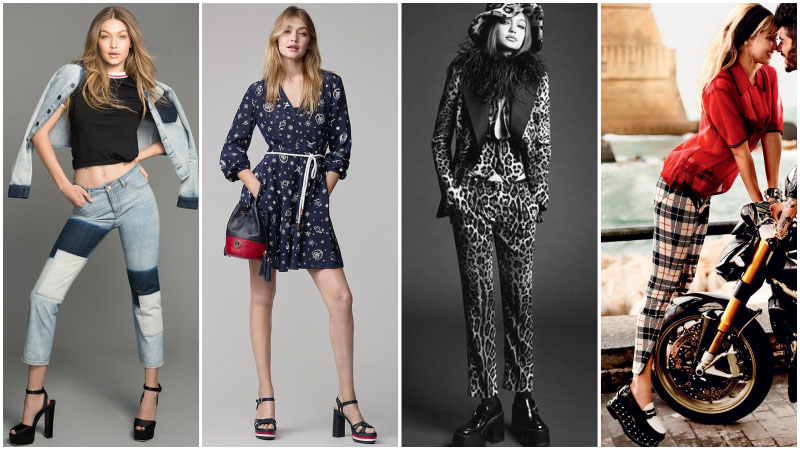 Gigi Hadid Hair
As a bona fide blonde bombshell, Gigi Hadid has some seriously luscious locks. Unlike her sister, Bella Hadid, who sports dark brown hair, Gigi's mane is a warm, golden blonde color. Adding to her signature Californian style, Gigi typically wears her hair in loose, long, beachy waves. As for her part, she often switches between a deep side part and a middle part. When Gigi does wear her hair up, she likes to mix things up, trying different ponytails, plaits, buns, and half-up styles.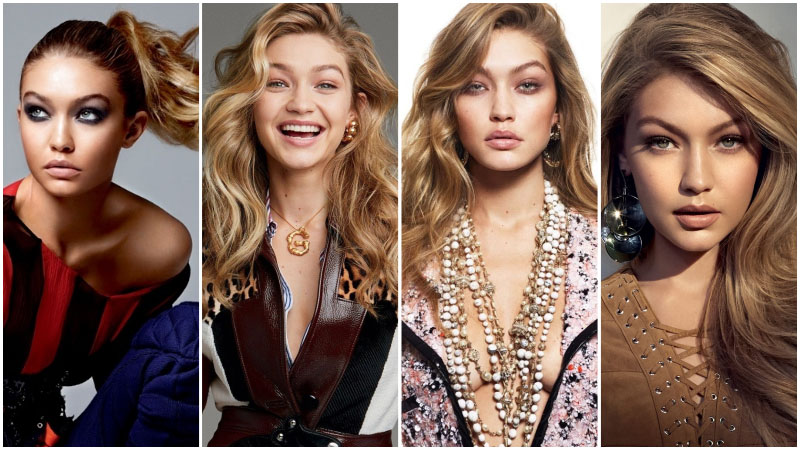 Gigi Hadid Makeup
There's no denying that Gigi Hadid is a natural beauty. As such, she typically chooses to wear minimal makeup that enhances rather than alters her appearance. Her signature look involves clear, glowing, and bronzed skin, nude lips, soft brown brows, and black, mascara-enhanced lashes. When she feels like rocking a stronger look, Gigi often adds winged eyeliner, warm eyeshadow in tones like gold and burgundy, or an eye-catching red lip.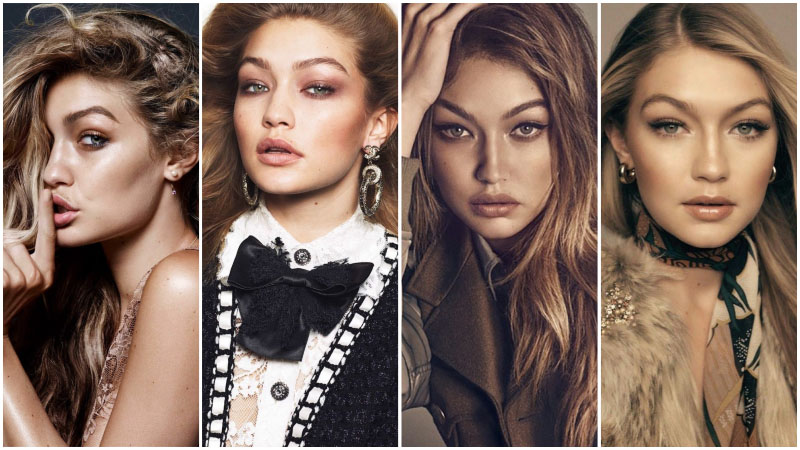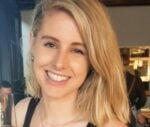 Taylah Brewer holds a bachelor's degree in fashion and business and is a skilled writer with several years of experience in the world of online content creation and copywriting. She is passionate about fashion, beauty, and all things lifestyle-related and has been writing for The Trend Spotter since 2016. She currently works as the Head of Digital & Ecommerce at White & Co.
SUBSCRIBE TO OUR NEWSLETTER
Subscribe to our mailing list and get interesting stuff and updates to your email inbox.