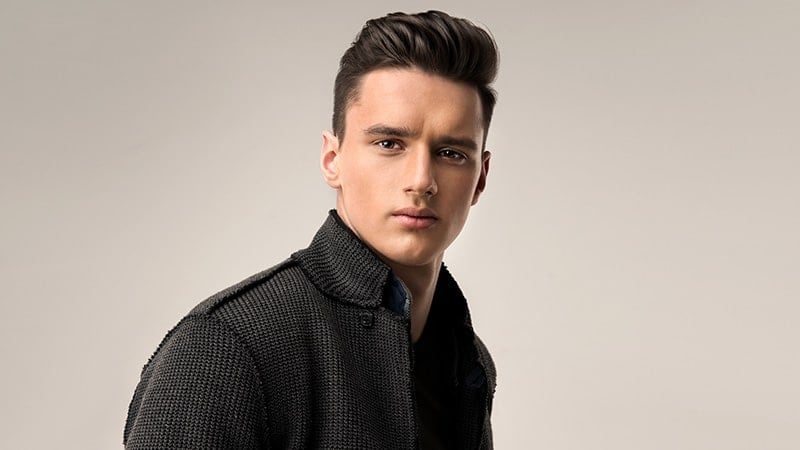 Are you looking to switch up your hair game but don't want to change drastically? Layered hairstyles are the perfect solution. They provide versatility and movement while keeping them tame enough for professional occasions. With layered haircuts, there is something suitable for all hair types and textures – so no matter what length or texture of hair you rock, you can find a look that suits your individual style. Keep reading to discover the coolest layered haircuts for men you will want to show your barber.
1. Blowout Layered Haircut
The blowout hairstyle looks like your hair was caught in the wind and is defined by its voluminous appearance with the hair brushed up at the front. In contrast, the back and sides are kept neat and short. To secure the hair, you can use pomade or gel to help direct it. This style works best on medium or long hair but can also be styled with short hair. You can add layers to the hair to create more depth and dimension.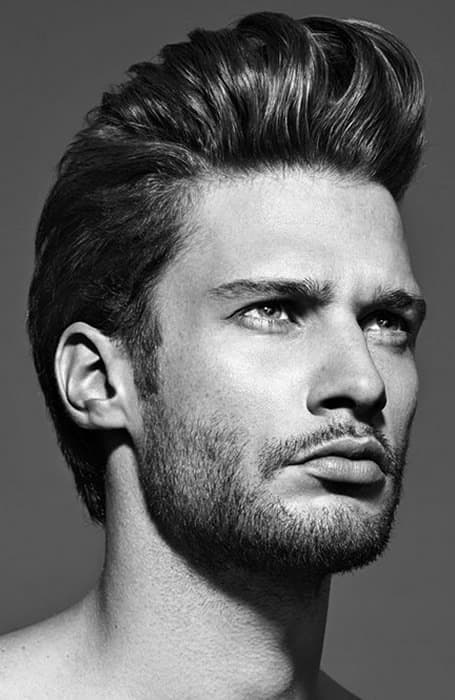 2. Layered Asymmetric Fringe
The asymmetric fringe is a stylish and versatile hairstyle that is an excellent option for highlighting your features. It will create a softer appearance with the way it falls on the face, or you can style it to be long and cover the eye for an edgy and rebellious finish. The fringe will have varying lengths and be full of texture and volume with layers.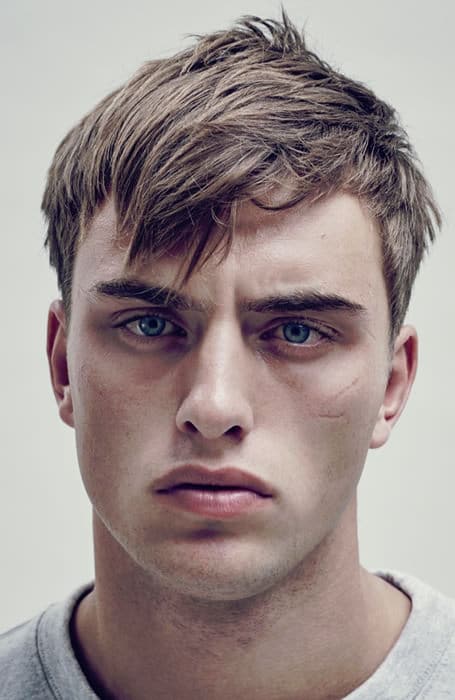 3. Layered Bond Hair
Add some layered to your blond hair for a neat and polished Austin Butler vibe. A great option is short to medium-length hair that is brushed back at the front and left to fall naturally. This will create volume and texture while also looking suave and masculine.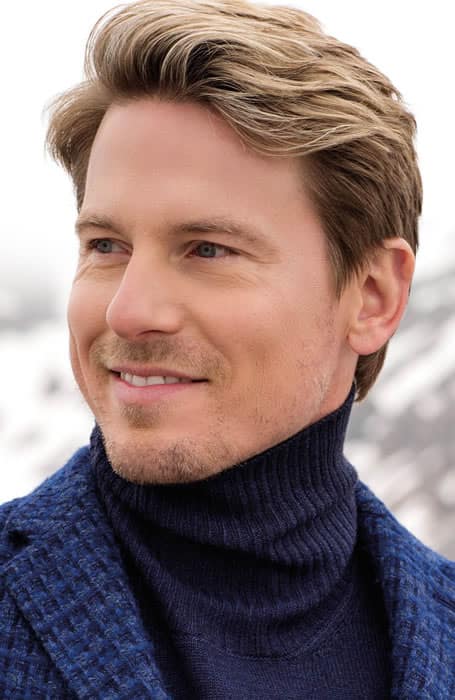 4. Layered Bro Flow
Undeniably one of the coolest hairstyles for men with medium to long hair is the bro flow. The style is simple and relaxed in appearance and is achieved by brushing the hair back and leaving it to fall naturally. This creates a carefree aesthetic and is a look that is complemented by wavy hair textures. Layering the hair will help you add texture and shape.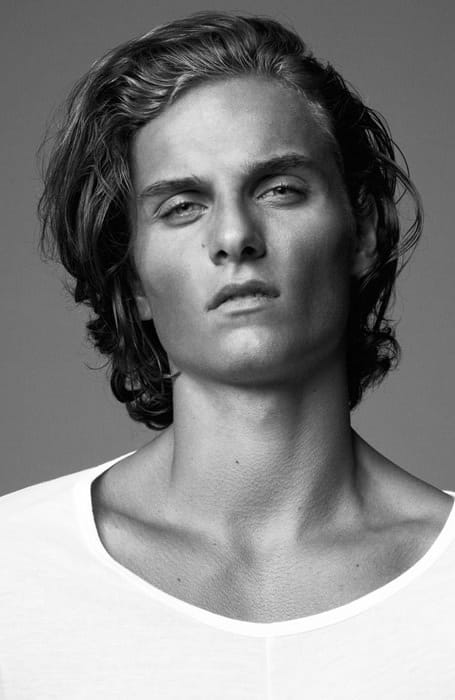 5. Layered Brushed Back Hair with Fade
The brushed-back hairstyle is stylish and sophisticated and also incredibly easy to achieve. It is created by brushing the hair backward, and for more textured lo, it can be secured with a pomade or wax. To give the hair structure, you can pair it with a fade of your choice. The fade will gradually shorten the hair on the back and sides while leaving length on top.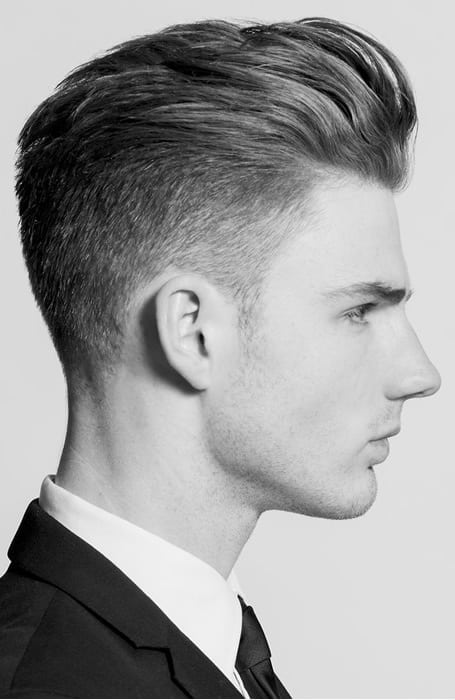 6. Layered Caesar Cut
Adding layers is a great way to give it shape and create depth and dimension. Layers can be added to a Caesar cut, which is typically a short haircut with relatively the same length of hair all around the head. It is defined by a short, horizontal fringe, which highlights your features.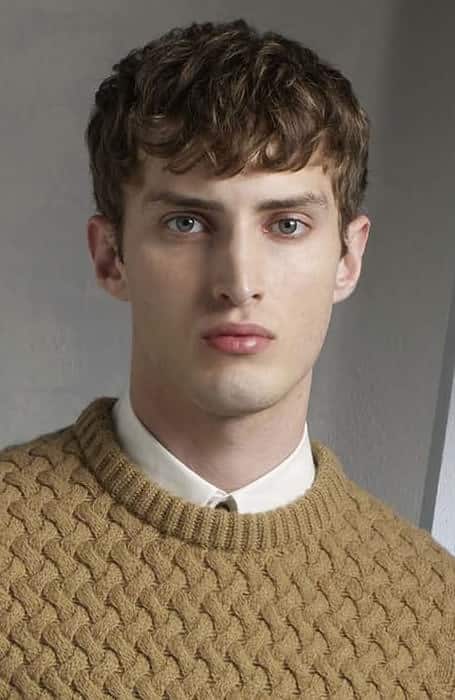 7. Layered Crew Cut
The crew cut is a classic short hairstyle for men and is one of the least adventurous styles you can choose. However, this is also part of the appeal because it is a low-maintenance look that complements all hair textures and will suit most face shapes. Adding layers will give the hair more movement and direction and can be incredibly flattering.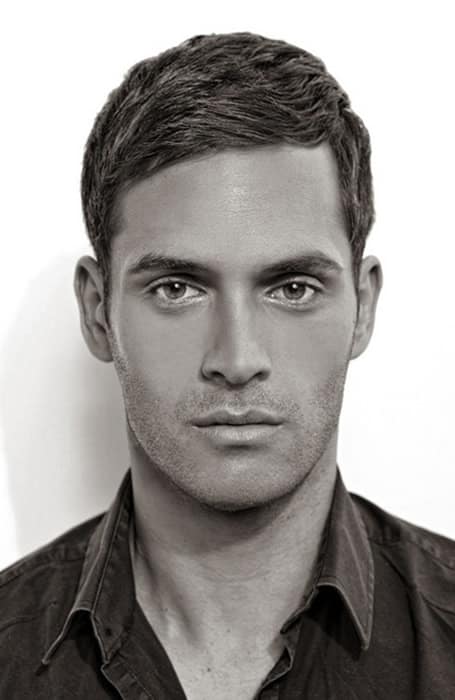 8. Layered Faux Hawk
For those men wanting to experiment with their look and play-up proportions, the faux hawk is the option for you. It is a more versatile and easier-to-wear version of the mohawk, with less contrast between the length of hair on the back and sides and in the middle and top. Layering the hair can remove bulk and weight from thick hair while also creating the illusion of fullness.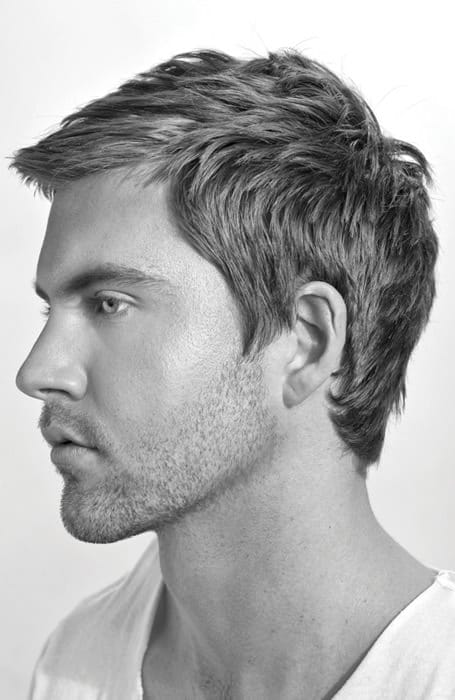 9. Layered Fringe
A fringe haircut is an excellent option for men looking to highlight their faces and can often complement your jawline and cheekbones. Fringes can be added to most hairstyles and can vary in appearance, allowing you to adapt them to suit your preference. A layered fringe is stylish because it will have texture and movement. This is also a great way to soften sharp features.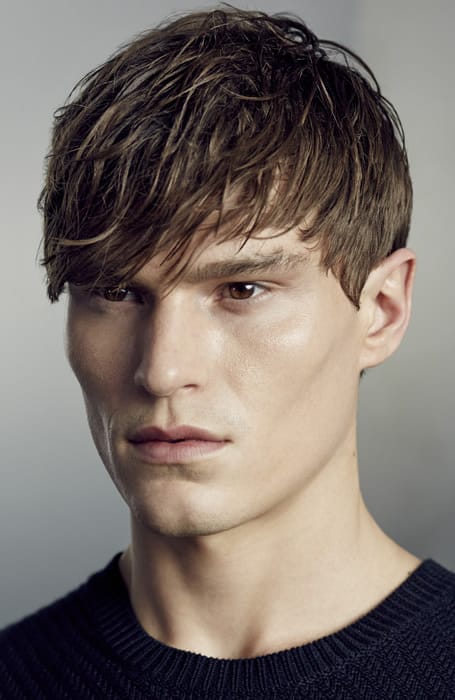 10. Layered Grey Wavy Haircut
There is no denying that there is something incredibly sexy and masculine about men who embrace their grey hair. Because of its lightness and visibility, the color will also draw attention to your chosen cut and highlight your hair texture. Layers in wavy hair can enhance the texture while also giving the hair shape and creating movement.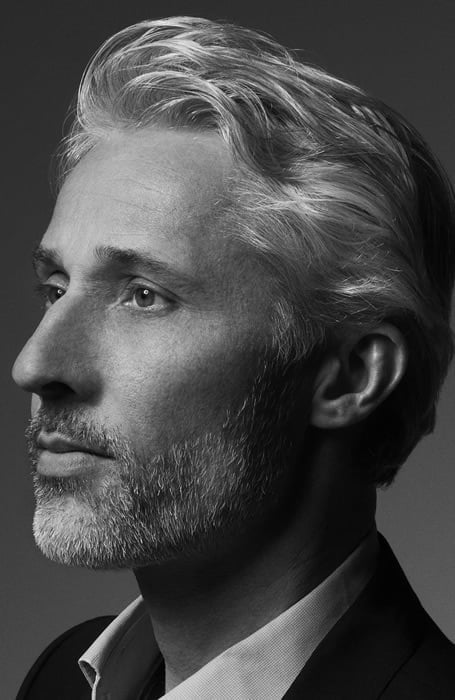 11. Layered Ivy League
The Ivy League is a simple cut that is loved because it requires little grooming time and looks neat and polished. The haircut gets its name because of its popularity amongst the students of Ivy League schools. It is characterized by the hair being longer on the top and slightly shorter on the back and sides. Layering will bring texture and volume to your hairstyle.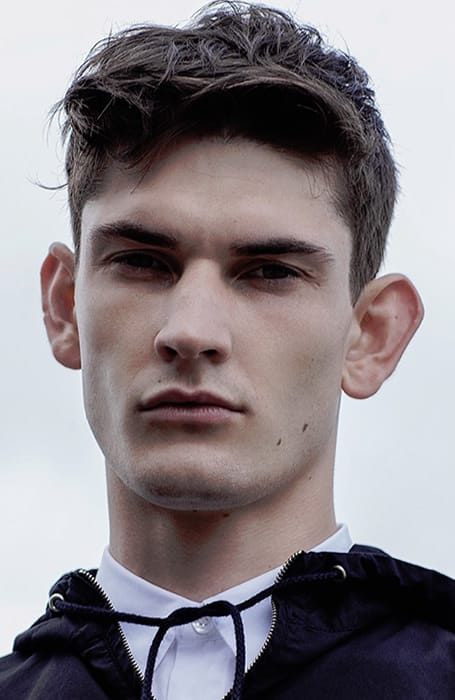 12. Layered Messy Haircut
Layers can be used in various ways and will complement a range of different haircuts, including those who prefer a more unstructured and deliberately messy look. There is no denying that messy hair feels cool and rebellious and is a great option for a man who wants an expressive and cool finish. For the best results, try this look with medium or long hair and style it with an eyebrow-grazing fringe.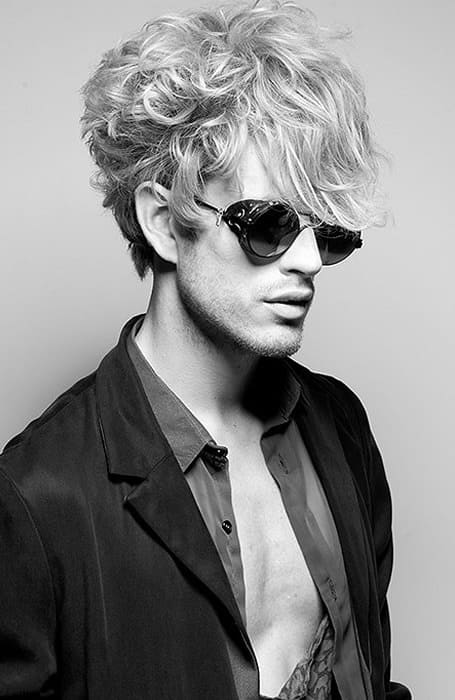 13. Layered Mid Fade
Layered hair is great for giving your mane movement, texture, volume, and shape. There are many ways to add layers, depending on your desired finish. A great option for those who want to create contrast with the textured hair on top is a fade. Faded styles include a mid fade that is tapered and ends between the temples and ears.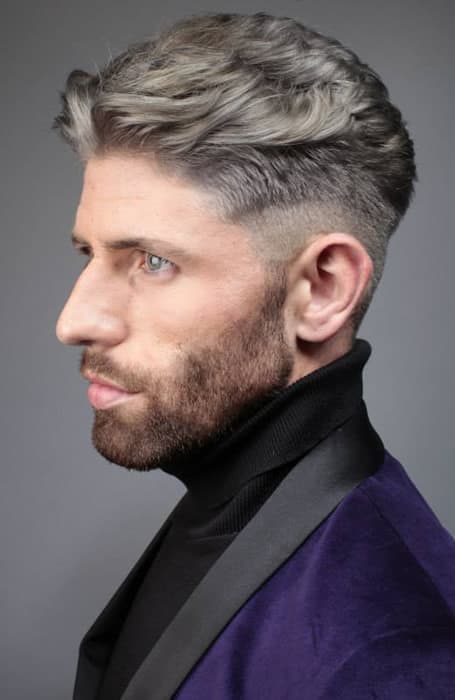 14. Layered Middle Cut
A middle part is an excellent option for framing the face and highlighting the features. It is a stylish and versatile parting and is it easy to tuck behind the ears to keep the hair from your face. The middle part will complement hair of various textures and lengths. When paired with layered hair, the sharpness of the middle part will feel softer and more flattering as it is traditionally a very tricky parting to pull off.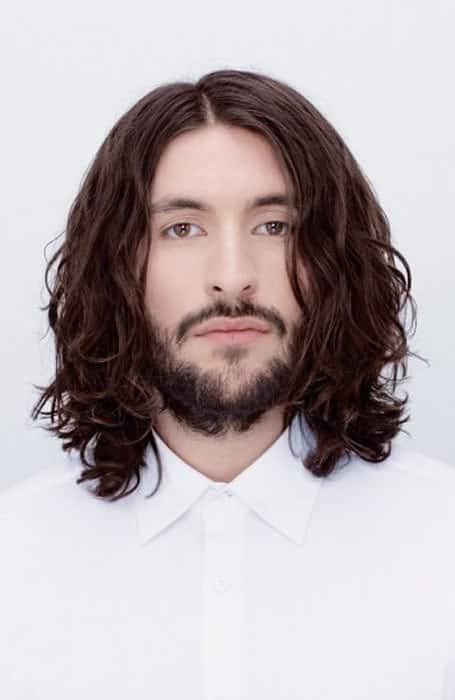 15. Layered Mop
The mop haircut is a youthful and laidback style defined by the hair being medium to long and worn loose and shaggy with a fringe covering the forehead and eyes. This can be an incredibly flattering style and is especially suited to younger men. The mop looks great with textured hair, and layers will help you add to this while also giving the hair movement and shape.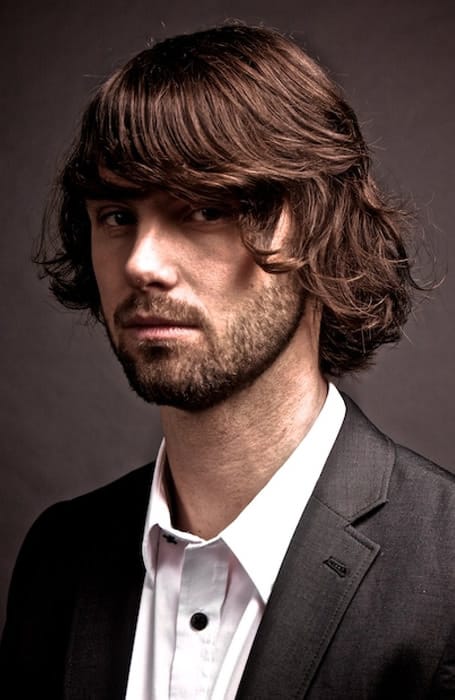 16. Layered Mullet
There are few hairstyles that are rebellious and edgy as the mullet. The mullet is a controversial look; the hair is kept short on the top and sides and has more length at the back. You can experiment with the proportions and the length of the hair depending on how bold you want your haircut to be. The appeal of the mullet is that it is expressive and looks great on all hair textures and types.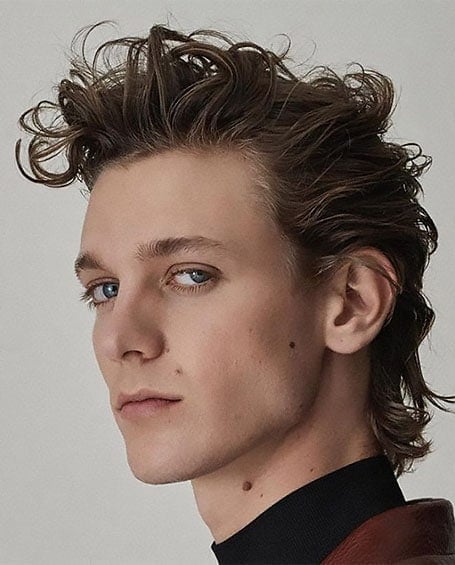 17. Layered Pompadour
The pompadour hairstyle is a classic style for men and can look polished and masculine. The hair is longer on the top of the head and brushed backward to achieve volume, while the sides and back are shorter. The contrast between the lengths makes the hair at the front of the head look fuller and thicker. Layers will give you a look with less structure and have a more casual finish.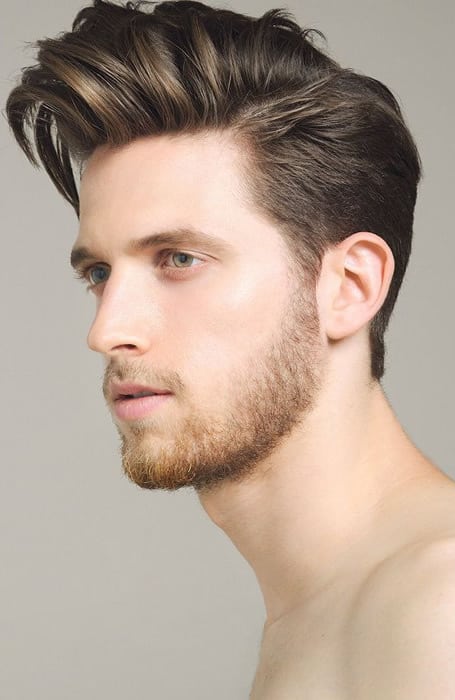 18. Layered Rockabilly Haircut
The rockabilly haircut feels retro and cool and is a great look for someone who wants a neat, polished look. The hair on the top and sides is kept longer, while the back is shorter. To create a sleek finish, the use of a product like gel or wax will do the trick. The addition of layers will create a less structured finish and give you a look that is voluminous while also showing off your hair textured.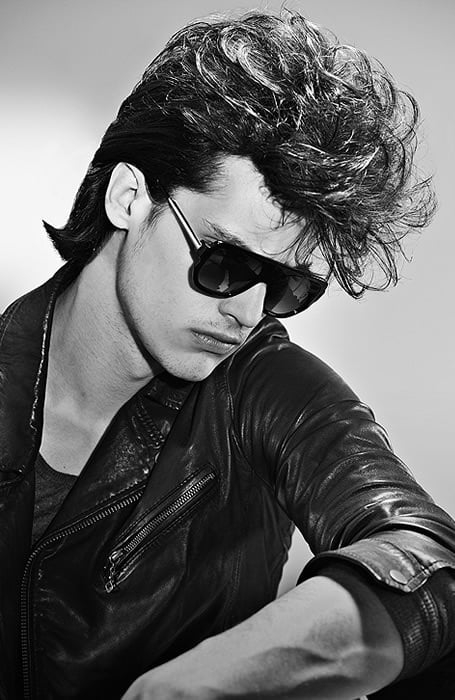 19. Layered Shag
The shag hairstyle complements layered hair because it is a style that features choppy layers. The haircut is one of the most popular styles for men and women, and it has been since the 70s. One of the defining features is the fuller crown and hair that thins out toward the ends. This gives is a messy and unstructured finish, which is ideal for those wanting to show off their hair texture.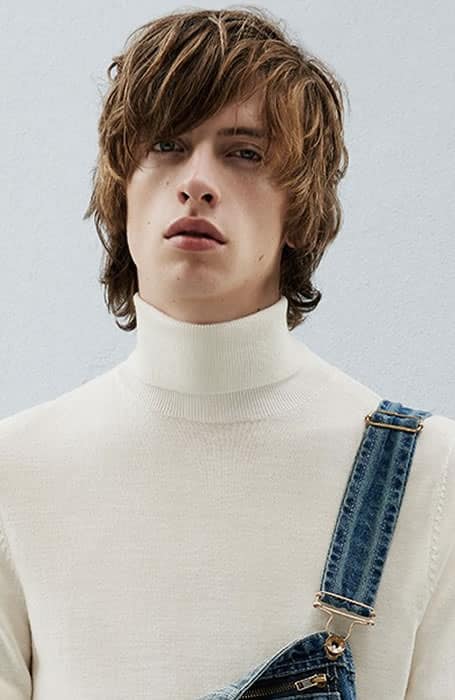 20. Layered Short Curly Haircut
Short curly hair is one of the most desirable textures because it can be styled in various ways but is also full and voluminous in appearance, making the hair appear healthy. Layers are great for curly hair because they can remove some of its bulk and weight, especially with shorter hairstyles. Choose choppy layers for a textured finish or subtle layers for a low-maintenance option.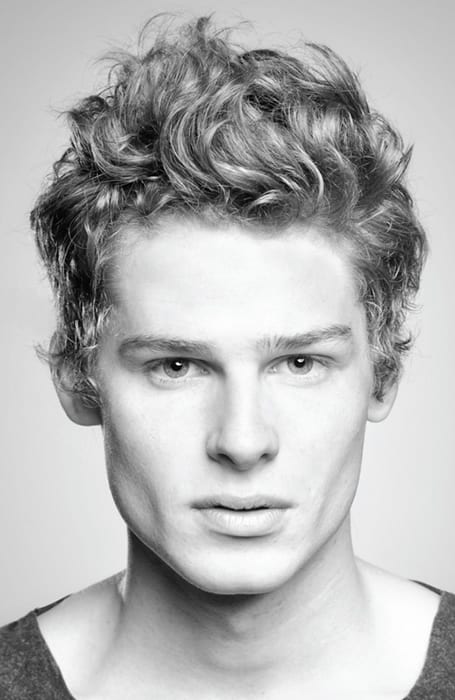 21. Layered Side Swept Haircut
Sweeping the hair to the side is an excellent way to frame the face and highlight your features. It can be incredibly flattering and youthful, especially suited to younger men. Sweeping the hair to the side is versatile and will look great on long or short hair. Layers will give the hair texture and create movement, which is great for those wanting to achieve a tousled and slightly undone finish.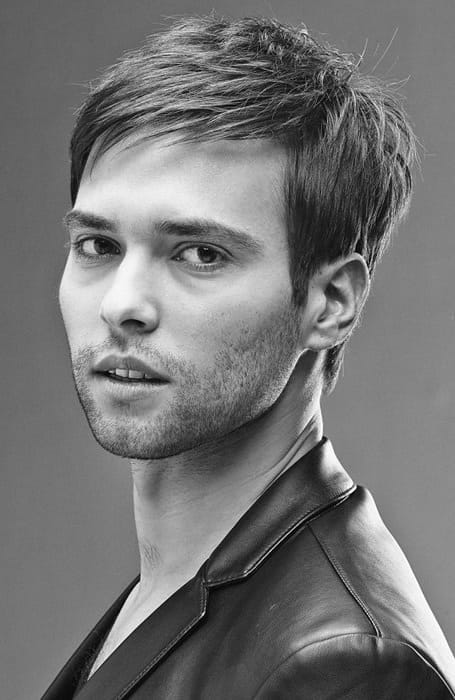 22. Layered Straight Hair
Straight hair can benefit from layers because they will make it add volume and movement to the hair. There are several ways to add the layers, including focusing them around the face for a flattering and youthful finish or adding layers to a fringe. This is a simple and effective way to update your look.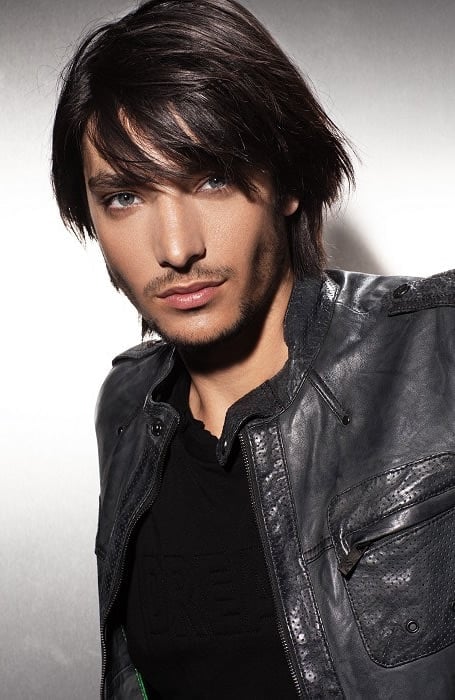 23. Layered Surfer Haircut
The surfer haircut is a simple and unstructured look that gets its name because of its popularity among surfers. There are multiple ways to style this haircut, and it can be created at varying lengths, but the general rule is that the hair appears tousled and voluminous. If your hair does not have a natural texture to it, adding layers will help you create the desired effect.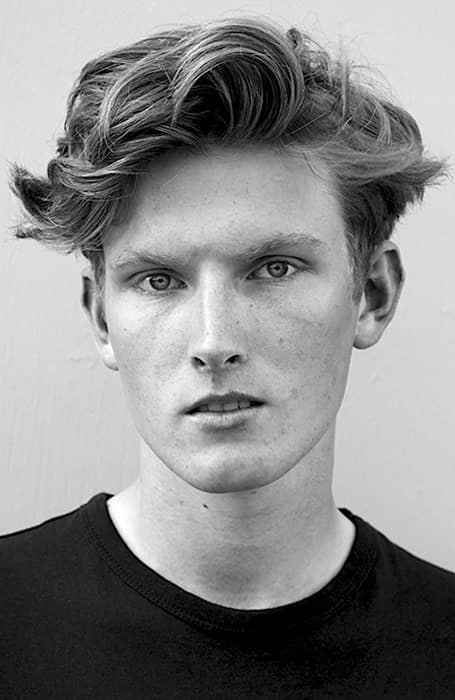 24. Layered Taper Fade
Layered hair is great for those who want to create texture and movement. You can further create contrast by pairing layers with a more structured finish like a taper fade. The taper fade will gradually shorten the hair on the back and sides for a neat and polished look.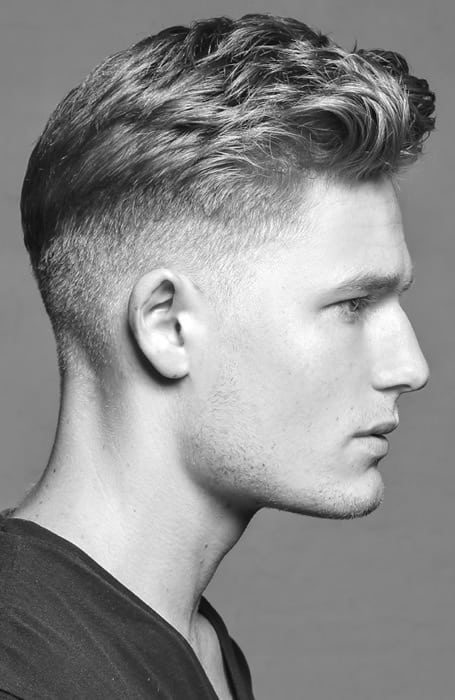 25. Layered Undercut
For a modern and rebellious hairstyle, all you need is an undercut. The undercut can be styled in many ways and is an excellent way to create contrast with the hair on top, making it look fuller and thicker. Adding layers will create movement and volume, making the undercut pop even more.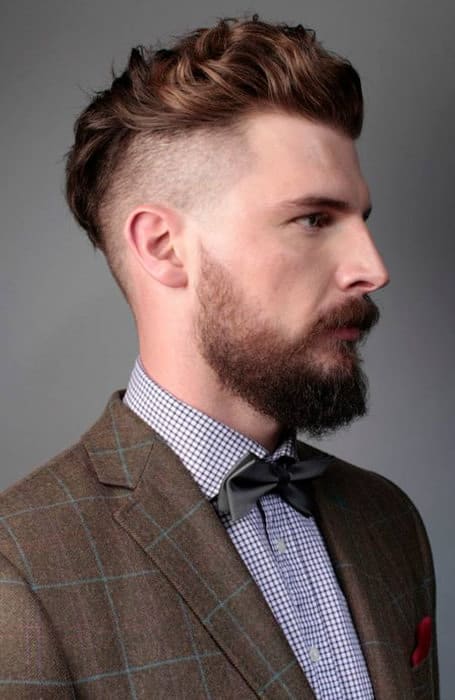 26. Layered Wet Hairstyle
The wet hairstyle is not for everyone because it has a distinct appearance because of the gel or mousse used to achieve it. However, this haircut is undeniably cool, and it will feel as if you have been transported from the pages of a fashion magazine. Layers will give your hair more movement and volume.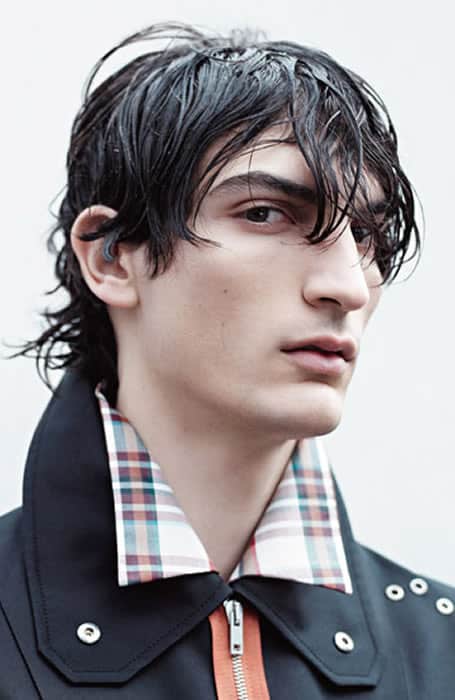 27. Layered Wolf Cut
The wolf cut is a heavily layered and undeniably cool hairstyle that has been trending everywhere in recent years. It combines the classic shag and mullet, with volume focused at the crown and thinning toward the edges. The layers will give the hair movement and leave you with that unstructured and unstyled finish that can be both flattering and youthful.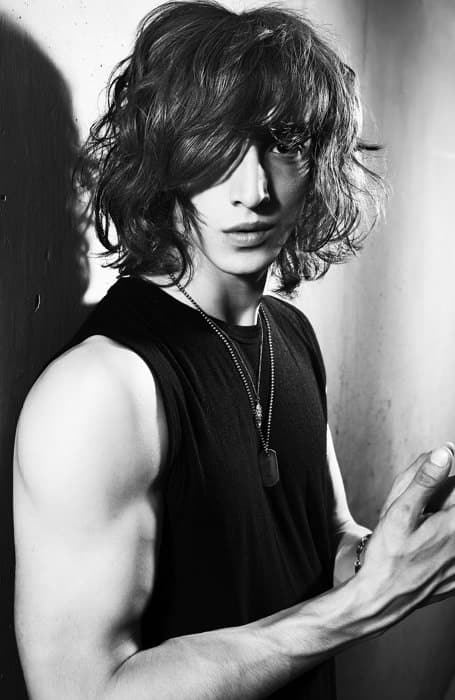 28. Long Thick Layered Haircut
Long thick hair benefits from layers because they can be used to remove the bulk and weight from the hair. This makes it easier to style. Long hair for men is gorgeous and challenges outdated notions of masculinity. It is also an excellent way to show off your texture, and you have versatility with how you style the hair.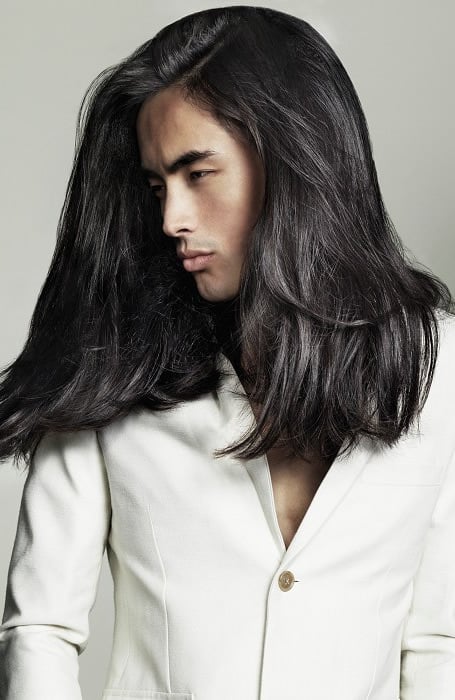 29. Long Wavy Layered Haircut
Wavy hair is one of the most sought-after textures, and wearing the hair long and loose will let you show this off. Your hair will feel full of movement and volume; adding subtle layers will make it even more noticeable. Choose a parting, such as a middle part or side part will draw attention to the face and complement your features.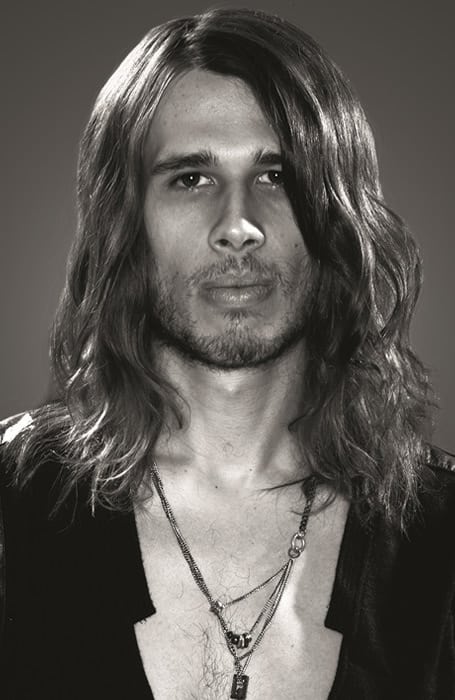 30. Messy Layered Haircut
Messy hair is fun to style because of its deliberately unstructured finish. It has an almost bedhead feel to it and is great for those who want to achieve a laidback and carefree aesthetic. The layers in your hair can be created to enhance the messy appearance and cut to be choppy to increase volume.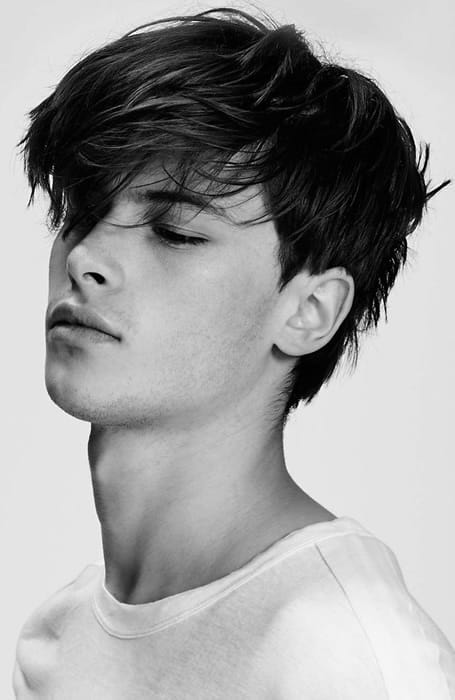 Layered Haircuts for Men FAQs
What is a layered haircut for men?
A layered cut is a technique used to create various lengths of hair that are blended. There are different options including subtle, nuanced layers or heavy, choppy layers, depending on your preference. The appeal of layers is they can be added to multiple haircuts and will complement hair of all lengths and textures.
How do guys get layered hair?
Layering will add volume and movement to the hair and is created by cutting the hair at different lengths. The result can be subtle and blended, or bold and choppy. You can work with your barber to achieve your desired results. It is also helpful to bring a picture of what you want as a reference.
Does layered hair look good on men?
Layering looks great on men because it is versatile and can be added to hair of all lengths and textures. It also complements multiple haircuts and can create a fresh and modern look. In addition, layering can be used to remove bulk and weight from thick hair or create the illusion of volume and thickness on thin and fine hair.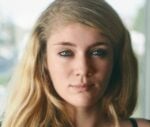 Cailyn Cox holds a degree in journalism and has been working with The Trend Spotter as a writer for over ten years. She has worked with some of the most prestigious women's and men's lifestyle publications. For her, writing is not just a job; it's a passion, which is why each article she writes is approached with such enthusiasm and dedication. She has extensive knowledge of hairstyles, tattoos, and beauty and has made a career out of creating informative articles that appeal to women and men of all ages.
SUBSCRIBE TO OUR NEWSLETTER
Subscribe to our mailing list and get interesting stuff and updates to your email inbox.