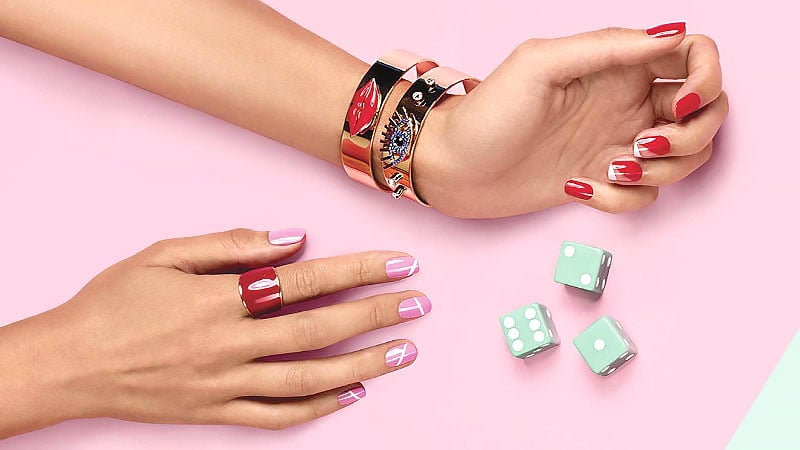 Round and oval nail shape is a popular choice for ladies that wish to elongate their fingers. Whether you prefer a natural look or a design that's funky and fresh, there's something here to excite you. Showcase your personality and complete your outfit with these trending nail art designs for round nails.
1. Minimalist Round Nails
Simplicity is essential, especially when it comes to your nails. Sticking to a clean base like pink or grey, add a bit of spice to the design with a single dot or line across the top. Mix it up by placing this fine art on one or all of your fingers, but keep it simple. This minimalist choice is infused with elegance and looks lovely on any day.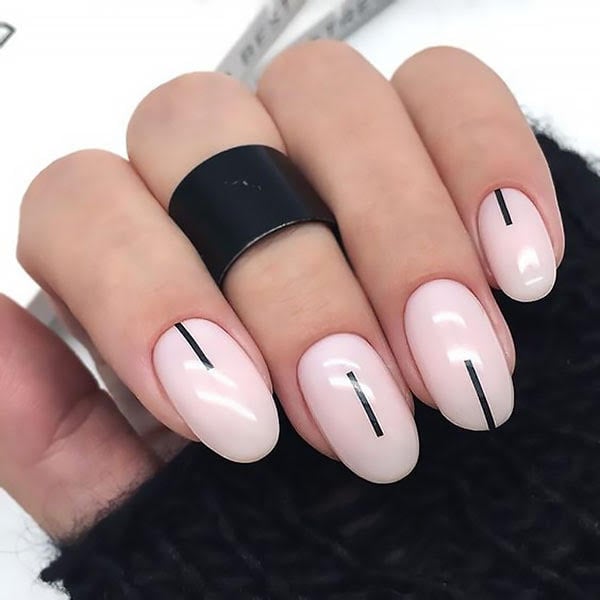 2. Multicolour Pastel Round Nails
Add some fun to your everyday life with multicolor pastel nails. Although they're simple in design, they pack a punch. Create a soft rainbow by painting the shades in descending colors, or mix it up by putting a different hue on each finger. It is an attractive option for anyone who loves soft and timeless tones.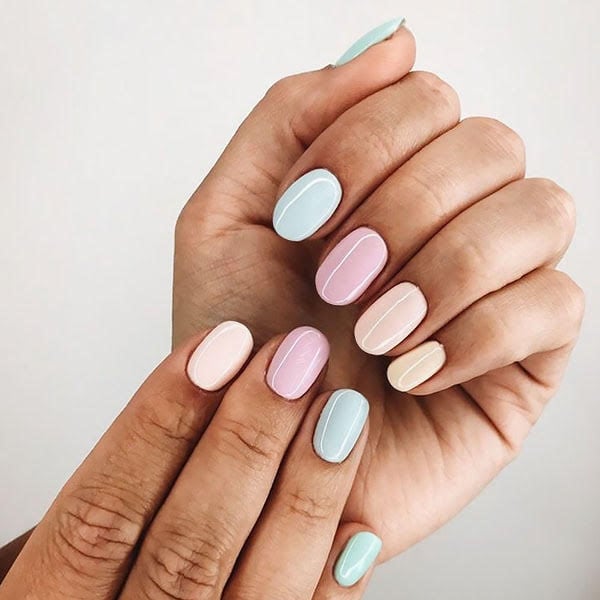 3. Holographic Round Nails
Say holo to this shiny and effervescent manicure. With a multi-colored base and a holographic twist, it's the perfect style to have for a night out or at university. Filled with shine and luster, it's also an excellent option for those headed to a festival or a nightclub. If you're not ready to paint the entire space, opt for a feature nail or create an artsy design with a shiny effect. No matter what you choose, you'll be the life of the party everywhere you go!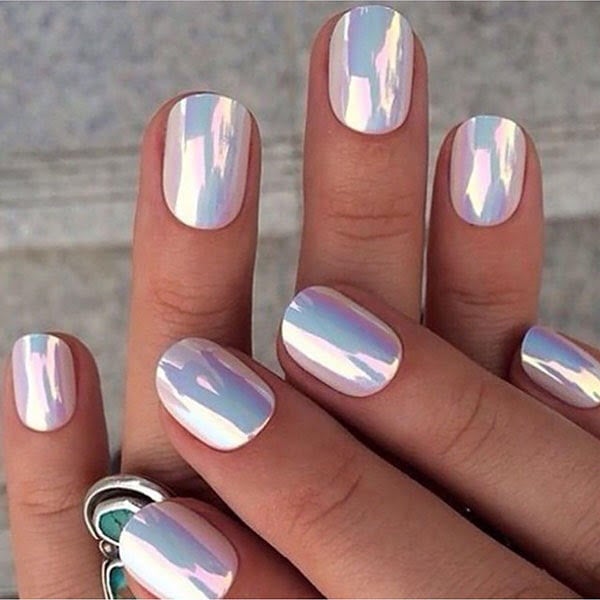 4. Cute Glitter Round Nails
Sparkle and shine with these cute nails with glitter. Subtle enough to wear to work but glam enough for a party, this design is perfect for all occasions. Choose from tiny sprinkles or large flecks of twinkles – they all look magical. Watch the art glimmer in the sunlight and capture the attention of everyone!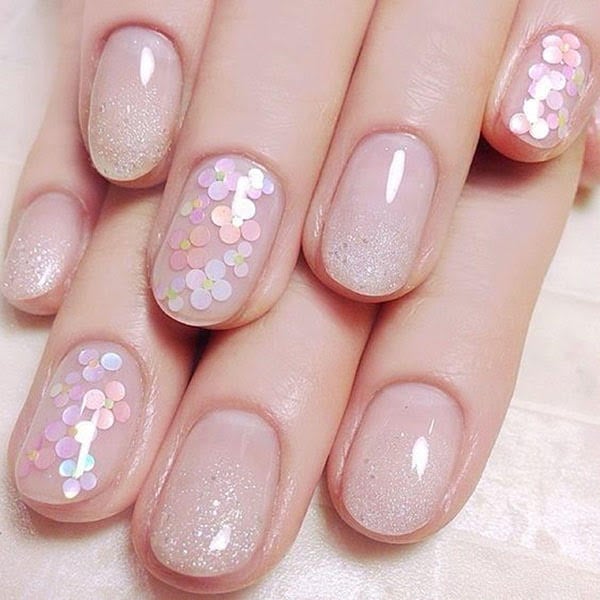 5. Natural Ombre Round Nails
From a bride's big day to a twist on a simple manicure, this natural ombre nail design is a classic choice for any woman. The gradual fade into color is subtle enough to wear daily and instantly elevates your outfit to a high-fashion masterpiece. French Manicures are a superb option for a formal event, and this modern take on the traditional design brings it into the new age.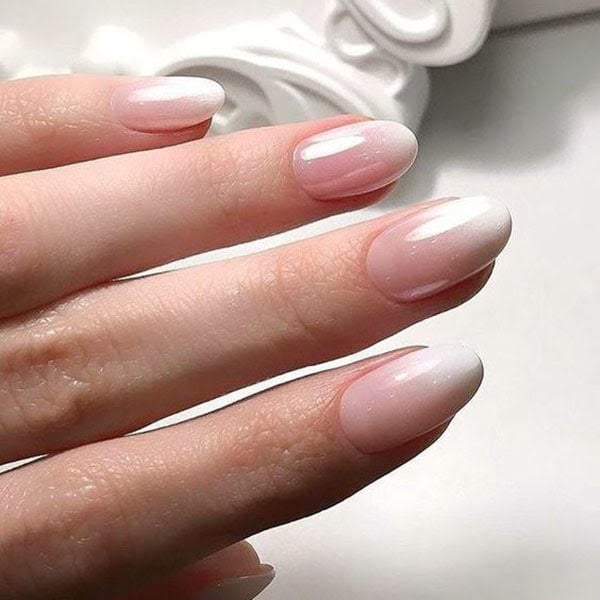 6. Matte Round Nails
Smooth and refined, these matte nails are one of a kind. Choose from a beautiful piece of art like lavender or geometric shapes, or keep it plain and simple with a single color. This elegant and timeless style is perfect for a day at the office. Whether you choose black, white, or something colorful, you'll want to wear this stunning matt nail polish daily.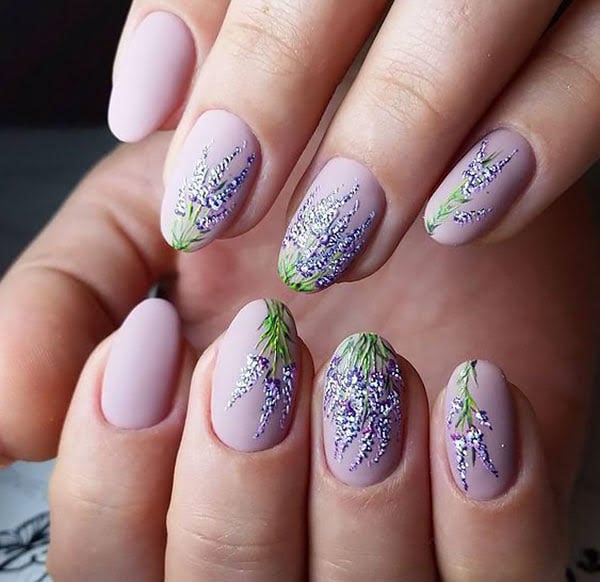 7. Line Art Round Nails
Who says art is just for a gallery? Make your fingers the star of the show with these simple and stunning line art designs. Channel your inner Picasso with a single line drawing of your pet, or imitate a piece of string and create a smooth transition from one nail to another. Add a pop of color to accentuate the style, and you may end up in the Tate.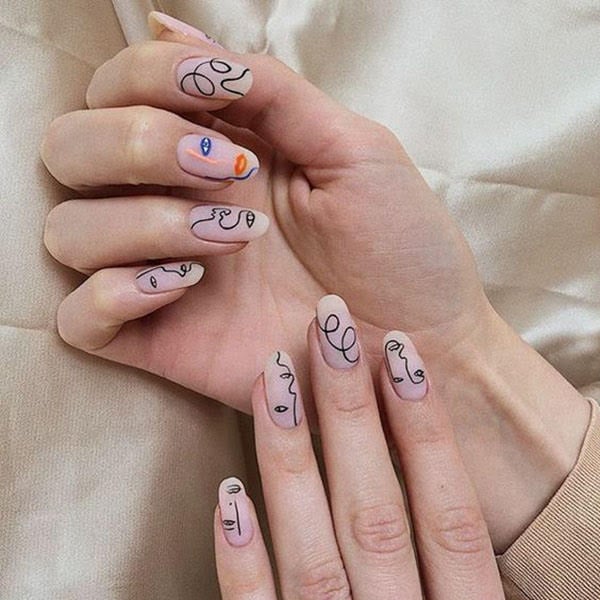 8. Nature Round Nails
Be one with the earth with a set of nature-inspired nails. Daisies, leaves, blossoms, and all things floral, this art is worth expressing on your fingers. Stray away from the traditional colors of plants and mix shades like blue, red or orange with the botany. A single-feature design surrounded by block hues is the best way to let your creativity shine through.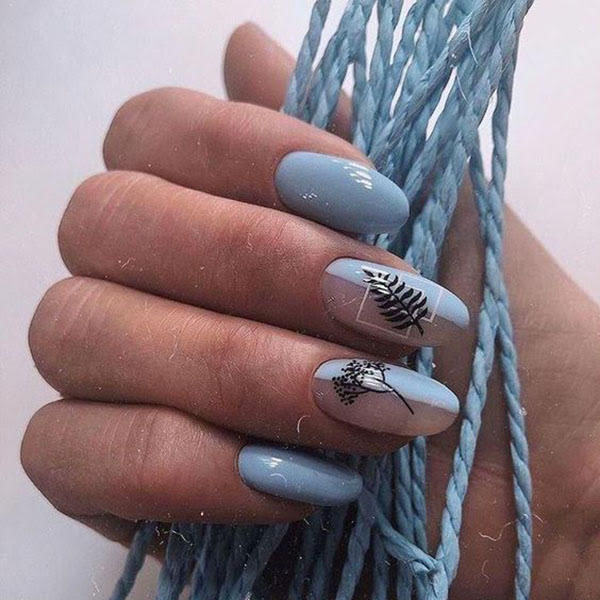 9. Feature Round Nails
Showcase a single nail with a featured stellar style. Whether it's a pattern, a different color, or simply a stripe, you can't go wrong with a fun design like this. Contrasting colors like orange and grey are a great choice. Leave the other fingers plain so the sole artistic one will stand out – watch as you create some Insta-worthy hands!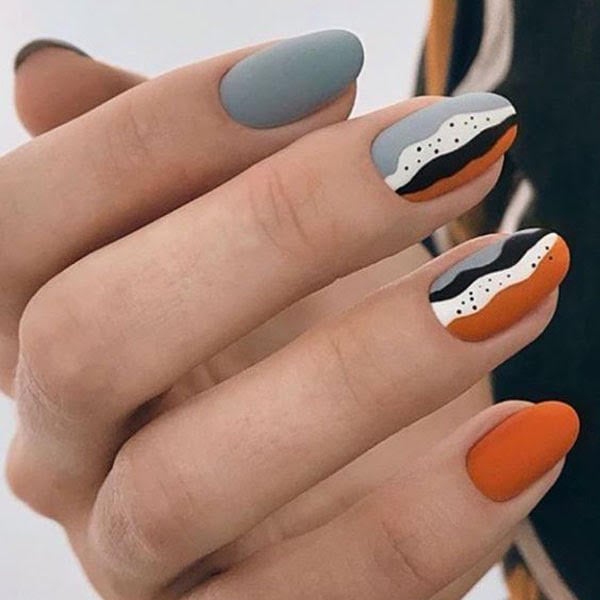 10. Transparent Round Nails
Let your nails be the window to your soul with these transparent designs. Using a crystal clear base, let your creativity shine through with simple but enchanting patterns. This style is an elegant and timeless choice for any occasion, and the artwork on top puts a modern twist on your fingers. Even when it's time for a manicure, people won't be able to tell the difference, as this polish grows out subtly.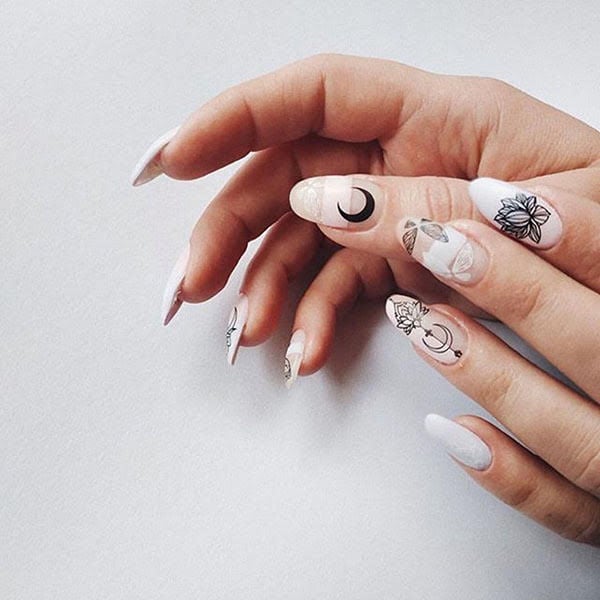 11. Black French Tip Round Nails
Who said French Manicures have to be white every time? Put a modern twist on the classic design by dipping the ends in a dark shade. This edgy and fresh style adds an instant rockstar feel to your fingers and will polish off any outfit you wear. Keep the tips thin for a chic feel – it's a sharp and fresh option to try for the days when you're feeling a bit badass.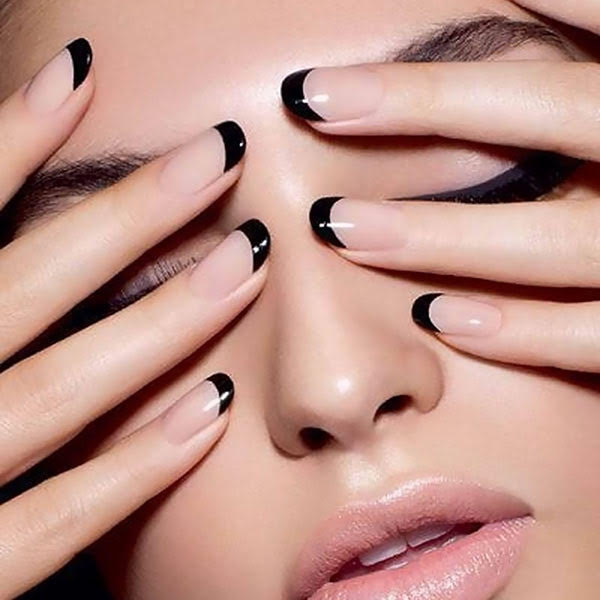 12. Red Tip Round Nails
Change up the regular manicure by securing a red tip at the end of your polished nails. Starting halfway down the nailbed, choose a vibrant shade to accentuate the end of your fingers. Not only do red nails make your hands look longer and more elegant, but it's also a great design to feature. When they start to grow out, you won't be in a rush to get them re-done – this is a natural and refined-looking set for everyday wear.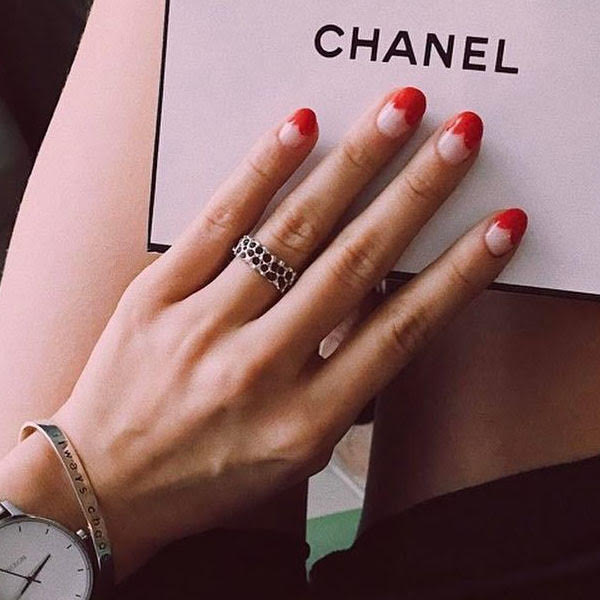 13. Lollipop Round Nails
Treat your sweet tooth with these cute lollipop nails. The bright shades in solid stripes resemble the confectionary, and they're a great option if you want to add a pop of color to your outfit. Perfect for the warmer months, this design suits a vast range of events and looks good enough to eat!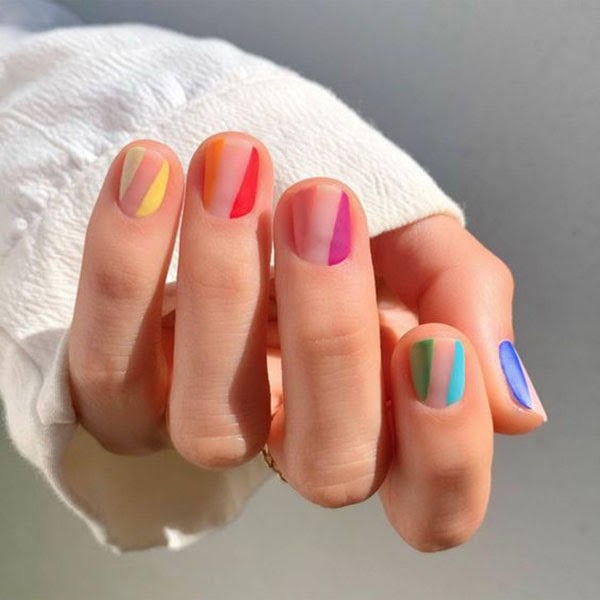 14. Marble Feature Round Nails
Take elegance with you everywhere you go with these marble nails. Featuring the stone design on a single finger or two, you will look like walking art in this design. Leave the remaining tips in a bold color, like pink or blue. You can even match the shades with a feature tone from the speckles in the mineral.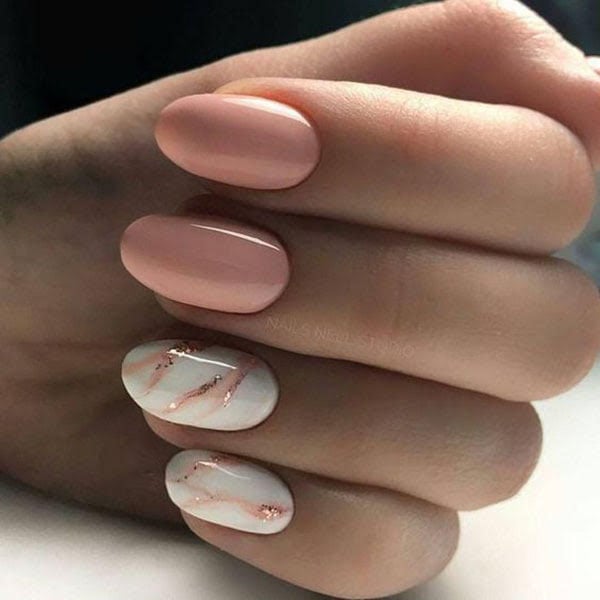 15. Pineapple Round Nails
Feel beach-ready at any time of the year with this cute pineapple design. This juicy fruit is an ideal option for fingers and looks extra delicious as a feature nail. Sticking to colors like yellow, orange, and green, you can bring summer with you to all events.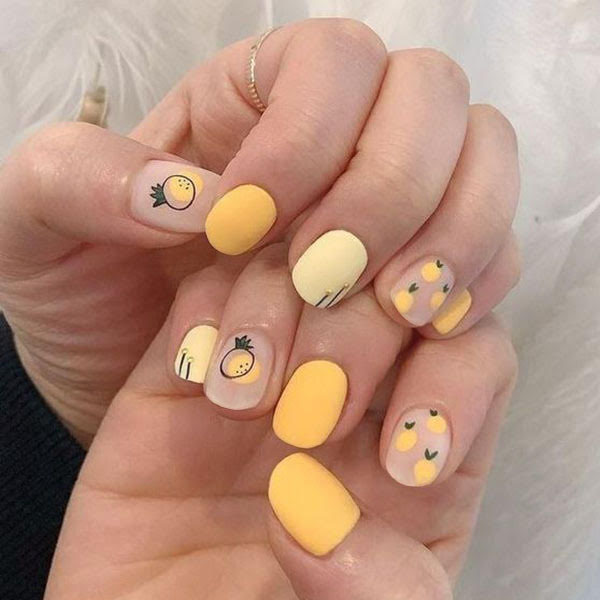 16. Tribal Round Nails
Show your love for native heritage with these tribal designs. Arrows, symbols, and feathers are a beautiful pieces of expression and are a timeless option for all fingernails. Choose a delicate color underneath, such as pink or nude, to make the patterns pop. If you prefer to have a feature nail, opt for an elaborate drawing on one and leave the rest plain. Everyone will compliment your gorgeous hands with a manicure this beautiful.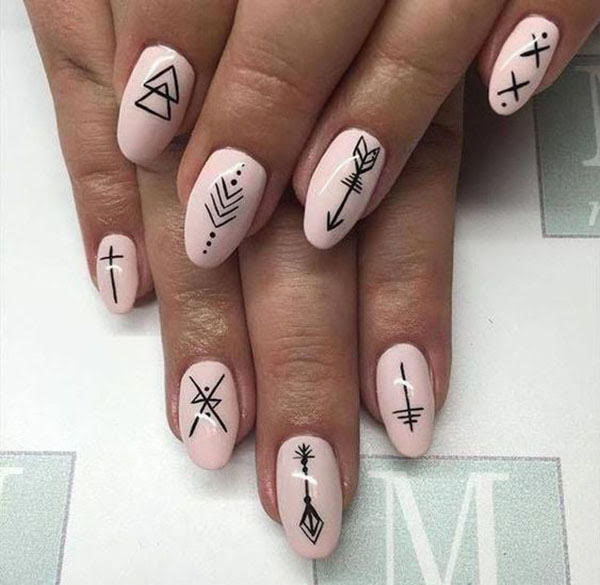 17. Playful Round Nails
Have a bit of fun with this playful nail design. Without sticking to a solid set of rules, mix and match styles and colors to create a manicure worth showing off. Paint on a set of Chara Ferragni-inspired graphic eyes, add a feature shade or incorporate glitter for a stylish twist on the classic polish. These look great with various outfits and are perfect for every season.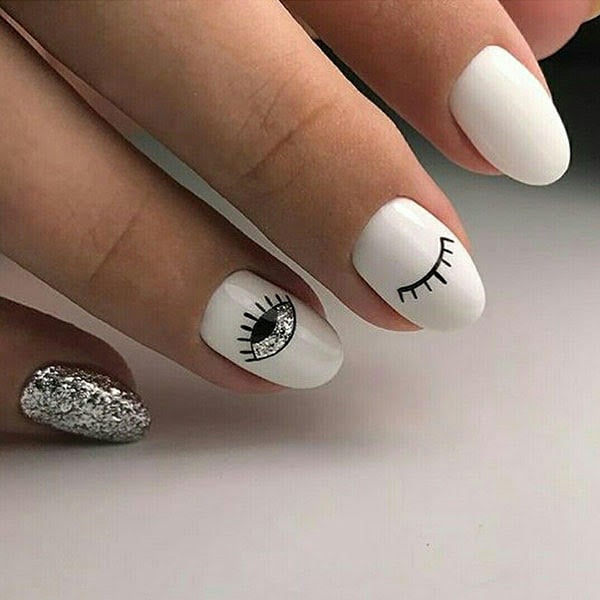 18. Two-Tone Round Nails
Why stick with one color when you can have two? This duo-toned manicure is a stylish alternative to the classic French tip and puts a modern spin on the traditional style. Choose from warm tones like red and pink or cool shades like blue and grey, and you'll have nails worthy of showing off. Paint the nail in a lighter color and add a darker shade of nail polish to create this design. This style works for any season of the year.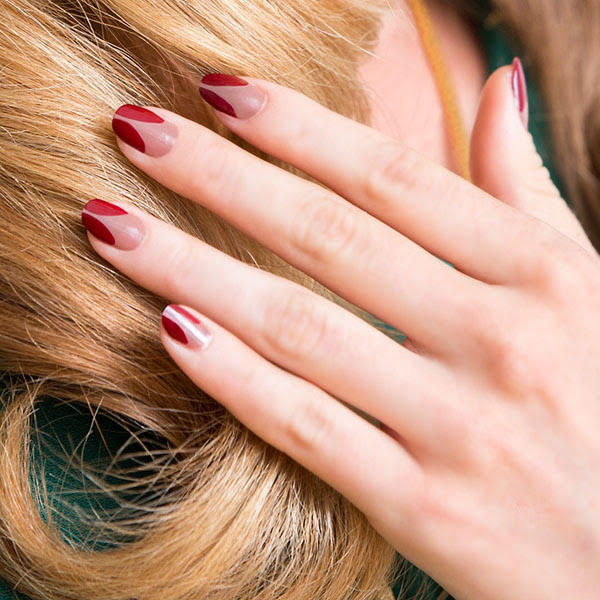 19. Disney-Inspired Round Nails
Showcase your love for Walt Disney films by painting an iconic character on your fingers. From Mickey Mouse to Ariel, this manicure will keep your childhood memories alive in a stylish way. Keep it subtle with a feature nail with a small silhouette in the bottom corner – the cute and dainty design is sure to keep the timeless films in your heart forever.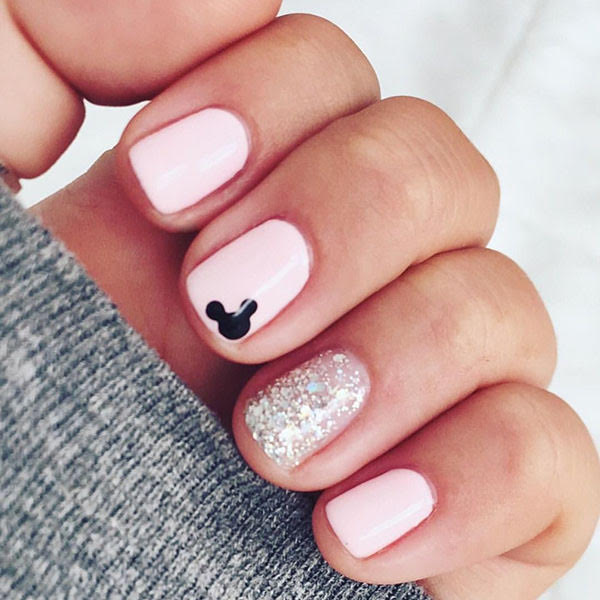 20. Lemon Round Nails
Zesty and fresh, these lemon manicures are the perfect summer accessory. Paint the majority of your nails a citrus-inspired color like yellow and feature one or two fingers with an artwork of the delicious fruit. It is a cute and quirky way to refresh your look in the warmer months and add some sunshine to any outfit you choose to wear.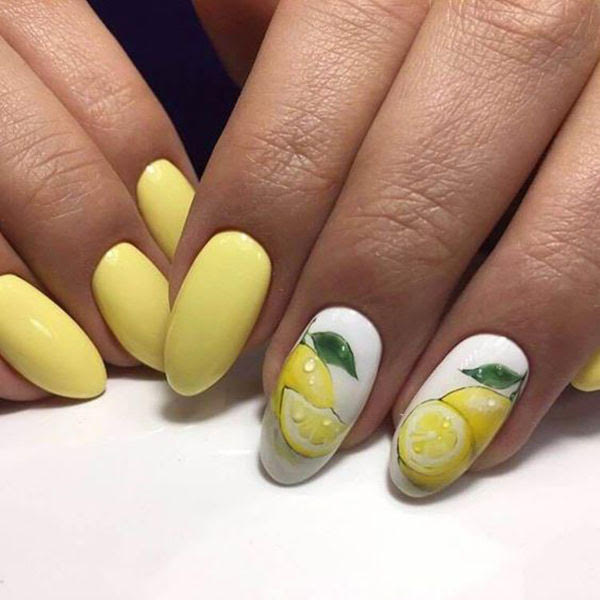 21. Long Round Nails
Keen to show off a stylish design on your nails but want to keep them long? Try this long nails style – it offers plenty of real estate for intricate colors and styles but isn't too long to stop you from doing everyday tasks. Trending colors in this length include mint, nude, and gold – explore the hottest designs online before you head to the salon.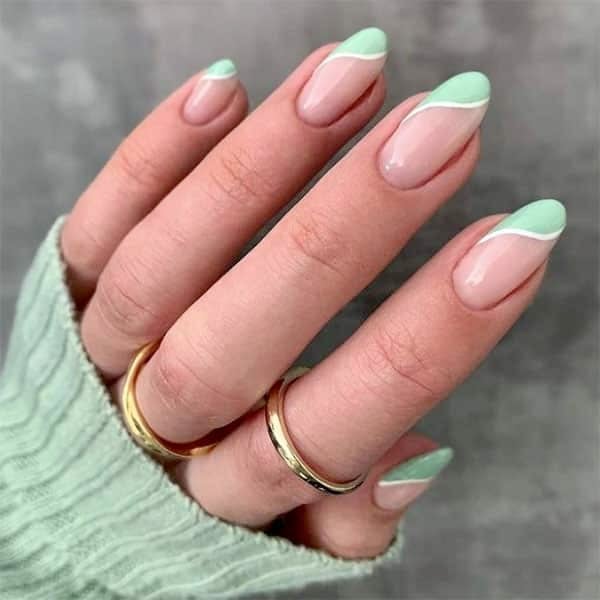 22. Short Rounded Nails
For many, short nails are the most practical and effortless approach. Although they don't allow for too many intricate designs, you can still stay up to date with the hottest trends with this length. Try Hailey Bieber's viral glazed donut trend, or keep it cute with a plain color like blue, white, or pink.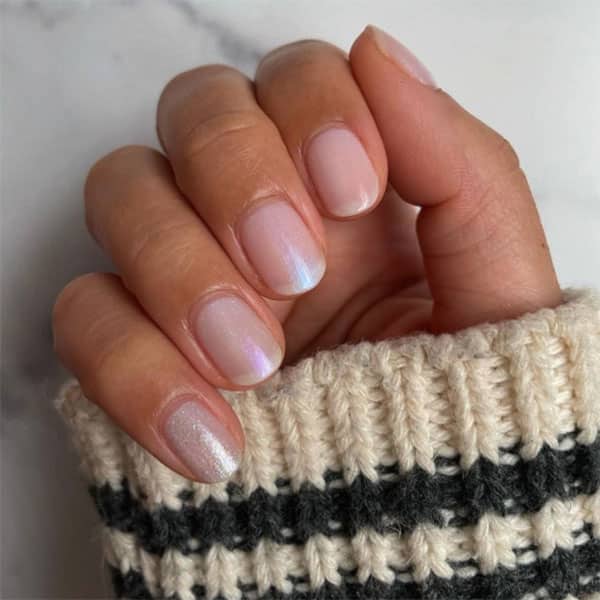 23. Rounded French Tip Nails
This classic French tip has come and gone in style, but it remains one of the most traditional nail designs on the planet. While traditional styles have a larger white tip, try something thinner for a more modern approach. Follow the white along the round shape of the nail – it's a breath of fresh air on a go-to design.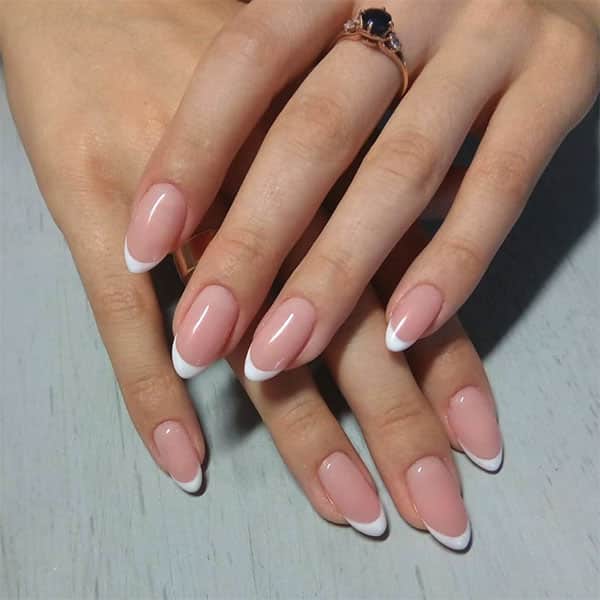 24. Rounded Square Nails
While it may sound counterintuitive to have rounded square nails, it is a distinct style. Perfect for those who want square nails but want a modern twist, try this softer alternative. Combining these two styles creates a soft and classic feel that doesn't feel outdated or boring. With curved edges, you can create intricate designs or stick to classics like French tips – it's the perfect choice for a formal occasion or work event.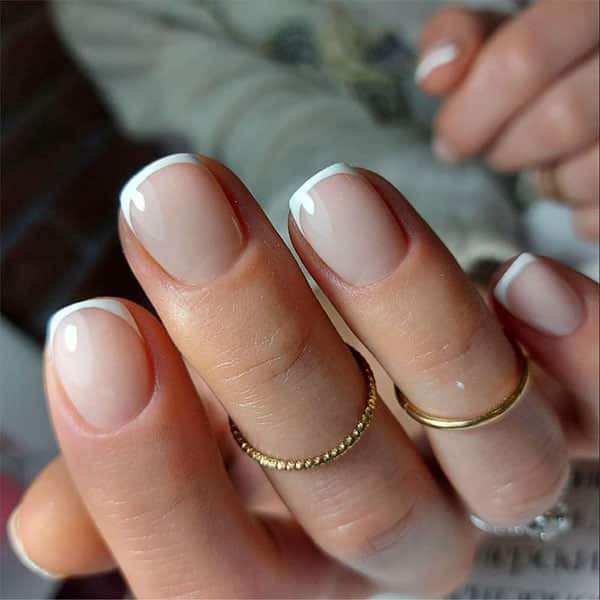 25. Rounded Acrylic Nails
Acrylics have been around for decades, but they're still a majorly popular choice for nail designs. Round nails, especially, are favored, thanks to their elongating silhouette. The beauty behind acrylic nails is their longevity – you can wear acrylics for up to three weeks before you have to get refilled. Plus, you can choose a wide range of patterns, colors, and designs to suit your preferences – why not try something with stripes or swirls for a funky and fresh take on the classic manicure?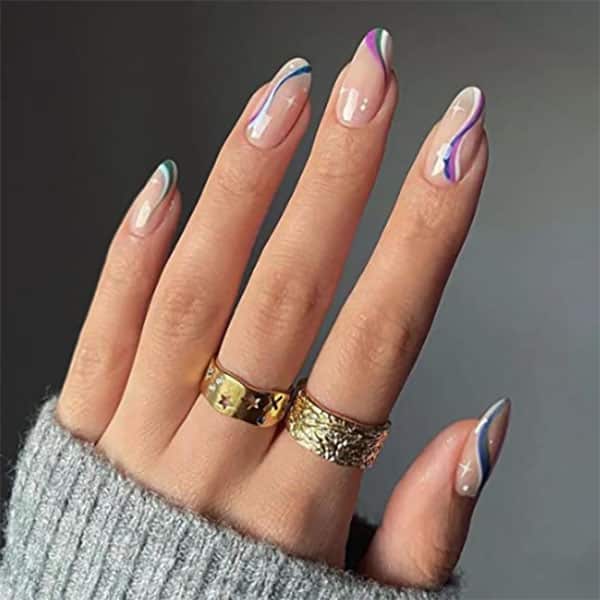 26. Round Coffin Nails
The combination of round nails and coffin nails may sound illogical, but it is, in fact, a great alternative to the fashionable style. The gothic shape nail is usually long and features sharp corners in the shape of a coffin. What makes this style different is the softer edges while keeping the structural integrity of the nail. This is a good choice if you are in the office or work somewhere that requires a more subtle silhouette.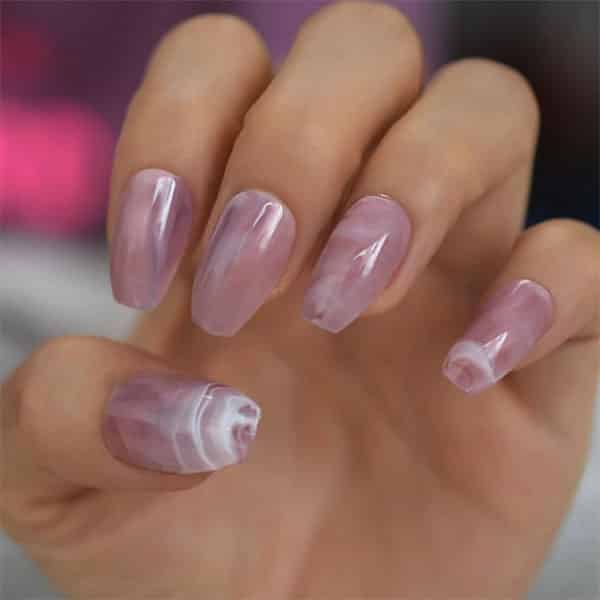 27. White Rounded Nails
Say hello to summer with this fresh and bright rounded nail design. White designs don't always have to be single-block designs – you can add embellishments like stars, jewels, and other colors into the mix for a fashionable twist on the classic style. White nails look best with round tips, as sharp corners often add an out-of-date flair to the style. If you want to keep the end of the nail in a square silhouette, opt for soft edges for a classic and subtle look.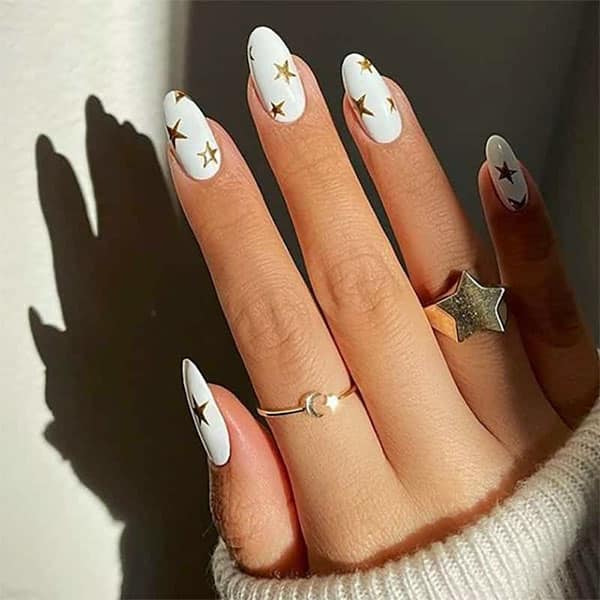 28. Nude Round Nails
The classic nude nail will never go out of style, and it's easy to see why. This go-to favorite for models and celebrities alike is easy to wear and looks great with everything. You can channel your inner Hailey Bieber with a glazed donut effect or keep it tonal in a soft pink shade like Ballet Slipper. This is an excellent choice for everyday wear, a formal event, university, or work. The round shape will complement the natural shape of your fingers, alluding to longer digits for a more refined silhouette.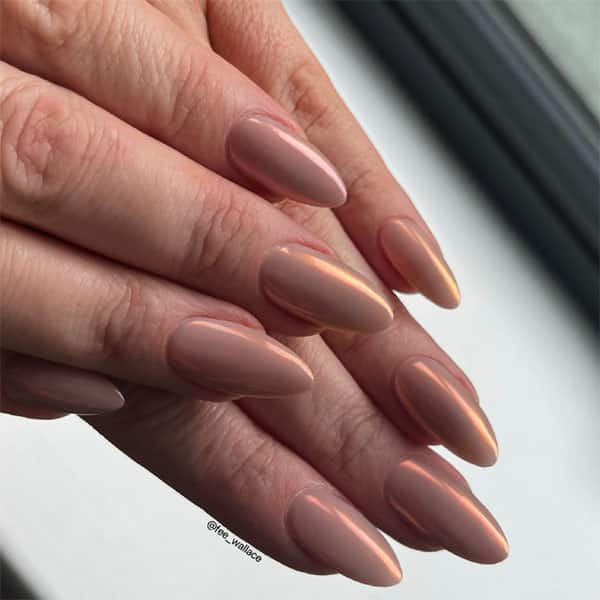 29. Black Round Nails
One of the favorite nail choices by far is the humble black nail. This go-to classic is a great choice for colder months, no matter where you go. While you can keep black nails simple with one shade alone, you can mix it up by adding other elements like gold polish, white tips, a pattern, or a feature nail. Another popular choice is matter polish – it is a fresh take on the traditional style but adds a bit of rock and roll to the mix.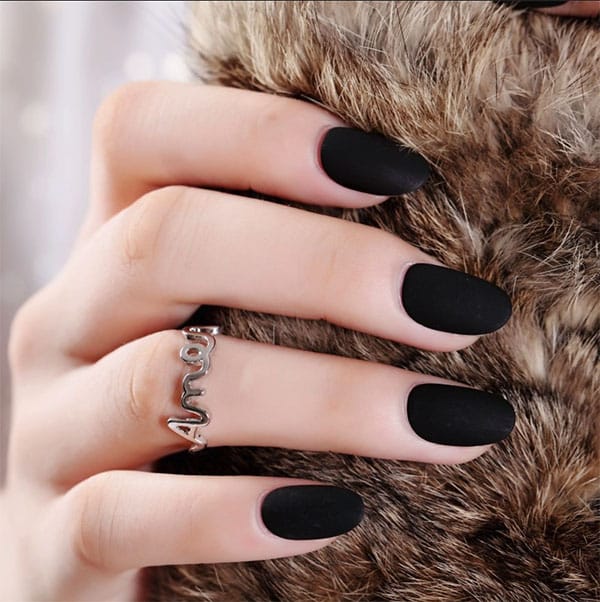 30. Round Dip Nails
Dip nails are a safe and easy way to get a stylish round manicure. Unlike acrylics, this style requires a powder and polish combination, which hardens once dry and leaves a sleek finish. While this technique hasn't been around for as long as acrylics, they're an incredibly popular and healthier choice for your nails. You can find a wide range of colors to try – you can even opt for a French manicure for more formal occasions.
Round vs Almond Nails
You will often get asked if you want round or square nails when you enter the salon, but it can be easy not to understand the difference. It's easy to mistake these two nail shapes, but they do have quite distinct features that you should know. While both silhouettes are round, almond nail silhouettes follow the shape of the nut it was named after, with a long nail bed, round edges, and a point in the middle. However, the classic rounded nail follows the soft curve across the entire edge, with no single mint higher than the other.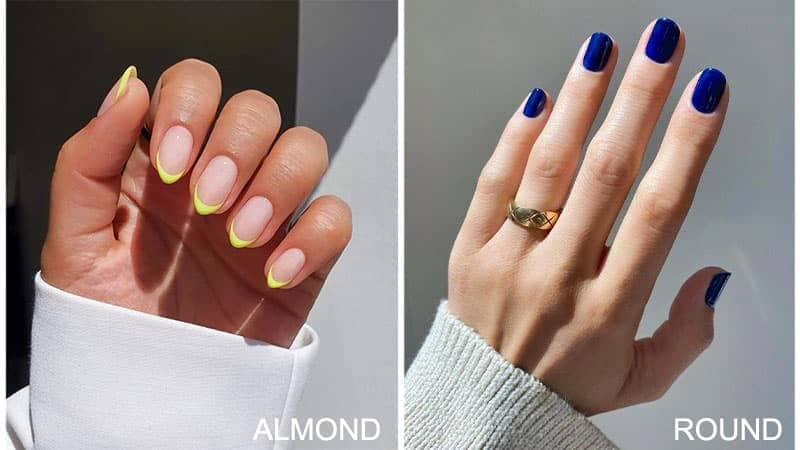 Rounded vs Square Nails
The two most distinct nail shapes are round and square silhouettes. The former features a long nail bed with rounded edges, whereas the latter can be of any length and features a square, cut-off tip. Round nails are usually best suited for those with longer nails, but you can keep short lengths and have a square tip without any hassle. Both feature great real estate for designs, and both look fabulous in their own right.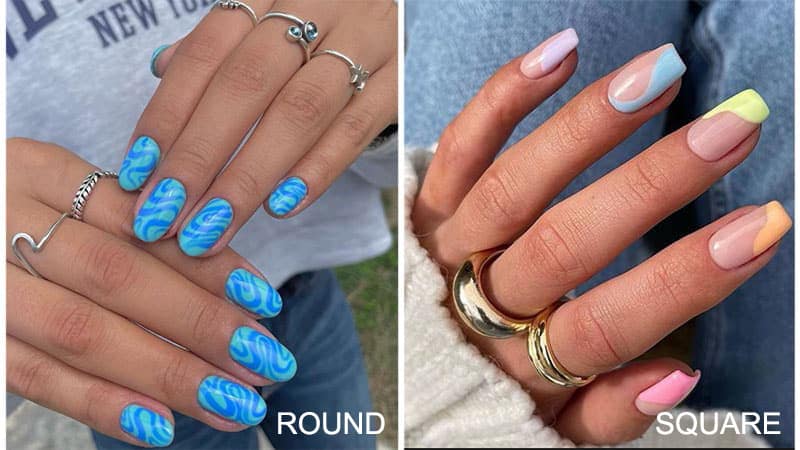 Round Nail Shape FAQs
What are round nails?
Round nails refer to the curved shape that your talons have been filed in. They are an excellent choice for women who want a fuss-free option that is cute, classic, and versatile. These nails tend to be on the shorter side, making them much more practical than almond or stiletto talons.
What nail shape is in style 2022?
You can expect to see almond nails on-trend in 2022, and the popular shape is very feminine. Other options include tapered shapes and coffin nails. Besides the shape preference, you can also remain stylish by trying out the colors and detailing trends.
How do I file my nails in a round shape?
Round nails are actually surprisingly easy to achieve. You will need to file the ends so that they are curved instead of square, giving them a timeless and sophisticated appearance. This look is minimalist and east-to-wear, making it one of the most popular shapes.
SUBSCRIBE TO OUR NEWSLETTER
Subscribe to our mailing list and get interesting stuff and updates to your email inbox.