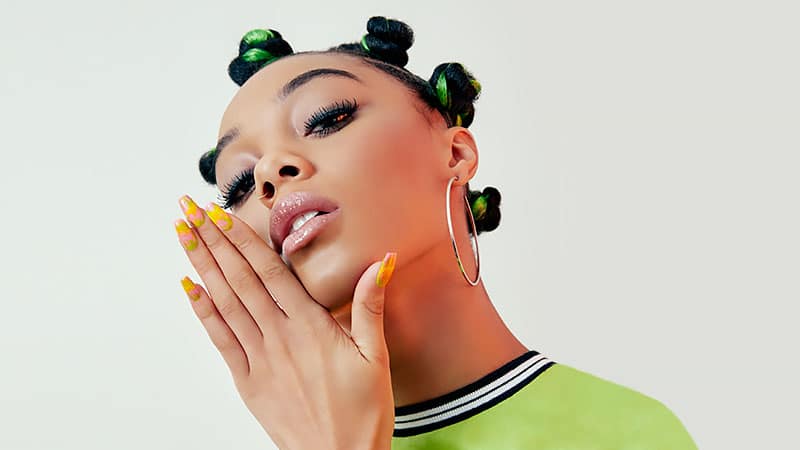 Coffin nails are the perfect shape for your next manicure. They are loved by celebrities and style icons and it is a fantastic option for someone who wants fabulous nails that are versatile and modern. The shape can be created with your natural nails or acrylics and this style works surprisingly well on short or long nails. The shape is more durable than stiletto talons, and it has a very feminine appearance. But perhaps the most appealing thing is that they lend themselves well to color and nail art. There are so many fantastic options, and we have rounded up the best options to try.
1. Short Coffin Nails
Even if your claws are more like that of a kitten rather than a big cat, you can still rock short coffin nails. Of course, you will need your nails to extend a little past your fingertips to ensure you're able to create the tapered shape properly.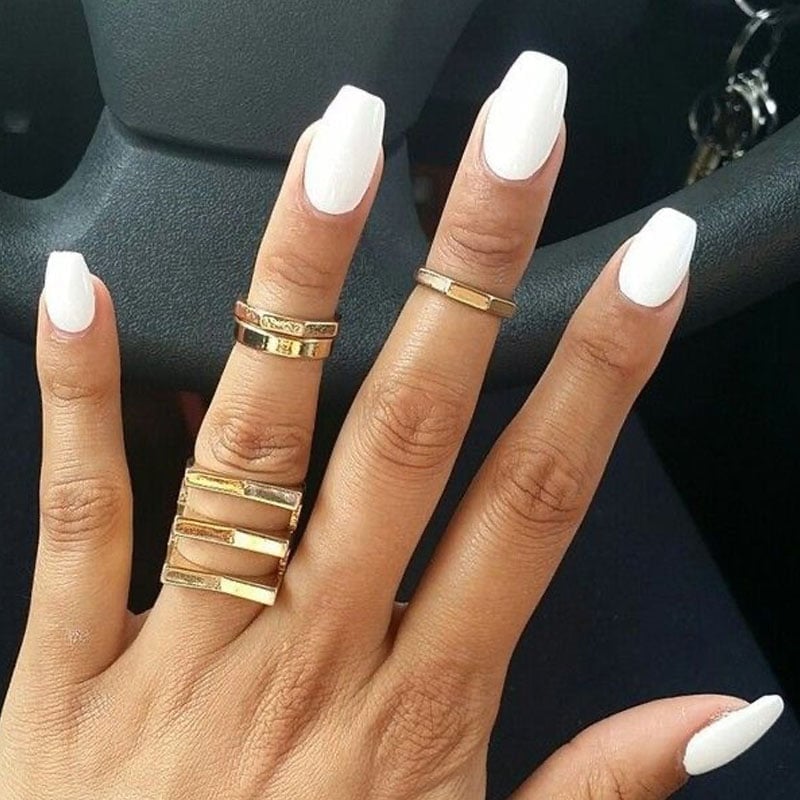 2. Long Coffin Nails
Long coffin nails are bold and stylish. Unlike other styles, such as almond shape designs, coffin nails feature a flat tip, which achieves a striking and edgy appearance. To create the shape with your nails, file the edges towards the center. Then, file off the tips.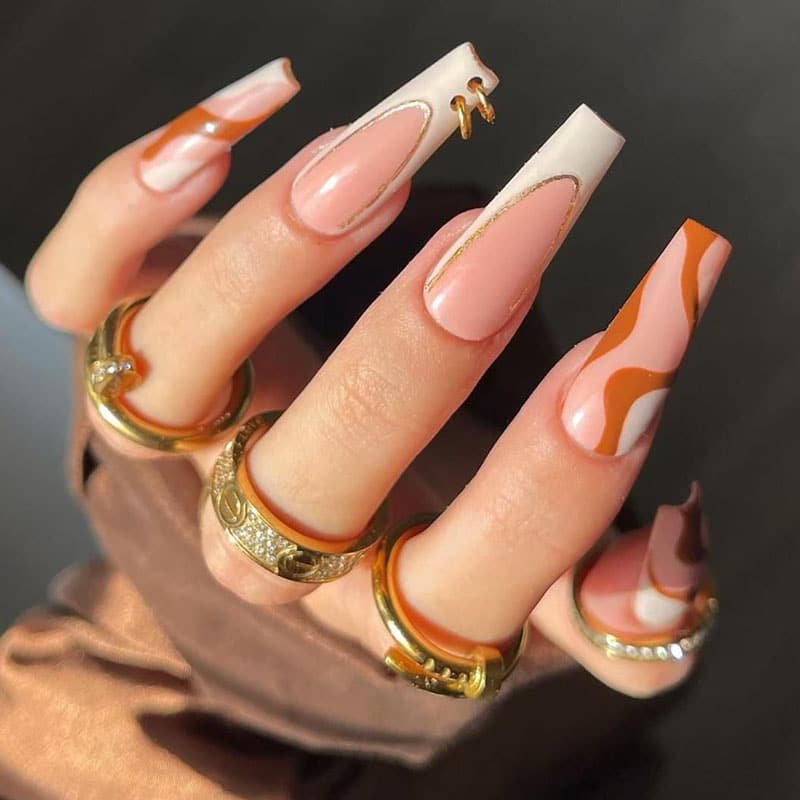 3. White Coffin Nails
White can be a striking color, especially when paired with coffin nails. To rock the pure hue on your nails, just decide between a shiny finish for a classically luxurious look or a matte finish for a contemporary and cool appearance.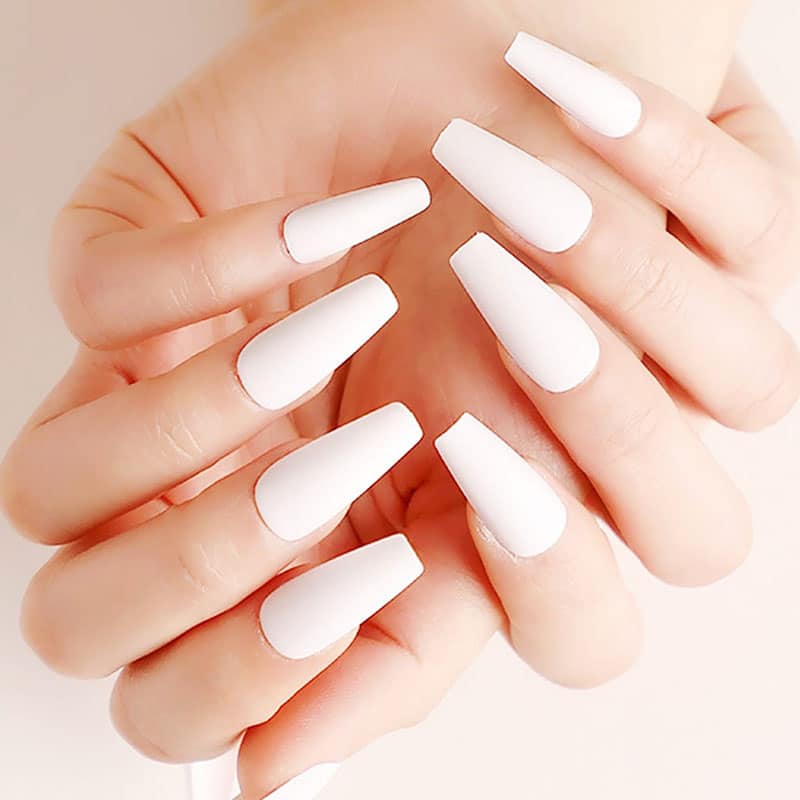 4. Nude Coffin Nails
For those who want their coffin nails to appear sophisticated and chic, nude makes an excellent color choice. Subtle yet utterly stylish, the subdued hue is a fantastic option for office days and formal functions.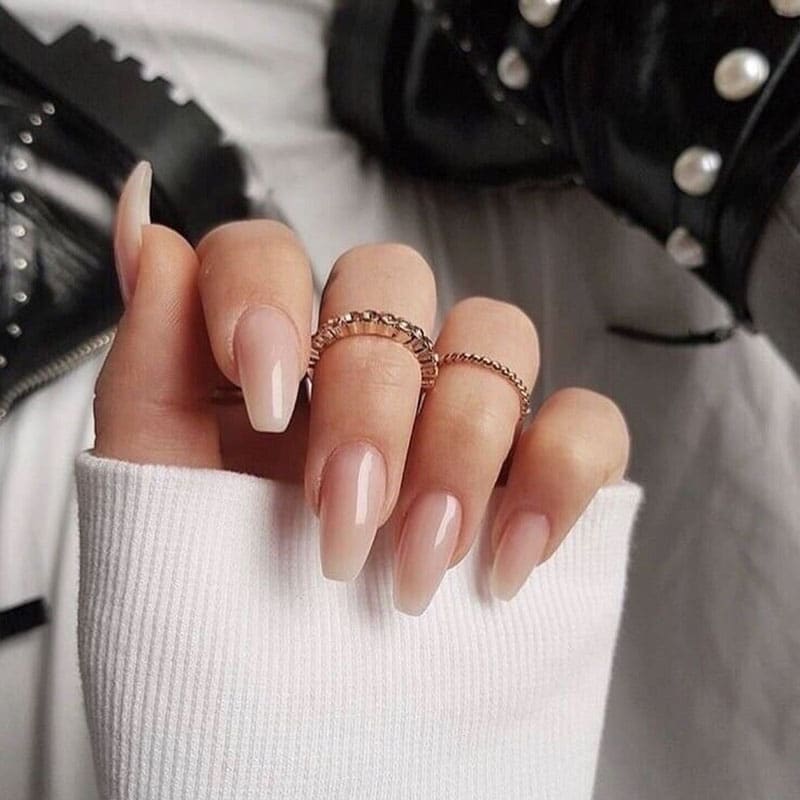 5. Coffin Acrylic Nails
Have trouble growing your nails out to a long enough length to rock the coffin shape stylishly? Don't panic just yet. You can always rely on a set of coffin acrylic nails to give you the enviable length you desire.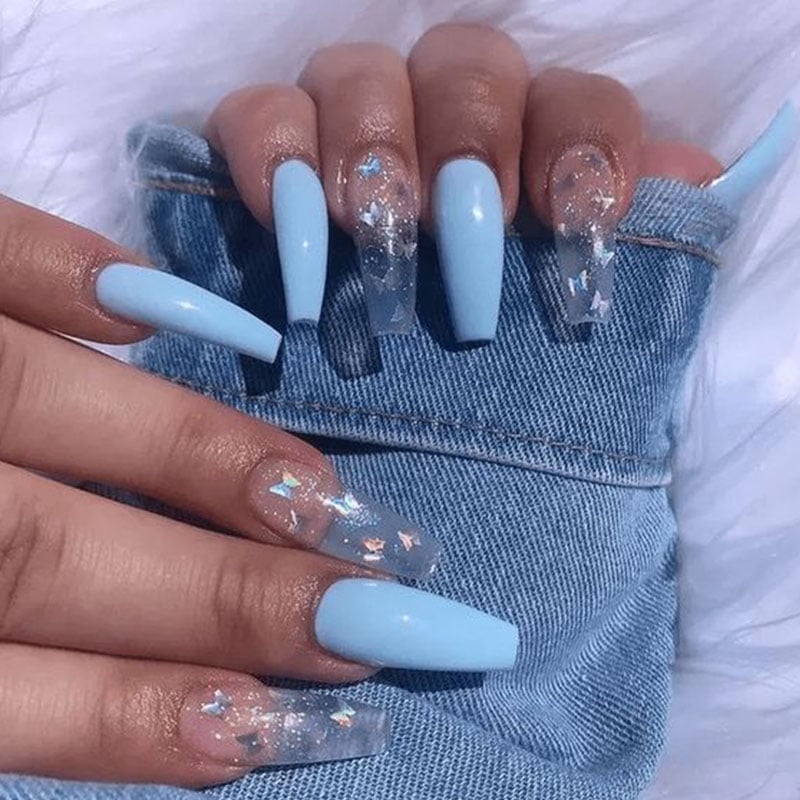 6. 3D Coffin Nails
You can dress up coffin nails in many ways, including with 3D designs. These artistic designs add an extra dimension to your nails and are seriously eye-catching. All you need to do is decide on your ideal look. Perhaps it includes gems, studs, or even flowers.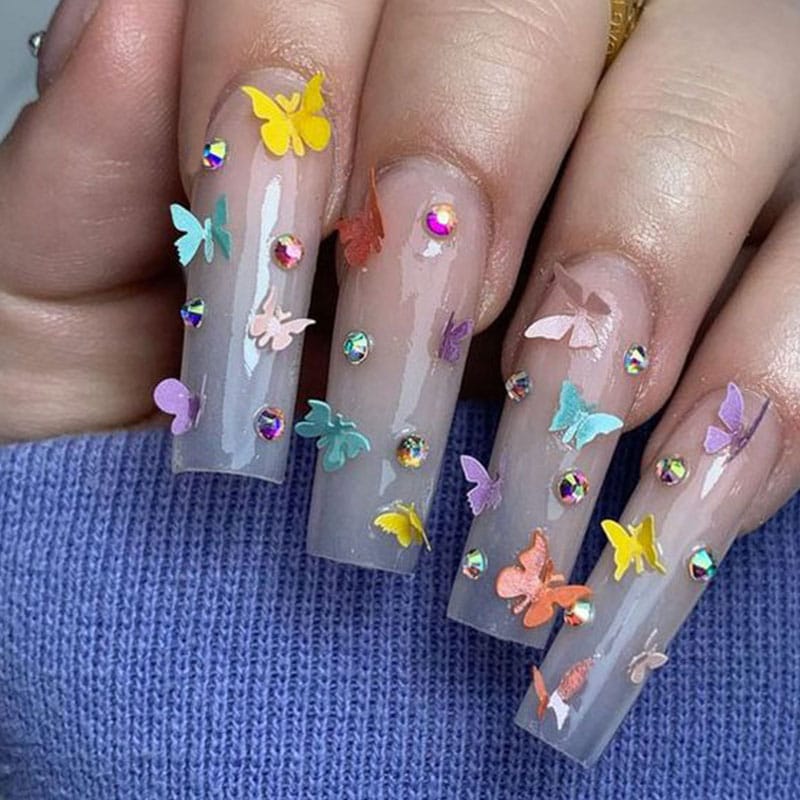 7. Matte Coffin Nails
If you want a modern and on-trend look for your fingers, you can't go past matte coffin nails. While shades of nude, pink, and white are all fantastic options, a fiery red hue makes the best choice for evening events.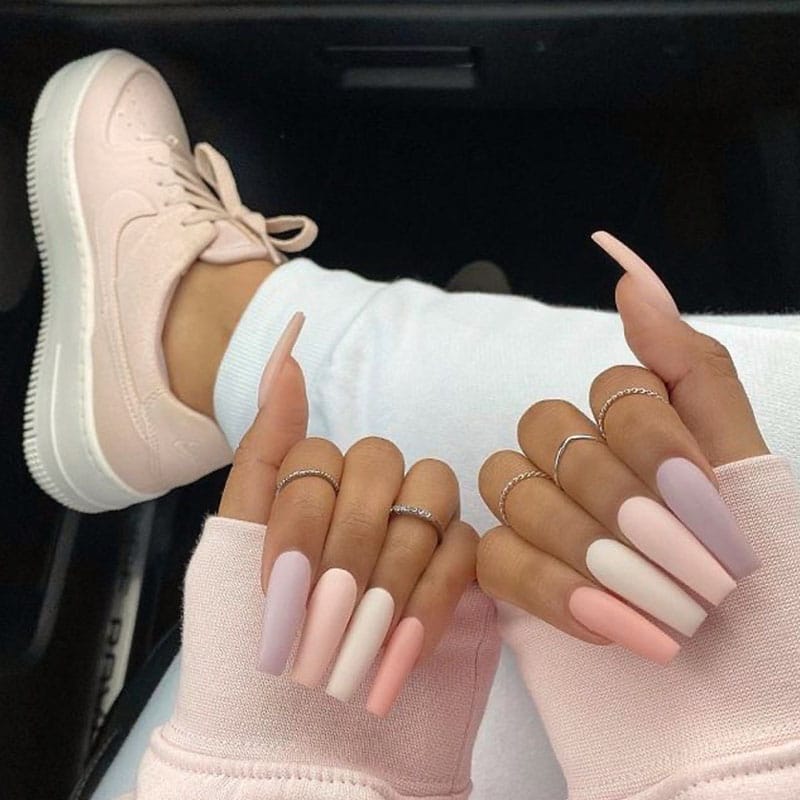 8. Transparent Coffin Nail Design
When it comes to creating a striking nail design, sometimes less is more. So, before you cover your entire nails in polish, consider opting for a stylishly transparent design. To create such a look, just apply striping tape to your nails before painting them. Then, once the polish is dry, remove the tape to reveal a chic negative space design. Alternatively, opt for a simple see-through look by coating all of your nails in a transparent or translucent polish.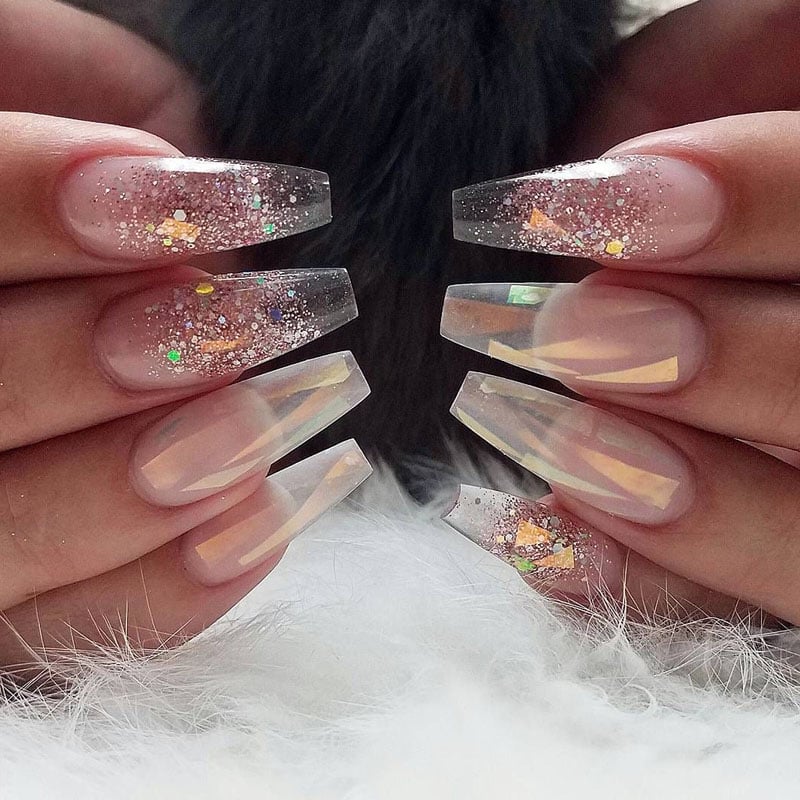 9. Cute Coffin Shape Nails
One of the great things about coffin nails is how many cute designs there are to try on them. But, how do you choose where to start? Well, why not begin with lovely mint green and nude look? If you're feeling creative, you can also play with negative space, striping tape, and glitter accents.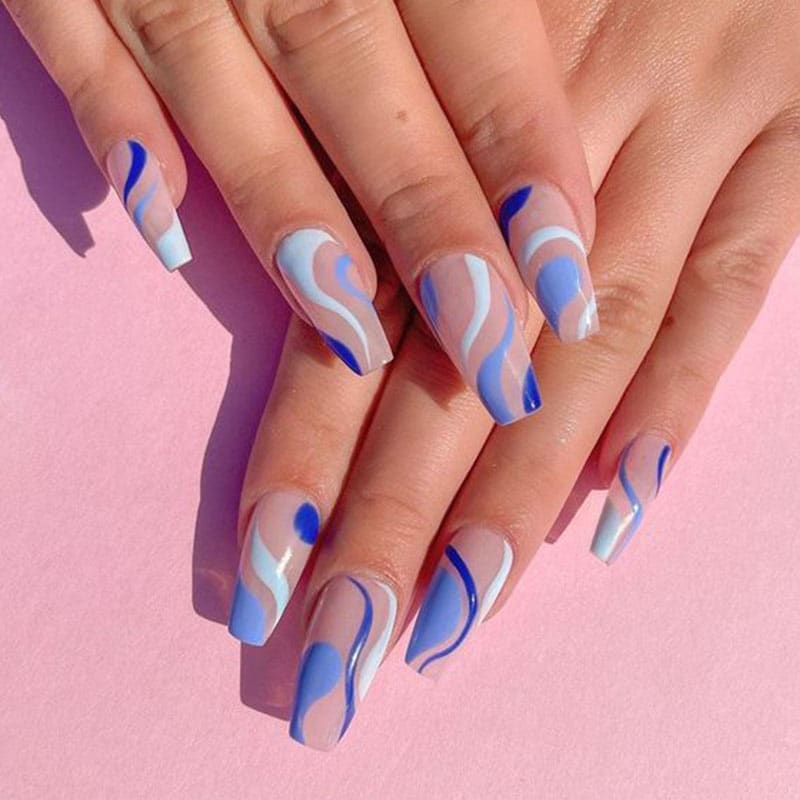 10. Coffin Shaped Accent Nails
Accent nails are an excellent option for adding excitement to your fingers without overdoing things. For simple accent nails, try painting one nail on each hand in a contrasting color to the rest of your fingers. For a bolder accent, consider something more detailed such as stripes, 3D designs or a lace look.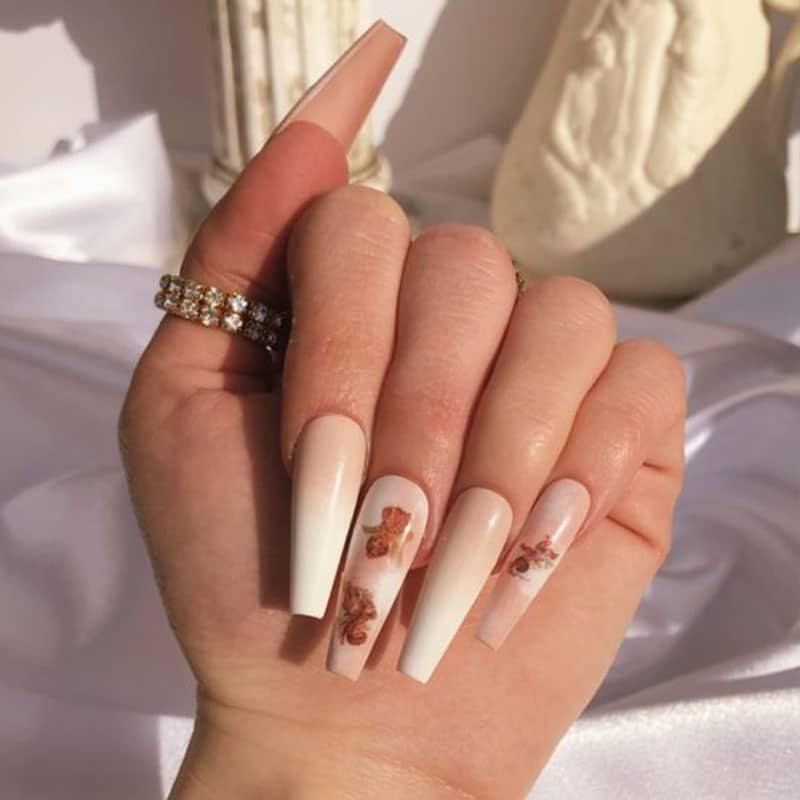 11. Elegant Coffin Shaped Nails
Coffin nails, which are also called ballerina nails, can appear incredibly elegant, especially when partnered with a sophisticated design. As such, they make a fantastic choice for brides who are after a chic nail look for their special day.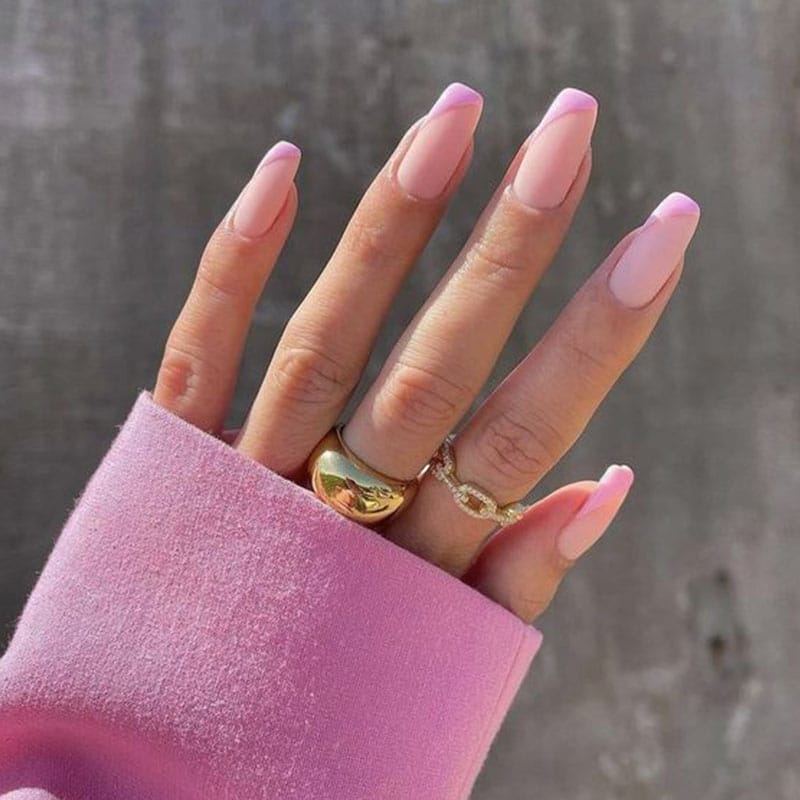 12. Black Coffin Nails
For ladies who like a bold and edgy appearance, black coffin nails are an excellent option. As striking as they are chic, these dark nails look great with both matte and shiny finishes. On top of that, they also pair perfectly with metallic details, should you wish to add some.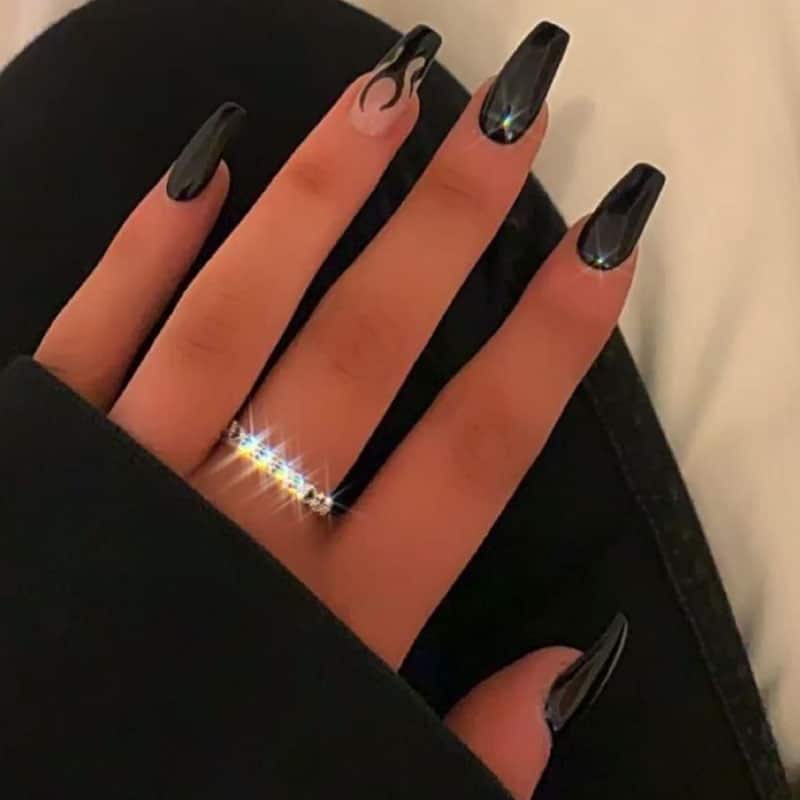 13. Red Coffin Nails
Got a hot date coming up? Or perhaps it's a girls' night out with your besties? Whatever the case, an exciting evening event calls for fierce nails, and we know just the style: red coffin nails. Not only are they dramatic and sexy, but they're also sure to attract plenty of admirers.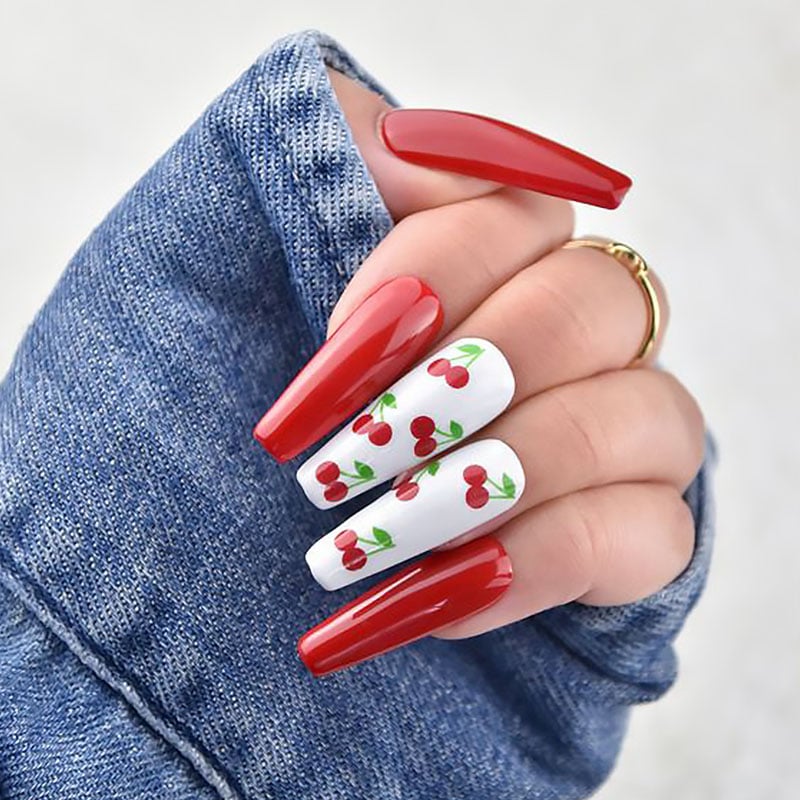 14. Pink Coffin Nails
Due to their flat tips, coffin nails can often appear strong and edgy. So, if you usually prefer a subtle look, you may want to opt for a feminine shade of polish to balance the bold shape. A light shade of pink is a great option and appears perfectly pretty on fingertips.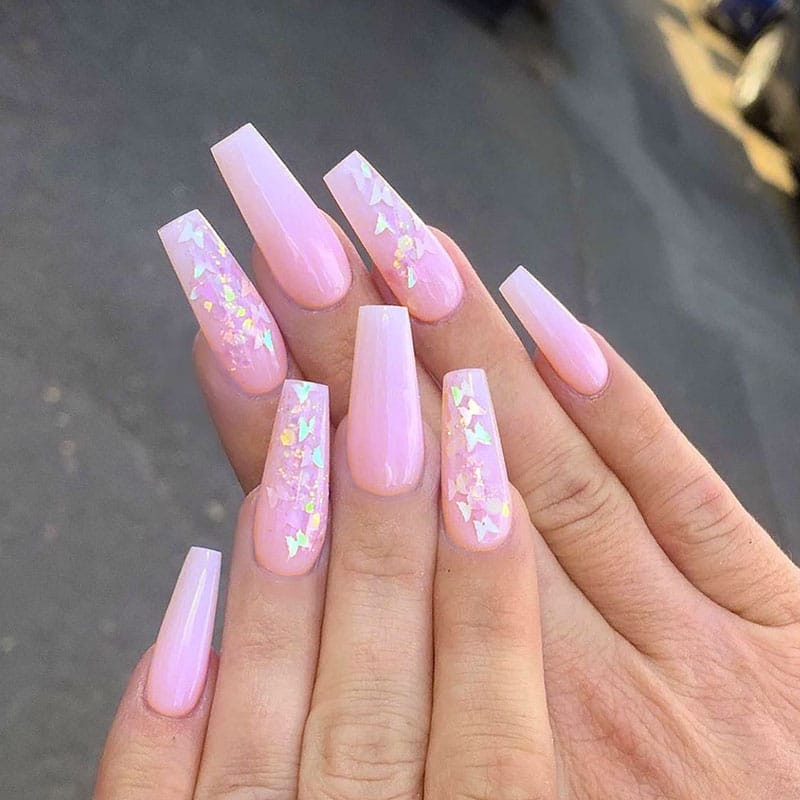 15. French Tip Coffin Nails
French tips are a classic nail design that appears feminine and sophisticated. To rock the look on coffin nails, just extend the white tip down further to ensure it appears stylishly balanced with the pink base.

16. Blue Coffin Nails
Do you like bold fingertips? Why not try blue coffin nails as your next daring design? If you're creating the look in summer, just choose a bright blue hue. If you plan to rock the look in winter, select a deeper shade, such as cobalt or midnight blue.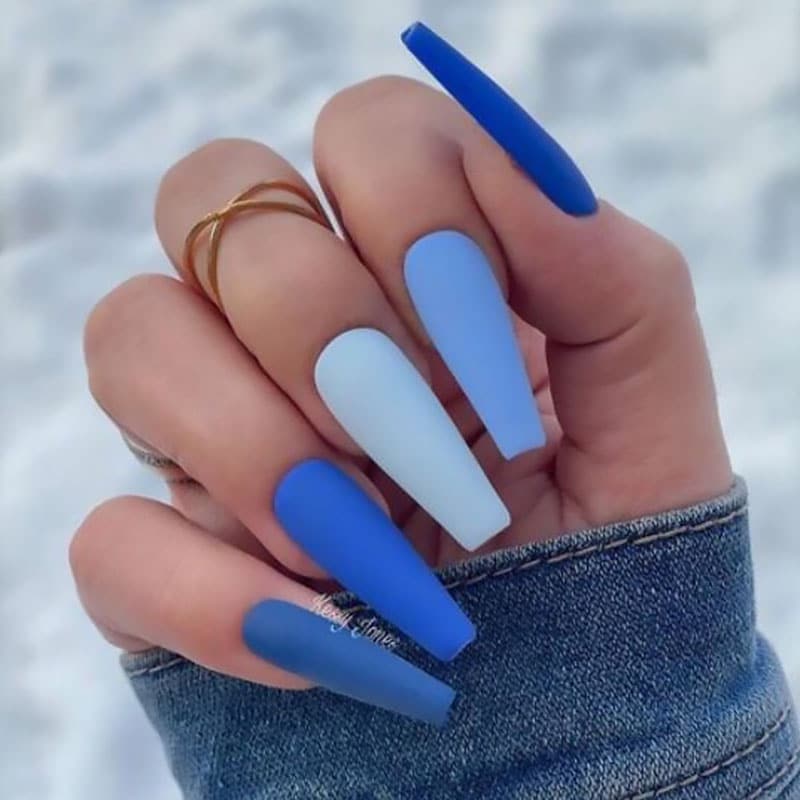 17. Clear Coffin Nails
You can make the most of your clear coffin nails by showing them off with on-trend, negative space clear nail design. Transparent stripes are easy to create and appear seriously stylish, especially when paired with chic color and 3D elements.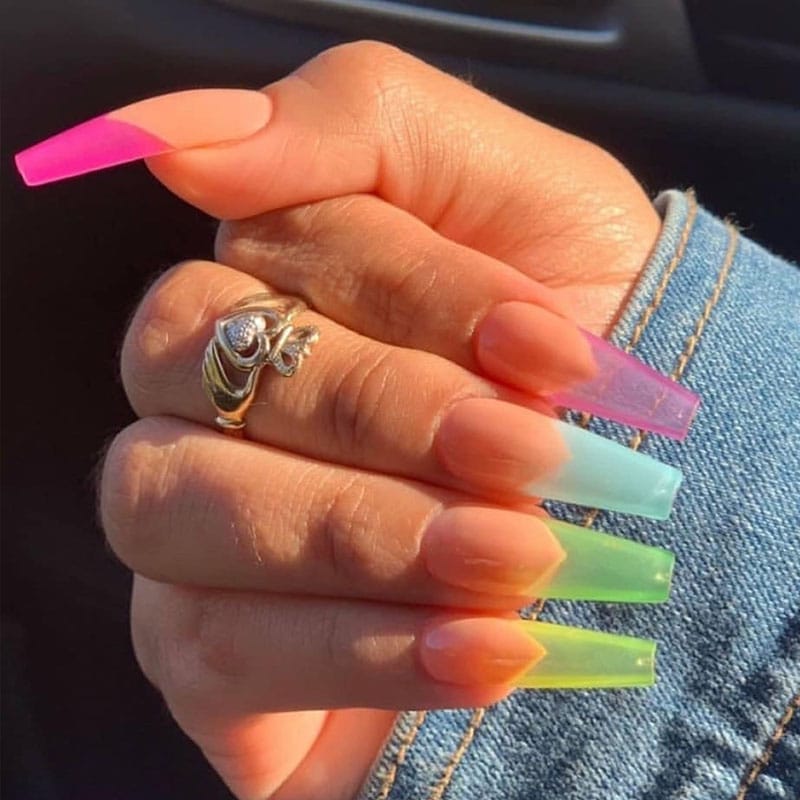 18. Grey Coffin Nails
Going grey isn't always a bad thing, especially when it involves your nails. Thanks to their modern and neutral hue, grey coffin nails can appear utterly chic and stylishly contemporary. Like nude nails, grey nails are also versatile and can suit many occasions.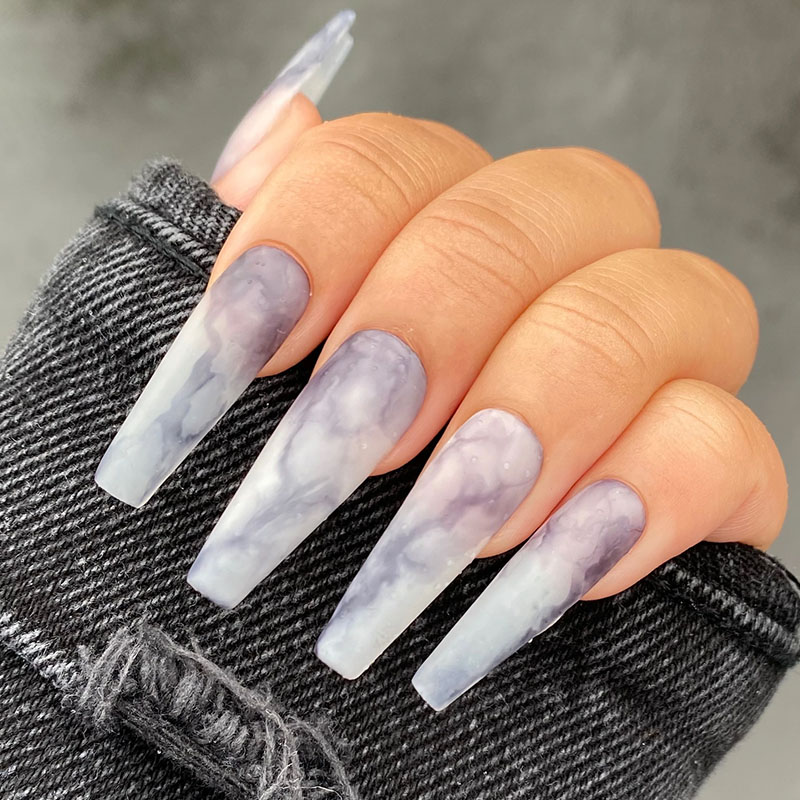 19. White Tip Coffin Nails
For a chic white tip nail look, consider trading in the usual French style for an ombre design. Also known as baby boomer nails, this faded look appears sophisticated and chic. It's also perfect for almost every occasion, including work and weddings.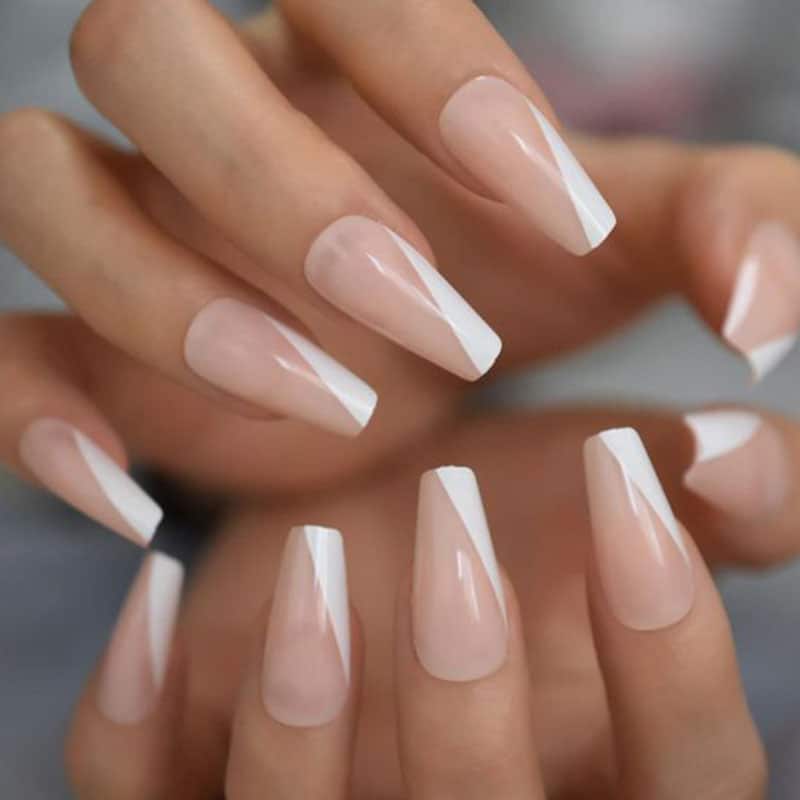 20. Natural Coffin Nails
Natural coffin nails are a chic look that you can wear every day. Thanks to their subtle tone, they are perfect for all events and occasions. They can also suit a variety of outfits and garments, meaning that you won't need to worry about your clothes clashing with your nails.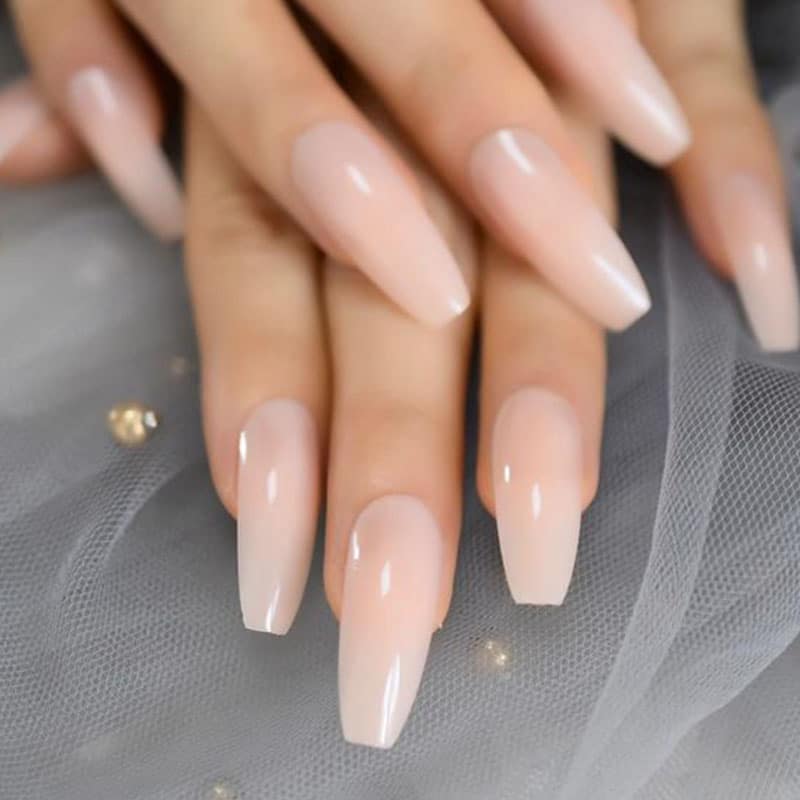 21. Coffin Ombre Nails
Coffin nails are a shape that lends itself well to many different colors and techniques, including ombre. Ombre nails are a fantastic option for a woman who wants to have fun with her nail art; it gradually blends two hues, often darker and lighter. For a subtle approach, you can pick complementary or similar shades, and for a more daring option, choose colors that clash. You can also get creative and opt for a different color combination on each nail, making a statement and girly look.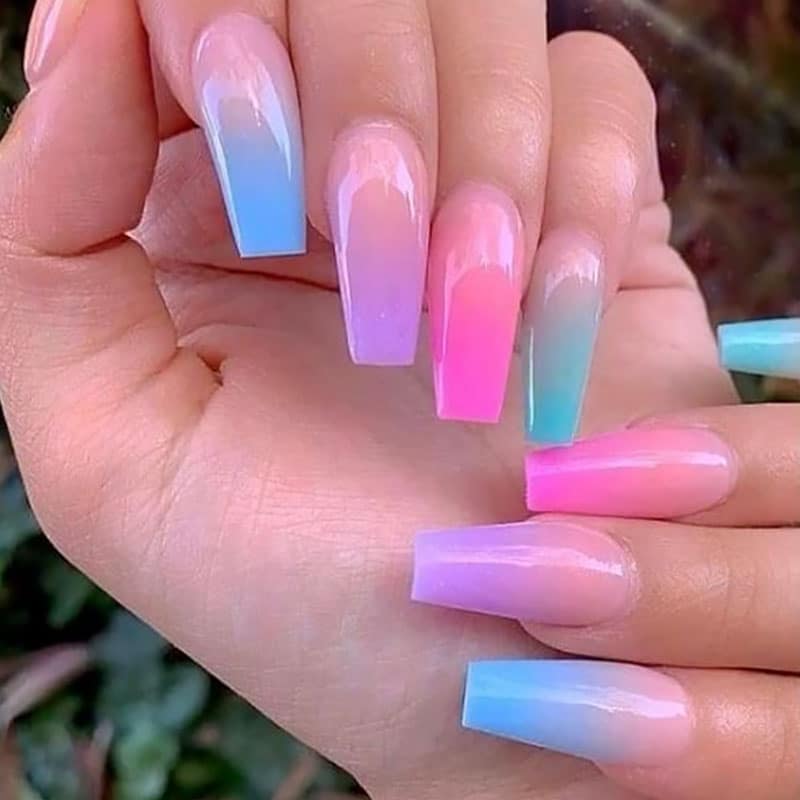 22. Fall Coffin Nails
Fall coffin nails are the perfect combination of rich hues and neutral colors. The pairing can include browns, whites, blacks and creams, and even burgundy or burnt reds for those who want a pop of color. There is a warmth about these shades, and they are pleasing to look at. This style will lend itself well to various settings. To make it stand out, dress in neutral tones and experiment with your favorite chunky jewelry. Or keep it simple, opt for nail art on just one or two fingers, as this makes your manicure look more polished.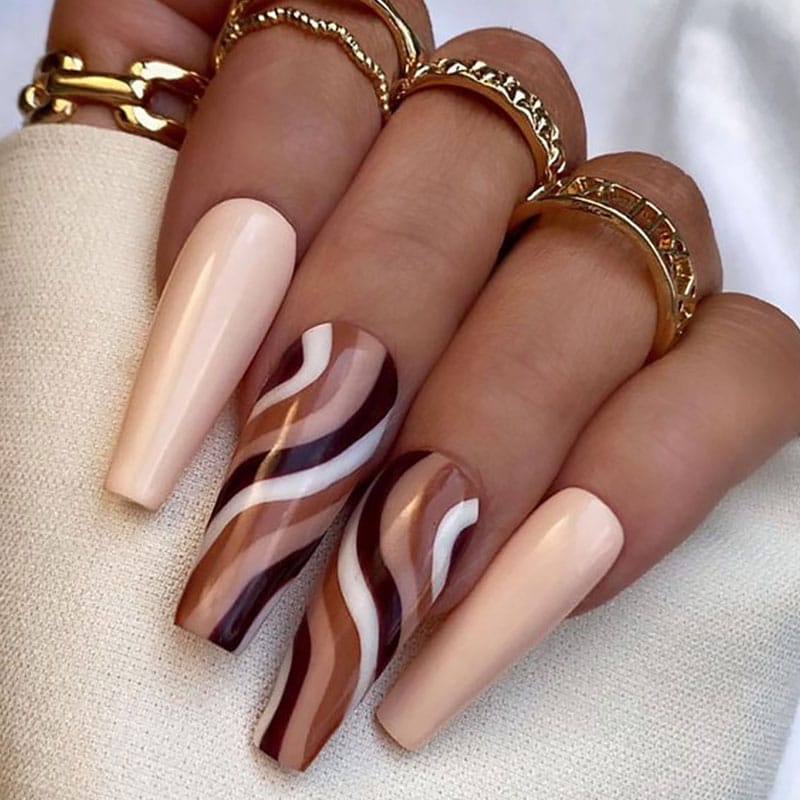 23. Summer Coffin Nails
The best thing about summer nails is the colors. It is a season associated with warmth and happiness, and it is time everyone embraces bright colors. Ditch the darker hues for this look of bold, vibrant shades or soft, feminine pastels. There is no rule to say you can only pick one color, so combine your favorites, including spearmint, green, and yellow. There is a color to suit every skin tone and preference, and you can have fun experimenting with how you will incorporate them into your nail art.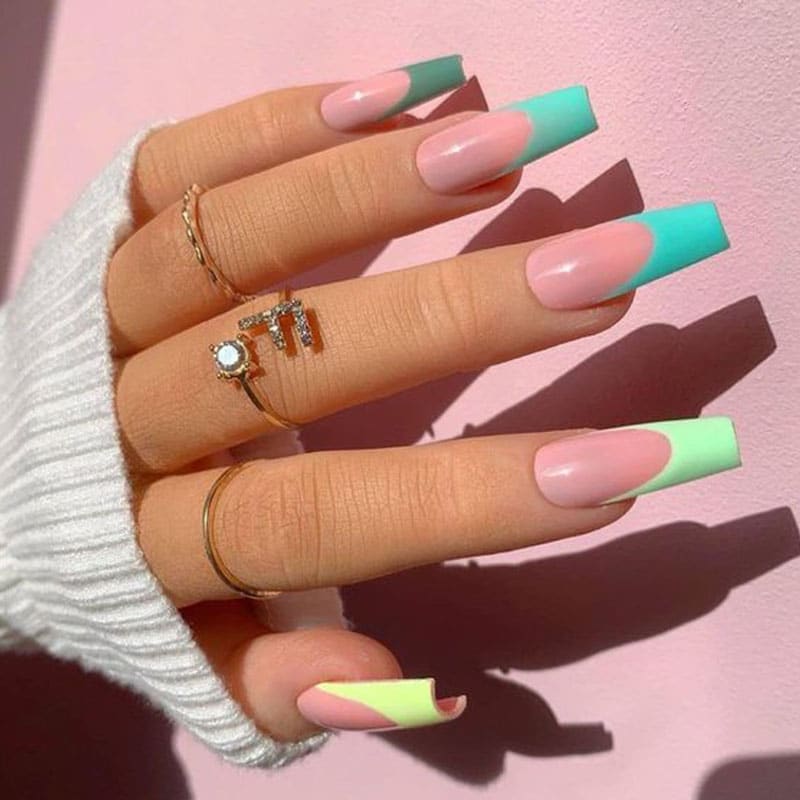 24. Royal Blue Coffin Nails
Royal blue is a color associated with luxury and wealth, making for fantastic nail art. It will suit fingernails of all shapes and lengths, including coffin nails, and is one of the hottest looks to try out. Royal blue is not your standard shade for a manicure, making it a great way to express yourself or show that you're a risk-taker or someone who likes to have fun. Royal blue nail designs attention and is such a rich hue that it is hard to miss; this will draw attention to your nails and chosen shape.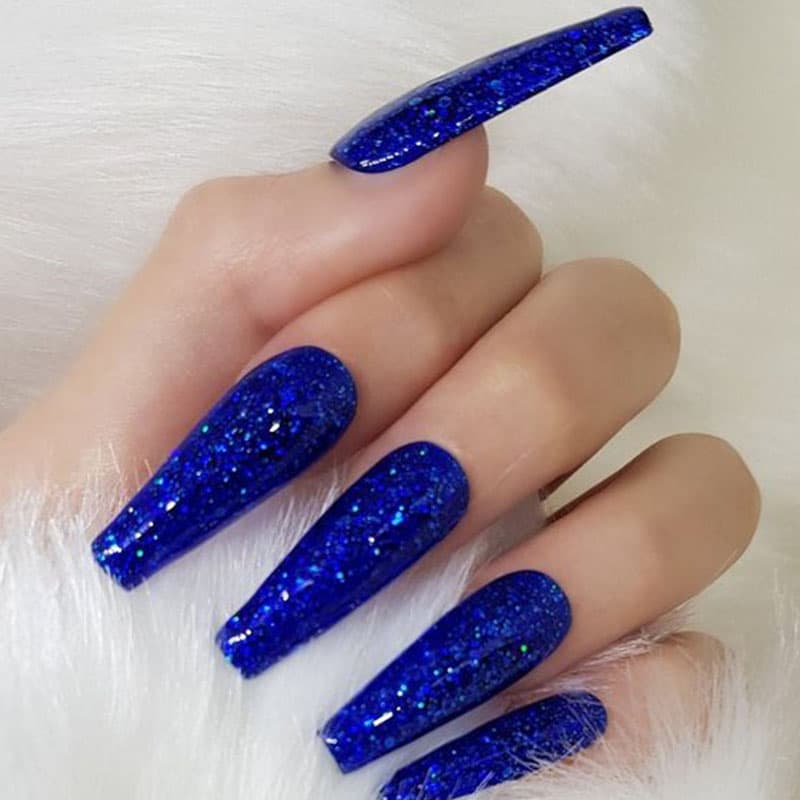 25. Christmas Coffin Nails
The festive season will soon be upon us, which is good news because we get to embrace everything we love about it. Christmas nails are the manicure that will bring joy to your life, and the holiday makes for fantastic nail art inspiration. For a chic, wintery look, opt for white or pale pink nails with sparkling details. Snowflakes are a fantastic addition, but you can also add glitter or rhinestones, depending on how much statement you wish to make. There is also nothing stopping you from wearing this look in the middle of summer, as it reminds you that your favorite time of the year is coming and gives you something to look forward to.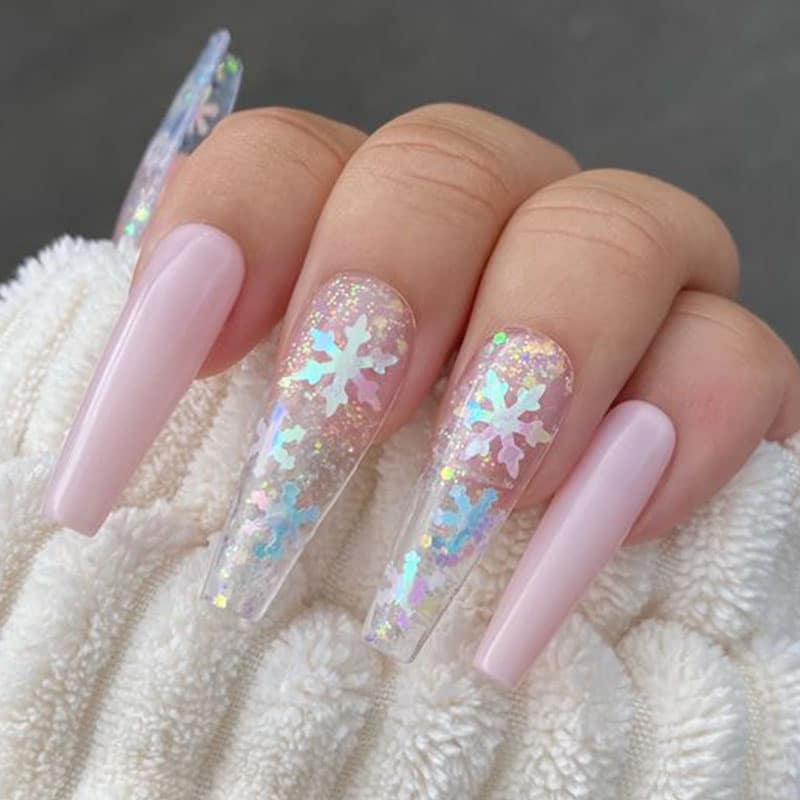 26. Halloween Coffin Nails
Halloween is one of the most fun and expressive times of the year, and it also makes for great nail art inspiration. These Halloween coffin nails are excellent because this shape usually works best with more length, allowing you to get creative with your artwork. Paint tiny pumpkins, spooky ghosts, or scary spiders and have fun with different base colors. Popular options include orange and black, and this makes for a striking look. You can opt only to paint your tips or decorate a feature nail for a more subtle approach.
​​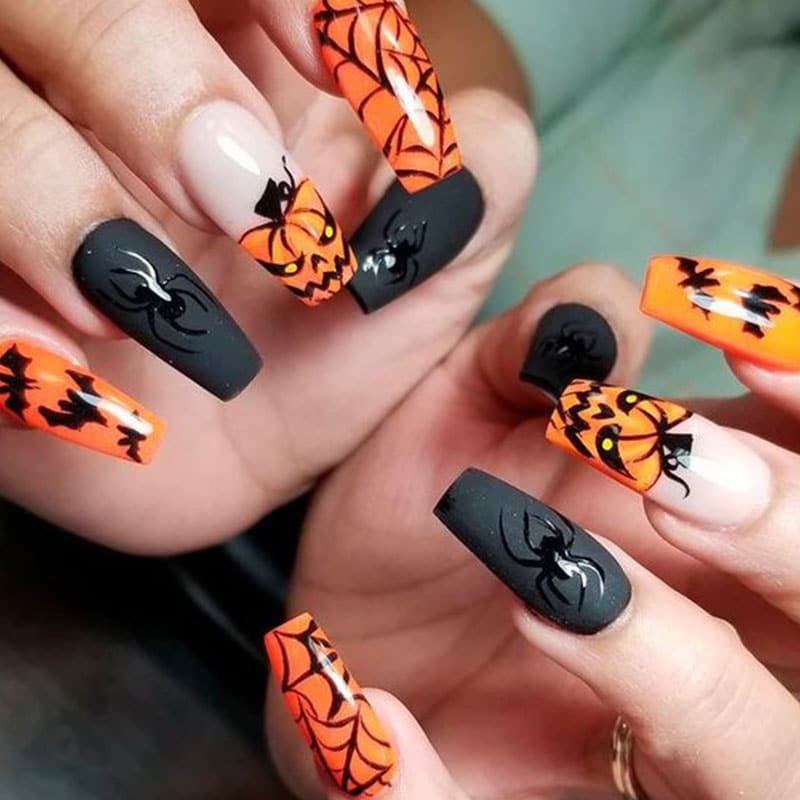 27. Purple Coffin Nails
What is not to love about purple nails? The color will give your nails a luxurious appearance and is often associated with royalty and power. There are a variety of shades to choose from, depending on your preference. You can opt for rich hues that make a statement or softer, lighter colors that are pretty and easy to wear. Play around with different effects, including ombre nails or the marbled technique, and add nail art, such as butterflies to make your look more unique.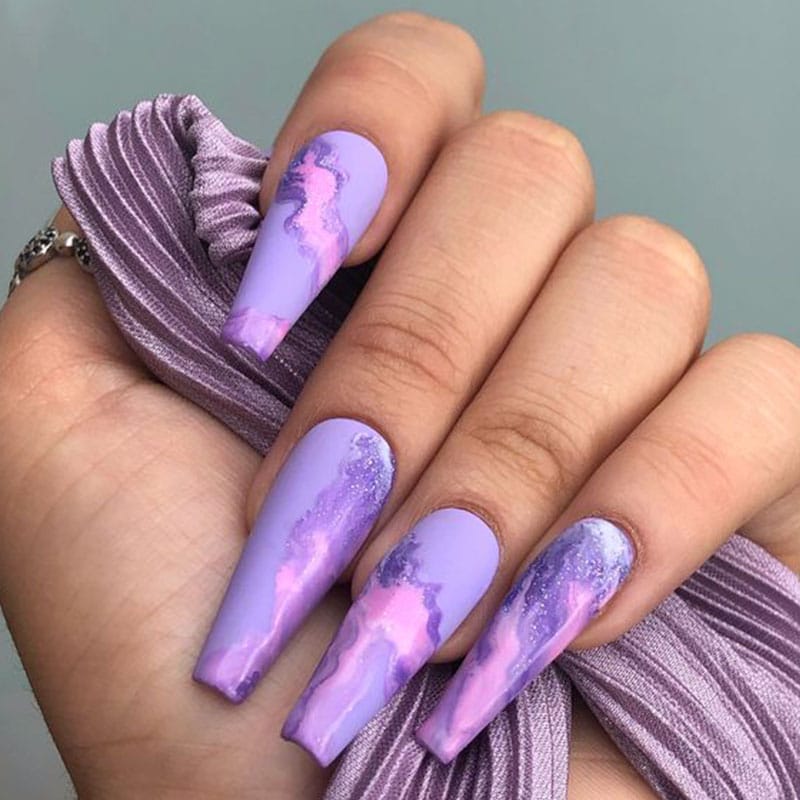 28. Yellow Coffin Nails
Yellow coffin nails make a statement. It is a vibrant color that demands attention but is also associated with happiness, positivity, and hope and is likely to bring a smile to your face. The shade is so bold that it will draw attention to the shape of your nails, but it also pairs well with other shades and nail art. For a pretty, feminine approach, pair your yellow nails with daisy flower art. For those who want to have some fun, slogans or smiley faces will be a great addition to your yellow nails.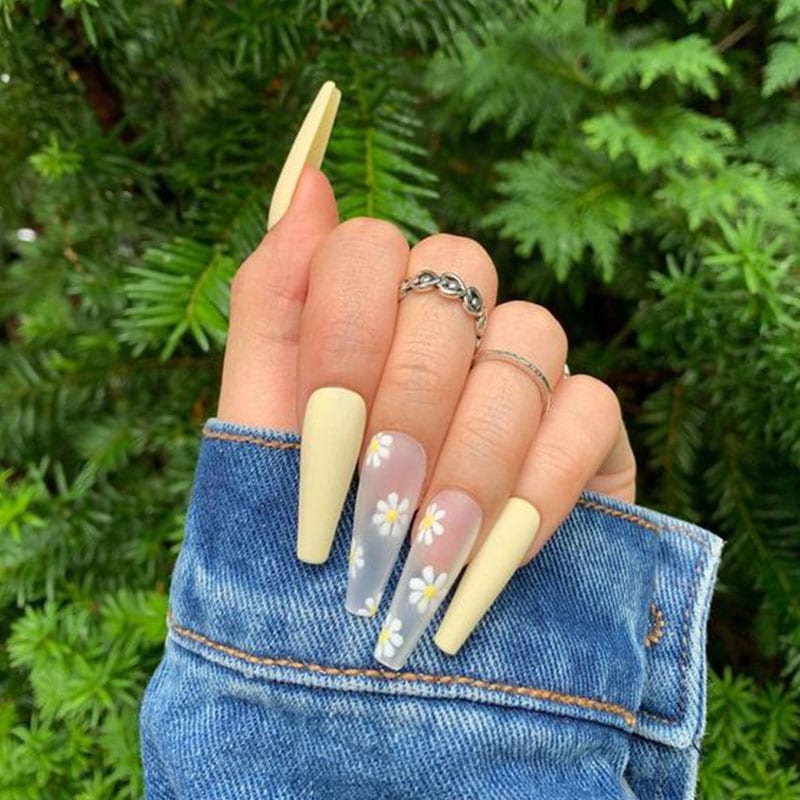 29. Medium Length Coffin Nails
Coffin nails are versatile and pair well with different colors and nail art. They are also incredibly feminine and draw attention to your hand. Although they can be created in any length, the shape works best with medium to longer length nails. Medium-length coffin nails are bold and stylish but still easy to manage and won't restrict your activities like long nails would. To create the shape, file the sides of your nails towards the center. Then, instead of opting for a pointy tip, you want to file it so that it is flat.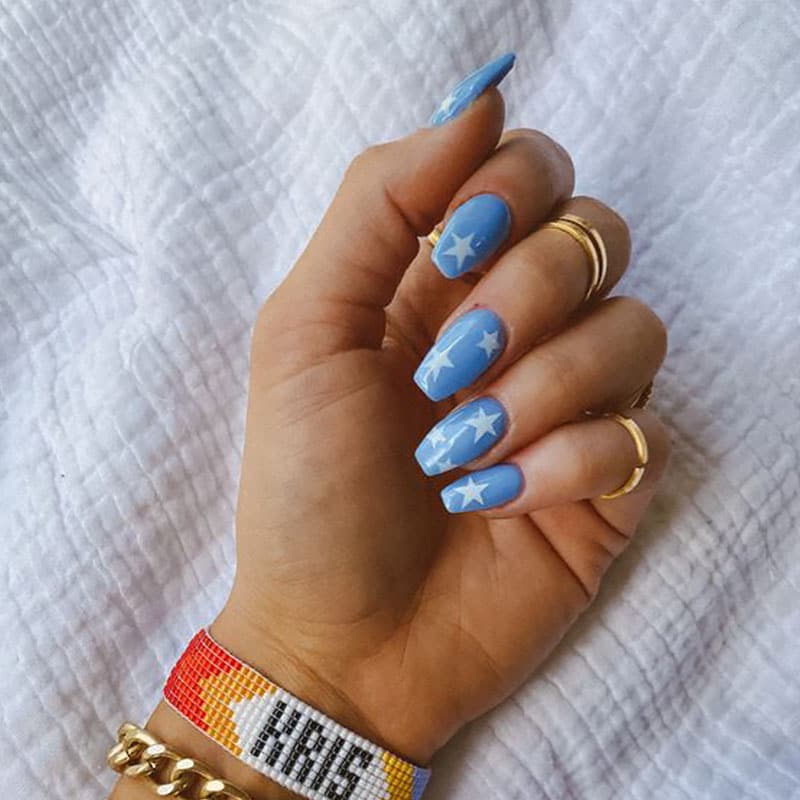 30. Baddie Coffin Nails with Rhinestones
The baddie subculture has inspired clothing and makeup, but also must-have nails. The favored option is long nails that make a statement, but the colors and designs differ and can be tailored to your personal taste. If you love Kylie Jenner, Rihanna, or Cardi B, then take inspiration from their nail art and create your perfect Baddie coffin nails. Mix and match your favorite rhinestones and diamantés, creating a bold, 3D effect. To balance the look, opt for a clear or nude base coat. Is this the most practical nail art? No, but it is all about making a statement and having the confidence to pull it off.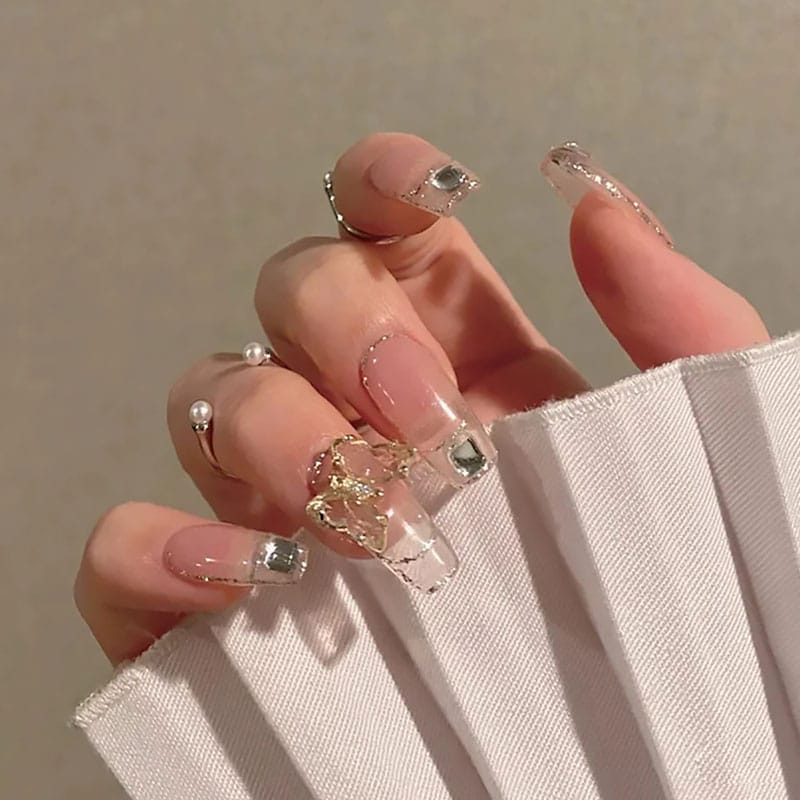 31. Brown Coffin Nails
Brown coffin nails are an excellent choice for a woman who wants a manicure that is easy to wear yet stylish. The color is associated with strength, dependability, and nature and is a classic color that will pair well with almost anything. This is the perfect option for those who work in corporate environments or want fuss-free nail art. You can opt for gold detailing to make it stand out more, but keeping it plain is just as gorgeous. The beauty is in simplicity.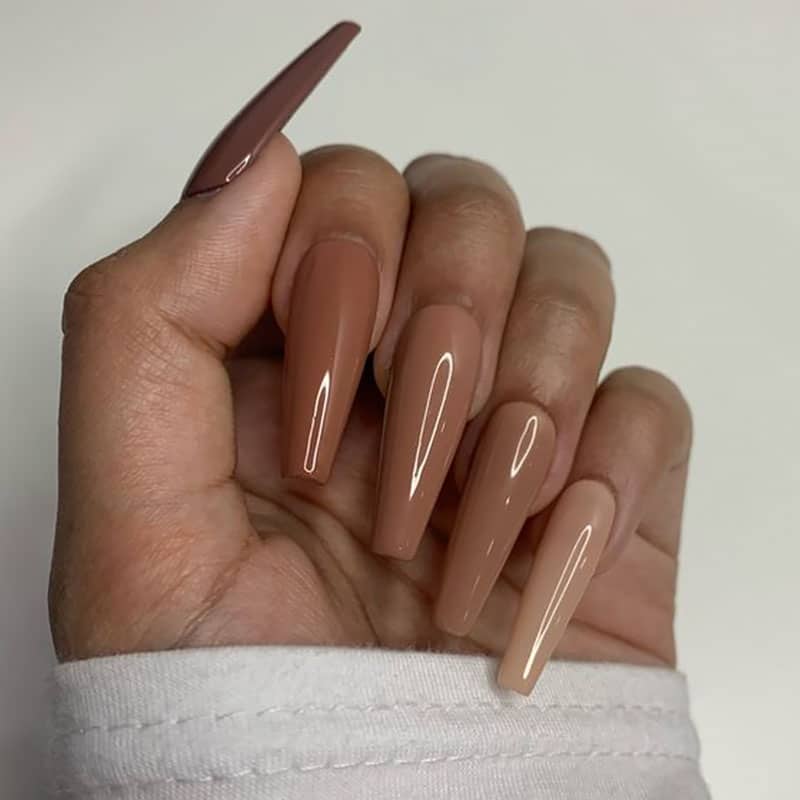 32. Green Coffin Nails
The great thing about green nail lacquer is that it is not a traditional color to paint your nails; it is a fresh and modern approach to nail art. There are many different shades, from bright hues like neon to more muted pastel tones. There is a color to suit every nail length and skin tone, and you can get creative with how you incorporate this polish into your manicure. You can paint French tip nails and add bold logos or slogans for a dramatic appearance or keep it simple with a solid shade of green. Plus, green is symbolic of growth and nature.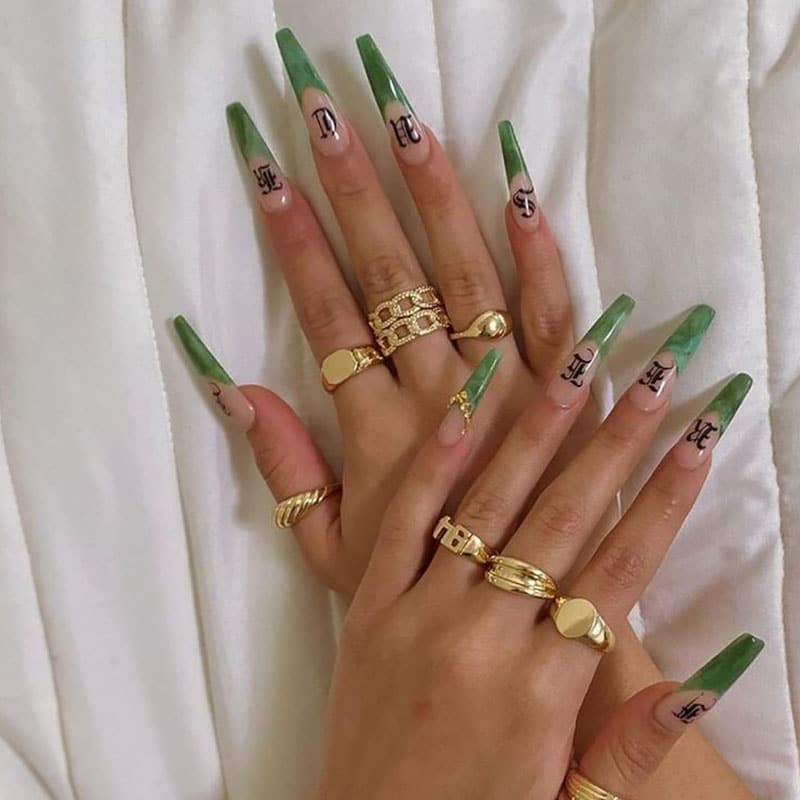 33. Orange Coffin Nails
Orange coffin nails are the bold look you have been searching for. It makes you think of warmth, sunshine, and excitement and instantly draws attention to your hands. It pairs well with red and yellow if you want to create a fiery manicure, or you can keep it simple with a single shade of orange. The color looks especially great on people with neutral undertone skin, although most people can pull off this intense hue. For a matchy-matchy approach, find a burnt orange lipstick to pair with your nails.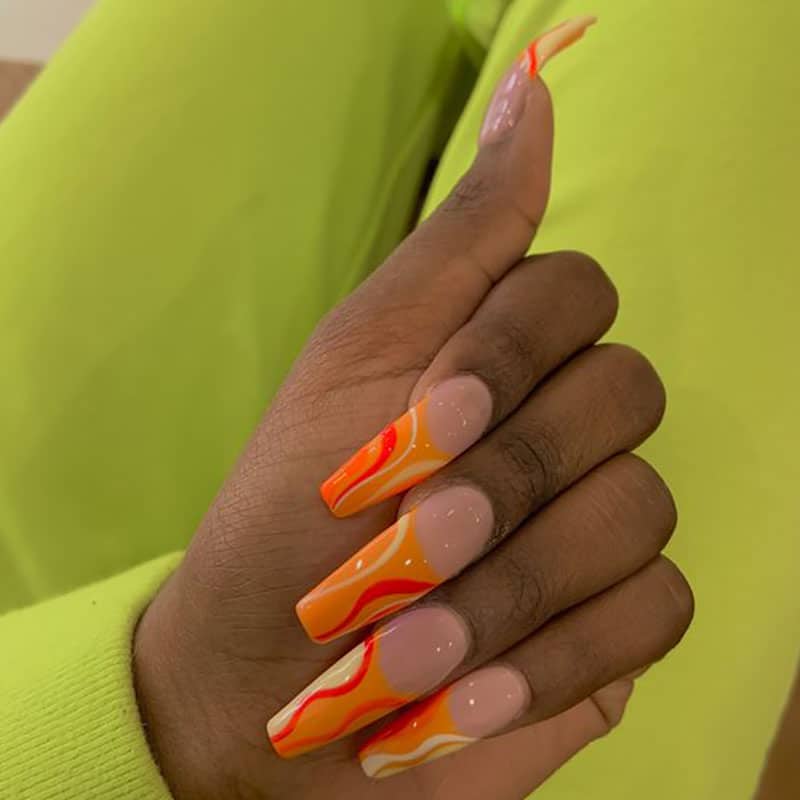 34. V French Tip Coffin Nails
If you love the idea of a French manicure but want something a little different, then the V French tip coffin nails are the look you have been searching for. The fantastic thing about this manicure is that it allows you to experiment with spacing, making for a fascinating look. It is fun to experiment with colors and appears particularly striking when created on a nude base coat. You can also pick from a wide range of shades, including neons, if you want to really make a statement.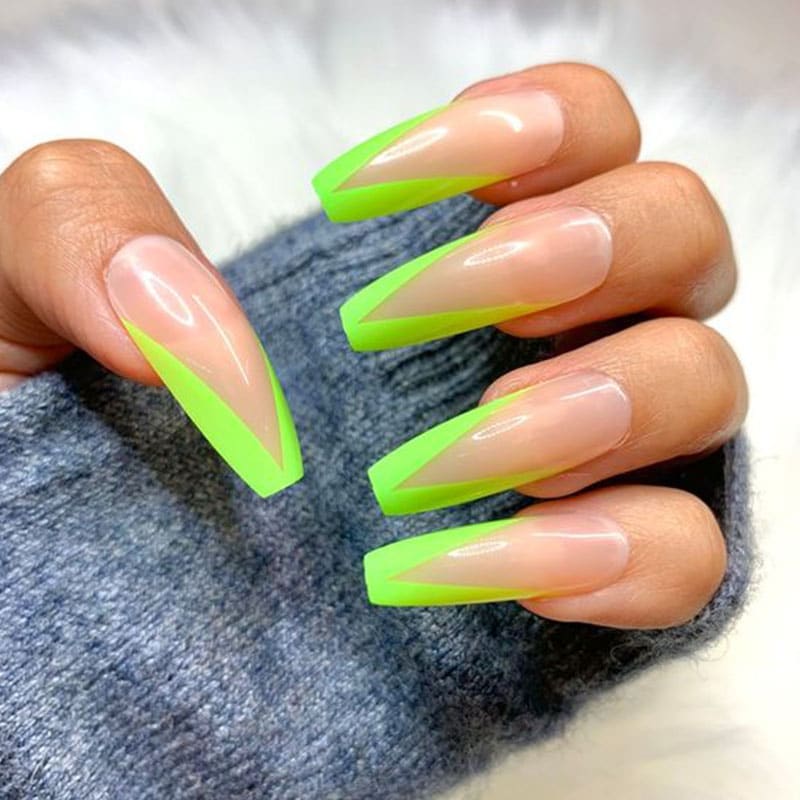 35. Coffin Burgundy Nails
Burgundy is a rich shade of reddish-brown that is often favored in the autumn and winter months, but it is such a stunning color that it can be worn all year round. It makes you think of romance and power and is incredibly versatile because it mixes well with different shades. You are also not limited in what colors you can wear with these nails, although neutral and natural shades work best.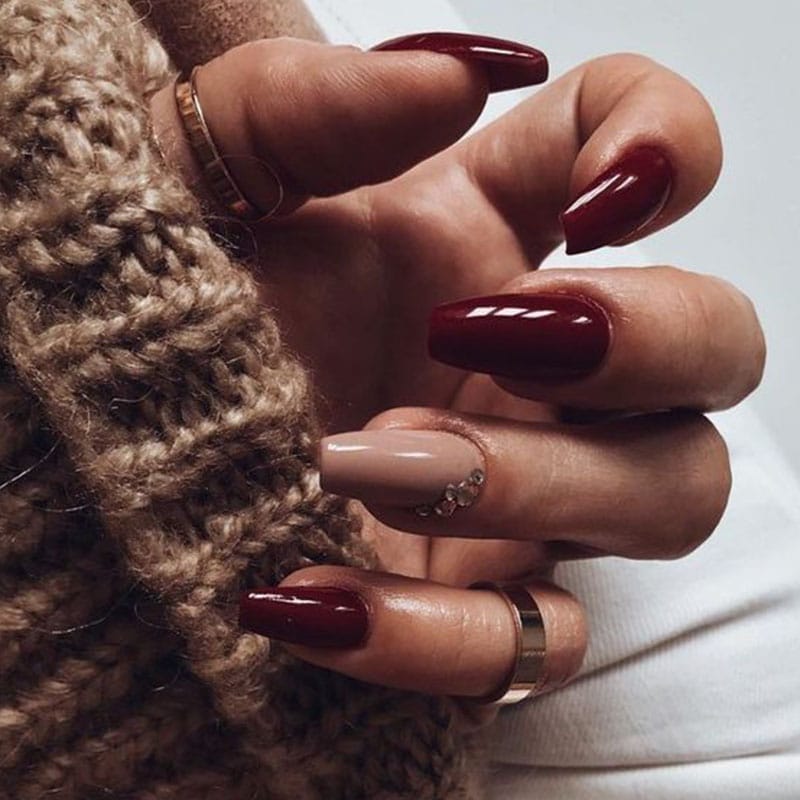 36. Coffin Milky White Nails
Some colors are bold and bright, others are timeless and classic, and white polish falls into the latter category. The fantastic thing about this color is that it never goes out of style, and it can be easily mixed and matched with various other shades and nail art to create a fresh and fun look. It is the perfect hue for all occasions, and is universally flattering, and suits everyone. For a dreamy option, add cute little cloud images and stars on one or two fingers and keep the rest of the manicure simple and muted.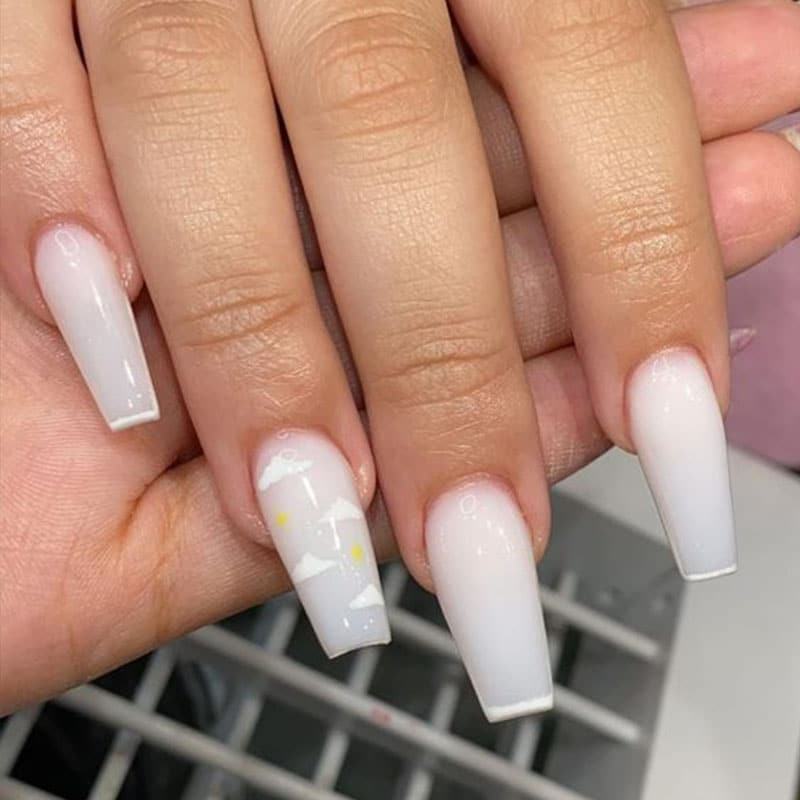 37. Coffin Nails with Rhinestones and Glitter
If you are a woman who wants a little bling in her life, then look no further than coffin nails with rhinestones and glitter. There is something so pretty and feminine about this combination. It can be created using a wide range of different colors. That said, to make the focus of the nail art on the detailing, opt for neutral lacquer as a base coat such as nude or white. This has a more luxurious and sophisticated appearance and is perfect for special occasions. You could also choose to add the detailing to just one finger, for example, the ring finger. This can draw attention to your jewelry.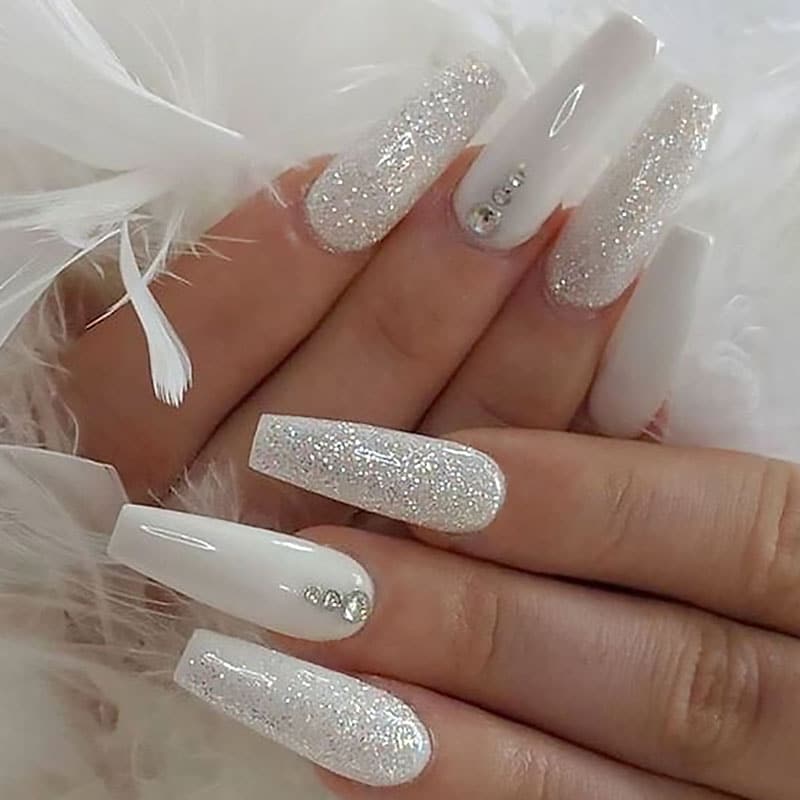 38. Dark Grey Coffin Nails
Dark gray is the perfect muted hue for your nails because it can look chic. It is often associated with minimalism, refined elegance, and mystery. The great thing about gray coffin nails is that they can look stylish and edgy, and the color is incredibly versatile. You can pair it with other hues or detailing or paint each nail with your favorite gray polish. It is easy to pull off and can be worn to various events, including summer bashes or fashion-forward parties.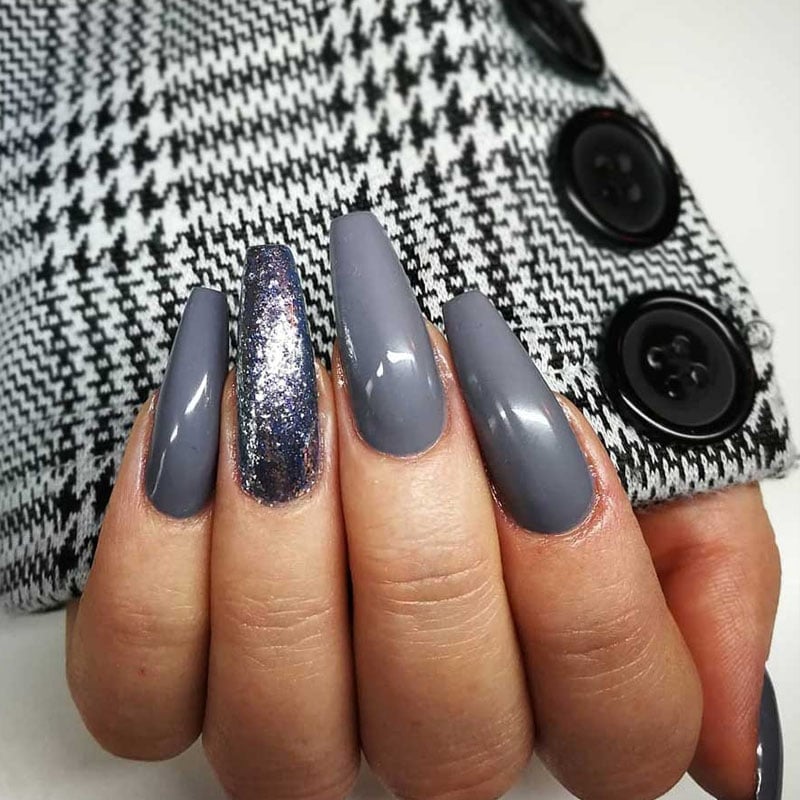 39. Lavender Coffin Nails
Lavender is a light pinkish purple hue that is incredibly pretty and easy to wear. Unlike other brighter shades of purple, this one is subtle, making it suitable for everyday use and less intense. It is a shade that is often associated with love and romance and purity and devotion. You can pick a shade of polish for one nail and interesting nail art for the next, or you can keep it simple with the same look throughout.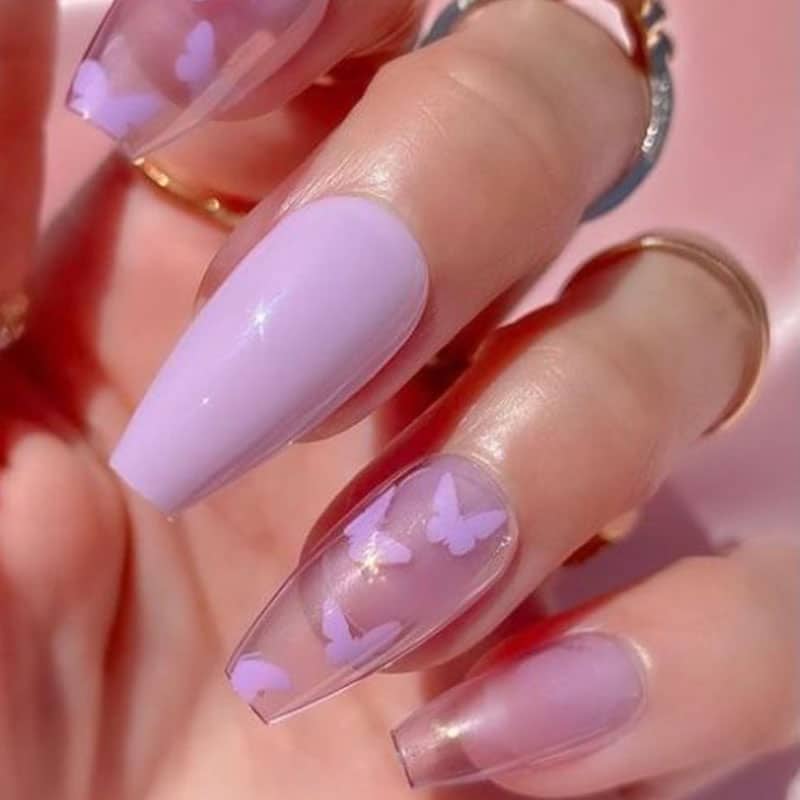 40. Butterfly Coffin Nails
Butterfly nails are pretty and symbolic. You have probably seen your favorite celebs sporting them and fallen in love with the bright designs. They can be created in different colors, and the winged insect can appear in many forms and patterns. You can also opt for detailed artwork, a 3D butterfly fluttering across your nail, or simple nail stickers. The great thing about coffin nails is that they are usually long, which allows you to get more creative with your nail art as there is more space. Butterflies are often associated with beauty, transformation, and change. So, you can let your manicure make a subtle statement about what you are going through in life. Or you can try out this look because you love it.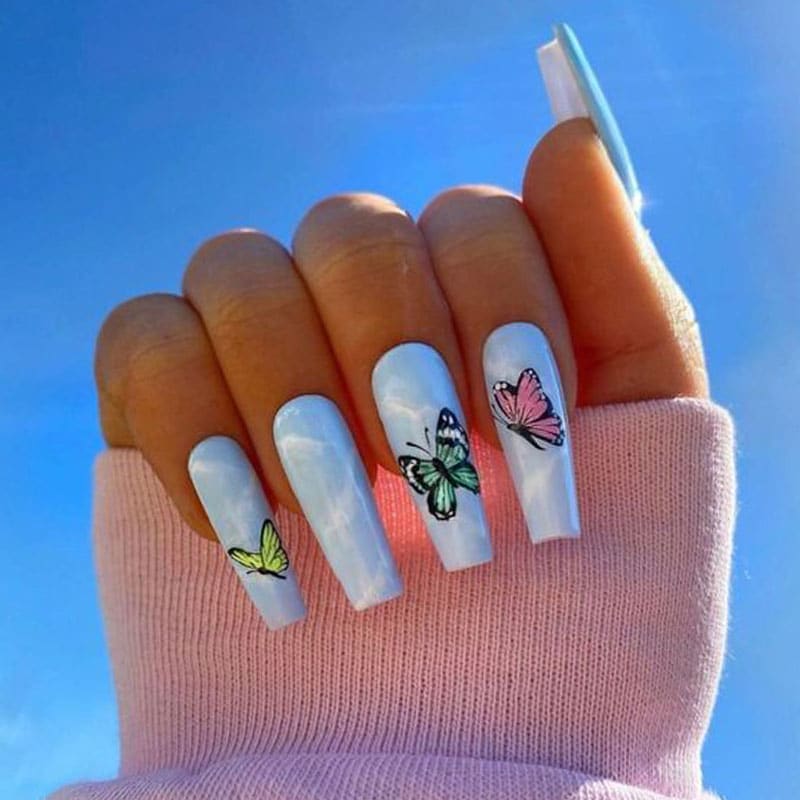 41. Coffin Black And Gold Nails
Coffin nails have tapered sides and a straight tip, and are ideal for enhancing slender fingers. The shape can be worn short or long and is great for a variety of different nail art, including black and gold. Black and gold nails are one of the most stylish options and it feels elegant and luxurious. There are various ways to combine the colors, depending on your desired finish. This includes adding gold flakes to a black base coat, trying geometric designs, or experimenting with interesting angles.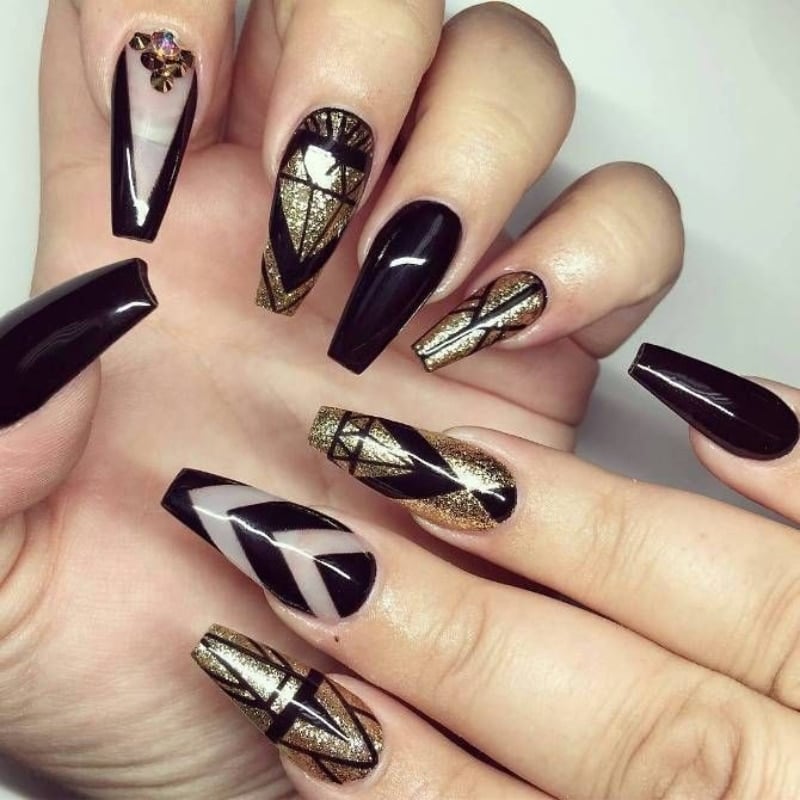 42. Coffin Black French Tip Nails
Coffin nails are a favorite choice for many women because they are feminine and flattering. The shape also lends itself well to nail art, letting you get creative with your designs, or opting for something sleek and sophisticated like French tip nails. This is an excellent option because it will draw the eye to the end of the nail and highlight the unusual shape. For a modern finish, ditch the classic white and opt for black tips instead.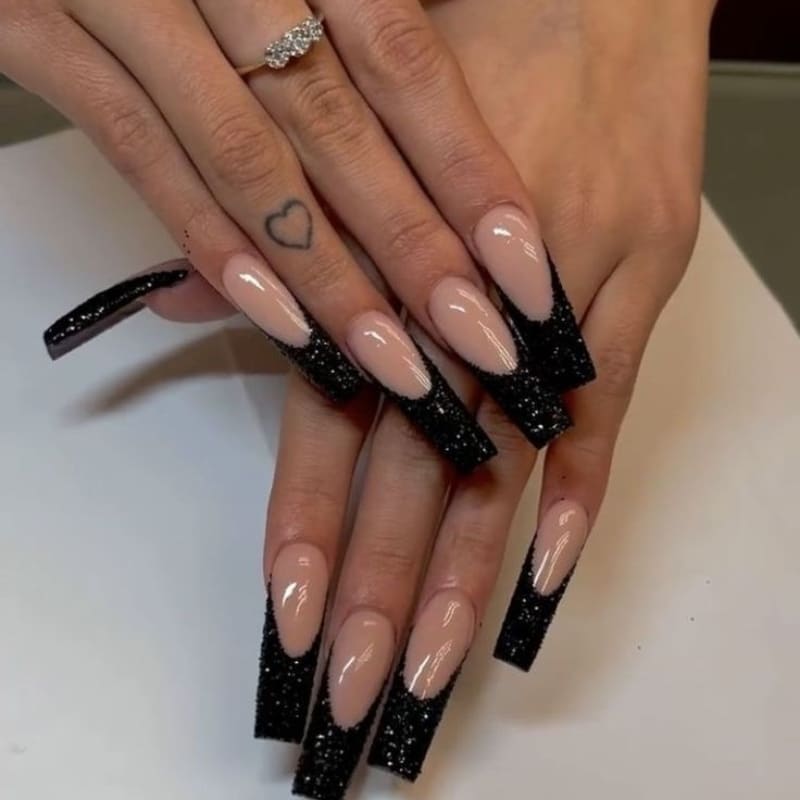 43. Coffin Nails with Diamonds
For those who want to add a little bling to their appearance, there is no better way to achieve this than with your nail art. Diamond add-ons and other faux jewels will give your nails a sparkly finish while also creating a 3D effect. They will look great added to long coffin nails, as the longer the nails the more space you have and it will not overwhelm the nail. You can opt for a clear base coat, or choose your favorite color lacquer to complement the diamonds.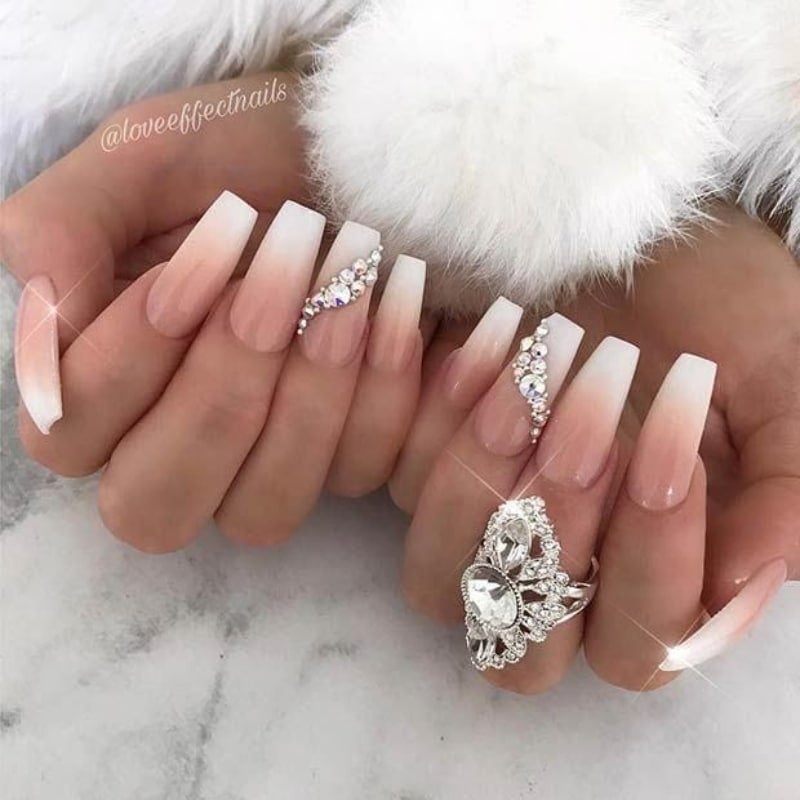 44. Simple Coffin Nails
The great thing about nail art is there are so many different options to choose from. Some people like to go bold and get creative with their designs and use bold, bright colors. While others prefer a more minimalist finish. A simple design can look gorgeous on coffin nails because the shape is already interesting and will draw attention to your hands. An excellent option would be to focus your nail art on a feature nail only. This is a fun way to express yourself and can also be used to highlight a special piece of jewelry.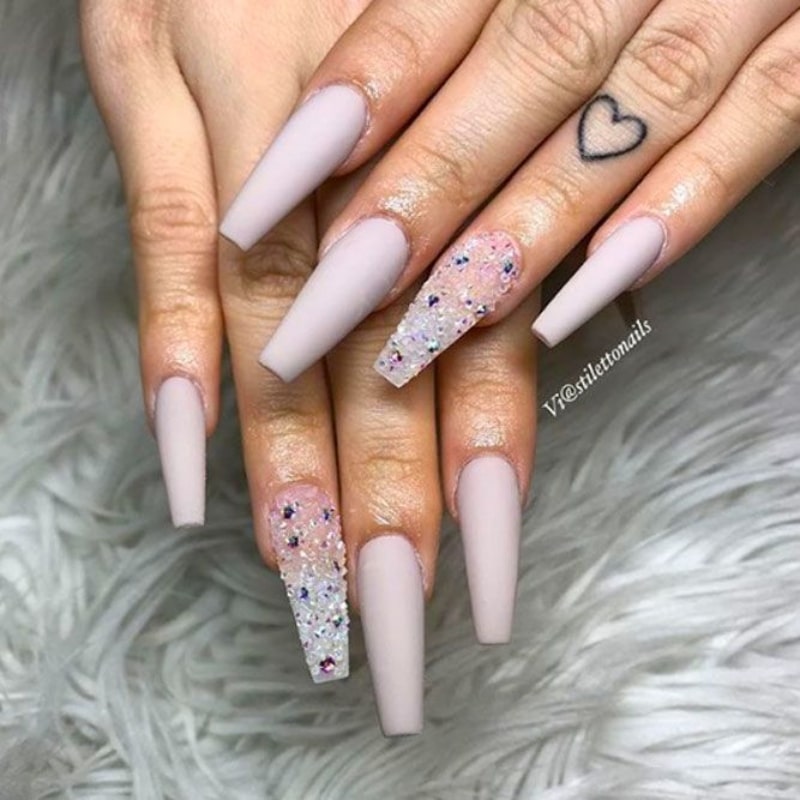 45. Coffin Milky White Nails
White nails are stylish and versatile and look great on women of all ages. It is a color that can be added to nails of all shapes and lengths and the color is loved for its versatility. However, for a different approach, you may want to try milky white nails. This creamish-white hue is cloudy and is the color of milk. While this look can be paired with gold flakes or metallics, it is also gorgeous when kept simple, lending itself well to a variety of settings.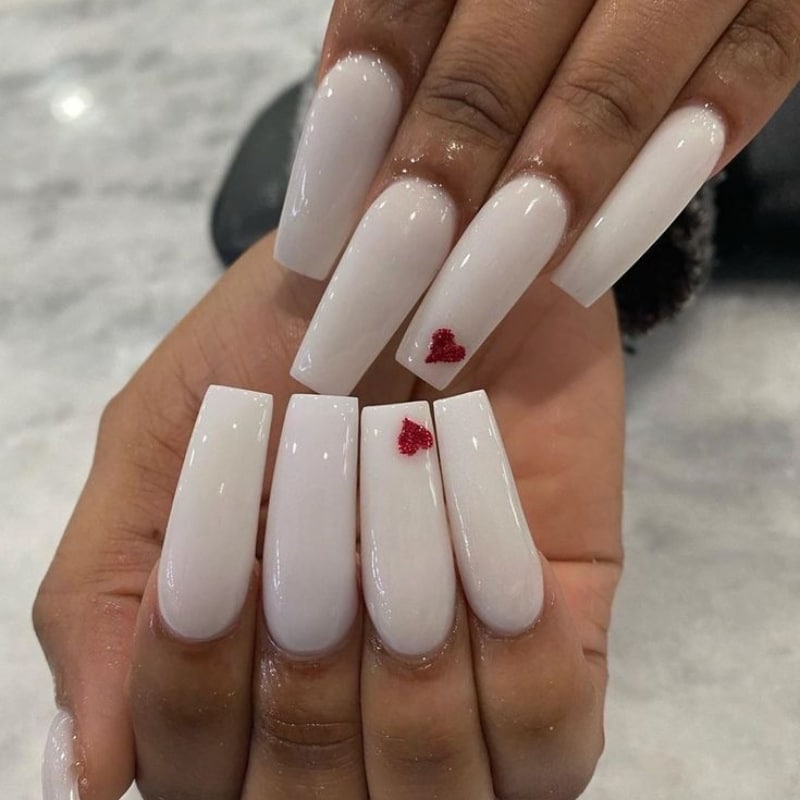 46. Coffin Press on Nails
For those who love the coffin nail shape but do not have naturally long nails or want a quick and simple solution to acrylics or gel nails, you can try press-ons. Press-on nails are a type of artificial nail extension that is already made and can be added over the natural nail using glue or another form of adhesive. They often come already shaped, saving you time, money, and effort. Coffin nails are appealing because they elongate the nail and are incredibly flattering on all fingers.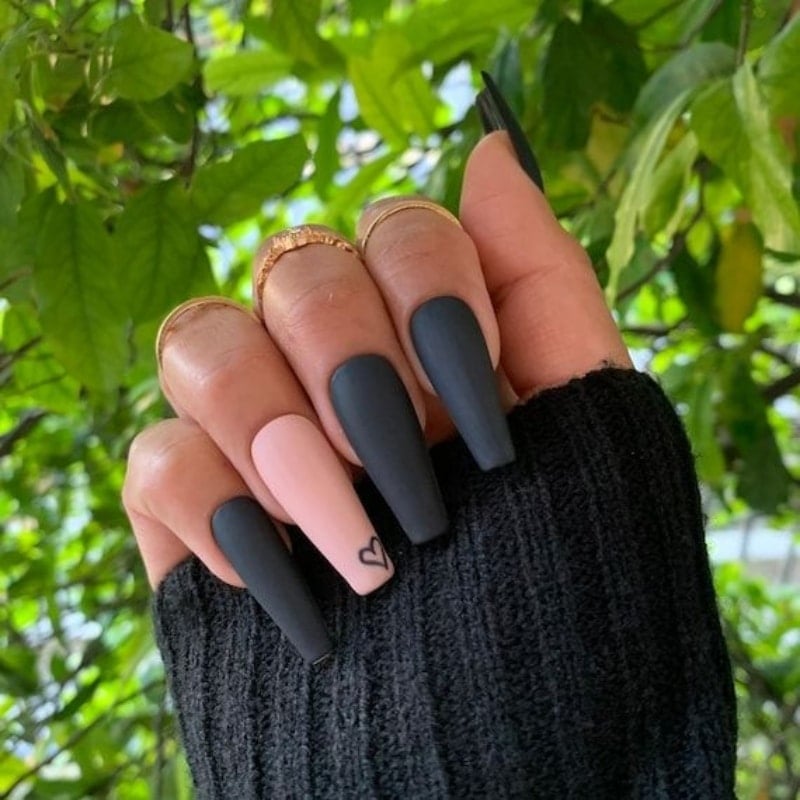 47. Coffin Cute Birthday Nails
It is your birthday, and what better way to alert the world to this than by adding a birthday message to your nail art?! There are many ways to get creative with this idea, letting you find a look that best suits your preference and reflects your style. This could include adding the year of your birth or your age. Or you could spell out the word "happy bday!" on each fingernail. You can choose your favorite color combination and add glitter or jewels to create a more detailed finish.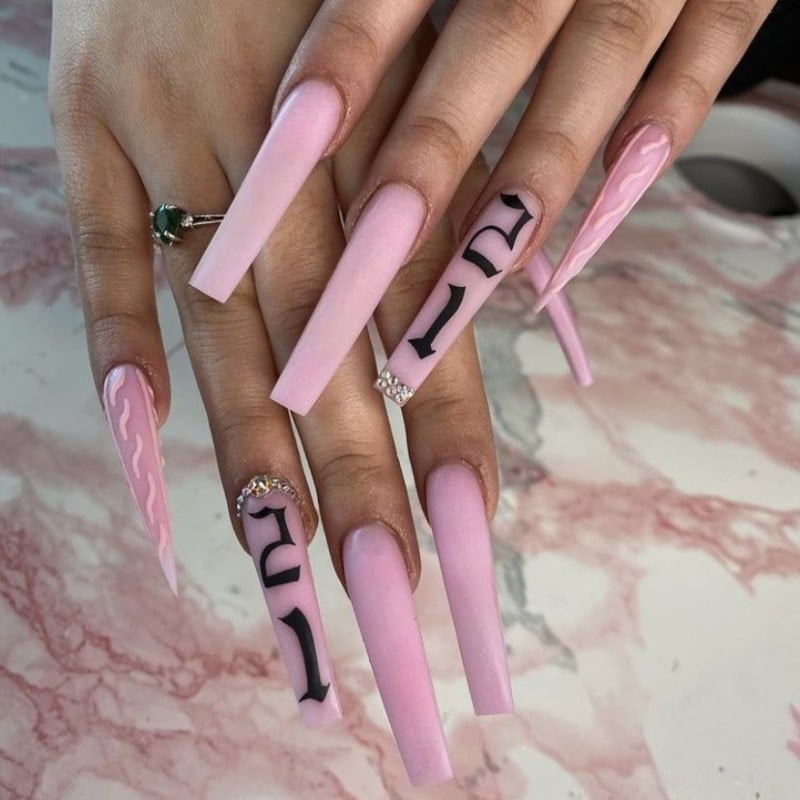 48. Light Pink Coffin Nails
Light pink is a universally flattering color and is ideal for all occasions. If you want the perfect nail design for every day or a look that will be great for formal events, this is the color for you. It is also a hue associated with love and femininity. You can make a subtle statement regarding your thoughts and feelings with your choice of nail art. Coffin nails are loved because of their interesting shape with tapered sides and a straight tip, and even the simplest nail art can enhance them.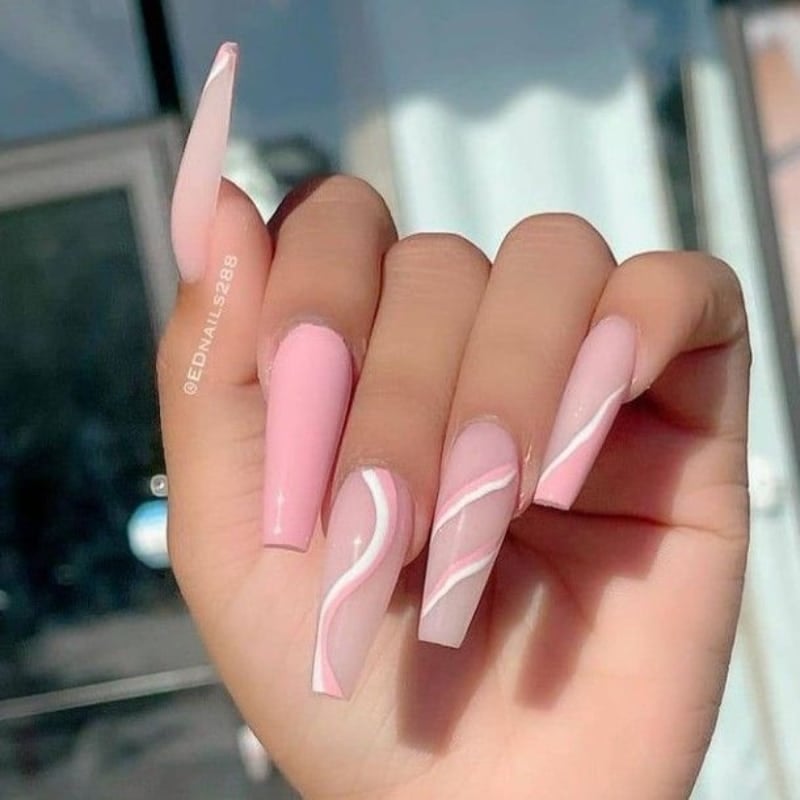 49. Light Blue Coffin Nails
A stunning color for your next manicure is light blue nails. Light blue looks great on most people and will complement a variety of skin tones. It is a color that is easy to wear because it is soft and muted. It is also associated with calmness and tranquility. If you want to create a more detailed design, you can pair light blue with white or other pastel shades. Try a French tip manicure to highlight the shape of the coffin nails. Or combine it with pretty floral artwork for a feminine finish.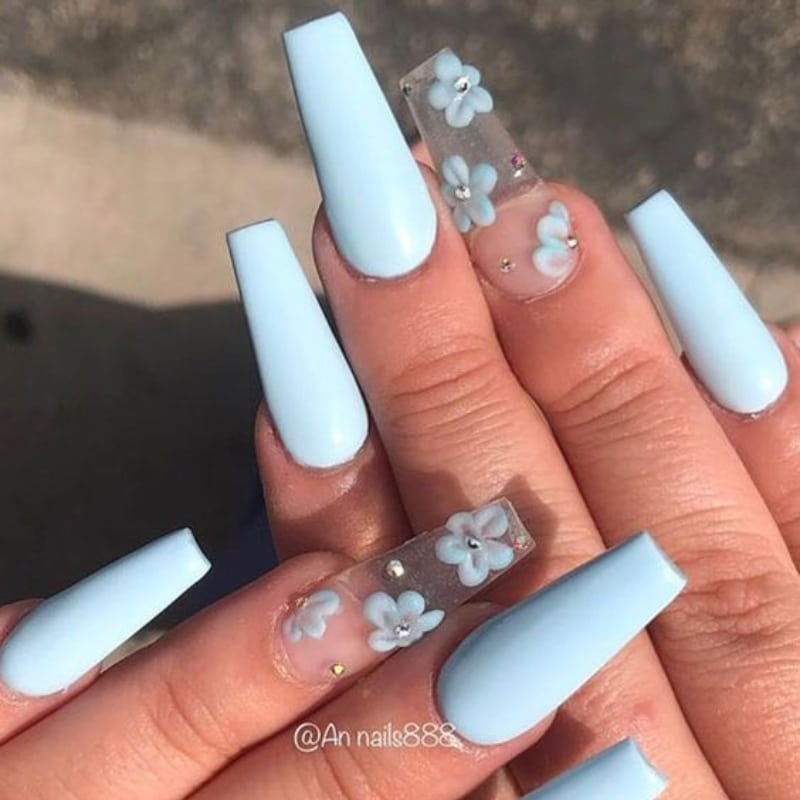 50. Glitter Royal Blue Coffin Nails
Royal blue is a color associated with power, trust, and confidence. The deep shade is also great for those who want to instantly draw attention to their nails because it is vivid and will make a statement. There are several ways to incorporate royal blue into your nail art. This includes mixing it with glitter for a sparkly yet sophisticated finish. With any glitter polish, you should approach it with the idea that less is more to avoid it looking tacky or overdone.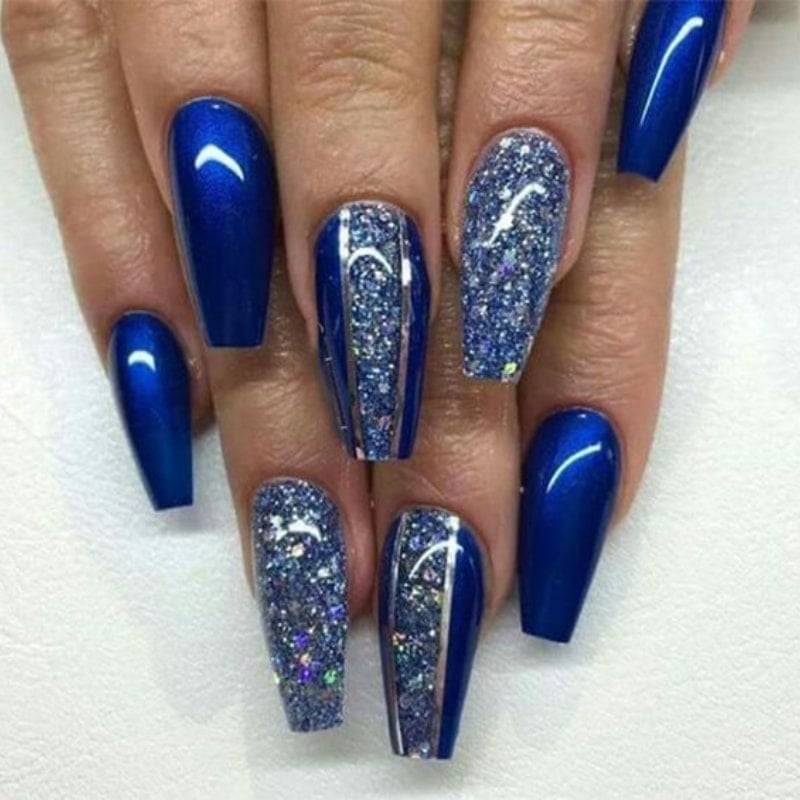 Ballerina vs Coffin Nails
Ballerina and coffin nails are terms that are often used to describe the same thing; a nail shape that is tapered at the sides and has a straight tip. Some argue there are subtle differences between ballerina and coffin nails and the difference is in the way that the nail tapers. This shape is modern and expressive and can be worn long or short. It is also incredibly flattering and looks great with nail art that is simple or detailed.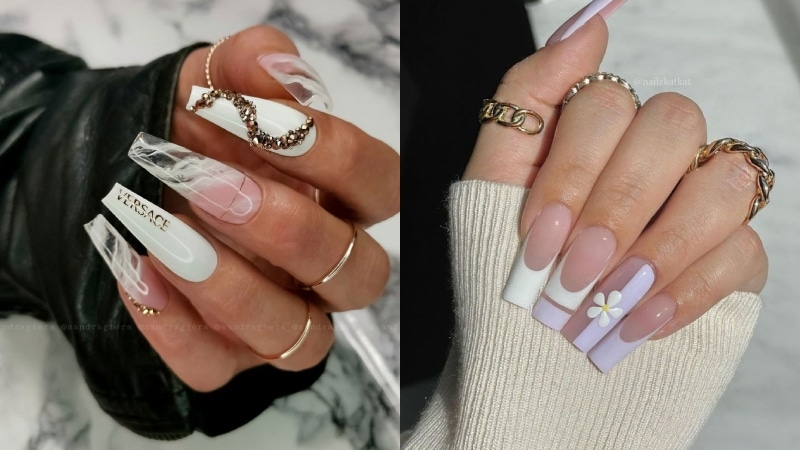 Coffin Nails Shape Tips
To create coffin-shaped nails, file the edge of each side toward the center, and file off the tip.
If your nails aren't very long, consider a short coffin shape or opt for acrylic nails.
Choose a shiny finish for a classic look or a matte finish for a contemporary appearance.
Choose subtle colors like nude and soft pink for an elegant appearance or select more unique tones, like blue or red for a striking look.
Have fun with your coffin nails by experimenting with 3D designs, accent nails, and transparent styles.
Coffin Nails FAQs
What are Coffin Nails?
Coffin nails are sometimes referred to as ballerina nails because of their shape; they either look like a coffin or the top of a ballerina slipper. The nails have tapered sides and a straight tip. This is a modern and fun option and a more practical one because the straight tip makes the nail durable. They can be created on nails of most lengths, but the longer, the better to allow for a more distinct tip. If done by a professional, they can last around three weeks before needing to be filled.
Do coffin nails break easily?
Coffins are more likely to break than rounded end styles because the squared-off tip creates weak points. However, if you're careful about the activities you do, you can avoid them breaking.
What do coffin shaped nails look like?
Coffin nails have curve edges, similar to oval or almond nails, but have a squared-off tip. This is where they get their name because it looks similar to the shape of a coffin. It can also be called ballerina nails because the squared tip is reminiscent of pointe shoes.
How to Shape Coffin Nails?
When shaping coffin nails, it is much easier to recreate them if your nails are longer. To shape your nails, it is best to start with an almond shape, except that instead of a pointy tip, you want a straight one. With great care, cut the tip with a pair of cutters along with the nail at the length you want. Coffin nails can also be reshaped from square nails if they are long enough. They can be created on your natural nails or with acrylics; the latter may provide more strength.
What is the most popular nail shape?
The most popular nail shapes are almond, oval, and coffin/ballerina. They allow for a lot of creativity and make a bold statement.
What nail shape is best for your hands?
The best nail shape for you will depend on the length and size of your fingers, as well as your lifestyle. Round and stiletto nails are best for short fingers, while squares are very low maintenance. You can elongate your fingers with almond and oval nails, which can also balance out a broad palm. Enhance long slender fingers with coffin nails, and if in doubt about choosing a shape, almond nails tend to be universally flattering at any length.
SUBSCRIBE TO OUR NEWSLETTER
Subscribe to our mailing list and get interesting stuff and updates to your email inbox.