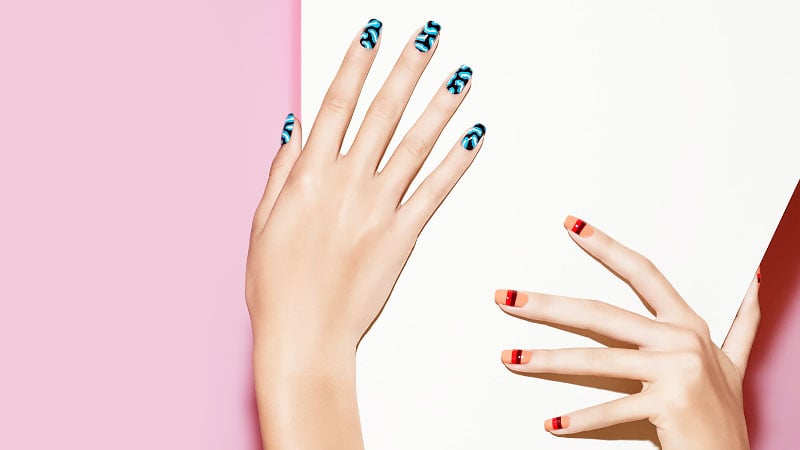 A fresh manicure or pedicure can make you feel like you're walking on air – even if you're relaxing at home, sipping a glass of wine, and binge-watching Netflix. From old school to modern designs, the square nail shape has come back to life, being more popular than ever this year. This style channels simplicity yet leaves plenty of room for creativity. If you love your manicures and need some new ideas for your next fresh set, then we have got you sorted.
1. Glitter Ombre Square Nails
Glitter ombre feature nail trend remains very popular all year round. The sparkle on one of your fingers makes you feel like you've got diamonds engraved into you. This trend has been vamped up this year, with an ombre effect taking the spotlight. Choose any shade of glitter that you're obsessed with and pair it with classic color nail polish for a modern statement manicure.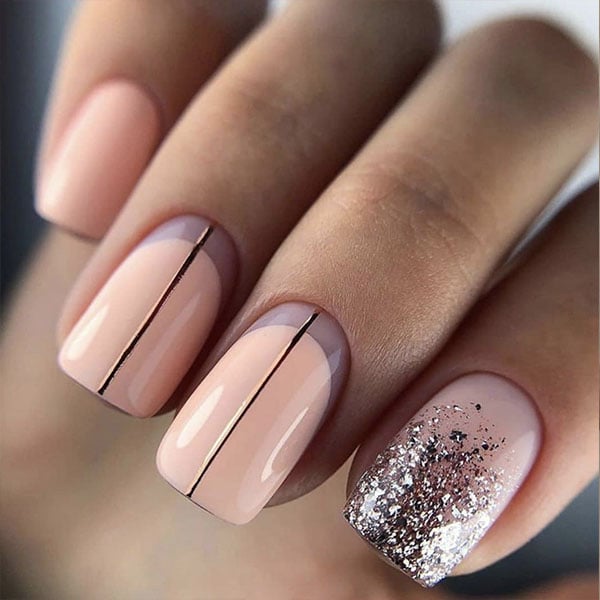 2. Matte Square Nails With Line Art
This unique nail design is currently popular for its simplicity and sophistication. Delicate line square nail designs can add a touch of class to your next manicure. The lines can appear on your nails in various designs and shapes and can be entirely different for each nail. It is a style you will fall in love with due to its pure beauty; it looks perfect in a matt finish. Start dialing your nail salon so you can jump on this popular design.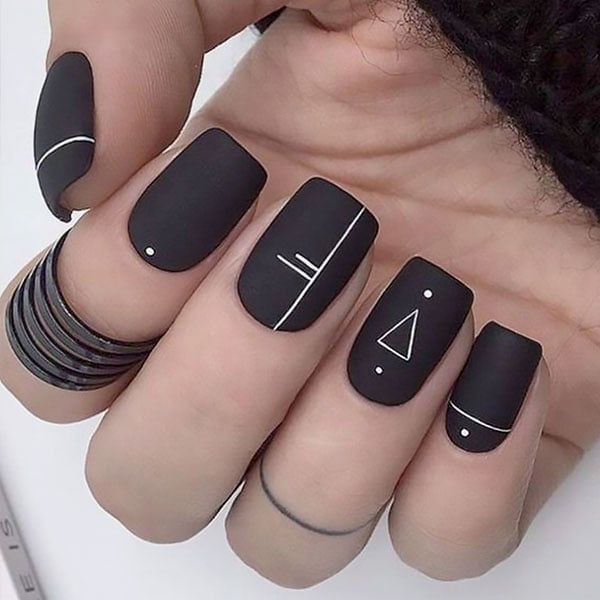 3. Marble Feature Square Nails
The marble trend is so popular this year that you can find almost anything in this finish. Whether it's coffee mugs, notebooks, or square nails, this texture can suit anything. This simple yet very effective square nail design will be your ultimate go-to when you can't decide on a style you want. Be simple and gorgeous with your next manicure, adding a touch or whole bucket full of marble-inspired designs.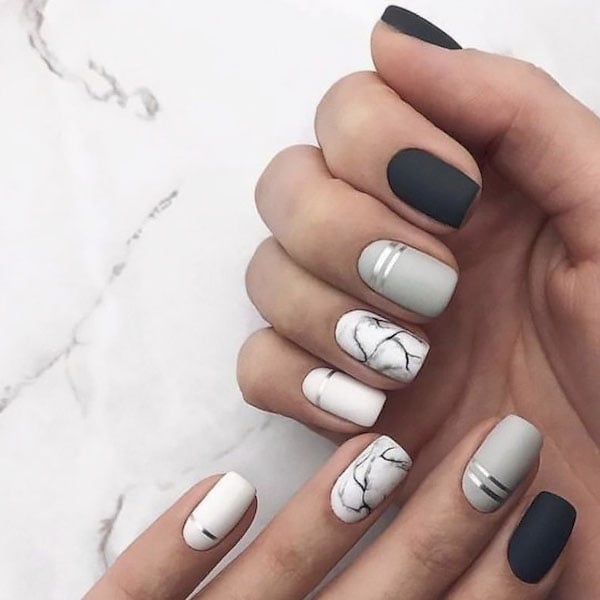 4. Flaming Hot Square Nails
This square nail design is one that will catch the eye right away. Although it's out there, it is a popular nail trend and looks cool. Flame designs on square nails are a style that can be played around with to suit your look and activities. Keep it basic with nude and white tones so that it blends in more. If you're up for a challenge, try bold colors like bright blue, yellow, or orange to highlight the unique flames on your nails. This design is versatile as well, which means square nails are perfect.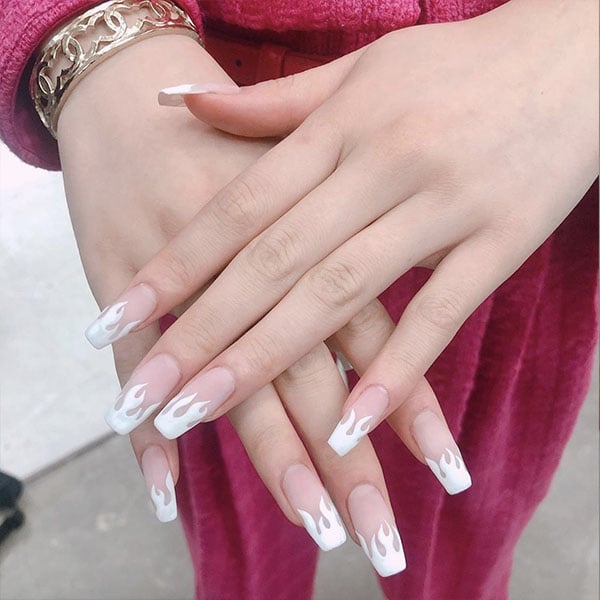 5. Ombre Square Nails
Ombre is a popular choice when it comes to manicure designs this year. The bright colors transition into lighter or the opposite shades along with your nail, which creates a cool effect. This trend is perfect for summer as bright and bold colors go perfectly well with summer outfits. If you love to spend time in the sun, then these ombre square nails will compliment your glowing skin while sunbaking on the beach.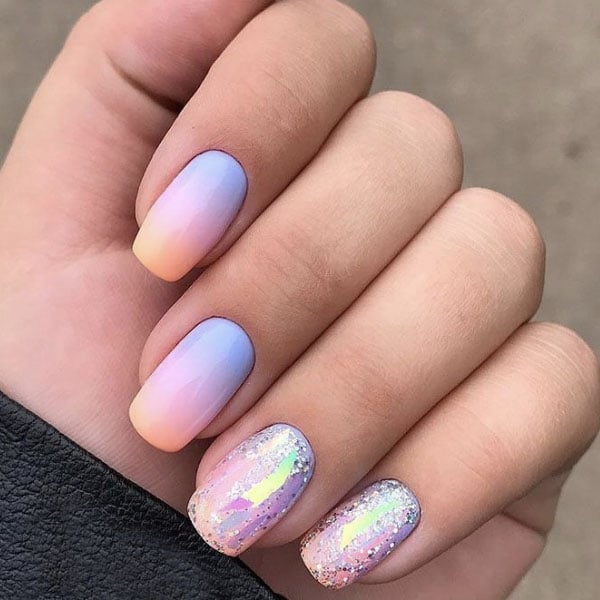 6. Matte Pinky Nude Square Nails
An alternative option on the classic nude nails is the budding nail trend of matte pinky nudes. These shades look sleek and girly on square nail designs, leaving plenty of room for creativity. They also suit any outfit choice, whether it be classy or casual. The amount of shades is endless, so you won't be lost when selecting the perfect color at your next nail appointment.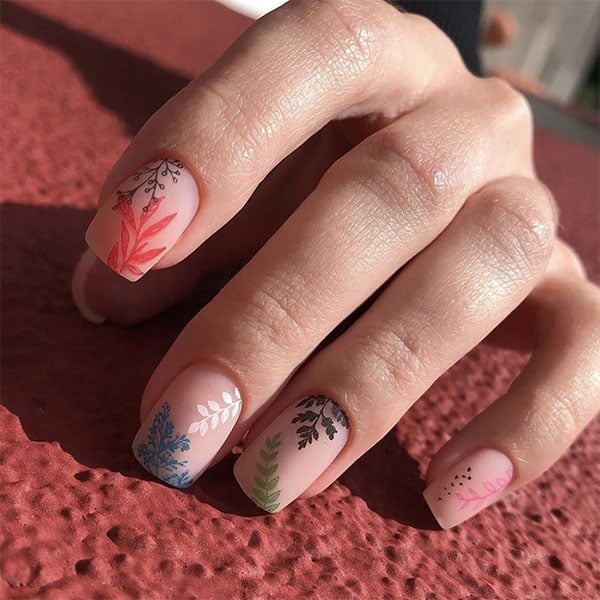 7. Tone Variation Square Nails
A unique and fashionable nail style that is creating a lot of buzz right now is tone variations. This nail design includes choosing one primary color starting at the thumb. The shade begins at its darkest and slowly gets lighter as each nail is painted. Alternatively, you could select a different pastel color shade for each nail. Square nail designs are perfect for this trend due to their basic shape, leaving an ideal canvas for your nail technician to work her magic.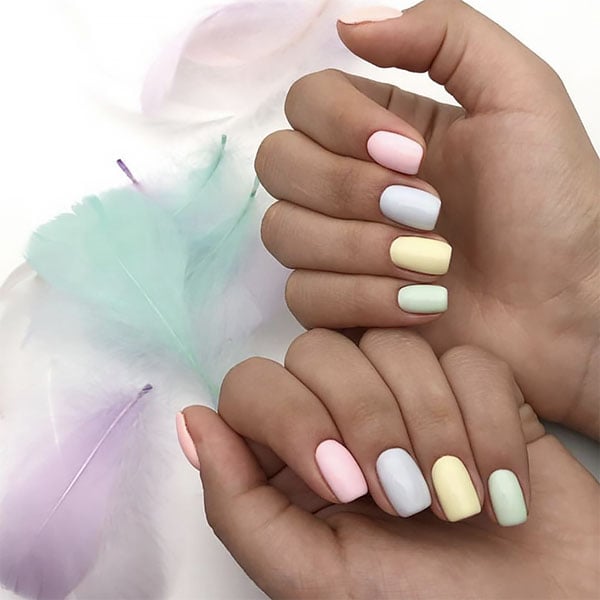 8. Geometric Designs Square Nails
Geometric patterns can add a unique and stylish touch to your fresh set of nails, which is why it's one of our favorite. You can mix and match the designs across each nail or add glitter for an extra bit of sparkle. This square nail design is also perfect if you're undecided as each nail will look different from the others.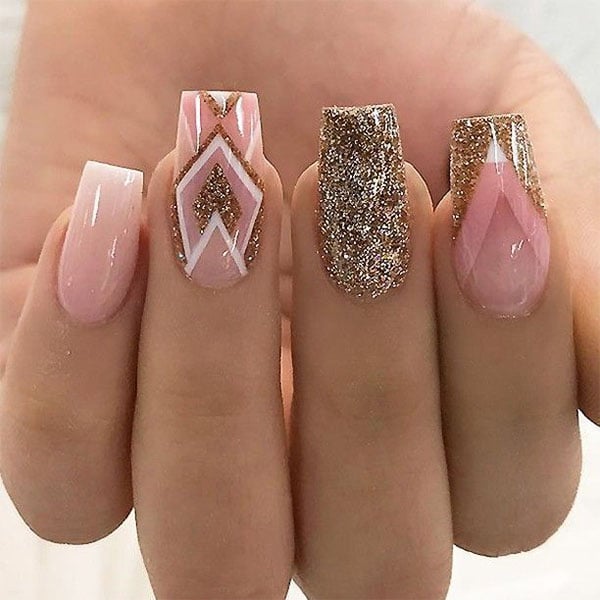 9. 3D Shapes Square Nails
If you're feeling a bit adventurous at your manicure appointment, maybe it's time to experiment with your nail designs. Square nails with 3D shapes are trending and bring a unique aspect to traditional nail designs. You can be as straightforward or as outrageous as you like with your plans. Keeping it super cute would be to place 3D flowers or stars on top of a base color. Your nails will be drawing compliments left, right, and center!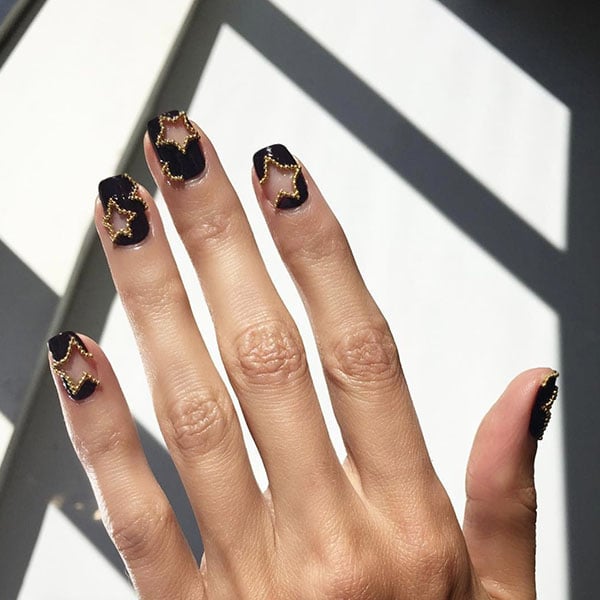 10. Half Square Nails
This gorgeous square nail design is something that allows for a whole lot of creativity and very little criticism. The half nail design is a unique style that provides for a variety of patterns, shapes, and line art that is implemented into what would have been just a basic one-color nail design. A vast amount of patterns can be used to create the ultimate half nail design on your set of fresh square nails.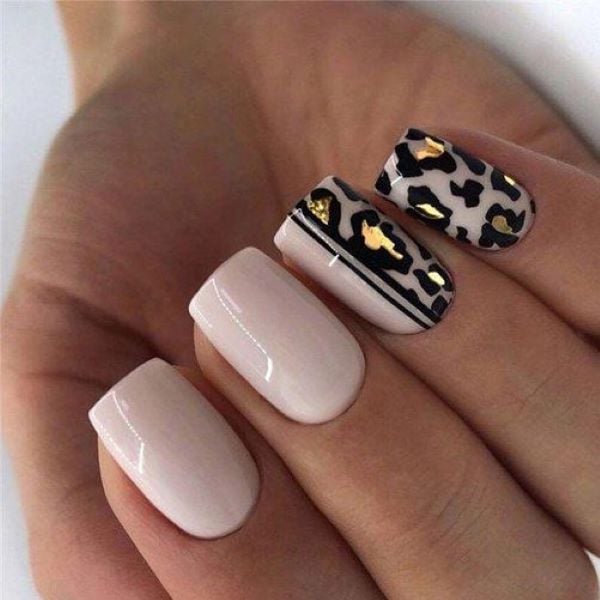 11. Pastel Tip Square Nails
Pastel colors resonate with candy, ice cream, and smoothies, which are all popular warm-season foods. So, brighten up your outfit with a cute set of pastel tip square nails and watch how fast the compliments come in. This style is ideal for a subtle look and avoids any outfit clashes throughout the summer party season. It is a gorgeous square nail design and would suit any woman's nails.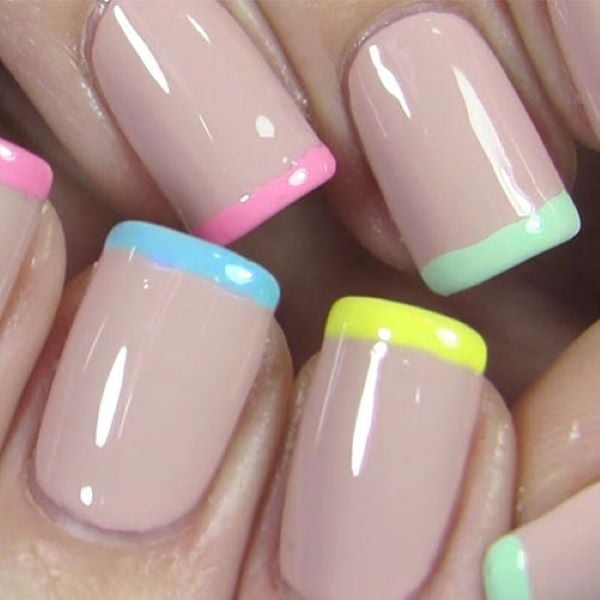 12. Metallic Square Nails
This extremely crazy nail design is definitely on trend for all of the right reasons this year. Metallic nails are becoming the next must-have style as it is something unlike anything else. You can channel futuristic vibes, creating a look that many wouldn't dare to try. This design can be created in a range of colors but works best with rose gold, gold, and silver. It is a trend worth trying out, even if it's just for a week.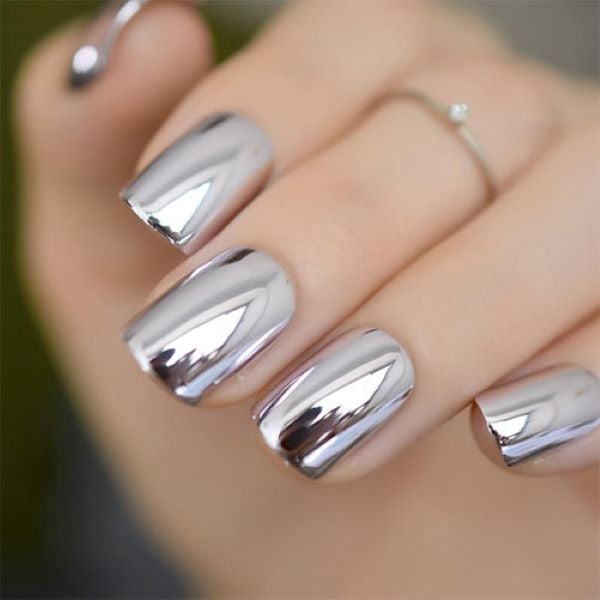 13. Quirky Square Nails
If trying something different is calling your name, then these gorgeous quirky square nail designs will be your next best friend. Unleash your inner artist and create a look that has not been seen before. Mixing base colors, shapes, lines, and even words into one look will be a blessing in disguise. Your next set of square nails will stand out from the crowd.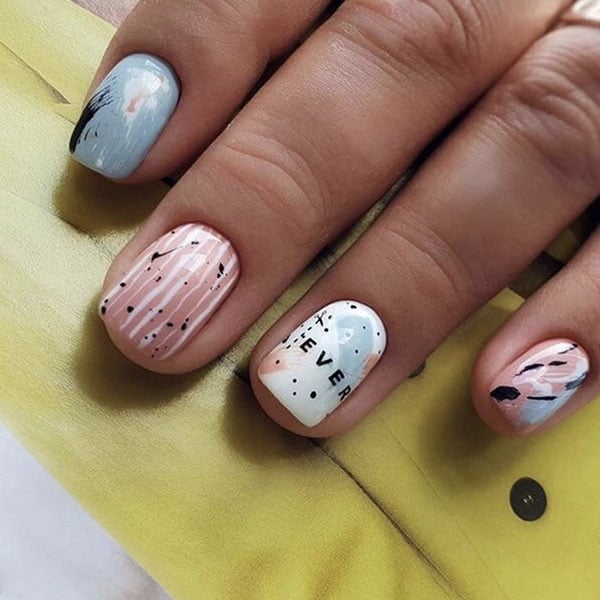 14. Faded French Tip Square Nails
It is a modern twist on a classic favorite. The square nail design focuses on the traditional French tip style, but with a slight alteration. The pale pink and bold white colors blend in appearing as a faded tip. This design is less harsh for the eyes and a bit of a change for the nails. If you're after a more natural French tip design, then the faded french tip square nails are worth trying out.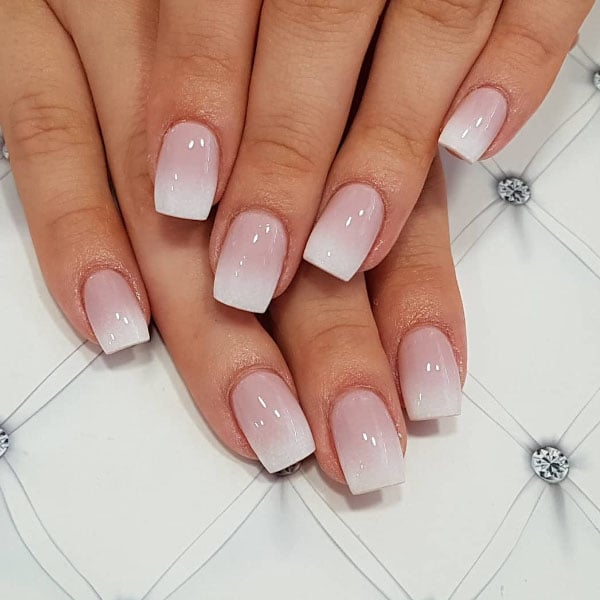 15. Glitter Feature Square Nails
The glitter feature nail is many girls' go-to nail design. It is super cute and suits any nail color. From earthy-nude shades to bright and bold palette, a glitter feature nail goes with anything. It can be on any finger of your choice, but the majority of women pick the ring finger.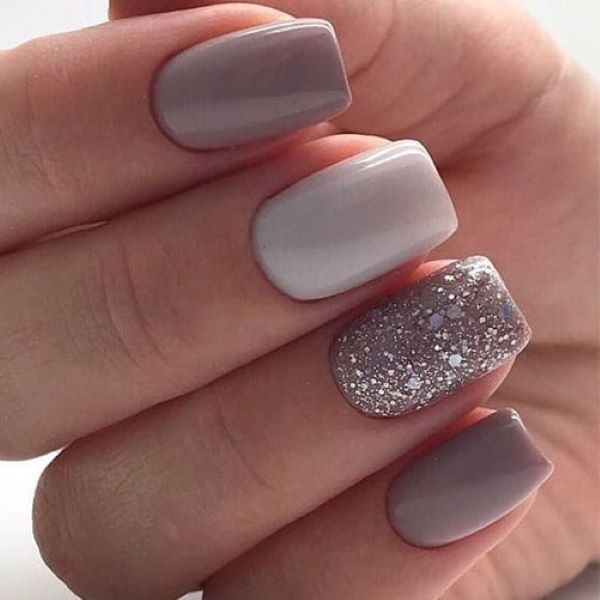 16. Short Square Acrylic Nails
Acrylic nails are ideal for those who want nails that are strong and durable. They can be created in varying lengths and shapes and while most people opt for long nails, keeping them short is just as appealing. This is because short nails are low-maintenance and are less prone to breakage. Square nails are easy to create, and the width makes them stronger. Acrylics are also fantastic for nail art, letting you create the manicure of your dreams.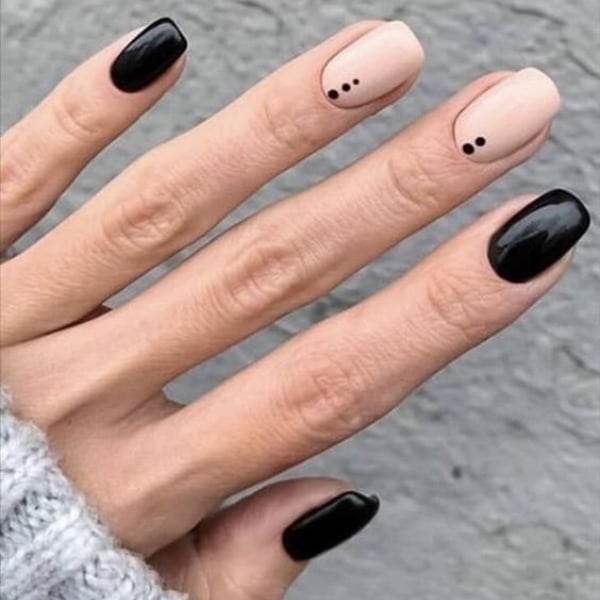 17. Long Square Nails
Long nails are great because they can elongate the fingers, making them appear longer and slimmer. They also offer a lot of versatility with how you wear them, letting you try out multiple nail art designs without overwhelming the nail. The square shape is easy to create, but the shape, cut straight across, can give the illusion of width. This is great for some women but can also make the finger appear short and stubby, but with long length, this is counteracted.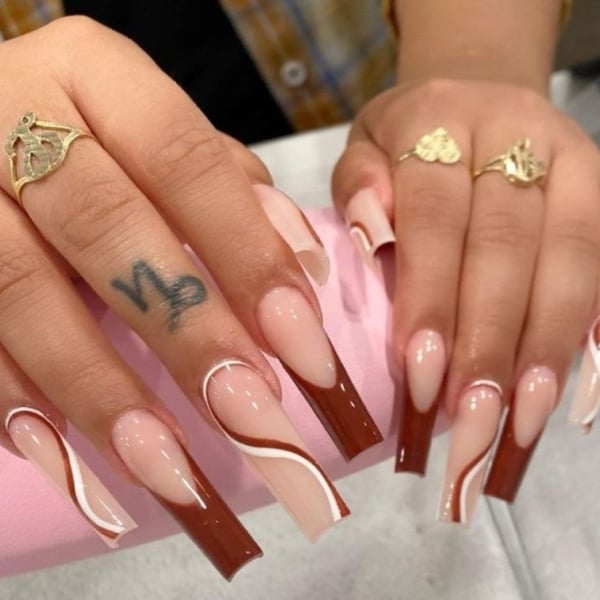 18. Tapered Square Nails
Tapered square nails create a less dramatic shape as the edges are not as sharp, gradually tapering to a flat tip. They resemble ballerina nails and are incredibly flattering and feminine, especially when worn longer. This is a gorgeous shape for elongating the fingers but also lends itself well to nail art, letting you create simple or detailed manicures. For a pretty and wearable manicure, opt for an ombre effect.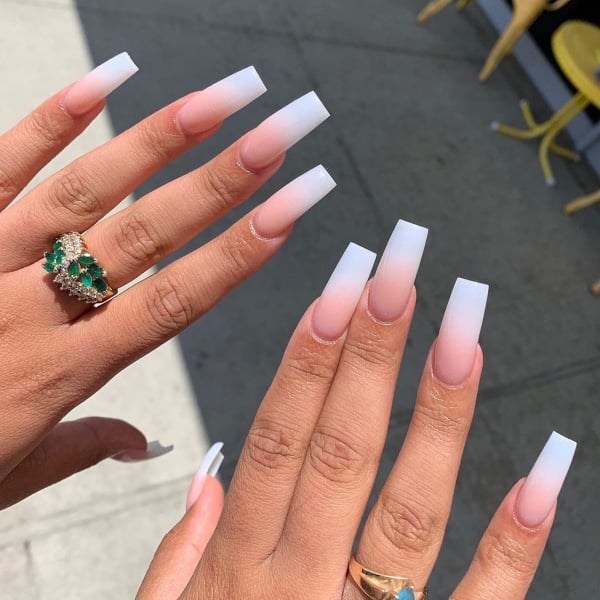 19. Medium Square Nails
Square nails can be worn short or long, but consider medium square nails if you want to try out the best of both worlds. This length is not so long that you are restricted with your activities, and there is versatility with nail art. Medium-length nails can look feminine, but they are also practical and will be less prone to breakage. The square shape, which is filed straight across, is simple and wearable, lending itself well to various settings.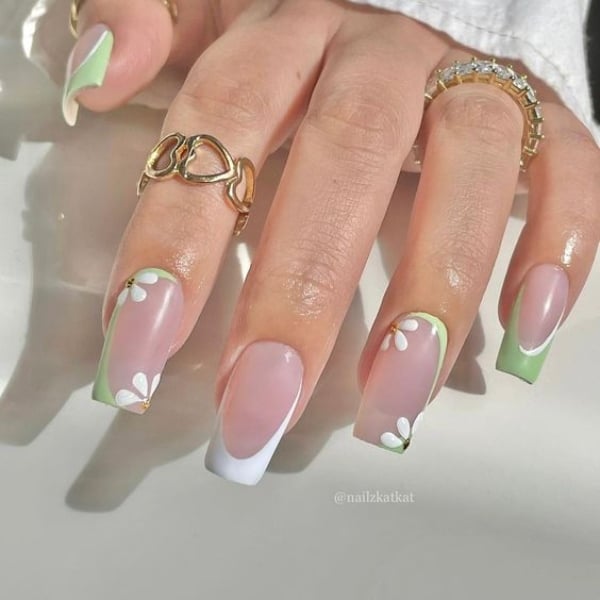 20. White Square Nails
Square nails can be worn at all lengths and are simple in appearance and practical. The simplicity also lets you experiment with different nail art and colors, with an appealing choice being white nail polish. White is a crisp and clean hue associated with new beginnings, innocence, and purity. Painting your nails with a white lacquer is a great way to draw attention to the shape and feels modern. You can also try different effects, like ombre, which blends two colors or add gold or silver details over a white base coat for a luxurious appearance.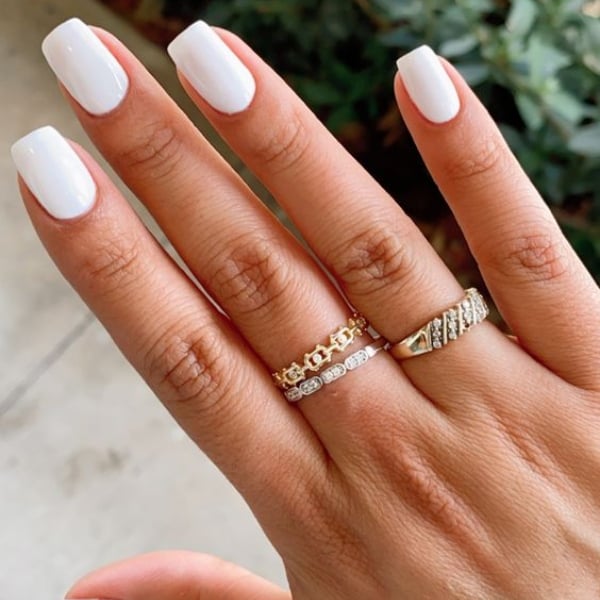 21. Rounded Square Nails
Rounded square nails do not have a straight across shape with sharp edges and instead feel softer with the edges filed to a curve. This is an incredibly versatile shape that is easy to wear, durable, and looks natural. It can be worn short or long, with simple or detailed nail art, and on women of all ages. The simplicity of the look also lets you experiment with unique designs and bold colors.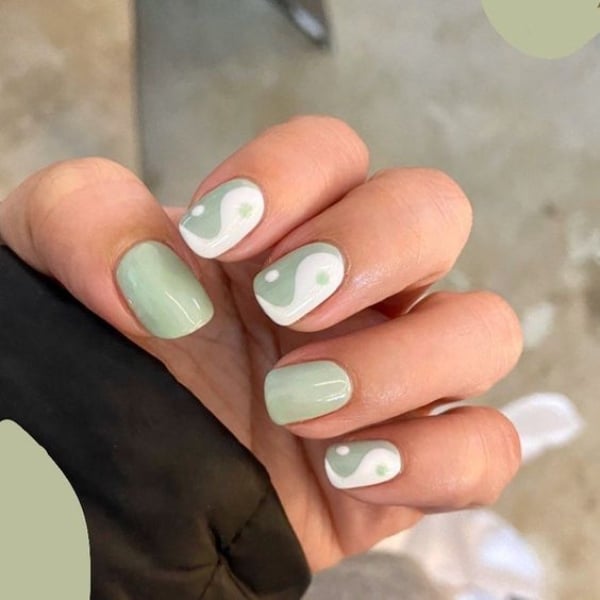 22. Skinny Square Nails
Square nails feel timeless and are incredibly easy to wear and create. The simplicity is their appeal, lending itself to various settings and making it easy to add nail art. For a modern approach to square nails, you can create them so that they are skinnier. Rather than giving the illusion of width, this shape can help elongate the finger and look feminine. The approach works best with long nails for a more dramatic finish, but there is something for everyone and every aesthetic.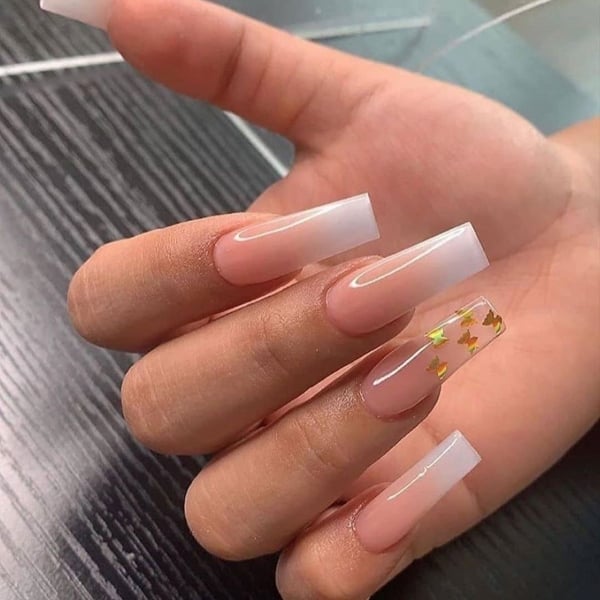 23. Black Square Nails
Black is a color that demands attention and is associated with sophistication and power. The black nail art feels modern and exciting, and it is a color that mixes and matches with everything and will complement all nail shapes and lengths. The dark hue can highlight the shape and create a fashion-forward finish with square nails. You can also pair the color with brighter colors, creating an interesting contrast, for example, a modern approach to the French tip nail with red on the tips and a black base color; this is a look that will complement the square shape.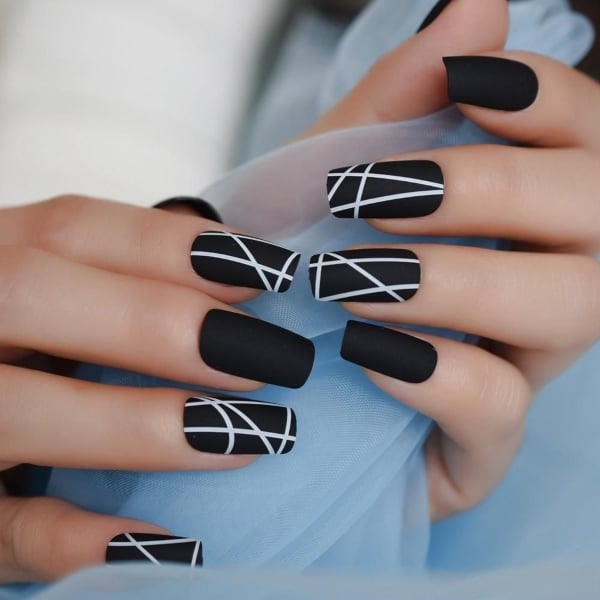 24. Pink Square Nails
Pink is a universally flattering color associated with love and femininity. It is a wonderful option for all nail lengths and shapes but looks striking on square nails. Square nails are popular because they are easy to achieve, timeless, and practical. They are less likely to break and are often stronger and more durable. There are also many ways to personalize your nail art to reflect your personality, and with pink, there are various shades to choose from, letting you find the hue that best suits your skin tone.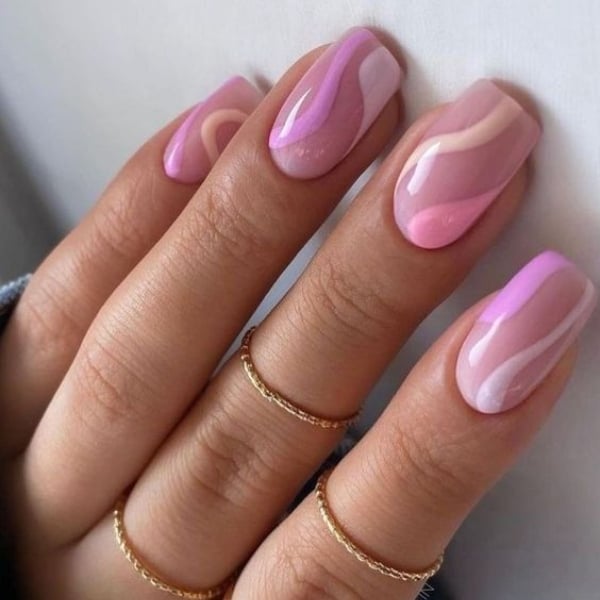 25. Square Coffin Nails
Coffin nails and square nails share similarities, except the coffin shape is tapered on the side with curved edges, only featuring a square tip. The shape lends itself well to nail art and can be incredibly flattering. They can be worn long or short but look best when kept longer, giving the look more versatility. The downside is that this nail shape is prone to breakage because the squared tip can create a weak point. However, this shape can be stronger than pointy nails and is very feminine.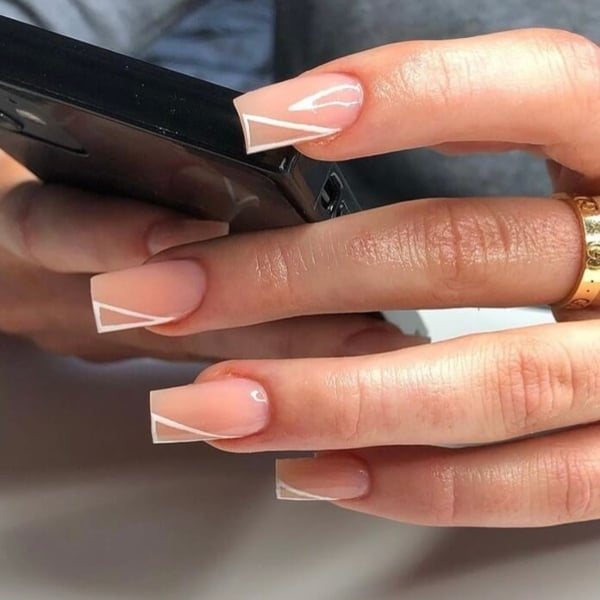 FAQs
Are square nails in style?
Square nails have a sort of timeless feel about them. They are practical, easy to achieve, and the shape's simplicity allows you to get creative with patterns, colors, and trends. The style enjoyed popularity in 2019 specifically, but in 2021, the focus tends to be on longer nails like coffin or almond.
How do you shape square nails?
Square nails are perhaps the easiest shape to achieve from home. Cut your talons with a nail clipper, and file them straight across. Another pro to the square form is that they are not likely to break because it follows your nail's width.
How can I change my nail shape from round to square?
To transform your round nails to square, you should start by trimming them to remove some length. This will also create a square shape. Then simply file the nails straight across, and smooth out any edges to avoid roughness and sharp pieces.
What nail shape is in style 2021?
If you want feminine and stylish nails, you will be pleased to know that almond nails are a big trend for 2021. The shape, along with coffin and tapered square nails, will be among the most popular choices.
SUBSCRIBE TO OUR NEWSLETTER
Subscribe to our mailing list and get interesting stuff and updates to your email inbox.