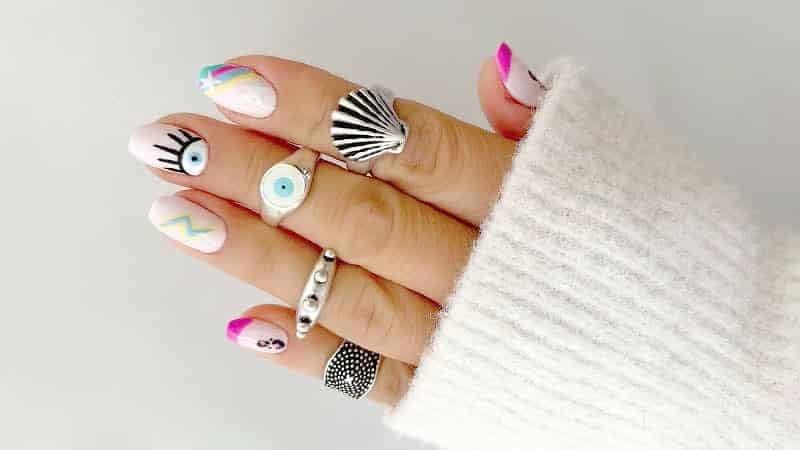 There is no denying long nails are gorgeous and are an excellent way to make a statement and get your hands noticed. But, despite all the pros that come with this length, they are not practical. On the other hand, short coffin nails are a perfect combination between practicality and style and the ultimate option for your next manicure. The shape is tapered on the sides and paired with a flat tip, giving you an interesting finish that will become the perfect canvas for a range of different nail designs. Whether you want to get creative with color combinations or unusual patterns or keep it simple and sophisticated, there is a look to suit everyone. Don't believe us? Keep reading to find out more and become inspired.
RELATED: 40 Coffin Nail Designs & Shape Ideas
1. Short Coffin Acrylic Nails
If you are looking for a trendy yet practical manicure, short coffin nails are the ideal choice. The interesting shape, which features tapered sides and a flat tip, coupled with the length, makes it the perfect match. You will not have to worry about restricting your activities or breakage, and can still benefit from the flattering finish. For the best results, keep your nail art simple and chic, for example, a floral design.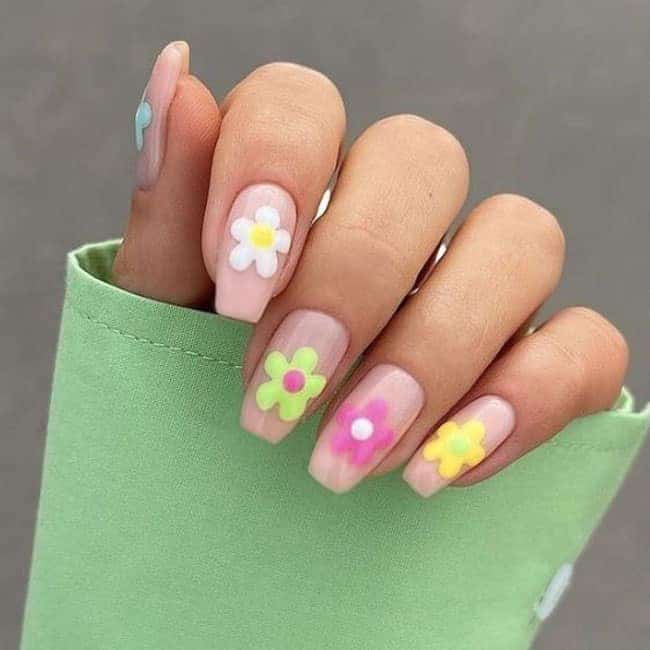 2. Short Coffin Press on Nails
A great manicure can make you look and feel amazing, but a trip to the salon can be time-consuming and pricey. If you want to cut back on the cost and create a stunning look from the comfort of your home, what better way to do this than with press-on nails? These are artificial extensions that are premade, shaped, and secured with glue or a similar adhesive. The best part is that there are a wide variety of options available, including coffin nails.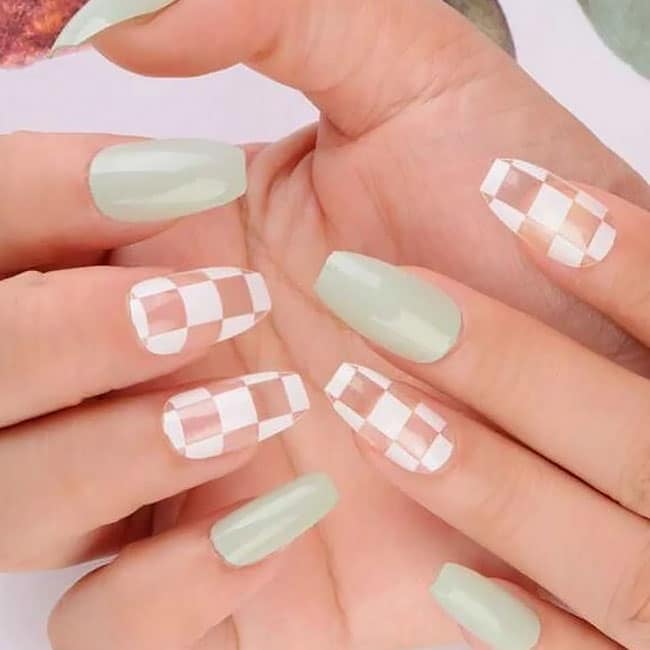 3. Summer Short Coffin Nails
You can get creative with summer nail designs, and this is the time to show off your artwork and experiment with bright, bold colors. Or, if you are a woman who prefers a simpler approach for her manicure, then you can opt for pretty pastels for a subdued but no less chic finish. Floral or heart designs are cute and feminine and will be the perfect addition to your coffin nail shape. This is because it has a versatile and flattering appearance and is great when worn long or short.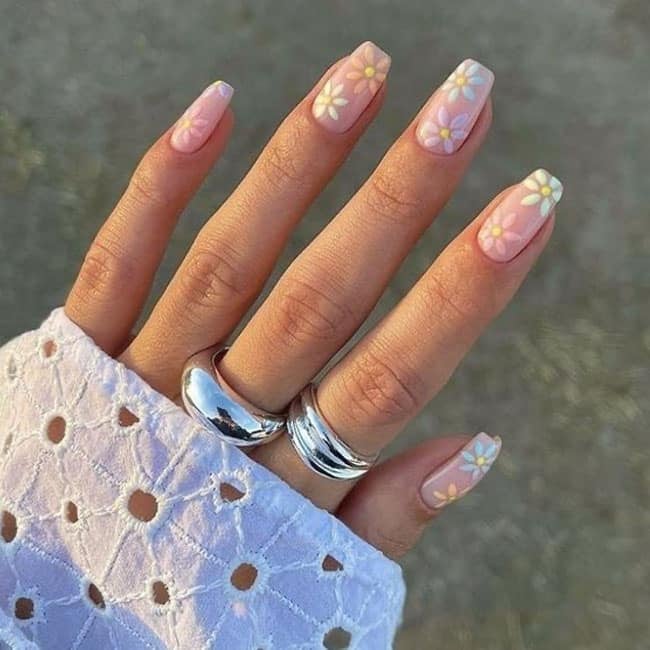 4. Winter Short Coffin Nails
When the weather cools down, that does not mean you have to stop showing off your hands. A great way to embrace the cold is with winter nail art. The classic approach often combines shades of blue, white, and metallics for a frosty finish. But you can also get creative with your designs and experiment with different textures. Short coffin nails are an excellent choice because they are practical yet trendy.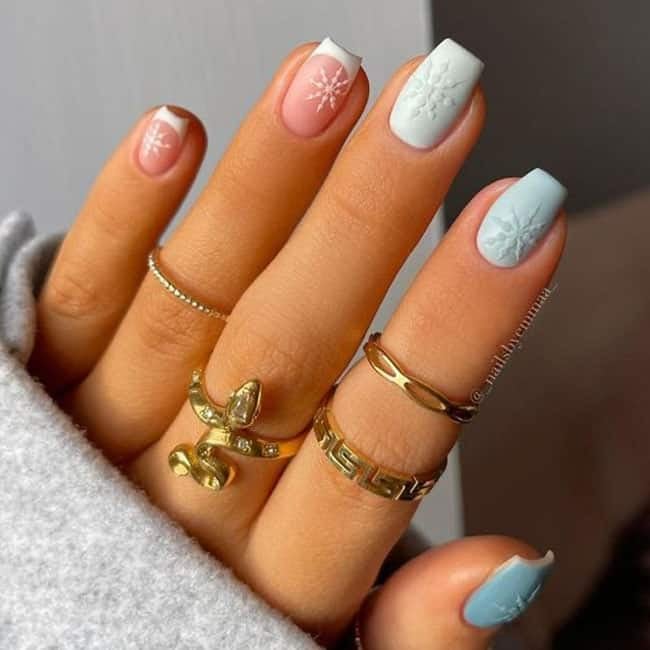 5. Fall Short Coffin Nails
Fall nails are all about embracing the season and mixing and matching your favorite autumnal hues. These are often earthy colors like deep red, burnt orange, rich browns, and greens, and can be easily combined with artwork for a more detailed finish. Alternatively, you can keep it minimalist by focusing the colors on the tips for a modern approach to the French manicure. And what could be a better shape to serve as the canvas for your autumn look? Short coffin nails, of course!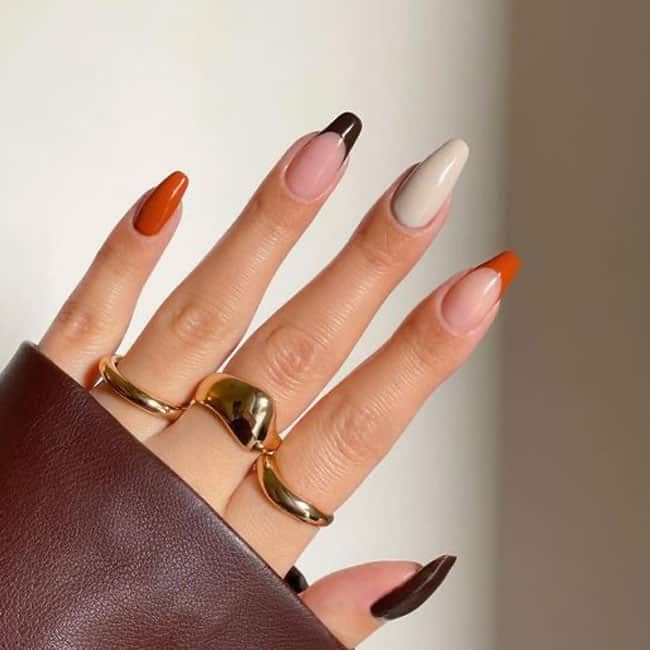 6. Spring Short Coffin Nails
Spring nails are often worn as a celebration of life and new beginnings. It is a time of the year when everything is in bloom, which is why floral designs are so popular. If the classic look is not to your liking, why not opt for something more abstract with bold color combinations or an interesting pattern? Squiggles are an excellent choice because they do not have to be precise, giving you more freedom with how you create them.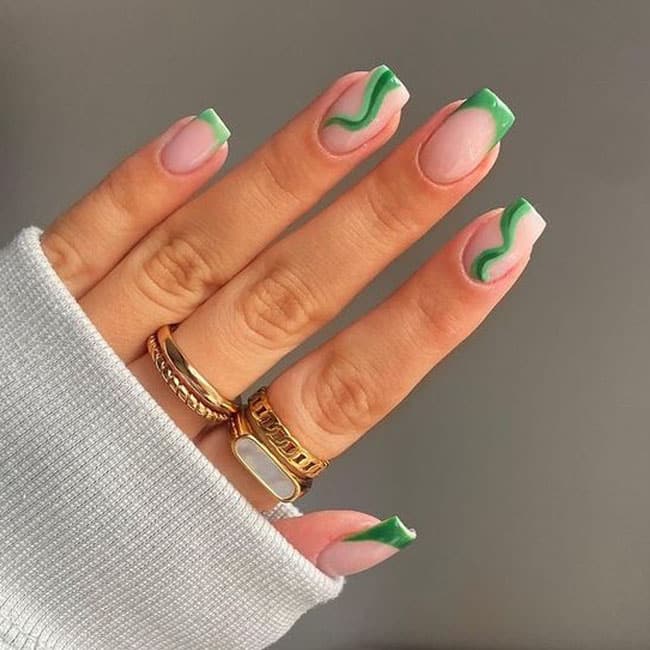 7. Ombre Short Coffin Nails
Ombre nail art is one of the best ways to highlight your short coffin nails because the way the colors gradually blend will make the shape more noticeable, focusing the darker hue at the tip. The beauty of this technique is there is so much versatility, and you can combine the hues of your choosing, including pretty pastels and neutrals. To give your manicure a more detailed finish, try adding cute artwork over it, for example, stars or clouds.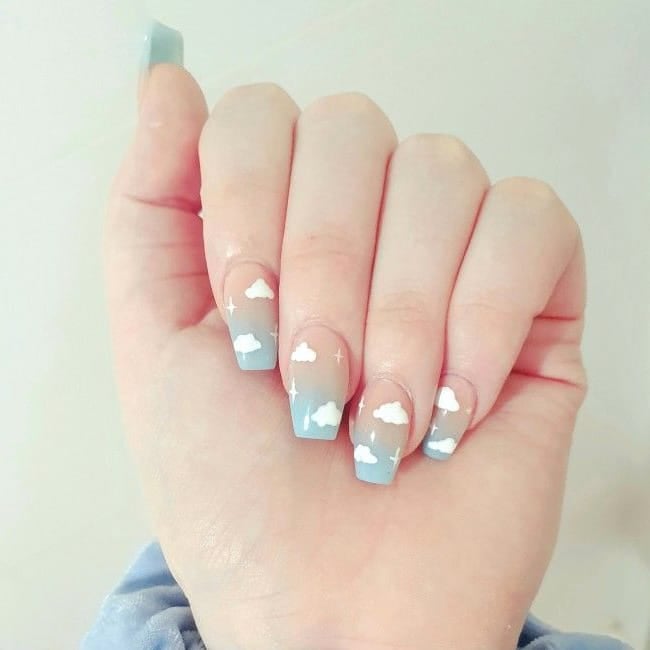 8. Classy Short Coffin Nails
There is a time for bold nail art that is designed to be eye-catching and will make a statement, and there are other moments you will prefer something subtle and classy. This option is ideal for every day and will lend itself well to a variety of occasions, including special events or work functions. The simplicity of the look, with the thin gold line across the tips, will further highlight the coffin shape.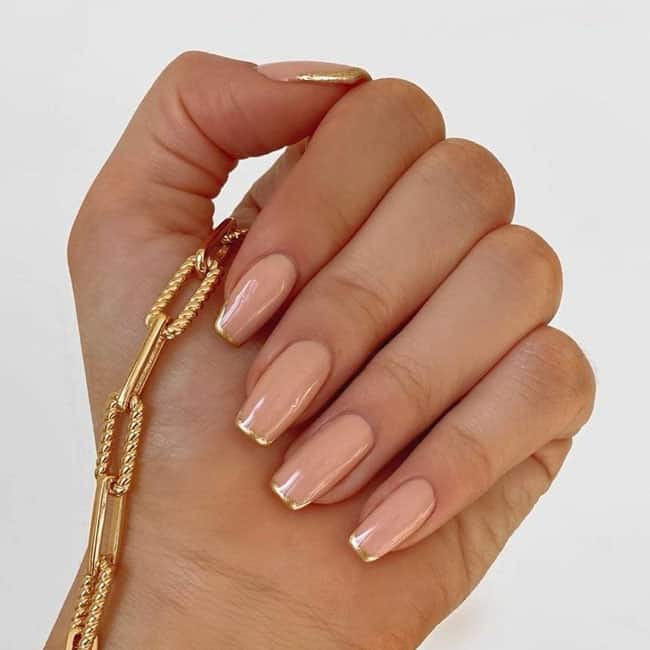 9. Short Coffin French Tip Nails
French tips are a classic option that will complement women of all ages and can be added to various shapes. With coffin nails, this design will make the form, which features tapered sides and a flat tip, all the more noticeable. For a subtle finish, choose neutral colors, or ditch the sleek option for something more daring. Try out clashing colors, bold shades, and even ad patterns or artwork at the base to create a contrast.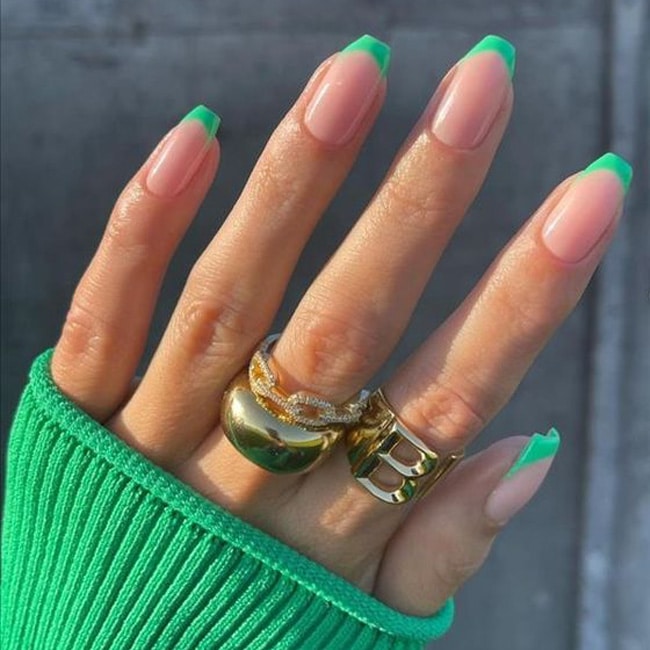 10. Cute Short Coffin Nails
For a cute and girly appearance, this simple but feminine design is exactly what you have been looking for. It will also work well on all nail shapes and lengths, including short coffin nails. Florals are ideal for your manicure and can be created in the colors of your choosing, but they are also symbolic. Flowers represent beauty and growth, and you can channel these qualities with your art, reminding yourself that you are a girl boss.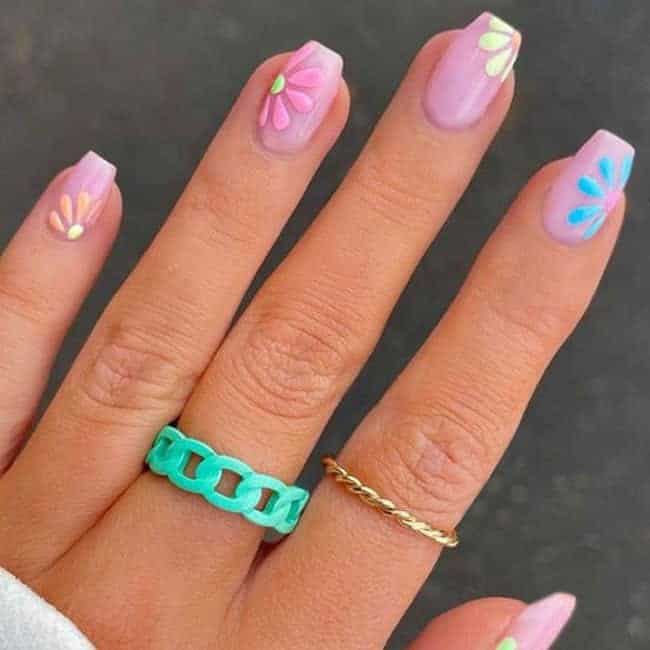 11. Unique Short Coffin Nail Design
What makes nail art unique, you ask? Well, the key is to think outside of the box, and instead of choosing classic looks that can feel dated and uninspired, use your creativity. You also want to blend different colors, try unusual textures to create contrast, and combine your favorite prints, patterns, and artwork. This is a manicure that is designed to make a statement, so let it do just that.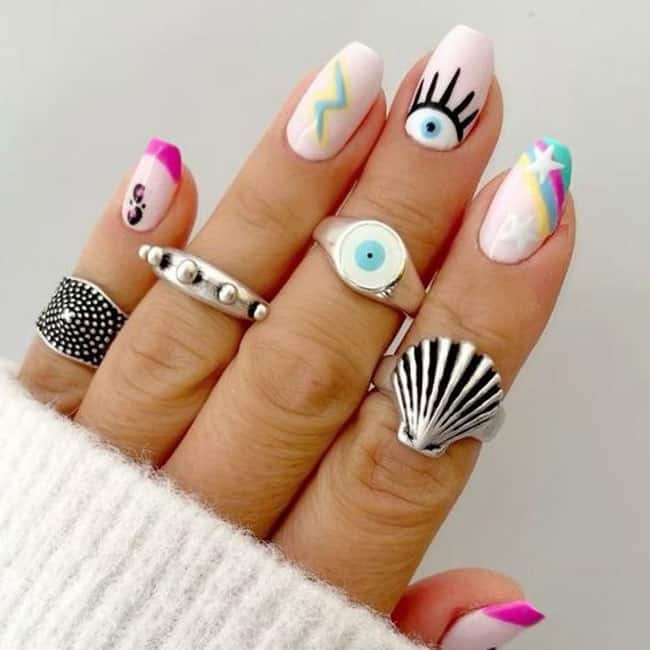 12. Black Short Coffin Nails
Black nails are a sleek and sophisticated choice and pair well with all lengths and shapes. A short coffin manicure is practical and stylish and will be complemented by the dark hue. Opt for an all-black finish for a minimalistic approach, or try out a monochromatic design to give your nails contrast. This option will also let you add patterns and designs of your choosing for a more personalized result.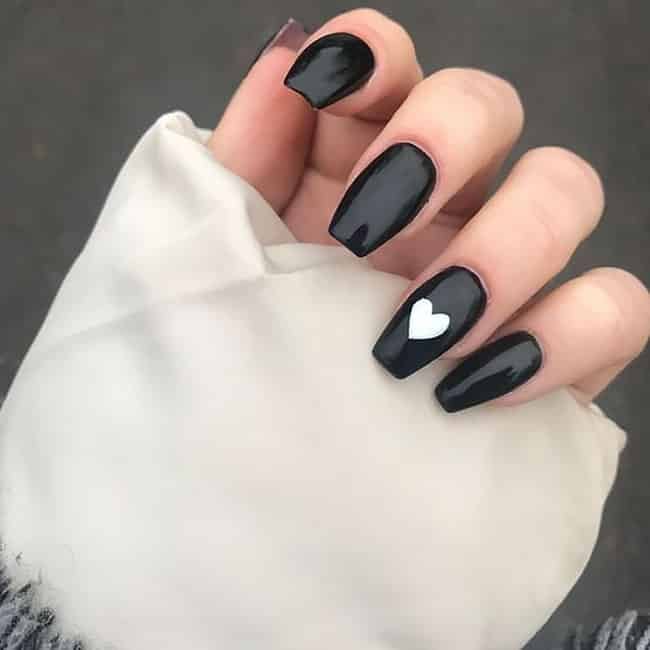 13. White Short Coffin Nails
White nails are a fresh and modern choice for your next manicure and a great way to embrace something chic, yet minimalist. You can opt for a crisp hue or a milky finish to give your look a softer appearance. The color can also be the perfect base for more detailed designs like butterfly or angel artwork, which is both pretty and symbolic. Lastly, this hue is brilliant when paired with the short coffin shape, complementing the unusual angles and highlighting them.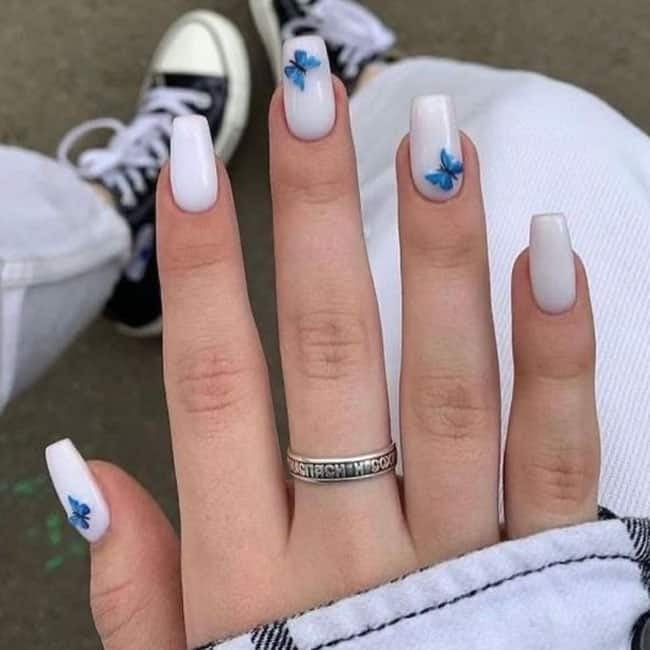 14. Red Short Coffin Nails
There are songs dedicated to women in red, and this is not surprising because the bold hue is associated with passion and love. It is great for bringing attention to your hands and getting your manicure noticed. You can pick from various shades of dark to light, depending on your preference and how vibrant you want your red nails to be. It will also complement the coffin shape in the best way.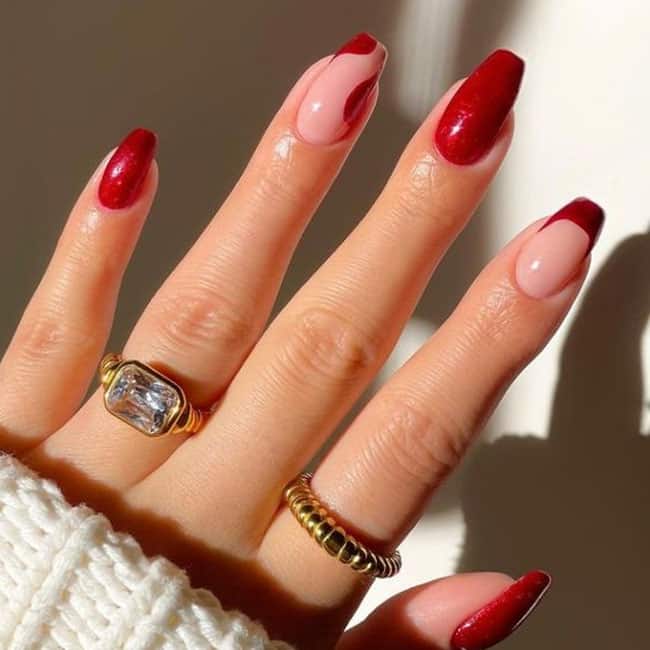 15. Pink Short Coffin Nails
Are you looking for a pretty, girly manicure? Well, look no further than pink short coffin nails. The combination of the color with the practical yet feminine shape is the perfect pairing and is an excellent way to show off your fingernails. Pink comes in varying shades of light and dark, and you can choose pink nail designs from one or combine several for a contrasting finish. The hue represents love and playfulness, and the right design will let you channel these qualities.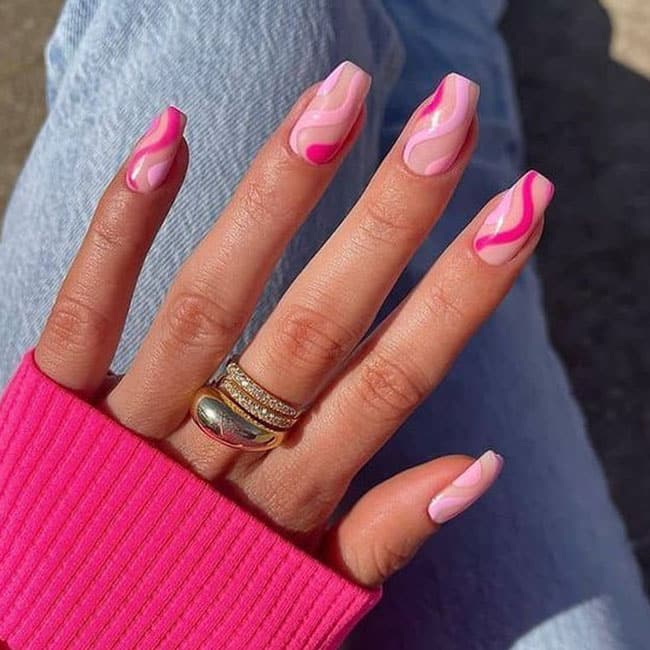 16. Blue Short Coffin Nails
Blue nails are often associated with calmness and tranquility, but the beauty of this color is also its variation. There are multiple shades to choose from, with varying levels of vibrancy, and you can pick one or combine several for the ultimate cool girl manicure. The coffin shape will look stunning with your favorite hue painted over it and the shorter length makes them much more practical.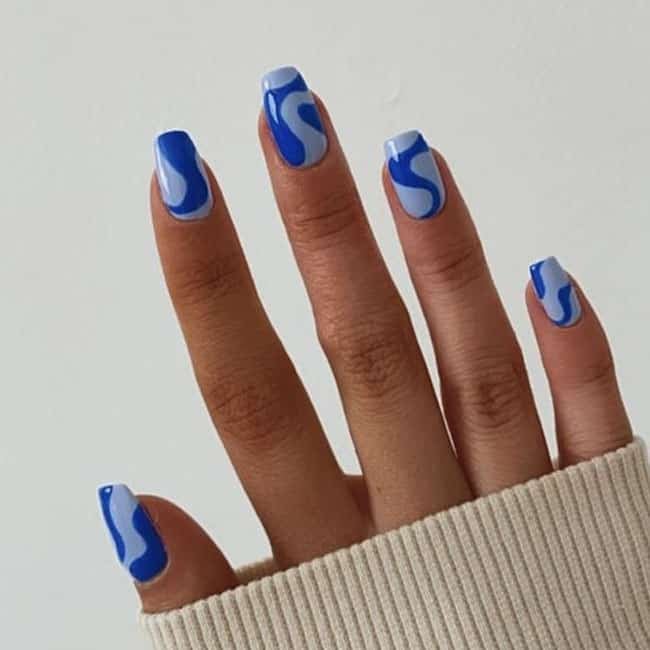 17. Nude Short Coffin Nails
Some designs are best only for special occasions or when you want to make a statement, and there are others that you can wear every day. Nude nails fit into the latter category because they are undeniably gorgeous and exceptionally easy to wear. You can find the color that is closest to your skin tone for a blended finish or opt for multiple shades. You will also never get tired of this option because it is so subtle.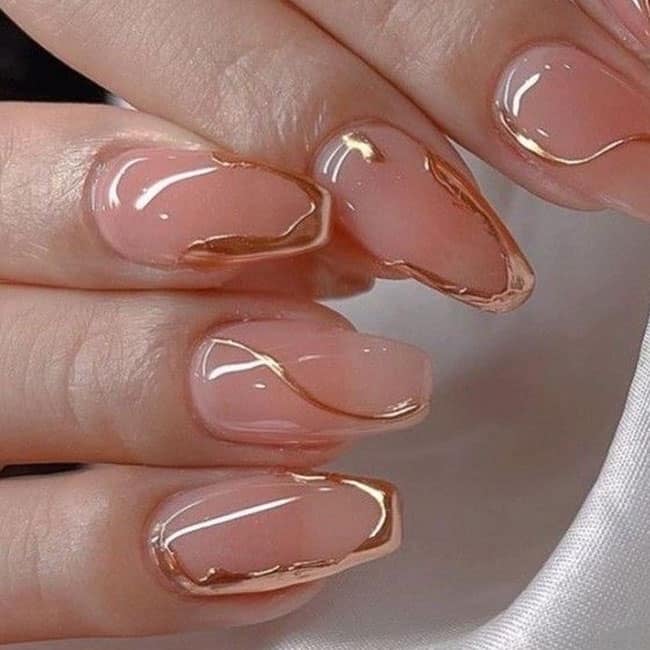 18. Green Short Coffin Nails
If you are someone who finds classic and neutral colors to be too muted, then green nails will provide you with the alternative you have been looking for. Whether you want a soft, muted shade or something vibrant and saturated, there is a hue to suit every preference. Or why not combine several of your favorites to create a super stylish and expressive green manicure?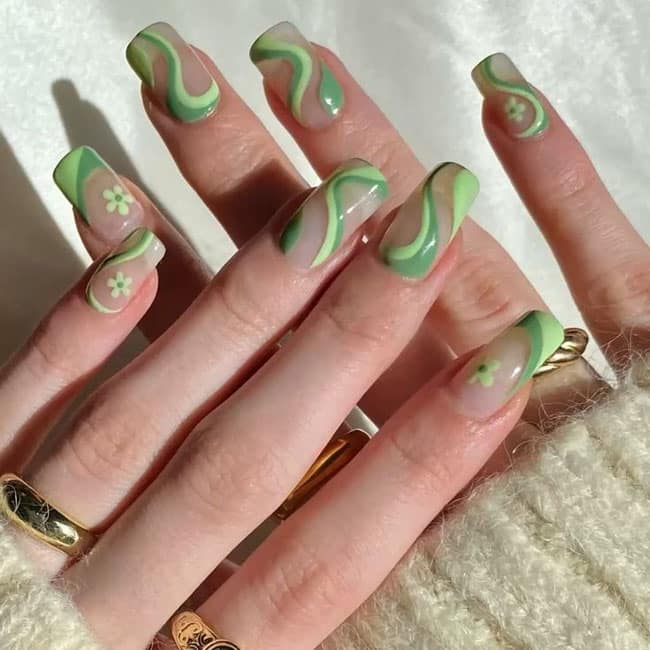 19. Orange Short Coffin Nails
Orange is a color associated with happiness and optimism. It can bring feelings of warmth and joy to you every time you look down at your hands. The great thing about orange nails is that they are exceptionally flattering and will complement most complexions. You can add the hue in various ways, including a subtle approach like French tips, or go bold with squiggles and exciting patterns.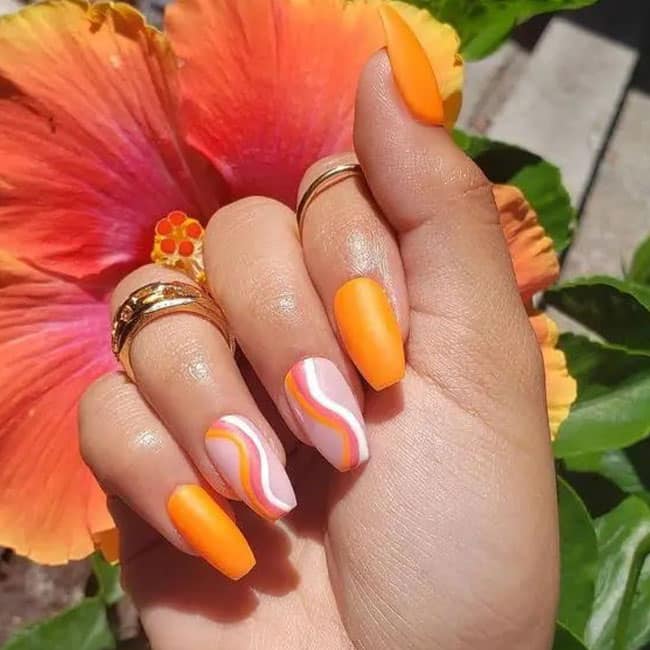 20. Yellow Short Coffin Nails
Whether you want to try yellow nails for a special occasion or intend to make it your favorite go-to hue, this is undeniably one of the easiest ways to add a pop of color to your appearance. Choose a light shade for a more subtle look, or opt for a dark yellow for a lively, energetic finish. There are also different ways to add it to your short coffin nails, with a stylish option including the ombre technique.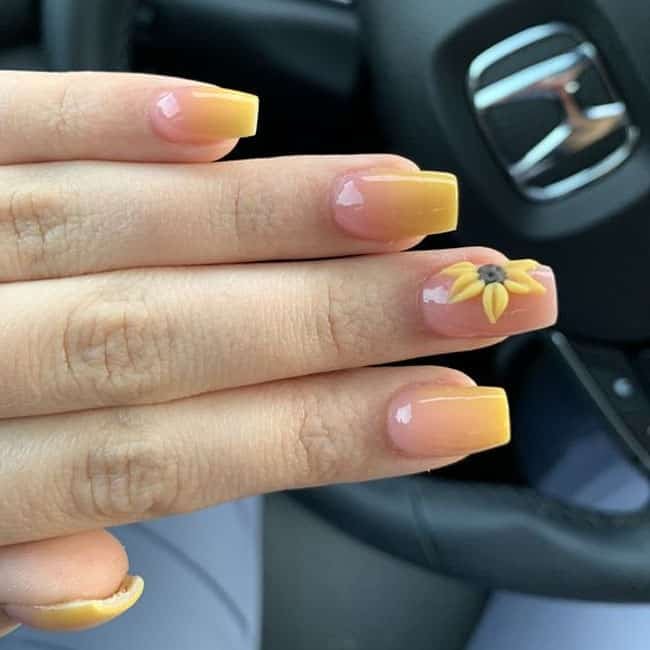 21. Metallic Short Coffin Nails
Metallics are the colors of metals and are often shiny and reflective. It is a stunning way to highlight your short coffin nails and will give them a futuristic finish. The great thing about this hue is that even the simplest manicure will look interesting, giving you an edgy and ultra-cool finish. Mix and match with your other favorite hues to create contrast or tone down the vibrancy of the look.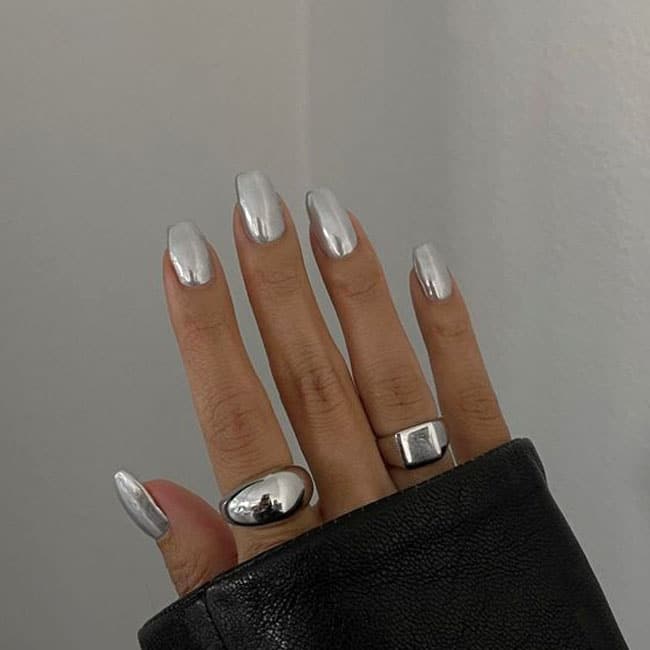 22. Purple Short Coffin Nails
Purple nails are rich and luxurious and a lovely color to add to your next manicure. It is often associated with wealth and royalty, making the hue feel sophisticated. You can choose from pretty and easy-to-wear pastels, or embrace something darker to make your fingernails stand out. You can also add the color over the entire coffin shape, or focus it on only a section, for example, the tip, which will make the flat appearance more noticeable.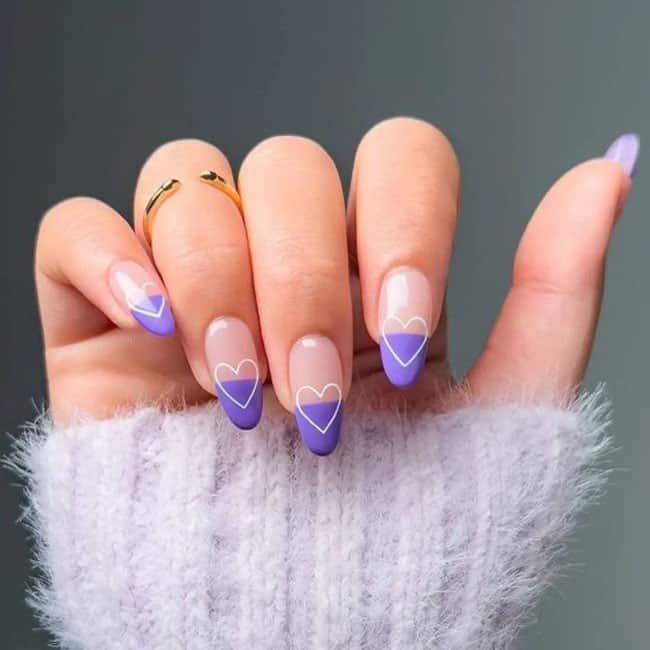 23. Glitter Short Coffin Nails
What better way to add a bit of sparkle to your appearance than with your manicure? Glitter nails are great for grabbing attention and when the light hits them just right, they will look stunning. There is some hesitation to trying out glittery polishes though and that is because too much can appear tacky. Always keep in mind the saying that "less is more" to give yourself the perfect balance of chic and fun.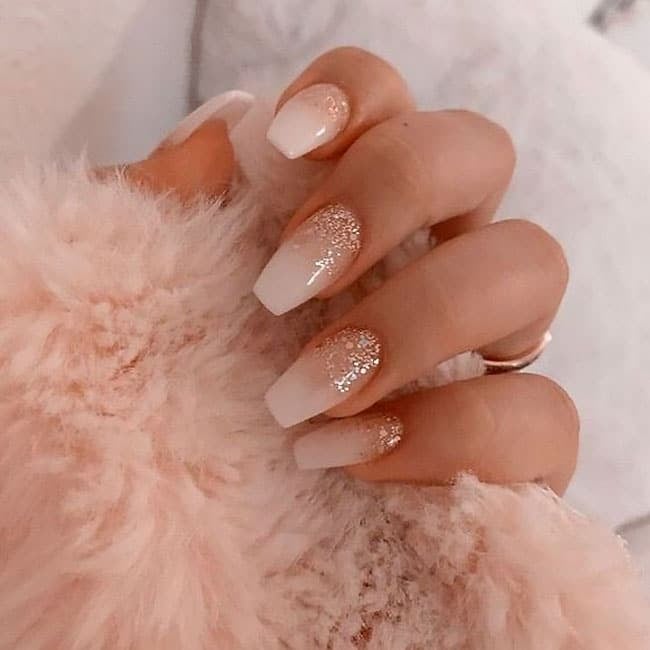 24. Pastel Short Coffin Nails
Pastels are pale shades that create a soft, muted appearance. They are often favored during the spring but can be added to your nails at any time because they never go out of style. When deciding on your perfect pastel manicure, you can choose one hue for a simple finish, or combine multiple for a more colorful look. To give it a more modern feel, try applying your polish in interesting angles and experimenting with negative spacing.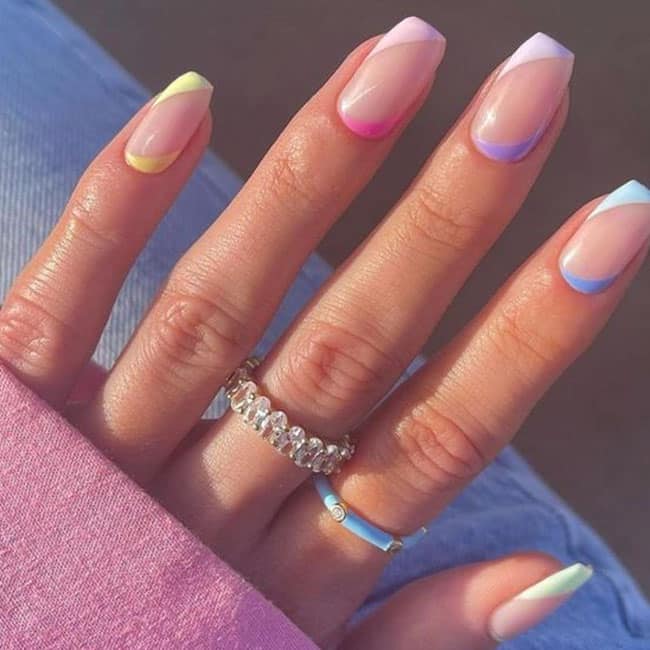 25. Holographic Short Coffin Nails
Holographic nails are defined by their reflective properties and have a futuristic appearance. For those who are looking for something different and love to experiment with finishes, this is the look for you. It is also one of the easiest ways to make shorter shapes look interesting with minimal effort, giving you that life-of-the-party vibe and making it an ideal choice for younger women.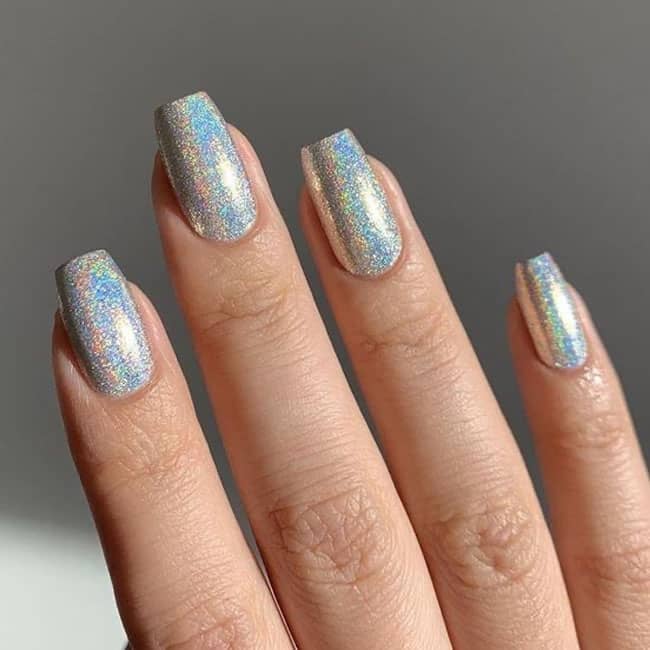 26. Simple Short Coffin Nails
Simple nail art is for the minimalists among us and while the focus is on the fundamental features of the design, you can still choose from a range of different hues and approaches. A stylish option is polka dots or shades of neutral colors. The coffin shape is unusual with its tapered sides and flat tip, and as such, will contrast nicely with the simplicity of your artwork.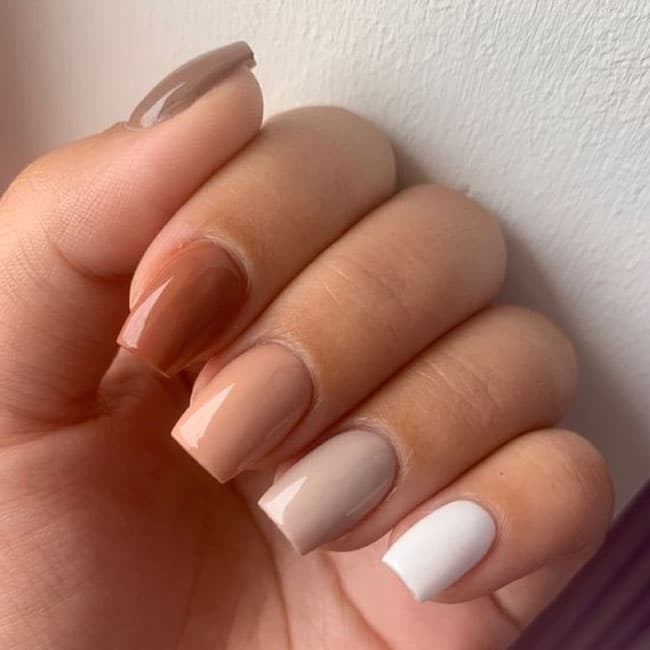 27. Halloween Short Coffin Nails
Halloween is one of the best times of the year because it allows you to express yourself in ways you may not feel comfortable doing normally. This could include exciting new makeup, bold hair colors, or a spooky manicure. There is so much to love about Halloween nails and they can be created in various ways. Some prefer the cartoon approach with cute ghosts and ghouls, while others want to create a blood-like paint-dripped effect.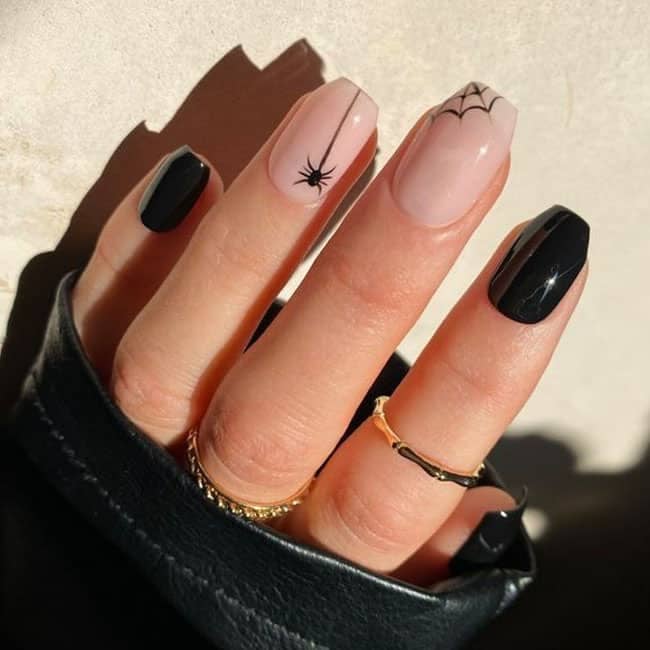 28. Matte Short Coffin Nails
When deciding on the perfect look for your short coffin nails consider more than just the perfect hue. You also want to get creative with texture, and matte nails are an excellent way to do this because it will create a smooth, flat finish. This is different from the standard glossy approach, and it will create a brilliant contrast if you combine both types of lacquer into your manicure.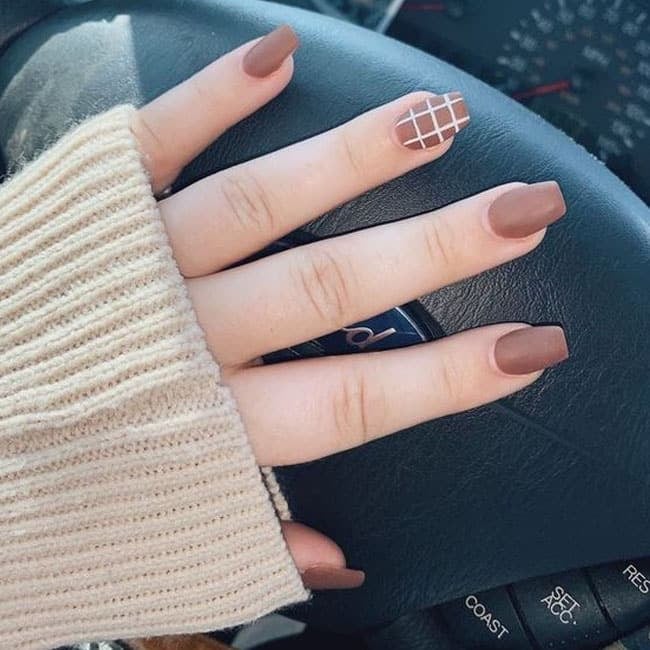 29. Natural Short Coffin Nails
Sometimes it is the absence of bold shades and exciting artwork that makes for the most appealing design. Natural nails are stunning and can be worn everywhere, even in places with strict dress codes and formal events. The appeal of this look is its simplicity, and while long coffin nails may have felt too daring, the shorter length is easy to wear and super cute. This will complement women of all ages and is a great way to keep your fingernails looking classy.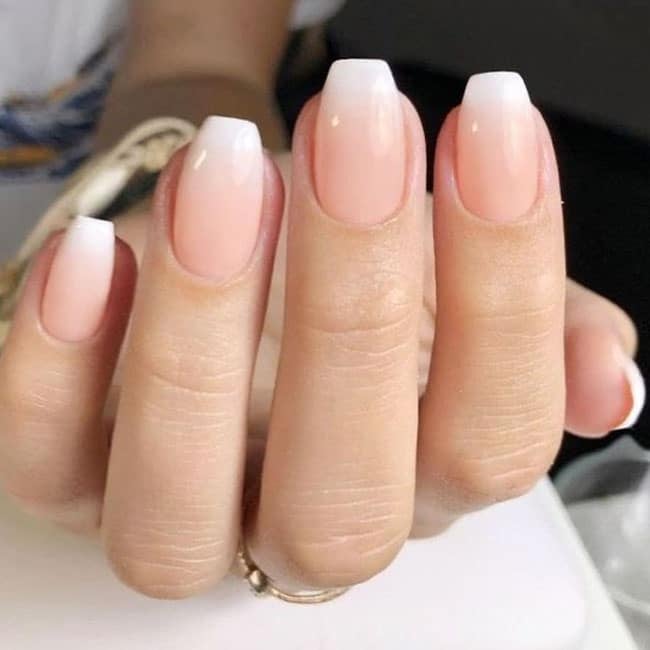 30. Extra Short Coffin Nails
When it comes to deciding on the best nail shape for your finger, the coffin finish is appealing because it is versatile and trendy. It is often styled to be longer, but for those who want practicality, the shorter length is a great alternative. It will also be easier to maintain. The downside is that you are somewhat limited with your nail art because there is less space, but that shouldn't stop you from trying out a bright color.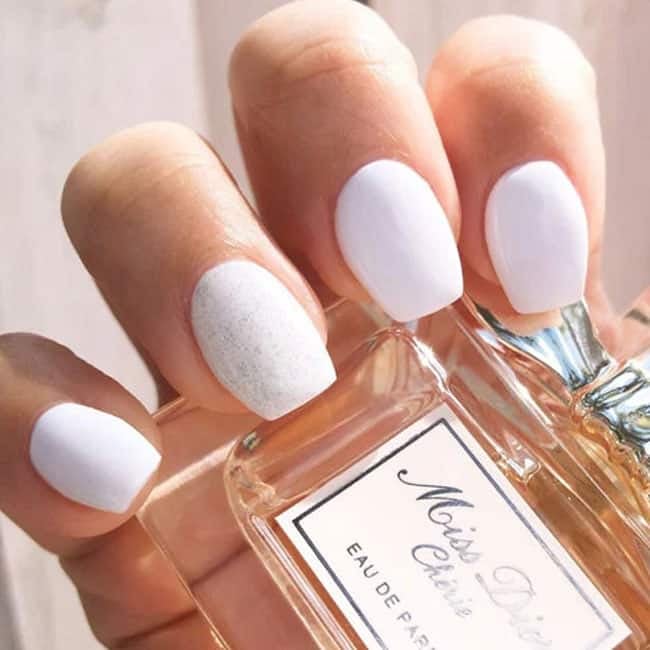 How to Shape and File Short Coffin Nails
If you are in love with the coffin nail shape and want to try it out for yourself, the right tips and tricks will let you achieve that. Instead of opting for long, glamorous nails, you can benefit from the shorter length which is more practical but every bit as stylish. It will also be less prone to breakage and damage, without restricting you in your daily activities. Find out everything you need to know about this awesome look in the video below.
Short Coffin Nails FAQs
How much do short coffin nails cost?
The cost of your short coffin nails will vary depending on the salon you choose, whether you are shaping your natural nail or using artificial extensions, and the complexity of your desired nail art. The most basic set could be around $35 but this price can be significantly higher.
How short can coffin nails be?
Your short coffin nails will not be as short as some other nail shapes can be because it needs some length to create the shape. The shape is defined by the tapered sides and flat tip, which gives it an unusual and edgy finish. If you want short nails because you find them more practical and less maintenance, you can work with your nail technician to get them as short as possible.
How to cut short coffin nails?
Coffin nails are often worn long but they can be just as stylish when short. You will need to take care when cutting and shaping them, and, if you plan to do this yourself you will benefit from a step-by-step guide or YouTube video.
How to make coffin nails shorter?
To reshape your coffin nails and make them shorter you can use a file straight across the tip. You will then file inward on the edges of the white part of the nail. If your nails were very long to start, you may have to cut them shorter first to make the process simpler.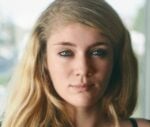 Cailyn Cox holds a degree in journalism and has been working with The Trend Spotter as a writer for over ten years. She has worked with some of the most prestigious women's and men's lifestyle publications. For her, writing is not just a job; it's a passion, which is why each article she writes is approached with such enthusiasm and dedication. She has extensive knowledge of hairstyles, tattoos, and beauty and has made a career out of creating informative articles that appeal to women and men of all ages.
SUBSCRIBE TO OUR NEWSLETTER
Subscribe to our mailing list and get interesting stuff and updates to your email inbox.