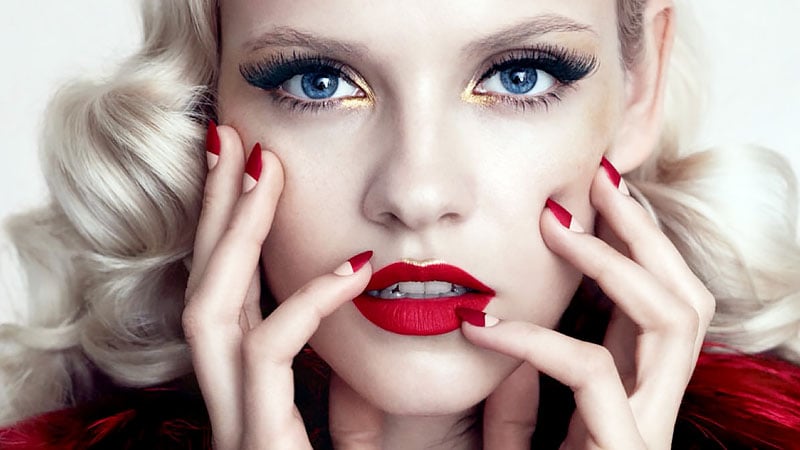 Get into the festive spirit, or add some color into your life amid the dark and gloomy winter days with your nail art. There are many different options to choose from; simple and chic styles that are perfect for all occasions or bright and colorful and Christmas-inspired artwork. If you love red, try a modern approach to the classic French manicure with red tips, or for those who prefer a less intense hue, grey, brown, and nude are the perfect colors for your next manicure. Have fun with glitter and Christmas artwork, or opt for the ombre technique. There is also something to appeal to every skill level, so even beginners can create a stylish and modern look in the comfort of their own home. If you are looking for some winter nail color design ideas, keep reading to get inspired!
Winter Nail Designs
1. Blue Marble Nails
If you are looking for interesting winter nail inspiration yet sophisticated, blue marble nails are ideal. The technique is created by placing drops of nail polish into a bowl of water and then swirling them together. When you dip your nail into this mixture, you are left with a beautiful pattern. The effect can be done in a range of colors, and you can also blend shades for a more dramatic choice. That said, for an icy feel, dark blue polish is a great choice. Blue is also a color that looks good on nails of all shapes and lengths and is associated with luxury and elegance. The color is also incredibly wearable and great for those who want something different without being too dramatic.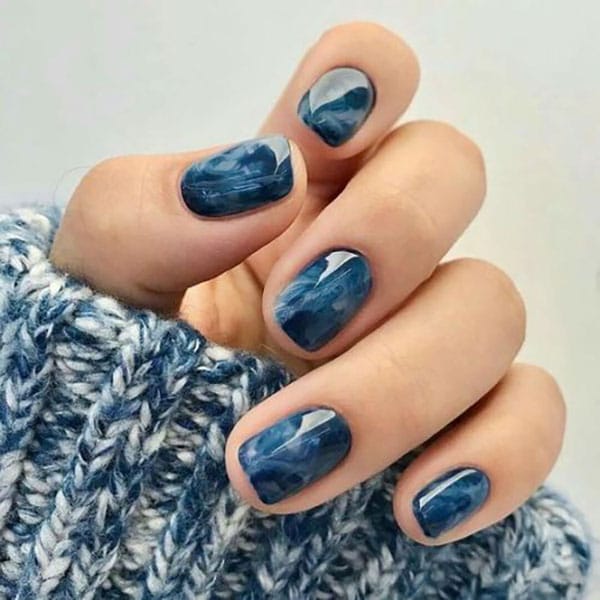 2. Gunmetal Nails
Gunmetal is a blend of silvery greys that has a metallic appearance. This is the perfect choice for the winter months and is excellent for anyone who wants something different. The color has a futuristic feel but is also glamorous and can be worn with different nail shapes and lengths. It can also be paired with other cool tones, such as dark blue, silver, or black. When deciding on your nail art, there are several options, including painting every nail to have a gunmetal appearance or choosing a feature nail. You can pile on your gold jewelry for a contrasting look, which is an excellent way to make a statement and draw attention to your hands.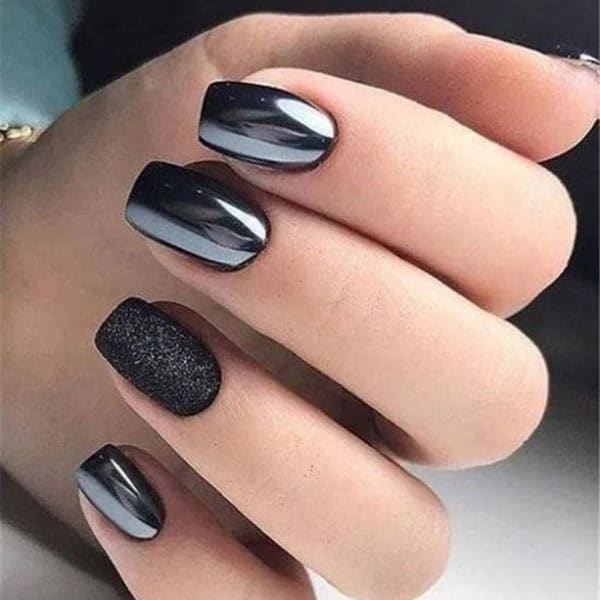 3. Leopard Nails
If you want to unleash your fierce side, what better way to do that than with a leopard print manicure? This animal print has remained a firm favorite in the fashion world for decades because it can make a statement but at the same time is very easy to wear and can mix and match with other colors. The same approach can be applied to your nails, but combine your print with brown nail polish for a more subdued and complementary option. The warm tones make for a wonderful wintery manicure that is also fun and unique. Experiment with the placement of your leopard print. For example, choosing to keep it only at the tips, playing around with negative spacing, or opting for only one printed nail and the rest in brown polish.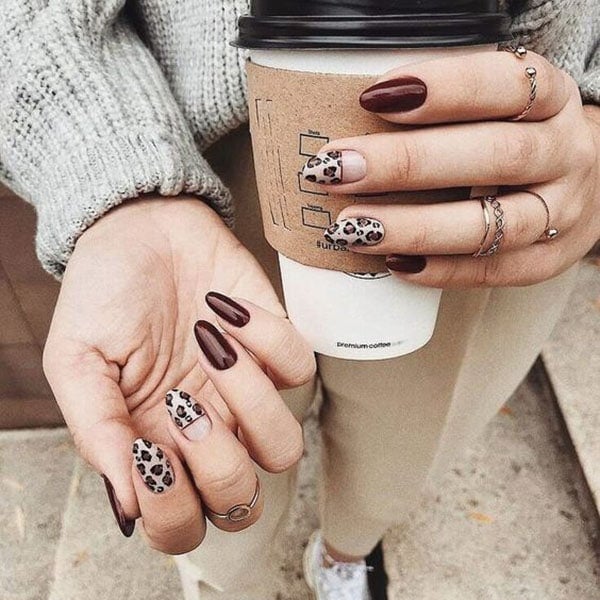 4. Natural Palette Nails
A natural palette is fantastic on your nails and is the ideal choice for a woman who wants a pretty and interesting manicure. These colors can include sand, beiges, whites, nudes, and more. The muted tones are easy to wear, lending themselves well to various settings. The subtle differences between each nail and the coloring may not be noticeable at first glance but you can have people do a double-take at your hands. The beauty is in the simplicity, and this manicure will look great when worn with chunky knits. Complement your nails by dressing in neutral tones, or create a contrast by wearing something bold and bright, like red or orange.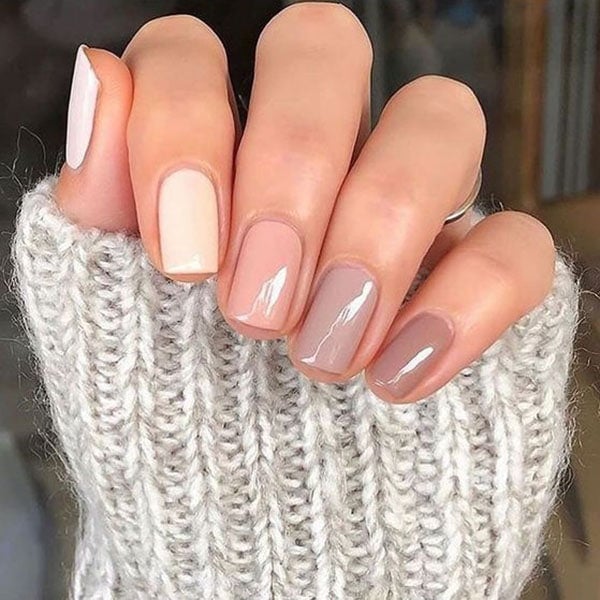 5. Black Line Tips
Black is a bold color that demands attention. It is also associated with strength and sophistication and is the perfect choice for those who want nail art that is edgy and cool. There are many different ways to try out this color, from opting for solid polish on each nail to a gothic-chic approach. Or, for those who want something more subtle, black line tips. Instead of opting for the classic French manicure, you can get creative by swapping out the white lacquer for black. This design works best with longer nails, as it gives you more space. Pair your black tips with a clear or nude color so as not to detract from the tips; they should be the focus of your manicure.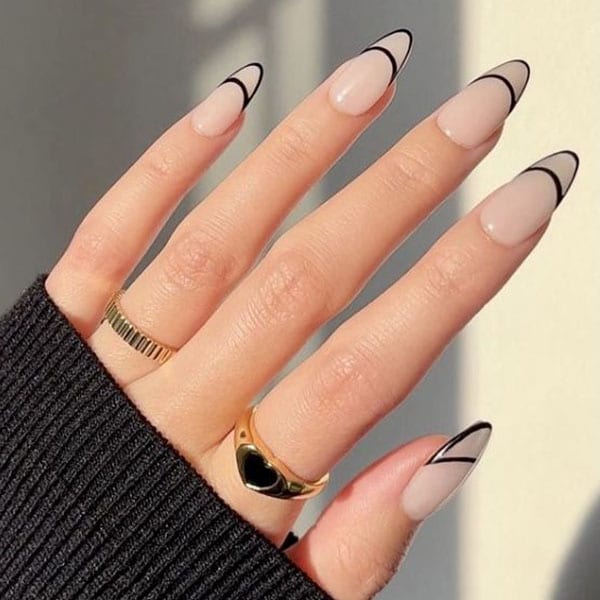 6. Classic French Manicure
The classic French manicure is a look that is timeless and elegant. It can be worn anywhere, including formal events and the workplace, and is pretty and feminine. This approach features a nude or pink base coat with a white stripe along the top of the nail. It works best with longer nails and can draw attention to interesting shapes like coffin nails or almond nails. The simplicity of this look makes it appealing to women of all ages, and it is also relatively simple to create yourself; you don't need to spend a small fortune at a nail salon. The French manicure is excellent for the winter months but also for all occasions.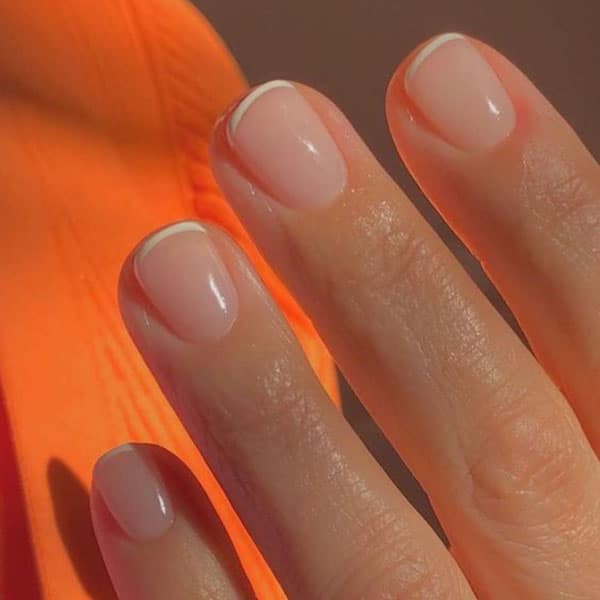 7. Check Nails
Check nails are a simple and chic look to try out. The appeal of checks is that they can be done in a wide variety of colors, allowing you to personalize your manicure to suit your taste. For a 70s feel, you can opt for brown and white checks. You can play around with how you do them, choosing different sizes and placements for an interesting and unique finish. You can also paint all of your nails the same. Alternatively, you can choose to highlight just one feature nail or mix and match with different colors and prints. Embrace the retro vibe and wear your favorite chunky jewelry to draw attention to your hands.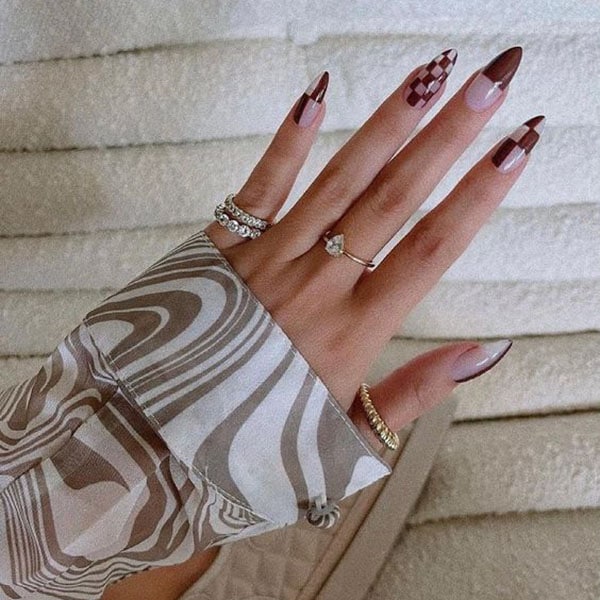 8. Purple Nails
Purple is a gorgeous color that is associated with luxury, royalty, and sophistication. So, it should come as no surprise that purple nails are a big trend this year, and there are multiple shades to try out. This allows you to find a look that complements your skin tone and your nail shape and length. Purple also pairs well with other colors, and you can choose to incorporate varying shades depending on your preference. You can also experiment with different effects and finishes — for example, glitter or matte nail polish.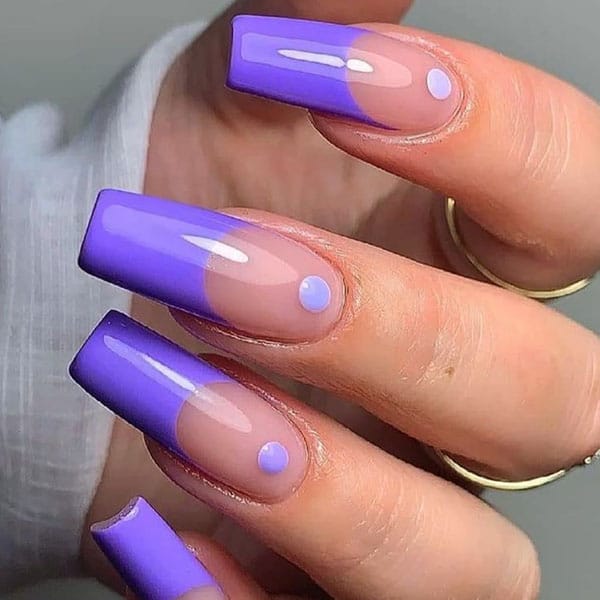 9. Valentine's Day Nails
Valentine's Day is the holiday of love and a great time to celebrate the special people in your life. You do not have to wait for Feb. 14 to be inspired by it, though, and cute heart manicures are a fantastic choice for any time of the year. There are many ways to try out this look, but one of the most popular is the pairing of reds, pinks, and whites. These colors can be very feminine but are also versatile and easy to mix and match. You can decide on multiple base coats and paint little hearts in a different shade on top of them. Or make your artwork more daring with bolder hues. You can opt for a more subtle and wearable look by painting just one fingernail with a heart and leaving the rest with your favorite shade of solid nail polish.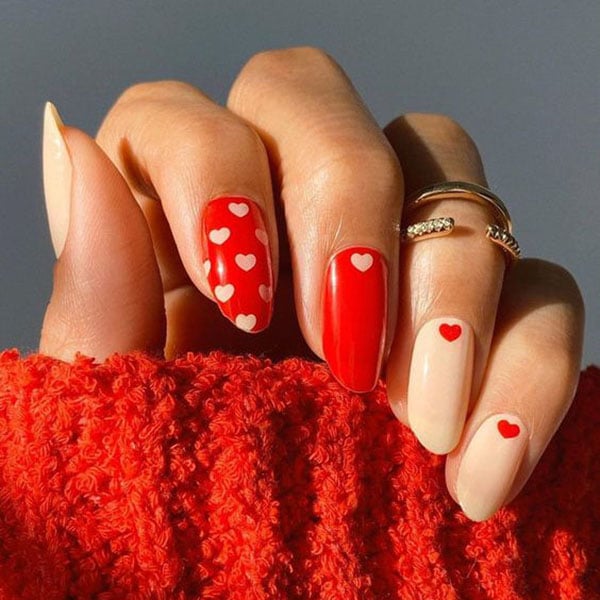 10. Wiggle Nail Art
Nail art provides a chance to express yourself, and there are multiple ways to do that, including a more abstract approach. Wiggles are a fun way to add color to your manicure and can be created in varying shades. You can opt for a nude base coat and then add vibrant wiggles over it or paint each nail a different color. The angle at which you add your wiggles can also differ, letting you experiment to find the perfect look. However, this detailing will work on all nail shapes and lengths, the longer, the better. Longer nails can have a feminine appearance, but they also allow you to show your artwork better. Plus, there's more space for creativity.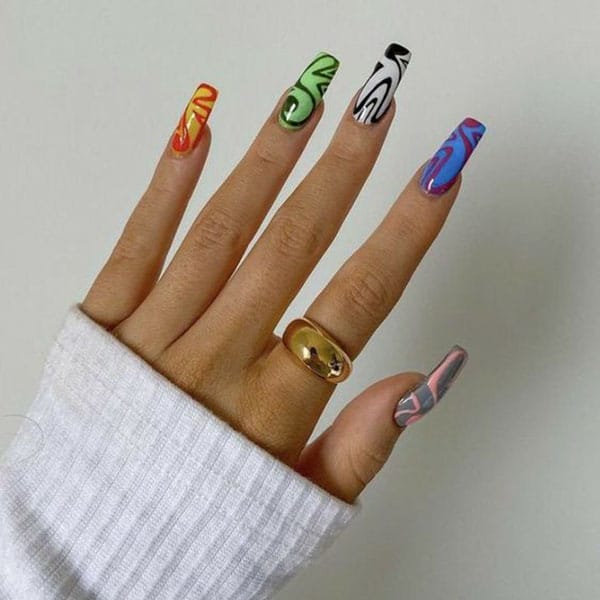 11. Red Gingham
Gingham is such a fun yet simple print to try, and it is the perfect choice for winter. It is defined by being a two-color pattern, with classic combinations including red and white, red and black, or blue and white. While you can experiment with different color combinations to find the one that best reflects your style, red gingham is a striking choice. Red and black is a bold combination that will get your hands noticed. It is also a great way to draw attention to the length and shape of your nails, and because of its simplicity, it will work well on all nail shapes and lengths. To complement the red of your nails, find a similar shade of lipstick. Or enjoy wearing it with your favorite chunky knitwear during the festive season.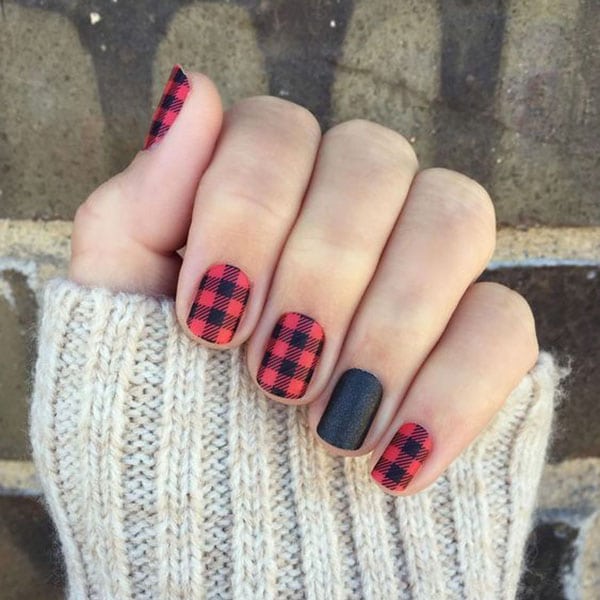 12. Grey and Burgundy Nails
Grey and burgundy nails are an interesting and surprisingly complementary combination. Both colors are favored in the winter months but can be worn all year round. Burgundy makes you think of power and femininity, and it is a versatile shade that women of all ages can wear. This is an excellent option for someone who likes the idea of red polish but wants something less vibrant. Grey is also a muted color, so the pairing is fantastic. It will help you achieve a manicure that is chic and unique.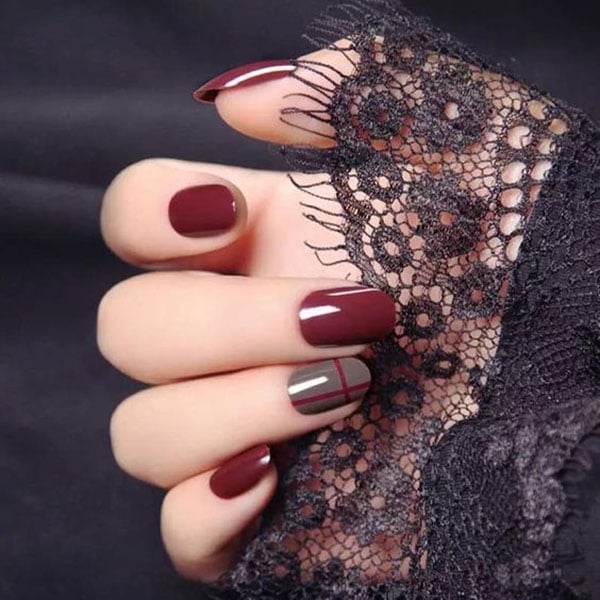 13. Natural Ombre Nails
The ombre nails technique is versatile and stylish and can be created with any color combination. Ombre is the gradual blending of two colors, one lighter and the other darker. Depending on your choice, this can make for a bold and vibrant manicure or a subtle approach, such as using natural colors. The result is a perfect gradient effect for every occasion, including holiday parties and corporate functions. It is an easy way to change your standard manicure into something pretty and interesting to look at. Plus, keeping it simple will complement all skin tones and nail lengths, and shapes.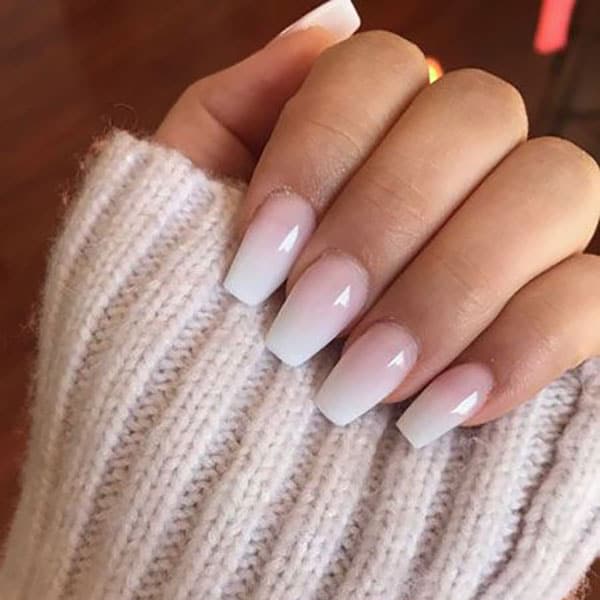 14. Black and White Geometric Nails
Black and white is one of the most classic pairings and will give you a striking but elegant manicure. It suits all skin tones and can be created on your chosen nail shape and length. There are multiple ways to try out this combination, including using geometric shapes for a modern and creative option. You can opt for a different shape on each fingernail, keep them all the same for a uniform look, or alternate between black and white base coats for each nail. You can also try out the feature nail approach for those who like the idea of this edgy manicure but want a look that is more subtle and easier to wear.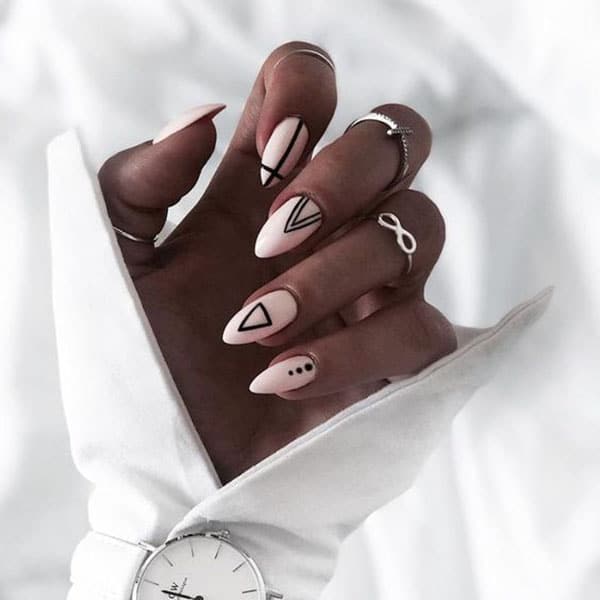 15. Snowflake Design
If you live in a colder climate, then there is a good chance you associate winter with snow. This makes a snowflake design one of the cutest options for winter nails. That said, you don't have to live in a chilly place to love the look of this manicure, and it can appeal to women across the globe. Snowflakes melt quickly and are therefore also a symbol of life and how fleeting it is. Thus, you can make a subtle statement about embracing each day and living well with your nail art. Opt for white, nude, or light pink base coats for a chic look and add white snowflake stickers over them. You can also play around with different finishes, for example, a frosted base and glittery snowflakes, which will draw attention to your hands.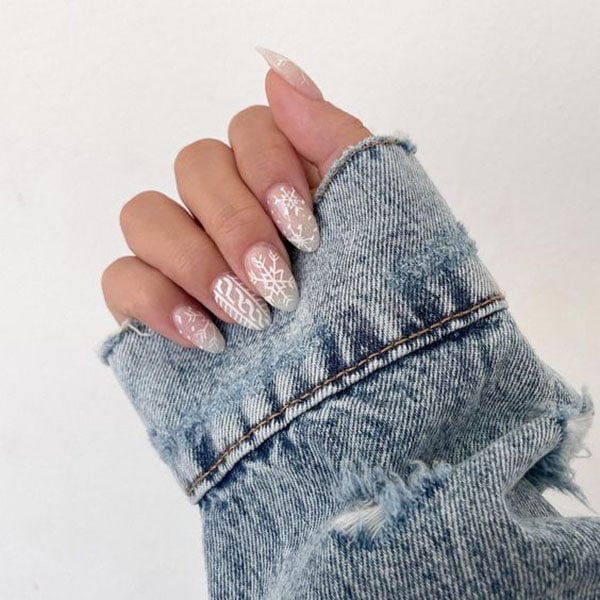 16. Red Tip Nails
Red is a color that demands attention, and it can highlight your nail shape and length by drawing the eye to your hands. It is a fantastic choice for women who want to get noticed and is associated with passion, romance, and seduction. Despite being gorgeous, many women are still hesitant to try out red lacquer because it is intense. A good alternative then would be to wear red tips. This is a modern approach to the classic French manicure and lets you have some fun with your nail art. You can wear it over a nude or clear base coat. The result is a feminine and chic look that works best on longer nails. For a stunning finish, you can add a line of glitter polish just beneath the red; because who doesn't love a bit of sparkle during the festive season?!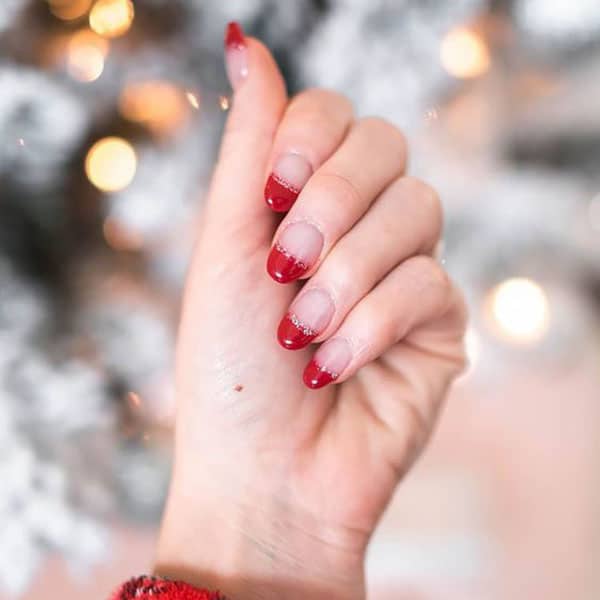 17. Christmas Lights Nails
The festive season is one of the happiest and most colorful times of the year. A Christmas lights nail design is one of the cutest looks to try out and will bring joy to your life and a big smile to your face. To complement the artwork, it is best to wear it over a clear or nude base coat; this also lets the colors of the lights pop. This manicure can be done on nails of all lengths and shapes and is the perfect way to get into the Christmas spirit.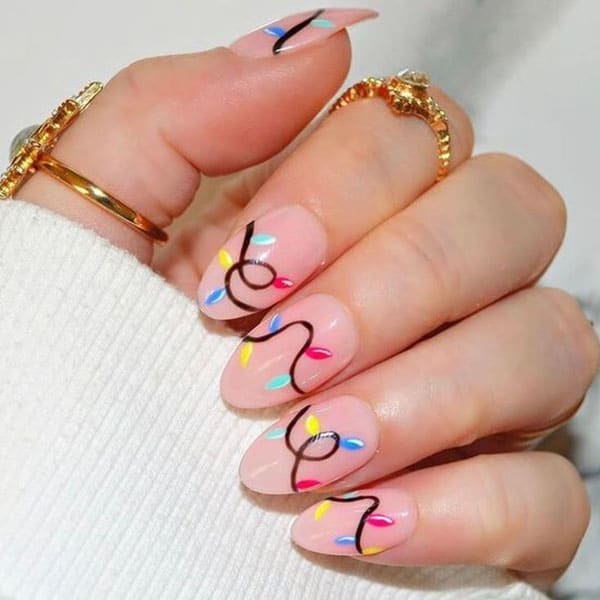 18. Mix and Match Colors
If there are several colors you love, then why not mix and match them? The mix-and-match manicure is simple and easy to wear, combining five of your favorite colors to paint each nail with a different color. It is best to choose shades that complement each other for a more uniform look. These could be dark or muted colors popular in winter or represent the change in season — for example, the colors of the leaves in Autumn. If you are a woman who likes to stand out from the crowd, then nothing stops you from deciding on vibrant and contrasting colors. The best thing about this nail art is that it requires little skill or time to complete, allowing even beginners to create it at home.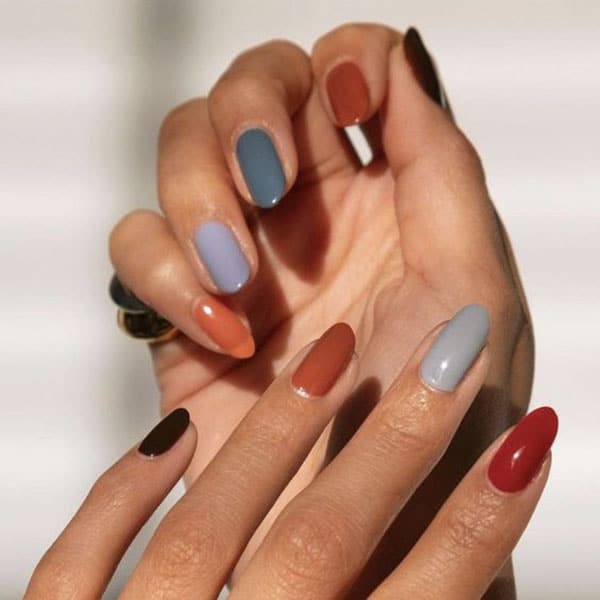 19. Glitter Nails
Glitter nails are fun, feminine, and the perfect addition to any wintery manicure. The shimmery polish can be worn in several ways; with a solid line at the tip, shiny snowflakes, or over your favorite color. For the chicest and most wearable finish, stick to muted, neutral-color lacquers complemented by glitter. Less is more in this case, for example, with a nude base coat and gold glitter. The appeal of glitter nail lacquer is that it is pretty and interesting. That said, some may have hesitations about wearing it because they feel it should be reserved for younger women or that it can be tacky. We are here to tell you it is neither, and the festive season is the time of the year when you can wear glitter nails.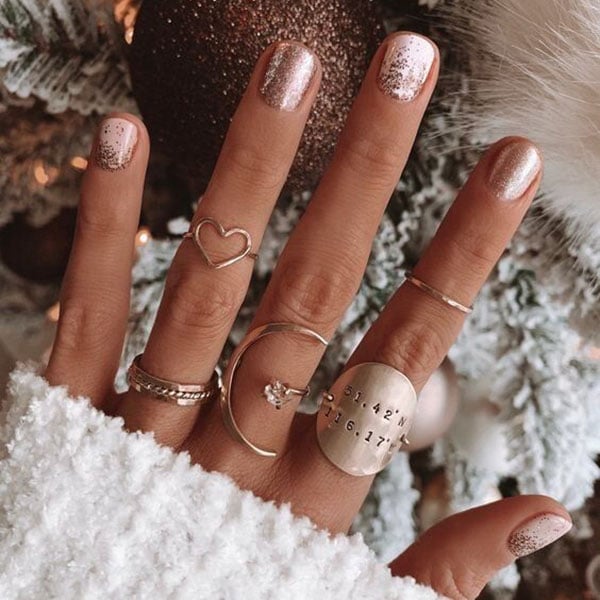 20. Brown and Nude Nails
Brown and nude nails are an excellent choice for a woman who wants a stylish and sophisticated manicure. These colors complement each other, and because they are muted, it makes them easier to wear, lending themselves well to various occasions. There are many ways to combine colors, from simple squiggles to interesting line art. This allows you to find something that best suits your personality. You can also experiment with different finishes, for example, a matte polish, which can create an interesting texture. There is nothing plain about this pairing, and it will look amazing! Plus, you can wear it with everything you own without clashing.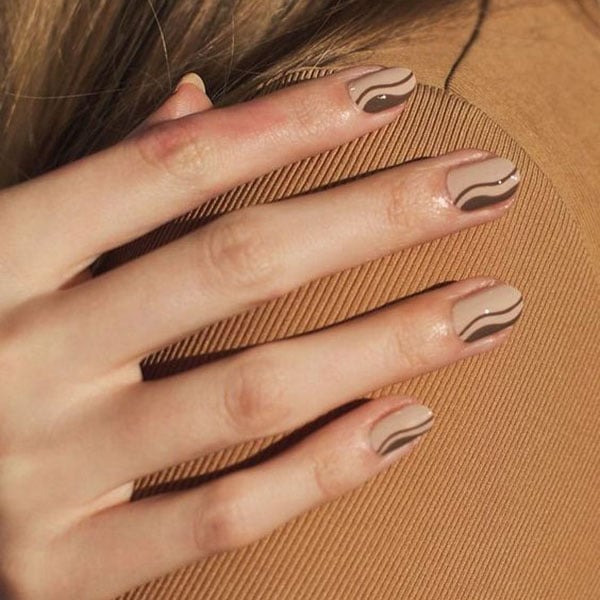 21. Arty Winter Nails
If you want to express your creativity this winter, do it with arty nails. This is a gorgeous way to get your creative juices flowing, and there are many different color combinations and illustrations that you can do. Paint your nails with nude lacquers and add white squiggles or abstract nail art for those who prefer a more muted approach. For those who want something more daring, you can create different faces and choose darker colors like burgundy, dark brown, and even black; this will let the white artwork pop against the base coat. This manicure is all about having fun.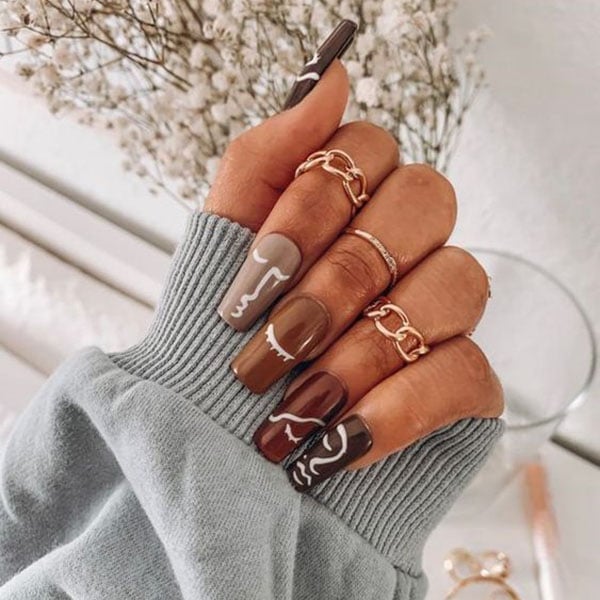 22. Blue Nails
Blue nails are fantastic for the winter, especially when you choose a deeper shade such as cobalt, dark blue, or midnight blue. These colors are often associated with elegance, and it can be a fun way to try out a darker lacquer without being as bold as black. You can paint all your fingernails or use blue as a base coat for more creative designs, such as a snowflake. For a luxurious option, you can pair blue polish with silver, adding a little sparkle to your manicure and making it even more interesting. Wear solid, neutral colors for your clothing to create a more streamlined appearance. This can also draw attention to your hands and let your manicure become the focus.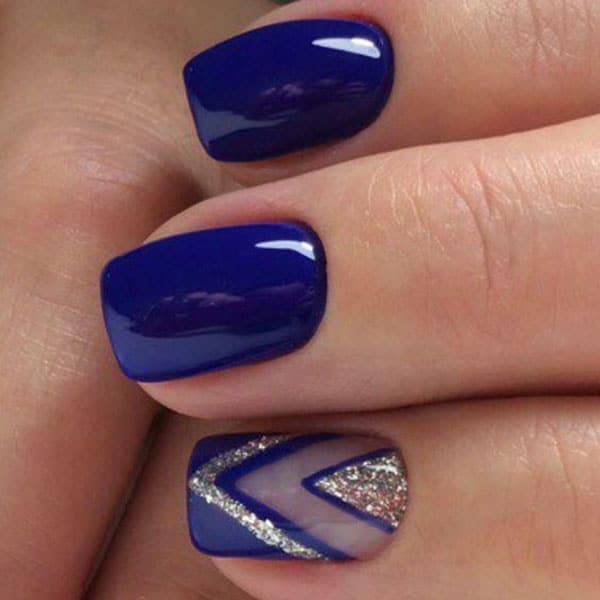 23. Grey, White, and Gold Christmas Nails
Grey, white, and gold is a gorgeous combination that makes for a striking and contemporary manicure. The colors are not bright and bold and are easier to wear, lending themselves well to various occasions. The versatility of this nail art comes from the multiple ways you can combine these colors. They have a very winter feel and can be paired with cute nail designs, including snowmen, snowflakes, and polar bears. To highlight the gold of your manicure, you can wear it with your favorite gold jewelry.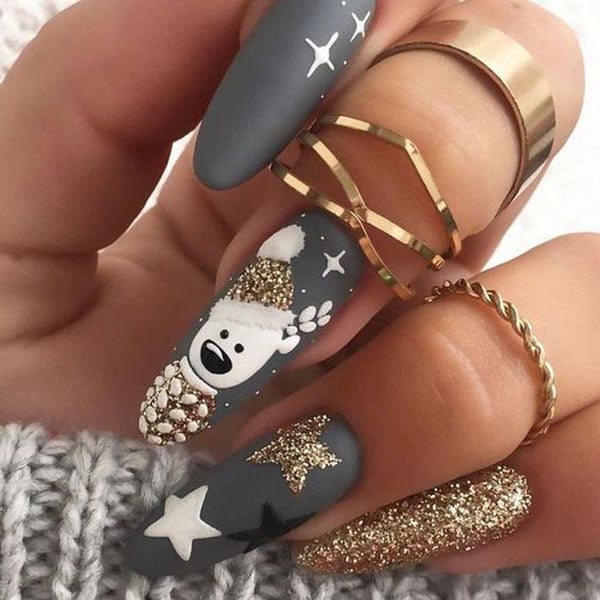 24. Vibrant Winter Nails
Winter is often a dark and gloomy time of the year, and to counteract that, you could opt for a vibrant manicure. Deciding on nail art that is bold and bright will make a statement and draw attention to your hands. This winter nail idea is about mixing bright-colored base coats with interesting details like squiggles or line art. You can pick your favorite shades and determine how bold you want your artwork to be. Wear dark, neutral clothing to let your nails be the focus of your appearance, or dress up with striking colors to stand out from the crowd. You can pile on your rings and complement the nail colors with colorful gemstones.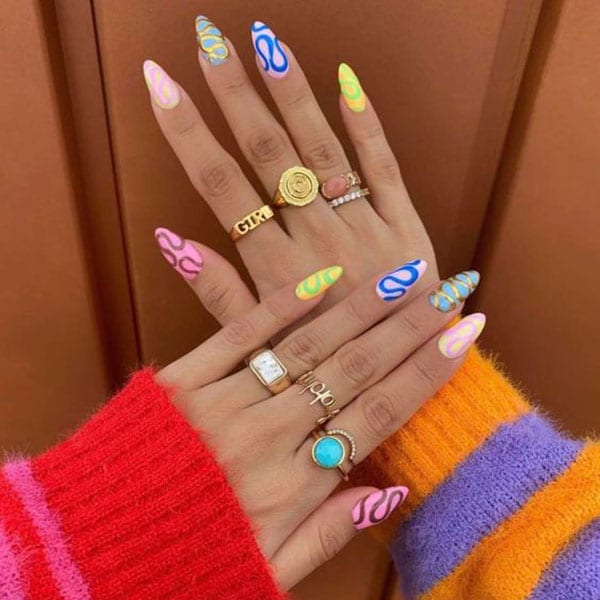 25. Black Winter Nails
Black is a fantastic option for a manicure all year round because it is bold and makes a statement. It is also a color associated with sophistication and power and can be mixed and matched with everything. You can do this with white nail art over a black base for those who want to update their classic black manicure and give it a wintery feel. Try snowflakes for a cute, frosty appearance that will create a gorgeous contrast. This monochromatic combination pairs well with colorful clothing, or you can keep it more subtle and elegant by wearing black or white tailoring. For a pop of color, wear your favorite burnt-orange or red lipstick.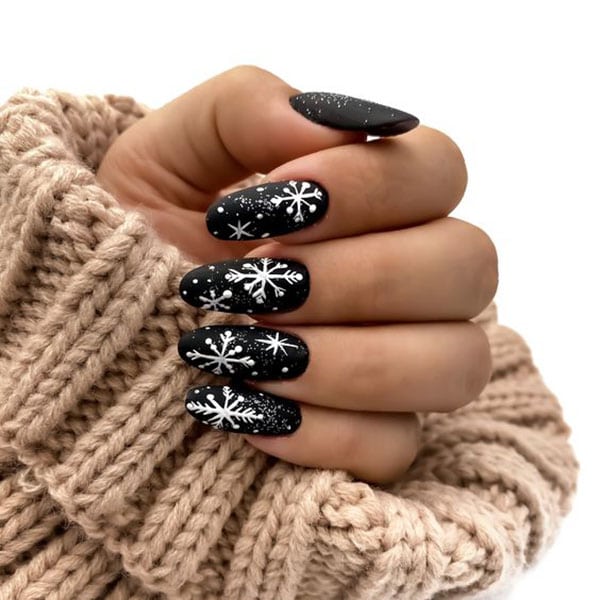 26. Dark Green Nails
Green is a color that is often worn in the festive season, and there are various shades to choose from. That said, dark green is one of the most versatile and will suit all nail lengths and shapes, as well as most skin tones. It is a color associated with growth and wealth, letting you also make a subtle statement with your nails. You can get creative with how you choose to wear this hue, either as a solid shade or with subtle details like white tips, line art, or as a feature nail with glitter polish. Dark green pairs well with gold or silver, but you could also wear it with purple or yellow for a contrasting approach.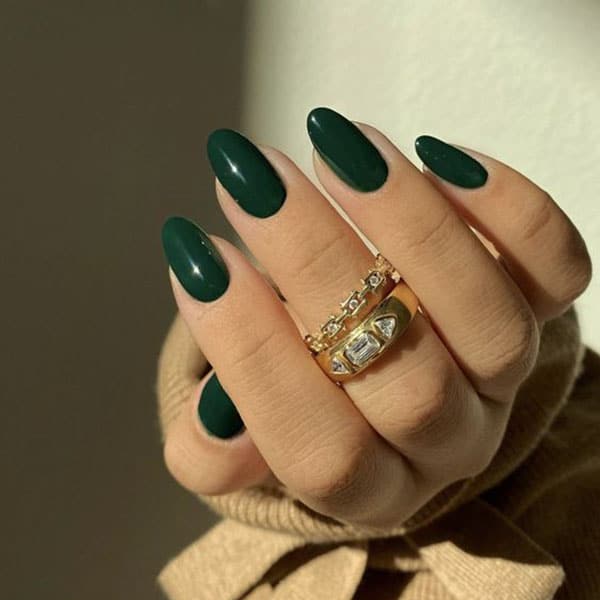 27. Shades of Grey Nails
Grey is a cool, muted color that makes for stylish and sophisticated nail art. The great thing about grey nails is that there are various shades to choose from, from dark to light and everything in between. So, if you can't decide on one, why not wear multiple? Combining several shades on your one hand makes for a modern manicure that is easy to create and utterly chic. There are also ways to change it to your liking, including opting for matte or glitter nail polishes. You can wear it almost anywhere, and it is easy to match with your clothing and accessories. For added sparkle this winter, use a sequin clutch or blingy jewelry.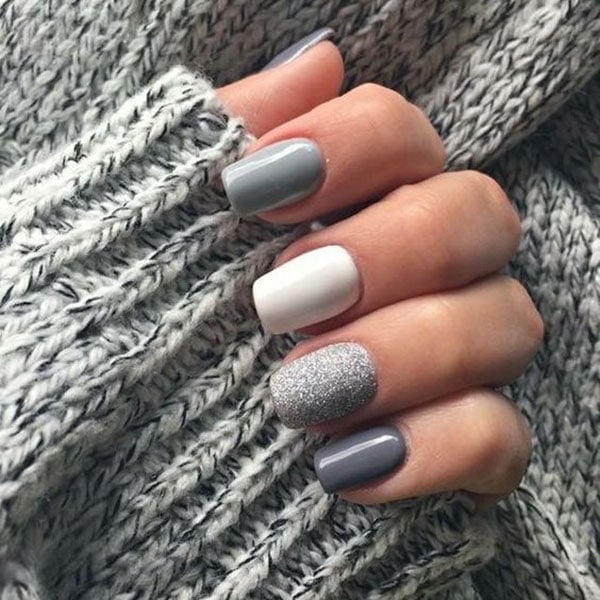 28. Emerald Nails
Emerald green nails are a stunning shade that is rich and luxurious. The color is associated with wealth, power, and royalty and will help you achieve an elegant but modern manicure. The great thing about this color is it's incredibly versatile and pairs well with both muted and bright tones. It can be worn on nails of all nail lengths and shapes, but longer nails are better if you wish to create more detailed nail art. Wearing it with white or gold is a chic option as these colors compliment the emerald green and add to the sophisticated appearance instead of creating contrast.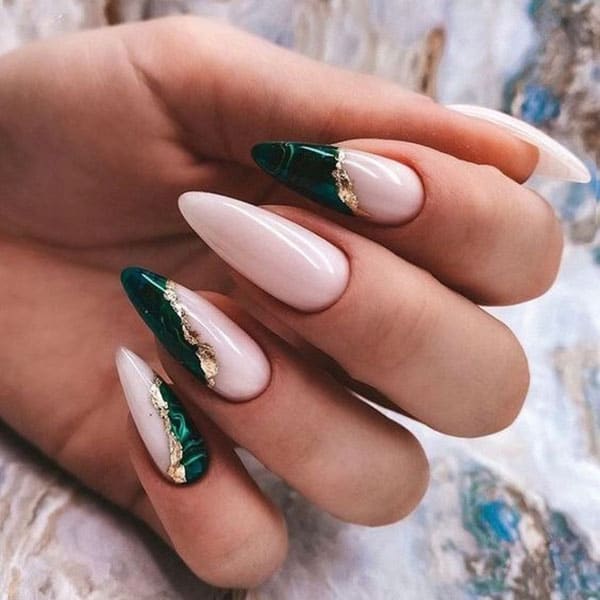 29. Metallic Winter Nails
Metallic winter nails are guaranteed to draw attention to your hands because of how eye-catching they are, especially when in the right lighting. The polish has a shimmery, mirror-like appearance and can be done in various colors; however, sticking to darker shades will give you a more classic winter feel. This also makes them less flashy, lending themselves well to a variety of occasions. You can choose a different color for each fingernail or mix and match with glossy polish and paint only a feature nail with metallics. Or you can add glitter or rhinestones for a sparkly finish. Have fun finding the option that best suits you, and determine how bold you want your nail art to be.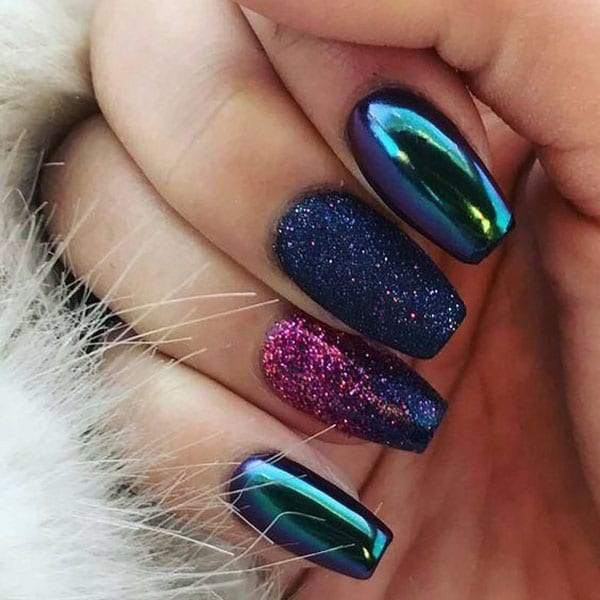 30. Holographic Winter Nails
Holographic nails are a popular choice all year round but will make for a shiny and fun option during the colder months. This highly reflective polish is created with a special pigment and makes an effortlessly chic statement. It can be worn on nails of all lengths and shapes and can be paired with all colors. You can paint every fingernail with a holographic lacquer or keep it simple and subtle by doing it on only one nail, with the rest a solid, neutral shade of grey or dark blue. The iridescent polish is a fantastic way to add some shimmer to your appearance.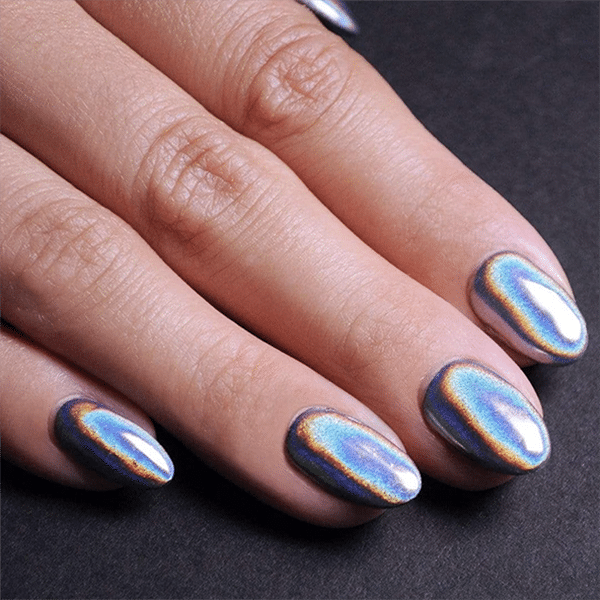 Winter Toe Nail Designs
31. Starry Night Blue
This is a great winter selection for your toes and it's so simple to do. Pick out your favorite shade of blue and apply it to your toenails, then perfectly place gems on the corner of your big toes. Once that is complete, put a layer of topcoat over them so that they stay in place.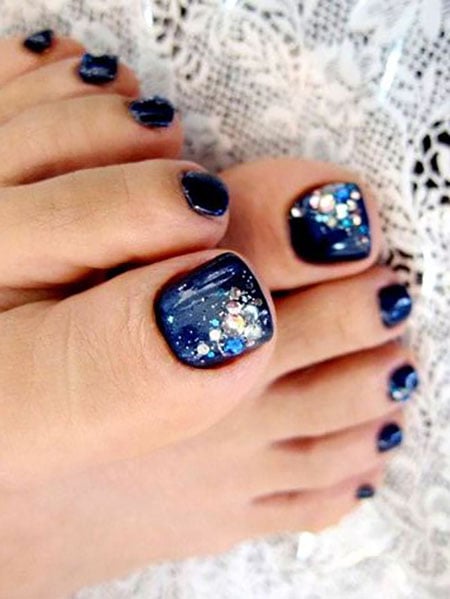 32. White Snow
This look would pair perfectly with any nail choice that has white in it. This simple look is perfect if you've spent ages on your nails and still want your toes to look nice but don't want to put in too much effort.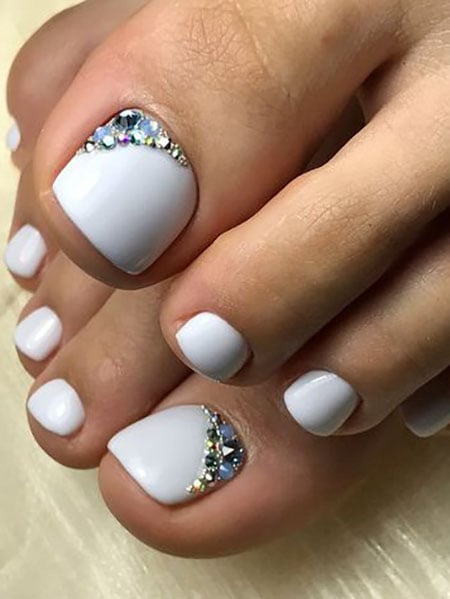 33. Festive Red
Perfectly match these toe nails with your finger design. A french manicure and pedicure with a holiday twist will look fantastic. If you want it to be more eye-catching, add the gem on the big toe to finish off the look.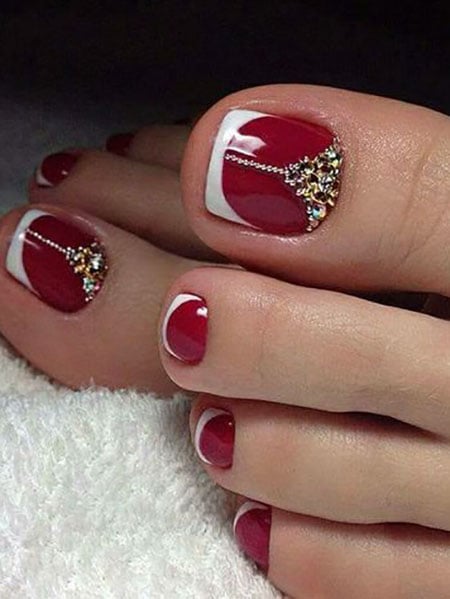 34. Nude
These toes go perfectly with all nail designs that are nude, neutral or natural in color. Add a little bit of rose gold glitter on to every second toe, then finish the look off with gems.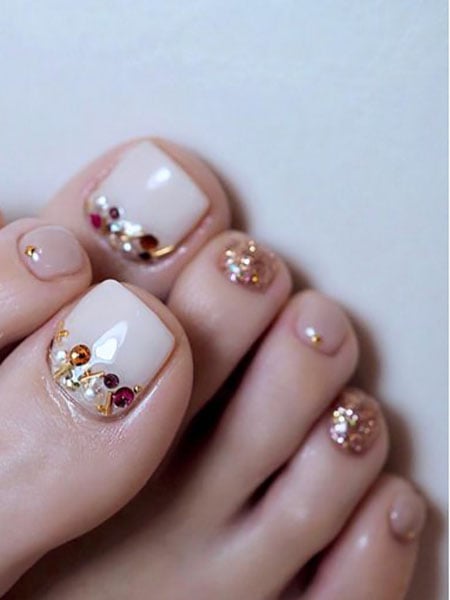 35. Nude and Gold
Paint your toes nude, with one feature nail in glitter gold. Finally, add the detail around the big toes. It's simple, stylish and pairs nicely with many nail styles.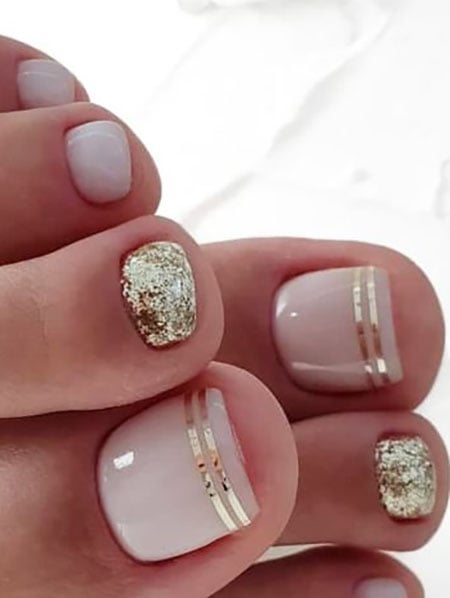 FAQs
What Nail color is in for 2022?
Neutral earthy tones, such as sand, soft red, and chocolate brown, are trendy in 2022, as they reflect the neutral colors found on the runways. Classic blue is also in thanks to being the Pantone color of the year for 2022.
Are white nails OK for winter?
White nails are perfect for winter. They'll remind you of the snow falling outside the window and white Christmas evenings. Plus, they're easy to do, pair well with most colors and outfits, and can be dressed up with jewelry.
What color nails do guys like best?
Classic red is a favorite nail color among both women and men. It's fierce yet feminine and easily draws attention to a perfect manicure.
SUBSCRIBE TO OUR NEWSLETTER
Subscribe to our mailing list and get interesting stuff and updates to your email inbox.