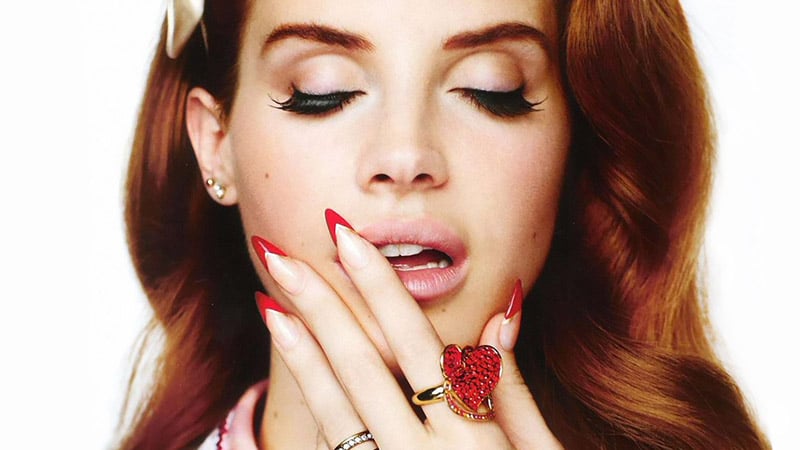 The upkeep of your nails is as important as picking a killer outfit to go out in. You need to take pride in your appearance, and what better way to do so than by transforming your nails into super chic stilettos. They look fierce, featuring a tapered shape with pointed ends. Not to mention, they're totally on-trend. However, if this is all new to you, then don't worry. We're here to guide you through everything to do with stiletto nails, including the best designs and colors to choose from, as well as their price point.
1. White Stiletto Nails
White is one of the most timeless and classic nail polishes. It is easy to wear, can mix and match with everything, and is perfect for almost all occasions. This is a color that will never go out of style and suits every skin tone. Whether you choose a simple white lacquer or try out effects like ombre nail art, there are many ways that this color can be worn. In addition, white is often associated with freshness and new beginnings. The brightness of the hue will draw attention to your long, stiletto white nails, making them stand out even more. For this reason, it is essential to ensure that your hands are kept in great shape, so take care to avoid any chipped nail polish and moisturize your hands regularly.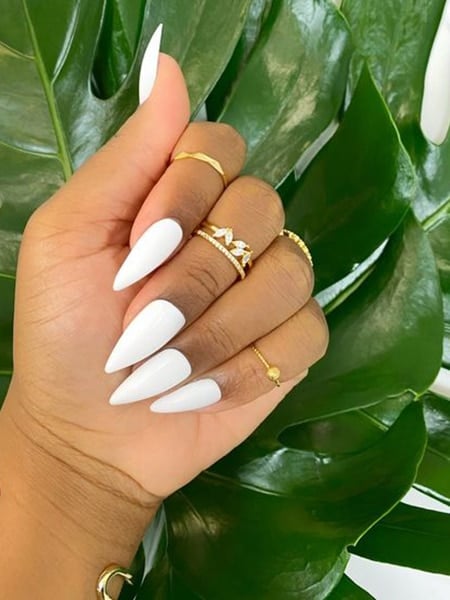 2. Black and Red Stiletto Nails
What is not to love about black and red stiletto nails? The two colors are great together and make for a striking statement. This is a combination for those who want to draw attention to their hands because the bold shades are unmissable. Red nails are often associated with love and passion, whereas black nails are chic and sophisticated. There are many ways to try out this pairing, whether with a black base and red tips or artwork that Christian Louboutins shoes have inspired; the iconic heels with red soles. For a seductive finish, wear your favorite shade of red lipstick to compliment your manicure.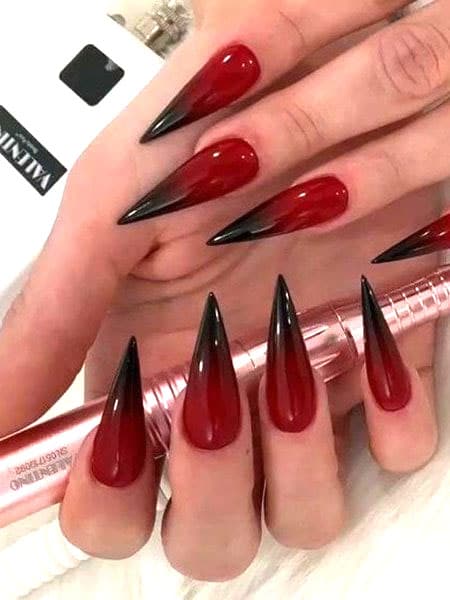 3. Pink And White Stiletto Nails
Pink and white is a combination that is timeless and classic. This is one of the most feminine pairings, and it looks great on nails of all shapes and lengths. The appeal of wearing pink and white stiletto nails is their versatility, and you will likely not be restricted with where you can wear them or with what. This is especially true if you opt for a muted shade of pink. For a simple and sophisticated option, you can try a French tip manicure. Polka dots, line art, or swirls are excellent choices for those who want to be a little more creative and daring. You can also experiment with different finishes; glossy or glittery can be luxurious, whereas matte polish can create an interesting texture.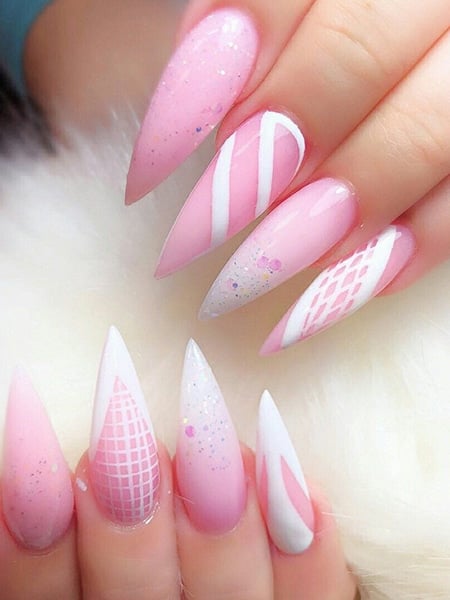 4. Natural Stiletto Nails
There is a time and place for bold colors and interesting nail art, but if you want a perfect look for every day, then opting for natural nails is the way to go. The beauty of the stiletto nail shape is that it is interesting, so there is no need to pick anything too detailed on top of it. The simplicity of the nail polish paired with the stiletto nails will highlight the shape. Plus, natural colors are subtle and easy to wear, lending themselves well to various occasions, including corporate functions. This may seem like a simple look, but that is the beauty of it. You also don't need to worry about clashing with your outfit because these nails can be worn with everything!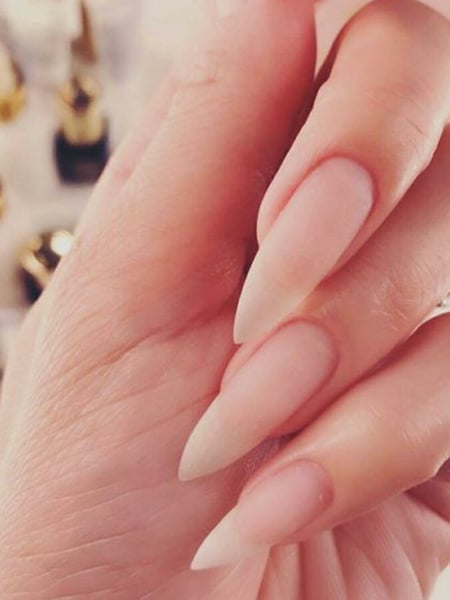 5. Spring Stiletto Nails
Spring is the season of new beginnings, life, and growth. It is one of the gorgeous times of the year and is often represented with floral details or pastel colors. It is no wonder this season has inspired nail art, which can be beautiful and feminine. There are many different options; you can keep it simple with pastel tips on natural nails. Play around with interesting patterns and shapes. Or opt for tiny flower designs on top of your favorite nude base coat. Your creativity is your only limit, so have fun with your nail art and let it reflect your personality or the colors you love most. Opting for muted shades is also easier to wear and will lend itself well to various occasions, including formal ones.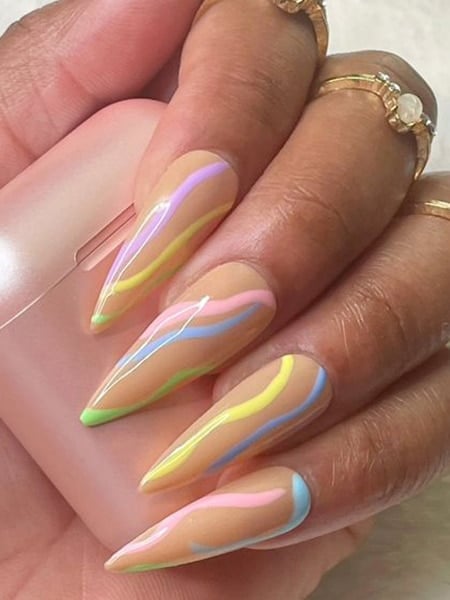 6. Almond Stiletto Nails
Stiletto nails are given their name because of the shape, which is created to look like the shoe's heel and are typically long and pointy. An alternative to this daring manicure would be almond nails, which are typically more rounded and often shorter. Almond nails are an attractive option, and they can be easier to wear because they are more practical, although just as glamorous. There is also a wide range of choices for nail art; keep it simple, or get creative with interesting designs and effects. Both stiletto and almond shapes can be prone to breakage, so take care when going about your daily activities to ensure you keep your manicure looking its best.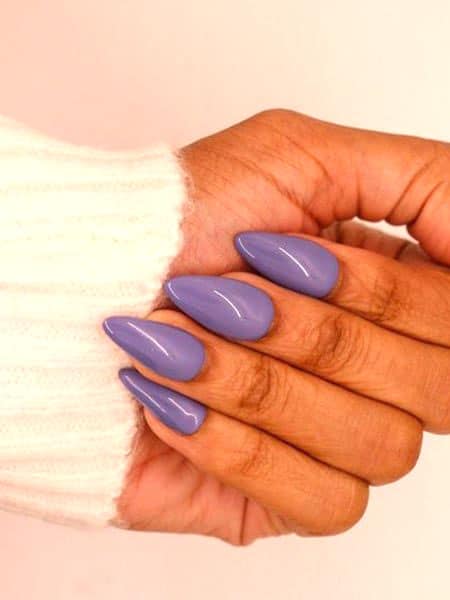 7. Fall Stiletto Nails
Stiletto nails are defined by their pointy tip, but this shape is actually surprisingly versatile and lends itself well to many nail art ideas. Keeping your nails longer also provides you with more options on what you can do. If you are in the mood for cozying up and drinking hot chocolate, then you will be inspired by this super cute fall manicure. The colors associated with fall have warmth to them. It is also the season where the leaves change, and to reflect this, nail art is created using yellow, brown, red, and orange hues. You can paint each nail a different color or get creative with just one or two. Try out checkered prints, line art, and squiggles for looks that are interesting and super versatile.
RELATED: 20 Fall Nail Design Ideas to Try in 2021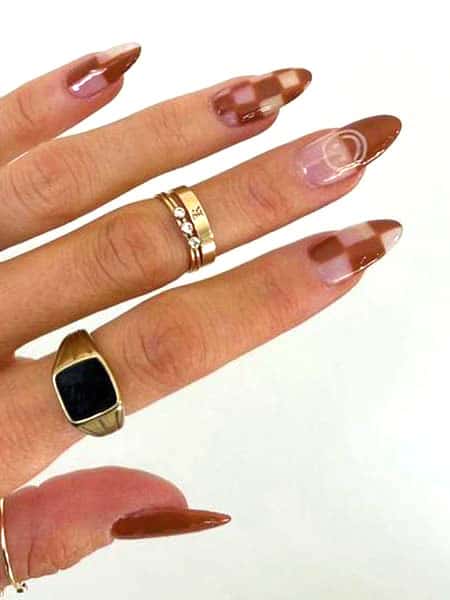 8. Black And White Stiletto Nails
Black and white nails make for a striking combination. The monochromatic color scheme is easy to wear and will lend itself well to a variety of settings. There are also many options for how to wear these two colors together. You can use the black as a base coat and add white nail art, which could be anything from polka dots to stripes. Or you can get creative with black French tips or opt to paint all of the nails white, leaving a feature nail black; this is a more subtle and simple approach but is just as glamorous. Although the focus will be on your hands, you can also incorporate some color into your appearance by wearing a bold shade of red lipstick. Finish your look with black or white tailoring, which will make you appear sophisticated and chic.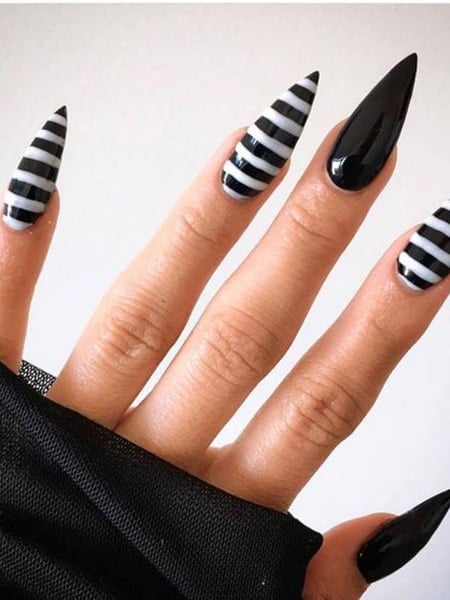 9. Long White Stiletto Nails
The beauty of stiletto nails is they look perfect when kept long. The shape can elongate your fingers and make them look longer and slimmer. There is also more versatility for nail art, and you can get creative with your designs. Or keep it simple by opting for your favorite shade of polish. White nails are a wonderful choice because it is a timeless classic. This is a hue that can be mixed and matched with everything you own. It can also be paired with other colors; pink and white will create a feminine finish, whereas black and white are striking and bold. There are so many ways to try out this crisp hue that it is bound to become your go-to color for all your manicures.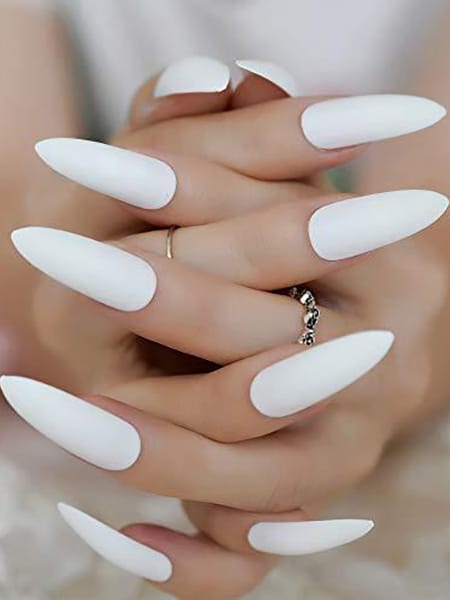 10. Baby Blue Stiletto Nails
Baby blue is a soft color, and because it is not as saturated, it is easier to wear. Blue is also associated with calmness and tranquility, so opting for baby blue stiletto nails could make you feel at peace every time you look down at your hands. There is a shade to suit all skin tones, and this color can be worn on nails of various lengths and shapes. It is also gorgeous as a base coat, allowing you to get creative with your nail art. You can include other colors, such as pink or white, and for a dreamy and feminine option, you could try out the ombre technique. You can also get creative with glitter or matte finishes and embellishments such as diamonds and rhinestones.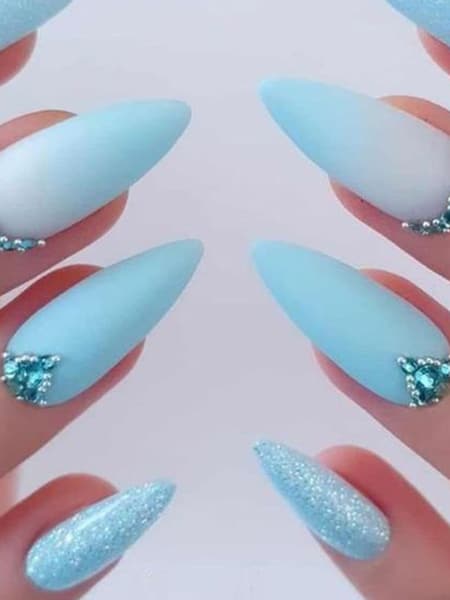 11. Unique Stiletto Nails
Nail art can be as simple and subtle as you want or as bold and daring. The choice is entirely yours, and stiletto nails are a fantastic shape to get creative. The super-pointy tips and long length give you a great amount of space to work on, allowing you to find a look that can best reflect your personality and style. A unique manicure could include abstract designs, unusual detailing, or a combination of colors and prints. There is no wrong option, and it is all about having fun and expressing yourself. Choose your favorite color as a base coat and then add to it with different-sized rhinestones. You can also include nail stickers such as hearts and smiley faces. Use vivid colors if you want a look that will bring a smile to your face and pile on your favorite rings to draw even more attention to your hands.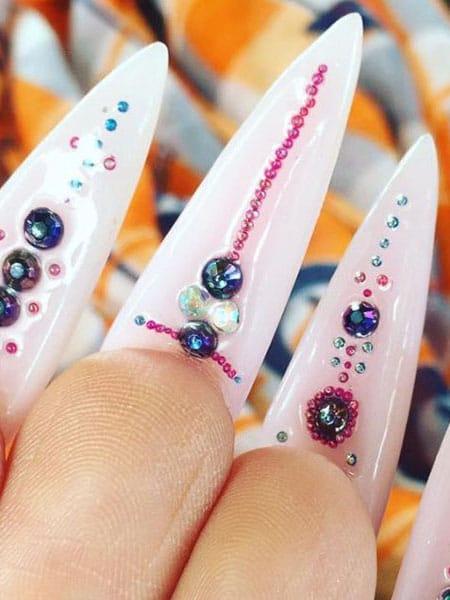 12. Stiletto Valentines Nails
Valentine's Day is the perfect opportunity to celebrate those you love, but you don't have to wait for Feb. 14 to wear your favorite heart-inspired manicure. There are many ways to wear Valentine's Day nails, but popular color combinations often include red, pink, and white shades. You can get creative by incorporating hearts of varying colors and sizes. Or keep it simple with just one fingernail with tiny hearts and the rest with your chosen lacquer. Your nails can also be an opportunity to let those who you are closest to you know just how much they mean to you. So, it is best not to wait to try out this look.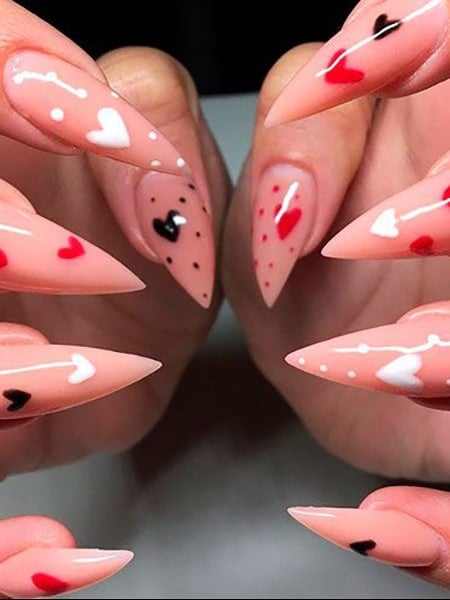 13. Black and Gold Stiletto Nails
Black and gold nails are a gorgeous combination. These two colors go together very well, and a dark base coat can make the gold more vivid and noticeable. There are many ways to pair up these hues, including nail art inspired by the night sky or more abstract detailing. You can also add gold flakes to your manicure or nail stickers and line art. The look has so much versatility, and creating it on stiletto nails offers even more opportunities to make the nail art of your dreams. Your nails will demand attention, so wear them with confidence.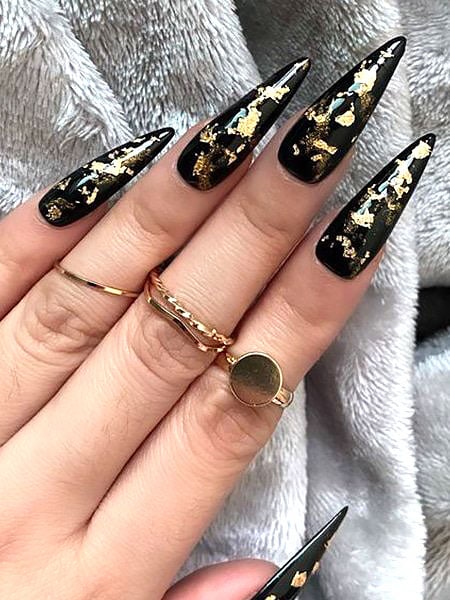 14. Blue Stiletto Nails
Blue nails are the perfect choice for a woman who wants nail art that is luxurious and elegant. There are varying shades of blue to choose from, but the richer colors tend to have the most impact. This is a great way to give your nails a fun update and can be worn all year round. You can also add your favorite nail art, such as butterflies or hearts, and experiment with different finishes such as glossy, glittery, and matte. When it comes to your outfit, it is best to wear solid, neutral tones to let your manicure be the focus of your appearance and let the color of your nails pop.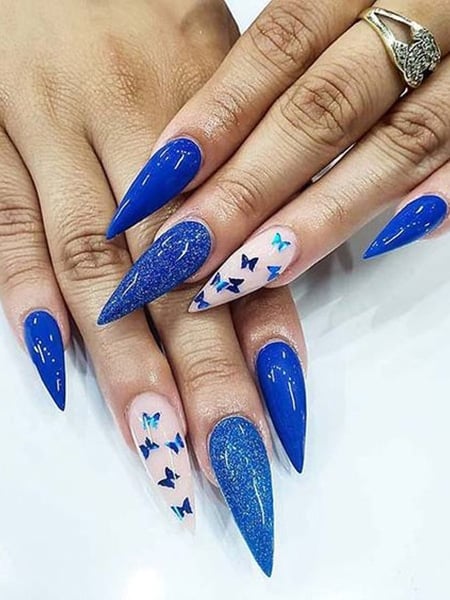 15. Gothic Stiletto Nails
Gothic stiletto nails are for those who have an alternative style or want a manicure that allows them to express themselves. Opting for black nails with interesting details is a fantastic choice, and it is incredibly wearable, although perhaps not in conservative or corporate environments. Black demands attention and looks good with everything, but it is a great idea to add details such as lace, chains, and studs to give your nails a unique finish. Not only is this a texturally interesting choice, but it also has a slightly rebellious feel to it. Wear your favorite dark shade of lipstick, such as a deep red or black, to complement your manicure for a gothic-chic appearance.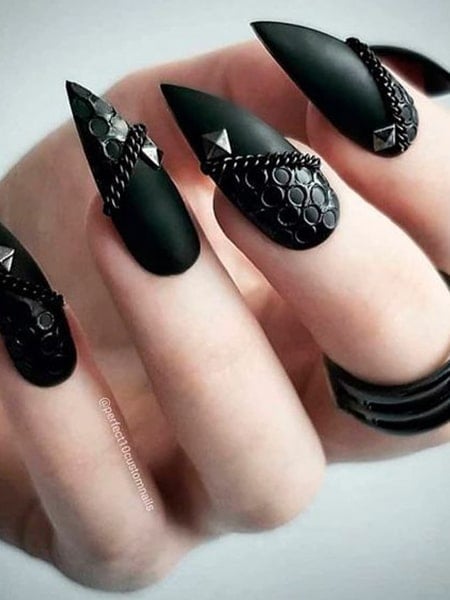 16. Green Stiletto Nails
If you are looking for a fun color for your next manicure, look no further than green. Green nails are a great choice because they symbolize renewal and growth, and there are many shades to choose from. This can be light or dark, which allows you to find the perfect match for your skin tone. Whether you decide to keep it simple with your favorite green hue or try out the ombre effect, there are so many ways to wear this color, which only adds to its appeal. You can have green polish on nails of all lengths and shapes, but it is striking on stiletto nails and will draw even more attention to them.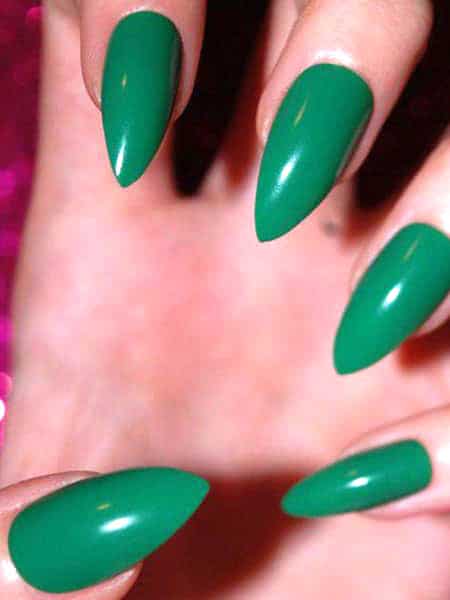 17. Orange Stiletto Nails
Some colors are easy to wear and subtle, and then there are the bright and bold hues that are unmissable. Orange falls into the second category, and it is a beautiful, fun shade to paint your stiletto nails. The appeal of this saturated hue is that it can bring a smile to your face, as the color is often associated with positivity, sunshine, and creativity. It is exceptionally flattering on people with a neutral undertone. There are many ways to incorporate orange into your manicure, including opting for just orange tips or painting the nail with an orange base coat; the choice is yours.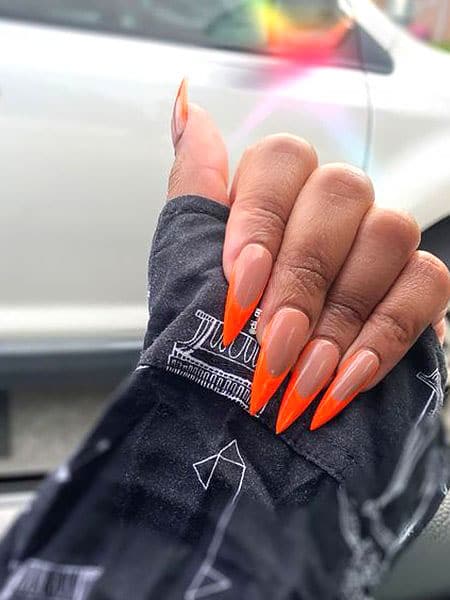 18. Black Ombre Stiletto Nails
Stiletto nails get their name because they resemble the thin and pointy shoe heel. The shape features nails that are filed into a point and are often worn long. It is the type of nails that makes a statement and are super feminine. The extra length also gives you more versatility in nail art, especially with effects like the ombre technique, which is more dramatic on longer nails. Ombre is the blending together of two colors, typically one light and the other darker. The combination makes for an interesting and chic manicure and can be done in various colors, including black. Black ombre stiletto nails look gorgeous, and you can choose to create them with nude shades, whites, beiges, or anything you wish. This manicure is the perfect addition to monochromatic outfits.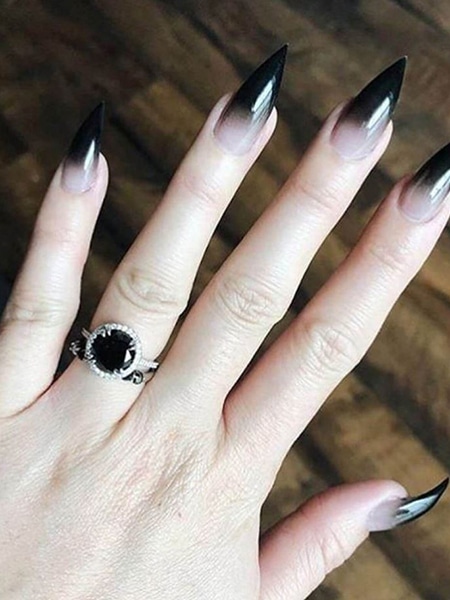 19. Burgundy Stiletto Nails
Burgundy is a deep, rich shade of reddish-brown that is often worn in the autumn and winter months. It is a color that is not particularly bold or bright and is versatile and easy to wear. This is an excellent option for women who are tired of classic red nails and find pink or white too plain. It can make you think of power and romance. You can get creative with your nail art, but keeping it simple is just as effective. To draw even more attention to your hands, pile on your favorite rings. Mixing and matching with different metals, for example, silver and gold, is a visually interesting option.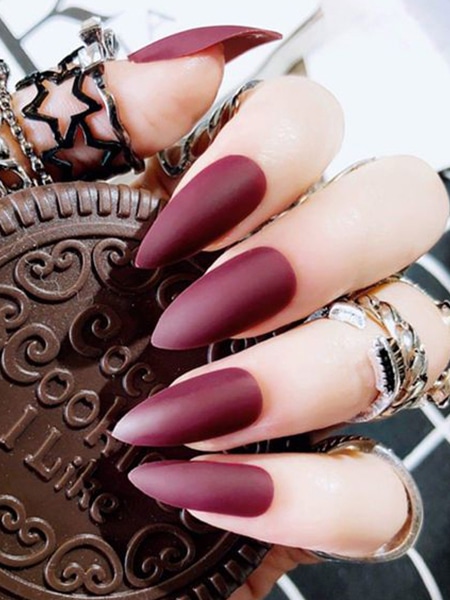 20. Neon Stiletto Nails
If you want to stand out from the crowd, one of the easiest ways to do it is with a bright and bold manicure. Few options demand attention in the way that neon colors do. They are vibrant and can be mixed and matched. You can pick your favorite shade of neon or combine several for a rainbow-like appearance. Many women feel neon can be restrictive, but it can be a great choice because it is fun and expressive. Wear a different color on each finger, or keep it subtle by opting for only neon tips and negative spacing. Another option would be to try out a blended look or ombre effect. There is no right or wrong way to wear neon stiletto nails. That said, it is probably best to pair such an eye-catching manicure with neutral clothing.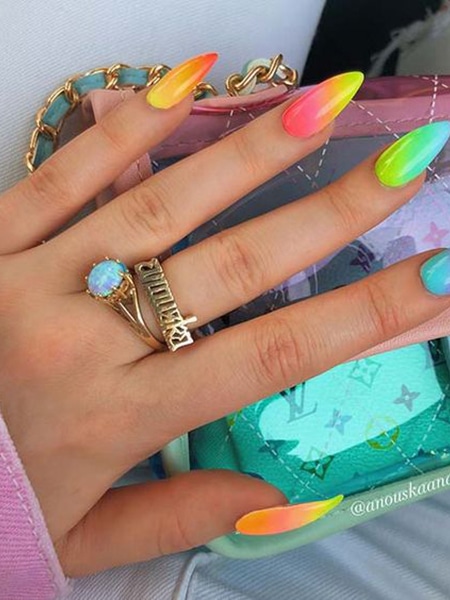 21. Short Stiletto Nails
If you're wanting the stiletto shape but need your nails to be more practical, short stiletto nails will be your best friend. Having them short means you're able to do a lot more with them, carrying on with your routine without having to re-train yourself how to do simple things with your new claws.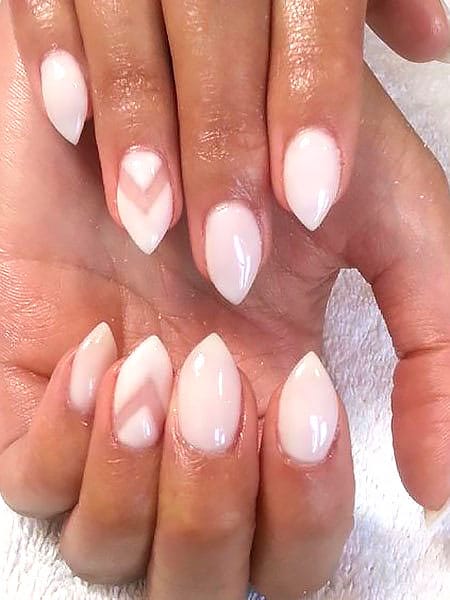 22. Black Stiletto Nails
Black stiletto nails look fierce. These nails will suit you so well if you're either covered in tattoos or happen to be a little emo. These are just another statement piece to add to your personality, showing who you are inside, on the outside. Also, don't be afraid to add a little nail art or glitter to them to spice them up.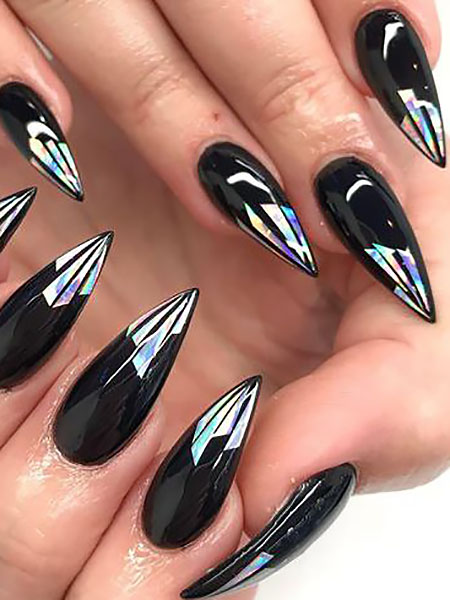 23. Stiletto Acrylic Nails
Acrylic is a type of way in which you can get your nails done. With acrylic nails, a combination of a liquid monomer and a powder polymer is applied to the nails. This creates a hard protective layer over the natural and added false nail, holding the two together. The two products harden when exposed to air and are transparent. With acrylic nails, you have to add a nail polish or shellac over the top afterward if you want them to be colored. Otherwise, you can always just decorate them using nail art.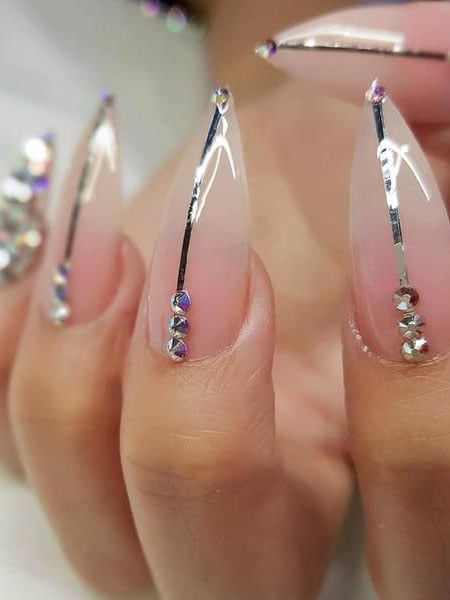 24. Long Stiletto Nails
Long stiletto nails look incredible but keep in mind if you do opt for the longer length, it's going to be harder to do day-to-day things. While not impossible, you may find that you're retraining yourself on how to do simple things, such as text. Don't worry though; you'll quickly get the hang of it. The longer the stiletto shape, the better they usually look, so why not go bold.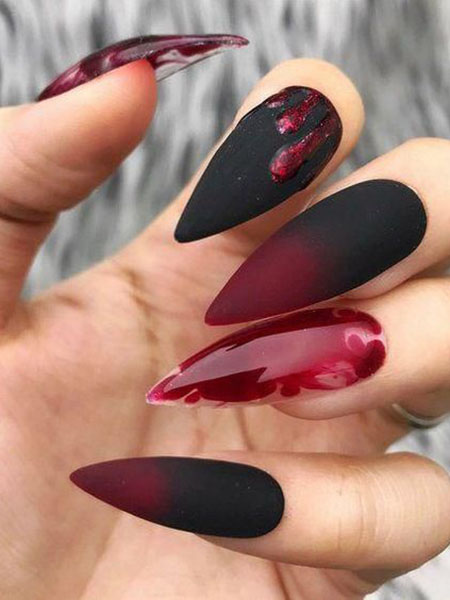 25. Press on Stiletto Nails
If you're not a huge fan of nails but are wanting to wear them just once for a special occasion, press on stilettos is your 'go-to'. You can go shopping for your favorite design, then simply pull the plastic off the back and stick the nail on top of your own. They'll only take ten minutes to apply, instead of sitting in the nail salon for over an hour, just to show them off the next day.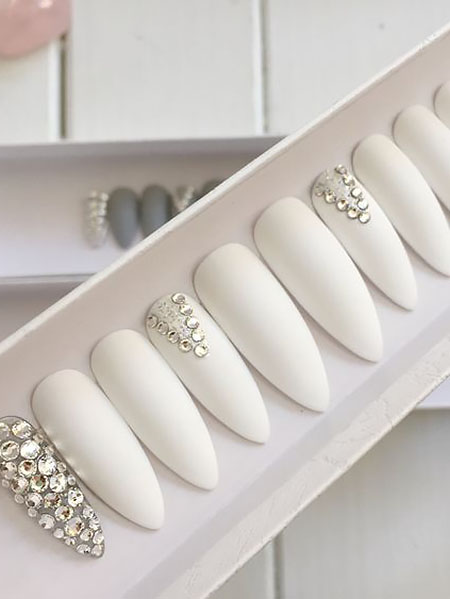 26. Nude Stiletto Nails
Nude stiletto nails are really cute. If you're more of a girly girl then this is the style for you. Not to mention, nude nails will go with just about any outfit, which makes them an easy choice. You can either get them in matte or high shine, and the colors can range anywhere from almost clear to a deep nude. Sure, 'nude' may sound plain or maybe even a little boring but you've honestly got so many options with this color that all look amazing.
RELATED: 25 Nude Nails Designs to Update Your Look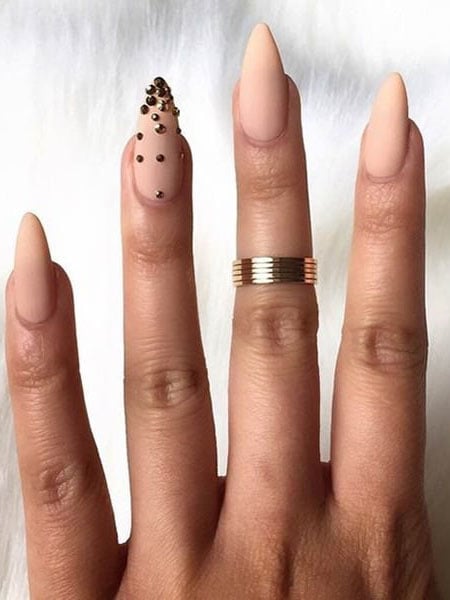 27. Red Stiletto Nails
Red stiletto nails are made for a vibrant girl. You know whether you can pull red off or not, and if you can, then this is your color. Red is a strong color, and especially with the stiletto shape, your nails are bound to get noticed. You'll have people grabbing your hands to take a closer look and complimenting you left, right and center.
RELATED: 17 Gorgeous Red Nail Design Ideas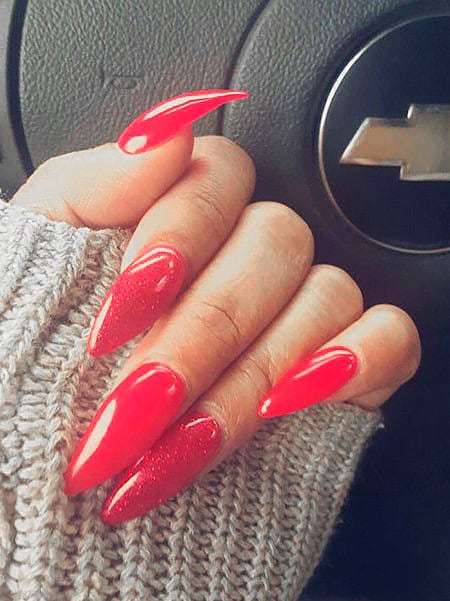 28. Matte Stiletto Nails
Matte stiletto nails look absolutely killer. There's something about a matte nail that instantly makes you ten times more fierce. Not to mention that over the past few years matte has become very popular. Yes, you still have many people who are still too afraid to try it but if you think you can, then go for it.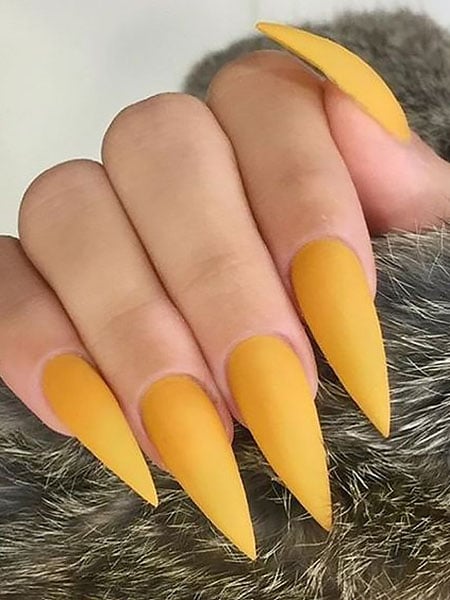 29. Pink Stiletto Nails
Whether you get hot pink or baby pink, these nails are made for a Barbie doll. Yes, they look super sweet but they also make a statement. These are the nails for a carefree girl who spends way too much of her paycheck on shopping. There's nothing wrong with pampering yourself though, and after all, pink is supposed to be every girl's favorite color.
RELATED: 20 Adorable Pink Nails You Will Love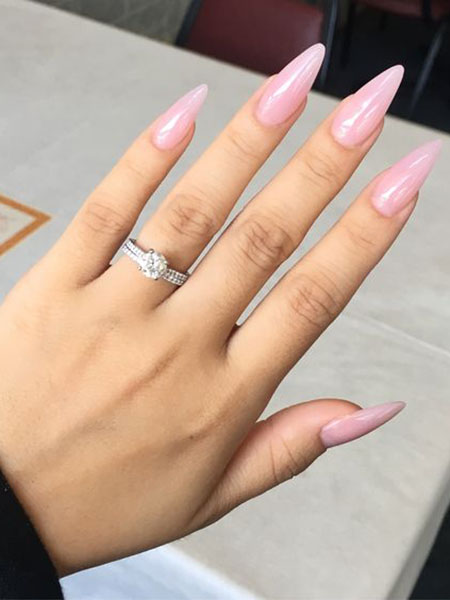 30. Matte Black Stiletto Nails
Matte black stiletto nails are super chic, and you'll find that they go with just about anything. They look especially cool if you add a little bit of nail art to a single nail. After all, black is as dark as it gets, so it's a great way to brighten them up just a little. Matte black stiletto nails are so on-trend, so you can't go wrong with opting for this look.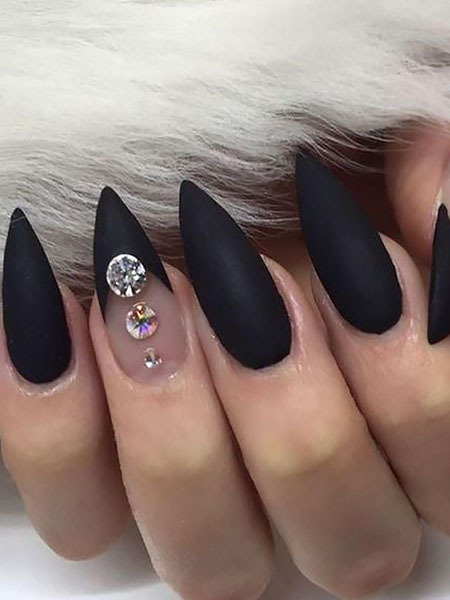 31. Cute Stiletto Nails
You can have so much fun when creating cute stiletto nails. There are so many different colors and designs to choose from. A great idea is to walk into your nail salon and just say, "I want cute stiletto nails." Your nail technician will have the best time getting to use their creative design skills, and you'll no doubt love the way they turn out.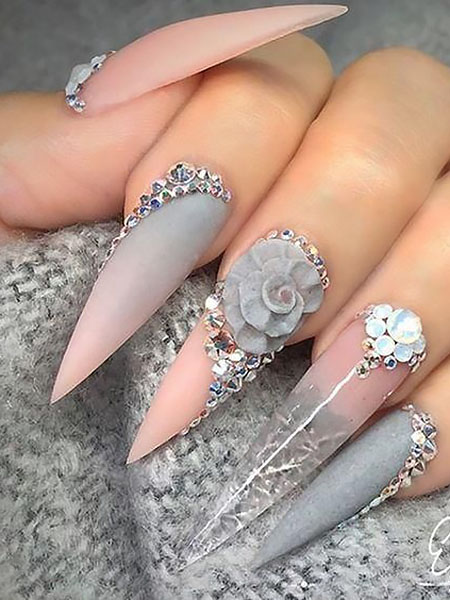 32. Glitter Stiletto Nails
Glitter stiletto nails tend to catch the eye. After all, they do sparkle. These are typically a 'girly' design and suit all those formal occasions such as weddings, debutants, or even just a big night out or a birthday. The stiletto shape can be a little more extreme for these sorts of occasions as opposed to, let's say, the almond shape. Though they're bound to stand out which is generally what you want when you go 'full glam' for an occasion such as these.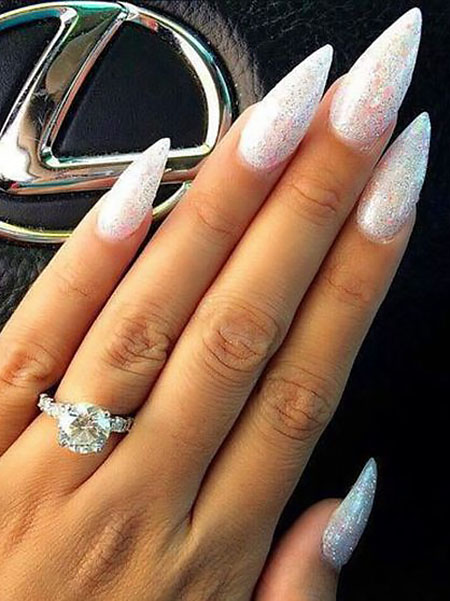 33. French Tip Stiletto Nails
French tips are a classic style, but they can look different when done on stiletto nails, thanks to the shape. You can even modernize them further by adding a cute shape or pattern at the base of the white tip, such as a heart or swirl. Just in time for Valentine's Day, why not turn a cute but classic style on its side, making it a little different.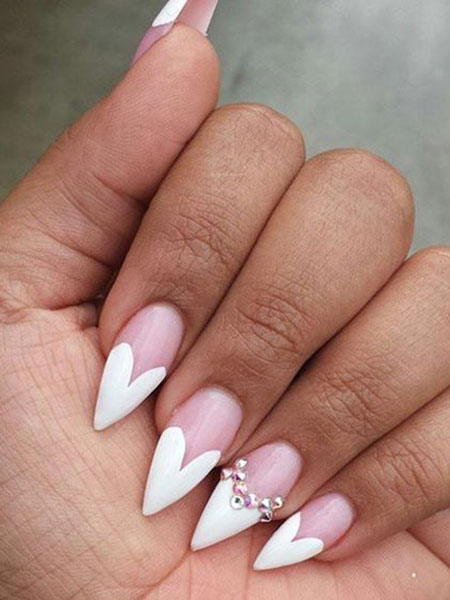 34. Yellow Stiletto Nails
Yellow stiletto nails look amazing in the summer when you've got a great tan going on, and you want to make it pop. The bright color contrasts against your darker skin and looks incredible. Not to mention, yellow is such a warm and happy color, so you can't go wrong with it.
RELATED: 20 Stunning Yellow Nail Designs To Brighten Up Your Day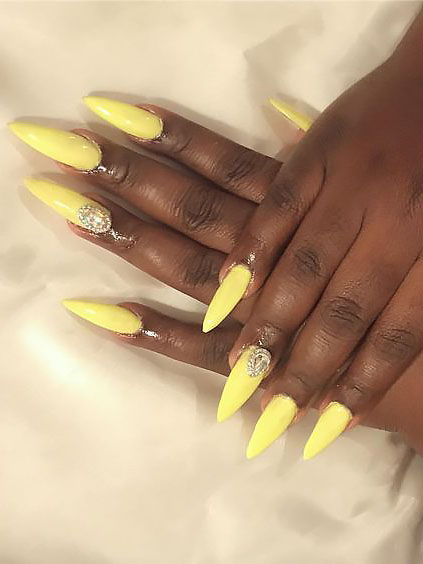 35. Glue on Stiletto Nails
Instead of stick-on nails, glue on stiletto nails is the next best thing if you want them to last a little bit longer. Though they are generally a little bit harder to apply. With glue on nails, it's up to you to apply just the right amount of super glue to the nail so that when you place it against your natural nail, it doesn't spill over the edges. Then you must hold the nail in place until it's dry enough to stay put. While it may sound easy, it does take some practice to make perfect.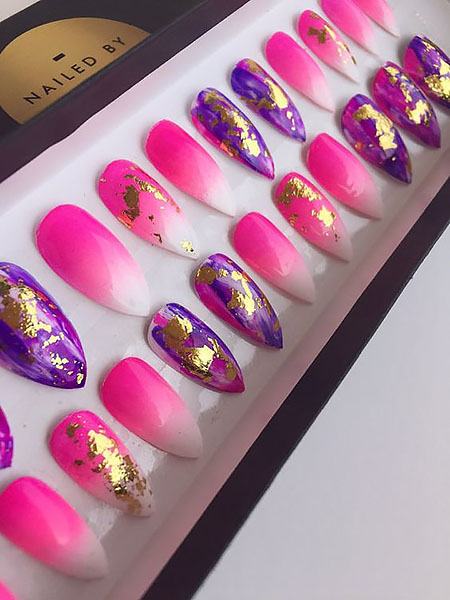 36. Purple Stiletto Nails
Purple nails come in a range of different colors from deep purple, to lilac. They usually aren't on the list of 'go-to' colors as they're generally a little brighter and more 'out there' in comparison to your nudes and blacks, which will go with everything. Purple nails will stand out, and they also make a great summer color.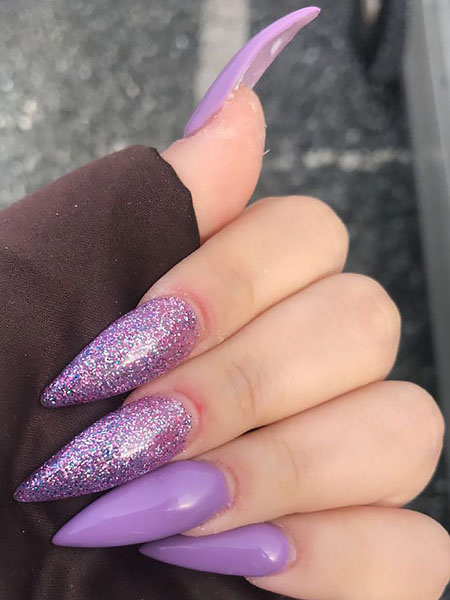 37. Ombre Stiletto Nails
Ombre nails have recently become a popular design, and there's no question as to why. These nails look cool and can be done using almost any two colors. Though the most popular does seem to be nude and white or pink and purple. When creating these nails, simply pick your two favorite colors in a similar tone. It could be fluorescent, pastel, or anything else, then get your nail technician to perfect the ombre design.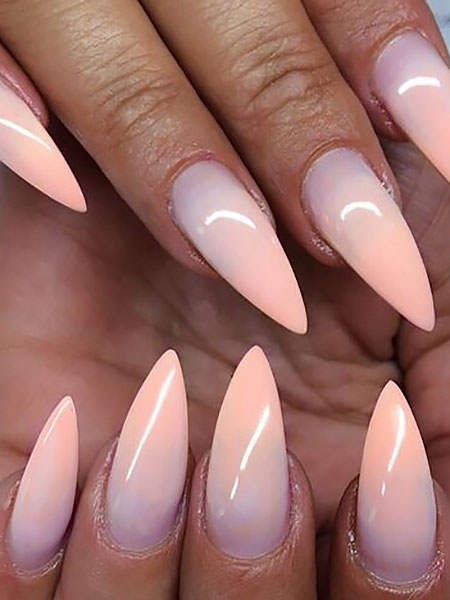 38. Gold Stiletto Nails
Gold stiletto nails, much like silver nails, are great for all those formal occasions. They tend to go nicely with formal, party, and wedding dresses, adding that extra spark of elegance to your look. You can either opt for a sparkly nail or matte gold, depending on the occasion and what's better suited.
RELATED: 20 Stylish Gold Nail Design Ideas to Copy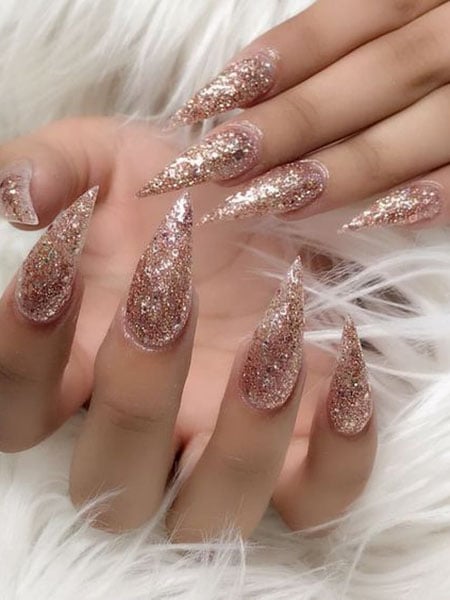 39. Christmas Stiletto Nails
There is nothing more fun than getting into the Christmas spirit by dressing your nails for the occasion. Oh, and there are so many different styles to play around with when it comes to Christmas. Think red, green, gold, silver, and blue. You can mix the colors or go crazy with nail art. Either way, they're bound to look festive.
RELATED: 12 Stylish Christmas Nail Designs You Will Love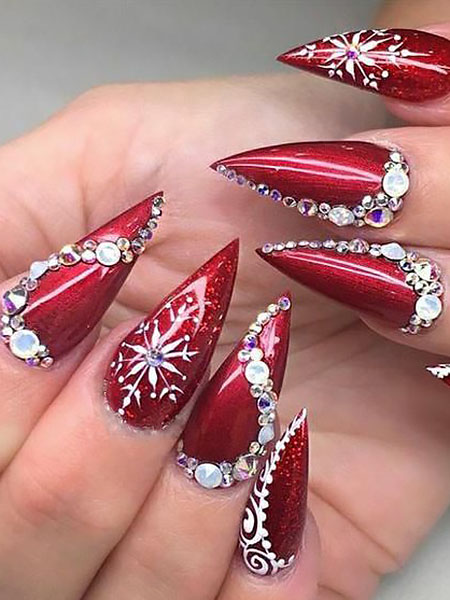 40. Summer Stiletto Nails
When it comes to summer stiletto nails, think of bright colors such as yellow and orange. Otherwise, think about your favorite time of the summer day. Perhaps this is sunrise or sunset when there are two or three colors in the sky. It always looks incredible if you re-create that on your nails. Mix your favorite summer colors for an ombre nail design.
RELATED: 15 Hottest Summer Nail Colors to Try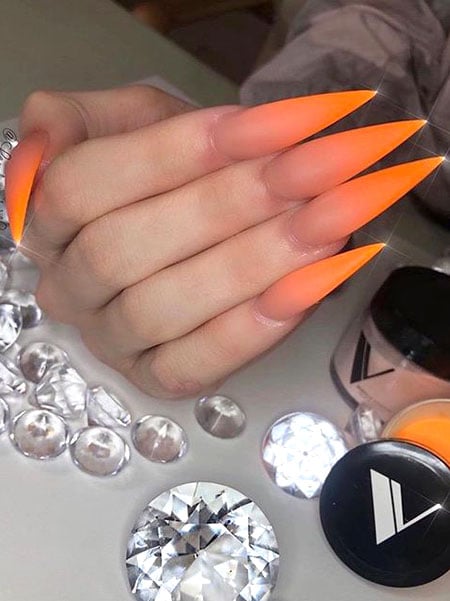 FAQs
What are Stiletto Nails?
Stiletto nails are a form of manicure, with the addition of false nails on the tips. They resemble the shape of the stiletto, carefully cut on the sides and filed into a point so that the tips are the shape of a triangle, leaving the ends pointed. These nails are generally long and look fabulous once painted.
What does stiletto nails look like?
As the name suggests, stiletto nails have been shaped to look like the stiletto heel. They are often long, thin, and exceptionally pointy at the tip. There are many options to choose from, including keeping them shorter, which tends to be a more practical option. These nails demand attention and should be worn with confidence because you want to show them off!
What's the difference between almond and stiletto nails?
Almond nails are usually shorter and more rounded than stiletto nails, both at the sides and the tip. Also, almond nails are generally a little more practical than stiletto nails, which are super glam. The name 'almond,' refers to the look of these nails, while stilettos have a sharper appearance and resemble long and pointy stiletto heels. Both styles are really cute, so you can't go wrong with getting either, after all, they are similar in style.
How much do stiletto nails cost?
Stiletto nails don't cost more than any other shape, though the price can depend on a few factors such as where you get them done and where you live. Not to mention, you also have to take into consideration whether you want SNS, shellac, acrylic or gel nails, as that will also indicate the price. However, nails generally cost anywhere between $40 to $85. Yes, they're another expense to add to your beauty regimen but remember, they look totally cute and generally last at least two weeks.
SUBSCRIBE TO OUR NEWSLETTER
Subscribe to our mailing list and get interesting stuff and updates to your email inbox.