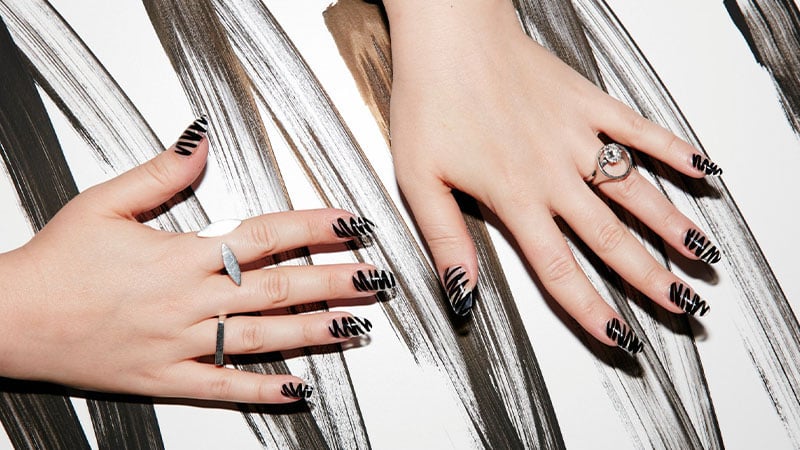 Get fancy fingers with these trendy nail designs. Next time you're due for a manicure and you're looking for some inspiration, check out our favorite nail art looks. There's everything from subtle ombre and modern takes on the French manicure to bold, artsy designs and shiny metallic accents. Plus, many of them are easy to create at home.
1. Branded Nails
Pay homage to your favorite luxury brands with a manicure featuring your chosen companies' iconic logos. Keep it understated and elegant by sticking to a simple color palette. Decorating the tips of a French manicure with branded decals is an excellent example of how to wear this look without being over the top. As such, short designer names and small logos, such as Chanel's 'CC' or Louis Vuitton's initials, work best in the limited space.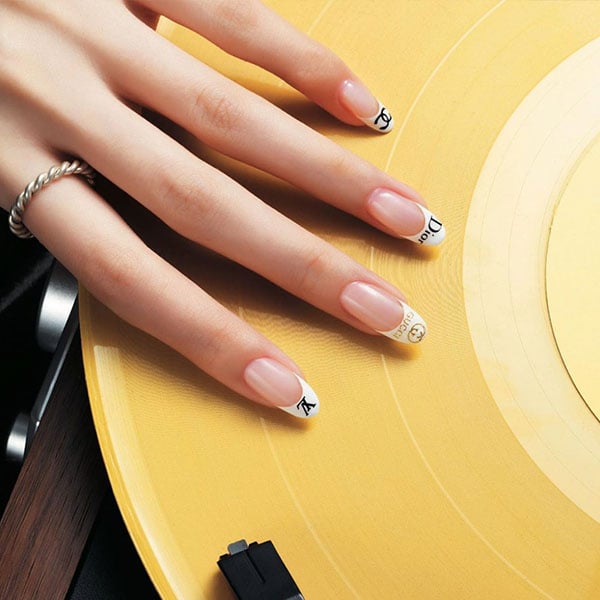 2. Gold and Natural Nails
Gold and natural nail designs are a fantastic way to indulge in the nail art trend, without looking overly extravagant. If you have a steady hand or have a skilled manicurist, then you can paint gold designs on a neutral base. Alternatively, decals are a simple and easy option for creating beautiful patterns. Look for Aztec-inspired designs, stars, hearts, or even flower decals. This kind of nail art can be surprisingly versatile and bespoke. Options to switch this art around include whether you choose pink, orange, or beige-based base coat, or a bright, soft, or rose gold accent.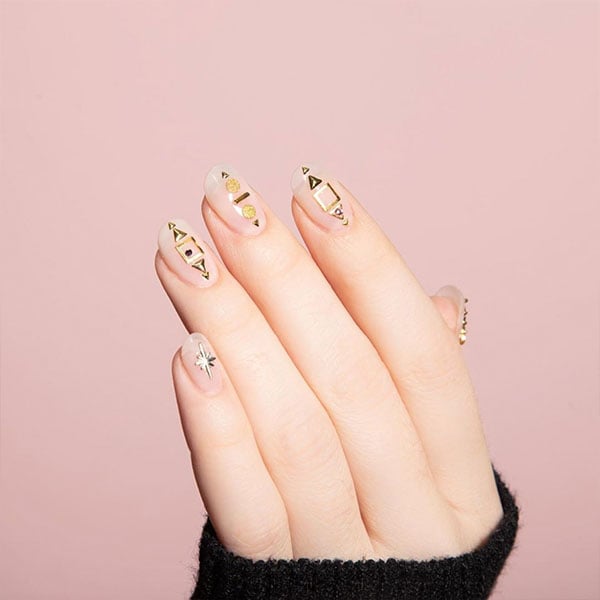 3. Modern Color Palette Nails
If you want to join the nail art trend but perhaps aren't so skilled with the nail polish brush, then this modern color palette is perfect for you. All it takes is a few colors painted on different nails. It's simple yet stunning. Three colors are a great starting point. Additionally, choosing colors from the same side of the color wheel will prevent your look from clashing. Take inspiration from sites like Awesome Color on Instagram, which have ready-made modern color palettes that look amazing. Additionally, you could head to Coolors.co and create your own color scheme and match it up with polish colors you already have.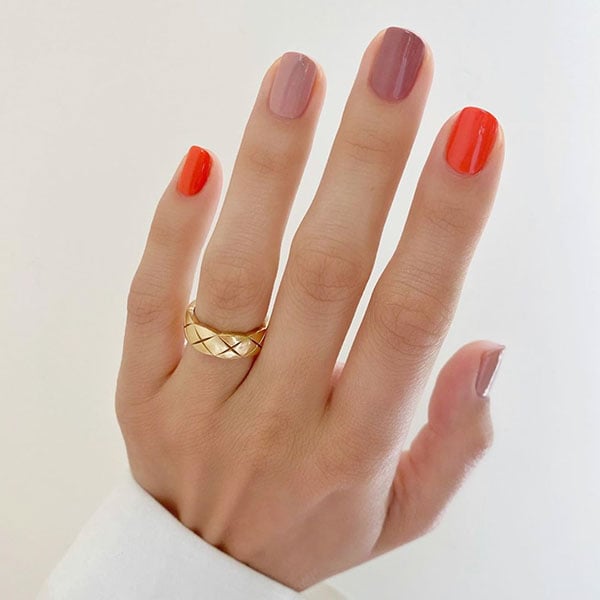 4. Tie-dye Inspired Nails
Reinterpret the boho-tie-dye look with this fun nail art design. The beauty of this look is that you can make it work with almost any color. Plus, it's easy to do at home. Simply apply a white base coat, then working quickly, while it's still wet, dot your chosen colors onto the white. Then, place a sandwich bag over your nail and pat down it to merge the colors. You can add additional details by running a toothpick through the polish as well. Remember that you do have to work quickly before the polish starts to dry and become tacky. Once it's dry, apply a clear topcoat to make your beautiful tie-dye look last. Alternatively, use press-on nails.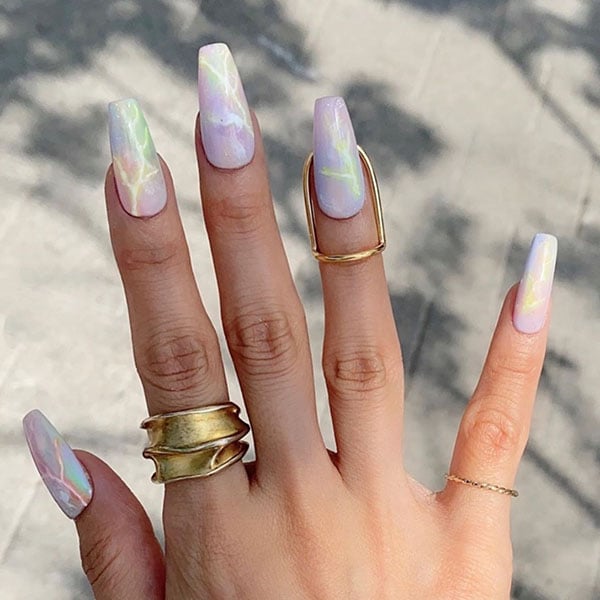 5. Faces Nails
Bring some modern art into your nail design with these faces. The attention to detail and line work on this nail art is simply superb. A good manicurist will have the skills and steady hand to create this look for you. Alternatively, decals and nail wraps are a brilliant alternatives if you don't have a manicurist or want to create this look at home. It's bold and unique and looks striking with the combination of black and nude colors.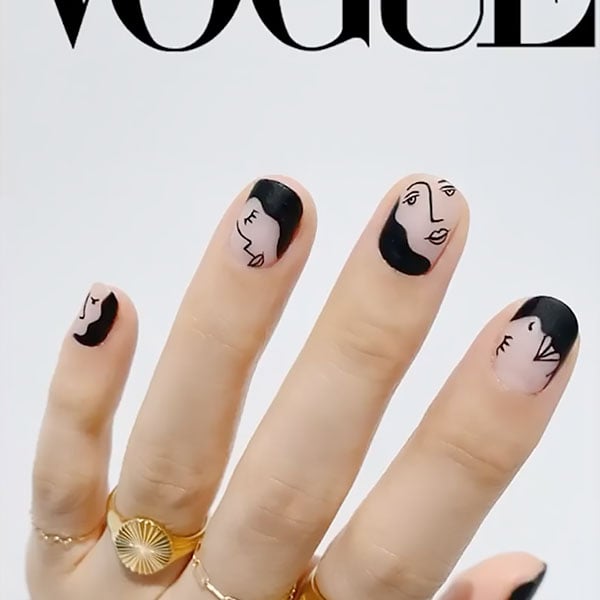 6. Love Heart Nails
Choose a sweet, romantic look with this love heart nail art. It's perfect for Valentine's Day, date night, or just when you're feeling the Cupid's spirit. Pink and red is a classic color combination, and opting for a pale pink base makes the red hearts pop. Plus, this design is easy to do yourself. Once you've applied the base color, simply put two dots of red nail polish next to each other. Then, use a fine nail art brush to join them in a heart shape, working quickly while the paint is still wet. Finish with a clear varnish, and you're ready to feel the love.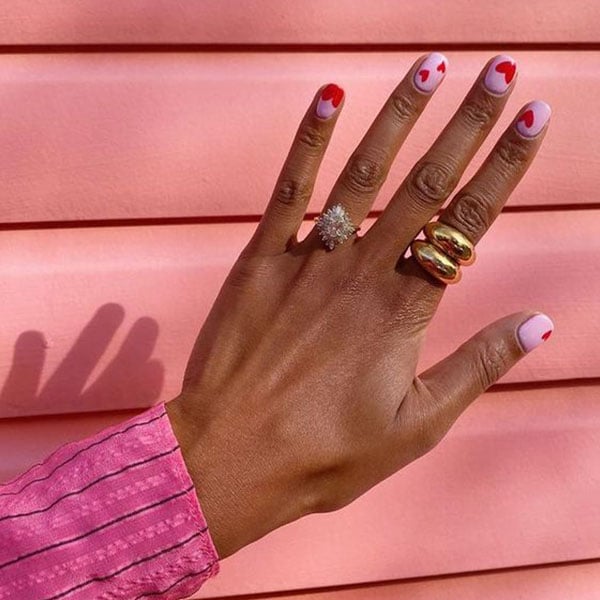 7. Eyes Nails
This look is eye-popping in both design and effect. It's a distinct style that combines black and white for the ultimate contrast. Painting the eyes at the base of the nail takes advantage of the natural curvature of your cuticle to frame each eye nicely. If black and white isn't your favorite combination, you can switch the colors around or even paint the eyes in more realistic colors. However, remember that the more contrasting the color combination, the more it will stand out.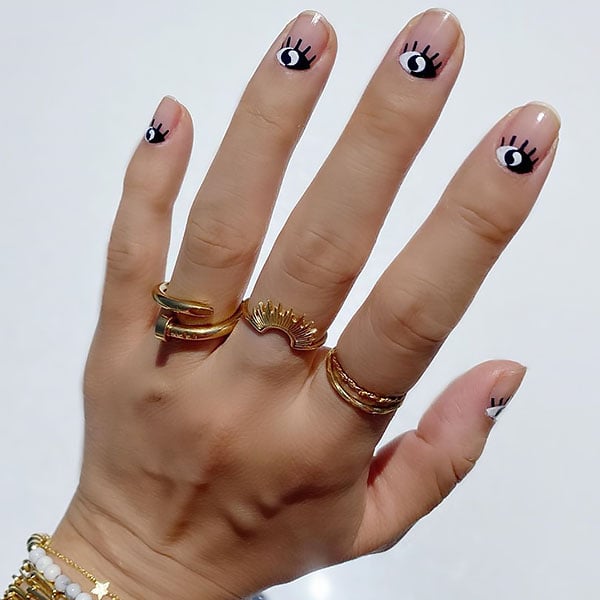 8. Ombre Nails
Ombre nail art allows for a different take on rainbow nails. Plus, it's ever so simple to do with the right tools. All you need is some nail tape, disposable makeup sponges, and your favorite nail polish colors. First, apply the tape to your fingers to prevent painting your skin. Next, apply nude nail polish and let it dry. After this, paint the color onto the sponge and then press it onto your nails. Finish by neatening up the edges and adding a topcoat. Keep the look subtle and straightforward by using a single color on a nude base. Alternatively, you can create some colorful designs by mixing several shades together for different effects.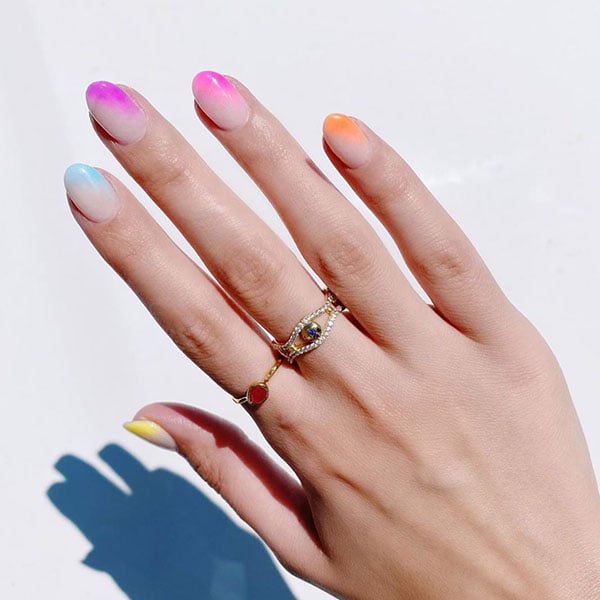 9. Colorful Nails
This colorful nail art will take you right back to your high school art class. The paint splodges are reminiscent of an artist's palette and are a unique way to incorporate a whole rainbow of colors into your nail art design. Combining the colors with a nude base coat creates balance and prevents you from looking like a paint spill. You can choose any number of colors to use, and apply it on the edges of your nails using a fine nail polish brush. The wavy edges are crucial to creating the paint palette look. This nail art is easy-going and fun, plus it looks great when it is accessorized with a touch of gold.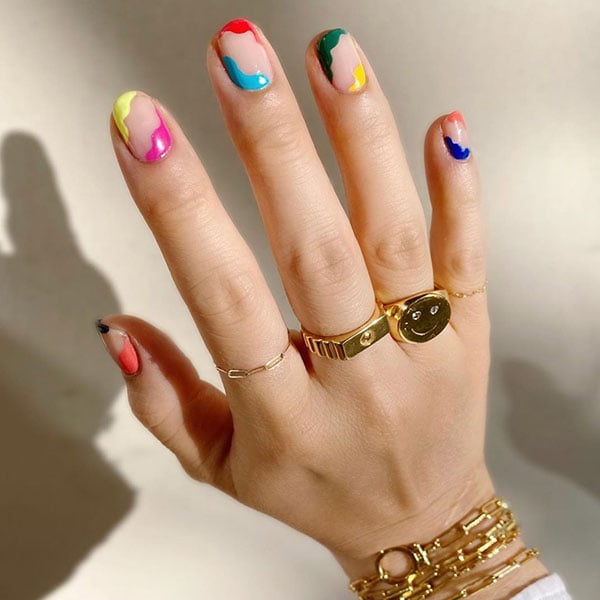 10. Sweet Nail Arts
Pineapples are sweet in nature and in flavor. As such, they're perfect for creating this nail art design. The key to this look is to not go over the top. Choose one finger for the artwork and one finger for an accent color to anchor the design. Then, keep the rest of the nails a subtle nude color to let your sweet artwork do all the taking. Pineapples are perfect because yellow is such a bold color, but you could choose any fruit for a similar effect. The bright red of an apple or the deep purple of grapes would look amazing. Your imagination only limits you!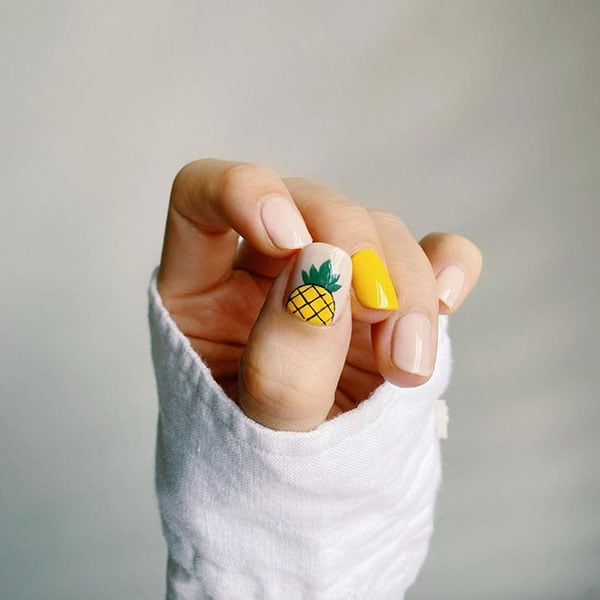 11. Line Art Nails
Continuous line art takes an extra level of skill to perceive and interpret the outlines of an object. As such, incorporating line art into your nail design, it produces a striking result. You or your nail technician will need a fine brush and a steady hand to recreate this look. Then, adding a splash of color, which will really stand out in contrast to the black. Alternatively, decals and nail wraps are the perfect options if your painting skills are more preschool than Picasso.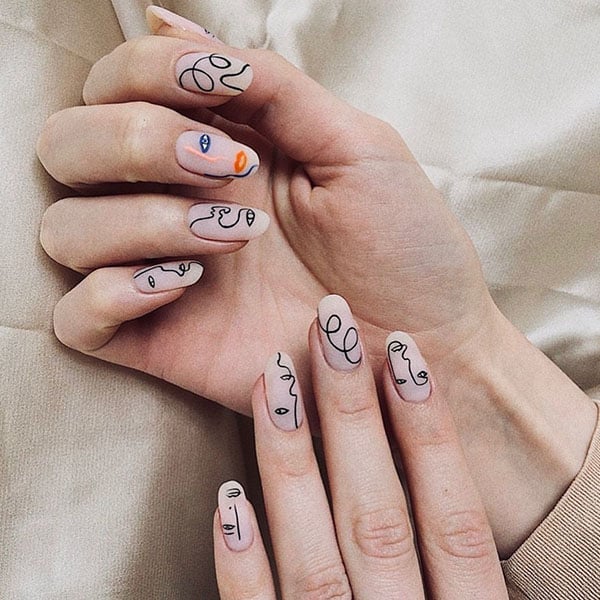 12. Nature-Inspired Nails
There's not much that's more picture-perfect than Mother Nature's most beautiful trees and flowers. Combine flowers and greenery with a neutral base coat to create this beautiful nature-inspired nail art design. You can choose any kind of flower you like in any color combination. Soft green leaves add to the look and create balance, like in a bunch of flowers. However, if you're not sure your painting skills are up to it, try creating this design with a stencil or choose nail stickers or press-on nails.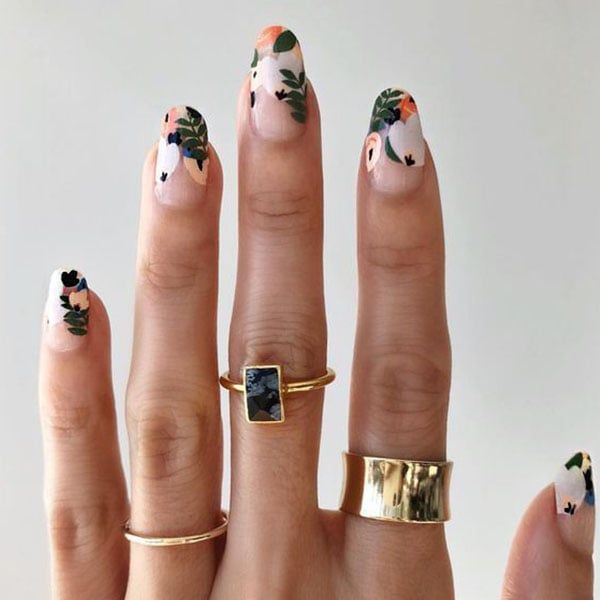 13. Minimal Arts
Sometimes less is more. That's certainly the case with this beautiful yet minimal clear nail design. Using just a clear coat for the base makes the pearl and gold seashell decorations stand out. It's youthful, pretty, and elegant. Plus, it's a very straightforward design to achieve yourself. All you need is some nail decorations and clear nail polish. You can also use any nail studs, crystals, or ornaments to design a similar look.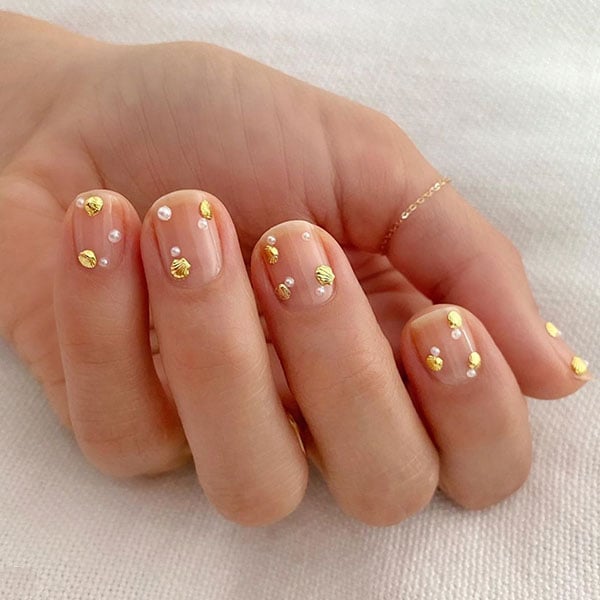 14. Black and White Nails
Black and white is such a classic combo; it makes sense to apply it to modern nail art. This look is incredibly versatile and can be adapted to most designs. Keep it simple with fine black lines crossing white nails, add in the zig-zags, or choose to alternate black on white and white on black. To prevent the look from becoming messy, paint a few of your nails a block color to anchor the design. Doing so looks especially good if you have a busier pattern, such as stripes, on the fancy nails.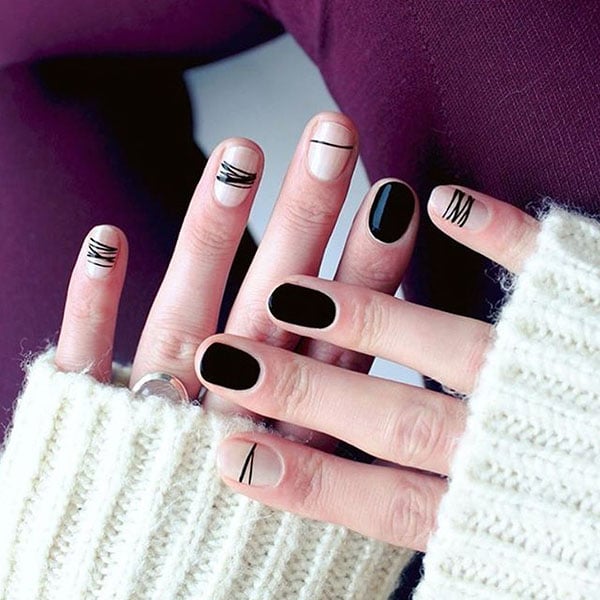 15. Cute Nails
A cute pastel palette will take you from the office to casual weekends with ease. However, rather than keep it simple, opt for a cute nail design using different shapes and shades with black highlights. You can really let your creative juices flow with this nail art. Cute designs like this are best suited for shorter or more rounded nail shapes like rounded, almond, or oval nails. Plus, the matte finish is a lovely variation on regular high-gloss polishes and lends itself well to pastel colors.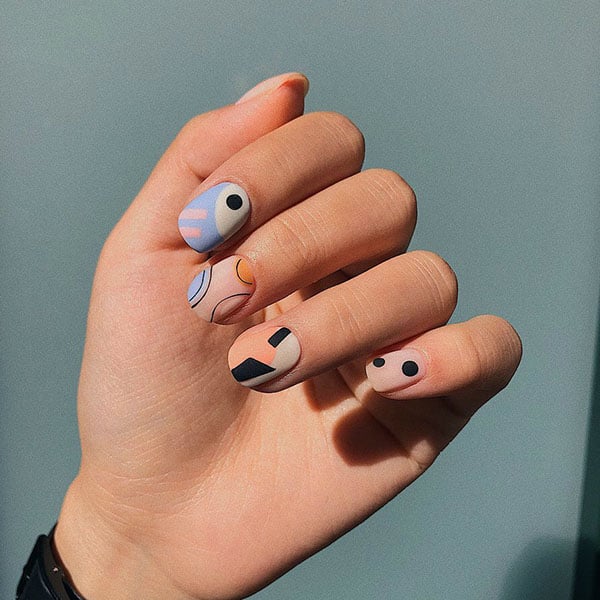 16. Dot Nails
This dot nail art is simple and to the point. One of the most significant benefits of this design is flexibility. You can use the same base color for all your nails, opt for a tonal variation on the same shade, or pick a rainbow of colors for each finger. Then, use a contrasting shade for a simple, large dot in a random spot on each finger. It looks elegant and is very wearable for an everyday look. Plus, this distinct design is easy to do at home.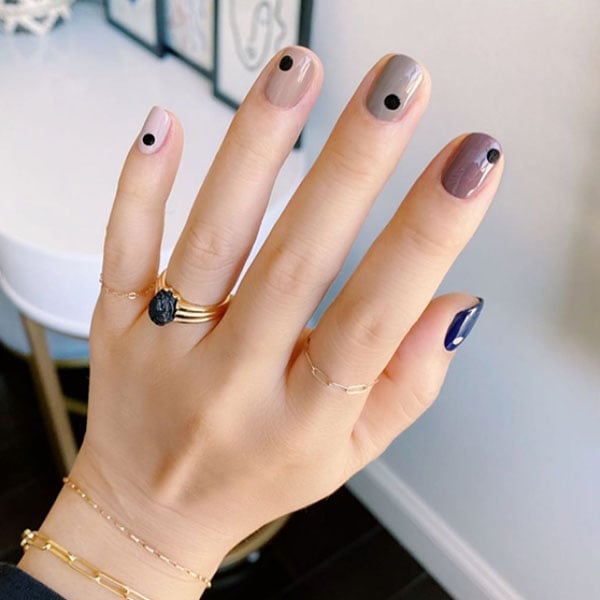 17. White and Nude Nails
Take a twist on the classic French manicure with this white and nude nail art design. This design, which uses concentric arcs of different thicknesses, looks excellent on oval, rounded, and almond-shaped nails. By alternating the feature color on each nail, between nude and white, you create additional interest. Ensure your arcs are the same shape by using a stencil; otherwise, the effect may be lost with uneven linework.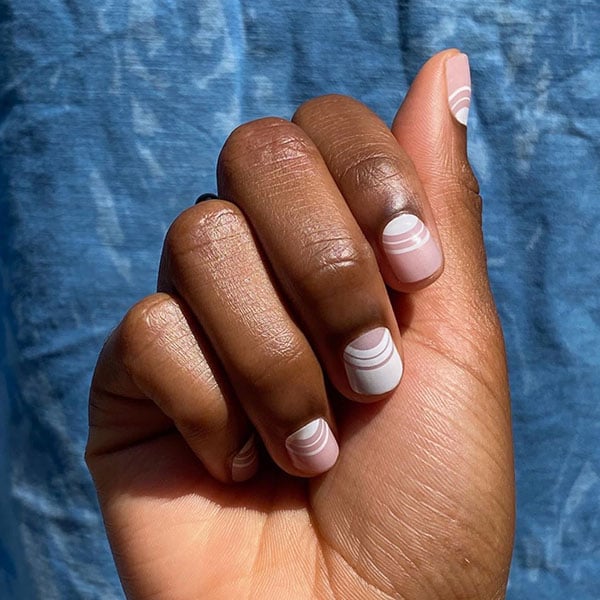 18. Black, White, and Nude Nails
Start your engine and get ready to race with this black, white, and nude nail design. The black and white checkered line is suggestive of the starting line on a race track, and you'll be winning the fashion race in no time. Nail stickers are the easiest way to achieve this look. Plus, it makes creating those lines so much more straightforward. Alternate the direction of the lines for interest and movement. Finally, the nude base color allows the black and white to stand out and make a unique statement. While you could switch to a different base, it wouldn't have quite the same impact.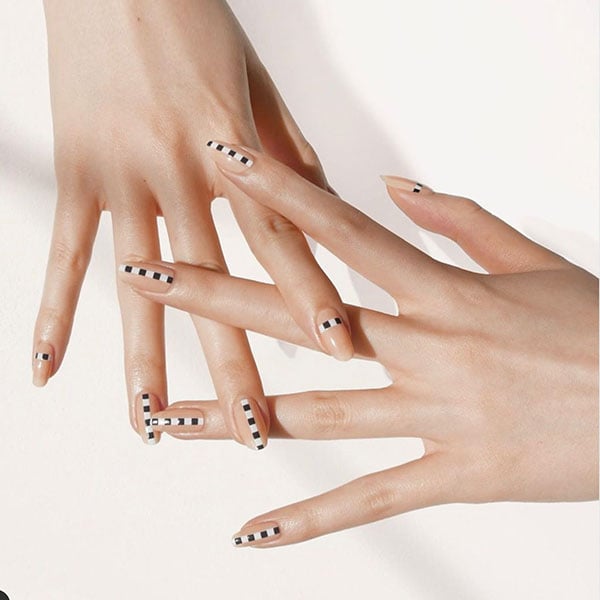 19. Floral Nails
Who needs a bouquet when you can carry flowers around on your fingers all day? This floral nail art is perfectly pretty and is a great look for brunch with the girls or weekend picnics. Choose any flower in any color to make this look personal. However, a neutral palette is very wearable and versatile. If you have a steady hand or are a good nail technician, you can hand paint flowers of any kind. In the meantime, stickers and stencils are an excellent substitute if you're not confident in freehanding this design.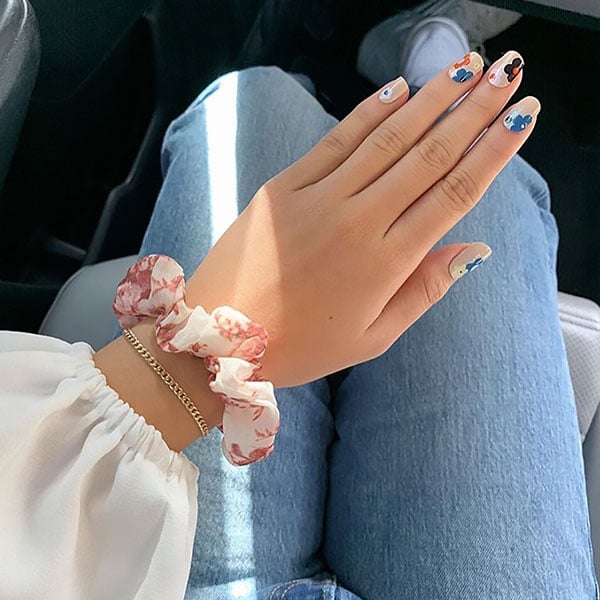 20. Colored Tips Nails
Nail tape is going to be your best friend when making these colored tips for this nail art. The color combination you choose can be anything you like, but mix it up for a modern take. The critical step to making this look work is to make sure you're letting each stripe dry entirely before taping down space for the next line. As such, patience is vital.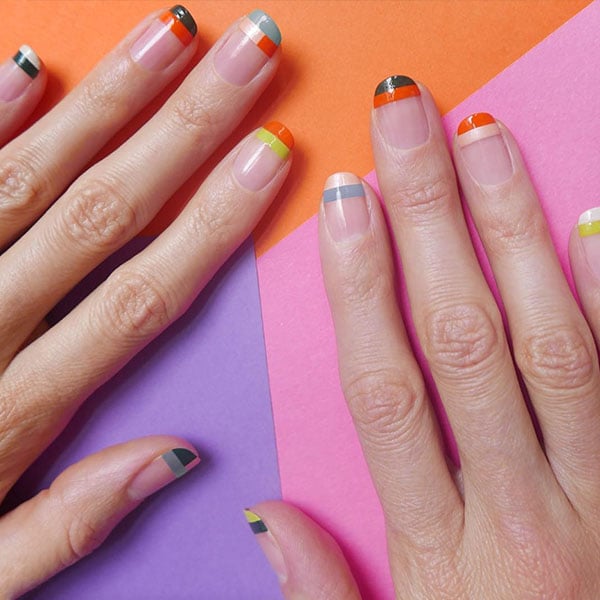 21. Playful Nails
Playful designs like this one are perfect if you're looking for something lighthearted and fun. Mixing colors is a great way to experiment with tone and shades. Meanwhile, adding cute designs like the eye with eyelashes lets you practice your painting skills while creating something meaningful.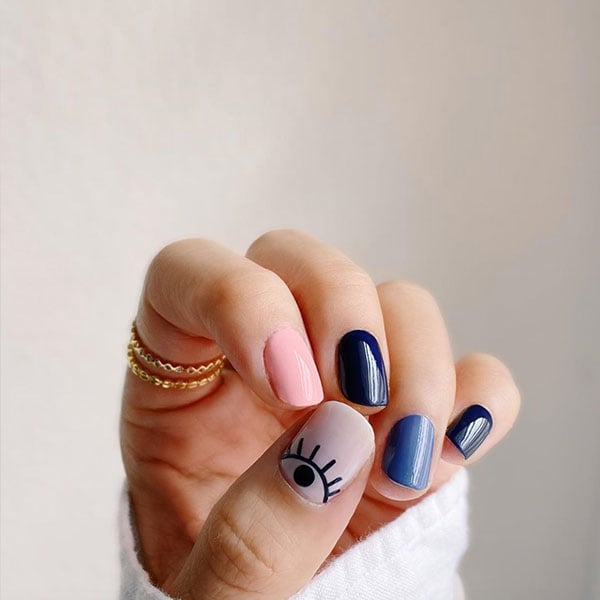 22. Nude and Yellow Nails
Add some fluoro to your life with this nude and yellow nail art. The nude tones the whole look down, taking the style from rave to ravishing. The pop of color adds some interest without being overbearing. The splashes of color on the corners of your nails are unique and allow you to freeform more easily.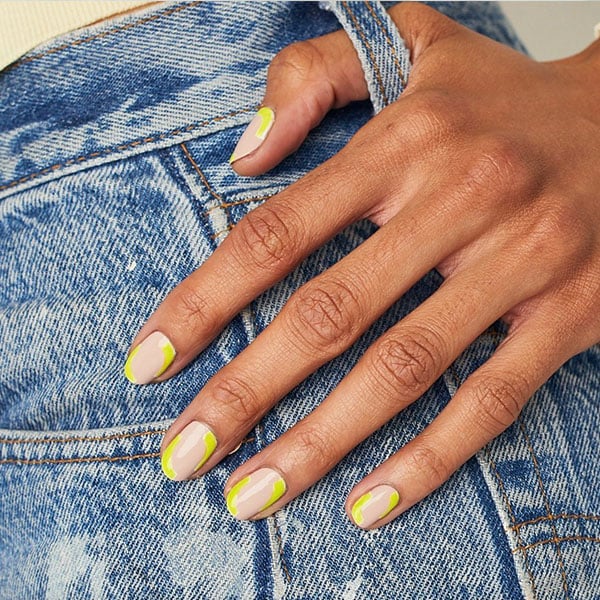 23. Silver Tips Nails
Natural nails with silver tips are an easily wearable adaptation of the chrome nail trend. This variant on the French manicure is perfect for the office, as it's very subtle. While you can use silver nail polish to achieve this look, it tends to chip easily. Consequently, selecting silver nail strips is a more durable and easy-to-apply method. All you need to do is paint on a clear base coat, then add the strips and trim off any excess. Finally, finish with a clear topcoat for high shine and extra protection.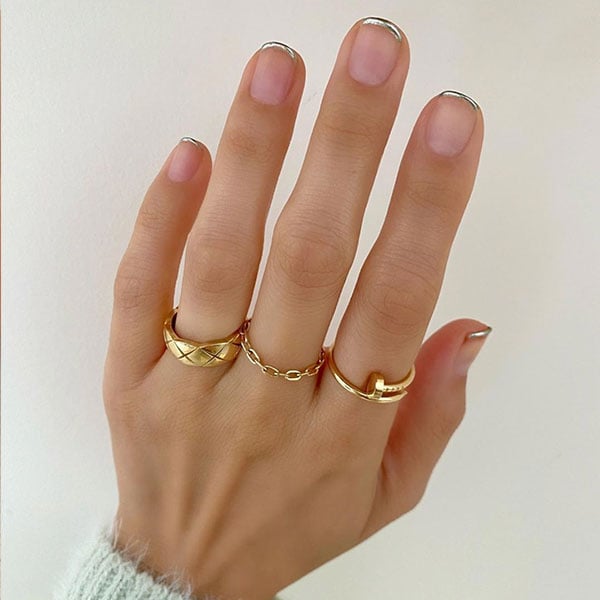 24. Sand Dunes Nails
The spirit of the Outback is alive with this sand dunes nail art design. The combination of rusty red, sandy beige, dusky purple, and pastel blue is evocative of a beautiful desert sunrise. Freeform shapes are important in this design to reflect the constant movement of the dunes and sand with the wind. Finally, the matte finish on this look is also beautiful because it emulates the dryness of the desert and dunes.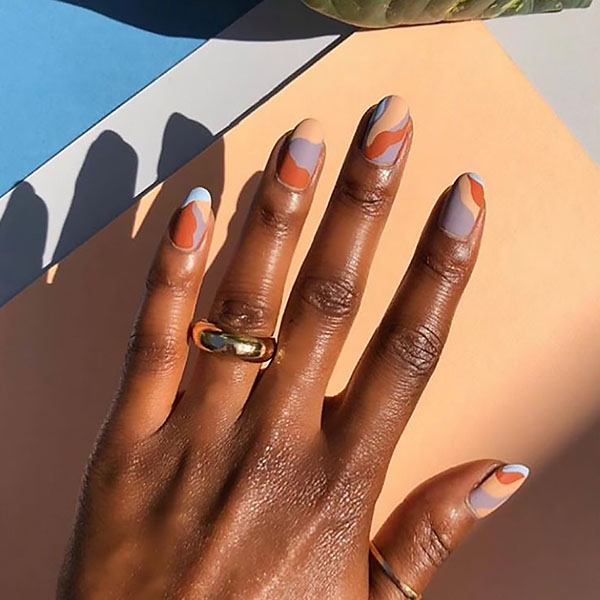 25. Gold Feature Nails
A lot of chrome can occasionally be a bit much. However, if you like the look but wish to calm it down, why not opt for gold feature nails? That way, you get the best of both worlds. A nude coat of polish underneath allows the gold design to stand out. The easiest way to achieve this look is to go for a chrome decal. Doing so gives you more flexibility with designs and patterns. Plus, selecting a design, rather than painting a couple of nails full chrome, ensures your nail art looks intentional.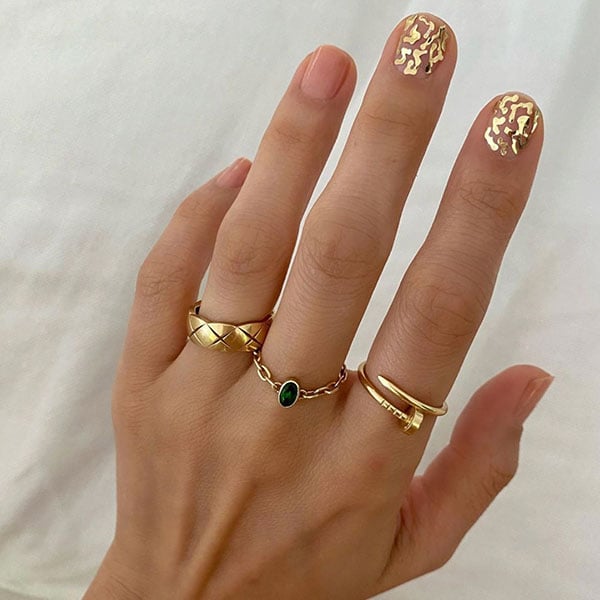 26. Nude and Olive Nails
Olive nail polish can be tricky to come by, but like other shades of green, it's a very versatile color. The earthiness allows it to act more neutral, blending well with other colors around it. Opt for something different with this nail art design, which uses an opaque nude and olive to shape an oval, yet leaves the rest of the nail bare. This look is best suited to oval and almond-shaped nails, as the design flows smoothly with the nail shape.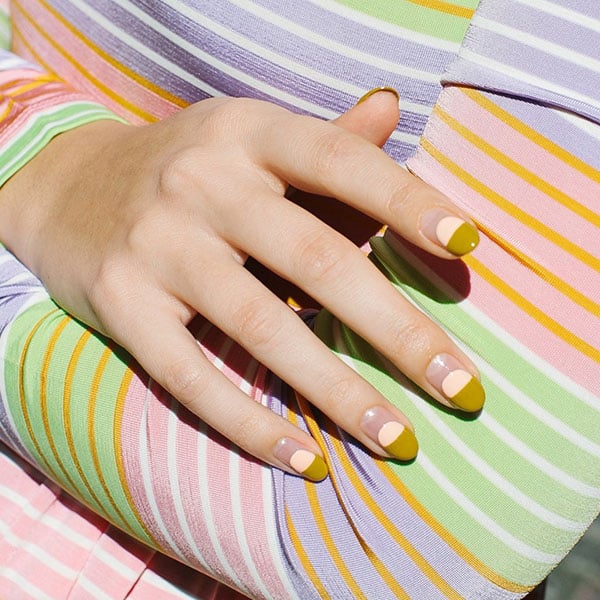 27. Red and White Nails
Red and white is such a classic combination it had to make an appearance in this collection of nail art designs. Like any quality color combination, this is going to look good in any design — stripes, dots, waves, or chevrons. However, the white wave and red tip are particularly excellent. You can freeform this or use a stencil if perfection is your goal. Choose a bright red for a fun pop of color, or go for a moody blood red for a darker take and bigger contrast with the white.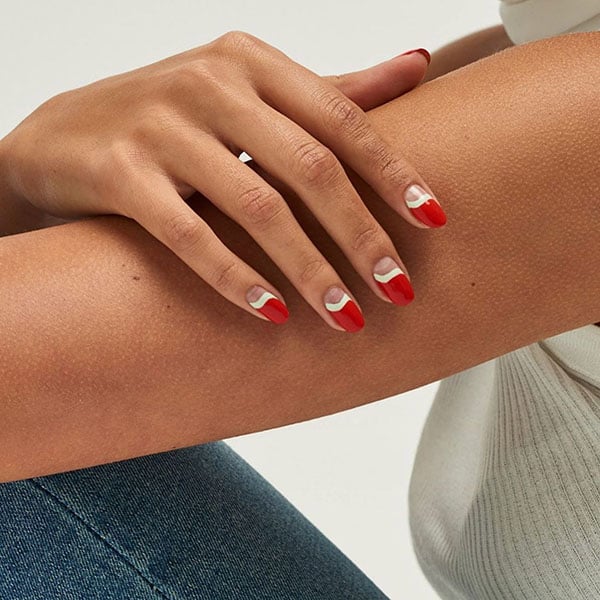 28. Baby Blue White Nude Nails
These dual-colored tips are a great adaptation of a French manicure. The combination of bright white and baby blue on a nude background is fresh and vibrant, making it perfect for summer. Ensure you have clean lines by using nail tape as a guide for the tip. Plus, make sure to finish with a good quality top coat to prevent chipping the tips of your nails.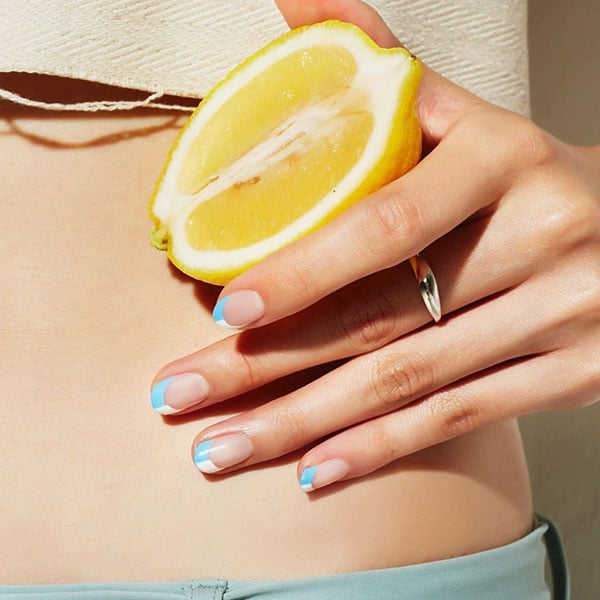 29. Pastel Nails
Keep it pretty with pastels. This nail art design features both multicolor chevrons and half-tipped nails. Keeping the chevrons on just one finger on each hand ensures the look is balanced and not overly complicated. Plus, using different fingers and chevron sizes adds extra dimension and interest. It all ties together nicely by using the same four colors that feature in the chevron on each other finger. This is a wonderful look for a tropical vacation, a girls' weekend, or even just a casual date night.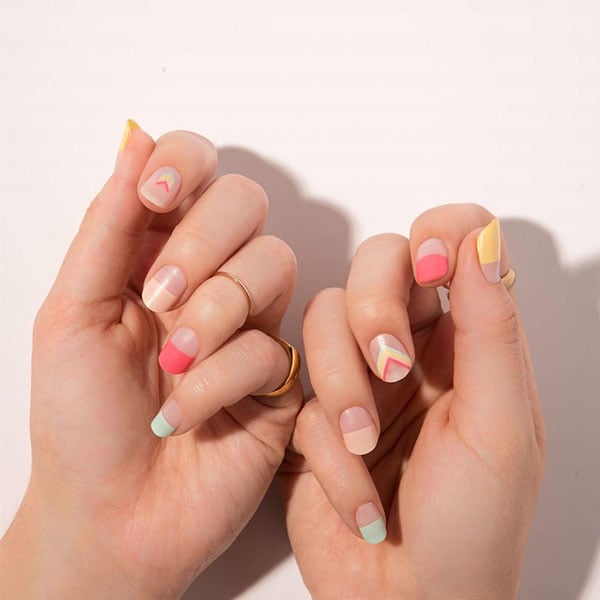 30. Cubism Nails
Channel your inner Picasso with some Cubism nail art. Cubism was a revolutionary style of art which used squares and geometric shapes to show all angles of the subject at once. Pablo Picasso and Georges Braque were the pioneers of this art form. While it's challenging to fit a full masterpiece on your nails, take inspiration from Cubism by using lines, circles, and dots to create your own art sensation. A nude background and a limited but bold palette of black, red, and silver create the biggest impact on the design. Like many nail art designs, if you're not confident in painting, choose nail decals or stickers for a more effortless outcome with just as much punch.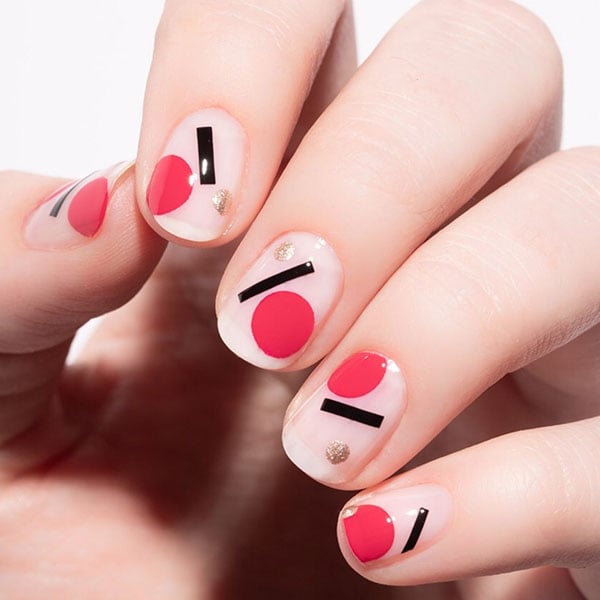 Nail Art Ideas FAQs
What are the different nail art designs?
There are endless kinds of nail art designs, and you're only limited by your imagination. Try things like branded, tie-dye, hearts, lines, abstract, eyes, minimalist, cute, pastel, bold, floral, contrasting, or metallic designs.
What are the 5 basic nail designs?
The five basic nail shapes are square, oval, round, almond, and stiletto.
How do you design nail art?
There are a few tools you need to create perfect nail art. The basics include nail tape, different size and shaped detail brushes, dotting pens, nail glue, jewels, and stickers. Of course, you'll also need your chosen nail polish shades as well. Then, start by applying a base coat and a couple of layers of your base color, letting each dry completely. Next, it's time to get creative. Use your tools to create any kind of design you like. There are many tutorials on YouTube to help inspire you and get your technique correct, plus even more ideas on Pinterest.
What is the popular nail color for 2023?
The popular nail colors for 2023 are deep reds, shades of brown, blueish-grey, muted greens, nude, navy, and metallic finishes.
SUBSCRIBE TO OUR NEWSLETTER
Subscribe to our mailing list and get interesting stuff and updates to your email inbox.