Let's Face it, VAMFF has wrapped up. The GHD's have cooled down, the makeup kits have been locked up and the beautiful garments have been put back on their racks. However the Autumn/Winter 2015 trends are here to stay and they are in full force leading up to the colder months ahead.
It was extremely refreshing and exciting to see a turn in hair and makeup from previous fashion weeks. We have consistently seen the undone, effortless look with nonchalant hair and barely there makeup. Finally we are seeing sharper, cleaner and more defined hair and makeup trends.
Hair Trends
The Autumn/Winter hair trends seemed prominent through out the whole week and even in sideshows leading up to VAMFF. It became apparent from the very first Miss Vogue Premium Runway Show that hair was going to be slicked and sexy this Fashion week. This look was also prominent in pop up shows like Kookai and the Chadstone VAMFF shows.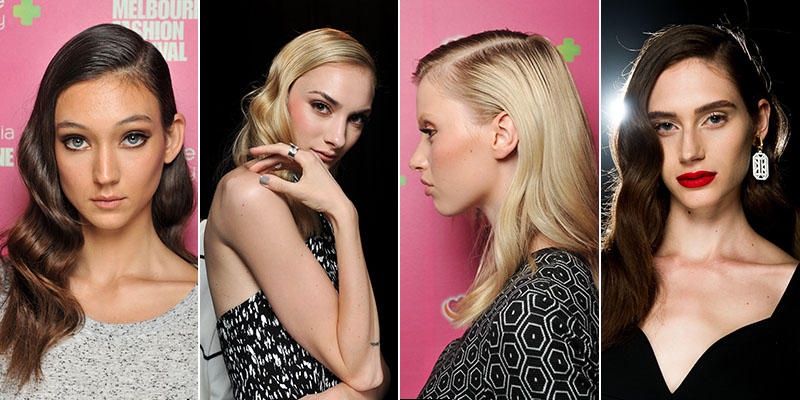 When applying this look to your everyday world, think: shiny, straightened hair with sharp cuts and minimal layers. If you're sporting a bob, by side parting it you're instantly adding that fashion forward edge. Long tresses were kept clean by being straightened, sheen was added and low ponytails were all the fuss down the runway. Again, long hair had clean, sharp cuts and ponytails were finished off by wrapping a section of the ponytail around the base of the tail and pinned.
All in all hair was quite masculine and slicked. Sharp and dramatic side parts are very male orientated, this look commands strength and mirrors the alpha power woman.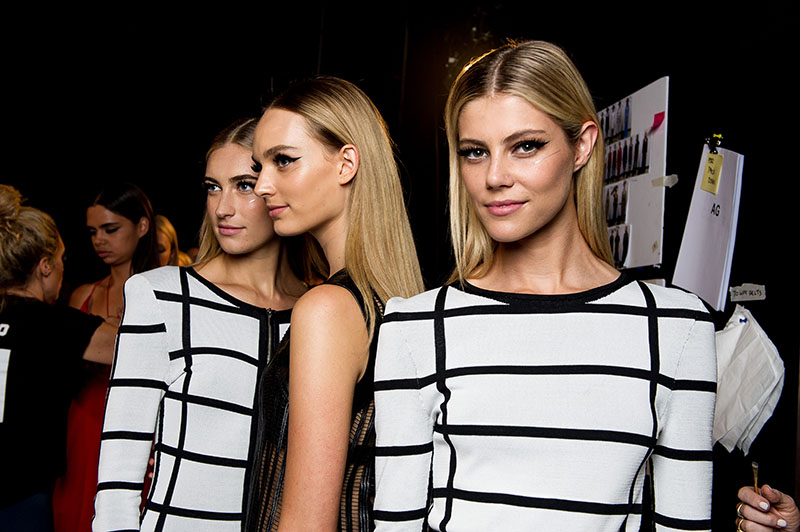 Makeup Trends
Makeup also had an element of drama to it. It was a nice change from mute palettes in the previous weeks. Darker hues were prominent on lips and Elle's Premium Runway Show 3 was the perfect stomping ground for this look. When applying this look to your everyday world think: fifty shades of red. These hues vary from fire engine red to more drastic plum and berry hues. The beauty about this trend is that it's ok to sport a darker lip during the day in the colder months, it has no discrimination in winter, especially when worn with heavy winter weight threads. This look also commands strength; a woman wearing a bold lip has a certain fearless stance. "The ELLE girl is modern" Rae Morris ~ Priceline Pharmacy Makeup Director for VAMFF explains.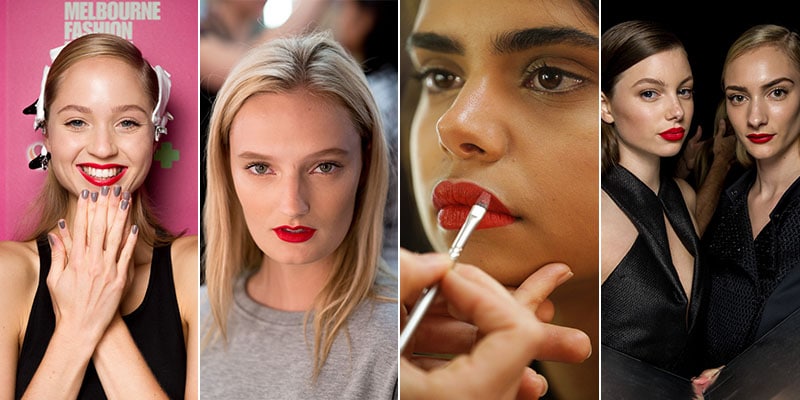 When wearing a darker lip, aim to keep all other areas mute, especially if you're wearing this as a daytime look. Apply a thick layer of mascara to make the eyes pop, however avoid pigment on the lids. Try and keep skin coverage minimal too, using only as much as you need. Use a contouring matte bronzing powder to accentuate cheekbones if you're feeling a little too bare without blush.
This Autumn/Winter put away you're curling wands and baby doll makeup. Be bold and brave with punchy pouts and strong side parts.
SUBSCRIBE TO OUR NEWSLETTER
Subscribe to our mailing list and get interesting stuff and updates to your email inbox.