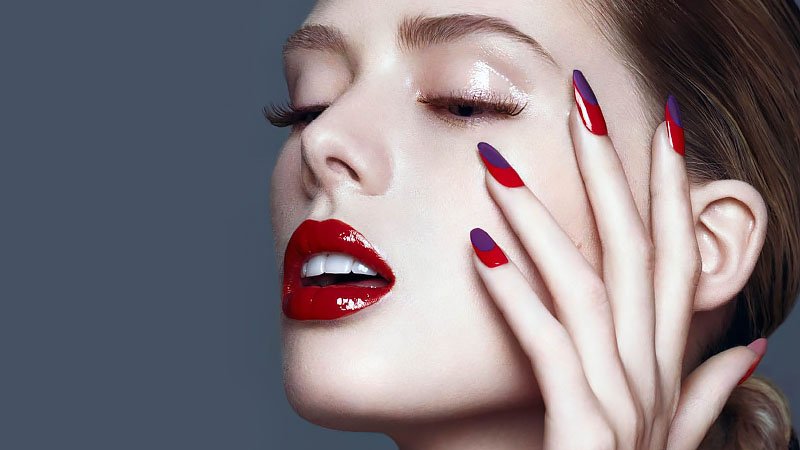 If you want nails that are feminine and make a statement, consider getting an acrylic manicure. These talons are created using a mix of liquid monomer and powder, which are then shaped onto your natural nail bed. They are strong and add length to your nails and elongate your fingers. Plus, they offer a chance to experiment with various shapes, including the ever-popular almond or stiletto. However, perhaps the best thing about acrylics is that they lend themselves well to so many different nail art designs. If you are a woman who wants to let her personality shine, you can do so with playful artwork or angelic decals. If you prefer a more fuss-free and simple look, this can be achieved with holographic tips or pastel lacquers. For more inspiration for your next cute manicure, then keep reading!
RELATED: 30 Gorgeous Acrylic Nail Ideas
RELATED: 13 Best Acrylic Nail Kits for Beginners and the Pros
RELATED: 60 Best Short Acrylic Nails to Copy
What are Acrylic Nails?
Acrylic nails are the result of a combination of both liquid and powder that form a hardened substance that goes on your nails. This process is usually conducted by your chosen nail technician, as there are many skills and techniques only a professional can achieve. Your nails will then be buffed, shaped, and filed down if necessary for the acrylic substance to successfully mold. After this step, your technician will then create the super cool design you're after and voila – you have the perfect set of acrylic nails. The application process is quite simple but may cause some minor discomfort due to the smell or when your nails are filed down.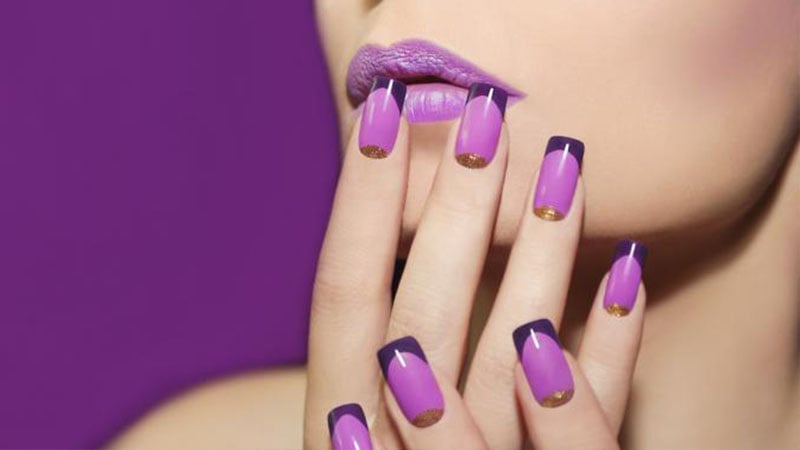 Acrylic Nail Shapes
You can create the perfect nail look that suits your style with the shape of your choice. Almond, coffin, square, rounded, and oval shapes are popular options. However, there are also new trendy styles like 'lipstick' and 'mountain' nails. The best nail shape, of course, is in the eye of the beholder, so take this opportunity to experiment with your style and express yourself through your gorgeous nails.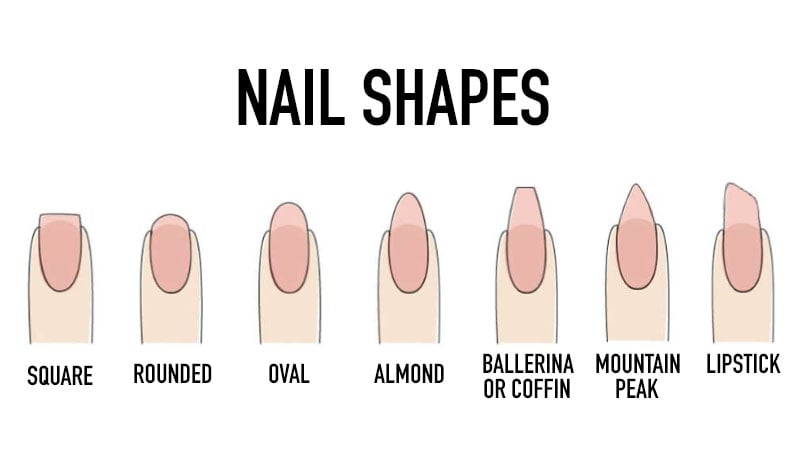 Are Gel Nails Better Than Acrylic?
There are pros and cons to both gel and acrylic nails. If you want a natural look, then gel nails tend to be the better option, while acrylics are more flexible in finding the perfect length and shape. They also lend themselves well to a variety of different nail art options. Acrylics tend to be harder to remove than gel, but they are not as likely to peel.
How Bad is Acrylic for Your Nails?
Acrylics can indeed be bad for your nail, but this is more to do with the wearer than the artificial products. The key is to always get them applied and removed correctly. If you do wear them often, it could thin your natural nails, as you need to file them before applying the acrylics. It would be best if you also took a break every three to six months to give your natural nails a chance to refresh.
How Long do Acrylic Nails last?
Acrylic nails can be pricey and time-consuming, but they look pretty and feminine. The good news is they also last for a decent amount of time, usually between six to eight weeks. That said, this can depend on your natural nails' growth rate, and you may have to fill them in every two to three weeks. How you take care of your nails and the activities you will be doing will also impact how long they will last without breaking.
Which is better: Shellac or Acrylic nails?
There are pros and cons to both shellac and acrylic nails, depending on your personal preference. Shellac nails require less acetone to remove than acrylics and have a more natural appearance. They are also pretty fuss-free to get done, and you do not need to wait for them to dry, and they don't chip. Acrylics require more maintenance and are expensive, but they offer great versatility in terms of lengths and shapes and are also durable.
How to Take Off Acrylic Nails
If you ever need to take off a set of acrylic nails due to reasons such as broken nails, grown-out length, or you want a change of design, then there are a few options on how to remove them quickly and efficiently. For instance, if you prefer a nail technician to perform the removal process, you can pay for this service and not have to worry about a thing. However, if you are short on time or would instead do it yourself, there are a few at-home methods. Some essential items you will need at home include acetone, cotton buds, nail clippers, and aluminum foil. Check out this easy YouTube tutorial below for a step-by-step process.
Acrylic Nail Designs
1. Pastel Tones Acrylic Nails
Pastel tones are some of the most popular colors for nail polish because they are so dreamy and beautiful. They are a timeless and classic choice and suit most nail shapes and lengths, although they look particularly great with long acrylics. They have such a girly quality about them, and they are easy to mix and match. For example, you can paint all your nails in one shade or embrace soft pink, baby blue, spearmint, and warm orange all at once. This is a great way to add a pop of color into your daily look. Pastels tend to complement neutral colors, especially lighter tones like white, so try to limit your wardrobe and let your nails be the focal point of your look for a sophisticated yet trendy appearance.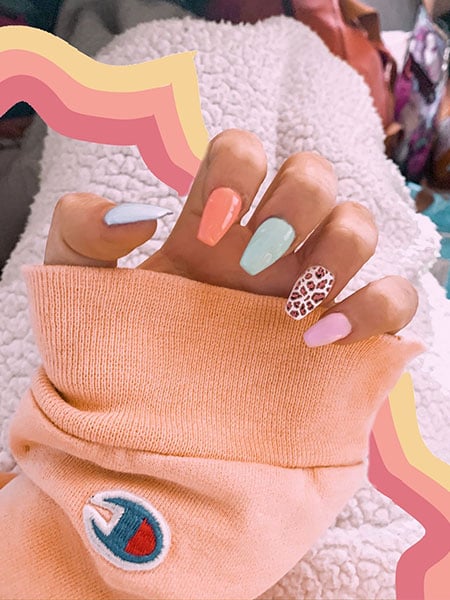 2. Playful Acrylic Nails
Your manicure is a great way to show off the things you love and let your personality shine. If you're a woman who loves bright colors and designs that bring a smile to your face, then playful acrylics are the look for you. You can pick your favorite colors and go wild with the decals of your choice. If you want something to convey happiness, then a smiley face is a wonderful choice. Or perhaps you want to show you're in the mood for love with tiny heart stickers? There are no rules here. It is all about having fun and how the nails make you feel. Don't be afraid to experiment, and wear bright clothing or layer on your rings for a bold appearance.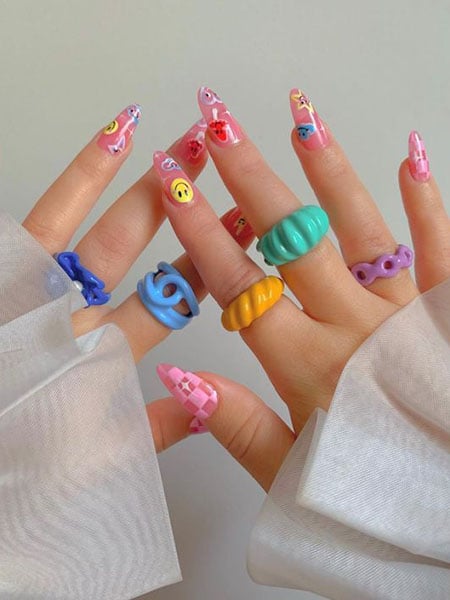 3. Cute and Playful Acrylic Nails
Nail art is a great way to express yourself and can say a lot about your personality. If you are a playful person and want a manicure that reflects this, then this is a trend you're going to want to try. It has an entertaining appearance and is a great way to embrace color and interesting decals. Don't be afraid to wear bold prints either, because there are no rules for playful acrylic nails. That said, the look may not be appropriate for formal settings, but if you work in a creative field or you're enjoying a holiday, then there's nothing stopping you from trying out this fun nail art.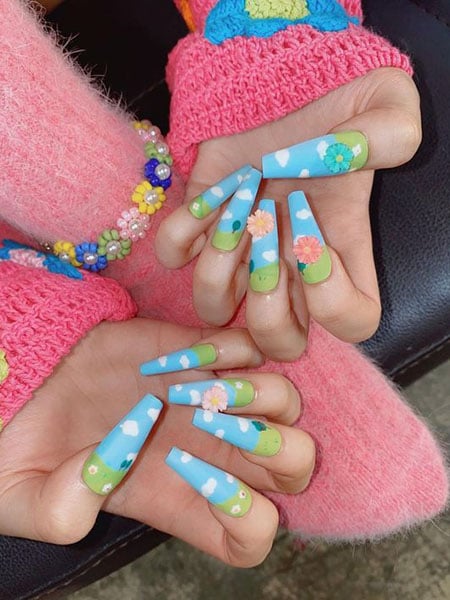 4. Acrylic Nails with Gold Flakes
A manicure with gold flakes has such a dreamy and luxurious appearance, making it an excellent choice for your next nail art! It is also relatively easy to recreate the look in the comfort of your own home. You need to apply your chosen base coat, which can be a color of your choosing; but soft pinks and blushes are particularly feminine. You can then use a toothpick to add gold flakes, making sure it is laying flat on the nail. Complete your look by adding a top layer to seal it in. It creates a 3D effect, which is very striking and will draw attention to your hands. The gold foil looks best with long nails and could be too dramatic and overwhelming on shorter talons.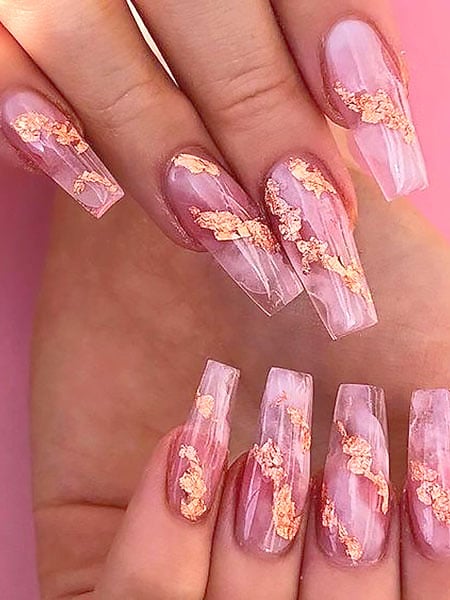 5. Sweet Acrylic Nails
Do you love pastel shades? Do you want nail art that makes you think of candy floss and your childhood? Then the sweet acrylic nails are a wonderful choice. The soft shades are so dreamy and girly, but instead of simply opting for your favorite polish, you can get more creative with the design. A dripping effect is especially eye-catching, as the paint runs down your finger creating an interesting visual. Pick a clear or nude base coat, and then your favorite shades for the tips. For a more laid-back look, you need only one color, but there is also nothing stopping you from trying out multiple shades at once.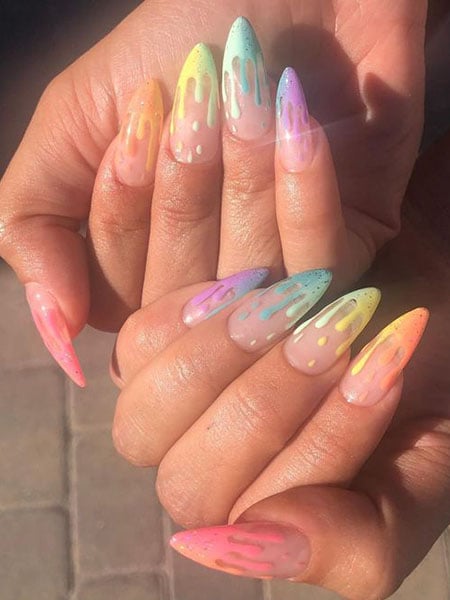 6. Acrylic Nails with Line Art
Line art is a big trend with nails, and it's not hard to see why. It can be simple, or it can make a statement, depending on your artworks' complexity. There are also no limits in terms of your design so that you can get super creative with your images. Perhaps you want to honor the power of womanhood or celebrate the female form; both of these can be done with women-inspired designs. To try the look, you need a steady hand, as precision is important. However, if you do not have the time to practice, there are always nail stickers as quick and easy alternatives. It is important to keep the rest of your manicure very simple, opting for white or nude nail polish so that the drawing becomes the focal point of your look.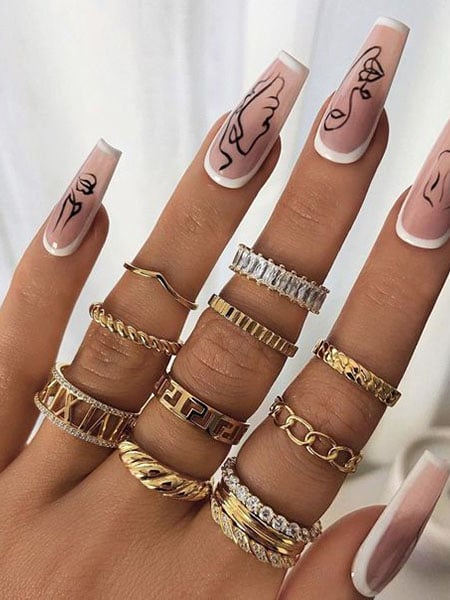 7. Acrylic Nails with Nail Jewelry
If you want to add a little sparkle to your life, why not do it with nail jewelry? There are so many different designs and colors to choose from, and you can get creative with your manicure. You can pick your favorite polish color for the base coat and then have some fun by applying the rhinestones or gems at various angles or the nail base for a more simple appearance. To enhance the look, you can also pile on your favorite rings. Even try matching your jewels to the color of your accessories, for example, gold on gold.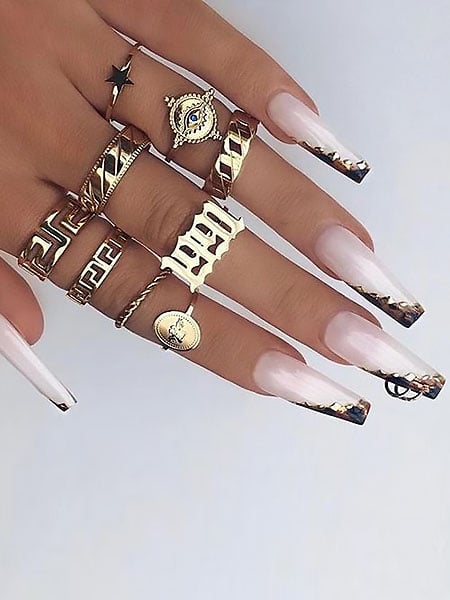 8. Angel Acrylic Nails
Angel nail designs don't only look dreamy, but they are also rich in symbolism. They represent innocence, purity, and love. If your faith plays a big role in your life, this could also be a way for you to honor it. It would be best if you started by painting your nails with a base coat. You can make it super interesting by adding little wispy clouds, or you can choose to use a white, clear, or nude lacquer for a more simple appearance. Then add your favorite nail decal, and apply a top coat to seal it. The result is something super cute that you will love to show off!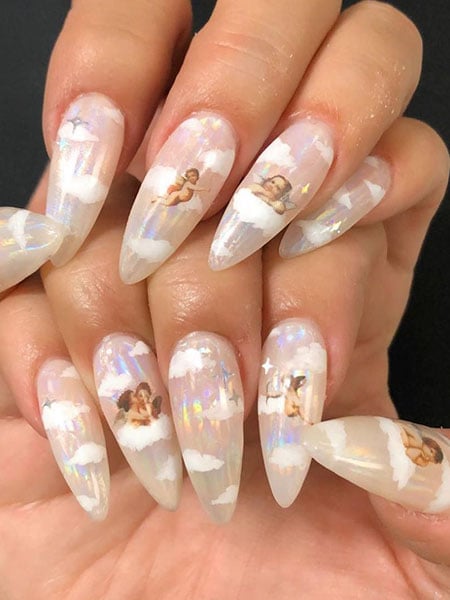 9. Black and White Acrylic Nails
Black and white is such a classic color combination, and there are so many ways to have fun with it. It is timeless and classic and will match effortlessly with most of your garments and jewelry. Maybe you want to opt for dalmatian spots or cow patches, or perhaps you want an interesting French manicure with a black base and white tips? There are so many ways to show off your fingers with this super wearable and versatile look. It is not only one of the easiest looks to try out, but it is also perfect for women of all skill levels. You do not need to be a pro with nail tools to create a salon-approved manicure in the comfort of your own home.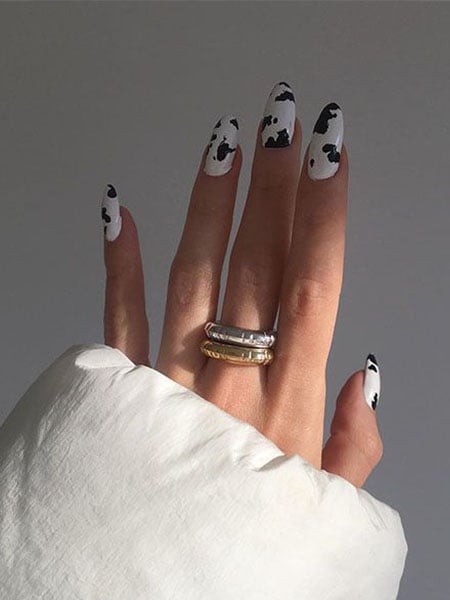 10. Blue Acrylic Nails with Stickers
Blue nail polish is going to be a big trend this year. This is excellent news because the color is associated with calmness and responsibility. There are various shades to choose from, but most of them are very pleasant to look at, either making you feel at peace or representing power and strength. When it comes to creating your nail art, you can choose the stickers that appeal to you most. Maybe you want something simple yet feminine, in which case roses or other floral decals are a superb choice. If you want something a little different, you could opt for star and moon designs or even angels. Depending on how detailed you want your manicure to be, you can also add gold foil or jewelry.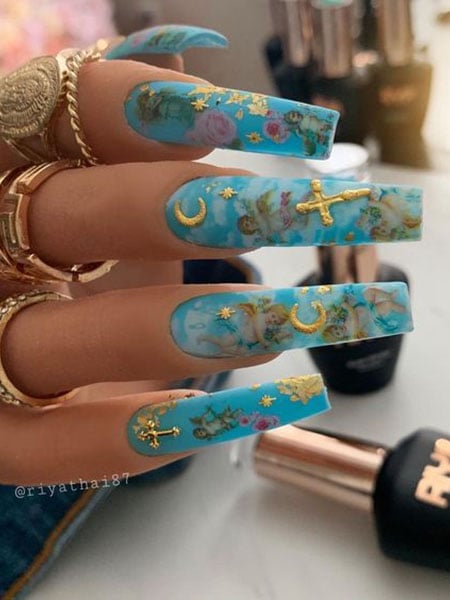 11. Colorful Acrylic Nails
If you want a manicure that can lighten your mood and lift your spirit, then colorful acrylic nails are the look for you. You can pick your favorite bright shades and mix and match them, painting each nail with a different lacquer or combining them on one nail for a rainbow appearance. You can also try various techniques like squiggles or even dots. The bold shades demand attention and draw the eye to your nails, so don't be afraid to have fun with them. It's the perfect design for the summer holidays, or if you want to add some color to your life.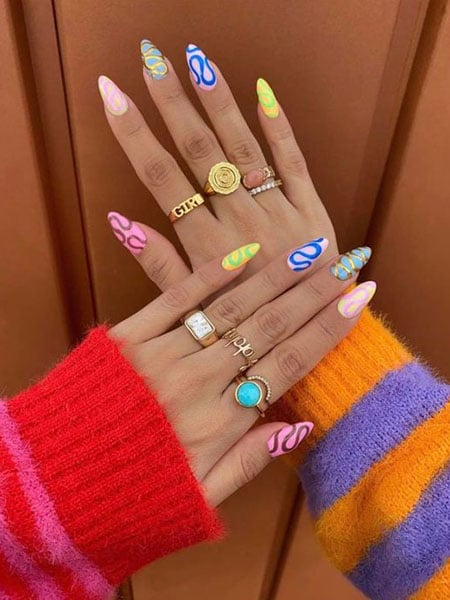 12. Baby Pink Acrylic Nails
Some nail trends are reserved for special occasions or holidays, but if you want a look that is super wearable, versatile, and also girly, then baby pink nails are a wonderful choice. The color may make you think of your childhood or happier times, evoking feelings of cuteness, romance, and sweetness. It is also effortless to wear, as the shade is not particularly bold or bright, which makes it perfect for every day. If you want to experiment with your manicure, then wispy clouds, moon and stars, and heart decals are some popular options to pair with your favorite color.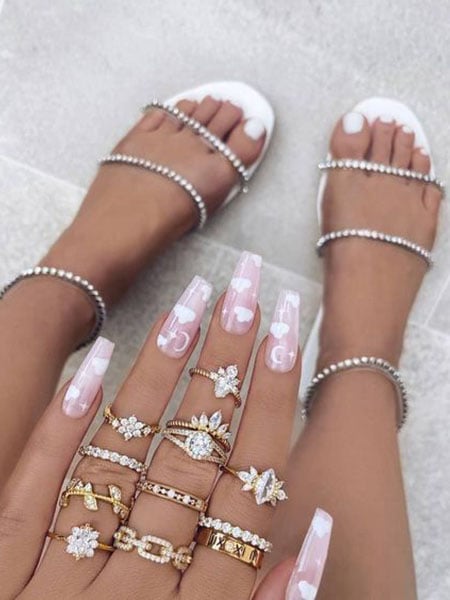 13. Cute Coffin Acrylic Nails
Coffin nails refer to the shape, which has a square rather than a pointy tip. Don't let the name put you off. These nails are not dark or vampy but instead are versatile and feminine. The length is long enough to allow you to elongate your fingers and get creative with your nail art, but the shape can be prone to breakage. You can choose many designs to create a manicure that will put a smile on your face, including cute butterfly decals and glitter polishes. If you want a simple look, you can add the artwork to just one nail. This will make it the focal point of your look. It's a great way to have some fun and ensure that your artwork is wearable and suitable for various settings.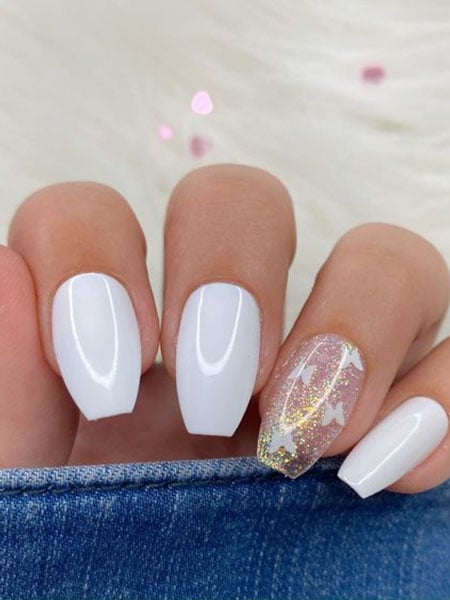 14. Short Acrylic Nails
Short nails may not have the ability to elongate your fingers the way that longer nail shapes can, but the definite pro to keeping your talons shorter is that they tend to be very strong and not prone to breakage. It may be true that you are more limited in nail art; however, this length is certainly not boring. You can have fun with various colors, choosing to paint each nail with a different shade or opting for a monochromatic look. You can also experiment with an updated French manicure, swapping the classic white color for a more dramatic hue such as red or black. Simple nail jewels can be added at the base of your nail, or you can opt for a split color design. The key is not to have too much detail so that your nails are not overwhelmed.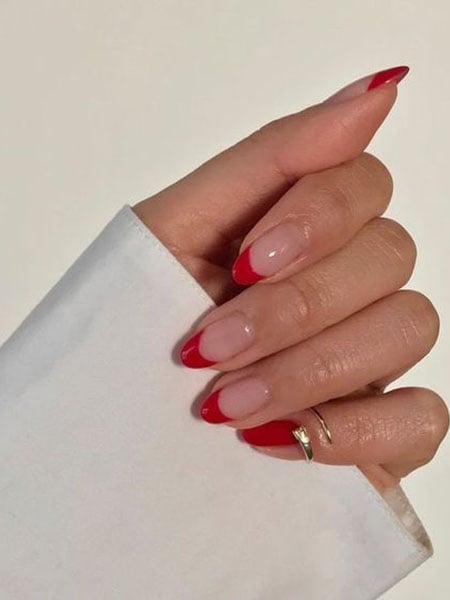 15. Holographic Tips Acrylic Nails
Holographic nails make us think of aliens and space and have a very futuristic feel to them. The highly reflective nail polish, which contains a special pigment added to it, is super cool, and there's a reason you will see it everywhere, including on your favorite celebrities and beauty bloggers. If you want a more creative take, you can opt to paint only your tips with this high shine finish. The look is more subtle, therefore lending itself well to a variety of different settings but still letting you have some fun with your manicure. Alternatively, two-toned nails are another way to try out the iridescent lacquer. When it comes to nail shapes, stiletto and almond look great!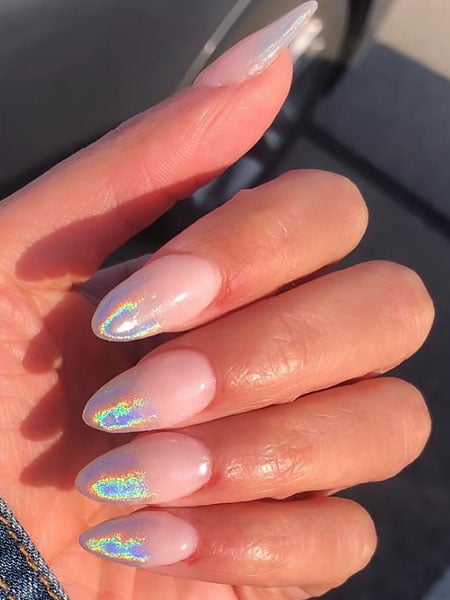 16. Logo Acrylic Nails
The great thing about logo nails is that they allow you to show off your interests and the brands you love. For example, if you are a fan of luxury fashion, Chanel's iconic signage, or Dior and Louis Vuitton, is a fantastic choice. You can play around with various colors or opt for a black or nude base with bright symbols. You can also choose to feature the designs on one finger or all of them. Or have a different look on each fingernail. You don't have to pick well-known brands and create your company's logos, which can help with marketing or show you're passionate about it.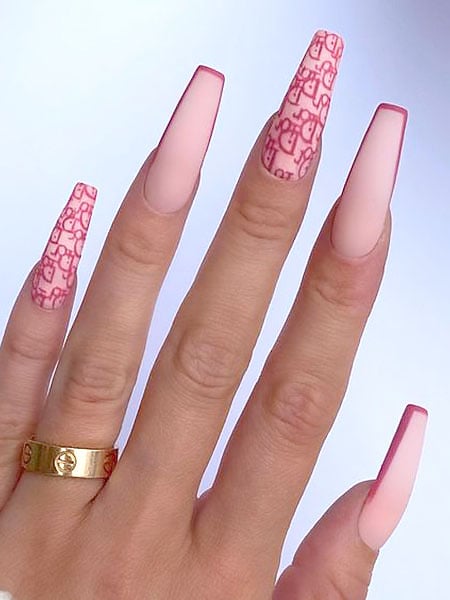 17. Natural Acrylic Nails With Stars
There is something so magical about star nails. Gold or silver stars with a clear or white base coat are incredibly wearable and can be a reminder to dream big. In comparison, the decals on a black background are reminiscent of the night sky and enchantment. Stars are often associated with hope, success, and direction, so not only will your nail art look cool, but it is also symbolic. There are many different ways to try out this artwork, so don't be afraid to play around with the color combinations that work for you, making your manicure pretty and unique. You can also try a more complicated constellation design, which is perfect for someone fascinated by the universe.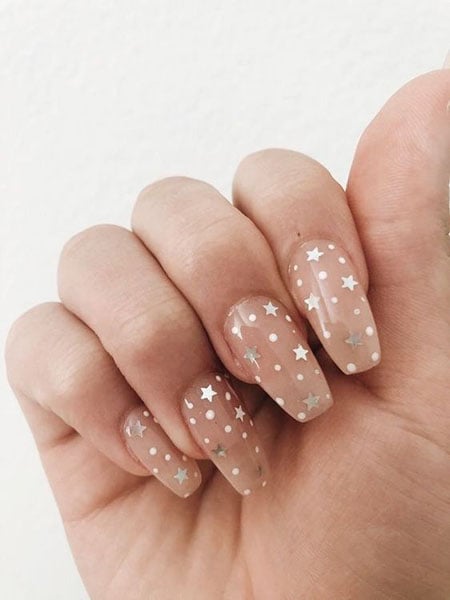 18. Ombre Acrylic Nails
Ombre nails are some of the biggest trends, and for a good reason, they are fuss-free yet chic. You will likely have seen the look several times before, and it can be done with various colors. The key is to pick two distinct shades, one dark and one lighter. They will then expertly blend into each other, creating a shaded effect. You can choose dark colors like black and crimson for a dramatic appearance or softer, easier-to-wear hues like pink and white. If you want an even more cute and girly look, add simple butterfly decals that match your lacquer.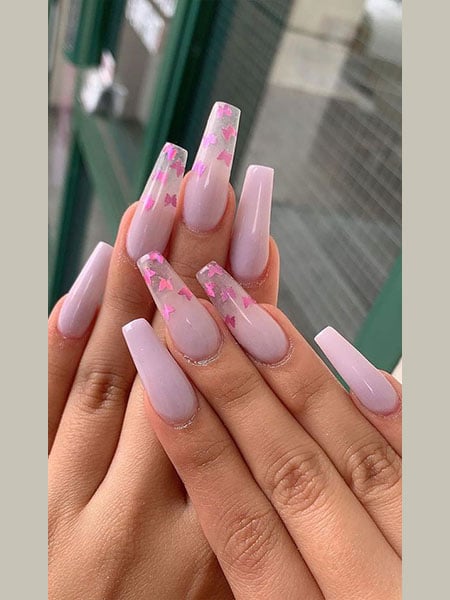 19. See-Through Acrylic Nails
Do you want cute nail art that is not too in-your-face? This can be achieved by opting for clear nails. The lack of color makes for a more subtle design, which also makes it more wearable. Clear nails can be mixed and matched with various nail art, including everything from rhinestones to gold foil. Although there are no rules on what you can and cannot do, extra-long talons are particularly striking and suit the look better. If you want to keep it simple but cute, opt for flower decals or stars for a pretty yet effortless manicure.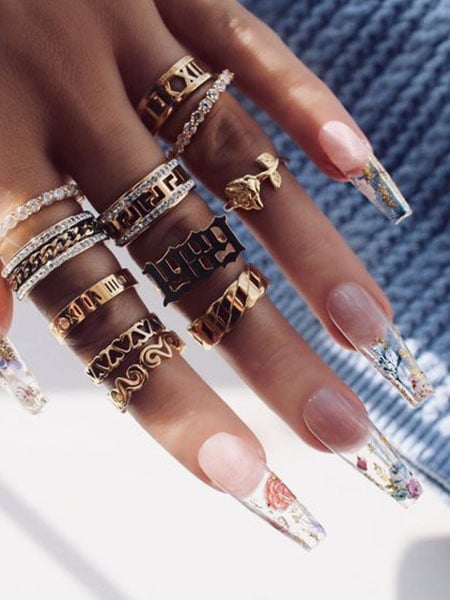 20. Statement Acrylic Nails
Are statement acrylic nails going to be perfect for the office? Probably not, but when you have some downtime and you wanted an updated manicure, this is a look you should definitely try out. High-shine polish, nail jewels, and flame decals all together, what's not to love? Statement nails also benefit from extra length. The long shape may not be the most practical, but it is trendy and will elongate your fingers. To let your nails make a statement and get maximum attention, try to tone down the rest of your look. Wear them with confidence, and you're bound to feel great!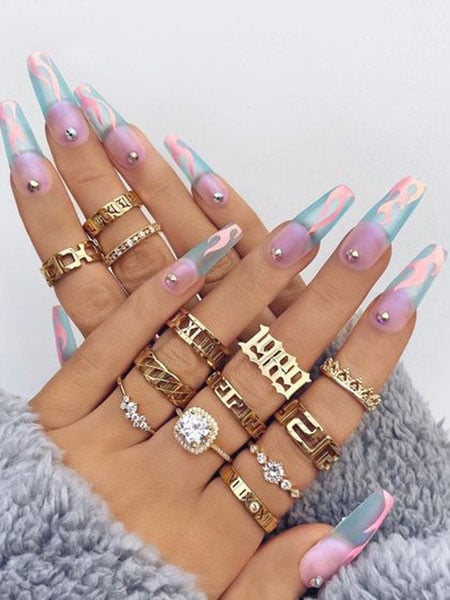 21. Letters on Oval Acrylic Nails
A new nail trend that is quickly becoming quite popular is the letters on oval acrylics. This unique design channels a particular individual style, but it can easily pair with almost every outfit. It gives you the freedom to write a message across your nails for others to admire. The black and white colors create a bold effect that allows your new set of nails to stand out from the crowd. Feel free to add your touch to this look by changing the base colors or letter style – the choice is yours.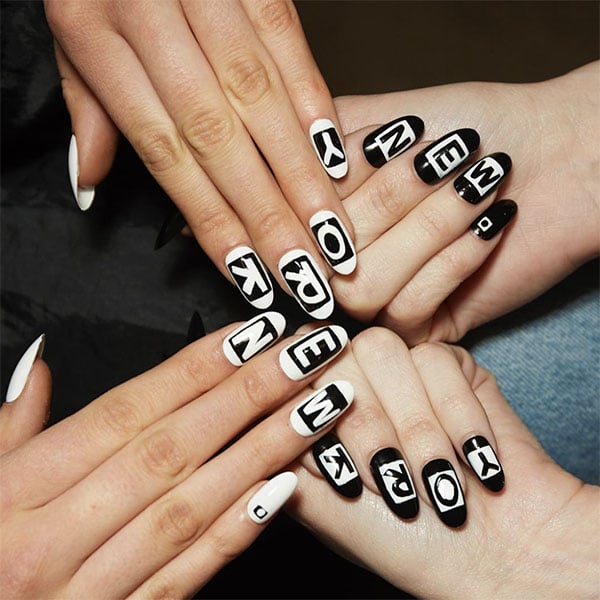 22. Square Acrylic Nails
If you're after something more simple, then the square nail design will be perfect for you. This go-to shape allows for versatility, giving you access to almost any design and color. For example, you can have your acrylics painted one color, have a feature glitter nail, or even add some cute symbols like the yin-yang design. Whether it's a natural look you're going for or something entirely out of the ordinary, the square shape will help achieve precisely that. You will have some incredible looking nails.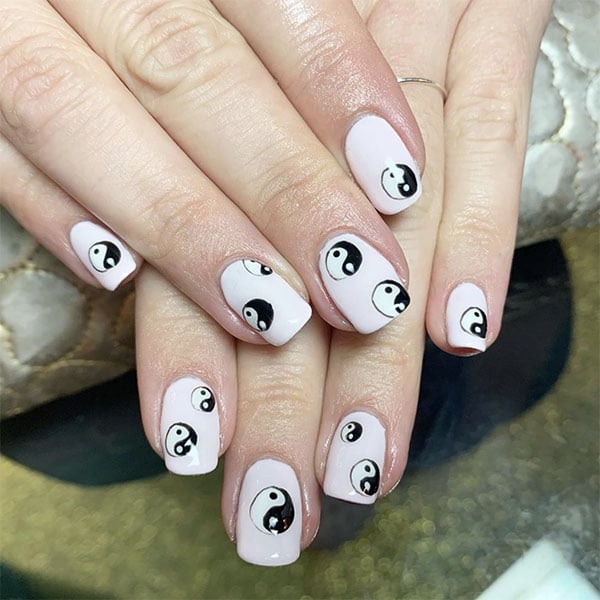 23. Rounded Artistic Acrylic Nails
Try this different acrylic nail trend and watch all of the compliments roll in one by one. The rounded artistic nail design channels a sophisticated and chic appearance, which is versatile for almost every occasion. The simple design allows for a natural look in addition to the creative aspect of enticing line art. Unleash your inner artist and explore a style you may have never second-guessed.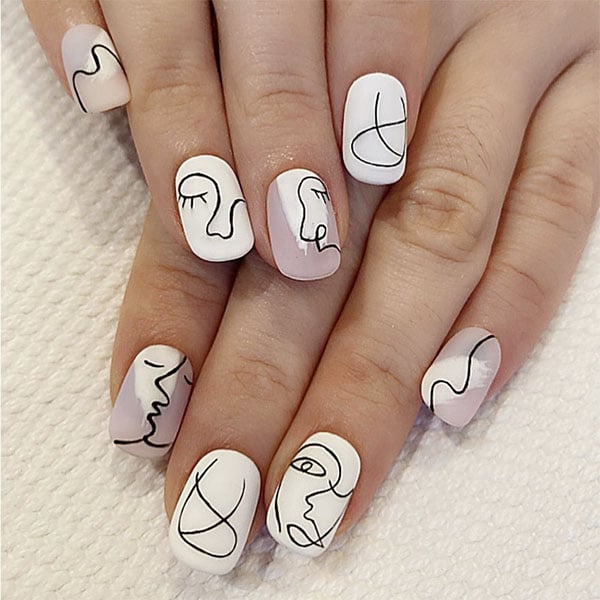 24. Lipstick Shape Acrylic Nails
The lipstick shape has made its breakthrough and is now a popular trend. The tapered tip creates a unique and flawless touch that resembles a lipstick bullet. You can create your very own lipstick-inspired nails and paint them any color you like. This quirky design is worth trying at least once in your lifetime to discover your individual style.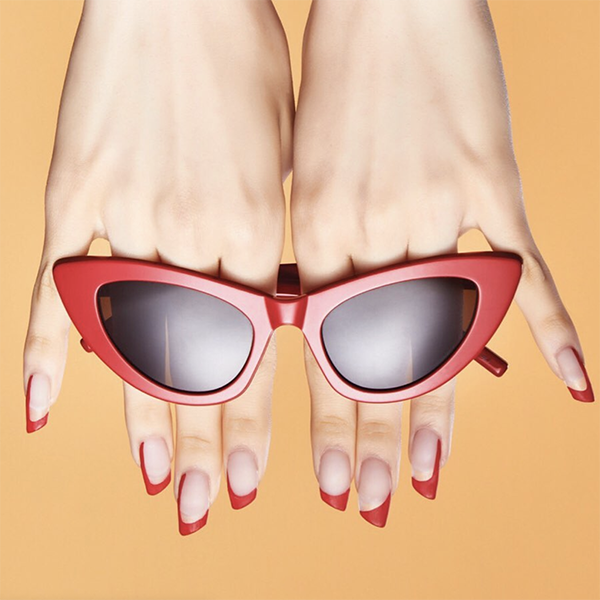 25. Branded Acrylic Almond Shape Nails
Almond nails are the perfect go-to shape for almost any design and in particular, the branded nail look. High-end fashion brands look great on any part of the body, which means it's the ideal excuse for your nail technician to recreate them on your fingers. For example, brands like Gucci, Louis Vuitton, and Chanel have stylish logos that surprisingly suits acrylic designs. Don't be afraid to try this look as you can add or remove certain aspects to make the set your very own.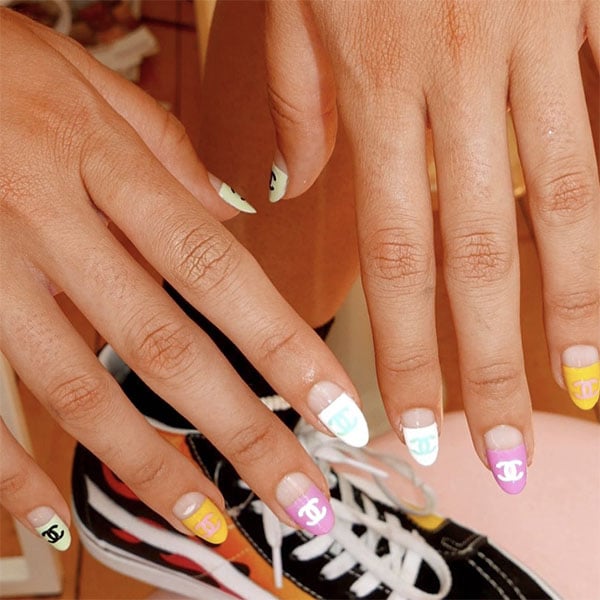 26. Unique Mountain Peak Acrylic Nails
Channel your inner wild side and display it on your new set of mountain peak acrylic nails. This shape is definitely not one for the faint-hearted. The sharp tips and elongated base can be quite intimidating, but it does allow for some bright and intricate artwork to be painted on. If you're willing to test out this acrylic nail set, you should go all-out. Explore what you can do with this nail shape and invent some wicked art for everyone to admire.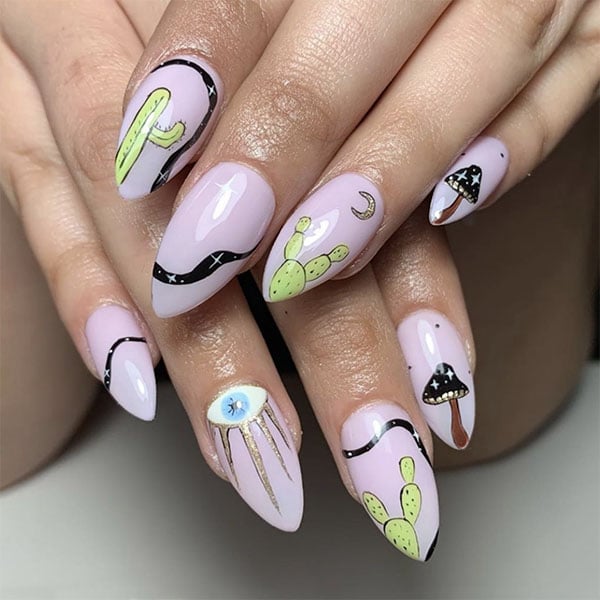 27. Colorful Coffin Acrylic Nail Design
Paint the rainbow onto your fresh set of coffin shaped acrylic nails with this super cool design. This popular style provides plenty of room to make quirky and fun designs. In particular, you can paint on colorful tips or exotic shapes. In addition to this, you can also alternate the colors used with this look from fluorescent to subtle pastel shades. The choices are endless with this design.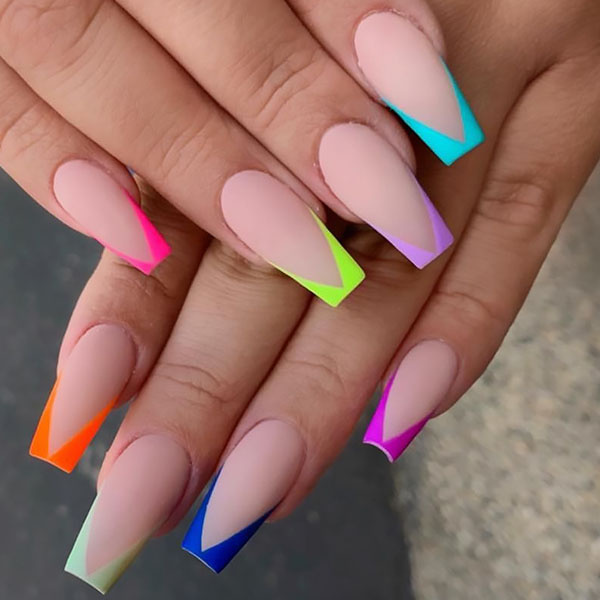 28. Mountain Peak & Coffin Acrylics
This nail shape is the perfect combination of the mountain peak design and coffin nails. If you are undecided and like both styles, then this combined look will be your new favorite. Spice up your next set by utilizing this design and creating some super cool patterns. This look is one for the adventurous type due to its odd mixture of shapes and edges. However, you can reinvent this look in a variety of ways that suits your style and needs. You won't know if you like it until you try it.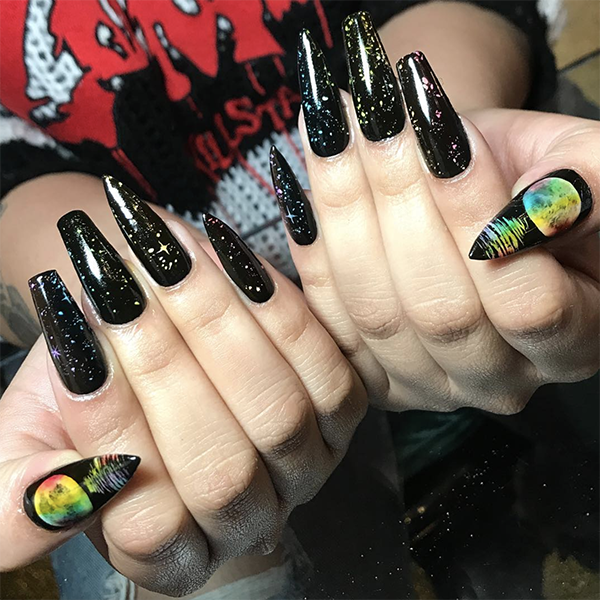 29. Oval Matte Acrylic Nails
This matte oval shape nail set is the best design to apply if you are new to the acrylic process. You can keep it simple, cute, and pretty with this look due to the length and matte finish. Create your ultimate and personalized design with this set by requesting any color, shape, and line art that you desire. Choosing bright colors will give you the perfect summer nail look. On the contrary, darker colors will be more suitable for colder months. With any of these options, you can be sure that this nail design will look flawless.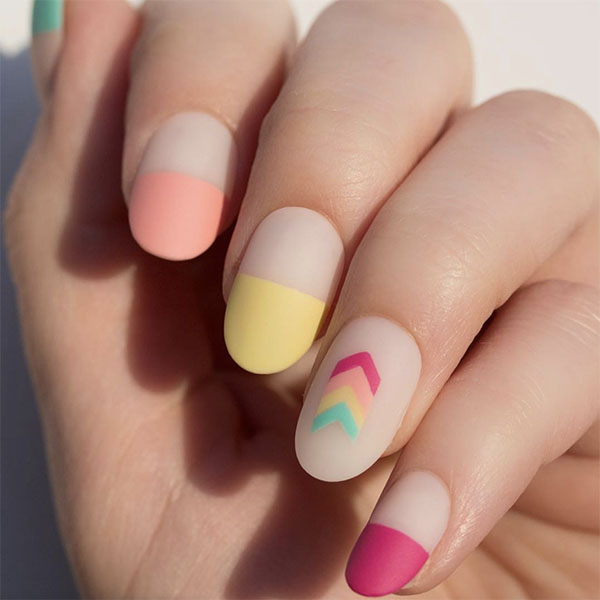 SUBSCRIBE TO OUR NEWSLETTER
Subscribe to our mailing list and get interesting stuff and updates to your email inbox.