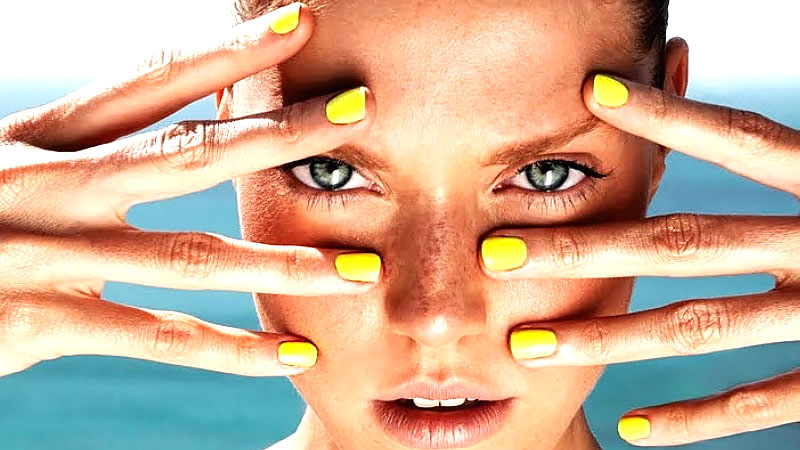 As one of the hottest shades right now, this bright hue is sure to make a great addition to your manicure routine. From sunny patterns to zesty art, there is something here that will flatter everyone's taste. You can rock these at the beach, the office, or a night out with your friends – they match all events. If you're looking for a vibrant and funky way to freshen up your look, get inspired with these 20 stunning yellow nail designs – they're sure to brighten your day!
1. Classic Yellow Manicure
For a fun and fresh manicure, why not try the classic yellow color with a matte finish? This bright shade instantly lifts your mood and brightens your outfit – what more could you need? No matter what length or shape your nails are, you can zest up your routine with this summer-approved look.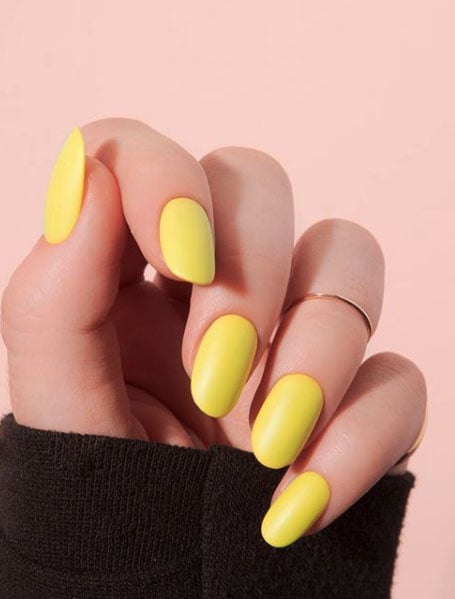 2. Sunflower Feature Nails
Take a piece of nature with you everywhere, thanks to this manicure. What starts as a classic yellow nail color transforms into a beautiful sunflower on a single nail. To create this look on your feature nail, paint a small crescent shape with black polish and delicately place golden petals around the edge. Using a thin brush, add a few brown dots in the center of the flower for a realistic finish.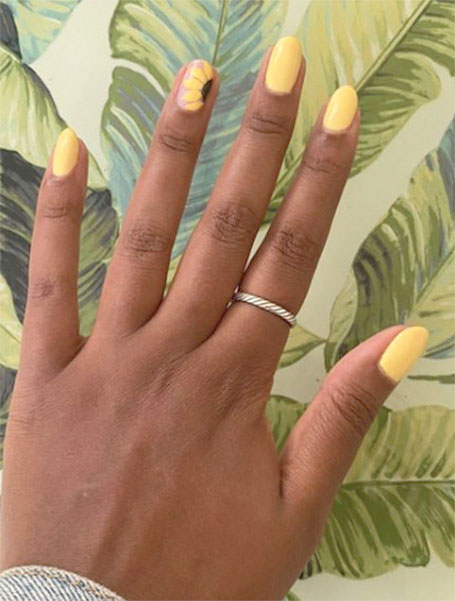 3. Ombre Yellow Nails
This ombre manicure will instantly fill your day with a blend of sunshine and fashion. The trendy design from nude to a bold shade is a popular choice – the subtle and fresh lemon color is a great alternative. You can opt for any shape for this style, but the gradient often works best with longer tips.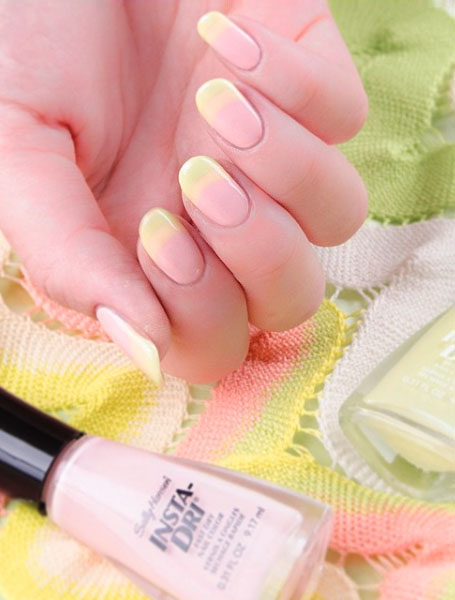 4. Pastel Lemonade Nails
Showcase your love for lemonade with this cute manicure. The pastel shade and zesty leaves are the perfect way to create a gorgeous set of nails with minimal artwork. It is also a superb option for those who prefer a feature nail – you will instantly add a touch of freshness with this nail art.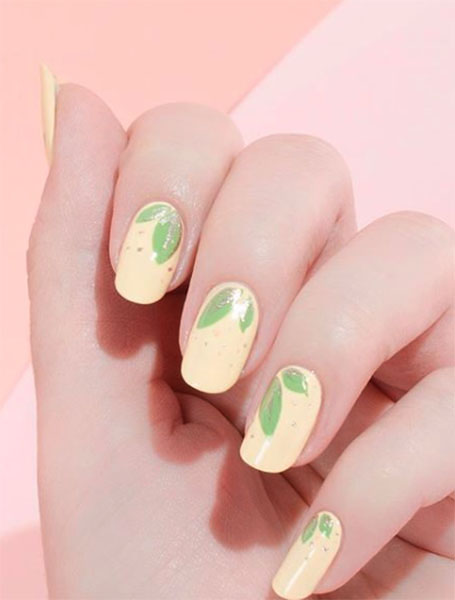 5. Yellow Watercolor Nails
Let this manicure be a piece of artwork for you to take everywhere. This watercolor design is bright in color and subtle in design – throw in shades of pink or purple to add dimension. This manicure works with every nail length and shape, but if your nails are a bit longer, you can experiment by adding some 3D embellishments over the top. You can spend hours admiring the awe-inspiring artwork across your fingertips.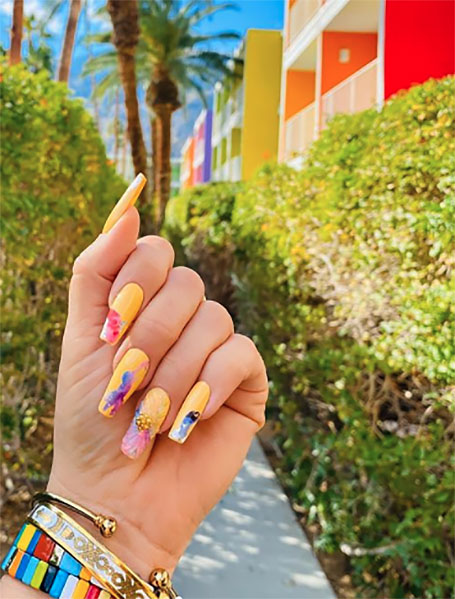 6. Yellow French Manicure
Fashion is all about trying something new and experimenting, so why end it at your clothing choices? This trendy manicure has been turned on its head, thanks to the splash of yellow. Not far from the traditional French manicure, this version opts for a lemon shade in place of the white tips. It is an excellent option for a night out on the beach or just a day at the office.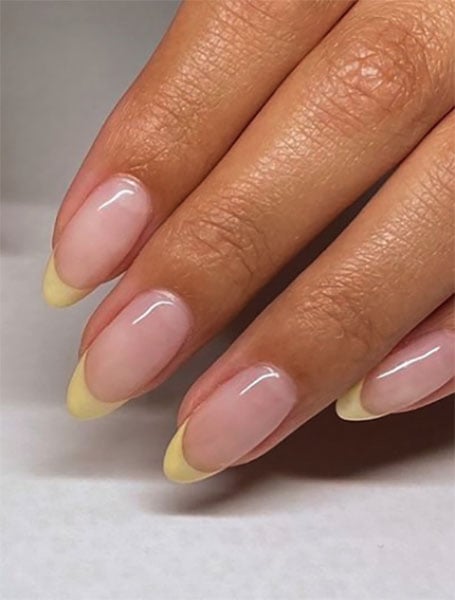 7. Yellow Graphic Nails
This year, we're all about self-expression, so there's no better time to do that than with your manicure. With graphic smiley faces printed across each nail in a bright yellow shade, you'll be feeling your happiest every time you see them. Let the bold artwork stand out from your fingertips by painting them over a nude base – this will help elongate your fingers and draw attention to the design.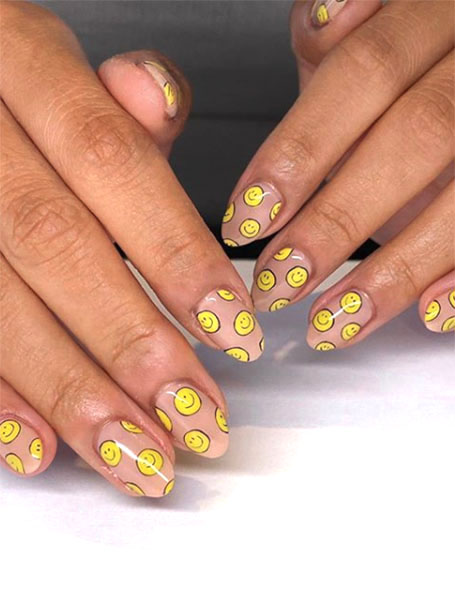 8. Yellow Pattern Nails
Mix things up and create a flurry of patterns across your nails. This funky yet cohesive art combines bright yellow, black, and white and turns it into a sleek and fashionable design. Combine leopard print, snakes, and geometric shapes for a wholly unique and stylish manicure.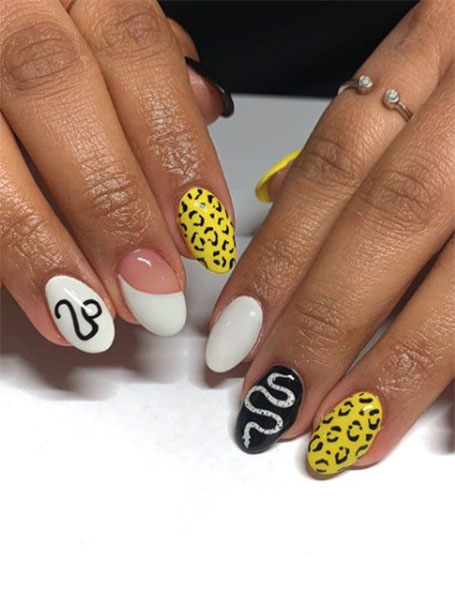 9. Yellow Animal Print Nails
Animal print is a trend that is here to stay, and it's a great pattern to incorporate into your manicure routine! If you love yellow, add dimension to it by adding blue leopard print spots across the base. Paint every finger with this intricate pattern or leave it as a feature nail – it's a popular option for the person who loves to stay in the loop.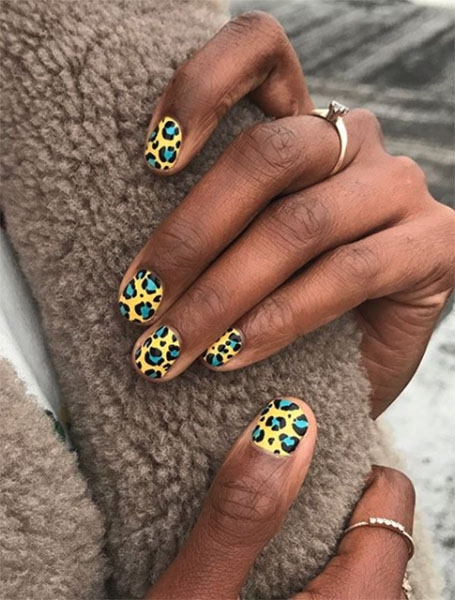 10. Yellow Tartan Nails
Take it back to the '90s and try out this yellow tartan manicure. Seeking inspiration from the iconic teen film Clueless, you will be the coolest person n the room with a manicure this sleek. Put a modern spin on the traditional French tips by adding the bright colors at the end of your fingertip. You'd be totally buggin' if you don't try this one out.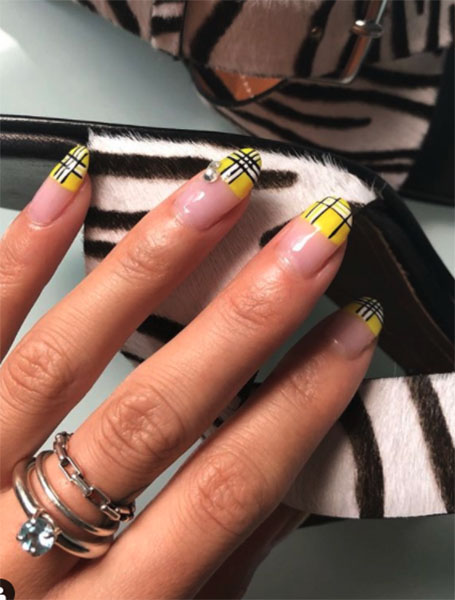 11. Minimalist Yellow Nails
This elegant manicure offers a few shades throughout, but it makes a powerful impact. Using yellow, black, and coral, carve out crescent shapes on the top and bottom corners of the nail bed. To help elongate the ends of your fingers, paint the base in a nude or neutral shade – it will also make the colors appear brighter.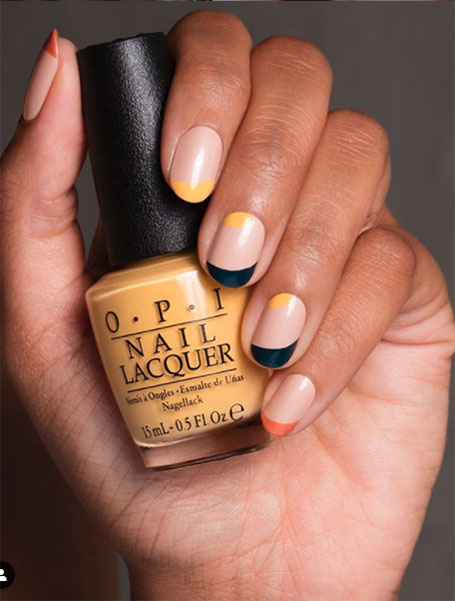 12. Yellow Pineapple Nails
If you like Piña Coladas, and wearing cute manicures, then we have the perfect nail art for you. The classic two-tone nude and yellow polish on each nail is a fun spin for every day, but the pièce de résistance is the pineapple on the thumb. Not only is it super cute, but it's a beautiful way to showcase your love for summer.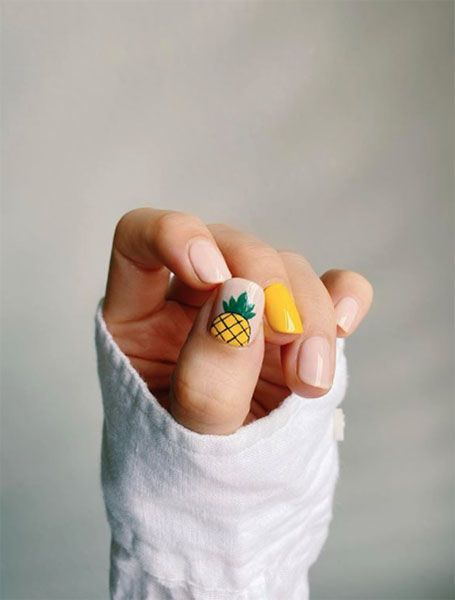 13. Yellow Floral Feature Nail
Take a step through nature and let your fingers be your guide. This floral manicure is unlike the rest and is as unique as you are. The subtle golden petals and delicate green stems look beautiful against a nude base. Paint two or three fingers in a bold yellow shade, the same as the flowers, and leave the rest as with patterns. Opt for any nail shape or length for this design – it looks great with everything!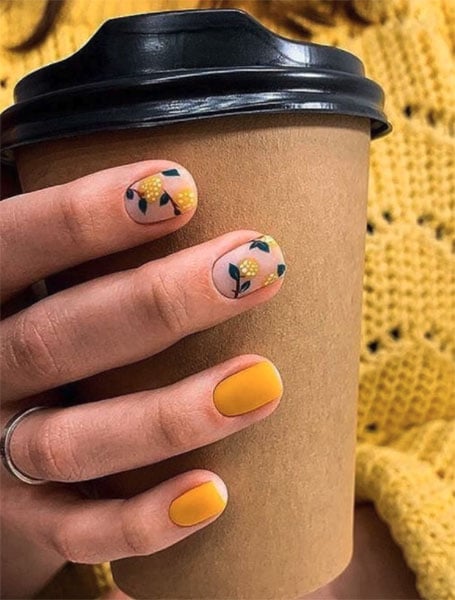 14. Yellow Abstract Nails
Find the balance between bold and minimalistic, and feature it on your nails. The bright and geometric shapes across the last two fingers offer a high fashion element, and the funky yellow adds a summer twist. For further dimension, add a matte topcoat to the patterned fingers, leaving the others with a glossy finish.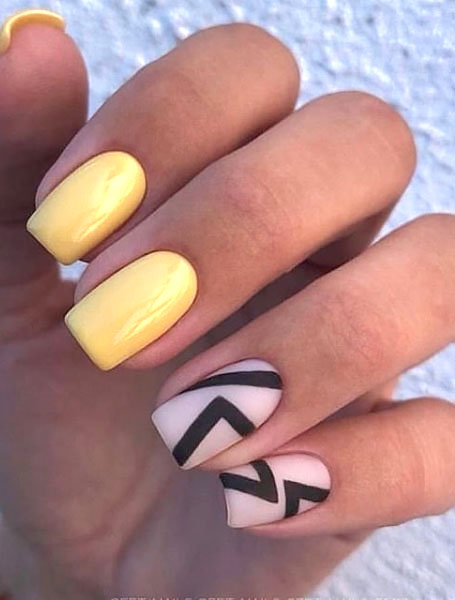 15. Yellow Glitter Nails
Sparkle as bright as the sun with these yellow glitter nails. Perfect for a picnic date, a night on the town, or a fun evening with friends, it offers a combination of light-catching glimmers and a nail-lengthening lemon shade. Whether you have long nails or short, you will want to show off your manicure to everyone you see.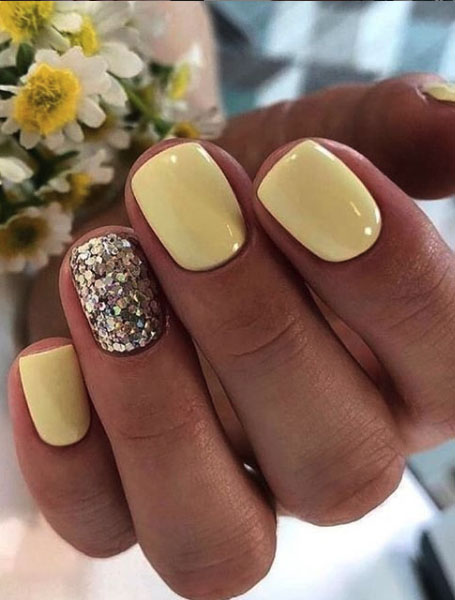 16. Yellow and Nude Manicure
If you are a big fan of traditional manicures but you want to step outside the box, give this fun art a try. The artistic brushstrokes of white and yellow paint are subtle, but they give off an instant fashionable effect. Using a very delicate and tiny brush, paint back leaves across the top of the nail – add some small splatters over the negative spaces to complete the look.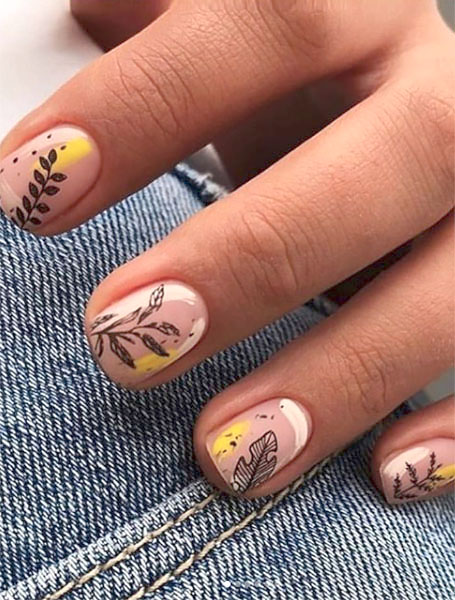 17. Yellow Manicure with Leaves
There are so many tones to this warm shade, so why opt for the same color? This mustard-yellow offers orange undertones, and it looks excellent with red hues. Take advantage of the color wheel by choosing shades within the same warmth or coolness range, and you're good to go. Paint a contrasting set of leaves on the thumb for a feature nail, and you'll have the hottest manicure of the moment.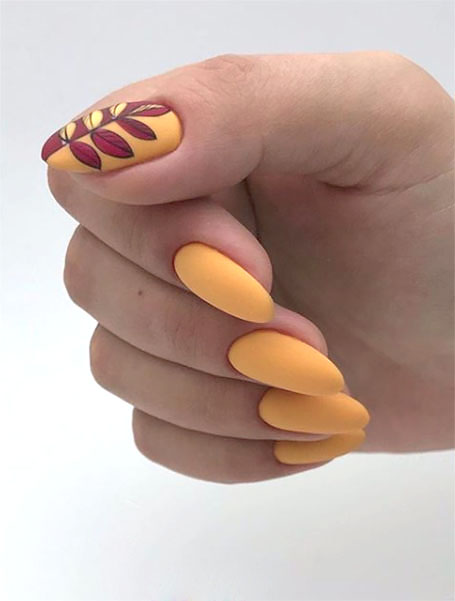 18. Yellow Flamingo Manicure
Create the illusion of flamingos against a sunset with this stunning manicure. The bright yellow shades over the majority of nails are bold and fashion-forward, and the print of the pretty pink bird adds a wild element. To help the pink stand out more, let it sit over a white background – it will add extra attention to the stunning artwork.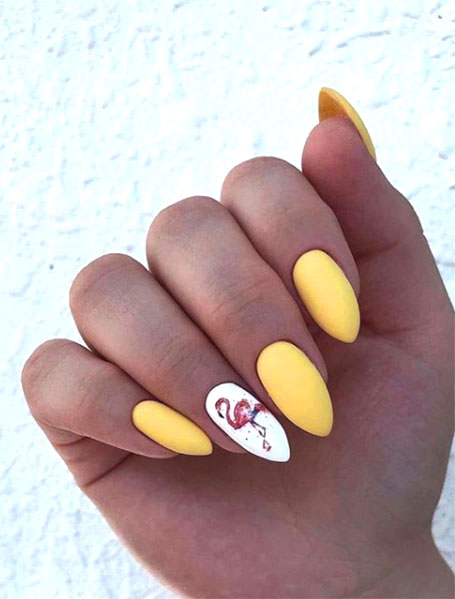 19. Neon Yellow Mails
Make a statement with these nails, and bring a party with you everywhere you go. This loud and vibrant nail color is sure to brighten your day, and the neon yellow will instantly elevate your stylish ensemble. The fluorescent trend has remained one of the staple hues of the season, so you'll look super trendy.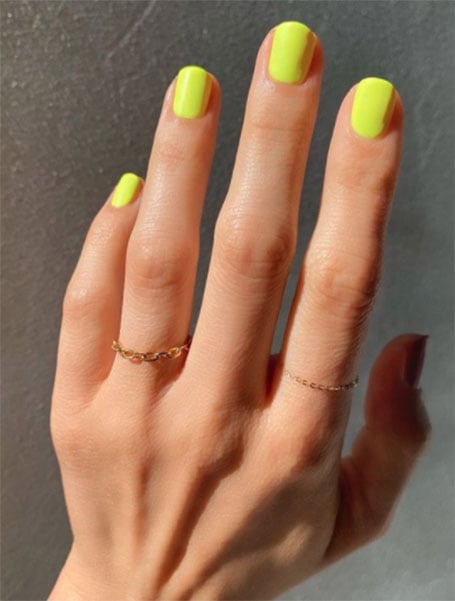 20. Yellow and Black Nails
Yellow and black are some of the most striking color combos, and they certainly make a statement. Throw in some silver, and you'll have yourself a stunning manicure. Let the darker shades sit sporadically across your nails, or form it into an animal print. It's a trendy addition to your outfit, whether it's day or night.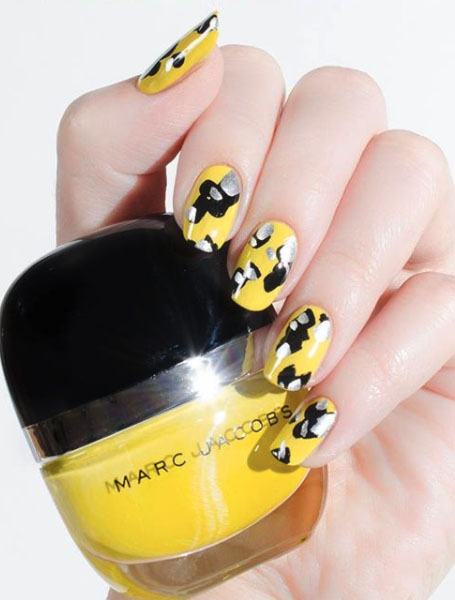 FAQs
What color goes good with yellow nails?
Yellow comes in so many wonderful shades, from muted lemon and sunflower yellow to moody mustard and neon bright. No matter what shade you choose, there are other colors that look wonderful with it to make great designs. Pick analogous colors from the same side of the wheel, such as orange or green. Alternatively, opposites attract when you go for something across the color wheel, such as purple, blue, or red.
Are yellow nails in style?
Yellow nails are in style because they bring a fun, happy, and zesty feel to your look. It's a vibrant and funky choice that suits most occasions, giving you a well-deserved dose of dopamine-dressing.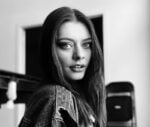 Alexandra Feiam is an experienced fashion writer who holds a degree in journalism. She has an impressive portfolio and expertise working as the Editor at Power Retail and Commercial Content Editor at Newscorp. Ally has been writing for The TrendSpotter since 2018, and her work has been featured in notable publications such as The Herald Sun, Arirang TV South Korea, Kidspot, The House of Wellness, and The Daily Telegraph.
SUBSCRIBE TO OUR NEWSLETTER
Subscribe to our mailing list and get interesting stuff and updates to your email inbox.