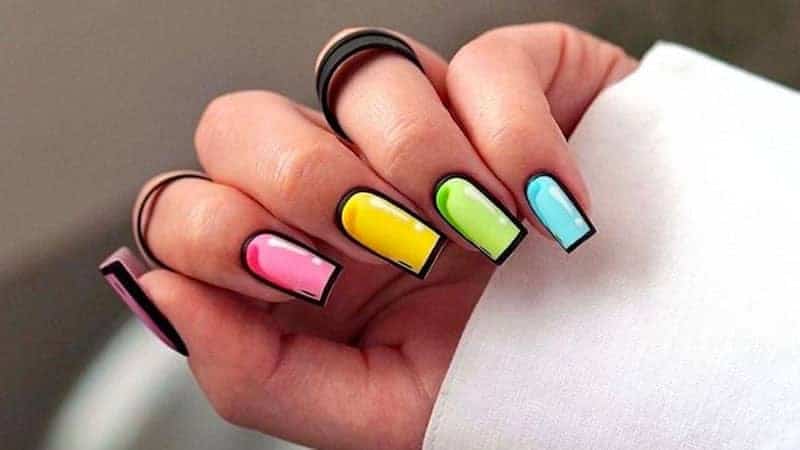 Forget the dark, gloomy hues that have been favored in the winter months, and embrace these bold, beautiful shades for summer. The balmy season is all about expressing yourself and bringing a welcome pop of color back into your appearance. And what better way to achieve this than with super creative and ultra-chic nail designs? Choose hot pink to unleash your inner Barbie girl, or channel the decades past with something retro and cool. If you have been looking for the ultimate way to draw attention to your fingernails and bring a smile to your face, look no further with the bright summer nails you will love!
RELATED: 50 Cute Summer Nail Designs for 2023
1. Neon Bright Summer Nails
Step your style this season with bright neon summer nails. The saturation of these hues makes them a guaranteed crowd-stopper and everyone will be sure to look your way. You can mix and match your favorite shades for a colorful and daring finish, or keep it simple by focusing on only one hue. This manicure will feel youthful and expressive.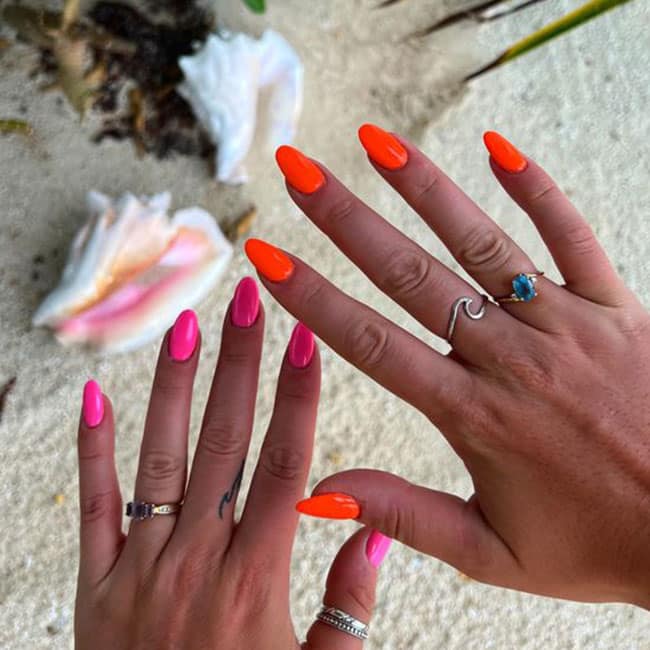 2. Bright Summer French Tip Nails
Draw attention to your nail shape by focusing the color toward the end with a modern interpretation of French tips. This is a classic approach to manicures but the injection of the bold shade will update the look, giving you something that feels fresh and exciting, whilst still being easy to do. For a contrasting finish that will make you the envy of all your friends, try out different shades of the same hue on the base and tip.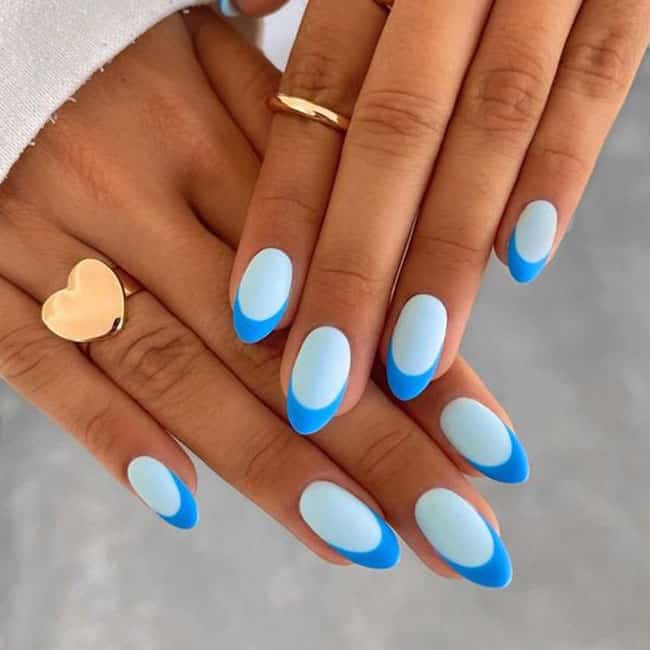 3. Bright Multicolor Nails
We know what you're thinking; what better way to get into the summer spirit than with a multicolored manicure? The key to achieving this effortlessly chic finish is to paint each fingernail with a different color. This makes it easy to mix and match all your favorite hues. That could be a cool green or a bright pink, you decide! The contrast between each fingernail will draw attention to your hands and highlight the shape.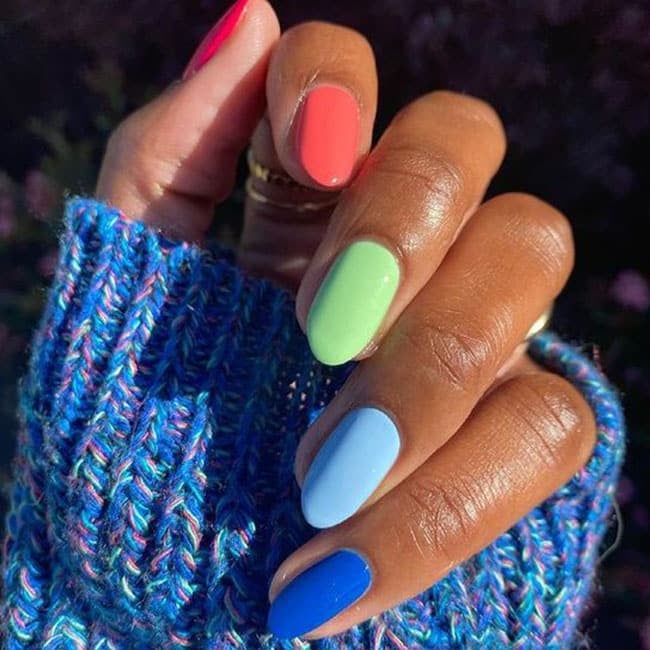 4. Bright Summer Pink Nails
Go bold girl and let your inner Barbie shine! Bright pink nails are a saturated hue that is unmissable and will be a wonderful way to highlight your fingers this summer! Don't be intimidated by the shade because it is surprisingly easy to wear and will look good on most skin tones. Plus, this hue is feminine.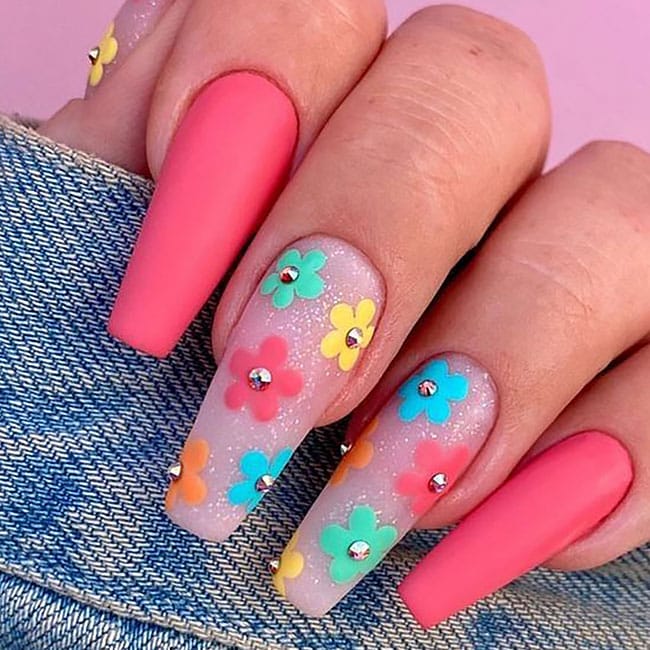 5. Bright Blue Nails
Bright blue is a rich color that is often associated with luxury and sophistication. But for summer, it is all about expressing yourself and getting your fingernails noticed! Do you love simple nail art? Good because even the simplest design looks gorgeous with this hue. Or why not contrast it by choosing a different shade for a feature nail? Not only will this tone down the blue, but it will also let you try out multiple styles in one.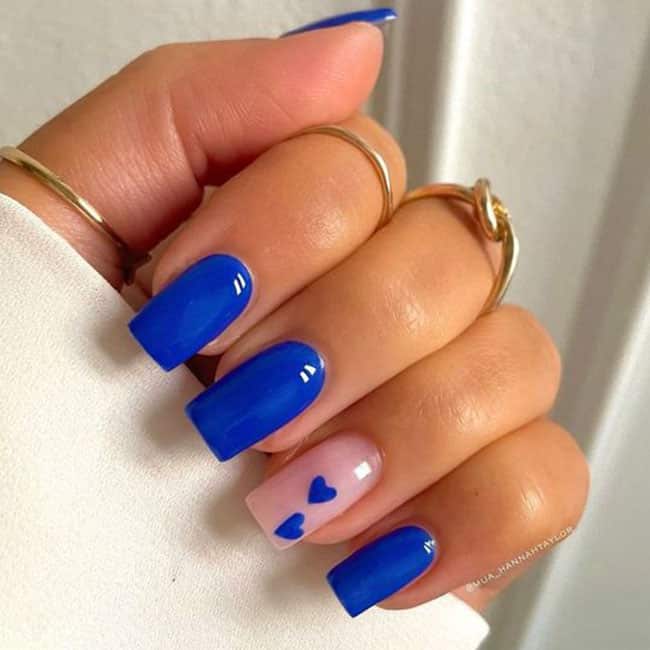 6. Bright Green Nails
Bright green nails are the ultimate choice for summer, letting you express yourself and channel the beauty of nature. There are so many shades to choose from, making it easy to find the one that best suits your preference and complements your skin tone. When it comes to the application, let your creativity shine by choosing interesting placements and playing with negative spacing.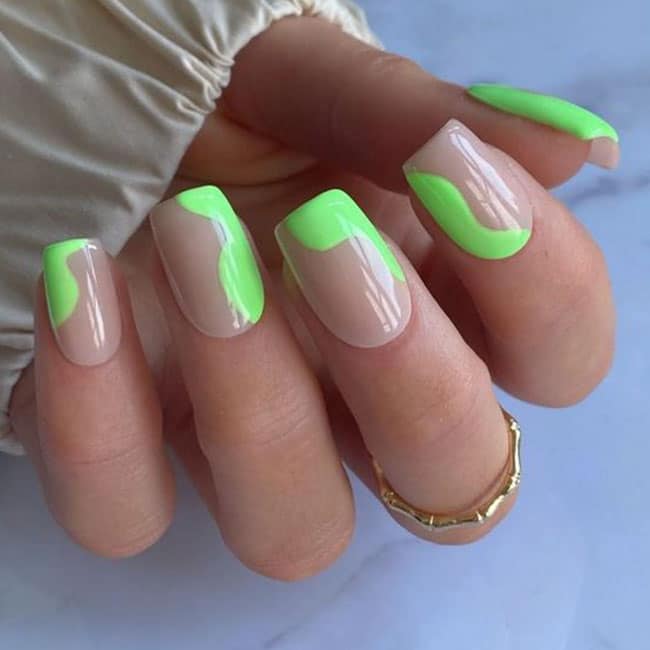 7. Bright Orange Nails
Orange nails are the ultimate choice for bringing warmth and joy to your manicure. The bright color is unmissable and will highlight your chosen shape, giving you the opportunity to try something unusual. Try mixing the hue with other colors to either contrast or complement it. This is also a great option for making nail art more visible. Get it, girl!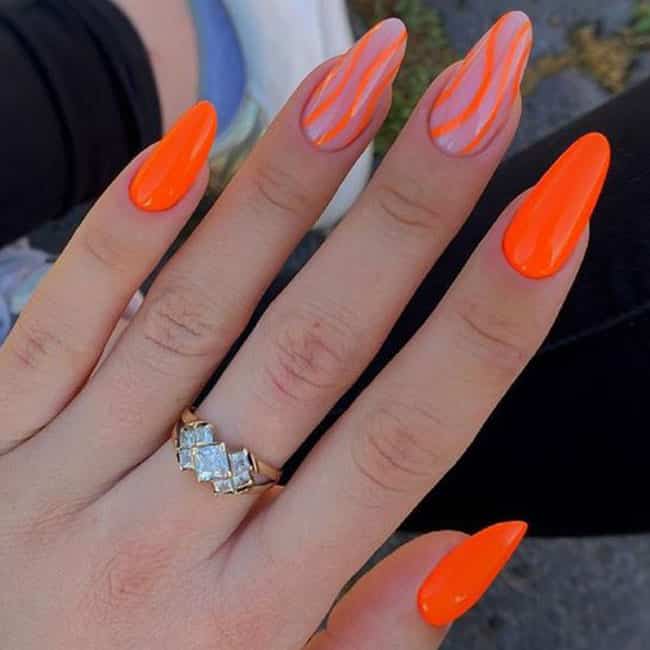 8. Bright Polka Dot Nail Art
The simplicity of the polka dot nail art and the easy application make this a classic and a firm favorite no matter what the season. However, you can give your manicure a distinctly summery feel by choosing colors that are bright and saturated. There are unlimited options for getting creative, including experimenting with different size dots and the angles of your application.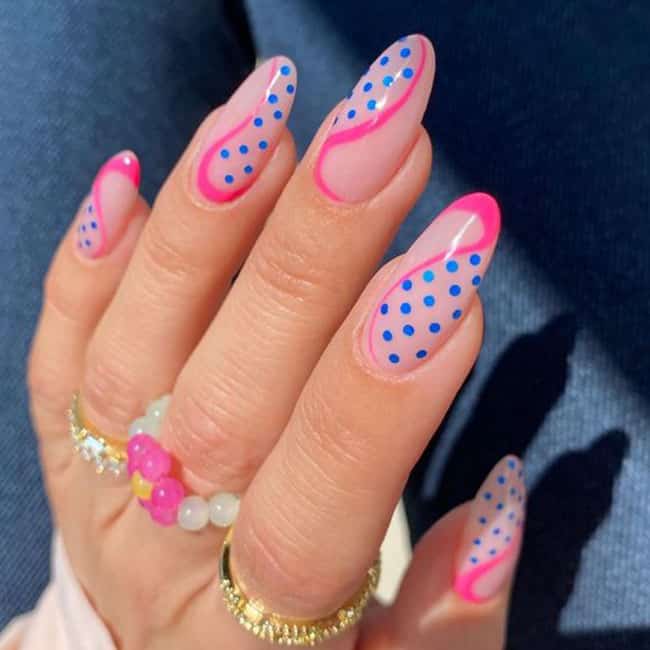 9. Bright Squiggly Summer Nails
Say goodbye to the dark, gloomy winter days by opting for a fun manicure. Could these bright squiggly summer nails be just it? It is the perfect season to experiment with colors that you may usually be hesitant to try out, but there is no such thing as too bold or daring! Squiggles are easy to do and super cute. Opt for big, chunky designs or something fine and delicate; the choice is yours!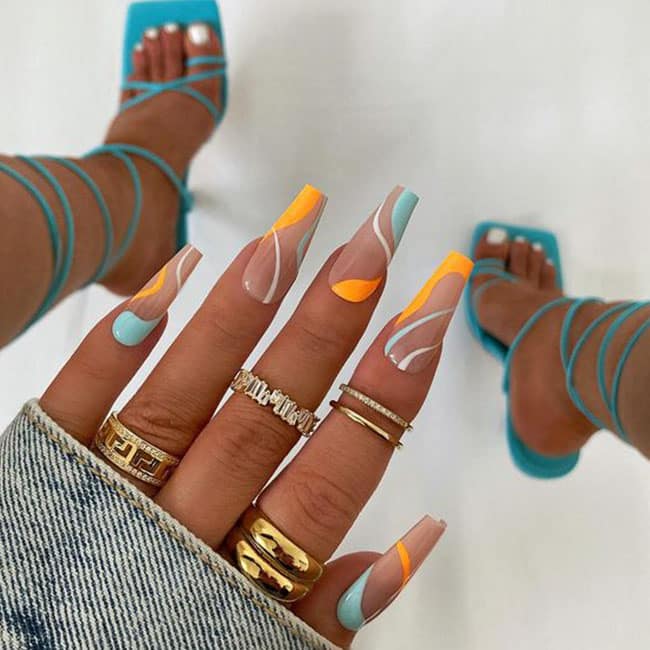 10. Bright Y2K Nails
You are never going to want to cover your hands up again with this 90s manicure. And this is the season to go all out! Let us introduce you to Y2K summer nails, the cool girl finish that is expressive and youthful. This look is all about combining your favorite shades, prints, and patterns, to create something distinct and unique — just like you are!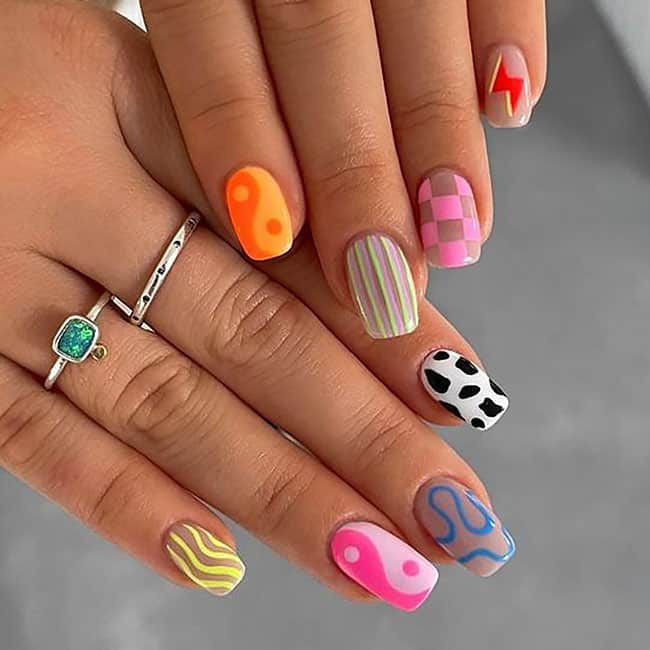 11. Bright Floral Nail Art
We love floral nail art because there are so many options, letting you experiment with colors, sizes, placements, and even shapes. This is also one of the most symbolic choices because flowers are associated with beauty and growth — so what better way to channel these things than with a super cute and colorful design? Bring attention to your hands and show you're an individual!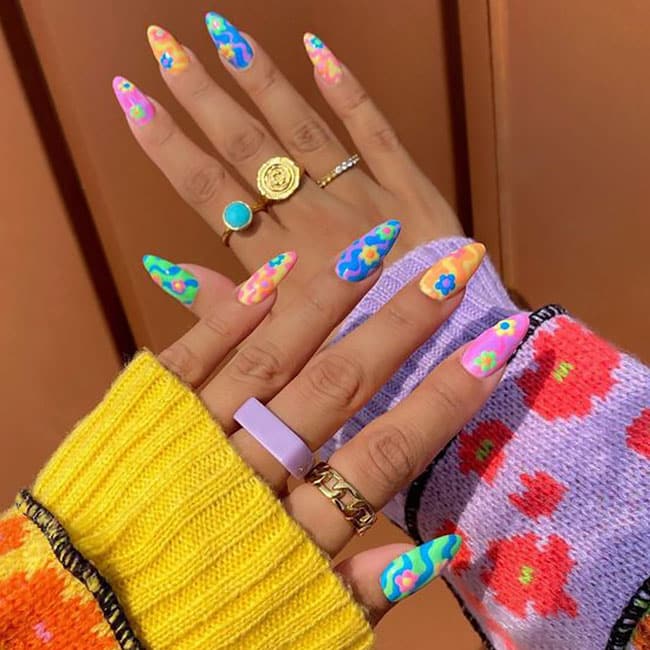 12. Bright Smiley Face Nails
Are you happy and you know it? Wanna show it? Now is your time, babe. Bright smiley face nail art is the ultimate design this summer and will bring you joy and happiness every time you look down at your hands. For an emoji-approved feel, try out a bold yellow hue, or mix and match the little smile with different patterns and prints.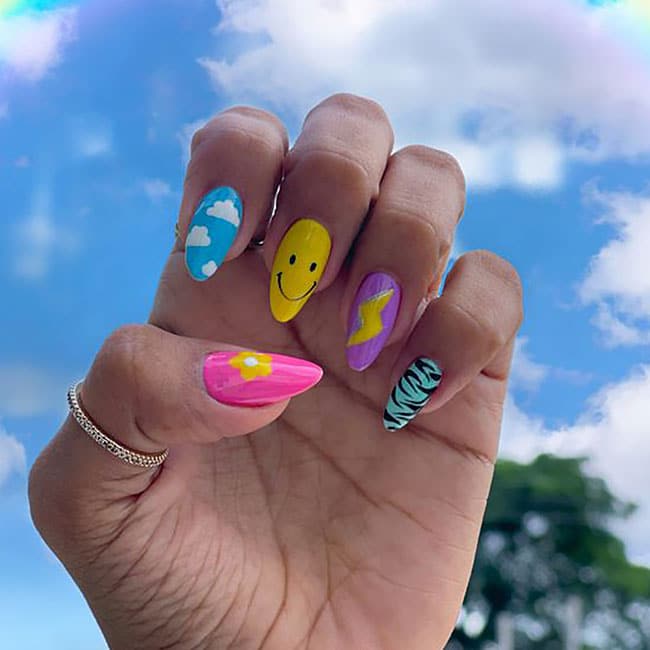 13. Retro Bright Summer Nails
The decades past have been a style inspiration for so many of us, and you can acknowledge this with an ultra-chic retro bright summer nail design. Choose everything from classic squares in bold shades to squiggles and groovy prints. There's no need to stick to just one color with this look, so feel free to blend as many as you want!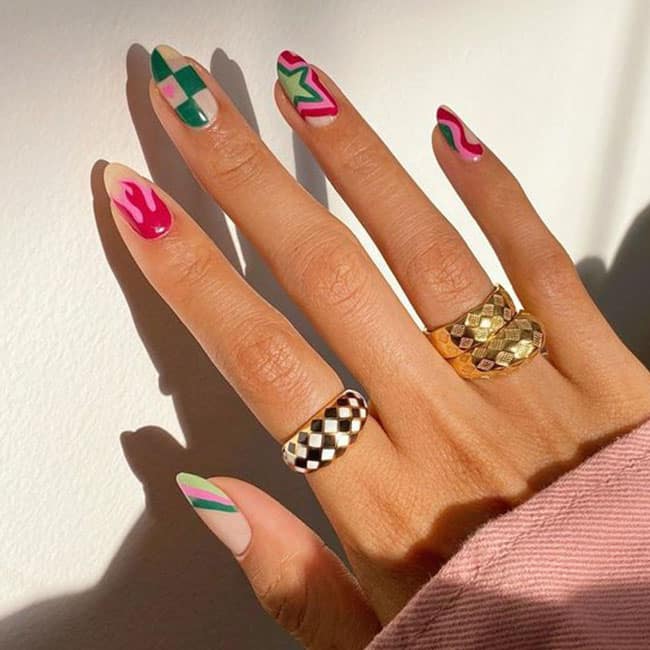 14. Bright Ombre Nails
Ah, what better way to blend your favorite shades than with ombre nails? This is a brilliant way to choose more than one bright color and the graduated effect will combine them in a seamless way. If you are someone who doesn't like overly bold designs, this could be a welcome alternative, while still letting you get into the spirit of the balmy season!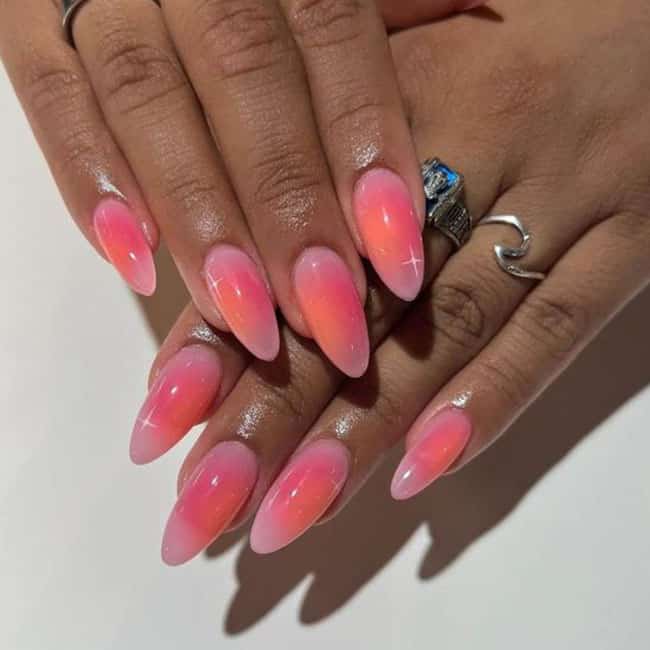 15. Bright Lightning Art Nails
Show the world you are electric with these super cute lightning art nails! This is a fun and expressive way to incorporate color into your manicure. You can choose one shade for the base and another for the lightning. The little symbols are super easy to recreate and can be done in various sizes and placed at different angles. Let your creative juices flow and be bold, babe!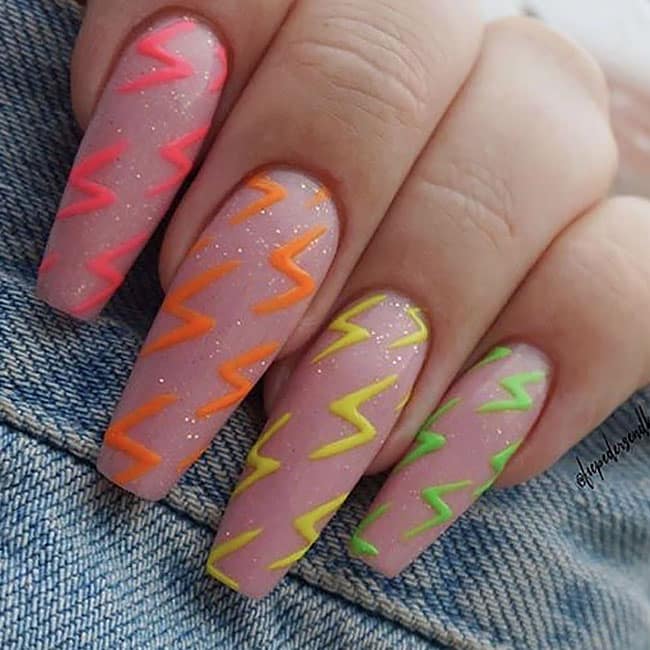 16. Fun Bright Summer Nails
Summer nails should be fun, letting you experiment with bright colors that you may not usually be confident enough to try out. Tropical vacations, days at the beach, and cocktail parties will all present the perfect opportunity to show off your hands. And you will want to do just that with the right nail art. Combine all your favorite colors, prints, and patterns for something lively!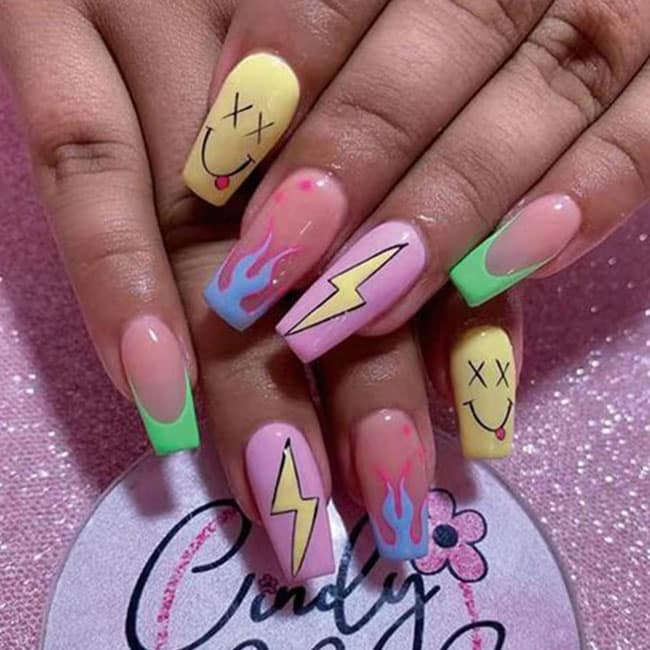 17. Bright Hearts Summer Nail Art
Nothing beats heart nails if you are looking for a way to spread love. The shape is simple to create but looks gorgeous in different sizes and colors, giving you so much versatility with your design. Bright colors are the ultimate way to highlight your nails and can be incredibly cute and youthful. For a striking contrast, try a nude or neutral base coat underneath.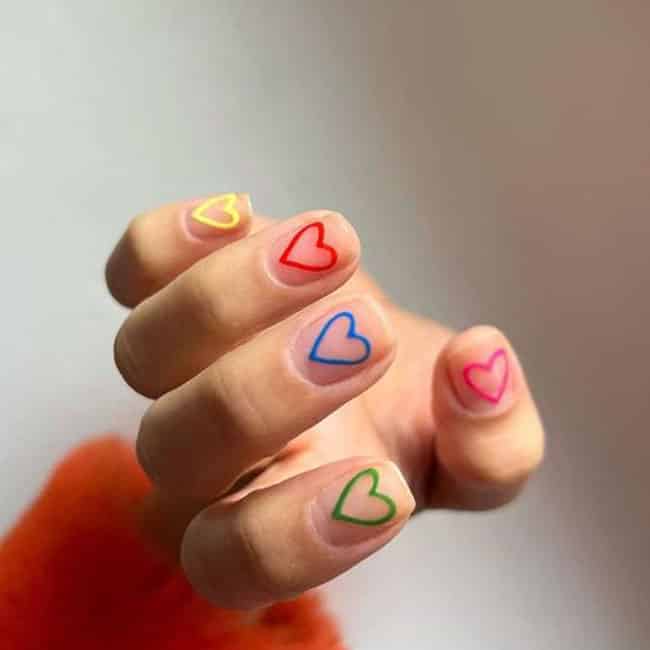 18. Bright Rainbow Nails
Combine all your favorite colors with the cutest and most symbolic design there is; rainbow nails. It represents hope, faith, and new beginnings, and is a lovely way for you to channel these qualities or remind yourself of your strength. The combination can be elegant with small symbols on each fingernail, or you could transform the entire nail into a rainbow.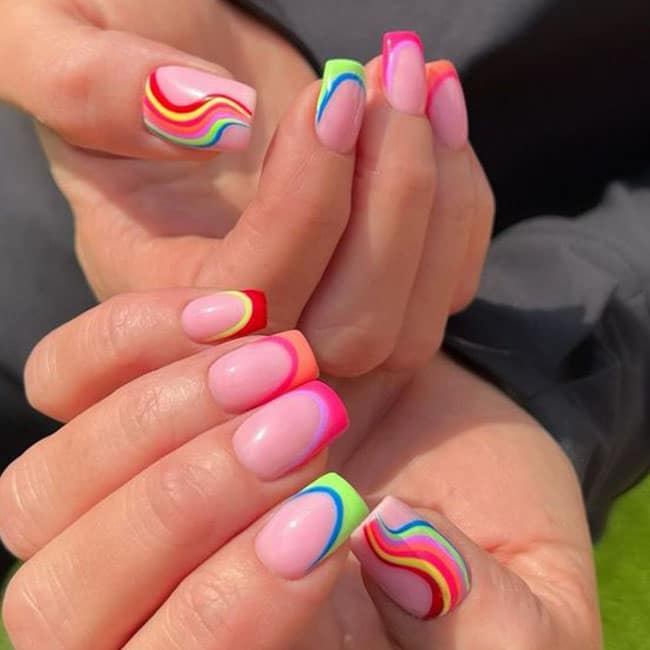 19. Bright Ice Cream Nails
Summer is often associated with beach vibes, sunshine, and tasty cold snacks. So, what better way to get into the spirit of the season than with the cutest ice cream nail designs you have ever seen? You can combine several different colors for a bright and bold finish, or opt for a 3D design to bring your favorite treat to life!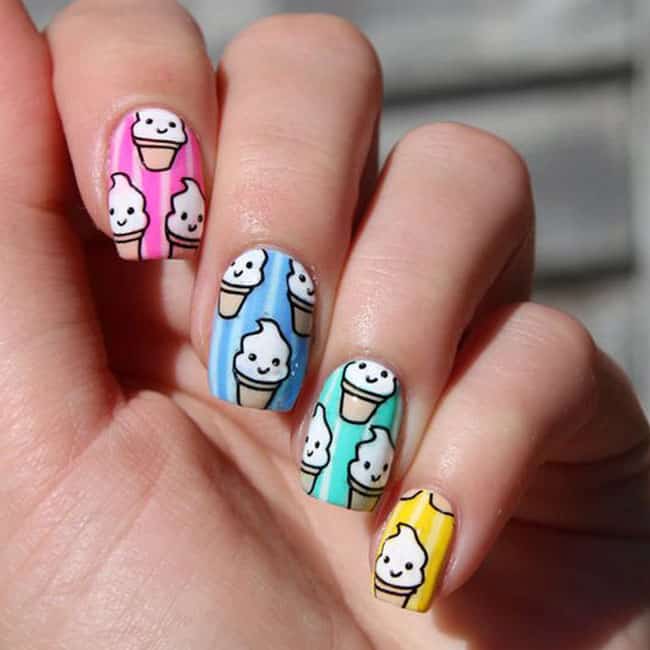 20. Bright Strawberry Nail Art
We don't know about you, but one of our favorite fruits is the strawberry, and this little red gem makes for stunning nail art. Fruity designs have long been favored for the summer season, but the bold combination of red and green creates the perfect balance. It feels fresh and modern and can be added in multiple ways. Transform the entire fingernail or create a small symbol in the middle; the choice is yours so have fun with it!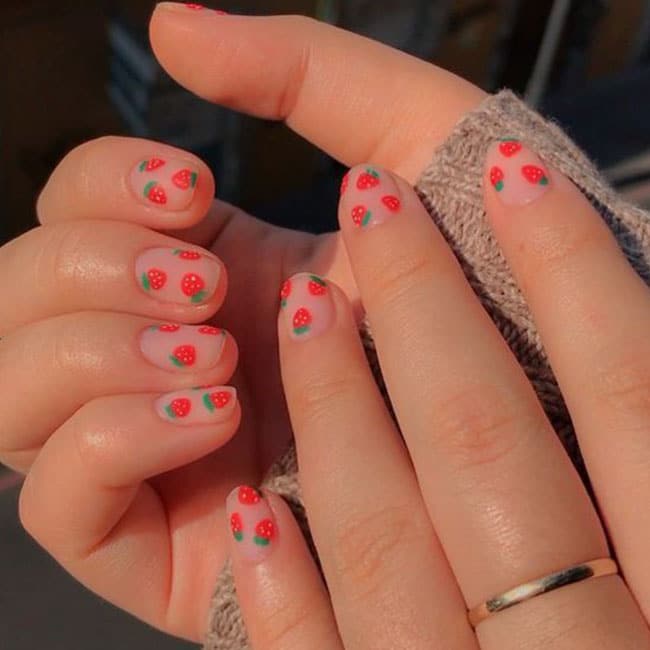 21. Bright Puzzle Art Nails
Get your brain working with these puzzle art nails. The incredible thing about choosing a manicure is that you can do almost anything with it, including experimenting with colors or choosing interesting patterns and prints. And girl, let us tell you, it does not get more creative and fun than this! The bold shades you use will demand attention, highlighting your shape and chosen length even more.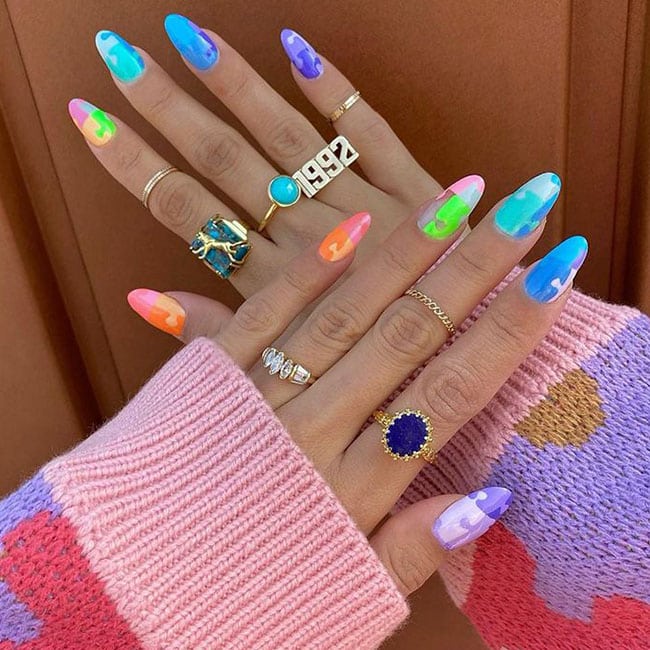 22. Bright Summer Fruity Nails
Why pick one fruit when you can have multiple? These fruity summer nails are the perfect way to embrace the balmy season and are every bit as fun as you would imagine. Choose a different option for each fingernail, focusing on the base for a subtle finish. Or demand attention by combining several on one to create your version of the fruit salad.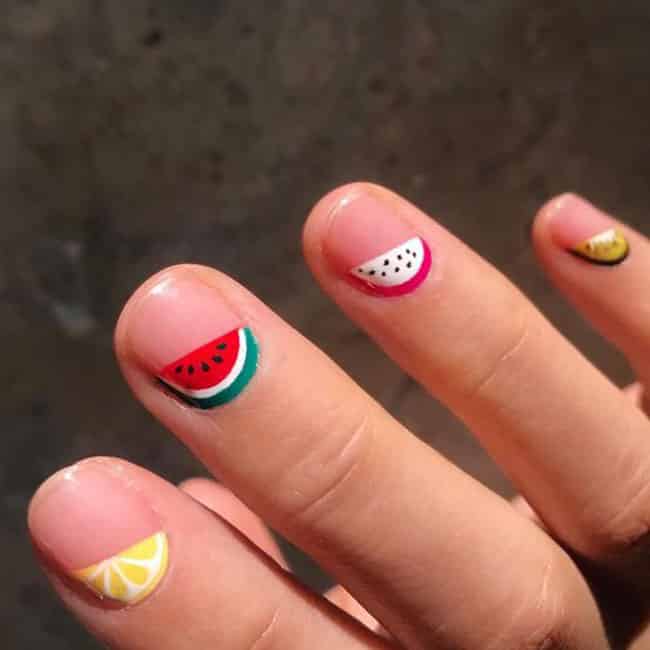 23. Glitter Bright Nails
Sparkle into summer with these glitter nails. The great thing about the shimmery polish is that, when it hits the light in the right way, it can create the most brilliant effect. It is one of the easiest options for creating contrast, plus, it comes in multiple colors so you are not restricted. Opt for a subtle finish to avoid looking like ol' Edward Cullen, everyone's favorite vampire.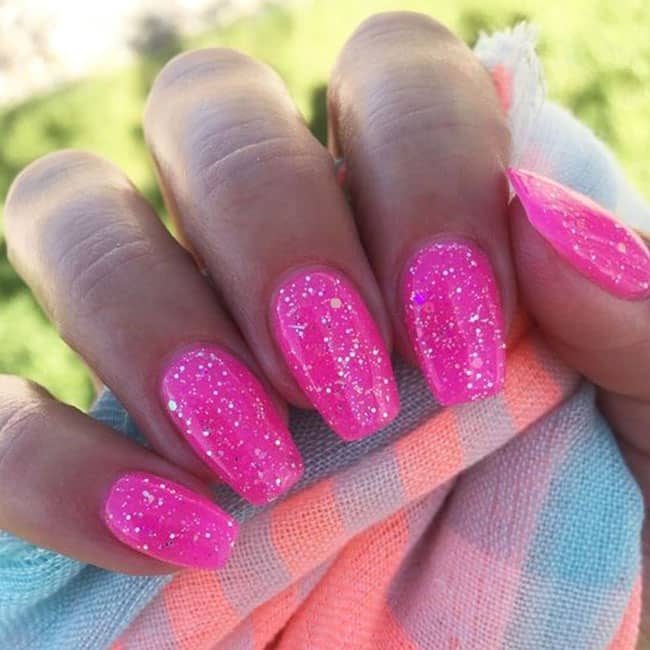 24. Cute Bright Summer Nails
Don't let anyone tell you that simple designs cannot be stunning. Transform your nail art this summer and create the cutest, girliest manicure you ever did see! This look is easy to create and perfect for combining your favorite colors for a bright, yet understated finish you will love! Plus, there is no better way to put the focus on your hands and highlight your shape — whether it is a coffin or an almond.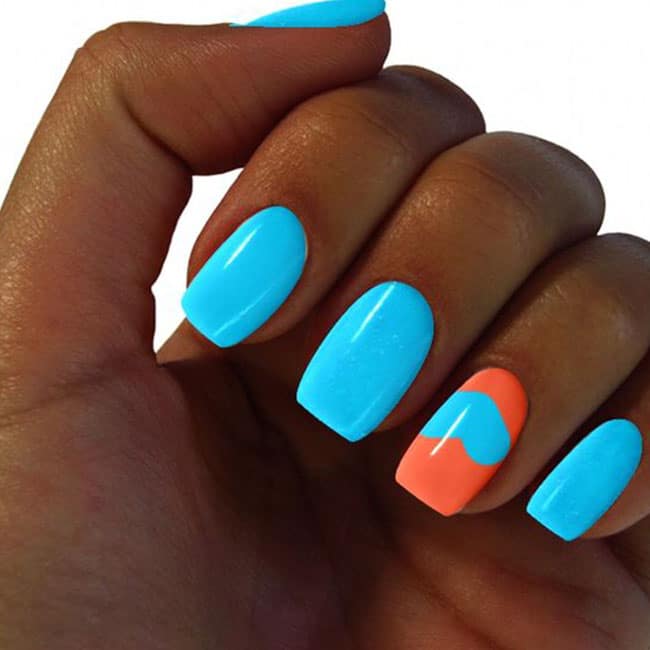 25. Bright 3D Art Nails
Do you want to get your fingers noticed? Well, then take a look at this 3D nail art! The designs are beautiful and your opportunity to be creative. There is no limit to the looks you can achieve, so go big and go bold! If you are willing to take the care that is needed to prevent breakage, then you will have the ultimate summer manicure!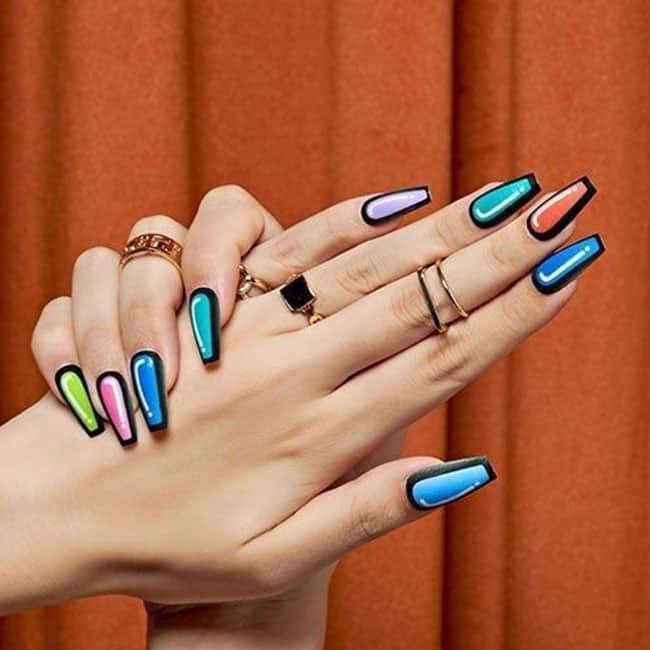 26. Bright Almond Nails
Almond nails are tapered to a round peak with filed sides. They resemble the nut and are a feminine and ultra-flattering choice for women of all ages. You can create the sweetest summer manicure with this shape and stay up-to-date with all the latest trends. Do not be afraid to experiment, and let your creative juices flow!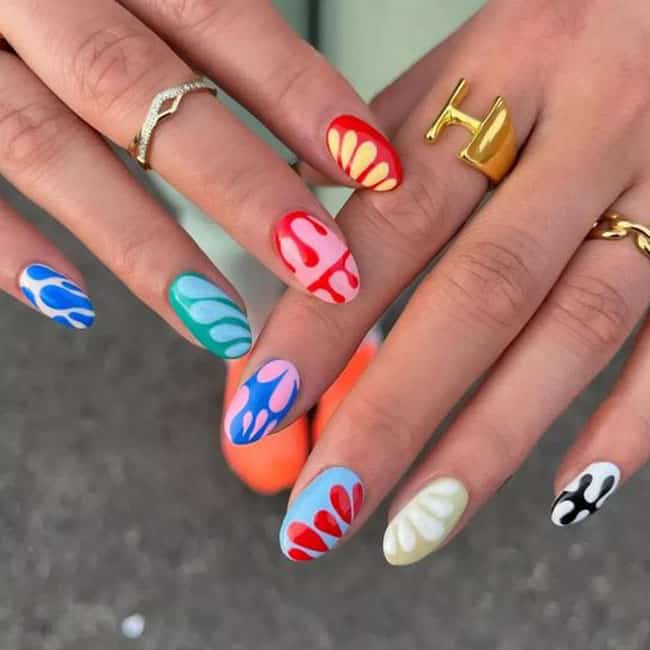 27. Bright Coffin Nails
Coffin nails are a favorite because the shape is interesting and unique, defined by the tapered sides and straight tip. This makes them more durable than stilettos but every bit as feminine and cool. They are also a fantastic choice for experimenting with color, and you can create the best summer-approved manicure! Do you love pink? Well, why not combine it with blue and green? Or try out different prints.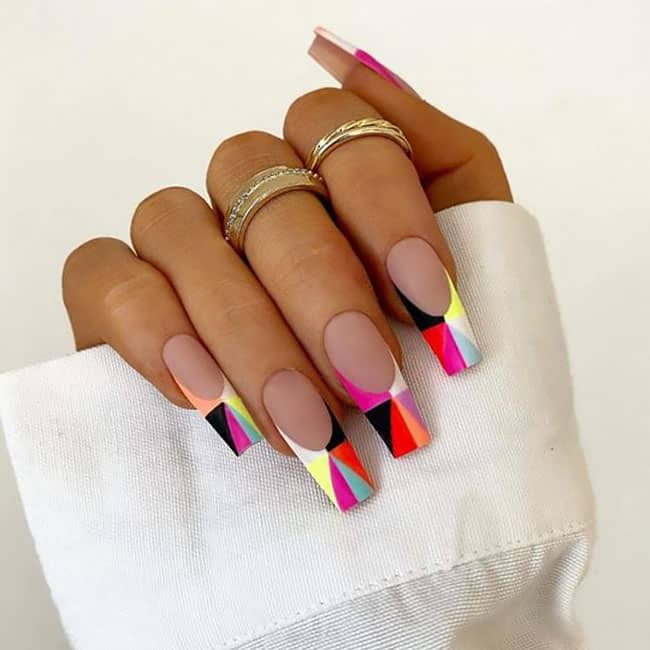 28. Short Bright Summer Nails
Are you the kind of girl who loves practical designs and shapes that are not prone to breakage? We hear you, which is why short nails are the perfect option. You do not need long talons to be able to try out the coolest bright summer manicure, and while there is not as much space to experiment, you can still find something unique and special.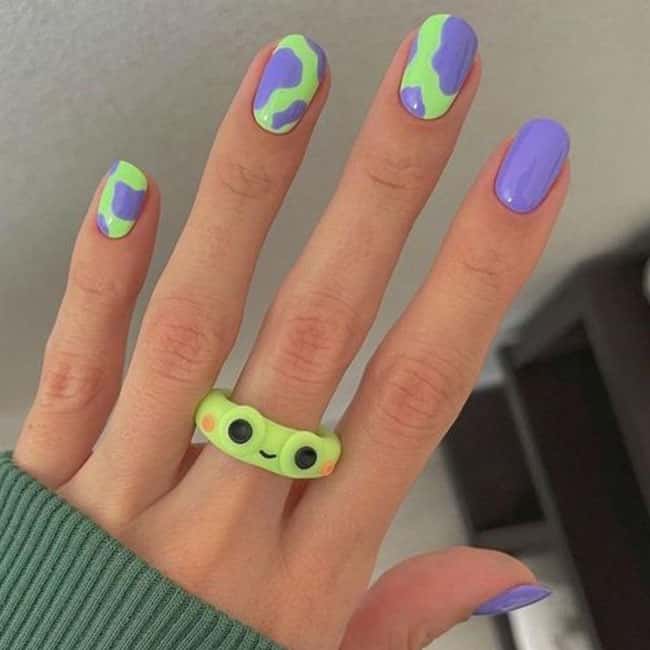 29. Bright Acrylic Nails
Acrylic nails are the perfect option for the babe who wants to create a stronger, longer-lasting finish! The false extensions are added over the natural fingernail and will help you to achieve the perfect length and shape — something that may have been unattainable without them. The best part? This is the perfect backdrop for the cutest summer designs.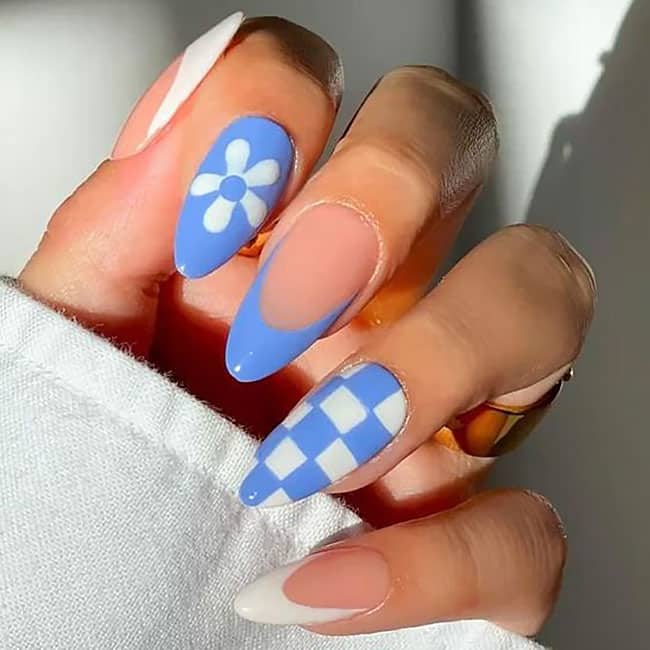 30. Gel Bright Summer Nails
Gel nails are created by adding a special polish that will then be set with the help of a UV light. The result? A strong and resilient manicure. You will want to show it off and a great shape can give you that added edge. And girl, it is the best way to ensure your designs will last longer, and this season, you want to keep your cute artwork for as long as possible! Go bold and bright and inject a little color into your appearance!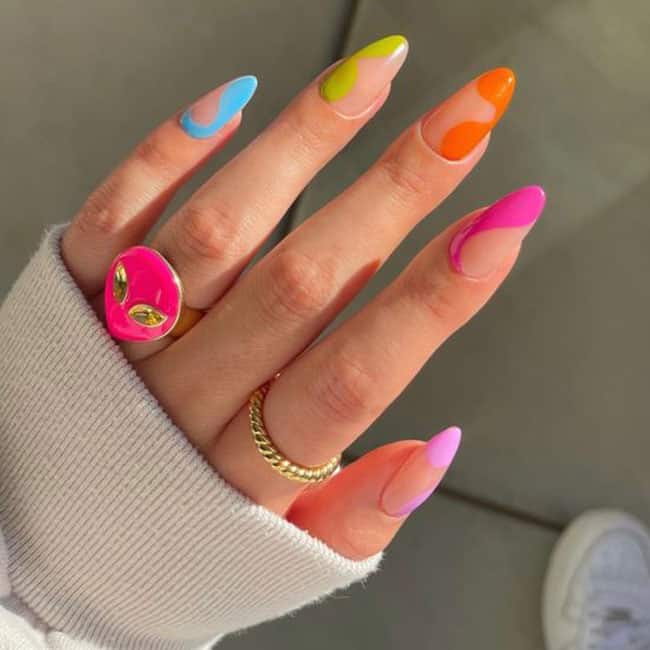 Bright Summer Nails FAQs
What is the most popular nail polish for summer 2023?
Some of the most popular nail colors trending in 2023 are playful pinks, creamy lavenders, navy blues, and neutrals.
Are bright nails unprofessional?
Choosing a nail look that reflects your creativity and individual style can make you stand out in the workplace. Wearing bright nail polish won't impact an employer's assessment of your professional qualifications - so don't be afraid to express yourself!
SUBSCRIBE TO OUR NEWSLETTER
Subscribe to our mailing list and get interesting stuff and updates to your email inbox.