This week in fashion, a Tokyo primary school enlisted Armani to design their uniforms, Sasha Pivovarova created a haunting art show for Dior and Gucci unveiled its latest surreal street art murals. Find these stories and more as we reveal this week's top international fashion news.
Gucci Unveils its Latest High-Fashion, Surreal Murals
It is universally recognised that when Gucci makes a statement, it captures attention. This week, the luxury fashion house unveiled two new murals on its Gucci Art Walls, which are undeniably impossible to ignore. The artworks featured are the masterpieces of Spanish artist, Ignasi Monreal. This is not the first time Monreal has worked with the brand. In the past, his digitally created works have featured in the 2015 #GucciGram project, in the Gift Giving Campaign, on the Art Walls for the launch of Gucci Bloom, and in the Cruise 2018 collection.
For their latest Spring 2018 campaign, Gucci enlisted Monreal to create a series of surreal, renaissance inspired digital images. It is from these works, that the new Gucci Art Walls were born. For the next two months, citizens and visitors to Soho's Lafayette Street will notice two colossal, time-travelling faces peering down upon them. Upon this 8,208 square foot wall, the neoclassical 18th-century women wear futuristic Gucci Eyewear glasses. Over in Milan, the 1,900 square foot art wall on Largo la Foppa has also undergone a Gucci makeover. For this piece, Monreal reinterpreted Jan van Eyck's renowned 1434 painting, 'The Arnolfini Portrait' as well as Hieronymous Bosch's 1490-1500 work, 'The Garden of Earthly Delights.' Naturally, the reimagined figures are now dressed in only the best of Gucci's new collection.
Completing the trifecta of magical artwork, a third Gucci mural is destined for Hong Kong in mid-February.
Sasha Pivovarova's Artwork Goes on Show at Dior
In 2018, it appears that now more than ever, the world's of art and fashion are being unified. Following their surreal presentation at Paris Couture Week, Dior's latest event has once again paid an ode to the art world. On Tuesday night, Dior launched it's Spring/Summer 2018 ready-to-wear collection with a party at New York's Milk Garage. Placing a focus upon the empowerment of women, space was transformed by the artwork of Russian model, Sasha Pivovarova. The exhibit itself included illustrations, paintings and four brightly coloured sculptures. Created from recycled plastic, the technicolour neon busts reflect the way that technology has changed our views of the world.
At the event, there were no paint-splattered art smocks in sight, as Sasha sparkled in a Dior jumpsuit and evening skirt embellished with tiny, dazzling mirrors. Across multiple levels, her haunting characters gazed out at guests, which included Hailey Baldwin, Mia Moretti and Olivia Culpo. With their wide, ethereal eyes and sharp, sculptural features, many noticed a striking resemblance to Sasha herself in the artwork. As a former art history student, Sasha has always been creative. However, for more than 15 years, the world has primarily known her as a high-fashion model. In a recent Dior show, she graced the catwalk in a T-shirt emblazoned with the text: "Why Have There Been No Great Women Artists?" Now, this week's Dior exhibition may change that.
Japanese Primary School Introduces Armani Uniforms
For many of Japan's citizens, high-fashion is their daily uniform. Now, it appears that this mantra has flowed down to the city's youth, or rather, the primary school children. Taking exclusivity to new heights, the Taimei Elementary School – located in the fashionable district of Ginza, Tokyo – unveiled their redesigned primary school uniform. To the shock of the enrolled children's parents, the designer of the sleek new outfits is none other than Armani.
In an explanation to parents, the school wrote that the new uniform was a showcase of the school's "landmark" status in Ginza. However, with a very non-child-friendly price tag of more than 80,000 yen ($941 AUD), parents are not impressed. Although in Japan it is not compulsory to wear a uniform, fears have emerged for the families of Taimei Elementary who cannot afford the expensive upgrade. A school uniform creates a sense of pride and belonging, therefore an inability to purchase the new uniform may lead to exclusion and isolation for some children. As for the families who can afford the Armani ensemble? We're quite sure that growth spurts and muddy, rainy days have just become their new, worst nightmare.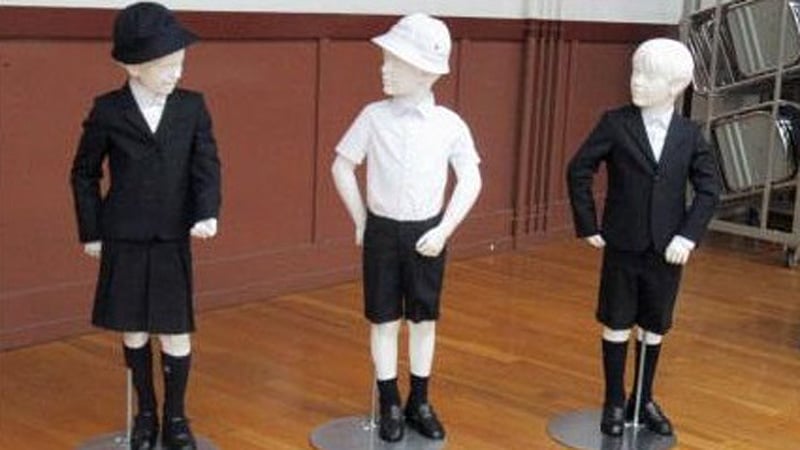 Bella Hadid Smoulders in New Bulgari Jewellery Campaign
Adding another notch to whichever luxury designer belt she is wearing today, Bella Hadid is now the face of Bulgari's latest jewellery campaign. As the ambassador for their previous accessories collection, the coveted model was a natural choice to front the new B.Zero 1 Labyrinth collection. With her sultry feline eyes and fierce ambition, Bella is the embodiment of the collection which seeks to defy conformity and 'reinvent the rules of jewellery design'.
Inspired by the Roman Colosseum, the decadent new pieces play upon Italian tradition as well as new, innovative ideas. With Valentine's day just around the corner, these powerful jewels are the perfect gift to treat that special someone – or yourself. Shop the full collection online here.
SUBSCRIBE TO OUR NEWSLETTER
Subscribe to our mailing list and get interesting stuff and updates to your email inbox.