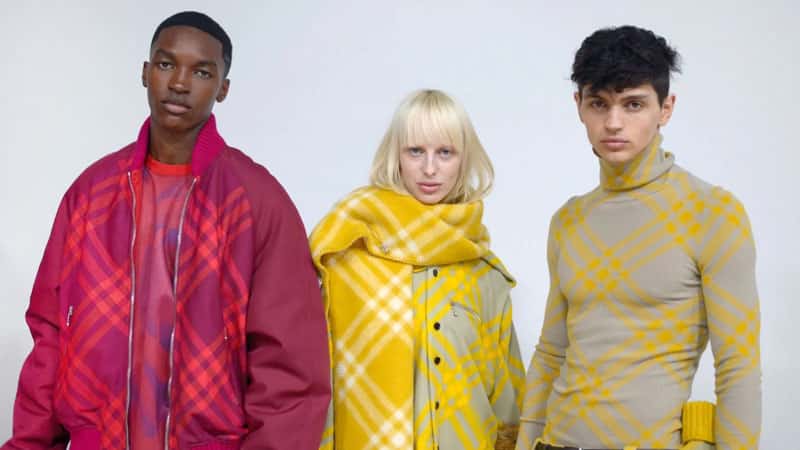 Daniel Lee's Burberry collection is finally here, and H&M is collaborating with Mugler. Find these stories and more as we uncover the top international fashion news of the week.
Milan Fashion Week
As one fashion week ends, another begins. Now is the time for Milan Fashion Week, with shows from Gucci, Fendi, and Prada to kick off the week. In its first collection without Alessandro Michele, Gucci relied on its in-house team to create a range before Sabato de Sarno takes the reins in September 2023. Blending touches of Michele's chaotic energy with subdued finishes, celebrating the end of one era before entering the next.
Prada showcased its FW23 collection, with Miuccia Prada once again working alongside RAF Simons to create a blend of tailored, sophisticated, and elegant clothes. An array of white circle skirts, red suit sets, and high-low skirts and dresses represented a world between everyday and occasion wear, the show's notes read. According to Miuccia and Raf, the show aimed to 'reconceptualize, reconsider, and ultimately rediscover ideas of beauty'. Milan Fashion Week will end on February 27th with shows from Missoni, Bottega Veneta, and Giorgio Armani.
View this post on Instagram
H&M to Collaborate with Mugler
H&M has named Mugler's Casey Cadwallader as its next collaborator. The co-branded collection will launch in Spring 2023, but very few details of its pieces are yet to be known. According to the media release, the collection will 'encapsulate the unique and vibrant spirit of Mugler'. H&M has worked alongside many designers over 19 years, including Kenzo, Maison Margiela, Karl Lagerfeld, and Viktor & Rolf.
View this post on Instagram
Daniel Lee Debuts Burberry Collection
After months of waiting, Daniel Lee has finally unveiled his first collection as creative director of Burberry. Teasing a new look for the fashion house, the designer showcased the brand's iconic tartan in a series of blues, yellows, reds, and greens. Infused with an effortless London twist, the collection worked with oversized coats and scarves wrapped around layers of soft knits, draped fabrics, and fur.
While remaining true to its English heritage through the use of Wellington boots, hot water bottles, equestrian riding gear, and its classic tartan, Lee ventured away from the well-known beige colorway, instead turning his eye on Yves Klein blue, primrose red, vibrant purple, and mustard yellow. His vision for the brand is clear: a view of London for what it is, filled with color, splendor, and a touch of tradition.
View this post on Instagram
Louis Vuitton Accused of Copyright Infringement
Louis Vuitton has been accused of using Joan Mitchell's art without permission in a recently filed cease and desist. According to the filing, the French fashion house used the late artist's work on a series of Capucine handbags without permission. According to the Joan Mitchell Foundation, Louis Vuitton requested the use of the artwork in late 2022 but was denied. The cease and desist requested the immediate withdrawal of campaign images that feature French actress Lea Seydoux.
View this post on Instagram
SUBSCRIBE TO OUR NEWSLETTER
Subscribe to our mailing list and get interesting stuff and updates to your email inbox.