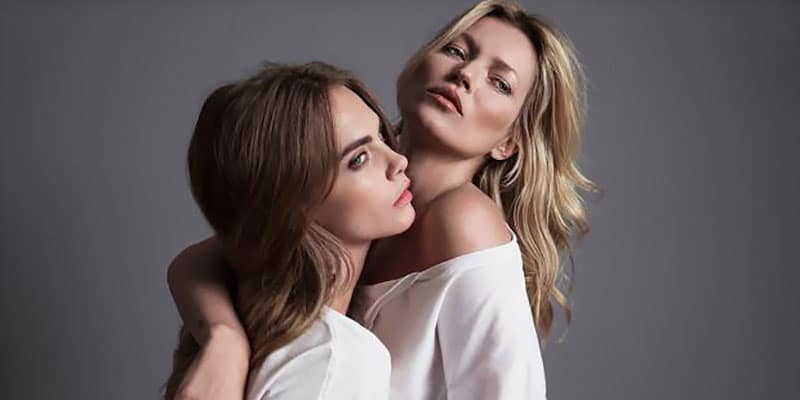 Mango's New Campaign Should Be Very Exciting
Mango's new Autumn/Winter 2015 campaign features a dynamite duo: Kate Moss and Cara Delevingne. The snaps, shot by photographers Inez and Vinoodh show the models sporting simple, white tees, and it's only a glimpse of what is to come.
Speaking of her collaboration with the Spanish high-street brand, Delevigne said, "Mango is great. When I think about what to wear every day, I like to be creative and Mango is a perfect brand to play with the range of styles there are nowadays. This is the first time I have worked with Mango and having Kate as my partner in crime is ideal!'
And she's loving working with Miss Moss, too, as she described their collaboration as a "lethal combination."
"I admire her personally and professionally, she represents a true fashion icon. It is a privilege to learn and to share this experience with her. The shoot has been epic, it's always fun when Miss Moss is around."
A First Look At Kendall And Kylie's Topshop Collection
Kylie and Kendall Jenner are collaborating with one of our favorite high-street stores: Topshop. The reality TV stars/budding models announced they would be collaborating with the high-street giant earlier this year, and now they have just shared a glimpse of what we can expect from the collection entitled Kendall + Kylie. The collection is expected to be released on the 3rd of June at Topshop stores around Australia and is said to be based on Kylie and Kendall's Los Angeles lifestyle.
Taking to Instagram on their joint new account, the famous siblings shared snaps of their creative process.
Blake Lively Can Now Add Fashion Designer To Her Resume
Blake Lively has long been celebrated for her incredible sense of style, but now the actress has started to design her own clothes. Taking to Instagram, Lively proudly showed off her new design in collaboration with Amour Vert for Preserve, which will be sold on her lifestyle website Preserve. The dress retails for USD$230.
And it was only the beginning of Lively's designing dreams, because she followed up with a picture of a palm-print Elisa dress and the Natalie jumpsuit, part of the collection that she co-designed with Sam & Lavi and are available on Preserve for $265 and $275, respectively.
Cher Becomes Marc Jacobs Latest Muse
At 69, Cher has become the latest model for Marc Jacobs Fall/Winter ad campaign – and the picture is truly incredible!
Taking to Instagram, the designer shared the picture of his muse as she sits on a chair dressed in an all-black Victorian-inspired outfit, complete with black gloves.
"The amazing and beautiful CHER! Photographed by David Sims for our Fall/Winter campaign.. This is just the beginning…. More to come!" Jacobs captioned the snap.
We should have guessed that Marc Jacobs and Cher had a plan up their sleeves since they have spotted spending a lot of time together in recent months, and were recently photographed at the Met Gala. We can't wait to see what else is coming from this unique collaboration.
SUBSCRIBE TO OUR NEWSLETTER
Subscribe to our mailing list and get interesting stuff and updates to your email inbox.