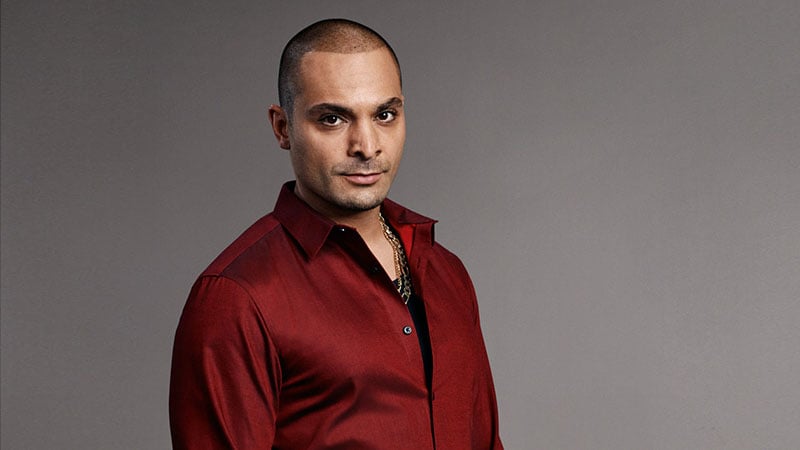 Mexican men's hairstyles are all about taking classic cuts like the Caesar or fringe and adding unique flair. While creative and individual, these hairstyles always maintain a masculine vibe with a nod to old-school cool. Like many men's hair trends from Latin America, Mexican hairstyles are mostly suited to short or medium-length hair. Read on to see the most stylish Mexican haircuts to inspire your next barber visit.
1. Edgar Haircut
The Edgar is one of the most popular Mexican haircuts for men and is known as the 'Mexican Caesar'. Ideal for guys who want a fresh twist on a buzz cut, it combines a short Caesar cut with a high skin fade. Sharply defined and masculine, the classic Edgar looks edgy and modern. Because it's short, your hair doesn't require much styling; the only maintenance you'll need to do is regularly buzzing the sides to maintain the skin fade.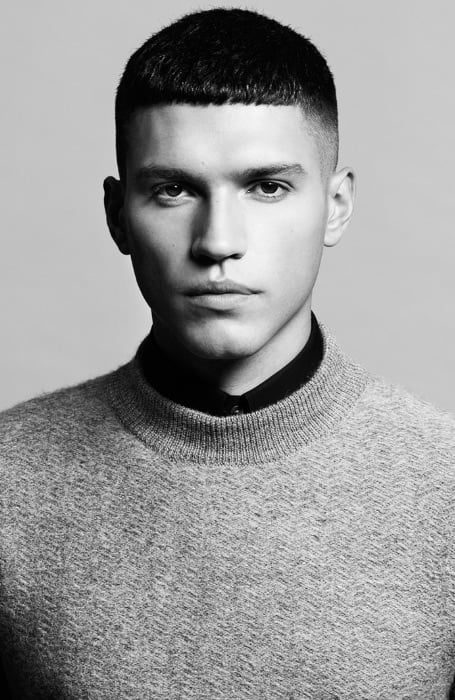 2. Buzz Cut + Low Skin Fade
Skin fades are very popular in Mexico and are a feature of the Edgar, also known as the 'Mexican Caesar'. For guys who want a very short, low-maintenance look that is modern, on-trend, and masculine, try a buzz cut with a low skin fade. To give the cut some dimension, a burr buzz cut – rather than a full buzz – is a great option. Plus, your barber can adapt the look to work with your face shape and hide any bumps or scars.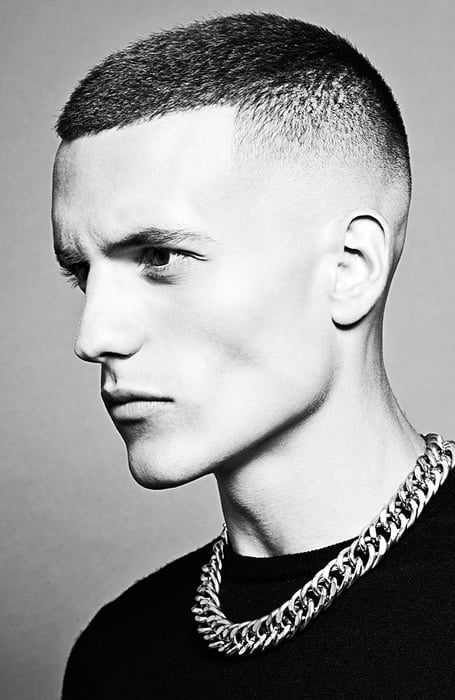 3. Curly Fringe + Fade
Curly and wavy hair has been a growing trend for men over the past few years. Guys with naturally curly hair who want a stylish Mexican cut should look no further than the curly fringe with fade. Your barber will cut your hair shorter on top, leaving your curls longer at the front and fading the sides. The fade gives the overall look a more masculine and professional feel, while still allowing you to show off your natural curls in a subtle way. Plus, because you only need to style your fringe, it's a low-maintenance cut.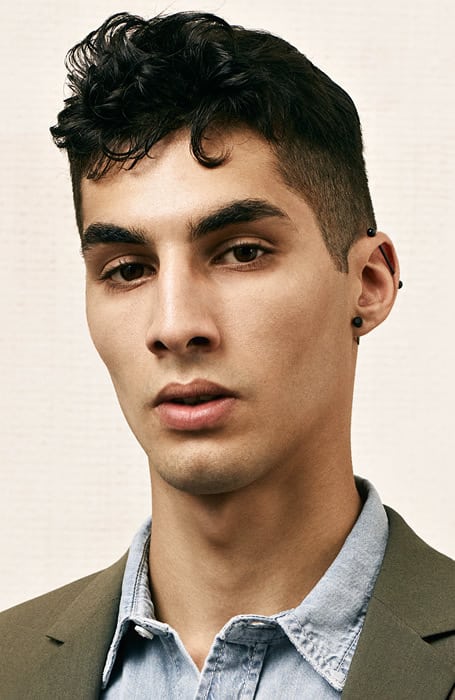 4. Taper Fade + Quiff
For a polished Mexican hairstyle option, try a taper fade with a quiff. Ideal for business and formal occasions, the style looks sleek and sophisticated while still maintaining a fresh and masculine appeal. Depending on your face shape, you can opt for a straight quiff or a side-swept quiff; both look great on men with round faces, as the quiff draws the eye up. Plus, the quiff is one of the men's hairstyles that women find sexiest, making it perfect for when you want to impress.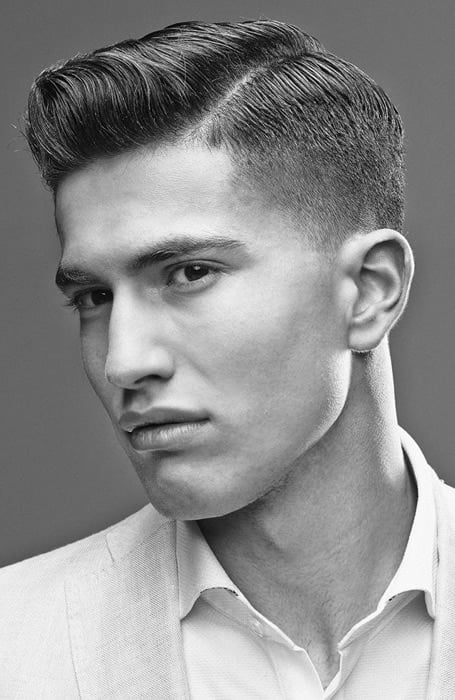 5. Long Wavy Hairstyle
Hair with an '80s vibe is coming back all over the world, and Mexico is no exception. The long, wavy hairstyle – also known as feathered hair – is one of the best-known men's looks from the iconic decade and it suits thick, dark Latino hair best. Actor Diego Luna has been a fan of the style. It involves cutting layers into the hair, center-parting, then brushing the layers back for a stylish and laidback result. Women are drawn to the artistic and free-spirited vibe of this hairstyle. It is particularly flattering on guys with long and angular faces.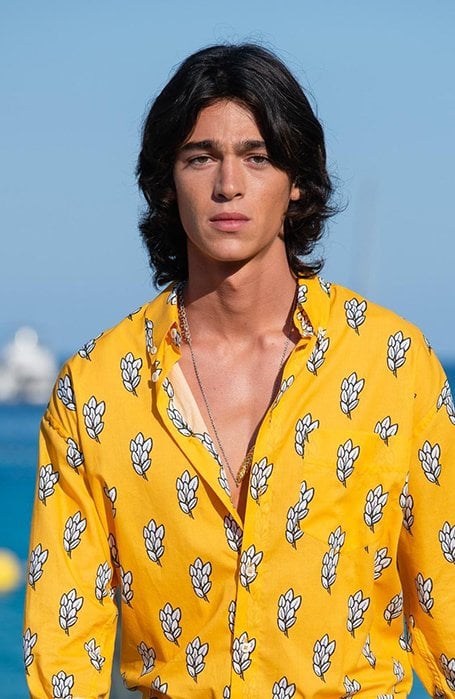 6. Slick Back Pompadour
The pompadour is one of the most iconic hairstyles for men and combining it with a slick back takes it to the next level. It's an excellent choice if you have a round face, as the volume and height of a pompadour makes your face seem longer and slimmer. Plus, the wet look of a slick back adds polish and retro attitude to the pompadour. Get the look by applying mousse to the top section of your hair and blowdrying upwards to give it maximum volume. Then comb through a shiny pomade or gel, front to back, to create a wet look.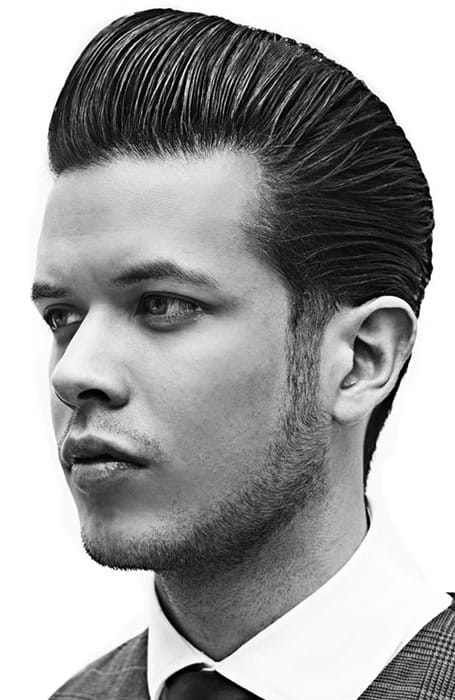 7. Middle Part
If you are searching for a simple middle part hairstyle that still stands out from the crowd, try the Mexican version. It's a cool and old-school look that is easy to style at home. Start by working a little pomade through your hair – you want a product that will offer some hold and definition with a light shine, somewhere between the slick look of gel and the matte finish of clay. Then, define your center part with a tail comb and use a soft brush to sweep your hair out to create a subtle wave effect. Ideally, the Mexican middle part style looks best contrasted with a square and angular hairline and is best suited to guys with thick hair.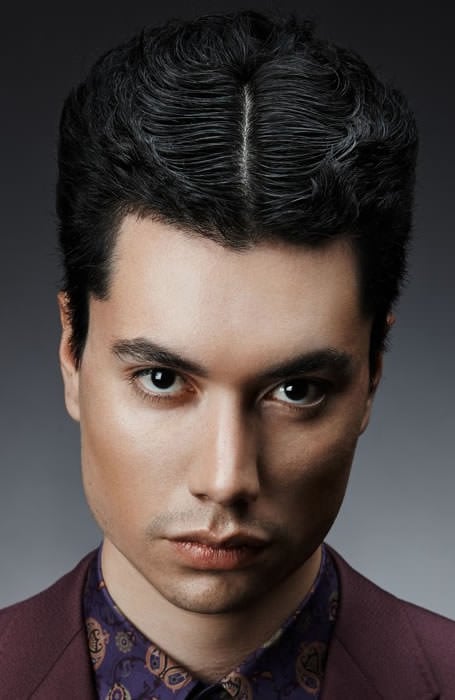 8. Textured Quiff
A textured quiff is a great option if your hair is naturally thick, as it will add movement and dimension to stop your hair from looking like one solid mass. It also adds height and can balance out a short face. Use a matte product like clay on dry hair to create a textured effect – it should look casual, rather than overly styled. To give the textured quiff a masculine edge, have your barber taper the sides.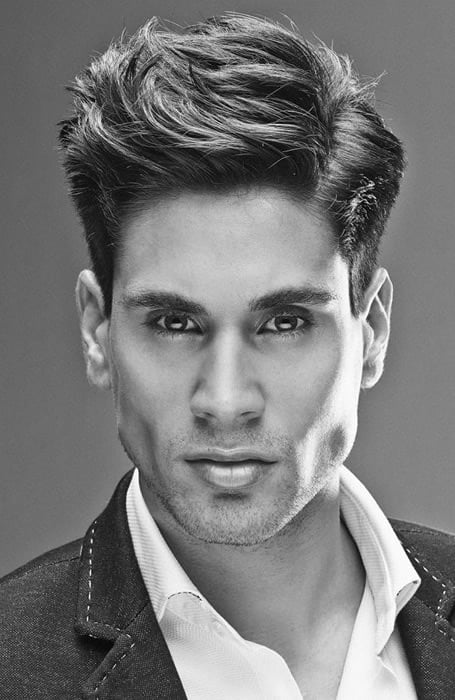 9. Choppy Asymmetric Fringe
Best suited to guys with angular features and a sharp jawline, a choppy asymmetric fringe haircut adds an edgy and youthful look. Plus, the textured, uneven elements of the cut make it stand out from the crowd and attract attention. For the Mexican version of this hairstyle, pair it with tapered sides to give a subtle undercut effect and make your hair look thicker. To make the style more unique, try dyeing the front sections different colors and tones.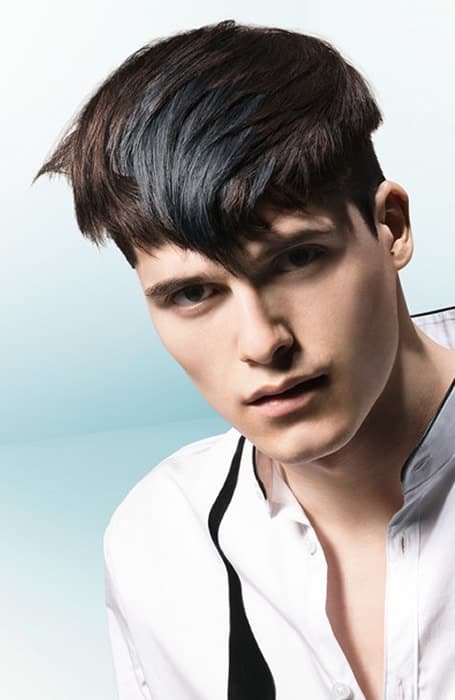 10. Low Fade + Hard Part + Slick Back
Favored by football star Cristiano Ronaldo, the low fade paired with a hard part and slick back is a sharp look for guys who mean business. It combines the sleek, old-school vibe of a slick back with modern elements: the fade and hard part. Clean yet stylish, it suits men of any age and works particularly well with groomed facial hair, such as a goatee and mustache.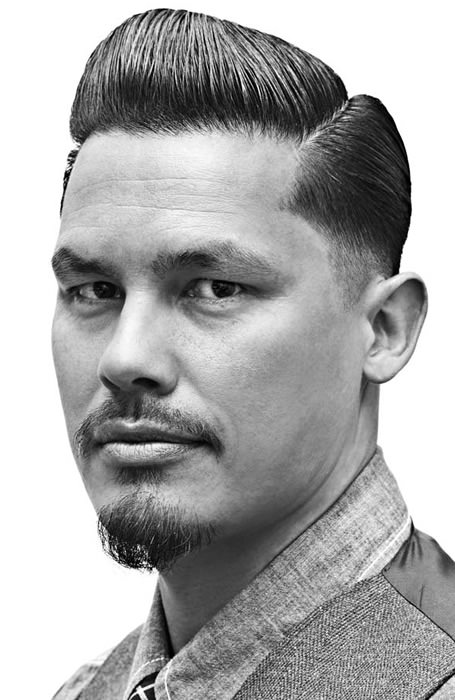 11. Wet Hairstyle
Wet-look hairstyles like the classic slick back have been favorites among Mexican men for decades, and they are still popular today due to their timeless appeal. Plus, they are some of the easiest hairstyles to create at home when you have short hair. You can use many different products to achieve a wet look, but gel and pomade combed through from front to back will ensure you never have a hair out of place. You can also add a little shiny hairspray at the end for an extra finishing touch.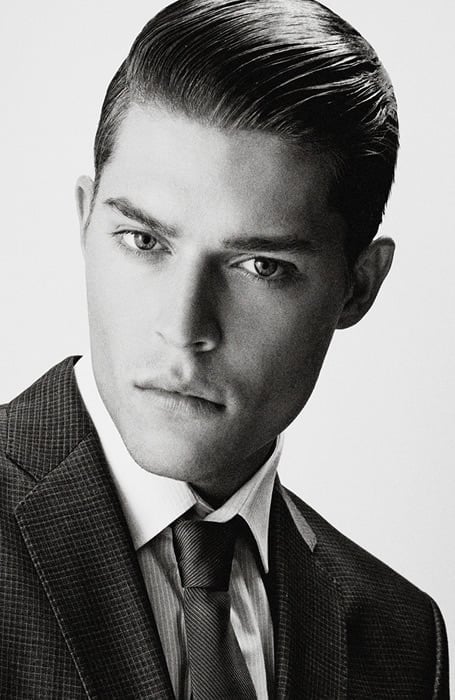 12. Pompadour + Low Fade
For younger guys looking for a modern take on the slick back pomp, a pompadour with a low fade is the perfect option. It gives you all the benefits of the pompadour while adding an edgy and fresh element with the fade. Because it's still a high-volume hairstyle, the pompadour with low fade will attract attention and balance out your facial features. However, it won't take as long to style because the sides are faded. It's also a slightly more casual look while still being polished, so it looks as good in the gym as it does on a night out.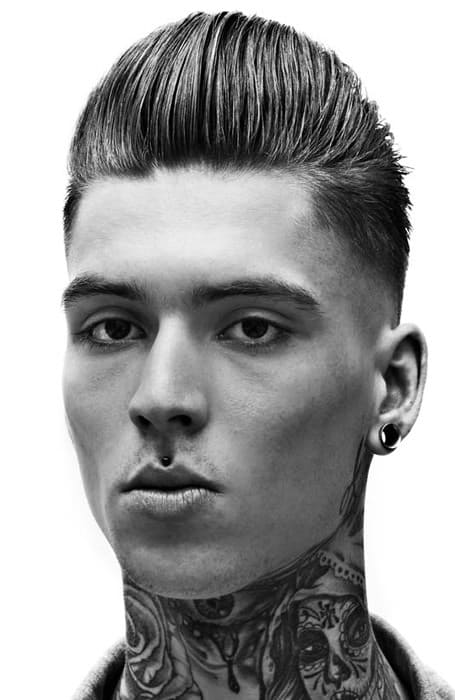 13. Side Part
Side part hairstyles suit almost every face shape, from rectangle to oval, round, and square. For that reason, many guys have embraced a side part hairstyle. You can customize your side-parted look depending on the finish you want. For a more polished and professional old-school look, many Mexican guys opt for a slick combed-over side part. Whereas for a more casual, youthful finish, a volumized side part style – like the one worn by soccer player Carlos Vela – is a great choice. For an extra modern touch, ask your barber to razor your part to create more definition.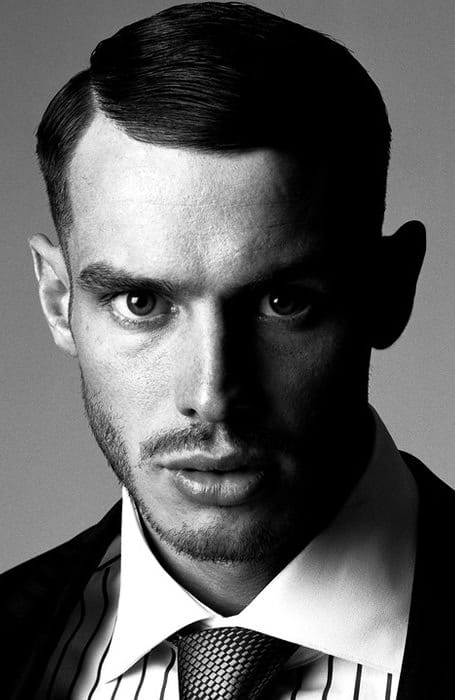 14. Fringe
The fringe is a popular and versatile hairstyle for men. There are many different types of fringe, and they can be adapted to suit your face shape. A short, neat fringe is a great option as it hides a receding hairline and suits most guys – especially those with round or triangular-shaped faces. That is because it draws the eye up and away from the jaw. A fringe cut paired with a taper is a popular Mexican style as it suits thick, straight hair. The finished effect is similar to a combed French crop – understated yet stylish.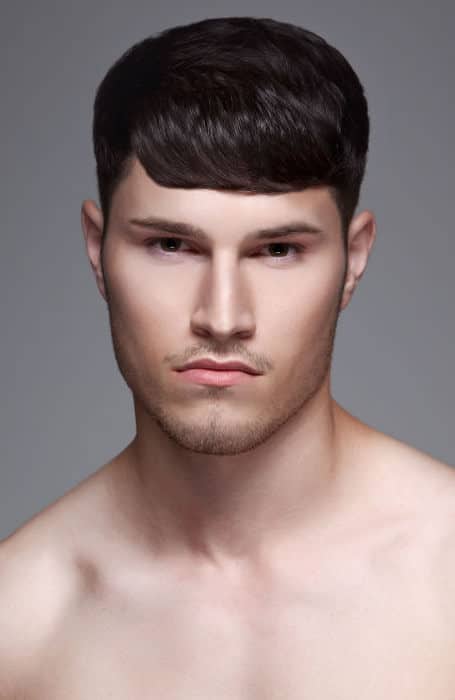 15. Spiky Hair
Spiky hair is a very popular men's hairstyle as they suit any hair type and make hair look thicker and healthier. The trick to nailing this look is to ensure the spikes don't look too hard or pointy. Instead, use softer styling products – such as clay or wax – to create the spikes, rather than a hard-setting product like gel. You can also adapt the spiky look to suit your face shape by concentrating the spiky sections to one side for a subtle asymmetric finish. For an on-trend finish, pair your spikes with a fade.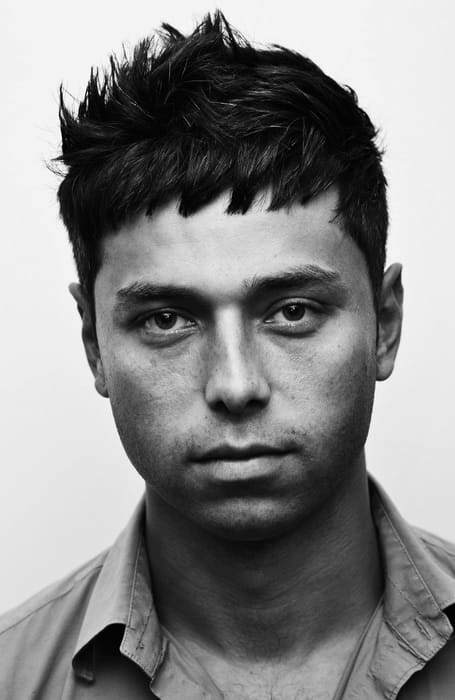 FAQs
What is the Mexican haircut called?
The best-known Mexican haircut is the Edgar, also called 'the Mexican Caesar'. Popular among younger guys in Mexico, it's since crossed the border and can be seen all over the southern USA too.
What is the coolest Mexican haircut?
The Edgar and the Buzz Cut + Skin Fade have the coolest reputation of all the Mexican haircuts. However, your individual style will dictate which Mexican haircut you find to be the coolest.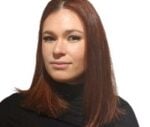 Arabella Roden is a skilled writer and sub-editor with over ten years of experience across print, digital, and B2B. She holds a Bachelor's Degree in Journalism and specializes in beauty, hairstyles, fashion, tattoos, and lifestyle topics. Arabella is currently the Chief Sub Editor at Mecca Brands and has been writing for The Trend Spotter since 2019.
SUBSCRIBE TO OUR NEWSLETTER
Subscribe to our mailing list and get interesting stuff and updates to your email inbox.