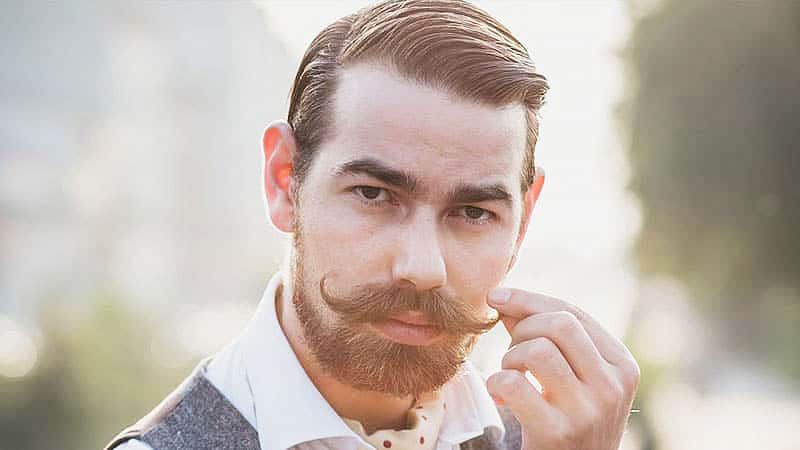 Take your mo' game to another level with a handlebar mustache. This dapper and bold style is the perfect way to project confidence and show off your unique personality. Of course, such a statement 'stache needs to be accompanied by an equally stylish haircut so that you look the whole package. Thankfully, it lends itself incredibly well to an array of hairstyles, from classics like the pompadour or crew cut to badass clean-shaven or faux hawk.
What is a Handlebar Mustache?
A handlebar mustache is a mo' that's quite thick, with extra length on the ends that are styled with an upward curve or even jaunty curl. It takes its name from its resemblance to bicycle handlebars. This kind of mustache explodes with personality and is very debonair. However, it can take some work to get it looking just right. You need to commit to growing it out so you get the required fullness and length. Plus, it also needs regular maintenance with washing, beard oil, and daily styling using a comb and high-quality beard wax to keep the shape. If the handlebar is a bit too much for your taste, similar alternatives include the chevron or walrus mustaches.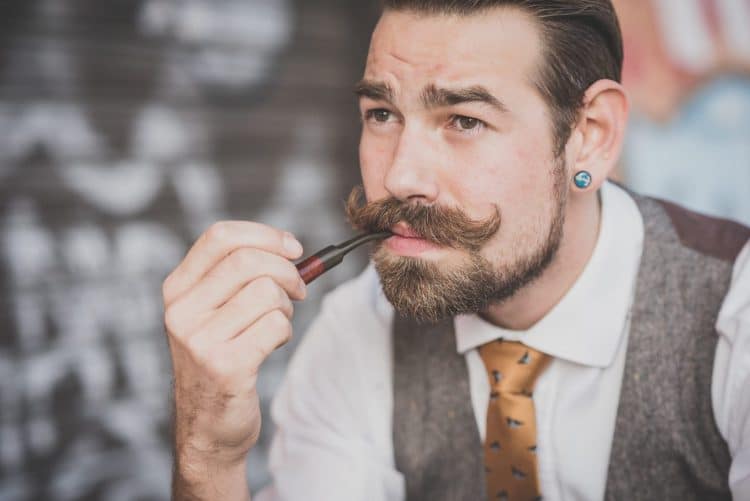 Handlebar Mustache and Hairstyle Combinations
1. Handlebar Mustache + Pompadour
Pairing a pompadour with your handlebar mustache gives you a timelessly refined look. Both are bold statements, so it's ideal for showing off a confident personality. The best part about a pompadour is that it works on many different lengths and textures of hair, including curly. Match it with a high fade or an undercut for a more modern interpretation. Alternatively, keep it classic with plenty of volume or an all-over length in true Elvis Presley style. The thickness and height of this hairstyle is best matched with a thicker, more voluminous handlebar mustache for a perfectly balanced appearance.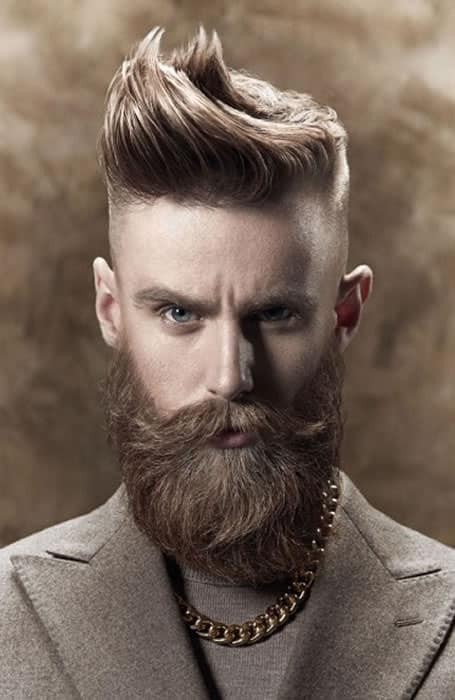 2. Handlebar Mustache + Crew Cut
A crew cut is an excellent, low-maintenance haircut, giving you more time in the morning to style your majestic handlebar mustache. It's also a very masculine style that's often associated with the military and is an excellent option for the workplace as it's practical, classic, and sophisticated. The key features of this cut are a short back and sides, with a little extra length on the top. While a traditional crew cut is no more than one inch long on top, there can be some flexibility with length and styling to fit in with your aesthetic and personality. Rock a fade around the side, grow it a little longer on top, or add some texture with a good quality hair wax.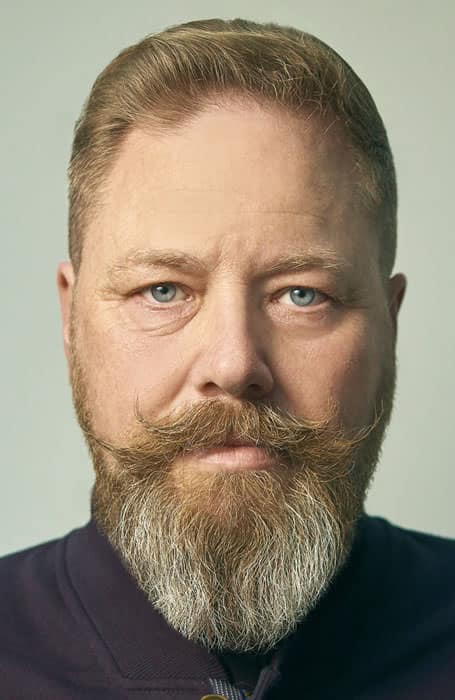 3. Handlebar Mustache + Quiff
The quiff is the slightly less extravagant cousin of the pompadour. It's classic, refined, and one of the most enduring hair trends over the years. As such, it's an ideal match for the equally stylish handlebar mustache. The good thing about the quiff is it requires less length on top than the pompadour, so it's a bit easier to manage and maintain. All you need is a good pomade or wax to add volume and keep it swept back. Most quiffs are done with a short back and sides or a nice fade, but you can rock it with longer locks and texture. To keep your look balanced, trim your handlebar mustache so it's a little shorter, and pair it with a short beard.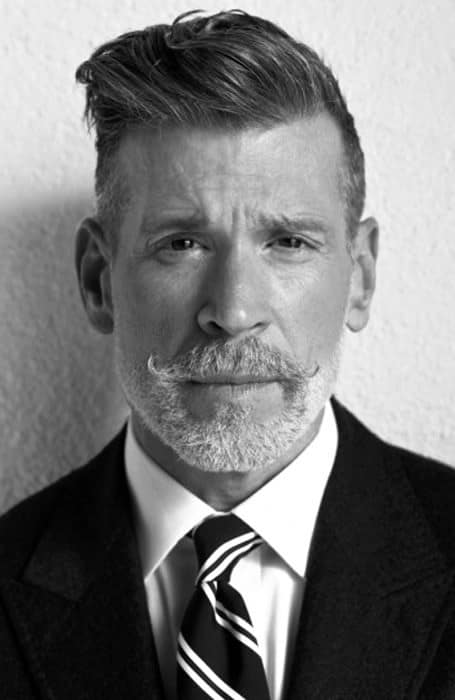 4. Handlebar Mustache + Side Swept Hair
Gents with longer locks should look at rocking their handlebar mustache with side-swept hair. It's a great option if you're in the process of growing your hair out. The length can be very flexible, and the easy styling keeps you looking neat and tidy. You can let your back and sides grow longer for all-over volume, or just maintain long locks on top, with a short back and sides in the form of a fade or shave. When it comes to your part on side-swept hair, there are lots of options. You can keep it natural, which allows plenty of versatility or opt for a hard part, where the definition is carefully shaved in creating a strong line.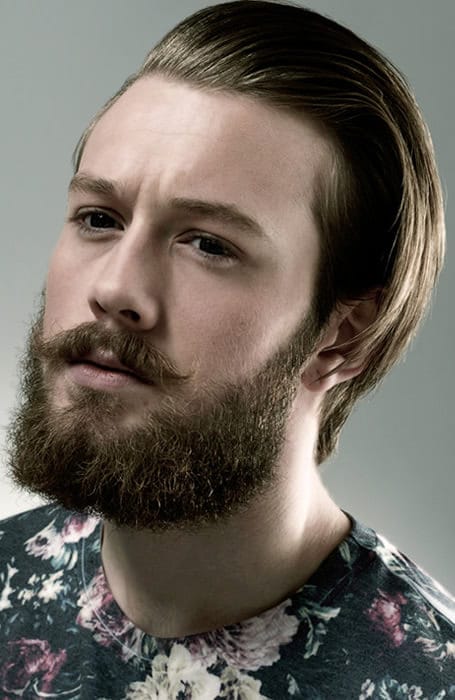 5. Handlebar Mustache + Blow Out
Keep it cool and fresh with a blowout haircut. This eye-catching trend is both fashion-forward and cool, so it's a great way to work with the natural texture of your hair. Plus, it looks particularly excellent matched with a handlebar mustache with very curled ends. To style your 'stache like this, all you need is to use a small amount of beard wax and twist the ends of your mo' around your finger, holding it for a couple of seconds while the wax sets. It's a suave and confident way to wear your facial hair that matches the carefree vibe of a blowout.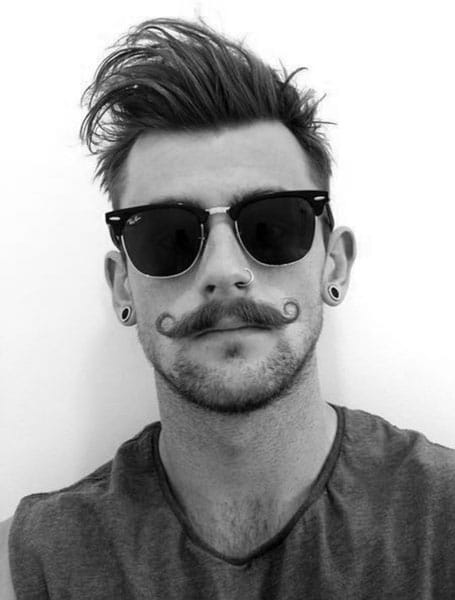 6. Handlebar Mustache + Afro
It's a well-known fact that black men are blessed with thick and wonderfully textured hair. As such, matching an afro with a handlebar mustache is the perfect way to show off a natural style. A full beard, long mustache, and afro with a high fade is a great way to lengthen the face and add balance to your look. The fade helps keep your mane tidy, so you can focus your energy and styling on keeping the volume on the top full and healthy. If you do rock your handlebar mo' with a full beard, you will need to carefully trim, so you don't take off more hair than you intend to. You'll also need to style it out each morning to create the iconic definition.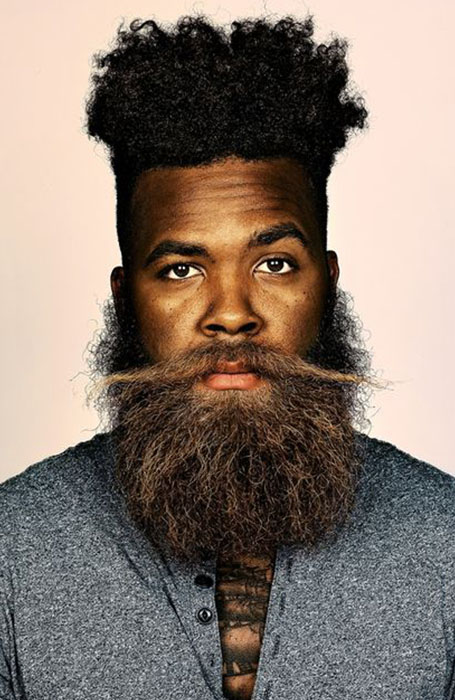 7. Handlebar Mustache + High Fade + Hard Part
If your look is sharp and fresh, you want a high fade and hard part to pair with your handlebar mustache. The high fade is cool, easy to maintain, and an edgier alternative to more conservative short back and sides. Then, the hard part, which is shaved into the hair, creates a crisp definition that helps with styling and works with various hair cuts. If you want to keep that fresh look, opt for clean-shaven cheeks, jaw, and chin, and let your 'stache do all the talking. This works best when you've got a good level of fullness and length, so when growing a new mo, give it a couple of months to fill out entirely.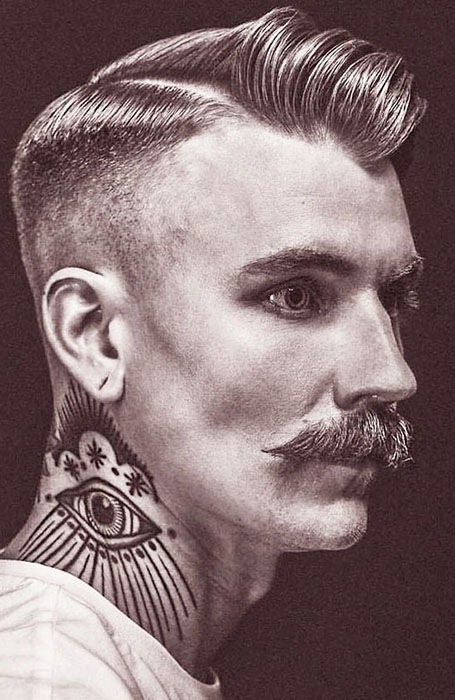 8. Handlebar Mustache + Long Fringe
A long fringe is a versatile cut that works with all textures of hair. It's also excellent for gents with large foreheads who might feel a bit self-conscious about their face shape. It essentially hides the upper third of your head and brings attention to the eyes. Plus, it can be styled in numerous ways to best suit your look. A long fringe is well-matched with a handlebar mustache that adds interest to the lower half of your face, drawing the eyes even further down. Create a fuller look all over by also growing out your beard, or simply let your mo' make its own statement with a clean-shaven jaw.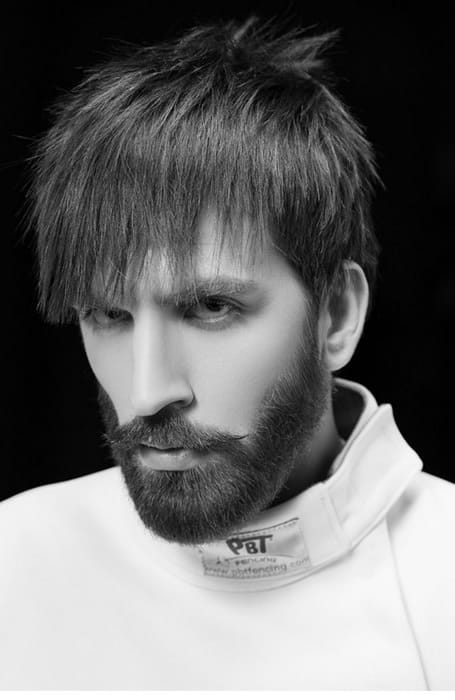 9. Handlebar Mustache + Man Bun
Dothraki warlord, Jason Momoa, has proven that the man bun works incredibly well with a mustache and full beard. However, if you want to add a little extra pizzaz to the look, why not try the classic handlebar mustache. It will add extra interest and masculinity to the style and shut down any haters who don't think "real men" wear man buns. Of course, the great thing about the man bun is you can take it out and rock your free-flowing locks or try something different such as braids. The key, however, to not looking too rough is to maintain a neat and well-trimmed beard shape and immaculately styled 'mo, adding some beard oil and wax to your regular routine.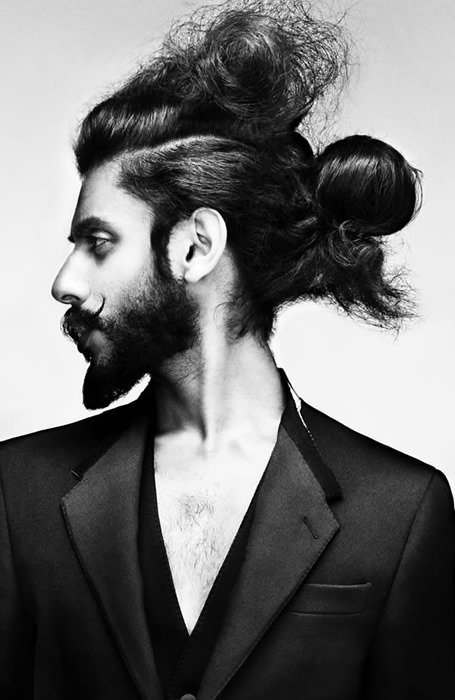 10. Handlebar Mustache + Mid Fade + Faux Hawk
A faux hawk is a fun and youthful haircut that lets you mix things up from professional during the week to playful punk on the weekend. Consequently, its light-hearted vibe is the perfect match for a spirited handlebar mustache. You can make the style stand out more by keeping the sides tight with a mid fade. Doing so looks fresh while still allowing that softer transition to the length on top. Finally, a beard will also help balance the faux hawk volume and make you look masculine and rugged.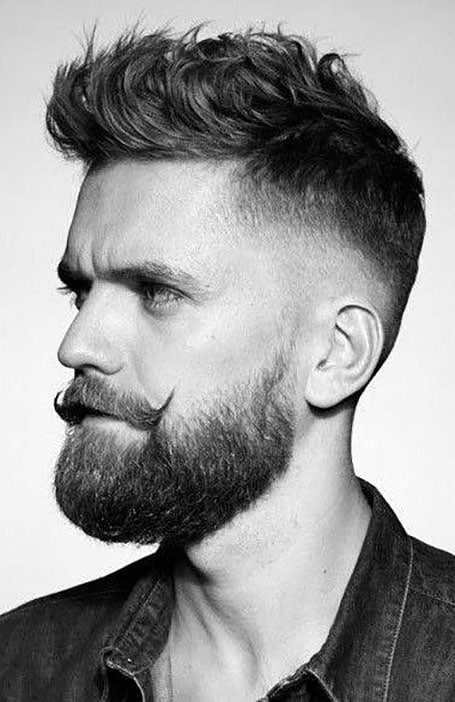 11. Handlebar Mustache + Quiff + Long Hair
Embrace some Jared Leto vibes with long hair, a handlebar mustache, and a beard. Flowing locks on a guy can be very sexy, especially when it's thick and healthy. Up the style factor a little by adding in a quiff. Unlike short hair, however, you may need the assistance of a couple of discreet hairpins to keep all that volume and shape in place. However, it's a great styling alternative to traditional man buns. While long hair can elongate your face, the handlebar mustache draws your eye horizontally to balance that out, while the beard adds extra fullness and width.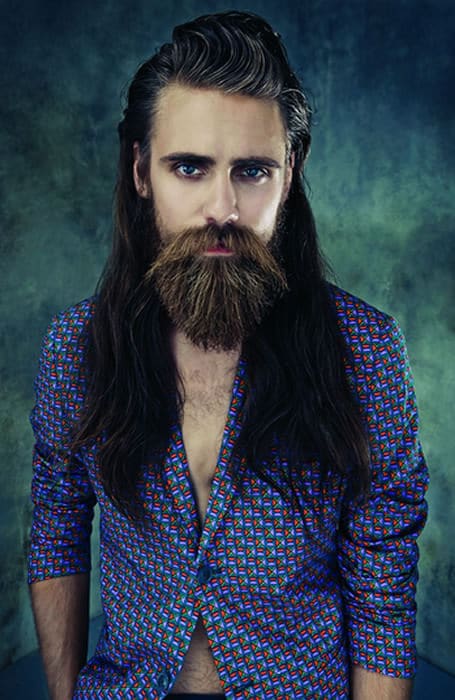 12. Handlebar Mustache + Short Back and Sides
If you're looking for an eternally stylish and timeless haircut, then it's hard to go past a short back and sides. It's simple to maintain, masculine, and universally flattering. There's so much flexibility with this cut that you can tailor it to fit your face shape perfectly. While it can be more conservative, keep your look fun by growing a handlebar mustache. Whether you go thick and slightly curved or thin with an intense curl, it's a great way to show your personality through your facial fuzz.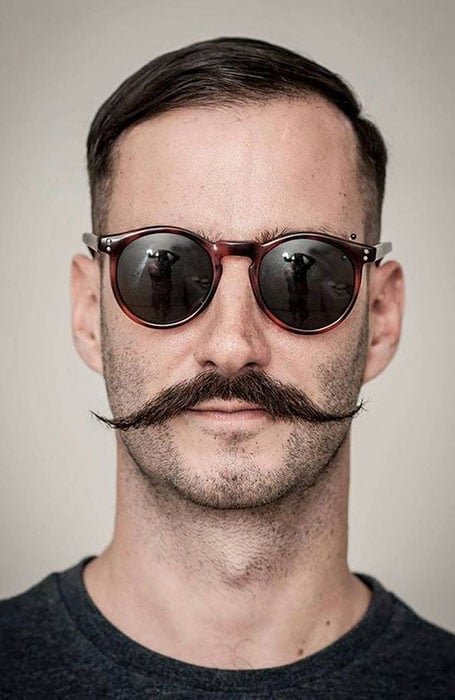 13. Handlebar Mustache + Slick Back
The slick back is a contemporary favorite but with classic origins. Its sophisticated styling is the perfect way to show off a handsome face and alluring eyes. As such, it also lets your facial hair stand out, so it's the ideal way to showcase a handlebar mustache. Another great thing about this style is its versatility. You can rock a classic slick back; wear it with an undercut, curls, or long hair; or add a sharp fade for a more modern interpretation. The tools for this look include a quality pomade, a good hairdryer, and a fine-toothed comb for a smooth finish.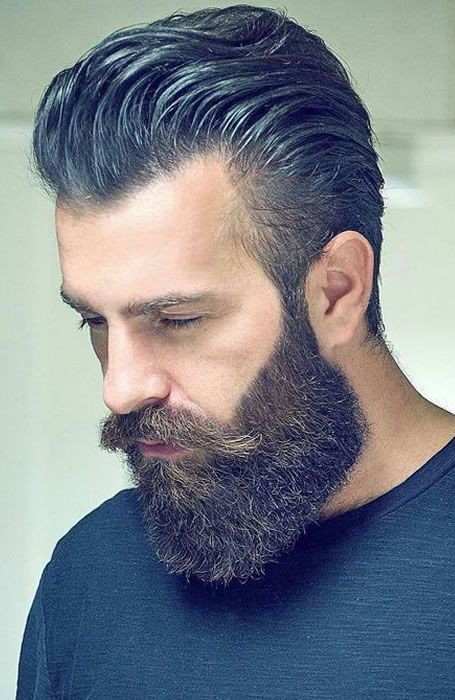 14. Handlebar Mustache + Clean Shave
There are many benefits to having little or no hair on your head. It's incredibly low maintenance, minimalist, and a brilliant way to show off your facial features. It's also an excellent option for guys with thinning hair or a receding hairline. However, one of the most significant advantages is that it makes your facial hair stand out even more, which is ideal for showcasing your handlebar mustache. Add in a full beard to complete the look. Plus, you get bonus points for badassery if you cover your bare skull with a tattoo! If you're not quite ready for a clean shave, then a buzz cut will have a similar effect while leaving a little bit of length on top.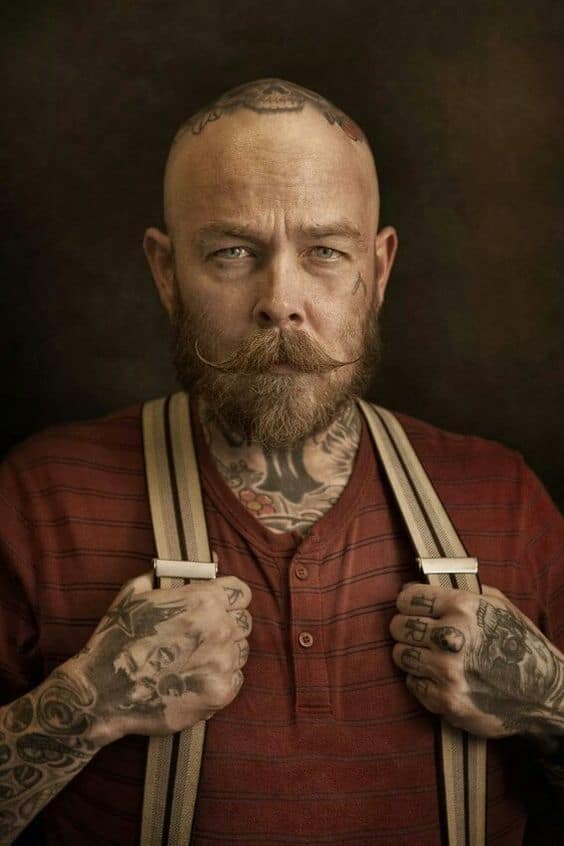 15. Handlebar Mustache + Side Part
Another classic hairstyle option that works well with a handlebar mustache is a side part. The best thing about a side part is that it works with pretty much any haircut style and any texture. You can choose short sides such as a taper cut or fade. Then, you can have any length on top and still wear your hair parted, include long and luscious, short and curly, or mid-length and quiffed. Of course, side parts generally give you a polished look, so make sure your handlebar mo' matches the vibe, with neatly trimmed edges and tamed ends.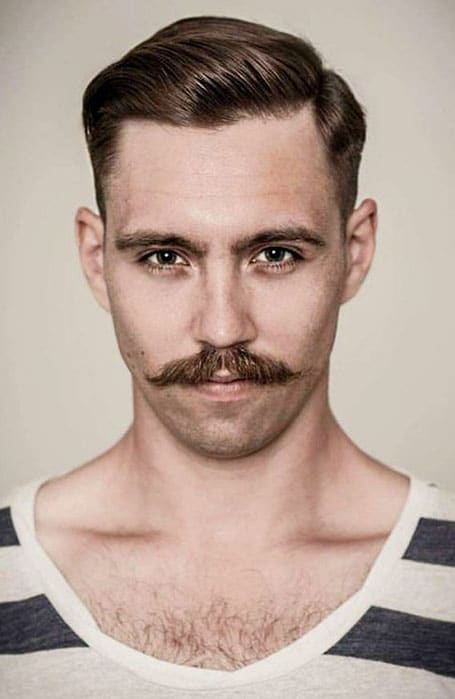 How to Grow a Handlebar Mustache
Growing a handlebar mustache takes time and patience. The best way to start is just to let your facial hair grow out for a couple of weeks, so you can see what you're working with in terms of growth pattern, patchiness, and natural shape. While it's growing, start training it to sit the way you want by regularly combing from the center out on each side. Once you think it's long enough, use a precision trimmer to clean up along the lip line and cut your 'mo to the desired length, keeping the ends longer and using a guard if you don't want to freehand. You should be able to get the general shape within a couple of weeks, but it can take a few months for it to fill out and reach peak majesty, so be patient. Keep the edges neat by trimming once a week.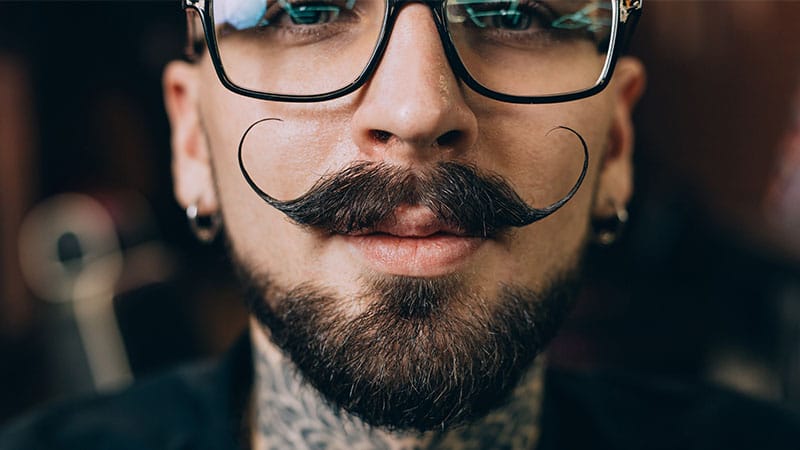 How to Style a Handlebar Mustache
You will need to style your handlebar mustache every day, as it is slightly more high-maintenance. Start by ensuring you're regularly using beard oil or balm to keep the hair soft and pliable. Then, you'll need to gather up a good mo' comb and some beard or mustache wax. Use the comb to brush the hair out in the direction you want. Apply a small amount of wax to your fingers and work it through your 'stache from the middle to the ends. To get the curl, add a little more wax to your fingertips and gently twist the ends of your mustache up and in so they bind together with a gentle curve. If you want a more defined curl, tightly wrap the ends around your finger or a pen, and let it sit for a moment so the wax can set.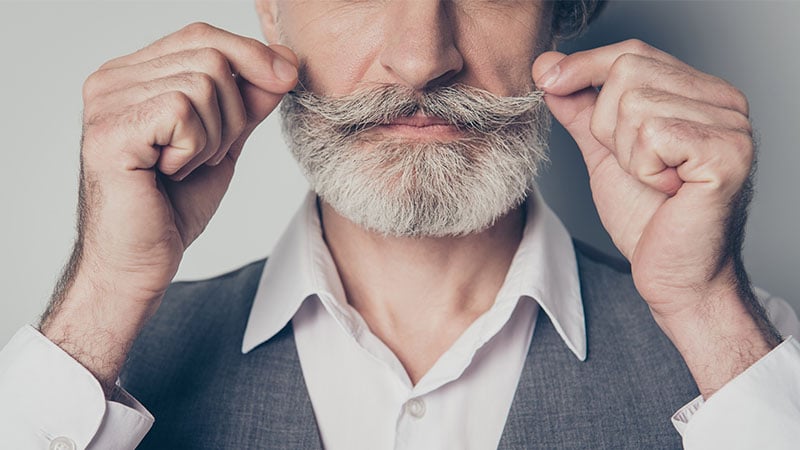 FAQs
Will I suit a handlebar mustache?
The best way to know if you'll suit a handlebar mustache is to give it a go. Grow it out and see what you think. If you don't like it or don't think it suits, you can always snip the ends off and rock Tom Selleck chevron 'mo instead. Alternatively, just ditch the lip fuzz altogether.
How long does it take to grow a handlebar mustache?
Facial hair growth varies between gents, but generally, you should have enough to start shaping a handlebar mustache with two to three weeks of growth. However, it can take a couple of months to fill out and get really long at the end, so be patient.
How do you train a handlebar mustache?
The best way to train your handlebar mustache is with daily brushing in the direction you want it to sit. Once it's long enough, you can add a little bit of product to help hold the shape and train the hair even further.
Should You Wash Your Moustache?
Absolutely. You should really be washing your handlebar mustache every day to remove any build-up of your product (and any leftover food or drinks still sitting in the hairs!), so styling is more manageable. Use a gentle cleanser, such as your face wash, and make sure you get right down to the skin. Ideally, you should also use beard oil regularly to keep your hair and skin soft and irritation-free.
What does the handlebar mustache symbol mean?
The handlebar is often used as a symbol for mustaches because of its instantly recognizable shape. By itself, it doesn't have any particular meaning but can be used in context to convey masculinity or nostalgia.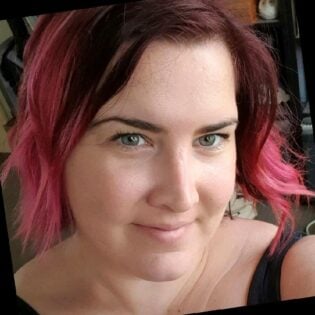 Alexandra Linde is an experienced writer holding a bachelor's degree in Journalism. She is the owner of Alexandra McKiterick Creative and has expertise in travel, fashion, fitness and lifestyle. Alex has previously written for Flightcenter, Travello, and Backpacker Deals.
SUBSCRIBE TO OUR NEWSLETTER
Subscribe to our mailing list and get interesting stuff and updates to your email inbox.