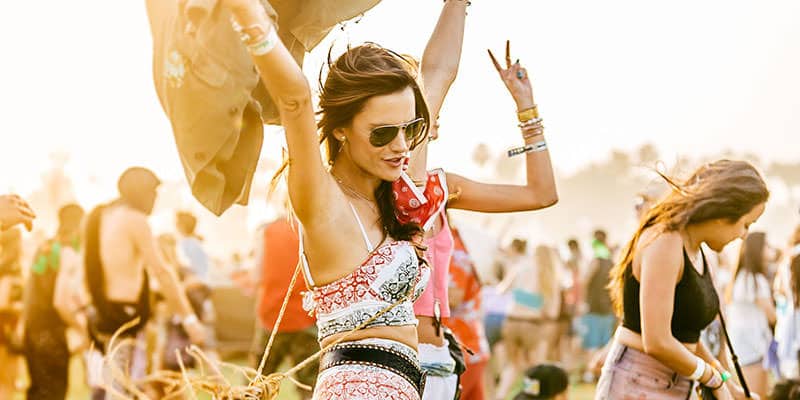 Deciding what to wear to a concert can be tricky. There are a lot of factors to consider, and the wrong choice can leave you feeling awkward and uncomfortable. Your outfit has to be genre-appropriate, stylish of course, and practical. Those high heels may look great but will you be able to dance in them all night? If the answer is no, then you may have some outfit revision to do. We show you the top tips on what to wear to a concert for a rockstar look.
Concert Outfits
What to Wear to a Pop Concert
A pop concert is your chance to try a look which is fun and flirty. After all, if you're heading to a Taylor Swift concert why not dress like Taylor Swift? Think preppy dresses, graphic tees and mini skirts. Add pops of colour to bring life into your outfit in a youthful and fresh way. Keep things from getting too childish with a cropped jacket and comfortable pair of low to mid-height heels. Let makeup be light, bright and practically glowing while showing off those cheekbones with an Arianna Grande style, sleek, high pony.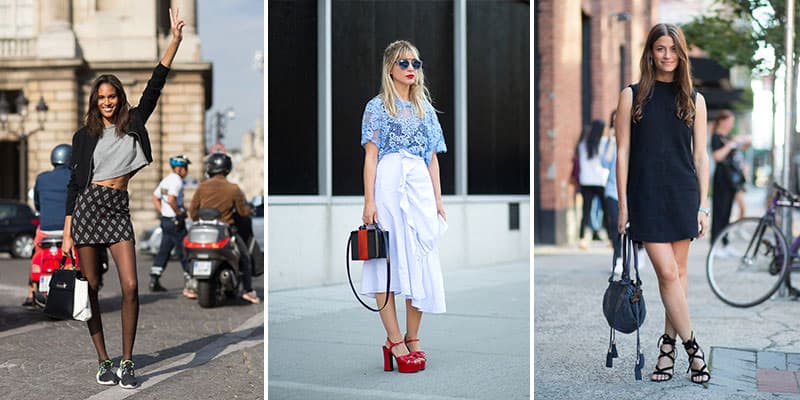 SHOP THE LOOK
What to Wear to a Country Concert
The challenge of dressing for a country concert is suiting the genre while simultaneously earning sartorial style points. In other words, lose the plaid shirt and cowboy hat, this isn't a rodeo. Instead, choose a look with hero pieces in denim. You can even double down with denim jeans or cutoffs in a mid-wash and a fitted denim shirt in a light-wash. Finish your look with a pair of boots and details of tan leather, suede and fringing. Opt for natural-looking makeup and pair with loose, frizz-free hair.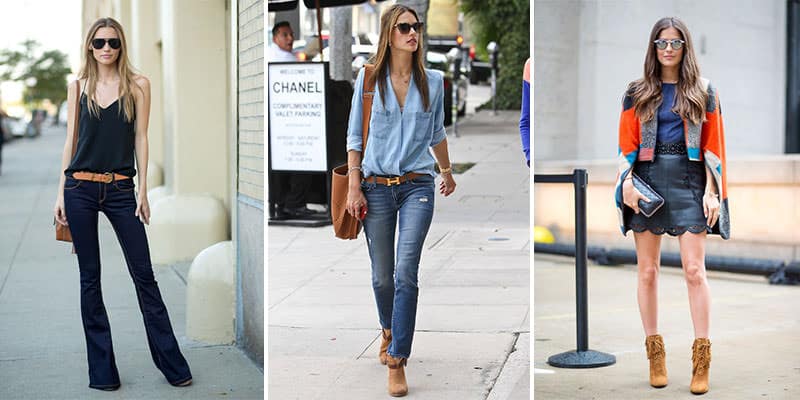 SHOP THE LOOK
What to Wear to an Indie Concert
An indie concert is a great place to try a bold, new outfit. Here you can be brave and let your style have free range without fear of judgement. Remember, the most boring outfit is the one that fits in too much! That said, like all genres, there is a base style which will help get you started on becoming the coolest one at the gig. Try denim shorts or overalls with a quirky T-shirt. Keep footwear casual in sneakers and go hands-free with a mini backpack. If you need to buy something, hit up a vintage store to find something unique. As for hair, half up, half down with a messy bun at the crown works every time.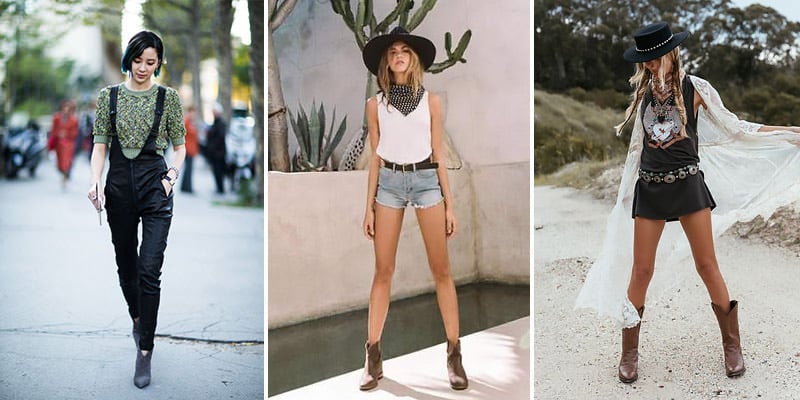 SHOP THE LOOK
What to Wear to a Rock Concert
Pull out your best black leather jacket when you're heading to a rock concert. Pair it with black, skinny jeans and a cool T-shirt, or a simple dress if you want to add a touch of femininity. Finish the look with a pair of comfortable and sturdy biker boots. Think flat, black leather, roomy at the ankle, and detailed with straps and buckles. Your whole vibe should feel edgy and intense but relaxed at the same time. Like your outfit, your hair should be fuss-free while your makeup can be dramatic but not over-the-top.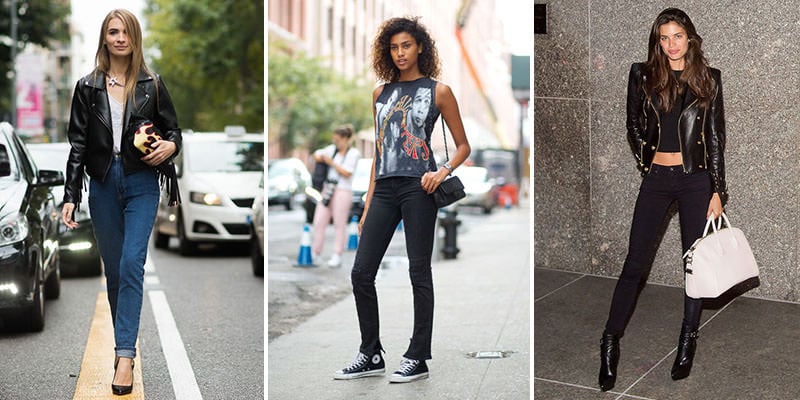 SHOP THE LOOK
What to Wear to a Rap Concert
When attending a rap concert, there's nothing worse than looking like you're trying too hard. Plan an outfit that looks chic and simple with a healthy dose of attitude. Black with touches of white is your go-to colour base. Keep things sexy but play with proportions to make your outfit more trendy than tacky. Think black jeans worn with a sleek crop top and an oversized bomber jacket. Make this look go from casual to chic by adding a pair of heeled boots and finishing things off with gold statement jewellery. Wear hair out and full of volume with glamorous "look at me" makeup.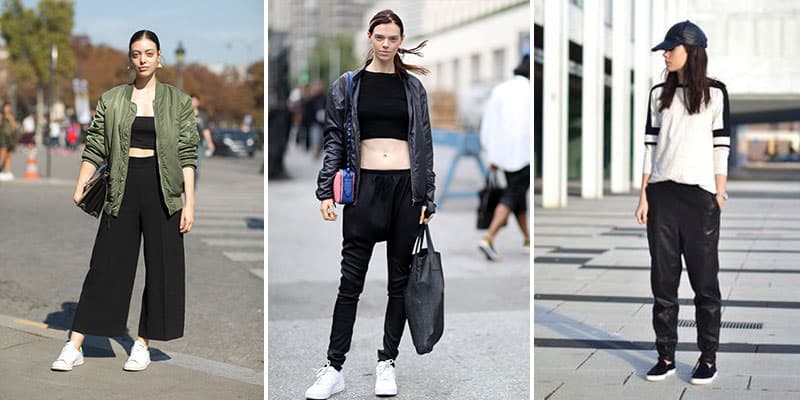 SHOP THE LOOK
What to Wear to a Hip Hop Concert
Not sure what to wear to that hip-hop show on your calendar? Don't stress. Dressing for a hip-hop concert is easier than you might think. All you need to do is aim for a style that is equal parts street and chic. To do so, select a relaxed ensemble with a subtle dose of attitude. Boyfriend jeans or loose pants are perfect for achieving this aesthetic. Then, just partner your look with a casual or cropped T-shirt featuring a placement print, logo or slogan. Also, as you'll likely be dancing the night away at your hip-hop concert, don't forget to keep your feet comfortable with a pair of casual sneakers.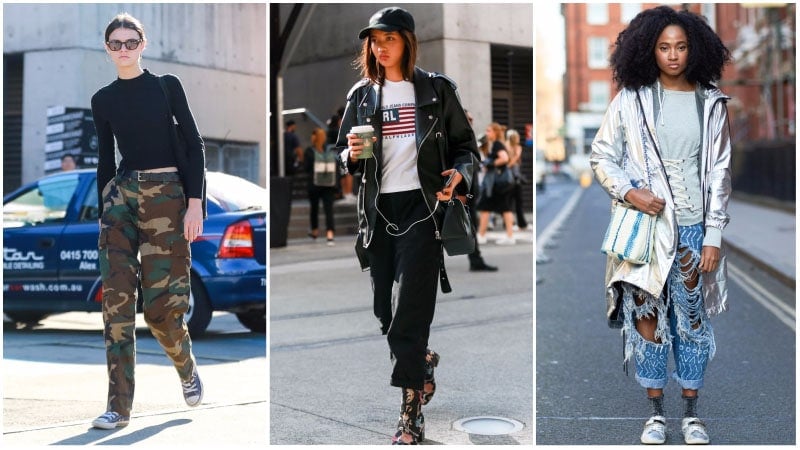 SHOP THE LOOK
What to Wear to a Metal Concert
When dressing for a metal show, you need to unleash your inner rebel and rule-breaker. Forget sweet and chic and opt for eye-catching attitude instead. Stick to a colour palette of black and don't be afraid to add some hardware. Ripped black jeans or leather trousers are an excellent choice for pants while up top a band tee and leather jacket will be perfect. To finish your look opt for heavy-duty boots, apply plenty of black eyeliner, and leave your hair loose but stylishly messy.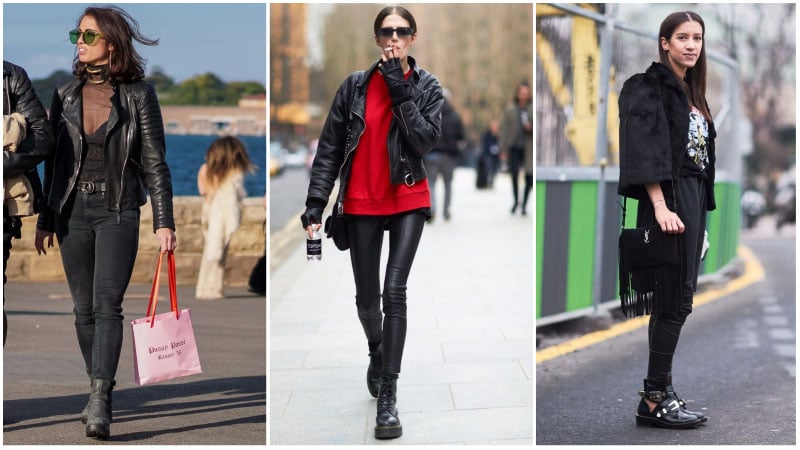 SHOP THE LOOK
What to Wear to a Music Festival
Music festivals and cameras go hand-in-hand, so you'll want to look your best. Thanks to the 70's trend which just keeps persisting, finding your perfect Woodstock vibe has never been easier. Make your look bohemian and carefree with loose styles and coloured prints for Coachella. Pair with easy-to-wear sandals or boots which are fit for traipsing through grass and mud. Leave your hair out and natural or braided while keeping your makeup to a bare minimum. If you are heading to Burning Man, look to Mad Max for outfit inspiration and get creative.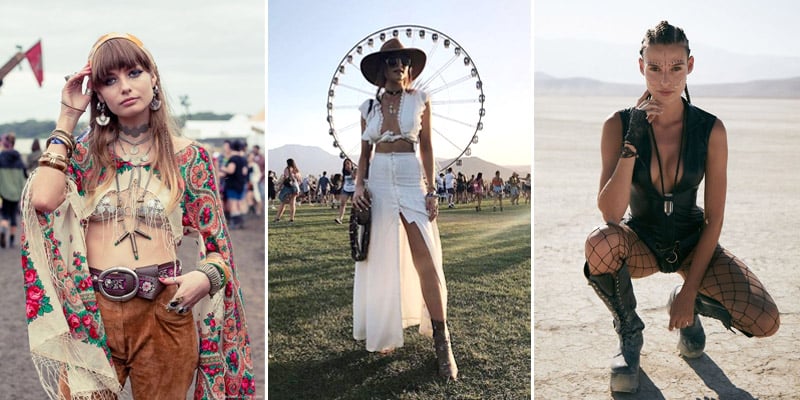 SHOP THE LOOK
Cute Concert Outfits
Whether you're off to see Selena Gomez or have hot tickets to the Chainsmokers, a cute concert outfit is always a great idea. Who knows, they may even pull you on stage thanks to your fantastic ensemble? To nail the perfect look, all you need to do is find the right blend of comfort and cool. In particular, jeans and miniskirts make excellent options for a concert. They also partner perfectly with booties, which are both chic and ideal for those crowded concert venues. To complete your look, just select a stylish top and add fun accessories like statement earrings or a coloured bag.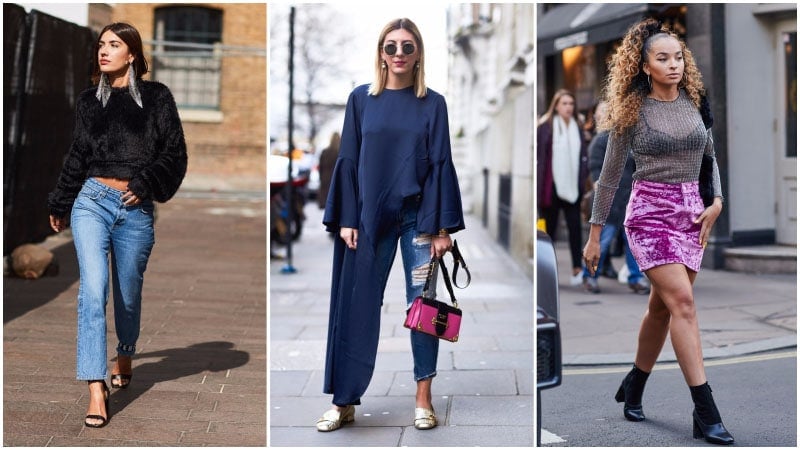 SHOP THE LOOK
Winter Concert Outfit Ideas
Attending a concert in winter can be tricky. After all, you need to feel warm on the way to and from the venue yet cool enough amongst a sea of people throughout the show. Oh, and you want to look fantastic, of course. To select a look that meets these requirements, start with a pair of jeans. Jeans will keep you suitably warm throughout the night or day while also looking great. Then, pair your jeans with a chic top and jacket or overshirt. Something that can quickly be taken off and tied around your waist or thrown into your bag is ideal. When it comes to footwear, ensure your toes are toasty with a pair of boots or sneakers.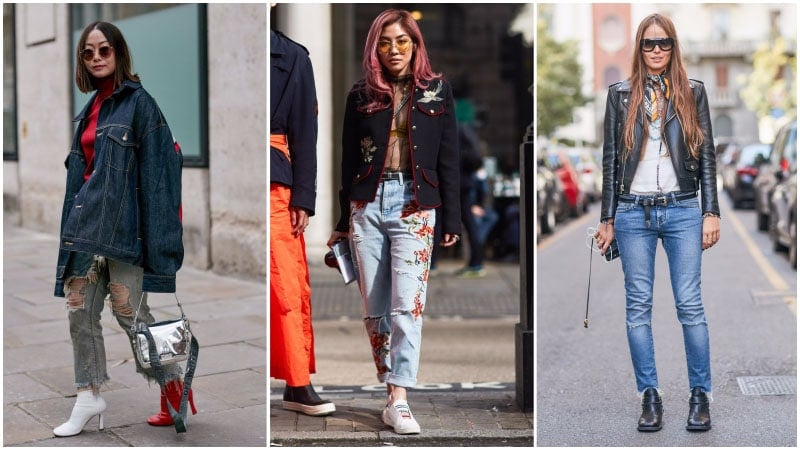 SHOP THE LOOK
Coachella Outfit Ideas
Coachella is as much about fashion as it is about music. As such, planning the perfect Coachella outfit takes work. Get on board with the high-energy nature of this event by making your look bold and eye-catching. Bright prints and patterns mixed with down-to-earth denim garments and unmissable accessories is the way to go. Don't forget to add your own spin with unique details and designs too. Also note that you'll be in the desert, so be sure to dress for warm weather.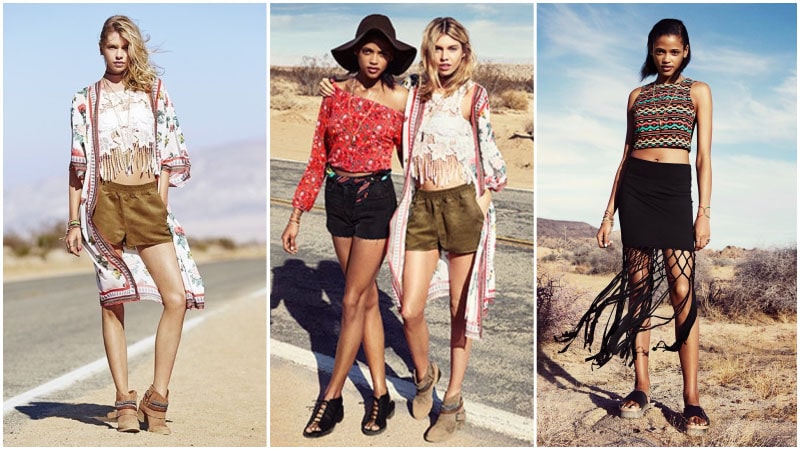 SHOP THE LOOK
What to Wear to a Concert
Select an outfit that suits the genre of the concert you are attending.
Remember to keep it stylish by choosing on-trend pieces.
Standout from the crowd by personalising your outfit with pieces you love.
Make sure your outfit and shoes are comfortable and will keep you warm/cool.
Don't forget to complete your look with the right hair and makeup.
SUBSCRIBE TO OUR NEWSLETTER
Subscribe to our mailing list and get interesting stuff and updates to your email inbox.