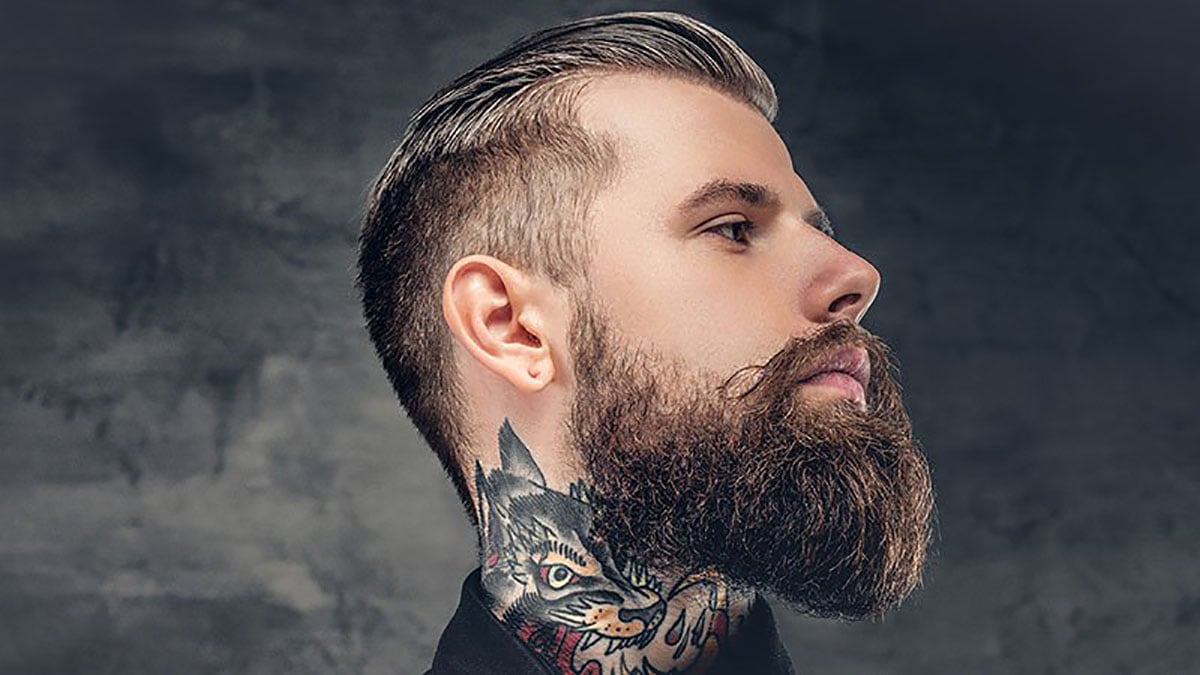 Getting a sexy, stylish beard takes more work then just growing out your chin fuzz. Take your facial hair game to the next level with a beard fade. It's sophisticated, versatile, and ensures your whole look is tidy and well put together. Plus, it works with a variety of hairstyles, so whatever you have on top, can be complemented with a beard fade. Check out some of our favorite beard fade hairstyle combos for the most dapper of gents.
RELATED: 26 Best Beard Styles for Men
RELATED: How to Trim and Fade a Beard Neckline
What is a Beard Fade?
A beard fade is a grooming technique that smoothly transitions your beard from thick and bushy, to a close shave. It creates graduation from the longer hair on your chin and lower jaw to a tighter shave on your cheeks and sideburns. By doing so, your beard then smoothly joins your hairline, without seeming disconnected. It's incredibly stylish, versatile, and suits multiple beard types, hairstyles, and face shapes. The key to getting an excellent beard fade is to choose a shape appropriate for your face and to trim the hair regularly, so it maintains both its fade and shape. Additionally, you can create this look at home, however for a sharp trim or more specialized styles, definitely pay a trip to your favorite barber for professional styling.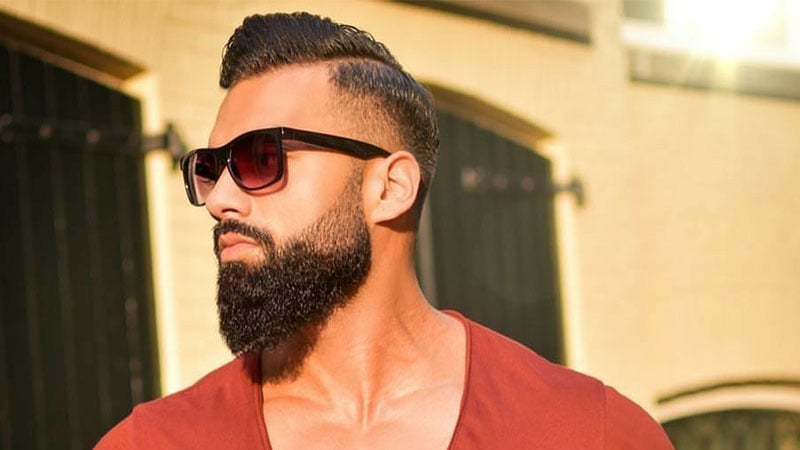 Beard Fade Styles
1. Buzz Cut + Beard Fade
One of the easiest beard fade looks to achieve is the trusty buzz cut and beard fade. Because the whole look is completed with a trimmer, it's easy to move through the different length attachments to achieve the perfect look. You'll want to leave it a little longer on the top of your head, and get down to about a number one around the sides. Then, use the number one setting again at your sideburns, graduating to about a number four on your chin. The buzz cut and beard fade are easy and low maintenance.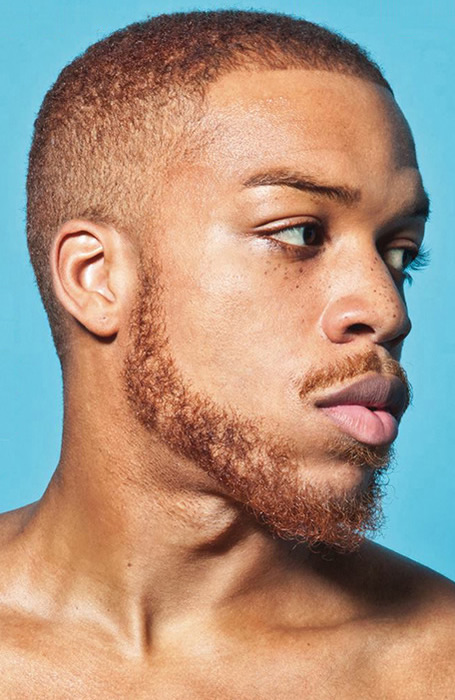 2. Mohawk + Beard Fade
This style is one for the edgier men who are keen to make a statement. Mohawks are no longer the exclusive hairstyle of punk rockers and metalheads. Modern mohawks are stylish and bold and can be styled in any number of ways. The nature of the style, with its short sides and length on top, lends itself well to a beard fade. Consequently, a beard looks fantastic when it's faded down from a mohawk. However, it's good to keep your beard on the shorter side, to avoid elongating the face too much with height at the top plus length at the bottom.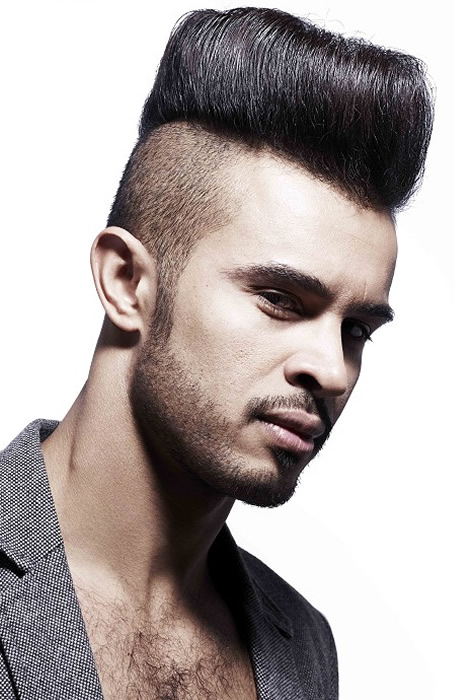 3. Slick Back Waves + Beard Fade
Channel a vintage vibe with slicked back waves and a beard fade. Reminiscent of 1920s Hollywood and the Clark Gable era, it's a modern take on a distinguished look. If you don't already have wavy hair, try styling finger waves, which can be done with just a comb and hair gel or pomade. Then, pair the look with a full or medium length beard for balance. Additionally, make sure to keep your edges neat around the cheeks, to maintain the dapperness of this refined look.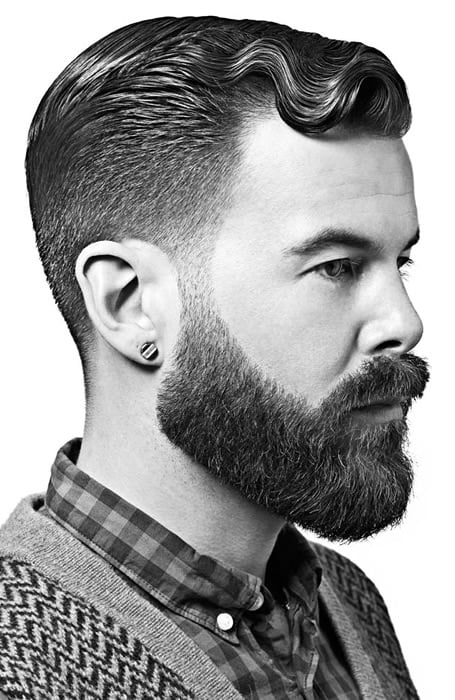 4. Disconnected Undercut + Beard Fade
A disconnected undercut is edgy and innovative. As such, it's great for pairing with any length and style of beard. It works well with a full beard, a short beard, or even a chin strap. Combining your beard and a disconnected undercut with a beard fade is an excellent way to tie everything together. If you've got short sides, then suddenly a full beard, your aesthetic can end up looking a bit directionless. That's why the beard fade is brilliant. You'll look put together, and suave, as well as edgy — it's the best of both worlds.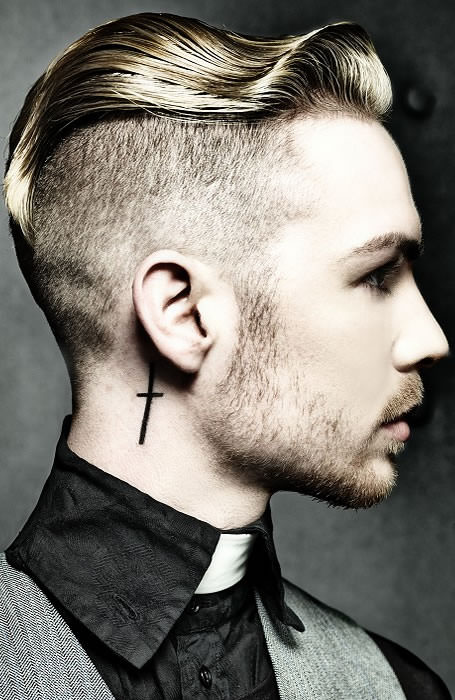 5. Hard Part + Beard Fade
Another style for bold men, a hard part is cut into your hair with a trimmer or razor. As such, it provides a clear definition and makes a big statement. Traditionally worn on the side, most hair lengths and styles can wear a hard part. These styles could include pompadours, comb overs, and quiffs. Join the hair to your beard with a beard fade for the ultimate in style. Doing so ties the elements of the neat, strong part, with perfect grooming and clean lines of the beard. Depending on how you're wearing your hard part, choose a style of beard that suits your face.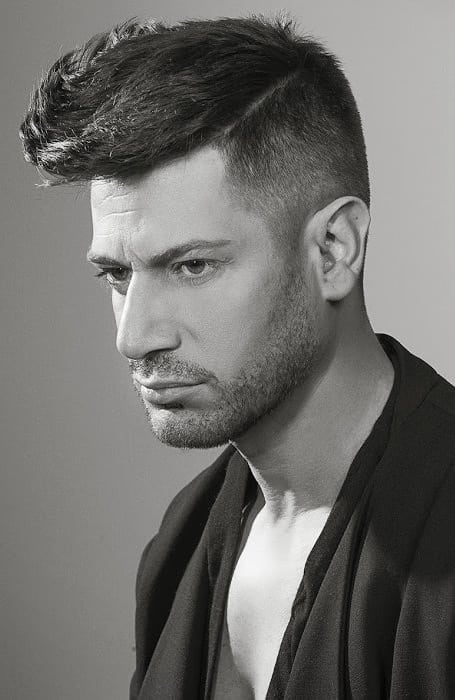 6. Faux Hawk + Beard Fade
Faux hawks with a beard fade are a more moderate take on the mohawk-beard fade combo. Consequently, it's perfect for gents who seek the flexibility of having fun hair on the weekend, and a more professional look for work. The brilliance of the faux hawk is that you can style it up and make it fun and edgy when you want. However, you can also comb it down for a more subtle look. Either way looks great with a beard fade. The transition from the short sides of the style into any neat beard looks immaculate. Pair it with a short beard, or allow some length, just make sure to keep the shape trimmed and maintained, so you don't end up scruffy.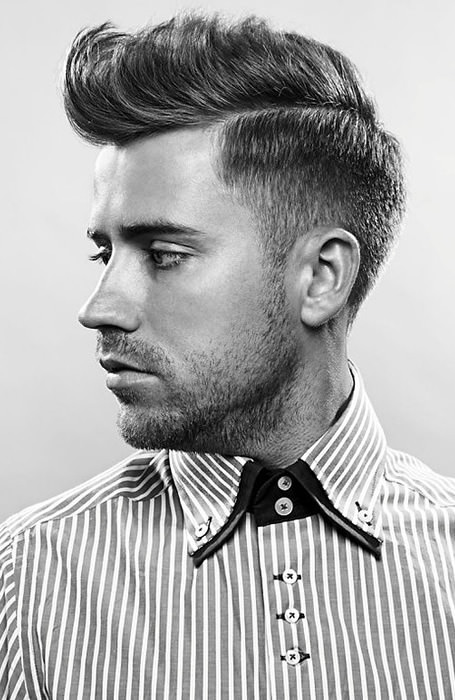 7. Mid Fade and Beard Fade
Any kind of taper fade is going to look excellent with a beard fade. Mid fades are an excellent all-rounder that suits most gents. Traditionally, the mid fade utilizes the area between your temple and ear for the fade. As such, continuing that fade down into the beard is a very smooth and easy transition. It's versatile and easy to maintain, which is perfect for men who prefer a low maintenance style, yet still, wish to look polished and sophisticated. Because of the versatility of the style, it goes well with most beard styles, whether you choose short whiskers or a bountiful beard.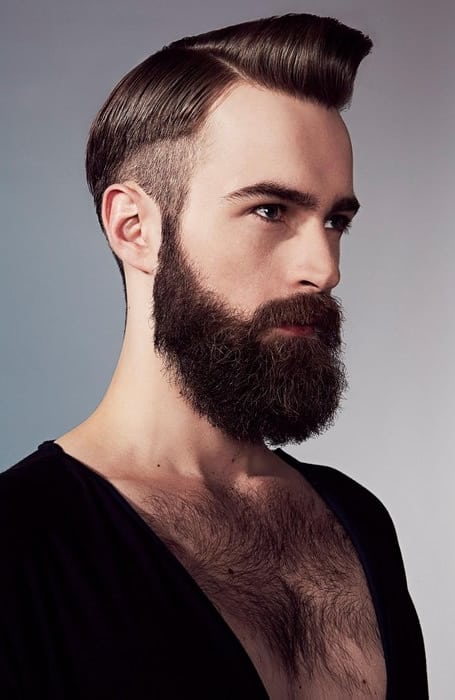 8. Low fade + Beard Fade
Low fades are neat and structured and are a great way to keep your hairline around the neck and ears tidy. This type of taper fade starts at the ear and extends to the nape of the neck. Therefore, matching a beard fade with this kind of hairstyle will begin the fade at around the same spot, just at the ear. Because this look is more subtle, it looks great with a shorter or mid-length beard. It's perfect for gents who are looking for something less edgy in the hair department, or who want something easy and low maintenance.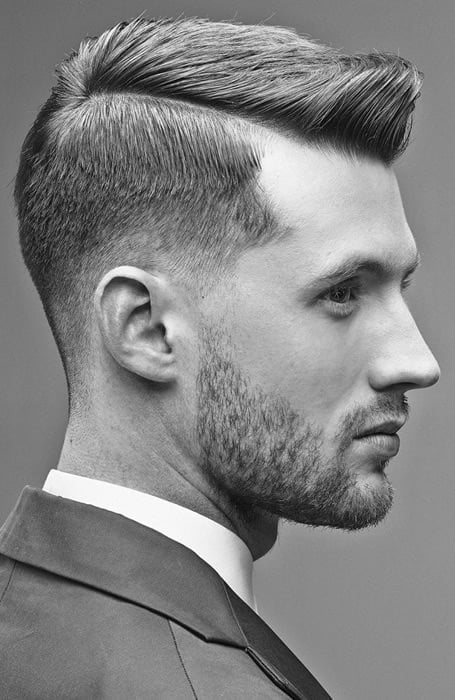 9. Undercut + Beard Fade
Similar to the disconnected undercut, the regular undercut looks great teamed with a beard fade. This on-trend style is versatile, working well with straight or curly hair. Plus, depending on how much length you have on top, it can be styled in various ways. While it needs regular trims, it is a very stylish option for men willing to give it the care it needs. Choose a beard that suits your face shape, and fade into it from the sideburns to complete the style.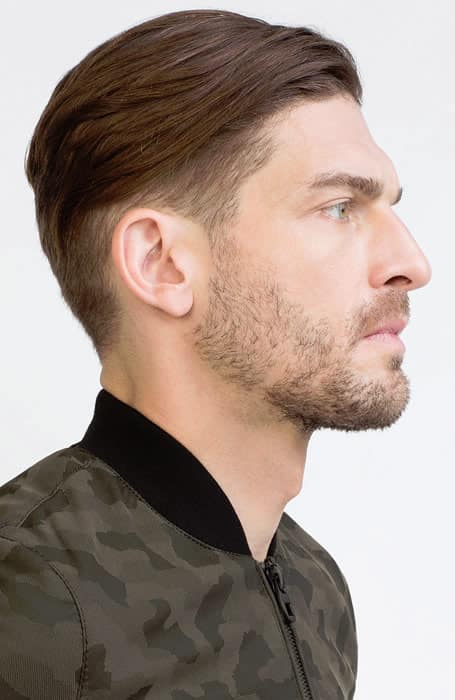 10. Quiff + Beard Fade
A quiff and beard fade is a great way to style up your look for special occasions. The quiff is less a hair cut and more a styling option, as it can be done with any hairstyle that has length on top. It's a timeless and refined look that works for different age groups and various occasions. A classic quiff has balanced proportions, while longer hair can be quiffed to one side. Famous faces who have sported the quiff include the ever-so-sharp David Beckham, original bad boy James Dean, and of course, The King himself, Elvis Presley. Ideally, to team it with a beard fade, you'll need a style that has shorter sides, which can then blend to the beard of your choice.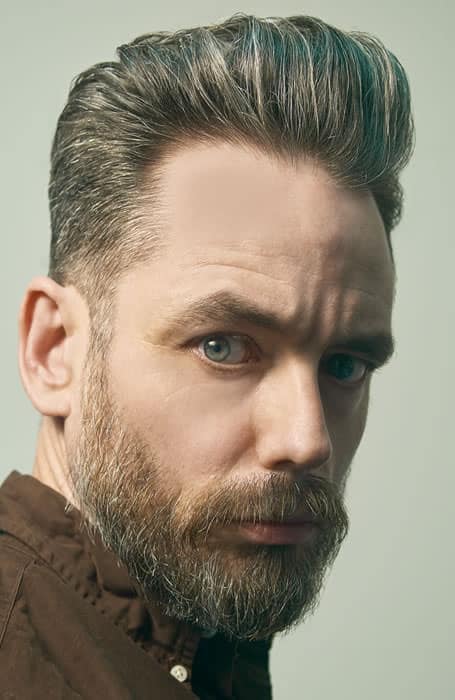 11. Skin Fade + Beard Fade
Take your fade to another level with a skin fade. This hairstyle is the most extreme of the fade variations, as it takes the fade right down to the skin. While it's the extreme version of the look, it's far from extravagantly edgy, and in fact, can look very sleek. Like other fades, you can take it from a high, mid, or low position; however, it works best with a high fade. Again, like many of the styles on this list, a skin fade will work well with any beard style. However, keep in mind that because you're fading from skin level, you need more space to fade back up into the beard.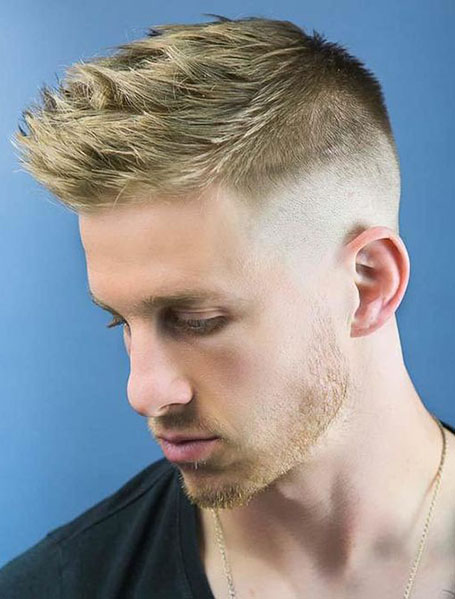 12. Spiky Hair + Beard Fade
Spiky hair is playful and fun and has come a long, long way from the early-noughties boy band days. The evolution of hair products has also helped this look become a lot more natural-looking and much sexier. Plus, spiky hair can be low maintenance, just so long as you keep your back and sides neat. The versatility of length on top also means that if you want to change your look, you can try a quiff or slick it all back. Combine the spiky hair with a beard fade for a more distinguished look. Keep in mind that because the spikes have a lot of texture and visual movement, you'll want to keep your beard on the neater side. Opt for a shorter style, or control longer beards with a good beard balm to ensure there are no flyaways.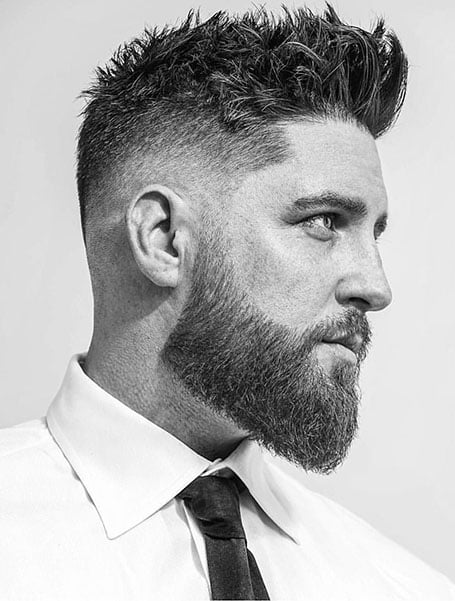 13. Drop Fade + beard Fade
Try a variation of the fade hairstyle — the drop fade. While regular fades start at the same height all the way around, the drop fade lowers around the back of the head. That makes it great for adding more depth to the back of the hair and frames your profile well. It's a tailored look that's popular among stylish and fashion-forward men. Because it's very on-trend, it looks great with a beard fade, that creates a polished look all over. Additionally, because it creates depth at the back of the head, a beard is a great way to create visual balance on your side profile.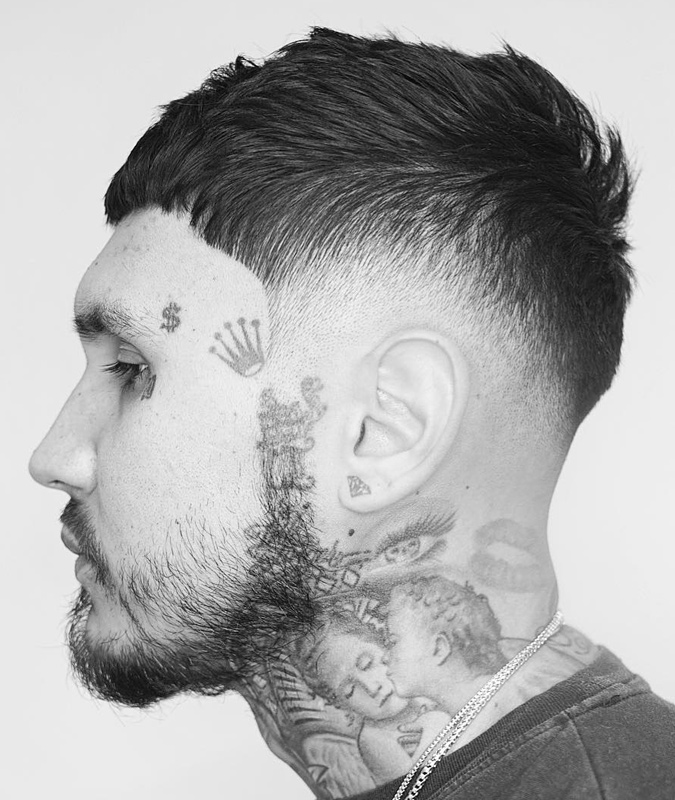 14. Shape Up + Beard Fade
Sharp edges for sharp men is the way to go with a shape up cut and beard fade. The shape up cut, also known as an edge up or line up cut, involves creating very neat, very straight edges around the hairline. It's traditionally a black hairstyle and looks best with the texture and color of black men's hair, however, the style can also work well on other men of color. Unless you're super confident and have a steady hand, a professional barber is the best person to create this precision cut. A very clean tight hair fade often accompanies the style as does the occasional shaved design. As such, when combing this hairstyle with a beard fade, you'll want to make sure the edges of your beard are just as neat and tidy as your hairline.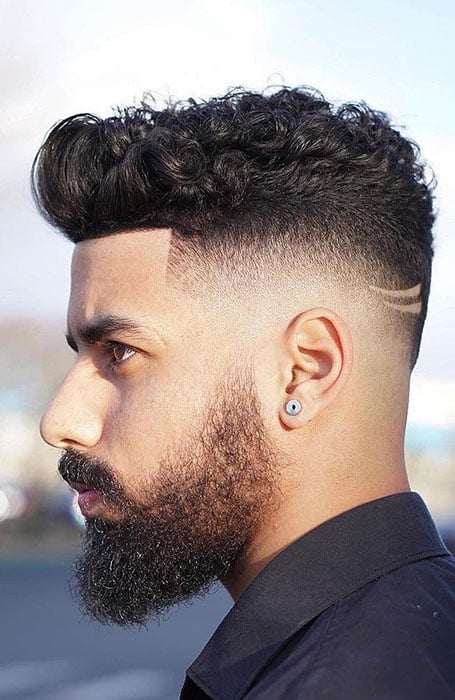 15. Caesar Cut + Beard Fade
Named after the Roman Emperor Tiberius Julius Caesar, this is a hairstyle that has stood the test of time. A Caesar cut is notable by its distinction short, blunt fringe, which is styled forward. It's a fashionable choice, yet it is easy to style. You can choose to wear it with one length all over. Alternatively, go for a short back and sides, perhaps with a taper, for a more modern interpretation. If you choose the short back as sides, this is perfect for also wearing a beard fade. The length on top is balanced nicely with a mid-length beard, that's kept neat around the edges with a good beard balm.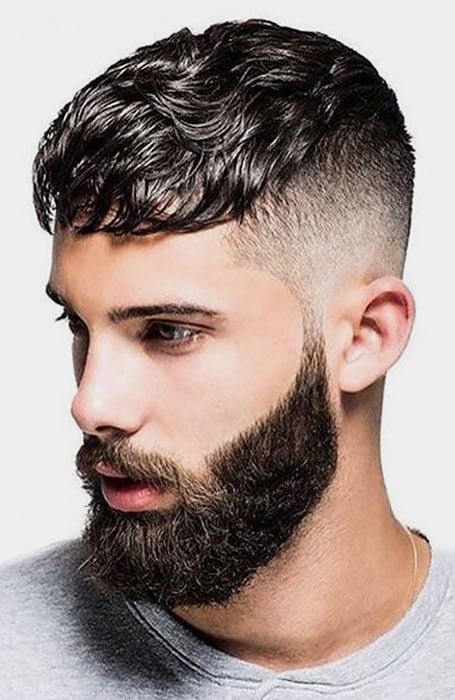 SUBSCRIBE TO OUR NEWSLETTER
Subscribe to our mailing list and get interesting stuff and updates to your email inbox.