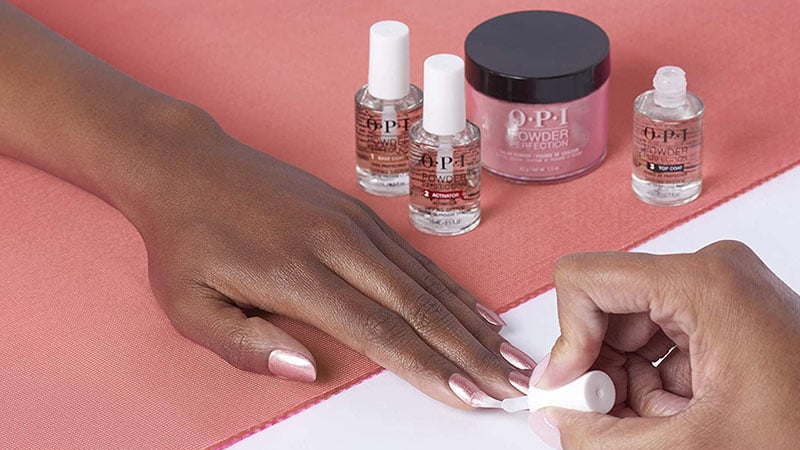 Switch up your regular manicure routine and try dip powder nails. The results are incredibly durable, natural-looking, and there's an almost endless amount of colors and textures to choose from. There are, of course, pros and cons for any manicure option, and you'll need to consider your lifestyle, budget, and time. However, this is an excellent alternative to gel, full acrylic, and nail polish. Let us give you a complete rundown on everything you need to know about dip nails before you jump in.
What Are Dip Nails?
Dip nails are a type of manicure and a fantastic alternative to acrylic or gel nails and nail polishes. The basic process involves removing all existing polish, shaping, and applying a bond or dehydrator to remove any oils and debris. The surface is then built up using a base coat and natural powder for thickness and durability. Next is the color. A couple of layers are applied using the base coat, after which you would dip the nail into a pot of highly pigmented powder or pour it on the nail. The process is repeated a few times for each nail, depending on the effect you want to achieve. The look is finished off with a sealing or activating coat to harden the powder and a top coat for that extra beautiful, fresh manicure shine. You can do dip powders on both natural and false nails, making it an excellent option for everyone.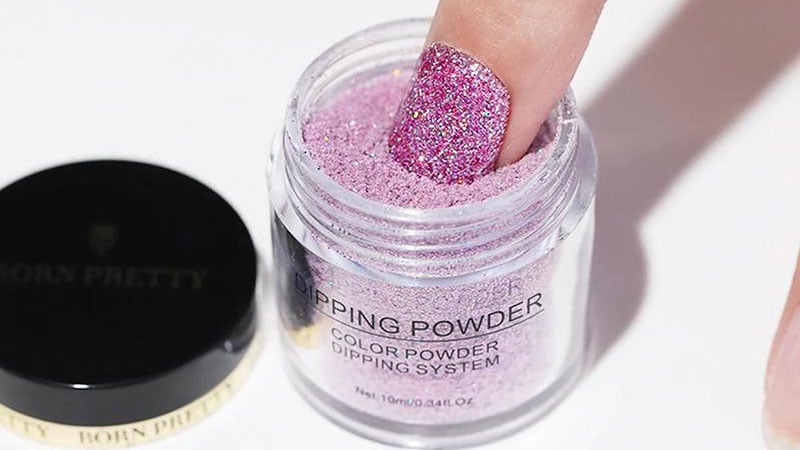 Pros and Cons of Dip Nails
There will always be pros and cons to all manicure options. On the pro side for dip powder nails, they're easy and straightforward to do, generally taking less time than regular acrylics or gel nails. Plus, there's no odor, they're less messy if you don't have a steady painting hand, and there are plenty of at-home options for a DIY mani. There's also an incredible array of vibrant colors available from neon pinks to white glitter and subtle nudes. On the downside, removing them properly is a bit of a process and can damage your nails if not done correctly. If you're attending a salon, it can also be expensive to get them done every three weeks. Finally, if you get them done at a salon, check that they brush or pour the powder onto your nails rather than a dip — shared powder tubs have been linked to cuticle infections.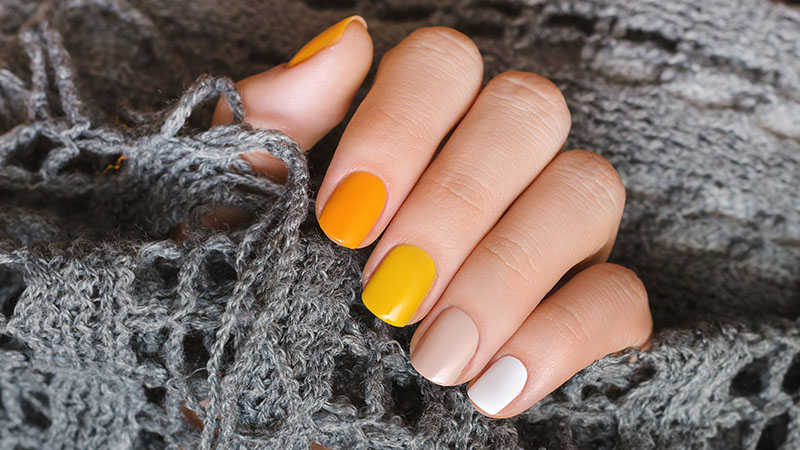 Dip Nails vs Gel
The most significant difference between dip powder and gel is the curing process. Dip powders cure in a similar way to acrylic, in that the base coat, powder or polish, and activator together create a chemical reaction to harden. On the other hand, gel requires UV lights to cure, so once it's applied, you sit your hands in a UV light machine for a few minutes. Another difference is application time — dip powder nails can be a much quicker process than gels. In terms of similarities, both have comparable longevity, lasting around three weeks before needing a touch-up. The removal process for both is also similar, requiring filing and acetone to get back to the natural nail. Ultimately, the choice comes down to personal preference.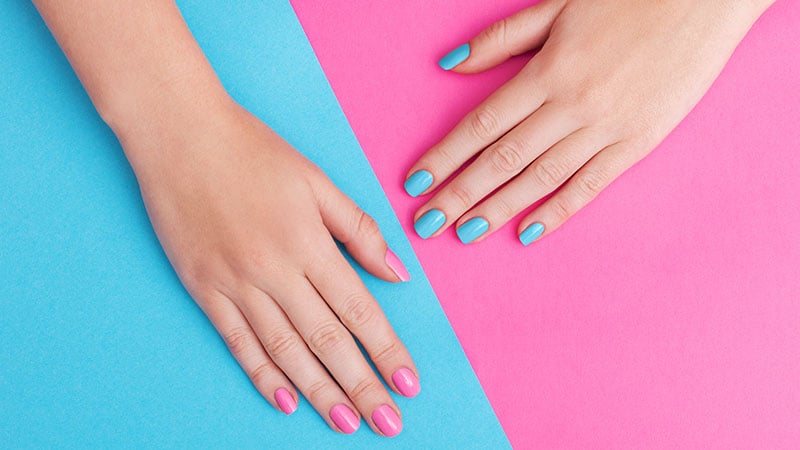 How Long Do Dip Nails Last?
Dip powder nails can last anywhere from two to four weeks, depending on the rate of your nail growth. The best part is that they grow out rather than chip off like nail polish. That means they don't look quite as ratty when it's time to get them done again.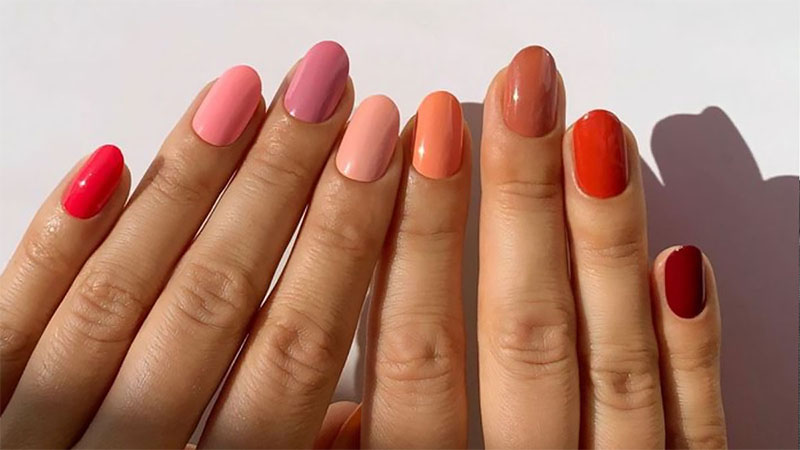 Can You Paint Over Dip Powder Nails?
You can certainly paint over your dip powder nails. If you're doing it for an event such as a job interview and want to take it off after, that's also an option. The top coat protects the powder color, so just use a non-acetone nail polish remover to take off any new polish. You may need to apply another layer of top coat once you're done, to give it some shine, and to protect the color. Just keep in mind that if you're regularly painting over them, perhaps a less permanent option will better suit your needs. That way you're not wasting money on a long-lasting color that you're not using.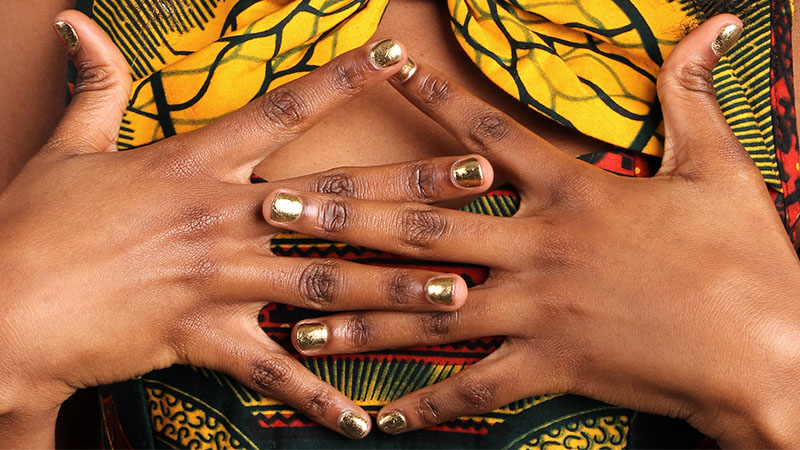 How to Remove Dip Powder Nails
The best way to remove your dip powder nails is to head back into the salon. The process is a bit involved, and a nail technician will get the best results without damaging your natural nail. The method is similar to gel polish removal. First, the top coat and some of the color is filed down with a file or an electric nail file. Then, the nails are soaked in 100% acetone to dissolve the remaining color. You can do this by soaking a cotton ball in acetone, placing it on your nail, and wrapping your finger in foil. You'll need to let it sit for at least 10 minutes. By then, the color should be gone entirely, ready to start over. Just remember that acetone can be very dehydrating, so treat your fingers to some extra love with good cuticle oil. Even the prettiest of nails won't look nice on lizard hands.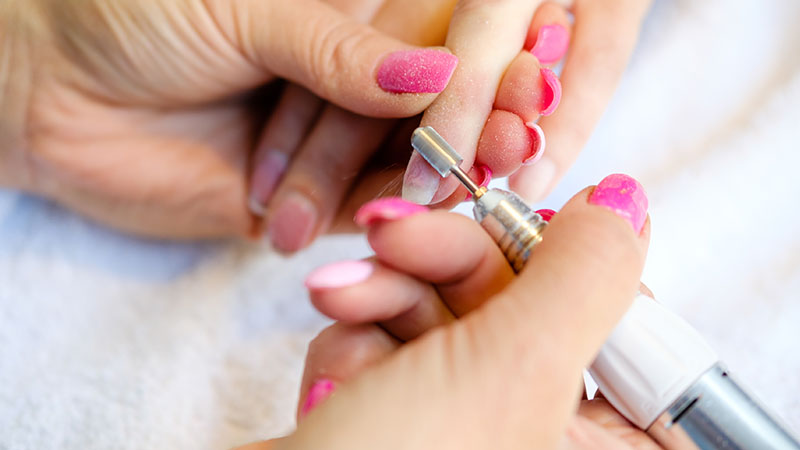 Dip Powder Nails Kits
Give yourself stylish, sexy nails at home, with a dip powder kit. There are dozens of options available online and hundreds of color variations. You'll need some manicure basics to start, including a file, cuticle stick or trimmer, acetone nail polish remover, and cotton balls. Then, when it comes to kits, you'll want, at a minimum, a base, an activator, and a top coat, plus your color powders. Extras that are helpful, but not essential, include a soft makeup or kabuki brush, a natural powder, a brush restorer, and a cuticle oil or vitamin serum. The best part about home kits is that the bottles are numbered, so you easily know what to use and when!
BEST BUYS
Dip Nail Designs
Ombre Dip Nails
Combine two or more colors to create a beautiful ombre effect. The nature of the fine powder makes it easy to create this look. There are multiple techniques you can try. Use a soft brush to gently tap the colors onto the different parts of your nail over the base coat. Alternatively, if you're doing it at home, apply the base coat, then your first color. Brush off any excess, then bounce the tip of your nail in a second color, building the depth of the shade up the nail until you have the desired effect. The options for color combinations are endless. Go for a feminine look with pretty pastels, hype up the bright with fluoro yellow and blue, or go ultra-fierce with a sexy red and black combo.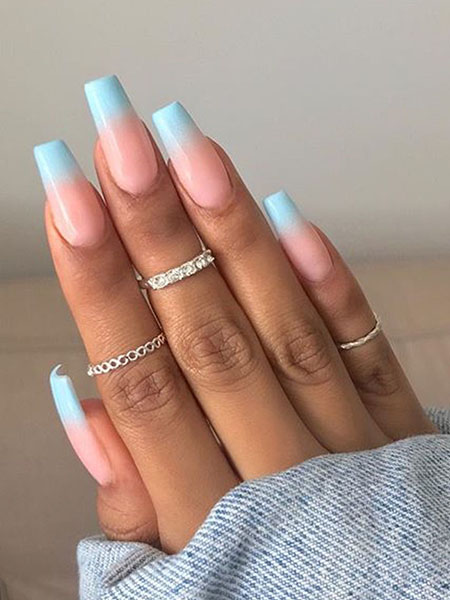 French Dip Nails
French manicures are a classic and elegant look. Create this design with ease, using a pale pink and a white powder. Once you have your nail prepped, coat the entire bed with the base coat. Start with the pink base color by dipping the whole nail into the pink. Repeat this process twice until you've got a good color build-up, and then finish as usual. Once the pink layer is done, dip just the tip into your white power. You can change the shape of the smile line by adjusting the angle of your finger as you dip. Going vertically into the powder will give you a straight, horizontal line. Alternatively, change to about a 45-degree angle to get a beautiful rounded smile line. When you've got the french tips looking as you desire, apply the activating liquid and a top coat. It is an excellent style for work, casual wear, or even a wedding when you want to look beautiful, but natural.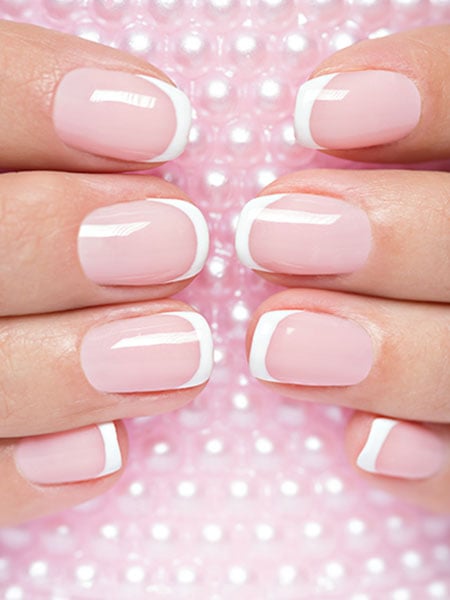 Dip Nails with Tips
If you have short ones or are guilty of biting them, never fear, you can still have long, stylish nails using dip powders. All you need to do is add tips. The process is very similar to adding length for acrylic or gel nails. The natural nails are shaped and buffed; then, the tip is glued on. The great thing about choosing tips is you can pick any style you want. There are more natural shapes such as round and oval, or go all out and pick a coffin, stiletto, or lipstick shape. Once the glue is dried, the tip is filed and blended with the natural nail. Then a couple of coats of clear powder are added to smooth out the shape and add thickness and durability. After that's complete, you can continue as usual, with whatever colors your heart desires.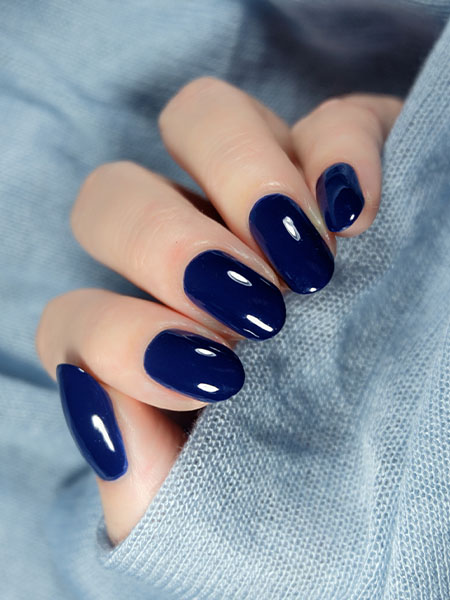 White Dip Nails
Look so fresh and so clean with a bright, white dip powder manicure. Going for a full white nail makes a bold statement, without the drama of dark shades like black and plum. It's perfect for summer and looks lovely with lighter colors such as pale denim, buttercream yellow, and lavender. Plus, the hyperpigmentation and acrylic polymers in the powder means it's less prone to yellowing like gel.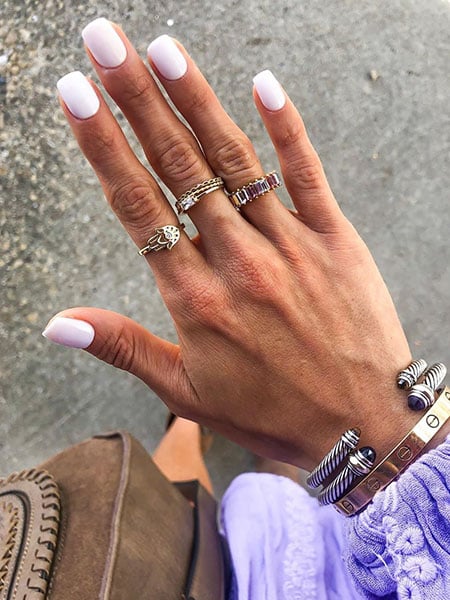 Pink Dip Nails
One of the beautiful things about pink is that there are almost endless shades and variations of it. Chose a youthful cotton candy or go vibrant with a bright pink that Barbie would be proud of. If you want something more subdued, opt for a pretty pastel or soft peach. However, for ladies who are keen to make a bold declaration, why not try a fluoro hue, or perhaps a deep pink with plum undertones.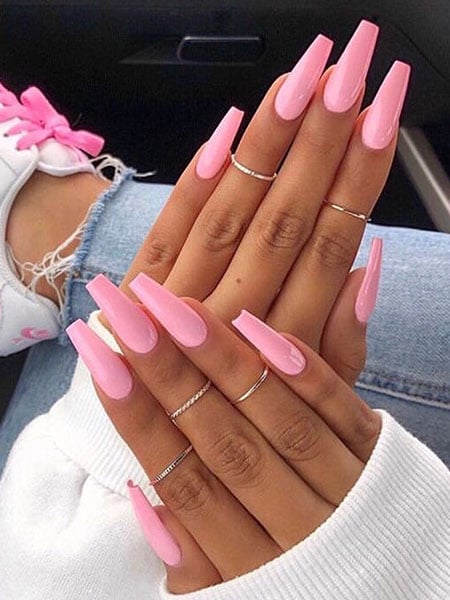 Red Christmas Dip Nails
Bring some festive cheer to your fingers during the holiday season with a fun red Christmas design. Select something simple such as bright red glitter, which will also see you through to your New Year's Eve party. Mix a little bit of gold dusting into a classic red nail for a luxe look, or get your nail tech to paint some snowflakes on with a fine-tipped brush. Alternatively, you can do a Christmas inspired ombre combination, perhaps mixing red and green, or red and silver for an elegant and unique style.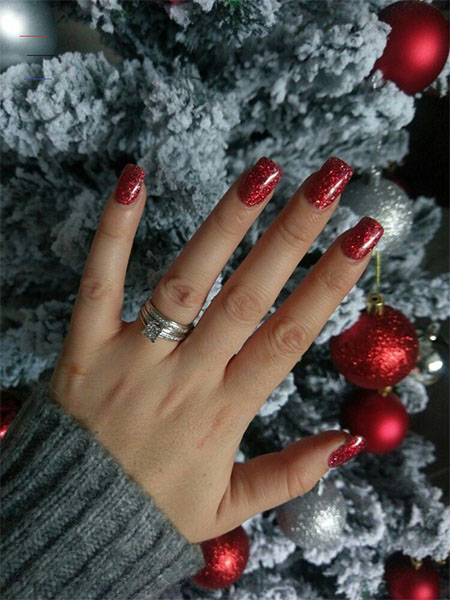 Cute Dip Nails
Show off some personality with cute dip nails. These ones take inspiration from fun flamingoes and mix various shades of pink with blue glitter. The verticle ombre is easy to achieve using the dusting method where you tap glitter off a soft brush along the side of the nail. Other cute designs include putting a different color on each finger — choose a rainbow or pick different shades of the same color. Alternatively, you could channel the spirit of anything in nature. Flamingoes are fun, but what about colorful macaws? Get the look by combining blue and yellow with a smattering of green glitter. Is watermelon your favorite fruit? Show it with pink and green ombre nails complete with large specks of black glitter. Your imagination for fun is the only limit!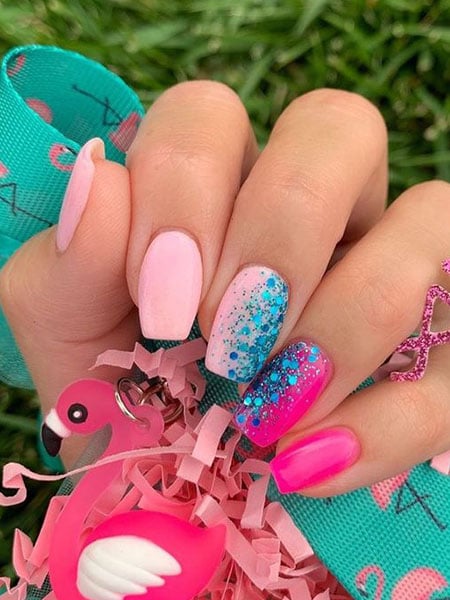 Glitter Dip Nails
The perfect occasion for glitter is everywhere, all of the time. Thankfully, there is a huge selection of glitter dip powders available, so you can easily get your fix of fairy dust. One of the best things about glitter in dip powder form is the density. Nailpolishes can often be more miss than hit when it comes to painting glitter, but that's never a worry with powder. Channel an ice queen with white glitter, or choose a powerful look with deep navy. Then, of course, there are classics like gold, silver, and bronze, as well as reds, pinks, and purples. Whatever your sparkly heart desires, there'll be an option available.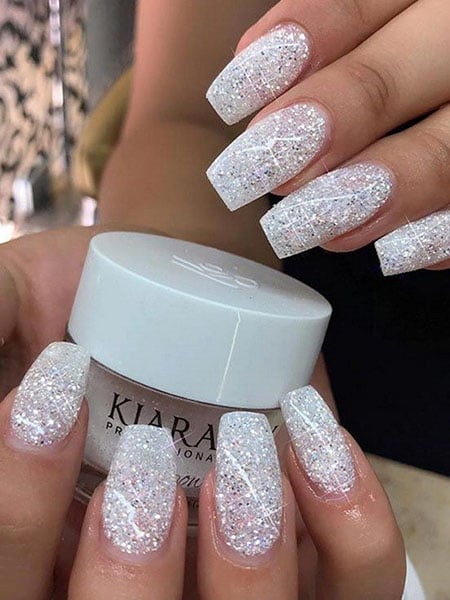 Black Dip Nails
Black is classic. Shoes, bags, clothes, nails — it's effortlessly stylish no matter how you wear it. Black dip powder nails are brilliant because they are exceptionally polished and shiny. Plus, they don't chip, so you don't need to fret about looking like you've time-traveled back to your youth and a My Chemical Romance concert. Keep it simple with plain black, add some sparkle with a sprinkle of black glitter, or dip the tips in dark charcoal to add some dimension. No matter how you wear your black dip nails, you'll be looking fierce.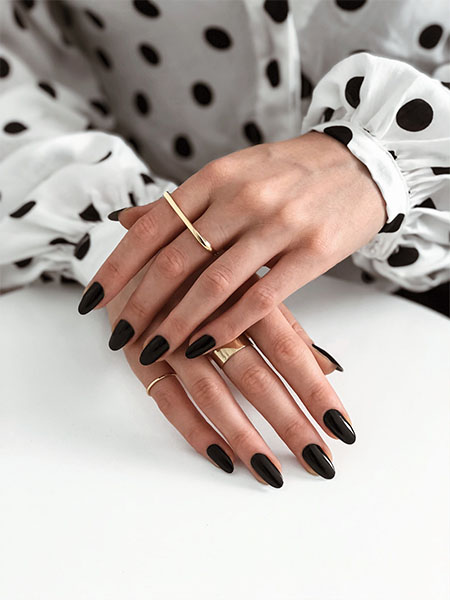 Dip Powder Nail Design
Let your creative juices flow with some innovative dip powder designs. Dipping makes it easy to create sharp lines, which lends itself well to styles like these rainbow arrow tips. You can also create color blocks by starting at the tip and dipping higher into different powders. Switch up the angles to get alternate shapes and abstract art. Another great design to try is marbling. Once you've applied your base color, take a small amount of powder into a separate dish, and add a second shade. Then use a toothpick or cuticle stick to mix it together to get the desired pattern and gently press your base-coated nail into it to transfer the design. Finish as usual with a shiny top coat for a distinctive and unique result.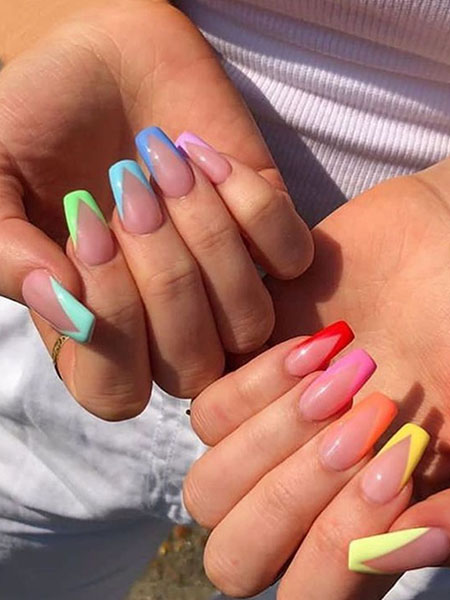 Dip Powder Nails FAQs
Is dip powder good for your nails?
Dip nails are a type of manicure that is durable, natural-looking, and incredibly versatile, making it a popular alternative to acrylics and gel nails. There are pros and cons to this approach, and it can be temporarily damaging to your talons. The reason being that the process breaks the sealing layer of your nails. They can also cause temporary dehydration of the nails.
Are dip nails better than gel?
When it comes to fake nails, the damage is really done by incorrectly removing them or having someone who does not know what they are doing apply the nails. Both dip nails and gel have certain pros and cons, but the most significant difference is the curing process. Gel uses a UV light to harden, while dip nails harden during a chemical process thanks to the combination of the base coat, powder or polish, and the activator. Both are long-lasting, require a similar removal process, and look great, so the choice is down to personal preference.
What lasts longer: gel or dip?
Both gel and dip nails tend to last around three weeks before needing to be touched up. That said, your nail growth will ultimately determine longevity, and this could mean that your dip manicure will be intact from anywhere between two and four weeks. This could be ever so slightly longer than the gel option.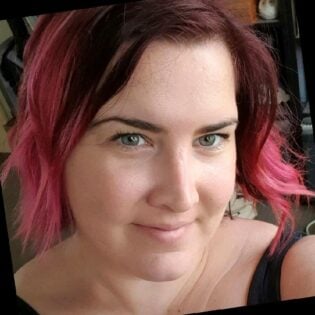 Alexandra Linde is an experienced writer holding a bachelor's degree in Journalism. She is the owner of Alexandra McKiterick Creative and has expertise in travel, fashion, fitness and lifestyle. Alex has previously written for Flightcenter, Travello, and Backpacker Deals.
SUBSCRIBE TO OUR NEWSLETTER
Subscribe to our mailing list and get interesting stuff and updates to your email inbox.