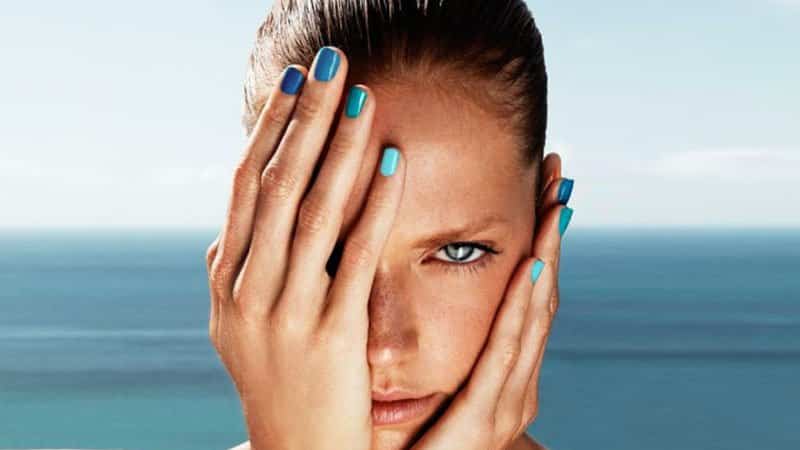 As we come to the end of 2022, we are looking to the future and we are ready to embrace everything that comes with it. This includes the impressive trends, specifically the hottest nail colors for summer 2022. The warmer months are a time to ditch the dark colors and embrace vibrant hues or soft feminine shades. Mint green and orange are among the daring choices, but there are also timeless classics like white and grey. The only tricky thing about these nail polish shades is picking which one you want to wear; then again, you don't have to because wearing them all at once could be your new favorite thing. If you're going to take your manicure to the next level, then these lacquers will help you do just that.
RELATED: 50 Cute Summer Nail Designs You Need to Try
1. Spearmint
The light green hue we refer to as spearmint is a fantastic, feminine shade. There is a freshness about it, and because it has been a while since it was a trending color for nails, this makes its return all the more exciting. Nail polish lovers can rejoice because the hue suits every skin tone, it has a dreamy feel to it, and it can tell a lot about your playful personality. Spearmint can give your appearance a pop of color and remind us that summer is the perfect time to embrace lighter lacquers. It is also great to pair with blue, beige, and white garments. We think you will agree that achieving an eye-catching look from home has never been so easy!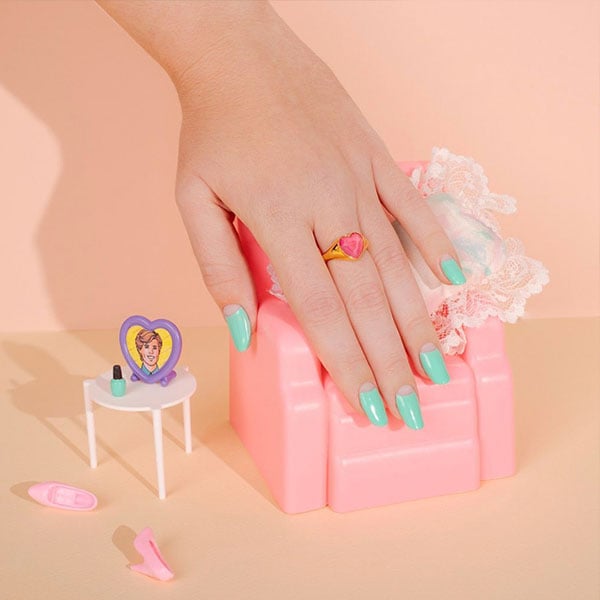 SHOP THE LOOK
2. Vibrant Yellow
Few colors can make a statement in the way that vibrant yellow can. It is one of the most luminous shades and is often associated with happiness, hope, and enlightenment, and after the rough year that most people had in 2022, this is what we all want from the new year — and our manicures, of course. Wear it to a summer barbeque, to a festival, or wherever you want; this is one hue that will ensure you stand out from the crowd.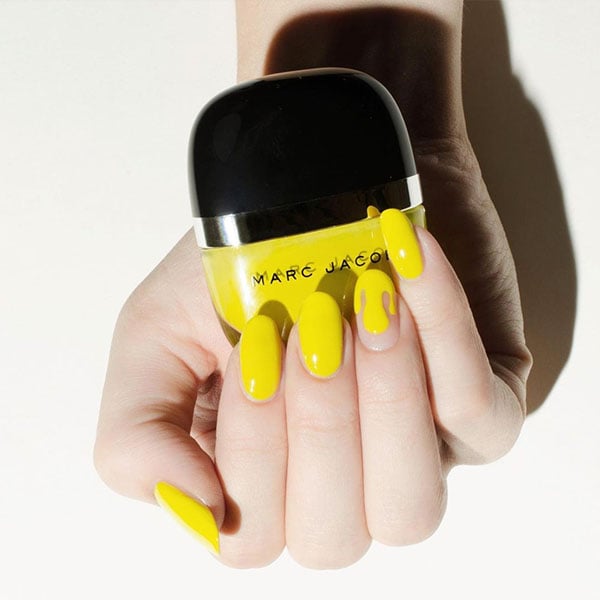 SHOP THE LOOK
3. Coral Red
Red is the color that demands attention, and it is a classic and timeless choice for nails. In 2021, the focus will be on a specific shade, coral red, and it is just as beautiful as you would expect it to be. It is an intense color, and one that women would maybe have been hesitant to try out a few years ago, but now you will see it popping up everywhere. You can wear it to cocktail parties or while hanging out on the beach, but we can all agree that this is a brilliant way to show off your hands. With this in mind, your nails must always be kept neat and buffed. Don't let chipped polish or unkempt talons distract from this hue's beauty.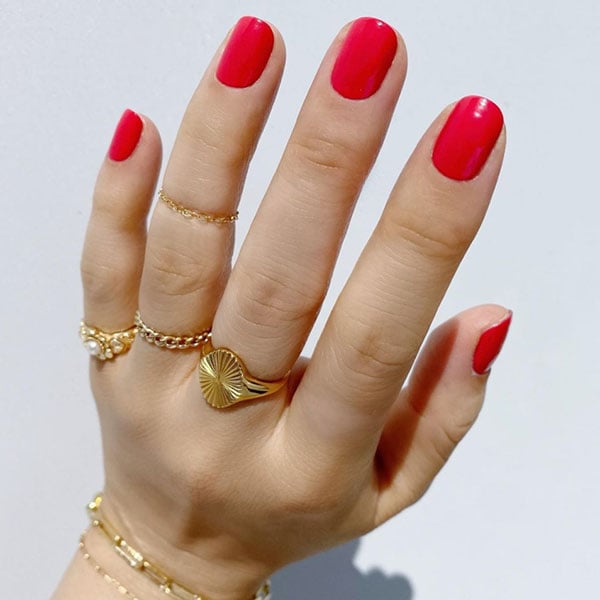 SHOP THE LOOK
4. Mulberry
Bold nail designs and colors certainly have their appeal, but we also need an everyday polish. Mulberry is the shade that gives us the subtle splash of color that is needed, but it is one of the easiest trends to pull off because it is not incredibly daring. The appeal is that it is understated, and it will look good on any nail shape. Another highlight is that it is a color you can easily match with your accessories; for example, your bag or shoes. This will create a look that is all about femininity and strength.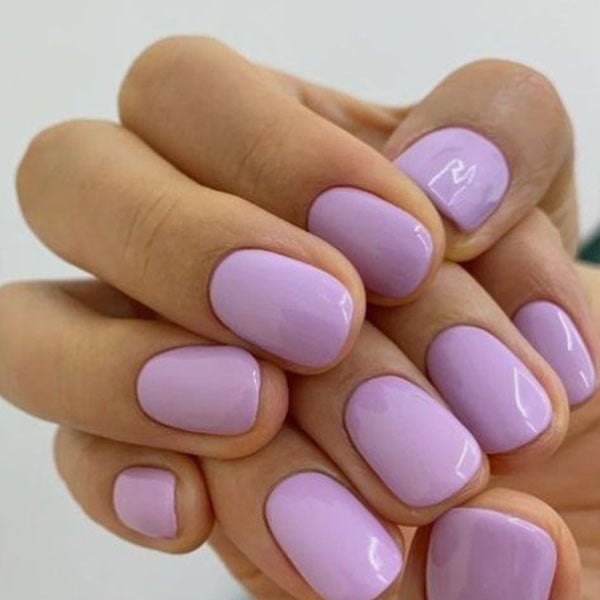 SHOP THE LOOK
5. Minty Green
Minty green nail lacquers will be all the rage in the summer of 2021. This color probably takes a fair bit of confidence to pull off, and it is an excellent choice for the warmer months. It is a pastel hue that evokes calmness and tranquility and will be a great alternative to the pinks and natural shades that you are likely to wear every day. The color is surprisingly versatile and goes with every skin tone.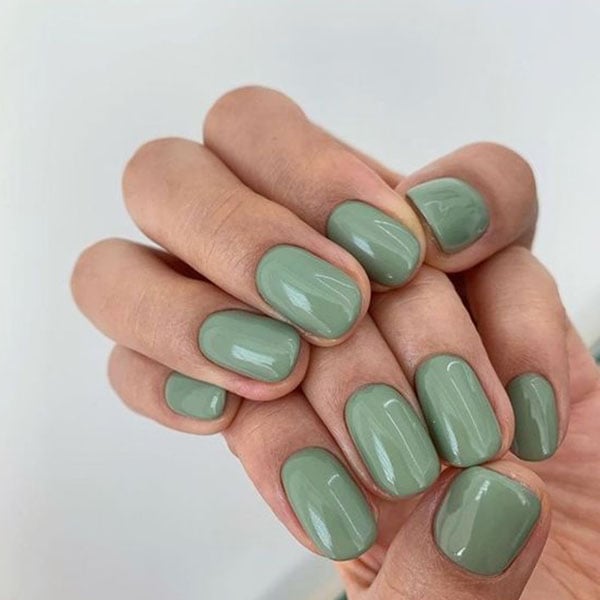 SHOP THE LOOK
6. Natural Shades
Sometimes the best polish to use for your manicure is a natural shade, and the beauty here is in the simplicity. These shades, which can include blushes, mauves, and taupe hues, are muted, but the minimal color allows you to play around with detail or not, depending on your preference. This is the perfect trend for those who work in corporate jobs or want fuss-free nails. If you want to make a very subtle statement, try blending them with your skin tone for a minimalistic yet chic look.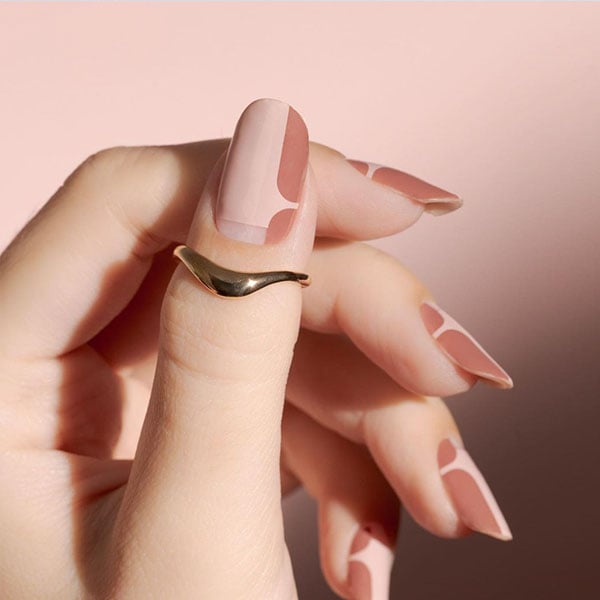 SHOP THE LOOK
7. Candy Pink
Another soft and feminine shade to make its way onto the summer 2021 nail forecast is candy pink. After the darker colors that dominate the cooler months, this will be a welcome and bright change. It is easy to wear and a classic shade that is perfect for nails of all lengths and shapes, whether you have long coffin nails or prefer to keep them simple and short. Pink is a big color trend for nails, and although you may feel like you've seen it before, that doesn't mean it has to be boring. If you want to make a statement, you can also try matching your nails to your lipstick!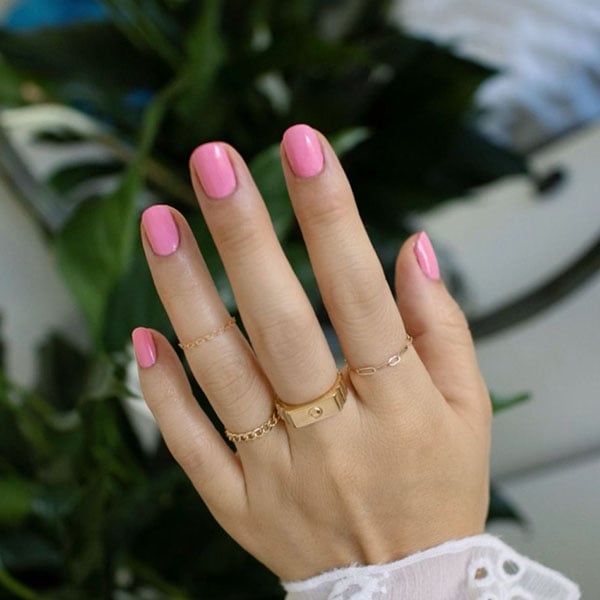 SHOP THE LOOK
8. White
White nail polish is timeless and classic, and it is something that many women find appealing because it doesn't go out of style. You've likely seen the hottest celebs sporting this color on their nails, but it is not hard to give yourself a manicure with this crisp hue at home. The neutral shade allows you to mix and match with bold colored or printed garments easily. Alternatively, you could opt for a monochromatic look. In fact, it is the perfect color for almost all occasions. That said, the most appealing thing about this shade is that it is universally flattering and suits anyone, so it will be a welcome addition to your nail polish collection over the summer.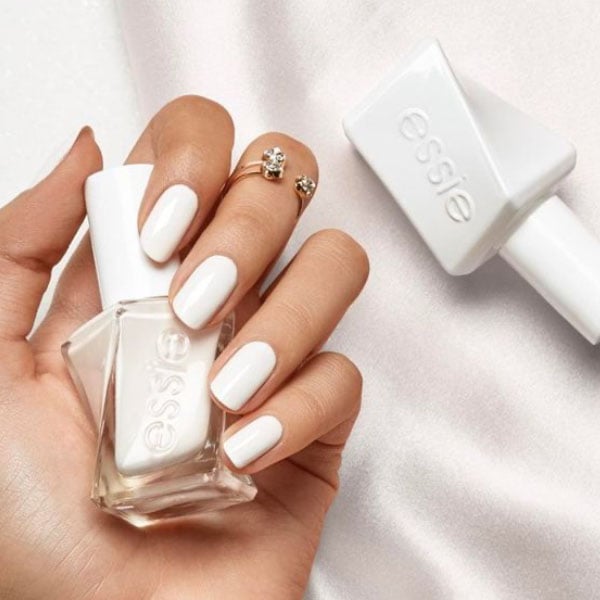 SHOP THE LOOK
9. Vibrant Mint
Vibrant mint is a color that some people may not have been comfortable embracing before, but nail trends of recent years have shown us just how great it is to try out the unusual shades. It is a strong shade and therefore requires a lot of confidence to really pull off, but it is surprisingly versatile and fun. Wear it with all your favorite or unusual rings to really draw attention to your perfectly manicured claws.
RELATED: 20 Green Nails Designs To Up Your Manicure Game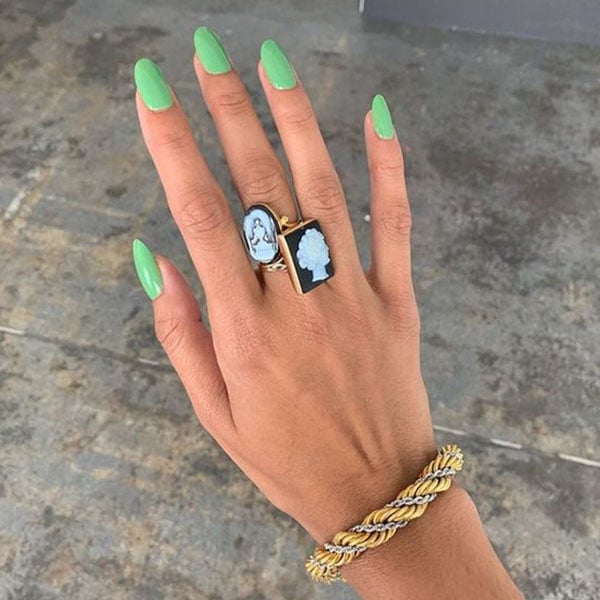 SHOP THE LOOK
10. Jacaranda
If you're looking for a color that is easy to pull off but also trending for summer 2021, then Jacaranda is the shade you've been searching for. It's a sort of blueish-purple hue — think of those beautiful flowers on the trees you often see lining the street — which is pretty and feminine, but just different enough not to be considered dull. It can be an excellent option for women with fair skin who want a little pop of color.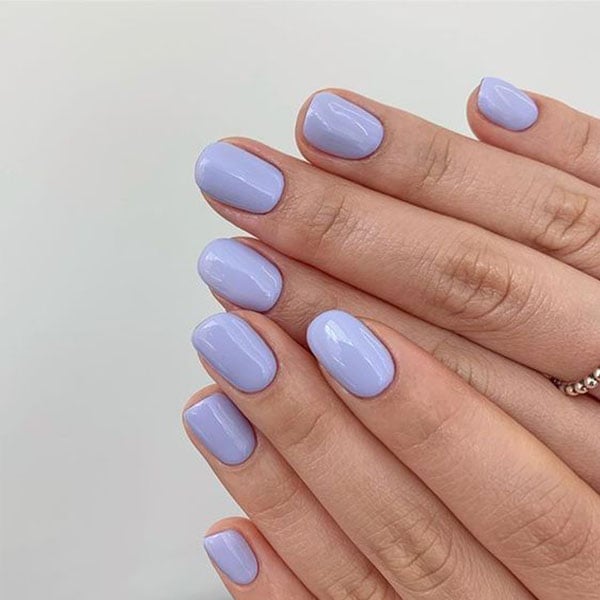 SHOP THE LOOK
11. Shades of Blue
Blue is a color that is often considered to be flattering on every fingernail shape and length, as well as all skin tones. If you cannot decide on a single shade, then why not embrace them all? This will be one of the more creative nail trends in 2021, and that also makes it one of the least predictable. If you're a risk-taker, this is definitely the hottest look to try out.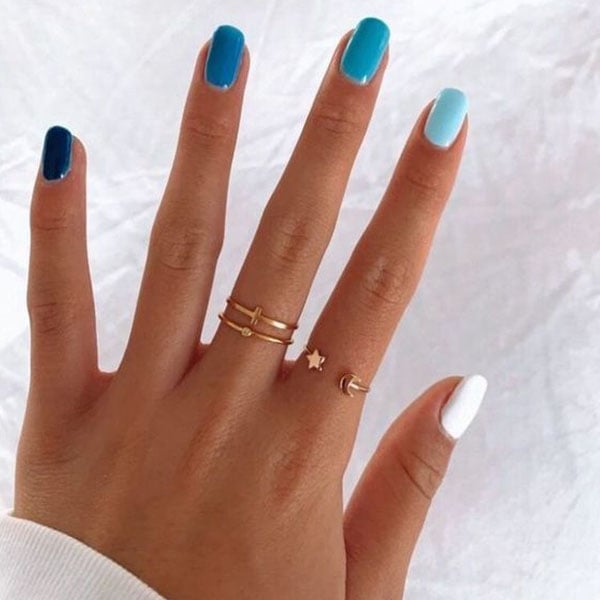 SHOP THE LOOK
12. Grey
Grey nails can look elegant and chic. It is a color trend that is more understated than the others on the forecast for 2021. That makes it both incredibly versatile, lending itself well to a variety of different settings, and easy to pull off. You can wear this shade to a summer soiree or a fashion event, and it has an especially timeless feel to it when paired with solid neutral clothes. Wear it with fitted garments that are either bold black or crisp white. This will create an interesting look that will get you noticed.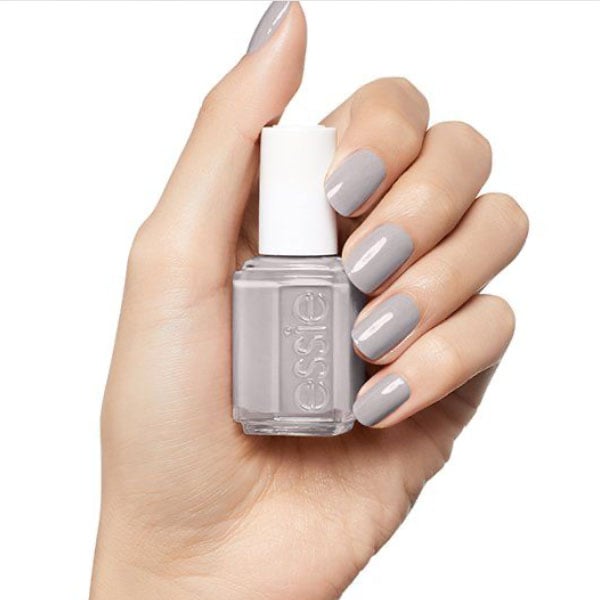 SHOP THE LOOK
13. Orange
If you want to create an interesting contrast, you can paint your nails a bold orange hue. It is a color associated with warmth, sunshine, and creativity, so it should be no surprise that's it's an exciting choice for next year. Orange pairs well with neutral colors, so let it will be the focal point of your look when you're wearing solid blacks, whites, nudes, or beige. Anyone can embrace this bold shade, but it tends to look best on people with neutral undertone skin.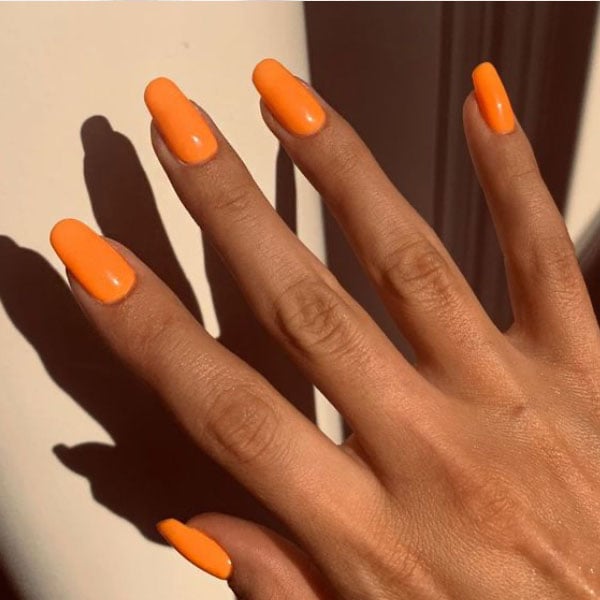 SHOP THE LOOK
14. Pastel Yellow
Pastel colors are pale and soft, but the yellow tone is one of the most striking; for this reason, you will be pleased it is trending at the moment. There is something dreamy about this shade, and it is a great color for the hotter months as there is a warmth to it. It is also a way to brighten your day and mood, and who doesn't want that?! In addition to how this hue makes you feel, it is surprisingly versatile and will be the perfect choice for your next home manicure.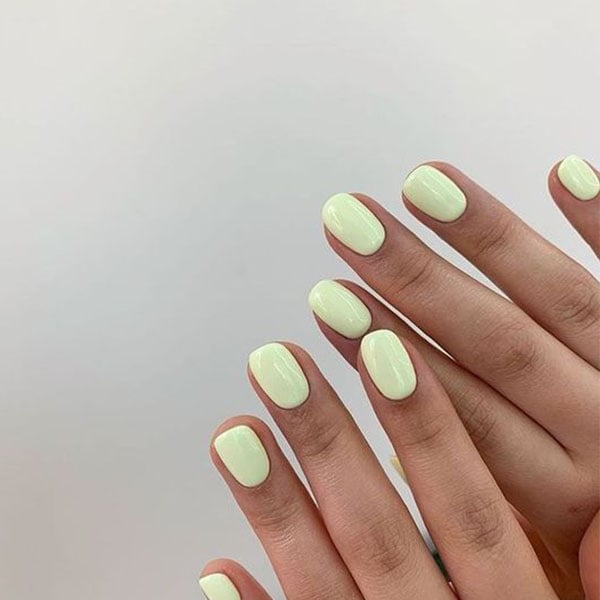 SHOP THE LOOK
15. All at Once
Why pick one color when you can have them all? This is the all-at-once trend concept, which will have you painting each finger with a bright and bold hue. If you want something different and are not afraid to get creative, this is the perfect look for you. There are so many shades to choose from; you can play around with your options, creating something appealing and unique to you. It is eye-catching and fun, and although it may not suit every setting or be suitable for every work environment when you do have some downtime, this is a must-try.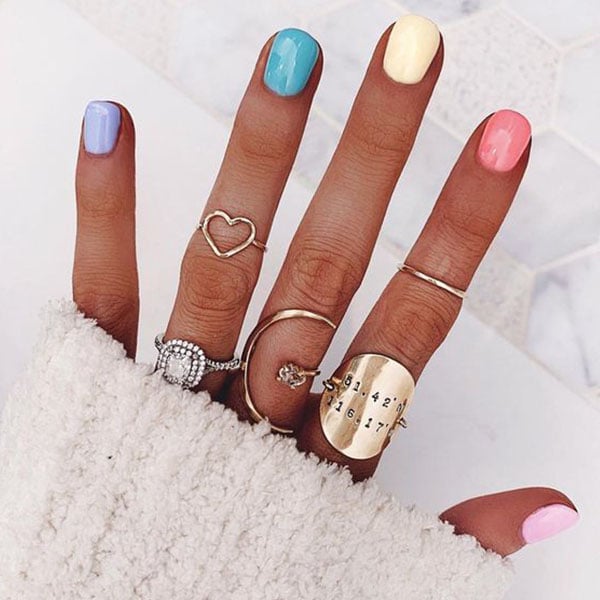 SHOP THE LOOK
16. Teal
If you are looking for a fun new color for summer, why not try teal?! Teal is a shade of dark bluish-green, and painting your nails with this hue is a great way to get them noticed without being too bold and daring. The color is flattering on most people and is easy to mix and match, but looks especially great when paired with gold nail polish for a luxurious finish. It will also complement all nail shapes and lengths.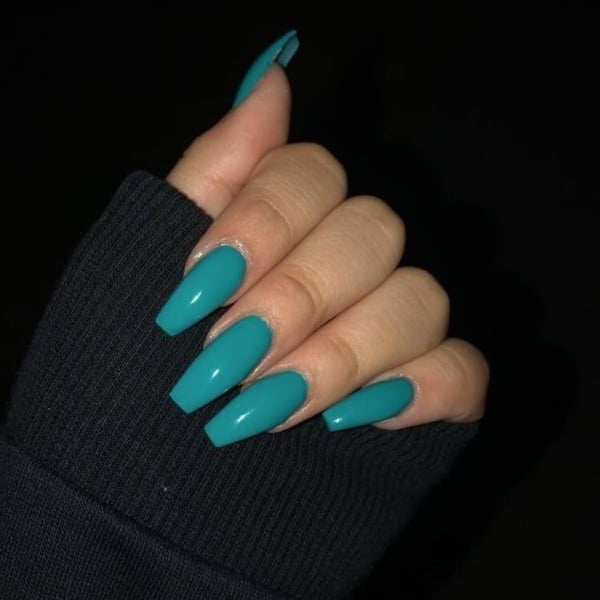 17. Dark Blue
Dark blue is an excellent choice for your next manicure and is often associated with elegance and intelligence. You can keep your nail art simple, paint each nail with a solid block of color, or incorporate other shades of blue or white into your design for a unique and eye-catching finish. This is an easy color to wear because it is not too bold or bright, making it ideal for all your summer events.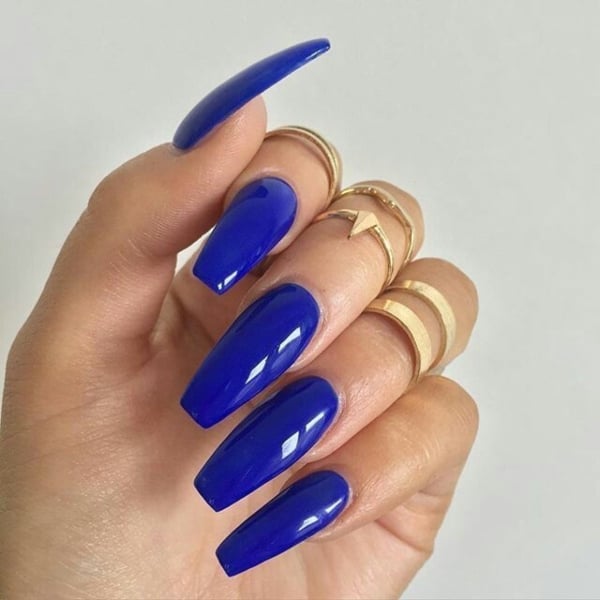 18. Neons
Neon hues are made to stand out, and painting your nails with your favorite shades of fluorescent colors will demand attention. The bright, saturated colors are a firm favorite for summer because they are playful and cool. Depending on your preference, there are several shades of neon, including warm hues like yellows, oranges, and reds, to cooler colors like blue and green. You can mix and match all of your favorite neons for an unmissable manicure or stick to just one; the choice is yours! It is worth mentioning that although neon is great for beach parties and hot dates, it is not always appropriate in more conservative settings.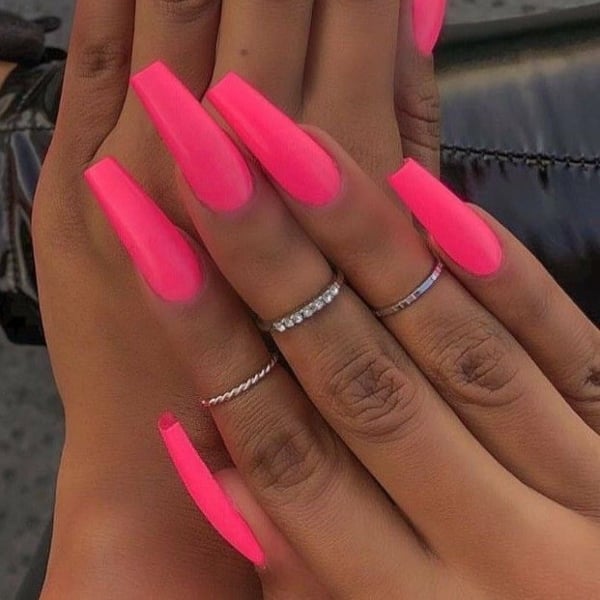 19. Pistachio
A great way to try out color this summer is with a soft, muted color like pistachio. Pistachio is a brilliant blend of yellowish-green hues and will look good on everyone. The color is pretty, without being bold, making it easy to wear. It is also incredibly versatile and will look great on nails of all shapes and lengths. You can paint each nail with a solid block of pistachio nail lacquer or combine it with nude or off-white colors to create interesting nail designs.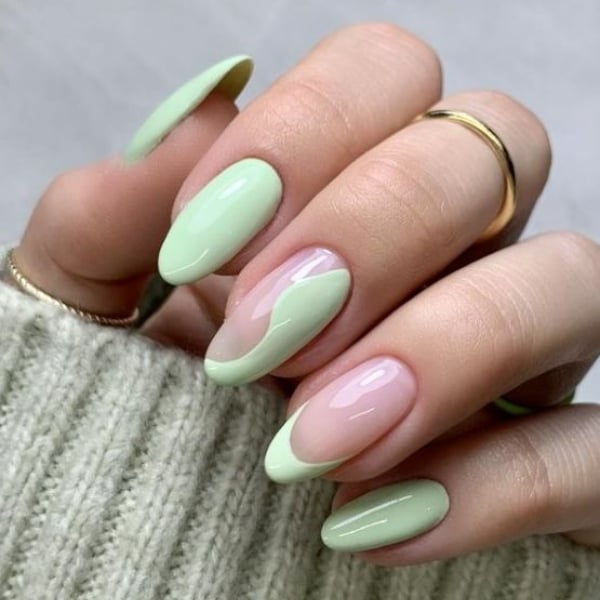 20. Turquoise
Welcome the summer by painting your nails turquoise. This stunning blend of greenish-blue hues will make you think of the ocean and is often associated with tranquility, patience, and feminine energy. This makes it an ideal choice for someone who wants to celebrate their female power. It is also one of the most versatile shades you can choose for your next manicure, and the color looks good on everyone. You also have a lot of freedom with how you incorporate it into your manicure, so let your creativity guide you.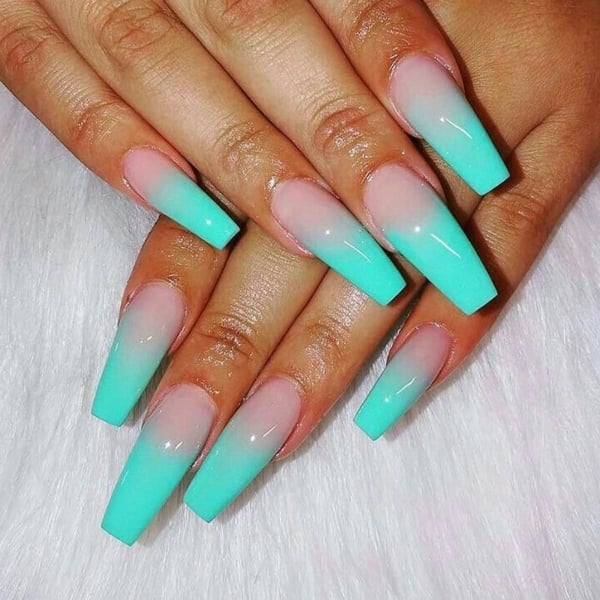 21. Matcha
Green nails are an excellent choice for summer and are a color associated with growth and beauty. If you love classic greens but feel it's time for a change, why not try matcha? Matcha is a jade green color with several variations, depending on your preference. You can choose a vibrant green to a more muted one, making this a pretty hue and a welcome color for nail art this summer.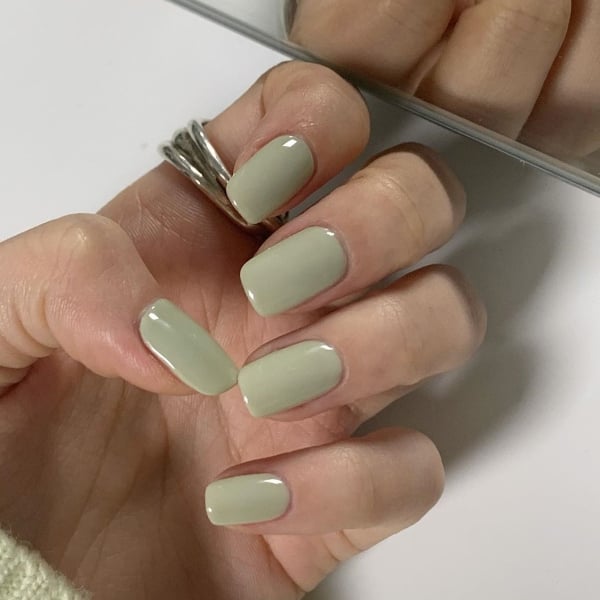 22. Citrus
Summer is associated with sunshine, happiness, outdoor adventures, and fruit, so what better way to channel your summer vibes than with a citrus manicure. Citrus colors are inspired by the citrus fruits and are fresh and fun. There are a variety of oranges, yellows, and greens to choose from, which are vibrant and bold and will make a welcome addition to your nail art.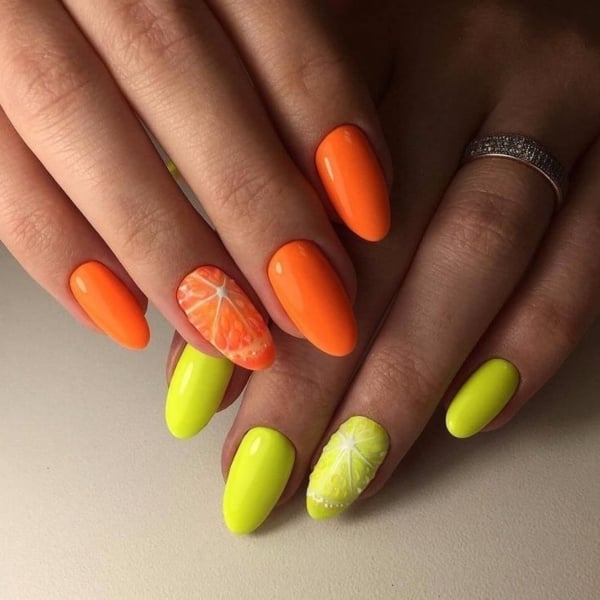 23. Chrome
Who doesn't love a little bit of sparkle? The summer months are the ideal time to get creative with your nail art, and you can take your manicure to the next level with this reflective, metallic hue. Chrome nail designs are created with a special powder application to give the nails a high-shine finish and smooth appearance. There are variations of the look, letting you experiment with different finishes, including black chrome or pairing chrome with nail designs or glitter to create an interesting contrast.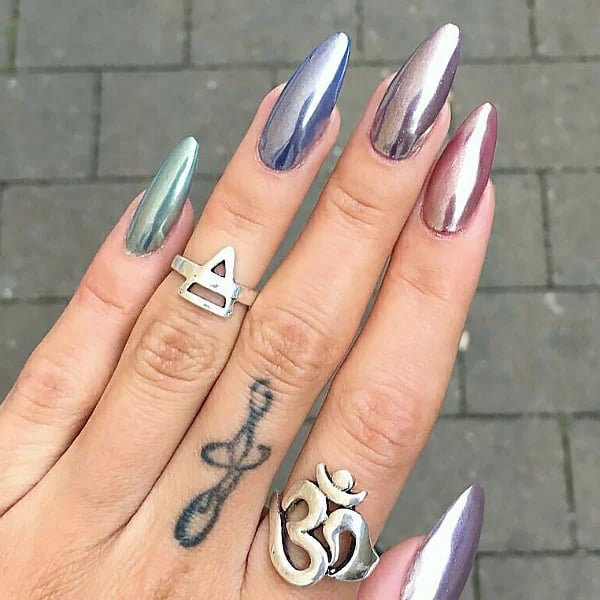 24. Baby Blue and Nude
Baby blue is a powdery shade of blue that is pretty and versatile. It suits all skin tones and is incredibly easy to wear, and can be added to nails of various shapes and lengths. Baby blue can be paired with other hues to create a brilliant contrast. Nude and baby blue are gorgeous together and complement each other. This is also an opportunity to try out different nail art and unusual patterns and prints. Or paint the nails in solid blocks of color, choosing to highlight a feature nail by painting it baby blue.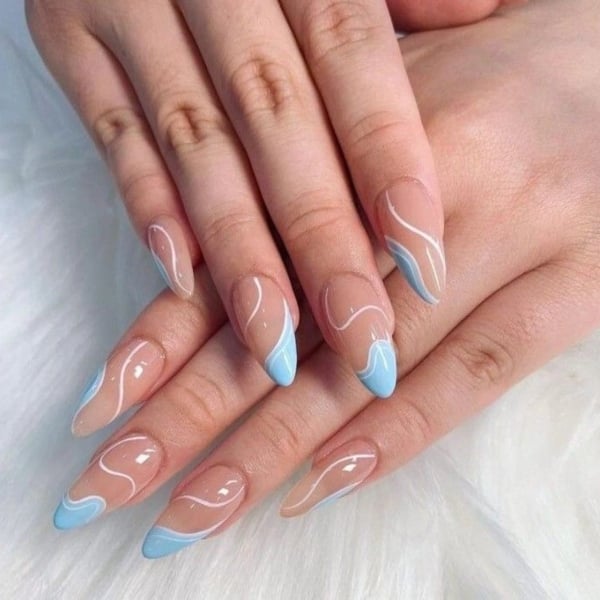 25. Chocolate Brown
There are several shades of brown to choose from, from soft light hues to rich colors like chocolate brown. This hue gets its name because of its resemblance to the confectionary and is a versatile and ultra-flattering hue for your next manicure. Chocolate brown is an excellent choice for summer nail art because it is less dark and moody than black but still makes a big impact. It can also be mixed and matched with other browns or off-white if you wish to create nail art.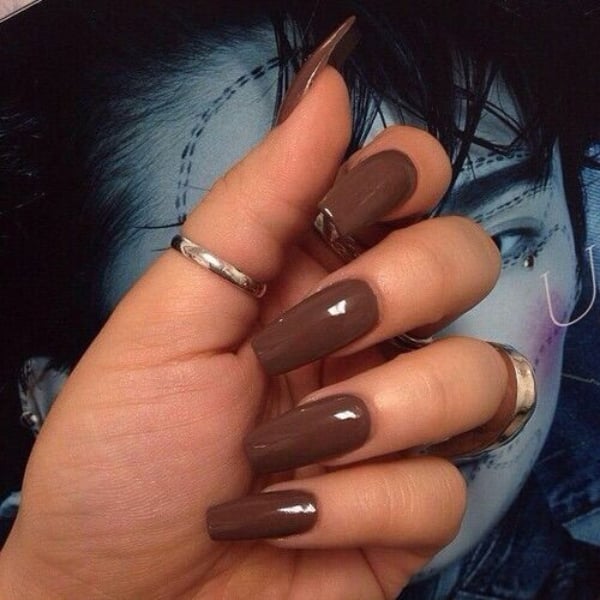 26. Earthy Tones
Why not try earthy tones for a summer manicure that celebrates the beauty of the natural world? These hues include shades of orange, red, green, yellow, and brown and feel warm and inviting, making them the perfect choice for nail art. There is a shade to compliment every skin tone and suit your preference, or you can combine several earthy tones, choosing one for each fingernail. Earthy colors look great on people with warm undertones.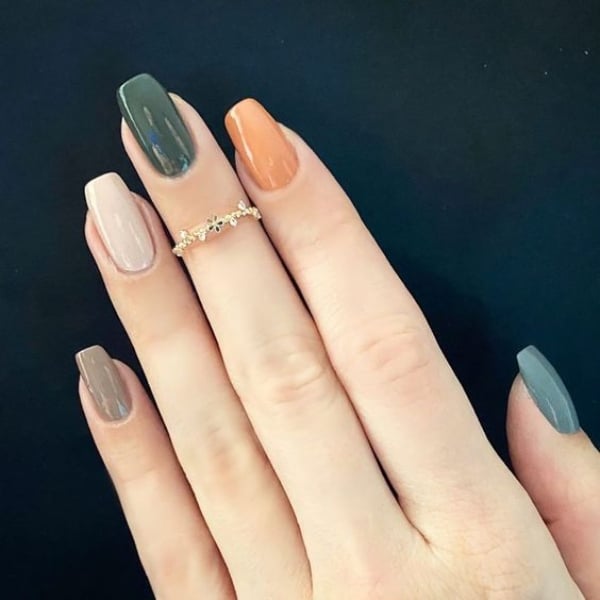 27. Hot Pink
Hot pink is one of the most fun shades you can try this summer. The hue is a mixture of light pink and dark pink, resulting in a super flattering and ultra-feminine color that looks gorgeous on everyone. It can be added to nails of all lengths and shapes but will have the biggest impact on long nails with sharp points like stiletto nails. The brightness of the hue makes it unmissable and is great for creating nail art that demands attention. Channel your inner Barbie and embrace a color that is associated with femininity!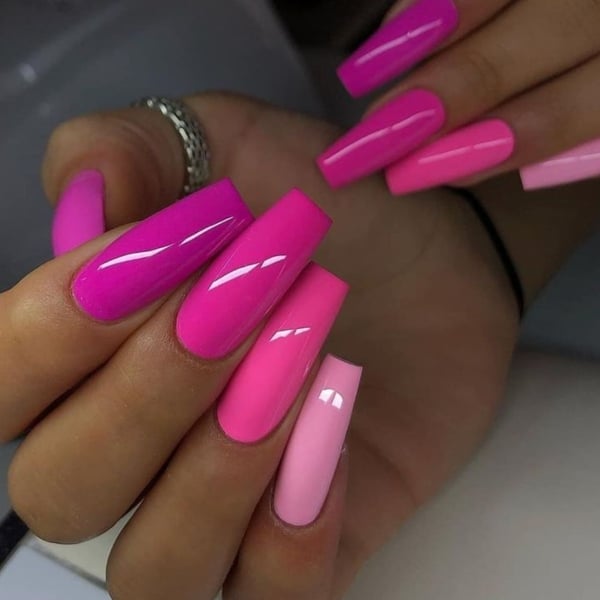 28. Natural Nails
The simplest approach to nail art is often the best, and natural nails are a gorgeous choice because they are incredibly versatile. They can be worn with everything you own and complement all colors. The barely-there polish is ideal for all occasions and is office-approved because it is pretty and subtle. This is an excellent choice for someone who wants to try a summer nail polish trend but prefers a more minimalistic aesthetic. You can also use the natural color as a base coat for more detailed nail art, like florals or rainbows.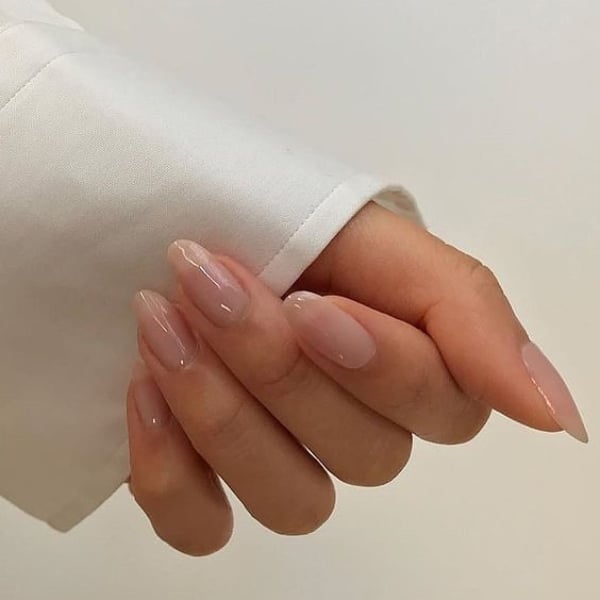 29. Classic Red
There are many variations of red to choose from, but the classic hue is timeless. Red is a bold shade associated with passion and seduction, and painting your nails red is a guaranteed way to get them noticed. But this color is incredibly versatile and can be worn by everyone, complementing your skin tone, whether light or dark. For a fun approach to red nails, you can also wear red lipstick, creating a matching effect.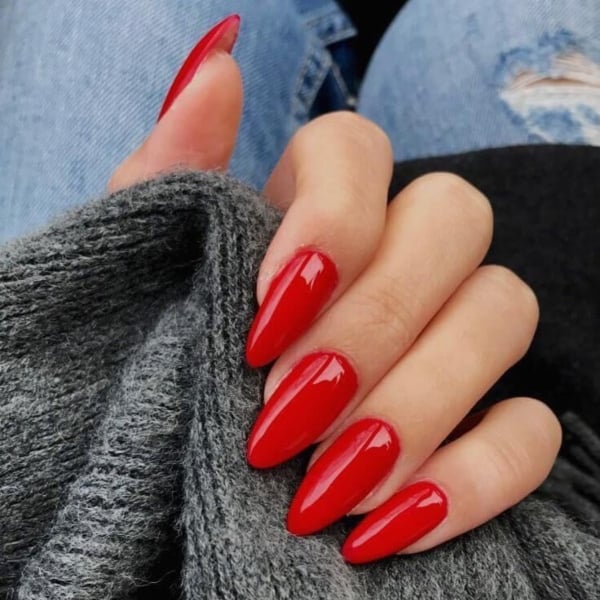 30. Color On the Tips
Summer nail art is a time for bold colors and experimentation, letting you try out new shades or designs you may usually pass up on because they are unmissable. However, bold hues can take a lot of confidence to pull off, and you may not feel they work for all settings; thus, a great alternative would be to focus the color on only the tips. For a modern approach to the French tip manicure, you can focus the color of your choosing, whether that is hot pink or citrus, on only the tip of your nails. This look lets you try out different shades without it being too daring.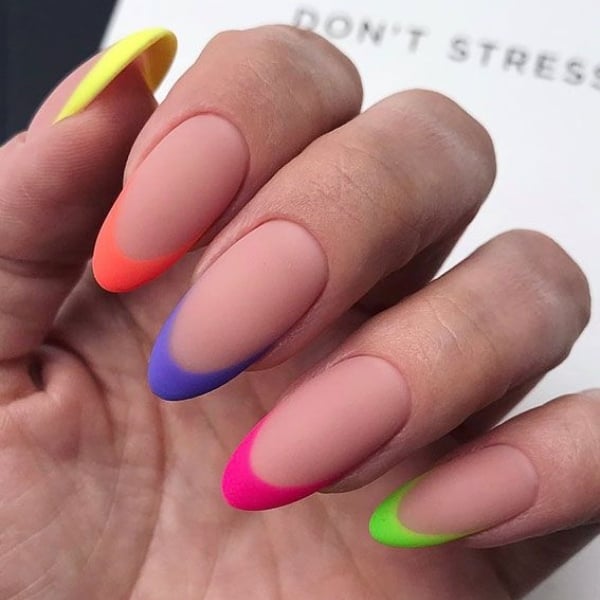 31. Emerald Green
If you want a nail color that feels bold and luxurious, look no further than emerald green. Emerald green is a bright bluish-green hue that looks gorgeous on those with dark skin and warm undertones. It is a color perfect for summer, whether you paint your nails in solid colors or mix it with gold accents or other shades for unique and creative nail art. The options for how you wear emerald green nail polish are endless; it will no doubt become your go-to hue for summer.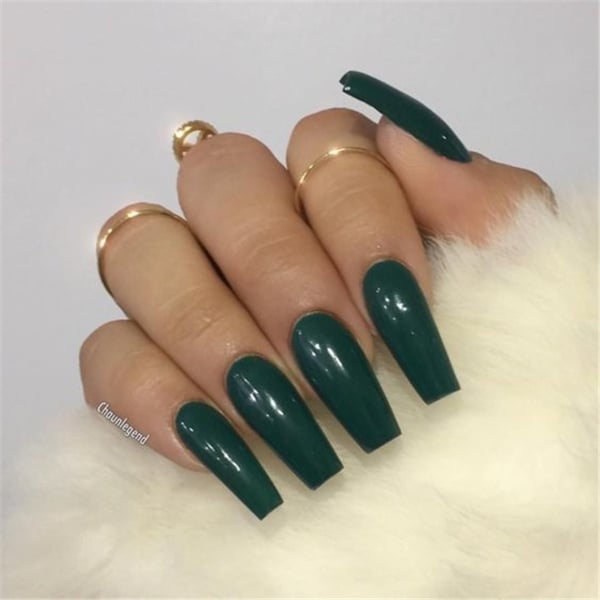 ​​
32. Blue Grey
Blue-grey is a bluish-grey color and is a nice alternative to the standard grey. The blue tones give the color a coolness. It may seem like a more wintery hue, but this summer is all about experimentation, and this is a wonderful alternative to classic darker shades like black and brown. This neutral color is effortless to wear, complementing most skin tones. The blue-grey will lend itself to various settings, making it perfect for everyday or more formal events.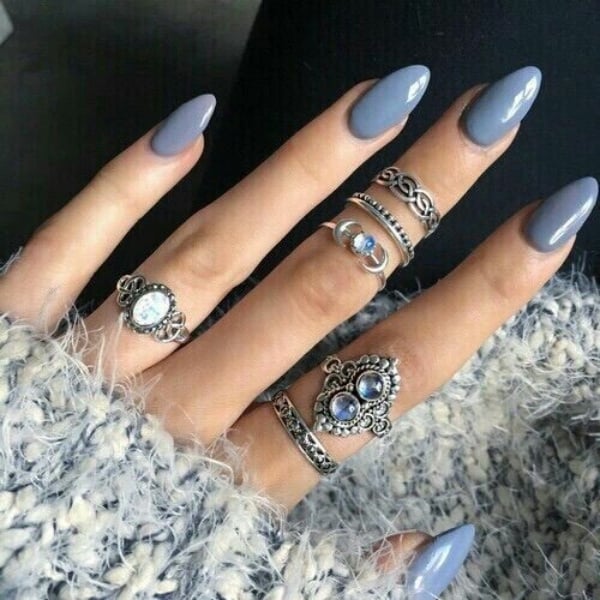 33. Classic Purple
Purple nails are fun and expressive. There are several shades of purple to choose from, including light, pastel hues to deeper purples. The classic approach is excellent for those who have darker skin and hair and can be very flattering. Purple is also associated with luxury and royalty and will make you feel and look incredible. There are several ways to add purple to your nails, including solid blocks of color for a simple approach or more detailed nail art like swirls or cow print.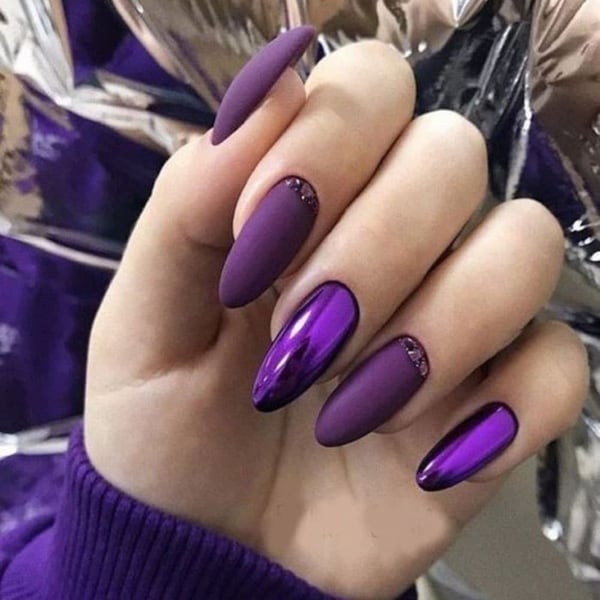 34. Pink and Red
Why stick to one shade this summer when you can combine several? Pink and red shades are a timeless combination, but one that still feels fresh and modern because there are many ways to combine the hues. You can opt for an interesting approach to the French tip manicure, painting the tips red and the base pink. Or you could add your favorite patterns and prints or experiment with color blocking. This nail art has versatility, allowing you to create a manicure that best reflects you.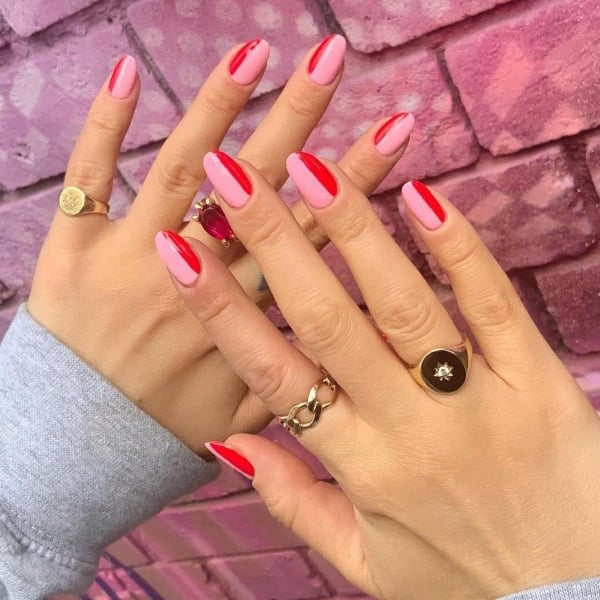 35. Sand
Soft, muted colors are ideal for a subtle approach to your summer manicure. Sand is a hue that is a mix of golden and caramel tones. There are several shades to choose from, some darker and others lighter. The color is an excellent choice for your nail art because of its versatility, and there is a hue to complement every skin tone. It is also not a particularly bold or bright color, which adds to its wearability, making this a perfect color for everyday wear or formal events.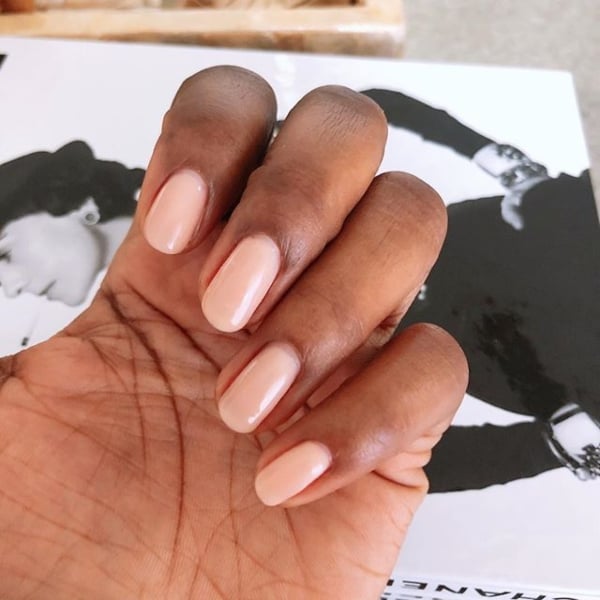 36. Gold
It does not get more luxurious than gold nail art. Gold is a color associated with wealth and luxury, and adding it to your nails makes for gorgeous nail art that feels expensive. You can paint your nails with a solid block of color or introduce the gold more subtly, adding it to the tips of the nails. Or you can experiment with different textures, trying out gold foil for a striking finish. Gold is also a way to add a bit of shimmer to your nail art, which is ideal for summer as it will catch the light.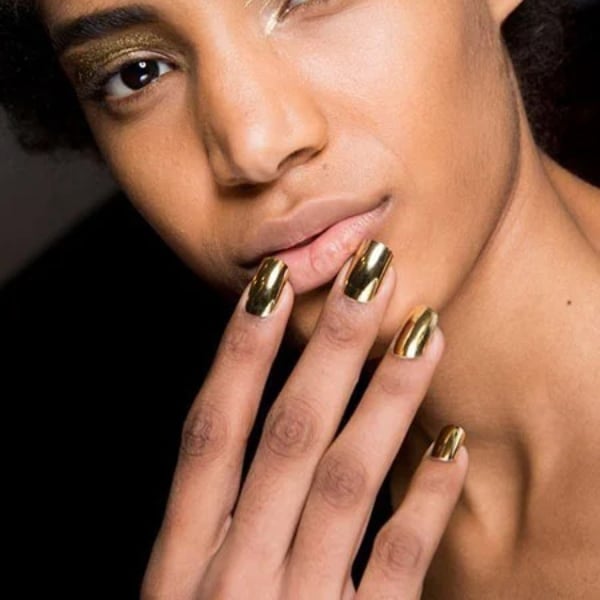 37. Mustard
For a pretty alternative to vibrant yellows, you can try mustard. This dark yellow shade is duller than classic yellows and is easier to wear because it lacks boldness. Mustard looks great on women of all ages and compliments many skin tones, including pale and olive. You can get creative with how you add color to your nails, try out your favorite summer patterns or prints, or embrace floral details. Or keep it simple so as not to detract from the color. It also looks great on nails of all lengths and shapes, but long nails are great for achieving a feminine finish. They can also complement the simplicity of painting your nails in a solid block of color.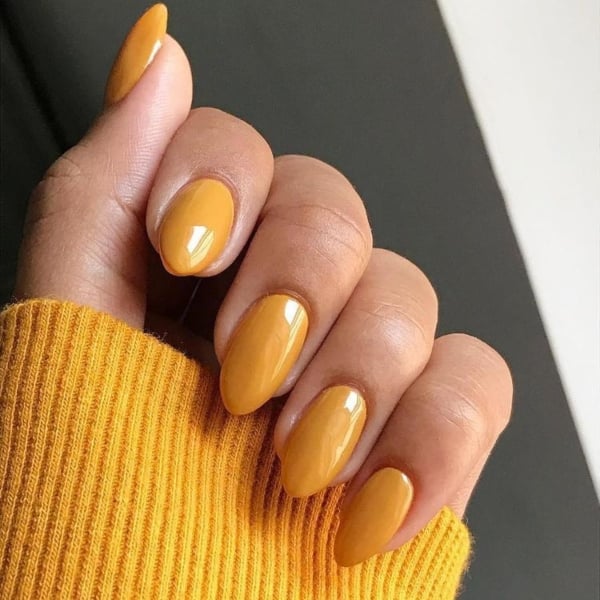 38. Lime Green
Lime green is a brilliant blend of yellow and green tones and creates a bold, bright, and summertime-approved manicure. It is a fun and expressive color, often associated with freshness, creativity, and energy. This can be your go-to color to say goodbye to the old and embrace the new. Lime green can be versatile and added to the nails in various ways, including nail art. It looks best on those with fair skin and warm undertones.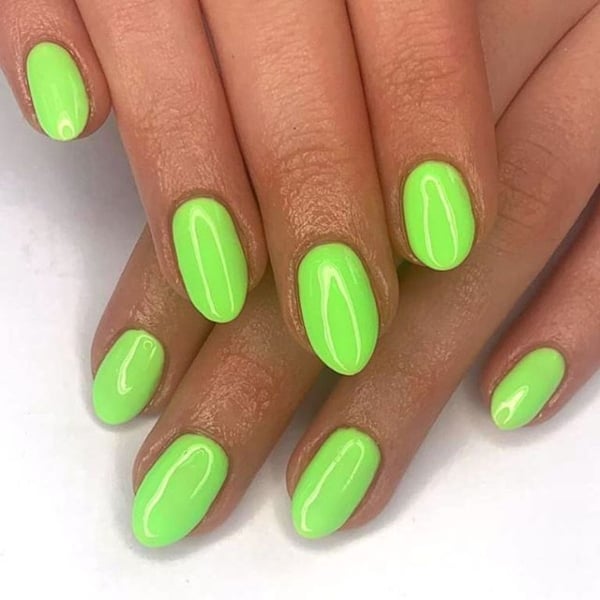 39. Olive Green
For nails that are muted yet stylish, olive green is the ultimate choice. The color is a mix of dark yellow and green and will look great on nails of all lengths and shapes, but the simplicity of the color complements long nails and unusual shapes. It is a flattering hue on most complexions and can be worn by women of all ages. It will also lend itself well to various settings, from days at the beach to special dates. You can paint every fingernail with a solid block of olive green lacquer. Or ease into the color by trying it on a feature nail and keeping the rest of your nails in a nude or natural color.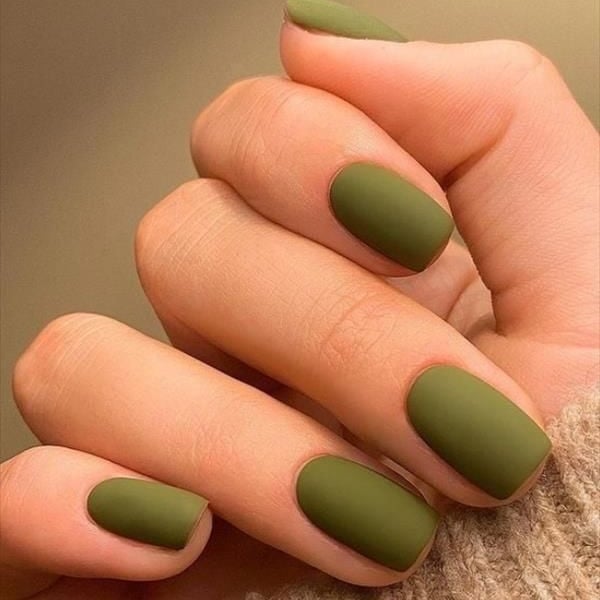 40. Pretty Pastels
Pastels remain a favorite for nail art because they are universally flattering and super cute. They are often worn in the spring and summer months, and this is a fun way to experiment with color without it being too bright and bold. This is because pastels are muted, giving you a soft, powdery hue that is easy to wear. You can stick to one pastel shade or combine several for a more adventurous take. Romantic and ultra-feminine, there is a lot to love about pastel nail art.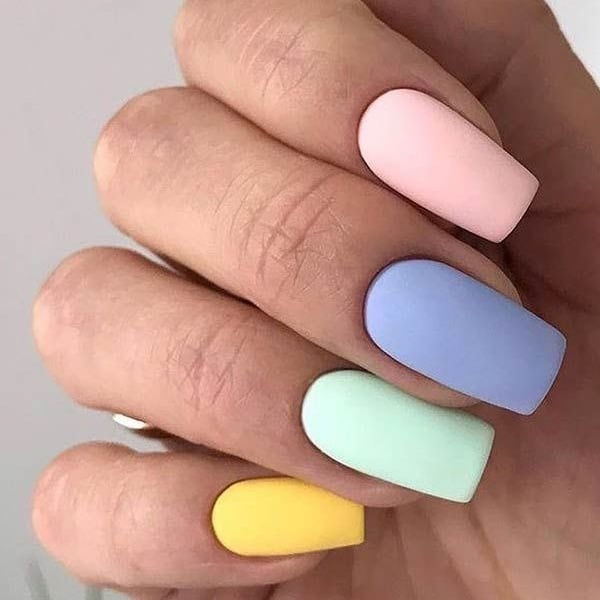 41. Silver Shimmer
Silver is a color associated with wealth and the finer things in life. Adding this hue to your nails will make your manicure look and feel expensive. It is a beautiful way to draw attention to your nail shape and length. Silver can be added to the nails as a metallic polish, or you could use glitter nail polish to add a little extra sparkle. There are multiple ways to try out this hue, which is excellent for a night on the town or a summer festival.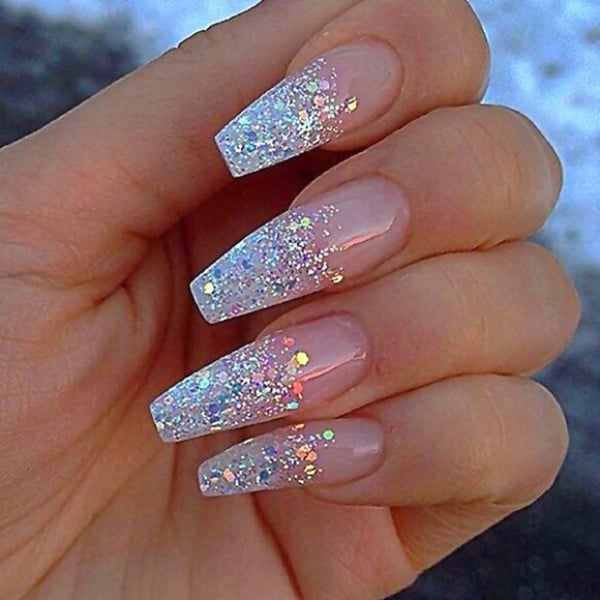 42. Peach
If the vibrant shades of orange are not for you, then a welcome alternative is peach. Peach is a light orange-pink color given its name because of the resemblance to the color of the peach fruit, which is why many people choose to add nail designs of fruit when adding peach polish to their nails. Peach is a color that looks great with other neutral colors, including white, grey, brown, and black, making it easy to mix and match with everything you own. Let your nails be the focus of your look by toning down your outfit.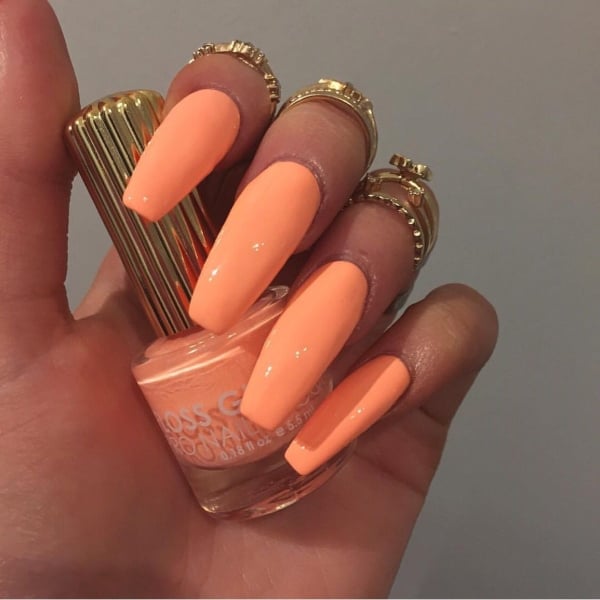 43. Cream
You do not need to opt for bright colors to achieve a stylish summer manicure; for those who prefer neutrals that mix and match with everything, cream is the option. The cream is a shade of white or off-white color that has some light yellow tones in it. It is a hue that looks great on everyone and is less harsh to wear than white nail polish, creating a softer and more romantic finish. Wear it on long nails or short nails; it is a versatile color that can be adapted to suit your preference.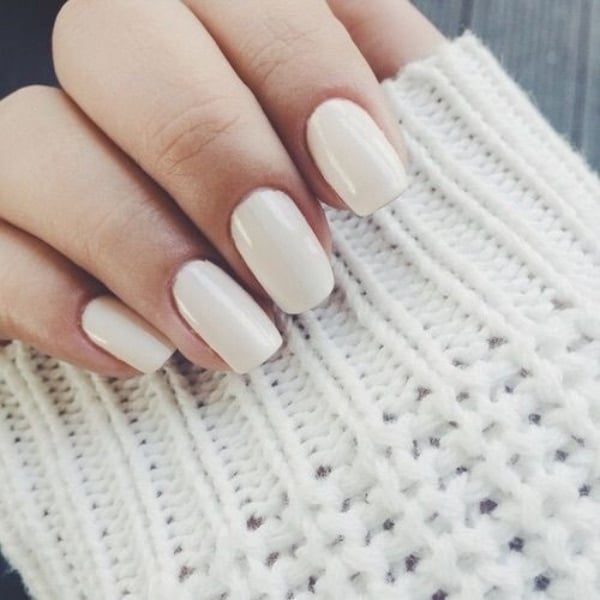 44. Tan
For a simple and versatile manicure this summer, why not try tan? Tan is a shade of brown, a pale color that looks good on everyone and will complement your nail length and shape. It is the ideal option for every day and looks great on most people. The subtlety of this color is complemented by simple nail art, like painting each fingernail with a solid block of tan polish.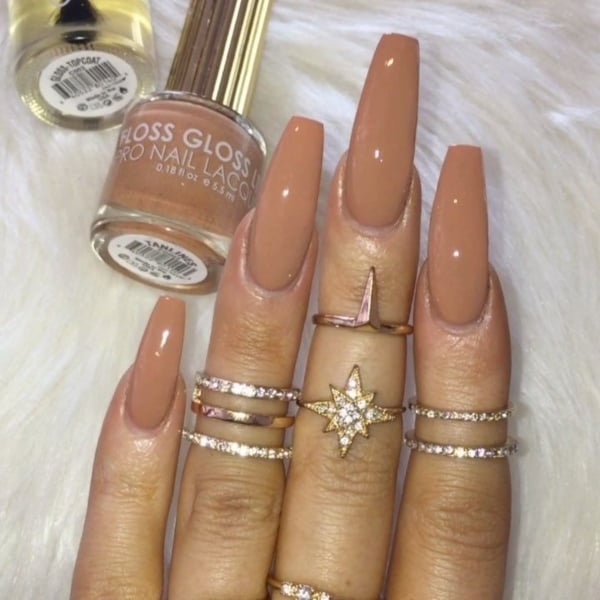 45. Crimson
Crimson is a shade of deep red that has blue or violet tones in it, thus making it a reddish-purple hue. It is excellent for a summer manicure that demands attention and will get your nails noticed. Because the color is so bold, it can highlight your nail shape, so it often looks best with unusual shapes like coffin nails. Crimson pairs well with neutral colors but can also look great with greens, bronze, and gold, letting you get creative with your nail art if you desire.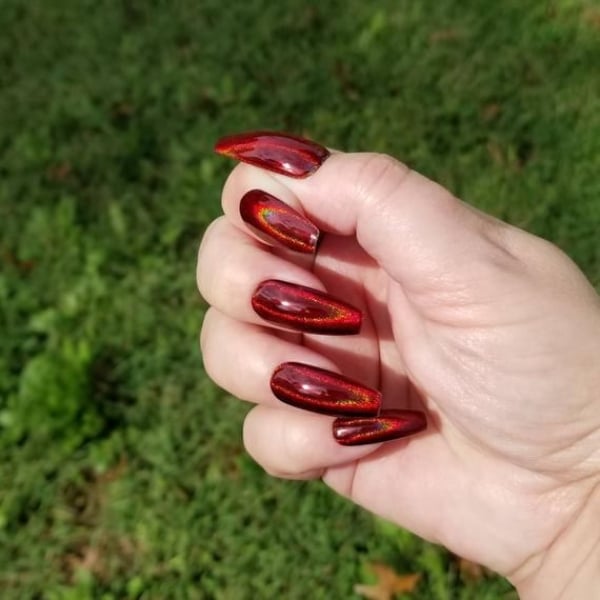 46. Grey
Grey is one of the most versatile colors you can try. It is associated with balance and neutrality. You can channel these qualities with your manicure, keeping it simple and devoid of detail for an exceptionally versatile look that can be worn everywhere. There are various shades, from dark, moody hues to muted light greys. This makes it easy to find an option to suit every preference and complement your skin tone. Grey mixes and matches with most things but is complemented by other tonal colors like white, beige, and black.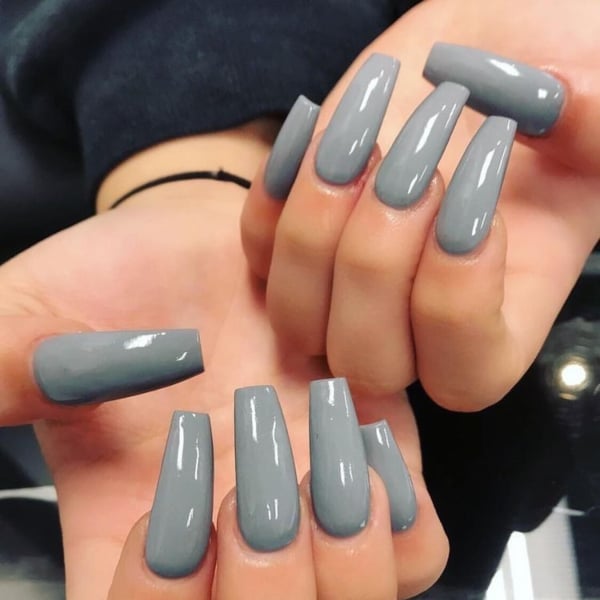 47. Vibrant Orange
Summer is the perfect time to let your confidence show, and bold hues will draw attention to your nail shape and length. There are few colors as bold and beautiful as vibrant orange, a shade associated with warmth, positivity, and happiness. This is a great way to remind yourself to look on the bright side and stay focused on all the good in your life. Vibrant orange looks best on those with dark or olive skin and can complement these complexions.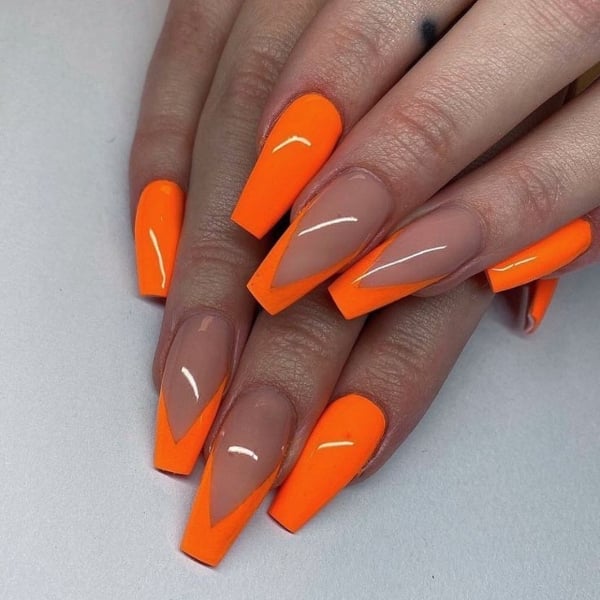 48. Pink and Yellow
Combining more than one color for a summer manicure is a great way to experiment with different colors. This is also an approach to nail colors that feels more personalized and expressive. One of the most daring combinations is pink and yellow. These two colors clash, creating an interesting contrast. You can add them to the nails in different ways, including the ombre technique or color blocking. Both pink and yellow are bright colors and can give you a manicure that brings you joy and makes you feel positive.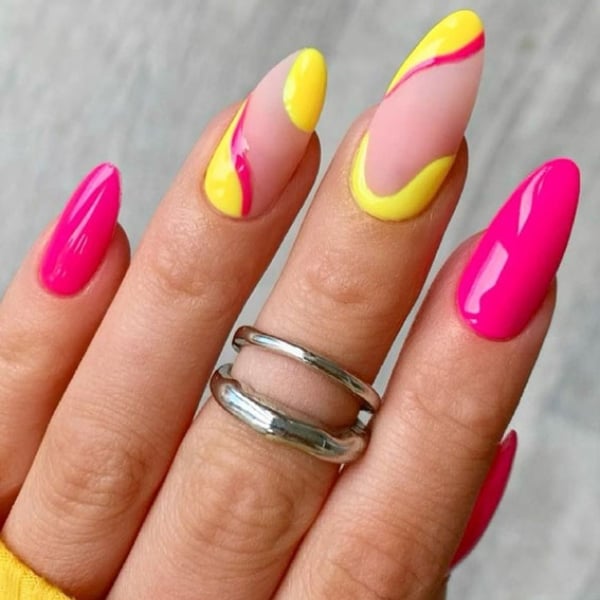 49. Caramel
Caramel has been a favorite for the autumn months but can also be a great choice this summer. It is a warm hue that can vary in shade, from pale yellows to rich browns. It can be added to the nails in various ways. The versatility of caramel makes it so appealing, and it is a beautiful manicure for everyday people who want a simple and subtle approach to their nail art. Caramel complements those with warm and neutral skin tones best.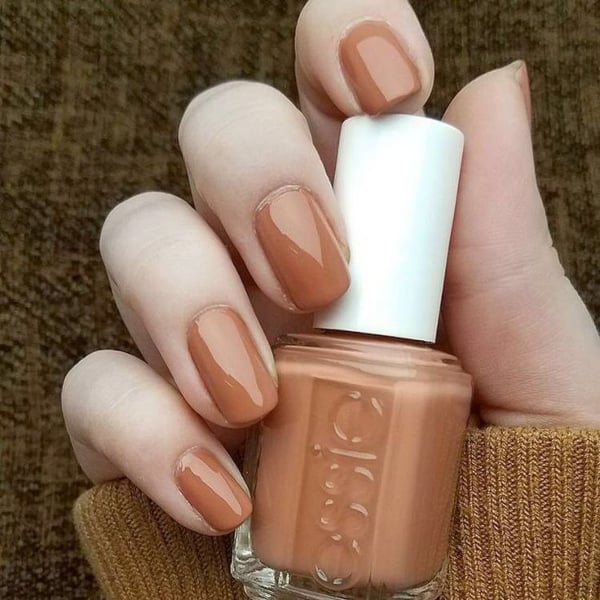 50. Berry
Berry is a shade of pink-red and is every bit as pretty as it sounds. The color is associated with life, growth, and positivity, and who doesn't want a manicure that can give them good vibes?! A berry manicure is ultra-feminine and easy to wear because it is not too bright or bold. You can also add berry color to nails of all lengths and shapes, which is ideal for women of all ages. This is a color you cannot go wrong with this summer!