If you want to pamper yourself, why not head to the salon for a pedicure? Pedicures are a great way to bring attention to your feet. While there is not as much versatility with nail shapes and lengths as with a manicure, you can still show off your personality and your playful side by painting your toes in your favorite colors and designs. This could be anything from abstract and colorful artwork that express how you feel to cute cartoons that remind you of your childhood. For the summer months, you can experiment with bold colors and fruity designs that are made to stand out or tone it down with your favorite muted hues like pastels or nude lacquers. When painting your nails, there are many fantastic toe nail designs, and this list is here to inspire you!
1. Abstract Colors Pedicure
Why stick to just one color for your toenails when you can try multiple? Abstract colors are a fantastic option for your next pedicure and are a brilliant way to combine your favorite hues. You can experiment with the angles of the patterns and create different effects, for example, making the lacquer appear as if it's melting.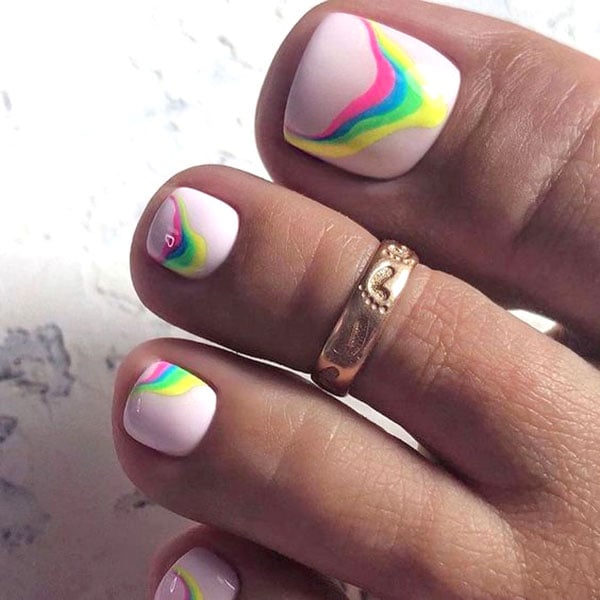 2. Adorable Summer Toe Nails
Getting a pedicure is perfect for any time you want to spoil yourself or feel good, but it is especially useful during the warmer months when you are showing off your feet more regularly. And what could be a better celebration than summer-inspired toenails? Choose bright colors and happy details for a pedicure that brings a smile to your face.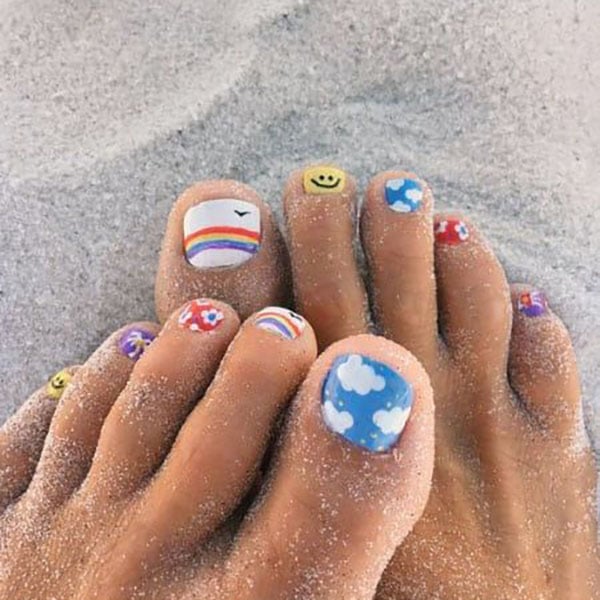 3. Arty Toe Nails
Let your creative side show with arty toenails. The appeal of this pedicure is that it can be of anything, letting you experiment with different colors and patterns. The abstract approach makes it an exciting option that does not need to be created with precision. Try out a different color for each toenail for a contrasting finish.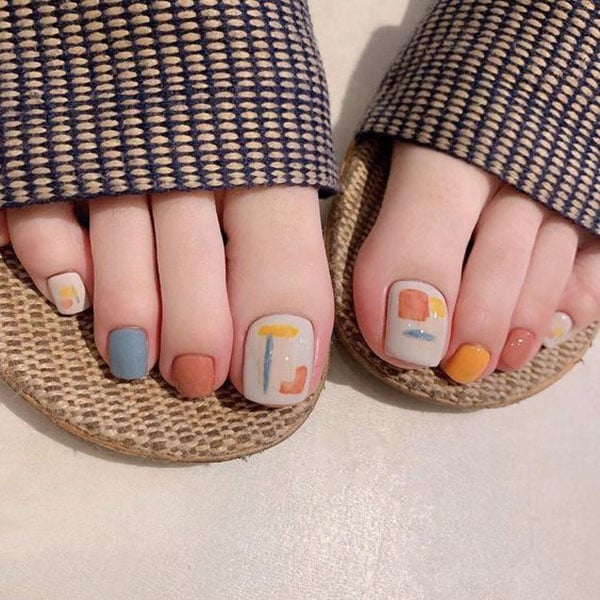 4. Baby Blue Toe Nail Design
Baby blue is a light color that is associated with calmness and tranquility. The softness of the shade makes it incredibly flattering and easy to wear, will suit women of all ages, and complement most skin tones. This is the perfect shade for your next pedicure.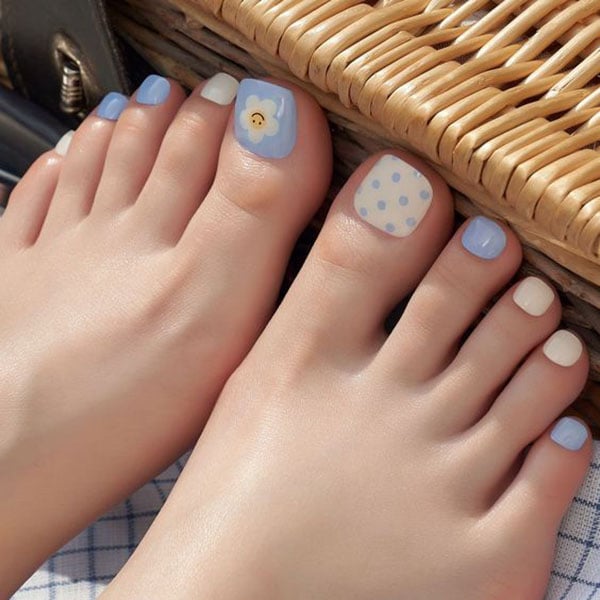 5. Bear Toe Nails
Bears are one of the cutest animals and have inspired many cartoon characters and fluffy toys. To channel this cuteness and bring some of the joy from your childhood to your pedicure, it is a great choice to design your nail art around your favorite bear. The color combination can be your choice, including soft pinks or rich brown hues.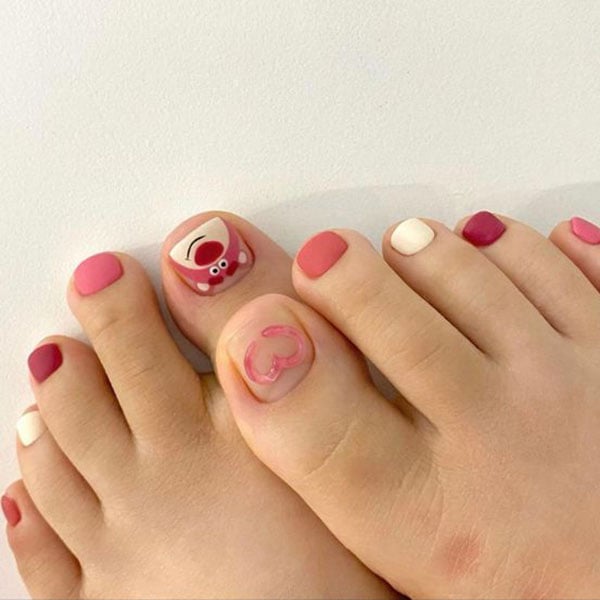 6. Black and White Love Heart Nail Design
Black and white is a classic color combination and will look super cute when created in a love heart design. The appeal of this timeless pairing is its versatility, and it will mix and match with everything while also demanding attention and drawing the eye to your toes.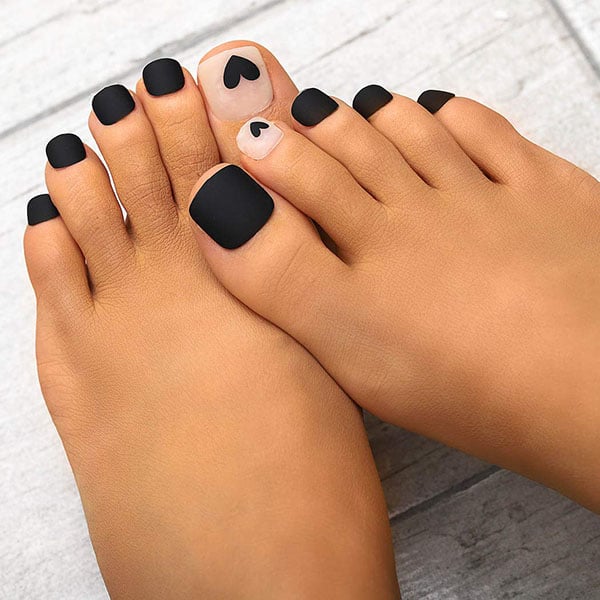 7. Black Chanel Logo Toenail Design
Chanel is one of the most prestigious fashion brands, and its iconic logo is recognized worldwide. If you want an elegant pedicure design that shows your love of the finer things in life, this is it! Opting for a muted color scheme like black nails makes the nail art feel more elegant.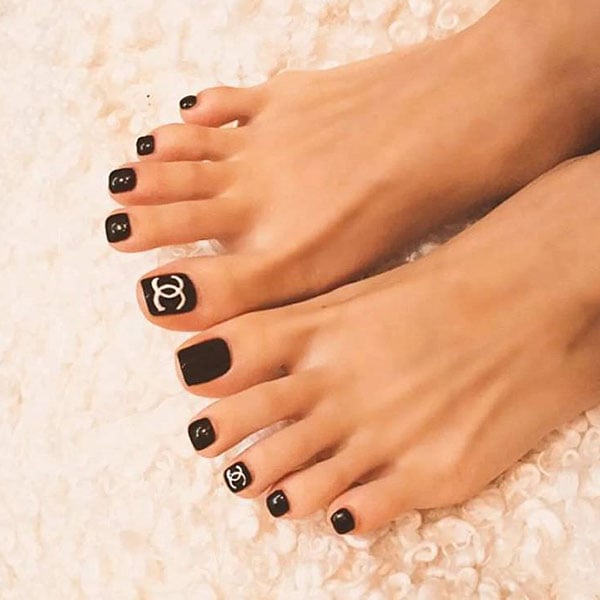 8. Black Glitter Toe Nails
Black is a color that demands attention, but it is also a fashion favorite because it is universally flattering and exceptionally versatile. To create a contrast with the boldness of this hue and to bring some sparkle into your pedicure, you can pair it with glitter polish.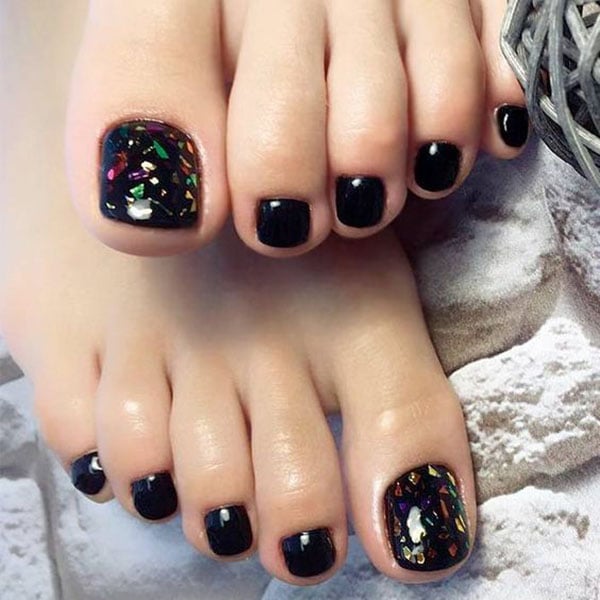 9. Blue Brown and Cream Pedicure
Blue, brown, and cream are colors that work well together, creating a subtle contrast. The hues are complementary and lend themselves well to many designs, from abstract to solid blocks of color. The combination will create an interesting pedicure that demands attention.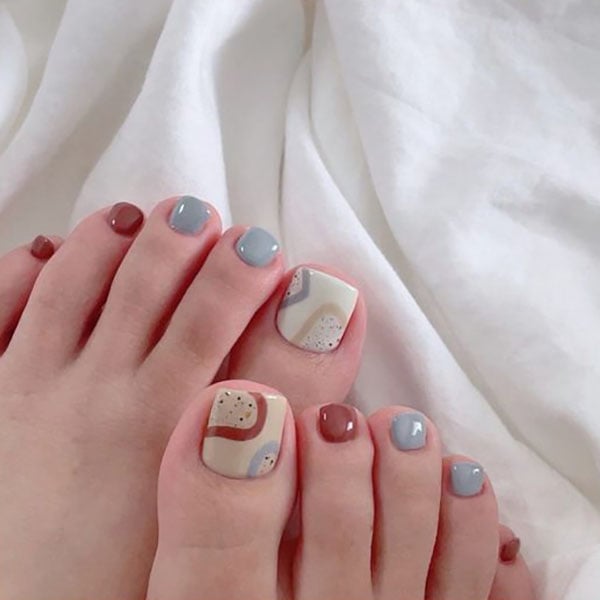 10. Butterfly Toe Nails
Butterflies are stunning and colorful and are a fantastic inspiration for your next pedicure, letting you create eye-catching and symbolic designs. The winged insect is associated with transformation, growth, and beauty, and your butterfly nail art can make a subtle statement about your thoughts and feelings.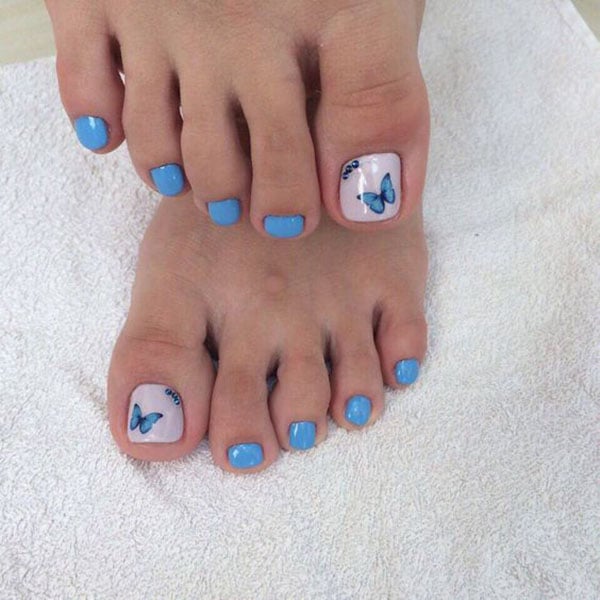 11. Cartoon Pedicure
You can include your favorite cartoon designs for a super cute and fun pedicure. This is a great way to show a more playful side of your personality but can also be a nod to your childhood and the innocence and happiness of that time. You can stick to one theme or combine cartoons from multiple series.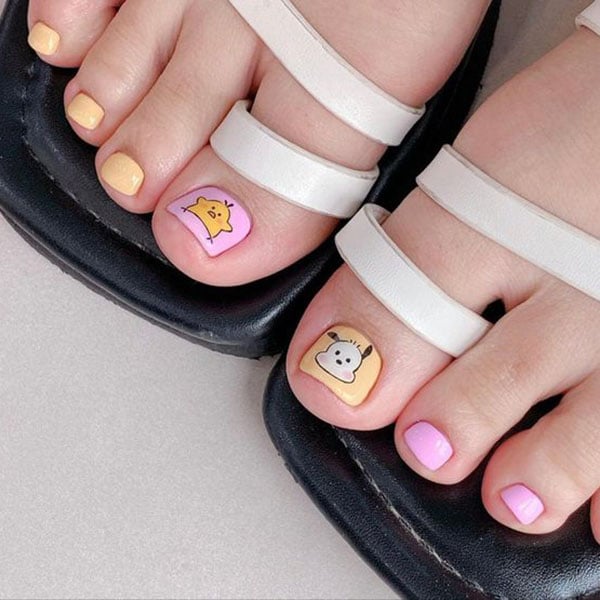 12. Cheesy Toe Nails
Cheese is one of the most delicious foods and goes well with everything, from pasta to pizzas. If it is your favorite food or a tasty comfort meal, then why not have fun with your pedicure and include cheesy designs? The yellow and orange color combination is also warm and bright.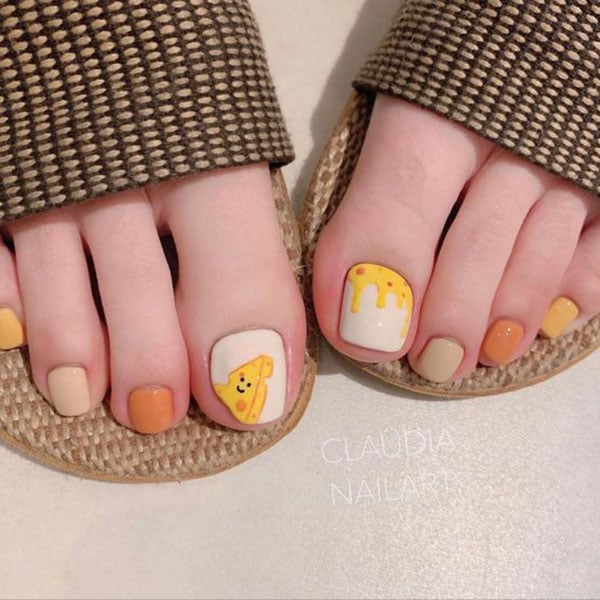 13. Cherry Toe Nails
Cherries are associated with innocence and love, and it is also bright and colorful fruit. If you want to celebrate summer or your femininity, why not add a cherry design to your toenails? You can paint each toenail with cherries or focus on a feature toenail for a more subtle finish.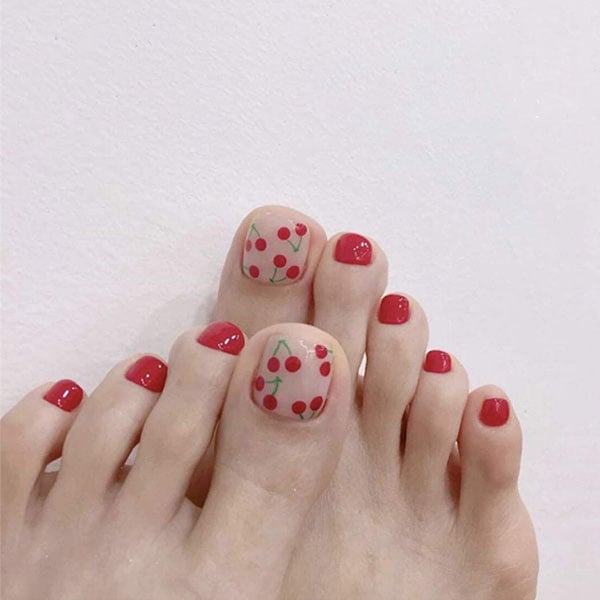 14. Christmas Toe Nails
One of the happiest times of the year is Christmas, and to get into the festive spirit, you can paint your toenails with your favorite holiday-inspired look. This can be anything from the classic red, white and green color combination or feature snowflakes and candy canes; the choice is yours!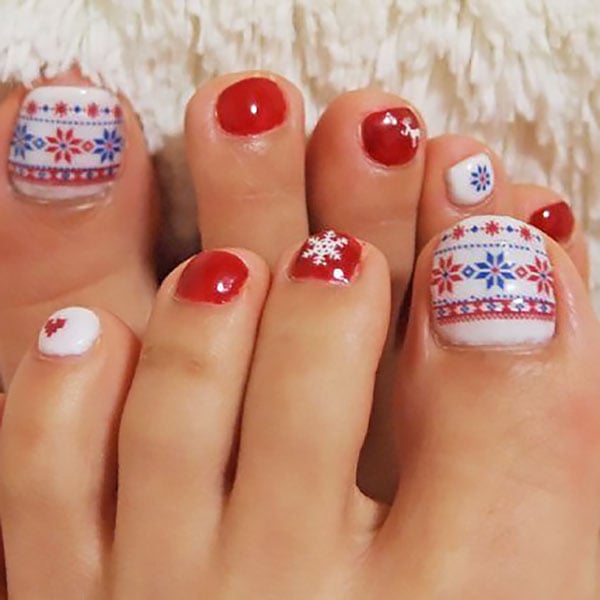 15. Clouds Pedicure
Cloud nails are easy to create, and the wispy puffs will look great on your toenails. You can opt for a classic color combination of baby blue for the base and white clouds or experiment with your favorite hues for a dreamy pedicure that is perfect for getting your feet noticed.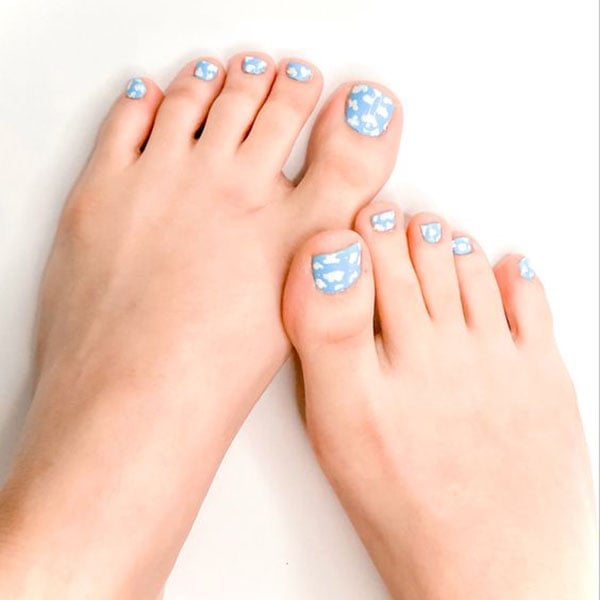 16. Cow Print Toe Nail Design
Cow print has been trending in a big way because it is stylish and versatile. You can stick to the classic color combination of black or brown spots on a white base color or get creative with cow print nails by mixing and matching your favorite hues.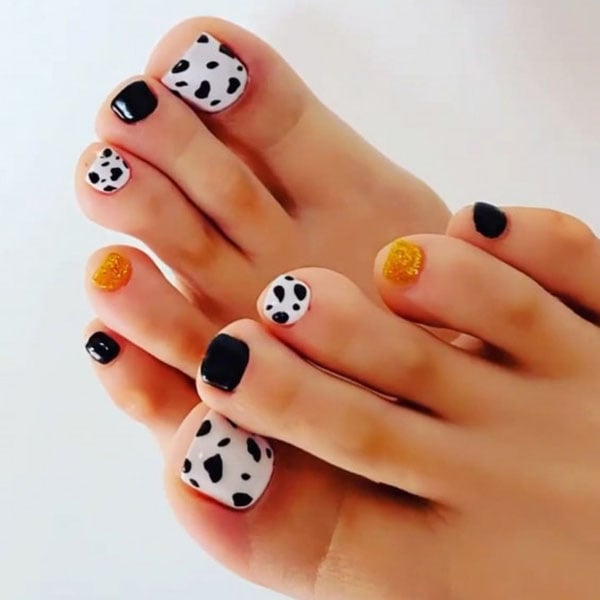 17. Cute Bow Nail Design
Bow designs are cute and girly and will be a great addition to your next pedicure. You can experiment with the colors of your pedicure, including pinks and whites, which is a classic combination that is easy to wear and will look great with everything.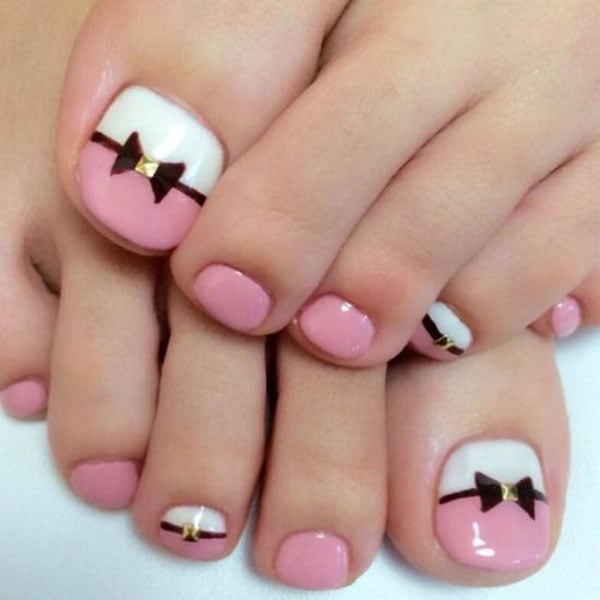 18. Cute Pastel Toe Nail Design
Pastels have been a favorite for nail art for many years because they look great on everyone. The soft, muted colors are easy to wear, letting you experiment with your nail designs; you can opt for a simple pedicure in your favorite shade or mix and match several.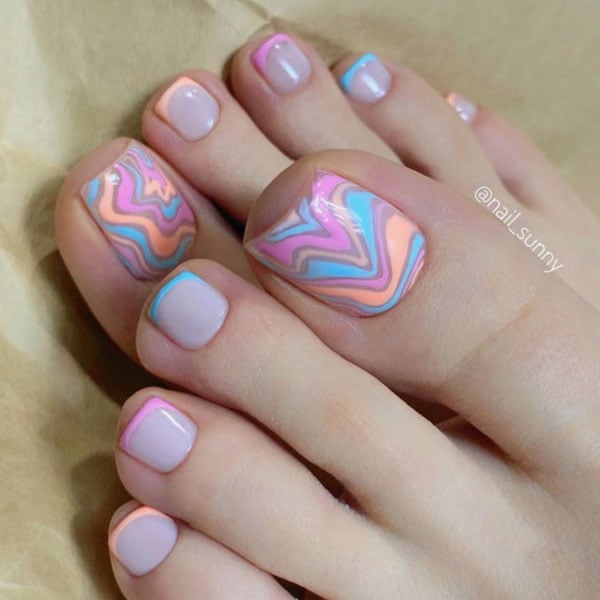 19. Feature Toe Nail Design
With nail art, you can either make a statement or opt for a more subtle finish, and focusing the details on only one toenail is an excellent option for those who want to try something fun but without going over the top. Paint the rest of your toenails in a solid block of color to let the feature nail stand out.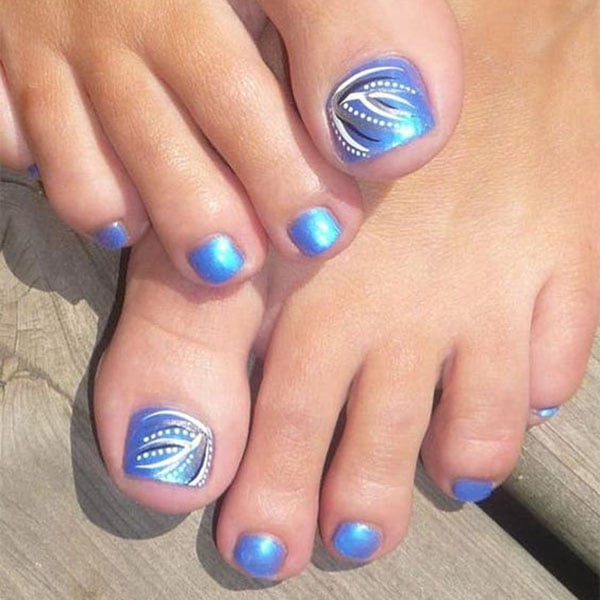 20. Fluorescent Toe Nails
Fluorescent nail polish is not for the faint of heart because these vivid, saturated hues are created to be seen. There are different colors to choose from, letting you find a shade that best compliments your skin tone, or you can mix and match several, painting each toenail a different color.
21. Fruity Toe Nails
Fruity toenails are bright, colorful, and a great look for summer. There are many fruit designs to choose from, so you can stick to your favorite, for example, cherries or watermelons, or mix and match several for an eye-catching and playful finish.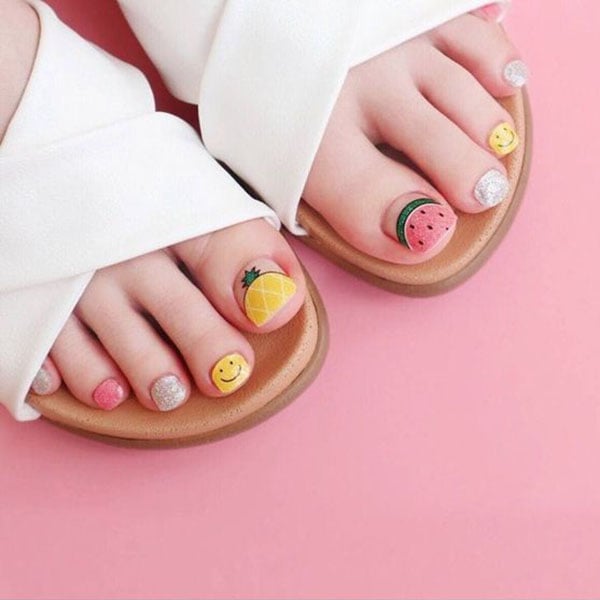 22. Fun Toe Nail Design
The great thing about nail art is it lets you express yourself and show your playful side to the world. You can pick your favorite color combination for a fun design and add smiley faces, flowers, and prints. There is no right or wrong option, so let your creativity guide you.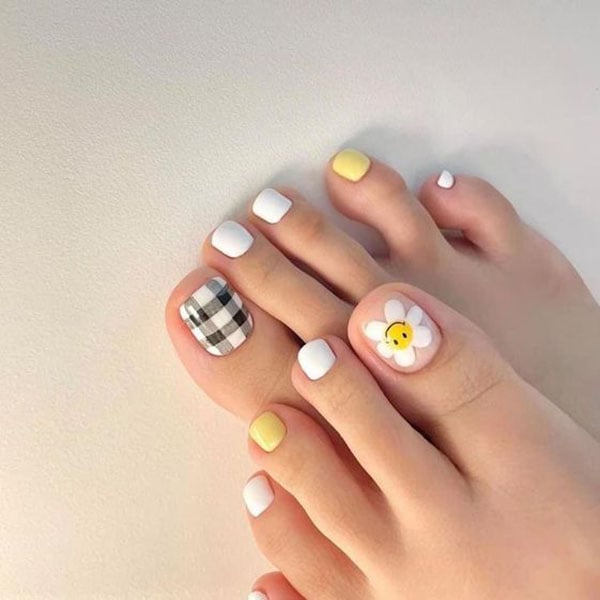 23. Gingham Toe Nails
Gingham has a checked pattern and can be created in varying colors but is often mixed with white. The appeal of this print is its versatility, and your nail design can be as simple or as detailed as you wish. It will look great on your toenails and is ideal for women of all ages.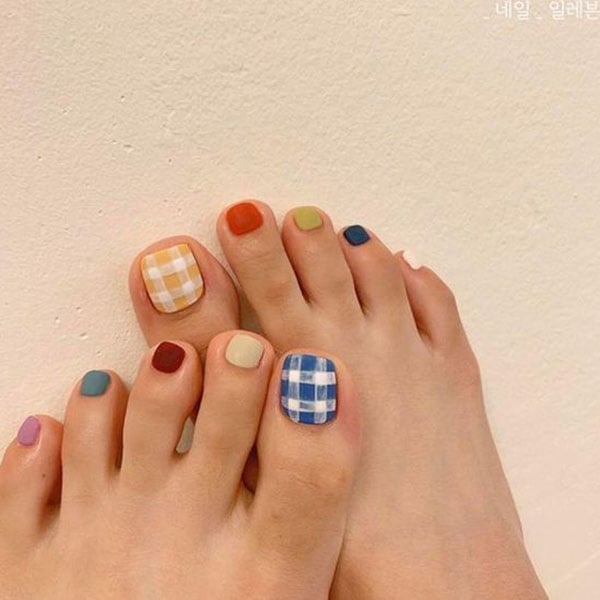 24. Glitter Heart Pedicure
Glitter is a great way to add sparkle to your pedicure, but it can be challenging to incorporate as too much can look tacky. A great alternative is to focus the glitter only on a feature nail, and creating it in a heart design is a cute touch.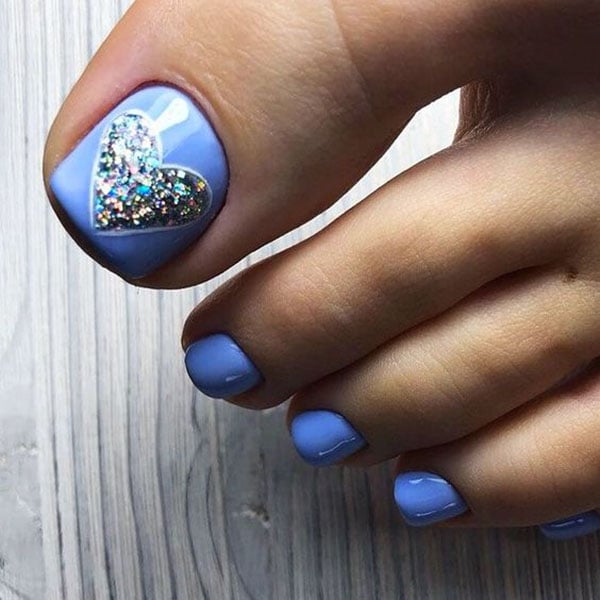 25. Gold Toe Nail Design
Gold is a color associated with luxury and wealth, and incorporating it into your nail art will create a design that feels elegant and sophisticated. How you add the gold is up to you; it could be with a feature nail and keeping the rest of the toes a muted color with gold leaf or glitter lacquer.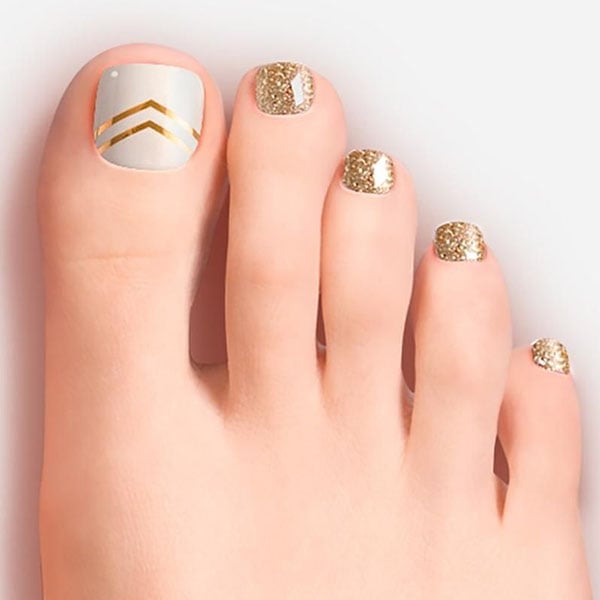 26. Green Checks Toe Nails
Checks are a versatile and fun print that is easy to wear and will mix and match with everything. Creating them in your favorite shade of green is a great way to draw attention to your toenails, and the color is associated with nature and growth.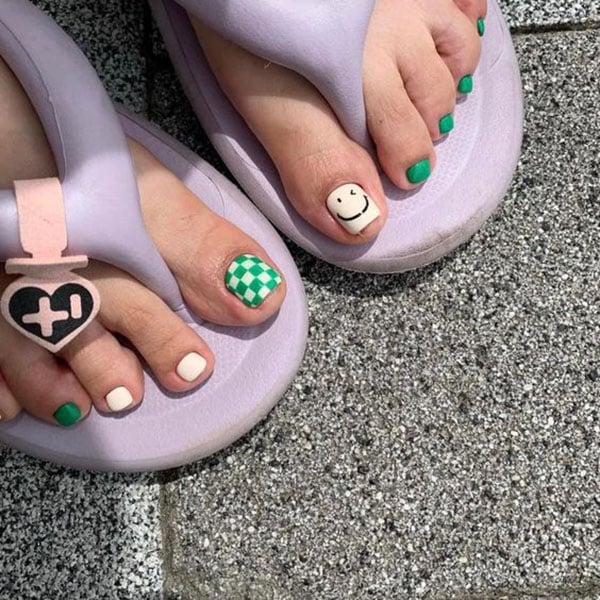 27. Happy Toe Nails
If you want toenails that bring a smile to your face, you can achieve this with a happy pedicure that combines all of the things you love. This could include smiley faces, rainbow prints, flowers and hearts, and your chosen colors. Create a mismatched finish by painting each toe with a different design.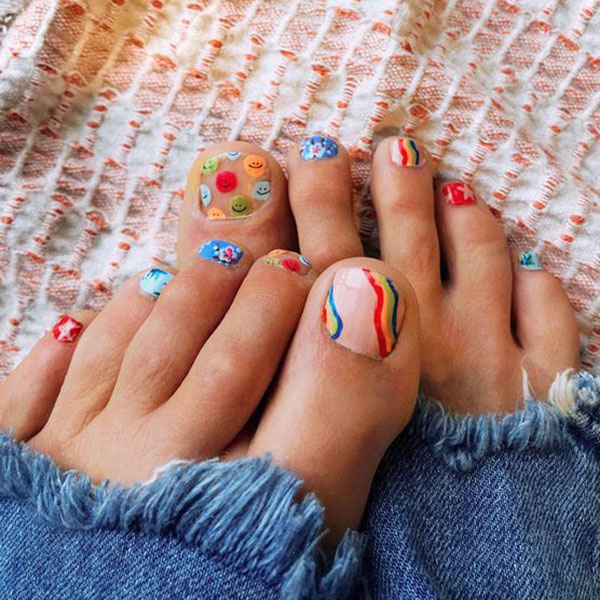 28. Holographic Toe Nail Design
Holographic nail polish is a wonderful choice because the reflective pigments make it an eye-catching option, especially when the light catches it. For a sweet and feminine finish, you can choose a pink polish and add nail art to a feature nail to create a slight contrast.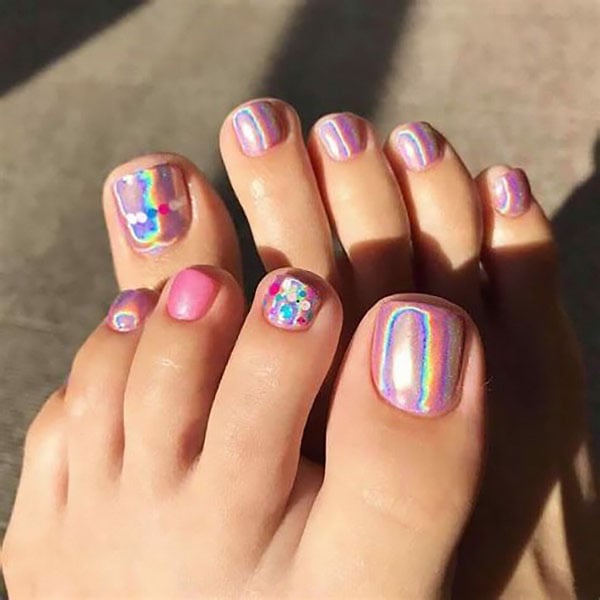 29. Large Glitter Detail Toe Nails
Glitter can be a great way to add a bit of sparkle to your appearance. The best approach to wearing it is less is more. Adding it to only your big toenail will create a pretty finish that also contrasts slightly with the rest of your nails.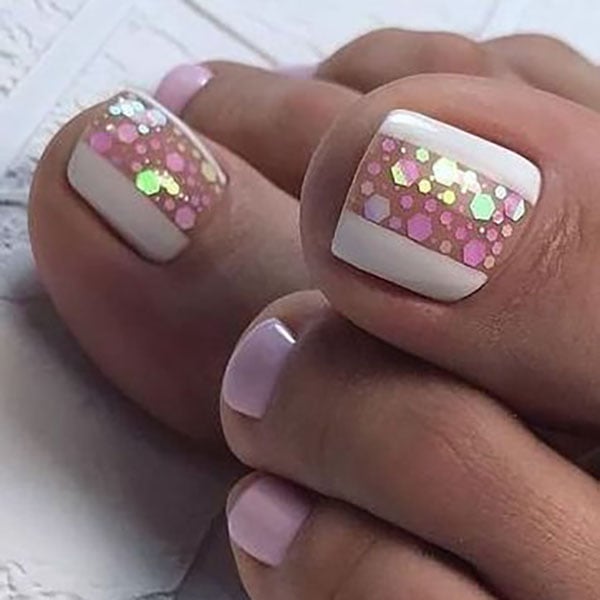 30. Leopard Print And Floral Toe Nails
Leopard print is one of the most popular animal prints and is loved because of its versatility. You can pair it with other colors and designs, and for those who want something daring and fun, try wearing leopard print with florals for a pedicure that is made to stand out.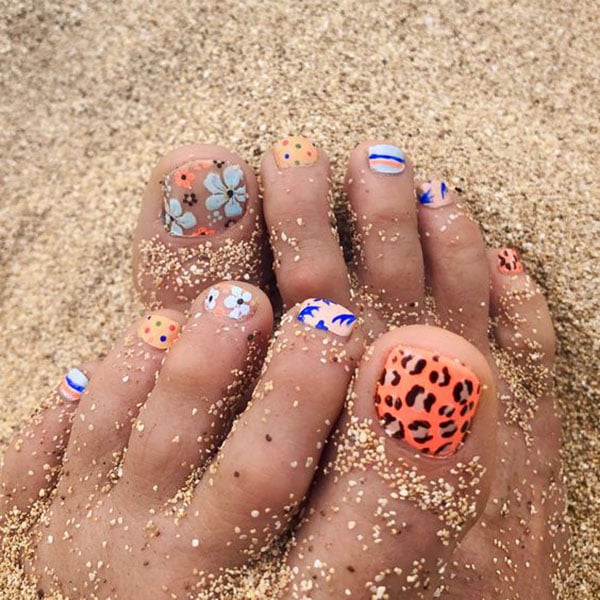 31. Leopard Print Feature Toe Nail
Leopard print is one of the most stylish and popular prints and can be added to your pedicure in many ways. This includes experimenting with different color combinations and combining them with other prints and patterns. Or keep it simple by focusing the design on a feature toenail.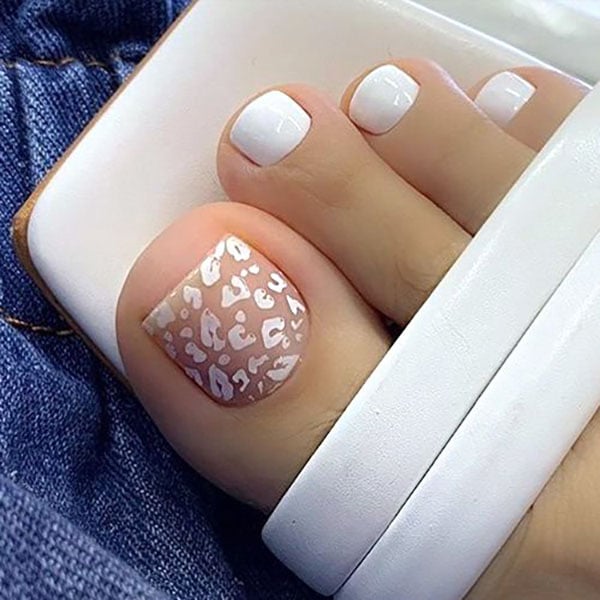 32. Matte Pedicure
Matte nail polish is excellent for achieving a smooth, flat finish. This can create a texturally interesting appearance and can be contrasted by painting your nails a mixture of matte and glossy polish. You can create your matte pedicure in the colors of your choosing.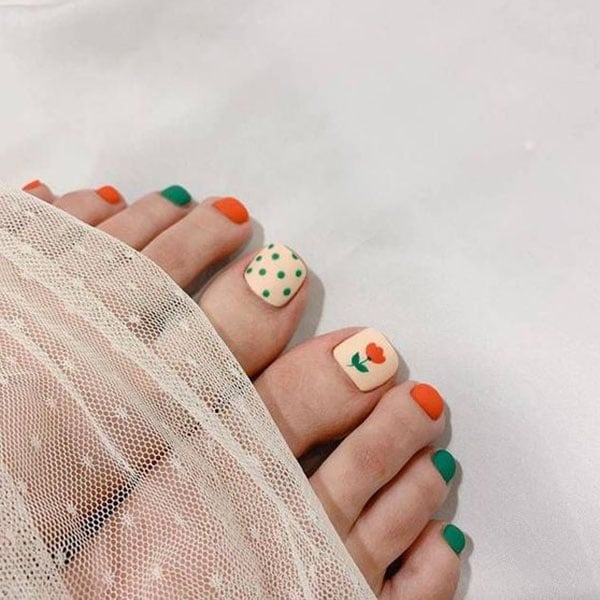 33. Mix and Match Glitter Toe Nails
The mix and match approach to nail art is fun and creative, letting you try out multiple designs and colors. For a mermaid-inspired look that will have your feet looking great next time you visit the beach, you can try mixing and matching different color glitter finishes, choosing one shade for each toenail.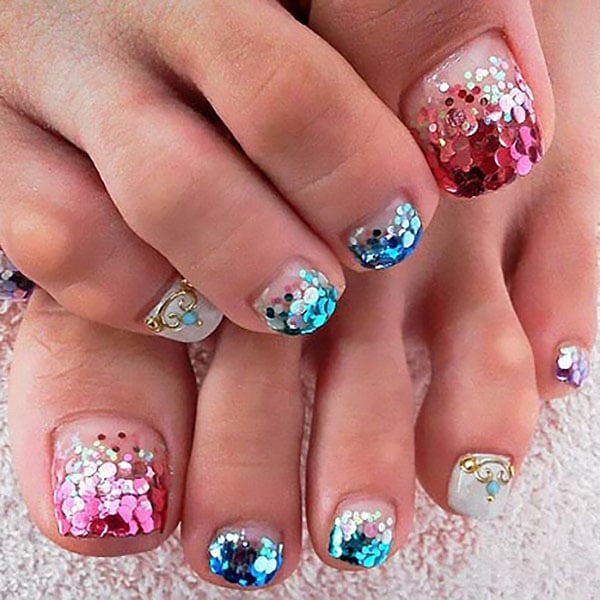 34. Natural Floral Toe Nail Design
For a simple pedicure perfect for all occasions, choose a muted color like nude or light pink and pair it with nail designs that are pretty and understated. Florals are a great choice, and keeping it on just your big toe for a feature nail effect will give you a classy finish.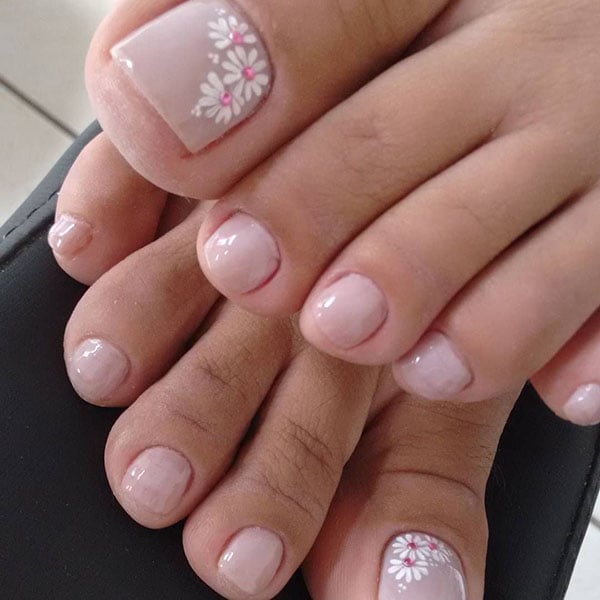 35. Natural Tone Toe Nails
Natural colors like nudes are gorgeous and versatile. There is a shade to suit everyone, or you can mix and match several if you want to get creative with the pattern or design. This is a wonderful option for a pedicure that is subtle yet stylish.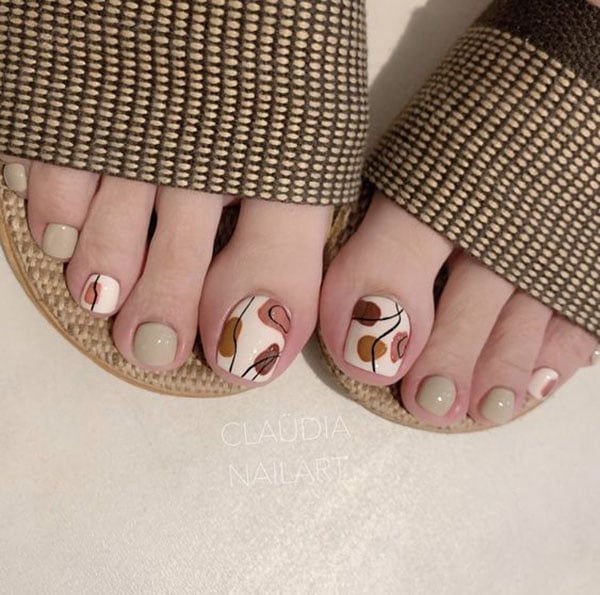 36. Ocean Theme Toe Nails
The ocean is a beautiful and mysterious place. It has inspired works of art and writings and can also be the inspiration for your next pedicure. You can recreate the ocean and the sand, adding little gems and glitter for a bit of sparkle and producing mesmerizing nail art.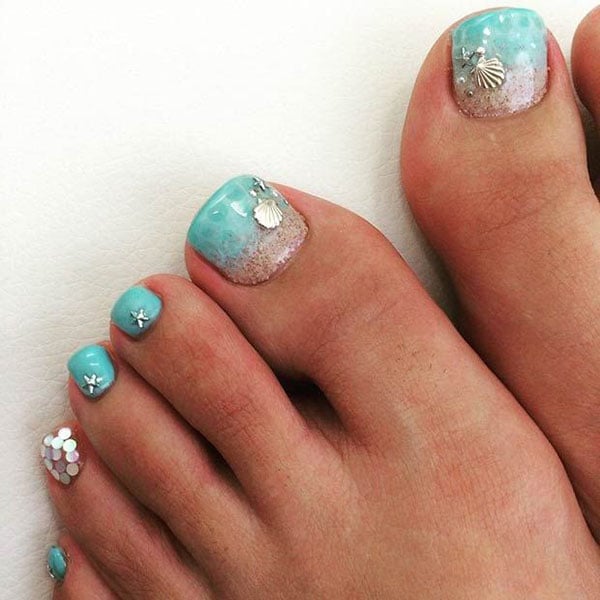 37. Ombre Toe Nails
Ombre nails are a brilliant technique that blends two hues of your choosing, creating a gradient effect. The colors are one light and the other darker, depending on your preference, it can be classic combinations like pink and white, to something more daring and moody like black and red.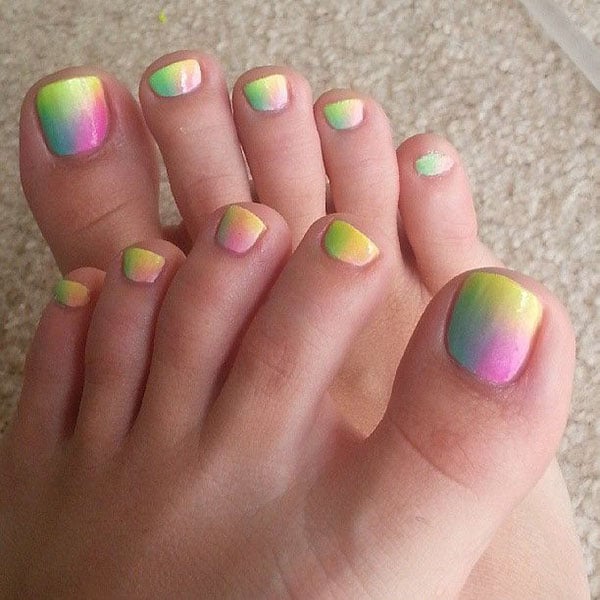 38. Orange Toe Nail Design
Orange is a warm color associated with positivity and joy, and adding it to your pedicure will instantly draw attention to your toes. You can paint each toenail a different shade of orange or opt for your favorite hue, pairing it with floral designs or a print of your choosing.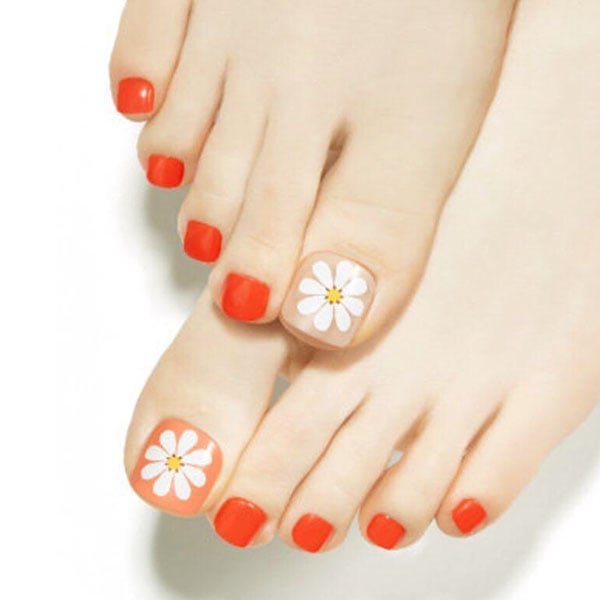 39. Papaya Toe Nails
Papaya is often associated with summer and tropical destinations, and creating a pedicure inspired by this tasty fruit is a great way to draw attention to your toes, especially during the warmer months. The warmth and brightness of the color also make it an eye-catching choice.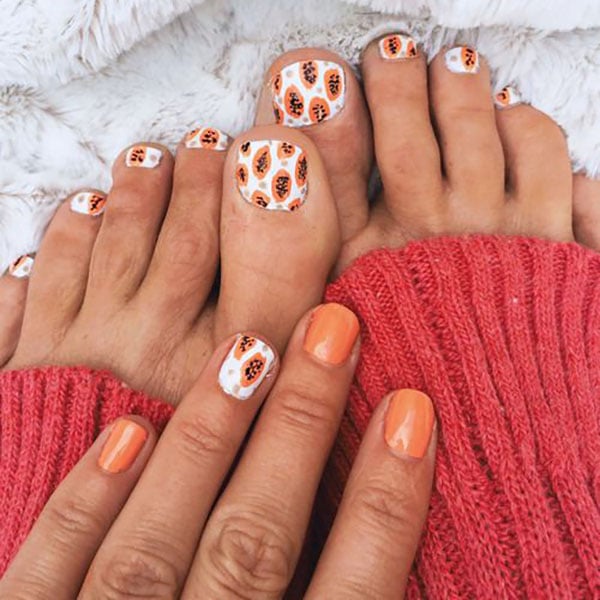 40. Pineapple Toe Nail Design
Pineapple designs are perfect for your pedicure if you want something playful, colorful, and fresh. The yellow and green of the pineapple make it a bright design associated with warmth and hospitality. You can focus the design on a feature nail and experiment with colors for the other toenails.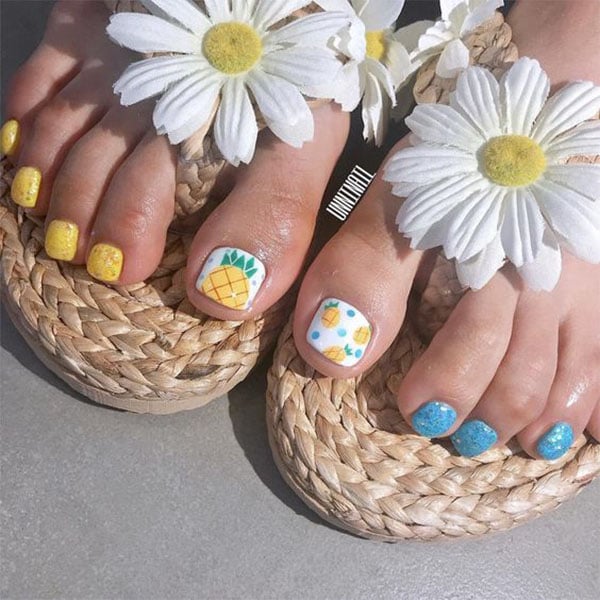 41. Pink and Yellow Pedicure
Pink and yellow are not your classic color pairing, but the combination creates an interesting contrast. You can incorporate it in several ways, including solid blocks of color or trying out trending prints and patterns.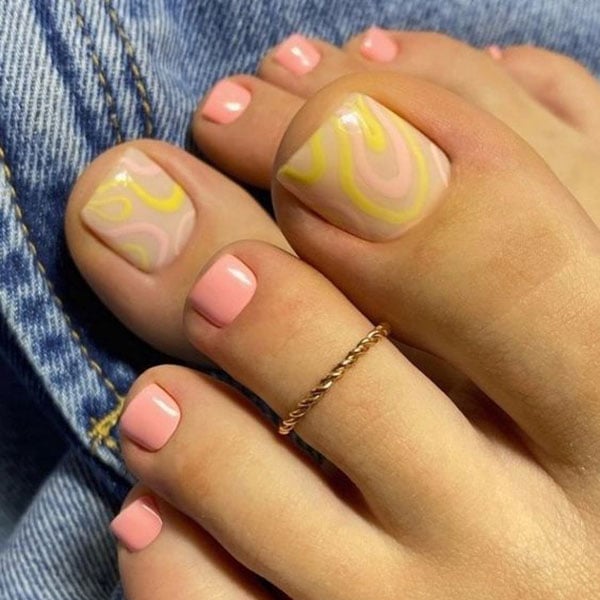 42. Pink Summer Toe Nail Design
Pink is one of the most classic colors for nail art and looks good on everyone. There are varying shades to choose from, but soft, muted colors are more wearable. Combine your baby pink nails with a detailed white pattern on a feature nail for a gorgeous summer finish.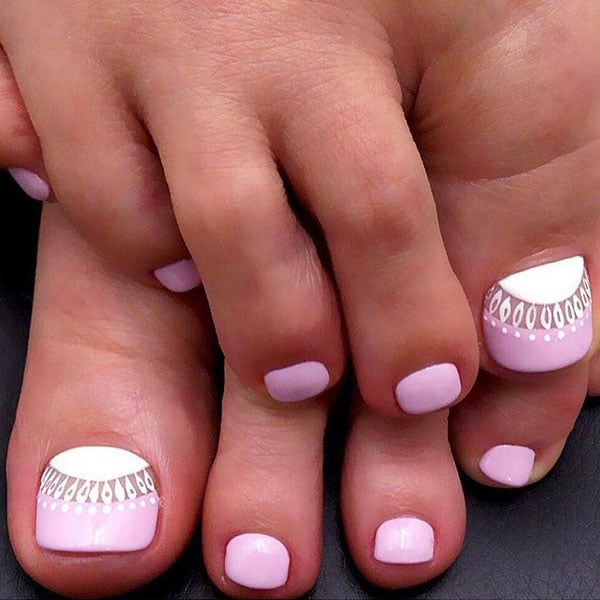 43. Polka Dot Toe Nails
Polka dot is a simple and versatile pattern that is easy to create. The appeal of polka dots is that they work with any color combination and can look retro or modern, depending on your chosen colors and how you incorporate them. Try bold colors on a black base for a pedicure that demands attention.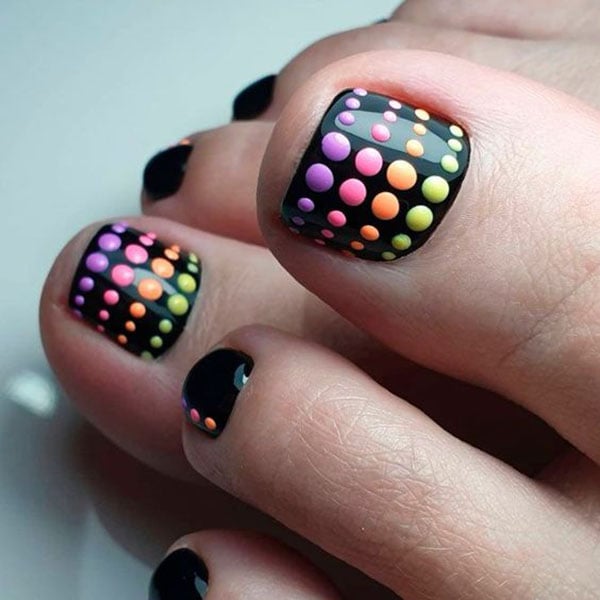 44. Pride Toe Nail Design
To show your support for the LGBTQ+ community, you can create your next pedicure to reflect the colors of the rainbow, which celebrates togetherness. The symbolism of this design is important, but the color combination is also pretty and eye-catching.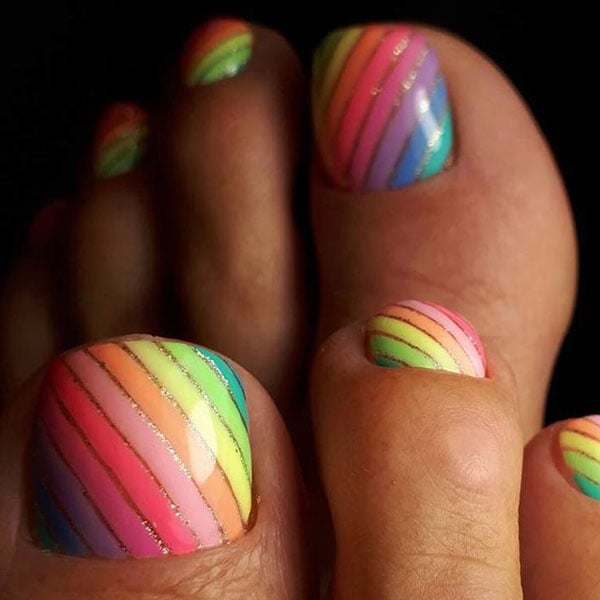 45. Purple Toe Nail Design
There are various shades of purple to choose from, including rich, dark hues to soft, muted tones, letting you find the color that best suits your preference and complements your skin tone. Purple nails also look gorgeous when paired with white, creating a contrast that makes the purple pop.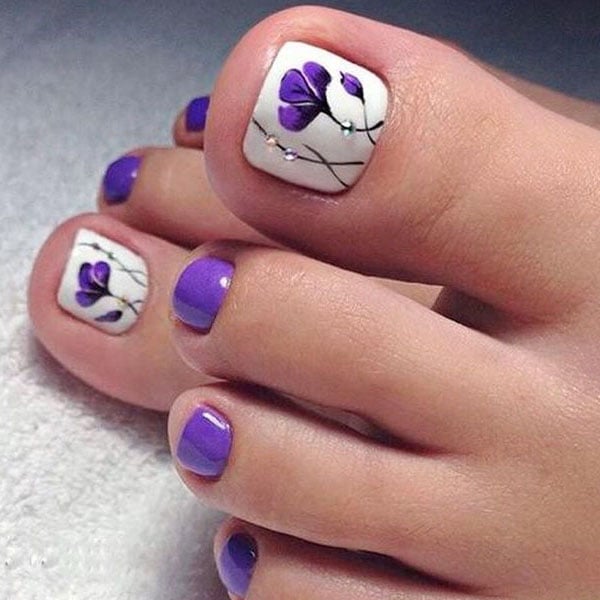 46. Red and Blue Abstract Toe Nails
Red and blue are a fantastic pairing as the colors are complementary while also creating a slight contrast. This color combination lends itself well to abstract designs, letting you get creative with the pairing. You can opt for different angles and effects on the big toenail to create a feature nail effect.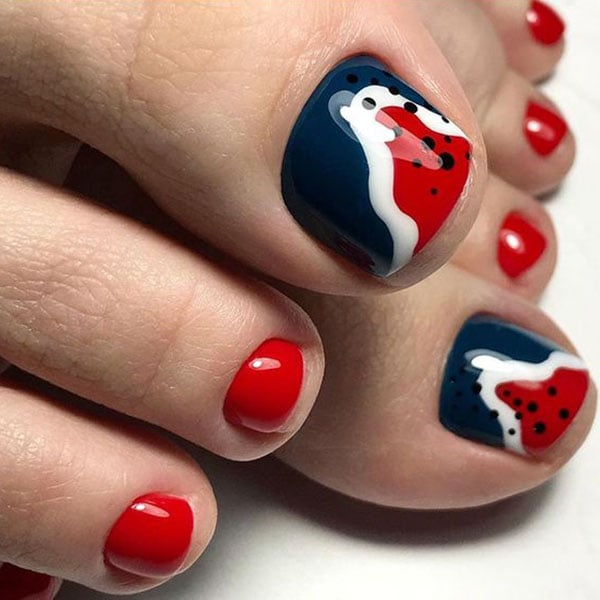 47. Smiley Face Heart Toe Nails
What better way to channel positivity and happiness than by adding smiley faces to your toenails? The design is simple yet effective and can be created in your chosen color combination. You can also make the face into a heart shape for a unique finish.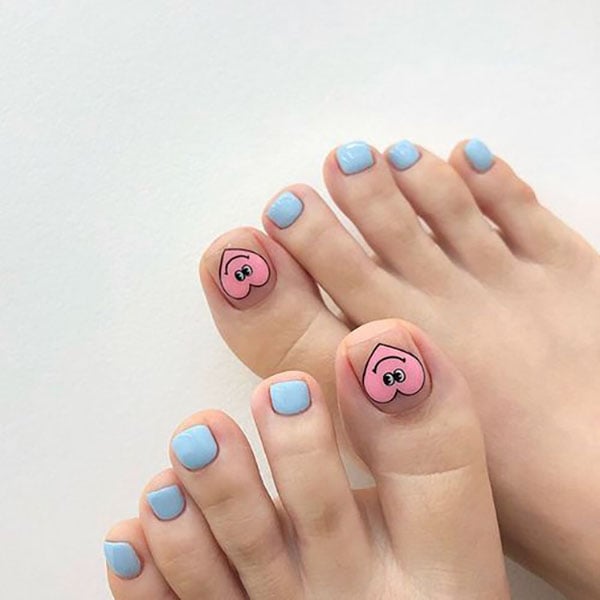 48. Strawberry Toe Nails
Strawberries are a wonderful way to get into the summer spirit. The simplicity of the shape also lends itself well to a pedicure, which has limited space, and the rounded design can take up the entire toenail. The bright red and green combination also makes it fun and eye-catching design.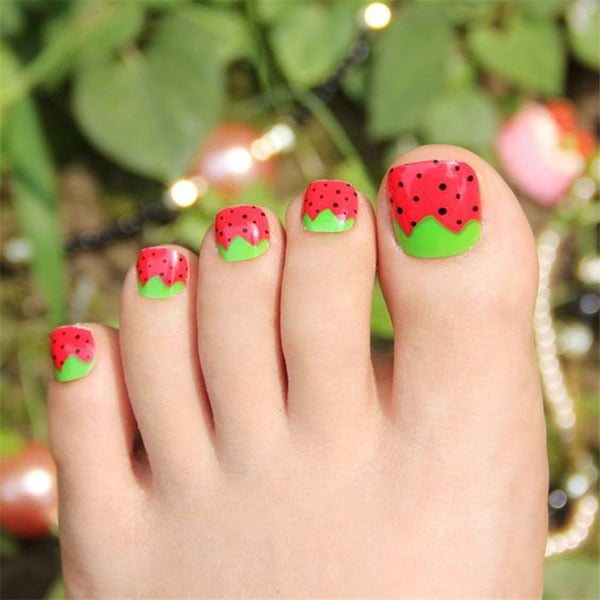 49. Stripe Toe Nail Design
Stripes are a classic pattern that can be created in multiple colors and at varying angles. They also pair well with everything, from other patterns and prints to your favorite nail stickers. This makes stripe toe nail designs a wonderful option for your next pedicure.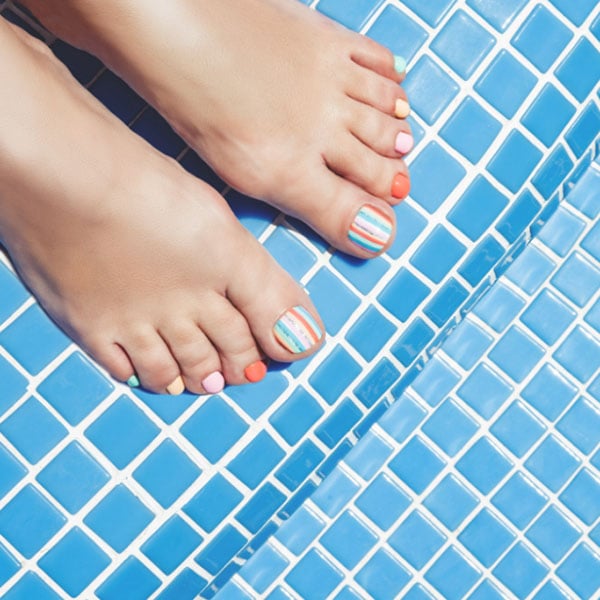 50. Stripes and Lemons Toe Nails
Stripes are versatile and can be created in the colors of your choosing. For a summer finish that is playful and creative, you can also pair your stripes with lemon artwork. The yellow of the lemon will be complemented by a classic black and white stripe design, letting the color pop.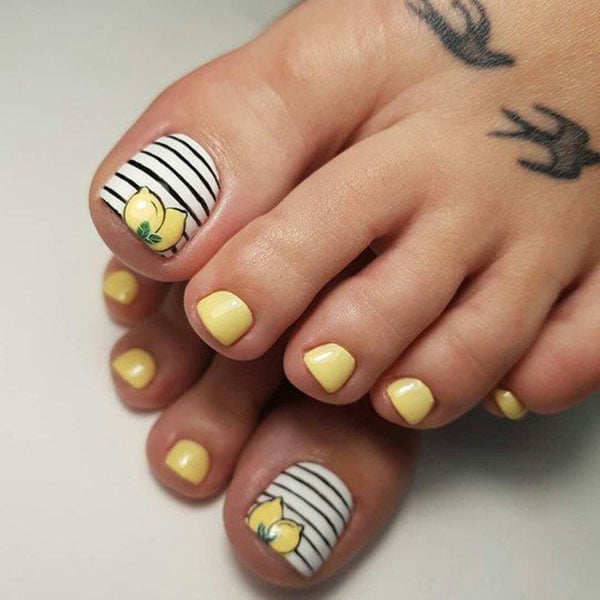 51. Sunny Side Up Toe Nail Art
If you love eggs or find the shape of a little fried egg to be a cute design, why not find a way to incorporate it into your pedicure? The egg's simplicity makes it easy to create, even on smaller areas like toenails that do not benefit from the same length and size as fingernails.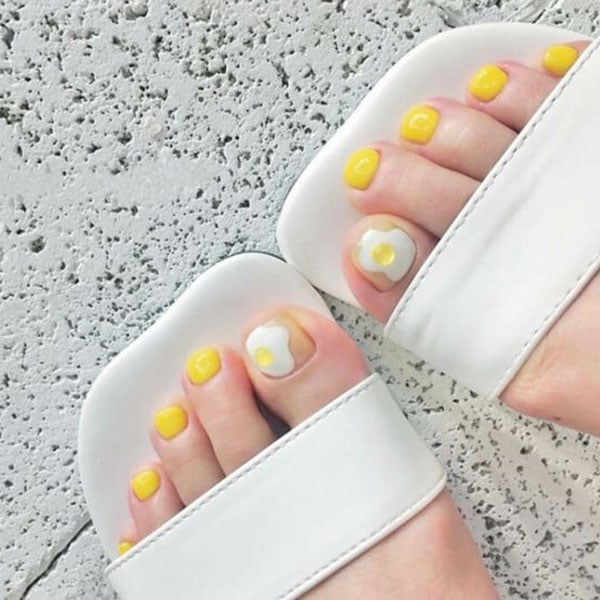 52. Tie Dye Inspired Toe Nails
The groovy blend of colors and unique patterns that the tie-dye effect creates could be the inspiration for your next pedicure. It is a creative way to mix and match colors and experiment with your nail art. Try it on every toenail or all of them, depending on how detailed you want the finish to be.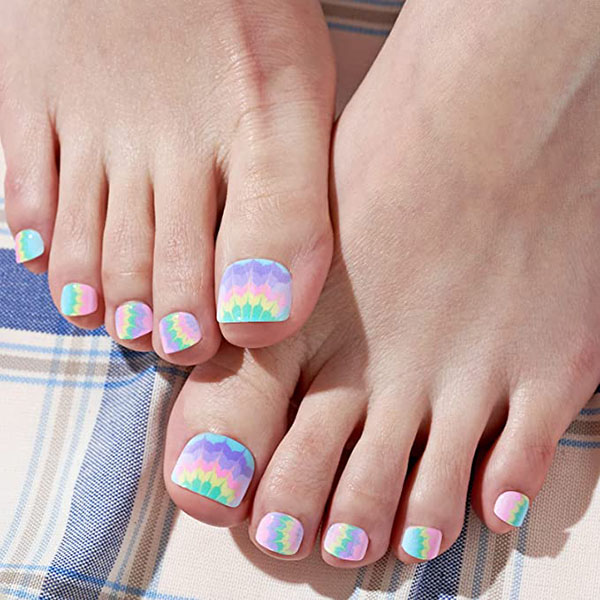 53. Zebra Nail Designs
Zebra print is a classic because the black and white color combination is timeless. Despite the simplicity of the pattern, it makes for a very striking finish. For a simple approach, you can only focus the pattern on the big toe, painting the rest of your toenails with black or white polish.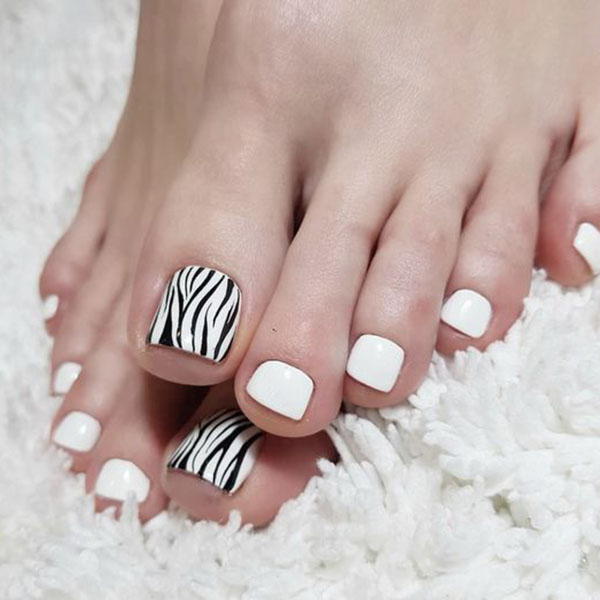 54. Toe Nails with Letters
You can spell out a message that is meaningful to you by placing a different letter on each toenail. You could also opt for a simpler approach, adding a letter to only one nail for a featured finish; this could be the initial of your name or that of a loved one.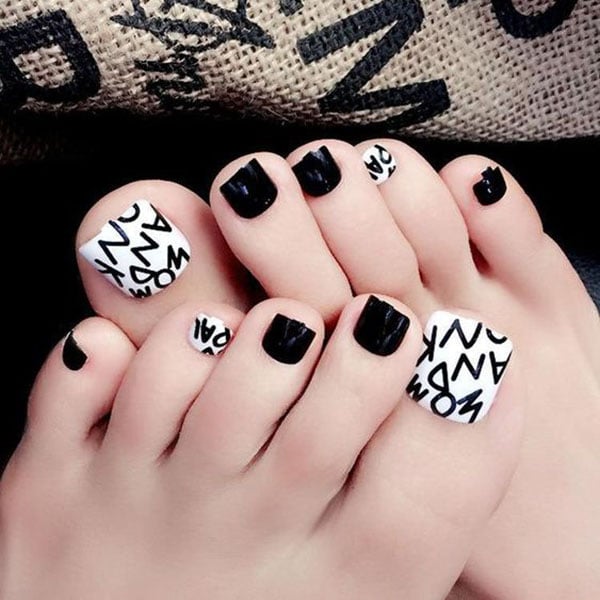 55. Trendy Pink and Green Toe Nails
A pink and green combination makes a retro effect that feels groovy and cool. You can choose the shades you want, including saturated or muted colors, and experiment with different patterns, prints, and nail art. A great combination would include checks and smiley faces which are playful and fun.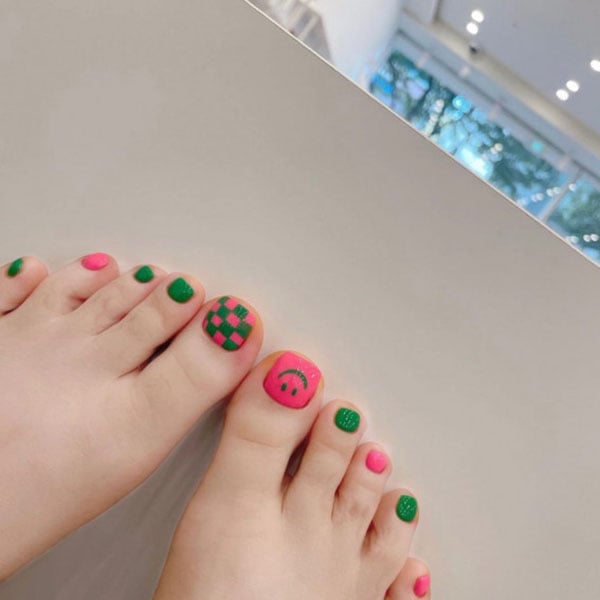 56. Valentine's Day Pedicure
To celebrate the holiday of love and the person who means the most to you, whether that is yourself or a loved one, a Valentine's Day pedicure is what you need. You can stick to the classic red, pink, and white color combination or opt for something more unique and experiment with heart or lip designs.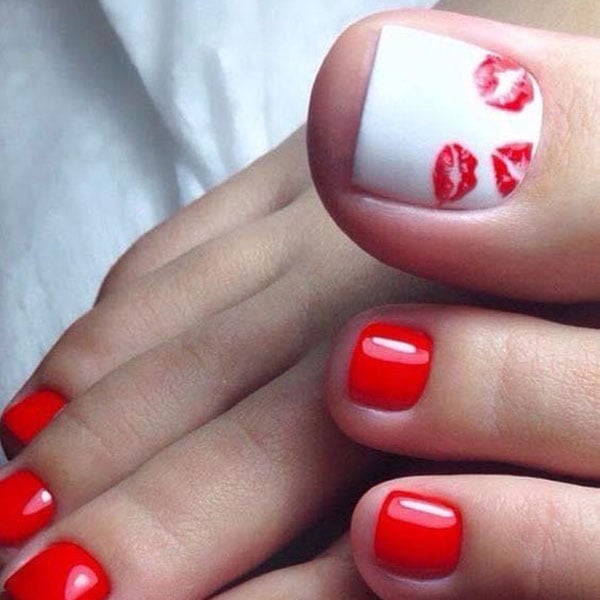 57. Wedding French Pedicure
You can opt for a classic like French tip nails for a pedicure that lends itself well to all occasions. This nail art's simplicity makes it so appealing, and it suits women of all ages. It is also great for special events like weddings and will make your feet look more presentable.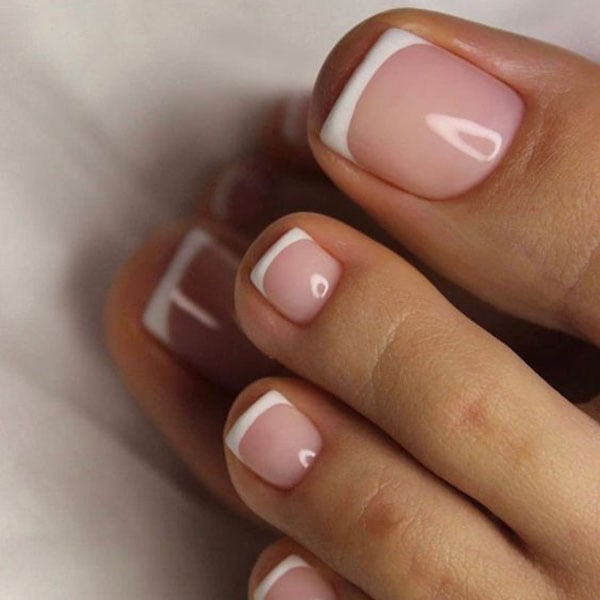 58. White Toe Nails with Rainbows
White nails are a classic. The crisp hue is associated with cleanliness and new beginnings. It is also a fantastic option for a base coat and will create a contrast with other colors, letting them pop. Rainbows are a beautiful choice and will give you a pedicure you want to show off.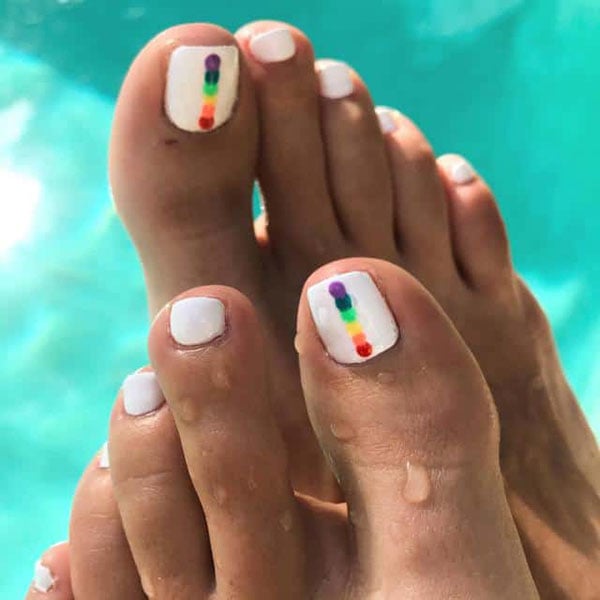 59. Wiggles Toe Nail Design
For those who love expressive nail art and want to experiment with different colors, wiggle designs are what you need. The size and shape of your wiggles can differ, giving you much freedom for creativity and room for experimentation. Choose your favorite shades and have fun.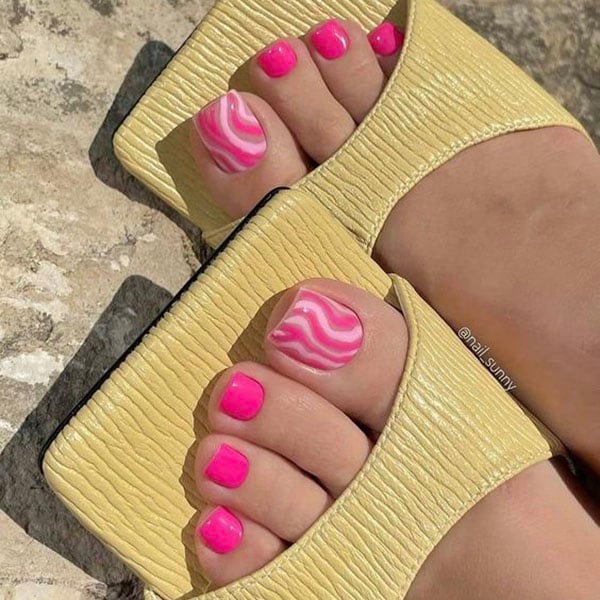 60. Yellow and Orange Toe Nails
Yellow and orange are a pairing that feels warm and inviting. It is the perfect combination for summer and represents positivity, joy, and happiness. You can create floral designs, smiley faces, and patterns or keep it simple by painting other toenails with a yellow or orange hue.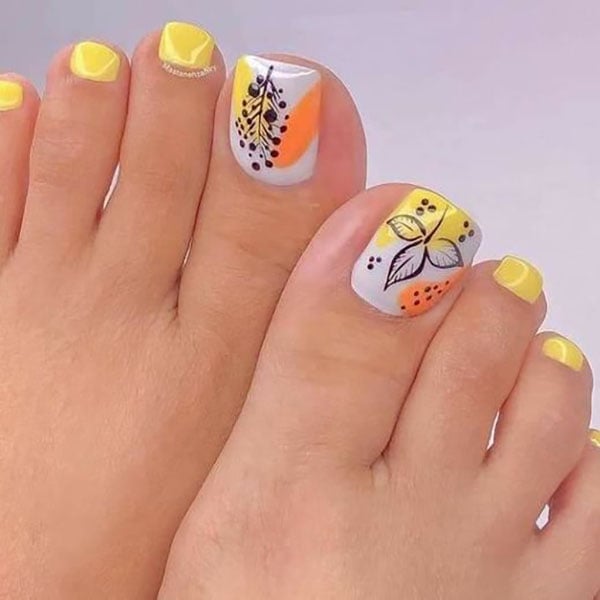 Toe Nail Art Designs FAQ's
What are the best colors for toenails in summer?
The best colors for toenails depend on your preference, but there are many fun options. For those who love nail art that is bright and bold, consider hot pink or purple. You can also have fun creating nail art with abstract designs on a colorful base or trying out food-inspired designs such as watermelons or ice cream. Alternatively, you can opt for something simple and versatile such as nude polish, pastel colors, or a French tips manicure.
Is it easy to do a pedicure?
It is simple to do a pedicure at home with the right tools. Take care to ensure your nail tools are clean to prevent irritation or cause infection. You also want to avoid harsh chemicals and not pick at your cuticles. Dedicate enough time to do it correctly; this could be anywhere from 30 minutes to 90 minutes.
What looks good on toenails?
Having great-looking toenails can make you feel good. This is especially important when your feet are shown off more during summer. There are several cute pedicure designs to choose from that are flattering and easy to create. A French tips manicure is excellent for those who prefer a classic approach. Try out purple or hot pink if you want something fun and bright. Or make a statement with black or black and gold polish. Other options include delicate floral details, fruit-inspired artwork, or nautical designs, which are great for days at the beach.
Are pedicures bad for your toenails?
If you remove your pedicure correctly and have frequent and lengthy breaks between polishes, there should be no reason for it to cause damage to your toenails. That said, cutting and filing your toenails with dirty tools and picking at your cuticles can cause an infection. It would help if you also went to reputable salons.
What are the best toenail designs?
There are many toenail designs depending on your preference. For those who want classic designs that are timeless and elegant, French tips are ideal and lend themselves well to a variety of occasions. Muted colors like pinks and nudes are also gorgeous. Experimenting with abstract designs and bold colors is a great way to get your toes noticed for those who want something more unique. You can also channel your childhood with cute cartoon-inspired designs or show your playful side with glitter polishes, smiley faces, and animal prints.
What nail design is the most popular?
Some of the most popular nail designs include the classics like the French manicure, painting the nails a solid shade of pastel or muted hue like nude, and the ombre effect, which blends two colors to create a gradient effect. Branded nail designs are also favored by marbled nail art and manicures and pedicures that use nail stickers. There are also different colors to choose from, depending on the season.
What makes toenails look better?
Filing your toenails and clipping them straight across at an acceptable and manageable length will make them look good. But the right nail art can transform your nails, letting you reflect your personality and express yourself or creating a sophisticated and elegant look for formal occasions. For example, a French manicure is excellent for weddings and can make your nails look more presentable. Remove chipped polish and take a break between pedicures.
SUBSCRIBE TO OUR NEWSLETTER
Subscribe to our mailing list and get interesting stuff and updates to your email inbox.